Hi again, and welcome to yet another tripreport of mine, albeit a short one.
I'm not saying it's less interesting to read, maybe, because as far as I could find, this is the first tripreport on the airline I flew a few months ago.
To Surabaya on Citilink Airlines' old B737-400
---
I was visiting Bali for a week in late November 2012. It was my third time that year that I visited Indonesia, and I thought about doing some flying to get myself entertained for at least half a day. I looked up for some itineraries that would work out of me, and decided to spend a whole Rp. 283.000 on Citilink Airlines, for a 1 hour flight including seat-reservation (surcharge, Rp. 25.000 was already included).
Citilink Airlines
Originally started as lowcost subsidiary of Garuda Indonesia (hence their tail scheme), since August 2012 this airline is a seperate business entity from Garuda Indonesia. The main hub of this airline is at Juanda International Airport on Java, better known as Surabaya. The airline operates a mixed fleet consisting of Boeing 737-300, -400 and Airbus A320-200 aircraft. The airline has an order with Airbus Industries for 25 brandnew A320s and an option for 25 more. Also the Airbus A320Neo is said to be part of the deal, and therefore this airline is focussed on future growth.
During my flight in 2012, most of the fleet were still older aircraft previously used by Garuda Indonesia.
---
Reservation was done online on a well maintained website. My Dutch creditcard was gladly accepted for payment, so no worries about that either. I found it interesting to see that the e-ticket was delivered in my inbox, stating an aircraft registration behind my flightnumber. PK-GGQ was printed, and after checking their fleetlist, it was one of their Boeing 737-300's. So, the information could be correct, although I found it rather interesting to see and the airline probably didn't plan so far ahead. Anyway, let's see…
This flight was taken on November 22, 2012.
Denpasar Ngurai Rah International Airport
Note: When the flight was taken, and when the report get published, a new airport terminal is under construction at DPS but not yet available for passengers
Denpasar Airport is offering a extensive mix of domestic and international flights, and operates 2 seperate terminals. The airport public area offers a wide selection of little restaurants, Starbucks is there for your caffeine shot, or Dunkin' Donuts for example. A lot of local food can be bought basically everywhere and at still low prices (no high airport pricing here).
Prior entering the terminal every passenger is asked to show the flightticket, prior security screening of all baggage by x-ray. After this check you'll find yourself in the check-in area.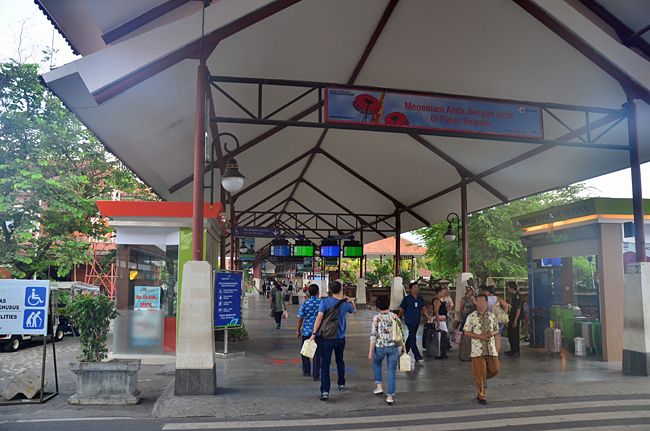 .
Outside the terminals in DPS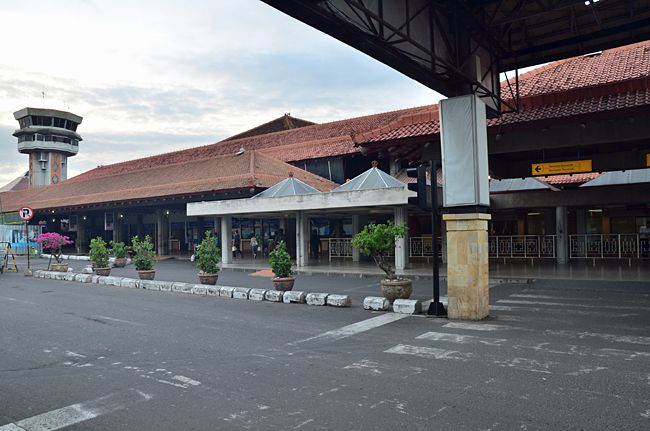 .
Walking towards the domestic terminal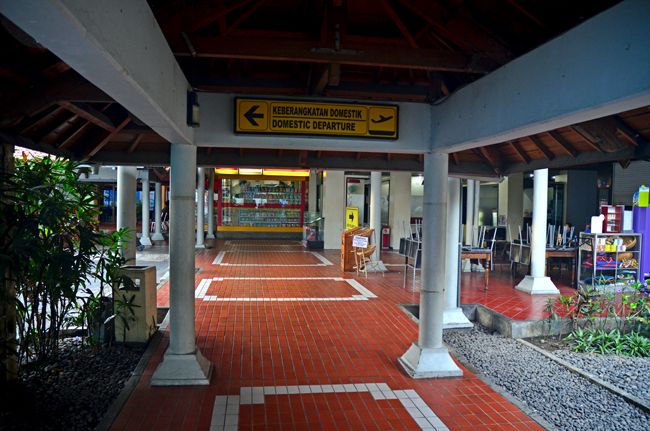 .
To the left for domestic flights…
With only 2 passengers in front, my turn came quickly and my boarding pass was printed within seconds by friendly staff.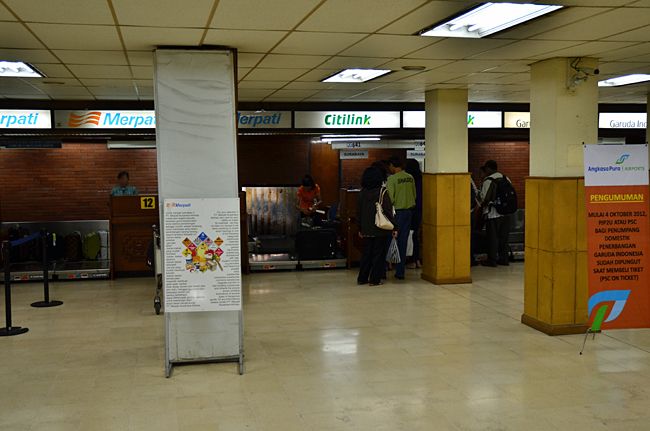 .
Check-In desks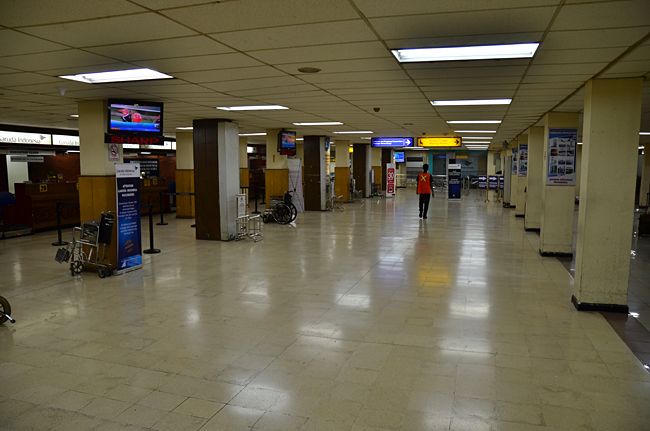 .
Not so busy in the early morning
The next step is purchasing the airport departure tax, which is compulsory in Indonesia (not on GA anymore since late 2012). Domestic tax is Rp. 40.000 at DPS (this varies at every airport). A coupon of purchase is attached to the boarding pass and next step is security screening.
With nobody at the security screening point, I was through in a minute. No beeping, very friendly staff, the 0.5 liter bottle comes with me. Liquids are not banned from domestic flights in Indonesia, no need to worry about it.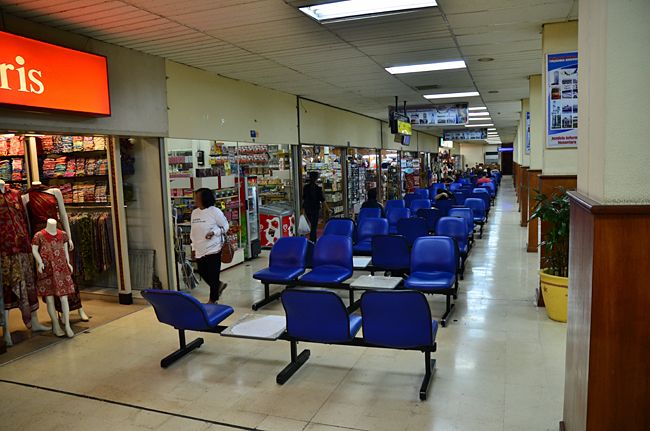 .
Waiting lounge…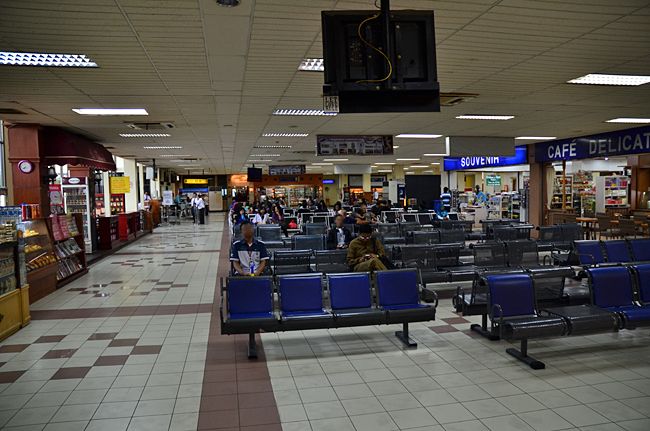 .
…and more waiting area
I buy breakfast in a local restaurant, with a good view on the apron. Mie Goreng (instant noodle) for me, with Bali coffee and that's priced at Rp 25.000. I notice a Garuda Indonesia CRJ-1000 around, being PK-GRE and delivered 3 days ago. Hmm… maybe this is a hint about my next tripreport!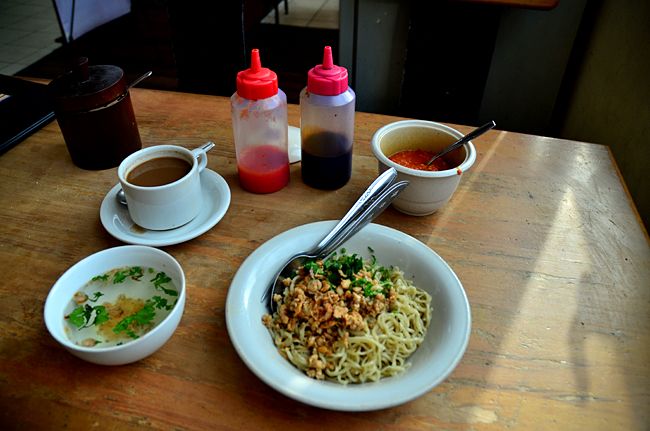 .
Breakfast Time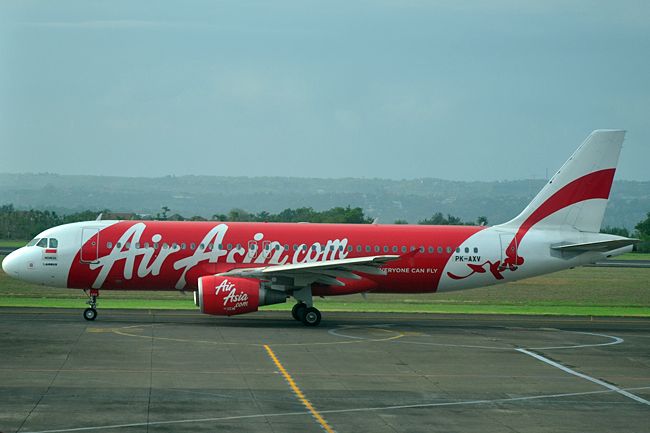 .
Air Asia Indonesia – Airbus A320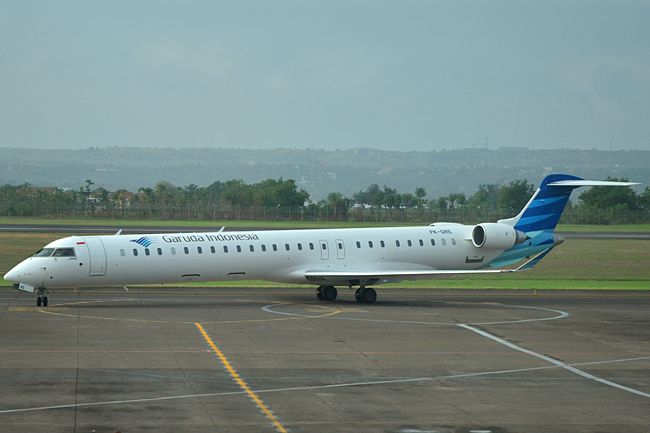 .
Delivered 3 days ago: Garuda Indonesia's CRJ-1000NG PK-GRE
Boarding is announced and called throughout the terminal. Gate 18 would be the winning number that morning for the flight to Citilink's hub at Surabaya.It's always interesting to find out that we are actually boarding from gate 17 instead but who cares here.
---
I walk down the stairs onto the apron, and about 50m walking was necessary to reach the aircraft. I immediately noticed that the 'expected' Boeing 737-300 became slightly bigger and was actually a Boeing 737-400. No problems for me. I had enough and free photo opportunities on the apron and a ground staff offered to take a picture of me as well
.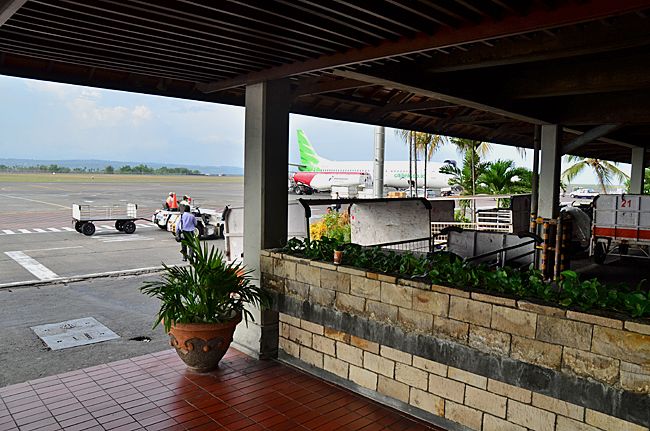 .
My aircraft can be seen from the boarding gate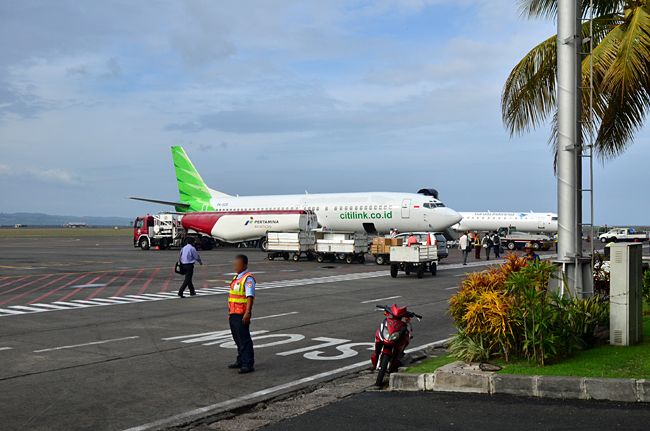 .
Free time on the apron for me!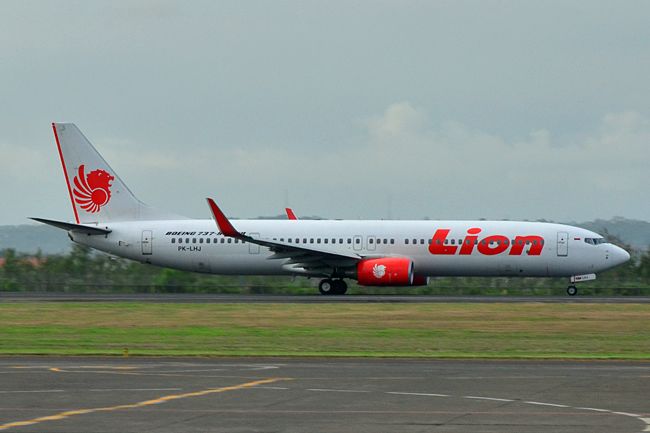 .
Also Lion Air is around. Power on the runway with PK-LHJ, a Boeing 737-900ER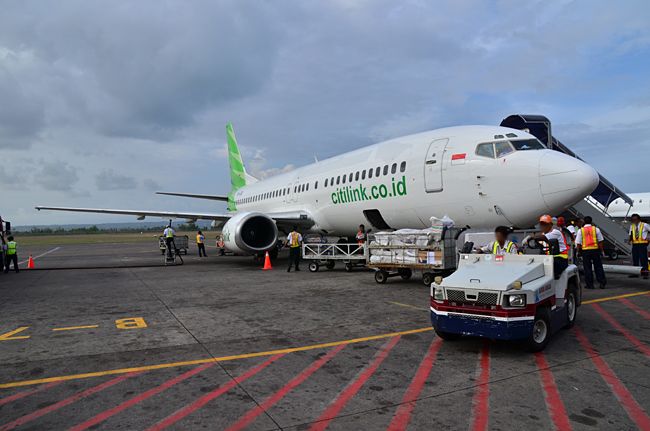 .
Closely together. I think the B737-400 is good looking in this way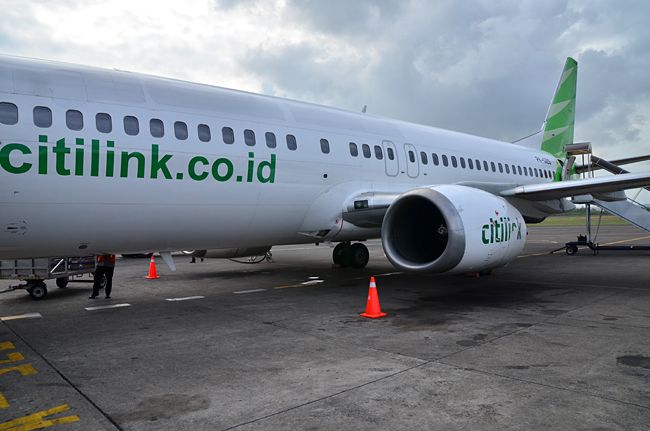 .
In case you wanna fly them as well, book your tickets on this website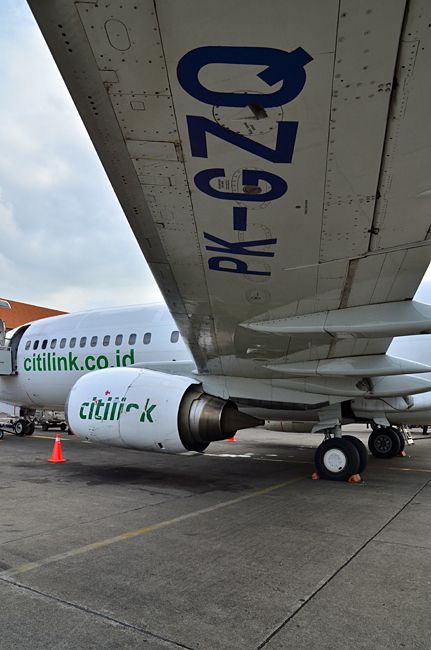 .
Some people like this kind of 'under the wing' shots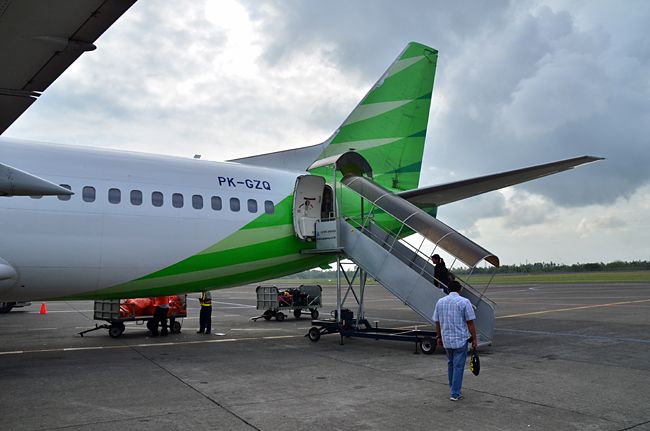 .
The green tail is really colourful at least!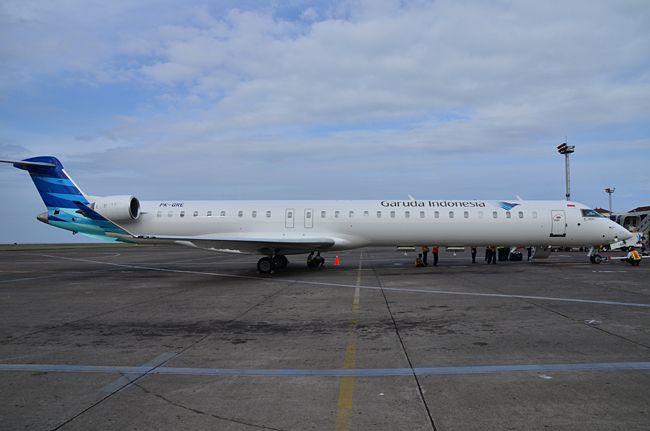 .
Garuda's new toy PK-GRE is still here…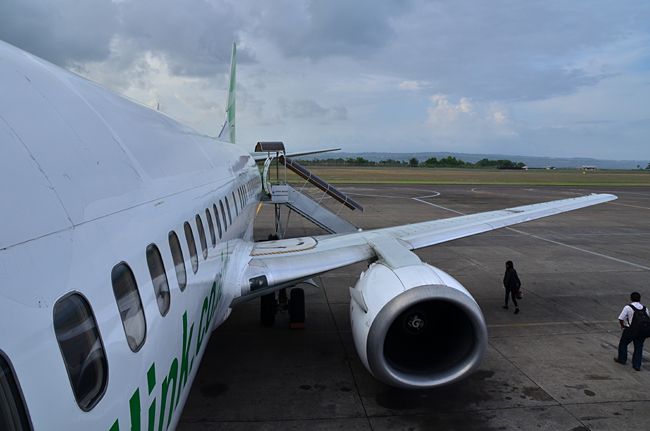 .
Boarding in this way
Boarding via stairs, and a friendly welcome of 2 female cabincrew at the entrance.
Flight:
QG641 – 22NOV12
Route:
DPS-SUB
STD
08:20
ATD
08:19
STA
08:10
ATA
08:16
A/C:
Boeing 737-400 # PK-GZQ
S/N:
03A
(Single class/Y)
My aircraft is PK-GZQ and is originally delivered in July 1991 to Malaysia Airlines as 9M-MLH. In her career it also flew with British Airways, GB Airways, Futura from Spain (and leased it out to newcomer easyJet Switzerland for a while), it was stored a while before Adam Air in Indonesia went flying with her (ouch!), and 22 years later ending up with Citilink Airlines.
My seat was 02A, but with 01A missing on this aircraft and facing a flight attendant, I was not too happy about it. So I was just another 'stupid' tourist and took 03A instead. Even better, it's Indonesia after all, who cares.
And indeed, nobody cares, since soon a couple takes 02A/B without looking on their boarding pass. I think the seats suited them fine
My row remains empty, and that is not a surprise when we end up with a load of just 25% or so.
Some pictures: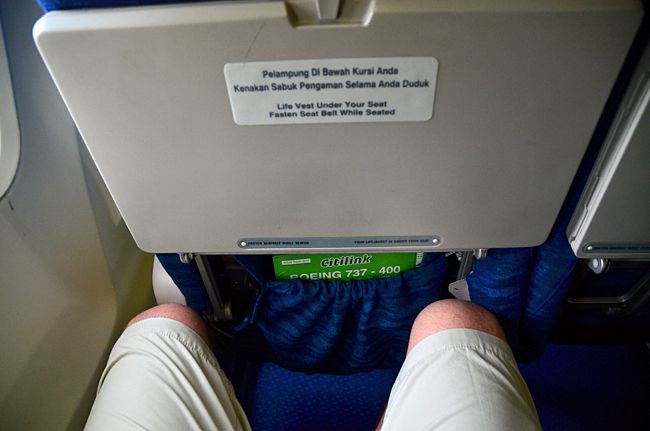 .
Legroom is 'just ok' here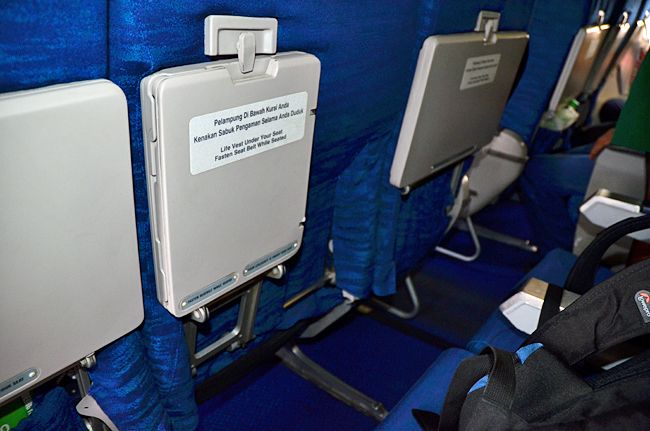 .
Interesting tray-table in the B and E seats…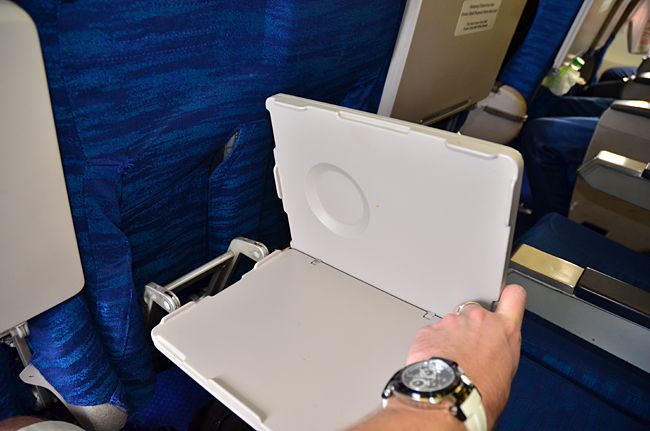 .
… this is how the traytable looks when used

.
Definitely showing her age around the windows…

.
This might be useful for your travels in Indonesia from time to time

.
Old-fasioned cabin interior on this aircraft
Doors close at at 08:17, 3 minutes to go now, and we manage to leave on schedule. I've done now a fair share of Indonesian flights and so far, all expect one left on schedule, which I find a good thing.
The safety demo is done, manually of course, and also in English (for me, I suppose). When the crew is finished, also a word from the captain when we are nearing runway 27. He welcomes all on board, estimates a 50 minute flighttime and we will cruise at 22,000 feet.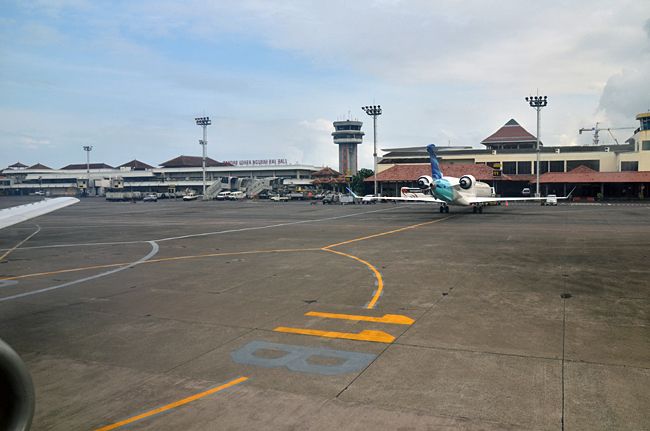 .
Pushback

.
Taxiing with the new (under contruction) terminal and Garuda's A330-300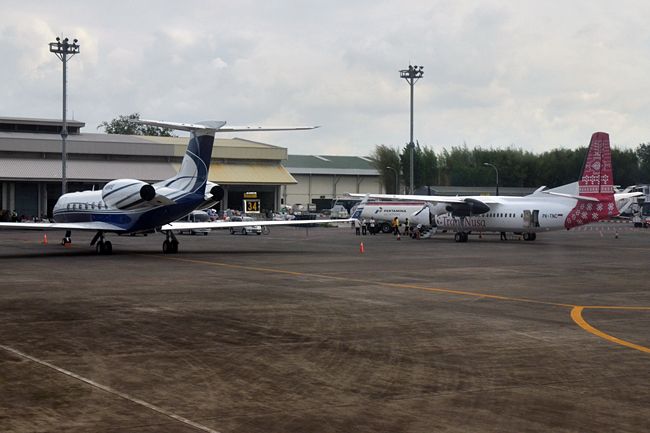 .
TransNusa Airlines Fokker 50 Made in Holland
An Indonesia Air Asia Airbus A320-200 is arriving before we line up the runway for a departure to the West. We climb out steeply and the clear weather gives me a good view on a South part of Bali, including Jimbaran and Uluwatu area. Beautiful cliffs, and great waves for surfers in that area.

.
Holding short of runway 27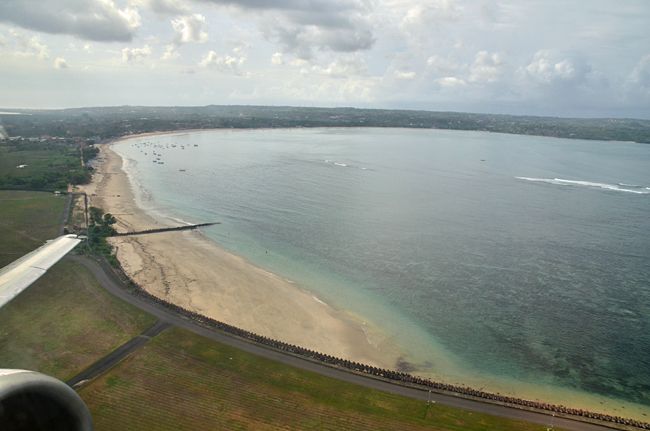 .
Airborne!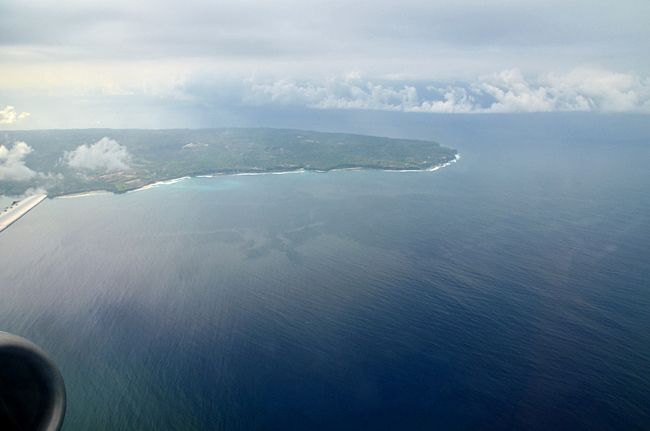 .
Climbing out over the beautiful sea
Soon we are above the clouds, or better in between. That will continue for the remaining duration of the flight.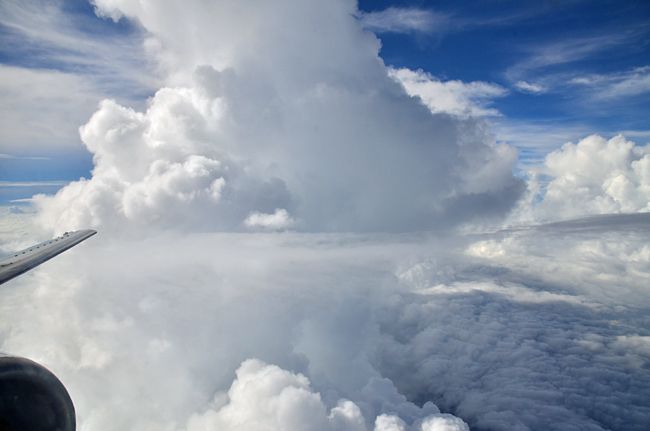 .
In between clouds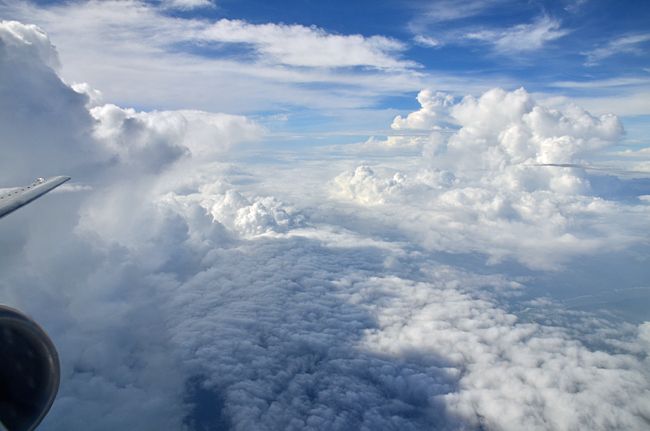 .
Typical unstable conditions over Indonesia
The seatpocket is empty apart from the safety card, no magazine, no shopping, no menucard. The trolley with food and drinks for sale came along the aisle, but it was hardly noticable that something was 'for sale' and they didn't sell much so to say. So, the crew finished quickly and took their position in the galleys for the remainder of the flight.
For me some opportunity to move myself in the cabin and take some more pictures. With everybody watching me, that strange white guy with the interesting camera.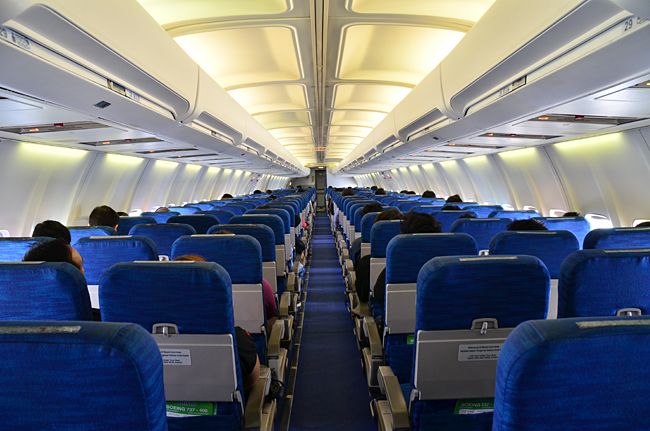 .
Inflight cabin view on PK-GZQ

.
This is one of the overwing emergency rows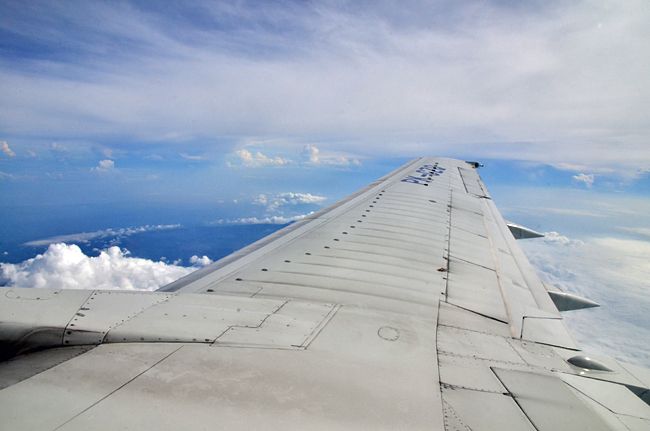 .
A view from row 16 overwing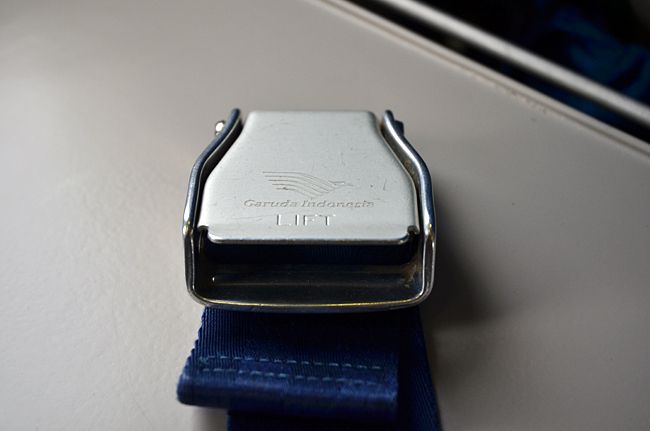 .
Another interesting detail
Soon the seatbelt sign switched on again and we started descend for SUB. Cloudy or even overcast conditions here, quite a low ceiling. We land eventually on runway 10 and use thrust reversers to reduce the speed quickly. After vacating the runway we must give way to a CX A330 (B-HLG) and a company A320-200 PK-GLC, before continuing to our remote stand on the apron.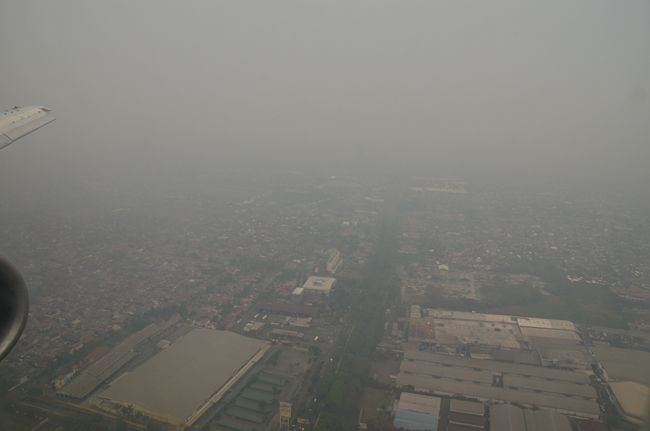 .
Low ceiling on approach for SUB RW10

.
On short finals for landing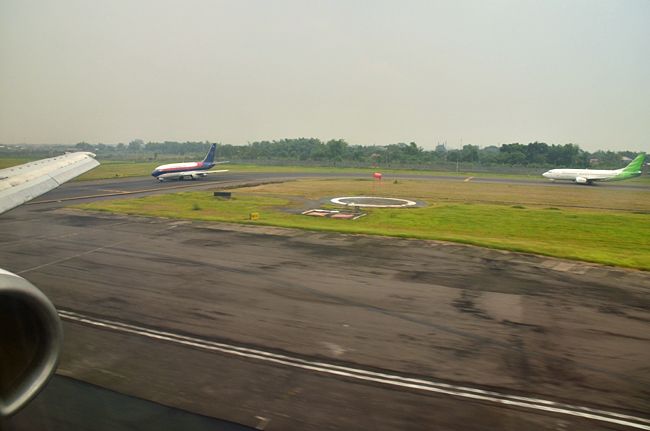 .
Sriwijaya Air still operates the Boeing 737-200, and a Citilink Boeing 737-300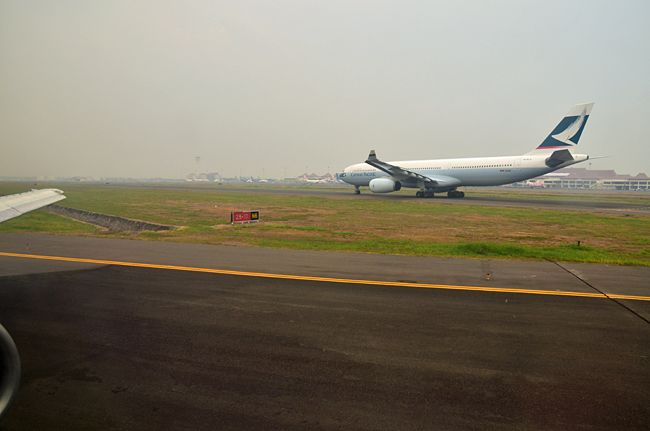 .
Giving way to Cathay Pacific heading back to HKG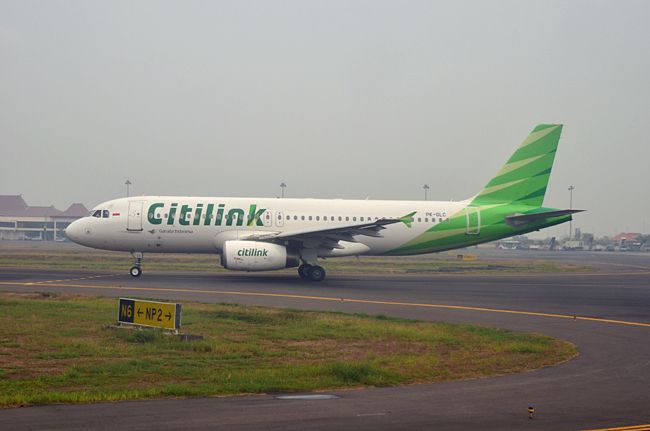 .
Citilink Airbus A320-200 taxiing out
We arrive a few minutes later then schedule, but never mind. The single bus is waiting and I let all Indonesians go inside before I step on just before the doors close.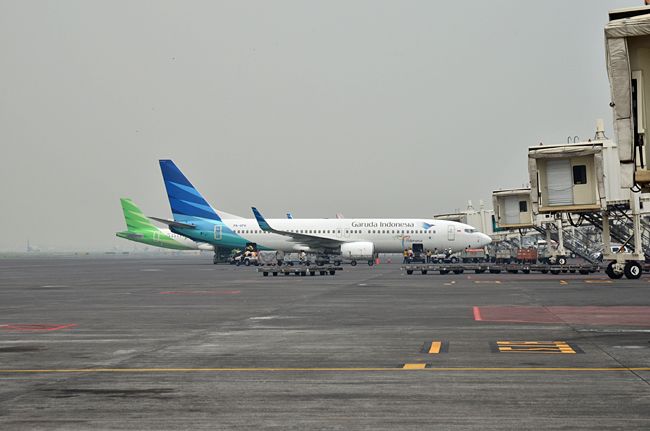 .
Garuda Boeing 737-800 PK-GFK and Citilink A320 PK-GLO seen together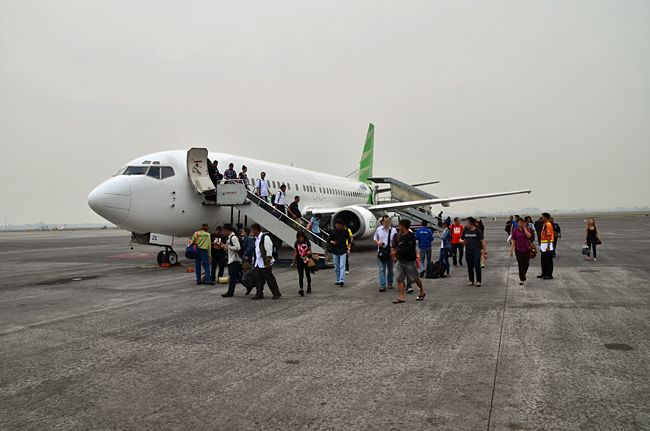 .
Disembarkation in progress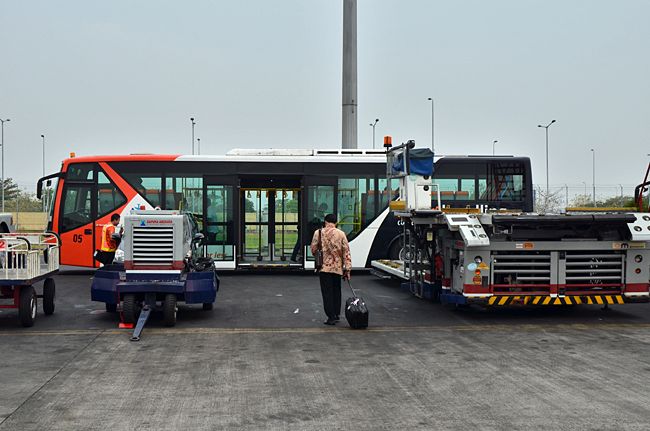 .
The bus that took the whole load of passengers on arrival
Within minutes I find myself in the arrival hall which is a long alley full of shops, bars and ticket sales offices of the various domestic airline companies. SUB has an observation deck, but it was my unlucky moment since Accorhotels is constructing a IBIS
budget
hotel on top of the terminal (I hope they do a good construction), resulting in the observation deck to be closed.
I have to spend roughly 3 hours at SUB, and times go quickly at this airport. More on that in the next report.
---
To conclude I just hope that you enjoyed this little insight on Citilink Airlines of Indonesia, a company rarely reported on this forum. Stay tuned for more flights to be reported in the near future!
Thanks for reading and don't hesitate to leave your small comment in the textbox here below
I would appreciate to hear from you!
Happy Flying
Eric