i was going to see my grandma for the weekend in long island so we flew on jetblue from SYR to JFK
Saturday February 2, 2013
JetBlue Flight#23
KSYR-KJFK
N524JB"blue belle"
A320
We where supposed to depart @ 9:32am but instead took off from runway 28 @ 9:58am and arrived @ 10:40 am.
after getting checked in and through security in a relatively quick period of time, and with a little time to kill i walked around and looked at the few planes that where at SYR this morning.
N712US getting deiced before departure to CLT.
[=http://s1273.photobucket.com/user/maxsmeader/media/b6%20syr-jfk-syr/022_zps0c978f91.jpg.html]
[/URL]
N13969 arriving at gate 26
N940HA
N524JB turning in for gate 15
waiting for taxi clearance
taking off
at about 900am we boarded and got settled in for the 42 min flight to jfk
pushback
Taxing to runway 28
takeoff
Sunshine through the tops of the clouds
more sun!!
we don't get a lot in SYR.
cabin during the express service which consists of coke,diet coke,sprite, water and a sweet or salty snack.
EWR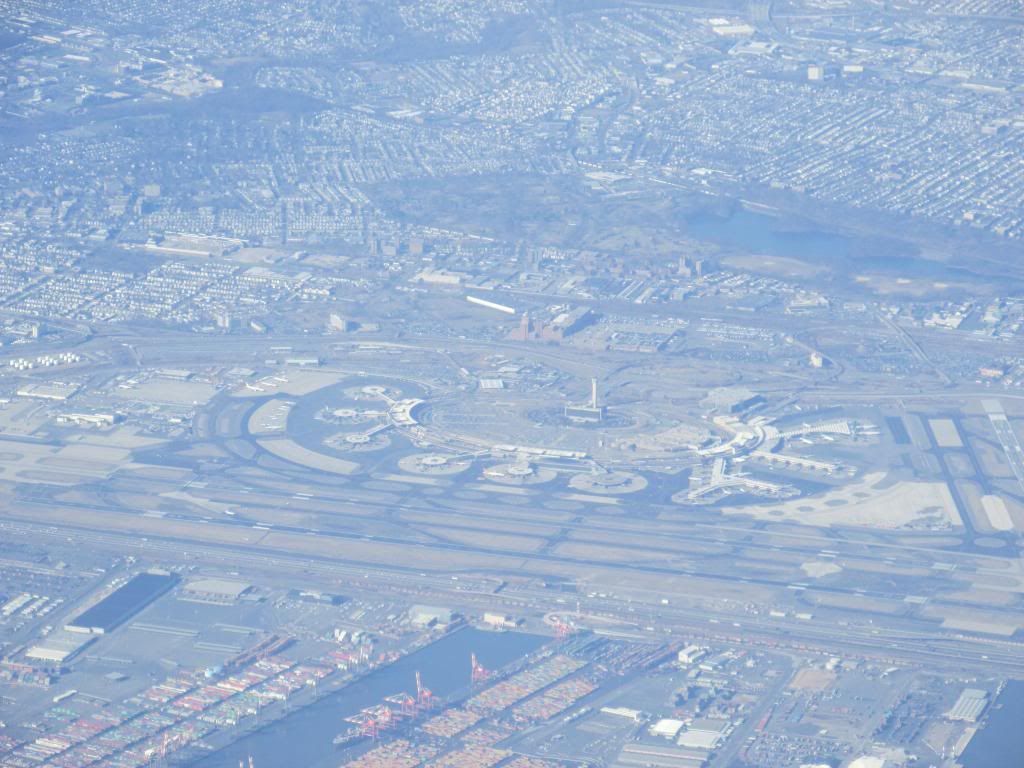 descending out over the Atlantic for landing on 22L
Back over Long Island
Final for 22L
"jetblue 23, exit right on Juliet hold short of 22R and remain this frequency"
B6 A320 taking off to MCO as flight #31 on 22R
Emirates A380
Arrival @ gate 16, turning around as flight 779 to MBJ.
N353JB headed to BTV
N583JB headed to AUA
i took this picture of a Singapore Airlines 777 , while i was leaving JFK
After a nice but short weekend in long island with my grandma it was Monday and time to go back to sunny Syracuse
Monday February 4, 2013
JetBlue Flight#42
KJFK-KSYR
N178JB"its a blue thing"
E190
Flightaware map of the flight.
For all the times we have flown to JFK and have had to wait in extremely long security lines we started to purchase extra leg room seats because that comes with extra speed and you are able to go through a quicker line which saves a lot of time. Its defiantly worth it. Once through security it was time to watch planes land. By gate 16 and 14 there are good views of 31R and 31L and they where in use today. Its a great view there when planes take off on 4L right by the B6 terminal.
Korean A380 landing on 31L
This A310 caught me off guard landing 31R
N329JB arriving From IAD departing to BDA as flight 1731 from gate 14
N712JB arriving 31L as flight #23 the same flight i took Saturday
N632JB as flight # 805 to PLS
Nice lineup
Its cloudy and snowing in syracuse.... figures
At 11:40 we boarded flight 42 to SYR through gate 23.
Interior of the E190
Once boarding rapped up , the doors where closed and with a standard greeting and safety demo push back began and a few minutes later began the taxi to 31L
After a quick taxi we began a quick take off roll and where airborne off of 31L and in the canarsie climb.
After a few left turns we where on are way to sunny Syracuse at 22,000 feet it was a smooth and quick ride and the usual "express" service was served with coke diet coke sprite or water and a sweet or salty snack.
Canarsie Climb
later in the climb
cabin crew doing the beverage and snack service
Cruising
After a bumpy approach through the clouds we made a wide left hand turn to line up for landing on runway 28, after a rough landing we taxied straight into gate 15 and exited the plane a few minutes later and then got are bags and where off to the parking garage to get our car. It was a good thing we parked inside it snowed all weekend!!
Approach
Arriving at gate 15.
N178JB at gate 15 taken from the curb right in front of the airport.
Thanks for reading!!