Intro:
At 27 having never been to Vegas I have been often given a hard time for not going. Yes tons of clubs, casinos partying and drinking. I had always rather just spend my money on travelling abroad. With a great love and appreciation for electronic music EDC (Electric Daisy Carnival) was a yearly festival that is held in Las Vegas at the Motor Speedway. Figuring I could kill two birds with 1 stone I decided I would finally make the journey. However I only ened up going to one day of the 3 day festival.
As you all know SFO is my home base so flight would be direct to and from Las Vegas. Having never flown Virgin America I decided I would give them a try. They seem beloved by all. Ever more so by many of us a.netters. Flight was booked direct through their site. Easy through and through. On to the trip!
June 20th had arrived and after a half days work it was on to the airport for my late afternoon flight to Vegas. Finally get to see the new-ish Terminal 2. My first domestic flight in as long as I can remember
Sign designating Virigin side. T2 is only used by VX and AA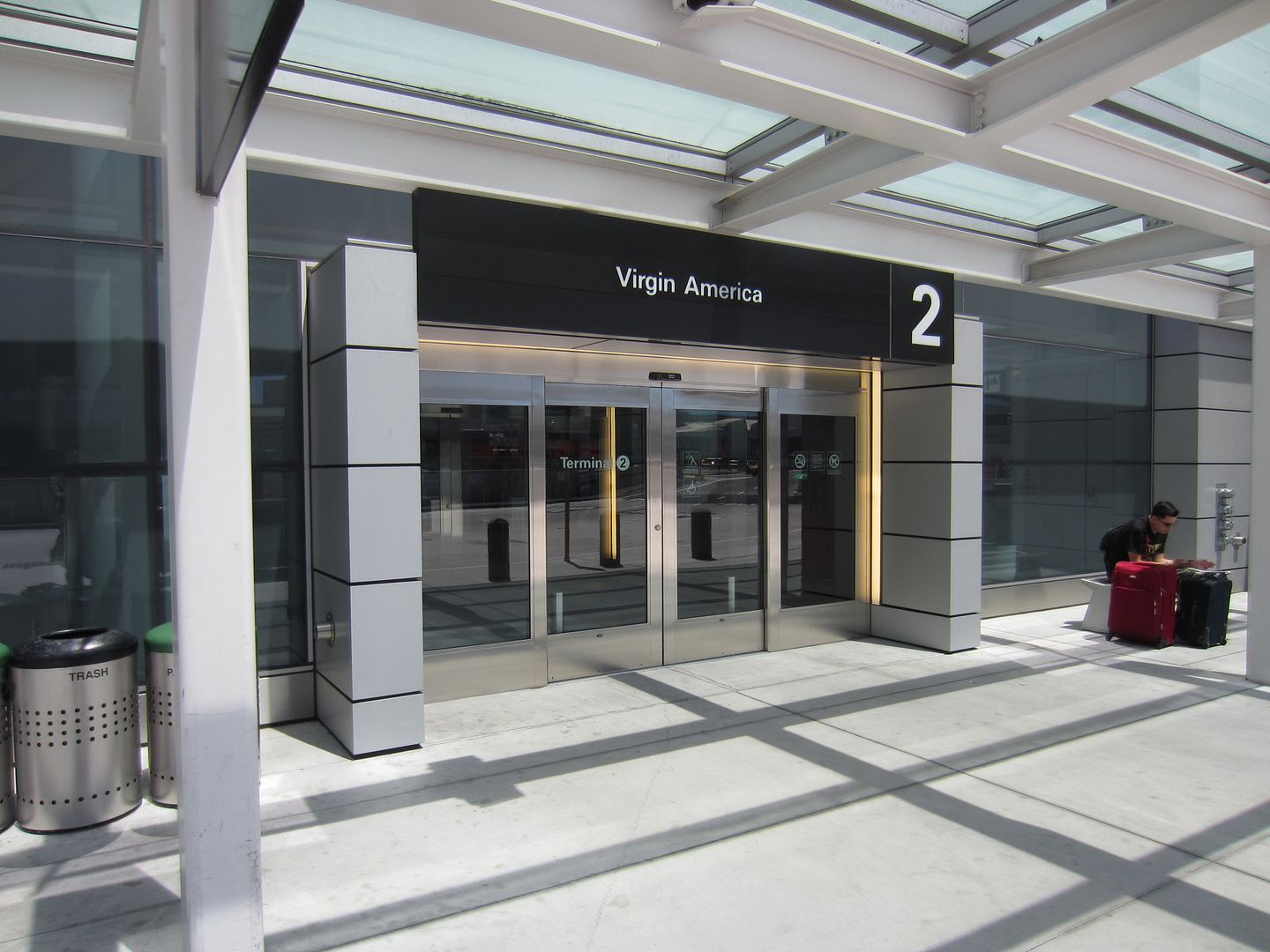 Having already checked in online before and made my seat selection all I had to do was drop bag off and get my boarding pass. $25 for my checked bag.
Curbside bag drop was nice. Only a matter of seconds for bag to be tagged and boarding pass printed
Virgin check-in counter. Gotta love the cool lights and vibrant music they play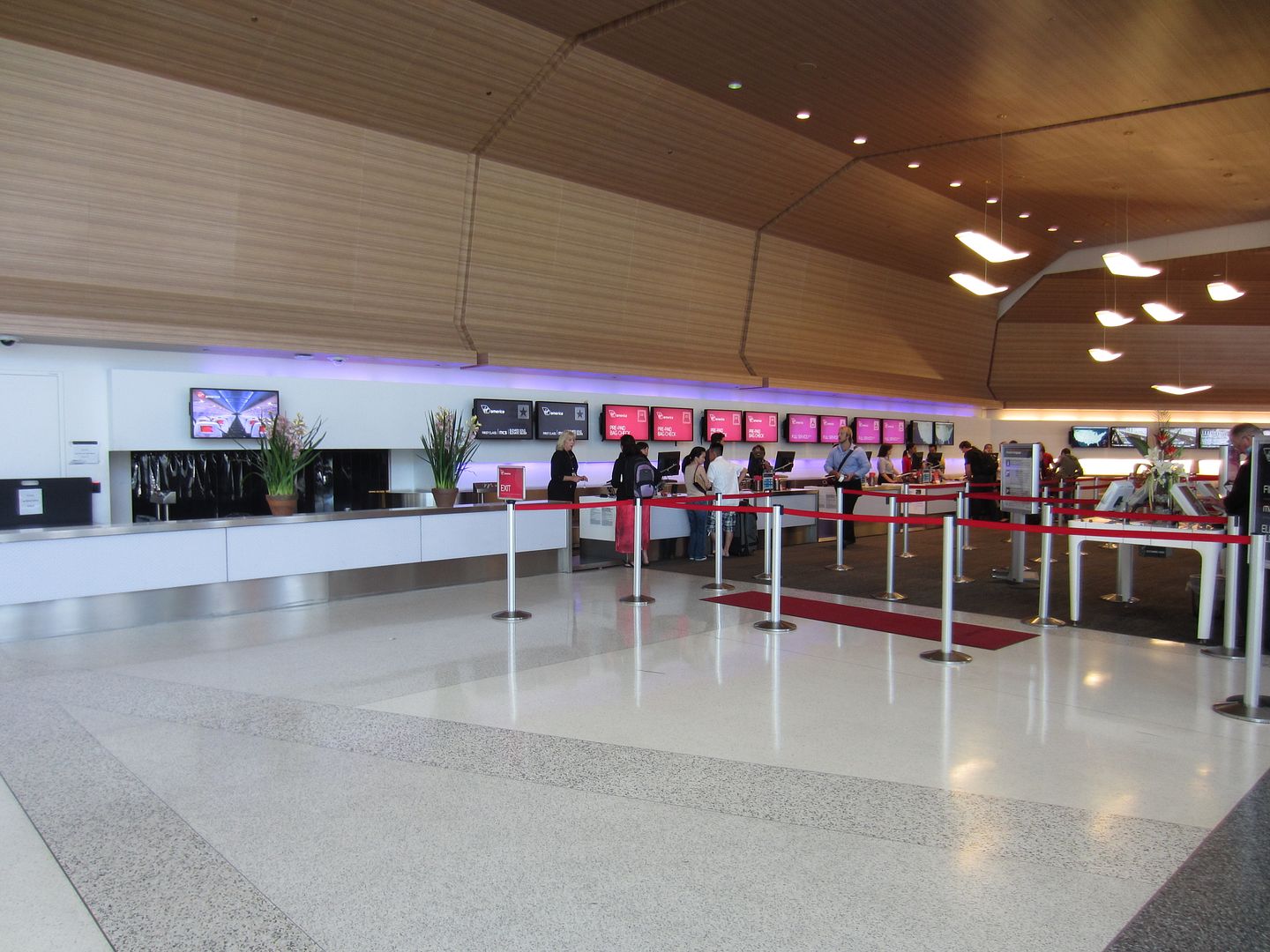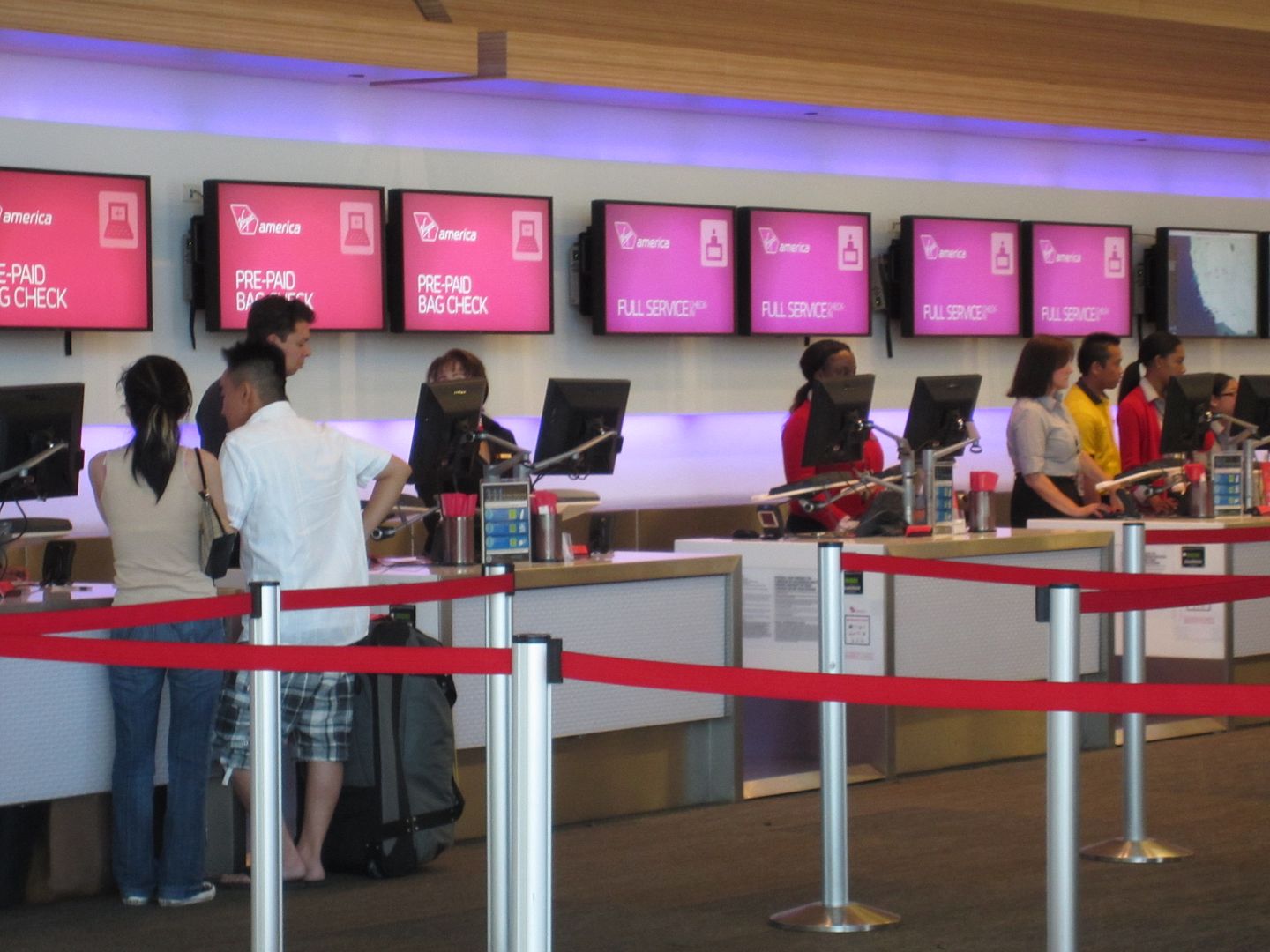 First glimpse of main hall at T2. Very spacious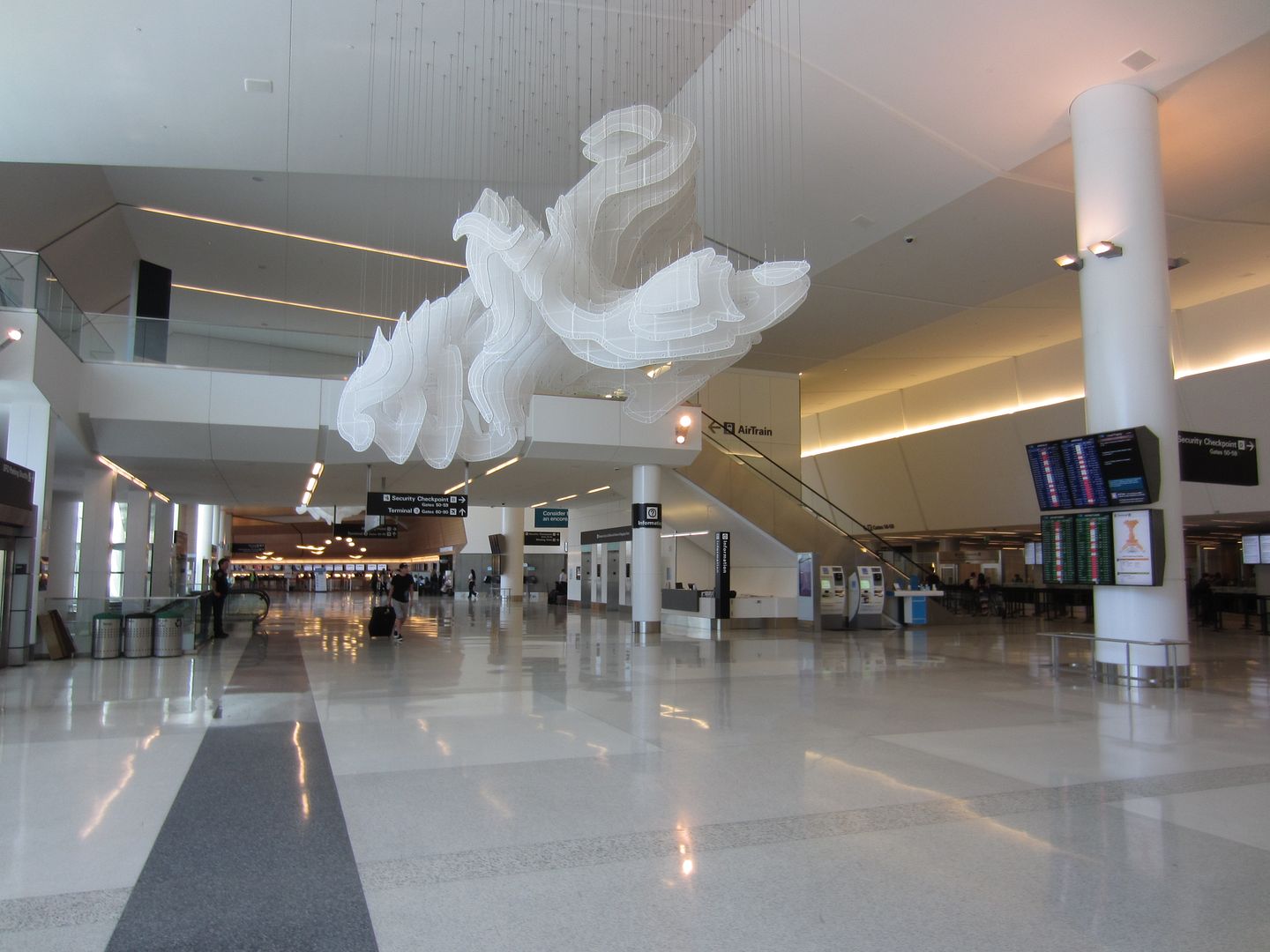 CLEAR kiosks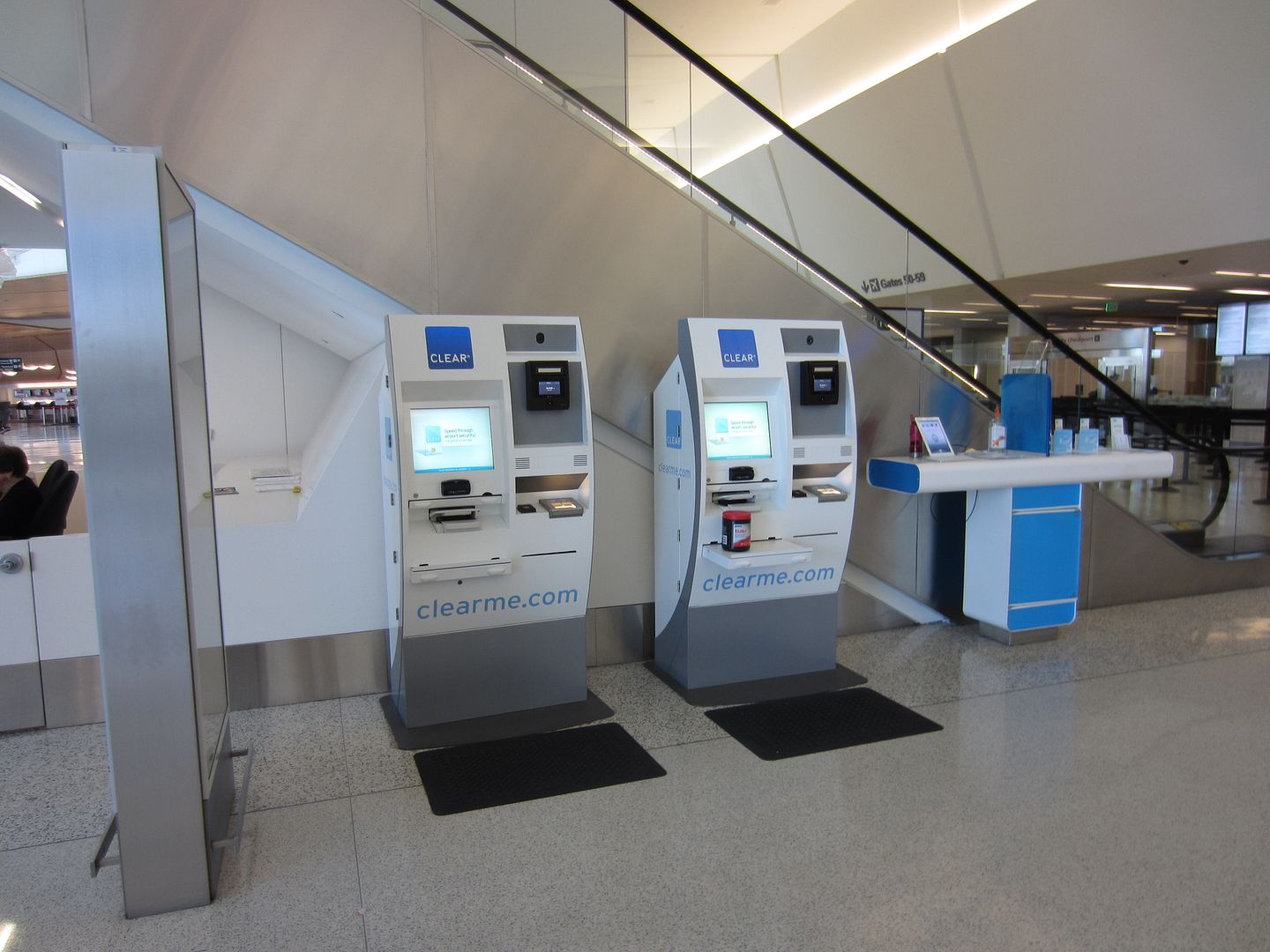 FIDS for afternoon flights
Airside at T2 after clearing security
Look back at long lines for security and TSA
Main area with tons of food and gift shops. Ice cream, burgers, sushi. They have a lot'
Walked around a bit to see if I could do any good spotting. They have this pitted like film over all the windows. Makes photo taking impossible. Caught this VS 747 taxing on its way back to Heathrow
With about an hour or so to kill I decided to have myself some lunch. I love seafood so some tasty salmon would hit the spot. Accompanied by a Pyramid Hefeweizen
Still feeling a little "thirsty" I had a go at a mojito
Soon it was time to board so I made my way over. Unfortunately with that film and position of OUR plane there was no opportunity to snag a photo of it.
SFO - LAS
VX 910
N841VA - Airbus A320
Seat 19F
Load - 100%
Seated and ready to go for the 1:15 Hr hop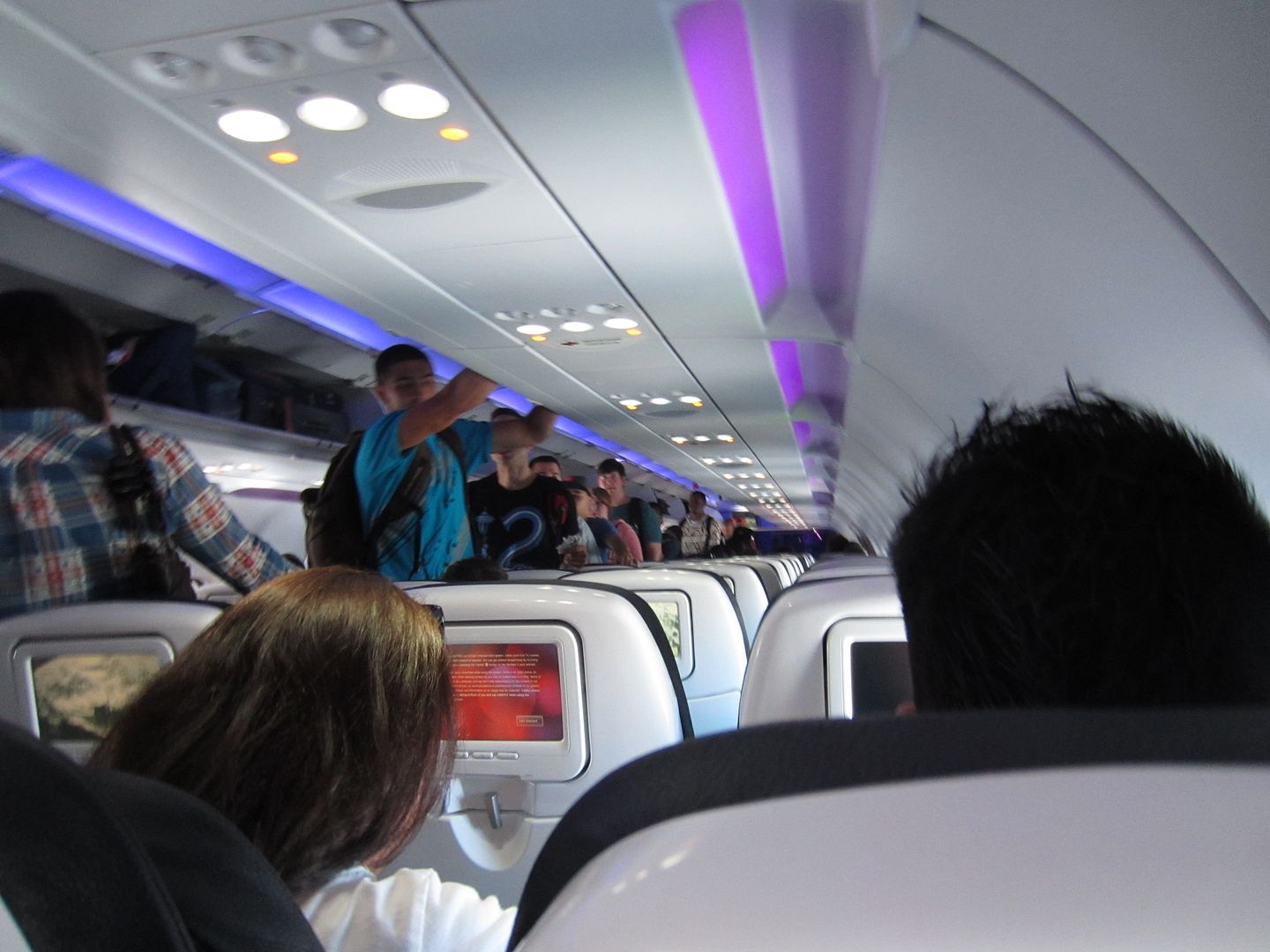 Leg room is more than acceptable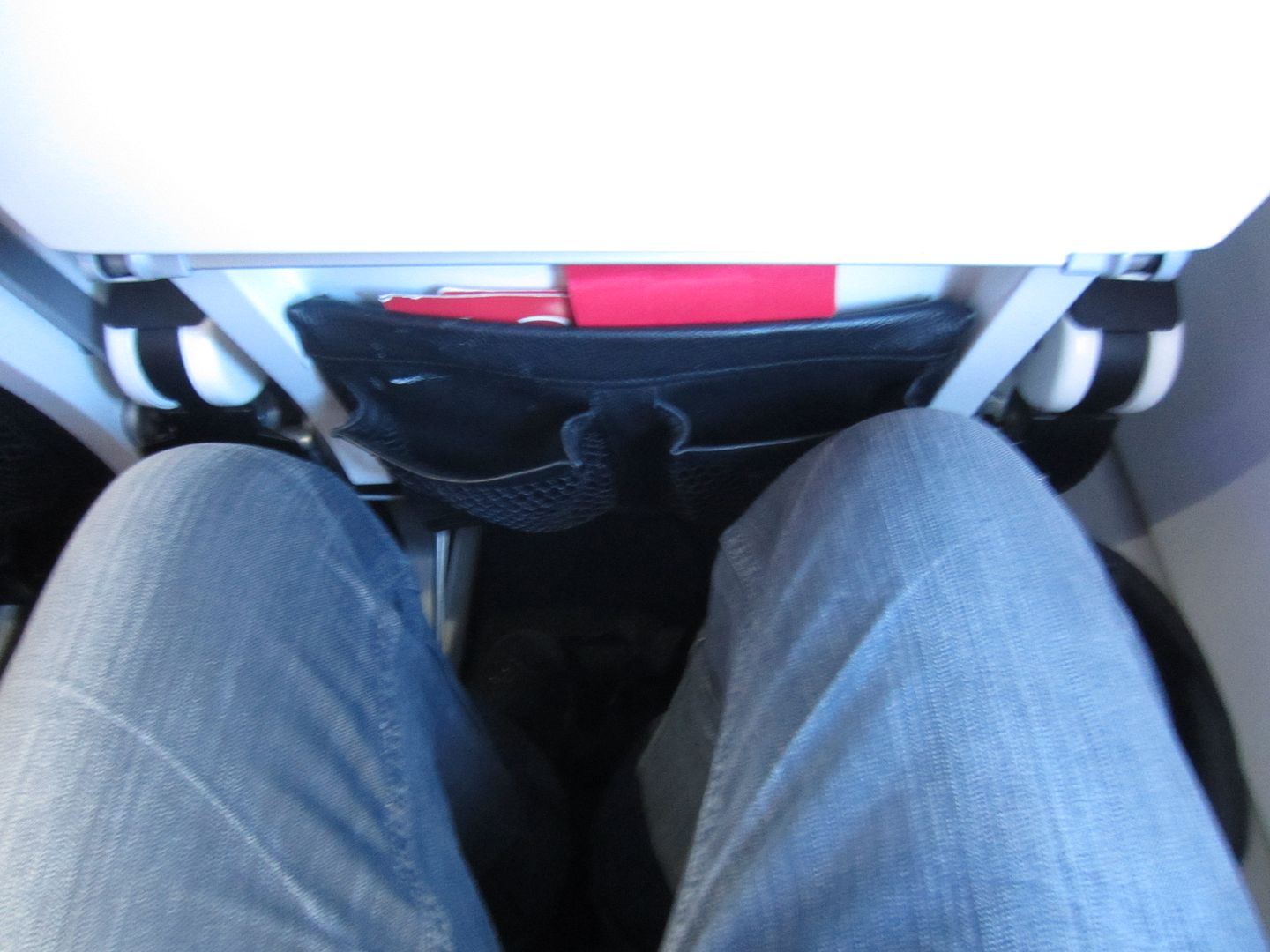 How do you feel about the stars and stripes on the wingtip. So patriotic. Gets me all choked up :P
After about a 5 minute taxi it was time for liftoff. We used 28L for departure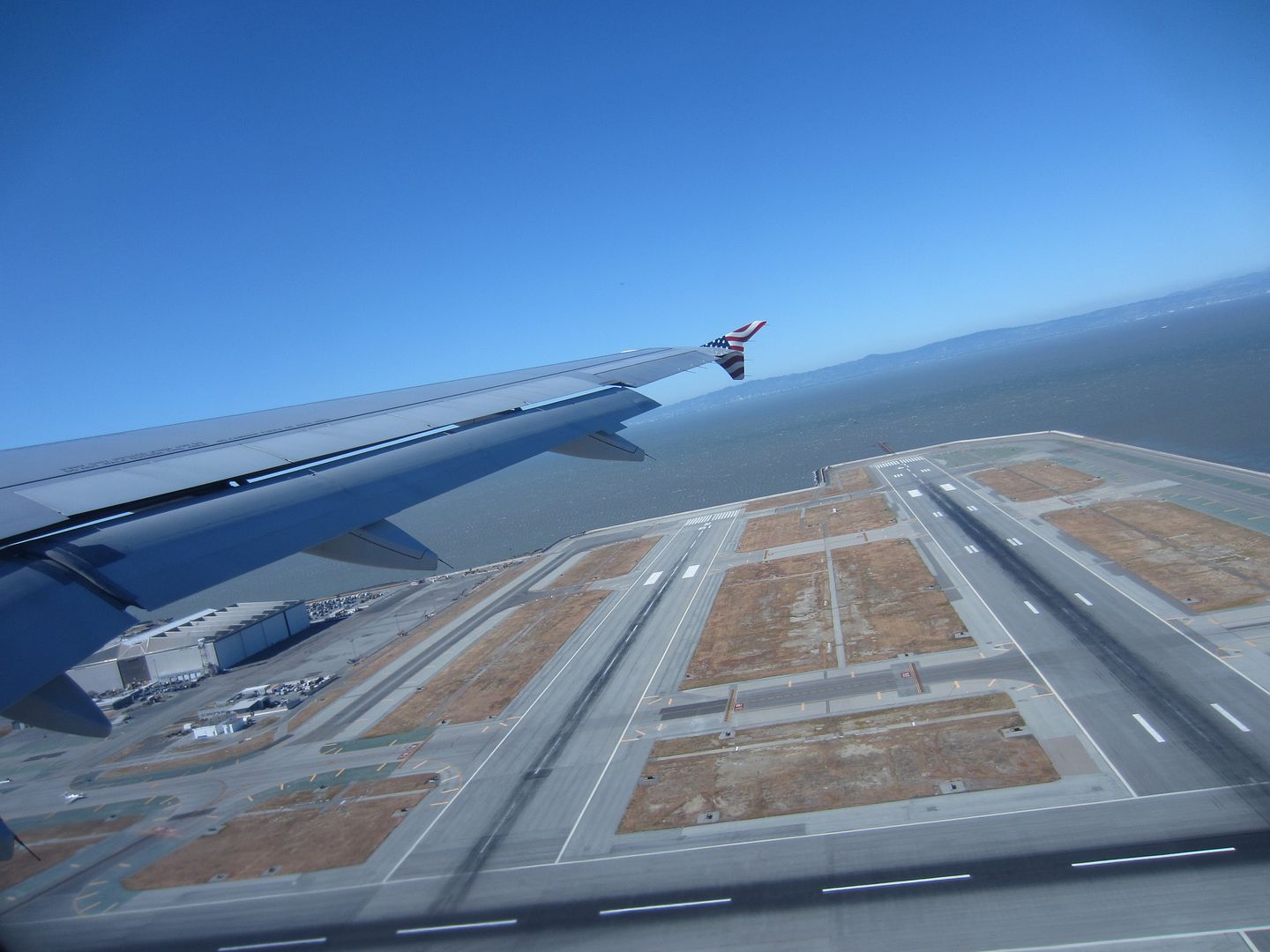 Look down at cargo area
Clear afternoon so we had some great views of downtown and coast. Made our way to Half Moon Bay then turned inland
In flight map. I agree with those of you who wrote about this before. The google maps is very slow
Cranberry juice and the Office is all I need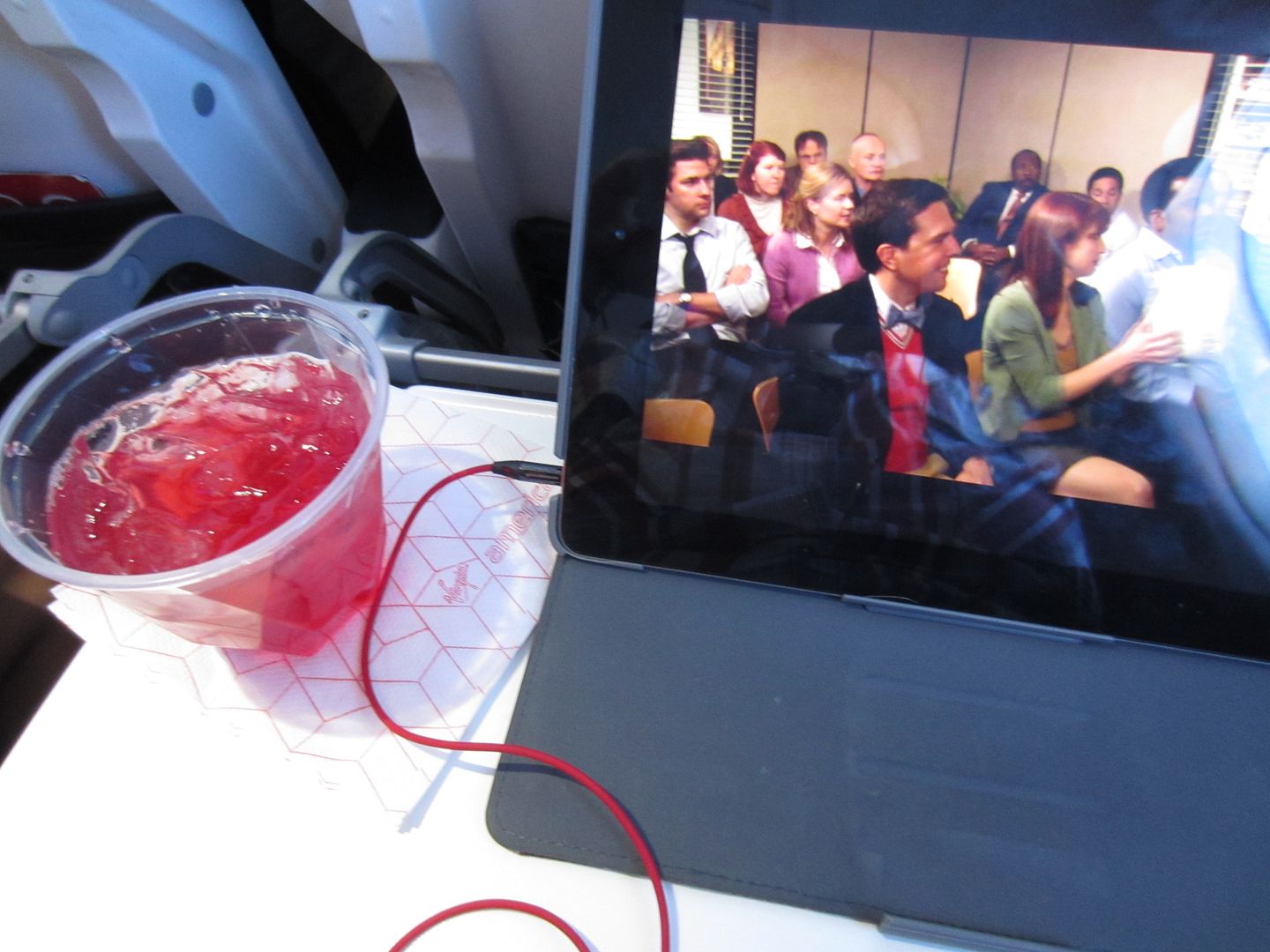 After about and hour and fifteen minutes we were landing at LAS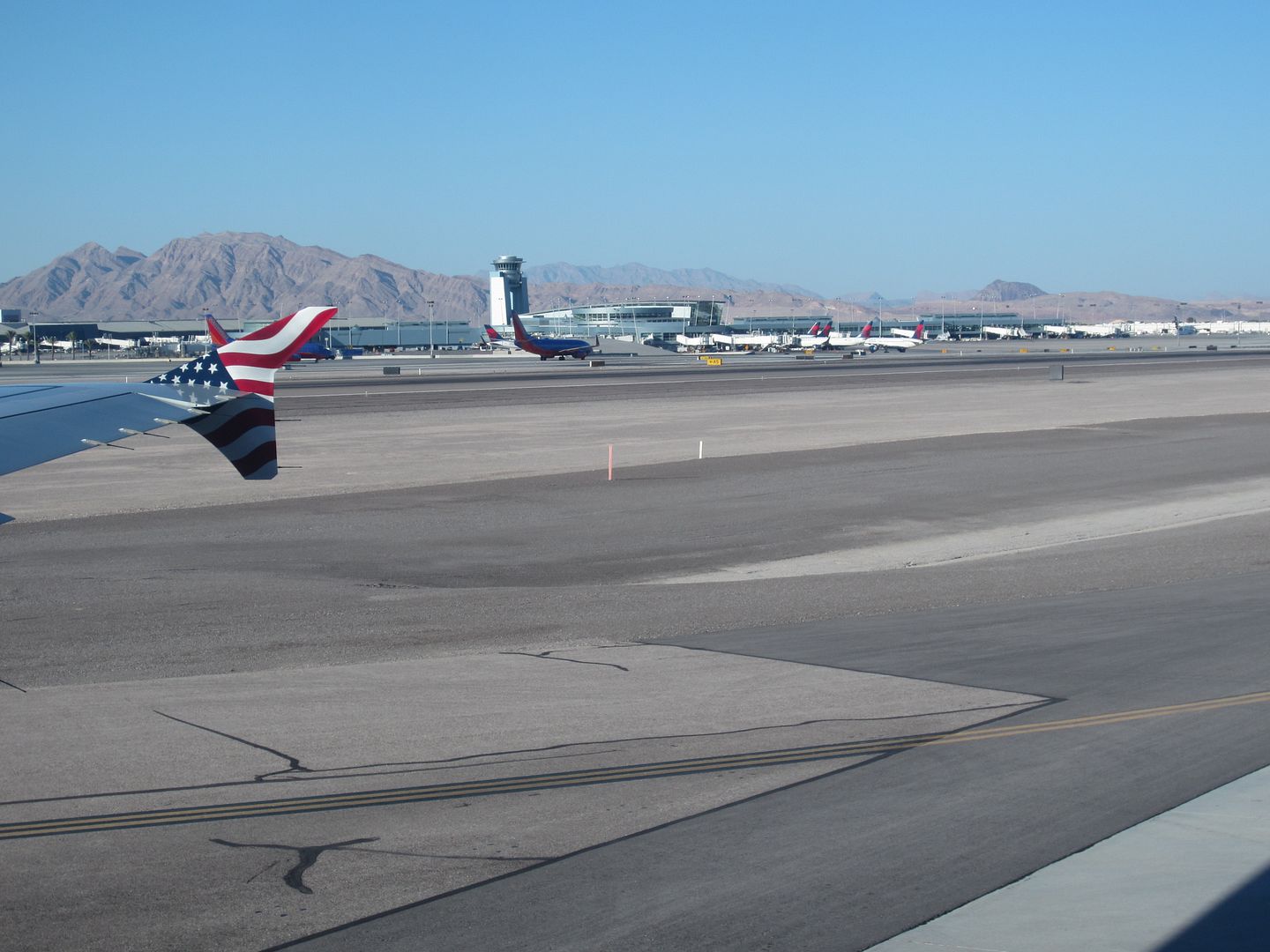 Finally had the chance to get a glimpse of our plane that brought us from SFO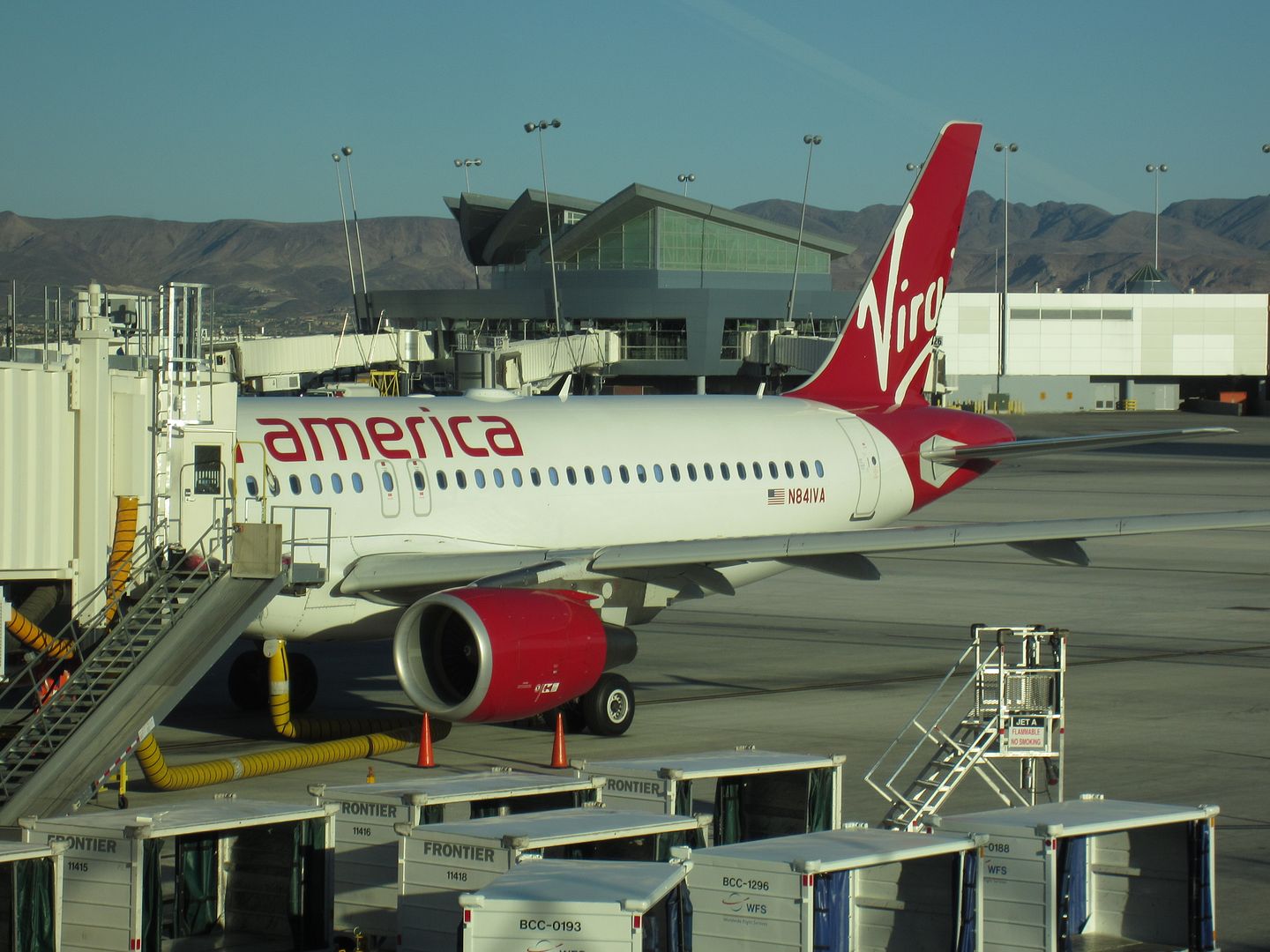 Soon after I made my way downstairs to grab my bag and head into town.
Driving down the strip had a little view of backside of airport and helipad
[IMG]

http://i1169.photobucket.com/albums/...G_1017_zpseedbea56.jpg[/IMG][/URL]
Stayed at the Monte Carlo for the weekend. Average hotel imo. But decently priced for the EDC weekend. Some 300,000 + people per day for the event
First night there one of my good friends got us into some cool clubs. Got to see ATB and Avicii.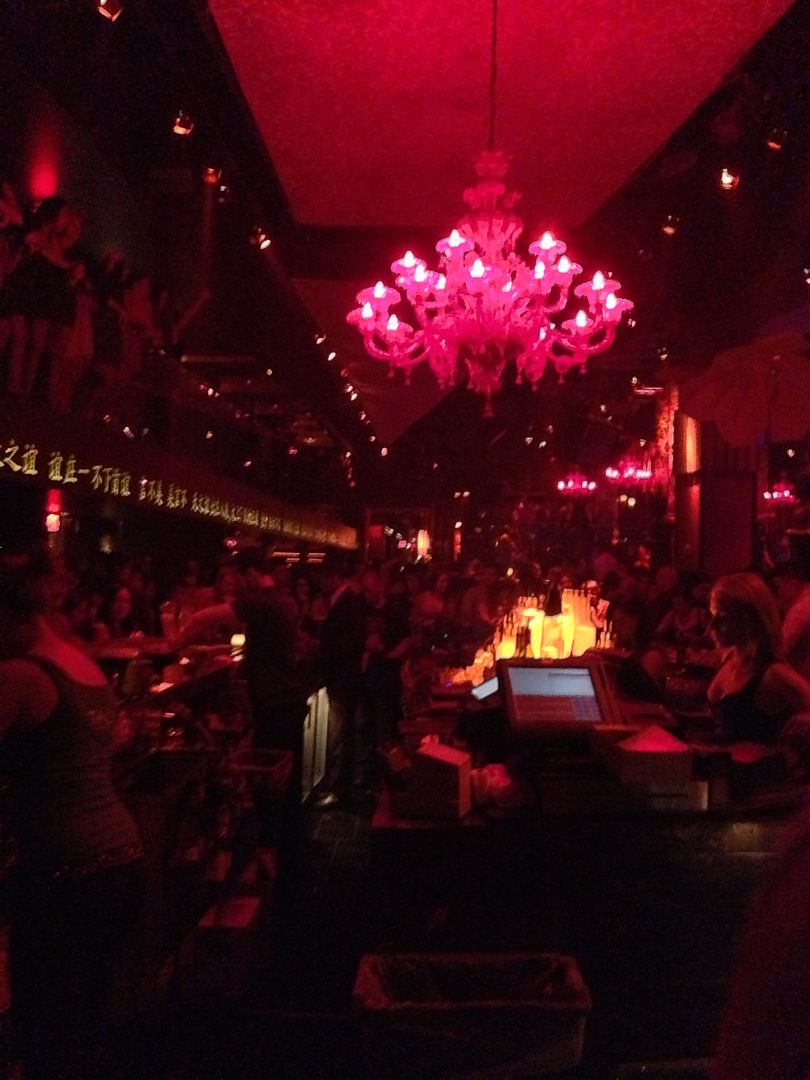 Some person dressed as a robot shooting cooled air and confetti on the dancefloor
Some pics from the strip
Daytime crusing around vegas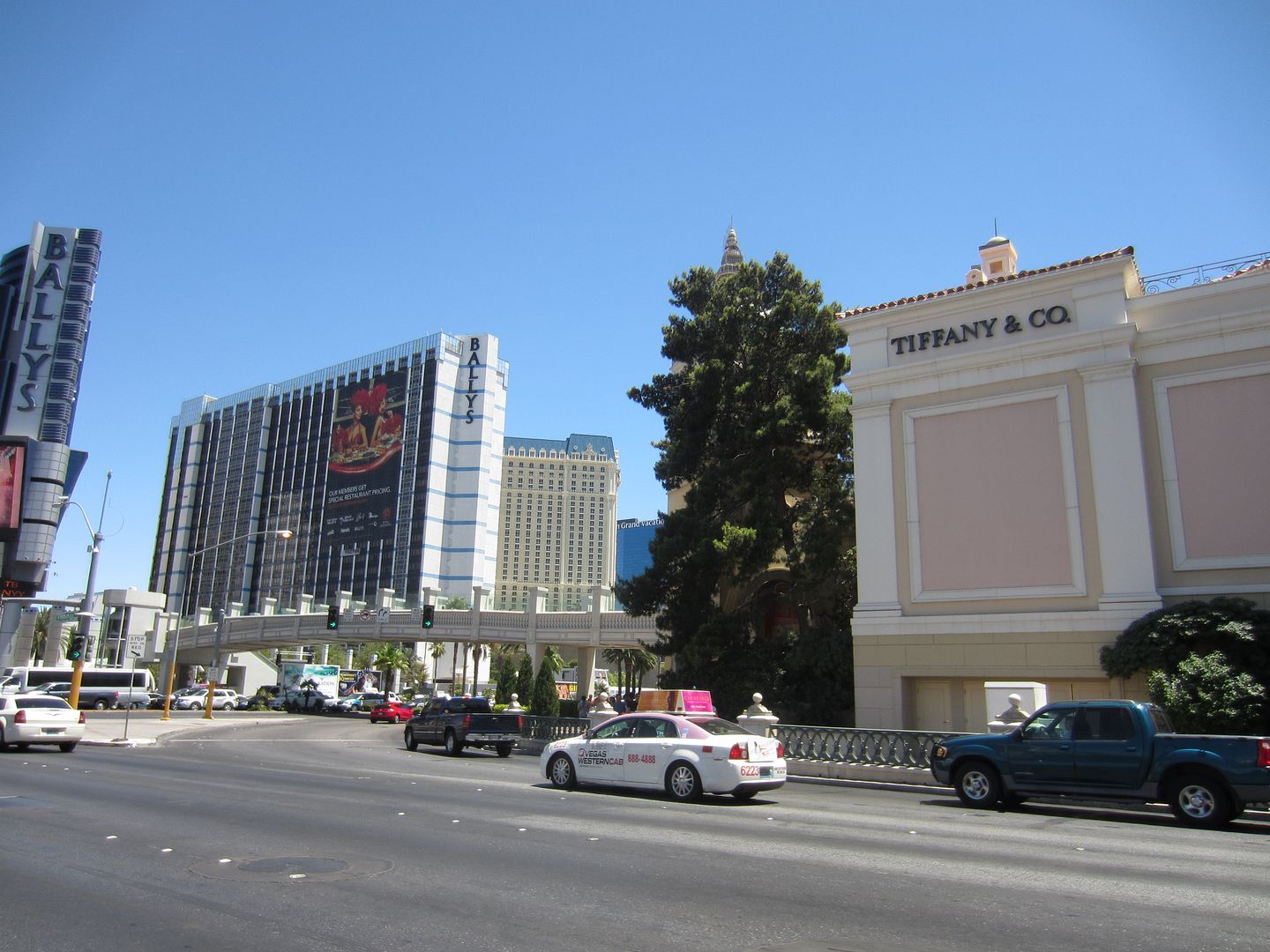 They even dressed Cesar up in EDM attire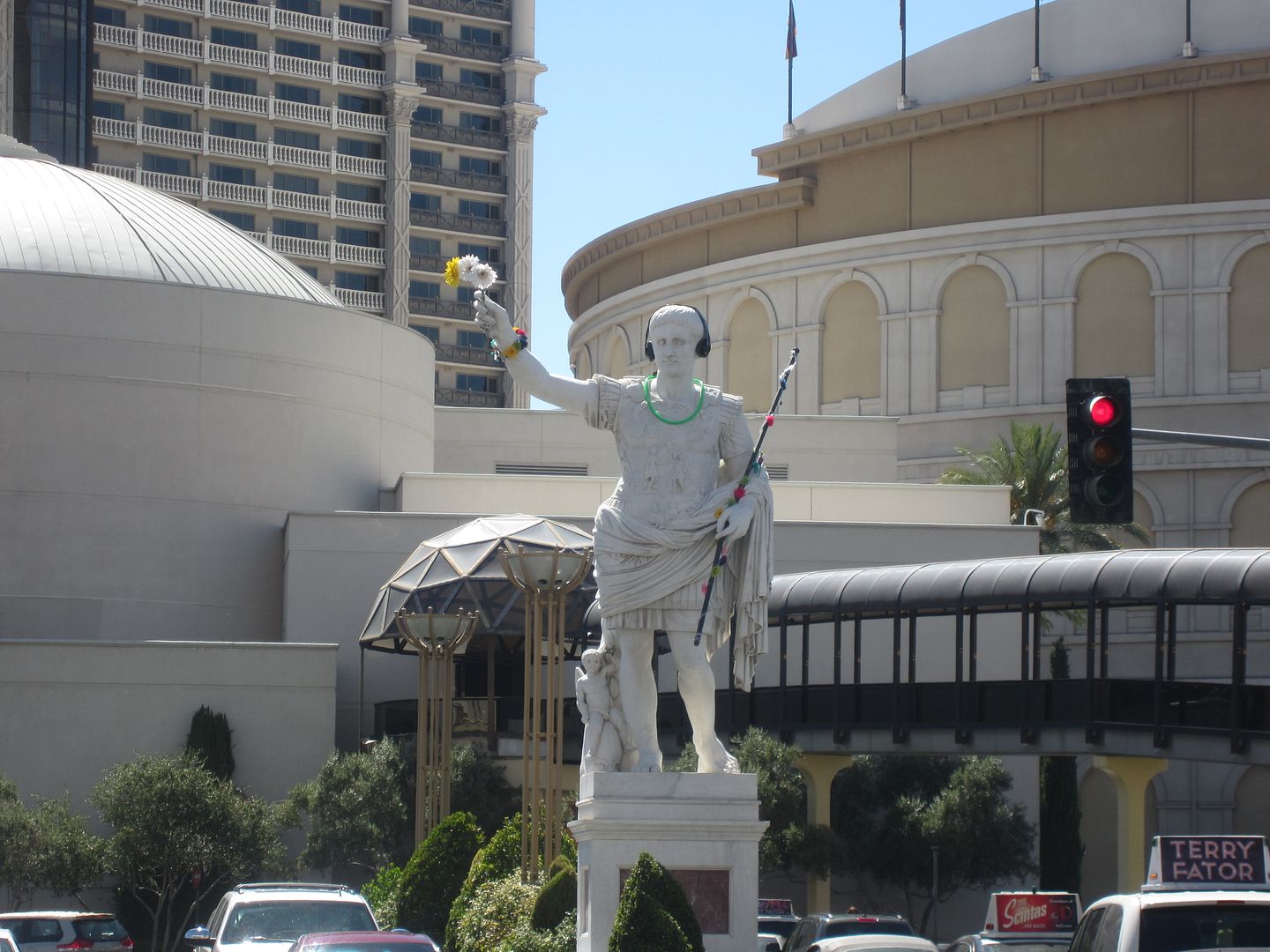 Saturday was spent mostly walking around and checking out various hotels and cassinos. Really enjoyed Cesars Palace. Tons of shopping to be done there. Hit the Hugo Boss store and got myself a shirt for the night out
Made our way to the Venetian shortyl after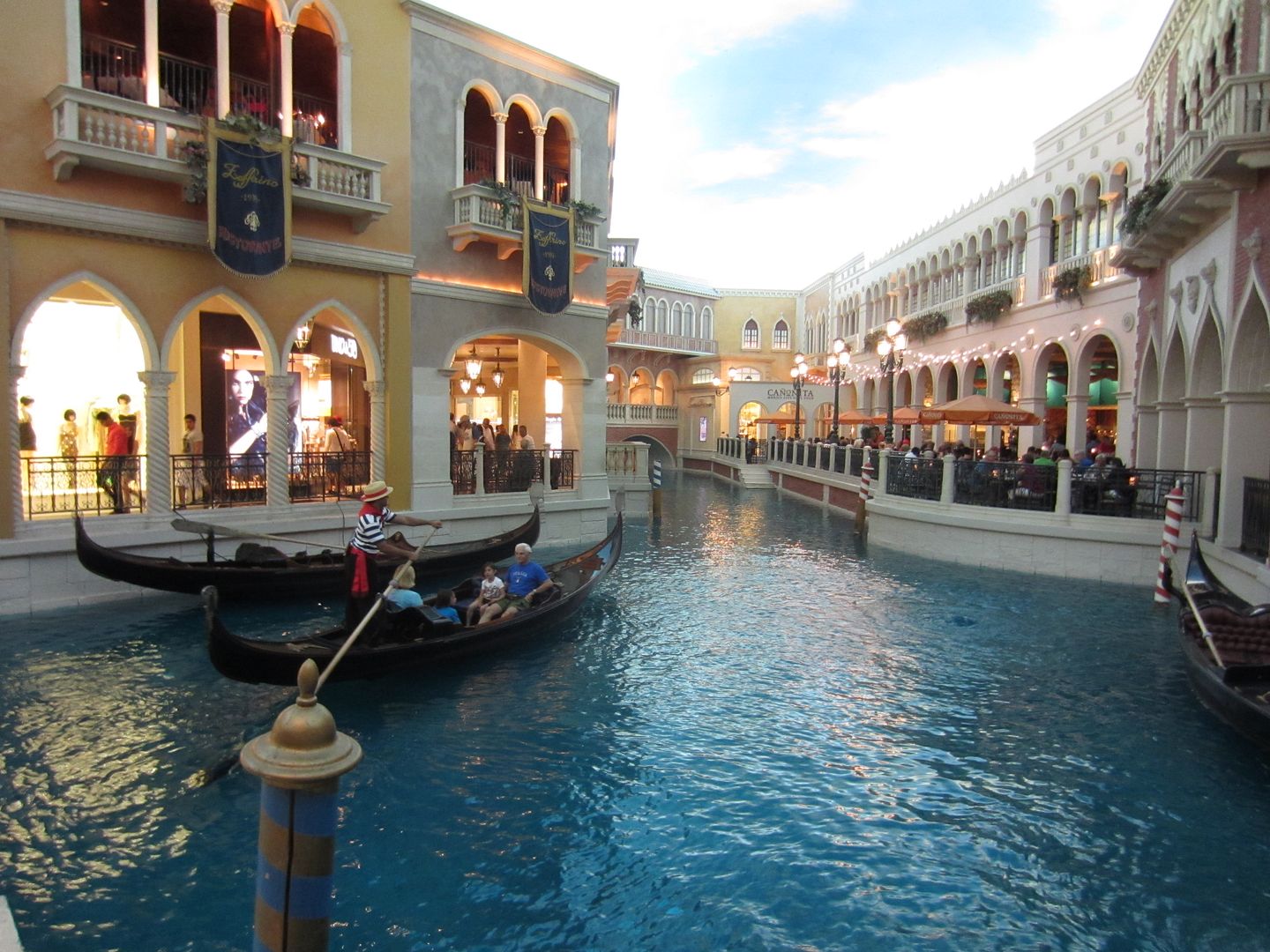 Hmmmm......
Treasure Island on our walk back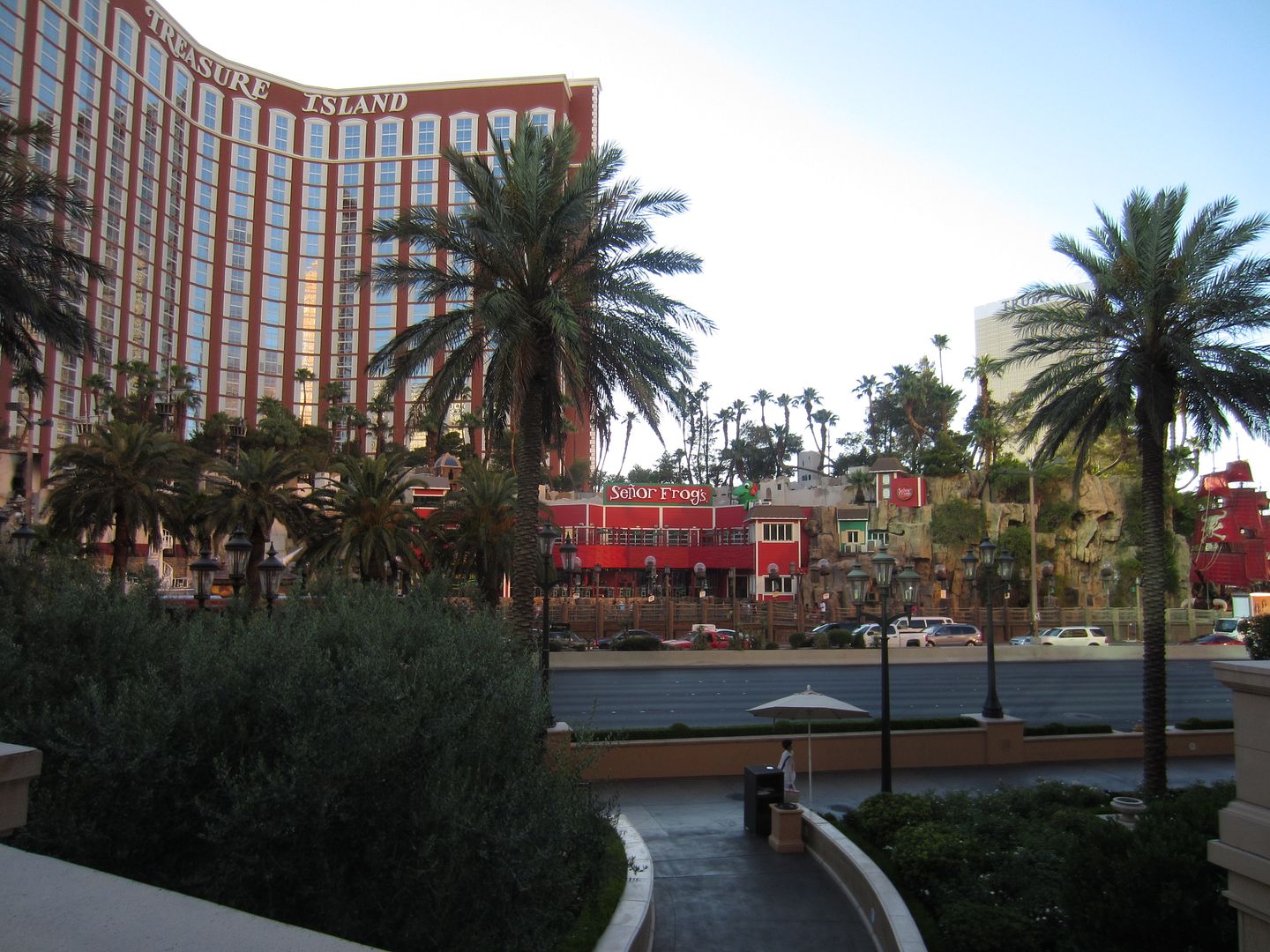 The group getting ready and "pre-gaming" before our night out. Went to LAX (its a club) to see TooShort. Had a great time. Oh and i'm on the left
Next morning it was time to get breakfast. Everybody had told me check out the Hash House. So we did!
Bloody Mary thing with bacon
Smoked Salmon eggs benedict. So good!!!!!!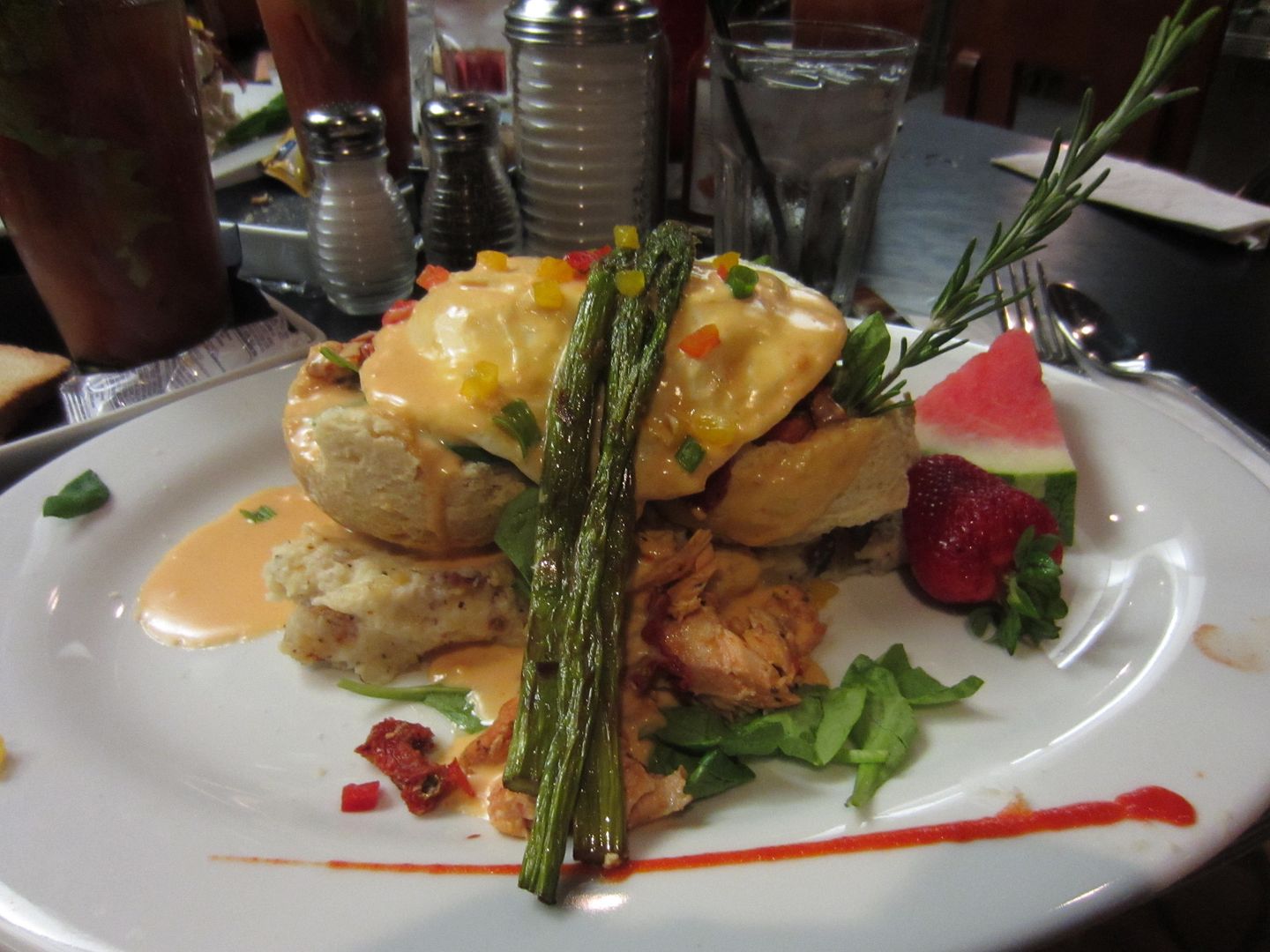 After out Sunday morning breakfast it was time to head home. Friend of mine was kind enough to drive me to the aiport on his way back home.
Curbside at LAS T3
Again I prepaid my checked bag and checked in online. Just to the drop off counter and grab my boarding pass. Unfortunately the lady at the counter said my lfight was delayed about an hour and to see the gate agent for more info
Long line at security this afternoon
Having cleared security and realizing I now have more time than expected it was time to do some spotting. Hopefully better views than I had at sfo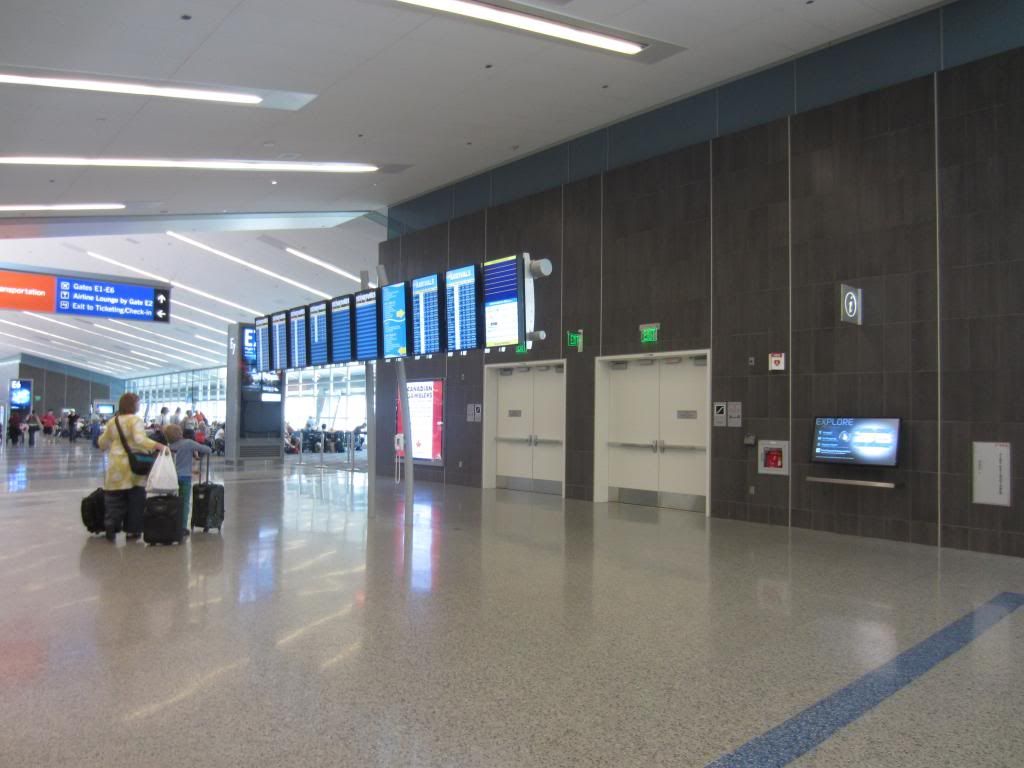 AC Embraer
Volaris
Next was pretty cool to see. Whilst one VS 744 was being loaded up for return to London another one pulled right next to it. Too 744's at once!
KE 772 arriving from ICN
After walking around and snapping away I decided to head to my gate. Turned out there was fog and low ceilings at SFO. They had now pushed my flight from 3:50 to 5:45. Funny that people always complain about SFO. My whole life I had never once been delayed until today. Guess there is a first time for everything
Finally our plane had arrived and it was soon time to board
LAS - SFO
VX910
N521A - Airbus A319
Seat 7A
Load 100%
Seated and ready to go. Take me home VX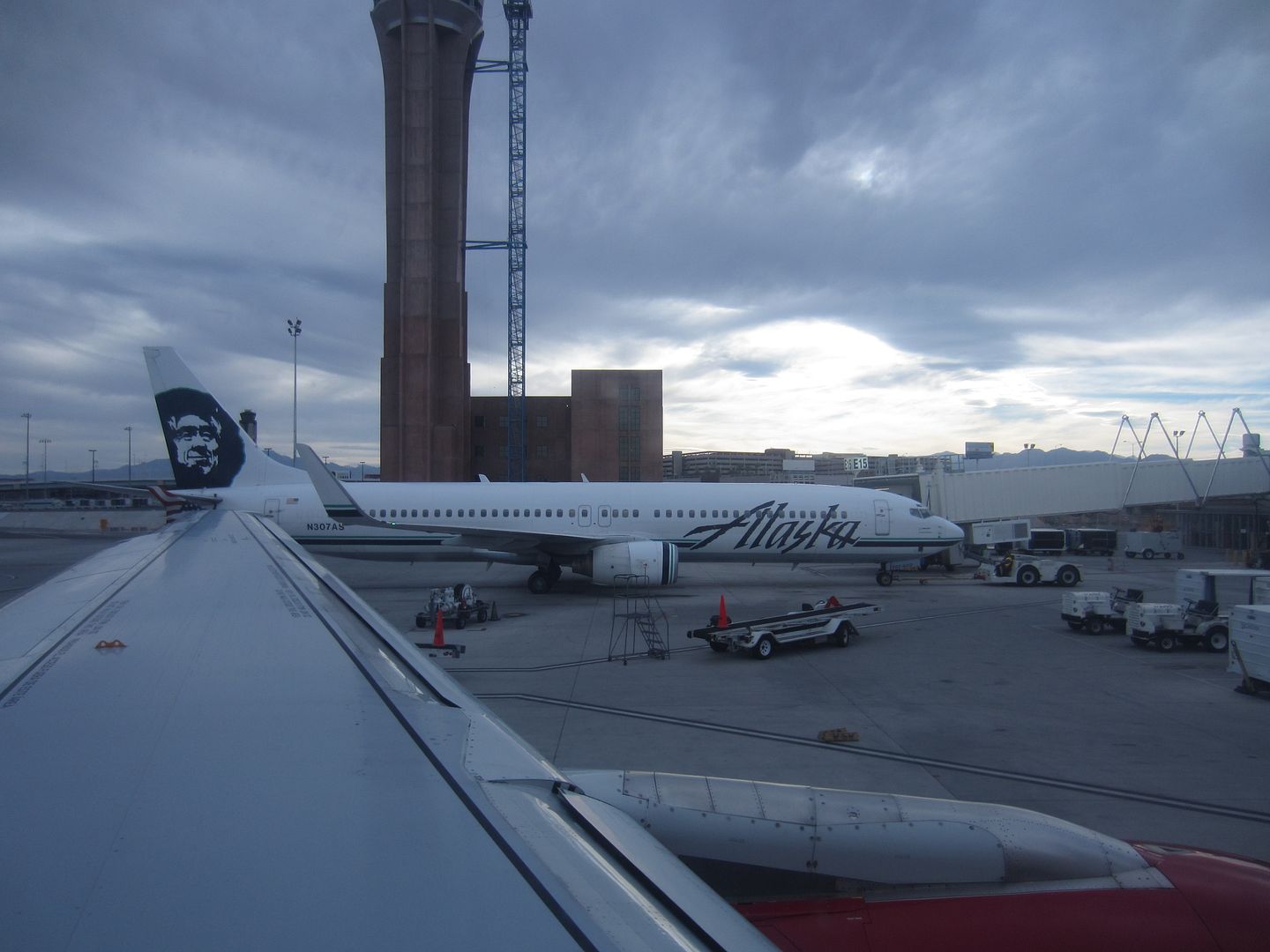 Soon after we pushed the expexted happened. Delayed again. We taxied all the way out only to come to a stop and me notice the engines spool down. First officer came on the pa and said they didn't want us leaving until 730pm. So we were stuck on the tarmac on the plane for another hour. Fun!
730 soon hit and we were off. Supposed to have been home at 5 and now its looking like 9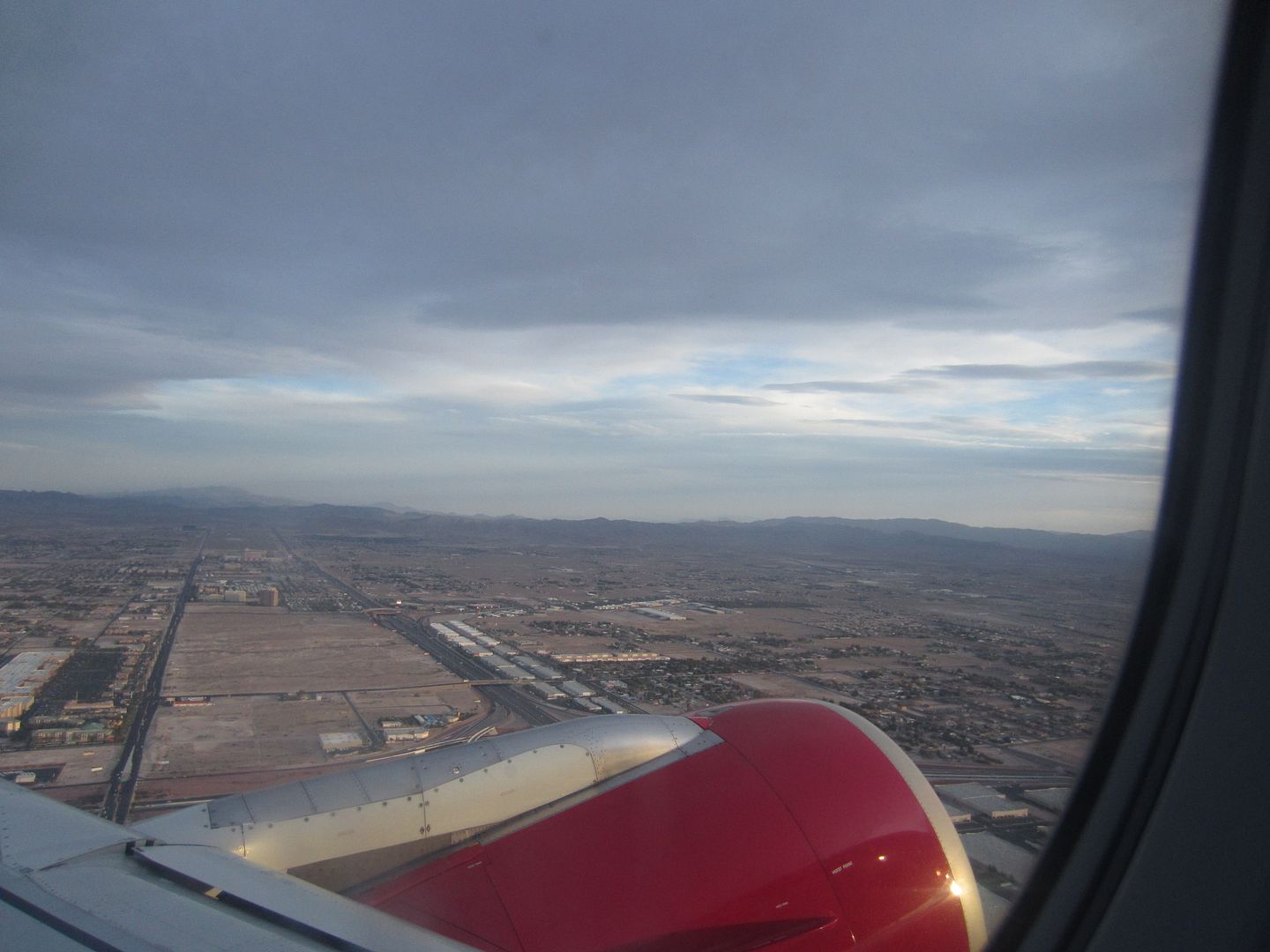 Cranberry juice while I play some tunes. Getting kinda sleepy at this point
I really do enjoy the mood lighting in the VX cabins. Very soothing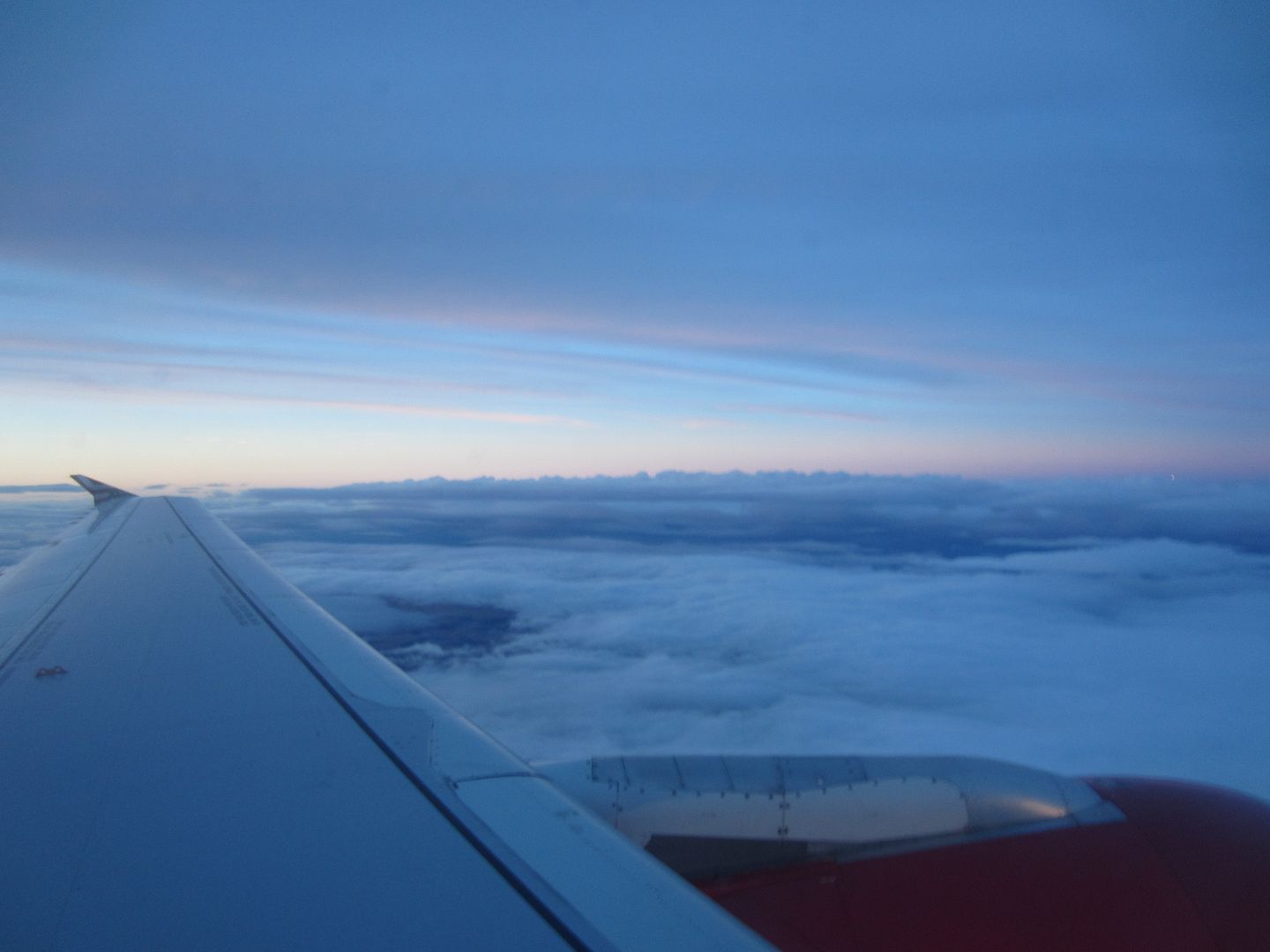 Passing over my hometown of Foster City on final approach
9 PM hit and we were on the ground. Long day for such a short flight but can't complain too much. VX staff was super nice and apologetic about the situation
Made my way to baggage claim and I was finally home
Conclusion: My first Vegas experience was great. No complaints whatsoever. Would most defintely pick a different hotel next time around. EDC weekend just makes it super expensive. Must say VX was great. Always heard nothing but positive things about them and you will get the same from me. Great seats. RED ife is fine. Staff is very friendly. I hope all the rumors of them going under are false and that they continue on.
Hope you all enjoyed
Check out my other trip reports
Air Berlin Long-haul On A330 SFO - DUS - CPH In Y
(by
mikeology
Oct 16 2012 in Trip Reports)
The Faroe Islands & Atlantic Airways
(by
mikeology
Oct 10 2012 in Trip Reports)
Colombia Part 2 W/ Jetblue And LAN SMR-BOG-FLL-SFO
(by
mikeology
Aug 1 2012 in Trip Reports)
Colombia Part 1 W/ JetBlue And LAN SFO-FLL-BOG-CTG
(by
mikeology
Jul 31 2012 in Trip Reports)
SFO - ICN Round Trip On UA Business Pics
(by
mikeology
Mar 12 2012 in Trip Reports)