Westjet Encore Trip Report
Just want to file a trip report on Westjet Encore's Inaugural service to Nanaimo airport today (June 24, 2013)! As you all know, I love inaugural flights and can't really miss out on the chances to fly the inaugural flight of an airline, even thought it is technically an airline within an airline. Westjet Encore, as Encore CEO Ferio Pugliese said, is the second coming of Westjet, and aims to bring affordable travel to smaller Canadian communities. It is committed to 20 firm orders of Dash 8-Q400s with 25 options. Of course, today's inaugural flight and the return to YYC were slightly delayed due to just unfamilarization of the regional operation by the ground crews. Everyone is in a learning curve and mileage-runners, please pad your schedule accordingly for the next few months. JetBlue has spoiled me for its inaugural festivities and great gifts, and despite this Westjet Encore inaugural has a celebratory theme with parties in both ends, there was no special in-flight services, except sparkling wine, and there were no certificates, posters, and even stickers. I think a commemorative sticker or pin will be nice. That's why I actually have mixed feelings about this inaugural, but regardless, it is good to see a potential strong regional carrier in Canada, and today's experience reminds me of Horizon Air. Westjet Encore is definitely here to stay, and yes, their services are almost the same with Westjet Mainline service, but there are a few surprises a la "Horizon Air."
As we all know, Calgary has been going a rough patch for the past week due to the flooding, and my thoughts are with those who lost loved ones and are trying to pick up the pieces that mother nature has left. Nonetheless, it is great to see how the residents here are not going to let the flooding to affect their daily lives, and you can see the strength of the city through talking to various residents in the hotel and listening to conversations at the airport. However, traffic to the airport is slow and please arrive there early, as the security line is under-staffed and due to the construction around the airport, things are slower. Allow yourself more time, and the security line is SLOW.
By the way, Nanaimo is my 200th airport too.
June 24, 2013
WS 3109 YYC-YXD (Nanaimo) Lv1100 Arr1143 Dash 8-Q400 Next Gen C-FHEN "402"
Photo link to the whole album:
http://s1213.photobucket.com/user/Ca.../library/WestjetEncoreInauguralYCD
I bought the ticket before the plus fare is introduced, and have spent USD$10 for a regular seat for this segment. For Dash 8-Q400, I don't think it is a worthy investment, as it is a 2 by 2 seating arrangement, and as a solo traveler, you will either get a window nor an aisle. Unless you are traveling in a family or in a party, I don't think you need to pay for a seat assignment if flying on Encore. There are no special seats that have extra legroom, except the Plus section. If there are plus seats available to purchase at the 24 hours online check in deadline, I will go for it, as seats are more comfortable in the plus section. You will see the pictures later at the seating section. Anyway, wesetjet website is pretty easy to navigate and online check in is pretty straightforward and you can change seats easily and pay for various services 24 hours prior to departure.
Busy FDIS at Calgary
Interesting flower arrangement in the entrance of YYC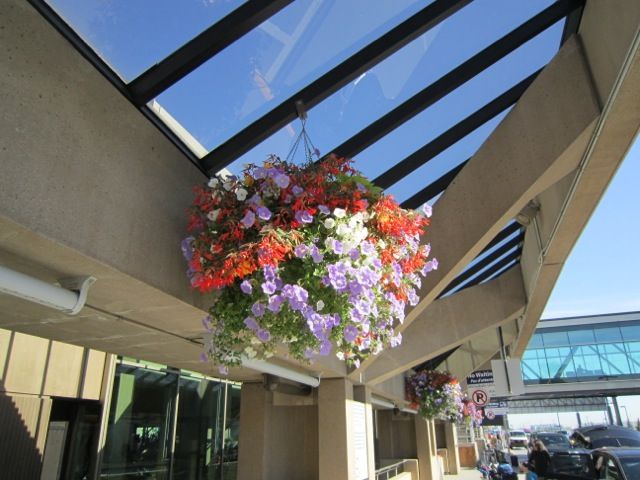 Check-in area at Calgary was very busy on this Monday morning, as expected. The Westjet check-in area is pretty busy, but things are under control. There are kiosks all around, and there are two Westjet staffs guiding passengers to the correct lane. There is no special Encore check-in line this morning, and the Encore operation is pretty much considered the same as Westjet.
Busy Check-in area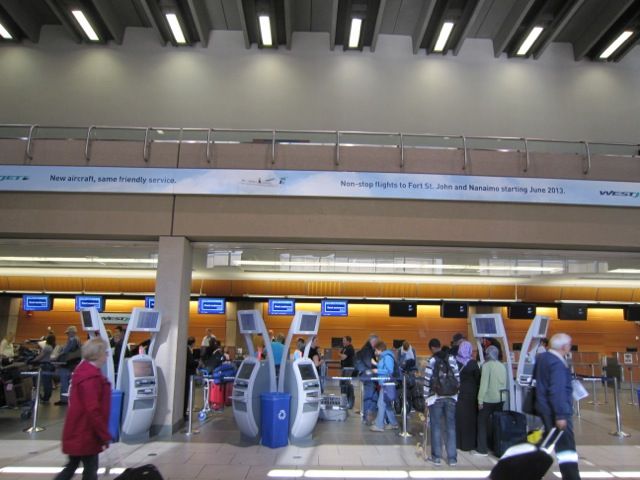 Next come the low point of this inaugural flight! Dealing with CATSA "Canadian Air Transport Security Authority" is an interesting experience. There were five lanes here at a very busy Concourse D, and only three lanes were opened initially, and one more lane was opened later. I knew about the issues with Calgary and was sure that many workers were stuck at home. However, the process was so inefficient and not sure why the worker guiding the queues, like most US airports, did not first check boarding passes. The workers, who handled the actual screeners, could focus on guiding passengers on what to put in the tray and what not to do. With summer travel and many unseasoned passengers, even the NEXUS fast lane was slow. Once there was a bottleneck formed, the CATSA workers did not know what to do and ended up making a bad situation worst. Many passengers were whining (but honestly people should allow more time at the airport and given the possible traffic issues at Calgary, people should arrive airport earlier). But these CATSA workers showed zero sympathy and aimed to annoy than to help. Enough whining…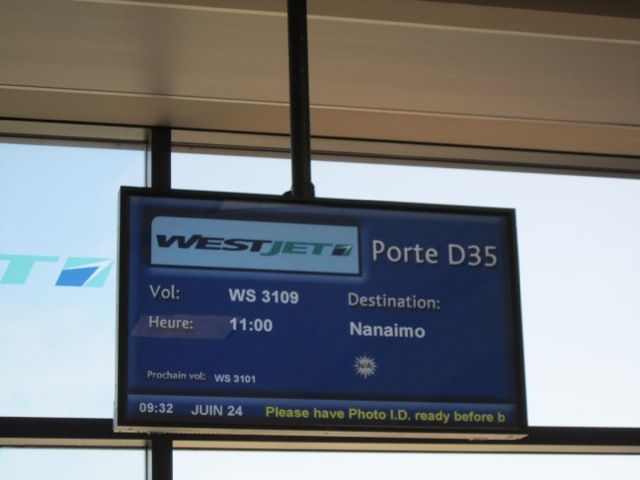 D35 is the new home for all Westjet Encore operations, and it will lead passengers to a warehouse type structure that hosted various gates for all Encore operations. No jetway will be used for these regional operations. The gate is fairly spacious with many seats, but they definitely need more seats if they plan to expand the Encore operations in the future. An inaugural party was being set up this morning by Westjet with a continental breakfast buffet including cinnamon rolls, sliced breakfast breads, muffins, and fruit salad, a cupcake tower, a beverage station with bottled waters, juices, and coffee, and a podium with a model of a Westjet Encore Dash 8-Q400 Next Generation.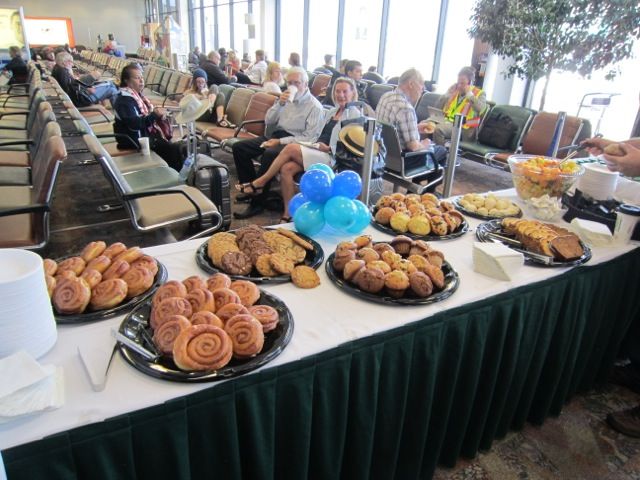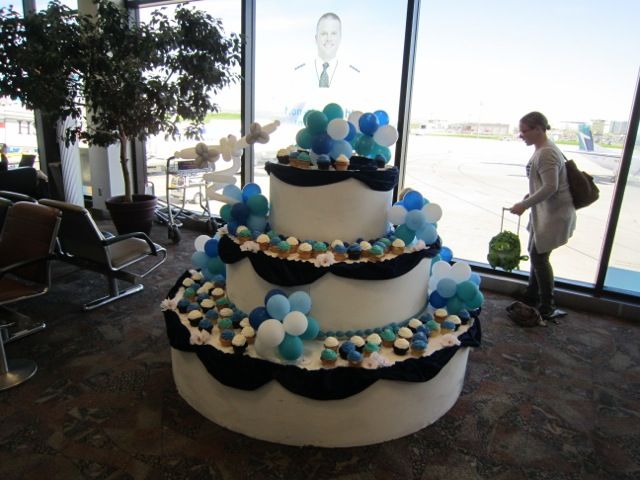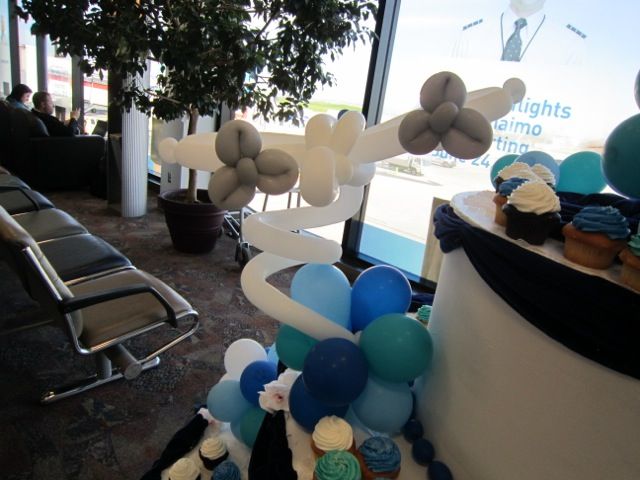 Giant Celebration card
C-FHEN fleet number 402 will operate the first even Encore flight today.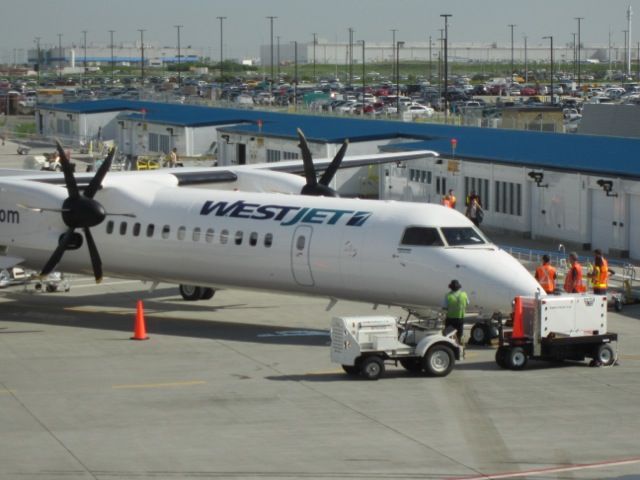 Gate D35 was also decorate with many stickers promoting the new Encore service to Nanaimo and Fort St John.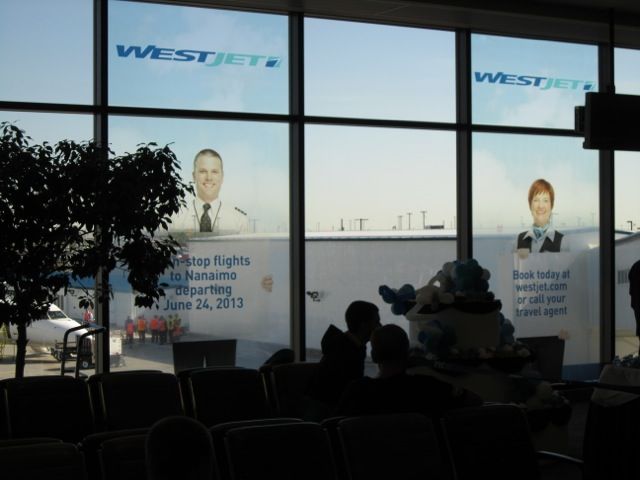 Westjet Land here at D Concourse
The gate area became busier, as we got closer to our scheduled departure time of 11am.
Special Entrnce today – D35
As expected, Westjet CEO Greg Saretsky and Westjet Encore CEO Ferio Pugliese were there to celebrate Westjet Encore's inaugural flights. They both made speeches regarding the importance of Westjet Encore operations, but I could not believe that Ferio would promote the Westjet Visa card. Yes they had some special promotions, but not sure if this is tasteful for an inaugural flight, unless the Visa card is giving out some free tickets and something more significances than giving you five times the normal introduction points. Rather lame promo! Stephen Poirier, VP and Chief Commercial Officer of Calgary Airport Authority, also made a speech welcoming Westjet Encore to establish an operation here at Calgary, which provide more jobs and reaffirming Westjet's operation at Calgary, and thanked all the staffs in setting up these new structure to accommodate Westjet Encore operations. Pugliese presented Poirier two gifts – one is a special drawing of a Dash 8-Q400 and then a plane model of course.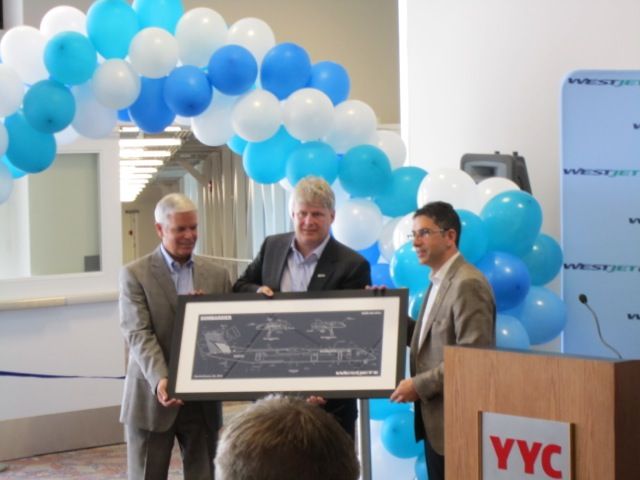 Ribbon cutting time