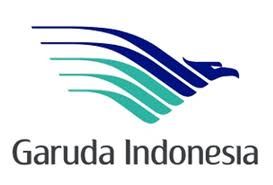 I've always wanted to see the largest Buddhist temple Borobudur and the Hindu Prembanan temples in Yogyakarta. The monuments are just amazing and impressive with endearing philosophical stories of the Buddha (at Borobudur) and the Ramayana (at Prembanan). After years of procrastination and delays, I've finally made the trip.
After hearing so much improvement GA made over the years, there's no need to decide which carrier I'll be on even with a transit stop at CGK instead of a direct flight by Air Asia or Tiger. My last trip on GA was in 2001, and it was unimpressive. I must say GA has made a remarkable comeback.
Just a simple short TR and pics from the mobile.
SIN – CGK - JOG
Lost my camera – all the pics gone for the onward journey!
The return trip from Yogyakarta to SIN via Jakarta CGK:
JOG-CGK
18 June 2013
GA 209 (B737-800)
1415-1530
No aerobridge in JOG. Just love the short walk from the holding room to the a/c.
GA has a color coding. A red, green and blue sticker is placed on your Y boarding pass. Pax are called to board according to color. It's quite orderly as the agents at the gate just have to look at the color before allowing pax to board.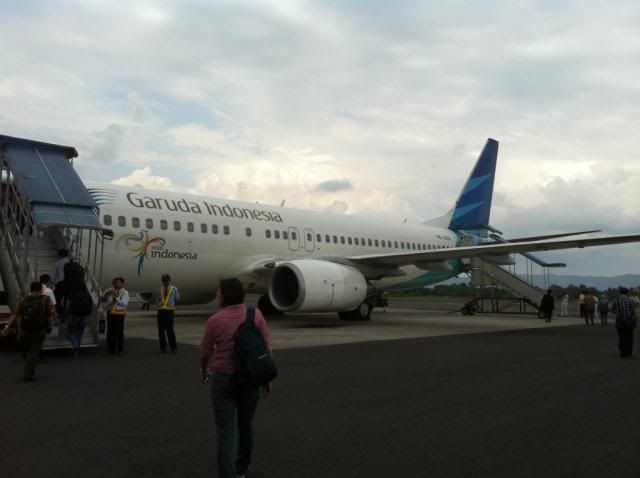 Inside Y cabin. Cabin crew were friendly greeting pax and helping storing hand luggages.
Seat was comfortable. The turquois blue head rest cover and pillows were a nice colour contrast with the brown seats, not that I like it though.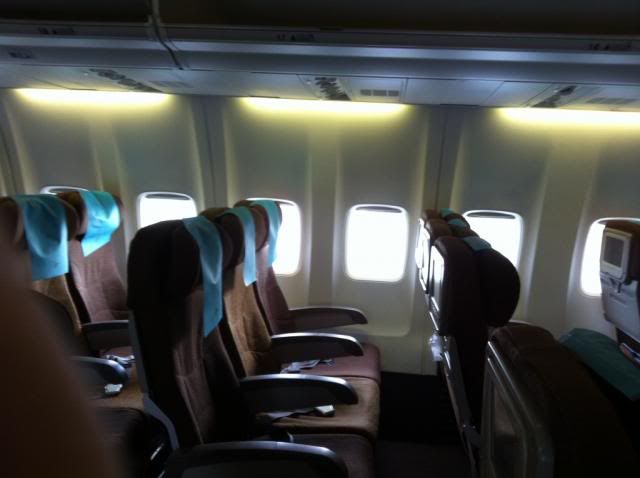 Female cabin crew wore the very attractive and graceful kebaya. The silver brooch (krosang) added a fine beautiful accessory to the uniform that made it more elegant than MH's. Can't see from the pics.
Contents inside the seat pocket
FA getting ready for departure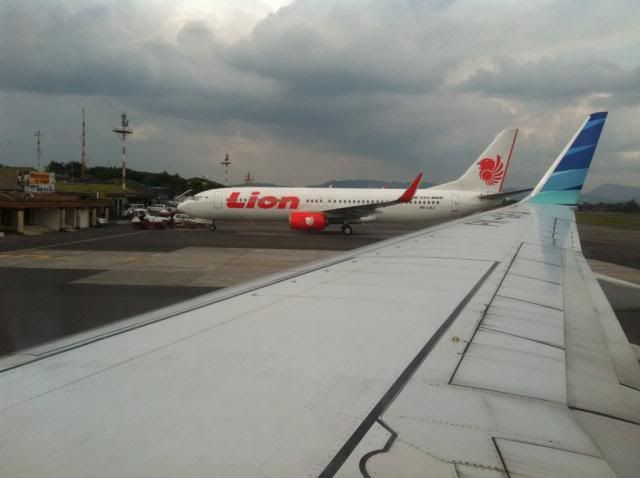 Outside my window Lion just came in
Beautiful cloud formation on take off
Service starts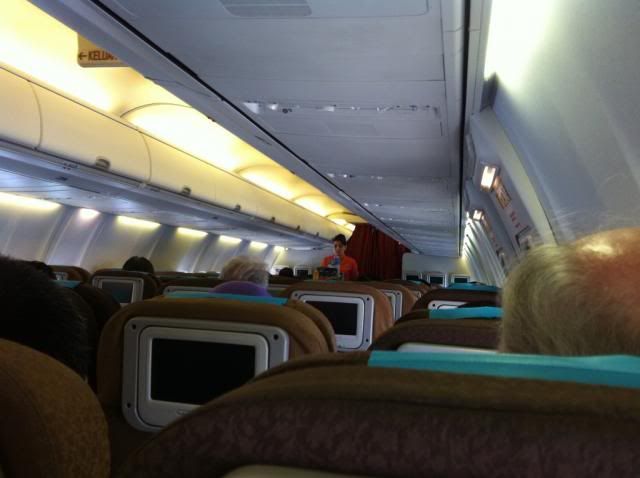 It's only a 50 minute flight, and there's a snack service. The FAs did a wonderful feat serving the snack boxes and a full drink service from the cart with choices of juices (oj, tomato, apple and guava), soft drinks, coffee and tea to 100% full Y. The crew also asked if eaxh pax if they'd like their drink with or without ice. All this was done with Indonesian courtesy and politeness.
Inside the snack box – bun filled with curried minced beef and a mineral water bottle.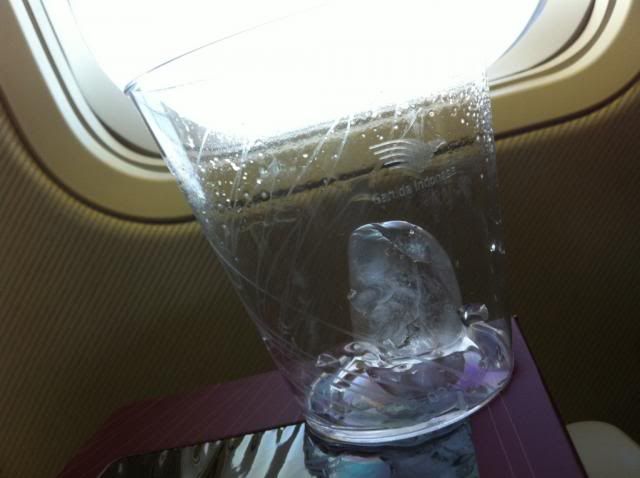 Plastic cup with Garuda logo and wings.
Landing into CGK. Can you see a GA A330 landing too.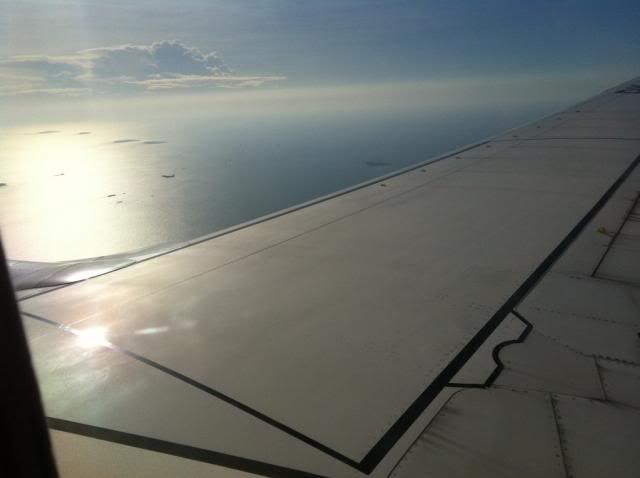 Taxing to the gate at CGK, a leased GA 777.
CGK-SIN
18 June 2013
GA 834 (B737-800 NG)
1630 (but delayed till 1700 due to late arrival of a/c)
Arrived 2000 instead of 1930
No excitement via aerobridge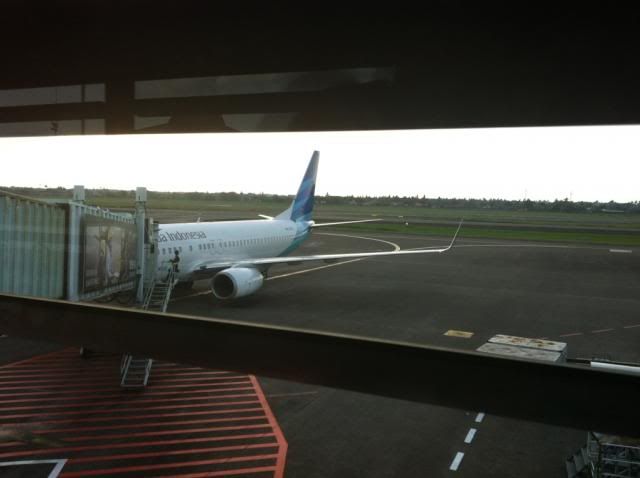 I'm seated at the bulkhead 5C, just a curtain away from Executive Class.
My view into JCL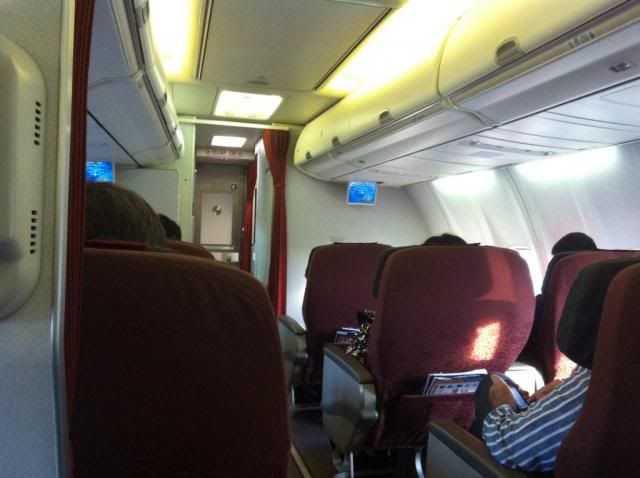 JCL drink service prior to take off.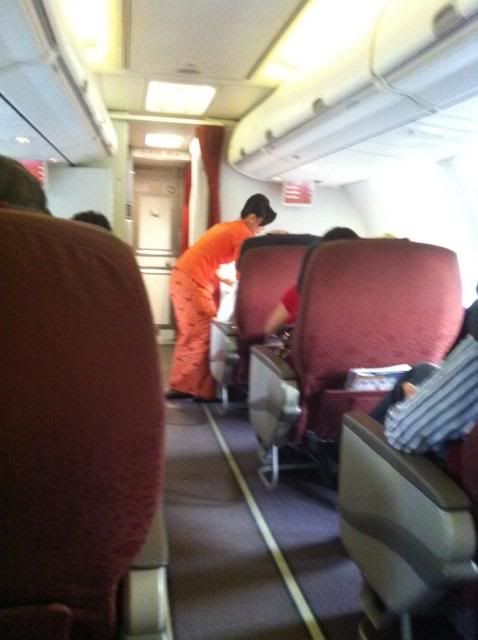 JCL towels being collected.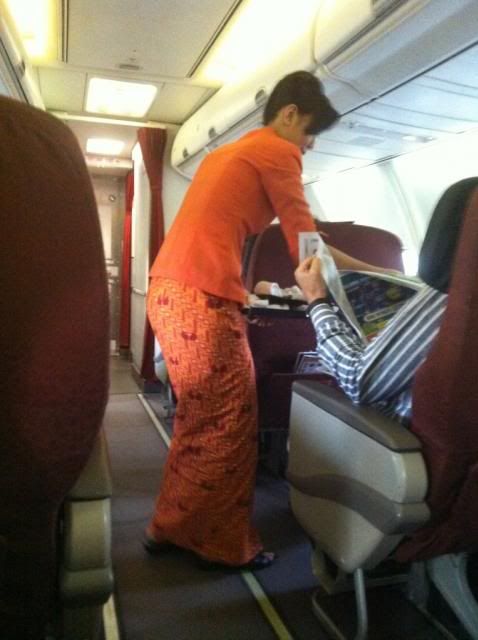 Peasant class drink service. Seems like GA is the only carrier that serves a welcome drink to Y pax. Well done GA! However, when there's cost cutting, this will be the first to go. The domestic YOG-CGK, no welcome drink, but FAs handed out candy sweets in a basket to pax.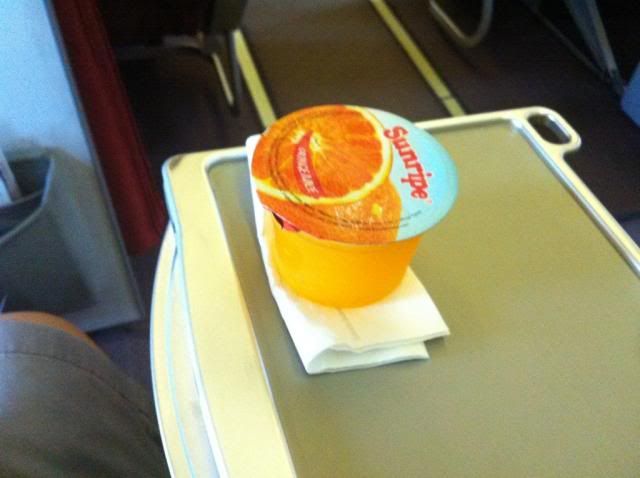 Taking from CGK. Flight time to SIN 1hr 25 min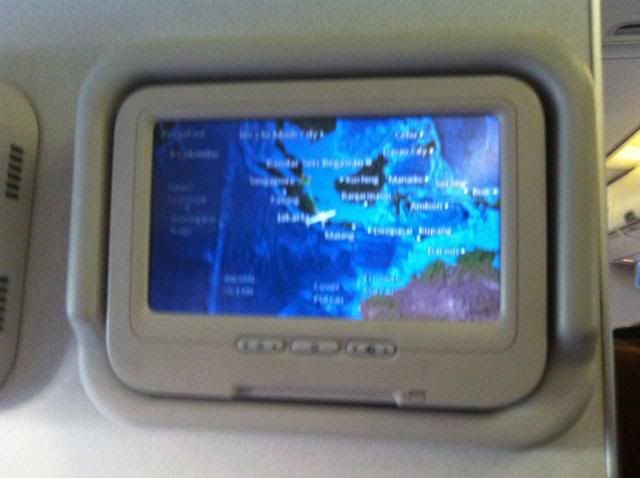 Knew meal carts will be rolling down soon, so made a quick trip to the toilet just after take off.
Economy cabin from the back
IFE. There's no comparison to ICE or Krisworld, but what's on offer will suffice for short to medium haul flights.
Meal and drink service. Again a suburb service by the FAs smiling, showing pleasantry and politeness in their rush to serve a full Y class with two choices meal and a full drink service.
Meal choices were (1) pasta with chicken or (2) Beef stew in Indonesian soy sauce with rice.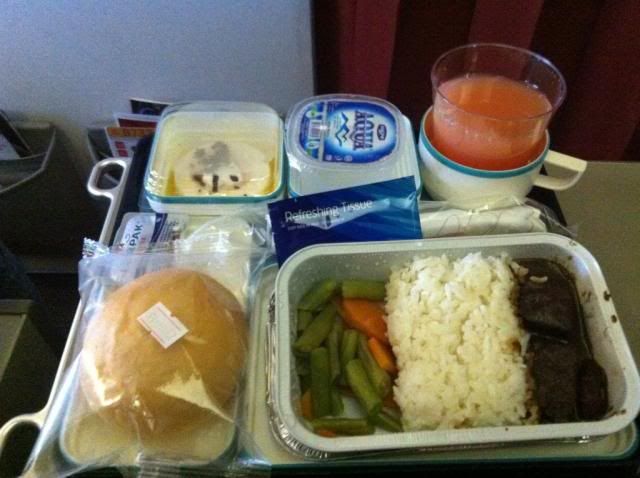 Drink service - choices of juices (oj, tomato, apple and guava), soft drinks, coffee and tea. There were also wines too.
The trip with GA was very good indeed. On par with MH and TG but due to better language proficiency in English by the cabin crew, GA maybe slightly a notch better than TG as the FAs were more interactive to pax. Catering was a bit let down as meals were a bit too simple. GA could spice it up with local Indonesian fare especially around the regional sector. But don't think its fare to hold a very minor personal issue against GA. It's an incredible and commendable job serving a full meal and drink service for very short flights (without FAs showing grumpy looks, stares and rolling eyes).