Hi all, this TR is gonna be a short & sweet affair.
I'm sure there are already hundreds of SQ TRs lurking around in a.net. But this particular trip that I did 2 weeks ago had a special meaning to me...mostly because I was impressed by the ground staff of SQ's at SIN.
To start the ball rolling, basically I only realised that I had to be in Jakarta (CGK) for an urgent matter at approx. 1.30pm on that day itself. The next flight from SIN to CGK was at 3.20pm and an immediate check at singaporeair.com showed that the ticket was gonna cost me some USD400++ for a 1hr20m flight! That was indeed crazy.
Since I had some miles that I could use to redeem for the ticket, I decided to do the redemption immediately, instead. Everything was okay until I hit the confirmation button and BEEEEPPPP!! An error message appeared on the computer screen showing what was apparently a no no for the go ahead since the flight departure timing was already too near. Damn...I raised some hell with the staff over the phone and there was basically nothing they could do either. However, the staff advised me to race to the airport instead and see if the ticketing counter staff could kindly assist me.
Racing mode: ON...and at around 2.25pm I arrived at SIN. I immediately ran to the ticketing counter and told them abt my situation. At first, the staff informed that they do not issue redemption tickets at the airport because this is totally handled by another department in SQ. However, after seeing me panting while trying to explain my urgent situation, the lady at the counter decided to help me instead. I was instructed to run to the check in counter to request the agent to reserve 1 seat for me while she was trying to contact the Frequent Flyer department to sort out my ticket and get it printed. The process was somewhat troublesome and required a lot of phone calling for approval. About 15 mins later, the ticketing lady ran over to the check-in counter where I was waiting to deliver the ticket to me personally. Boarding pass was issued and next, she accompanied me running all the way to the gate. Now this is what I call "World Class Service"!
As expected, I was the last passenger to board the plane.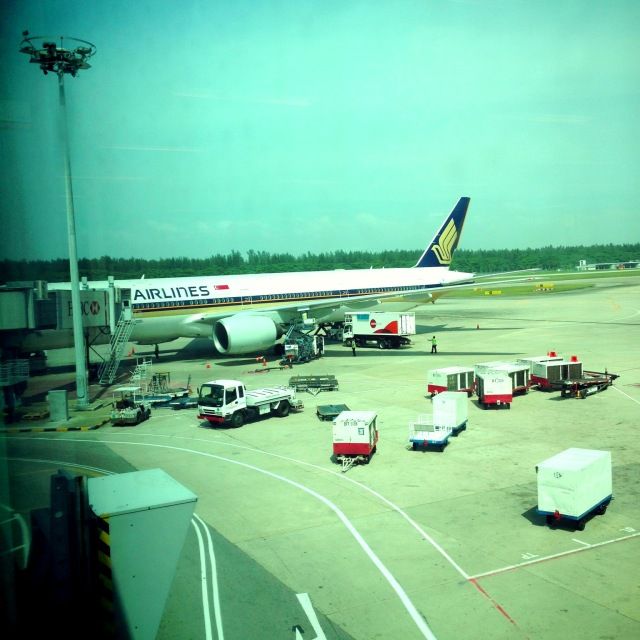 I was greeted by the Chief Stewardess who was wearing the red kebaya at the door...passing by the C Class....ahh, this is the refurbished B777-300 apparently. My first time on board the refurb'ed bird. Looks like a full load in C. Well done SQ!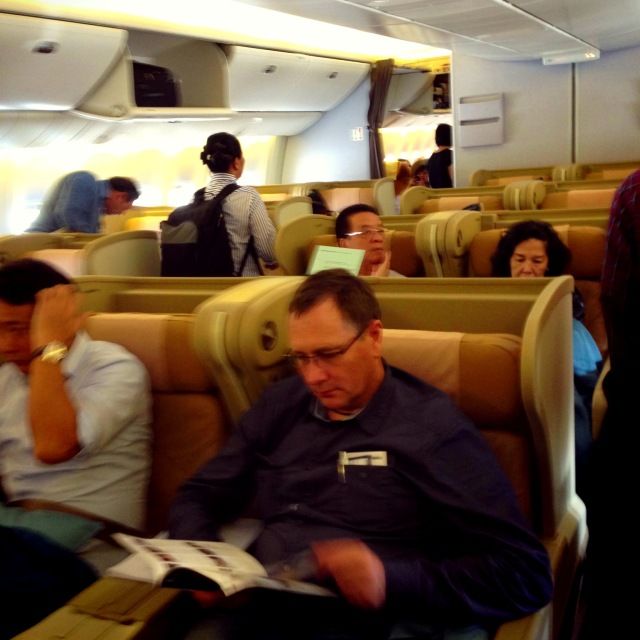 That's my window seat...and what a pleasant note to know that the only vacant seat on this flight was the middle seat next to me
This plane looks spanking new to me...and plenty of legroom too.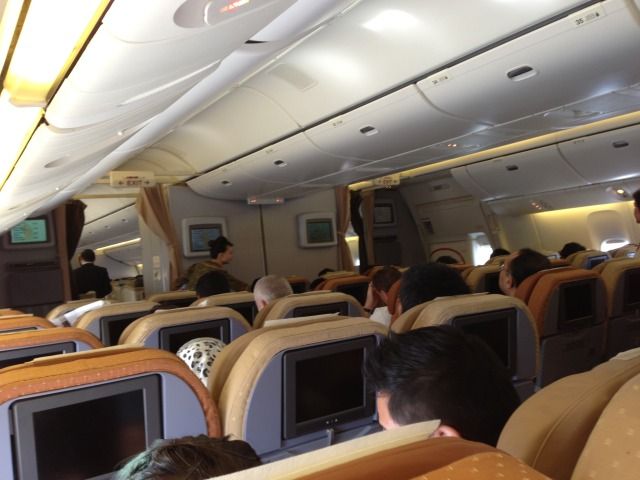 The 99% full load to CGK. Amazing to know that during school holiday, traffic between CGK and SIN could be nearly full in every flight. CGK is also SQ's busiest destination with 9 daily flights, all using B777s.
Service began with "Hot Towel" distribution to all passengers. I didnt actually expect this because the flight time was gonna be only 1hr20mins. Anyway, this was very much welcome by me after all the sweats from running around.
Printed goodies in the seat pocket
It's been years since I flew SQ on this short hop to CGK, therefore I didnt know what to expect when the meal service started. Anyway, when the cart arrived at my row, we were already 30 mins into the flight. Not much time left really considering this flight was almost 99% full.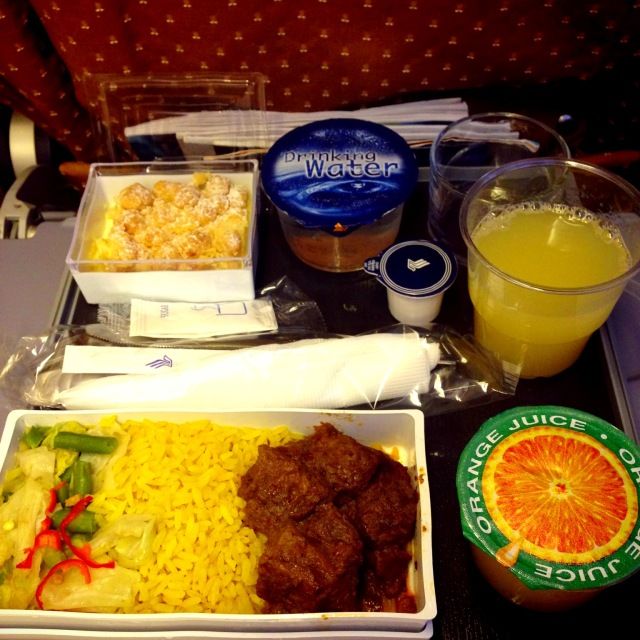 Woahhh...this is amazing for such a short flight! The taste is really good too. The tray basically has yellow tumeric rice with indonesian style beef rendang + custard pineapple pie. I gave it 8.5/10
TO BE CONTINUED....gotta rush something first....feedback welcome