A hearty warm welcome to all of you, who finally decided to give this story a go and clicked on the link.
Well, I will do my best, sure?, sure!, to not boring you!
"Le Ile de Beaute by no HOP, but yes CCM"
This trip in one word:
SURPRISING
This is a story in which the Tripreporter surprised the airline staff once again: "Are you sure, do you really want to change it this way?". "Sure". A pleasant
surprise to see an absolutely not expected plane at the gate and finally catched something what he want´s to catch since a long time.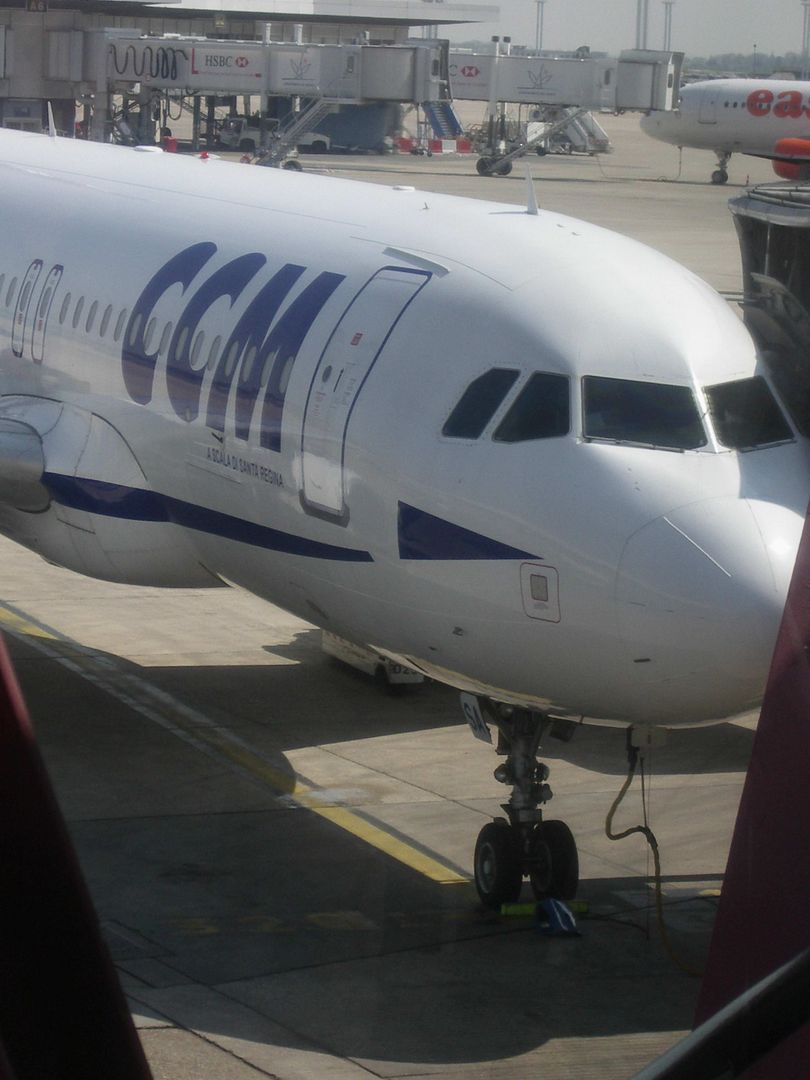 Bonghjornu, dear readers,
just a couple of days at the homebase, the usual biz
with pictures and stories, logfiles and datas, ideas working or not working and maintaining contacts since
"Short Connections Around The Isle Of Man"
(by
FLIEGER67
Jun 17 2013 in Trip Reports)
and now the time is come to fly out again.
This way exactly:
Thanx to, as usual:
http://www.gcmap.com/
Something new on the departure airports map?.
No, not with this part of the story:
Departure Airports II
auf einer größeren Karte anzeigen
The previous 200 places:
Departure airports
auf einer größeren Karte anzeigen
But good progress on the Tripreporter 2013 map:
TRIPREPORTER 2013
auf einer größeren Karte anzeigen
Everything works perfectly as planned, neither a schedule nor an equipment change, no disruptions at all. Joke, where is the excitement?.
"Real good", that´s what I say to myself while working with the previous mentioned new ideas. A connection MLH-ORY-BIA on AF flightnumbers, but operated by Britair on the CR-K, sure good and much better CCM, what is usually more expensive when you try to book it direct, shows up.
A lazy late morning departure from my personal point of view, 08.35 am, ok ex MLH with some time on the road, but Sunday morning is usually not that much traffic affected. Three hours in ORY to check if the clochards are still there on the top floor and nobody cares. Some interesting planes closeby till the flight for BIA with arrival around 3.00 pm in the afternoon.
The fare is ok, 70.00 Euro´s per leg fixed by Flugladen.de.
Well, so far the theory. Sometimes later AF decided to do a complete reorganisation around the regional flights, what shows me finally a mail that my flight MLH-ORY is cancelled. I should be grateful that they rebooked me on the late afternoon departure ex MLH with a nice arrival time at BIA, 11.00 pm. What?. Not for me, if there is anything else possible.
Self service, you know and I´am confused the agent with my offer that I will stay with the original ORY-BIA service, but like to go on the early morning MLH/BSL-CDG flight instead. I will manage the airport to airport transfer on my own expense.
Should I really explain that I´am in an essential need to log these CCM plane?. No, better not!.
Sure, sure, some shaking head is good to notice at the other side of the phone, but not that long thereafter is a new confirmation in the inbox and let´s start the trip right now.
Sunday, 21.04.2013
.
.
.
.
Service Air France AF 7741 operated by WDL Aviation
Scheduled: 06.40 // 08.00
This service is operated by HOP, scheduled on the AT72, at least so it looks like on the final confirmation. I´am sure, you noticed that there is no HOP sign here anywhere.
OLCI works well the day prior to the trip for flight one, but flight two tells me that it is not possible to check-in online. Ok, that´s not really new to me with AF!.
The lazy late morning departure has changed now for a 02.30 am cellphone call, what also works here, surprise or not, without any problems.
Low traffic as expected. I would like to be at the airport one hour prior to departure and after some two hours on the road made it with a two minutes difference only!.
I should get over this white-haired Daimler driver earlier, but next time, maybe!.
Wished the car a good time at F3, well if you ask yourself about this phrase here, there are several reports around the last years with broken cars especially at the french car parks, so hope to see you again tomorrow in the same state.
Good to see a l´heure on the screen for gate 20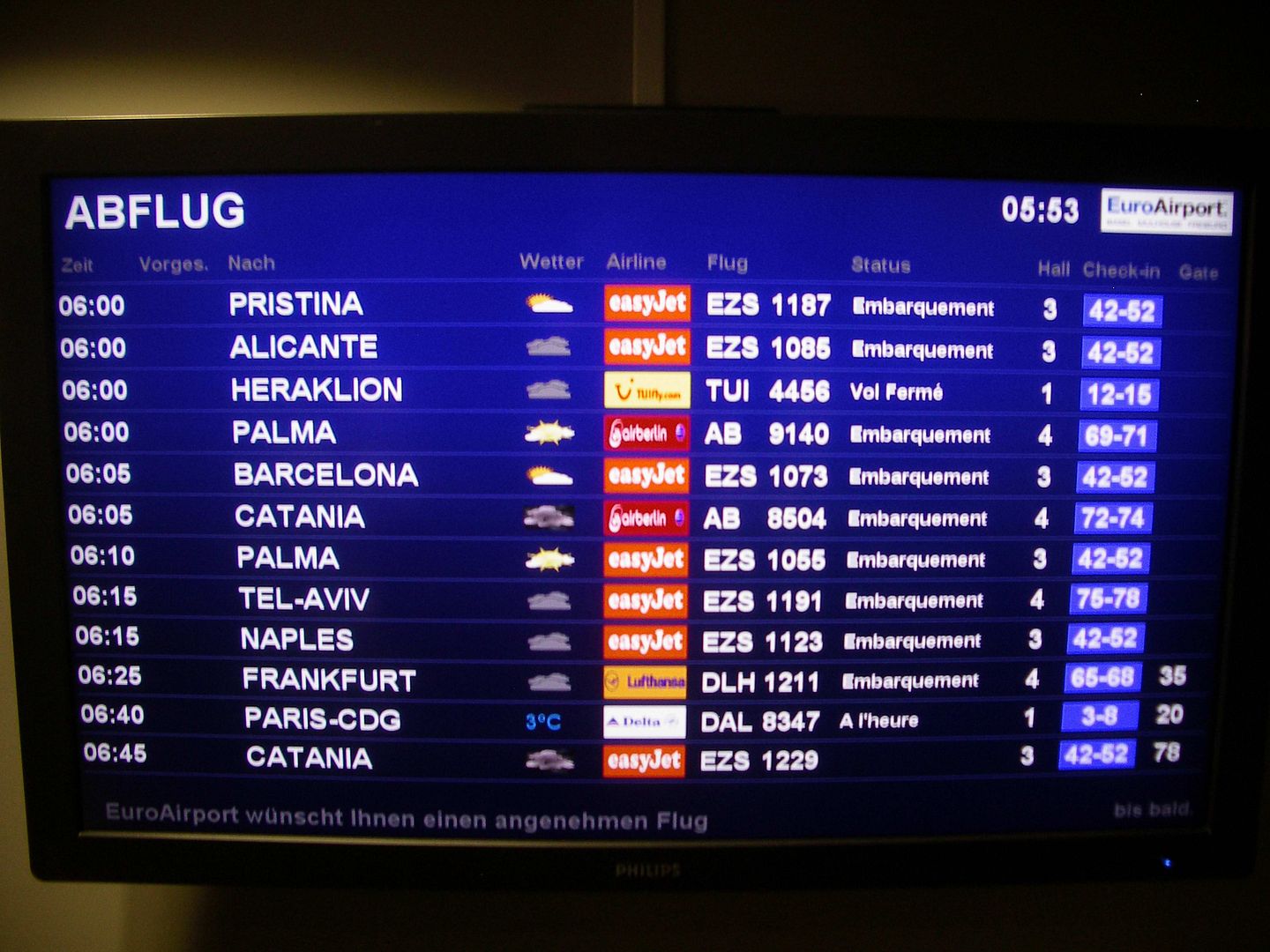 And finally also no success to catch a boarding pass for the second leg here.
"You should do it in ORY, it has something to do with the flight not operated by AF". "Ah, yes, that´s new to me!".
Just a matter of minutes at security and also this time no need to hurry with no lounge on offer here, till a
"Grande surprise".
What´s this at the gate?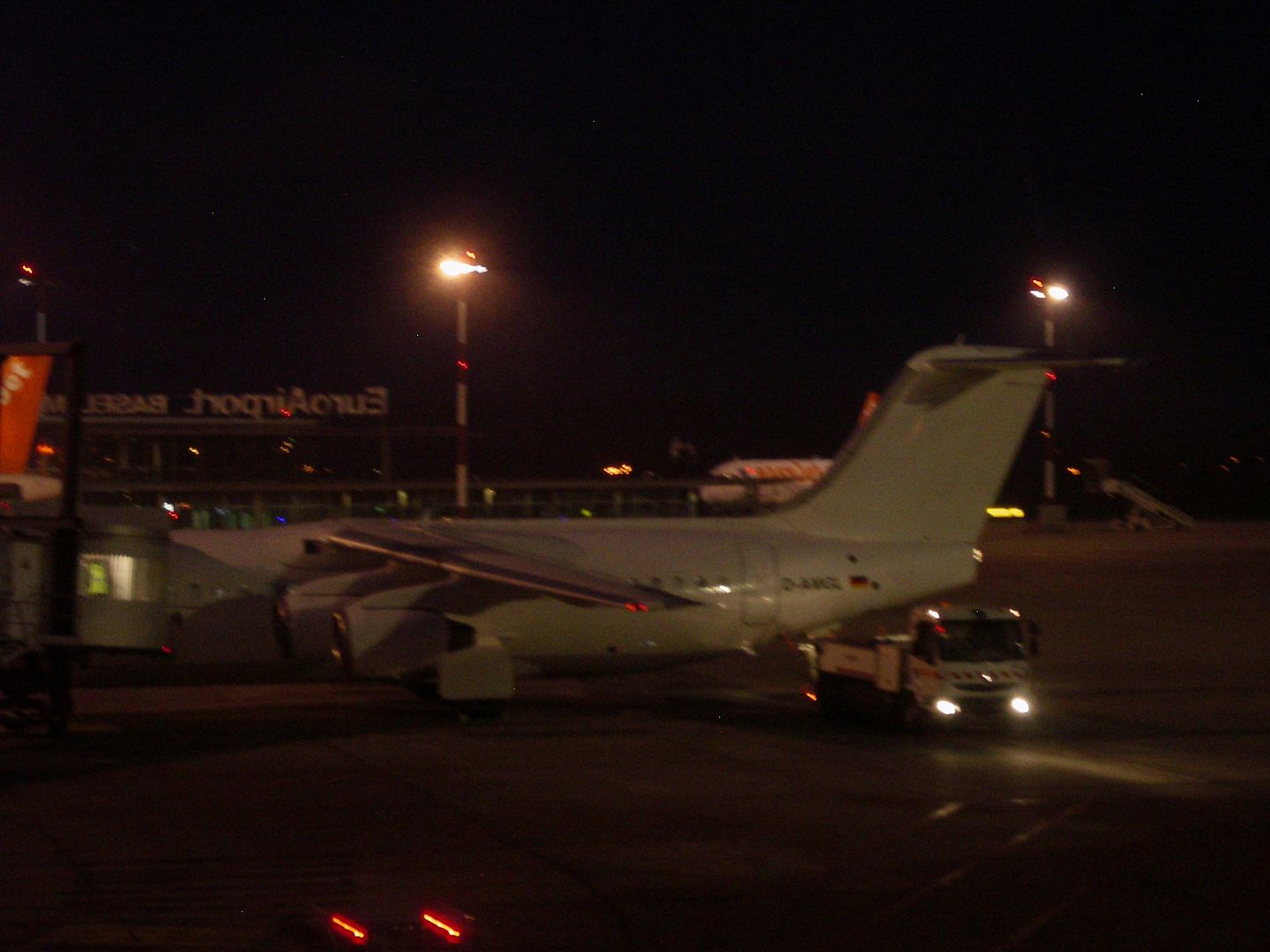 Is this really true and that´s the equipment for CDG?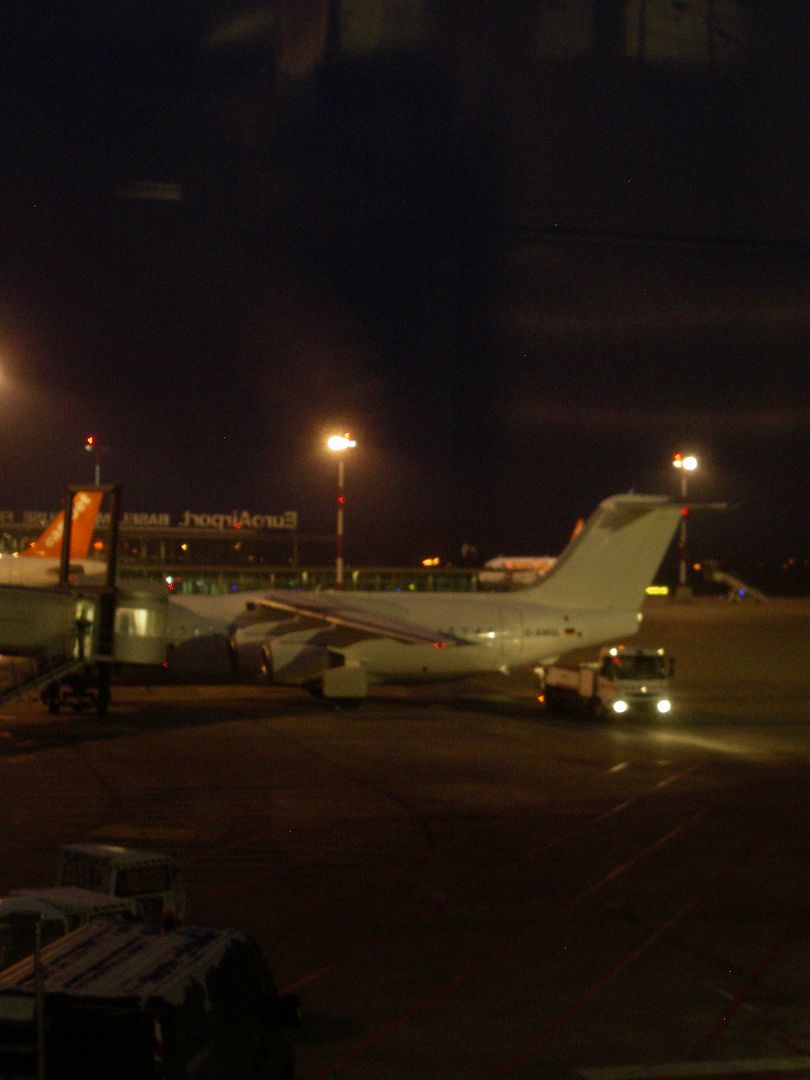 Oh, yes, that looks like really special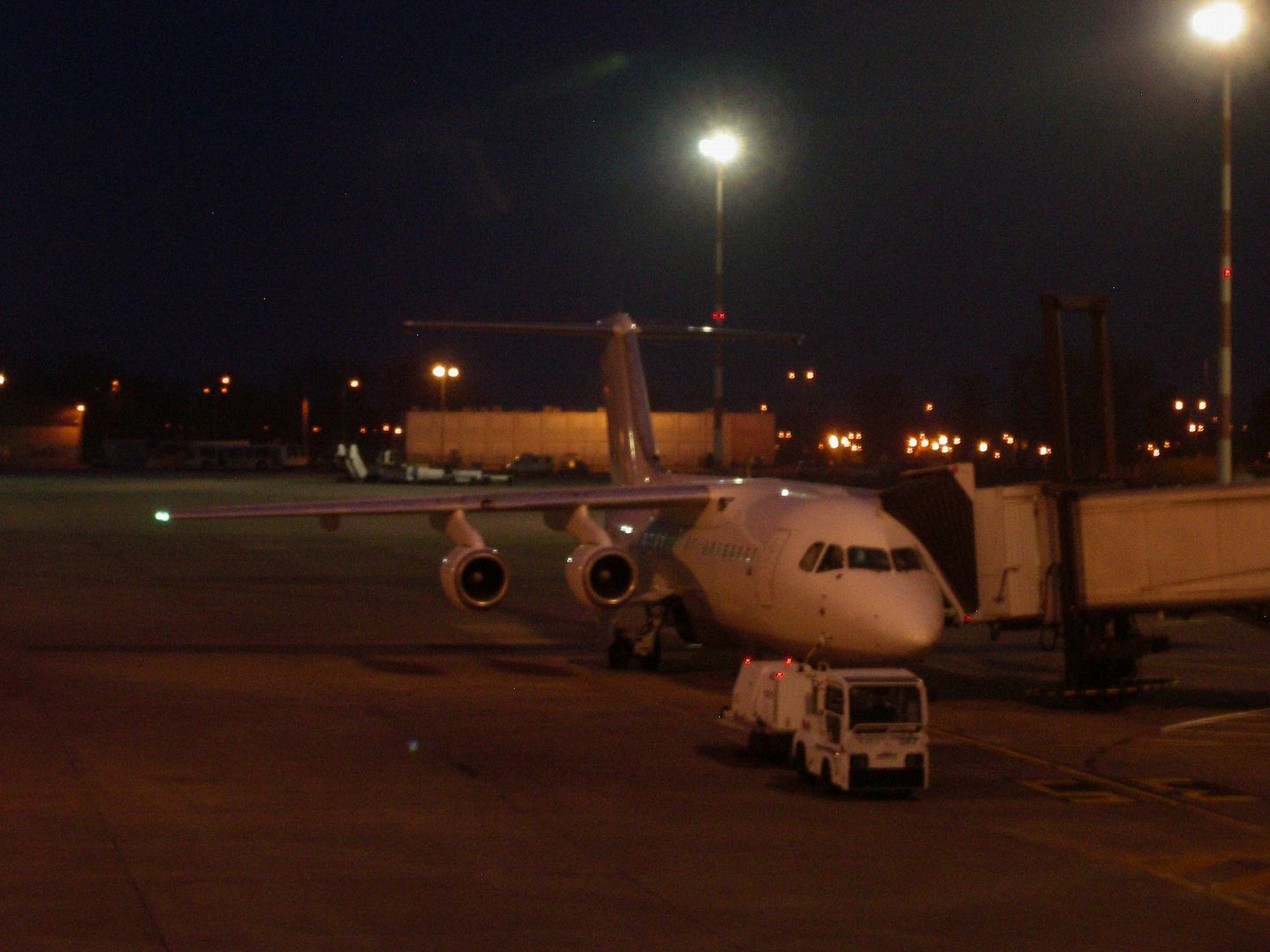 The day is dawning and it´s still there
A pretty warm welcome to D-AMGL.
This is an ancient BAE 146-200.
New to the log and after turning a thousand pages till more than 450 flights ago, this is leg no. 7 on type
No individual name to notice here.
Should I really talk about the stations for this close to 30 years old plane?.
Let´s start at 02.06.1986 with AirCal, further to American Airlines, Malmo Aviation, City Air and Braathens. Some time with BAE, followed by airberlin, Austrian Arrows, Air Nostrum and SAS. More time with Skywork Airlines is also registered and finally WDL.
No incidents recorded
And yes, this one is really operated by WDL,
a german subservice specialist with an actual fleet
of total 6 oldie BAE´s
A nice welcome from the FA´s,
the elder male one is talkactive and also really professional, he offered me a seat more in the front, but no way, I´ve declined.
He performed all announcements in perfect french and english.
The middle aged female FA is good for a chat also when she told me later on how tired she is from the early start today after she reached Basle.
And it seems she feels good to have someone around to talk to in german, really nice here.
Cockpit crew is from Germany according to the names, no word from upfront at all, no route nor flightlevel info.
06.45 am, close to ontime "WDL" is on the 50 minutes hop, just a coincidence, for CDG from the 3900 meters runway "Three-Three", 8 degrees and high foggy clouds here.
Just departed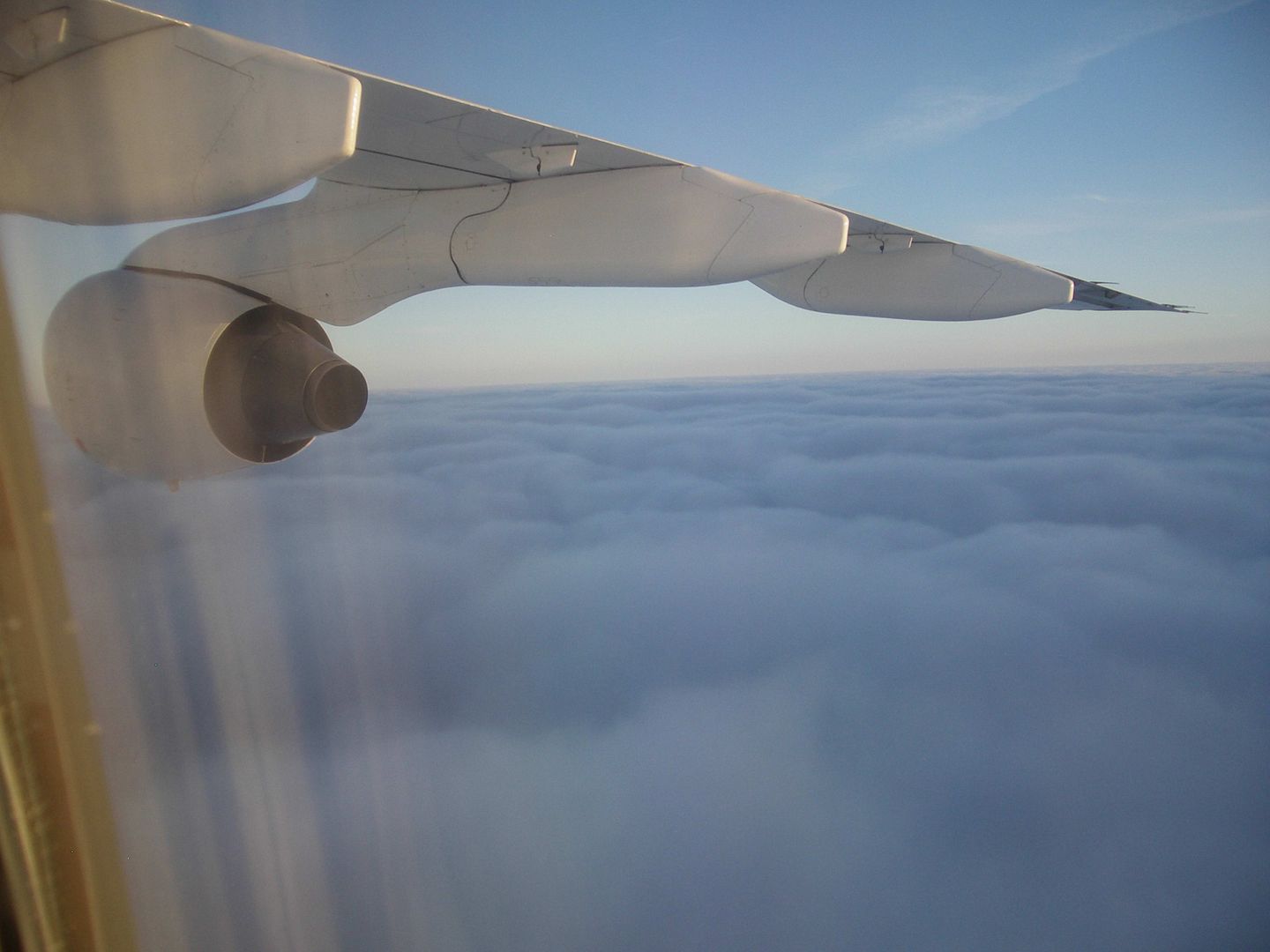 Cabin view, how I like these big push buttons
60 pax and this is a 70 % load, VFR mostly on CDG connections this early morning.
That´s how the safety card looks like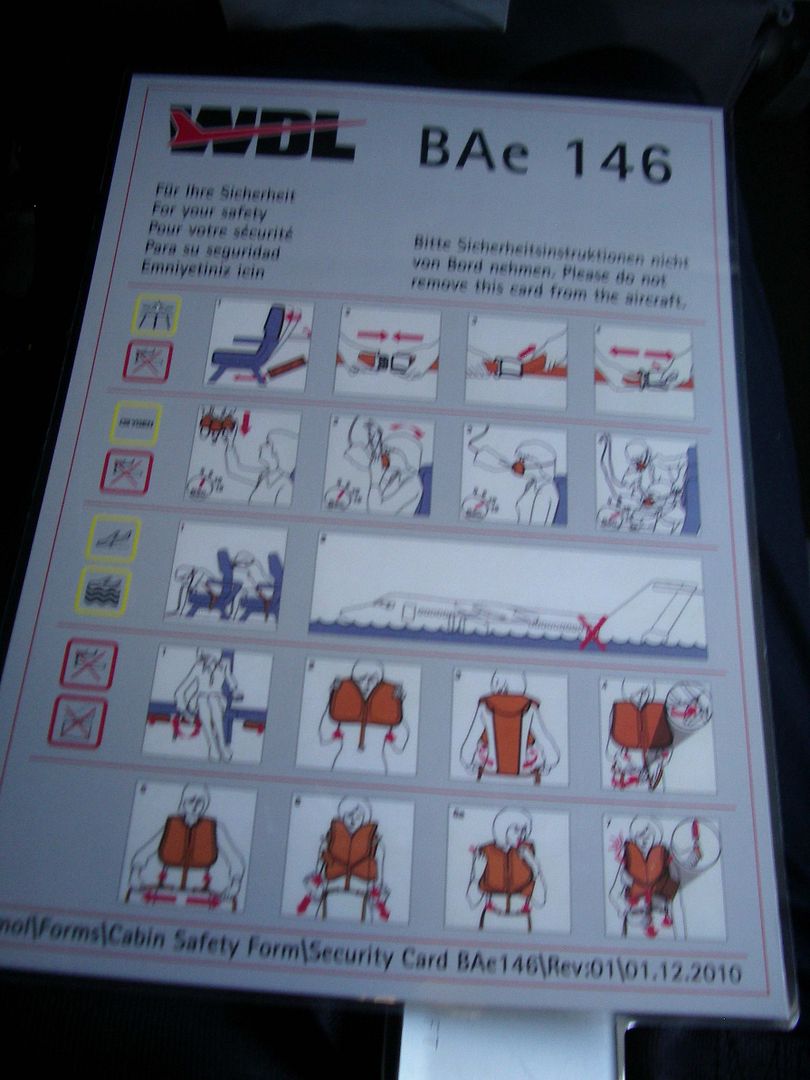 Well, legroom is not that massive in 17E, the last row window. Two for me with the dark grey leather seats, somewhat retro looking but clean
Service is AF style, cookies, water, coffee for free.
The cabin shows it´s age when you take a closer look,
but it feels as safe as it should be
Cruising above the clouds
Someone for retro?.
Take a closer look at this picture. The complete door to the lavatory is covered by a mirror, really special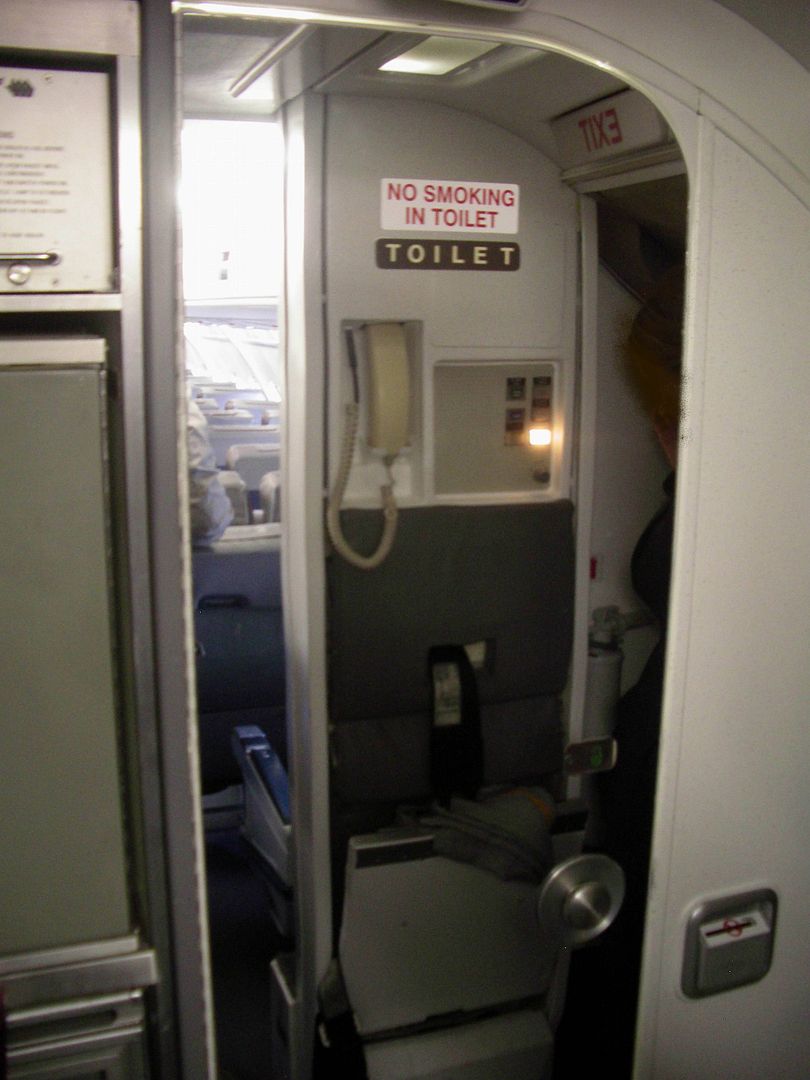 Touchdown at the 2700 meters "Two-Six-Left". Taxi for terminal 2G, 15 minutes ahead to schedule, 07.45 am,
3 sunny degrees here in Paris.
It looks like good in the bright morning sun, oh, yes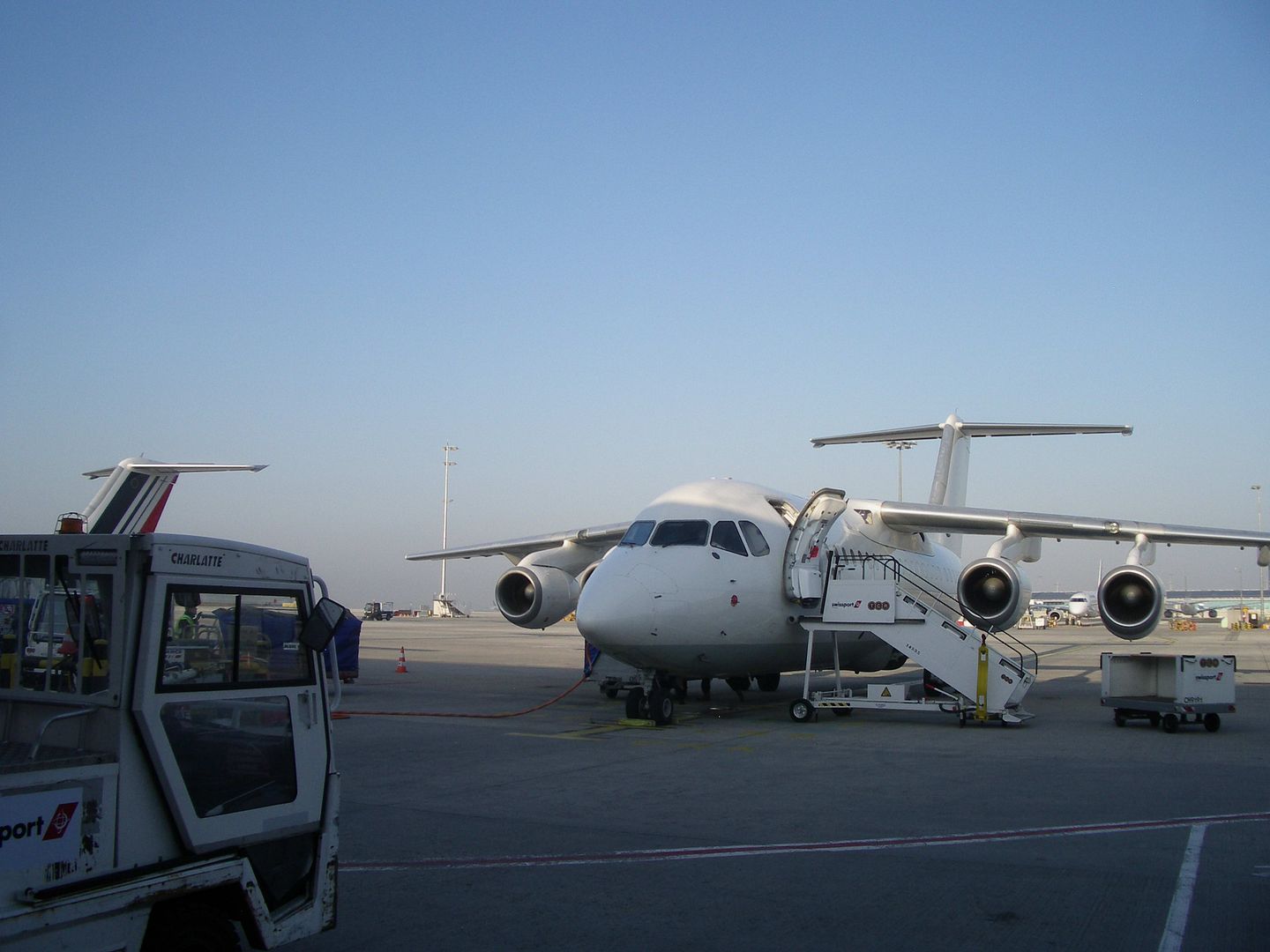 Well this is CDG, you know and the next flight departs from ORY. There is some distance in between to cover right now. On my own expense, of course.
And the best way to cover it, at least from my point of view as an AF Flying Blue Gold status member is "Les Cars Air France", free for me!.
Out of Terminal 2G, by bus to the central bus station close to Terminal 2F, some minutes to wait and 20 minutes only, ok it´s Sunday morning also here in Paris
and I´am at ORY, much faster than expected.
The self-service-kiosks see no problem to print me a boarding pass. Why not with OLCI or at MLH, who knows, 02F is sure ok for me on the next flight.
And ORY means a visit to the viewing deck at Terminal Sud is necessary, the free train shuttles me over from terminal Ouest and yes the clochards are there!.
It seems we both have an easy decision what to do now, but in well different directions. They check how long the stock of red will last and me heading outdoor to see some interesting planes!.
The big birdie corner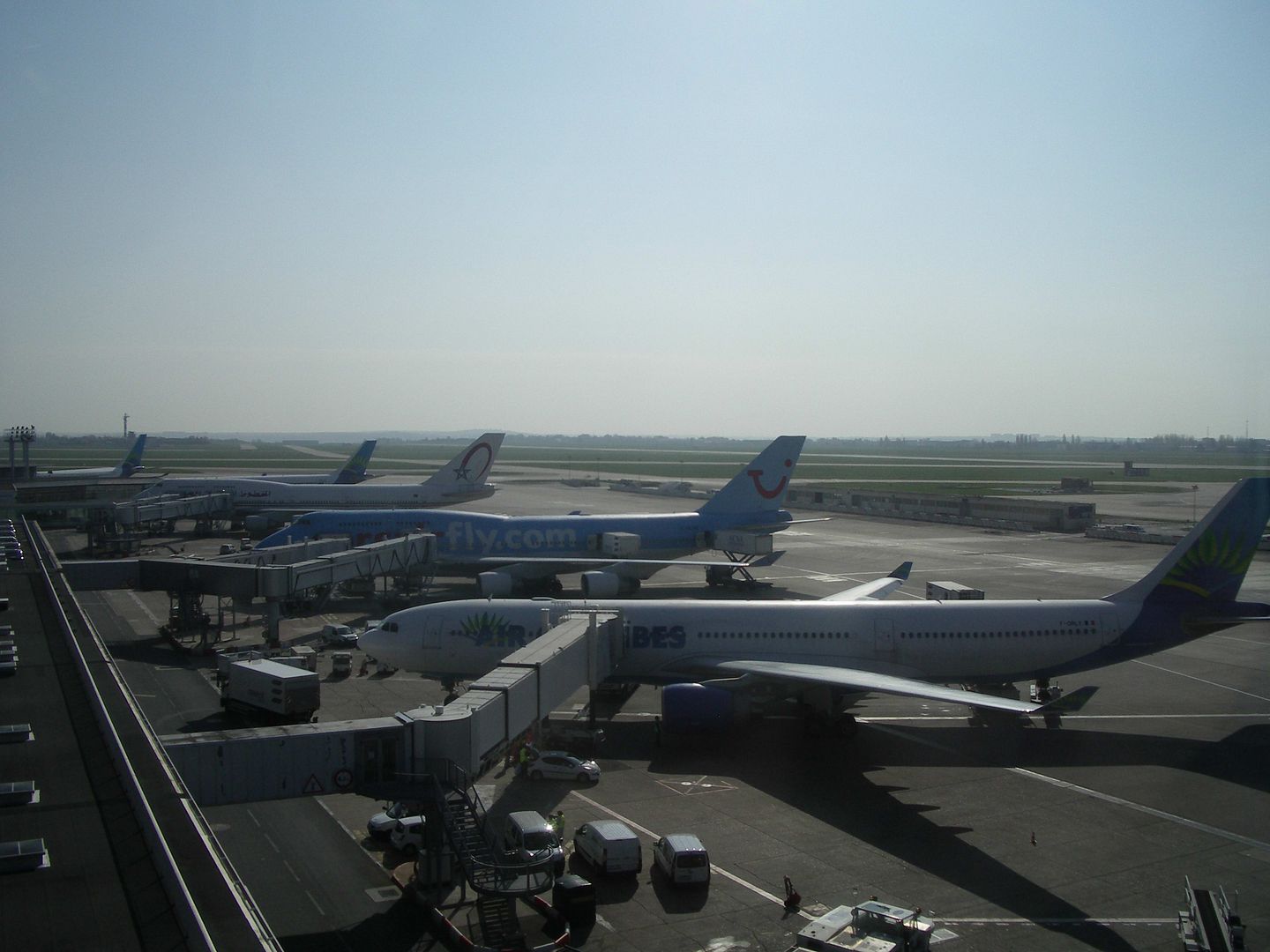 Even Cubana with the IL96 is on sschedule during my stay, but it´s running late, ok nothing really new!.
The smaller one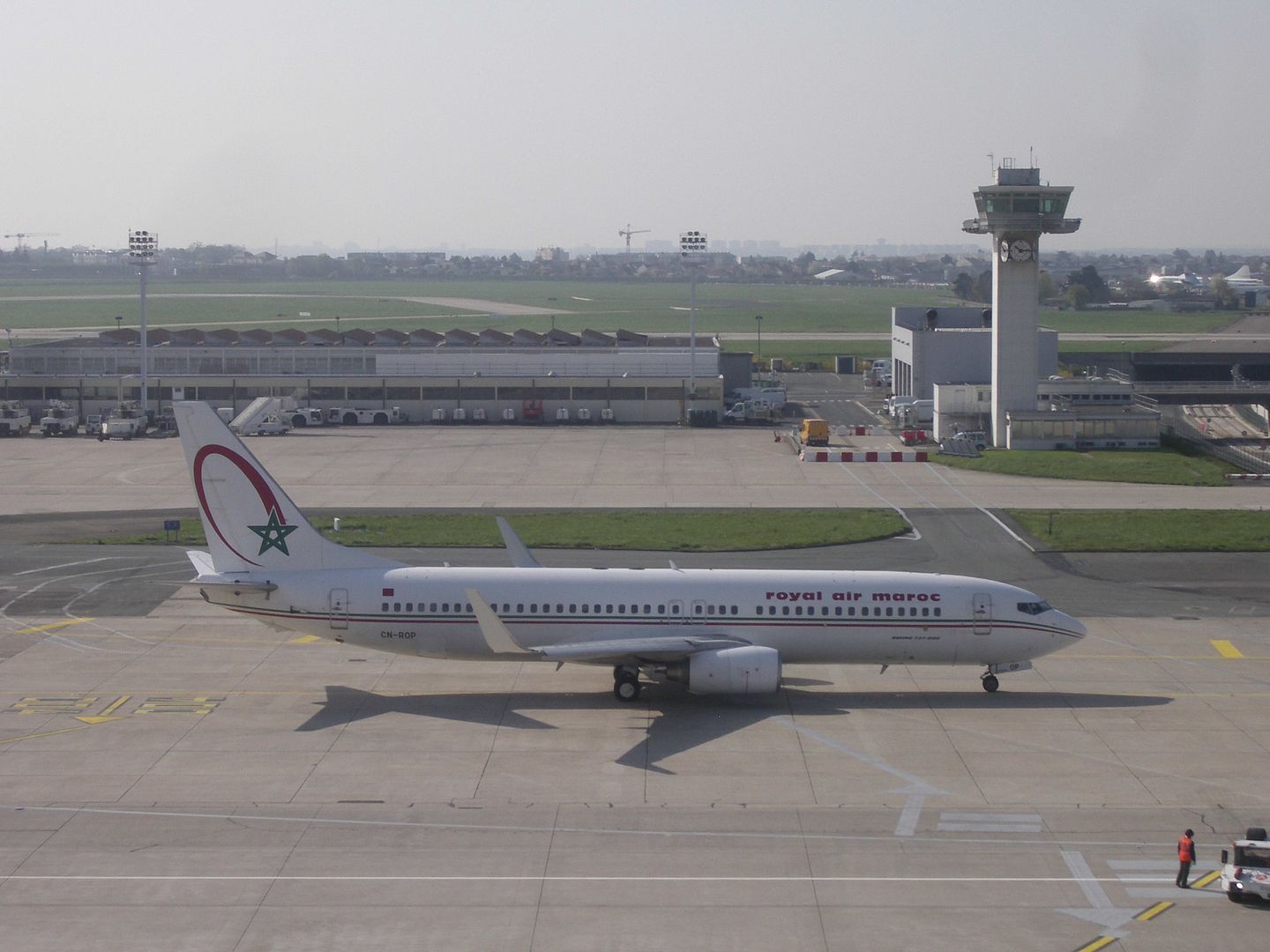 And the bigger one
Someone for Titan?
See you next month, hopefully!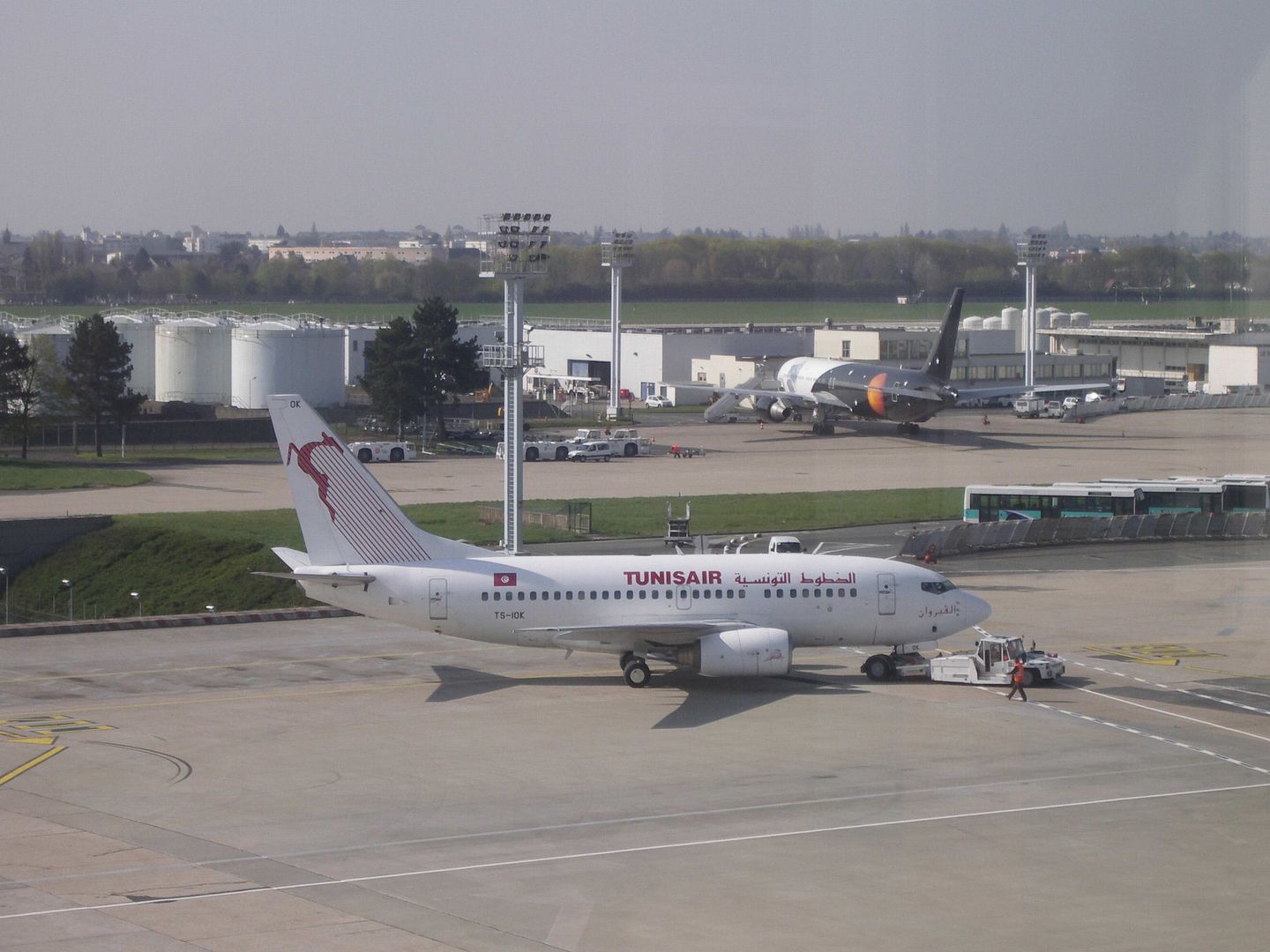 A view from above
The big one heading for Casablanca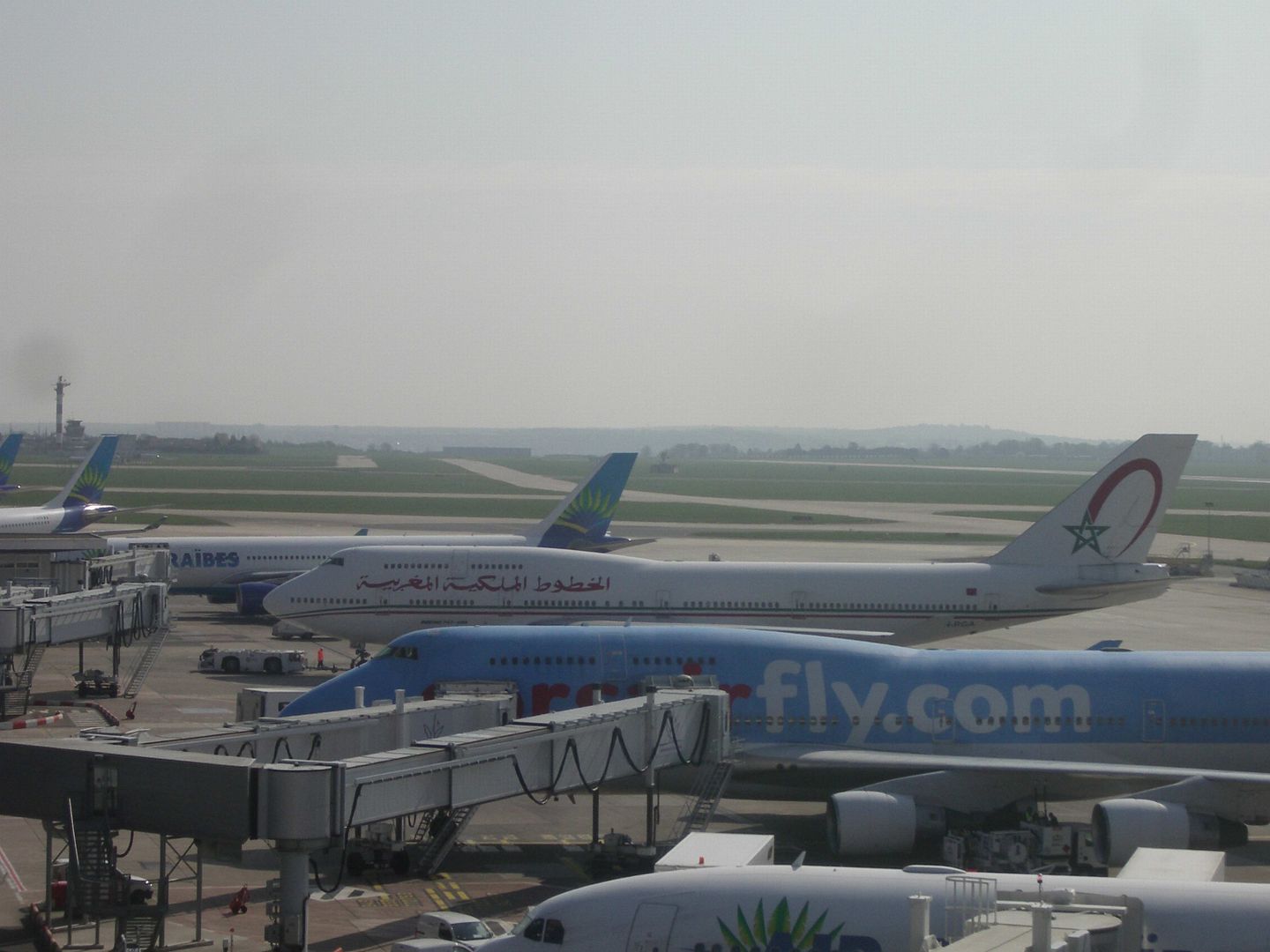 Looks like really good this way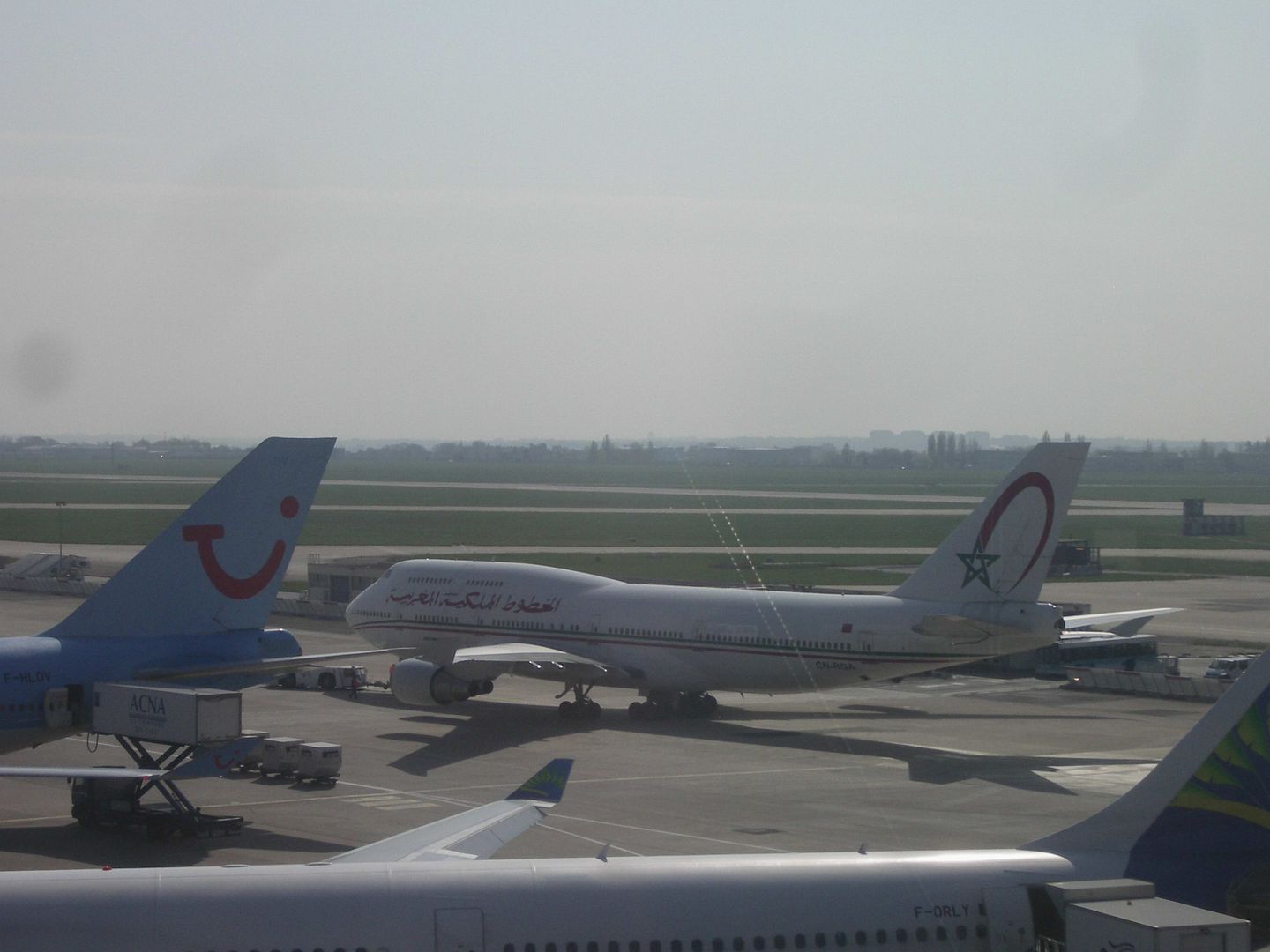 Face to face, Royal Air Maroc and Air Caraibes
Sure an interesting machine to catch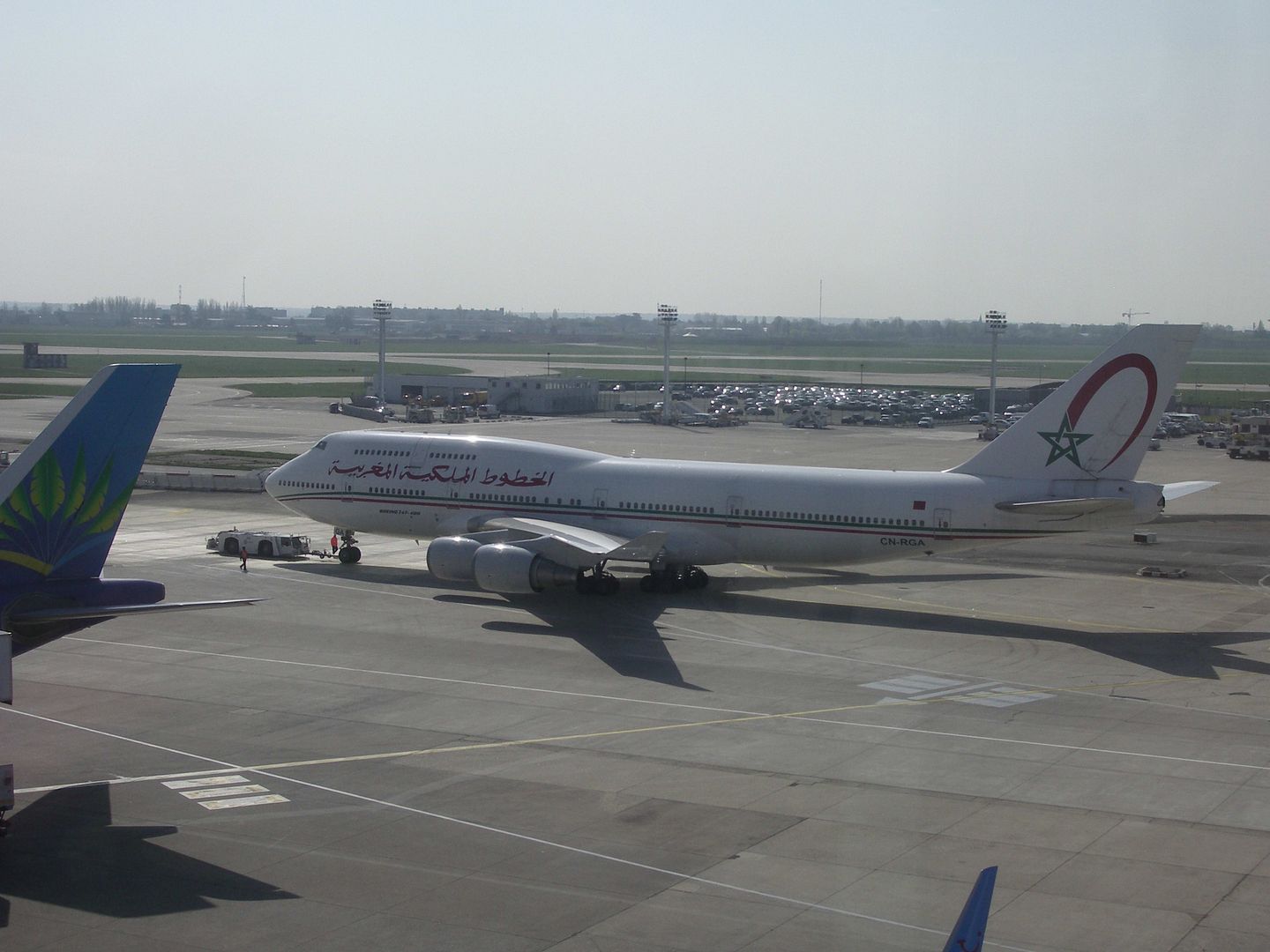 Something for me
The guys had a hard time to disconnect the push back truck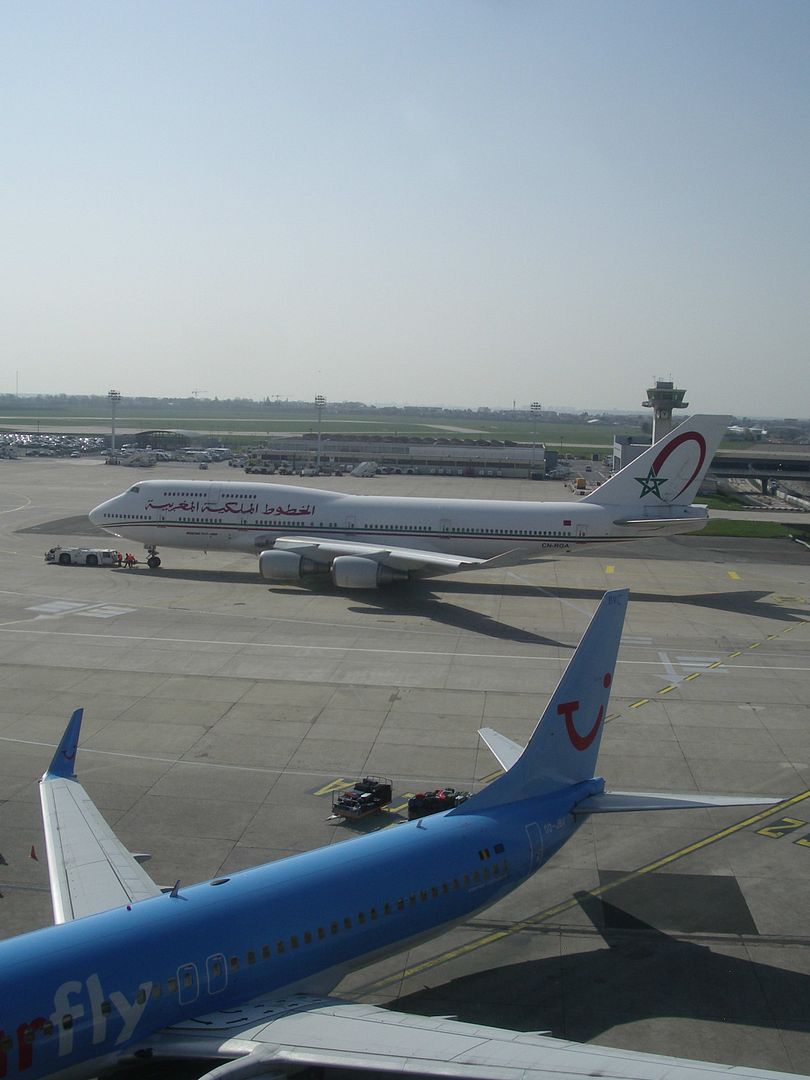 And therefore Air Caraibes wins
Show me you´re tail, please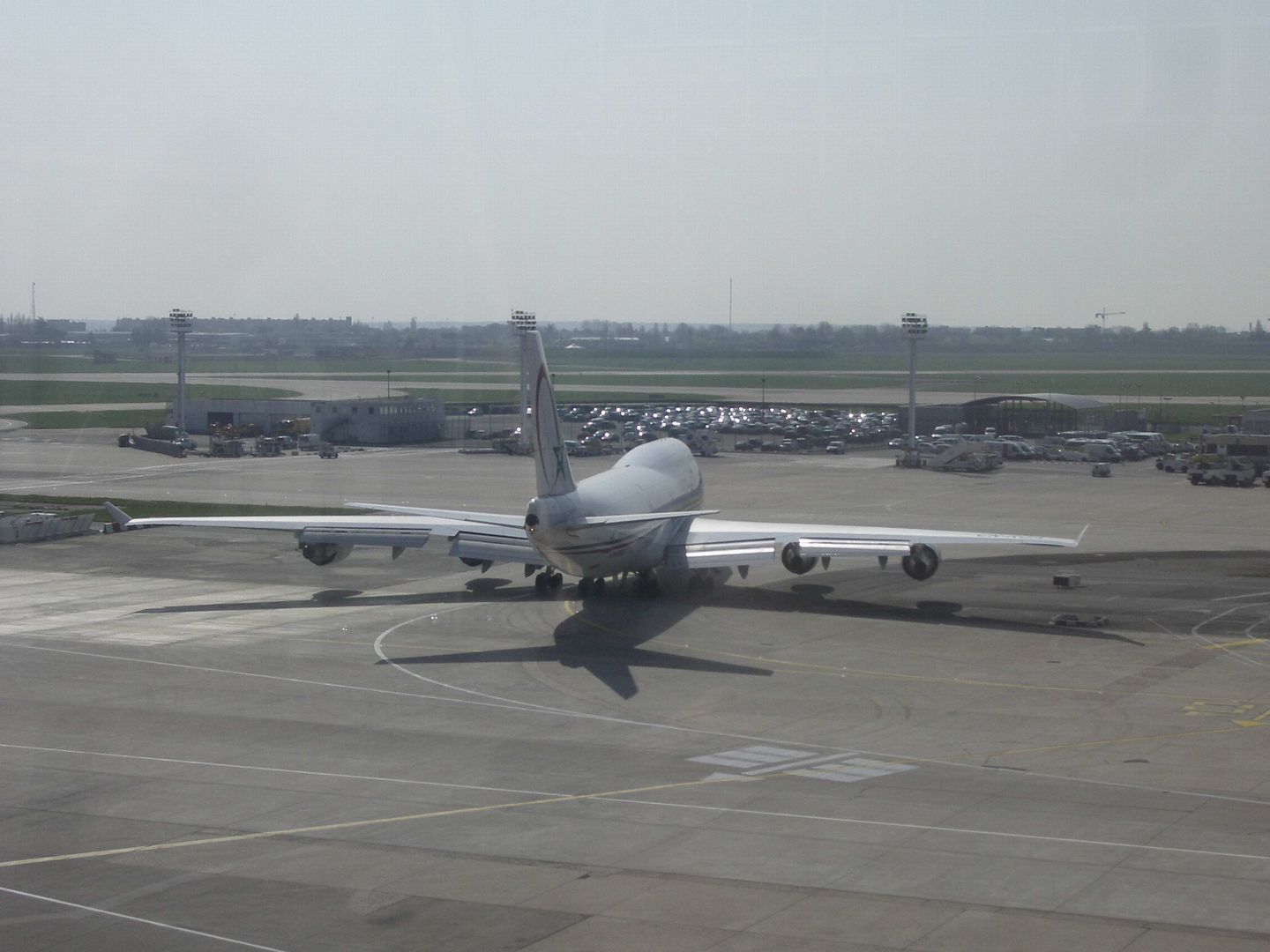 Ah, sorry Mr. Tripreporter, there is something else to do beside to view all these planes here.
Do you remember these flight to go and as far as I know you dont want to miss it.
So Terminal Ouest calls and this time immediatelly!.
--------------Continued below---------------------------------------