DUB-YYZ-YVR Air Canada with a bit of Rouge
I go into a lot of detail so if you want to read just about the flights scroll down to Check-in. Apologises for the lack of pictures.
I was lucky enough to have visited Vancouver, albeit for 1 day back in February on my way back from a week's skiing in Whistler and had placed it on my "to see" list. I remembered reading in the Irish thread that AC where starting their DUB-YYZ flights in May so I thought I would have a look. DUB is a bit of a weird route with AC at the minute. It is a mainline seasonal flight with regular AC crew but using a Rouge aircraft. The flight will end on 30th September 2013 for the winter season but will re-start as an Air Canada Rouge destination from May 2014 going all year round.
A quick check found that the flights were operating on the date requested June 8th and we could get a connection to YVR no problem. AC895 leaves DUB at 10.25am and arrives at 1.05pm in YYZ. AC run an hourly service to YVR and a quick check on their website showed at the 5pm flight AC115 was an A330, which is my favourite aircraft. It left us with a 4 hour connection in YYZ but hey I was getting to fly on the A330!
For the return trip we chose AC180 an A321 leaving YVR at 12 noon arriving into YYZ at 7.30pm which gave us a 2 hour connection window, (however our bags were being checked right thru to DUB so this was fine) AC894 leaves YYZ at 9.30pm arriving the next day into DUB a 9.30am.
Round trip it costs E501. After booking we had a chance to pre-book our seats and for an extra E110 we could upgrade to Comfort Plus on the DUB-YYZ-DUB leg so naturally we did. Seats 1A & 1C by pre-booking our Comfort Plus seat we could also pre-book seats on the YYZ-YVR-YYZ legs for free which was great. We managed to bag 35H & K on the YYZ-YVR leg and 14 E& F on the YVR-YYZ leg. So less than 10 days after returning home from Vancouver in February I was booked to go back in June. I haven't flow with AC since 1997 so I was excited to see how they have changed.
So my final routing looked like this;
Maps are courtesy of Greater Circle Maps
www.gcmap.com
So flights booked now we needed a hotel, I found a great deal on trivago which sent me to lastminute.com for the 4 Seasons in Downtown Vancouver, double room for £550 so that was booked.
Next how to get to Dublin from Belfast, I have used the Aircoach service which is great however I didn't fancy getting the 6.30am bus on the Saturday morning so decided to stay in Dublin on the Friday night. I booked the 4.30pm bus on the Friday evening. A return journey cost £16. So a hotel for the night was needed, the Premier Inn at Dublin airport looked good. It's about a 5 minute drive on a shuttle bus away and for only E29 for a double room was good value. Now all I could do was wait until June!
Getting to DUB
I finished work at 1pm on Friday 7th June which gave me enough time to head home, shower and then head over to pic Allan up. I got my father to give us a lift down into Glengall Street where the bus station is located. Translink the local government owned bus and rail company do not left Aircoach use the bus station instead they assigned them a stand outside in the street. We arrived just after 4pm and the bus arrived. It left at 4.30pm on the dot and we arrived at DUB at 6.30pm. I had thought with the rush hour traffic it would take longer. We made our way to the Premier Inn via taxi. (We just missed the shuttle bus and I was not waiting an hour for the next one!) We had a standard double room which was very comfortable, especially since we had only paid E29!
So the day finally arrived, after spending a nice relaxing night at the Premier Inn I set my alarm for 6.55am and immediately went down for breakfast. We were the only quests up at that stage so had a nice relaxing cooked breakfast. I left my friend enjoying his toast and headed back upto the room to get showered and ready. The shuttle bus was due to leave at 8.15am. I was just finishing checking out when the bus drove off. Not again! The receptionist told me the next bus was in 30 mins. I didn't fancy waiting so she called us a taxi. E10 poorer and 5 minutes later, we arrived at DUB T1.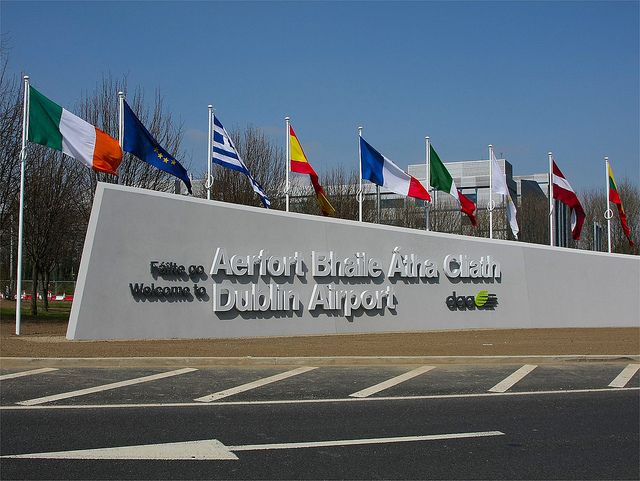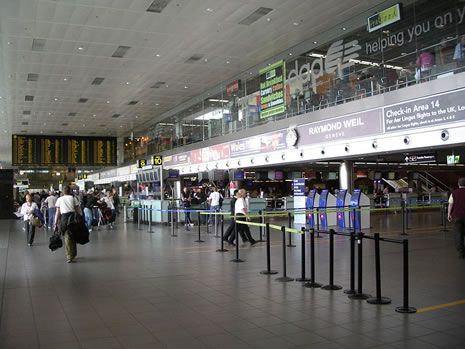 Check-in
A quick check of the FIDS told us AC was checking towards the end of the check-in area, beside the Ryanair Check-in desks. We arrived at check in at 8.25am and where greeted by this massive queue!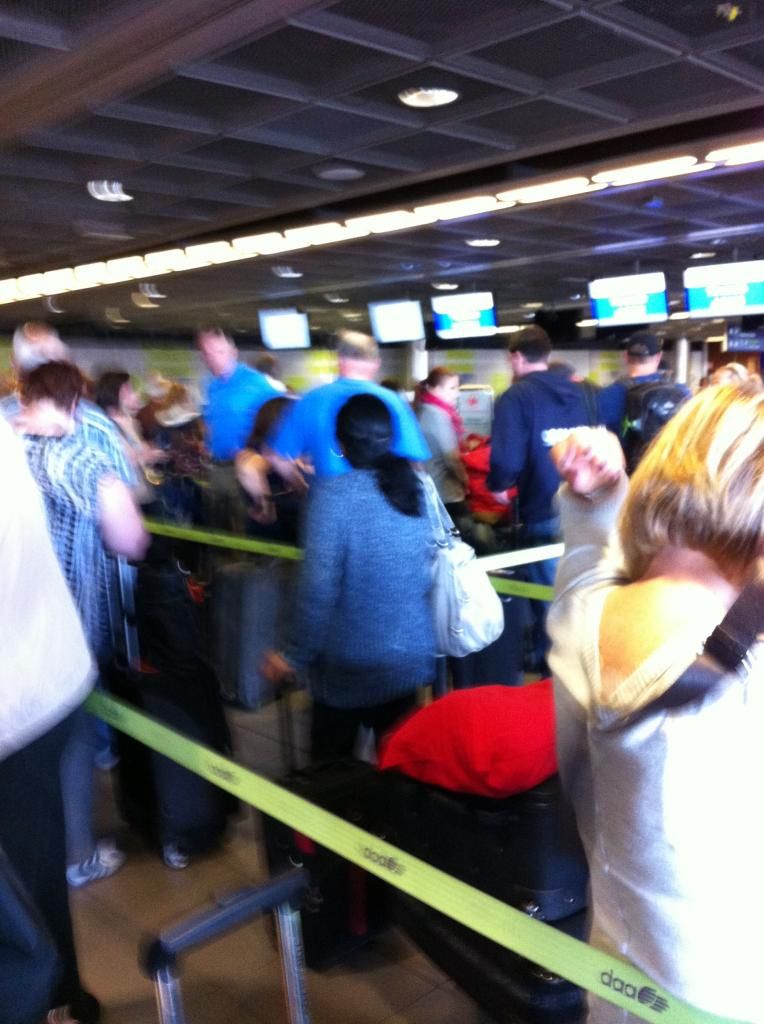 Everyone had to get their passport checked. As we had checked in online the day before the agent doing the checks moved us to the bag drop queue. In front of us, were 9 other passengers. 1 lady and 4 couples. It took us over 1 hour to get checked in. The regular queue was going even slower. The agent was friendly and apologised for the wait. It seemed that everyone had turned up at the same time; this was then compounded by a slow computer system. The Tuesday before, I believe the whole check-in system at DUB crashed. The agent tagged our bags to Vancouver and told us that we would need to collect them and clear customs in YYZ. He then replaced our printed boarding passes with proper airline ones and issued fresh boarding passes for the leg to YVR. He then asked for all our printed boarding passes as he was going to destroy them. Our gate was 310 and boarding would start at 10am. I overhead that the load was 250 pax and 9 babies. So a good load for AC today.

After the wait to get checked in security was a breeze; it took less than 5 minutes to clear. We still had a good 45 mins before the gate was due to close so popped into the Anna Livia Lounge. The last time I was here it was very 90's however it recently had a face lift. It still had the central food/drink area however the seating area's had been changed with new seats. The wood effect on the wall has been removed and overall the lounge seemed more bright and modern.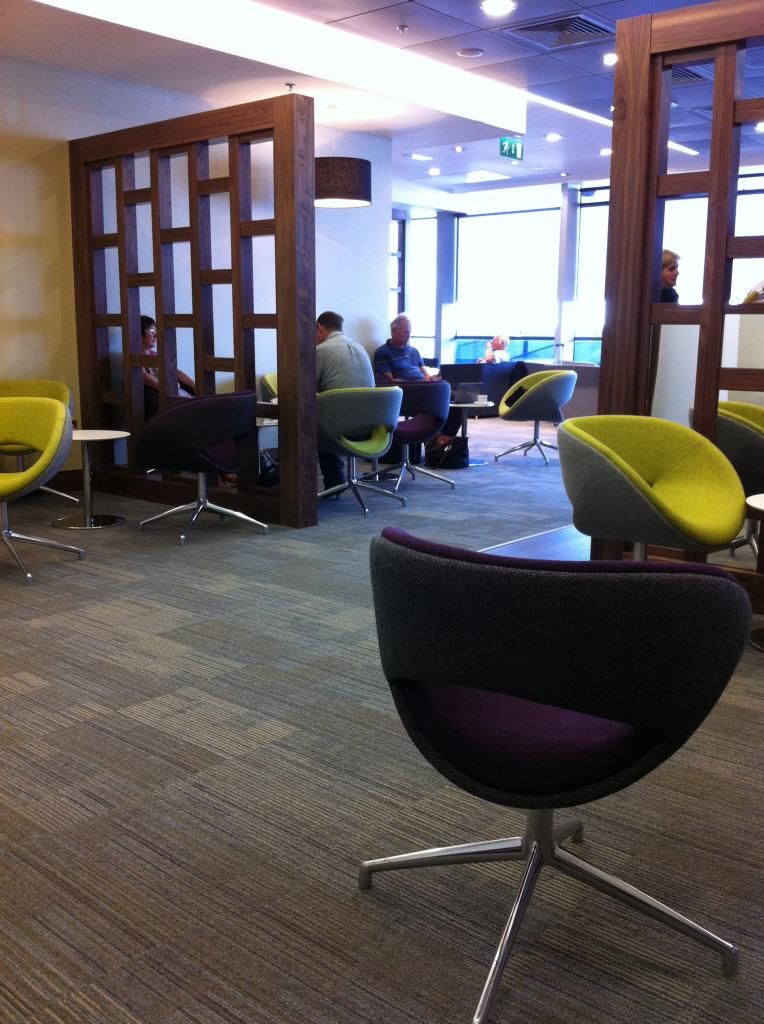 DUB-YYZ
8th June 2013
AC895 B763
SDT: 10.45 (BST) SAT: 12.30 (EDT)
ADT: 11.13 (BST) AAT: 13.04 (EDT)

I managed to grab this quick (not very good) picture of the aircraft before we boarded. I was surprised to see the aircraft in an Air Canada Rouge livery. From reading online it appeared that my Aircraft was in Israel for a repaint and cabin mod on the 1st June. Once on-board you could tell it had just undergone a refurb.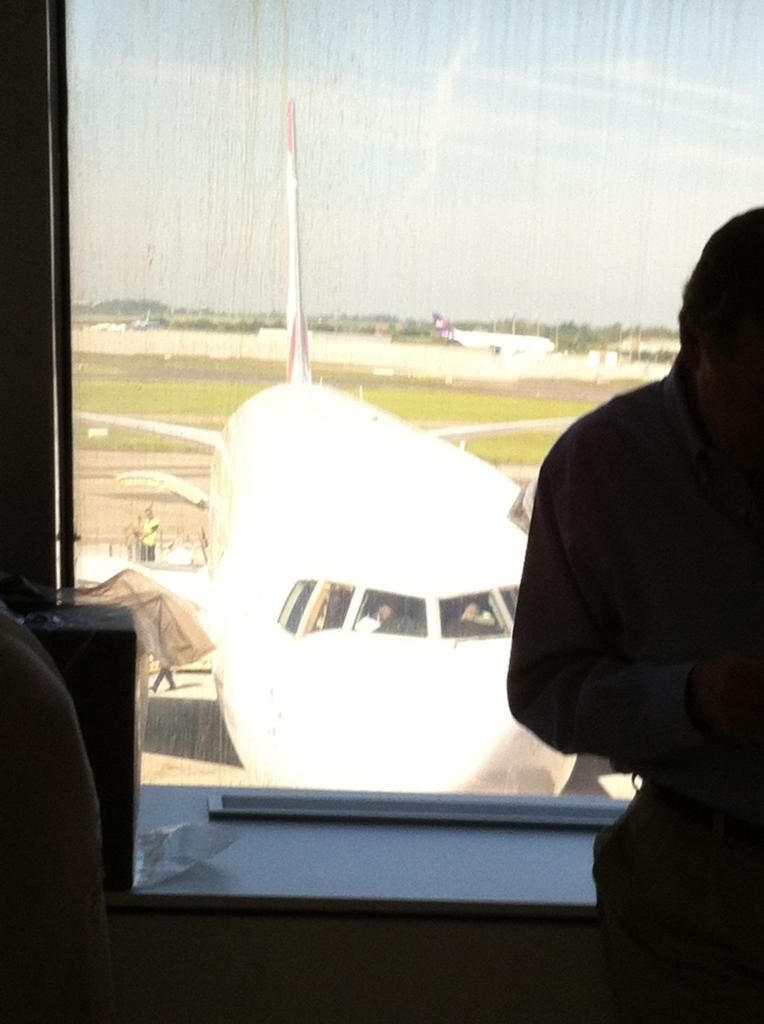 View Large
View Medium


Photo © Paul Quinn




Once onboard you could tell the aircraft had just had a makeover. Gone were the boxy overhead bins, replaced by new modern pivot bins. The photo below doesn't so the cabin justice it was taken on my Iphone and in the middle of boarding. The comfort plus seats were 3 rows of 2-2-2 whilst economy was 2-3-2. The seats reminded me of the old domestic first class (picture of which is below). On the seat was a blanket and pillow A nice big TV monitor was located on the bulkhead in front of our seats.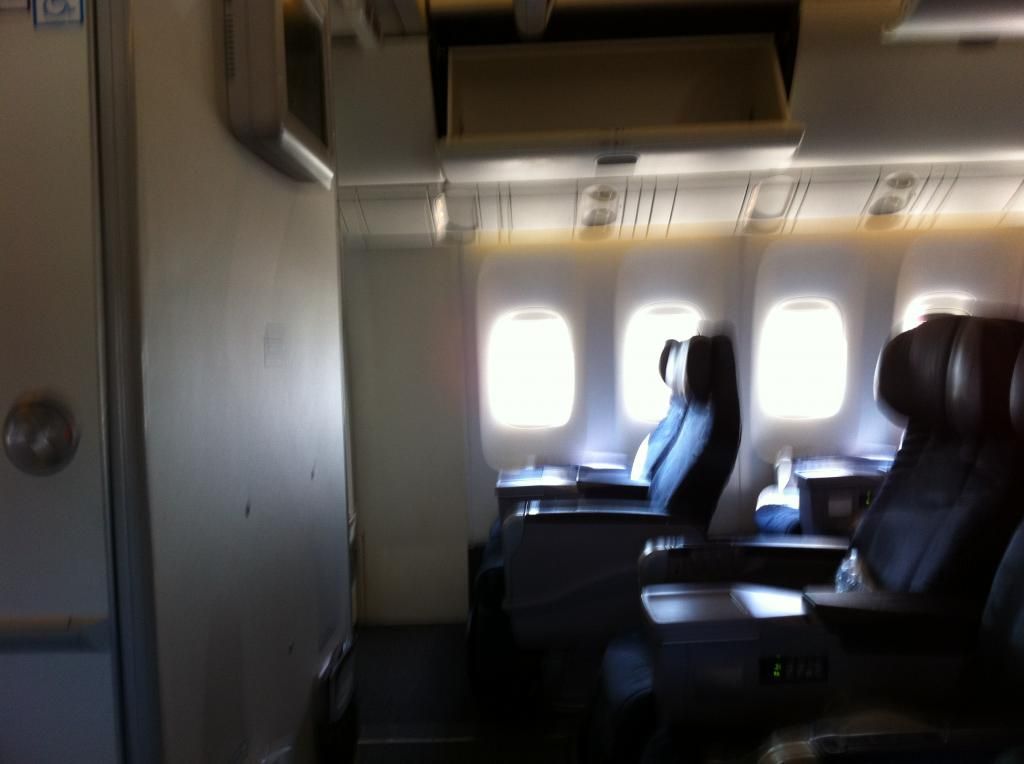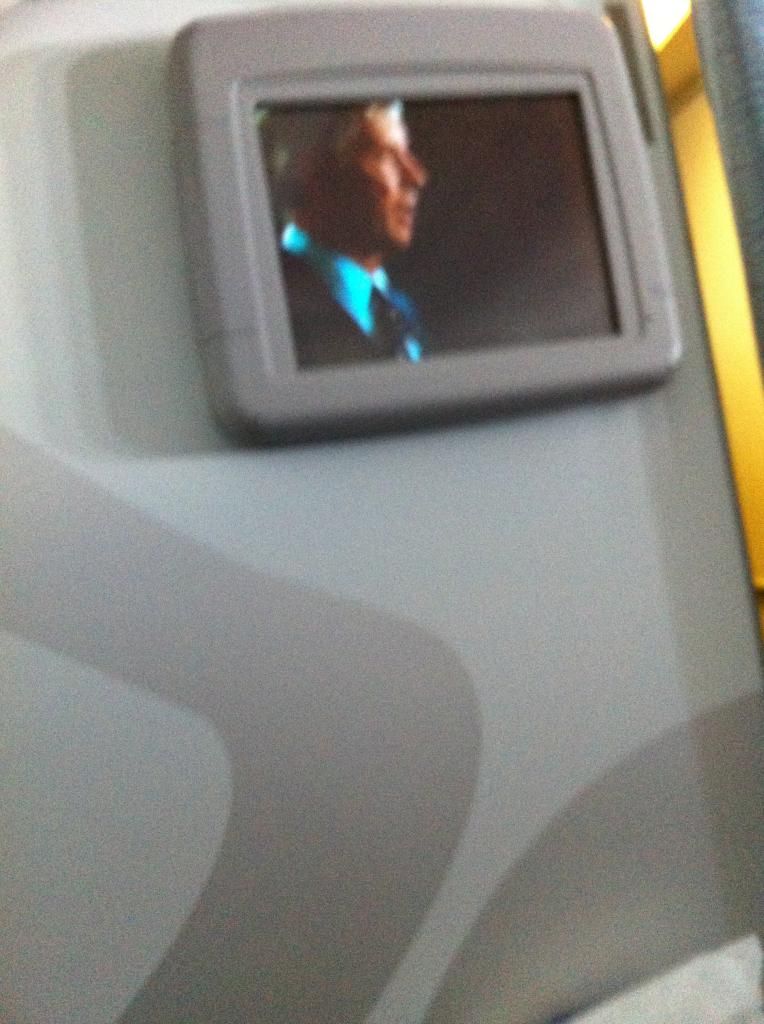 View Large
View Medium


Photo © Eric Fortin AirTeamImages




The seat had a number of manual controls, for reclining back, a leg rest, foot rest and lumbar support. The headrest had wings at the side and could be adjusted up and down. The middle armrest was big enough for both passengers to comfortably rest their arm on at the same time. A small drinks holder was located just under the armrest which could be slid out and used to set your drink on. Leg room as you would expect was good; I am 5ft 9 and could stretch my legs out with my feet just touching the bulkhead in front. Whilst not on power with BA's Club World or even mainline AC herringbone design seat it competed well against similar seats which one would find on TS or TCX. Overall a nice comfortable seat for the price and one I could easily have sat in to YVR!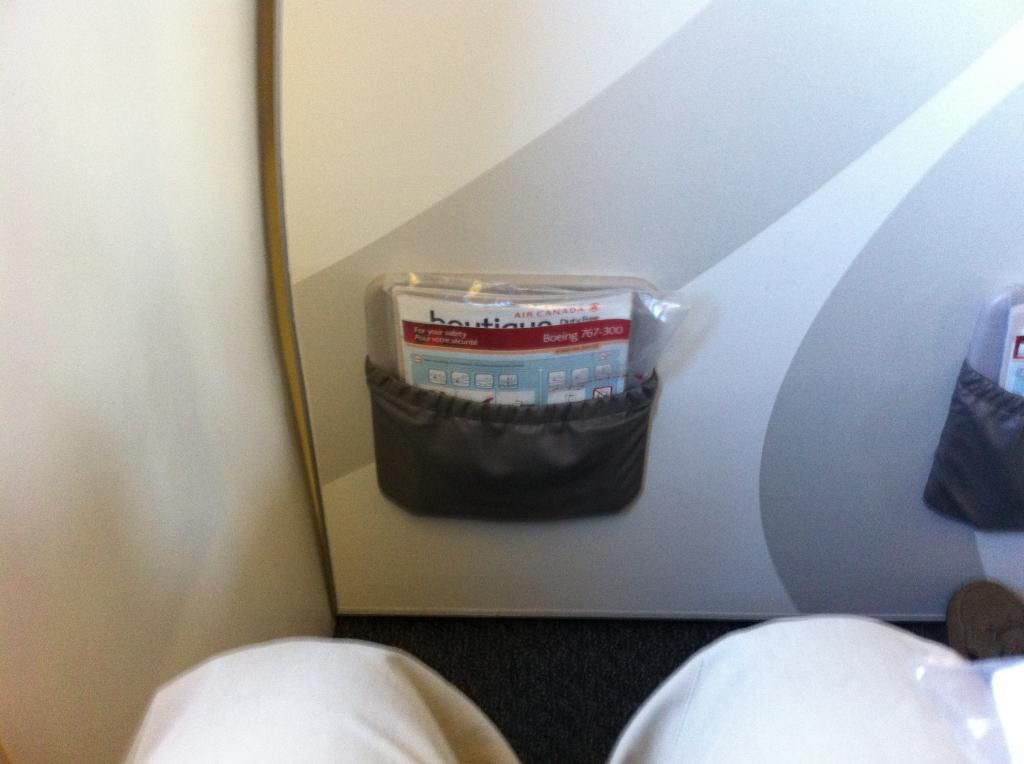 Not surprisingly given the queue at check-in we left the gate slightly later than expected. Our departure was off RWY 10 taking off towards the Irish Sea then doing a 180 turn back towards the Atlantic. Our pilot informed us that the crossing would be smooth however our routing would be very Northerly today passing over the southern tip of Greenland before flying over Québec down into YYZ. Flying time in total was 6hrs 51mins. Thanks to flightaware, here is a map of our route.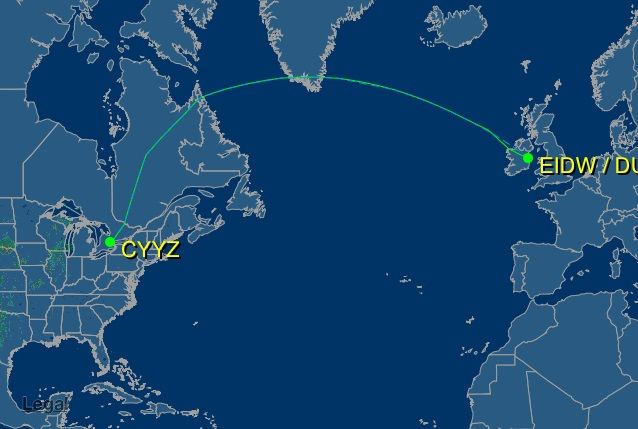 Whilst we were seated in Comfort Plus the service on board was strictly economy. Comfort plus is currently a bigger/wider seat service with no difference in catering.

Shortly after take-off the crew came round offering headsets, then a post departure drink. Approximately 1 hour after take-off we were served lunch. As we were seated in row 1 we got first choice. The FA offered a choice of beef or chicken to me. I choose beef, however straight away the other FA told her it was chicken or pasta today. The FA who was serving me turned and said "I forget what we are serving these days, must be an age thing" It doesn't sound funny but it was funny at the time. This set the tone for the crew, they were mostly older crew members who smiled and seem to be enjoying their job.

I forgot to take a picture of the meal however it was actually quite nice. I chose the pasta which was basically pasta with tomato sauce. It was served with a side salad. Warm rolls were offered by the FA and for desert a piece of chocolate cake. A bottle of water was also placed on the tray. No drinks were offered with the meal however a tea/coffee service was offered after the FA had cleared the trays away. After the meal service the lights where dimmed and everyone got settled into the routine of a transatlantic flight. The crew passed thru the cabin regularly on water runs and just to make sure everyone was ok.

We had two movies on-board today, the latest Bourne Film and Hotel Transylvania. I watched a few episodes of Borgia (not the HBO version the better European version!) on my Ipad and then watched Hotel Transylvania which was quite good. I did miss the moving map view. Our routing as mentioned earlier was quite northerly and we got some great view of Northern Quebec as we made landfall.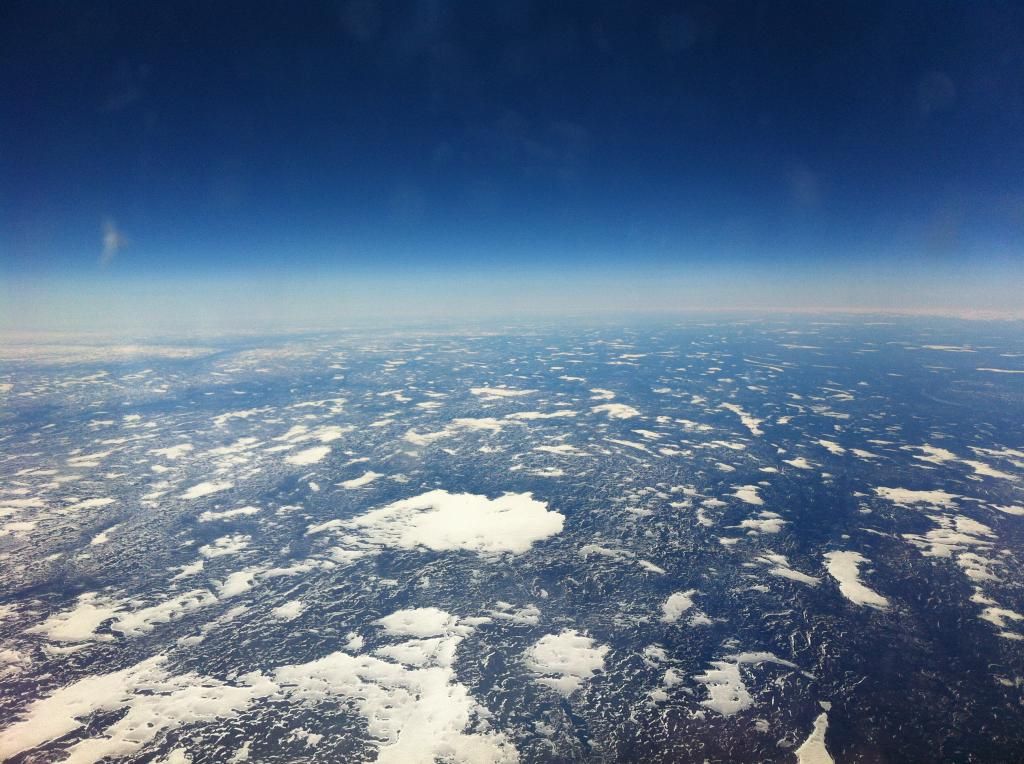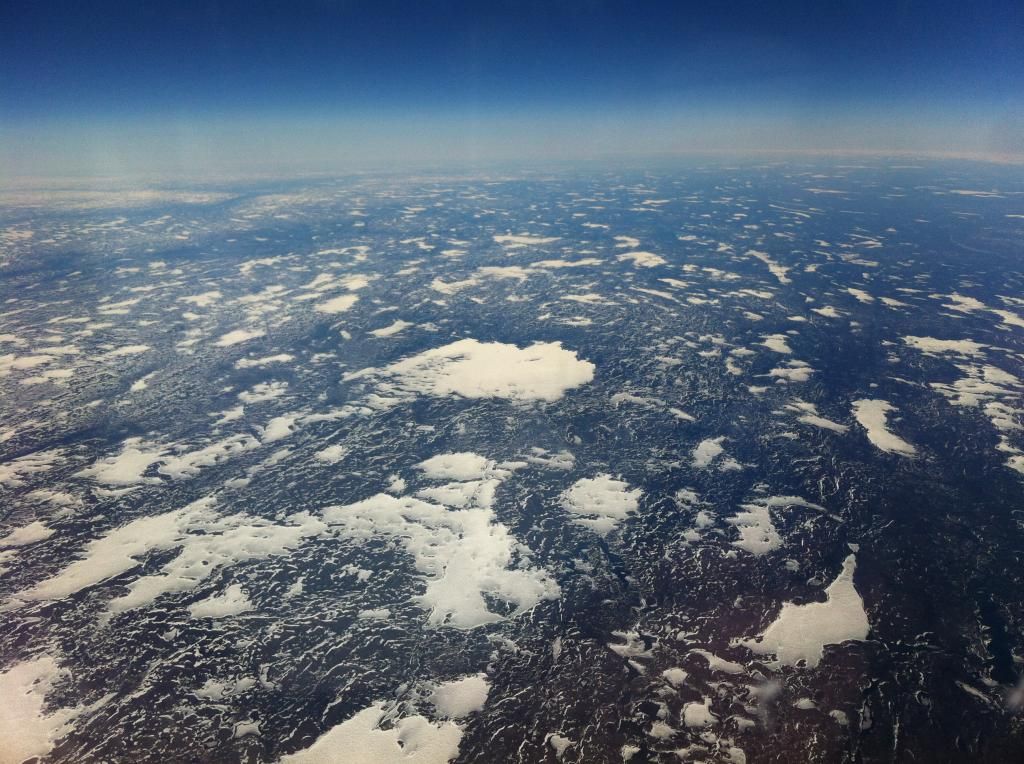 Before I knew it we had just over 1 hour to landing in Toronto and the crew handed out hot snacks in the form of a posh wrap, cheese and ham. Again it was quite delicious. This time one FA handed out the hot wrap whilst the 2nd commence a drink service. I took a cup of tea. The tea was lovely however it was served in a very small cup. No seconds were offered.

We approached Toronto from the east, being seated on the left hand side of the aircraft we got some great view of downtown Toronto as we approached RWY24R. Landing was smooth and we vacated to the right. Our taxi to T1 took about 5 mins and we arrived on stand about 30 mins behind schedule at 13.04 EDT.

Arrival and connection
As we were seated in the front row we got of the aircraft first and where met by a passport check at the top of the jet bridge. The officer took one look at let me proceed. It was a bit of a walk to immigration and once there we waiting about 15 mins as the remaining passengers from a Jet Airways flight were getting processed.

As we approached the baggage reclaim belt our cases arrived, great timing! We collected our bags and followed the signs for connections. As our bags were tagged to YVR all we had to do was place them on a conveyor belt, go up an escalator and thru security again. I noticed quite a few passengers from our flight at the connections centre, it does save travelling to London then maybe another connection in Toronto.

The whole connection from gate to arriving in the domestic area took about 1 hour. I then went to find the Plaza Premium lounge, it was hidden up stairs and I had to ask at the information desk for directions. The priority pass app describes to as to the right of security, the security up stairs not the one downstairs. Anyway once in the lounge I thought I had walked into the AC Crew room, as all the other occupants where AC pilots and cabin crew. The selection of food was quite good, mostly Asian cuisine. We set our stuff down and collected a drink. When we returned to our seats who was sitting opposite, no other than the captain of our Flight from DUB. I recognised him from when I was waiting in the gallery to use the toilet in the flight. He had been stretching his legs in the galley.

The lounge advertises itself as having a shower so my friend and I decided to use it (not together). In reality it turns out to be a disable toilet with a shower in it, more of a wet room. Anyway be both had a shower and changed clothes which helped freshen us up. I then helped myself to some chicken noodle soup and before we knew it, time had marched and it as 4pm. We headed upto the gate for the next flight.

YYZ-YYR
8th June 2013
AC115 A333
SDT: 17.00 (EDT) SAT: 18.23 (PDT)
ADT: 17.17 (EDT) AAT: 18.46 (PDT)




I didn't take any pictures of this flight so I will not go into too much detail.

We arrived at the gate as pre-boarding was complete and joined the queue to board. Once at the aircraft door by a male cabin crew member who was very cheery. We crossed the galley and made our way down the aisle past the remaining executive class seats and past the first economy section to our exit row seats 35H & K. There was plenty of room in the overhead lockers so we got our bags stowed and settled into our seats for the next 4 hours.

The flight appeared full and plenty of people had two or three bags so it took a while to get everyone settled and bags stowed. The cabin crew made a few announcements asking people to bring bags forward to check them into the hold. Eventually everyone was happy and we pushed back. We taxied to the north and took off on runway 23.

Once the seatbelt sign was switched off, the crew started the BOB service. My friend got the chicken wrap and a tea, whilst I went for the twisters red liquorice and an apple juice. This was my first time playing about with the Enroute IFE which AC offers and I was impressed. I loved the moving map. Quite a good selections of films were on offer, I settled on Les Miserable whilst my friend watched the old classic Romancing the Stone. Needless to say time literally flew by as at 158mins Les Mis passed the time. I did think the film was about 30 mins too long. I spent the rest of the flight playing GTA 3 on my Ipad and watching the moving map.

Like the earlier flight the crew passed thru the cabin on a regular basis offering water and did a further BOB service about 1 hour prior to landing in YVR.

We arrived from the east and flew over the bridges landing on RWY 26L. A short taxi took us to the domestic terminal. It took only a few minutes to disembark the aircraft and we had finally arrived. A quick walk to baggage reclaim, and then we waited, and waited and waited, 45 mins until our bags arrived. Thankfully YVR had a flat screen on the island in the middle of the baggage carousel and since it was Saturday night HNIC (Hockey Night in Canada) was on, it was the Penguins and the Bruins so that helped pass the time. Once we got our bags we took a taxi to the hotel.

Summary
I found AC to be a good carrier, the comfort plus seats on the DUB-YYZ flight are excellent value. The crew were good, smiling and actually appeared that they wanted to help. The YYZ-YVR flight again was excellent. The seat was comfortable and the IFE passed the time which is what is should do. I will use AC again, it is so handy being able to fly from Dublin and I am so glad that AC Rouge will go all year round next year as it takes the pain out of connection via London, especially as its only 1hr 30min drive to Dublin from Belfast on the AirCoach. I don't think I would like to take the coach down the morning of travel however so staying the night before was handy especially at E29!

All comments good or bad are welcome.