Hi there and thanx so far that you´ve clicked the link to this story. I hope it´s interesting enough, that you stay a couple of minutes with me!
"Air Corsica/Heli Air Monaco/Easyjet BIA-BSL"
This trip in one word:
UNEXPECTED
This is a story about two fixed legs to go from BIA to BSL with some time in NCE in between. Some time in NCE in between?. Deep down in the Tripreporters most subconscious an idea grows. Well, let´s see!.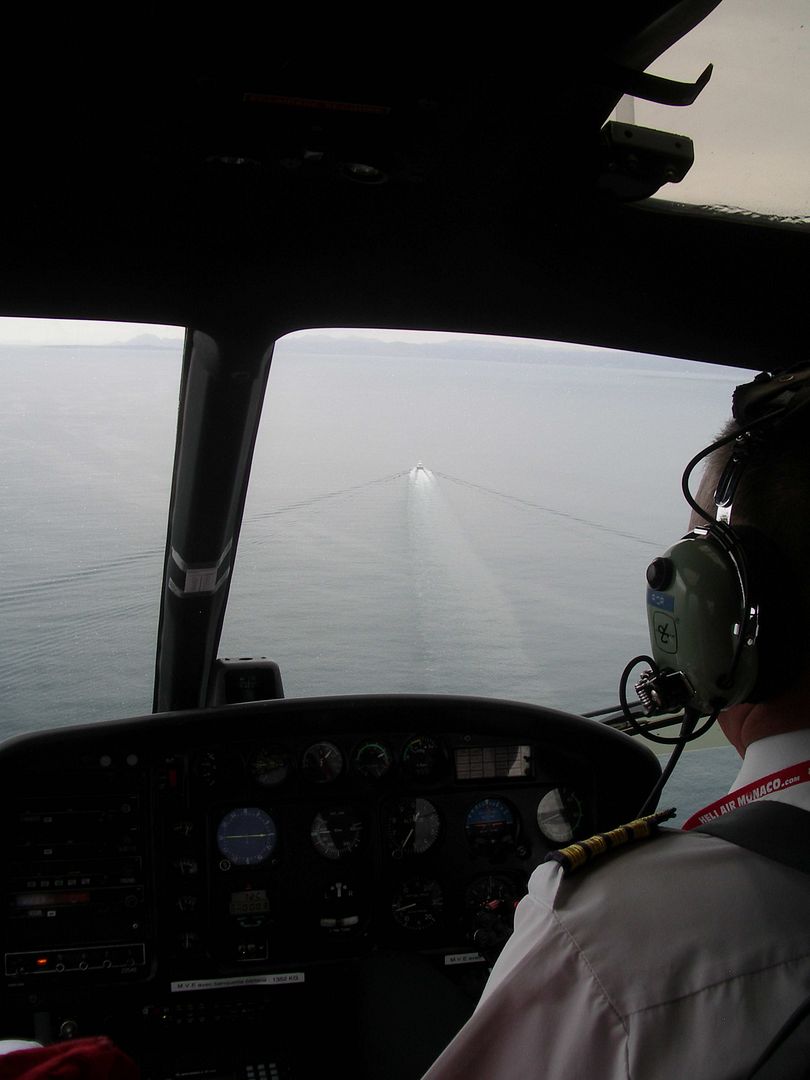 Bonghjornu, dear readers,
the last story:
"Le Ile De Beaute By No HOP, But Yes Ccm"
(by
FLIEGER67
Jun 28 2013 in Trip Reports)
finds an end with me arrived, a couple of pictures done, late Sunday evening at the hotel Les Voyageurs in Bastia, Corsica.
Did I ever told you that the hotel´s name fit´s?.
I did, ok!.
The car is parked in Basle and it seems I should be there in the evening for some other duties tomorrow.
That´s the way to go today:
With thanx to, as usual:
http://www.gcmap.com/
And this time it´s not only something new on the departure airports map, no, two new places counted with no. 237 and no. 238:
Departure Airports II
auf einer größeren Karte anzeigen
The previous 200 stations:
Departure airports
auf einer größeren Karte anzeigen
And well, the Tripreporter 2013 data is growing and growing:
TRIPREPORTER 2013
auf einer größeren Karte anzeigen
Let´s start with the early morning duties!.
Breakfast is ready at the hotels restaurant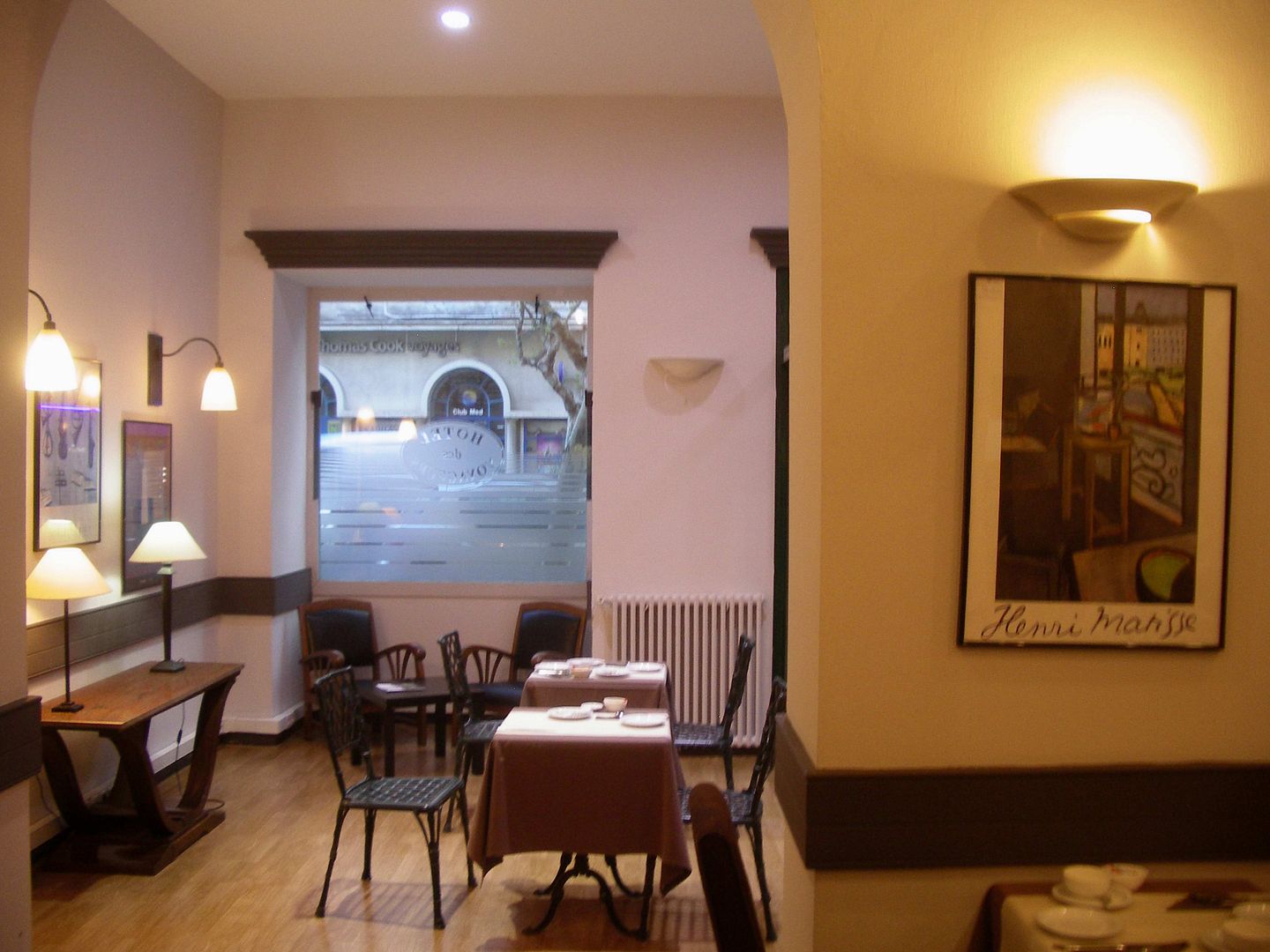 With just me and no one else around
That´s what I like, a variety of bread rolls and
several kinds of tea bags
And these big pots filled by a small corsican local factory with guaranteed local corsican apricot jam, yes they are really proud about their island!
Monday, 22.04.2013
.
.
.
.
Service XK 204 operated by Compagnie Corse Mediterranee/Air Corsica
Scheduled: 11.10 // 11.55
The very same oldfashioned bus with the very same expensive fare of 9.00 Euro´s but not the very same driver, it seems he´s at the football stadium right now,
shuttled me back for the airport. 09.15 am, ontime, corsican punctuality, nothing else expected, really?
Yes, that´s the one
Let´s go for a view inside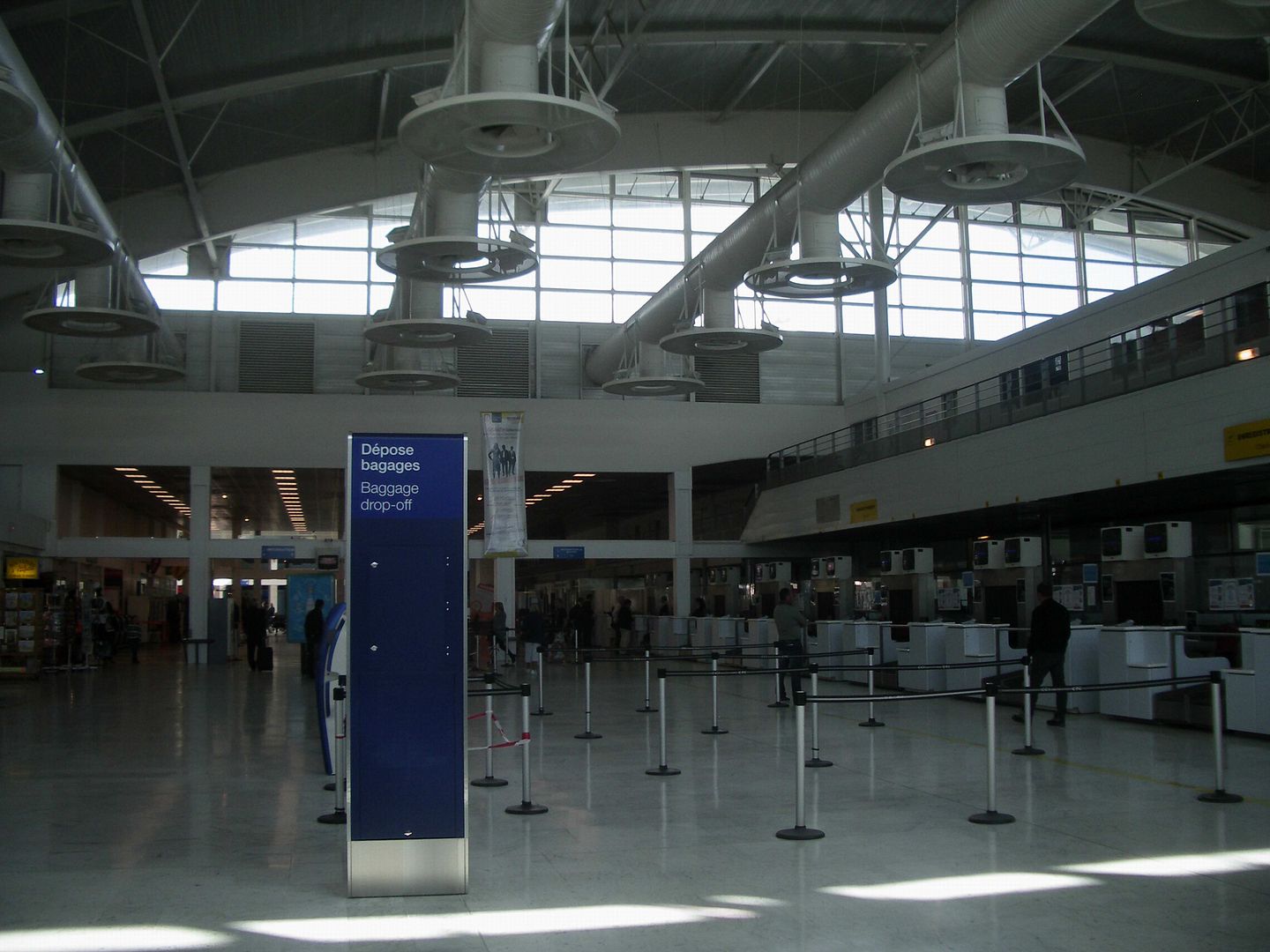 Or also maybe downstairs for other needs!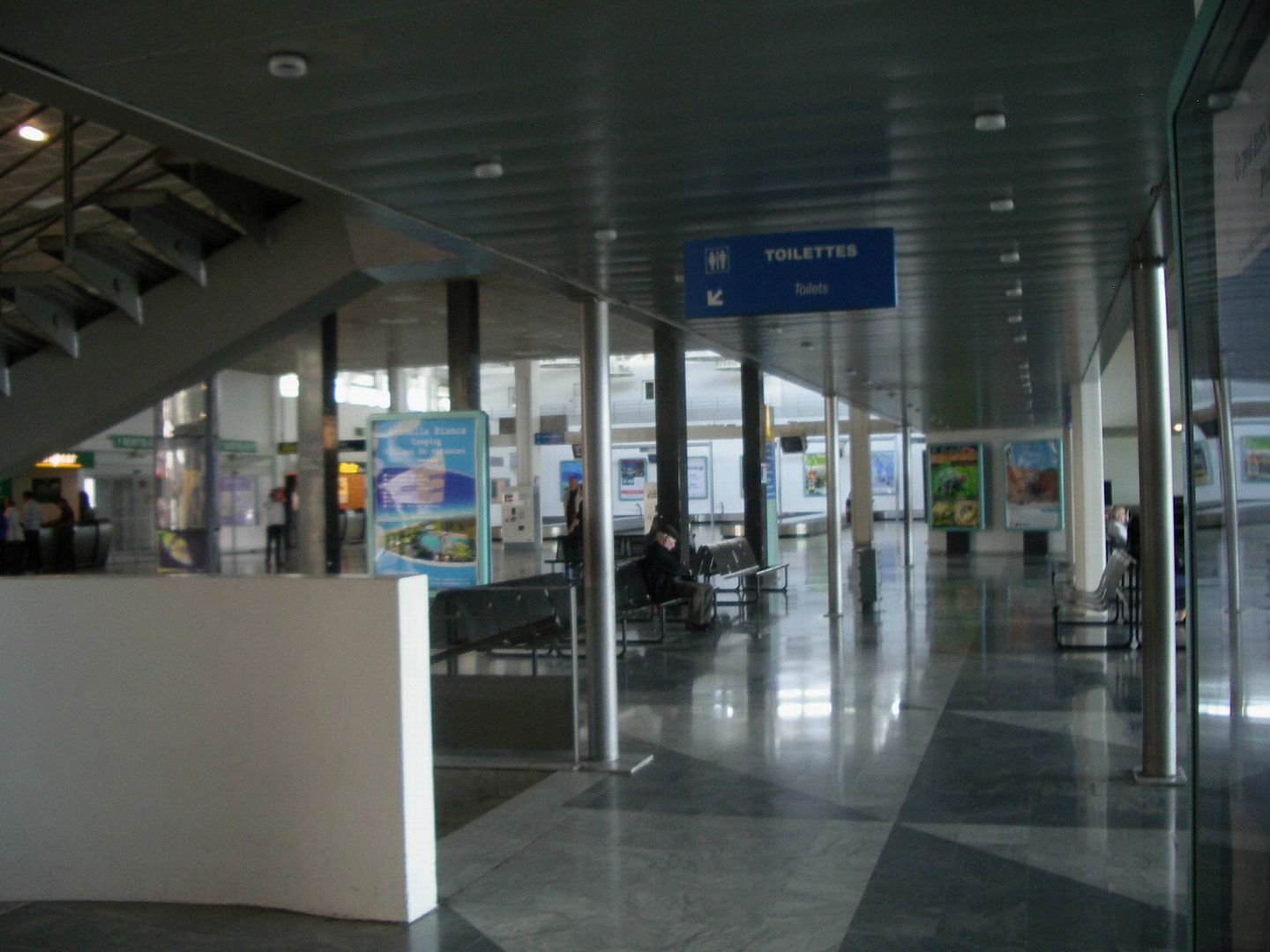 And what´s to notice on these oldfashioned monitors?.
Enregistrement!
Ok, let´s go.
They like to see me at the counters today, OLCI doesn´t work yesterday.
No time to wait and a young corsican woman at work with another one behind, it seems she´s a trainee
and asked her colleague a couple of questions. Especially with the one about some miles on the Flying Blue account?.
"No, there is no mileage credit with the XK flightnumber booked".
"Ok, thanx". The ticket is fixed directly via the Air Corsica website, the fare 45.00 Euro´s, sure ok from my point of view.
Just a matter of minutes at security and will I see the
AT72 like on schedule?
Yes, so it looks like
Blue, green and the sun above, nice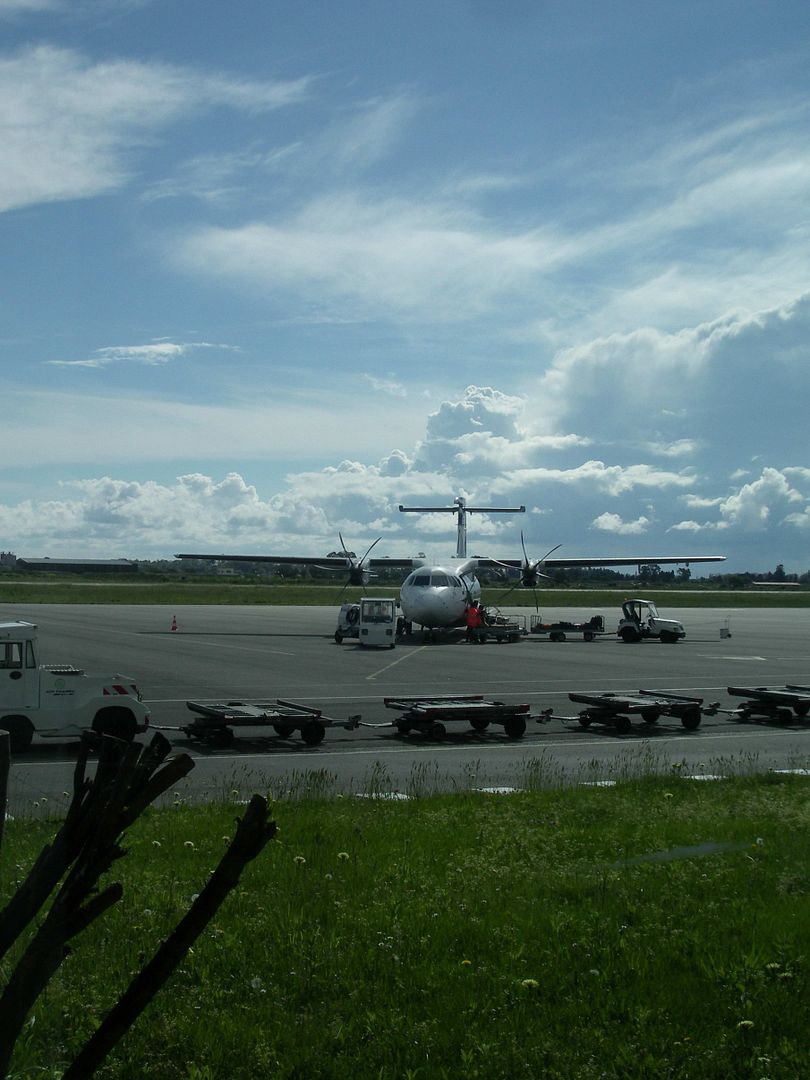 Yes, that´s the one
A shorty gate view, no lounge available btw.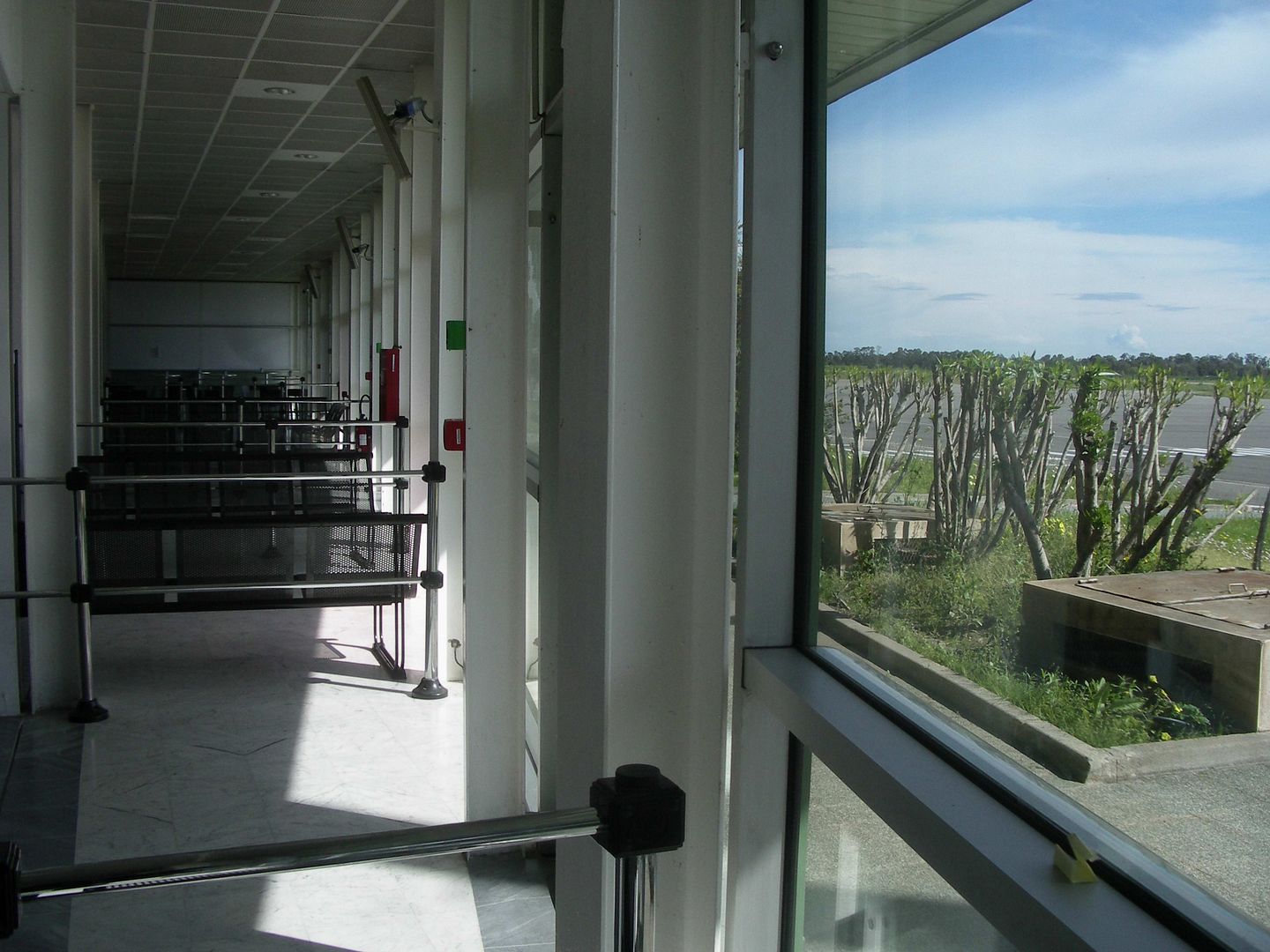 This one is registered F-GRPY
Leg no. 25 on the AT72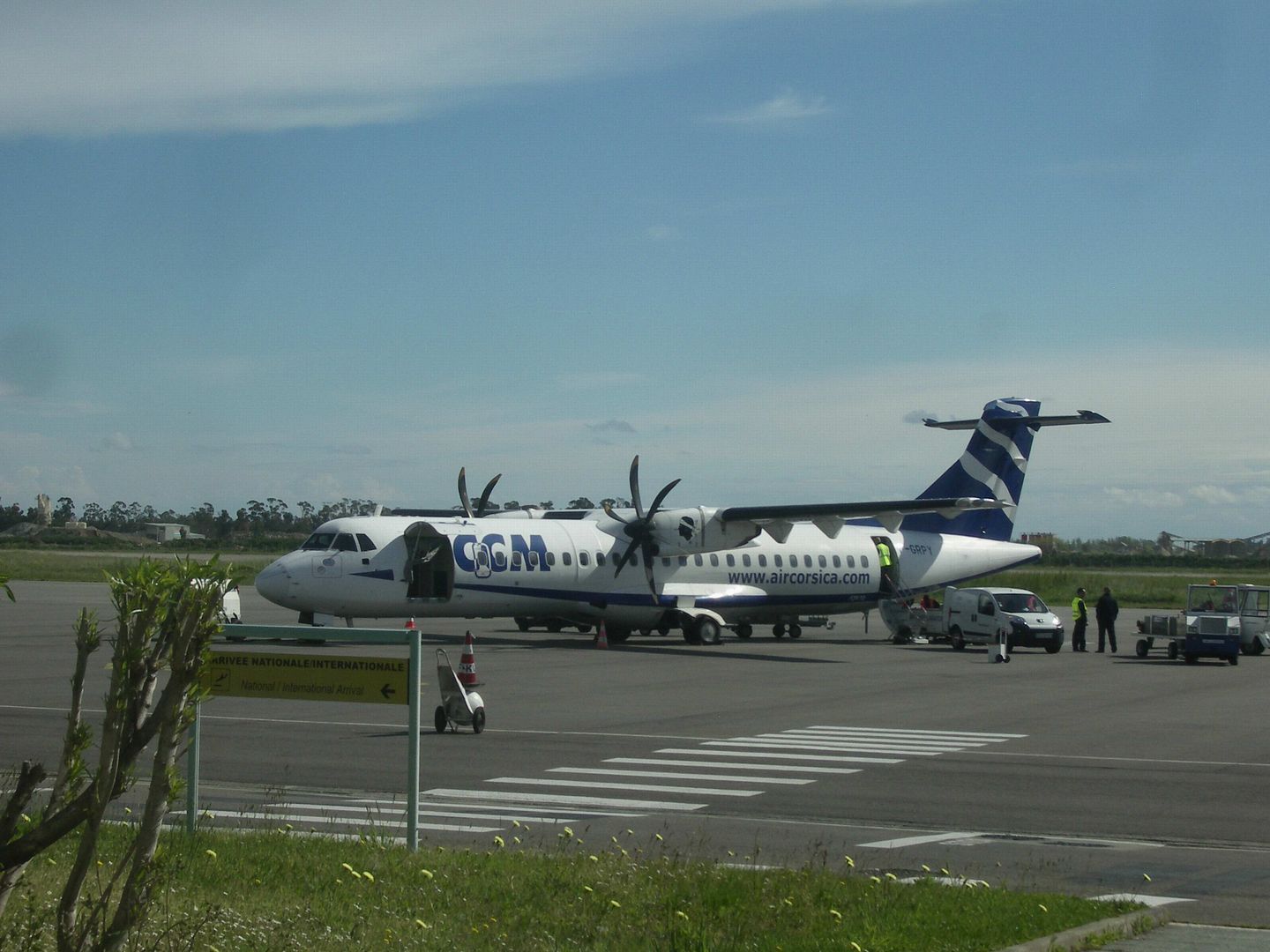 New to the log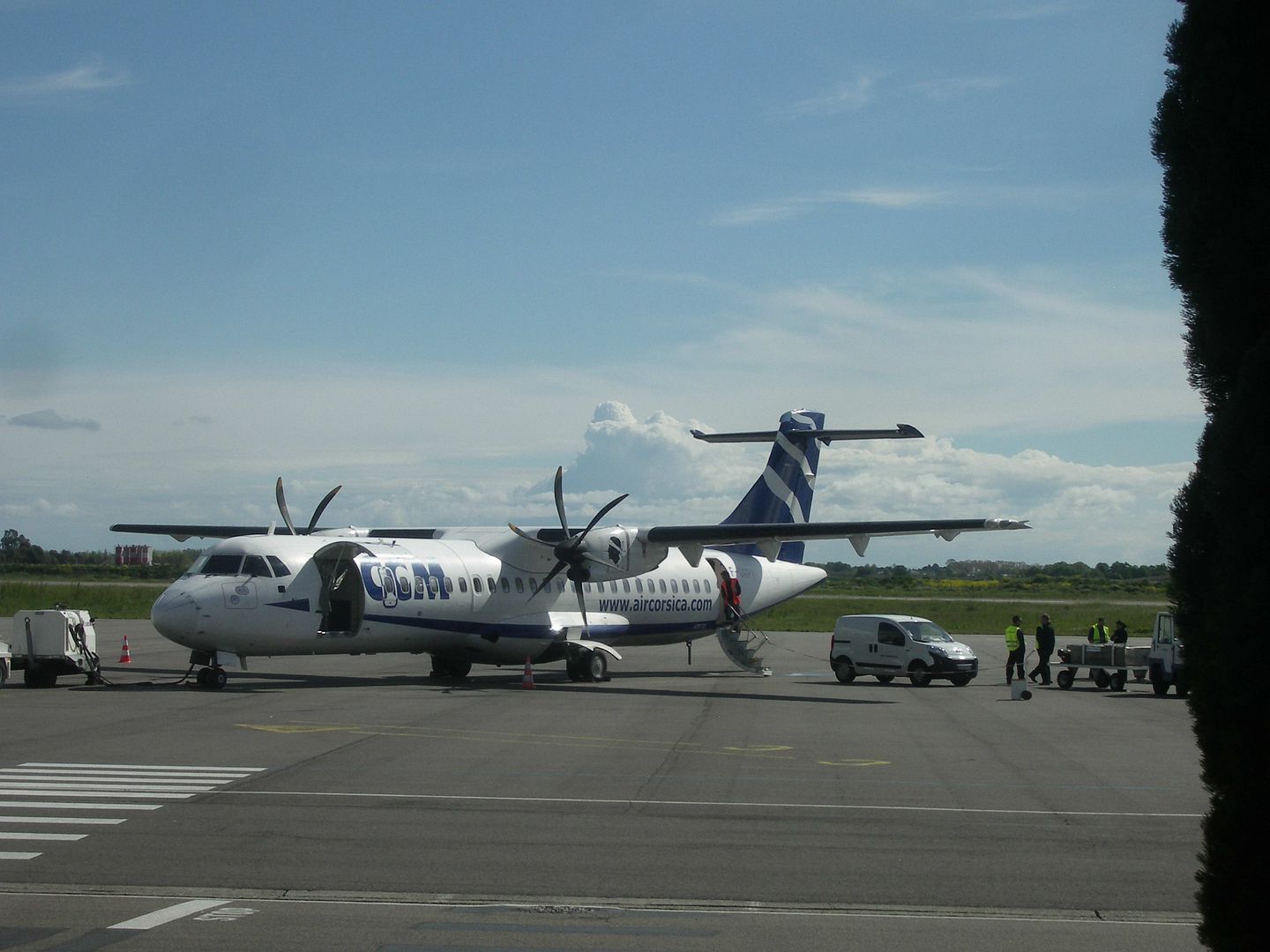 And no individual name to notice
The big brother coming in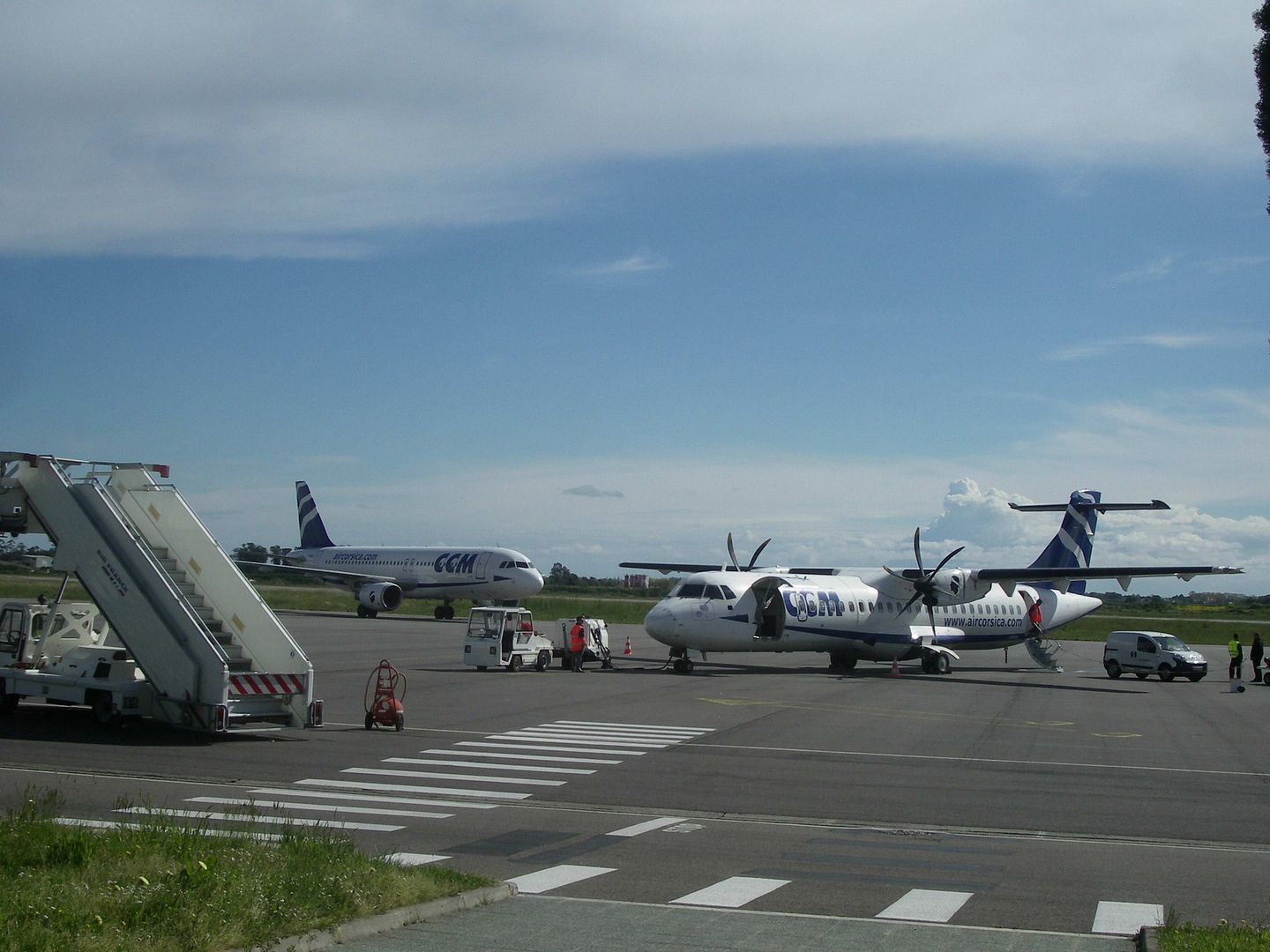 In service with XK since 08.02.2007
Six examples are in the actual fleet and there is no
incident recorded with this machine
This example looks like heavy orange and it seems they are simply everywhere these days
Also an A319 looks like nice from this point of view
Compare the livery. Opinions?
Boarding in style from gate 6, ultimately suitable with the weather conditions
Yes, I like this logo, perfectly matching with Corsica
Under the wing, you know!
11.15 am and that´s finally short after schedule, no duration info, 18 degrees and some clouds only to leave Corsica again by "Corsica".
Seat view from 10D, two for me in the end
Cockpit crew is from France, the captain with a short welcome on the taxiway and later on with also short infos prior to approach.
No route nor flightlevel info.
Just departed from the 2520 meters runway "Three-Four"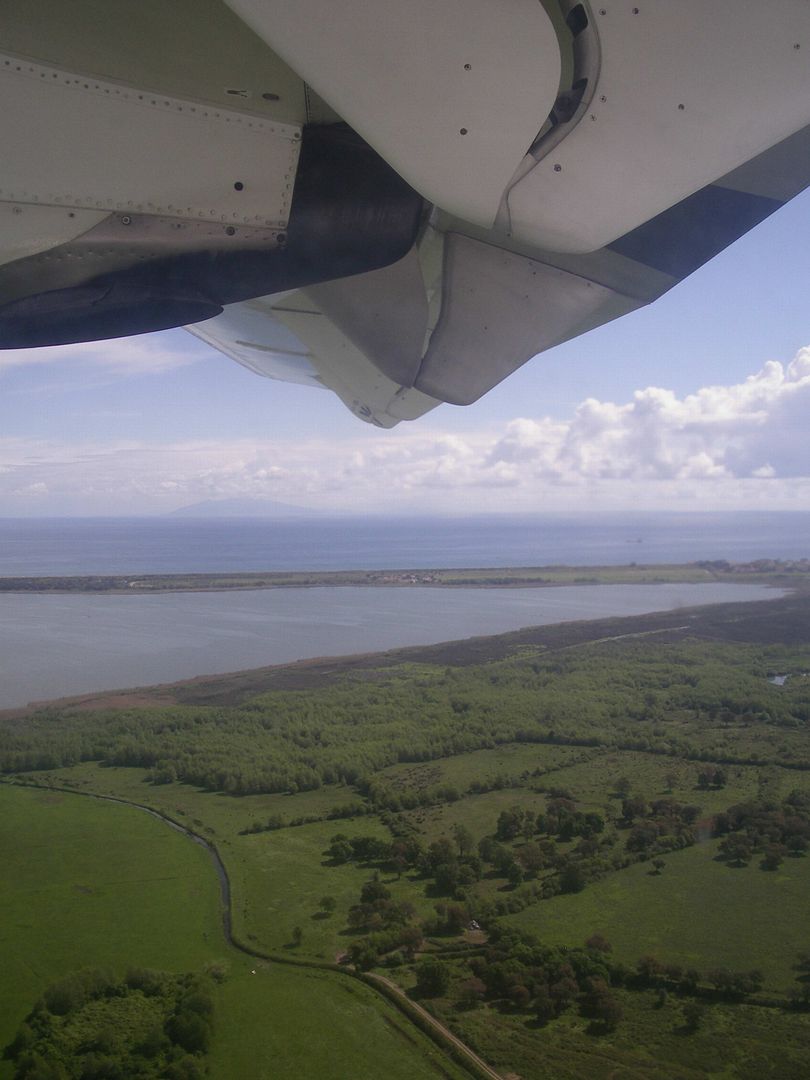 Above the "Etang de Biguglia"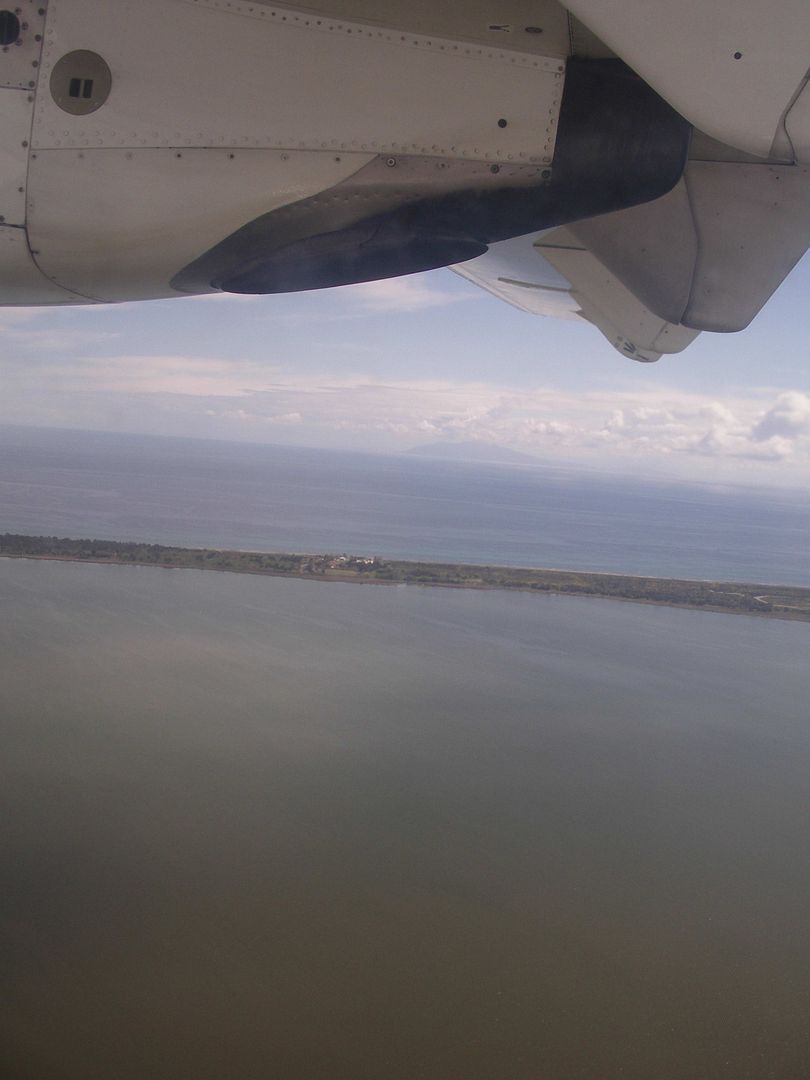 Living in style on the small landbridge
With the beaches down there
Cabin crew is one elder nice female FA together with an ok style middle age male FA.
Service is free drinks only.
Legroom is acceptable here with the well used blue leather seats
Cabin view with a 70% load, a good number of biz travellers in suits and also XK/AF staff not on duty today
All italiana?
Prop view above the med
The exhaust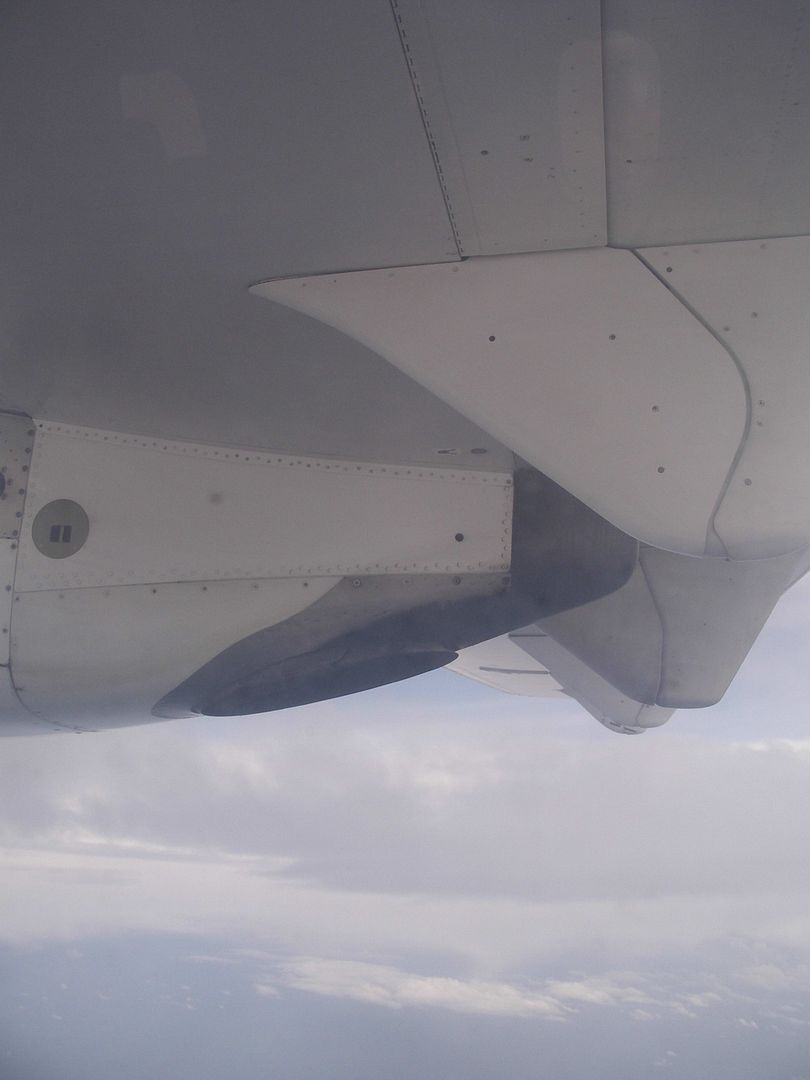 Safety by CCM
The Cote de Azur ahead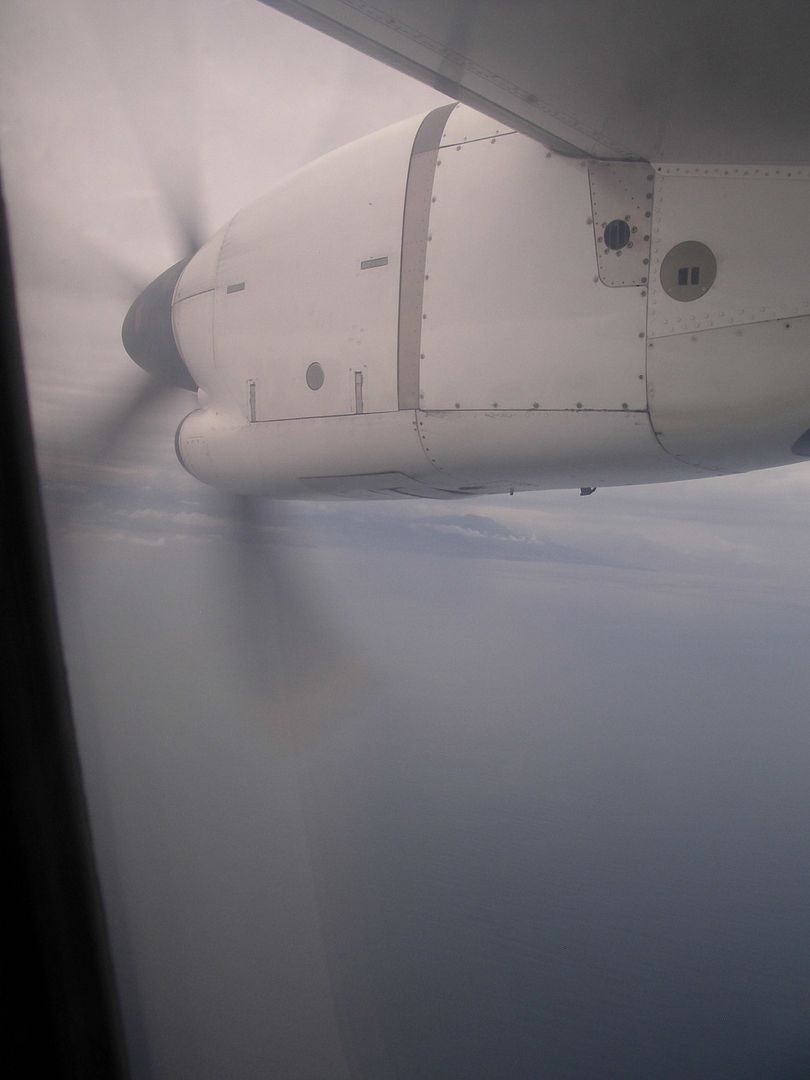 With not the real Cote de Azur weather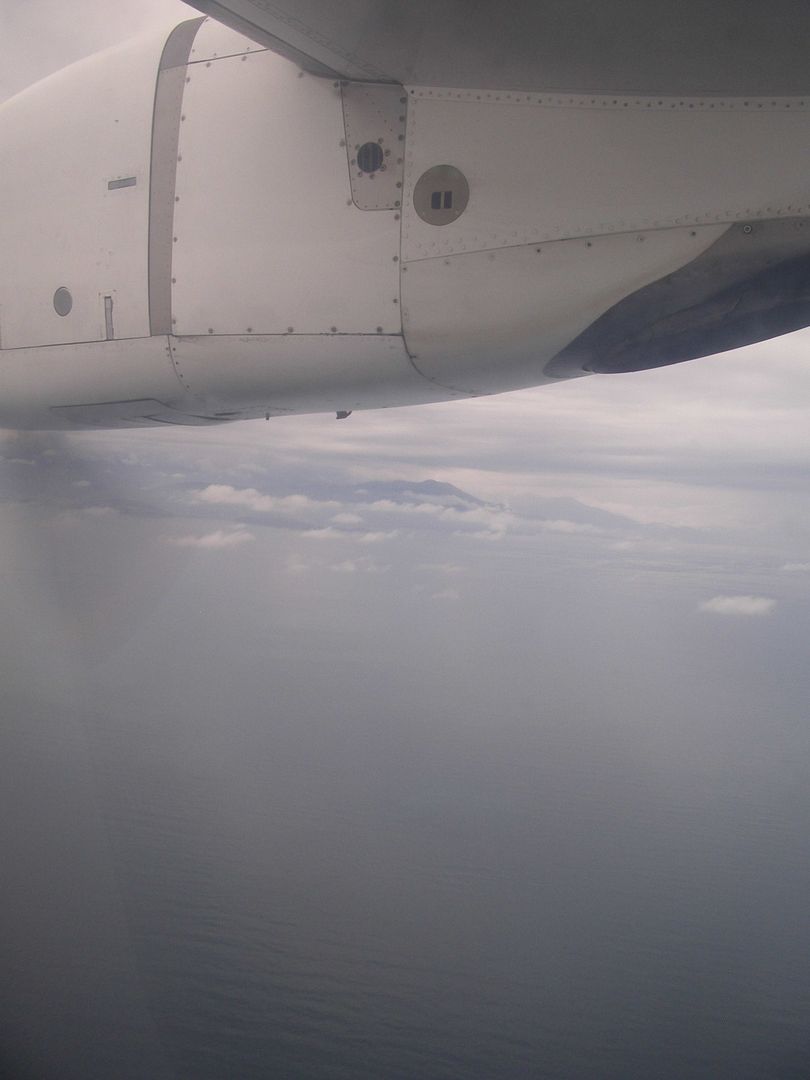 Seaside traffic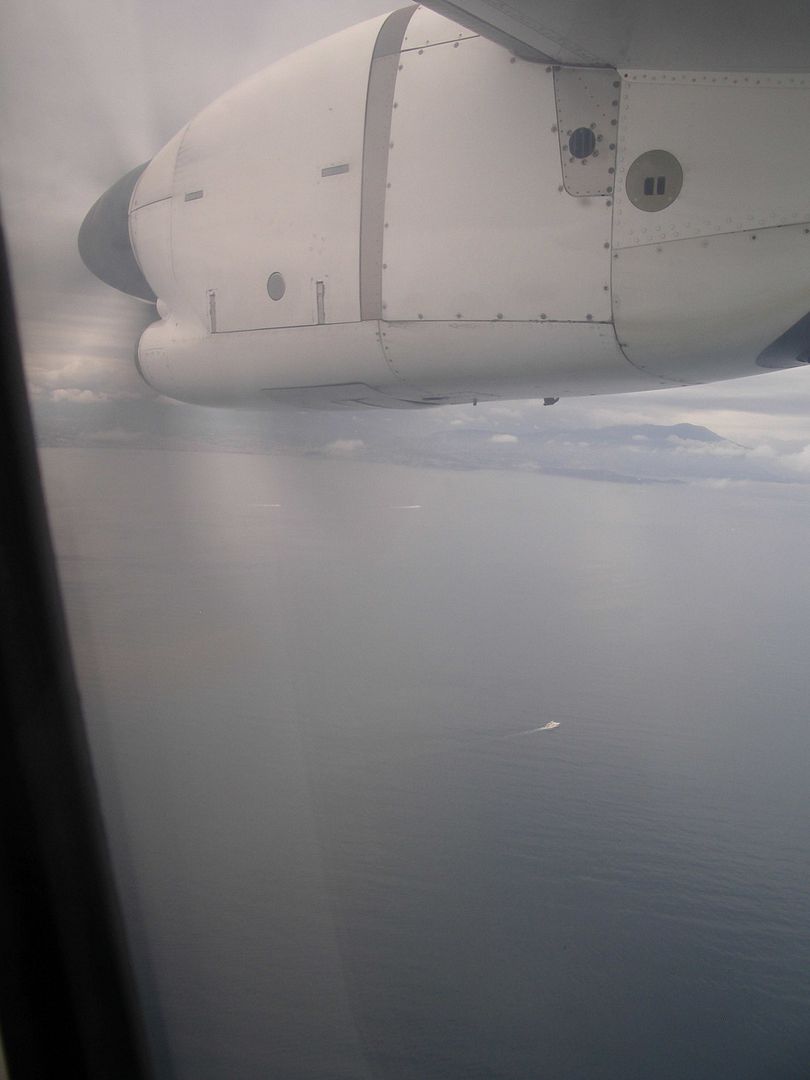 The airport in the short distance
Strange approach, spot the runway crossways directly ahead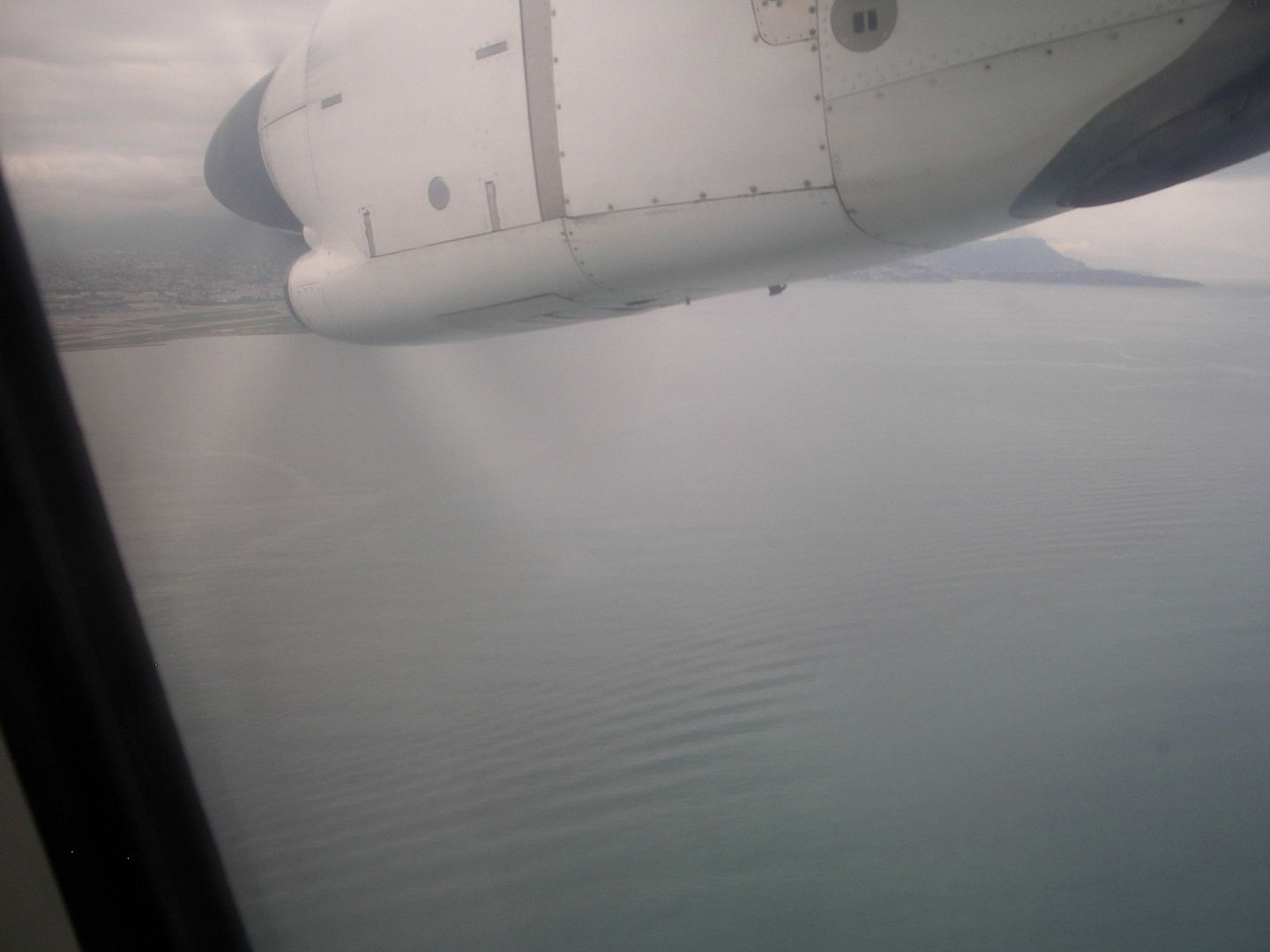 A sharp curve for finals
Definitely more curves needed when we like to land there
Touchdown at the 2570 meters "Zero-Four-Left". 11.50 am is short ahead to schedule in the end, it´s cloudy with 18 degrees.
Parked on the apron and bye-bye to CCM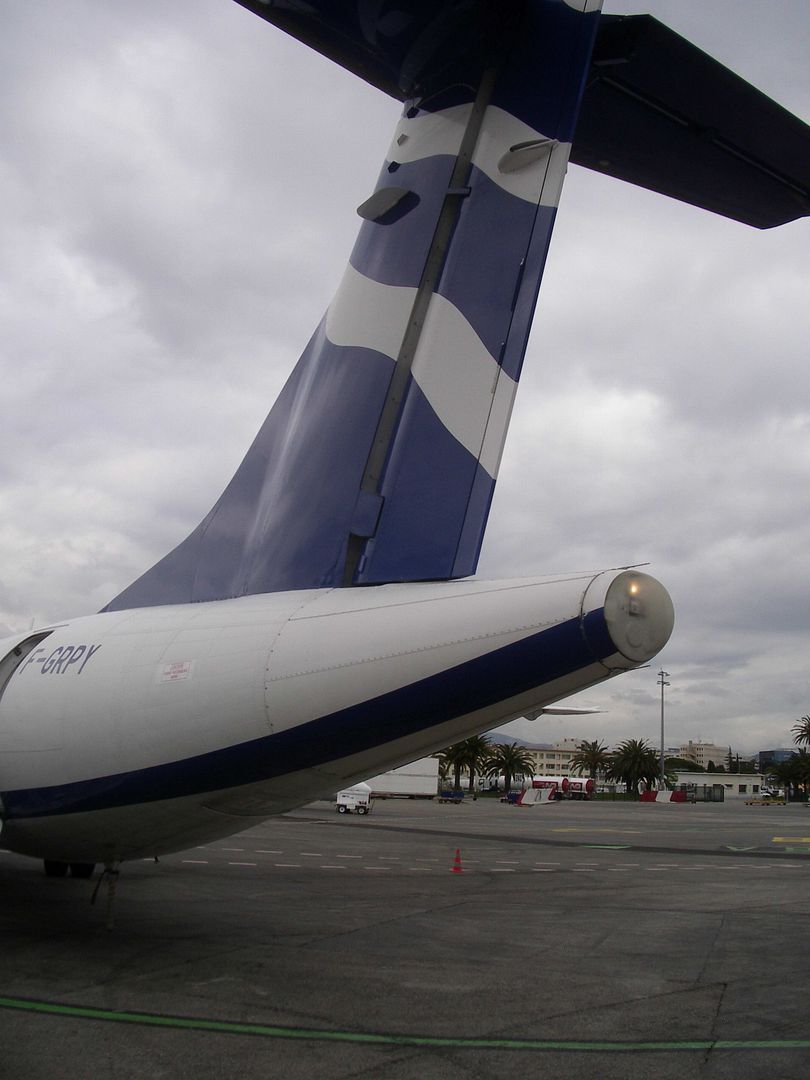 The original plan sees me heading for a relaxed walk around the city with some lazy hours in between to the final flight of the day, but well, sometimes, you know!.
Soon thereafter I saw me sitting on a bench, Nexus Wifi mode on and checking the train schedules for Monaco- Monte Carlo.
Some 30 minutes from Nice-Ville to Monaco-Monte Carlo only.
Well, the idea grows.
You know, there is always someone inside who tells you: "No, this is a completely silly idea, it´s expensive and the risk to miss you´re final flight is on a high level, no way to go this way, you should not do it" and so on. But well, sometimes, you simply don´t hear it and like someone else directed it, walked further for the Heli Air Monaco counter.
A nice middle aged guy at work.
"Good day, are there seats available on the afternoon services from Monaco back to Nice?".
He´s the cool one, just to lift the eyebrowes shortly.
"Well let me check it for you.
When do you want to fly?".
"I should board another flight here at 4.50 pm, what about the 3.30 pm departure?".
"There are seats on the 3.00, 3.30 and 4.00 pm departures available, so if you like it, I will fix a seat on the 4.00 pm departure for you and you change it for the earlier one if you like it at Monaco".
"Is there a fee to change?".
"Nothing at all".
"Well, let´s do it this way".
And also this time I hear something far away inside me,
but wait, no, there is simply nothing to notice!.
----------Continued below-------------------------------