Disclaimer
This trip report was written on behalf and exclusively for www.Airchive.com. The original version posted on Airchive.com has been edited and modified for its publication on the Airliners.net Trip Reports forum. For a full read of this report, please visit: http://airchive.com/blog/2013/06/02/ana787-sjc-nrt/
---------------------------------------
Background Information
Flying the Dreamliner had always been a Dream to me since the very moment that Boeing showed a digitalized photo of its newest project quite a few years ago. After the halt of operations of all 787s around the globe and the nasty and never-ending media flaming rambling on, and airlines finally resuming flights on the Dreamliner, we found a way to purchase a ticket on the re-inaugural flight from San Jose to Tokyo and experience in true flesh what flying a Dreamliner really feels like.
This report was originally written for Airchive.com, the best and most up-to-date memorabilia and current Avgeek museum online. I just thought of those of you who keep reading my reports and did a re-post here on my a.net turf
- I hope you all like it!
Time to roll! Enjoy reading.
The ANA experience began as soon as the reservation was retrieved from the airline's US Sales team. The 'English' version of the airline's website is fairly simple to use, being quite independent from the Japanese portal. It has a very basic and limited look, which makes it quite easy to browse - nothing out of the ordinary yet quite efficient from the eye perspective.
Once the reservation number is entered in the '
View Reservations
' area, it's possible to choose the seat with one of the nicest seating charts I have seen to date.
As a welcoming sight, a nice image of the new Staggered Business Class seat is displayed with the passenger's name on a right-side column. Additionally, the Business cabin is graphically divided into three sections, allowing one to choose which one to be on.
After taking a quick peek at my future seat, I went on to explore the wonderful 3D-like seating chart. Given that I am one picky AvGeek, I wanted to make sure I had the best possible view of the engine and wing during takeoff and landing, obviously for picture purposes. Therefore, I had to be in the front side of the Business cabin.
Here's a view of the rear Business Class cabin: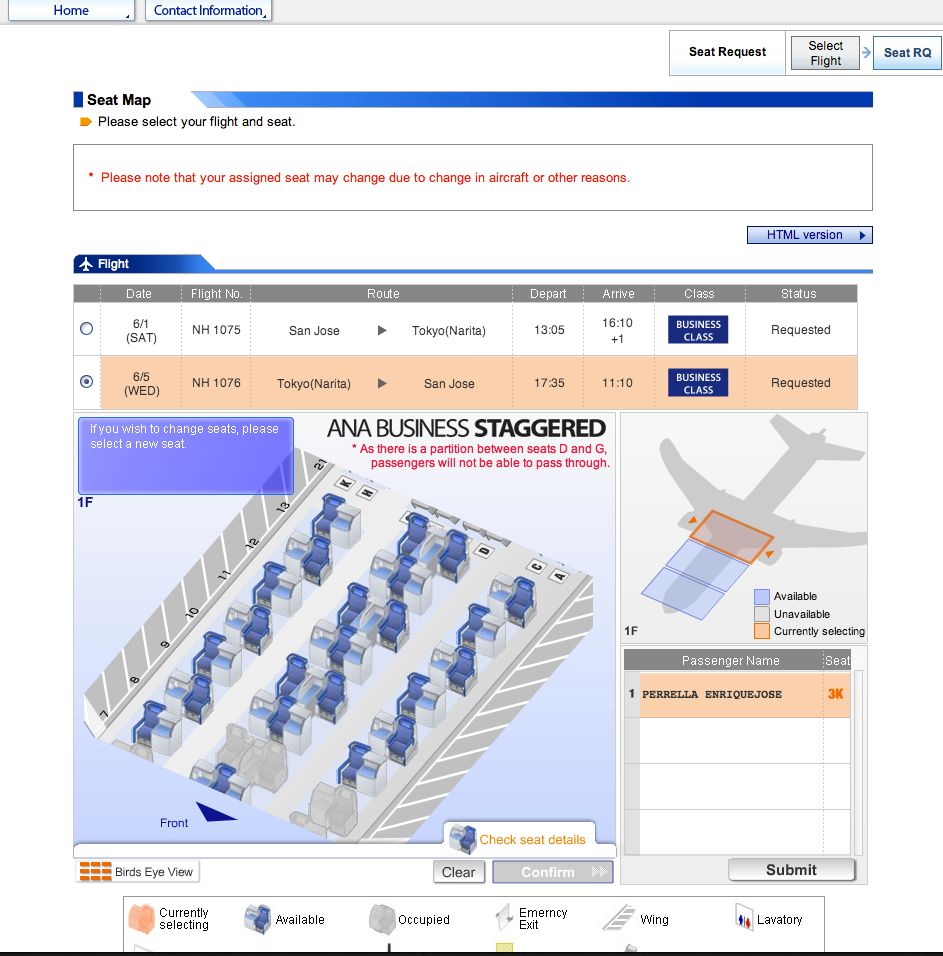 ANA reservations had placed me on seat 5A. As one can appreciate in the chart below, it's immediately next to a window, perhaps the perfect spot.
I was completely satisfied with my seat choice until I decided to go ahead an do a little research around the net. After browsing for a couple minutes, and thanks to my good friend Ben Wang, my seating choice was validated. Here's a look at seat 5K. According to seatguru.com, seat 5A also has a missing window.
The horrible possibility of having to fly the Dreamliner for the first time without looking outside the window made me ill. I went on and looked at any available seats ahead of row 5 and thankfully there was one available. Here's a look at the front-end of the Business cabin and my new seating choice.
I ended up choosing seat 3K, which should give me a fantastic wing/engine view - just what I was looking for.
Unfortunately, on the flight back from NRT to SJC, the front cabin was completely full except for the same seat 3K. I am a firm believer that Business Class service is often better up front as food is often better served and presented, also having slightly more privacy than in the rear cabin.
San Jose Airport
Upon our arrival into the beautiful San Jose Airport, we explored the neat domestic terminal which has a very modern design, with plenty of windows affording an excellent view of the tarmac.
The new service to Tokyo was being promoted throughout the LCDs of both terminals, which is indeed a milestone to be proud of for the employees at SJC.
After a quick peek at SJC's domestic terminal, we walked towards the International departures area. It took about 6 minutes for us to reach the elegant and sharp building which hosts all foreign carriers.
Check-in
Once inside the terminal, we were greeted by numerous smiling ANA agents, who seemed to be even more excited than we were for the returns of their Dreamliner into San Jose.
Less than a minute after we stepped into the check-in area, a friendly Japanese agent welcomed us with a smile that isn't always seen at the ticket counter. What a refreshing thing to see!
Our passports were screened and reservations retrieved in a heartbeat. The agent showed us a rather
vintage
seating chart, printed on a cardboard and wrapped in plastic, of their 787. We were shown where our seats were located and asked whether we were happy with the selection.
Always ready for a smile, an ANA signature attitude.
With our boarding passes in hand, we were instructed to head to the top floor and go through security. This terminal, though definitely not as updated as the domestic, has a very nice setup and convenient design, where premium passengers are expedited easily through the TSA screening points. This allowed us to go through the hassle in less than 4 minutes, surely a record-breaking score that will be logged in my traveler memory book.
Almost two hours before scheduled departure, we walked to the assigned gate 15, adjacent to 'The Club at SJC' where we met in person "the star of the day". After going through the most relaxed security screening, we walked for a couple minutes until we finally spotted the sharp wings and particular tail of Boeing's new baby, the Dreamliner.
The first sight of our Boeing 787 recently arrived from Tokyo.
For some, yes, it's a plane... For us, well defined individuals who proudly wear the invisible
AvGeek
badge, it's the Dreamliner. Common mortals can't understand the excitement to know that in less than 120 minutes, one will be part of the 787. Excitement and anxiety rush in, quickly.
After a couple photos taken, and a dozen others erased (pardon the hand shake), we headed up to The Club at SJC to explore what ANA and the airport has to offer to premium passengers.
---continued---