In 4th grade i was diagnosed with Tourette Syndrome and OCD. In 7th grade i went to Washington DC for the national Tourette Syndrome conference and became a youth ambassador. The trip to Norway was in 2011 so i forgot some of the details but i remember most of them. Around May 2011 i got an email that there was a trip to Norway for 10 kids from the USA we would travel to Norway to meet with around 20 kids from Norway and 2 kids from Hungary would meet all of us there. We all had Tourettes and we would spend 10 days in Norway Climbing the tallest mountain in Norway, Touring Oslo, going on a ropes course and lots of other things. We where supposed to leave July 27th, a week before our trip there was the bombing in Oslo, we where not sure if it would be safe to continue with our trip. A few days later we received an email that the state department said it was safe to travel to Norway and the people in Norway thought it was safe so with that it was decided we would go on the trip. Instead of flying from SYR to EWR my mom decided that my sister and her would come with my down to NYC spend the day with my grandma and grandpa and they would all take me to EWR for my flight.
Tuesday July 26,2011
Jetblue Flight#1133
SYR-JFK
Airbus A320
N517JB"Blue Moon"
Early morning flight departure around 6AM arrival around 6:50AM
Departure gate-15
Arrival gate-23
We used to live around 20 mins from the airport more in the winter. But a year ago we moved to a new and better house and plus its only around 5 mins from the airport. At SYR the most busy time of the day is around 5:30AM-7:30AM, every airline besides AC to YYZ, has at least 2 flights during that time. Keeping that in mind and the distance from the airport we left our house around 4AM for our 6AM flight to JFK
Republic E170 to DCA
Same plane
Air Wisconsin CRJ-200 to PHL
Early morning US A319 to CLT
Something you dont see anymore a Colgan Sabb 340
N524JB at gate 3 to MCO
My plane N517JB at gate 15 to JFK
B6 1133 to JFK
At 5:30AM 30 minutes prior to departure we began boarding through gate 15
Almost onboard
Cabin
View out the window
View out of the window behind my seat 1A
After the doors where closed gate 15 was pushed back .. we immediately began our push back and after a quick engine start and ater are flaps where extended we began our taxi to runway 28.
N524JB @gate 3 to MCO
US A319 @ gate 6 to CLT
After a quick taxi we taxied on to runway 28 and started a very powerful take off roll, a short while later we where airborne off of runway 28
Cruising @ 21,000 feet
After a quick flight, not a lot of good pictures because the sun was glaring right on my side of the plane. For most of the flight i closed my window shafe and read the book " Flying Drunk" on my nook, it was a really good book.
Descent through the clouds over the Atlantic
Final on 31R
A B6 A320 headed for 31L for departure
After landing on 31R we taxied straight into gate 23 and left the plane and headed straight for the baggage claim, Around 20 minutes later we where on the way to east meadow to spend the day with my grandma and grandpa and to spend the day by the pool.
N655JB"blue 100" pushing back
N535JB
N517JB @ gate 23 after arrival, being prepared for departure to BUR
After a nice day in long island an a great dinner with my grandma and grandpa we went back to there house and spent the night, the next day we went out to breakfast and then got ready to leave for EWR for SAS flight 910 to CPH then a 737-600 from CPH to OSL. My flight was scheduled for departure @ 5:40 PM. We left Long Island around 12:30PM. It was a pretty quick drive until we got with in around 10 minutes of EWR. We got lost and it took a while using the GPS and asking someone for directions before would get back onto the road into EWR, the area around EWR is pretty sketchy
.
On the way into EWR we saw some planes departing
A WN 737
A DL MD-88
A US dash 8-100 departing EWR
The SAS check in counter At EWR. After spending a few minutes in line i was checked in and on the way to security.
After meeting all the people i would be traveling with and waiting at the gate area for around an hour and a half and watching a LH A340 board and push back to Munich, it was time to board SAS flight #910 to CPH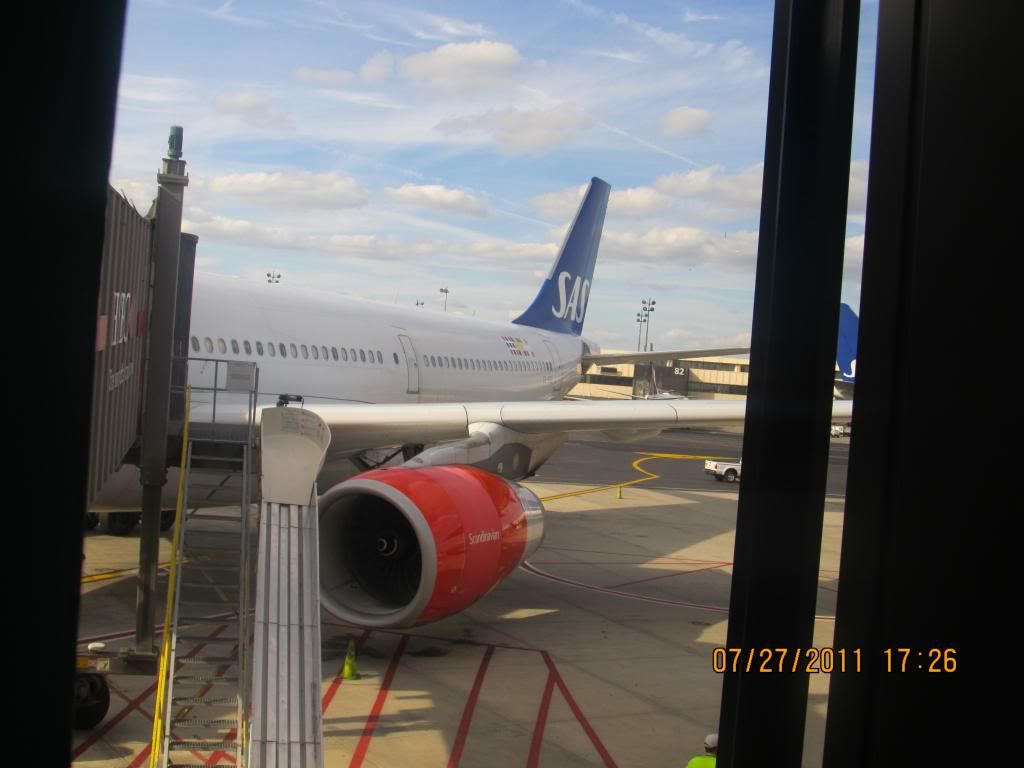 Wednesday July 27,2011
SAS#910
EWR-CPH
A330"SE-REE"
Flight Time- Around 7 and a half hours
we where all siting together in the back of the plane in the middle section way in the back around 3 or 4 rows rom the aft galley. The SAS A330 is set up in economy class as 2 seats on the left an aisle 4 seats an aise then another 2 seats on the right side of the aircraft, except for the last 3 or 4 rows there is 3 seats in the middle and on the right side there is mini walls set up for crew rest.
Boarding the Plane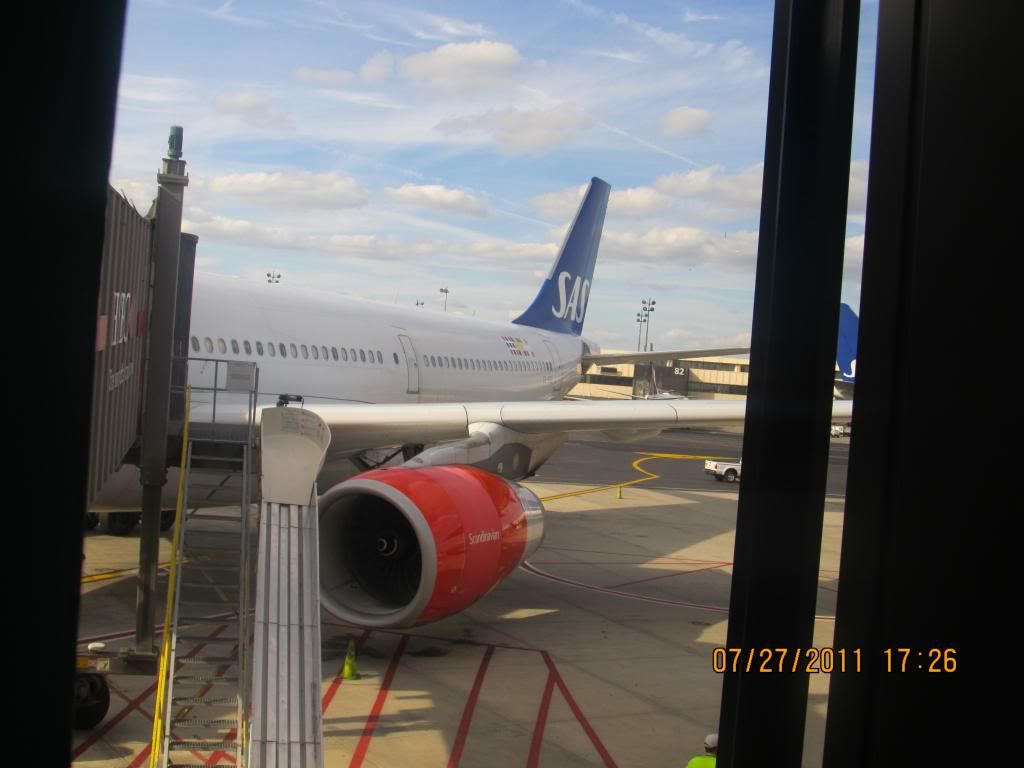 After a friendly greeting from the purser, i made my way down the second aisle to my seat on the aisle facing the right side of the plane directly next to a crew rest area so unfortuntley there really was no view out any windows except through the PTV. SAS has a cam on the nose gear and the front of the plane so i got a cool view of the taxi, i had never been on a plane that had that. After a 30 minute plus taxi we took off on a very powerful takeoff from runway 4L and a left turn we where on the way to copenhagen. It was a nice night to fly very few clouds and it was a smooth climb and before long we where leaving Canadian airspace and head out over the Atlantic.
Cabin shortly after takeoff
The first hour or so was very fast and before long dinner was being served
After a kinda crappy dinner the lights where dimmed and some people went to sleep, i watched the shawshank redemption it was a really good moved. In economy on SAS you cant start the movie from the beginning it is on a loop and once you turn it on where ever it is you have to watch it there. so between that and talking to this kid next to me who was also going on the trip i watched the whole movie except out of order and in different parts i started it but from what i saw it was a good movie.
2 hours after takeoff
Once the lights where turned off it was relaxing and pretty quiet crossing. On a flight like this i would imagine it would get kinda boring in the cockpit since its under 8 hours there is no relief crew.
Almost over
After a couple hours of the lights being off, they where turned back on and breakfast was served. It was not that good either it was this yogurt that was about 25% water and some granola and prune juice....
Good morning
At about this time my mom and my sisters flight back to SYR was getting ready to take off from JFK at around 11PM
Europe!!
Only view i got out of the window and i forgot how i got it.
After an announcement from the captain about our descent , after a few turns we where on final for CPH, I watched the landing from the front nose wheel. It was a very smooth landing. After a quick taxi to the gate we disembarked and cleared customs in CPH, we did at OSL, after a pretty quick layover of about an hour or so we boarded our 737-600 to OSL.
people deplaning
SAS 1462
CPH-OSL
737-600
LN-RNN
ready for baording
The only picture i could get of my plane
After a quick taxi we where in the air, it was only about a 45 minute flight i dont really remember much about this flight. i didnt sleep at all on the plane from EWR so i took a quick nap on this flight. i do remember they came through with only by on board options and that the bathroom in the aft galley was tiny, but besides that i dont remember anything else.
approach
The first day we just relaxed at the hotel right near the airport. we went outside and played some soccer, ate lunch and i went over to the fence and watched some planes land. It was really cool because besides UPS, i saw alot of planes i had never seen.
Same type plane we took from EKCH
IcelandAir
Alot of SAS
Another one
Here are some pics of oslo, its a really cool city.
We also went to the sit of the bombing it was about 9 days after the bomb went off and it was still a mess. There where also lots of memorials around the city for the victims
This clock was shattered in half by the bomb
Flowers left for the victims of the attack
The next day we meet all the kids from Norway and and Budapest. Then we all went on a ropes course and did some other fun things then we took a bus to go climb the tallest mountain in Norway Galdhopiggen.
Countryside during the drive
This was a all year round ski resort near the lodge we where staying at.. it was so weird seeing snow in August.
This was the sunset
The climb took most of the day, it was a great view from the top
Reindeer on the glacier, we needed to cross during the climb
On the drive back to oslo we got to go on a boat, that took cars across the lake in the middle of the road it was cool.
The next day we went in an ice cave which was really cool, they showed us a video about the history of ice on a movie screen built into the ice.
The day before our return flight home we drove back to the hotel by Gardermoen airport, we spent the night there then the next day took SAS back to EWR.
Sunday August 7,2011
SAS# 907
OSL-EWR
A330"SE-REF' STAR ALLIANCE LIVERY
We got to the airport around 8:30AM for our 11:05AM flight to EWR. Check in was pretty quick and separated at the SAS counter by domestic or international. Security was a breeze, not nearly as involved as the USA and once we there throughwe had plenty of time to walk around and look through the stores before boarding.
OSLO
A UA 757 also headed to EWR. It would have been easier to go on UA since thats who i was taking from EWR to SYR but it was a 757 and i dont know if i would like being on a 7 and a half hour flight on a 757. Is the 757 ok for transatlantic flights or does it get cramped? My cousin recently flew a UA 757 from EWR to LHR and said it wasnt that good.
Another SAS
Our plane @ gate A53 to EWR
I was supposed to be on an aisle seat in the middle, once i got to the gate i asked the gate agent if i could have a window and not only did i get a window but also a window with no one in the aisle....WooHoo!!
Boarding
Top