Frontier "Most Uneventful" Inaugural to Wilmington New Castle Airport July 1, 2013
For an airport finally getting a flight after five years of hiatus (Skybus Airlines, which ended all operation in 2008, was the last scheduled airline that served New Castle Airport), and a unique expansion course taken by an airline, which is the midst of a dramatic change, this first flight was definitely most underwhelming, and the fact that the F/As on our flight made a mistaken announcement by welcoming us on a flight to Trenton spoke loud about how uneventful this inaugural flight meant. Of course I have always said that JetBlue and Virgin America really spoiled me on festive inaugural flights, but inaugural flights are meant to be festive to attract attention from the press, so the media will promote your flights. So for such key day here in New Castle, it is rather disappointing for an aviation enthusiast like me. I am just glad that I do not give up marching during New York Pride this past weekend (considered the significance of this year for the LGBT movement, which is slightly off topic) to get to Wilmington for the real inaugural flight from Wilmington New Castle Airport to Chicago Midway. I have thought about not writing about it, but since July 1 only marks Frontier's major transition from a low cost airline to an ultra low cost airline, it is more interesting to see how the crews handle the change and what else were cut this month. I actually feel that the nervous energy about the cabin crew about this service change takes even more away from Frontier's entry into a new airport.
Here were the flights I took:
July 1, 2013
F9 384 MDW-ILG Lv 9:25am Arr 12:20pm Airbus A320-200 N203FR "Sally the Mustang"
July 2, 2013
F9 395 ILG-DEN Lv 1:20pm Arr 3:20pm Airbus A320-200 N203FR "Sally the Mustang"
Booking:
Frontier Airlines' website is pretty easy to navigate, and the Classic Plus fare, which is actually the best feature of Frontier Airlines' fare system, is easy to spot, and I am able to book the exit rows with no issues. The fare I paid is fairly reasonable for a changeable and fully refundable ticket, and I am one of those people, who are willing to pay a bit more for flexibility, as long as they are not unreasonable like the major airlines. I have heard problems with changing tickets, but since I did not need to modify this trip for this occasion, I can't really say much about it. However I am able to do the online check-in easily, so no complaint about the website.
Check-in:
Chicago Midway Airport – I arrived from La Guardia on Southwest, so I went straight to gate C2 about an hour prior to departure to get my boarding pass. The agent was questioning how I go through security and I told her that I flew from LGA just for the inaugural. She did not say anything but said, "okay." Not particularly friendly, but she did her job. She seemed to be patient with other passengers' inquiry, so not bad for an ultra low cost airline (ULCC).
Gate C2 – Frontier's gate at Midway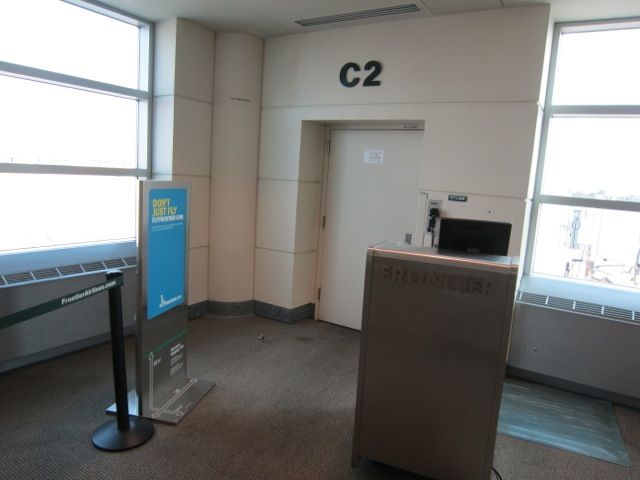 New chart explaining the new "updated" fare structure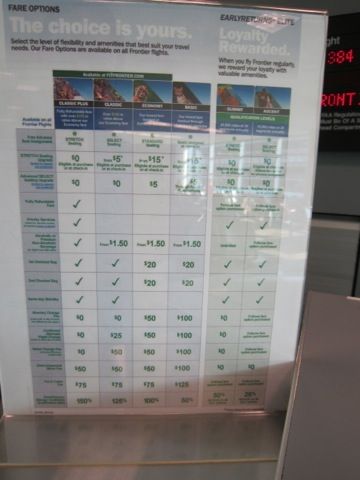 Wilmington New Castle Airport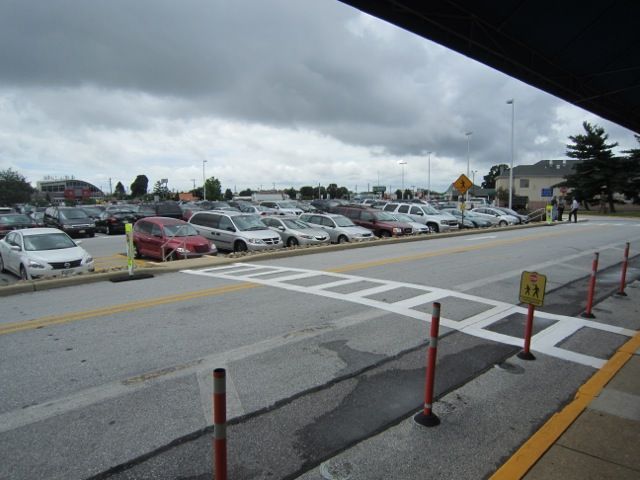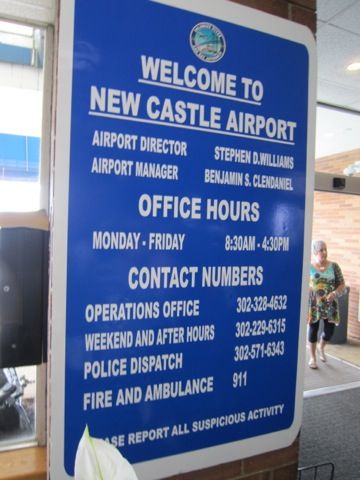 It is a small regional airport with a single café (opening between 9am and 3pm), so if you are going for the early flights departing at 7am, please pack your own breakfast and expect to get a drink on a vending machine after passing TSA security or expect to buy it on the plane.
Here is the Coffee Shop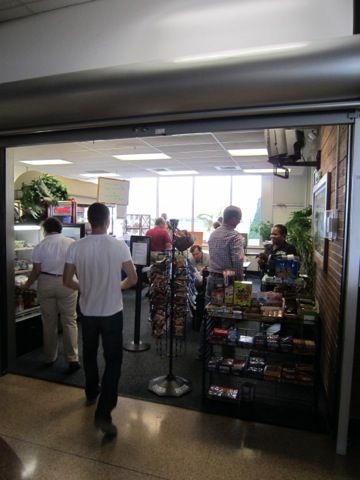 Atrium – bathrooms and café
Here are some pictures around New Castle Airport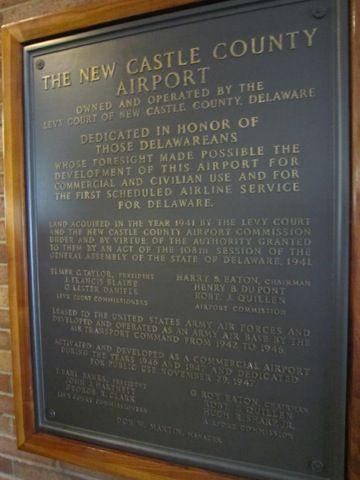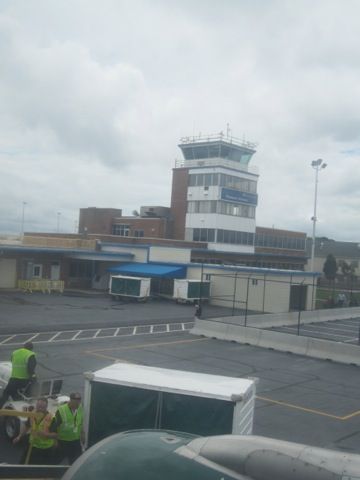 Here is the check-in counter for Frontier. There are no self-check-in kiosks, which I presume Frontier does not need them unless they decide that New Castle airport is profitable. Please note that the check-in counters opened two hours prior to departure, and they close forty-five minutes prior to departure. There will be NO ONE staffing the desk, as Frontier is an ultra low cost airline with check-in agents also handing gate agents and the aircraft turnaround. There are separate check-in lanes for Ascent/Summit members and Classic Plus passengers.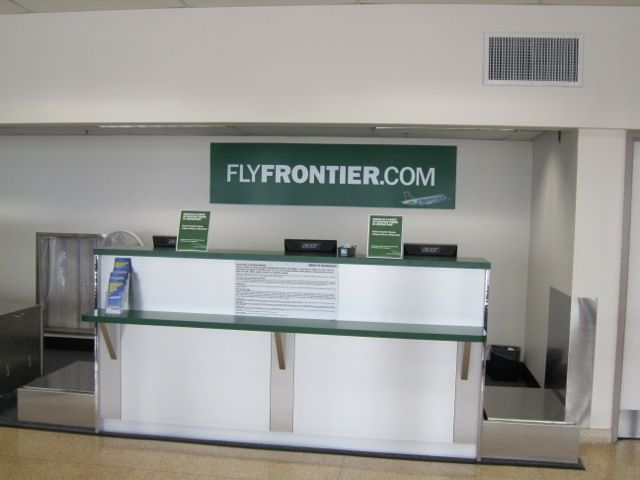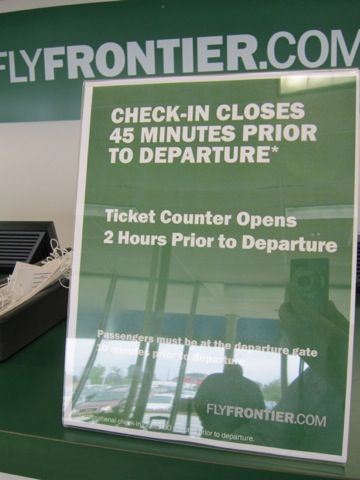 I took the following pictures on the day when I actually flew back to Denver. The flight was almost completely full by the way, and there were basically three people working the counters at all time. After the agent tagged your bags, you have to take them next door to the TSA station. For today's flight, there were three Frontier staffs, along with two outsourced staffs wearing black t-shirts. For today's flight, two Frontier's staffs assisted with check-in, as well as one Frontier's staff directing passengers to the correct line. One is normal airport counter, and one is for premium and elite passengers, along with passengers with a printed boarding pass from home.
It is clear that online check-in will definitely be recommended given the small operation here. The premium line was much shorter and processing time was shorter.
Car Rental Area