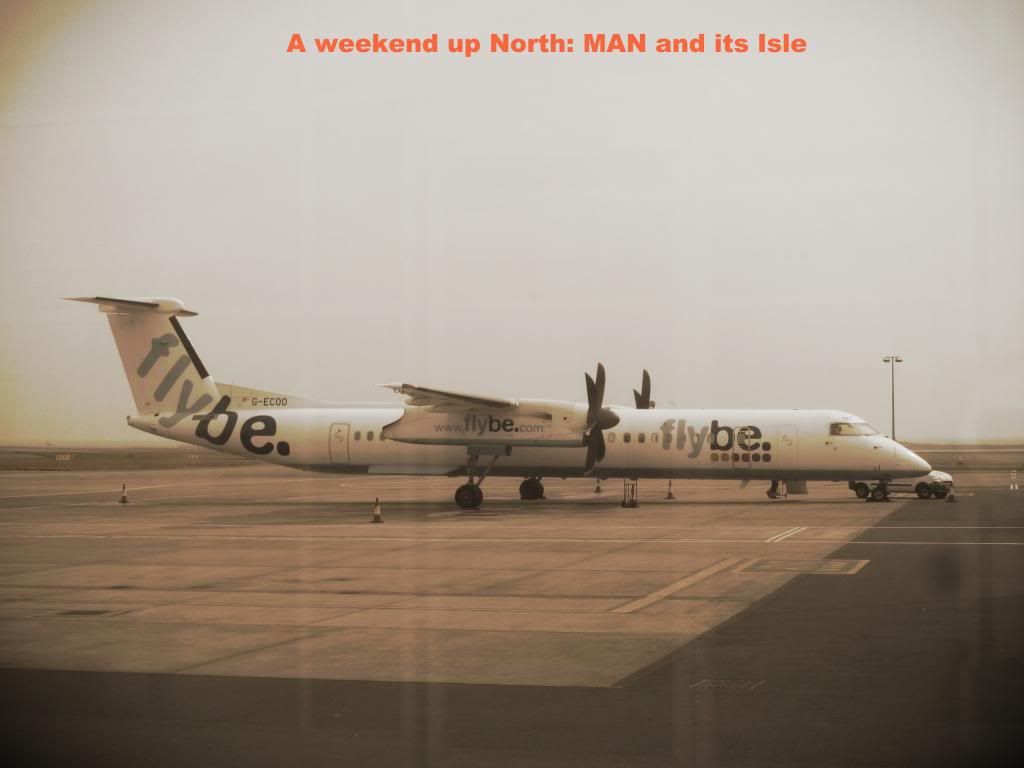 Dear readers,
Welcome to my latest trip report.
My last one covered a cross-Channel hop on BA's 767 back in February:
BA & The 767 Across The Channel
(by
infodesk
May 18 2013 in Trip Reports)
I did two trips in March, both with easyJet: one of the usual visits over to England BSL-MAN and then BSL-PMI for some Easter sunshine. I was lucky to book the Palma tickets at a very fair price considering it was a holiday weekend and we left the 5C of Basel behind for 20+C in Majorca. Perfect.
There have already been some reports about the a.net meet we had in Manchester in April, kindly organised by fellow member MSS658. It was clear I just had to attend a meeting at my second most logged airport. I first considered taking SQ's MUC-MAN service, which would have meant an overnight stop in Munich. Anyway, eventually I booked KLM flying ZRH-AMS-MAN and returning a week later, as I planned to combine the meeting with a family visit. The KLM flight turned out to be a good decision, as there ended up being 5 a.netters on this flight, so it was sure to be an unforgettable occasion. Not only that, fellow member Markus & I decided to do a side trip to the Isle of Man on the Sunday, so there was plenty to look forward to this weekend.
OLCI worked fine on the Friday morning and during the process I was offered an upgrade to Business class on the ZRH-AMS leg for 80CHF. Having recently read Knightsofmalta's report in KL's European C-Class product, I thought I'd treat myself and give it a try. There was no offer on the AMS-MAN flight. This looked like it would be completely full.
Apologies in advance for the blob visible on quite a few of the photos. Must be a speck of dust but I didn't notice it at the time.
Saturday 6th April
This time I use public transport, bus & train, to get to the airport. It's an uneventful journey, except for a drunk woman who gets on the bus. Thankfully she doesn't sit next to me, but goes and bothers another passenger who has remarkable patience with her confused ramblings.
I arrive at Zurich at 10:00, print off my boarding passes from the machine and then head up to Check-in 2 to hand my case in. The location of the KLM desks mean there is no hiding from my colleagues, so I stop to chat. Of course they wonder why I'm flying via AMS when I could go direct and a few perplexed looks follow.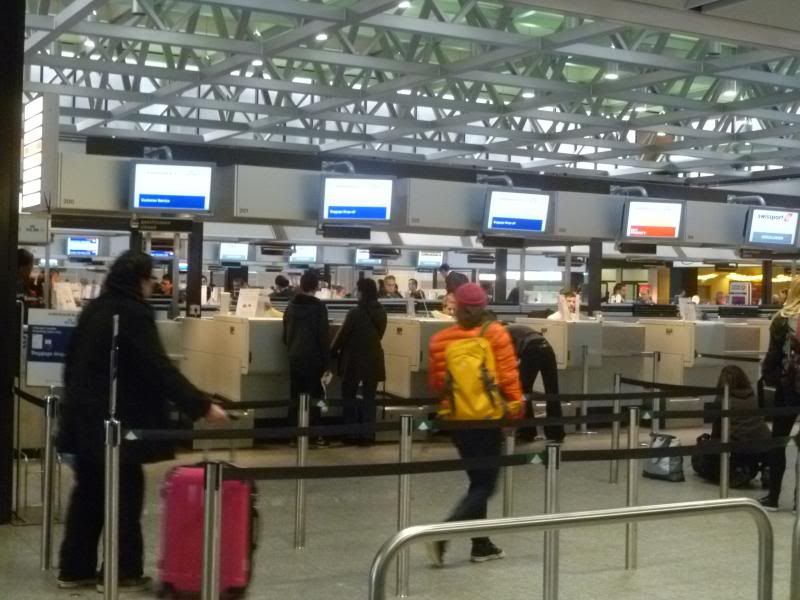 This time I can legitimately use the business lane at security which saves some time, I make a quick purchase in duty free (where I have to remind them of the correct discount, again) and then go to the Skyteam lounge. The lounge is bigger than I expect but there's few people in it and it's deadly quiet. Neither of the computers are working which creates a bad impression.
Entrance
Lounge view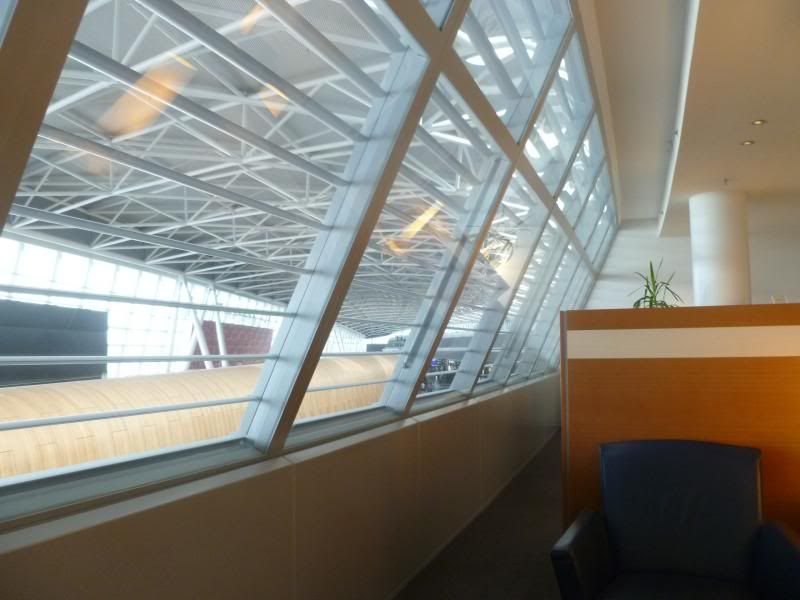 Tea and biscuits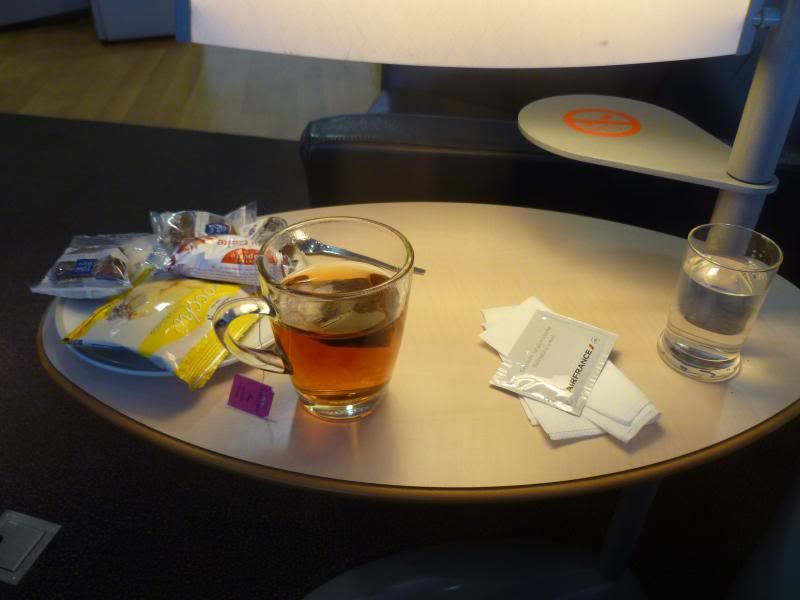 Not a huge amount on offer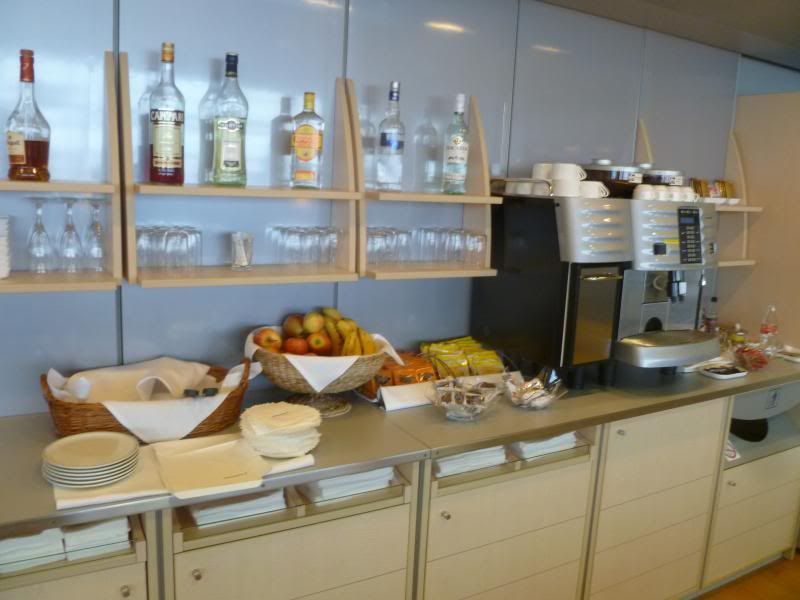 Go to gate for me
My first chariot for today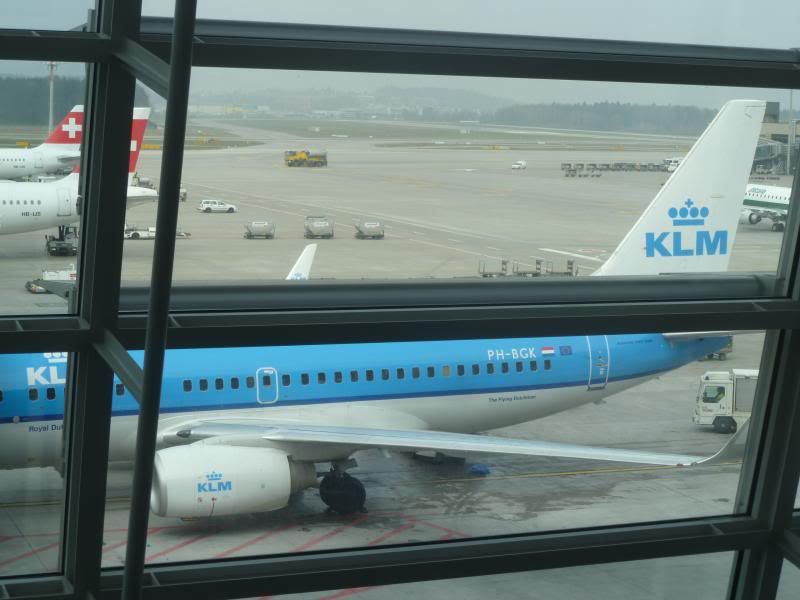 ZRH-AMS
KL1958
B737-700 PH-BGK
STD 11.55/ATD 12:17
STA 13:30/ATA 13:26
Gate B31
Seat 2A-Business
Boarding starts at 11:30 and is a bit of a mess. It's reminiscent of the old easyJet days.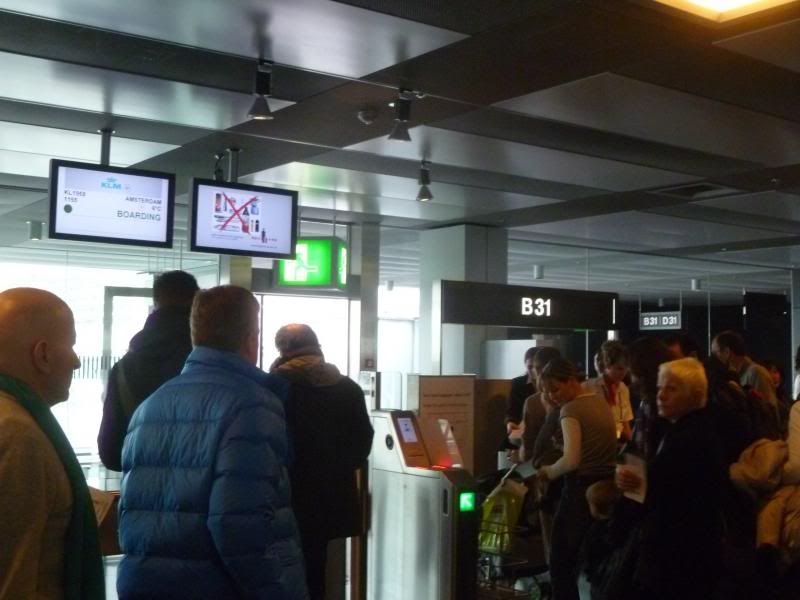 View from 2A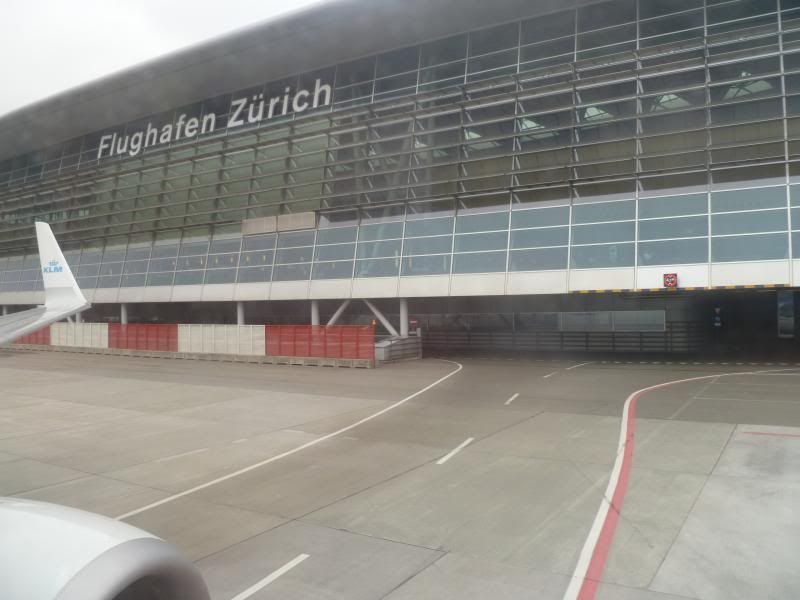 Once boarding is completed the purser comes round to all the C-Class passengers and tells us that unfortunately not enough meals were loaded in AMS. Therefore of the 7 of us, only 2 are going to get the full meal, the rest have to make do with the sandwich. One guy is pretty cross about this, he, like myself, purchased the upgrade during OLCI. I tell the purser I'm disappointed, but what can one do? He handles the situation very well, apologises profusely and says he understands our annoyance.
Newspapers are offered but there are none that take my fancy so I pass.
Dock A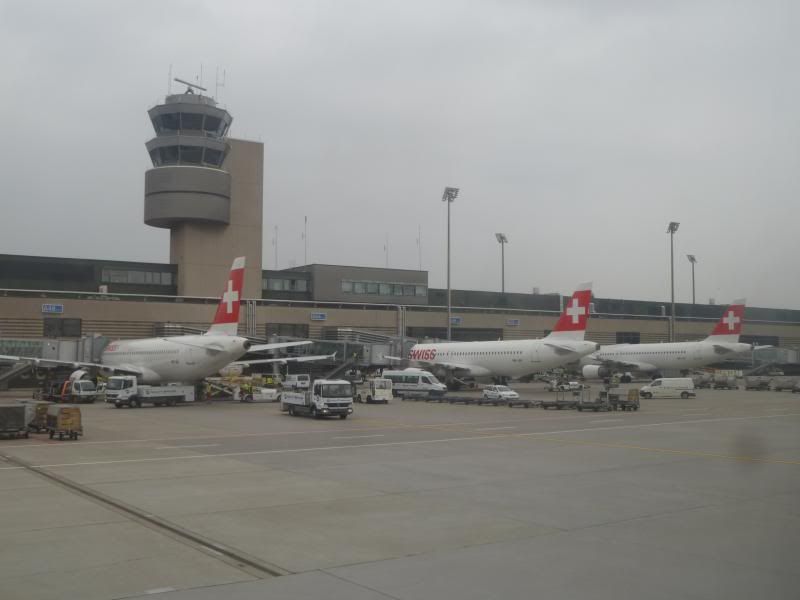 And Dock E
As we are taxiing to the runway, some woman further back decides it would be a good idea to stand up and take her bag out of the locker. Well, the cabin crew give her a stern telling off and everyone turns round to stare.
Count the Swiss flags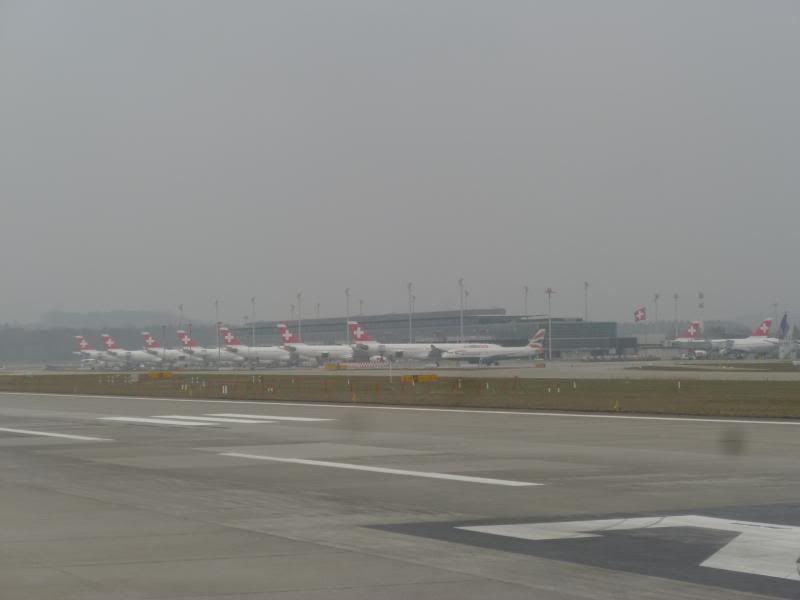 We reach runway 28, but the pilot informs us that we're going to have a little wait as SQ's A380 is about to take off. He explains about wake turbulence which is a nice touch. Sadly, I only catch a brief glimpse of the bird that took us to Singapore a year earlier.
Nearly ready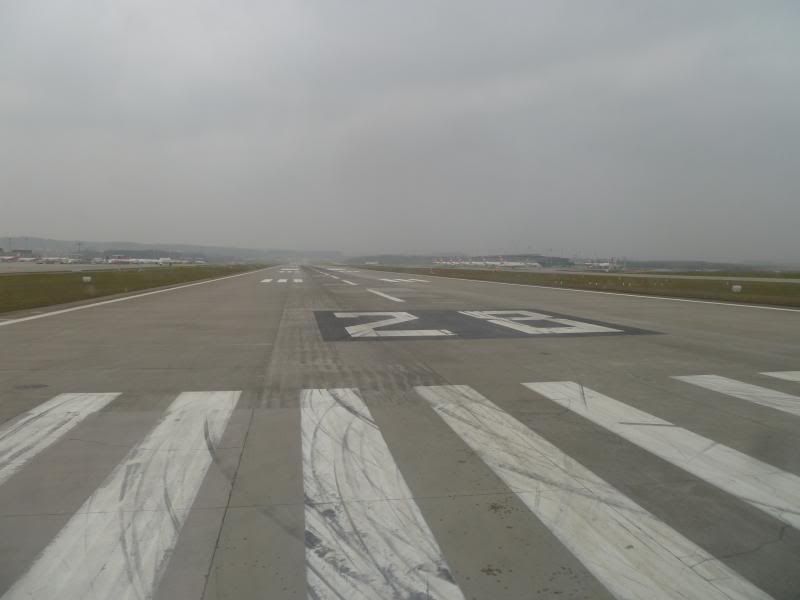 Dedicated to RogerBCN
ZRH's mini Fokker farm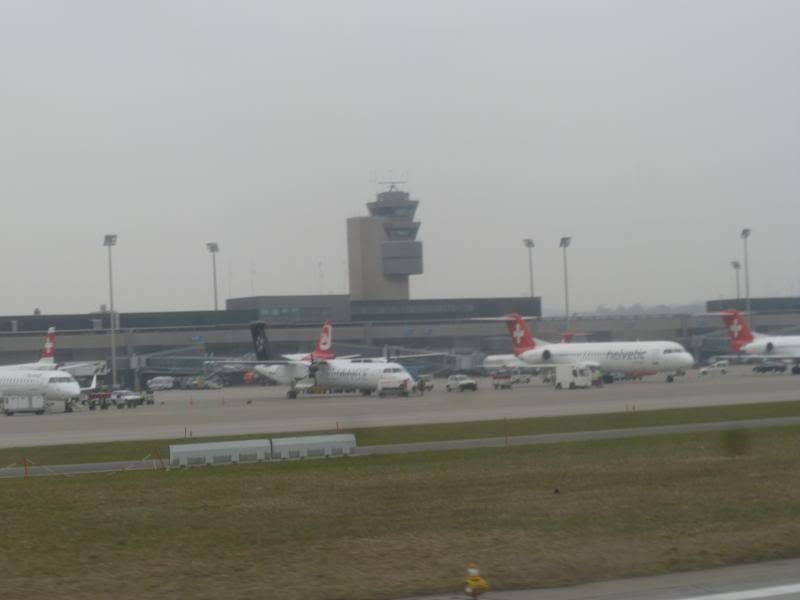 Take off
A murky day in Zurich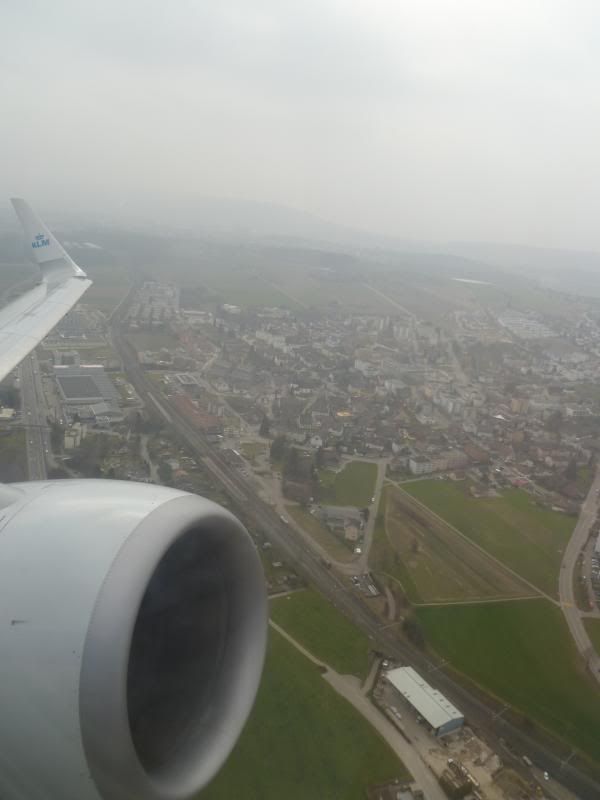 There's always sun above the clouds
Legroom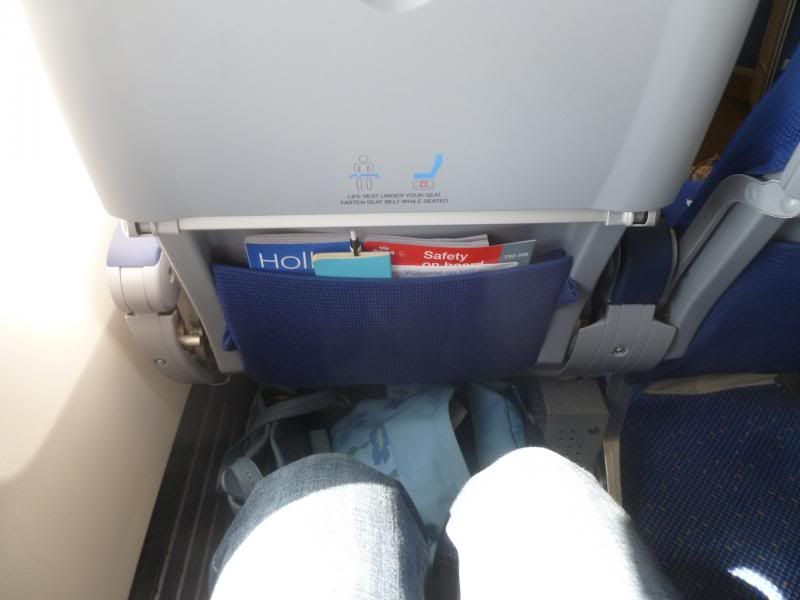 Today's route: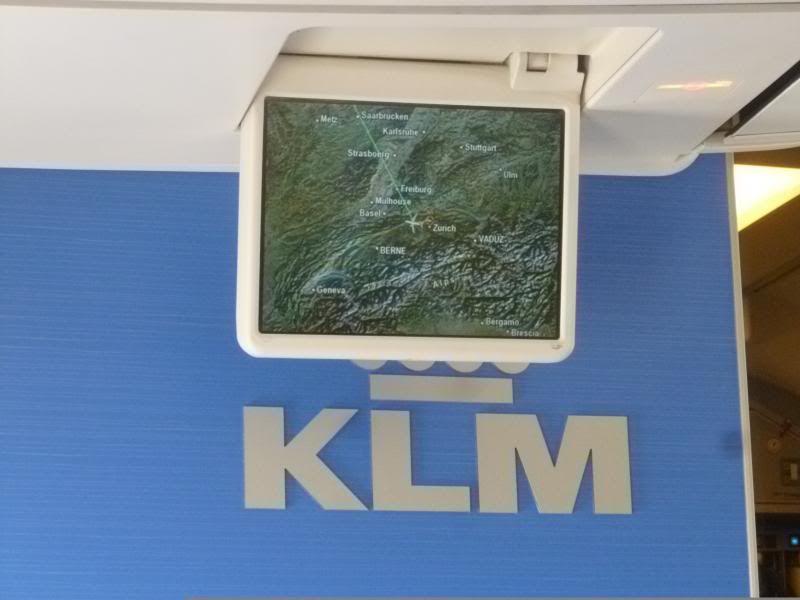 I get given our meal, or rather half of it, pretty quickly. There's a choice of sandwich, I opt for tomato & mozzarella as the other one has meat in it. It's generous and tasty, but I didn't pay for business just to get a sandwich. Sadly my picture didn't come out too well. Maybe it will feature somewhere else in this report? I had an OJ to drink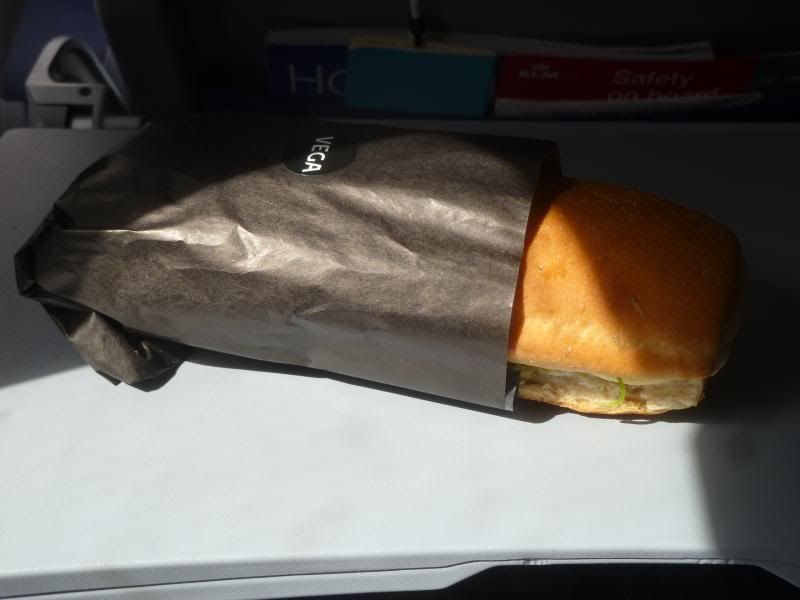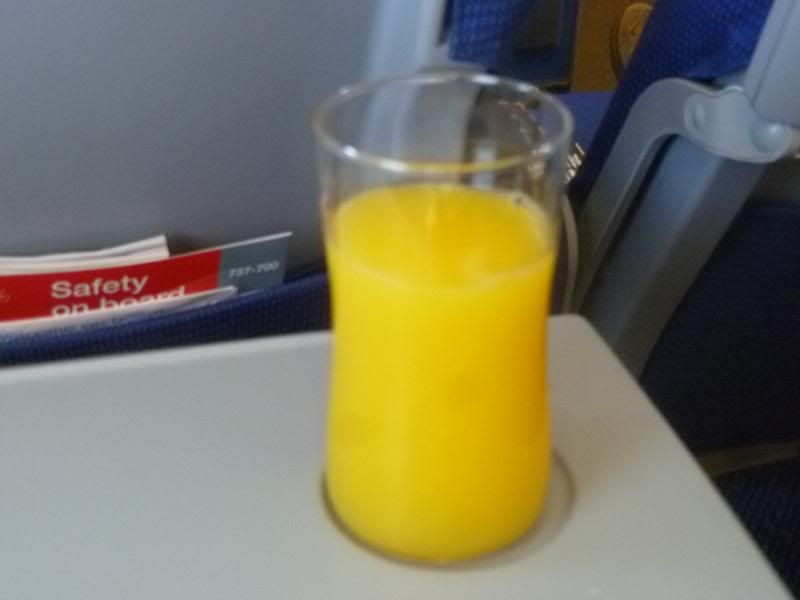 Followed by a cup of tea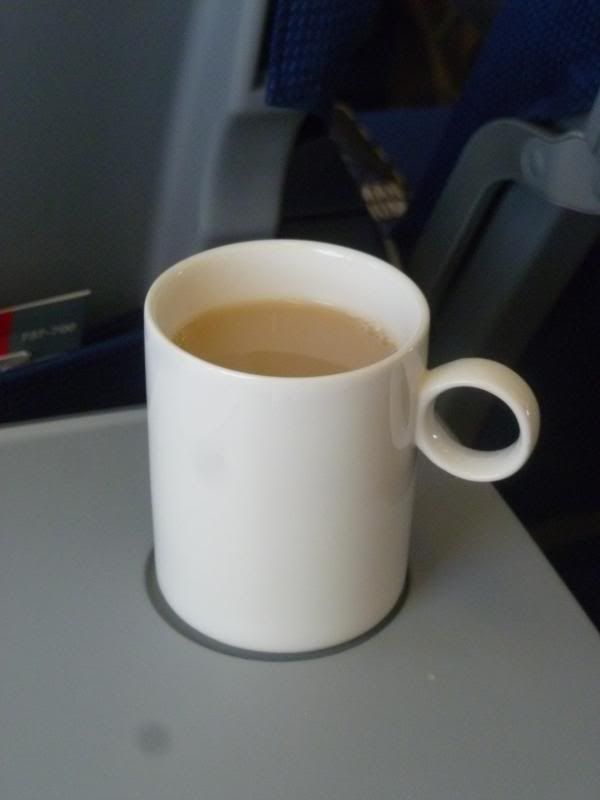 Not far to go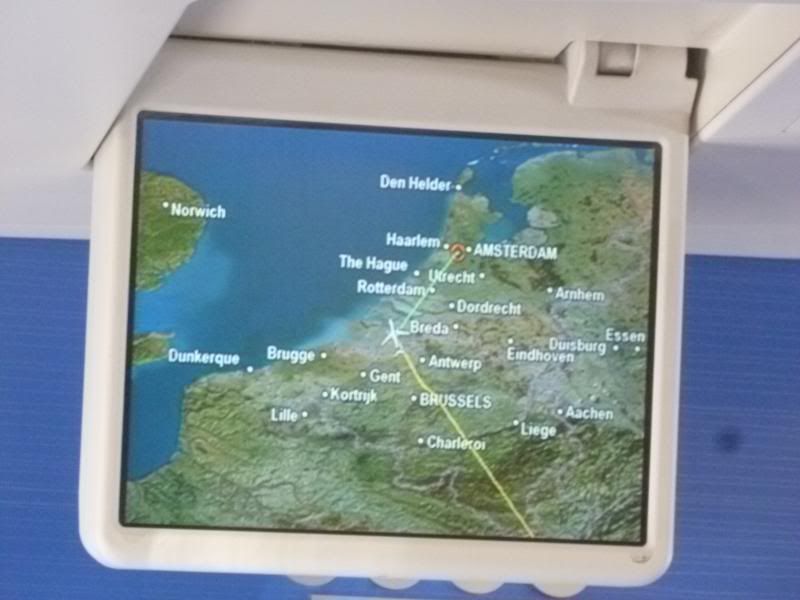 On approach into AMS I'm treated to some really beautiful views of the coastline. This is a real delight, as most of my approaches into Amsterdam so far have been in the dark. It's windy and the plane shakes about quite a bit.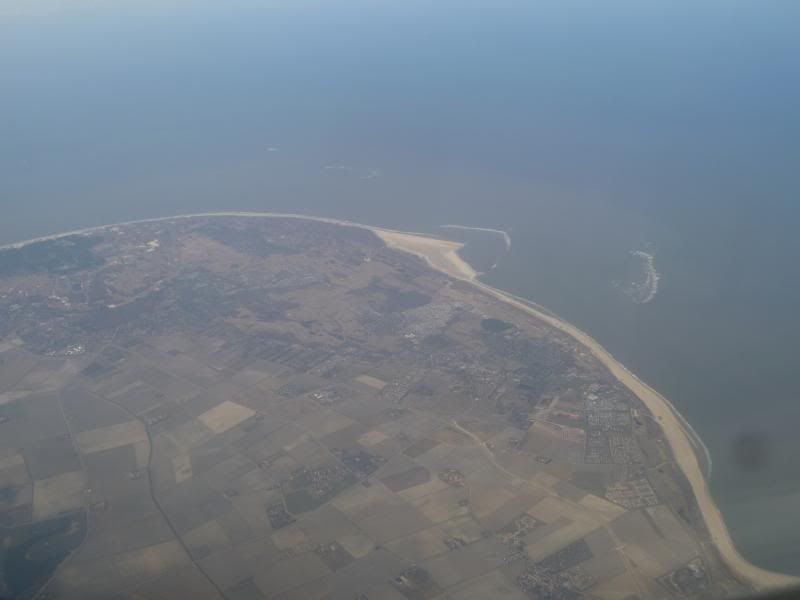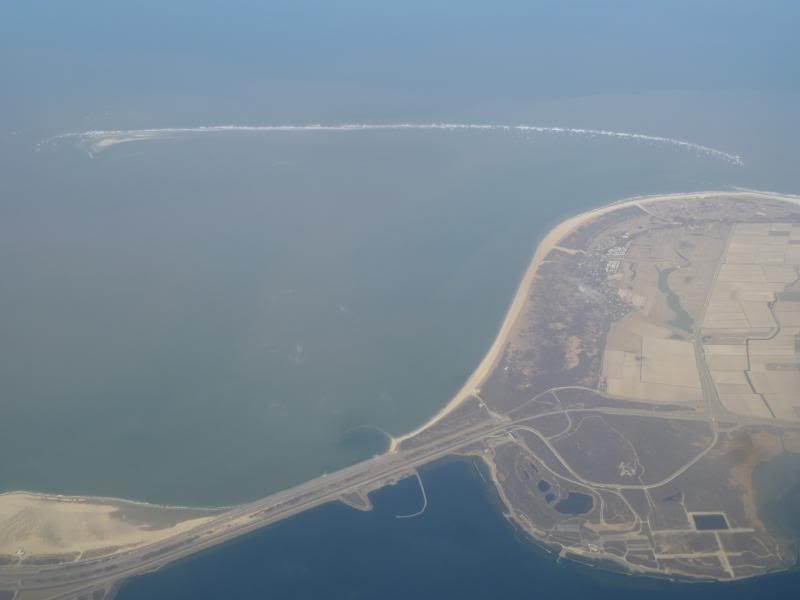 Moving map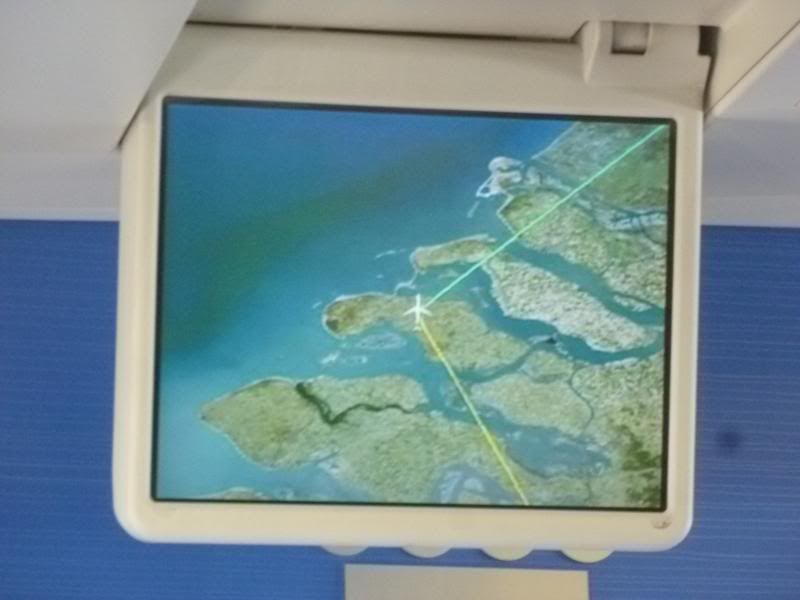 More views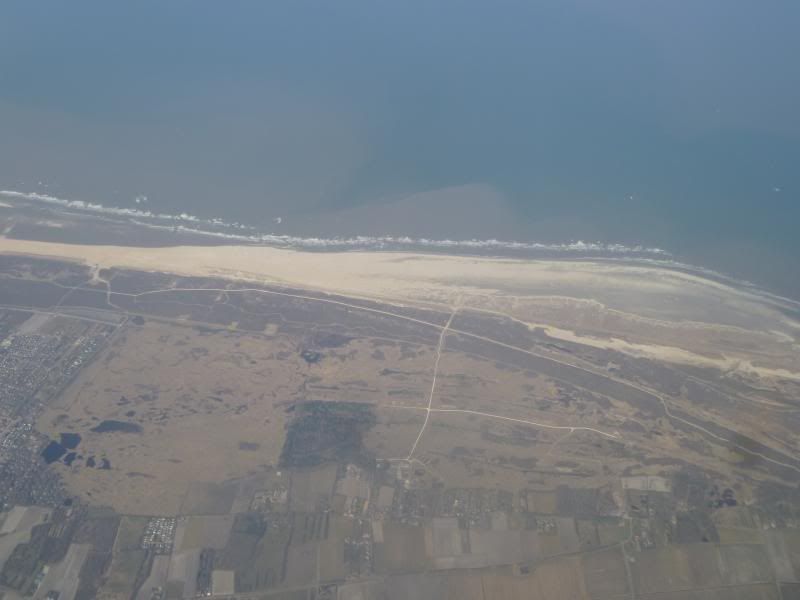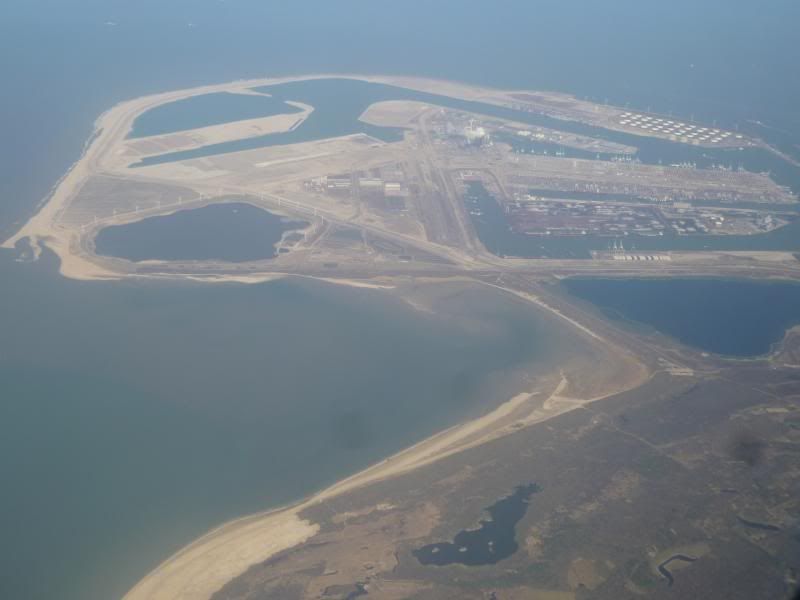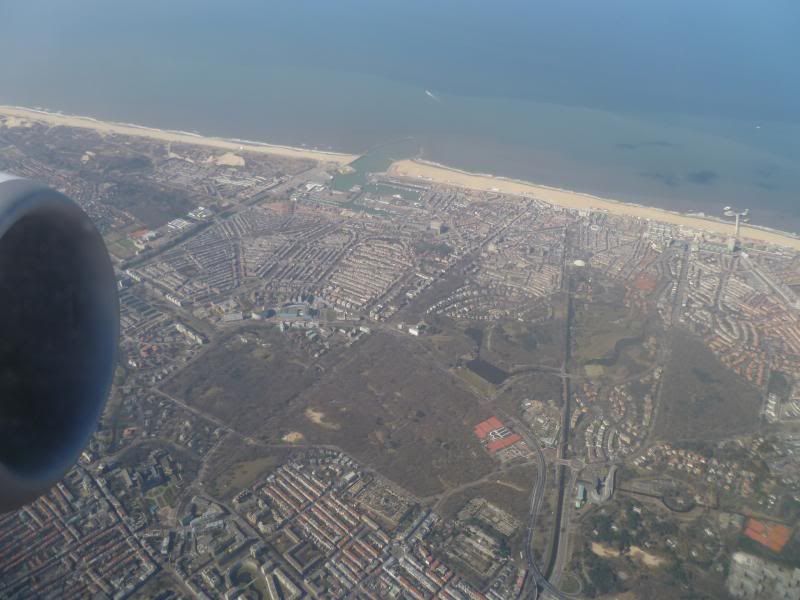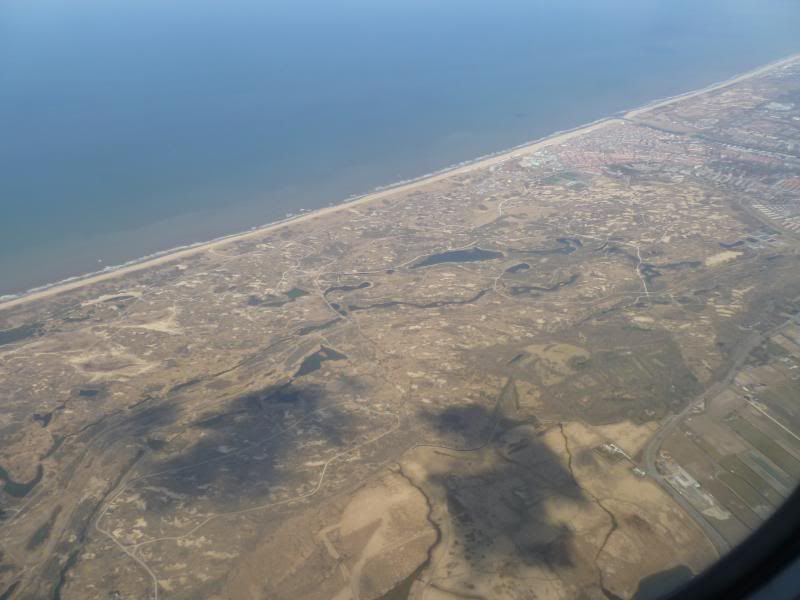 Landing is at 13.24 and we have a very short taxi to our stand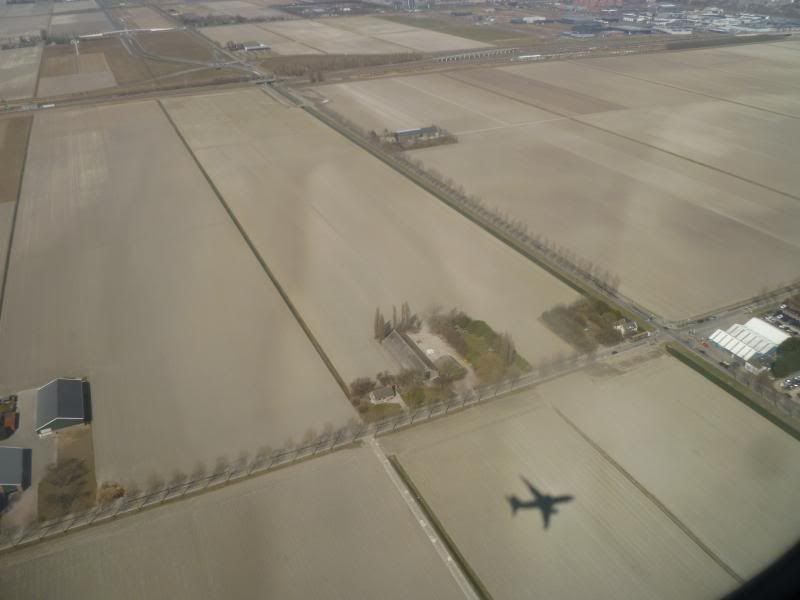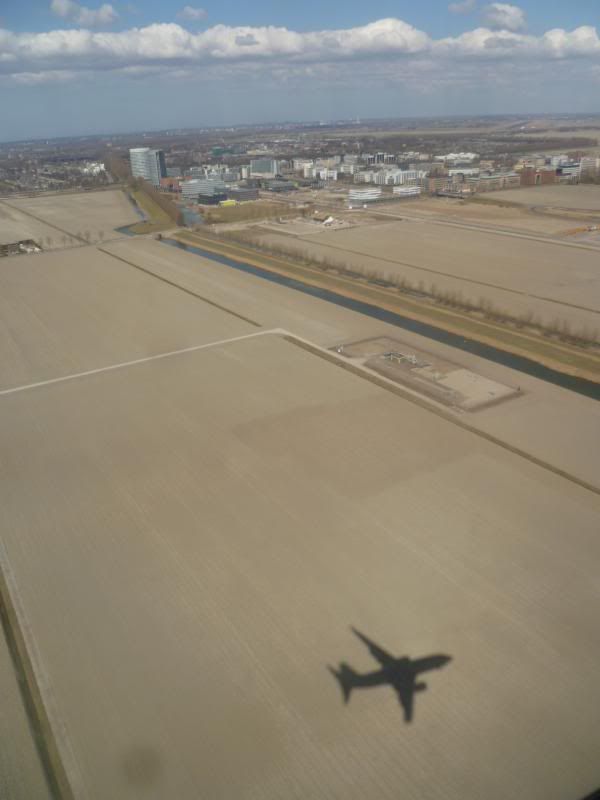 A quiet day at the Fokker farm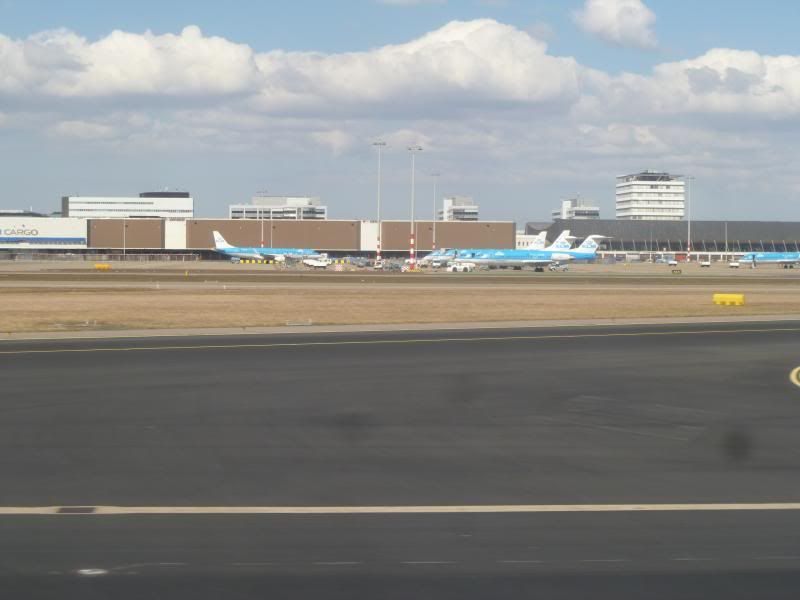 C pier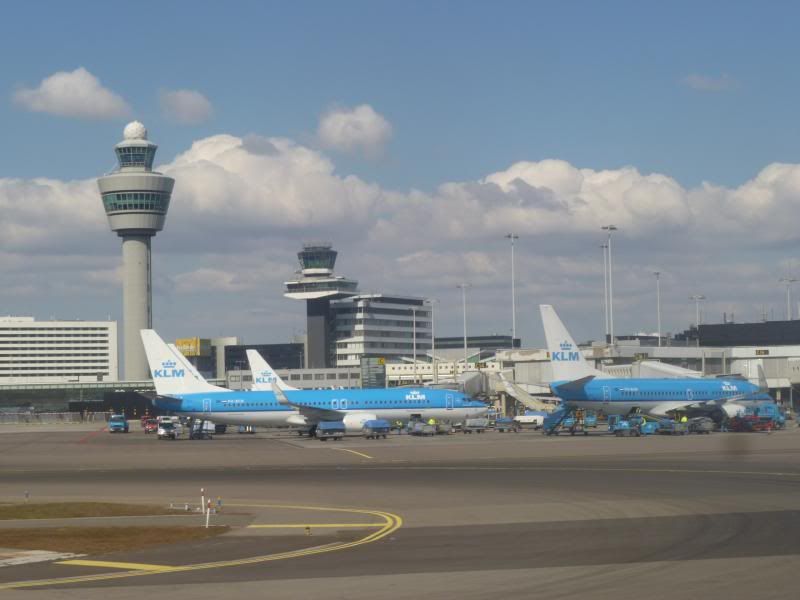 Welcome to AMS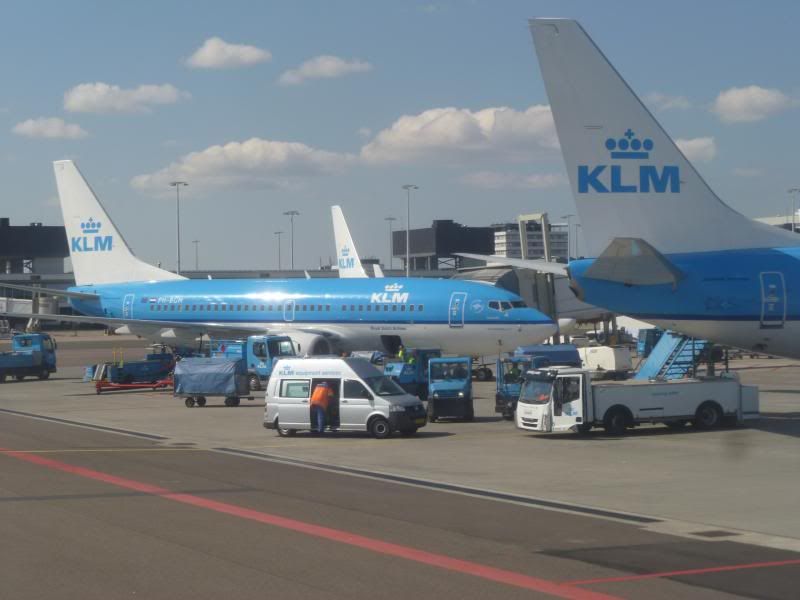 AMSTERDAM
I'm becoming a bit of a regular in Amsterdam, so know where I'm heading: passport control and then the D gates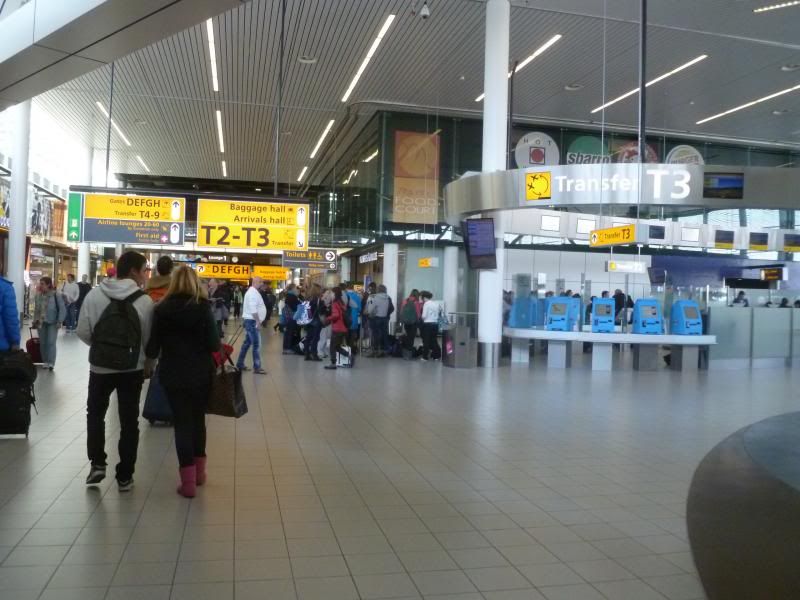 FIDS
We've arranged to meet outside the KLM Non-Schengen Lounge and as I reach it I can already see Roger waiting, so we have a good chat. Shortly after Suryo joins us & brings delicious muffins for us all and finally Markus & Brendan emerge from the lounge and our little group is complete.
We stroll down to the gate together, passing this beauty on the way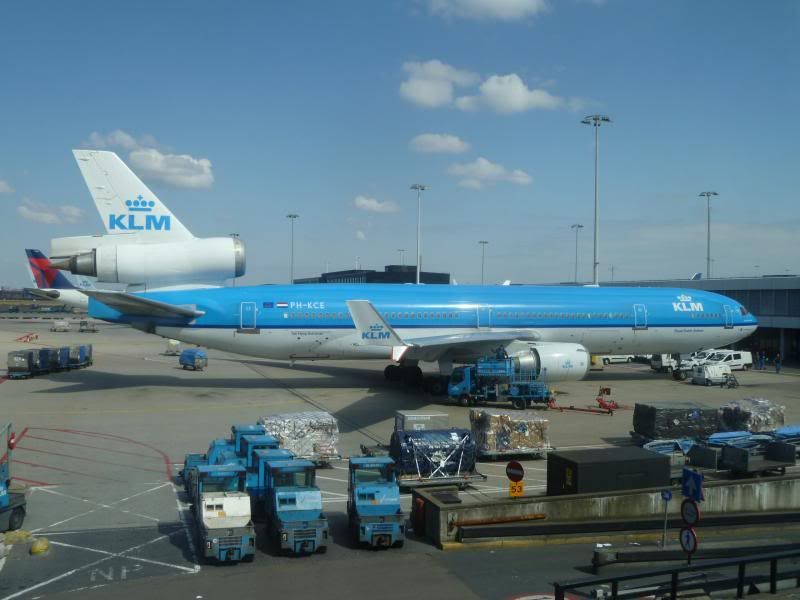 Arrival at D43, there's only a short queue for security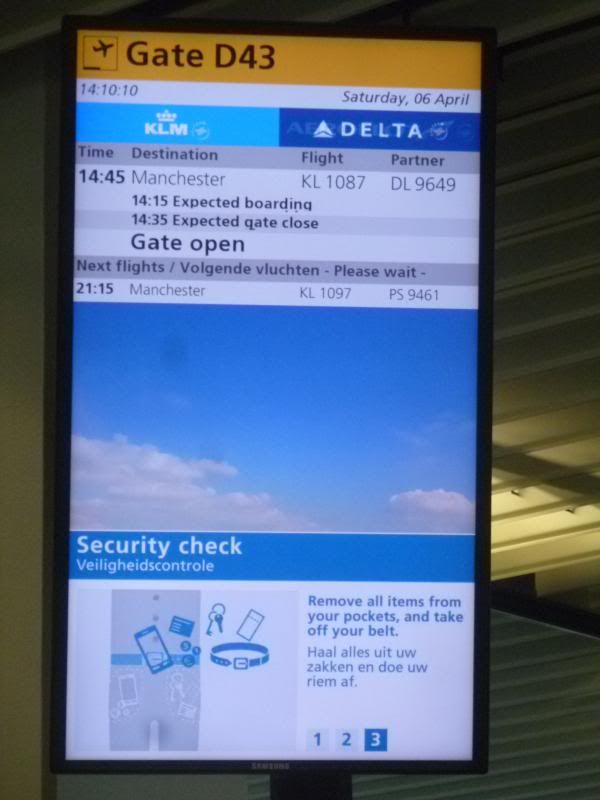 After security, when I have my boarding pass scanned there is the ominous beep. The penny doesn't drop even when I'm handed a new ticket, until I look at it and see I'm now sitting in business. I wonder whether this is to make up for what happened on the previous leg, but once I see Brendan & Markus also receiving a new boarding pass all becomes clear. It seems that a certain member of the group made some enquiries in the lounge and told them about our special trip so hey presto: those of us with status were upgraded. Thank you Markus! What a shame that Roger & Suryo couldn't join in the fun too.
AMS-MAN
KL1087
PH-BGG B737-700
STD 14:45/ATD 15:10
STA 15:05/ATA 15:00
Gate D43
Seat 2A- Business
The A.netters bird for today's flight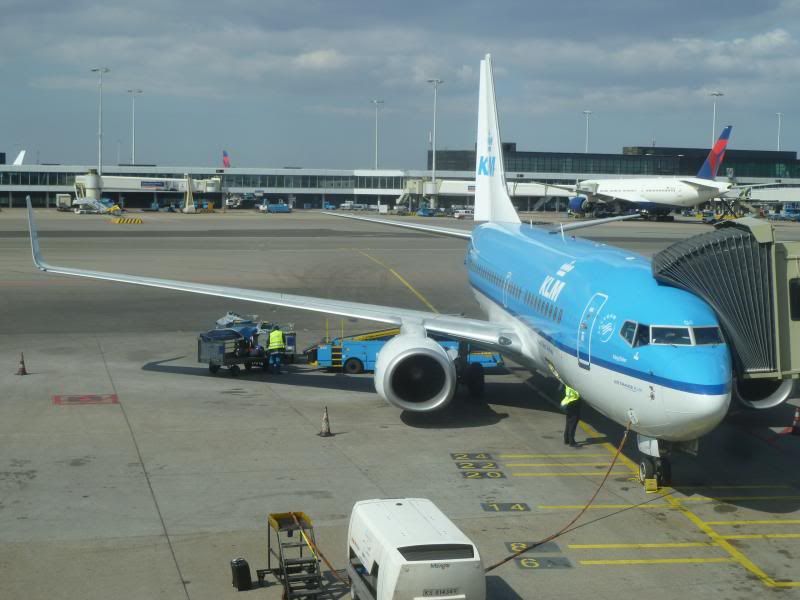 We push back at our STD and are welcomed on board. Our flight time is estimated to be an hour and the Captain informs us we'll have a lengthy taxi to runway 36L, otherwise known as Polderbaan. We'll take off to the North, turn left over the North Sea and make landfall near Humberside. Distance to fly today is just under 500km.
Local traffic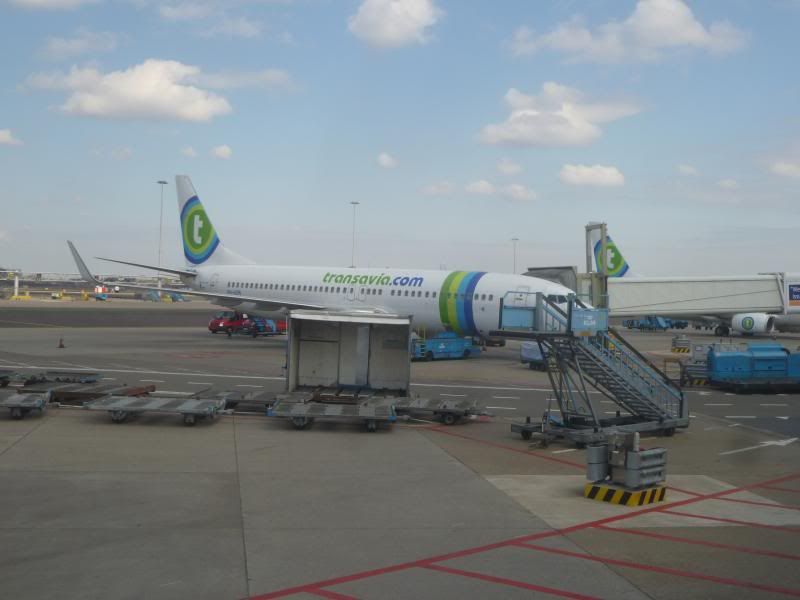 Something a bit bigger…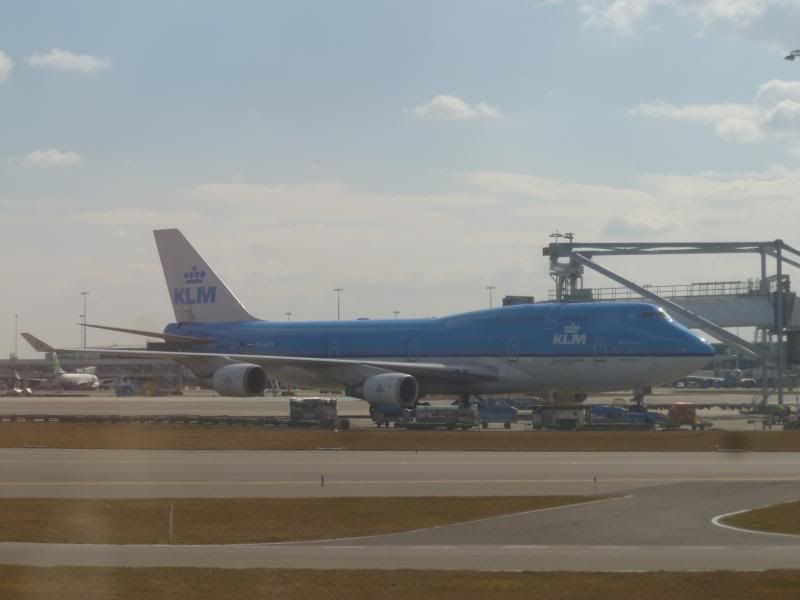 …more modern…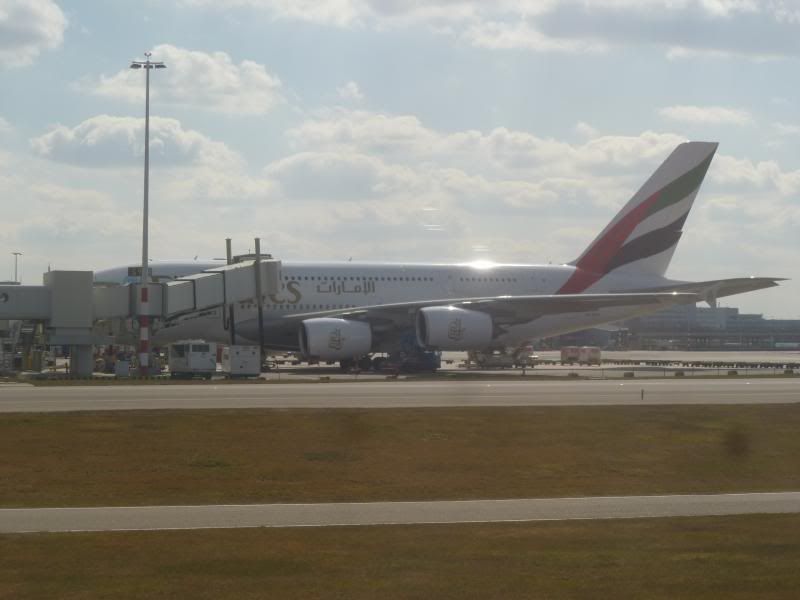 …and more exotic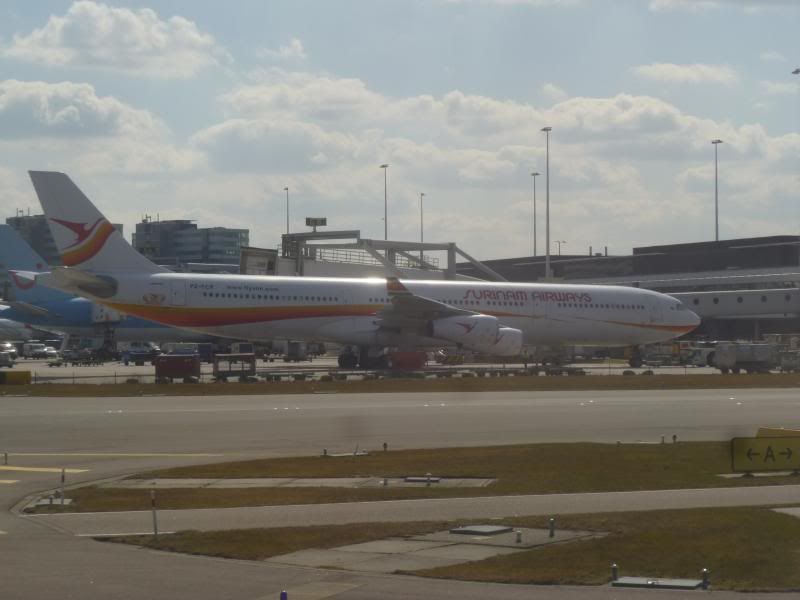 A queue for the runway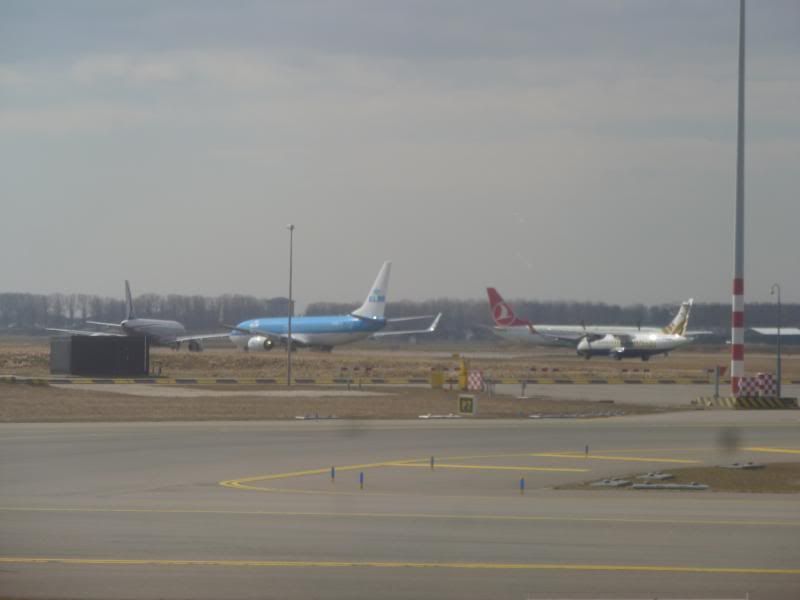 At 15:10 we start our take off roll. Bye AMS, see you next week!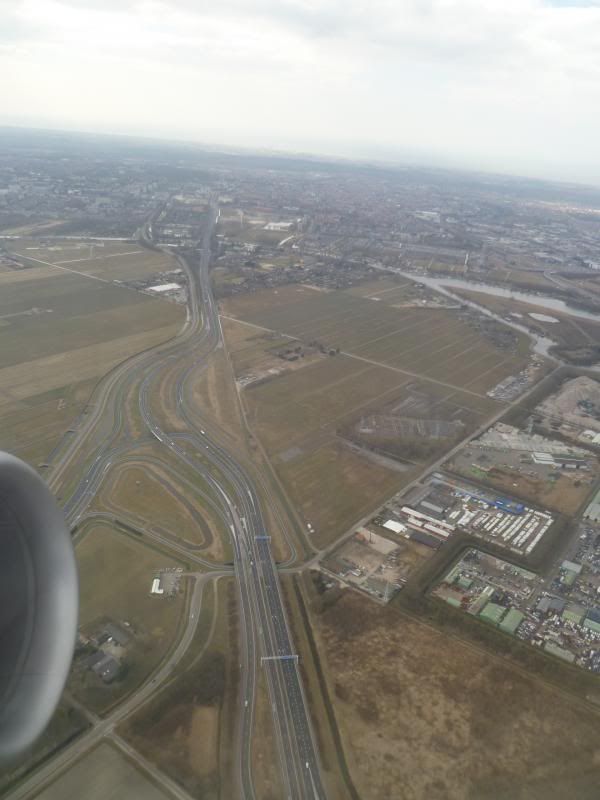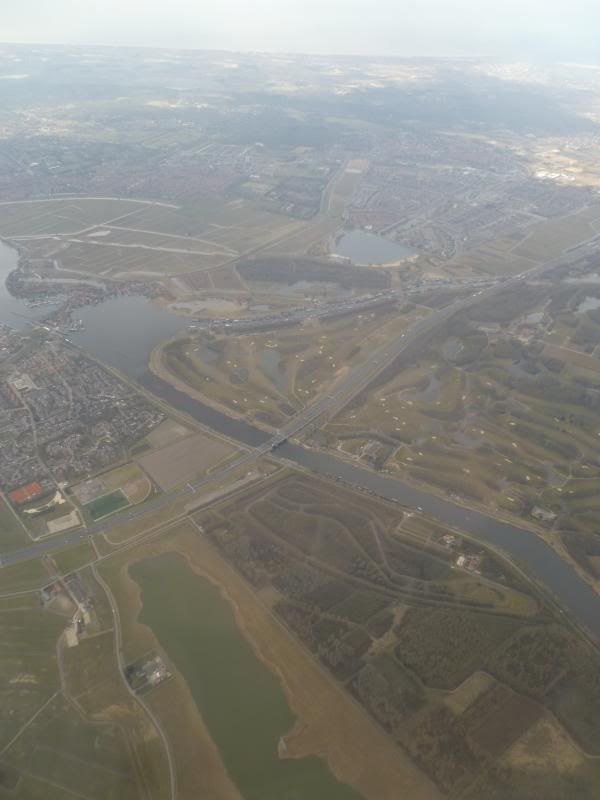 Sitting in 2C is a middle-aged German woman, her partner is across the aisle in 2D. She is certainly somewhat intrigued by my behaviour: talking between seats to Markus in 1A, taking photographs of everything in sight and waving across to Brendan in 2F. She's probably asking herself what loony she's been seated next to!
For a one hour flight, the meal we get is really delicious. I have the same tomato & mozzarella sandwich, there are crudités with a divine chive dip and a really heavenly kind of trifle to follow. I clear my tray. All I can say is what a pity I missed out on the ZRH flight.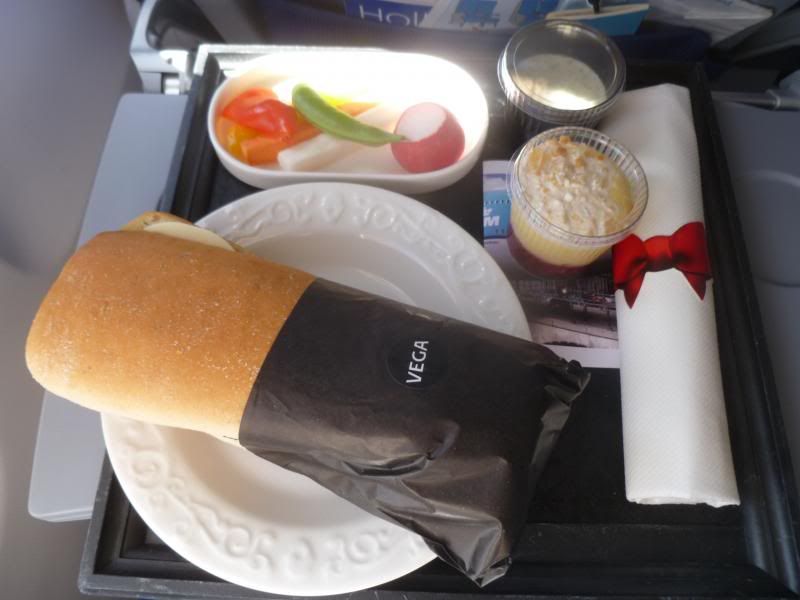 Beautiful cutlery
The service is of a high standard, with the girl working the C-Class cabin being very attentive.
Reaching the UK
Clouds like cotton wool balls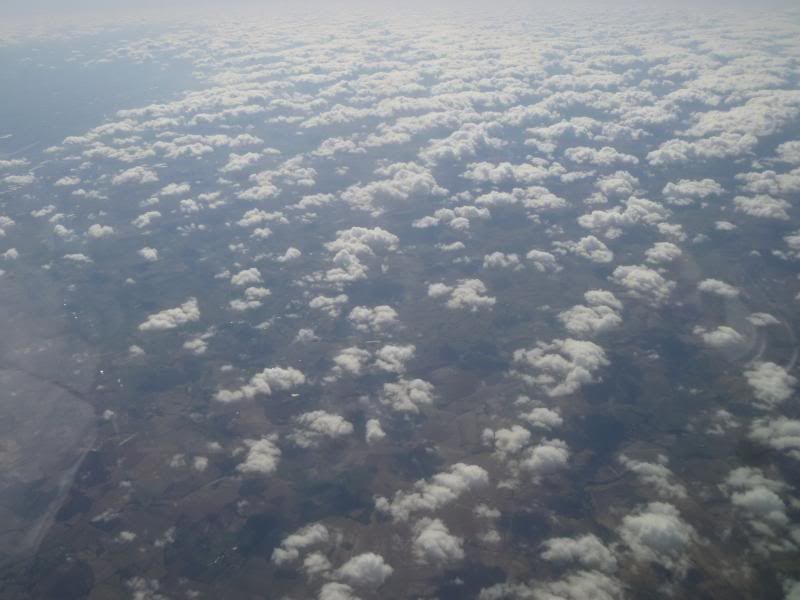 Almost a straight line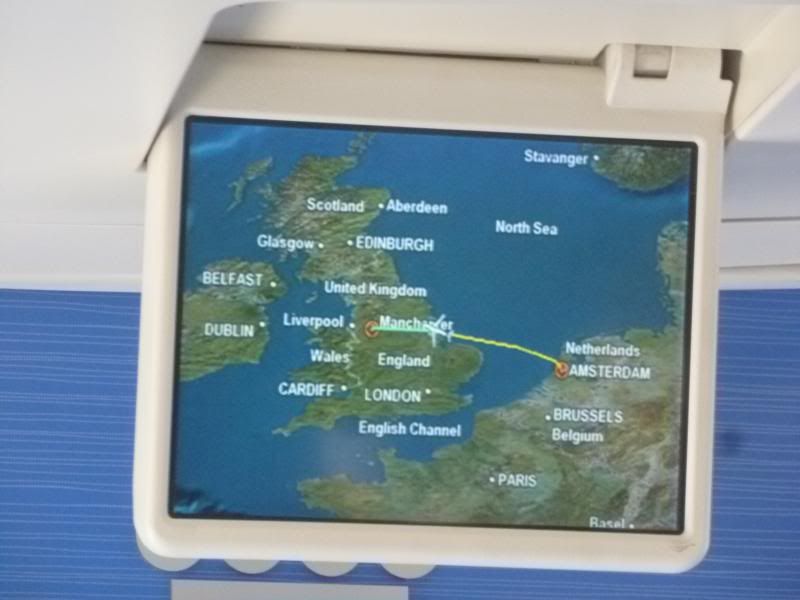 Tea and a tasty Dutch speciality. Interestingly I didn't get given a stirrer or a biscuit on the ZRH-AMS leg, although that was a longer flight and the crew had more time.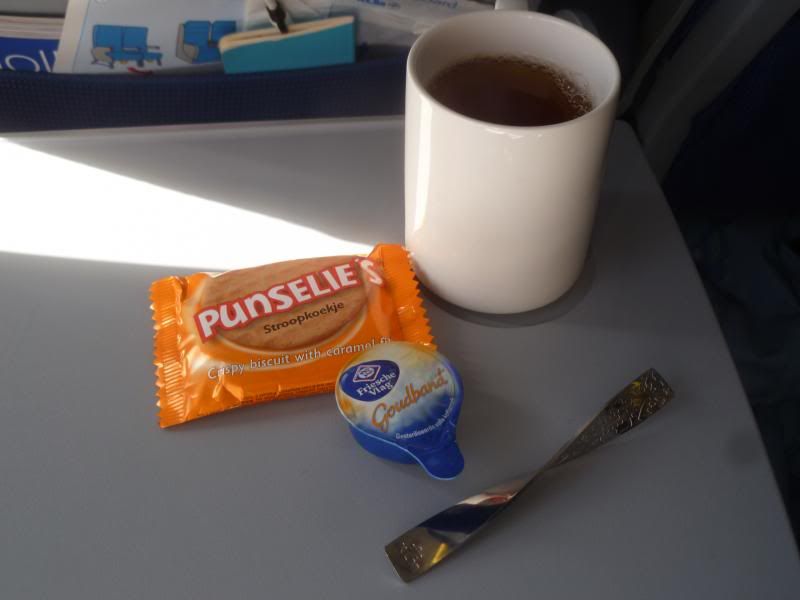 The last patches of snow are visible across the Pennines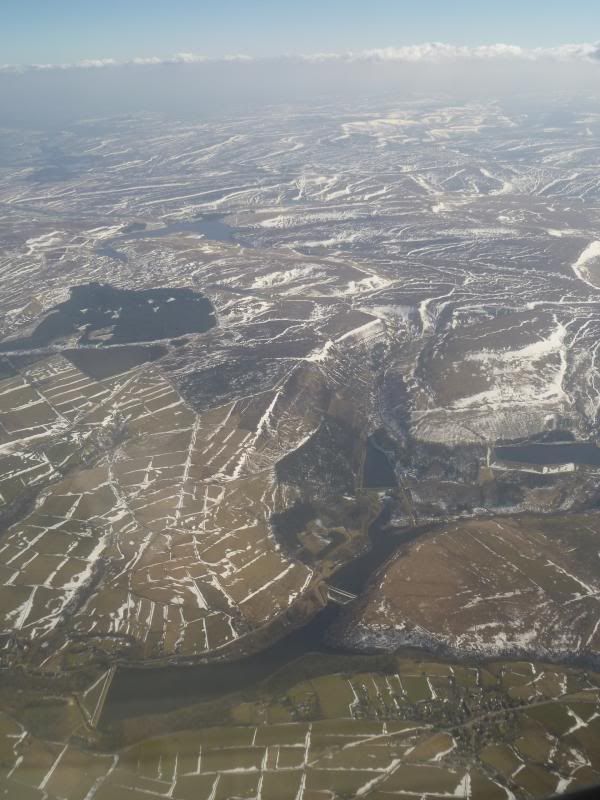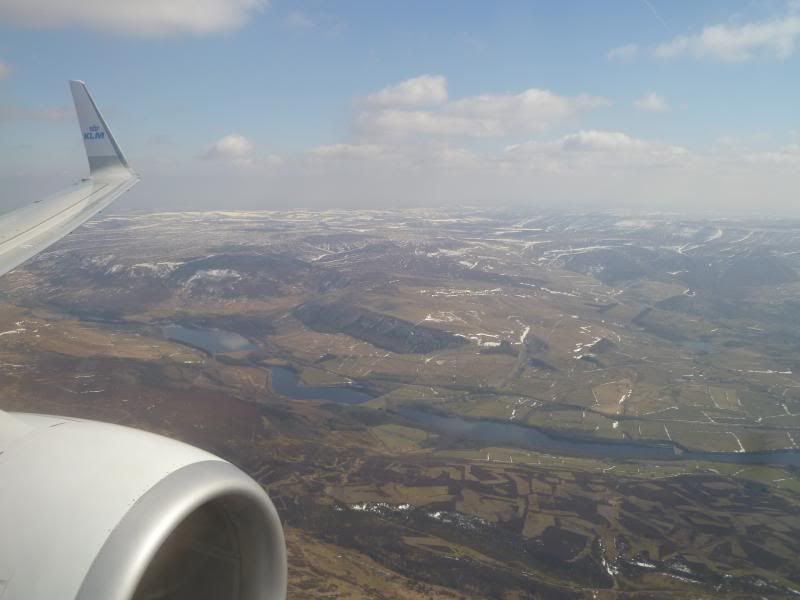 A good spotting location: the car park at Sainsbury's/John Lewis at Cheadle
Nearly there!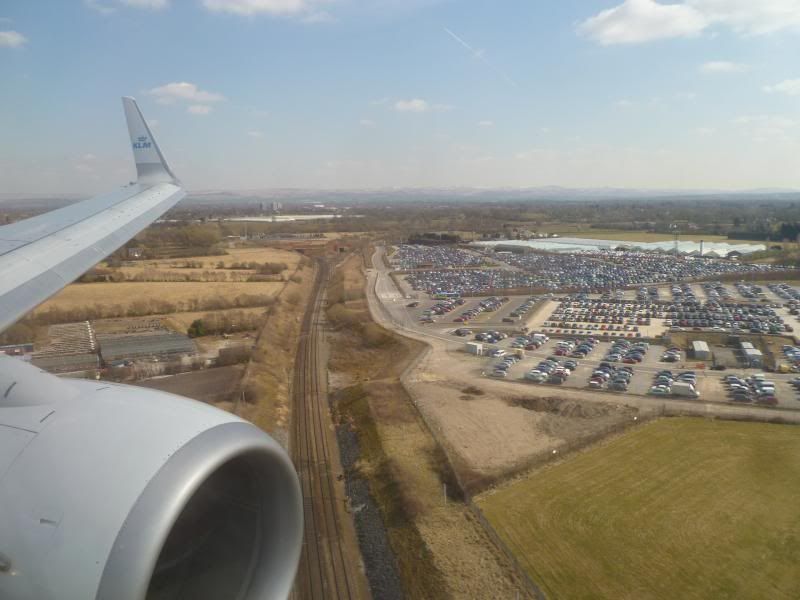 Some A.netters were waving to us from the Viewing Park!
One of the bigger visitors to MAN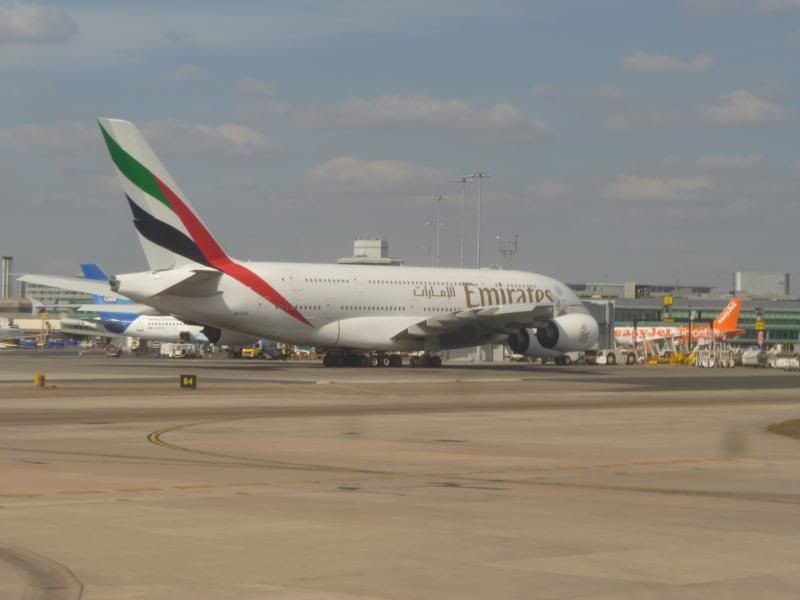 One very orange easyJet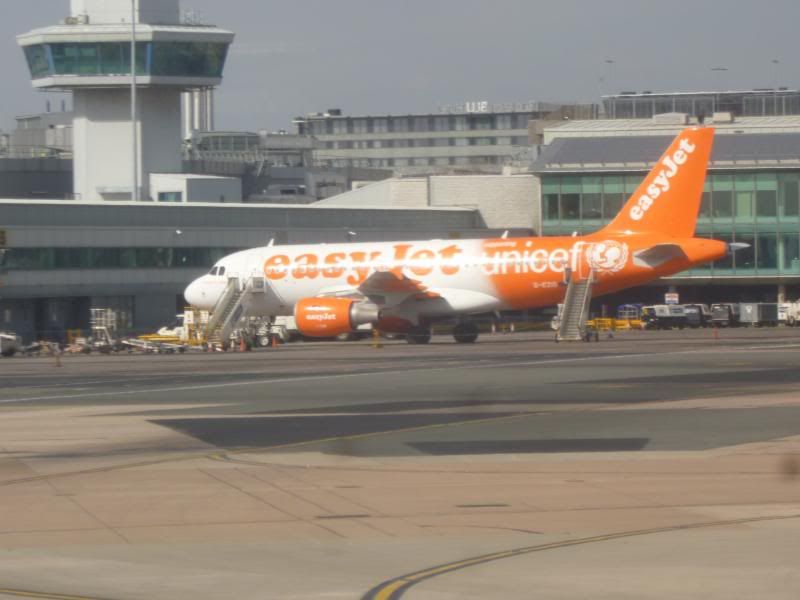 Thanks PH-BGG for the memorable flight!