.
Maps generated by theGreat Circle Mapper -copyright © Karl L. Swartz.
Welcome all to trip report number 25 already.
Videos related to this report:
Departure from LHR:
http://youtu.be/1ibBHynGKtY
Arrival into DXB:
http://youtu.be/kqhkVk3No2o
Departure from DXB:
http://youtu.be/sk8EvmafG4E
Arrival in BKK:
http://youtu.be/VthJahp7jho
No sooner had I returned from my trip to the USA, I was in holiday mode again – except this time I would be heading East for the first time - thanks to a bit of light persuasion from AirbusEric on Facebook!
Due to the fact that this trip was taking place just three weeks after my fortnight in the USA (where I'd bagged the Easter weekend), and that this trip would also take place over a Bank Holiday weekend in the UK meant I was taking a bit of a gamble as to weather I would be able to get the time off work. The first day back after Christmas I made sure I was the first to hand both of my holiday forms in and luckily they were both approved.
This trip initially was planned as three nights in Dubai, however things ended up getting more elaborate as the weeks and months went on. First off, I decided to tag on a trip to Bangkok at the beginning – bringing the total length of the trip to seven days. Despite both VS and BA having far cheaper fares to Dubai, there was only ever on way I wanted to get there – with Emirates so I could log an A380 for the first time. Further investigation showed that for around £50 more than the LHR-DXB-LHR sector, I could fly LHR-DXB-BKK-DXB-LHR with stopovers in Dubai on both legs. Booking was made through the Emirates website – and there were plenty of flight options to choose from. Not being a fan of night flights. I chose all daytime sectors.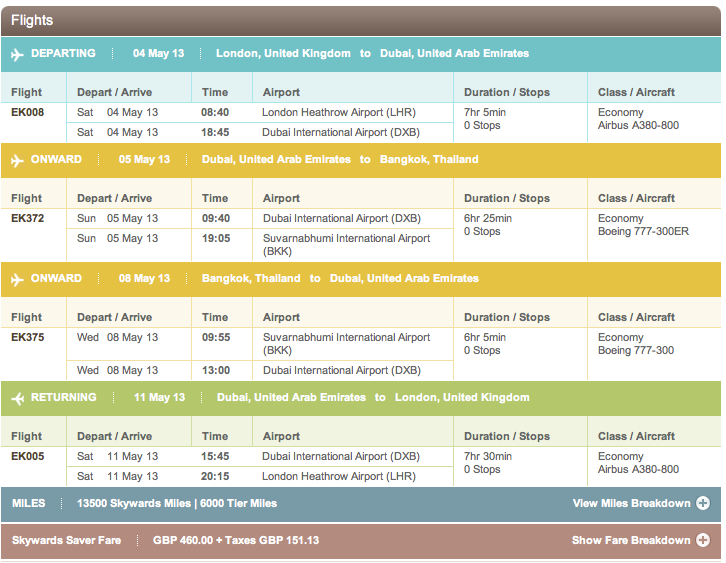 Following payment, the next most important part of the process was selecting seats!
As I had four sectors with EK, I basically selected seats in each corner of the economy cabin. Best of all was that EK operate their A380's with an all economy lower deck, therefore being able to grab a seat in front of the wing for the initial sector.
Later on, I added a daytrip to Muscat in Oman and just a few weeks prior to departure another daytrip to Phuket in Thailand was added – more about those in future parts though! So the final journey looked like this: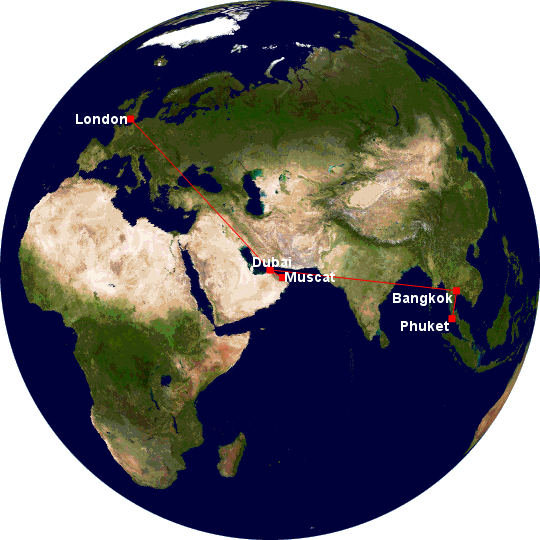 This series will be split into five parts, basically following the same template as my USA series – Each destination having its own part.
Arabia & Thailand 2013 1: LHR-DXB-BKK EK A380/77W (this part)
Arabia & Thailand 2013 2: Two TG Classic's to Phuket – BKK-HKT-BKK A300/744
Arabia & Thailand 2013 3: BKK-DXB-MCT with EK/WY - 77W/738
Arabia & Thailand 2013 4: Across the desert with WY – MCT-DXB E175
Arabia & Thailand 2013 5: Catching a whale to LHR DXB-LHR EK A380
This part will cover my journey to Bangkok on an Emirates A380 from London to Dubai, following on to Bangkok on an Emirates 777-300ER the following morning. I'll apologize now for there being quite a few pictures.
Just prior to departure, I took a look at Gabriel's report to Bangkok, (
Part 11: Thai First BKK-FRA B77W, LH C FRA-DUS
(by
gabrielchew
May 12 2012 in Trip Reports) ) and the following line really stuck in my mind:
Quoting GabrielChew:

I couldn't imagine being so new to Asia…I did envy her I must say, it must be so amazing your first time out here with all the sights and sounds and smells and food and shopping….
I guess the same logic can apply to me, as the furthest East I had been was my trip to Larnaca back in December. But would it really be any different to going to any other new country for the first time? That's something I've had the privilege of quite a bit over the last eighteen months. Lets find out…
Due to the National Express coach not getting me into Heathrow until 07:00, that meant things were a bit too tight for my liking as my flight departed at 08:30. Therefore I enlisted the help of a friend to get me to the airport. We set off at 05:45 arriving just twenty-five minutes later, some ten minutes before the first coach of the day even set off!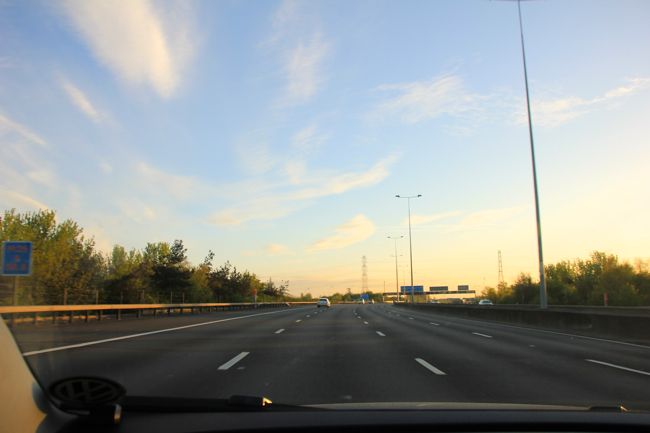 .


.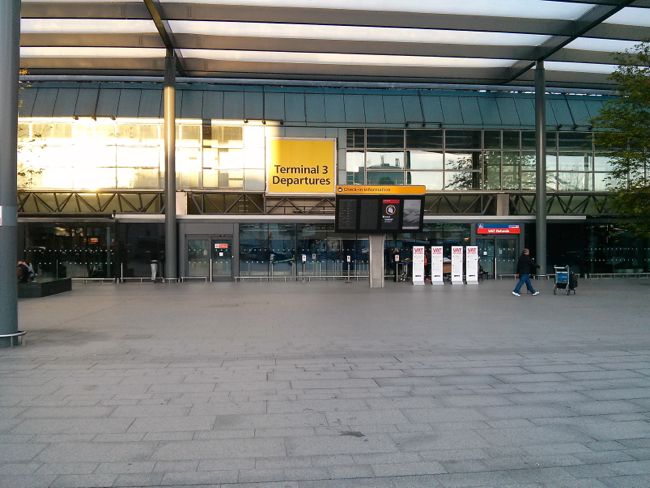 Once at terminal 3 I headed off to the Emirates check in to grab my boarding passes.

.

After which, I headed upstairs to grab some breakfast from the pub.
Once finished, it was security.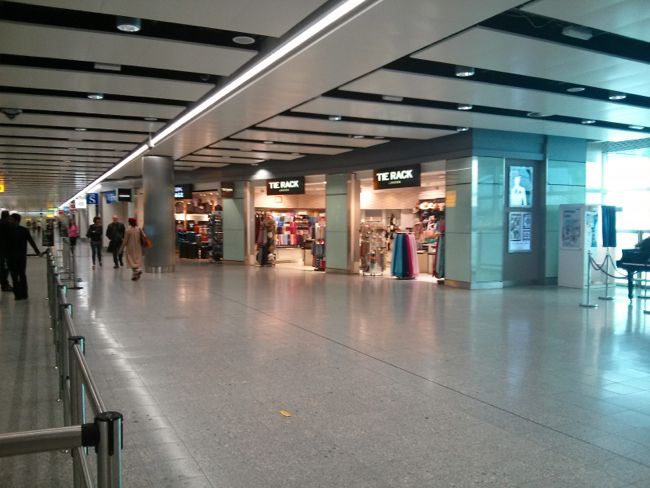 .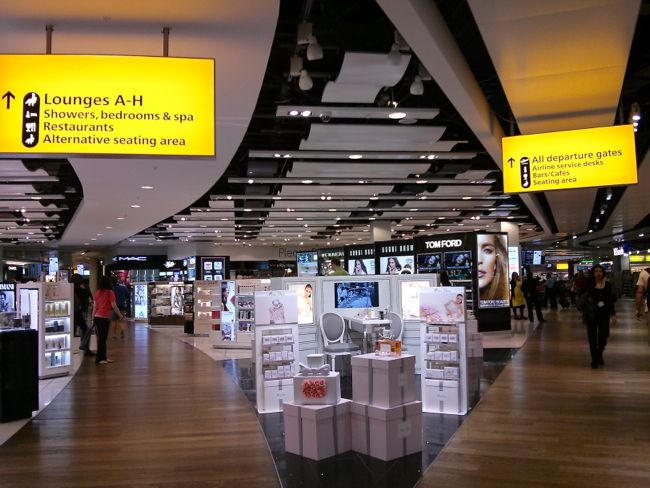 Despite being second in the queue the family in front didn't seem to want to wake their child up in order to put the pushchair through the X-ray, therefore holding things up. Even once they made it through they still had to be searched. They were still faffing once I had been processed.
Once on my way it was a brief wonder through the departure lounge, grabbing a bottle of water from Boots, before heading to the window near gate 23, although there wasn't much of a view to be had as something was blocking most of it out.
Not being able to see an awful lot, took a slow walk down to the A380 pier. Interestingly, there were quite a few pianos around.

.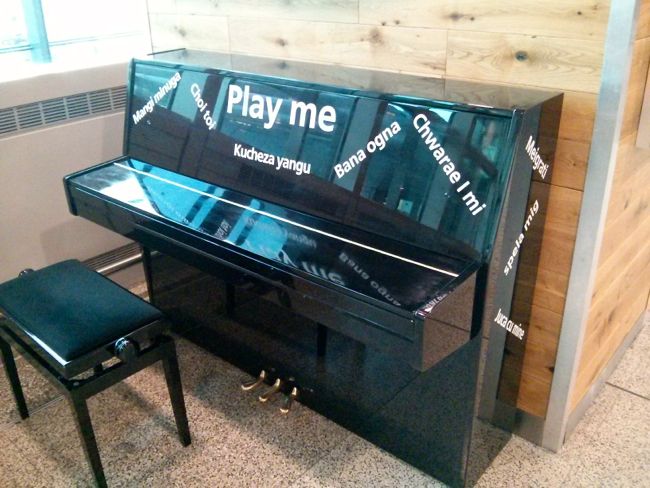 .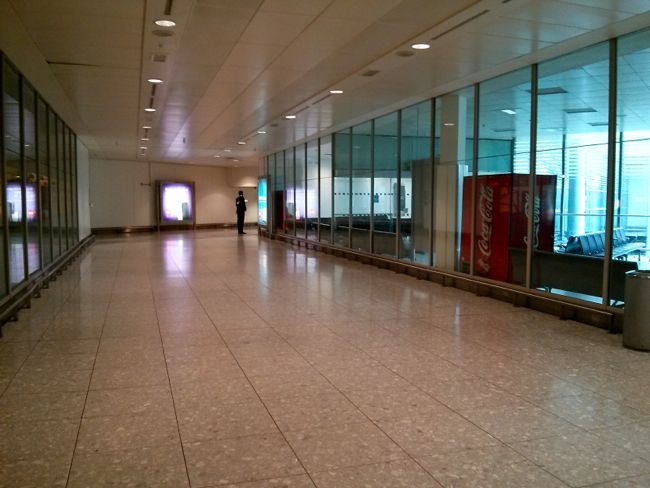 .

Upon arriving at gate 7, I found A6-EDG waiting, one of the older examples in the EK fleet having entered service in May 2009 and having an MSN of just 23.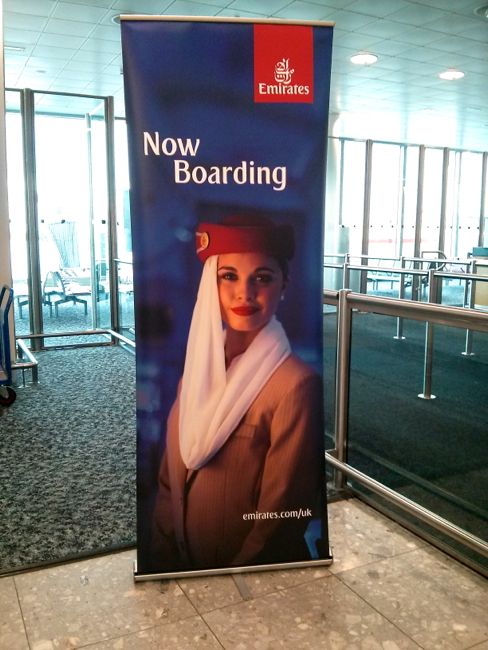 .

The gate wasn't open, but a few moments later after the crew had finished their briefing, I was called forward - before boarding had even been announced on the displays. Upon having my boarding pass scanned, it beeped. I was hoping (but not too much as I have no status with EK) it would be an upgrade but it just meant they had to check I had no baggage – the second time in as many flights this had happened.
Upon entering the gate, I grabbed a newspaper and headed down to the cafe style seating, followed by watching what was going on outside.

.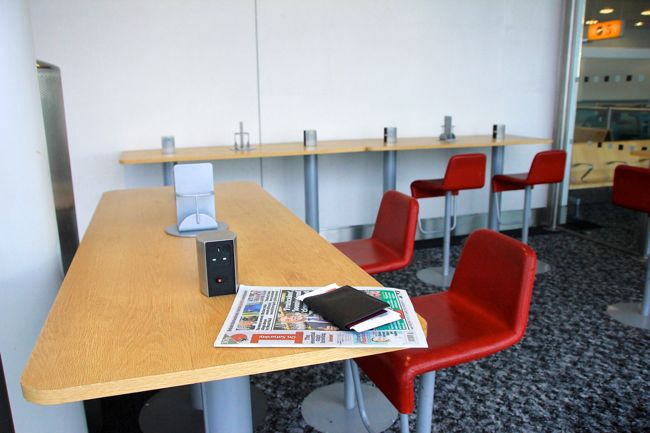 .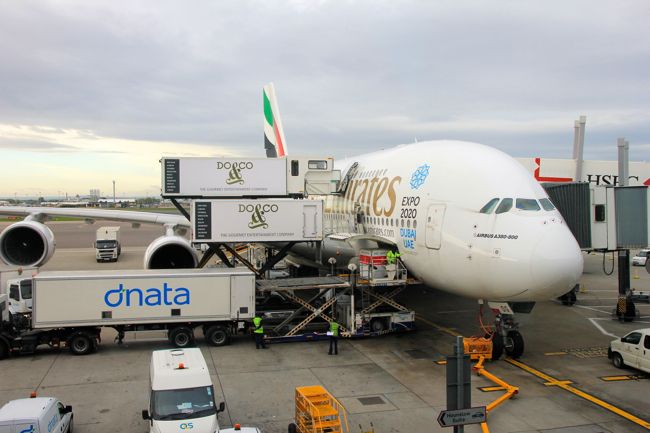 Better view from inside the holding pen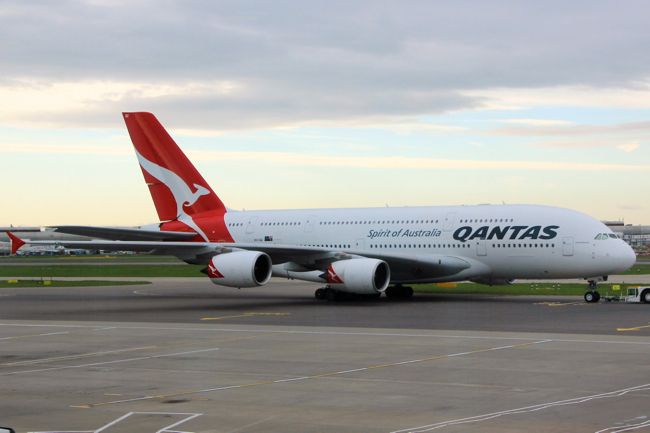 .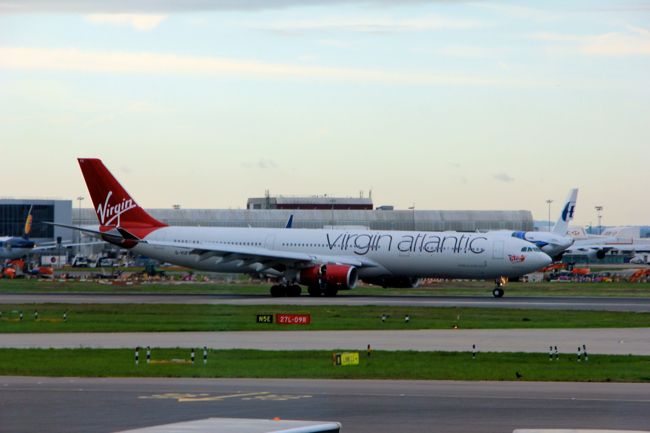 One of the newer additions to the VS fleet, having entered service in Nov. 2012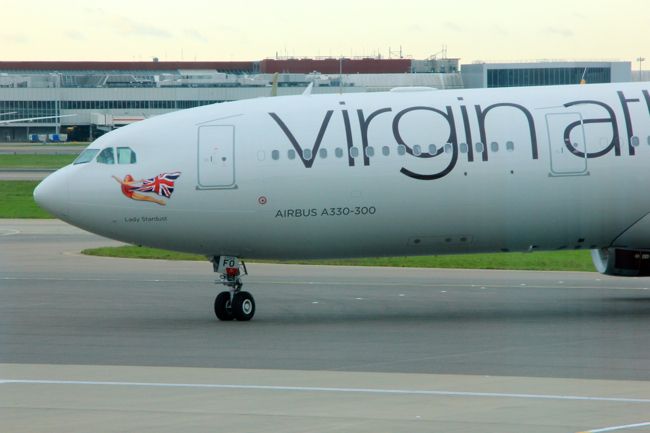 .


.

Boarding was called at 08:10, and unusually it was pretty organized. Due to being in the forward cabin, I was one of the few directed to door A and also one of the last to board. Must admit boarding by zones seems to make the whole process a lot more organized than by seat number.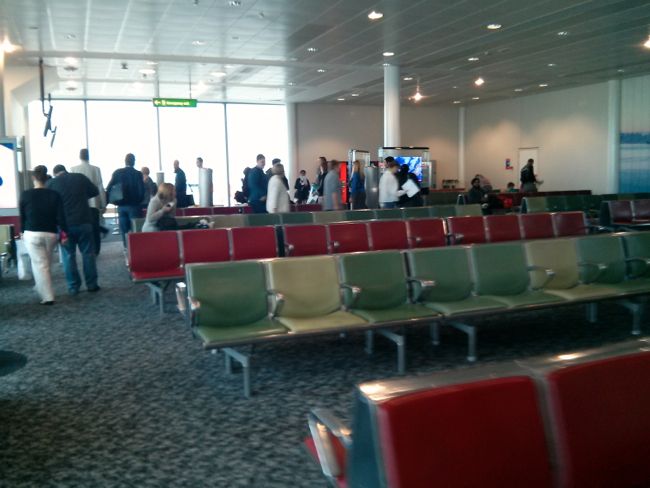 .