Introduction
Hello everyone and welcome to part 7 of this USA trip series!
For part 1 featuring my first 2 flights on SAS' "new" A320 please see here:
USA Trip Pt. 1: Getting Started!: AMS-CPH-GVA
(by
adamspotter
Apr 14 2013 in Trip Reports)
For part 2 featuring a scenic early morning flight across the Alps on a Darwin Saab2000, an uncomfortable hop across the pond with Alitalia and my first US Domestic flight (of this trip) on DL please see here:
USA Trip Pt. 2: Crossing The Pond: GVA-FCO-JFK-ATL
(by
adamspotter
May 2 2013 in Trip Reports)
For part 3 featuring a nice flight on Delta's mighty 777-200LR between ATL-LAX please see here:
USA Trip Pt. 3: Riding The 777-200LR!: ATL-LAX
(by
adamspotter
May 8 2013 in Trip Reports)
For part 4 featuring my first experience with Virgin America from LAX-BOS please see here:
USA Trip Pt. 4: Tryin' Out The Virgin!: LAX-BOS
(by
adamspotter
May 14 2013 in Trip Reports)
For part 5 featuring my first experience with Jetblue between BOS-EWR-MCO please see here:
USA Trip Pt. 5: Jetting With Blue: BOS-EWR-MCO
(by
adamspotter
Jun 2 2013 in Trip Reports)
For part 6 featuring yet another first experience, this time on Alaska Airlines between MCO-SAN please see here:
USA Trip Pt. 6: A Morning With Alaska: MCO-SAN
(by
adamspotter
Jun 13 2013 in Trip Reports)
This part will concentrate on my SAN-LAX-HNL flights.
As most of you know this series will be split into 13 different parts:
Part 1: AMS-CPH-GVA
Part 2: GVA-FCO-JFK-ATL
Part 3: ATL-LAX
Part 4: LAX-BOS
Part 5: BOS-EWR-MCO
Part 6: MCO-SAN
Part 7: SAN-LAX-HNL
Part 8: HNL-KOA-OGG-HNL
Part 9: HNL-LAX-PDX
Part 10: PDX-SEA-BOI-SMF
Part 11: SMF-SFO-ATL
Part 12: ATL-JFK-VCE
Part 13: VCE-ZRH-AMS
Hawaii has been a place I have always wanted to visit since I was a little kid. After watching many documentaries and TV series showing Hawaii, it has always caught my eye and been on my "to visit" list. Knowing I was going to pass through SAN, I saw this as a great opportunity to make one of my dreams come true!
While looking up fares from SAN, there were many different options all around the price of 130EUR. There was the direct SAN-HNL AS flight, UA via LAX or SFO, AA via LAX or DL via LAX to name a few. In the end I chose for DL as the times suited me the best and I could log 2 more flight segments to my Flying Blue account.
The short flight up to LAX will be operated by a SkyWest CRJ-700 and the flight to HNL by one of their 757-300s, a type I haven't flown all too often..
The idea is to stay in Hawaii for a whole day (27th January) before heading back to the mainland. For the one day I would be staying in Hawaii I booked a bunch of "domestic" flights within Hawaii. Unfortunately not everything went according to plan but more on that later.
Map
First, the map for this part thanks to the Great Circle Mapper: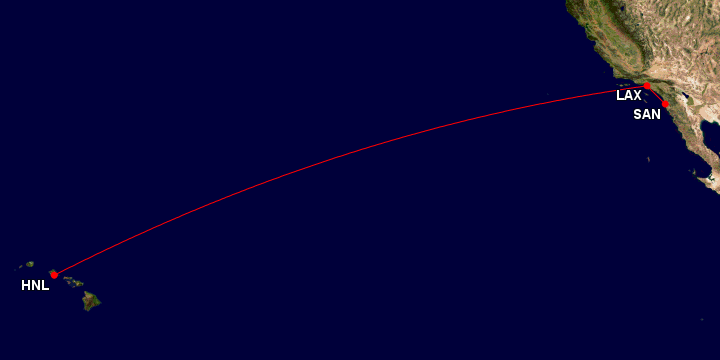 And once again the map of this whole trip also thanks to the Great Circle Mapper: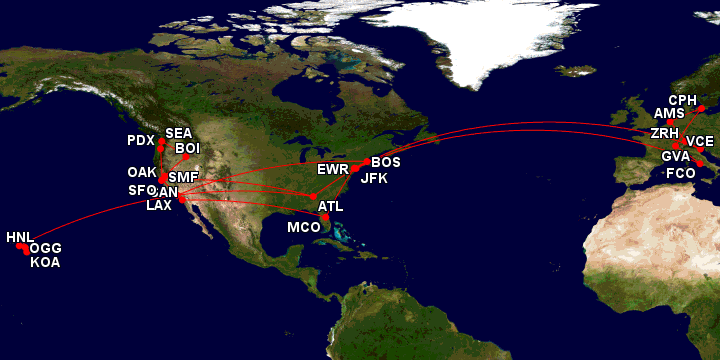 Saturday January 26
I am at the Delta check-in area at SAN airport. I just got off my Alaska Airlines flight from MCO (see part 6). It's finally time to head to Hawaii! My bag is already tagged through to HNL and, as I had already checked in online the night before, all I need to do now is print my BP. I approach one of the many SSKs and a few minutes later the machine successfully spits out both BPs. I try to clear security here but am told that all flights departing to LAX leave from the commuter terminal.
After getting instructions on how to get there from the friendly TSA agent, I head outside and wait for the bus to take me to the commuter terminal. It arrives quickly and I am the only passenger onboard.
A 5 minute bus ride follows, so I thank the driver for the short ride and head inside the terminal. There is no line at security here so I am through in a couple of minutes without any problems.
Now this is something I really regret doing as there is absolutely nothing to do here and I still have 3 hours to go before boarding starts. I buy a quick snack and drink at the news stand and find a seat next to the window. Outside two UA Express EMB-120s await their next mission to LAX: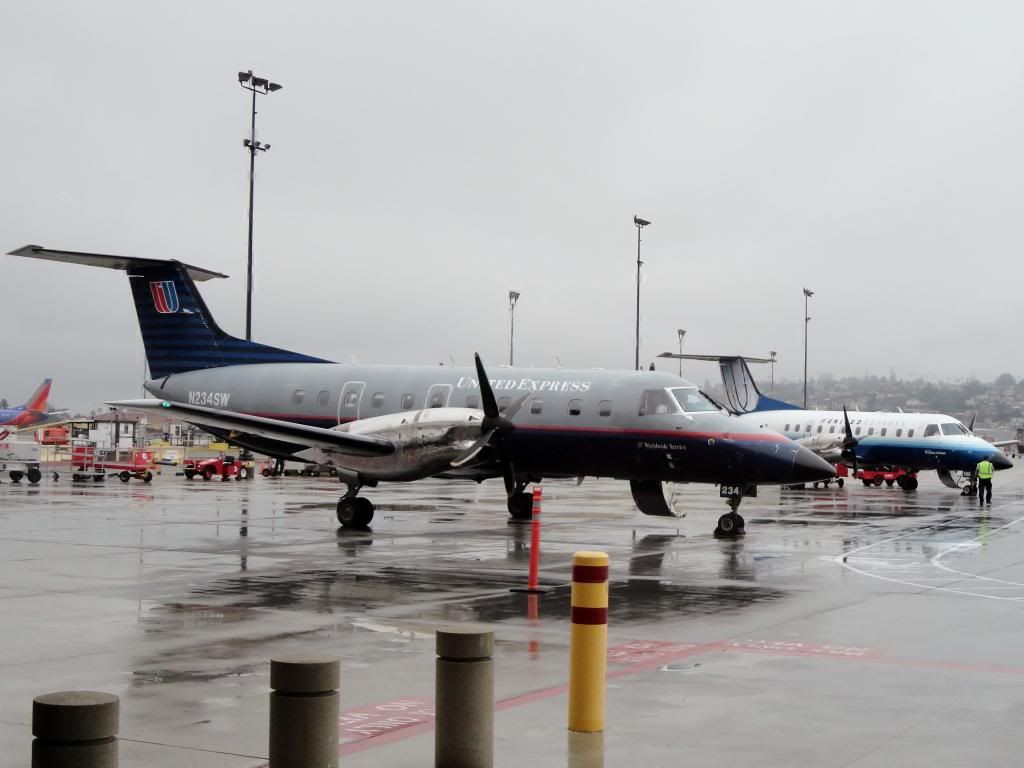 An American Eagle CRJ-700 is also about to depart to LAX: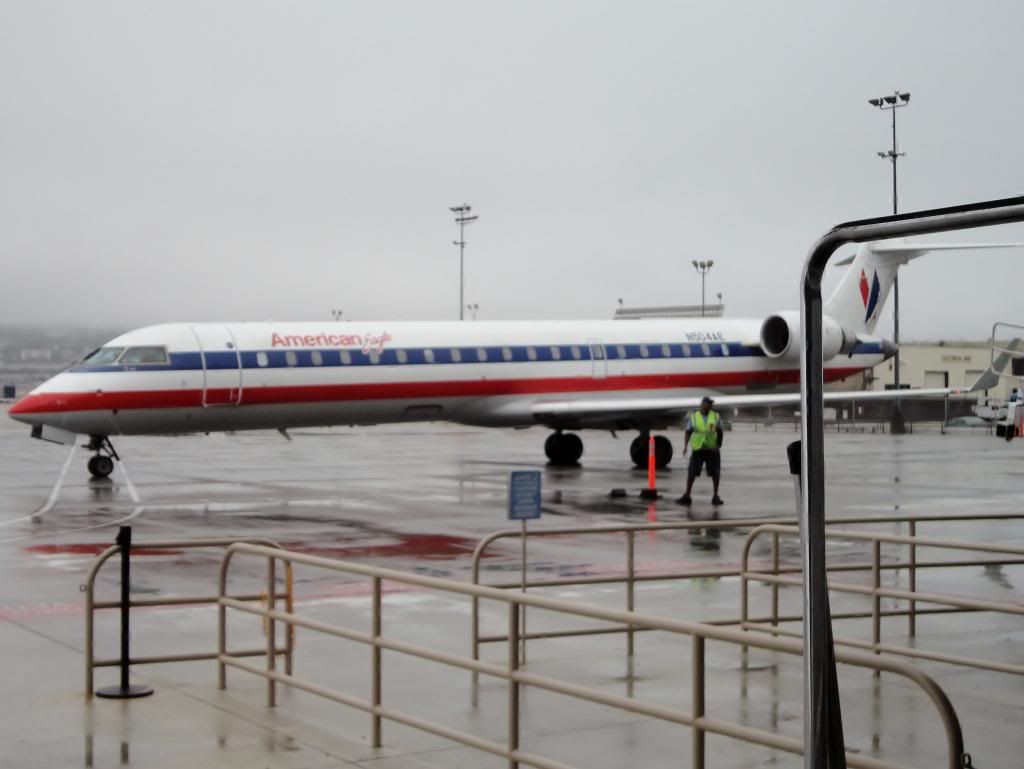 I get some good views of all departures and arrivals from my window, so I grab my binoculars and get some spotting done. Soon enough, a TSA agent approaches me and asks what I am doing. He seems satisfied with my answer and wishes me good luck.
Time goes by quickly and the UA Express EMB-120 is now replaced by a SkyWest EMB-120 which will also be heading to, you guessed it, LAX!: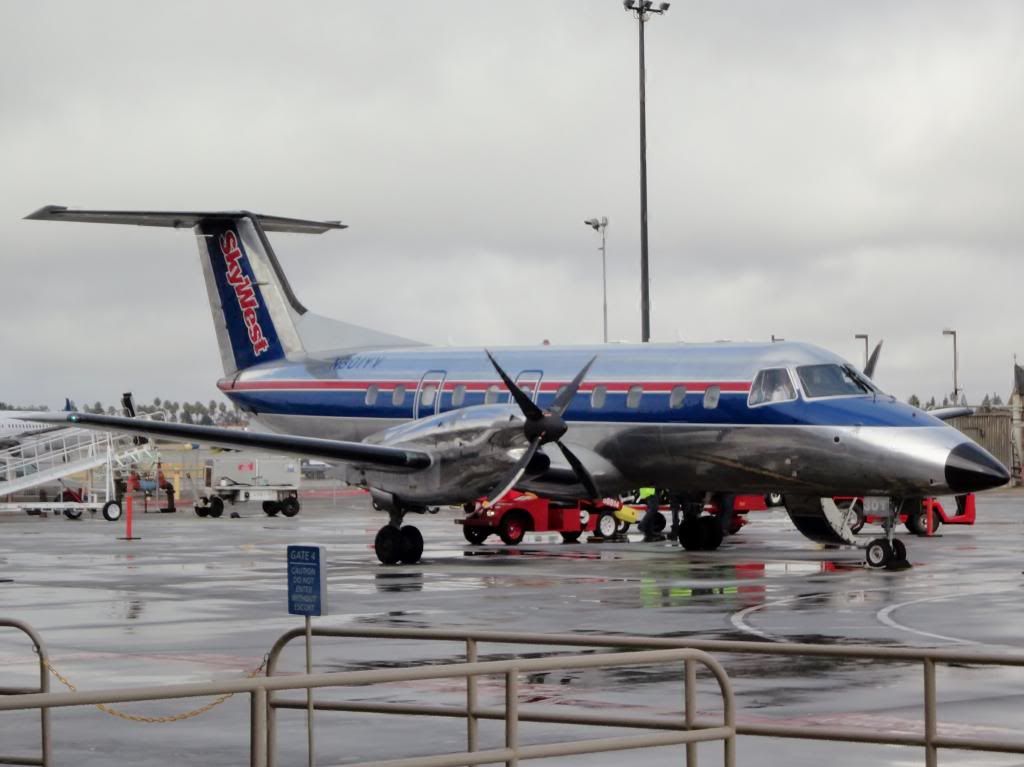 A couple of words about the commuter terminal. It is used for all flights operated by American Eagle, UA Express and Delta Connection to LAX. I consists of 4 gates, a bathroom, a news stand and the SAN Gourmet & Bar: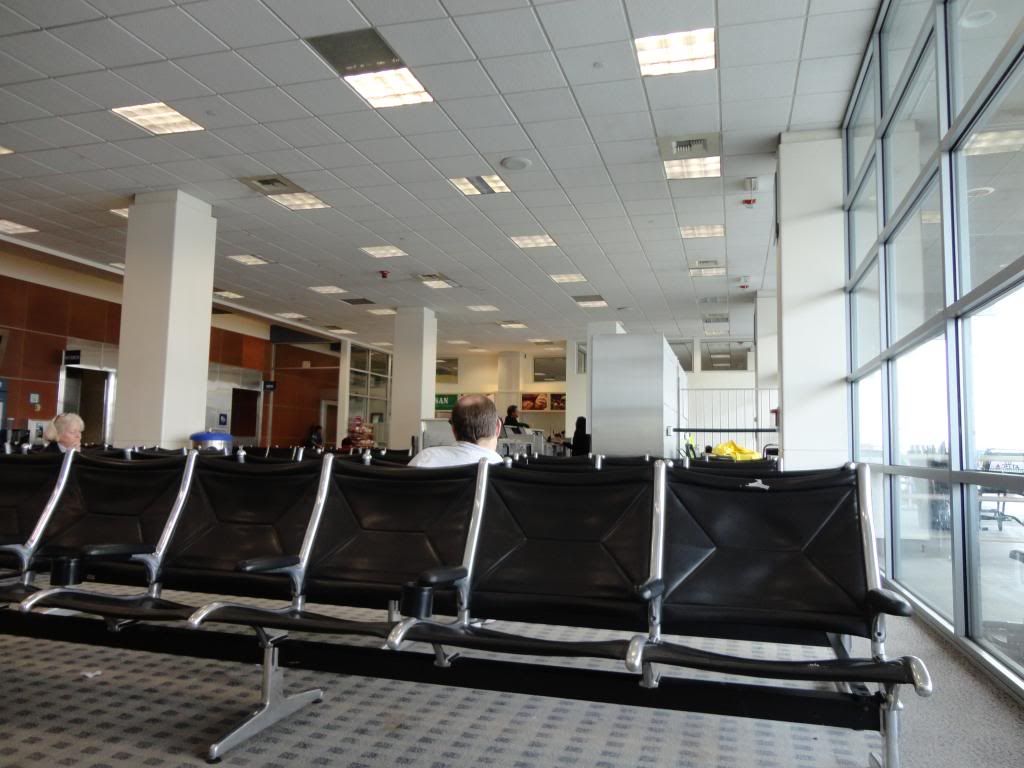 Boarding time is nearing and my name is announced on the PA to come to the gate. I had put myself on the upgrade list and it has apparently come through as I get handed my new BP with seat 1D. Always nice, even on such a short flight. The screen at the gate also shows a delay of 9 minutes as the new departure time is 14:39 instead of 14:30.
Boarding
BP for this flight:
Our aircraft finally arrives at 14:15 and 5 minutes later boarding is called for Sky Priority passengers. The gate agent scans my BP and I head outside. We have to wait in a "holding pen" before being allowed to walk towards the aircraft as passengers are still de-boarding and walking towards the terminal.
Shortly after the pilot walks over to us and says something to the gate agent. Apparently there is something wrong with the plane and a mechanic is taking a look at it, so we are directed back inside. At this moment I am not all too worried yet as I have 1 hour and 35 minutes transfer time at LAX.
While waiting for more information I have a nice chat with a fellow passenger who is also flying in First class. After about 20 minutes of waiting the gate agent comes on the PA and gives us the bad news. Apparently a part is broken (completely forgot what it is called) and a spare has to be flown in on the next Delta flight from LAX due to arrive in 1,5 hours. The agent also asks for all passengers who have a connection at LAX to come to the desk as we will be rebooked.
A mad dash to the desk follows and a long line is formed, apparently almost everybody has a connection! It takes about half an hour before I am finally helped by one of the two gate agents. She checks every possible option of getting me to HNL tonight, but it is too late. There are no more direct flights and I won't make the last flights heading to HNL at LAX. I'm afraid I am going to have to face defeat. No "domestic" flying in Hawaii, the 3 flights I was looking forward to the most.
Feeling very disappointed and mad I decide on heading to LAX tonight, staying at a hotel there and taking the midday flight to HNL (leaving LAX at 14:59, arriving HNL at 18:50). The gate agent gives me a voucher to hand over to an agent in LAX, who will then give me my new BP for the next day and meal/hotel vouchers for the night.
It now becomes clear that all passengers that are booked on my original flight will now take the 17:33 flight to LAX. This will be on the aircraft that is arriving from LAX with the spare part. All passengers that were originally booked on the 17:33 flight will have to wait until the other aircraft is fixed. To sum all things up, it is a total mess!
With everything taken care of I give my hotel in Hawaii a call, explain my situation and tell them I will only be staying one night instead of two. Luckily enough they decide to only charge me for the one night even though I was too late with cancelling.
I also send fellow a.netter the 777Man a Facebook message to see if he will be around the next day to get some spotting done before finally heading towards Hawaii.
With everything taken care of I wait for boarding to begin. To kill time I have a nice talk with my neighbor who will be heading to SEA tonight.
Boarding is finally called at 17:45, this due to the late arrival of our aircraft (yes, again!). Sky Priority passengers are asked to board first so I make my towards the gate. The agent scans my BP and I head outside towards the aircraft, so far so good!
It is dark outside by now but I am still able to spot the CRJ-700s registration. It is N641CA, delivered to Comair on 30/10/2003 and flying with SkyWest since 01/10/2012.
On Board
26/01/2013
SAN-LAX
DL4503 // 1D
CRJ-700 SkyWest (Delta Connection) // N641CA
18:10-??:??
I am one of the first ones to enter the aircraft and am greeted by a female FA who still seems to be in a good mood despite everything. I enter the aisle and the first seat on the left is mine, 1D. I put my belongings in the small overhead bin and get settled in: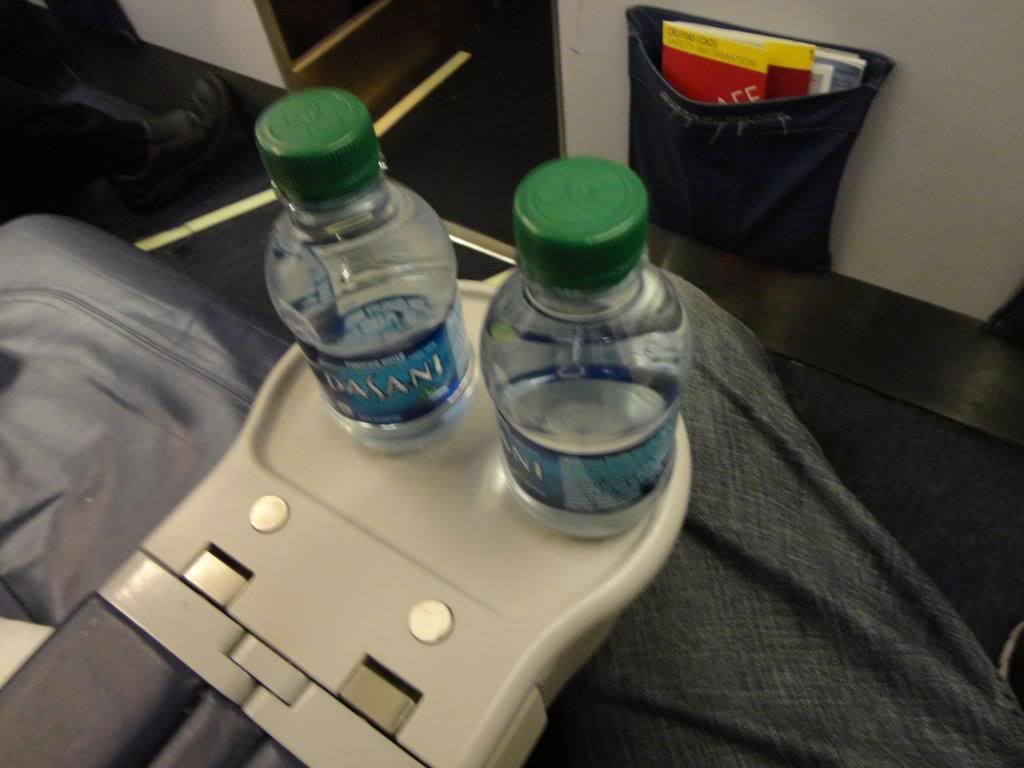 There isn't much to say about this flight as I am in no mood to take pictures and barely note any details down.
The flight load is 100% in Y with 2 empty seats here in First, I have a neighbor in the aisle seat. Cabin crew consists of 2 females, they are very friendly and full with smiles and jokes despite the long delay. My own experience is that FAs on Delta Connection flights are much more relaxed and friendly then on Delta mainline.
The doors are closed at 18:05 and we commence taxi 5 minutes later. During taxi the pilot comes on the PA apologizing for the delay and some flight info. Cruising altitude will be just 10,000 feet.
We take off from the runway and head towards LAX. During most of the flight I keep my head glued to the window as there are some beautiful views down below of the clouds and illuminated coastline.
Service on this flight consists of the usual drinks and choice of snacks. I order a coke and grab a couple bags of chips and pretzels. The female FA does a good job at refilling my coke regularly.
In no time we commence descent and the cabin is prepared for arrival. Shortly after we arrive in LAX which is very foggy tonight, a short taxi to the gate follows.
Once we reach our gate, the front door is opened quickly and I thank the crew on my way out. A short wait in the jetway for my carry on follows before heading inside the terminal.
I join a short line at the nearest occupied gate and eventually explain my situation to the friendly gate agent. She quickly hands me my hotel voucher and three meal vouchers, she also apologizes for all the inconvenience.
Now the fun part starts. As some of you may remember my bag is tagged all the way through to HNL. While rebooking me, I told the gate agent at SAN about it and that I would like to retrieve it at LAX for the night. She said that was possible and, after a bit of typing on her computer, assured me my bag would be on the belt once I arrive at LAX.
To my big surprise (not!), once arriving at the belt all bags were already offloaded and mine wasn't there.
I quickly head over to Delta's baggage service. There I am met by a very unfriendly lady who simply tells me to wait by the claim as the bags still have to come out. I try explaining to her that all bags have arrived as everyone is gone. Nevertheless she is persistent, so I wait at the belt for another 10 minutes.
Still no bag (surprise, surprise!), so I head back to the DL baggage service. There I am helped by another and much friendlier lady. After handing over my baggage tag, she tracks it and tells me it is here at LAX but tagged through to HNL for tomorrow. I tell her that is correct and explain the whole situation. She feels very sorry for me and tells me she will make a call and my bag should be out on the belt soon, but has no idea how long it will take.
I head over to the belt and it appears I am not the only one. There are a couple other people in the same situation as mine, apparently some DL Connection flights were cancelled due to the fog.
45 minutes pass and still no sign of my bag. I head back over to the baggage service but they can't give me an answer as to how long it will take, as it is complete chaos due to the cancelled flights.
To cut things short, I wait a total of 2 hours before my bag finally arrives. I have never been happier to see my bag come on the belt!
The Westin LAX
Hotel for tonight, courtesy of Delta, is the Westin hotel Los Angeles International airport. After finally retrieving my bag I head outside and wait for the hotel shuttle to arrive. It arrives quickly and we make our way towards the hotel. The shuttle is filled to the brim with mostly crew members heading to the hotel for the night. After about a 15 minute drive we arrive at the hotel, so I grab my belongings and head inside.
Once inside I am checked in by a friendly receptionist (after handing in my hotel voucher) and am handed my room key. I thank him and head upstairs to my room: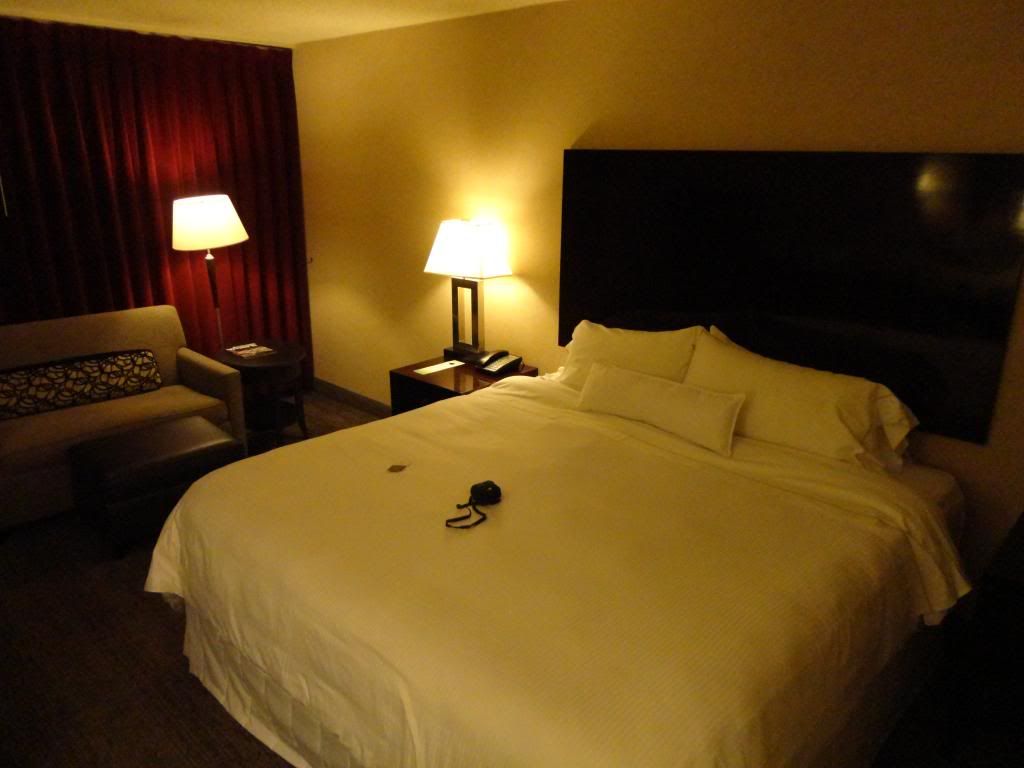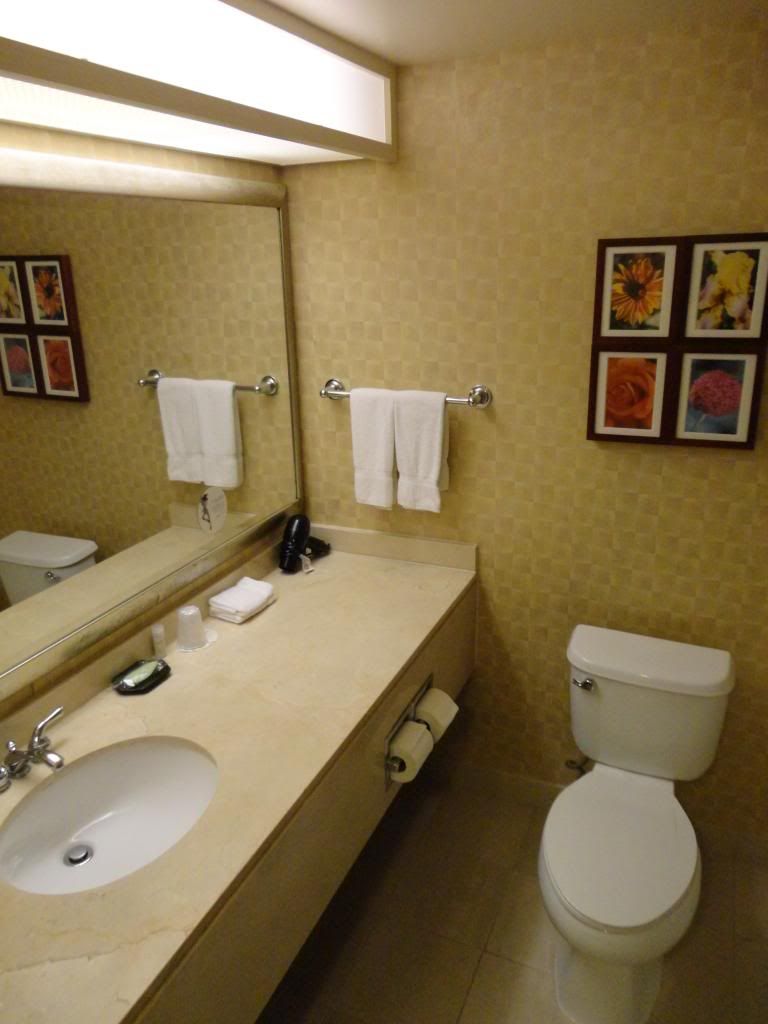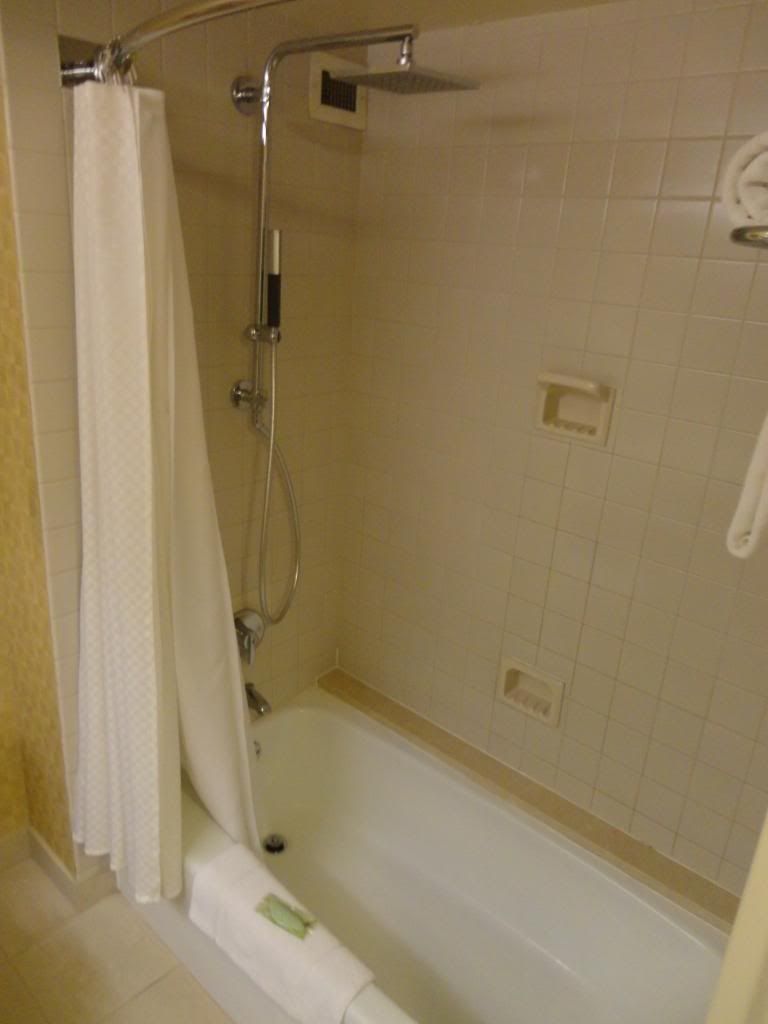 As I am getting quite hungry, I quickly head outside to grab a bite to eat at the Taco Bell across the street. After that, I head back to my hotel room and watch some TV while making use of the provided WIFI until I fall asleep.
Sunday January 27
The next morning my alarm clock goes off at 10:00. My flight to HNL doesn't leave until 14:59, so I decide to meet up with fellow a.netter Lars (The777Man) beforehand.
Nice view from my room: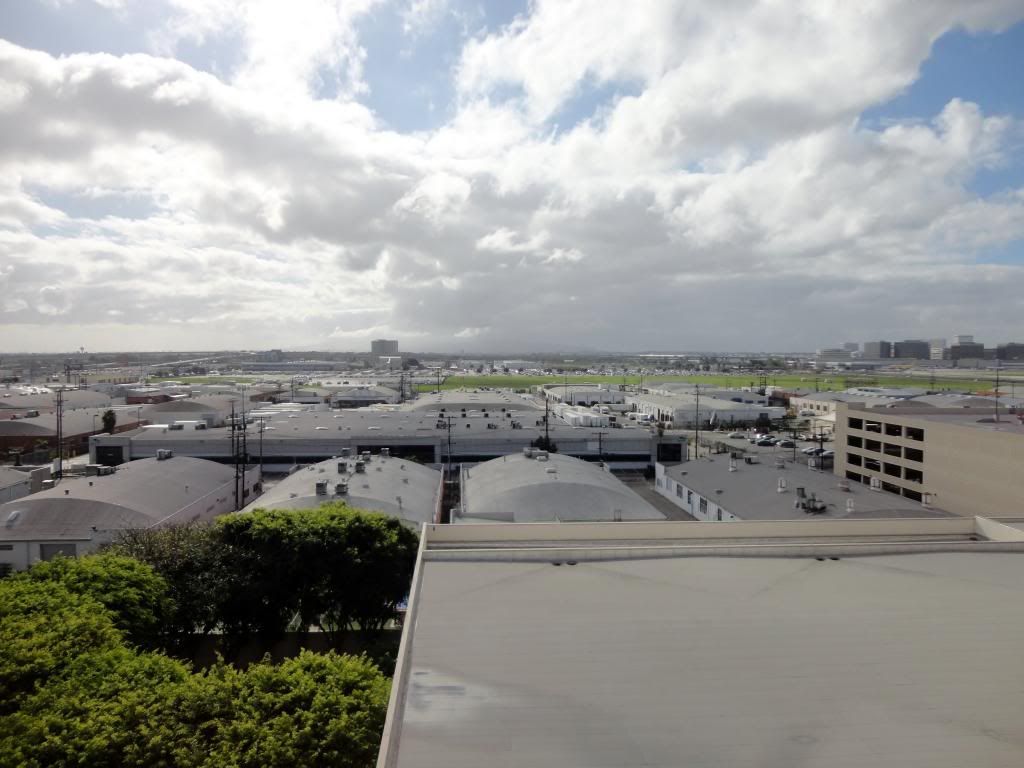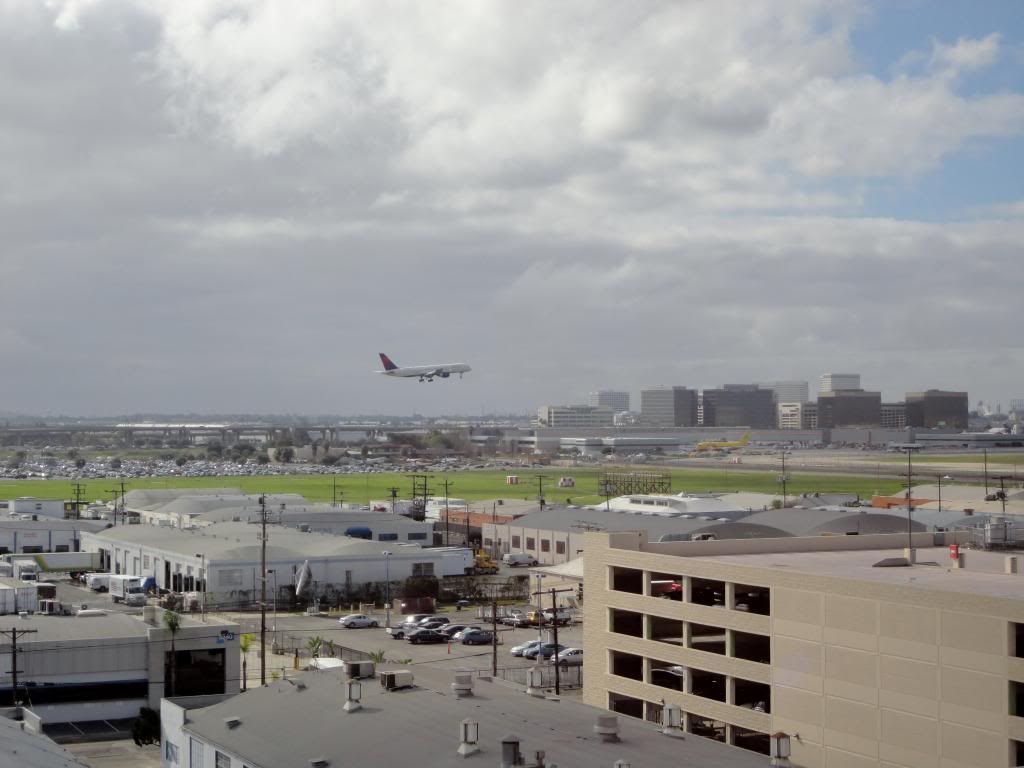 After some messaging on Facebook, Lars is on his way so I quickly get my morning rituals done.
With that all done, I grab my belonging and head downstairs to check out. Check out is done swiftly and I head outside where Lars is waiting in his car. We exchange greetings and head over to Imperial Hill to get some spotting done. While spotting we have several conversations aviation and non-aviation wise.
A couple hours later and it is about time to head back to the airport, but first we grab a quick bite to eat at the famous In-N-Out Burger. Like always the In-N-Out is busy but nevertheless we are helped pretty quickly and enjoy our burger while watching the planes land.
With just a little over an hour to go before STD it is about time to head over to the airport, terminal 5 to be exact. Once we arrive I bid Lars farewell and head into the terminal. Lars it was great to see you again, hope to see you again in September!
Check In
Once inside T5, I head over to the Sky Priority lane to check my bag in. There is nobody in line so I am quickly helped by a friendly agent who tags my bag to HNL. Next stop is security which is a breeze, although they want to put my bag through the x-ray again for some reason. With that all done it only took me 15 minutes to check me bag in and clear security.
Continued Below