This report features two airports that I don't believe have ever been reviewed in this forum: WYS (West Yellowstone, Montana) and SGU (St. George, Utah). The flight numbers are Delta, but don't let that confuse you. This trip was 100% SkyWest. I will also include pictures from a fantastic day hiking the "Subway" trail in Zion National Park.
BACKGROUND
Southern Utah is home to some of the world's most stunning landscapes. The area has an unrivaled colelction of five national parks, not to mention the Grand Canyon just over the border in Arizona. IMO, Zion National Park is the crown jewel of the Utah parks. Zion has an incredible variety of scenery and ecosystems. Zion is famous for its hiking trails, whether it be the soaring, vertigo-inducing climb up Angel's Landing or hiking midstream through the slot canyons of the Virgin River Narrows. Zion also has several technical routes that require ropes and other gear to complete the hike. The most popular of these is probably the route known as "The Subway." The Subway hike is about 9 miles in total length, but at it's heart is a deep slot canyon about 1 mile in length. The trail goes through the bottom of a narrow canyon with vertical walls hundreds of feet high on each side. There are four drop-offs that can only be passed by rappelling, and several places where the canyon floor is flooded and the only option is to swim. Access to the Subway is by permit only, and the limited number of daily permits are distributed by a lottery process.
I have a brother in Utah who has been trying to organize a Subway excursion for quite some time. He called me a few months ago to let me know that he had secured a permit for June 27th and invited me along. I immediately agreed. The only problem was getting there from my home in Bozeman, MT. Driving would require 10-11 hours in each direction, and given that I needed to be home to leave on another trip on the 29th, I was in no mood to drive. Flights to SGU or CDC from BZN were pricey, and I'm trying to save my SkyMiles for something else. The problem was solved about a week later. I was returning from a business trip on the east coast and volunteered to bump off of an oversold MSP-BZN flight in exchange for a nice Delta voucher.
As I researched my options for using the voucher to get myself down to SGU (where my brother had arranged for us to stay at his friend's vacation house), I quickly realized that this was the perfect opportunity to do something that I've wanted to do since moving to Montana--catch a flight out of WYS, about a 90-minute drive from Bozeman. Prices out of WYS were lower than BZN, the schedule was similar, and the money spent on gas to drive there would easily be offset by the free parking at WYS. Not only would it be a new airport for my log, but a new aircraft type as well: the Embraer 120. The decision was very easy.
THE JOURNEY
The day of travel finally arrived, and I head out on the road to WYS.
Looking South from Bozeman toward the mouth of Gallatin Canyon and the Spanish Peaks beyond. That's the direction I'm going today.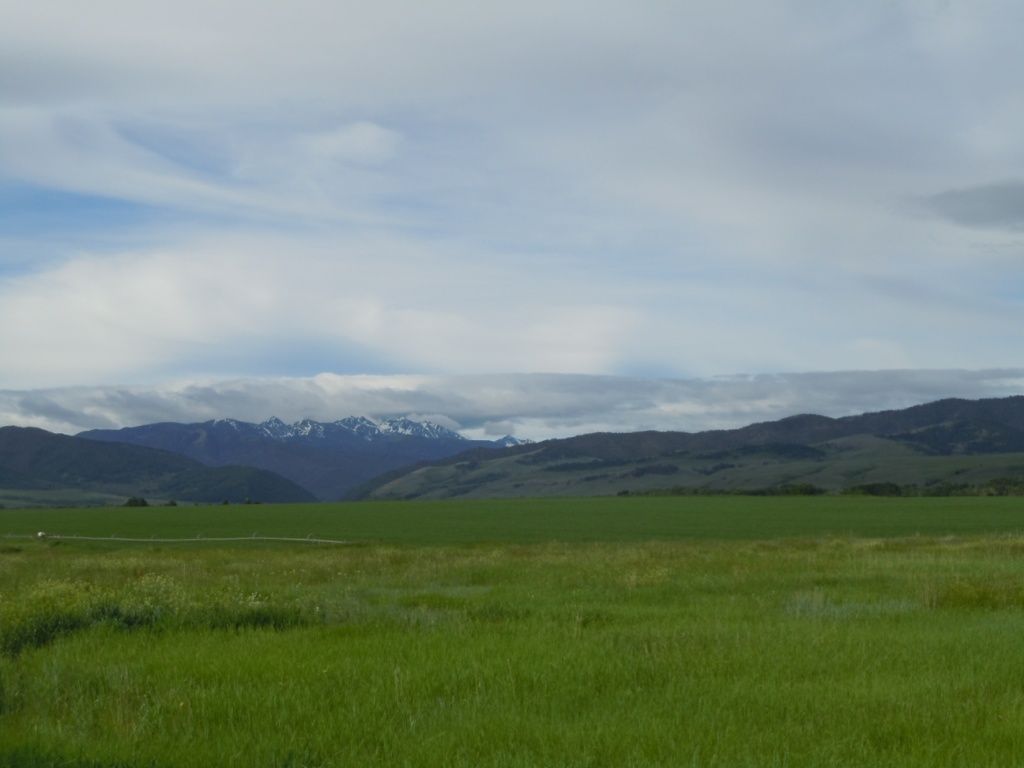 Ted Turner owns a large bison ranch just over that first hill.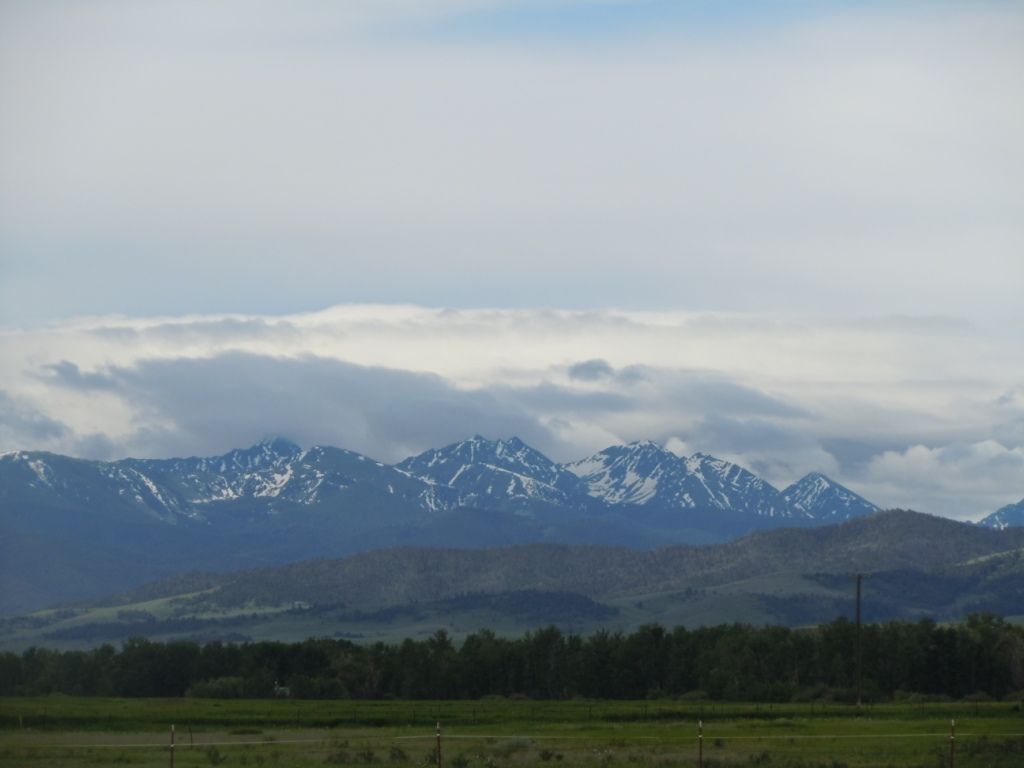 Entering the canyon. 67 miles to West Yellowstone, which means about 65 miles to WYS.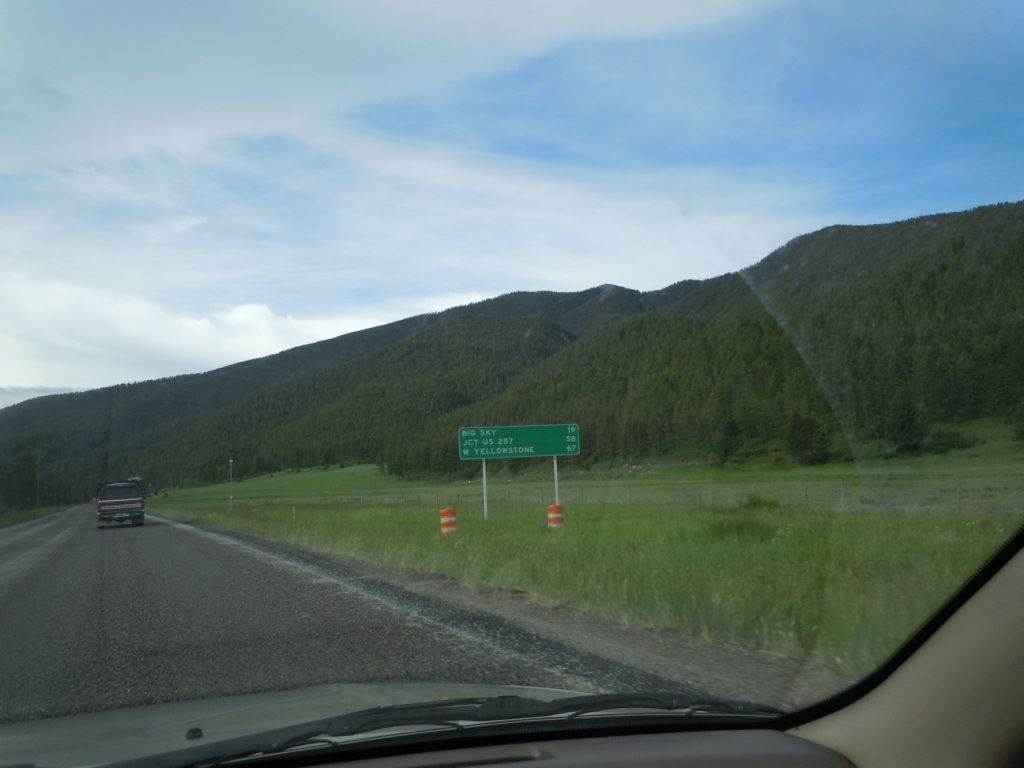 Uh oh.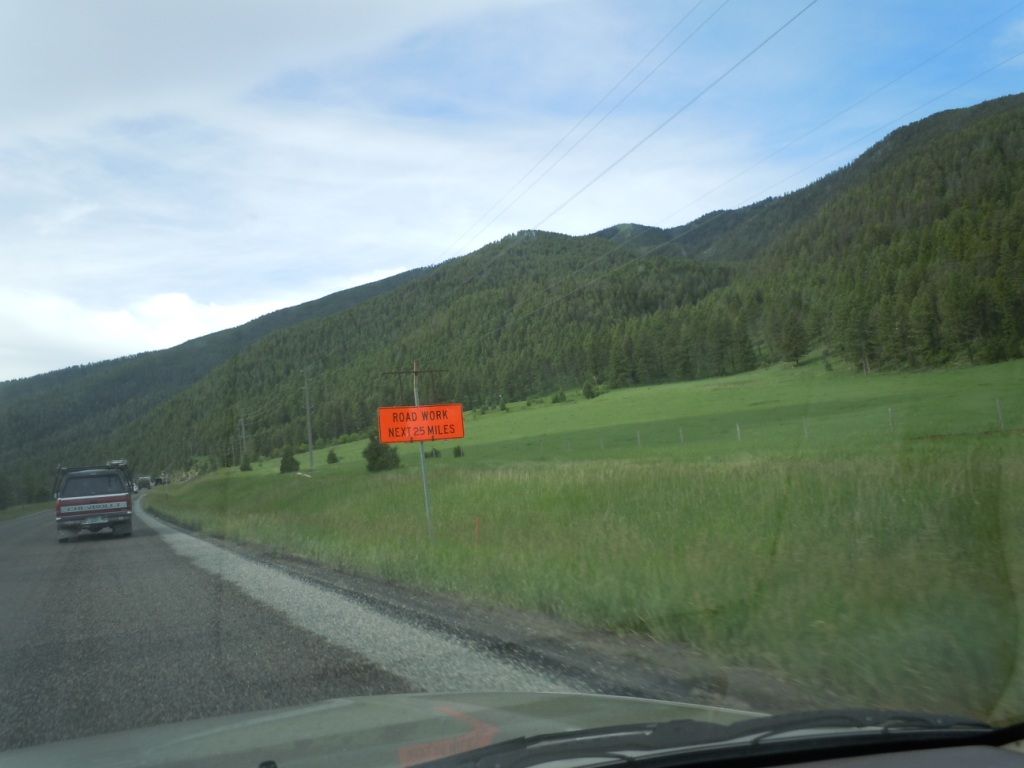 The road though the canyon steadily gains elevation as it follows the Gallatin river though narrow gorges and broad meadows, passing the Big Sky resort along the way.
Stuck in construction behind cars from Minnesota and California. Not unusual to see a variety of license plates around here this time of year. Yellowstone road trips are an American tradition as old as the automobile itself.
The road cuts through the northwestern corner of YNP, where the speed limit is reduced and you have to watch even more closely for wildlife. It's rare not to see big game between Bozeman and West Yellowstone. I've seen deer, moose, elk, bighorn sheep, grizzly bears, pronghorn antelope, wolves and countless bison along this road. Today I saw one lonely doe.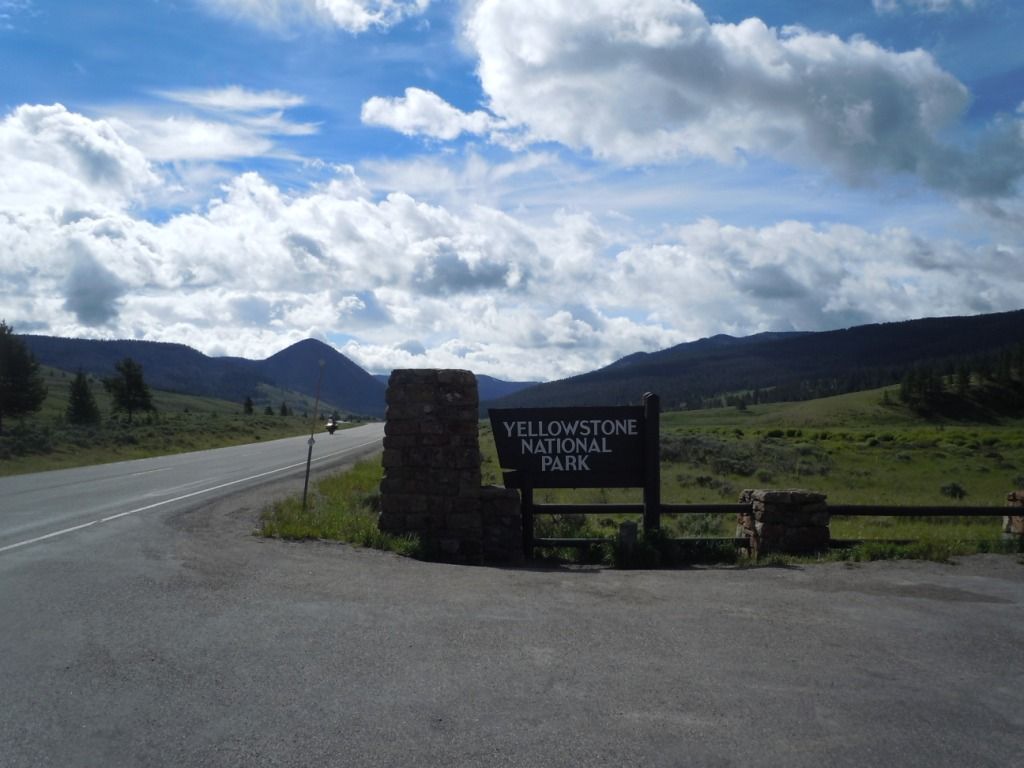 The road makes a brief incursion into Wyoming, climbs over a 7200 foot mountain pass, and eventually emerges into the upper Madison River valley. The town of West Yellowstone is somewhere in this picture: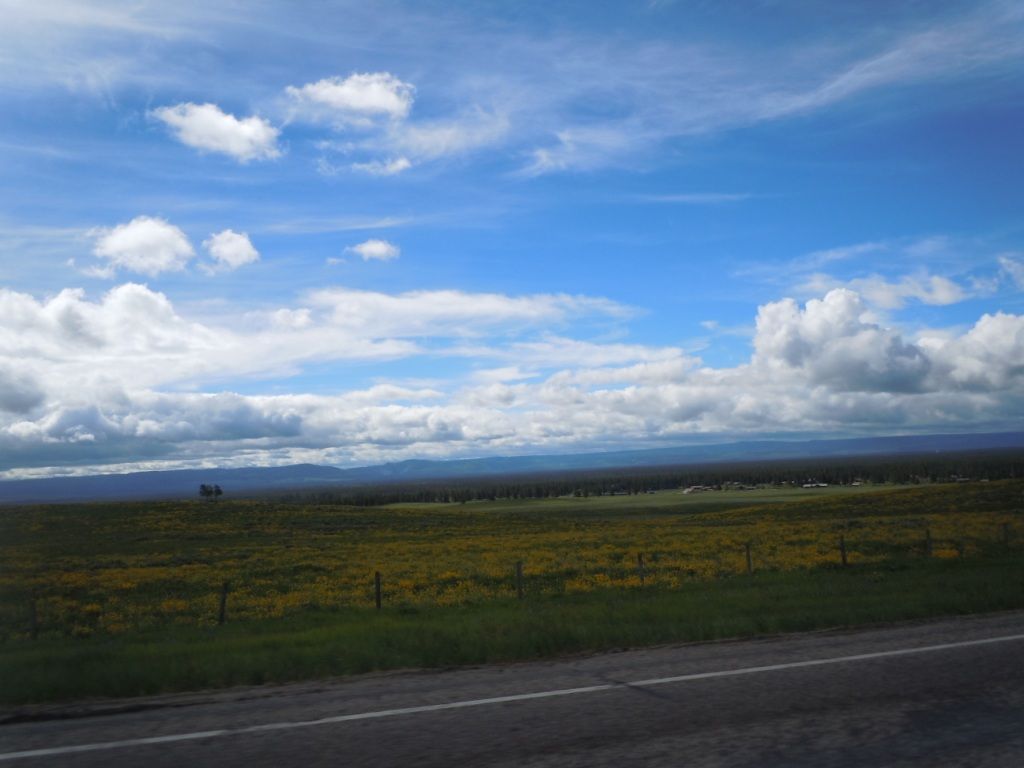 Don't blink! You might miss the airport!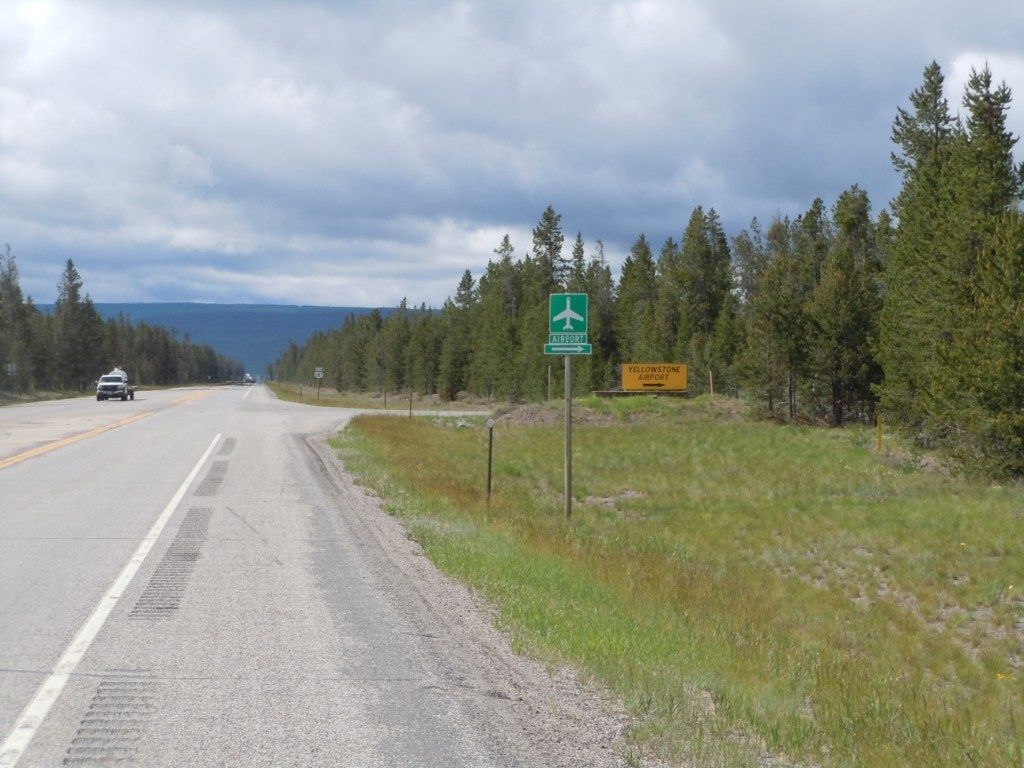 I think I'm going the right way now:
Turn here for the Forest Service fire center:
(BTW-- A local resident on my return flight told me that the WYS runway was seriously damaged during the historic 1988 Yellowstone fire season by heavy C-141s that were brought in to support the fire fighting effort. He said that the airport had to be closed for a long time for major runway reparis. I've never heard anything about that. Does anybody on A.net know more?)
My first view of the terminal. Short-term parking is along the curb in front. Long-term parking is in the gravel lot to the right: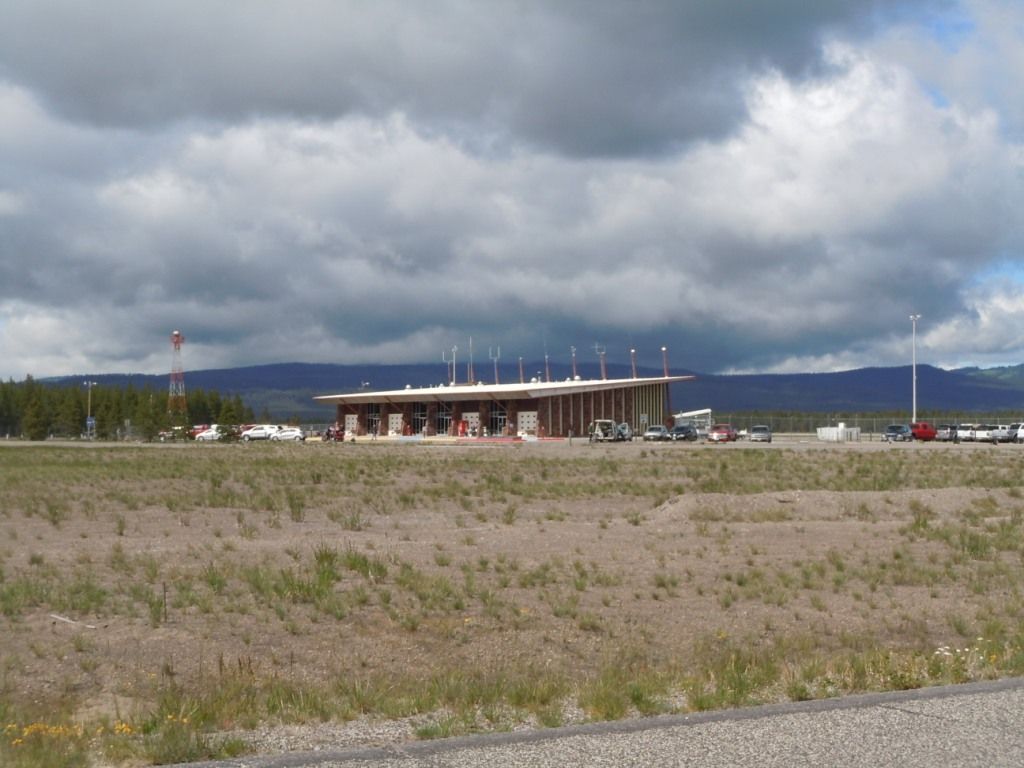 Long term parking on both sides of the fence?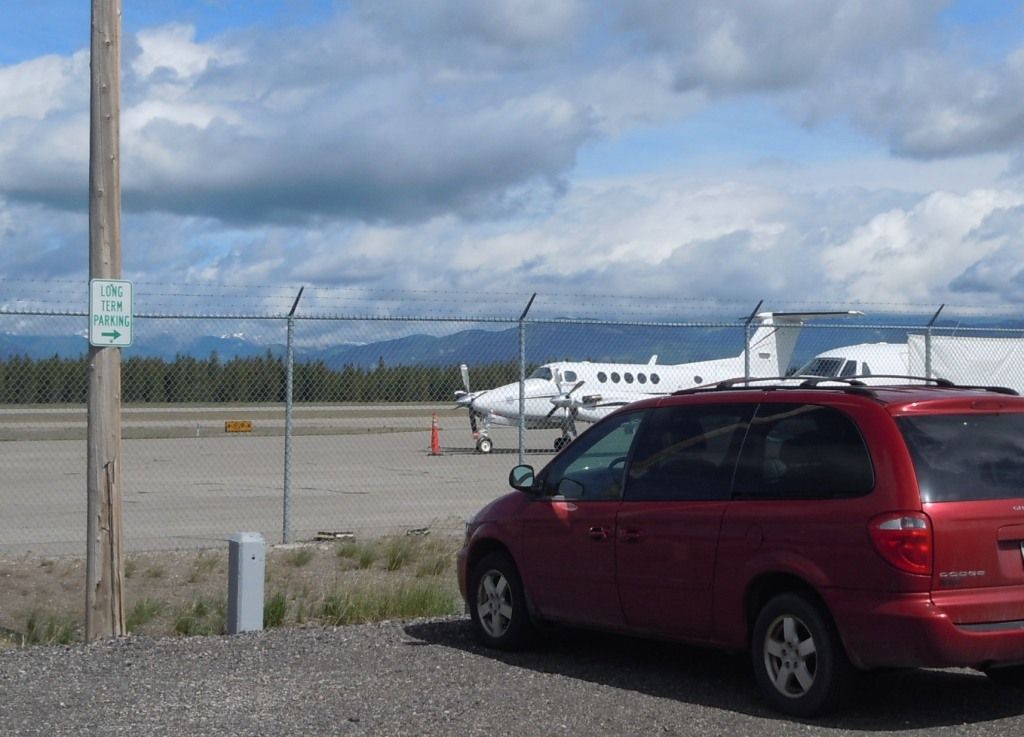 Terminal airside view from long term parking: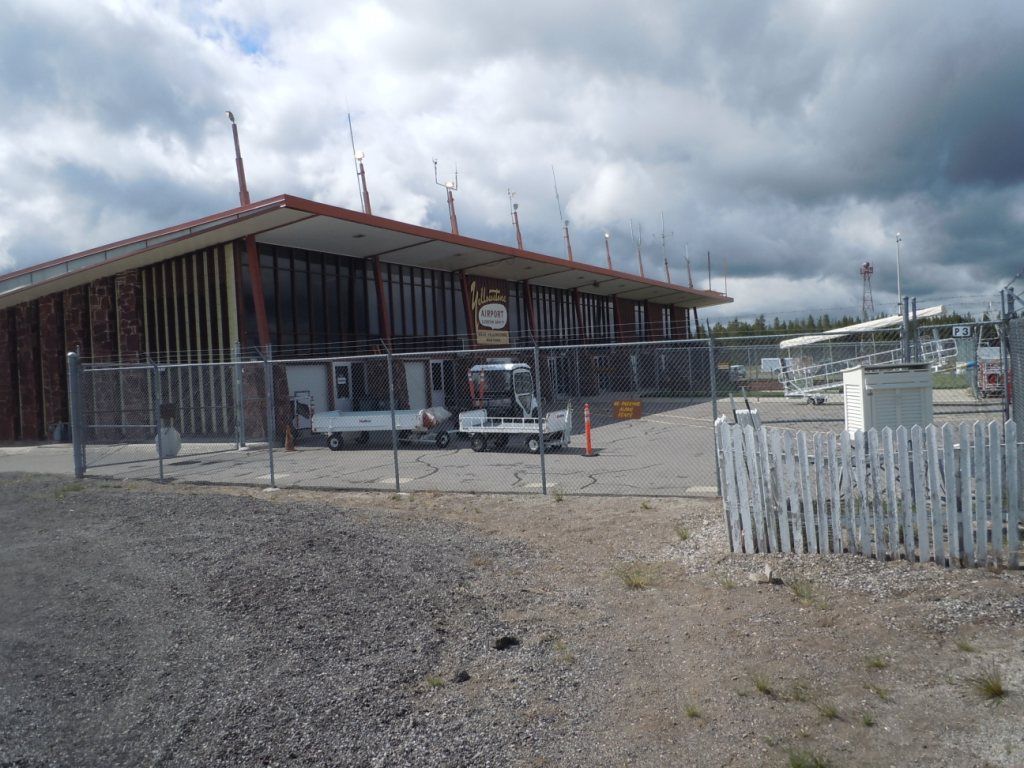 Check-in area: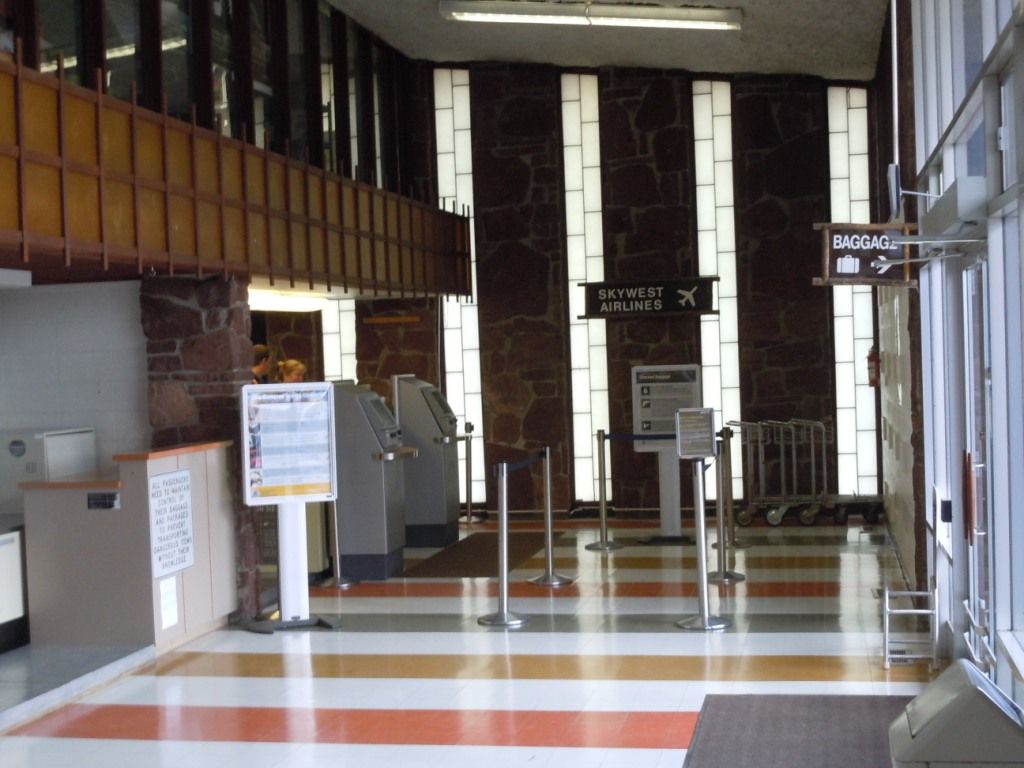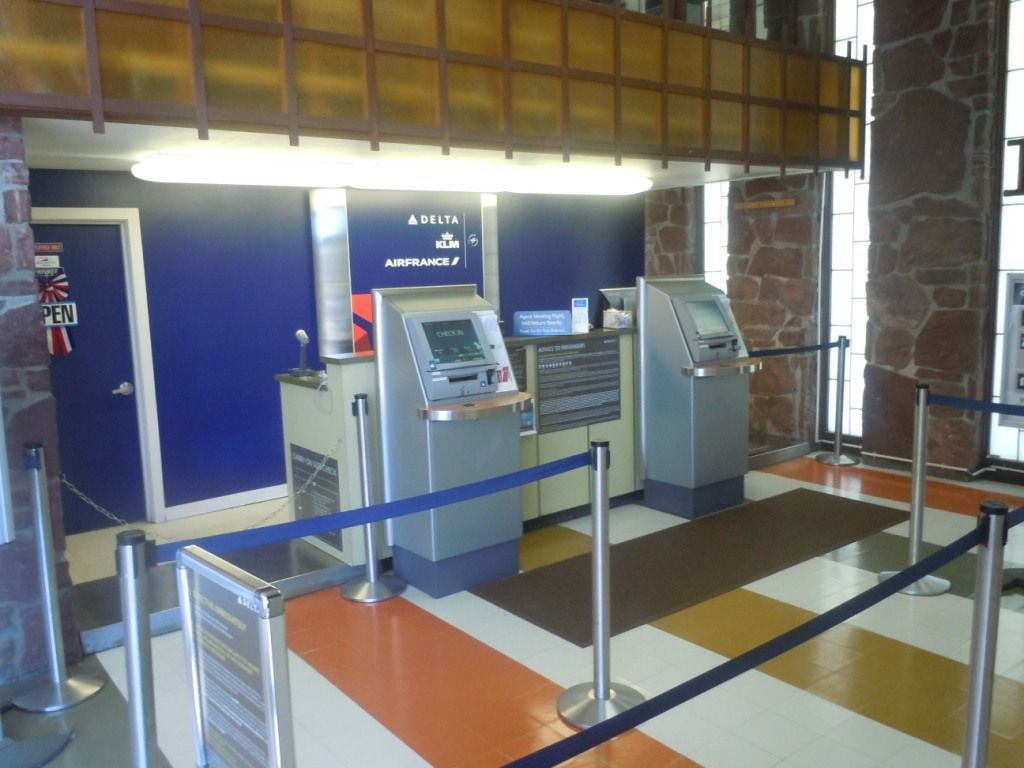 There are 2 SSKs at the DL counter, but it didn't really matter. The OO ground staff had already printed out cardstock itineraries for every passenger on the flight and had them laid out behind the counter. As each passenger approached the counter, the very friendly agents would check their ID, find their printed itinerary, and check them in. The only people I saw using the SSKs were those who needed to pay a baggage fee with their credit card. Two groups checking in ahead of me were tourists connecting home to SNA and LGB via SLC.
WYS has very limited service. The airport is only open from June through September, and the only service is about 15 weekly flights to SLC, all on the E-120. SkyWest does their own ground handling here. From what I could tell, they had a crew of 4 people handling everything from check-in to baggage loading to chocking the tires on the plane. It looked like a very efficient operation.
I was helped by a very friendly agent named "C." She noticed the Bozeman address on my ID, and I explained that I drove up from Bozeman partly because the fare was better and partly because I'm an avgeek and like to collect new airports and types for my log. She agreed that logging the E-120 was worth the drive, and reminded me that the parking is free too. Clearly excited, she announced to the other 2 OO employees in earshot that "Mr. Zeppelin drove all the way from Bozeman to fly with us today!" She got even more excited when she noticed that my destination was SGU. "Do you know that our company headquarters is in St. George?" "Yes, I do." C was clearly proud to work for SkyWest. She proceeded to suggest that I tell everyone in Bozeman to give WYS a try for their next flights as she printed my boarding passes and tagged my bag. She handed over my BP, and said, "6A, overwing exit. Does that sound right?" "Yes... Unless there is something better available." "Let me check row 9 for you. I think you'll like it." She handed over a new BP for 9C, explained that security would open about 20 minutes before flight time, and wished me a good flight.
The small waiting area, car rental desks, and security all in one shot:
There is a small sitting area just beyond security, with about as much floorspace as an E-120 cabin.
OO's primary competition on WYS-SLC is the Salt Lake Express bus service, which has a prominent ad on the wall near security:
Entrance to the SmokeJumper Cafe, the airport's only food service (with a surprising gluten-free menu):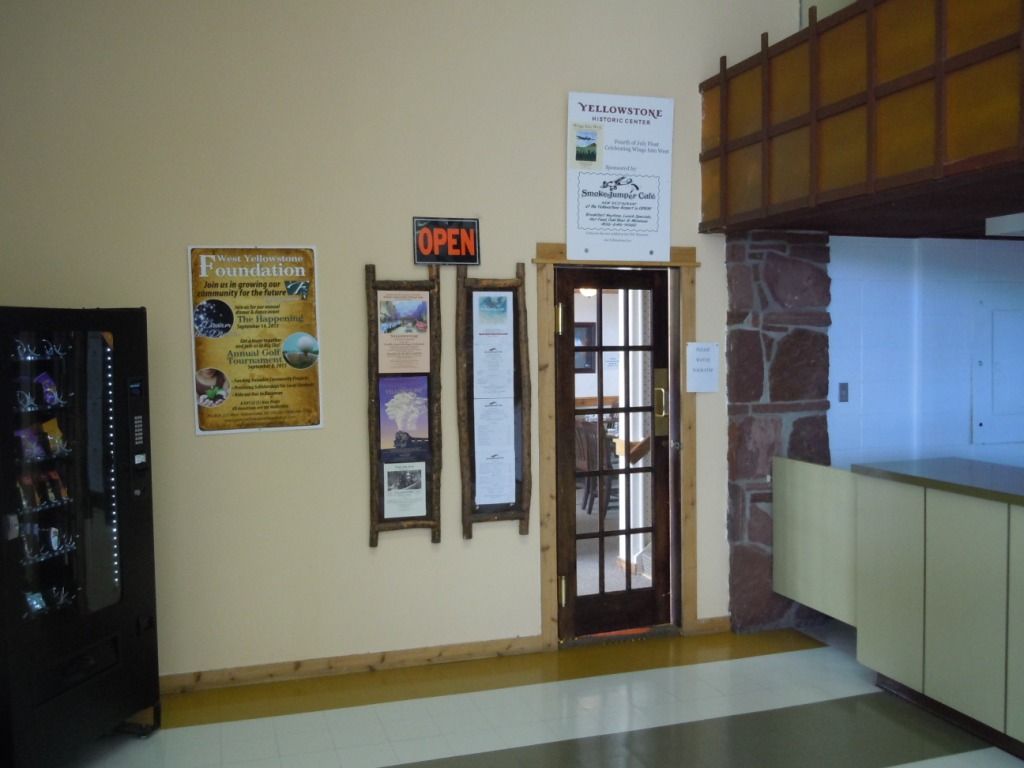 Gate 1, viewed from windows near car rental desk. It's an actual gate!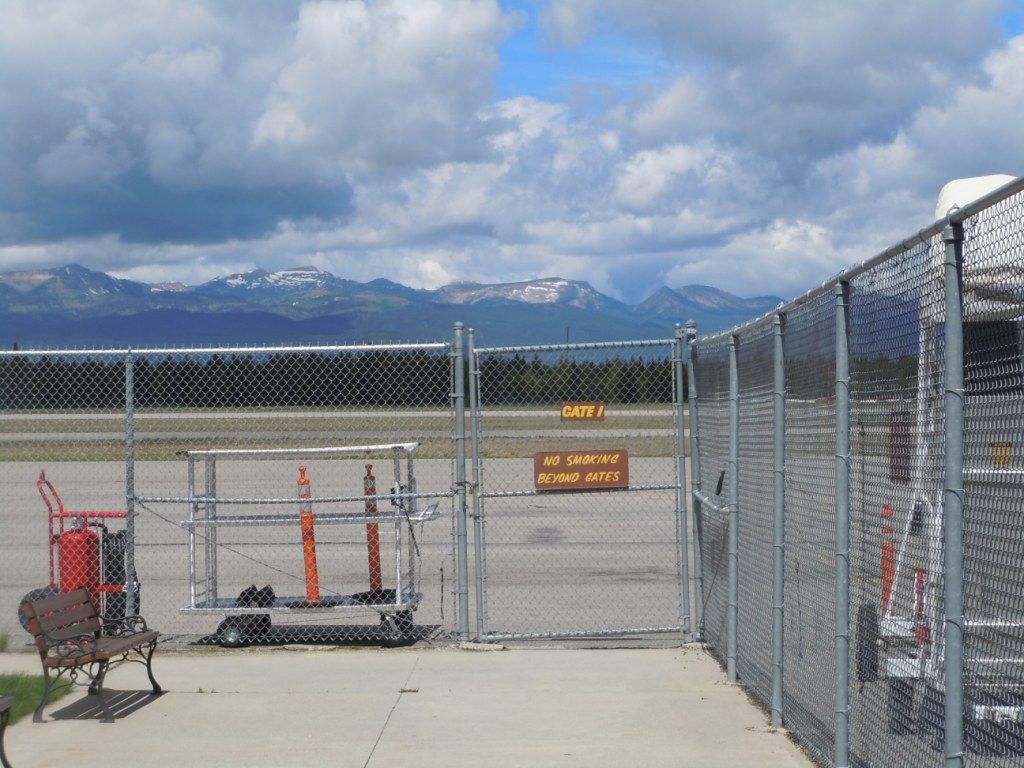 There was still about an hour until security would open, and there was talk of the inbound flight being delayed, so I went back out to my car and made a quick drive into town to do an errand. West Yellowstone claims to be the snowmobile capital of the world. "Watch for snowmobiles on side streets" is good advice all year long around here: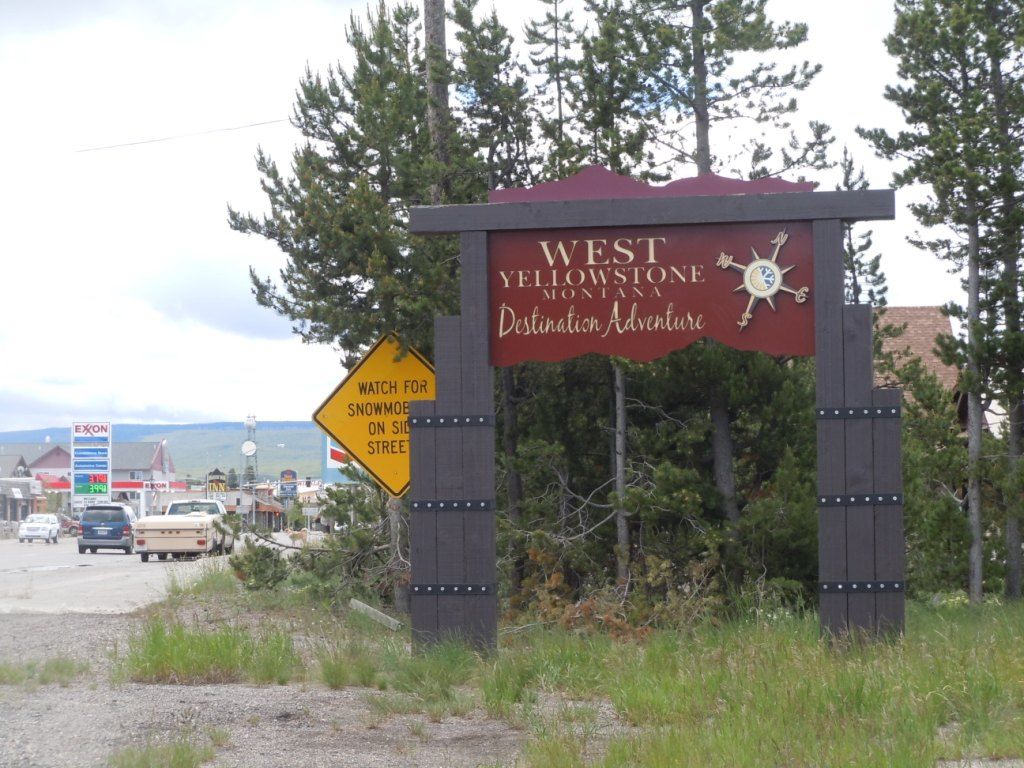 Back at the airport 30 minutes later, I find that the flight is expected to depart with a 25 minute delay. The fantastic OO agents are going from person to person in the waiting area to review their connecting flight information and giving careful instructions to those who aren't familiar with SLC. I have a long connection, and know SLC all too well, so I'm not concerned. A few foreign tourists with poor English skills look nervous--maybe they'd be more comfortable with an electronic FIDS display. Apparently there was a storm threatening the usual approach path and there was concern that the inbound plane would need to divert to BZN (ironic). But everything worked out, and security opened when it was clear that our plane would be arriving soon.
I waited and went through security near the end of the line. I could see that there was a tiny hold room beyond security, and also it looked like the last one to the room would be the first out the door to the plane. That was a good call.
C briefed the passengers in the holding room about the boarding process just as the inbound plane touched down. She recognized me and called me by name. "Mr Zeppelin, would you like to lead us out to the plane today?" "Of course!" We chatted for just a minute, and I learned that this is her 22nd (22!) summer working for OO at WYS. She is based in SLC, but works WYS in the summers and works some of OO's seasonal ski destinations in the winter.
The inbound flight arrived and came to a full stop at 11:48 by my watch, right on our original departure time. The OO rampers went to work immediately. Here is the arriving plane as seen from the hold room, with my friend C standing guard at Gate 1: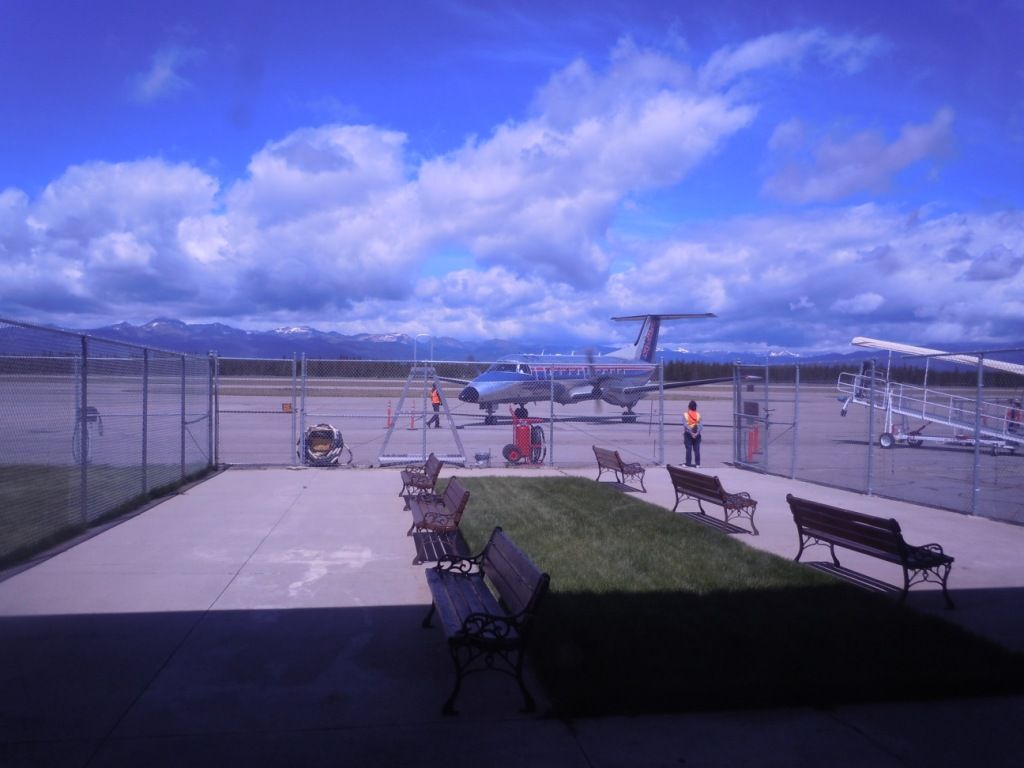 Boarding began as soon as all of the arriving passengers were safely in the terminal. No barcode scanners here--C stood at the door and checked off passenger names from the manifest as we boarded.
First flight:
Wednesday, 26 June, 2013
DL 7412, WYS-SLC, operated by SkyWest
E-120, N297SW
Personal: First flight from WYS, first flight on E-120
Leading the way to my first E-120 flight: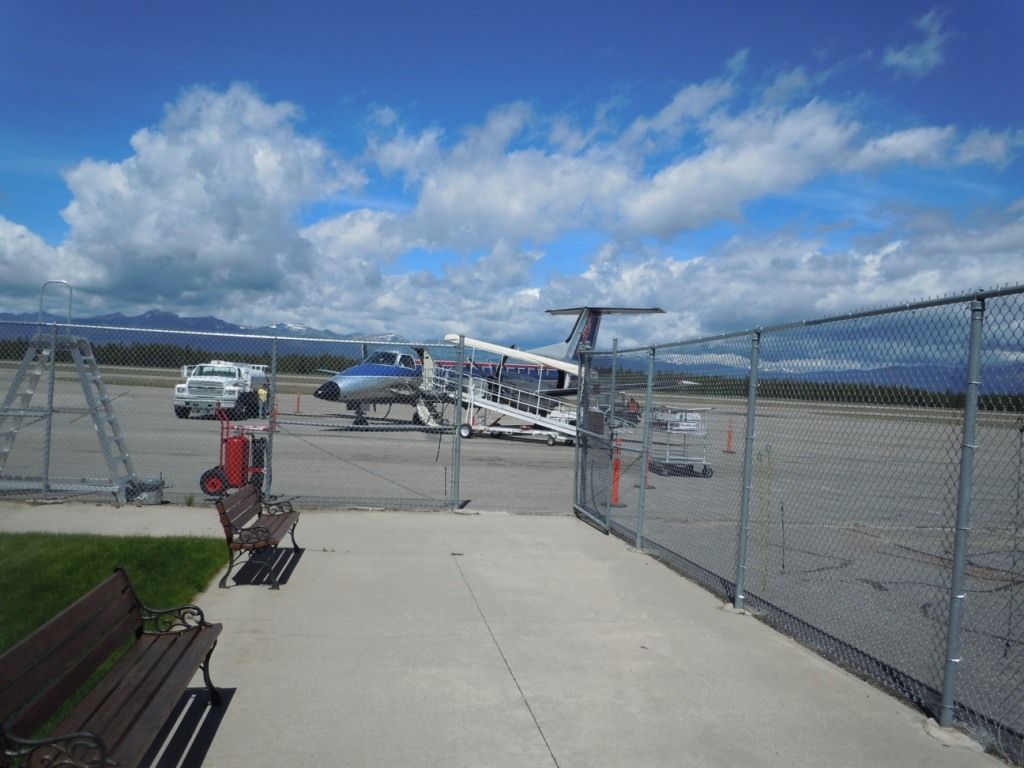 N297SW. I really wanted to reach out and give that prop a spin: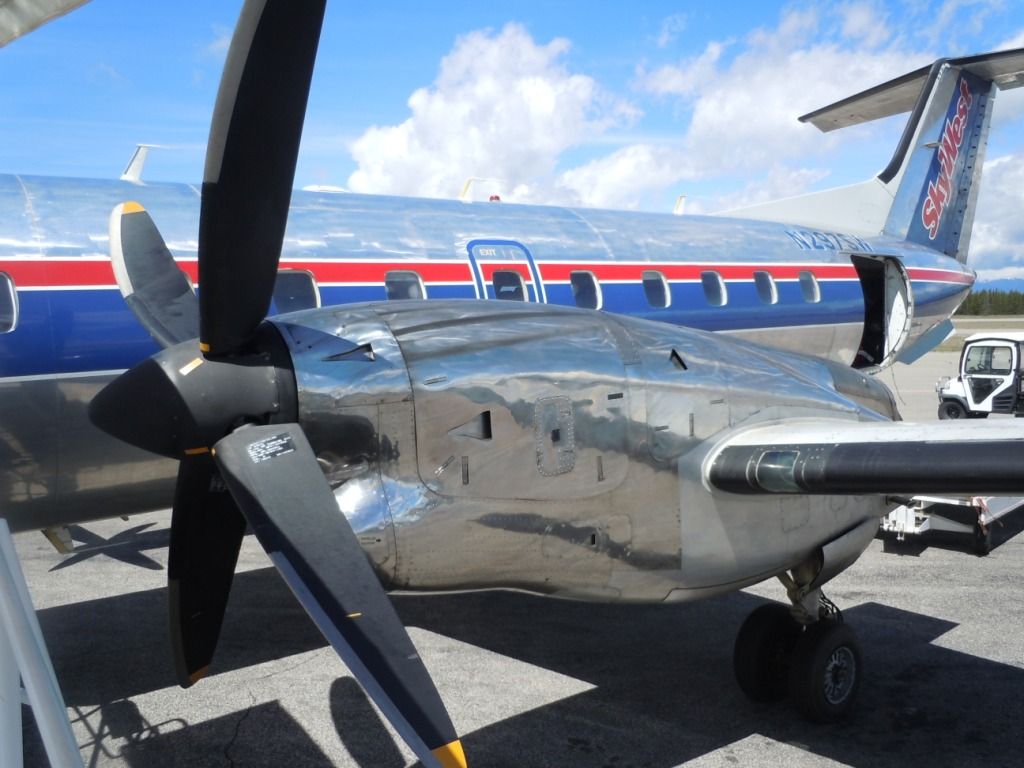 Seat 9C. Thanks for the tip, C! I think I'll get the same one for the flight back on Friday.
My view for the next hour or so: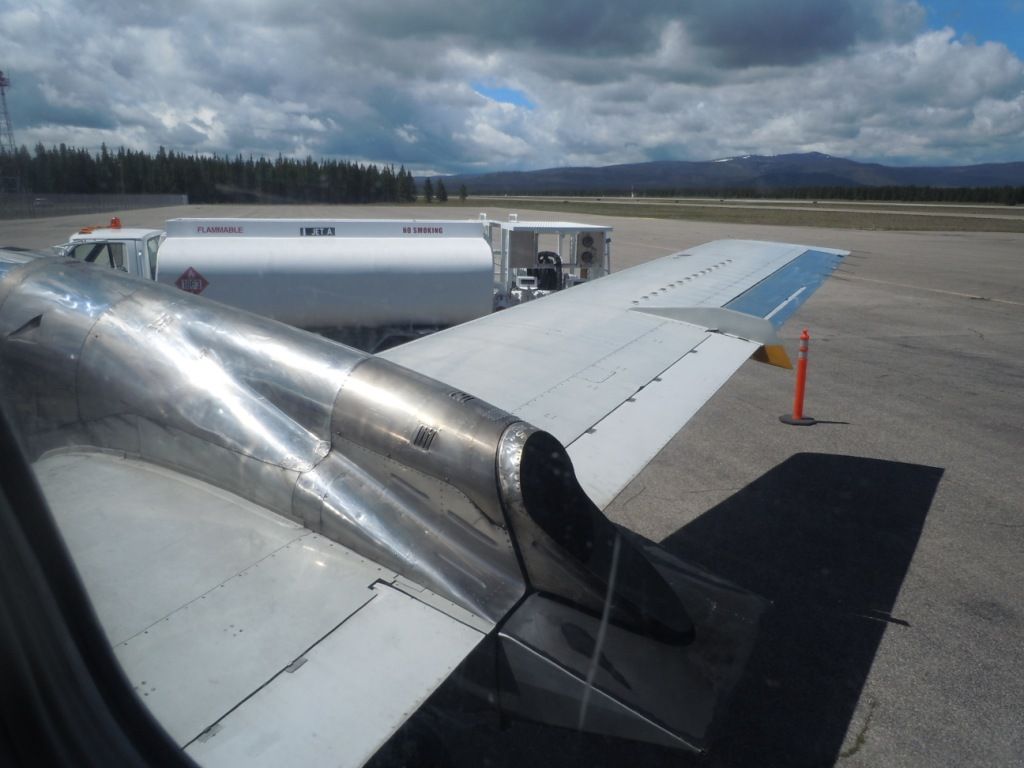 SkyWest-branded safety card: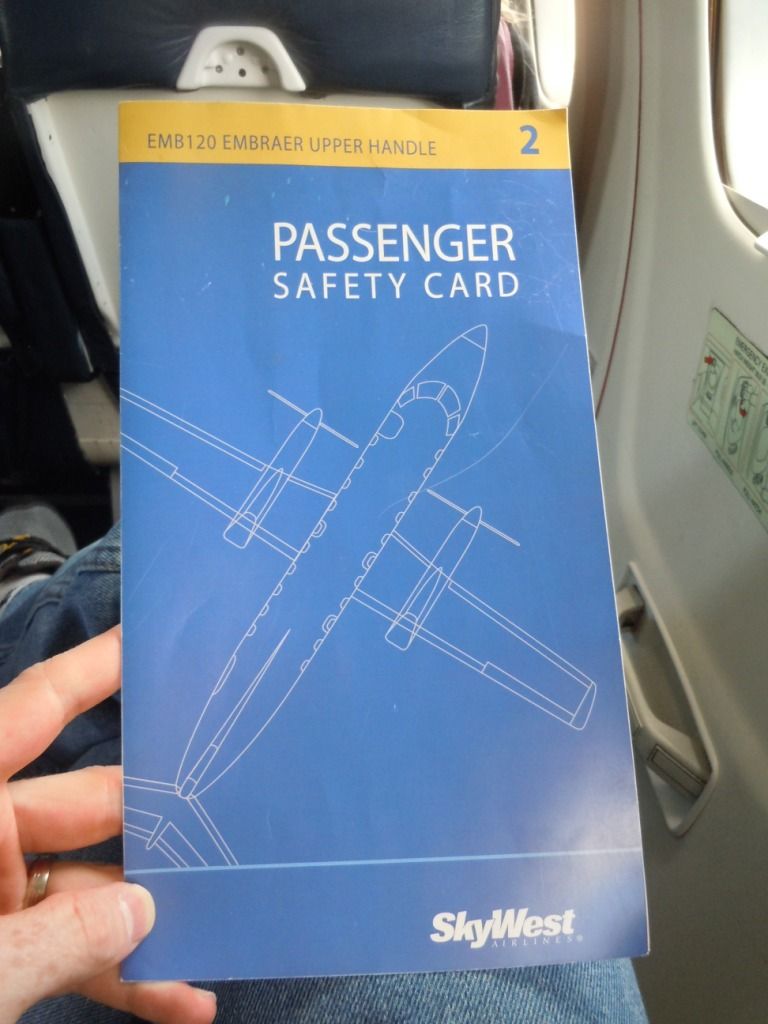 The cabin door was closed at 12:05, just 17 minutes after the inbound came to a full stop, and only aobut 13 minutes after the door was opened. We took off to the south, wheels up at 12:13. The captain announced that we should arrive with minimal delay at SLC, and the passengers cheered. The climbout was pretty rough as we passed through a few big storm clouds. It was a bit of a roller coaster ride, but with a lot more yaw motion. Our F/A, in the rear-facing jumpseat at the front of the cabin laughed gleefully as we hit a few good bumps and downdrafts. She seemed to genuinely enjoy her job. I got the sense that there was nowhere she would rather be than working the turn to WYS on the E-120. She also had the type of friendly personality that immediately put people at ease, while also giving the sense of competence and professionalism. Great job.
Climbing out of WYS, crossing the continental divide and entering Idaho airspace: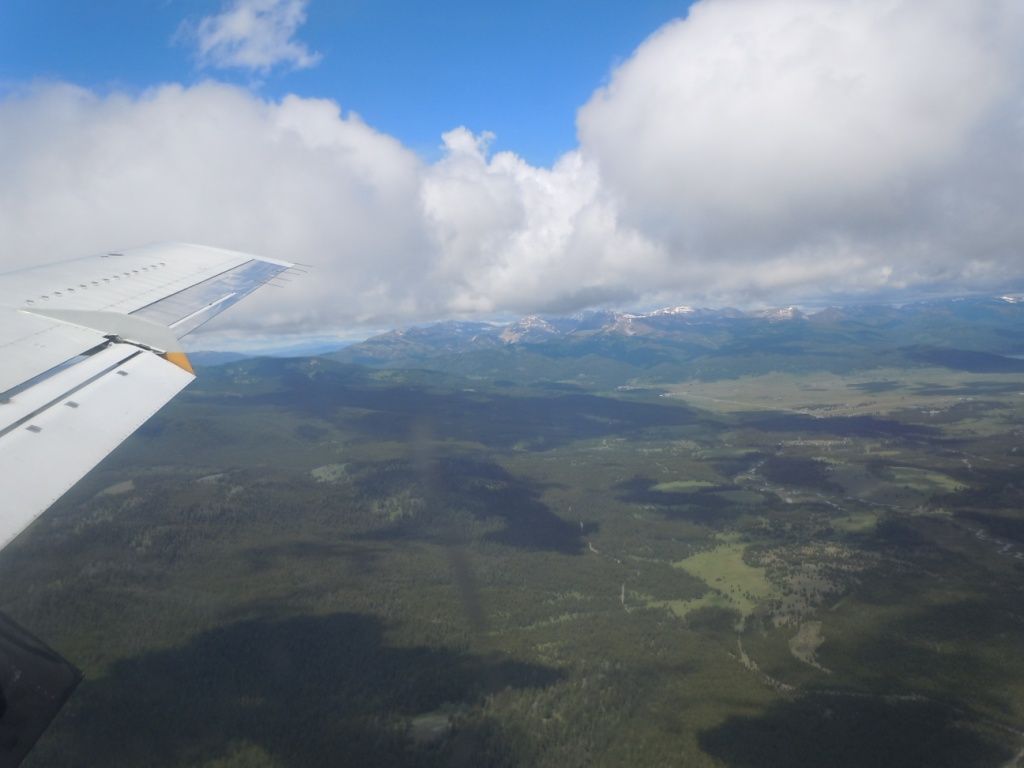 We eventually reached calm air and cabin service started. The F/A came around with a snack basket while taking drink orders, then served drinks from a tray. Pretzels and ginger ale for me. No pic, because row 9 has no tray table and getting to my camera was a little awkward.
The town of Ashton, ID:
St. Anthony, ID: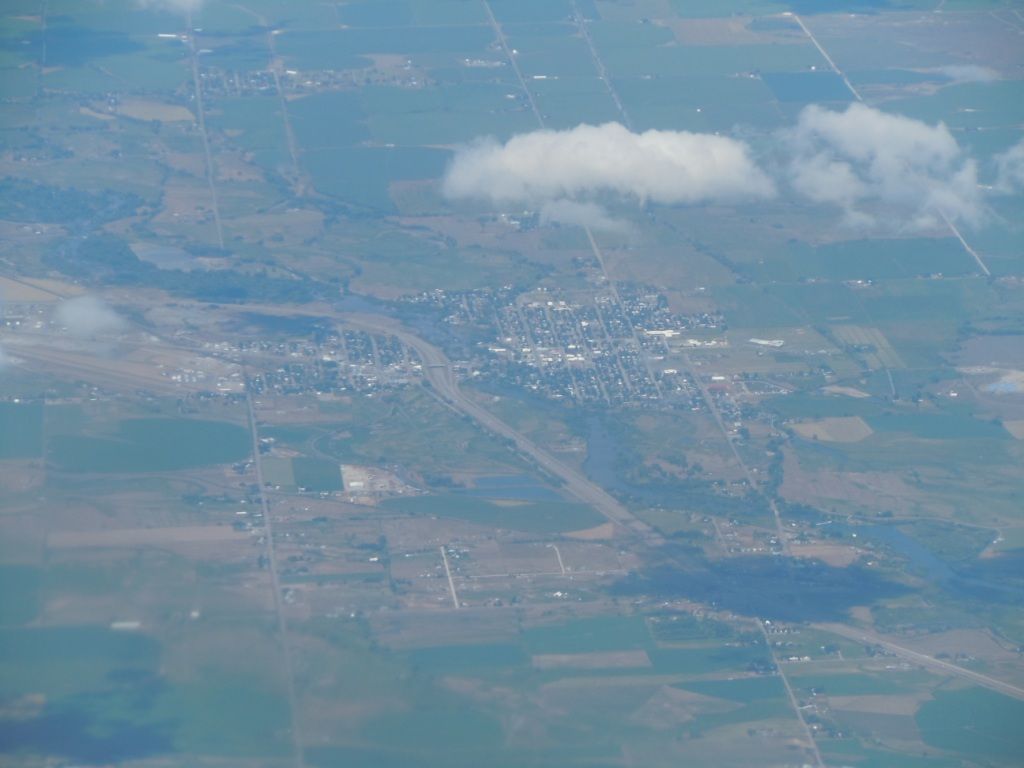 Rexburg, ID: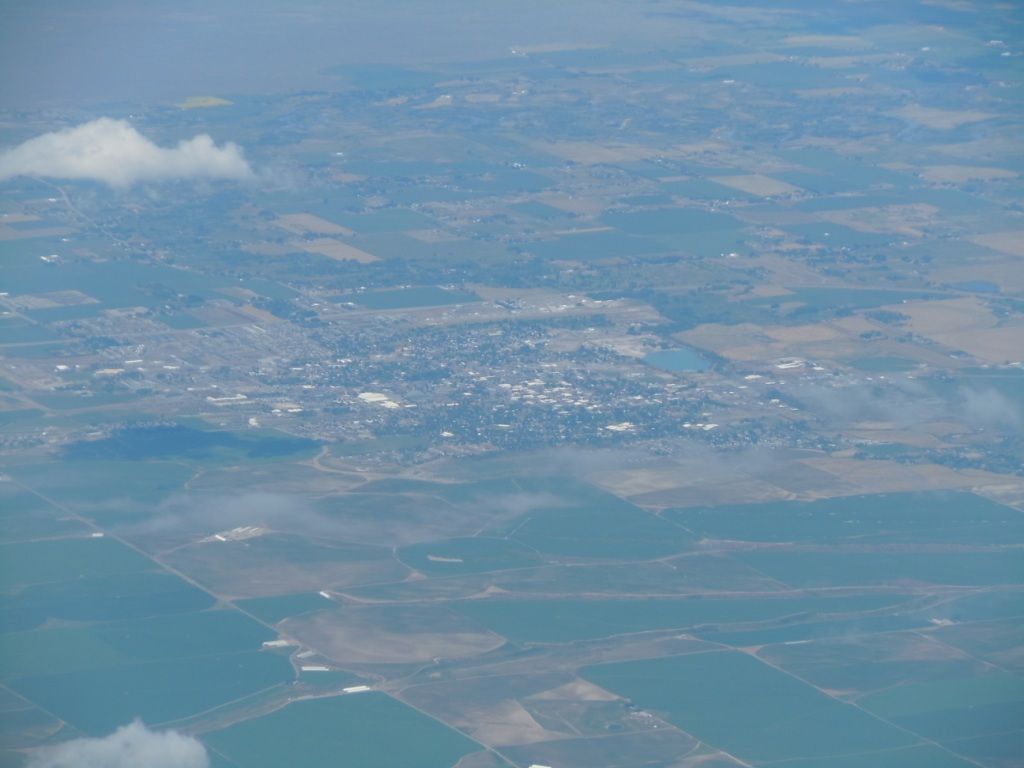 Lava Hot Springs, ID: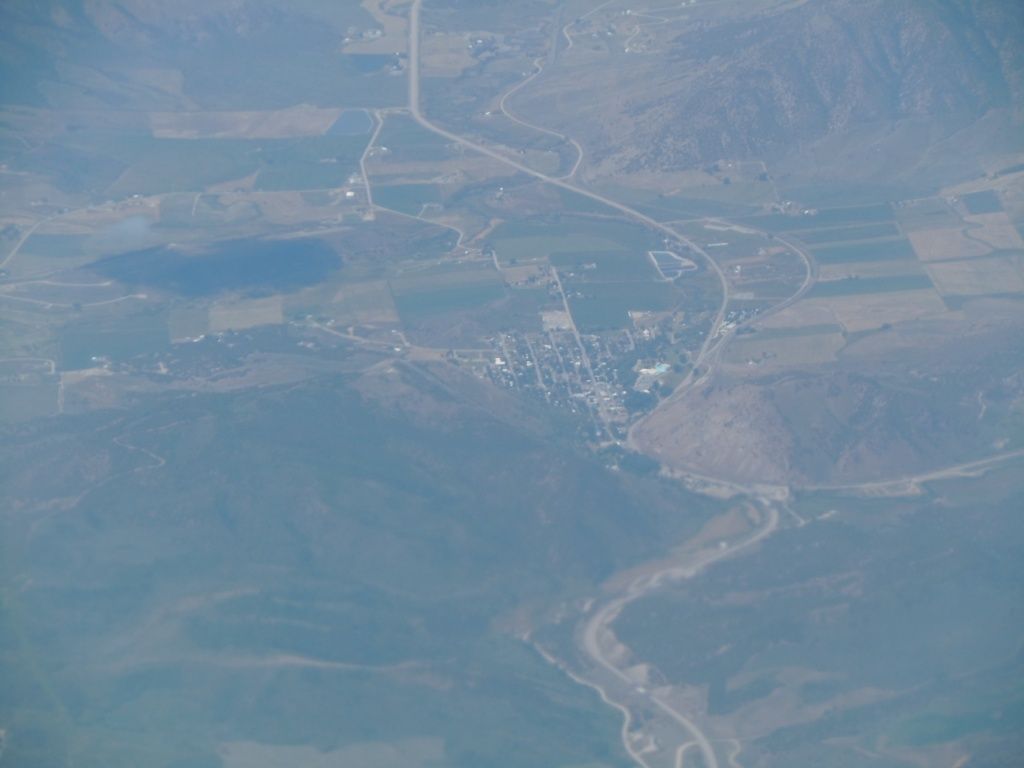 Descending over the Great Salt Lake and the large salt evaporation basins in Bear River Bay: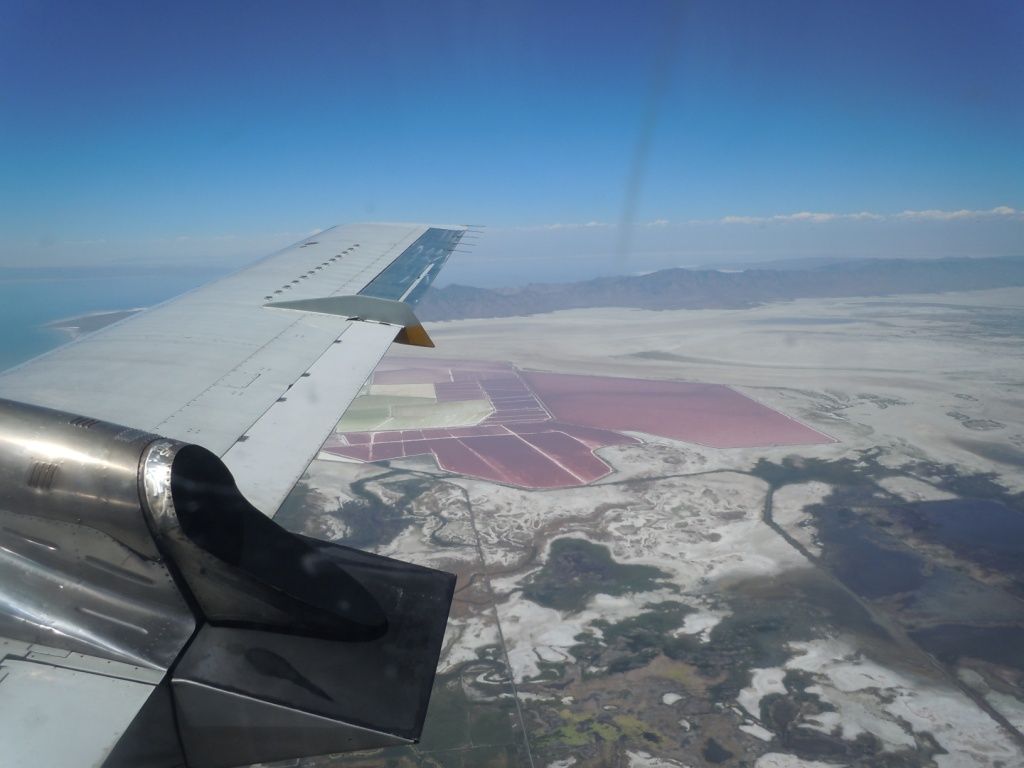 We circled to land from the south on 34L. Here's a shot of the South Valley Regional Airport: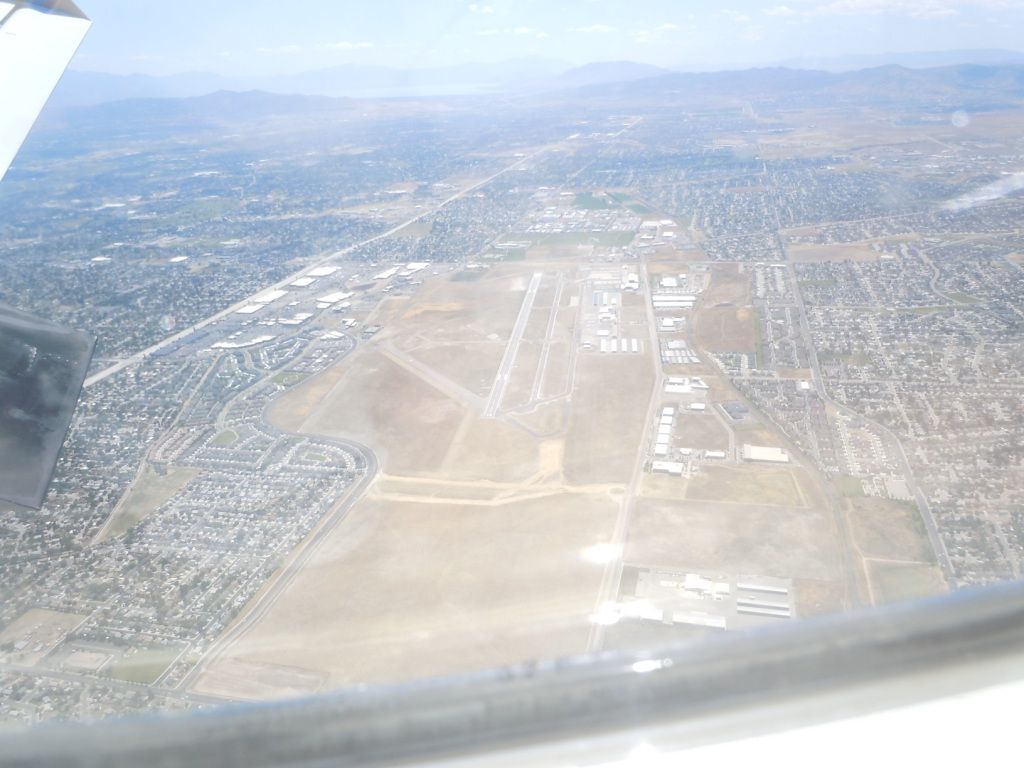 The mighty Wasatch mountains and the southeastern suburbs of SLC: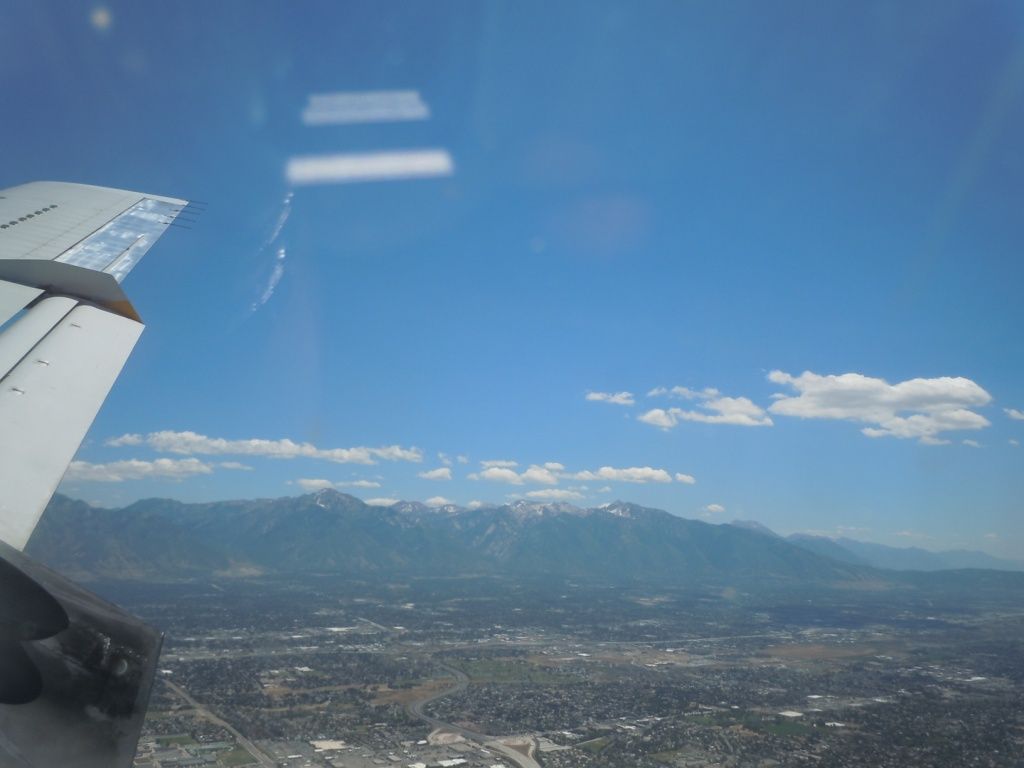 Downtown SLC over the wing as we come in on final: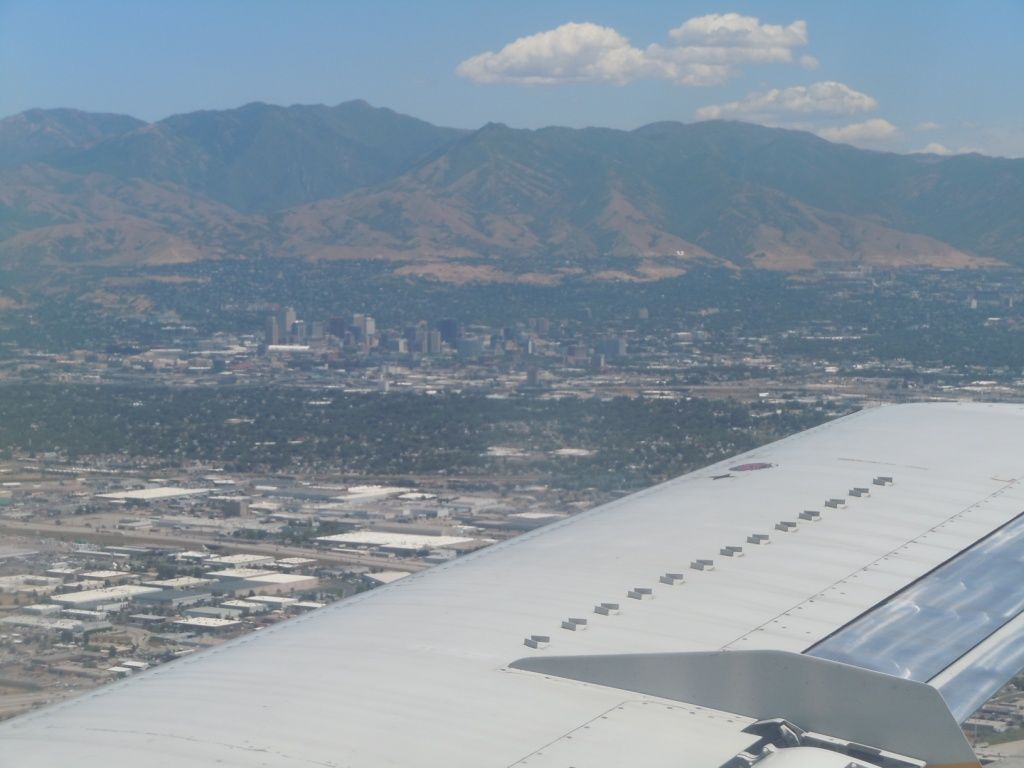 Touchdown!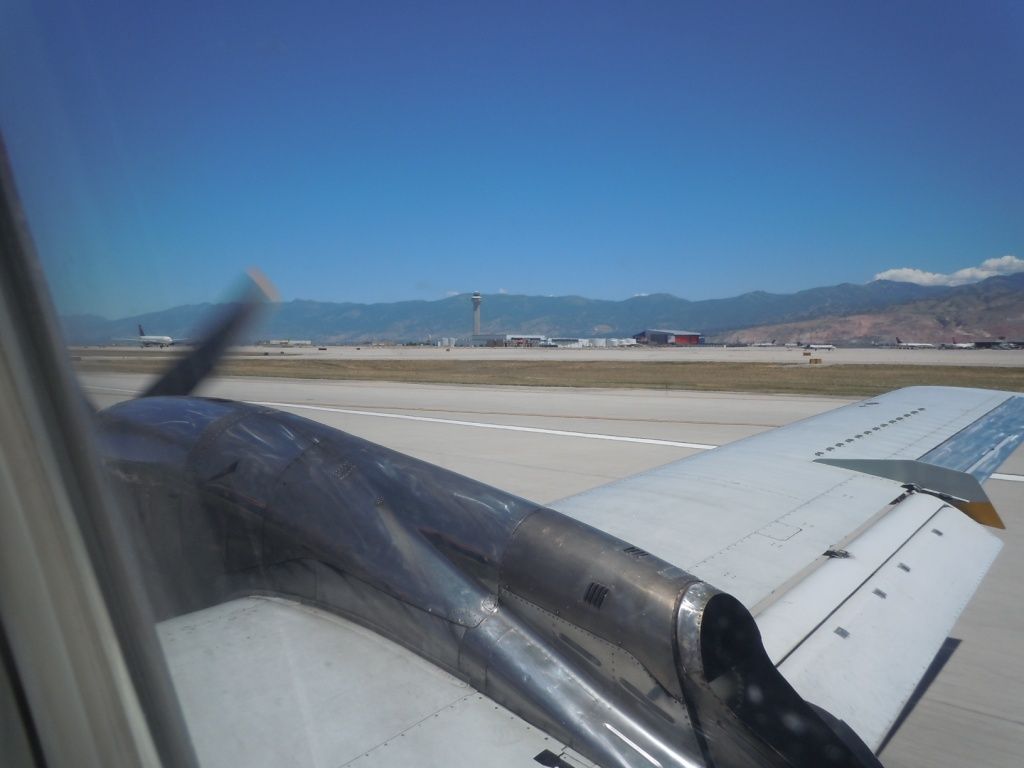 Notice the DL A330 just over the engine. We landed right behind the daily flight from CDG, and it was taxiing back toward the terminal after a long roll out. We braked hard, turned off the runway, and made the short taxi to the E gates.
A few scenes from around SLC:
Always nice to see the international fleet come this far inland:
Delta tails: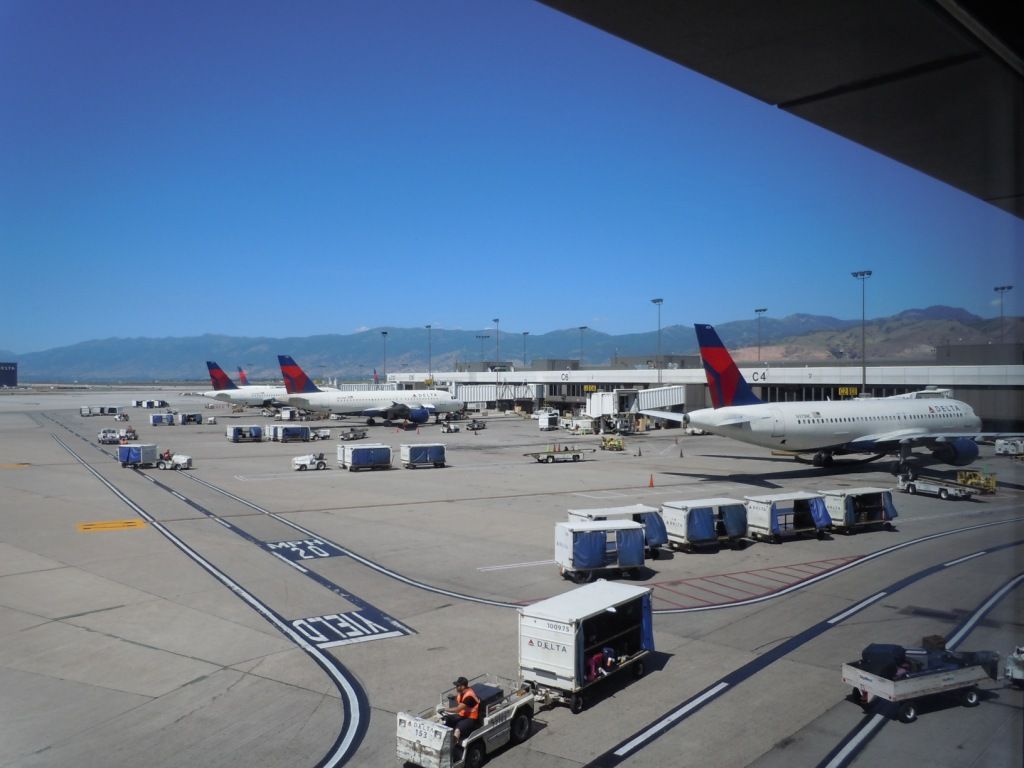 One of these is not like the others: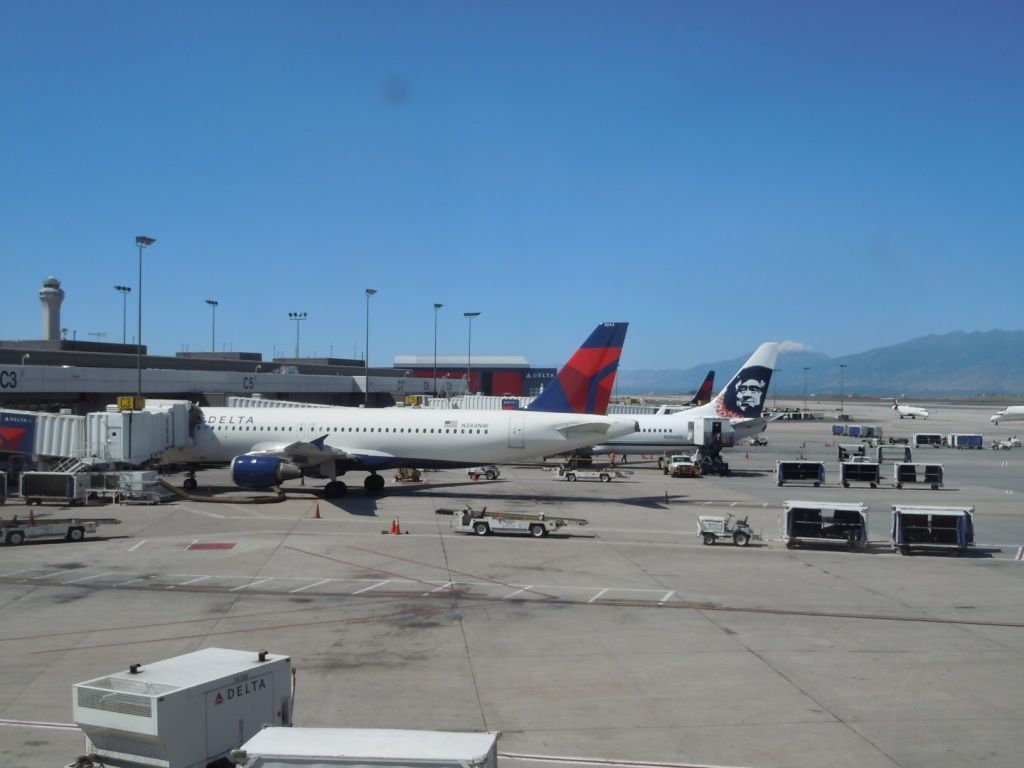 Toward the city center: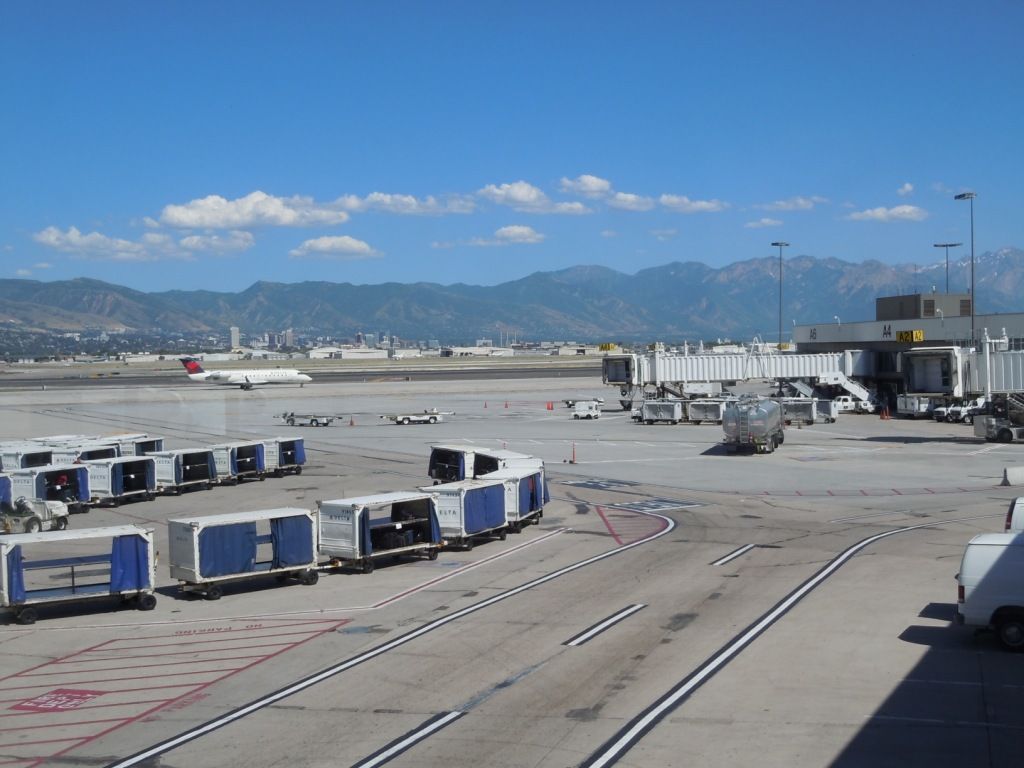 I spy a turtle: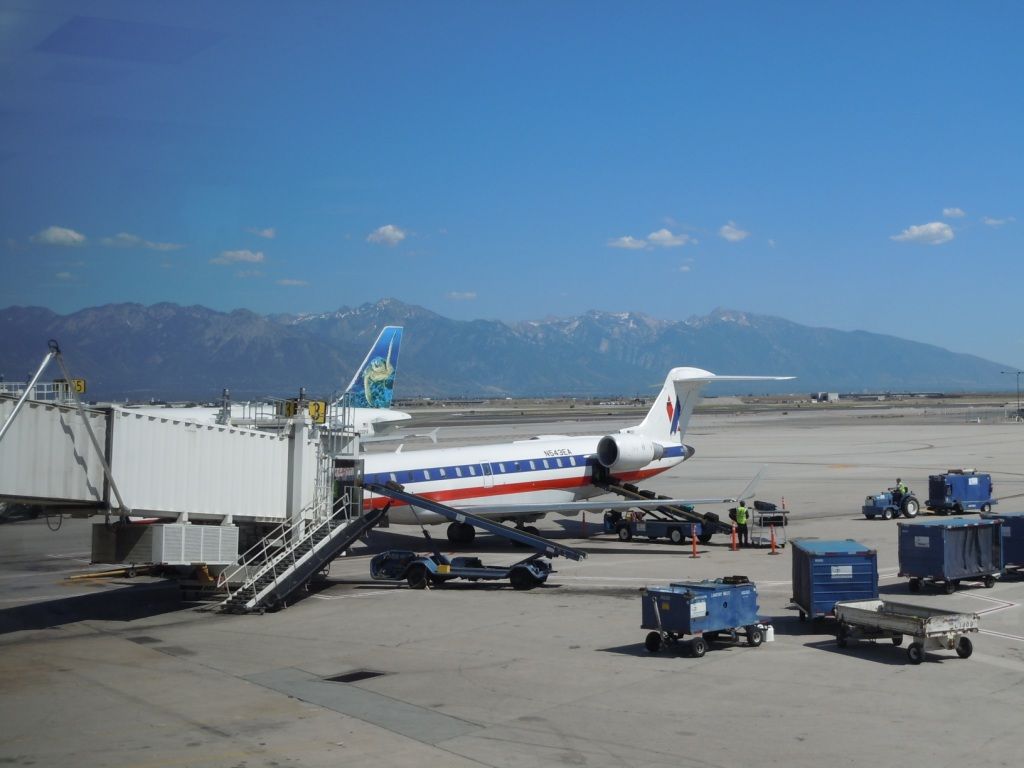 I spent my layover catching up on work emails with the free wifi, watching a movie on my tablet, and enjoying a fantastic burrito from Cafe Rio (still waiting for them to come to Bozeman...). Soon enough, boarding was called for my connecting flight to SGU.
Pushing the bridge:
The EM2 fleet: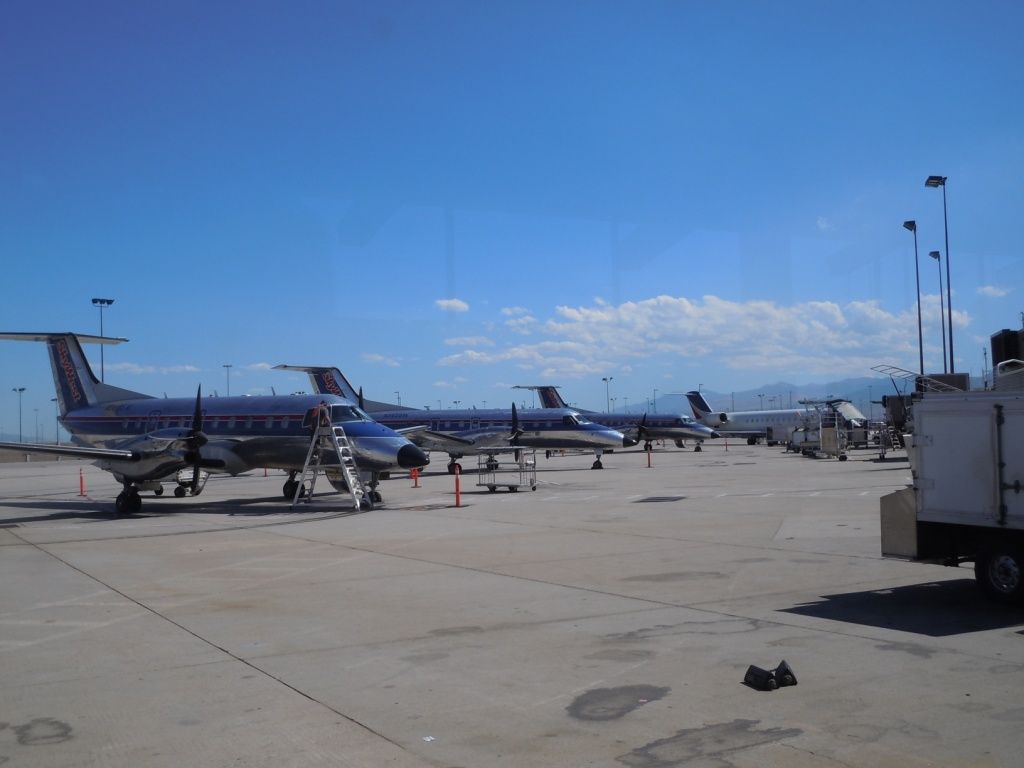 SkyWest tail, and SkyWest hangar in background:
I wonder if OO rampers go home at night and put their headset in the mailbox:
Stay hydrated. It's hot out there on the ramp:
Second flight:
Wednesday, 26 June, 2013
DL 7395, SLC-SGU, operated by SkyWest
CRJ-200, N477CA
Personal: First flight to or from SGU
My ride to SGU -- N477CA: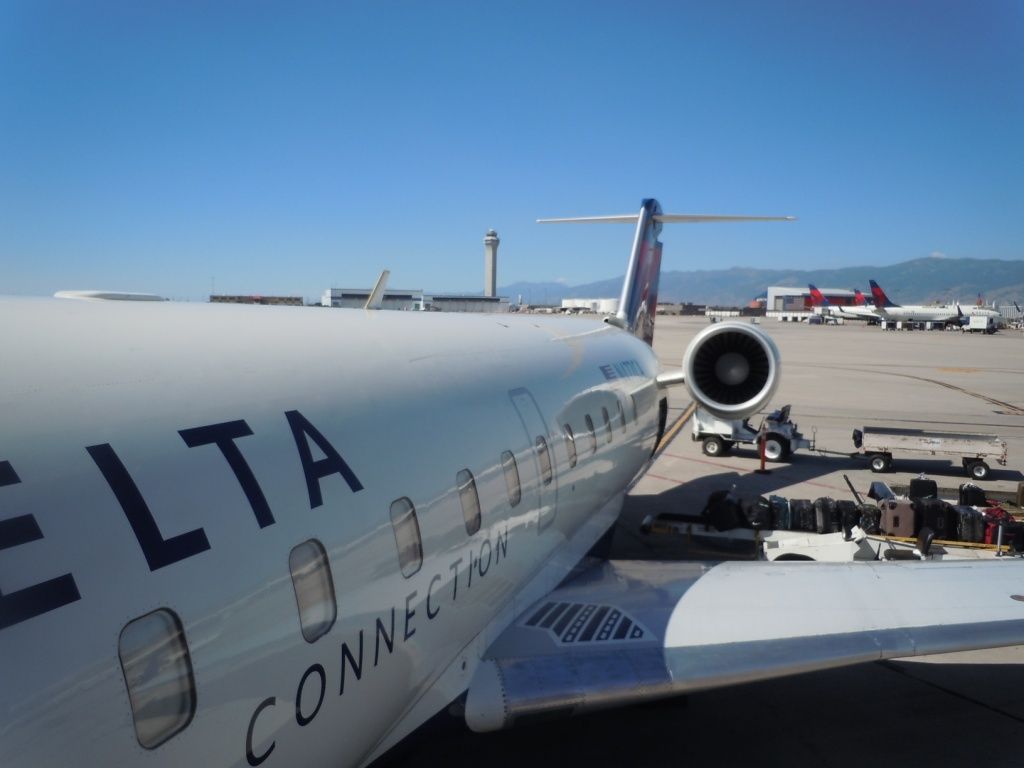 Seat 8A--overwing exit on the CRJ: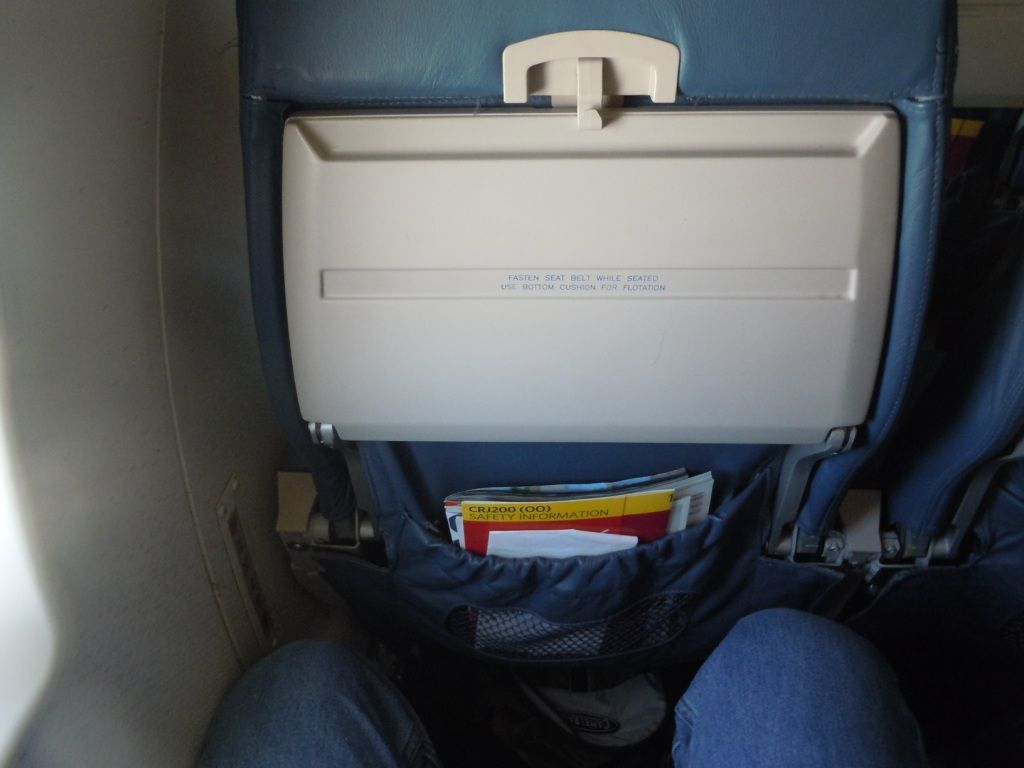 We took off from 34L, turned left and climbed over the Tooele valley and set a course for St. George. The flight attendant announced that there would be no service on the flight due to it's very short duration. This somewhat surprised me, given that the flight distance is only one mile shorter than WYS-SLC, but of course the CRJ is a bit faster than the EM2. However, she did come around and offer a cup of water to anybody who was interested. Despite the lack of service, the flight was quite enjoyable as we passed over some stunning scenery.
Great Salt Lake wetlands:
over the Great Salt Lake, turning to the south, looking back over the Salt Lake Valley: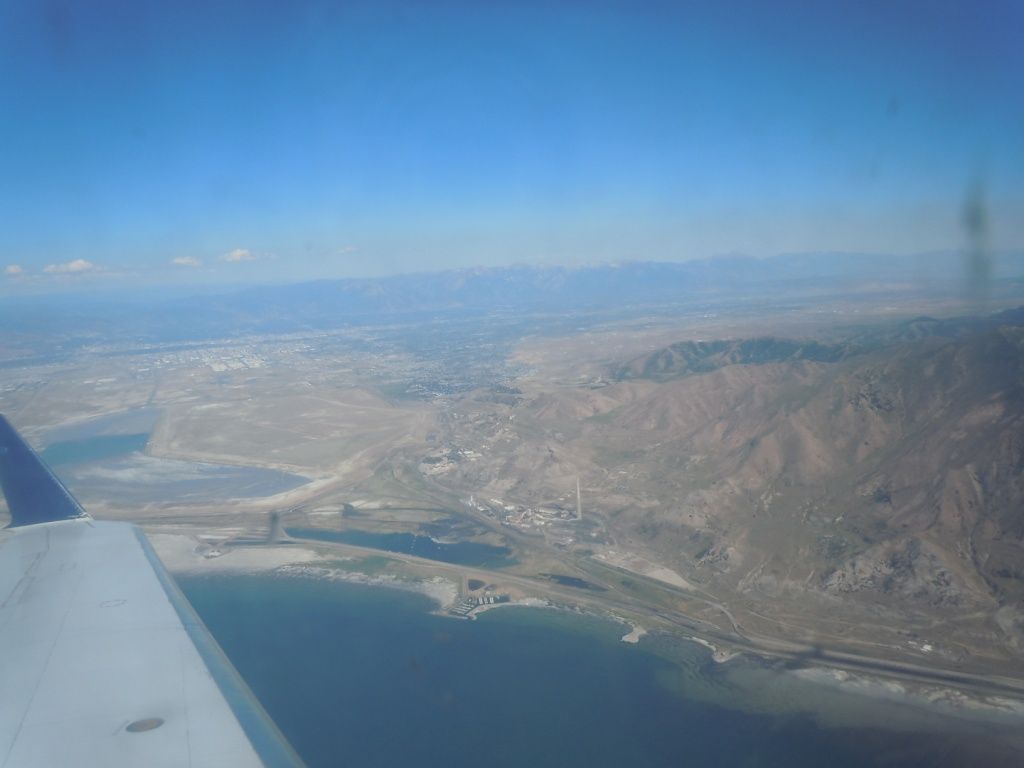 The west slope of the Oquirrh mountains: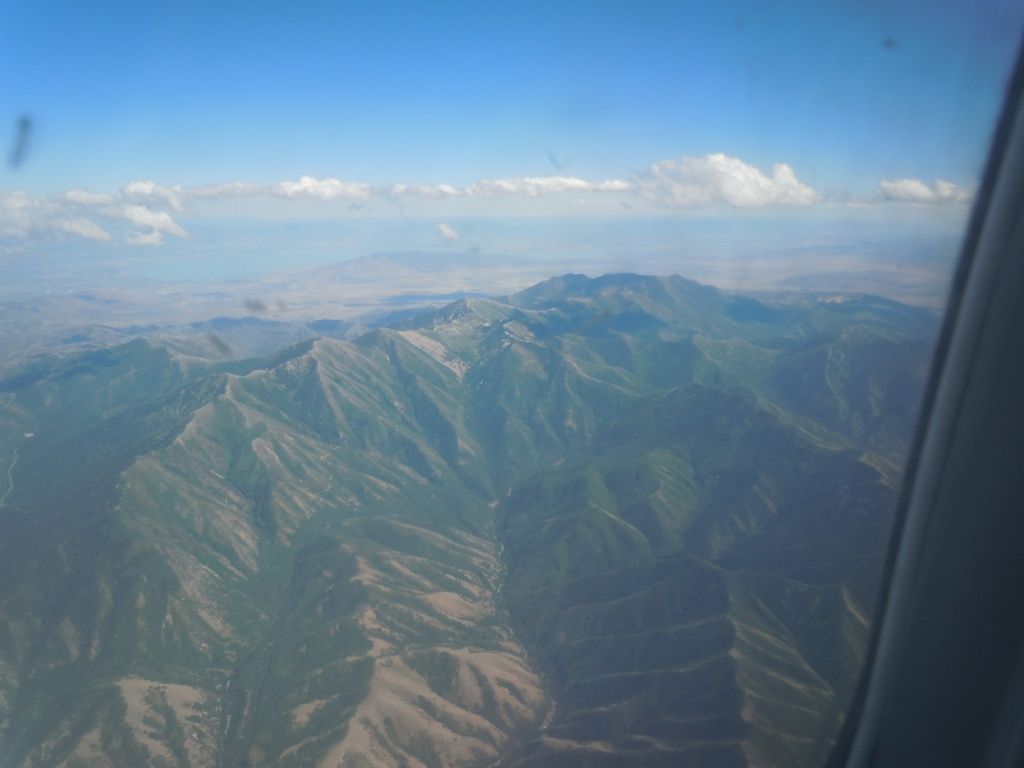 The town of Delta, Utah, from the window of a Delta Connection jet:
The red cliffs of Cedar Breaks National Monument capturing the late day sun:
Starting to descend now, we get our first glimpse of Zion National Park's fabled canyons: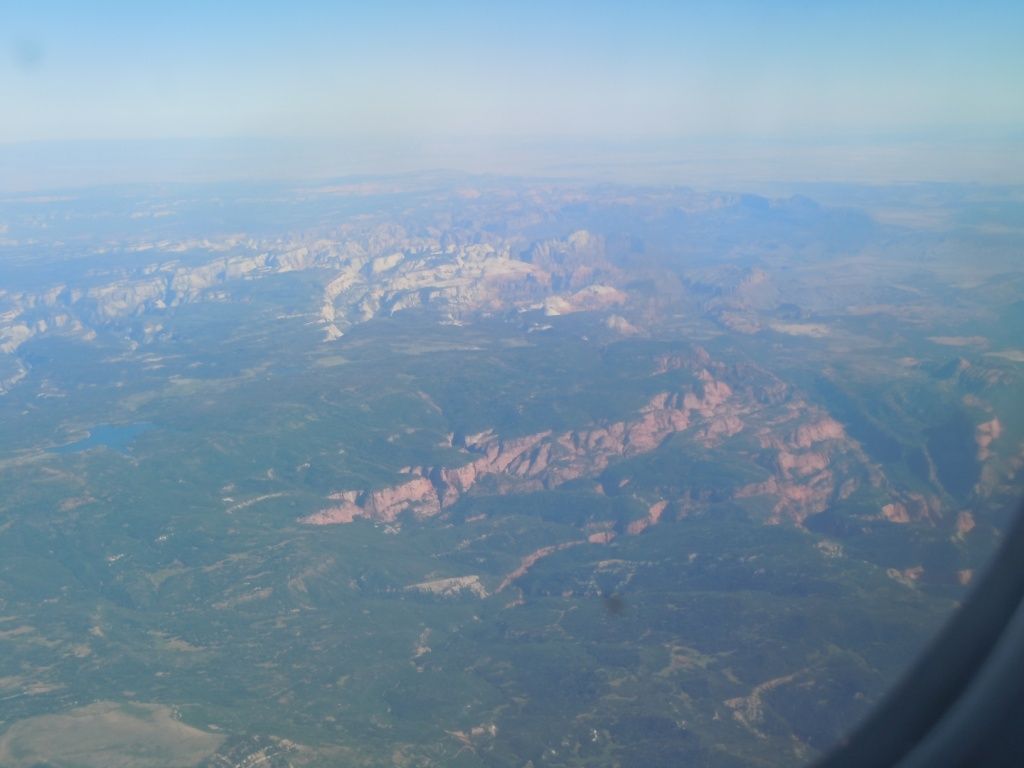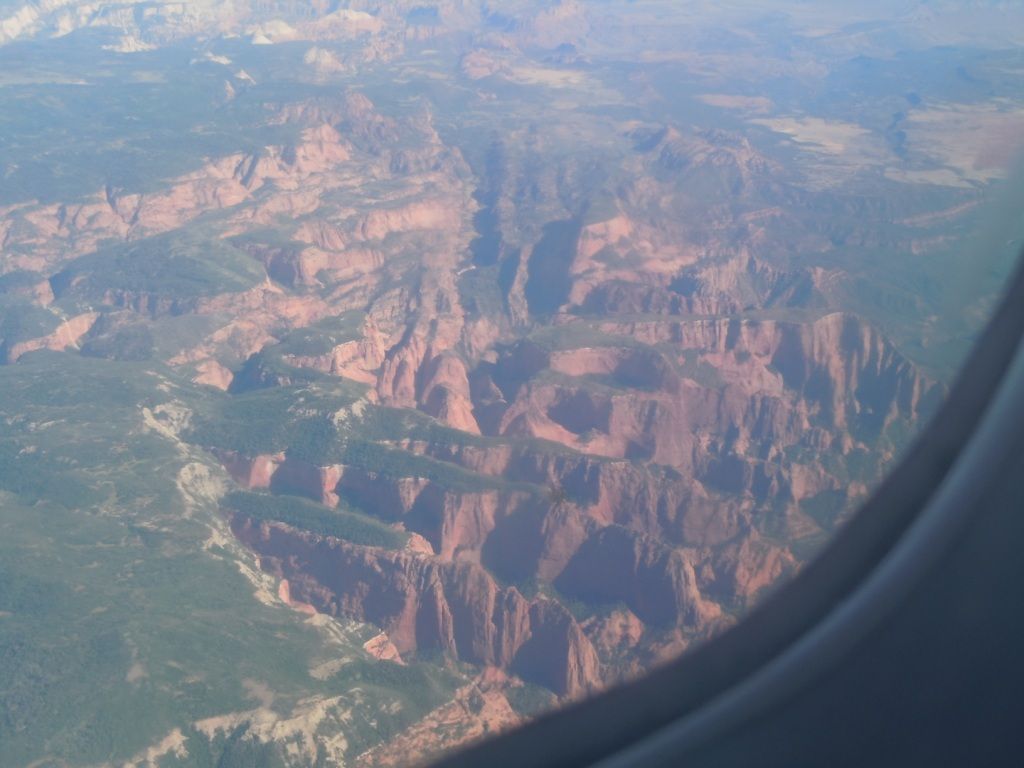 You can see why there were concerns aobut noise pollution in the park prior to construction of the new SGU airport.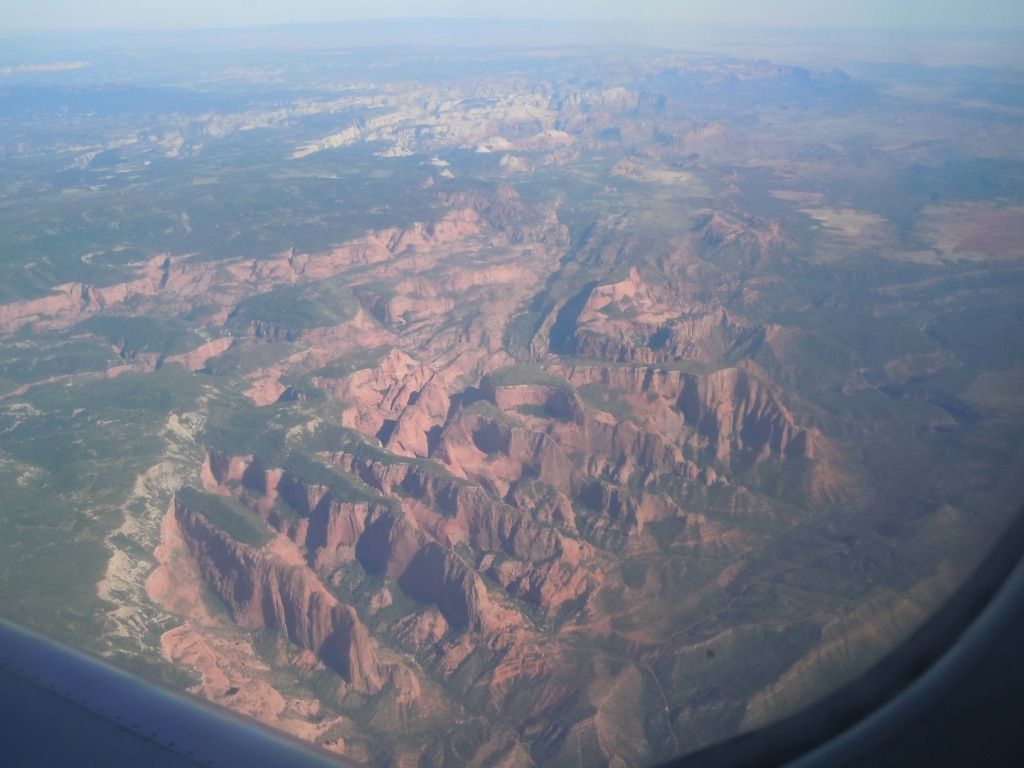 maybe I'm crazy, but I felt like our final descent was really steep and sudden. I wondered if that might be a noise mitigation procedure due to our proximity to Zion NP. We landed to the south. Here we are at SGU, rolling past the terminal: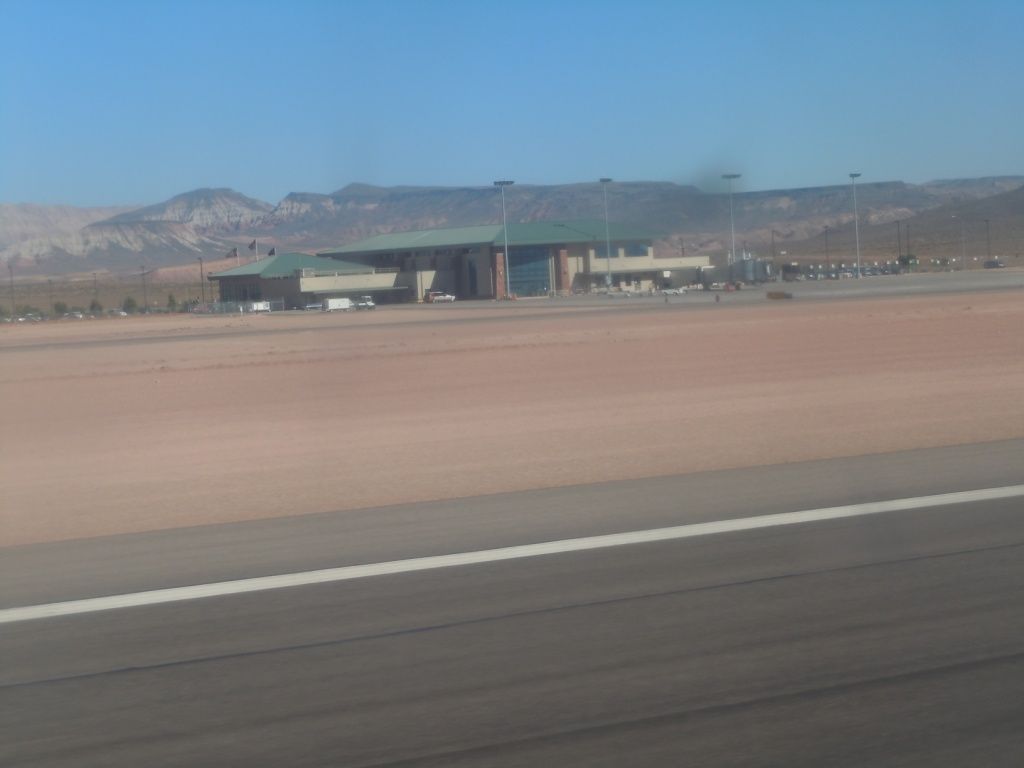 Terminal view from our final parking position: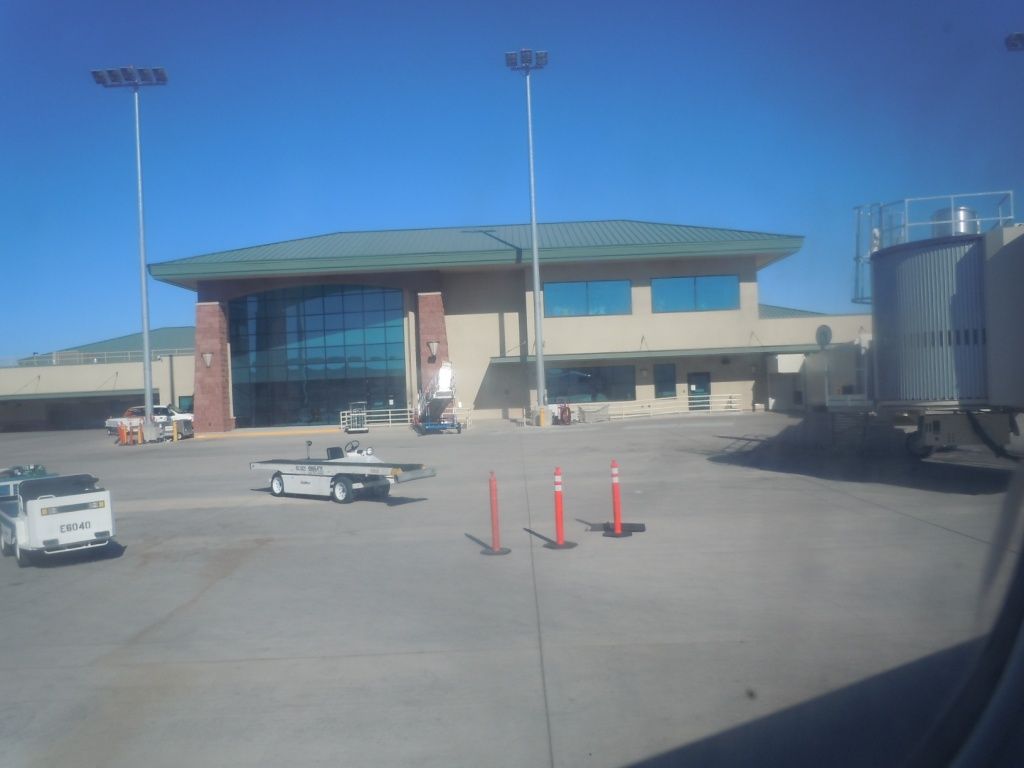 SGU is one of America's newest airports, having opened in 2011 to replace the old airport atop the mesa closer to central St. George. The airport has a single jet bridge, and is curerntly served by 4-5 daily flights to SLC and a single daily flight to DEN. All flights are operated by OO, which of course has its headquarters here. SkyWest started out as a small commuter operation in 1972 carrying businessmen between SGU and SLC. Despite the limited service, the terminal is very modern and attractive. I'm sure that the city would love to get more flights, but it's hard to compete with LAS. Here are a few pics of the terminal I snapped while waiting for my brother to pick me up:
Gate area:
Ramp view: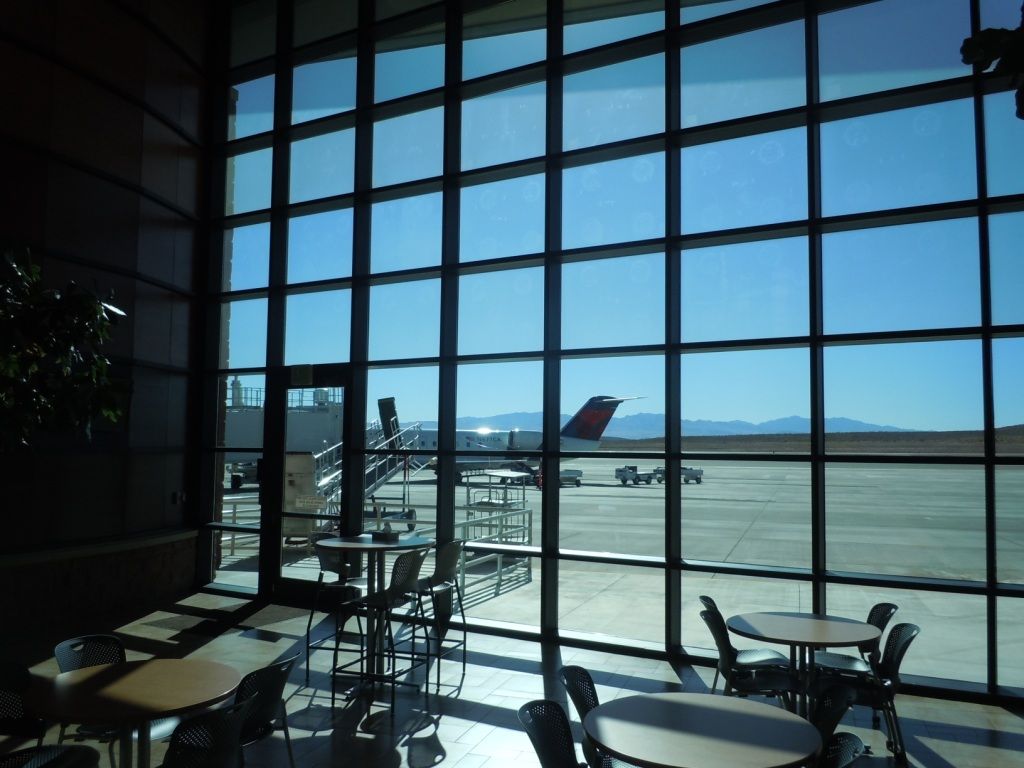 Check in: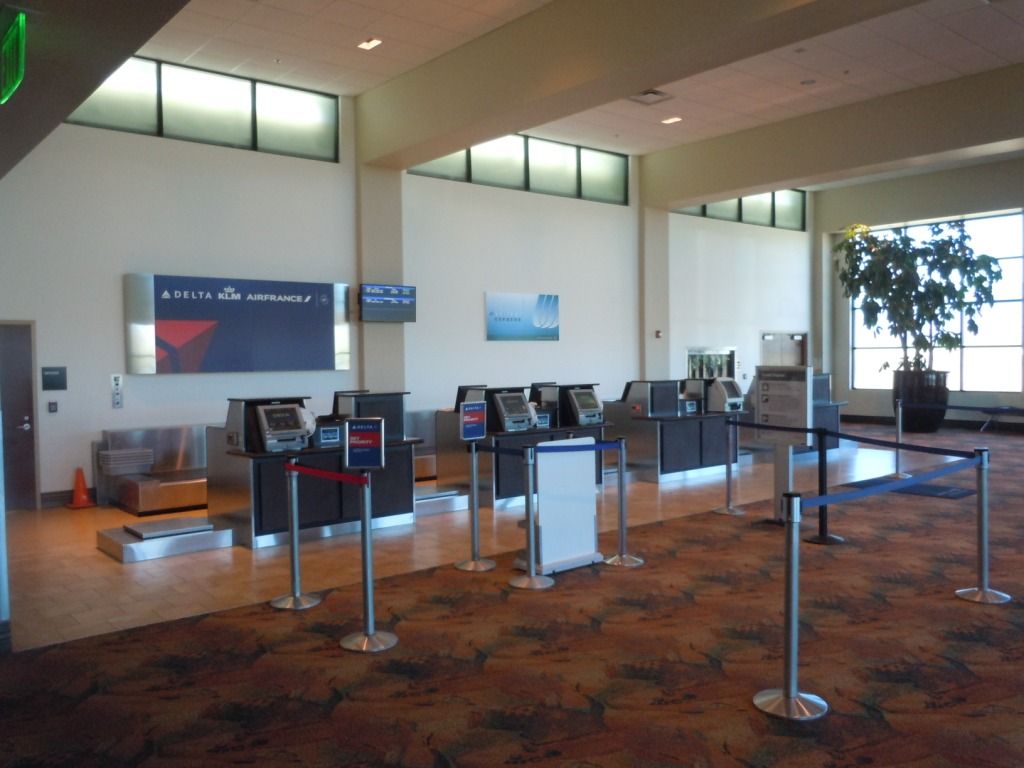 Bag claim: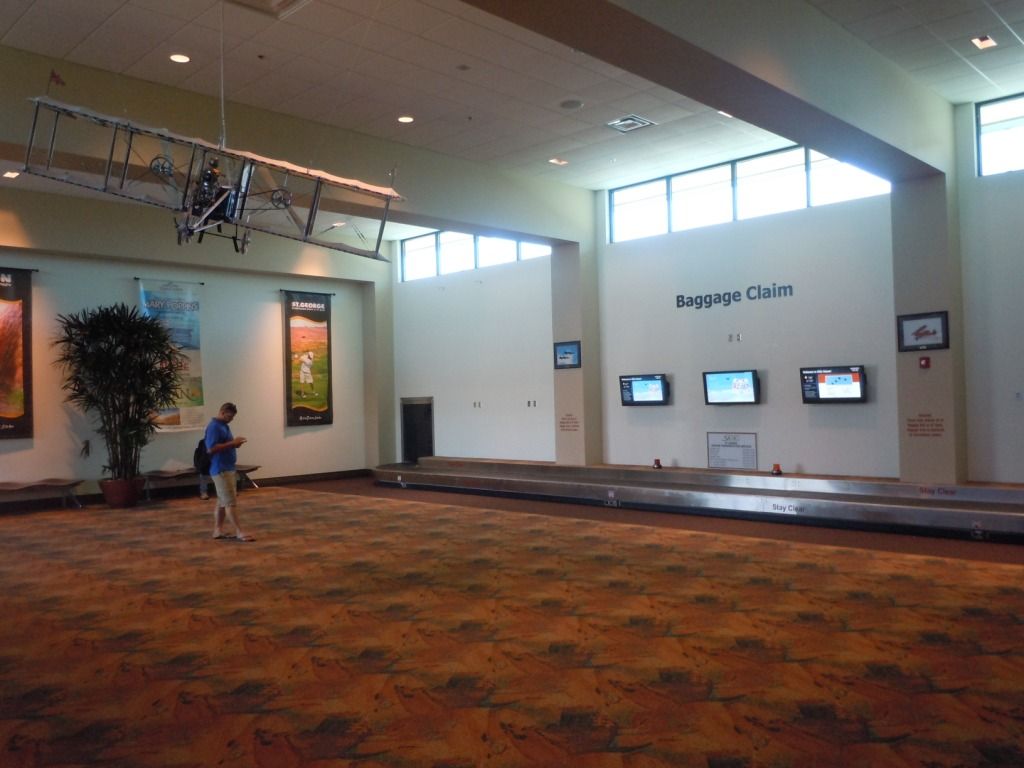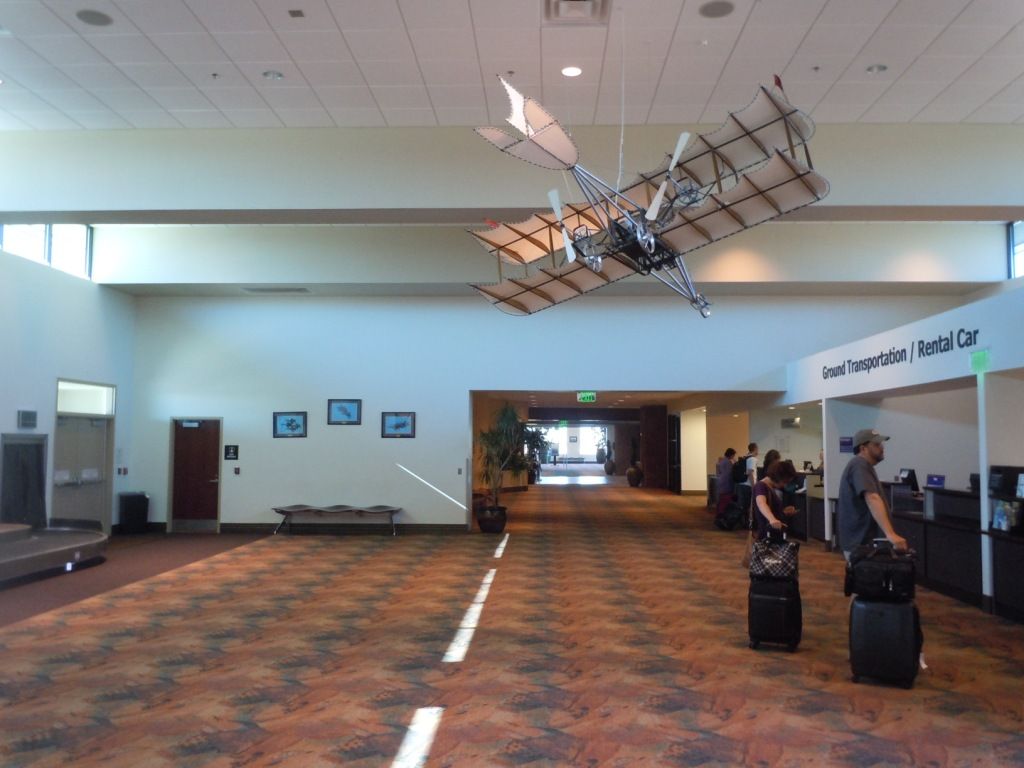 Observation deck!
There's a small area with a display about local aviation history, including some SkyWest memorabilia. I'd love to see OO and DCI bring back this livery. The caption says, "The Canadair, the world's most environmentally sound jet, also provides the quietest ride of any regional jet aircraft." ...so why are they falling out of favor?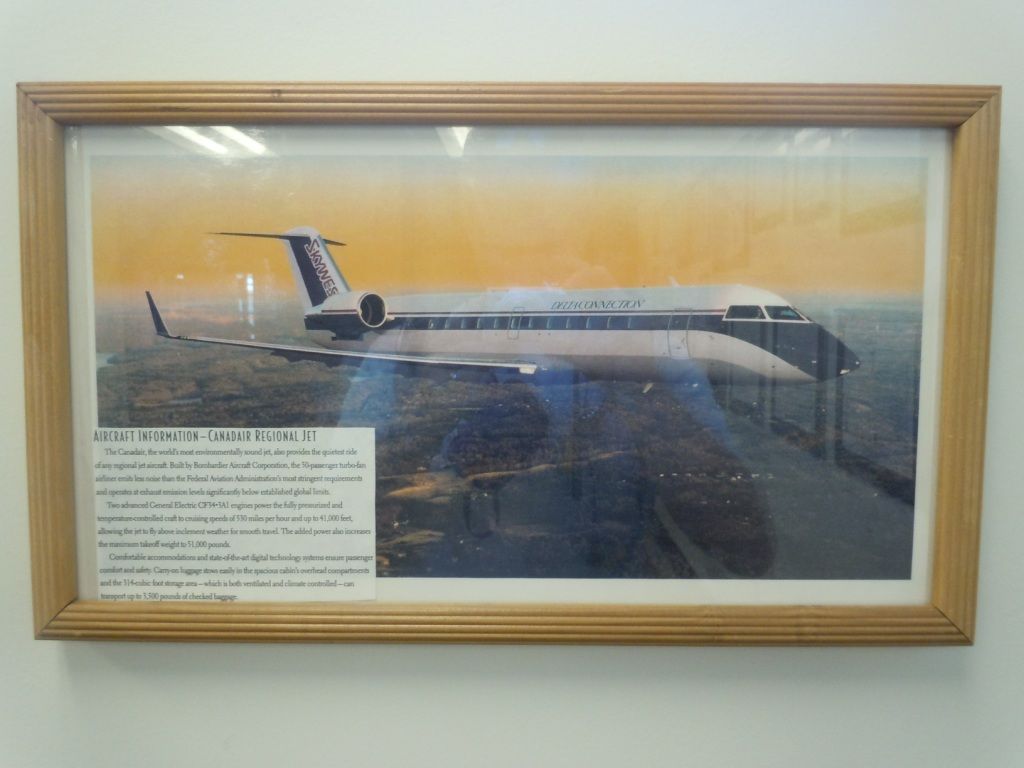 [Edited 2013-07-16 23:34:49]