Hello and a warm welcome to the latest story. There are just one or two plane and location pictures and the sun is also out in Turkey, enjoy!
"A turkish ensemble for Izmir"
The trip in one word:
"SUNNY"
This is a story about the sunny early summer visit to the third largest turkish city, fixed and failed some time ago. Reason enough to try it again!
Merhaba, sevgili okuyucular,
what is the usual intro for:
Hello, dear readers,
one day to rest at the homebase after:
"My Personal Farewell To The SK MD"
(by
FLIEGER67
Jul 18 2013 in Trip Reports)
and now it´s time to join the skies again.
What about this way?:
Thanx to, once again:
http://www.gcmap.com/
A new entry is counted as no. 241 on the departure airports map:
Departure Airports II
auf einer größeren Karte anzeigen
Something new also with the Tripreporter 2013 file:
TRIPREPORTER 2013
auf einer größeren Karte anzeigen
And these are the previous 200 departure stations:
Departure airports
auf einer größeren Karte anzeigen
No more intro needed, let´s go!.
Sunday, 05.05.2013
.
.
.
.
Service airberlin AB 6833 operated by LGW
Luftfahrtgesellschaft Walter
Scheduled: 07.55 // 09.00
This is what seems the standard for me and not only these days!. 04.45 am by the cellphone alarm is set
and not that long thereafter I´am on the way for the airport again.
The car should spend the night at it´s second home what means P0!.
OLCI works well with the flight booked by Lastminute.de
and the fare is sure ok this way, 45.00 Euro´s.
I should catch a printout on the way, what is swiftly done at the SSK´s directly in front of the security check. But wait, no entry to the gates prior to a view for the screen.
AB´s service for Olbia is running late, but DUS looks like once more ok from gate 331 scheduled on the not that really reliable Dash 8-400, at least around the AB/LGW fleet.
The latest news show also an Avanti Air ATR 72 as a subservice machine leased in swiftly
Just a couple of minutes to wait at security and
BA´s place is ready for me right now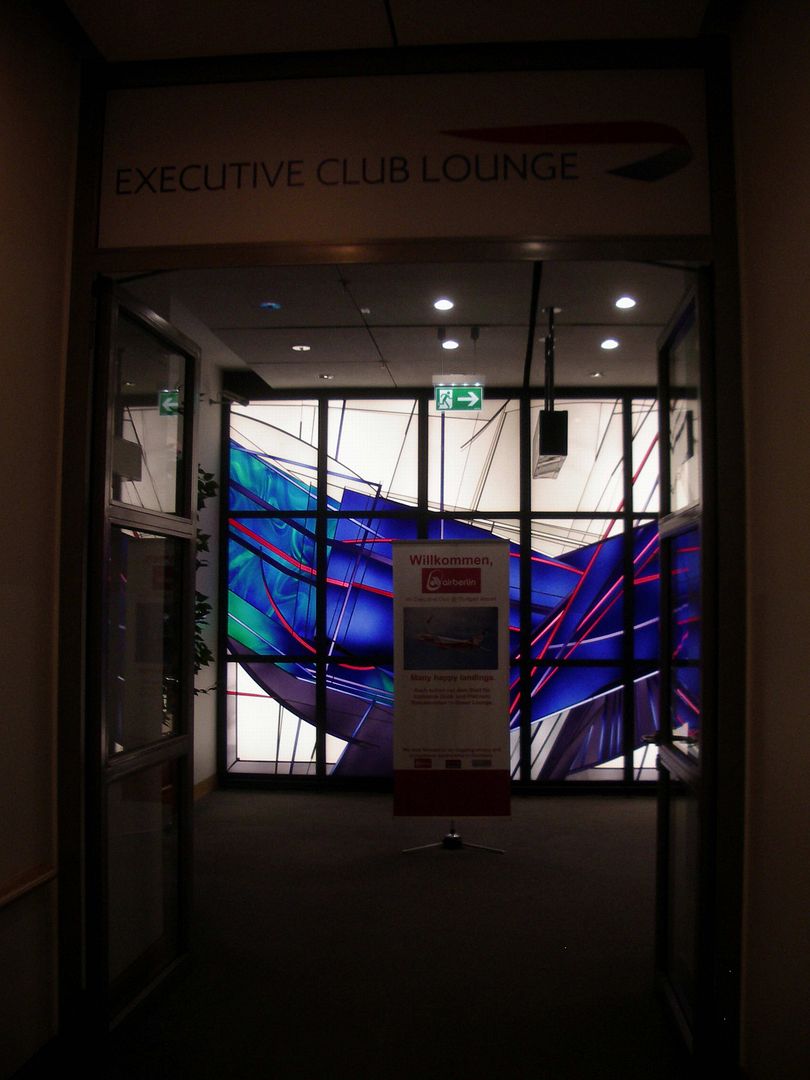 Looks like a nice day to fly around with the early morning fog above the airport
Down for the gate pretty ontime, yes they don´t need to wait for me this time!. And further on the bus around the tarmac till D-ABQF
7.50 am, now that´s well ahead to schedule, 50 minutes to ride for DUS from runway "Zero-Seven" on "Walter".
3 degrees, yes, it´s spring, you know!.
Something new to the log?.
By surprise, it is!.
Leg no. 33 on type and no individual name to notice
Engine view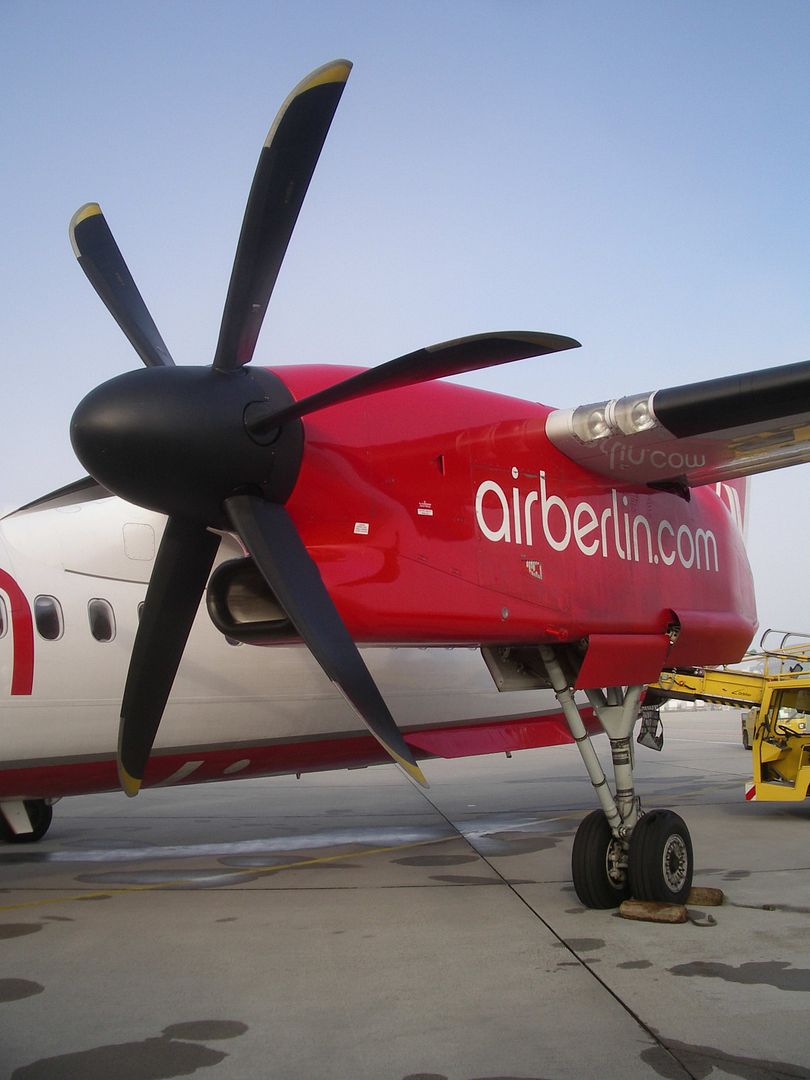 In the air since 20.03.2009, one of the 10 examples in the fleet and no incidents to report with the plane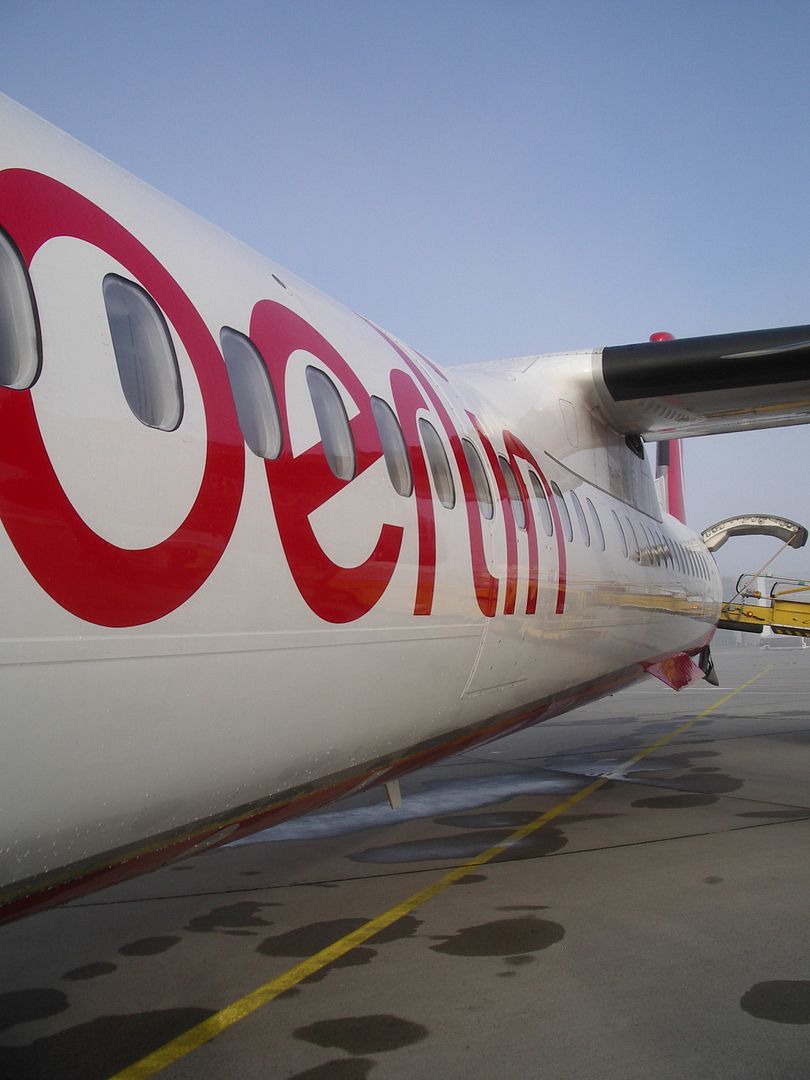 Someone remember Miss Berlin?:
"STR-DUS-CPH-AAL Just For The Anniversary"
(by
FLIEGER67
Jul 12 2013 in Trip Reports)
Dejavu, a nice welcome from the cabin crew, the very same like two days ago on the very same route.
The elder ex Contactair woman much more relaxed today and Miss Berlin really nice and good for a chat again.
The load is 70%, a huge group of turkish pax on a connecting flight, an orchestra like one of them told me later.
Legroom is ok here at 19F, the last row window and two for me
Just a view for the modern style cabin, fitted
with the dark blue grey leather seats, clean so far
Cockpit crew is from Germany with a female captain on duty, no comment from the first row at all and therefore no route nor flightlevel info.
Also the Dash is safe to fly!
Service is a croissant and free drinks.
An engine on the way
Someone for Essen?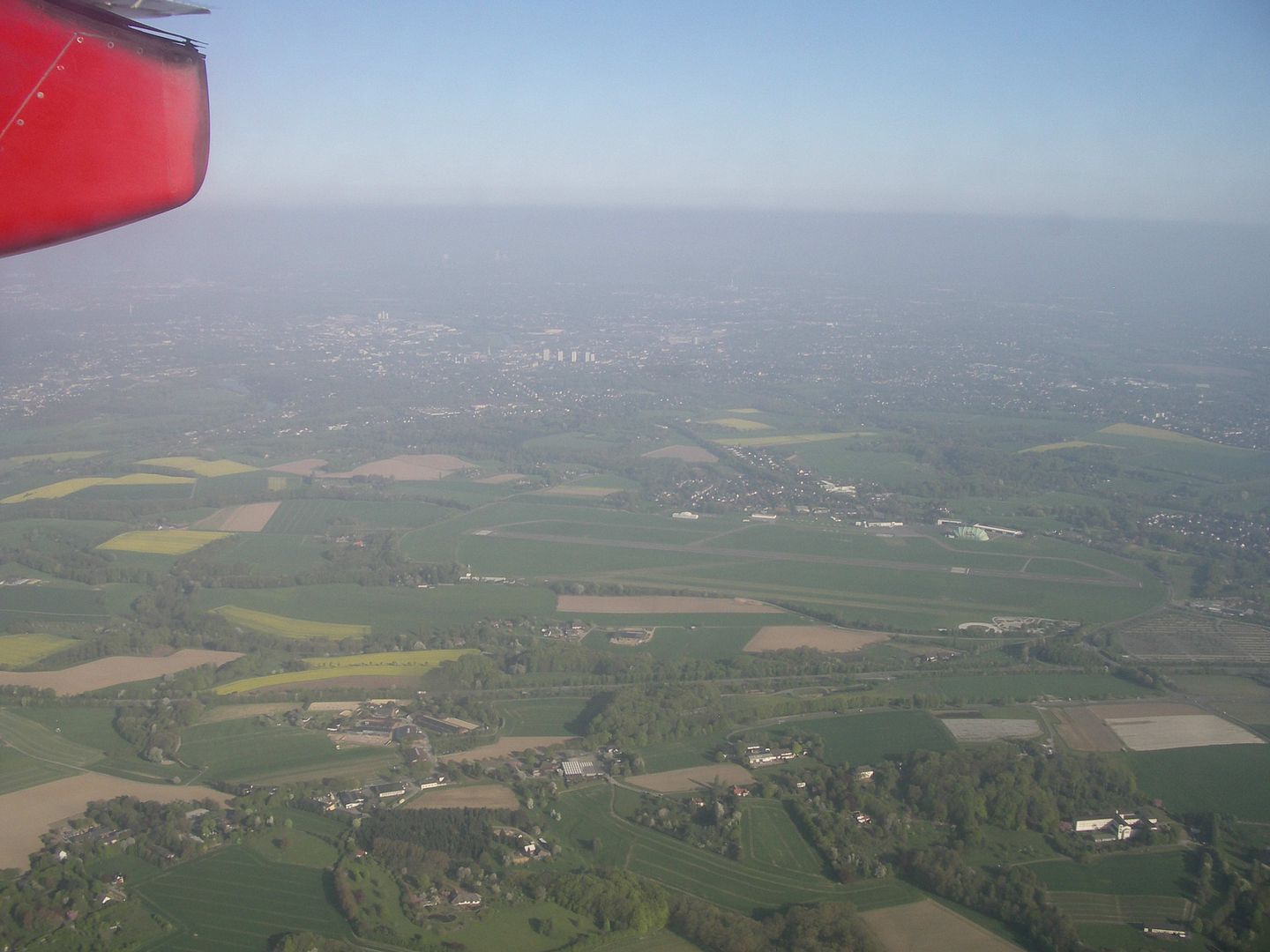 Touchdown at the 3000 meters "Two-Three-Left", 08.50 am and that´s 10 minutes ahead to schedule. Sunny, no clouds and 12 degrees, that´s much more spring like l know from the previous years
Sure a nice experience later on.
Me busy with the usual Tripreporter work, what means a chat with the crew and a couple of pictures on the tarmac till boarding the bus for the terminal.
A young guy comes up to me.
"Sorry, may I ask you a question?".
"Sure".
"I saw you taking pictures on the apron. Is it possible that you are the Tripreporter?".
Our conversation causes also some interest by the people around.
"Well, good point, that´s me".
"I follow all the stories, really interesting".
We had a nice conversation later on.
There is some time in between the next flight
and we decided to hit the terrace together.
Thanx K., nice talking and good company.
It´s a small world, you know and maybe we meet again on a plane somewhere else!.
Sunday, 05.05.2013
.
.
.
.
Service PC 304 operated by Pegasus Airlines
Scheduled: 13.30 // 17.45
It´s time to leave the terrace again not that long thereafter and
I should have a view for the lounge now.
But check the screen first, you know.
Ok, no news for my flight from gate C30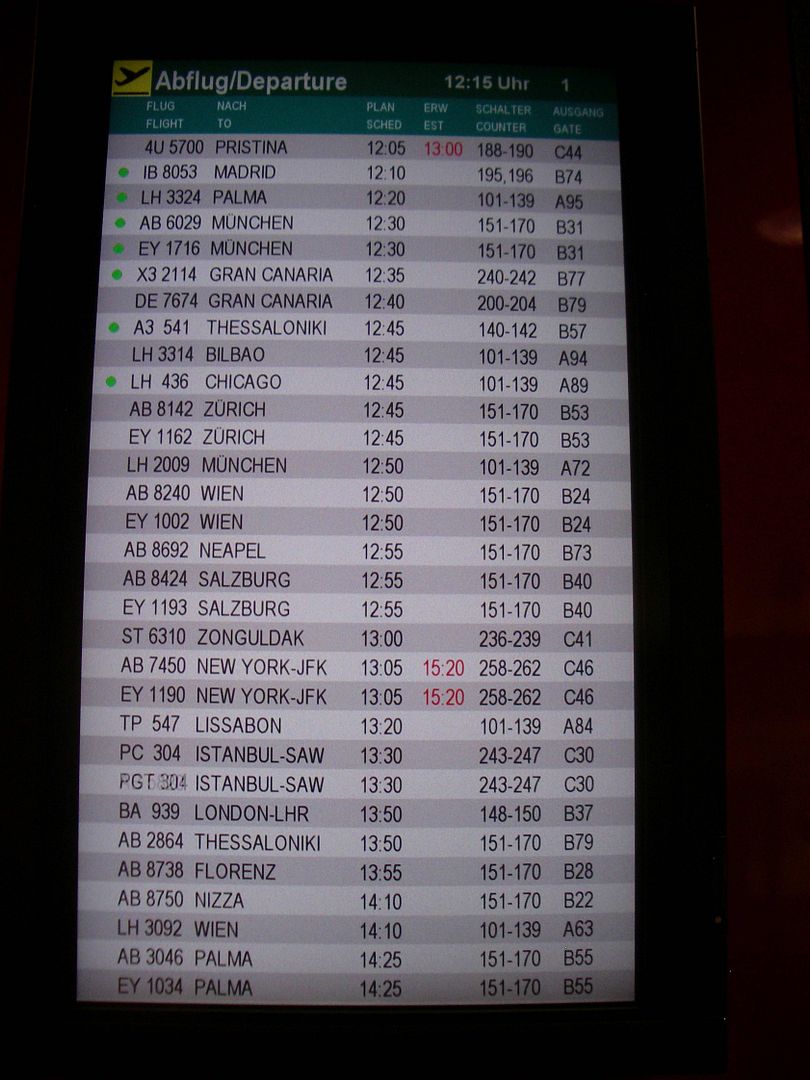 Non-Schengen security is busy with the pax and bags to check, well rather thousand bags and a few pax!.
The upcoming two legs are on one confirmation managed by Flugladen. de.
The fare per leg this time 55.00 Euro´s.
The PGT website shows no OLCI available ex DUS, but it´s always worth a try, isn´t it?.
It works!.
10.0 Euro´s to catch the exit window seat seems also worth it. Especially when we know that every window is cashed with 7.00 Euro´s and also the middle seats are at 4.00 Euro´s.
No extra payment means you should accept the reservation system´s favour. No, that´s nothing for me!.
Up the stairs now and both places are good for me
Nice offers here
A tough decision to catch a seat!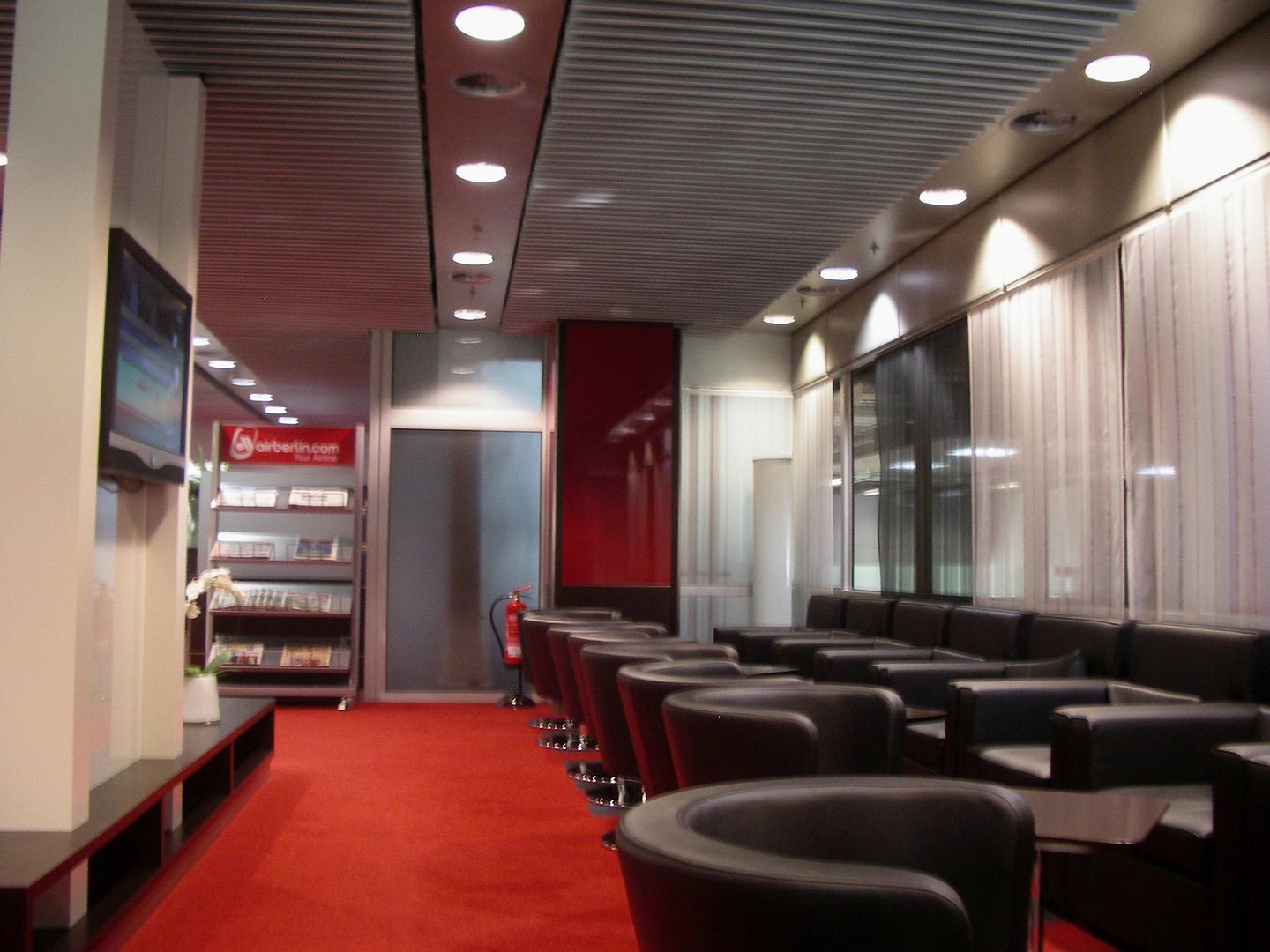 And the other lounge
Back for the gates and a view like this
Yes, this looks like the scheduled 737-800
Leg no. 69 on type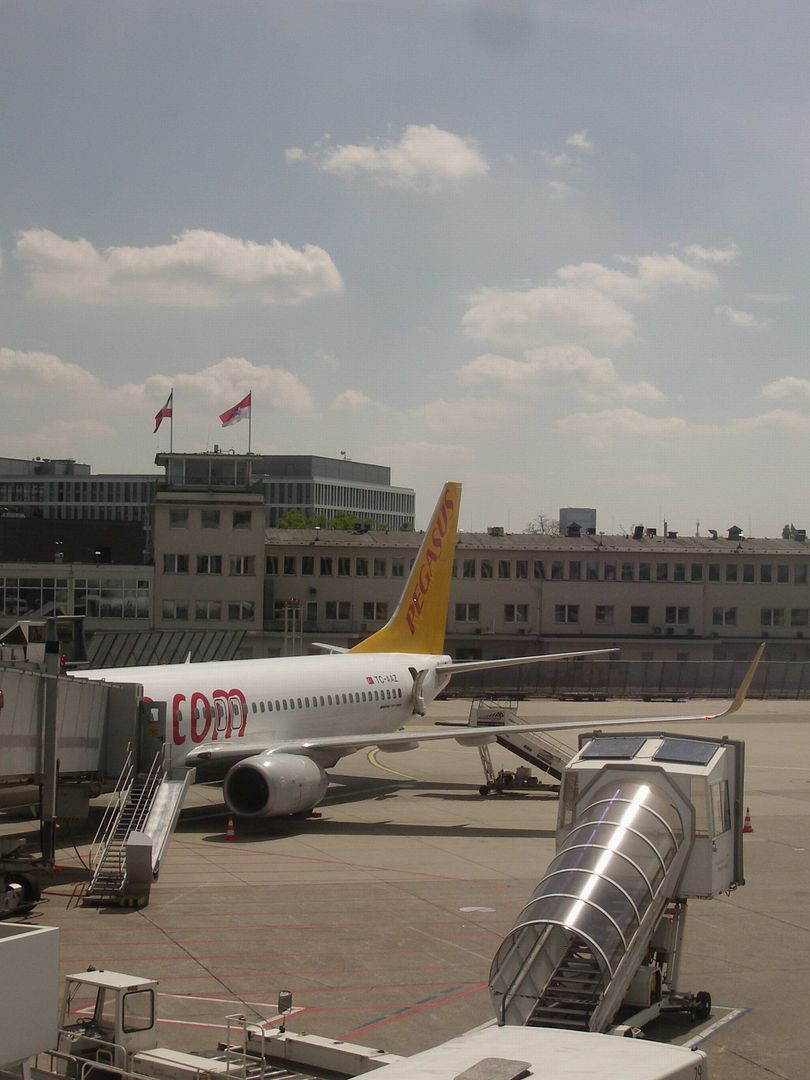 A warm welcome to "Mina", a new entry to the log
In service with Pegasus Airlines since 29.06.2010, 41 examples are in the fleet.
And also here, no incidents to report
Ah, now I know where all these bags are!. There is just one piece of cabin baggage allowed, but this is for sure interpretable!.
One more farewell flight story is coming up soon, if nothing goes wrong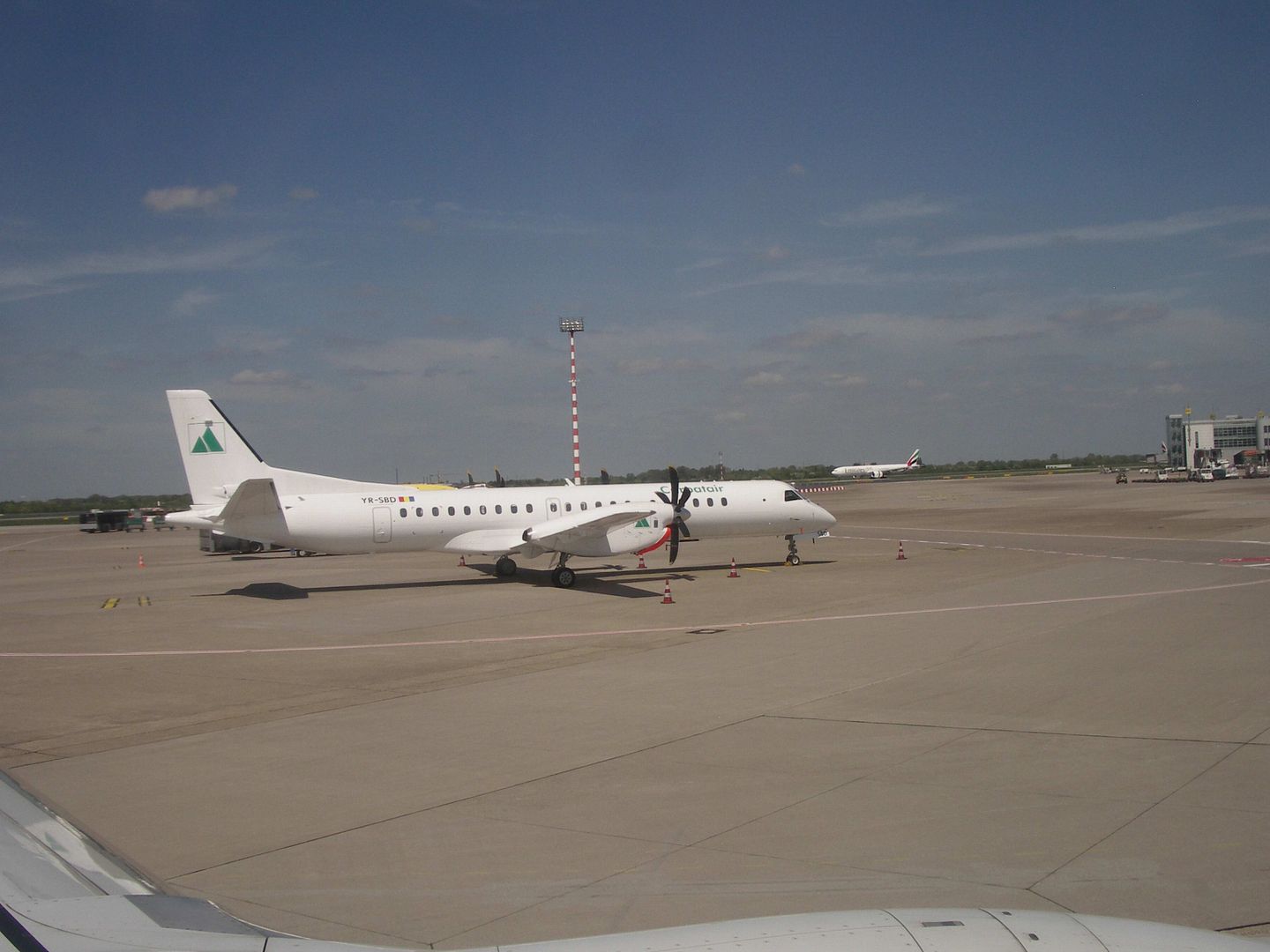 1.30 pm, as ontime as possible, 2.00 hours, 55 minutes to go by "Sunturk" right now.
Departure from "Two-Three-Left" like arrivals, 18 degrees and just a few clouds to notice.
Cockpit crew is from Turkey. "Have a nice flight" during taxi is the only message from upfront.
Legroom is perfectly good here with the well used dark blue grey leather seats.
The aisle is taken, the middle remains open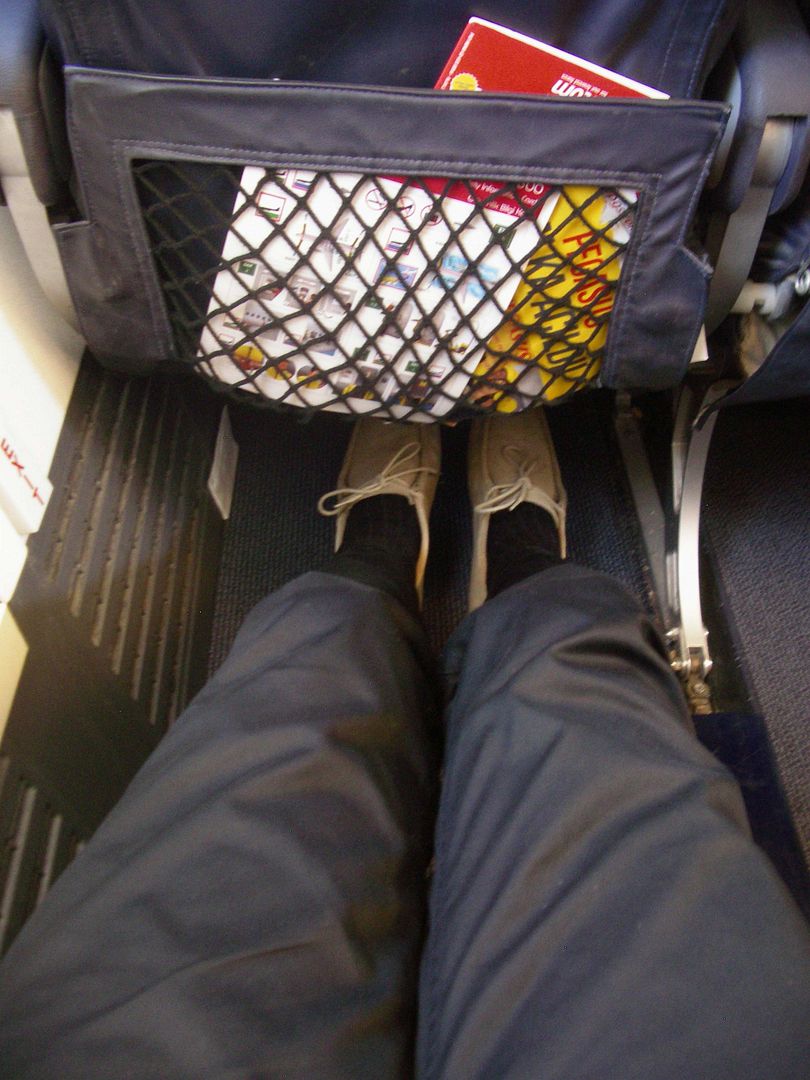 Cabin view
On duty around the cabin are two male FA´s, one young and nice, the other one middle aged, biz style
and two women, both middle aged, one ok, the other one nice, not that large with short black hair.
Safety on the go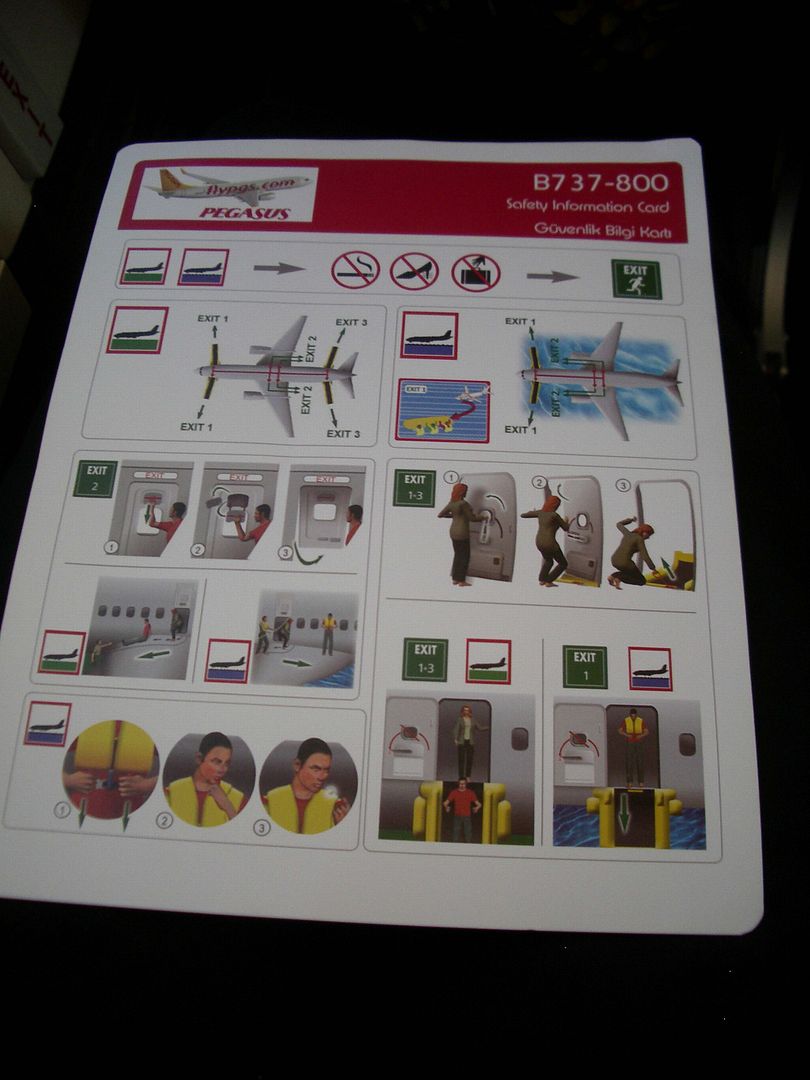 The routing is FRA-GRZ-Szeged-Timisoara-Veliko Tarnovo at maximum 37000 feet.
There is also a magazine to follow
No free service here by PC.
What about something to eat?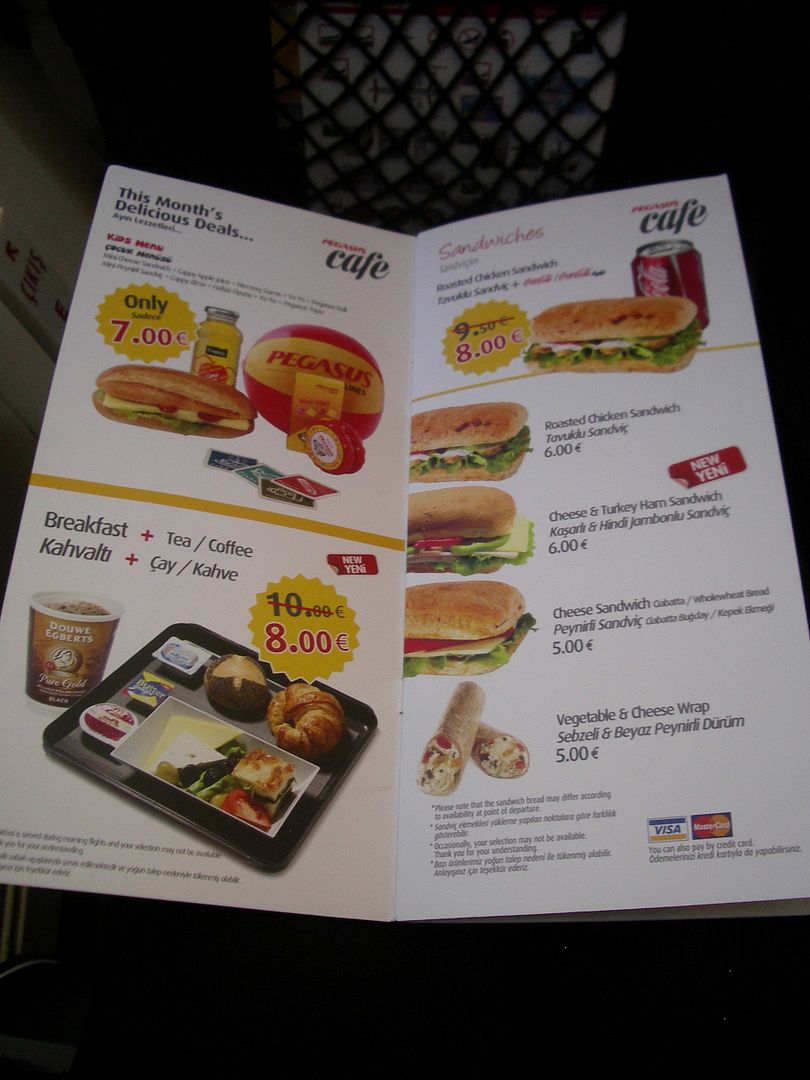 That´s the way to go now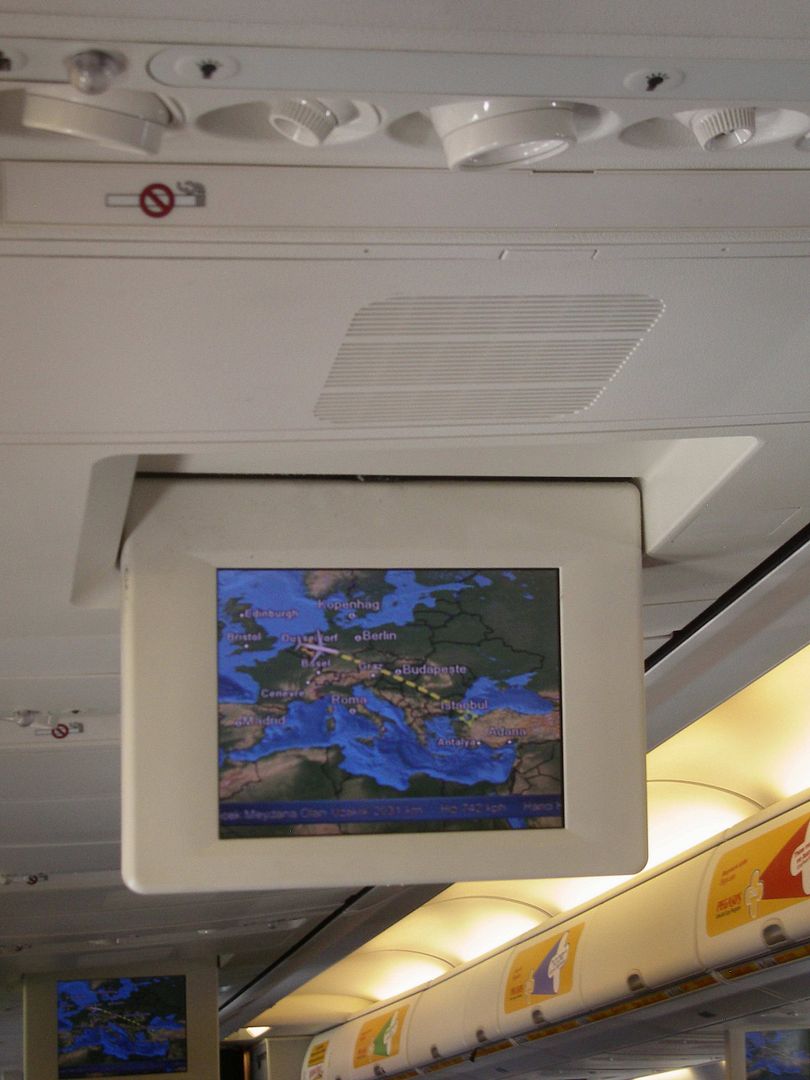 An winglet up for the blue
We´re making good progress
Clouds down there
Let´s call it well loaded. Very close to 100%, mostly turkish pax on the way
Not that far from SAW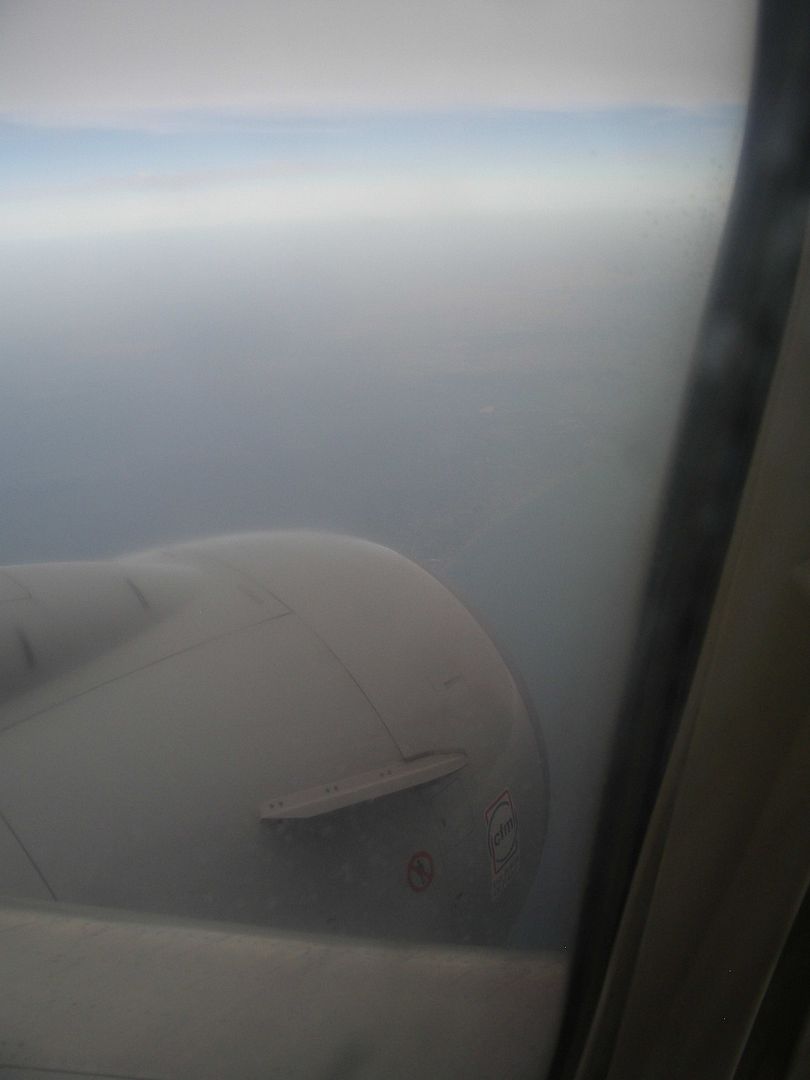 Istanbul ahead
This way
Coming closer
Touchdown at the 3000 meters "Zero-Six", 26 degrees, sunny no clouds. That´s what I´am looking for, 4.30 pm in Germany and 5.30 pm local, 15 minutes ahead to schedule.
Heading for an airbridge
Turkish registered tails all around
For a sunny welcome
And a Bye-Bye to "Mina"
There are two hours till the next flight, so I´ve decided to enter Turkey here and walk a little bit around.
Ok, there is no choice at all, domestic connections are forced to do it this way!.
----CONTINUED BELOW-----------
[Edited 2013-07-26 06:47:40]