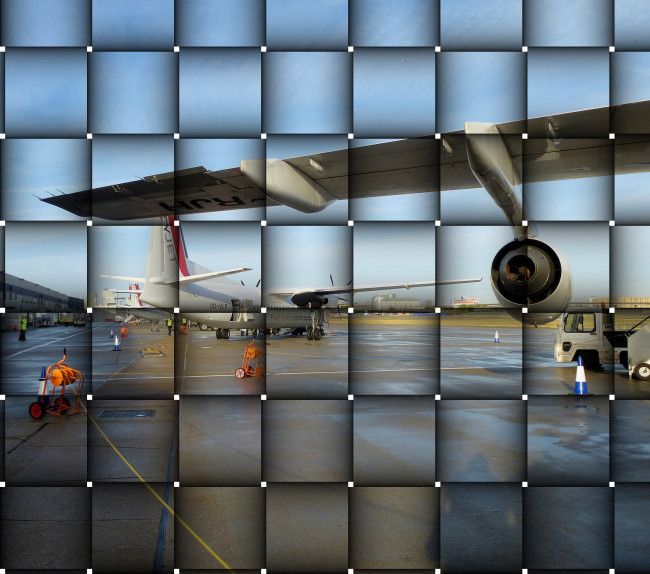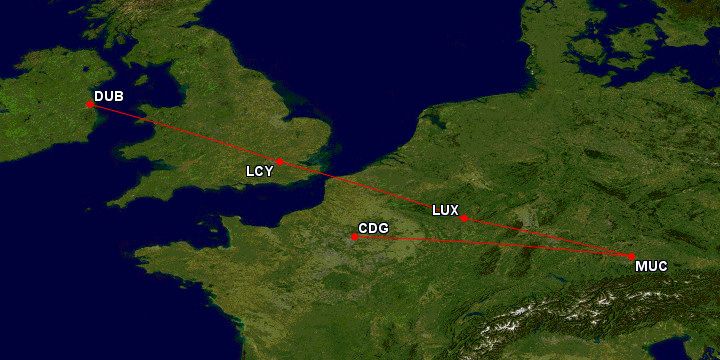 Map generated by the Great Circle Mapper - copyright © Karl L. Swartz
Intro
Back in summer 2012, I started working on an itinerary which should include some widebody flights on intra-European routes. As usual, I also tried to include as many new airlines as possible. First of all, I earmarked Turkish Airlines flight
TK1822 (Paris-Istanbul)
which regularly showed a
777-300ER
on certain days. Then I found a very tempting connecting option:
Istanbul-Beirut-Paris
on
MEA - Middle East Airlines
A320
and
A330-200
, including a 4-hour stopover. I had always wanted to fly MEA, so I quickly booked the flights. Seat24 was the travel agency of choice because it sold all three flights on one ticket.
Now I needed to find interesting ways to get to Paris and back. After searching for a long time, I booked an open jaw
Lufthansa
ticket offered by Expedia:
Munich-Paris
on
Augsburg Airways Embraer 195
and
Paris-Munich-Luxembourg
on
Lufthansa A321
and
Luxair Embraer ERJ-145
. I was really glad that I would finally be able to log Luxair which had always deterred me due to astronomical fares.
My next task was to find an attractive option for the return to Munich. After a while, I decided to book
Luxembourg-London/City-Dublin
on
CityJet Fokker 50
(operated by
VLM
) and
CityJet Avro RJ85
. Finally, I added a
Dublin-Munich
flight on
Aer Lingus
and reserved airport hotel rooms in Paris and Luxembourg. Over the course of four days, I would fly on four new carriers (MEA, Luxair, CityJet and VLM) and visit three new airports (Beirut, Luxembourg and London City). Map:
Map generated by the Great Circle Mapper - copyright © Karl L. Swartz
The second and last part of my new series will focus on the flights on
Lufthansa
,
Luxair
,
VLM
and
CityJet
. Part I can be found here:
Night Stop In Beirut: Turkish A333 & MEA A320/A332
(by
PlaneHunter
Jun 28 2013 in Trip Reports)
Tuesday, October 2012
Paris (CDG) - Munich (MUC)
Lufthansa LH2231
Scheduled times: 13:10-14:35
Actual times: 13:10-14:34
Flight duration: 01:09 (hrs)
Distance: 425 miles
Economy Class, seat 38A
Airbus A321-231
D-AIDU (MSN 5186)
Delivered in 06/2012
1st flight on D-AIDU
9th A321-200 flight
13th A321 flight
View Large
View Medium


Photo © N94504
After the early morning arrival from Beirut, I had fortunately been able to get a few hours of sleep in the hotel. About 90 minutes before departure, I checked out and went back to Terminal 1 where I quickly printed my boarding passes at a check-in kiosk. My plane from Munich arrived on time and I was glad that it was
D-AIDU
, at that time the newest frame in the meanwhile 62-strong A321 fleet, delivered in June 2012:
There were only some 30-40 passengers in the gate area, so I was expecting a light load. Friendly flight attendants welcomed me at the door with a smile, but another one in the very back didn't seem to be in good mood and appeared rather reserved. Last row for me this time:
The NEK seats are very slim, but still comfortable enough in my opinion:
No complaints about legroom either: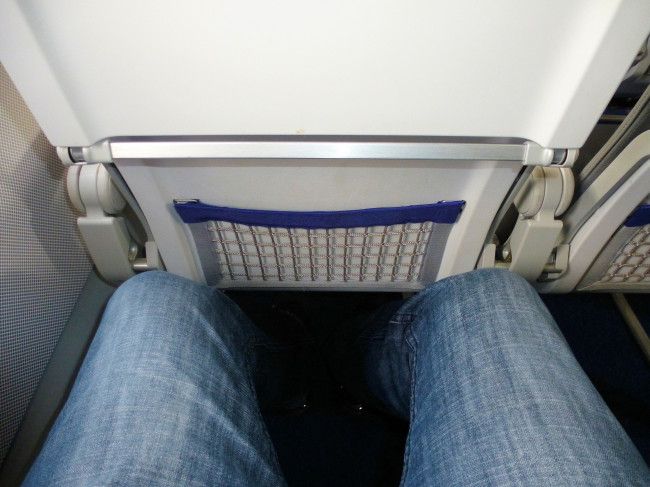 Boarding was completed soon and I was amazed about the high number of empty seats - the next passenger was five or six rows away. The initially reserved flight attendant suddenly told me in a very friendly way that I could move to any other row if I wanted a seat with regular recline. That was nice, but I explained that I had picked the last row on purpose.
The captain made a short welcome announcement in German, English - and French. Not bad. We left the gate exactly on time and taxied towards the northern runways. Thai Airways 777-300ER HS-TKH…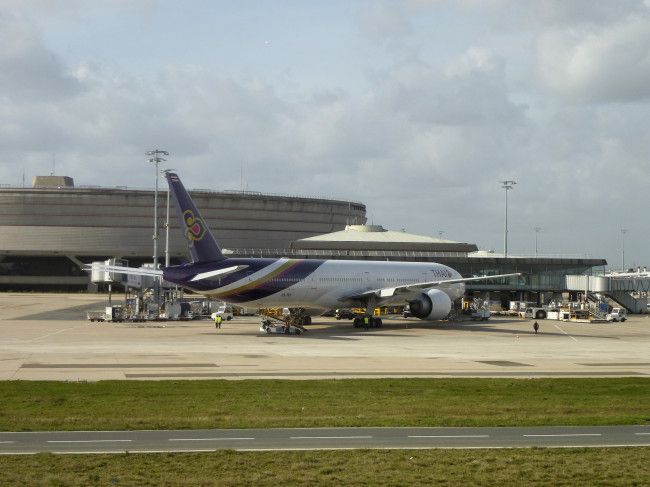 …has meanwhile returned to its former operator Jet Airways and is now operating for Turkish Airlines, Indian-registered, but in full TK colors.
Air France A380 taking a rest: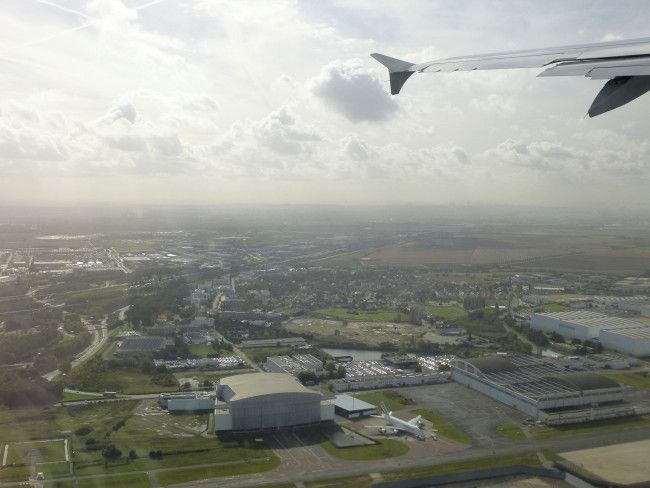 LH's inflight magazine is probably the best one in the industry. In the October 2012 issue, I thoroughly enjoyed an article about Darjeeling tea: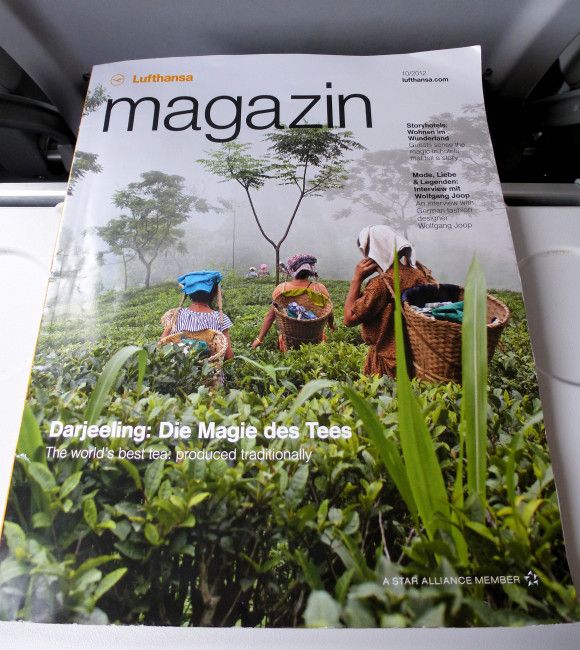 The lack of mistakes on the fleet info page never ceases to surprise me, very professional work: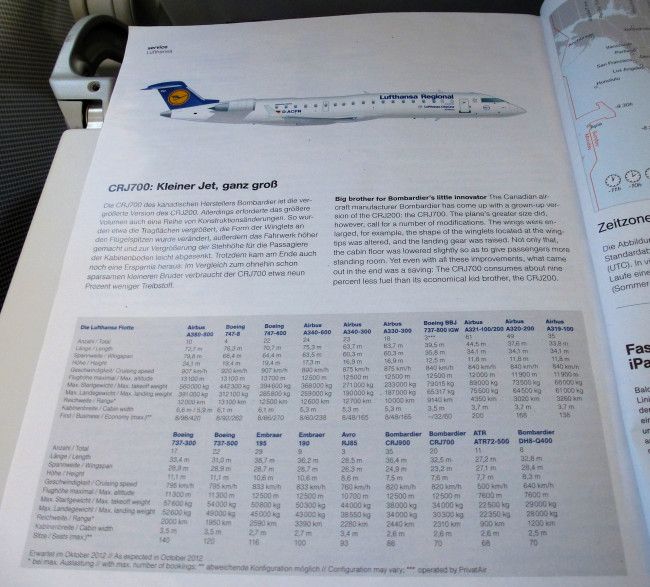 I like LH's catering concept on European routes, but this pretzel roll with butter wasn't overly impressive:
I had never seen such an empty cabin on a Lufthansa flight - one major reason why I decided to include this standard flight in my report: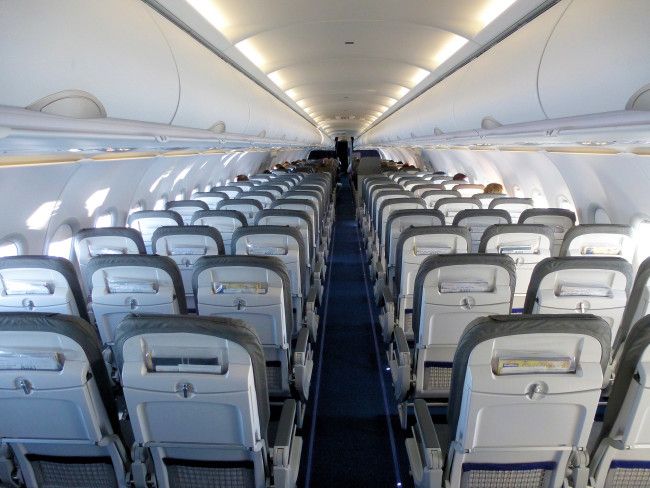 The remaining flight was uneventful. We touched down after a flying time of 1 hour and 9 minutes and arrived almost exactly on time - one minute early, to be correct. Parked next to us was A340-600 D-AIHY: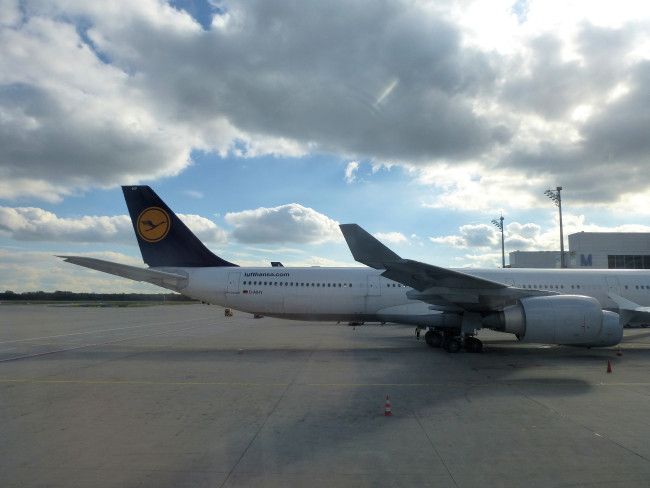 Before disembarking, I shortly talked to the very flight attendant again and asked her about her experiences with the NEK seats. According to her, the passenger feedback is mostly positive.
Tuesday, October 2012
Munich (MUC) - Luxembourg (LUX)
Luxair LG9734
Scheduled times: 15:50-17:00
Actual times: 15:47-16:51
Flight duration: 00:52 (hrs)
Distance: 268 miles
Economy Class, seat 16A
Embraer ERJ-145LU
LX-LGJ (s/n 395)
Delivered in 03/2001
1st flight on LX-LGJ
4th ERJ-145 flight
5th ERJ flight
145th airline
Former appearance:
I had only transferred at MUC once many years ago, but never at Terminal 2. As expected, it was a smooth process. My departure gate was only a short walk away from my arrival gate. Boarding commenced early and the bus took us all the way to a Terminal 1 remote parking position.
LX-LGJ
is one of 6 ERJ-145s in the fleet: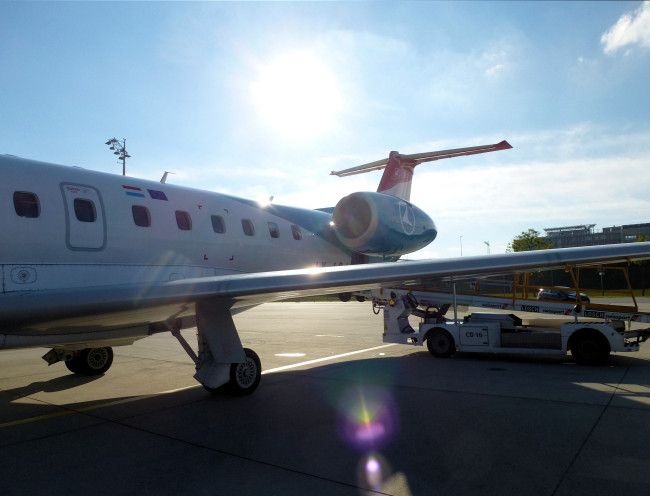 Passengers mostly consisted of business travellers...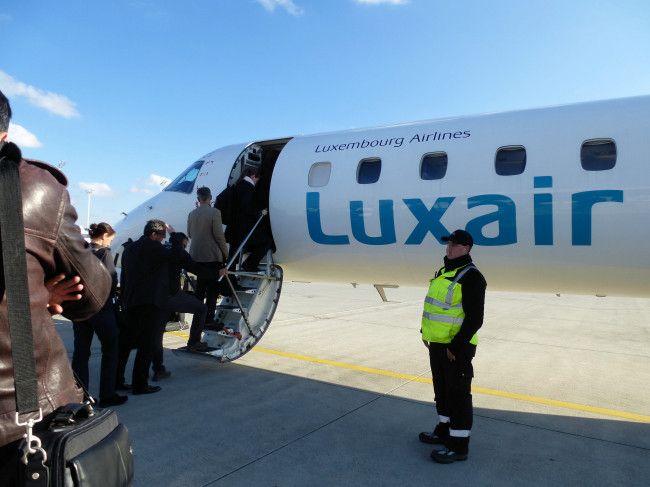 ...and everyone received a friendly welcome from a female flight attendant. Of course I had chosen a single seat which was quite comfortable: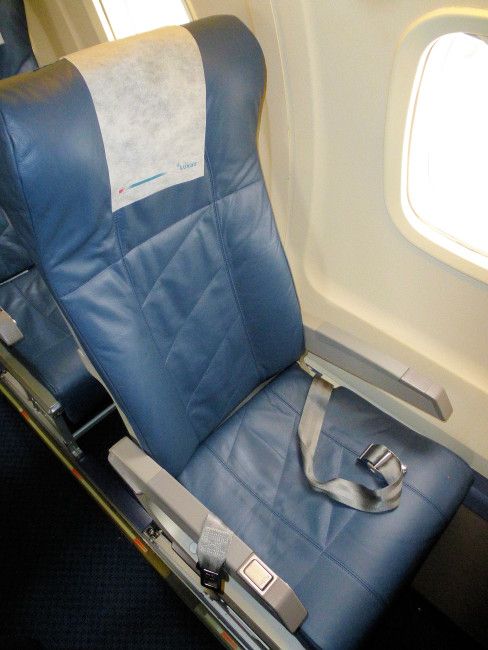 Legroom was decent, too: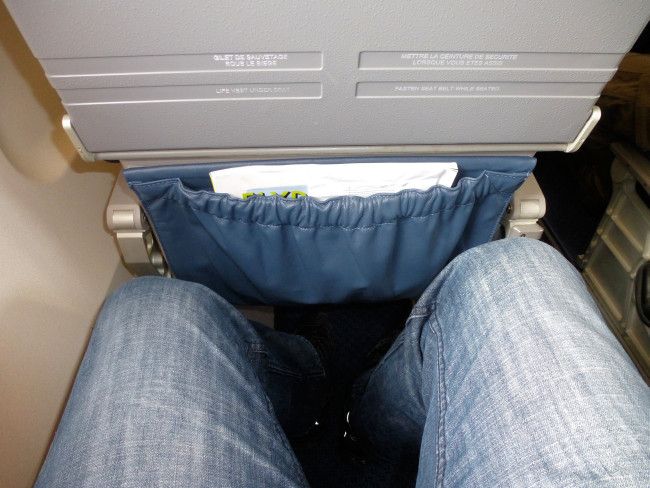 Parked next to us was Warton-based BAe 146-200 G-TYPH which is used as a corporate shuttle by BAE Systems:
We left the gate three minutes early and took off rather unspectacularly from runway 26R - the ERJs are simply boring planes to fly on...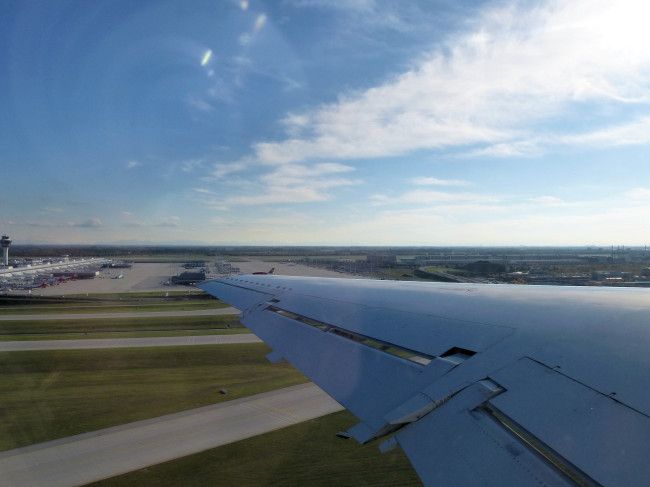 Safety card and inflight magazine:
No mistakes, well done: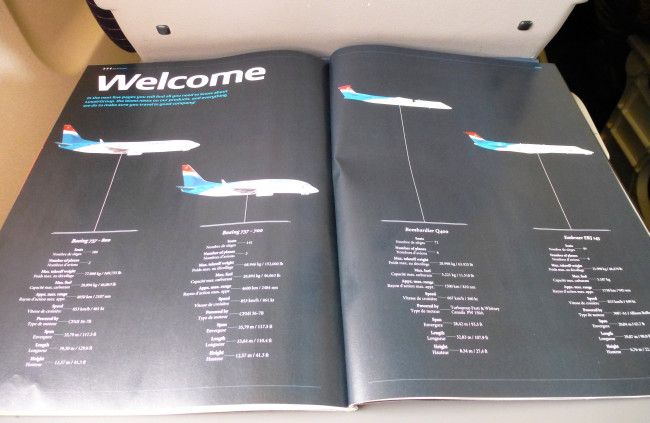 The friendly flight attendant soon started serving crunchy sandwiches with cheese or roast pork and horseradish cream (Bavarian style!). I ordered the latter and really liked it. Additionally, I ordered water and a good white wine: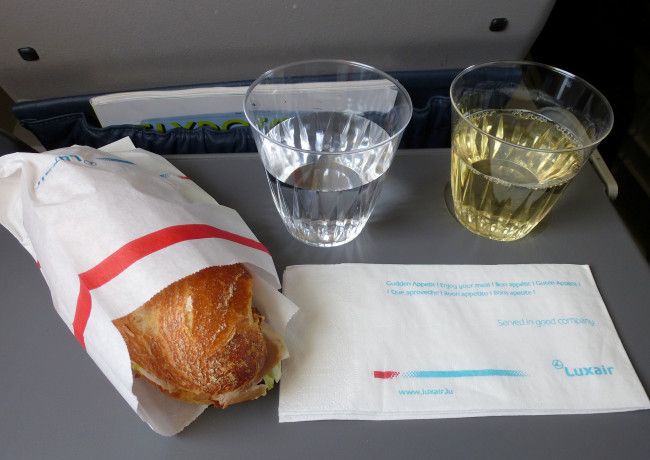 Full house - the empty seat on the left was mine:
The weather had been much better at MUC: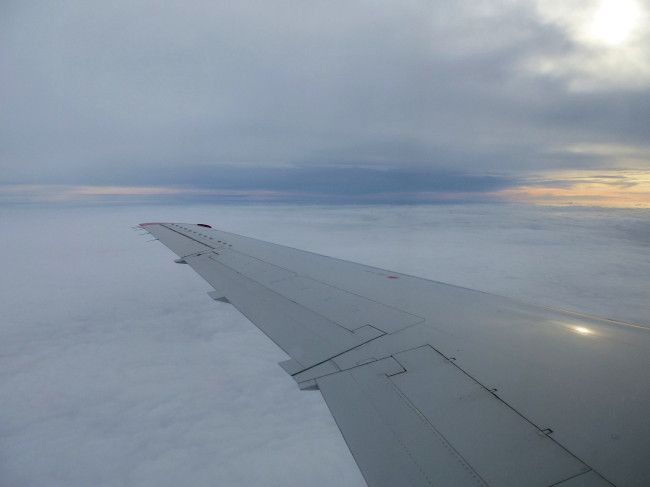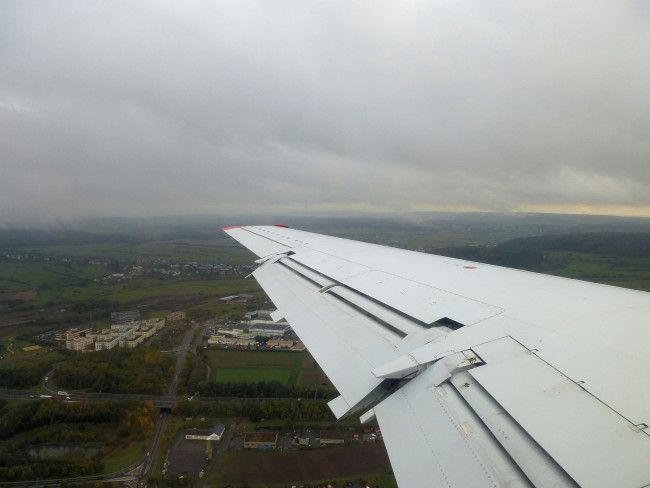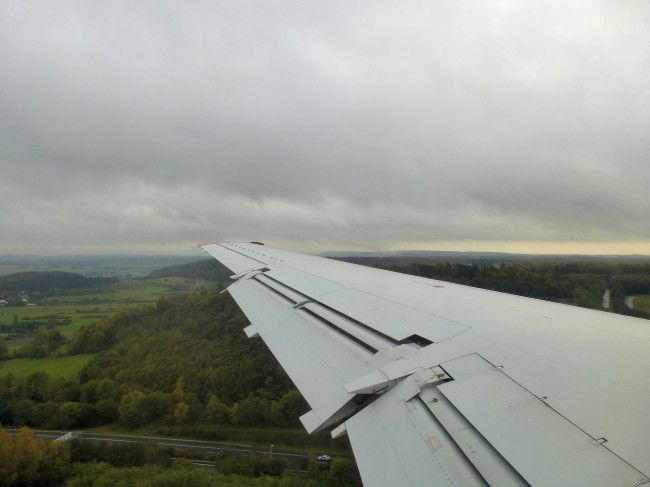 We touched down after a flying time of 52 minutes...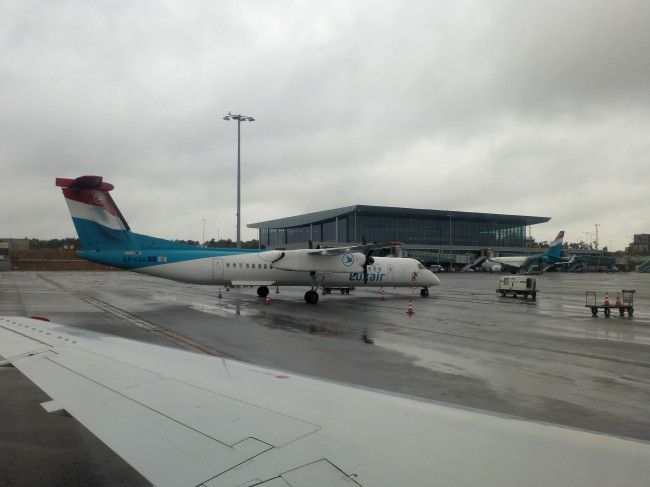 ...and arrived at the parking position almost 10 minutes ahead of schedule. This is former XL Airways Germany 737-800 D-AXLK which used to fly for Luxair several months (meanwhile active with Corendon Air):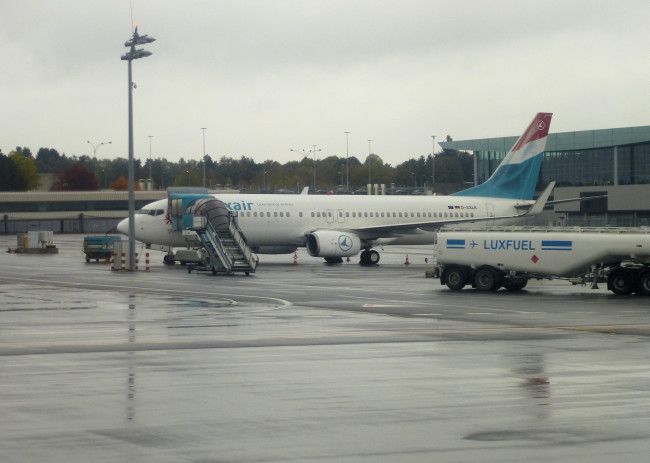 After I had arrived at the terminal building, I contacted user
luxair747SP
who had agreed to come by for a short meeting. We went to a cafeteria where we could watch the movements: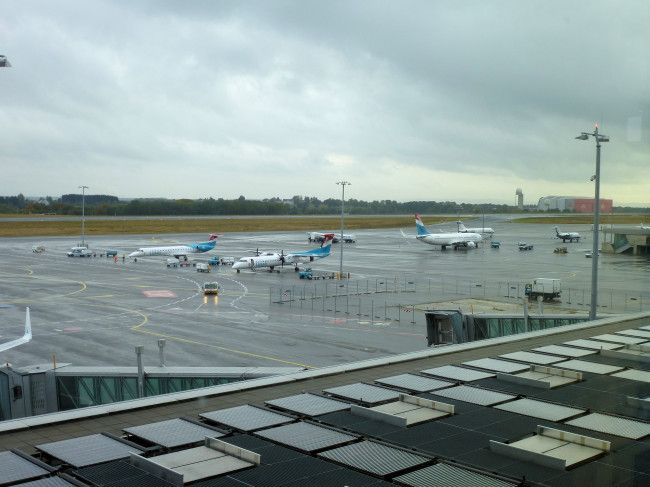 Here's my ERJ again, almost ready for its next mission:
After an hour or so,
luxair747SP
dropped me off at my hotel, the
Etap Hotel Luxembourg Aeroport
which is now marketed as an
Ibis Budget Hotel
. There wasn't much to expect, of course, but the room was clean and in good shape:
[Edited 2013-07-31 11:05:29]