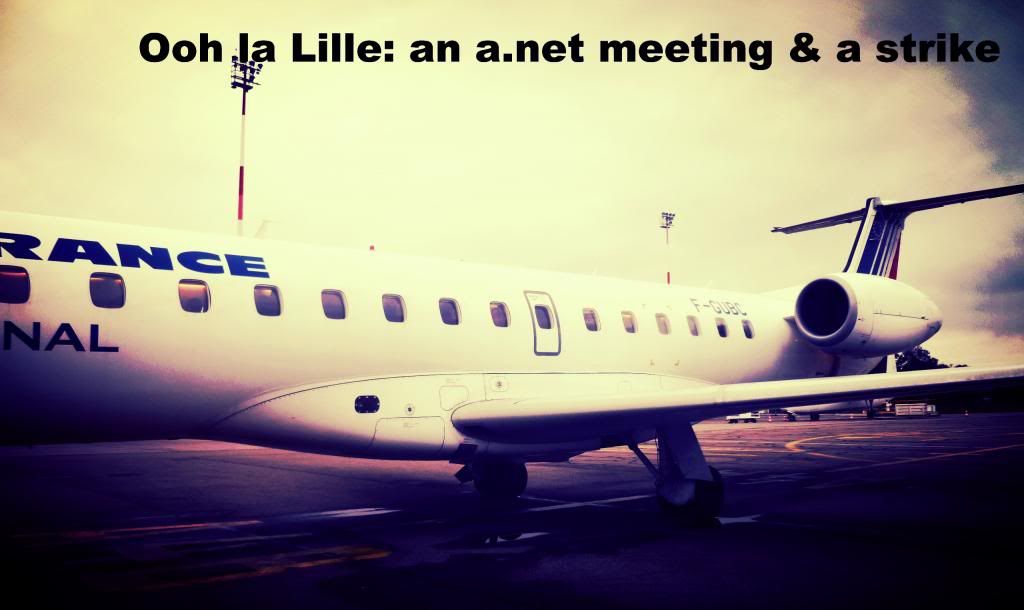 How to beat the winter blues? Well, the best way is by planning trips for the long summer months that lie ahead. Back in January fellow a.netter Flieger67 & I looked into some options for a daytrip and settled on Lille in Northern France. After briefly considering flying in and out of Strasbourg, we eventually chose Basel/Mulhouse as our start/end point, booking the tickets as French domestics.
Planned was MLH-ORY, then with the AF bus to CDG where we'd pick up the TGV to Lille and to fly back the route was LIL-LYS-MLH. The MLH-ORY leg cost 80E (I paid a little extra to get the miles) and the LIL-LYS-MLH flights were 120E. However, as we know too well on A.net, things don't always go to plan.
This was the booked route, thanks to gcmap.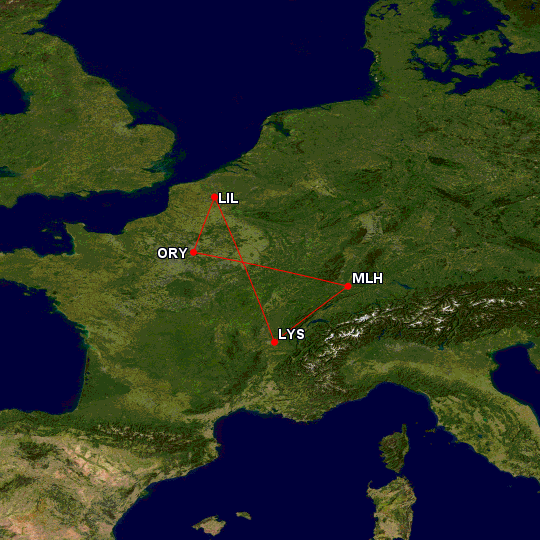 Fellow member MSS658 heard about our plans and very kindly offered to meet us in Lille, despite the fact that he'd be in the middle of important exams. Well, local guidance is always great, so we were looking forward to a successful day out.
Monday June 10
With a departure time from Basel an unusual 08.50 I'm not sure how the traffic will be on a Monday morning and set off at 06:00 for a journey that normally takes 45minutes. Well, today is no different and I pull into car park F3 on the French side before 07:00, way too early. I head to the terminal for some people watching.
There's a luggage wrapping service on offer at check-in and the woman who works there must be bored to tears. She has no customers and plays with her phone the whole time.
Here are today's departures
I notice that the early morning service to Lyon is cancelled and am quite relieved that we didn't book this one: it would have been an option to fly MLH-LYS-LIL. Little do I know what lies in store…..
Shortly before 08:00 Markus arrived and no sooner have we greeted each other he proceeds to tell me that our evening flight from LYS-MLH has been cancelled: he received an SMS from AF. I subsequently found out I had received an e-mail sent the night before informing me too. An air traffic control strike in France is planned from tomorrow, but it seems that some flights later today are going to be affected. We don't have a lot of time on our hands, but head to the AF ticket desk to ask about our options. The lady is very helpful, she doesn't bat an eyelid at our amusing itinerary and offers us the option of travelling LIL-CDG on the TGV and then flying CDG-MLH. Well, it's the easy way, but not very exciting and it means Markus loses out on his new departure airport. He enquires about the direct LIL-SXB flight, which ironically was one we did consider during the booking process. Yes, there are seats available, so we take them. The lady has some trouble changing our bookings, as it seems that someone elsewhere is trying to access them at the same moment. She promises us she will make all the necessary changes, but we don't have a new print out in our hands. Will this be a problem?
After that it's time to head through security and straight to the gate.
This is what today's trip now looks like:
The "Super Connie" and hiding behind her, Twinjet for Marseille or Toulouse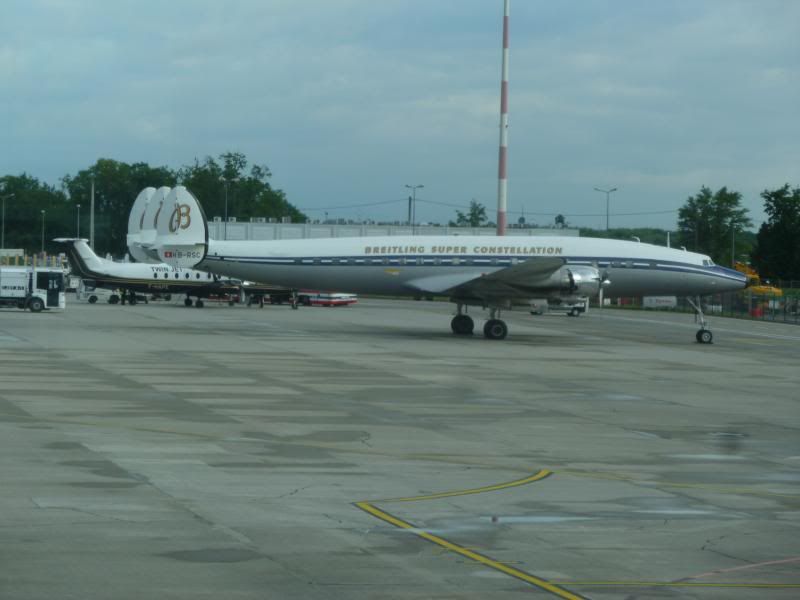 MLH-ORY
AF7335
ATR-72 F-GVZN
STD 08:50 / ATD 08:55
STA 10:05 / ATA 09:59
Seat 5A
My 2nd flight on the ATR-72 and the first on this aircraft
First glimpse of our aircraft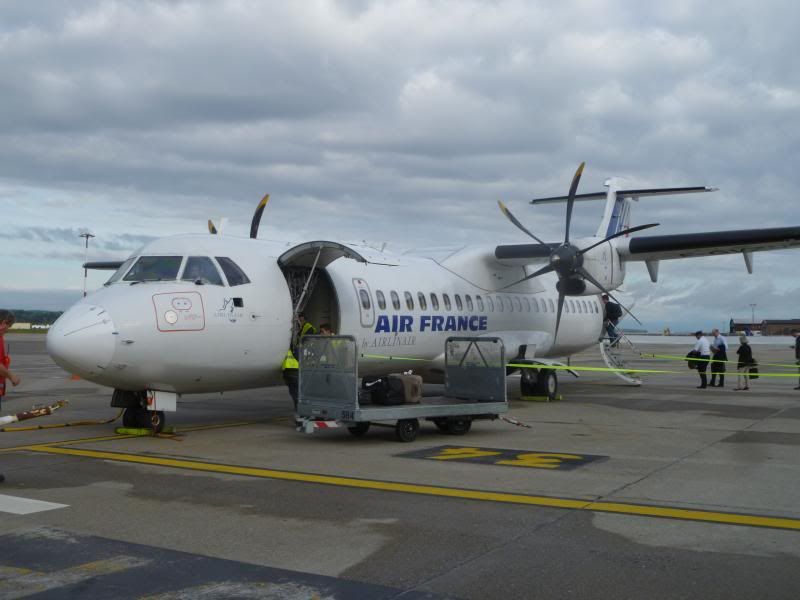 Boarding starts nice and early at 08:25. The registration seems vaguely familiar from our trip to Pau last year, as we later realise though it's one letter out and so a new aircraft for the log!
Just the rear stairs on the ATR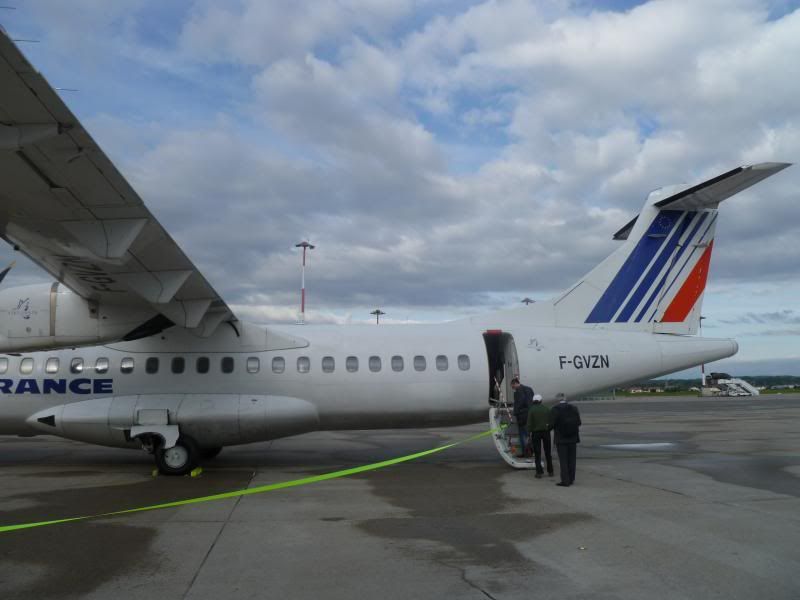 Sort of under the wing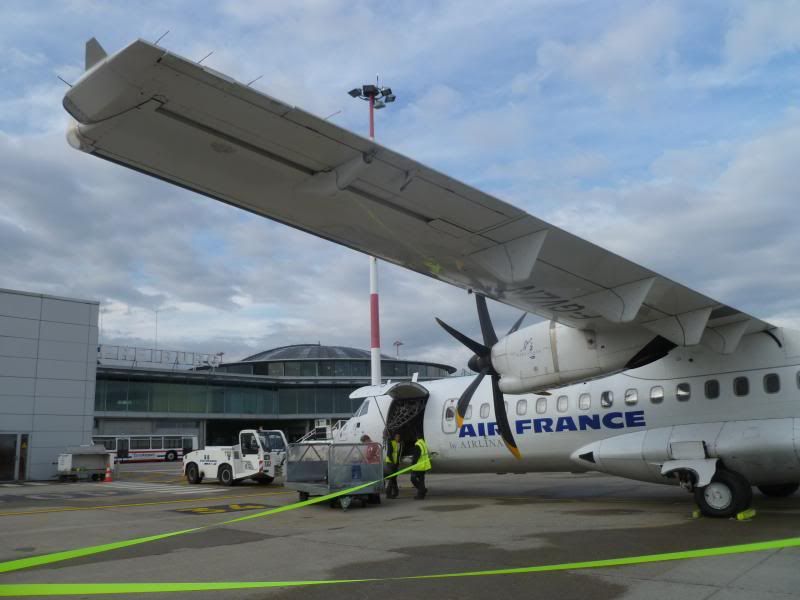 Boarding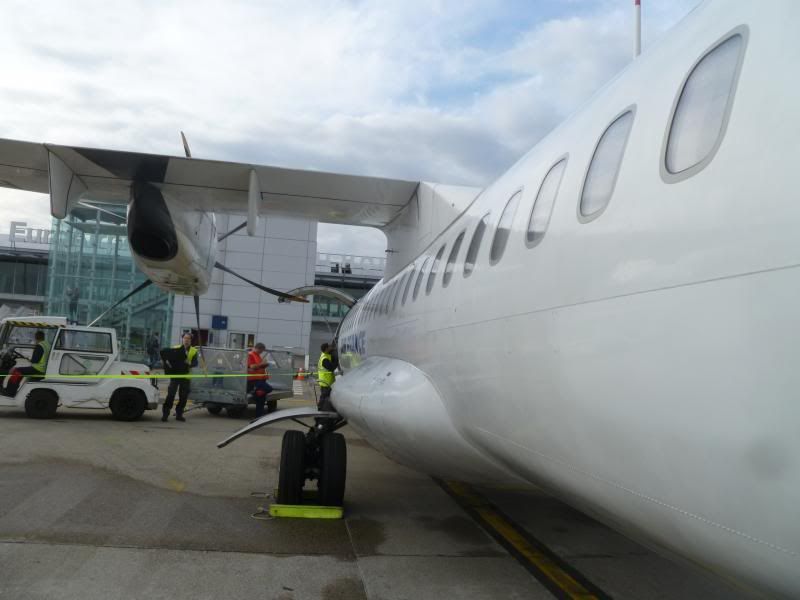 We are able to take our time on the tarmac photographing, nobody bats an eyelid (something we will only appreciate later in the day). The purser even seems concerns that Markus is so busy taking pictures that she asks me whether he intends to board the plane
I already have a neighbour on my original seat of 18A so we move towards the front where there are a few empty rows. It's mainly biz travellers on this morning service to Paris.
Bags of legroom
Although the plane is still in AF colours, the crew are wearing the HOP! Uniform. Flying time to Paris will be 1hr5 where it's a fresh 13C. 2 female FAs are in the cabin today.
Cabin shot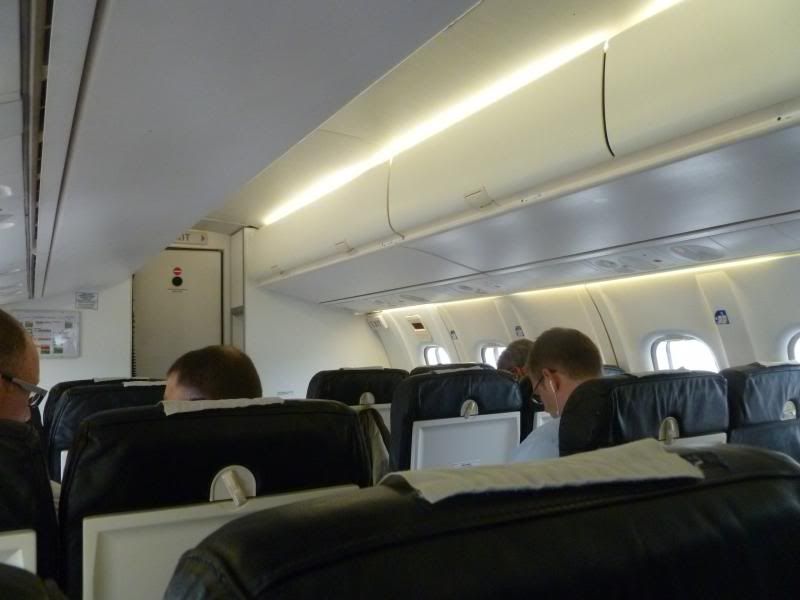 We pushback before our STD and take a short cut to runway 15, where we take off at 08:55.
Turning
Bye bye Basel
Some views of the city
The green Alsace landscape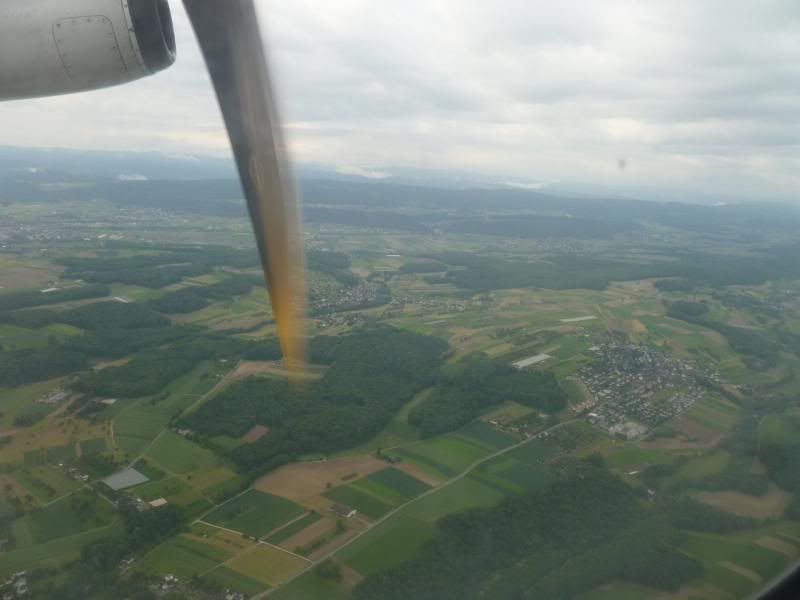 Inflight service. You used to get a small croissant or pain au chocolat, cost cutting is everywhere.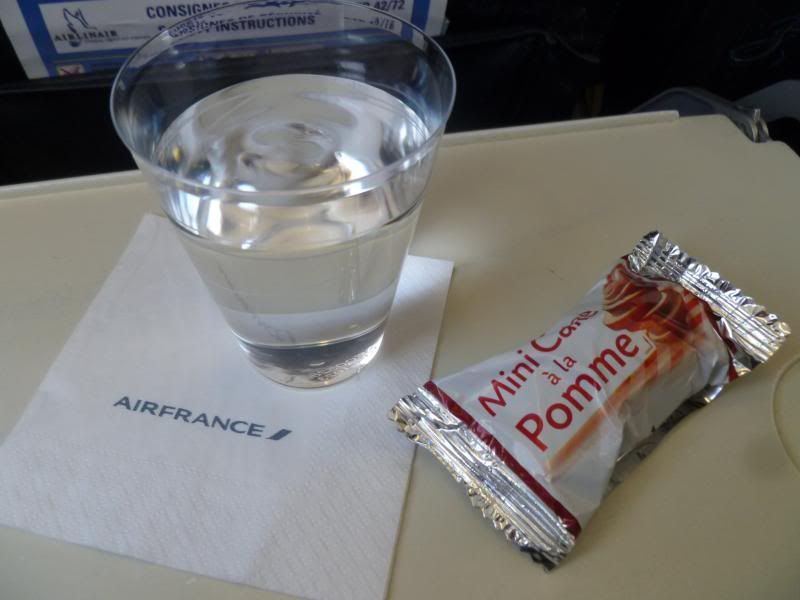 Unsurprisingly there are mainly business travelers on this service. We take the opportunity to catch up on our news and confuse the FAs by changing seats.
First glimpse of the Paris area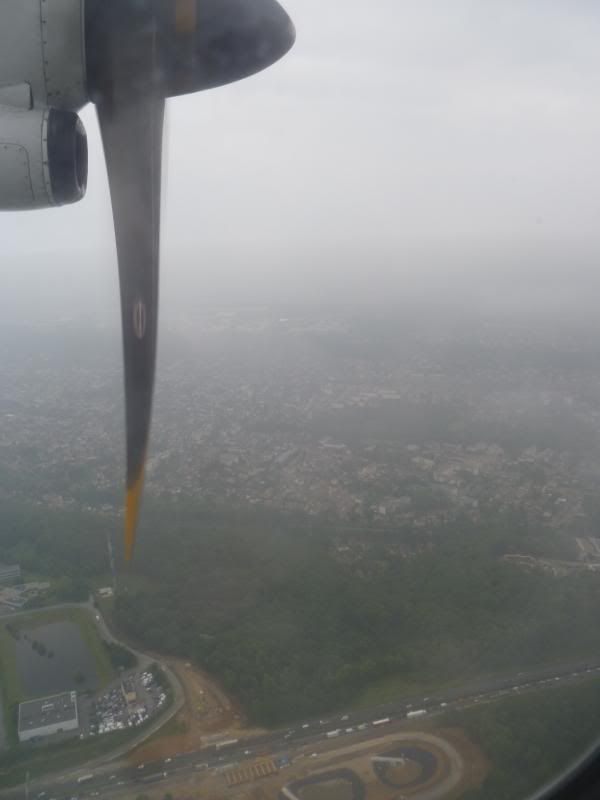 A big queue of traffic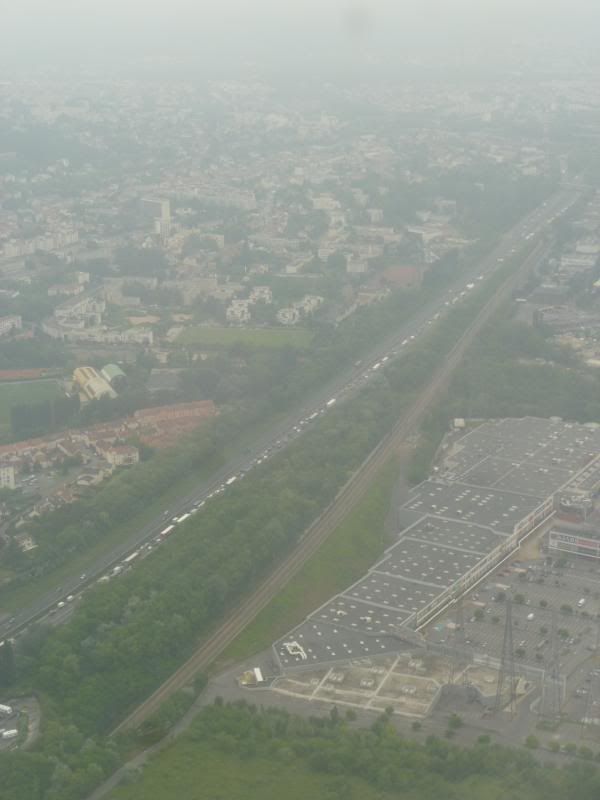 Finals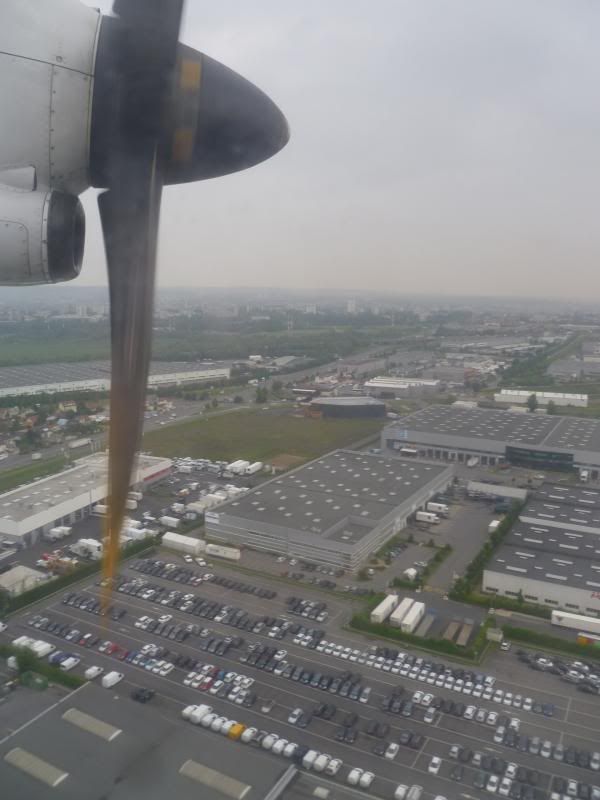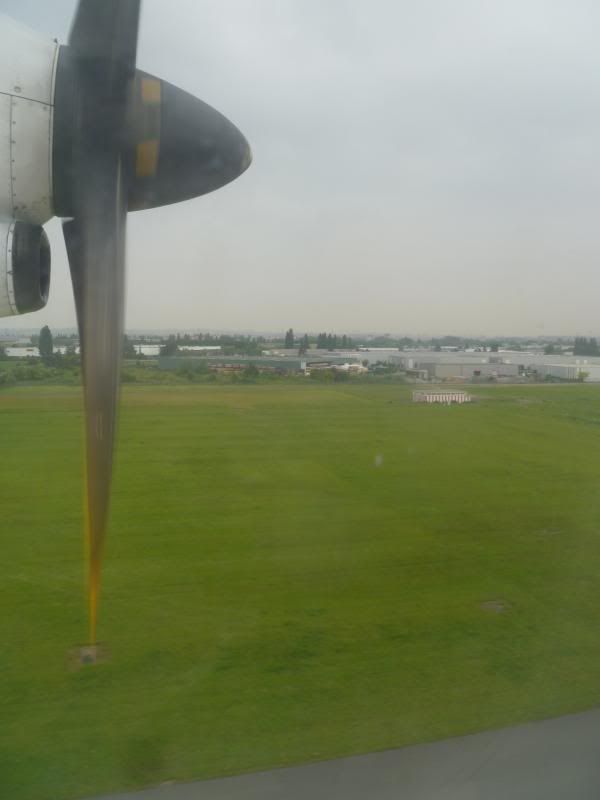 We land at Orly early, it's a very smooth touchdown but is somewhat spoiled by some heavy braking action afterwards.
Traffic. This Open Skies 757 is a regular here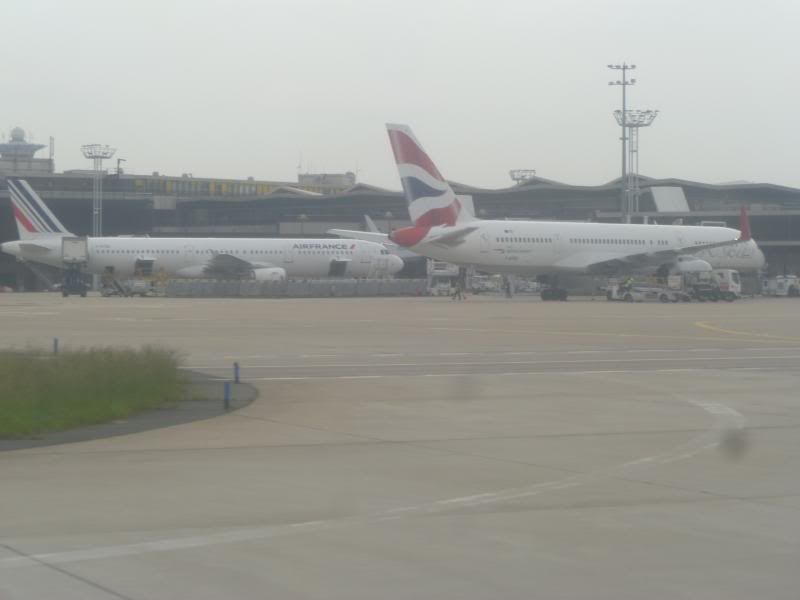 Corsair
AF of course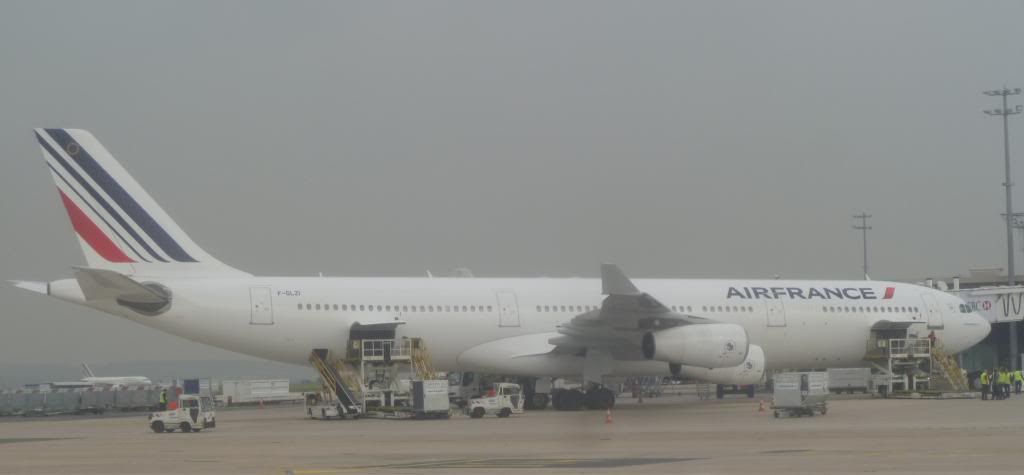 As well as a visitor from the UK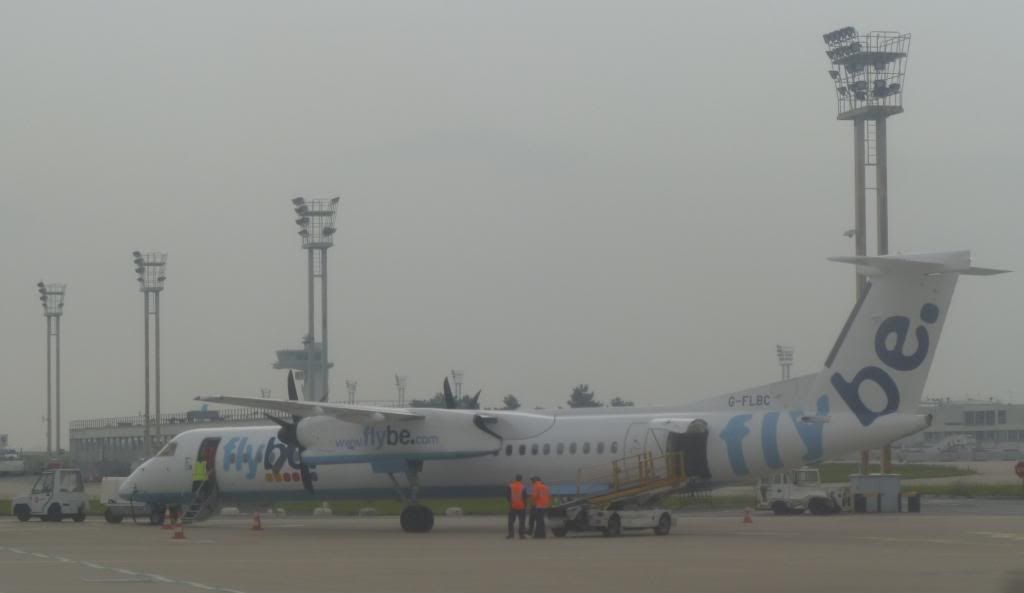 Deboarding views
The not so impressive baggage claim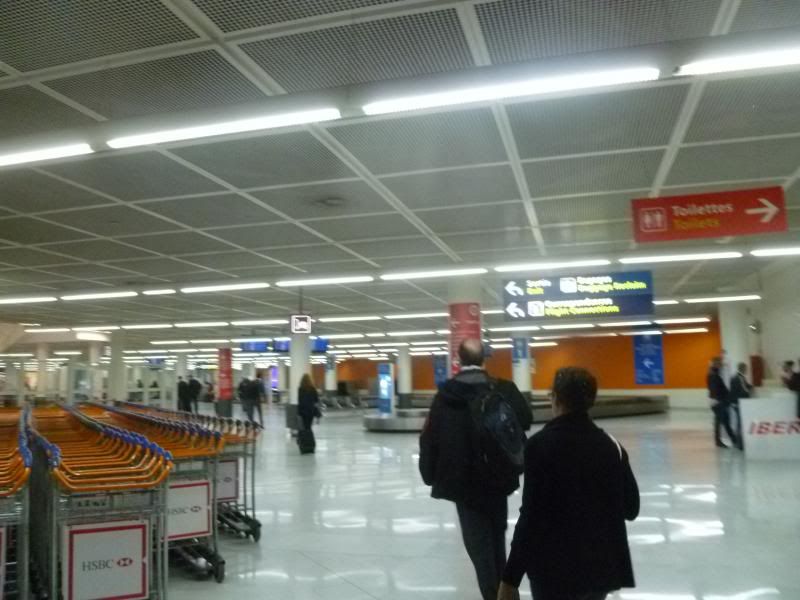 One out at arrivals we head for the coach service that will take us to CDG. We just miss one as it's full, but no problem, we have enough time.
Our coach for CDG. My ticket was purchased online for 18Euros.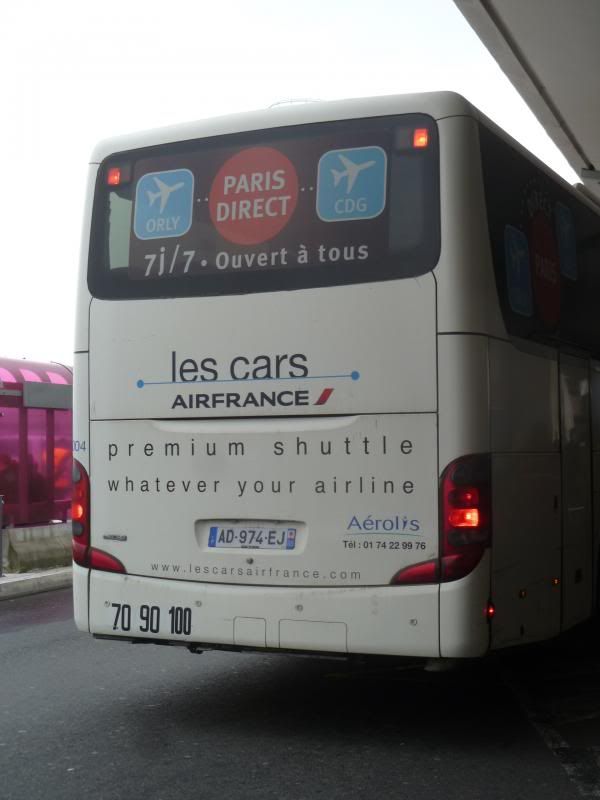 Just like in the air, the last row is the preferred choice for A.netters. The coach is full and the legroom abysmal. There's some heavy traffic on the motorway but it keeps moving and we are at CDG about 40 minutes later.
Arrival at CDG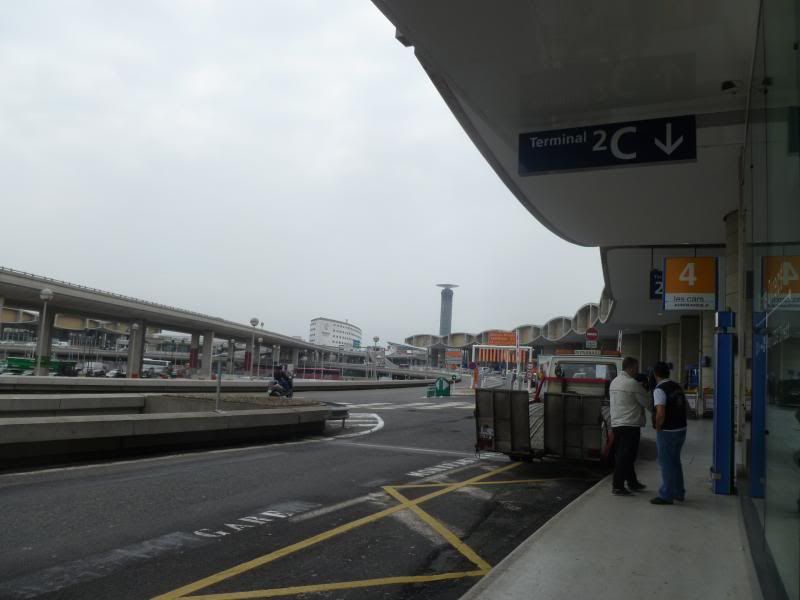 From the coach stop we have a little trek through CDG until we reach the TGV station.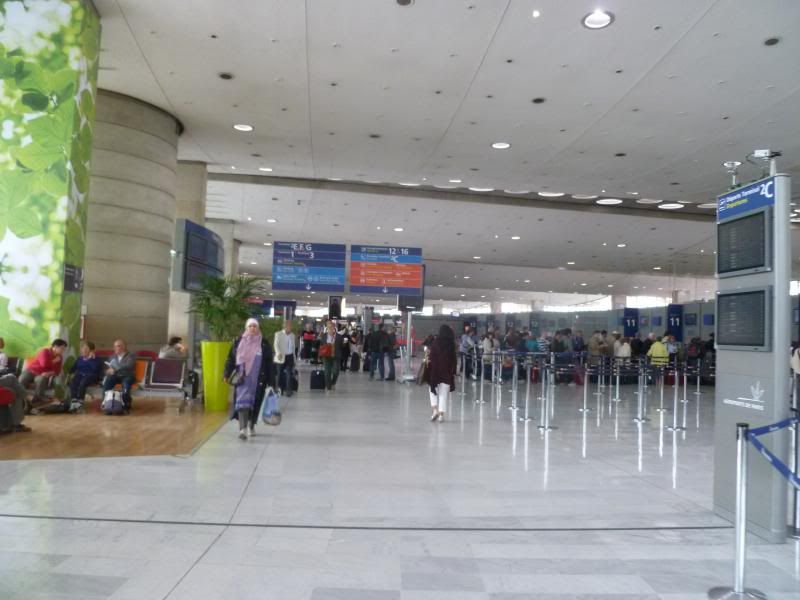 Incredible arrivals boards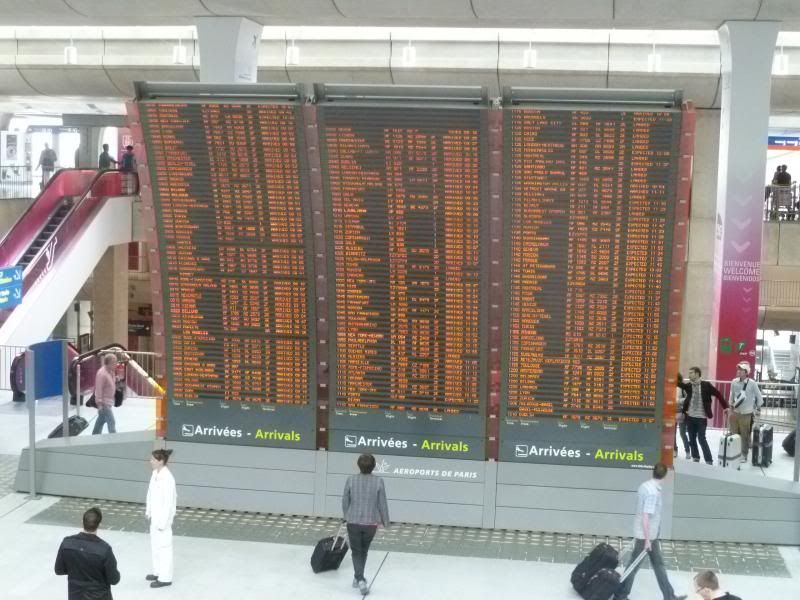 Feeling a bit peckish, we stumble upon a branch of Paul the bakers and purchase some delicious apricot Danish pastries.
The TGV station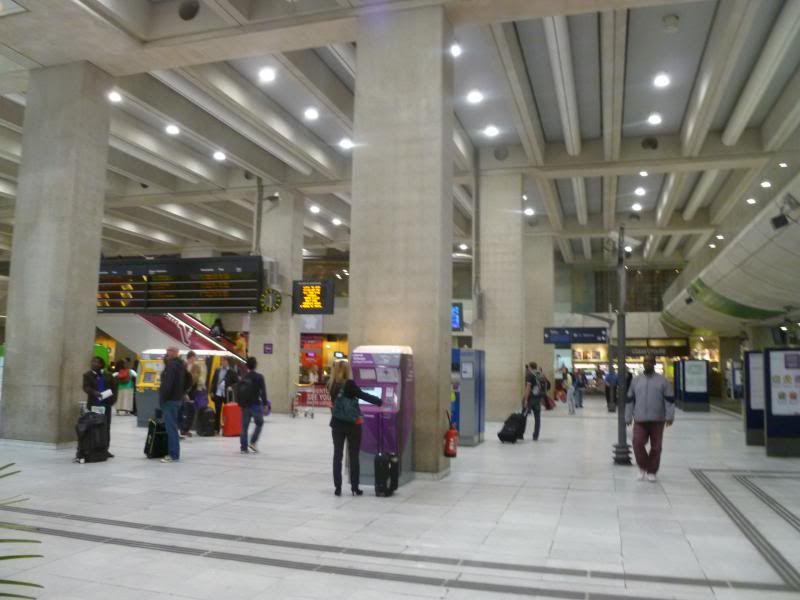 TIDS!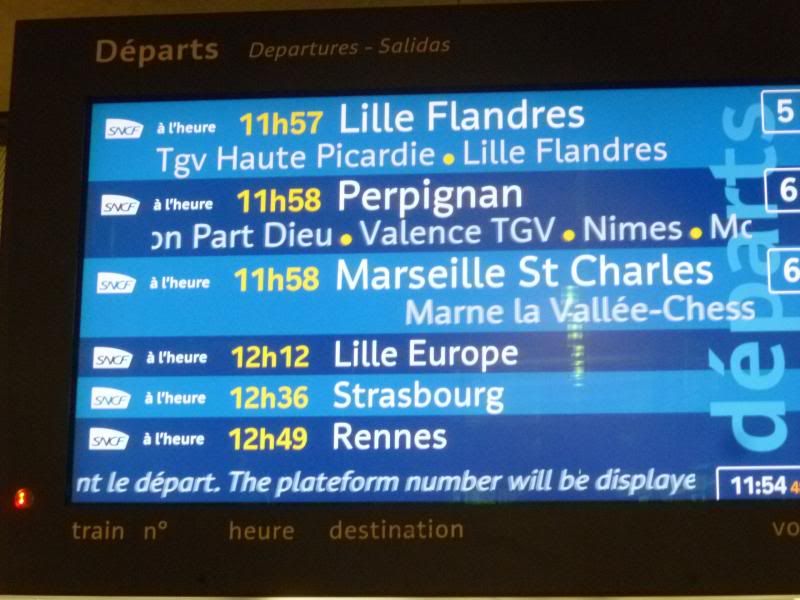 Busy scenes on the platform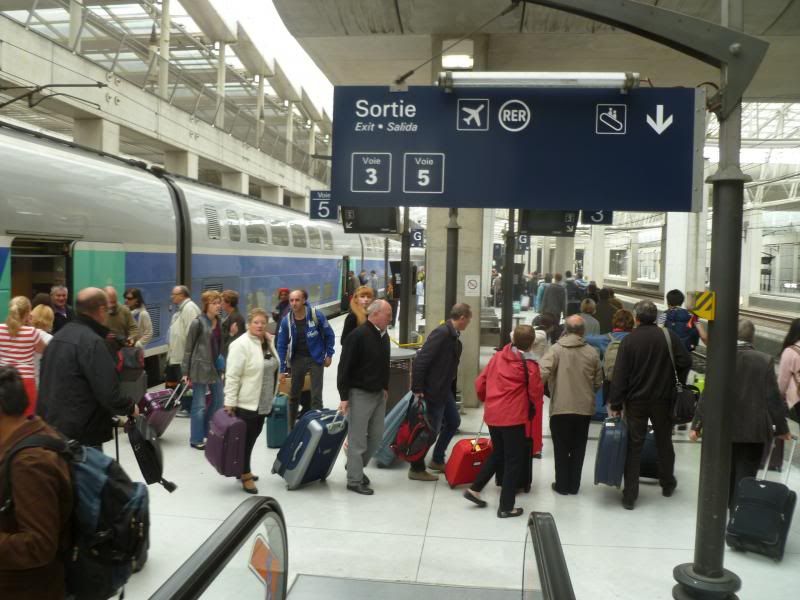 Lucky us, it's the right station!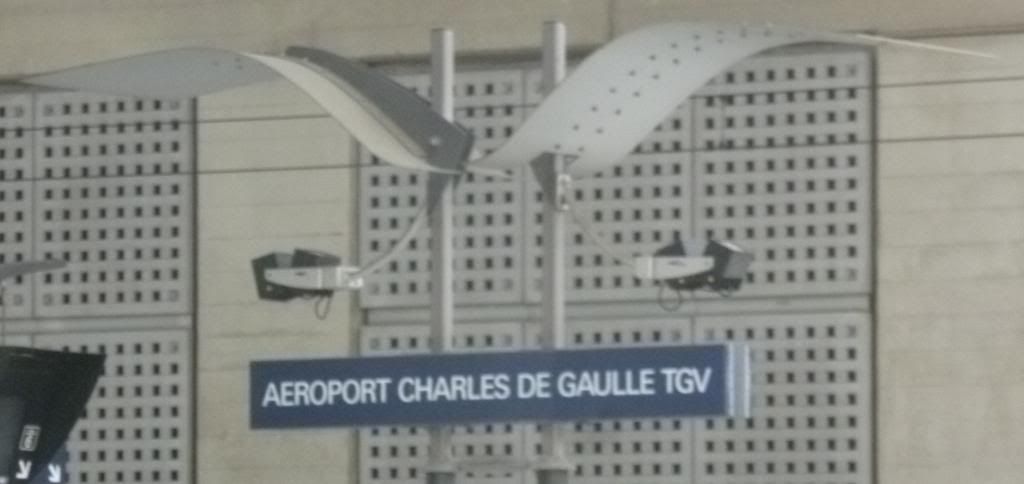 Train layout for the Lille service
And here she is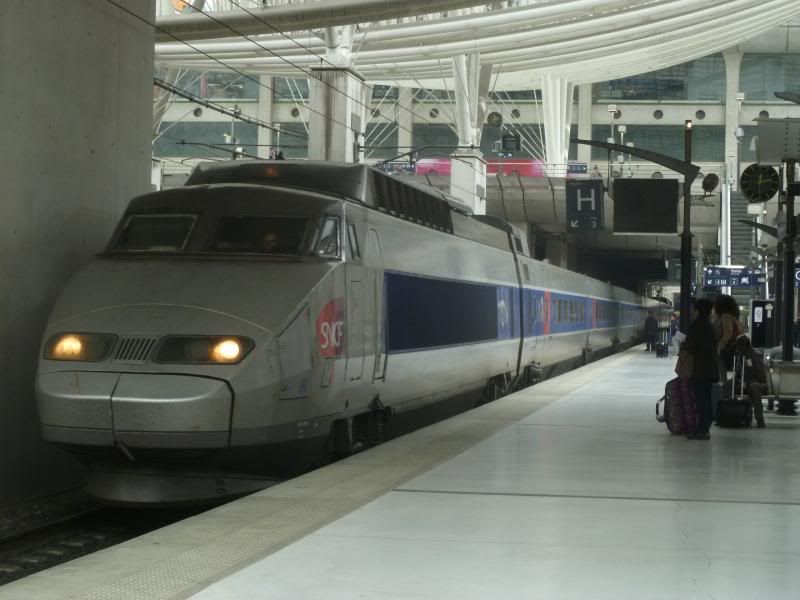 The coaches have seen better days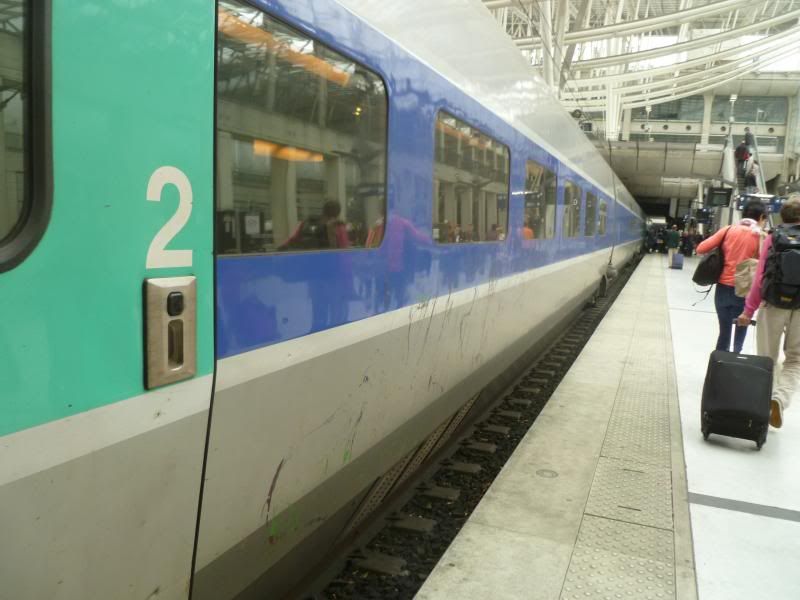 Getting on the TGV reminds me of the many trips I used to make on Eurostar to and from the UK. I'd forgotten just how fast these things go. We whizz through the French countryside, the cars we pass on the motorway appear to be crawling along.
An hour later we pull into Lille Europe station, where Marc is waiting for us.
Arrival at Lille Europe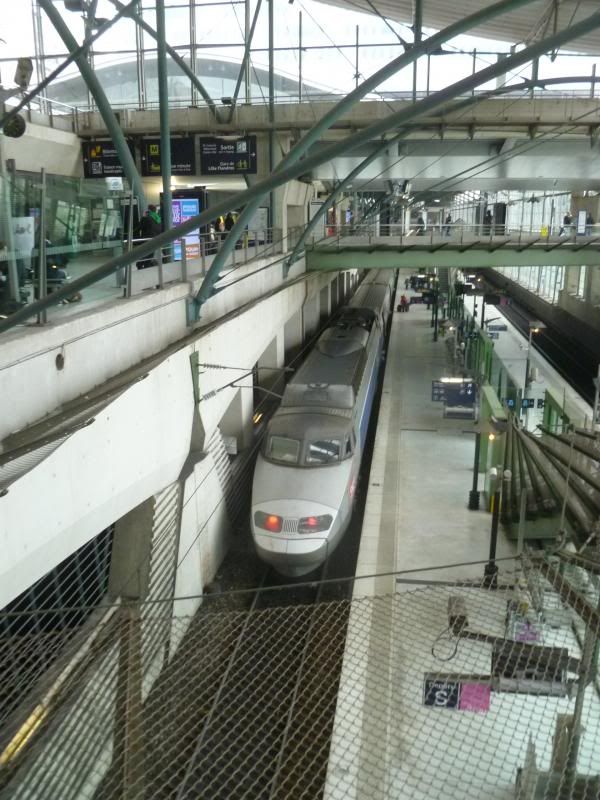 Despite having used the Eurostar service numerous times, there is something very special about seeing a train service from London when you're on the other side of the Channel.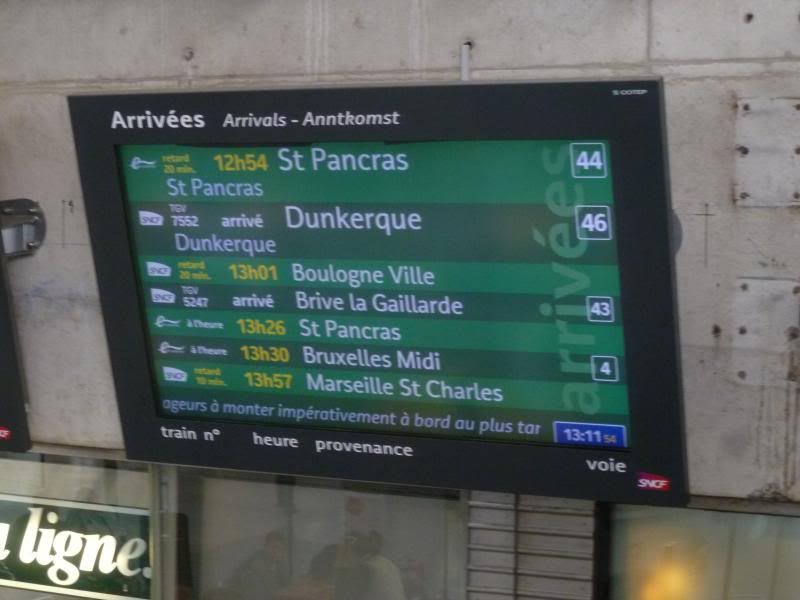 Marc is the perfect tour guide today:
Walking towards Lille centre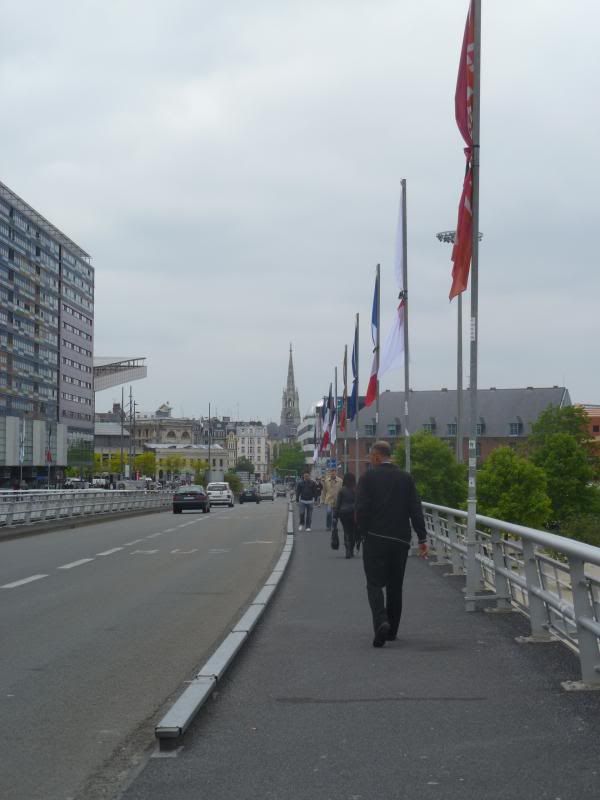 Lille's huge shopping centre. Just as I pop across to Germany for my shopping, the Belgians visit Lille (Note to self: this place is a reason alone to return to Lille one day!)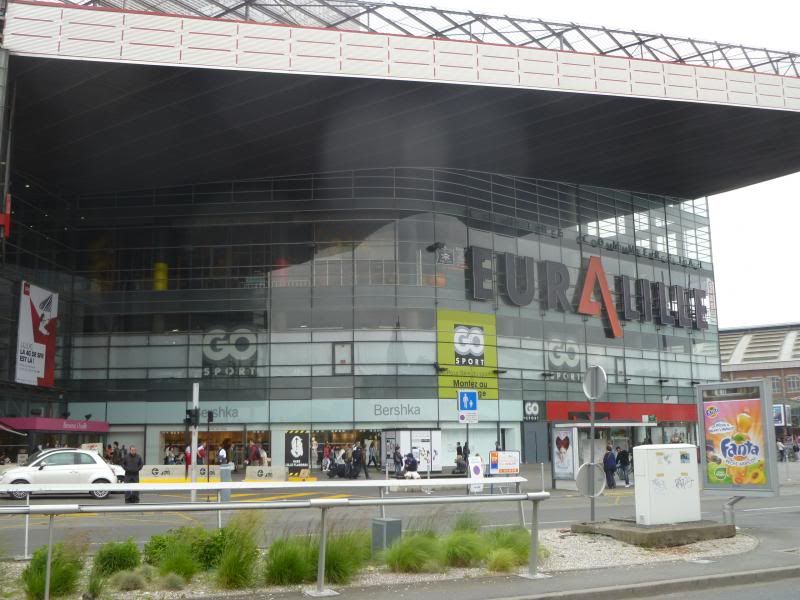 The other station, Flandres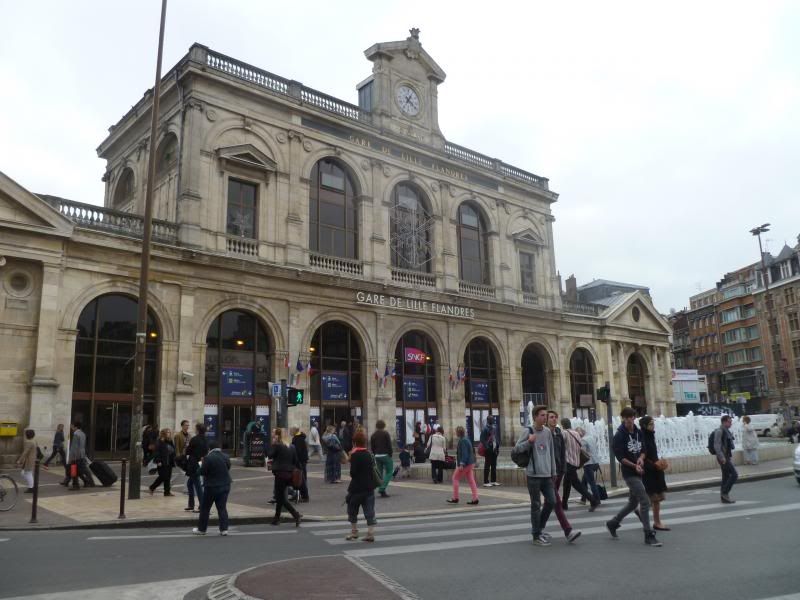 Some impressions: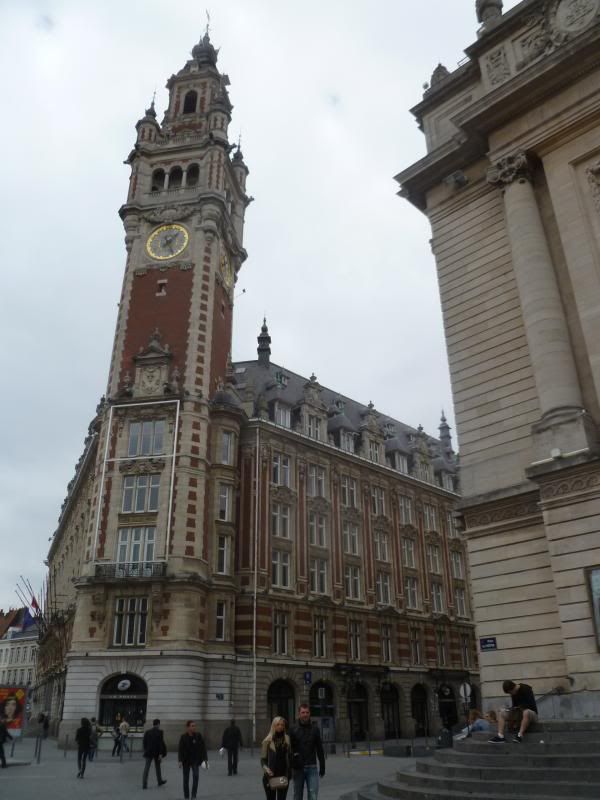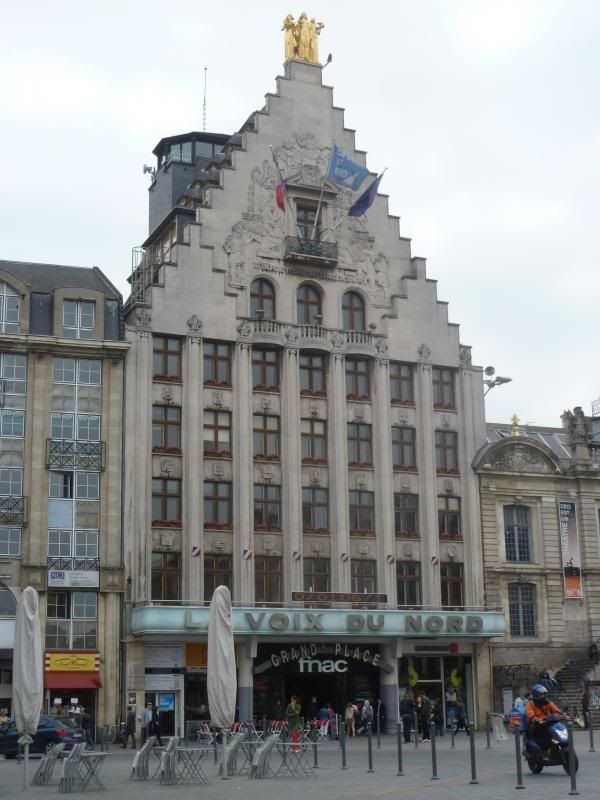 Flowers are big business here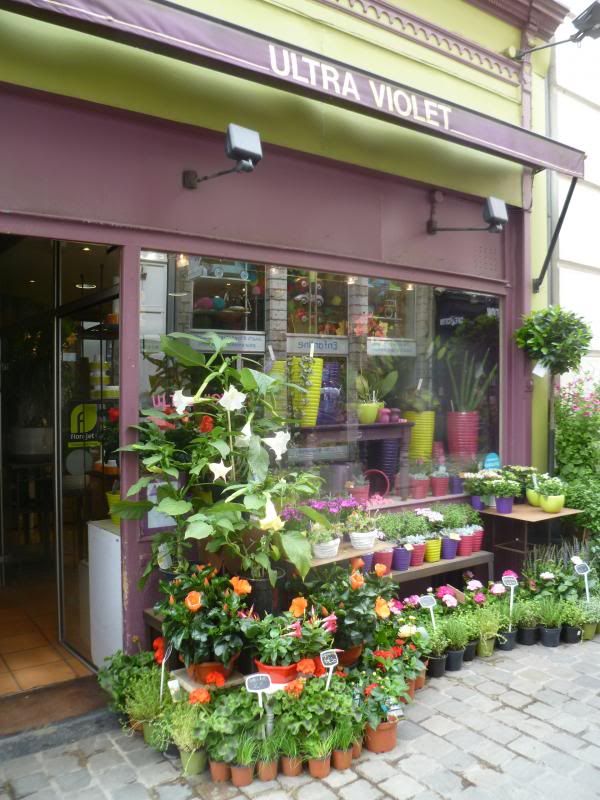 Spot the trip reporters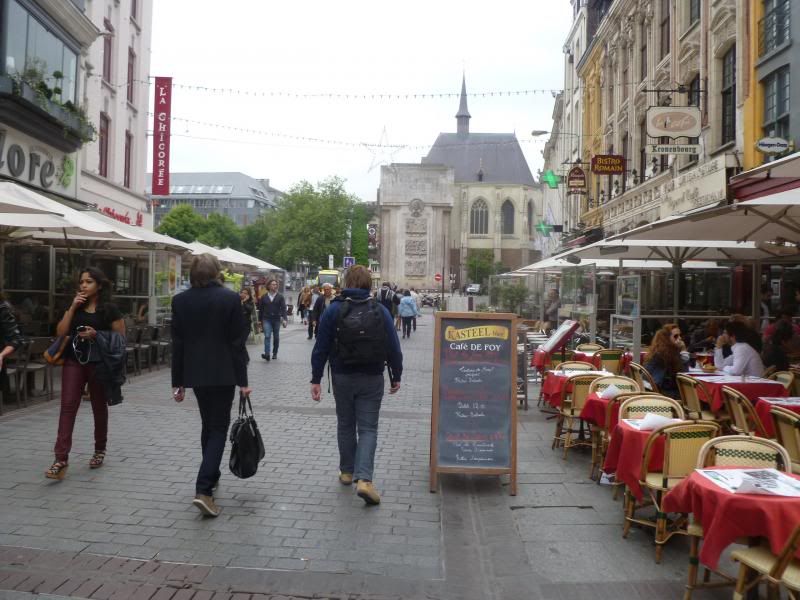 Part 2 to follow…..