Hello again!
Not long after returning from a crazy Nordic daytrip to fly the 787…
Nordic Dreaming - BCN-RYG-OSL-BCN FR And DY 787!
(by
MIAspotter
Aug 6 2013 in Trip Reports)
It was now time to head south-east.
Singapore is a place that I admire a lot, a small country that has developed vastly in its short existence as a republic, now a bustling modern city with state of the art infrastructure, excellent public transport and services, and with an interesting mix of cultures, and of course food and shopping!
I have travelled twice before and always wanted to return for some more, so back in April I booked a week-long trip there for my august holidays, the plan was to spend 4 days in Singapore, then head over to Kuala Lumpur and Malacca for a weekend, but at the last minute (whilst in Singapore) I decided to ditch Malaysia altogether and just stay in Singapore so that I had more time to explore the City-State.
I chose Qatar Airways simply because it had the cheaper fare, EK and LX were closer but by the time I decided to book the flights their prices were higher, I flew QR in 2011 from BCN to HKG and found them to be OK, not so sure if worthy of their much acclaimed 5 Star service in Economy which I found rather ordinary and a bit uncomfortable on their A330 (IFE box takes a big chunk of the under seat space) also transiting in DOH is not a very pleasant experience (but is good fun for people watching).
QR offers a daily flight to BCN and on certains days there are 2 flights, one in the morning and one in the afternoon, all using the A330 and sometimes the 77W has been sent as well.
I decided to give them another try, and also the prospect of using the brand new Hamad International Airport made it even more interesting, of course later on we found out that NDIA was to be delayed… oh bummer, at least I get to try 2 new aircraft types (77L and 77W)
So, on I went to
www.qatarairways.com
and booked a 630€ itinerary with the only downside being a lengthy 7 hour layover in Doha airport…
Flight 1 – Barcelona to Doha QR68 A330-300
Flight 2 – Doha to Singapore QR640 B777-200LR (my first 77L flight)
Flight 3 – Singapore to Doha QR643 B777-300ER (my first 77W flight)
Flight 4 – Doha to Barcelona QR65 A330-300
Once purchased, an e-ticket was delivered to my inbox, then you can go back to their website and choose your seat, add your API information, etc.
Great Circle Map of the journey.
To pass the hours, I looked at the Oryx Lounge in DOH which for a reasonably 45$ entrance fee will allow you to relax, eat and have a shower before continuing to SIN.
For the Malaysian weekend I booked a FireFly flight from SIN to SBZ, and a Tigerair flight from KUL to SIN altogether for the ridiculous price of 25€ both! so as you can see I wasn´t too bothered about missing those flights (except for the Firefly, which would have been my first time on an ATR)
With flights and hotels reserved, all I had to do was plan on what to do once in Singapore and wait until departure day.
Please excuse the lack of photos (all taken with my iPhone), at first I was not intending on writing a TR but a couple of interesting events made me change my mind… read on.
BARCELONA TO DOHA
Monday August 12th 2013
Flight QR068 Barcelona El Prat (LEBL) to Doha (OTBD)
Departure 15:45 (actual 15:45)
Arrival 23:10 (actual 23:45 due to holding over DOH)
Flight duration 7 hours
Airbus A330-300 (A7-AEO) delivered new to QR on April 14th 2008
Seat 33K
Finally the day arrived! I got up early, did some errands in the morning and returned to my house to get ready, showered, packed the last bits and set off for the airport via a taxi from my house to Plaça Espanya where I hopped on an Aerobus direct to the airport.
Upon reaching the airport it was a quick walk over to the QR check in desks, I used the fast bag drop line since I have checked-in online, a friendly agent tagged my bag all the way to SIN, she mentioned that my Privilege Club Burgundy status has been downgraded I told her that I was aware, that I would love to travel more frequently… but work gets in the way, she laughed in agreement, she issued me with proper boarding passes which she put in a yellow jacket that indicates I am a transiting passenger in DOH.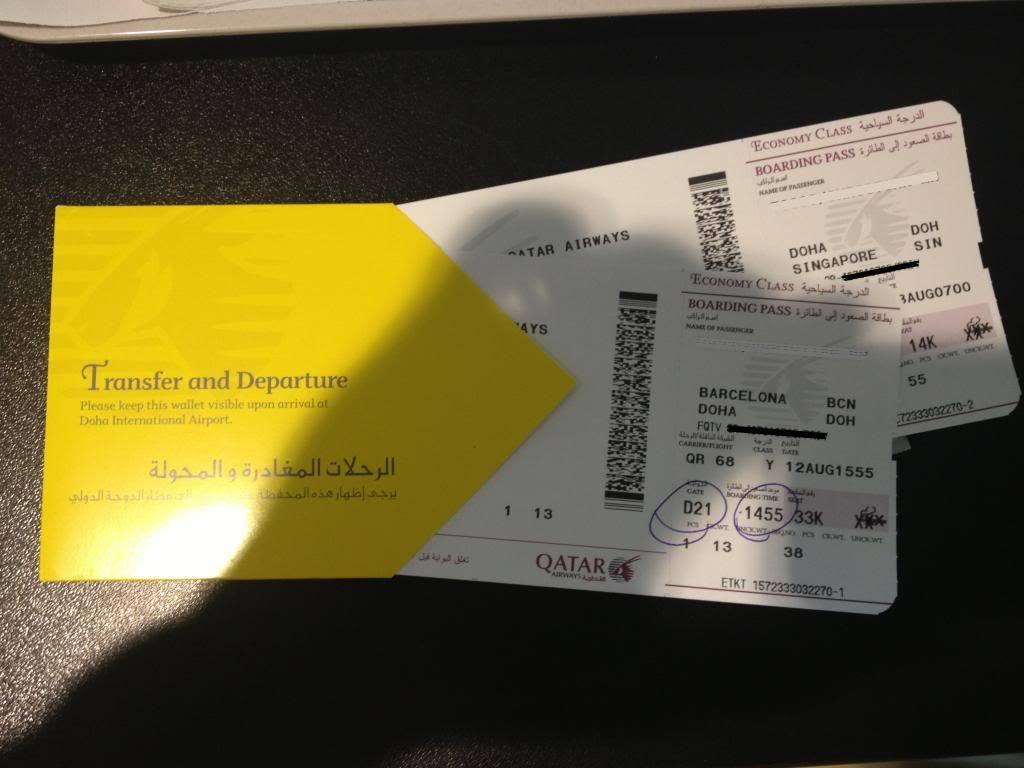 Boarding passes.
She wished me a pleasant flight and I was off to clear security, being august and peak travel season in Spain I thought it would be chaos over there, but surprisingly it was not too bad.
Then I wandered around the airport looking at the traffic before heading upstairs where the non-Schengen and intercontinental flights depart from, I stopped at McDonald´s (gasp) for a quick bite since I was hungry and there was still quite a long time until dinner onboard the plane.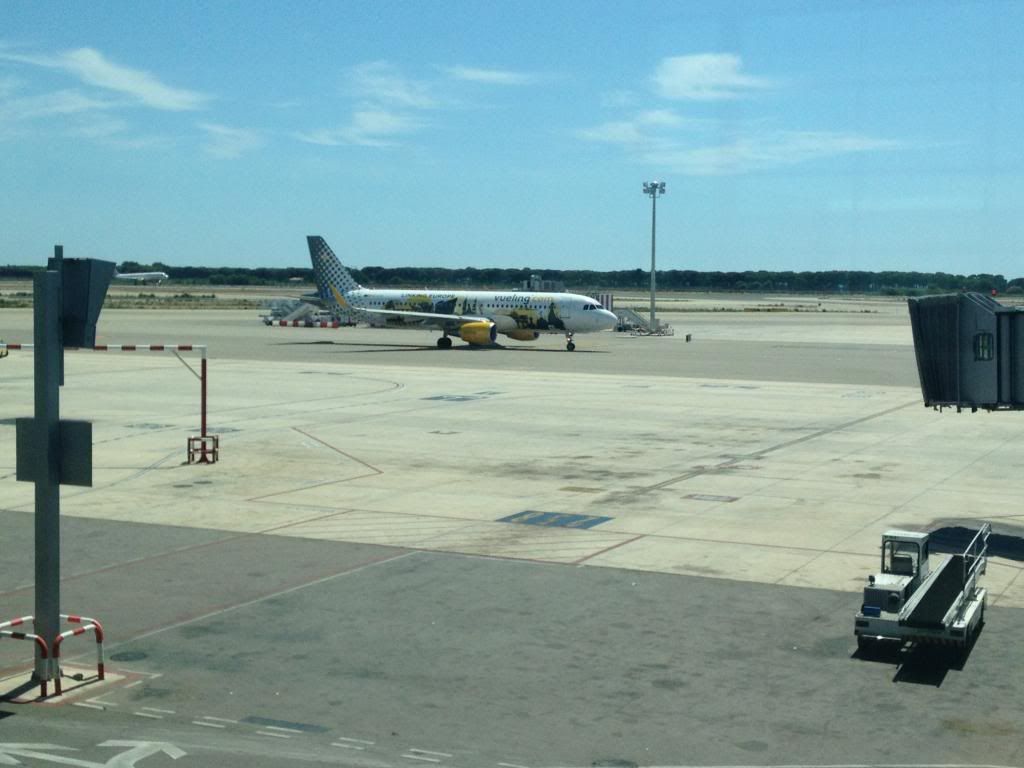 1 Vueling with Sharklets.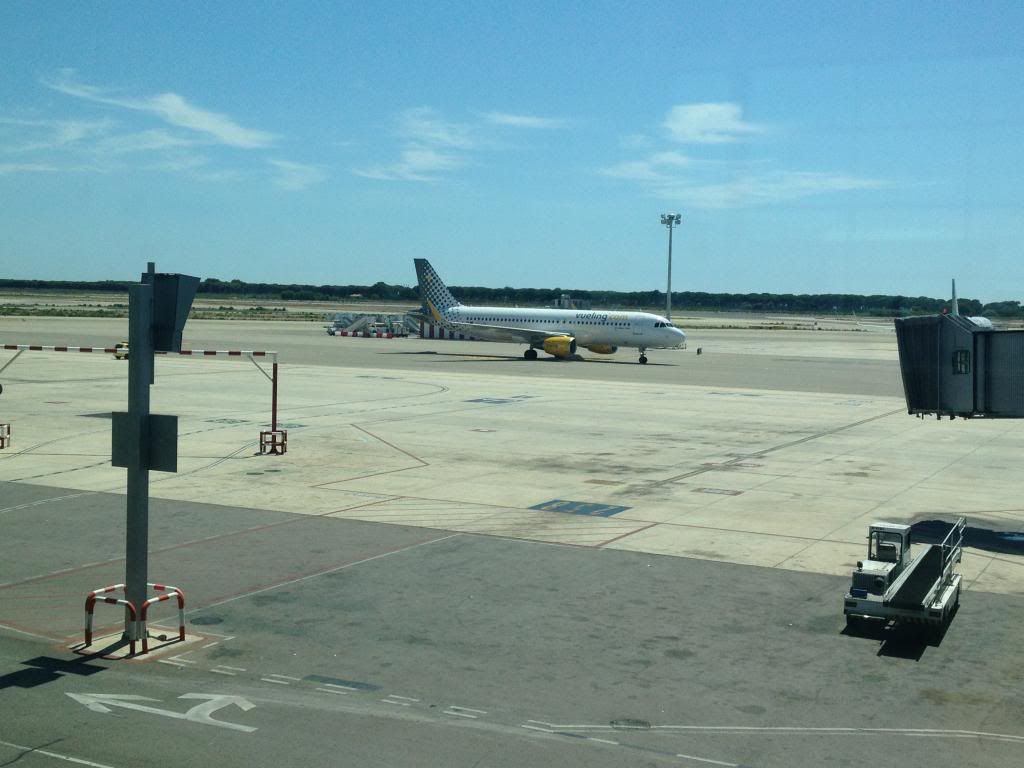 Followed by another Vueling with Sharklets.
I was tracking the inbound flight on FR24, and at approximately 14:00 A7-AEO touched down and slowly taxied to the gate.
A7-AEO arriving from DOH.
Time for a short rest.
Some of the passengers gathered around to watch the plane, some of them it seems are not quite used to travelling as they were intrigued by the size, paint and other details of the aircraft, here are some of the conversations overheard.
-Is this our plane? It is quite big huh?
-What´s that painted on the tail? A goat?
-Oh yeah this is our aircraft, I think it´s an Airbus A321…
-See those things on the wings? (Winglets) I guess it´s because otherwise it would not fit on the gate…
After the plane was cleaned, refueled, and re-stocked, boarding was soon called, being Spain, a line had already formed since 2 hours ago but the agent professionally enforced the boarding by rows, starting with families with young children, business class passengers, and then by zones, I was on the first zones to board so I made my way to the counter and onto the jetway.
It is always exciting to board a flight, but more exciting when you are boarding a big one going somewhere exotic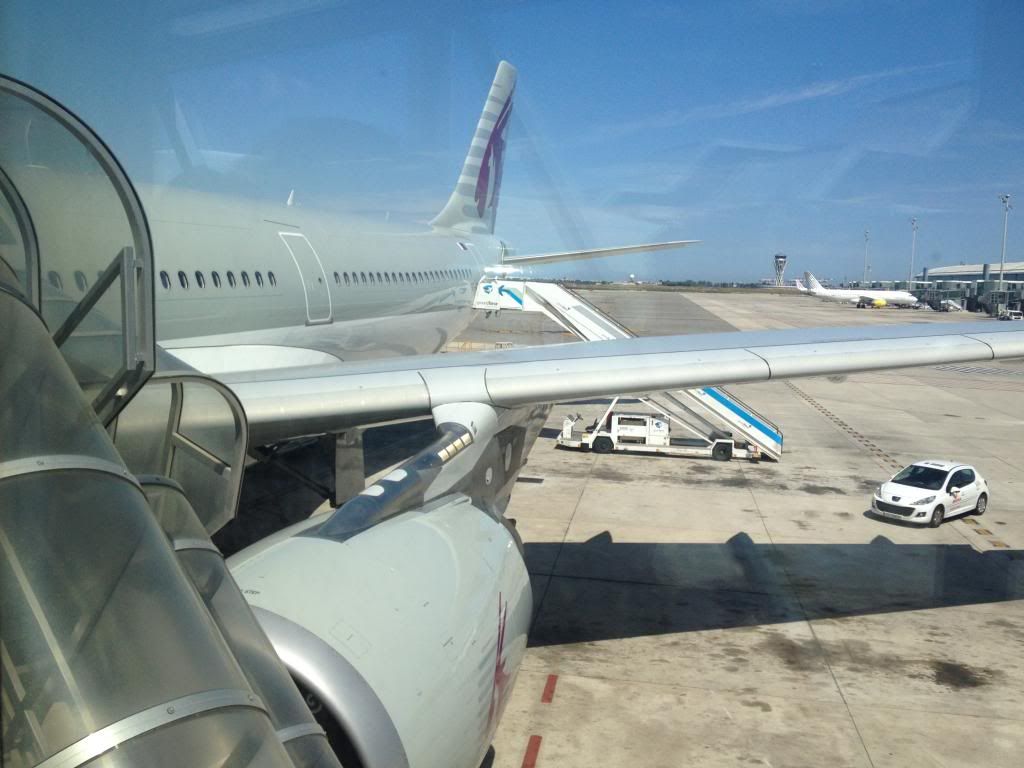 Oh yes... dis what I love.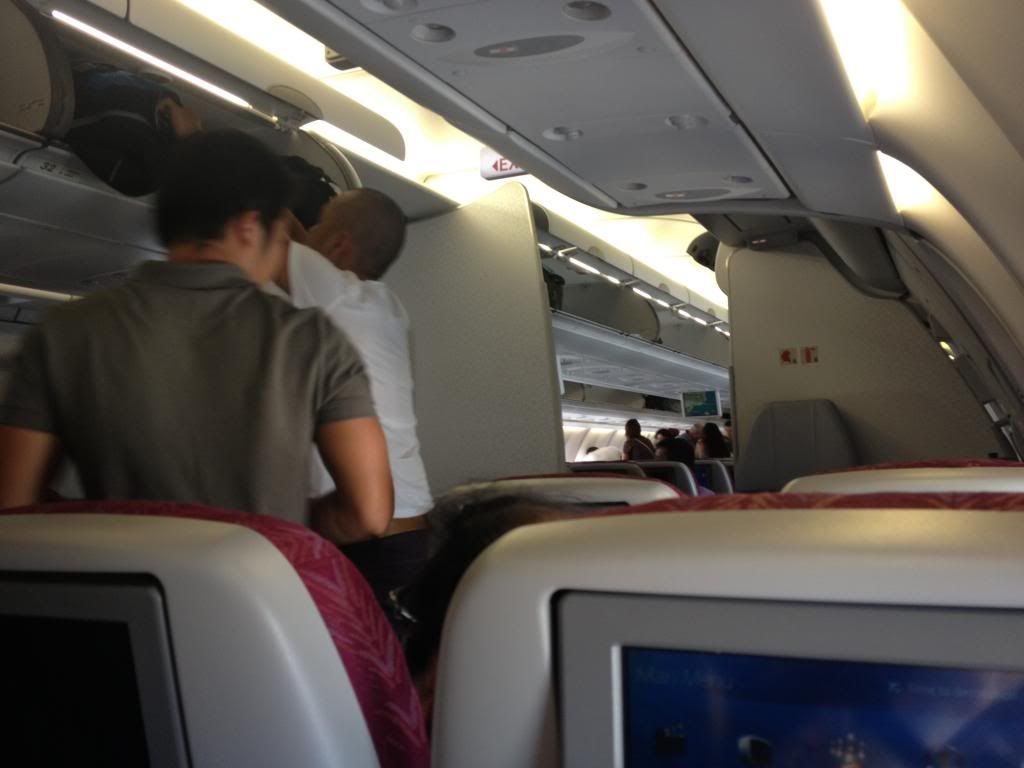 Cabin.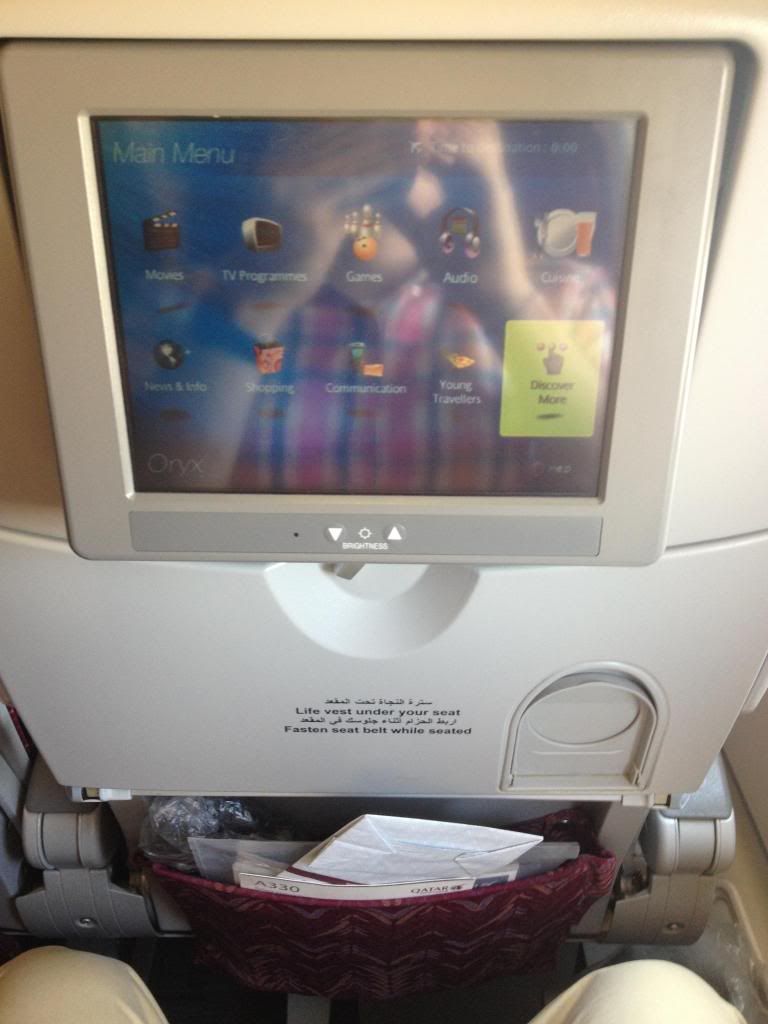 Signature a.net knee shot and IFE screen.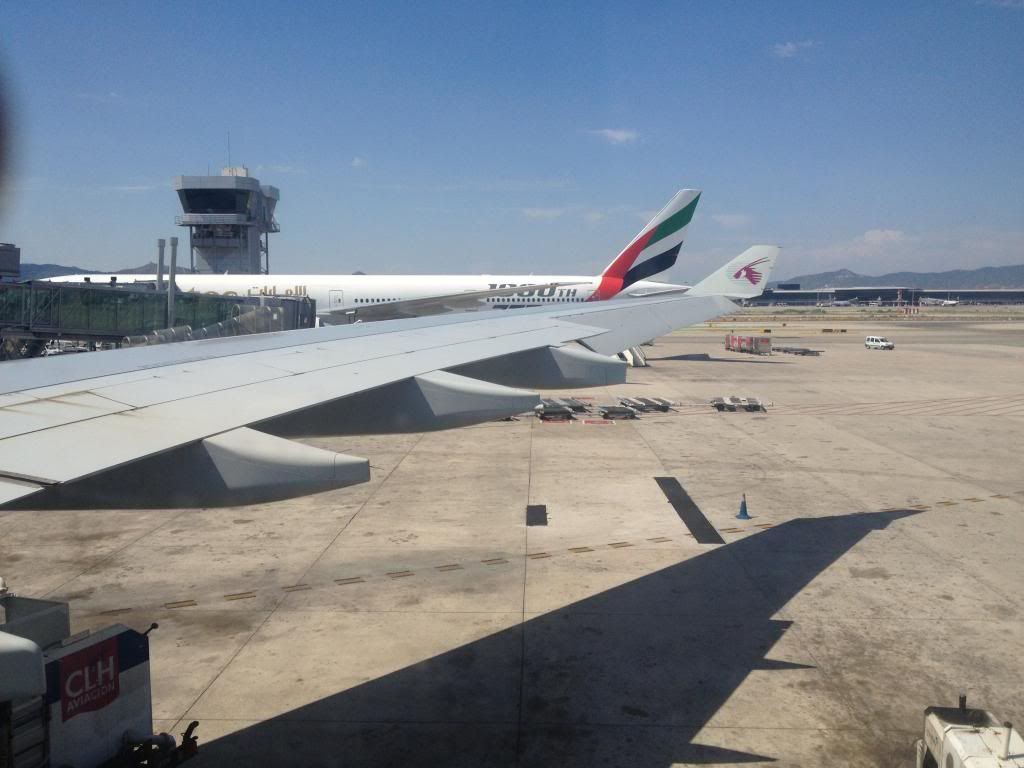 Our neighbour, the 1000th 777 built.
2 jetways were in use, one connected to L1 and the other to L2 to board economy, I was welcomed onboard by a member of the crew and walked to my assigned seat, retrieved my headphones and iPad and stored my backpack in the overhead locker.
Soon after a lady took the seat next to me and slowly the cabin filled up, load must have been close to 100%, the
Crew was a mix but consisted mostly of Filipinos (I could guess by their nametags) but were of course professional and well groomed.
The cabin was well kept, on the seat pocket the usual contents were found, headsets and a folder containing the inflight magazine, safety card, duty free catalogue and barf bag, In the seat, a pillow and a blanket were also provided.
Seat pitch was ok, but on the window seats the big IFE box takes 50% of the foot space, there is a foot rest but it gets quite tiring after a while, I could still stretch my legs by using the space between the seat and the aircraft wall.
Cabin crew, all customers on board, this aircraft will soon depart for Doha; all ground personnel kindly leave the aircraft
With doors closed, the crew passed around handing out boiled sweets and a refreshing tissue, the captain made a PA to welcome us onboard Qatar 068 to Doha, flight time of 6:45, cruising at FL370 and with overall good conditions en-route, after that a short Islamic prayer was broadcasted on the screens followed by the safety demo (which is the cause of lust amongst some a.netters)
Here´s one I found on youtube, including the amazing and loud 77W engine start rumble.
http://www.youtube.com/watch?v=EXFU_HD8cLc
Pushback occurred shortly, and with both engines running, we slowly start our taxi to 25L, once there, we immediately line up and accelerate showing the 2 Vuelings A320s how it´s done hehehe.
We lazily climb out making the usual left hander and set course towards Doha.
The Oryx Entertainment System is available since we were at the gate, so I put on my headphones and start fiddling to see what´s on offer, there are hundreds of films of various genres, new releases, classics, world cinema, news, documentaries, satellite TV (Not available that day) series and sitcoms of various types, kids channels, and games.
There was also a wide selection of music available and you can create your own playlists, also you can see the menu by either flight number or route (none was working) information on Qatar, Qatar Airways Privilege Club, and of course the moving map both Business and Economy passengers are offered the same selections.
You control it by using the handset located on the armrest, it is quite easy and intuitive but I wish QR could upgrade it to a touchscreen. (You have to keep up with EK´s ICE)
First I watch a news documentary on FC Barcelona (Barça!!) followed by an episode of Top Gear and then ¨Gremlins¨ by that time, the crew passed around offering a bag of snacks and some drinks, I opted for some apple juice which hit the spot quite nicely.
My seatmate was not very familiar with the IFE so I offer her some help, we did not socialize much, she seemed nice but had a tendency to invade my own space by claiming both armrests…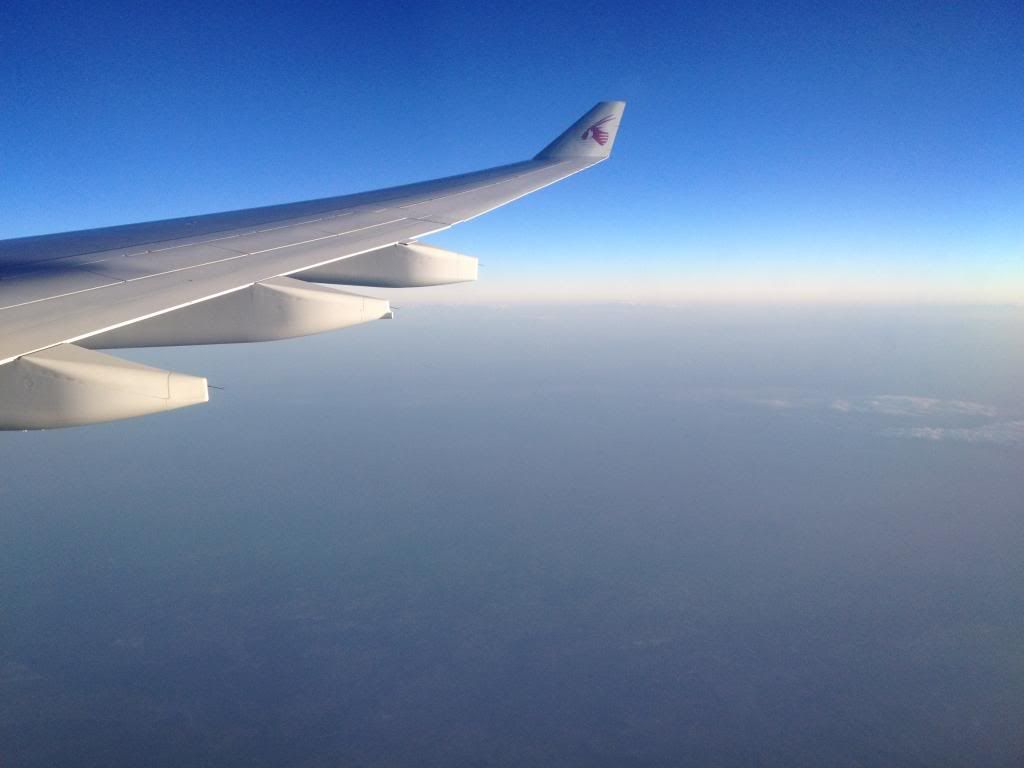 En-route
Later on dinner is served, the crew mentions that the menu will be displayed on the screens but nothing ever happened, all I know is that there was a choice between fish or chicken, I went for the chicken with some more apple juice, I don´t remember much about the contents, but there was some green salad, butter and cheese, a bread roll and the main course, for desert there was a slice of very forgettable cake.
I finished it off, and later on the crew collected all the trays and also offered a tea and coffee service, I had a coffee and settled to watch ¨Back to the Future I ¨ the cabin lights were dimmed into a soft blue hue and the flight progressed uneventfully, we were already over Turkey just passing between Ankara and Batman lol.
The route was more or less, Barcelona – Sardinia – Italy – Albania – Macedonia – Bulgaria – Turkey – Iraq – Kuwait – and followed the gulf down to Doha.
Many interesting places to look out, shame I was so into the movies I didn´t looked out of the window too much but it was dark anyway.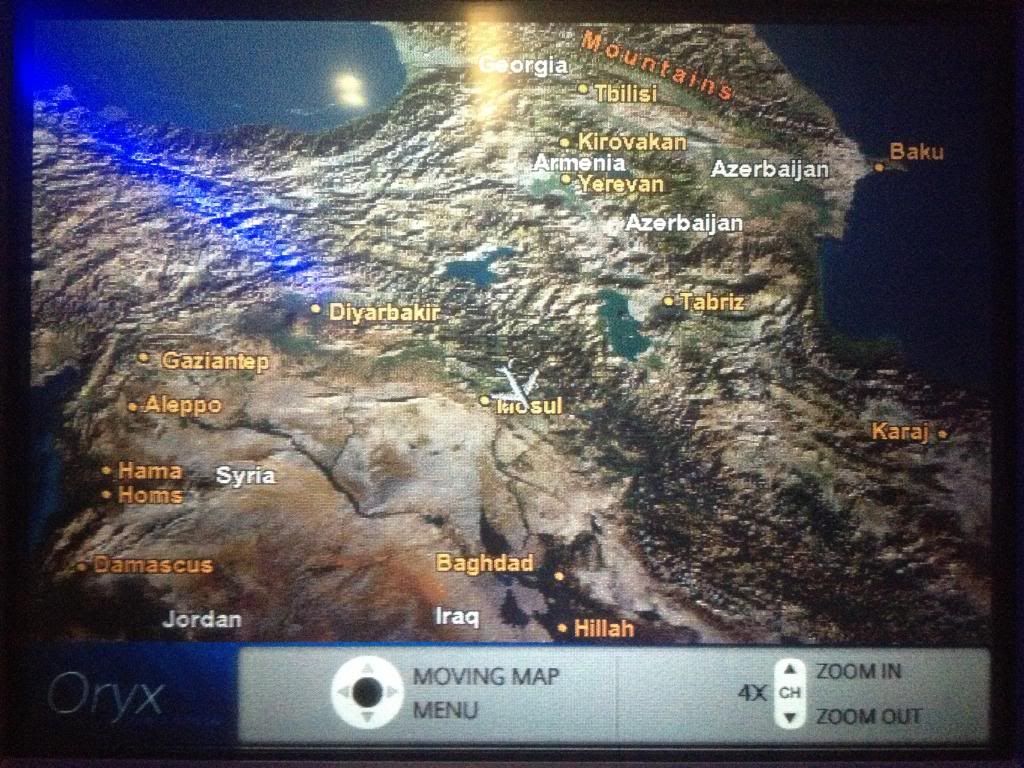 Turkey
Just as close as I would ever want to be to Baghdad...
Night slowly fell as we overflew Iraq very close to Baghdad, I could see the city lights in the distance and from up here you can´t help but think of the mad chaos that it is down there…
Shortly after, the cabin lights were light up again, and the smell of food wafted through the cabin, this time a vegetarian or beef pie was offered, I declined the offer since I was still full from the main meal, but the crew still gave me a couple of shortbread biscuits with some more apple juice.
We passed Kuwait and entered the gulf, oil fields were brightly light up, and Kuwait City could be seen in the distance.
Oil fields
Kuwait City.
The captain came on the PA again to inform us that descent into DOH was imminent, he thanked us for flying Qatar Airways and he hoped we enjoyed the service. A short video explaining the arrival and transit procedures for Doha was shown followed by some adverts.
DOH Arrivals and Transfers video
http://www.youtube.com/watch?v=SSCLeRA0Zp4
We started a progressive descent into Doha, and soon the lights of Doha appeared, we then started a series of turns, and the captain informed us that indeed we were put on a holding pattern due to the heavy traffic in the airport but he promised that it will not be for more than 10 minutes.
We made 2 or 3 circles over the water and started the approach into DOH, making a super smooth touchdown on RWY 33, then vacated the runway making a left turn which means parking near the terminals making the bus journey short, we parked between a 77W and another A330 and with engines off, the usual rush started, I waited until most passengers were off, collected my stuff and deplaned using the rear stairs, bid farewell to the crew and mentioned the huge galley in the back lol.
Jumped on the bus and we were soon driven a short distance to the transfer terminal, here you must clear security again before being deposited into a crazy world of endless masses of people, duty free, and more people.
I did a lap of the duty free to see what was on offer, nothing really took my fancy and the prices were not very appealing, thought it would be better to head to the Oryx Lounge, made my way to the second level and entered it, where I was informed that because they were busy, they were not taking paying customers, and to check back again after 2 or 3am.
What! 3 am!!! What the hell am I supposed to do until then? Hmm, let´s try the free wi-fi… nope doesn´t work, I ask a guy manning a local mobile operator and he tells me it only works at certain hours… great!
I wandered around the terminal again, examining my surroundings, there are children running around, people sleeping on the floors, the toilets are disgusting and the whole thing seems very chaotic, there are rows upon rows upon rows of chairs all occupied to the brim of waiting passengers some dozing off, some staring blankly in the distance, some using their electronic gadgets to keep them entertained, all in all a very bizarre experience.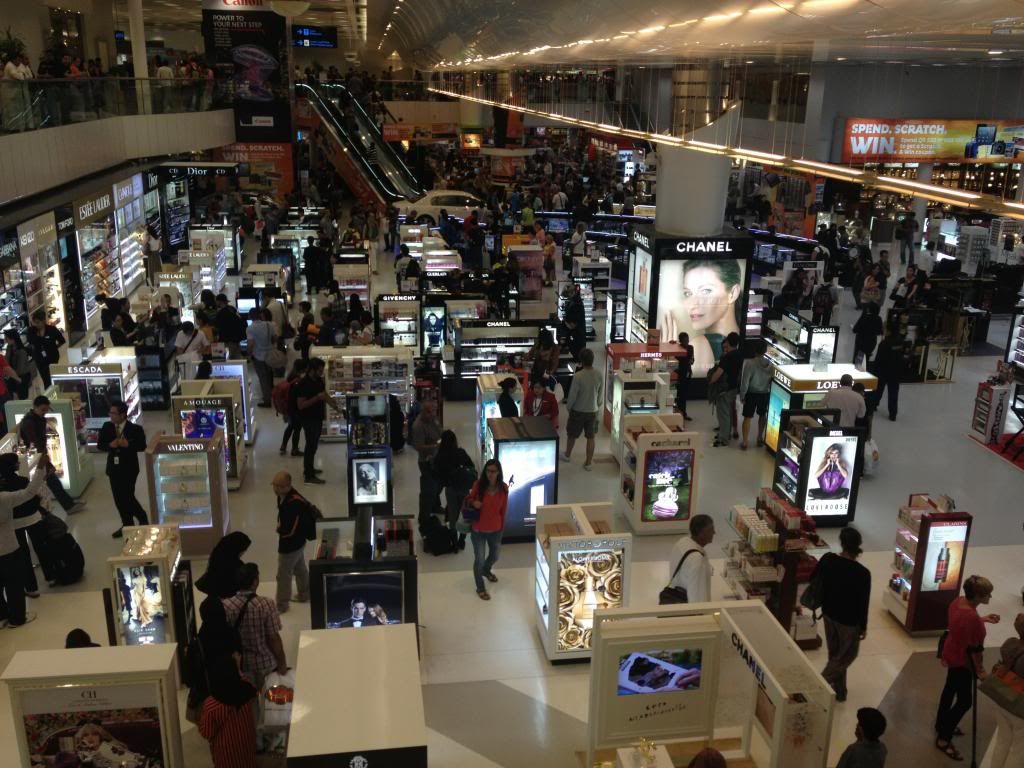 DOH Transit terminal... weird, weird place.
I found a ¨quiet corner¨ which is basically a cordoned off corner of the terminal with some sleeper chairs, you are given a blanket and you can use the chairs, there is a queue and I quickly give up, found some empty chairs and sit down to read airliner world on my iPad, soon after the Wi-Fi works and I can check Facebook and send some messages.
At about 1:45 the terminal starts to get quieter, I do another lap passing by the lounge again, I see it looks quite empty and enquire if it´s OK now to enter, I am given the green light, pay up and enter the lounge… ahh now this is much better!
There are many seating areas, a darkened area with some sleeper chairs (all occupied of course) and the dining areas, food offerings at this time of day are limited to some Hummus, Tabouleh and sandwiches, and there are chillers with soft drinks, water and beers.
I grab some hummus and tabouleh with pita bread and wash it down with orange Fanta.
Then I try to find a place to sit down and relax, first I sit near the workstations so I can use the power plug to charge my iPhone while I stretch and try to catch some Z´s but its all in vain, way too uncomfortable, later I move to a more plush seats but still can´t really get comfortable so I just doze in and out of sleep.
At 4:40am I give up and decide to take a shower to wake me up, they are located inside the regular toilets, I ask the attendant who quickly brings me a towel.
Showers are OK and decently clean, after a refreshing and renewing shower; I change into some fresh clothes and head out for a bit of breakfast.
I picked some pastries, pineapple yoghurt, espresso coffee and water and at 5:45 I left the lounge and walked over to my gate.
Gate 11 today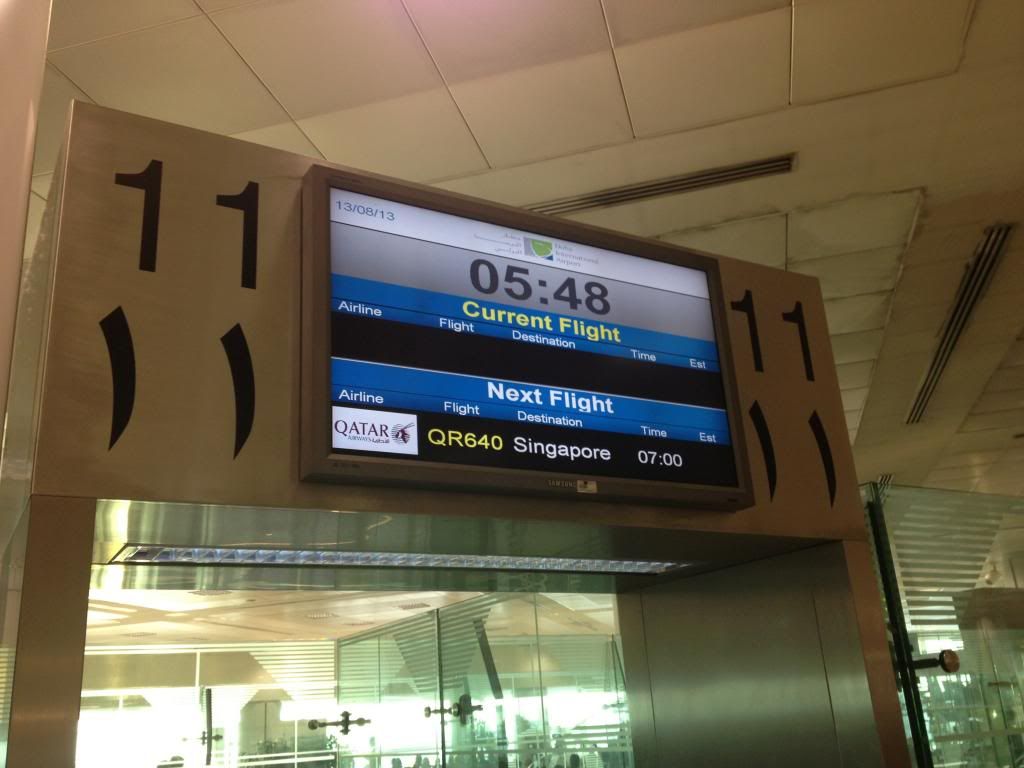 Singapore! YAY!
DOHA TO SINGAPORE
Tuesday August 13th 2013
Flight QR640 Doha (OTBD) to Singapore Changi (WSSS)
Departure 07:00 (actual 07:00)
Arrival 19:50 (actual 20:00)
Flight duration 8 hours
Boeing 777-2DZLR (A7-BBI) delivered new to QR on September 30th 2011 and Qatar´s 100th Aircraft
Seat 14K / 03K Business Class
After checking the screens, I saw that we had gate 11 so I walked over where I joined a short line for boarding.
When reaching the agent the following happens:
-Me: Morning! (Hands boarding pass and Passport)
-Agent: Morning (scans boarding pass)
-Beep! Red light.
-Agents check my passport and boarding pass…
-Me: Blank face and think to myself ¨what have they done wrong in BCN?¨
-Agent: Sorry, I will print out a new boarding pass (walks over to machine)
-Agent: Checks details again with my passport, ¨Sir you have been upgraded to Business Class, your new seat is 3K¨
-Me: WHAAAT! How´s that possible? wha… how… whe… ohhh… OMG!
-Agent: Unless you don´t want to...
-Me: Oh yes I want! Thank you ever so much!
-Agent: Not a problem sir, enjoy your flight!
-Me: Oh believe me, I will!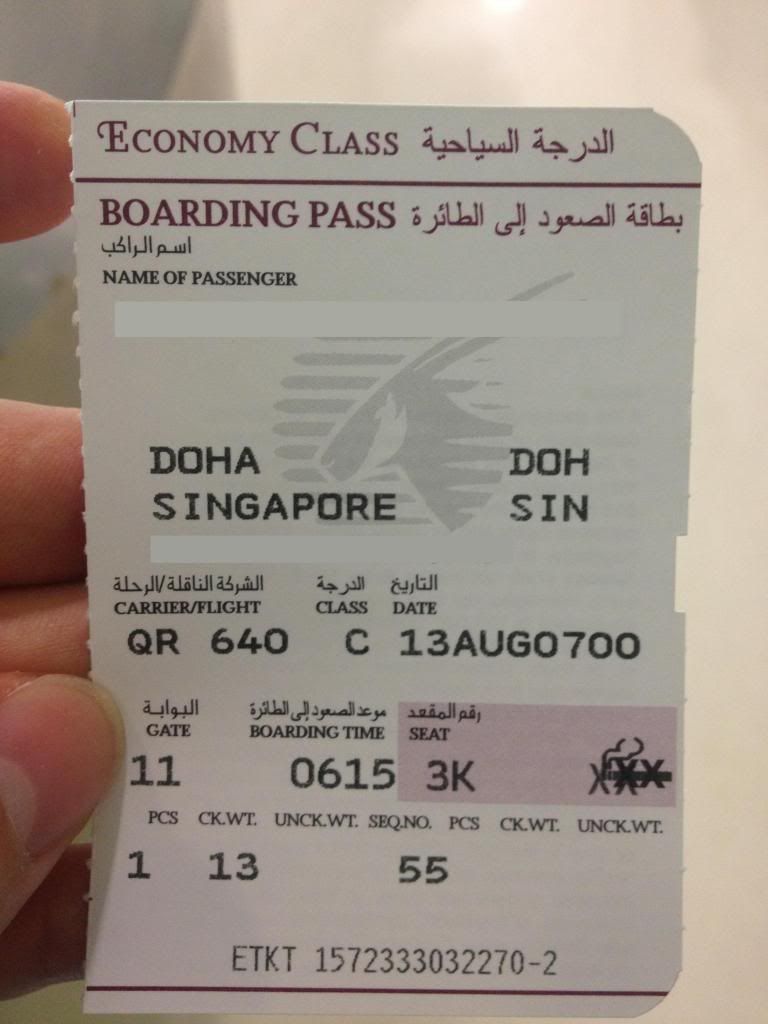 New BP, Upgrade Win!!
I Walk down to the waiting area with a grin on my face and still stunned at what just had happened.
I board the second bus and we are driven the short distance to our waiting aircraft, A7-BBI a 777-200LR delivered to QR in 2011, this will be my first time flying one of these machines
I show the bus driver my pass and he tells me to remain in the bus since for safety reasons passengers are not allowed to walk to the other door of the AC, he then drives the remaining 4 PAX over to the L2 door.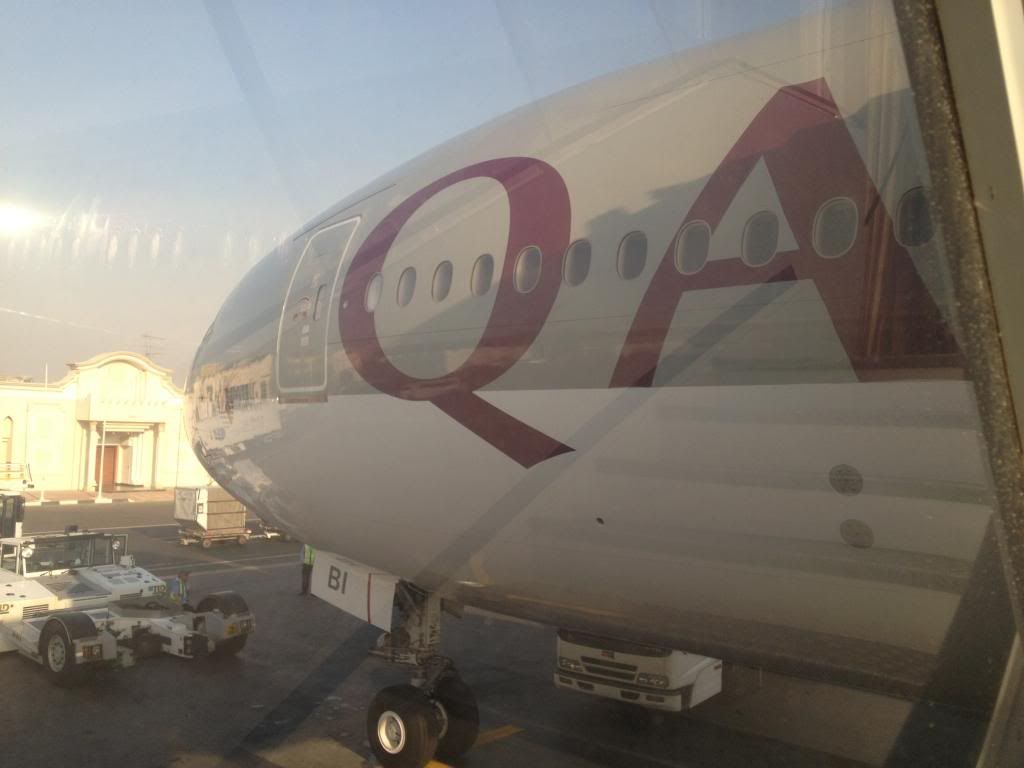 Hello BBI
I go up the stairs and I am welcomed by a crew, she hands me over to another member of the crew who walks me to my seat, on the aisle there is already a German girl sitting, she then asks me if I don´t mind switching over so she can sit together with her boyfriend who is one row behind, at first I accept but turns out he is sitting in the aisle seat… I profusely apologize and decline saying that I really really want to sit by the window, later on they switch places with the PAX on 4K who then becomes my new seatmate, a young chap from Malaysia who also got upgraded and was just as stunned as me, we exchange pleasantries and point out how cool this is.
Meanwhile a crew member hands me a pair of headsets and the amenity kit, she also asks me if I would like a pre-takeoff drink of freshly squeezed orange juice, or lime-mint, I choose a lime mint which is promptly delivered, ohhh I am liking this!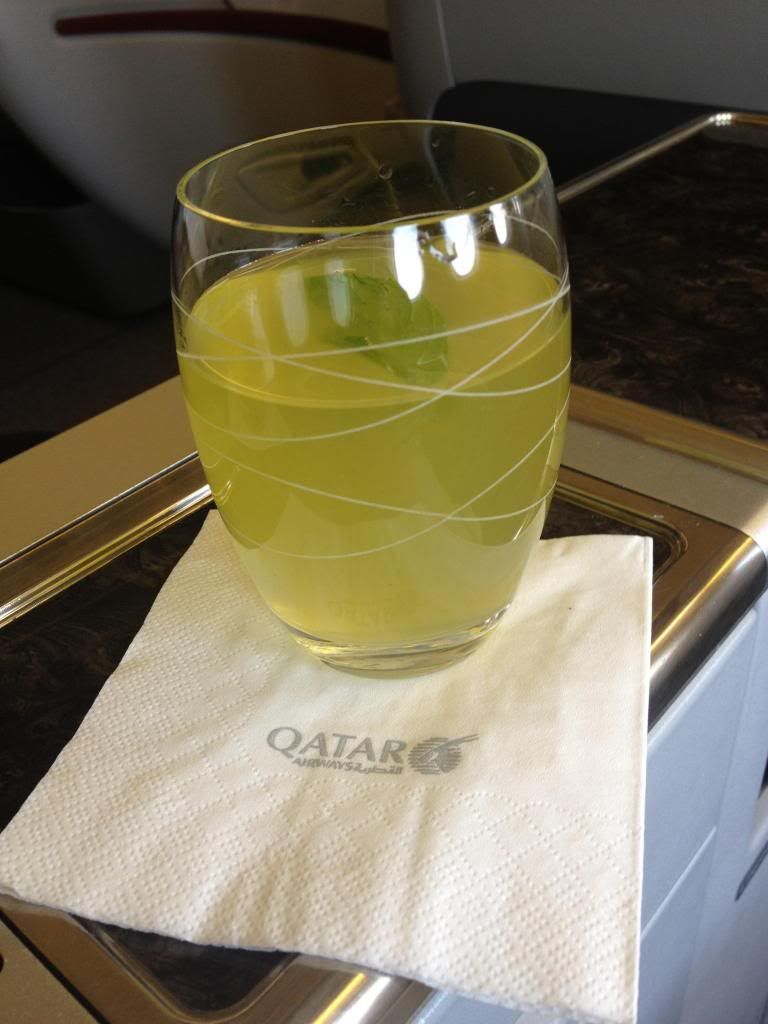 Lime-mint juice, delicious and refreshing.
The seat is spacious and very comfortable; there are acres of space and lots of storage holes to put all your crap, placed on the seat there is a chunky cushion and a duvet cover on the side of the seat is the Salvatore Ferragamo amenity kit which contains lip balm, aftershave, and hand cream, there is a male and female version, there is also another bag containing slippers, eyeshades and other things. Also inside a covered little hole you will find a bottle of Vittel water.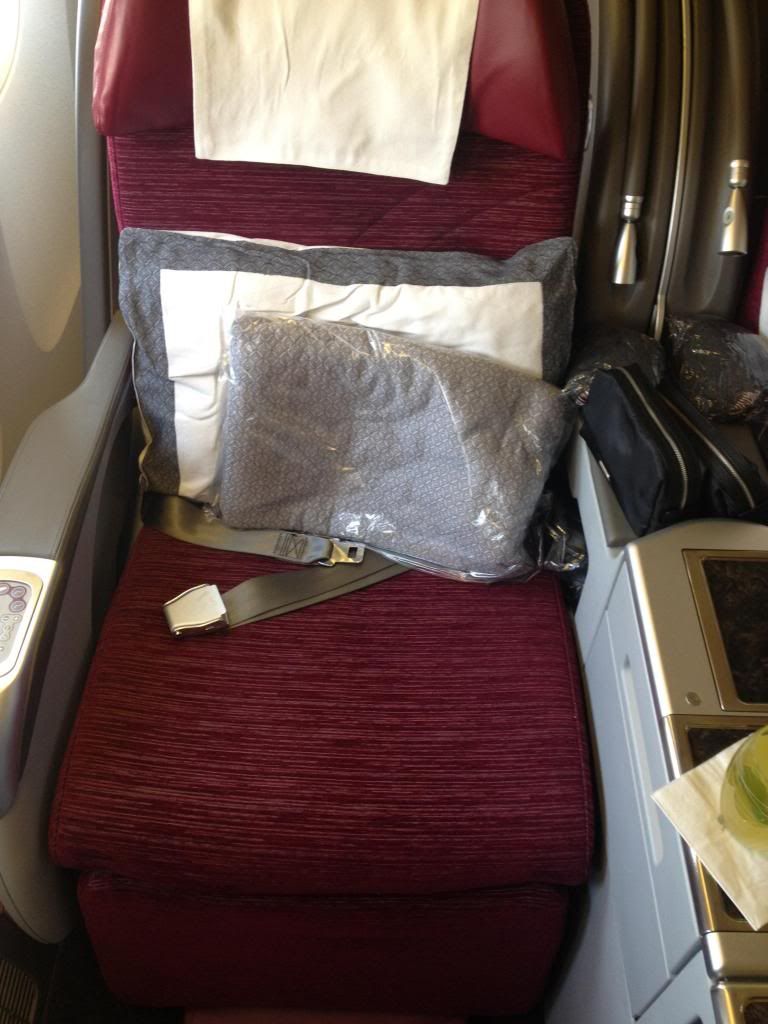 Seat, love the burgundy, very classy.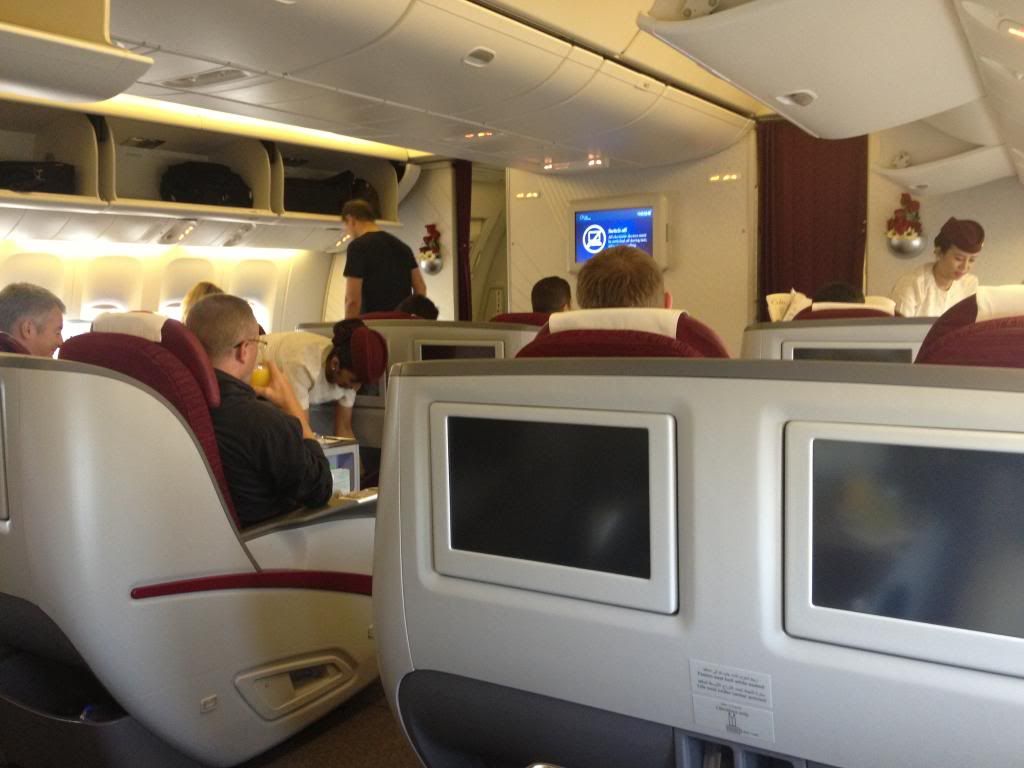 Business Class.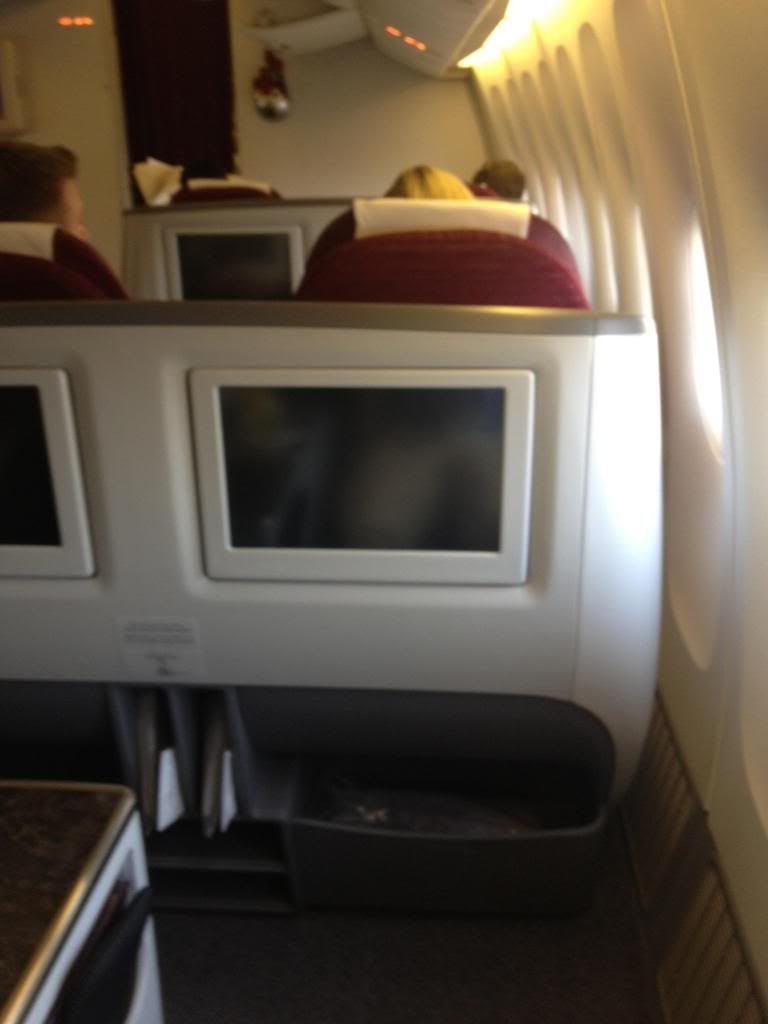 Towards the front.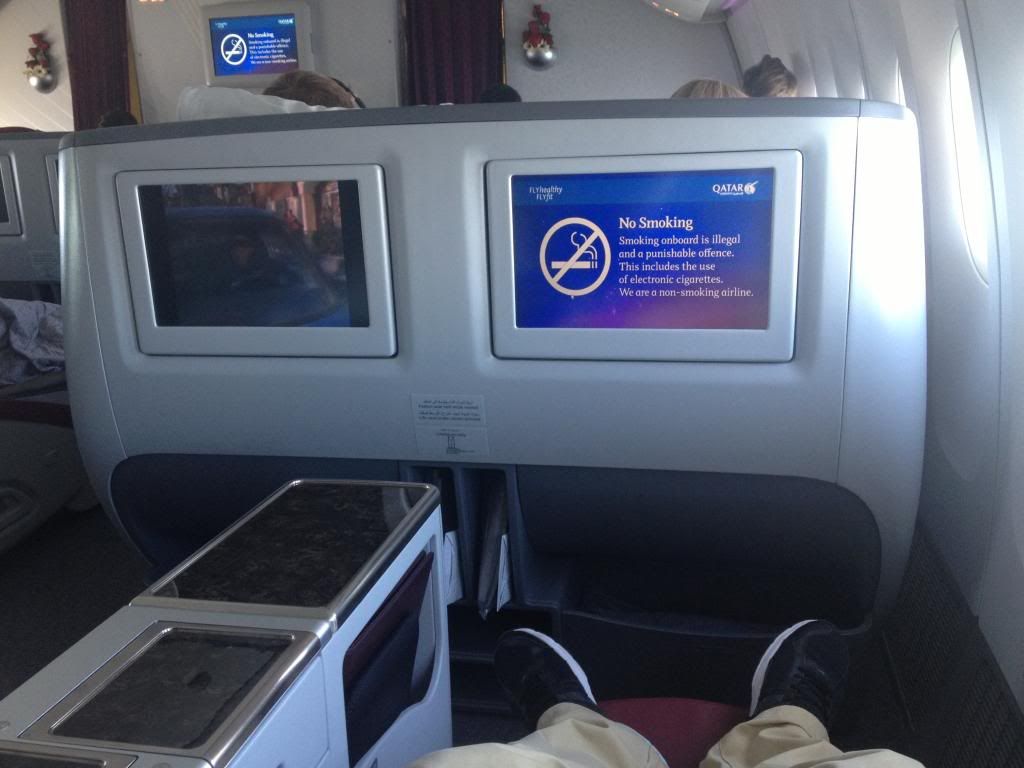 Is this enough legroom?
The menu is in another pocket in the seat, in front of you, a massive screen for the IFE and some more storage space for your shoes and the inflight magazines (in C there are 2 magazines plus the IFE guide and duty free catalogue)
A crew member (can´t recall her name) walks over to our seats to introduce herself, she tells us she will take care of us during today´s flight and to let her know if we need anything. Another crew member offers us hot or cold towels nicely rolled up in a tray.
Boarding is soon completed and the doors are shut, the captain welcomes us on the PA with some information, a flight time of 7:50, and good weather en-route but to expect some turbulence as we fly over the Andaman Sea.
Again, the prayer is played followed by the safety demo, we push back bang on time and the engines were started one by one sending noisy rattles throughout the cabin, those GE90´s sure know how to make themselves heard.
We then start our taxi towards RWY 33, we line up and without further wait the engines are pushed to the max hurtling us down the runway making some beautiful noise, I tell you this 777 is obscenely overpowered, the thing just picked up speed in milliseconds and we climbed effortlessly as if the 7 hour journey ahead was nothing for the 777, we made a right hand turn and flew alongside the new Hamad International Airport, hopefully they open it up soon to enhance the overall experience of flying QR.
Takeoff Video, enjoy the music from the GE90 Symphonic Orchestra.
http://www.youtube.com/watch?v=D2kVCvOXKpU
Soon we passed 10000ft and the crew was released, they came over to us and took note of what we would like for breakfast, being a newbie I asked the crew what´s the procedure, she pointed out the menu and asked me to just choose anything I wished…
-To tempt the palate.
Fresh Fruits Plate
-Main Course
Cheese Omelette with sweetcorn pie and chicken sausages with tomato sauce and spinach.
-Breadbasket
Selection of freshly baked multigrain breadrolls, croissants and butter and fruit preserves.
-Tea and coffee of your choice
for the starter I chose the plate of fresh fruits, followed by the cheesy omelette, and a nice cappuccino to finish it off.
I took out the duvet from the plastic bag, took off my shoes and put the seat in the relaxed position… and… ohhh this is comfortable… this upgrade was a very welcomed surprise, I was very tired from the layover and the lack of sleep, I put on the noise cancelling headphones which are awesome, as soon as you plug them in the engine noise is barely noticeable, fired up the IFE and chose ¨Oblivion¨ to pass the time.
The crew shortly came to our seats to set up the table for breakfast; first they lay down a cloth linen and a napkin, put a little plate with knife, salt and pepper shakers and butter together with the bread basket and a glass of your choice of still or sparkling water, and shortly the starter is brought in direct from the galley, no trolleys here and using chinaware.
Food was nice, the fruits were nice, or as nice as fruits on a plane could be, they were tasty except the melon that was as bit on the bland side, but the rest was nice, the omelette was also nice as well as the sausages and the pie, the cappuccino was also really good and just what I needed this time of the morning.
Setting up the table.
Breadbasket and butter and fruit preserves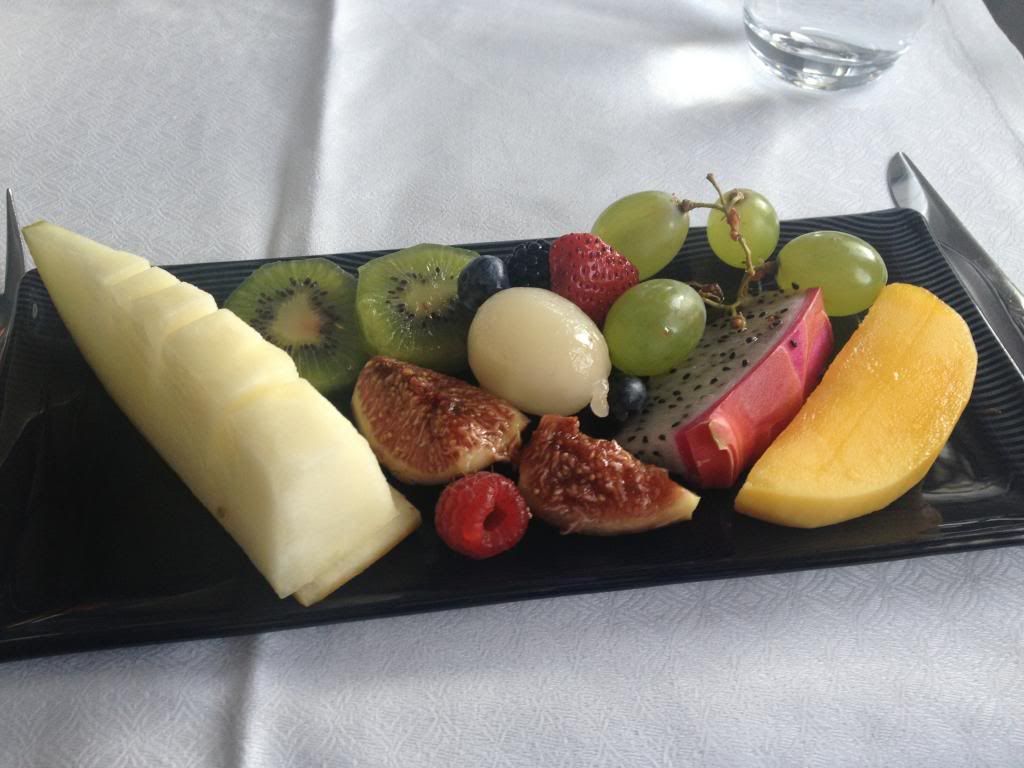 Fresh Fruit platter.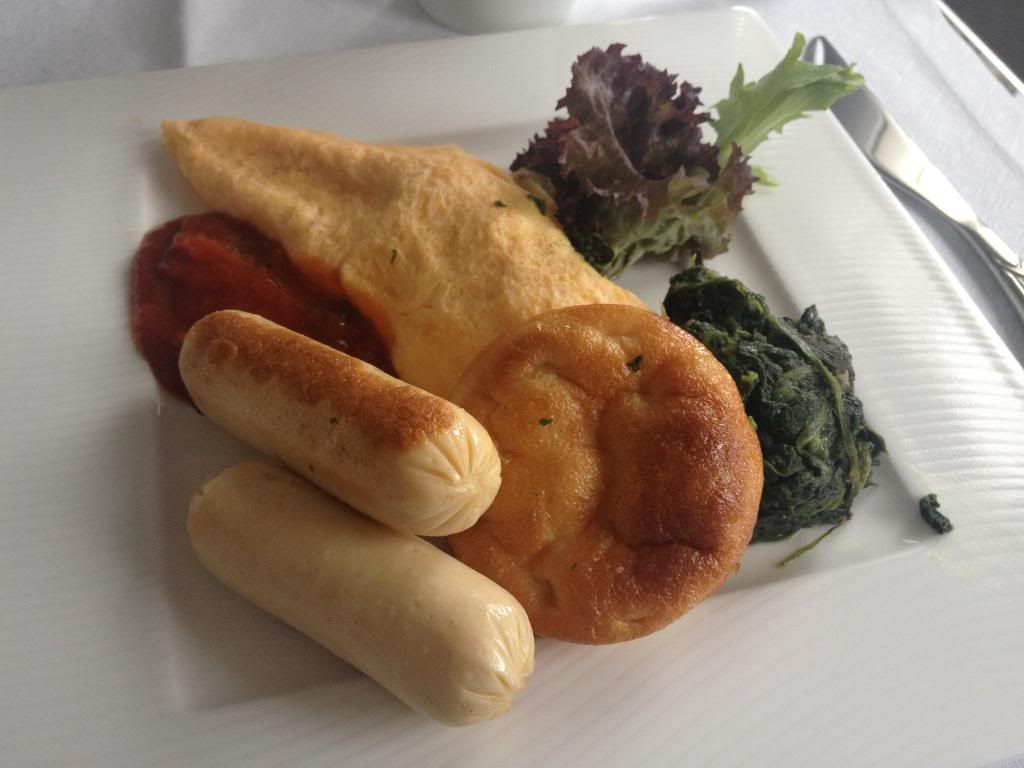 Main course.
On nom nom nom, I ate it all.
I am not really used to this kind of service, and sometimes I felt like as if I was a bother or that I did not deserve it, dunno... it is weird, but I can assure you I was not missing being back in Y lol!
Satisfied, all was cleared out and I put the seat in the full flatbed mode, but lifted up the back rest to allow me to watch the TV, I continued watching Oblivion, but fell asleep during the movie so I have no idea what is about, the IFE on the 777 is touchscreen, obviously in Business class is a bit silly walking over to the screen to use it, so you control it via the handset, but it feels a bit clumsy trying to move the pointer using the arrows on the handset.
I made a couple of trips to the lavatory; it was nice, clean, and spacious and had a range of toiletries.
Back in my seat I watched a few episodes of The Big Bang Theory, but kept falling asleep only waking up when they were over.
The flight route took us out of Doha, passing between Dubai and Abu Dhabi, then across the Arabian Sea, through the southern tip of India and across the Andaman Sea towards Malaysia, from there it was down to Singapore.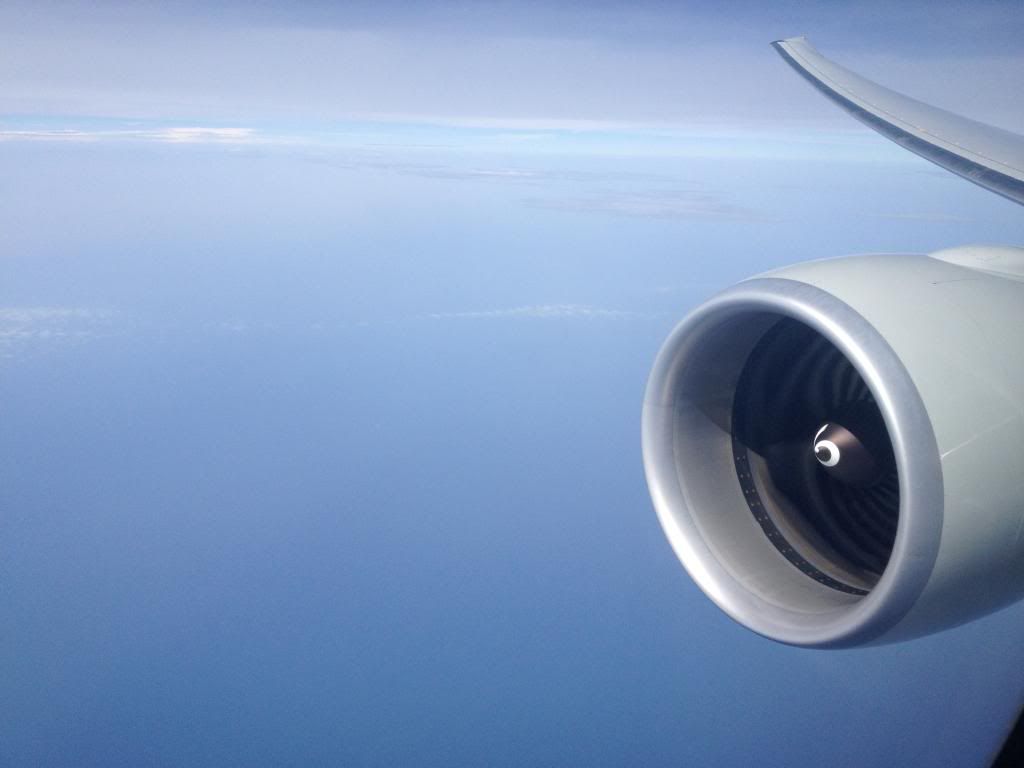 Making progress.
The crew set the mood lightning and some window shades were shut, I kept mine open to adjust my body clock, I did not want to sleep too much in order not to suffer from jetlag, I will arrive in Singapore late at night anyways so there would be plenty of time to sleep in the hotel, I also did not want to miss the experience of flying Business.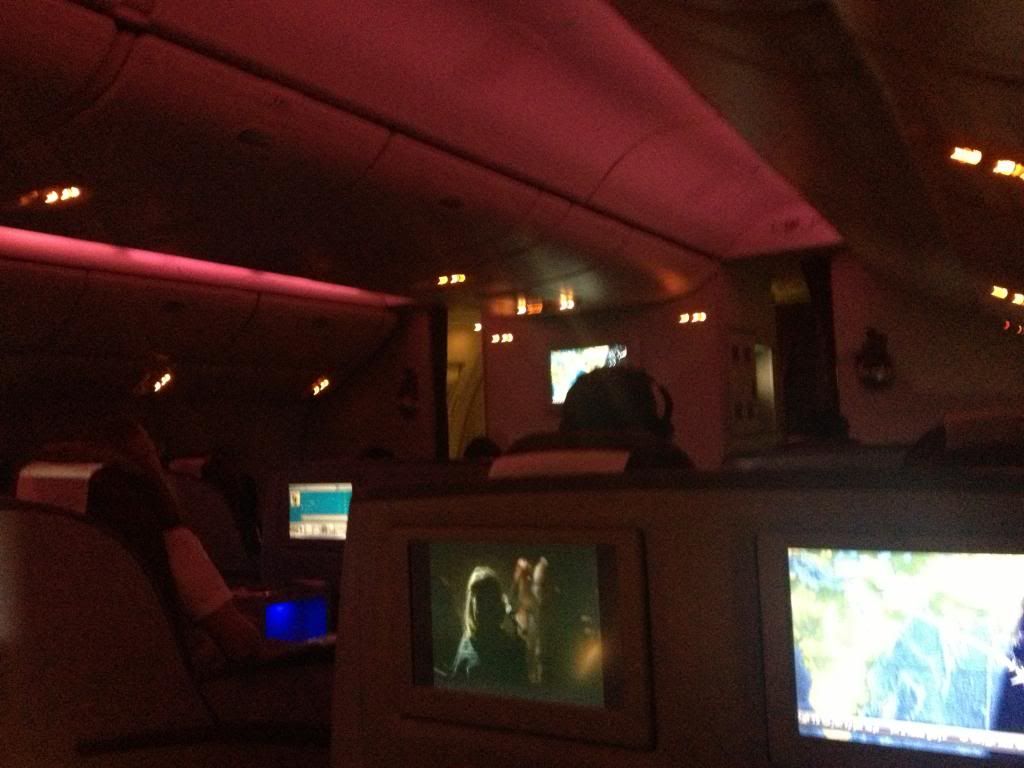 Cabin and mood lightning, I love it, I wish I could have that in my room!
The crews were very attentive, responding quickly to the needs of the other PAX, my seatmate did make the most of the experience by asking the crew for snacks and drinks throughout the flight lol (you might as well)
2 Hours before arrival, the cabin lights were brightened to offer the dinner service, I was still full from all the food I had eaten since Barcelona so I politely declined, only requesting a Baileys, a cold or hot towel service was also offered.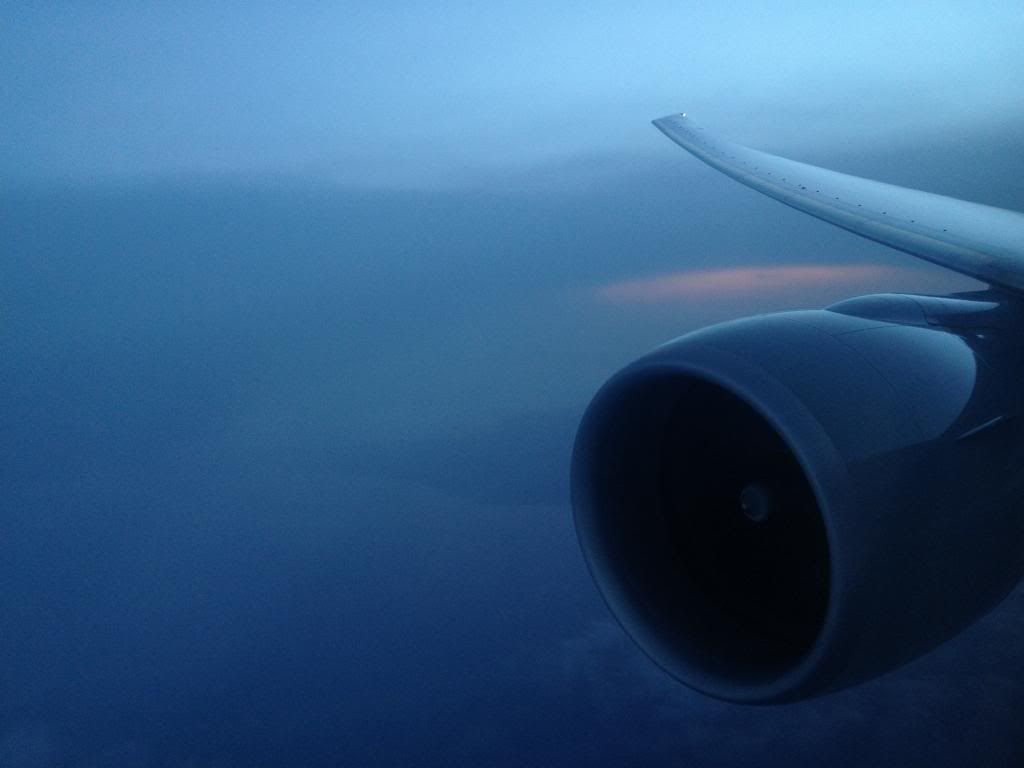 You know you are in the tropics when the clouds are all the way up to FL370, this brought a bit of turbulence, turbulence is fun right?
I watched some more Big Bang Theory and then switched to the music and selected the album ¨Queen, only the greatest hits¨ descent was soon started and the captain came on the PA to inform us of the conditions in Singapore, and to thank us for flying Qatar Airways and to wish us a pleasant stay in Singapore or a smooth onward journey.
We approached Singapore from the Northwest, then alongside Batam island before turning north parallel to Changi Airport, followed by a couple of left turns to align us for a smooth landing on RWY 20R, from there it was a short taxi to our parking position on Terminal 3 where we parked between an SQ 77W and an A380 all of this while still listening to Queen, I want it all…. Yeah yeaaah I want it all… and I want it now! (well I just had it)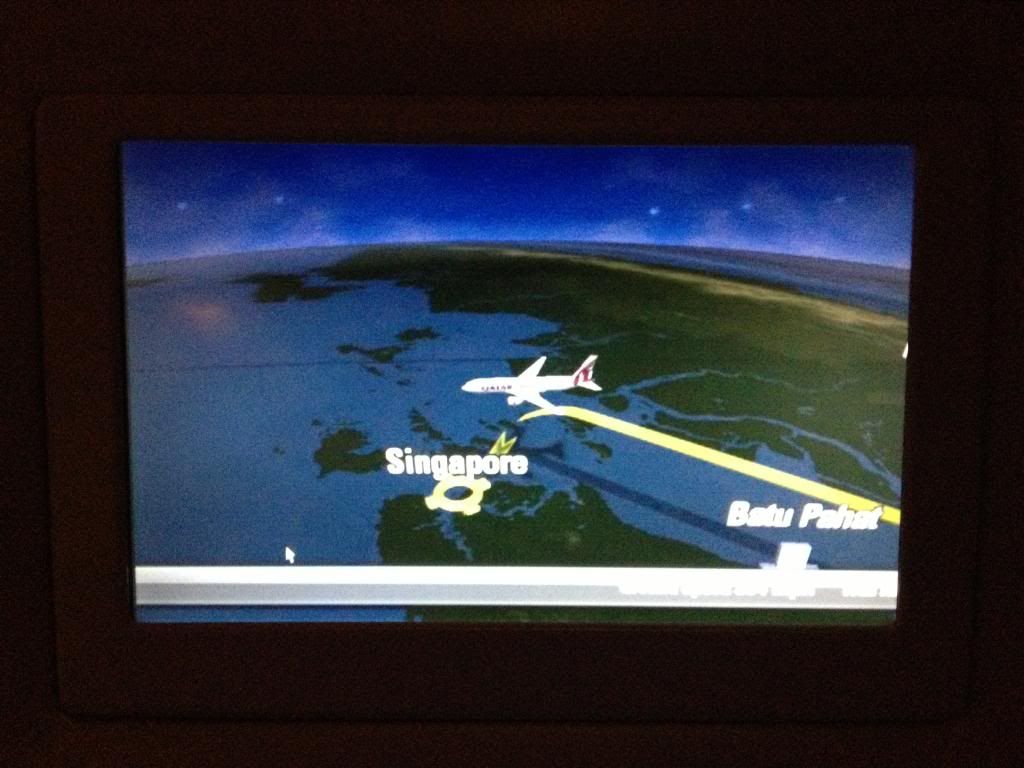 So close, I can smell the Durians.
Parked next to this Singaporean beauty.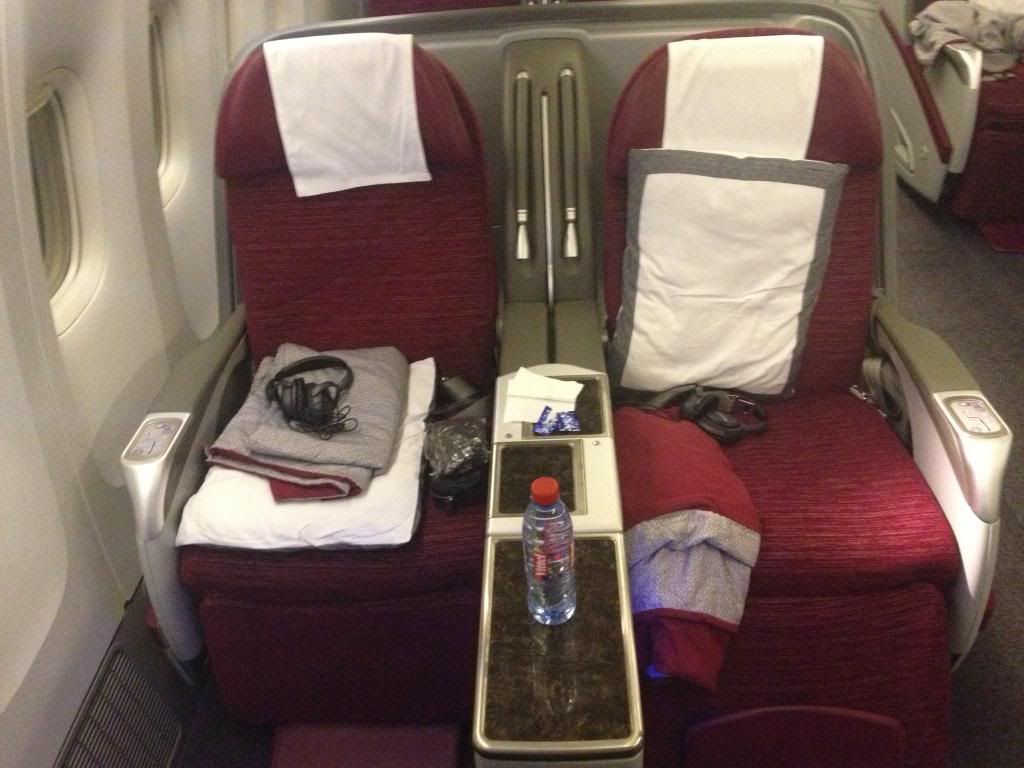 My seat after the flight, see what a good passenger I am, all neatly organized
I gathered my belongings took a few final pics of the seat and thanked the crew profusely for the excellent service and that it was lovely flying on Business class but now I have been spoiled and did not want to make the return journey back in ¨sucky¨ economy lol.
I made my way towards immigration which took a while, I was stamped in without questions, then collected my bag which was going around in circles on the belt, had to pass through a quick bag screening and then once outside, exchanged some Euros into Sing Dollars, bought a local sim card in order to have 3G internet and took the MRT to my hotel in Bugis.
Immigration.
What followed was an amazing week of exploring, walking, sweating, eating, and more walking.
Some images from this fantastic place.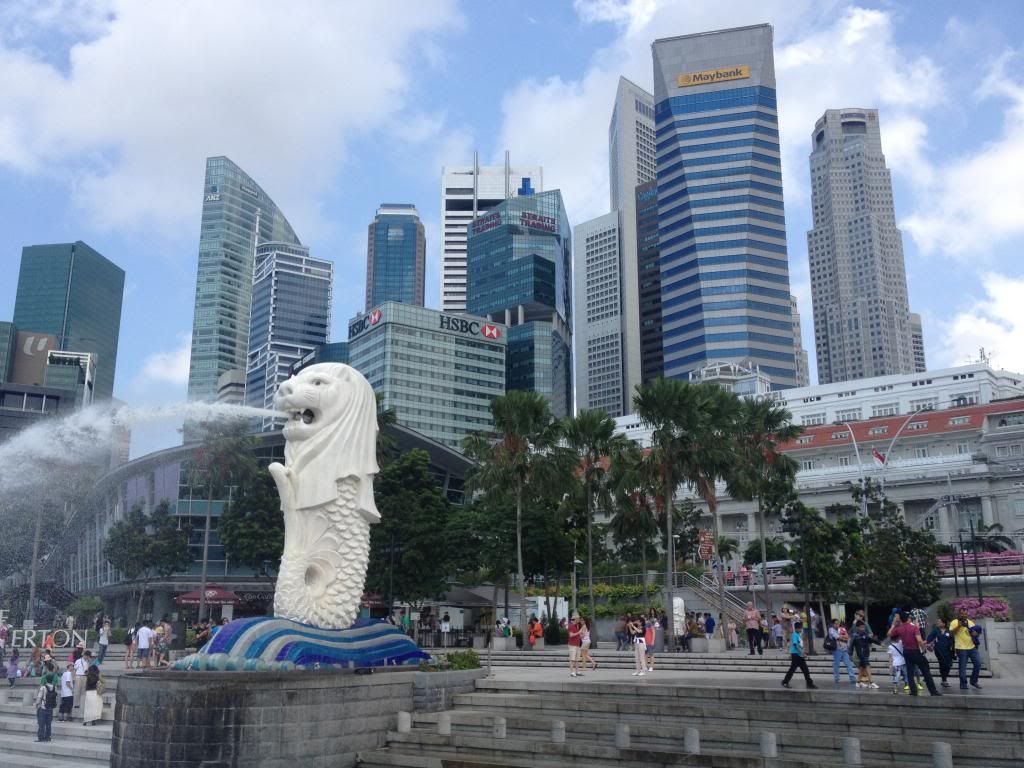 Merlion and the CBD.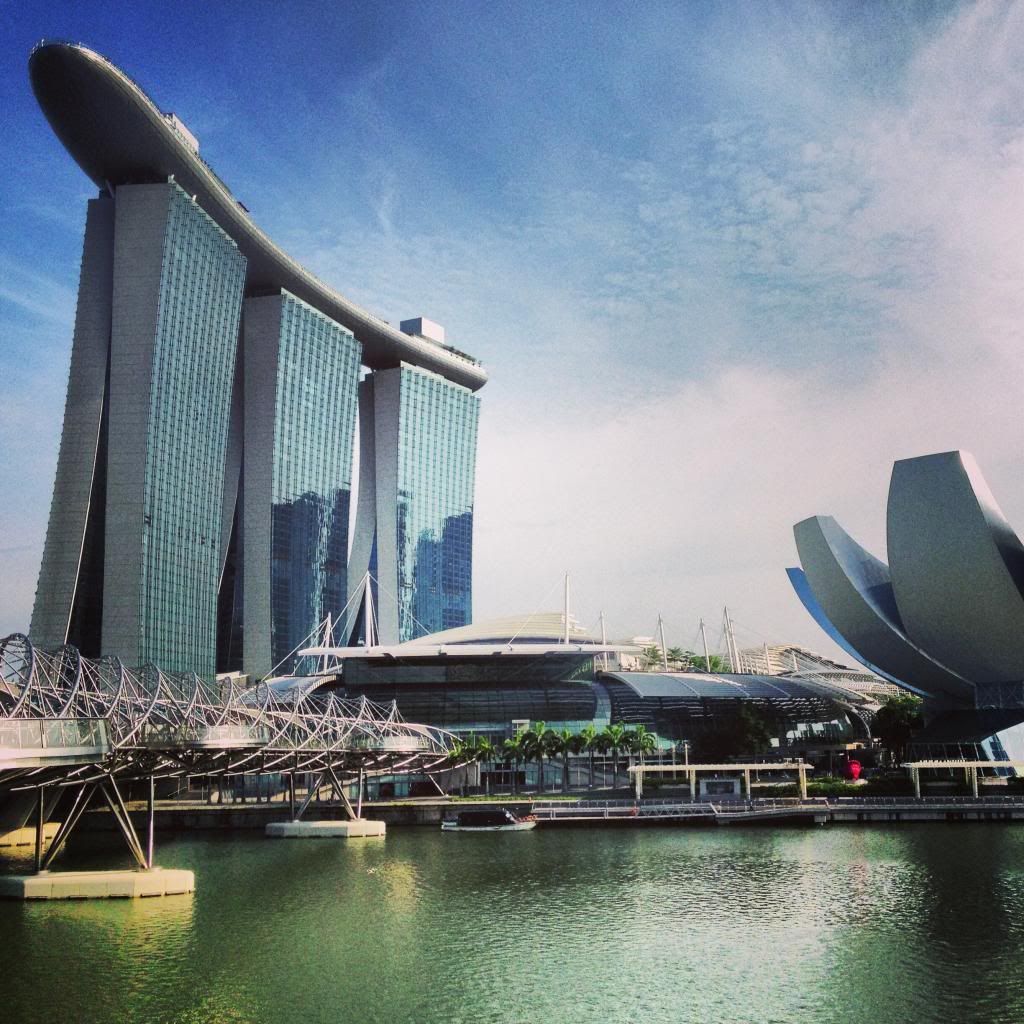 Marina Bay Sands, you can go up to the skypark, amazing views!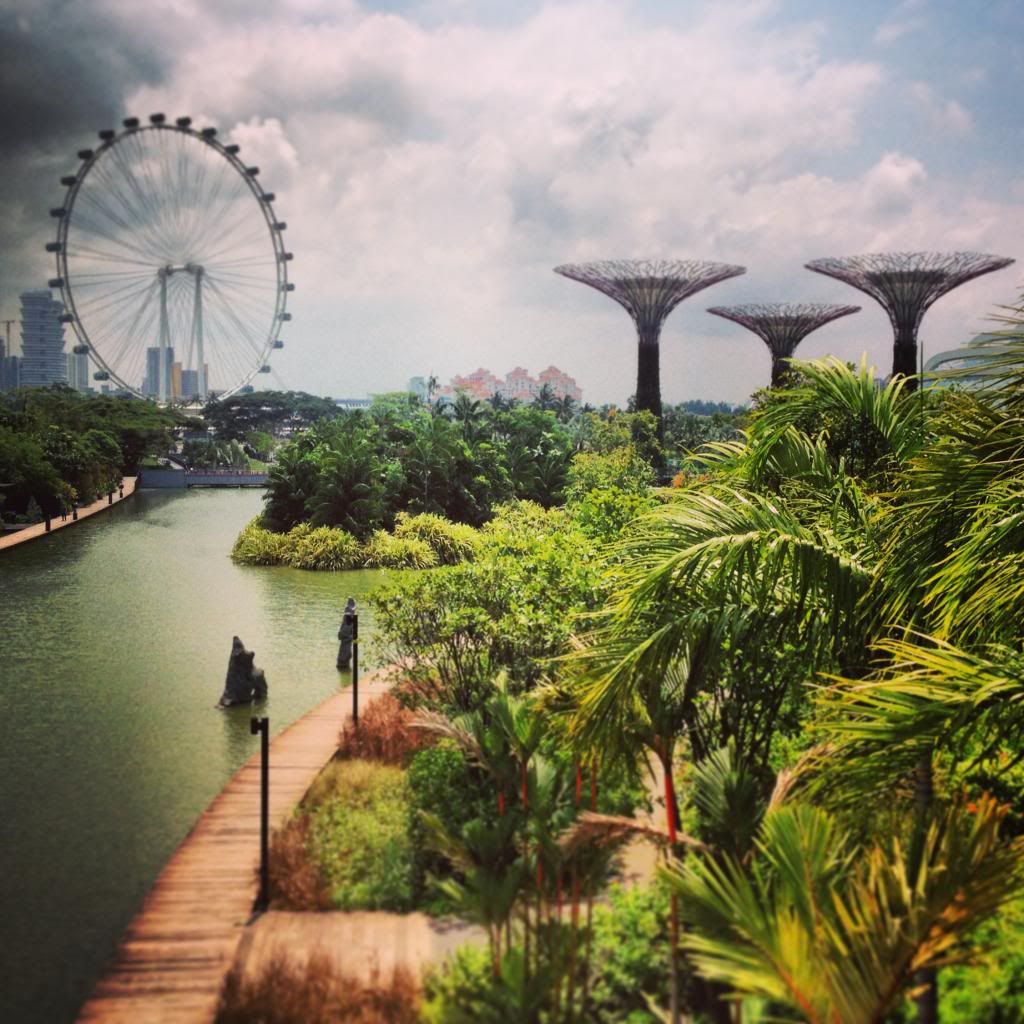 Entering the new Gardens by the Bay, well worth a visit, and the night light show is pretty cool (and free)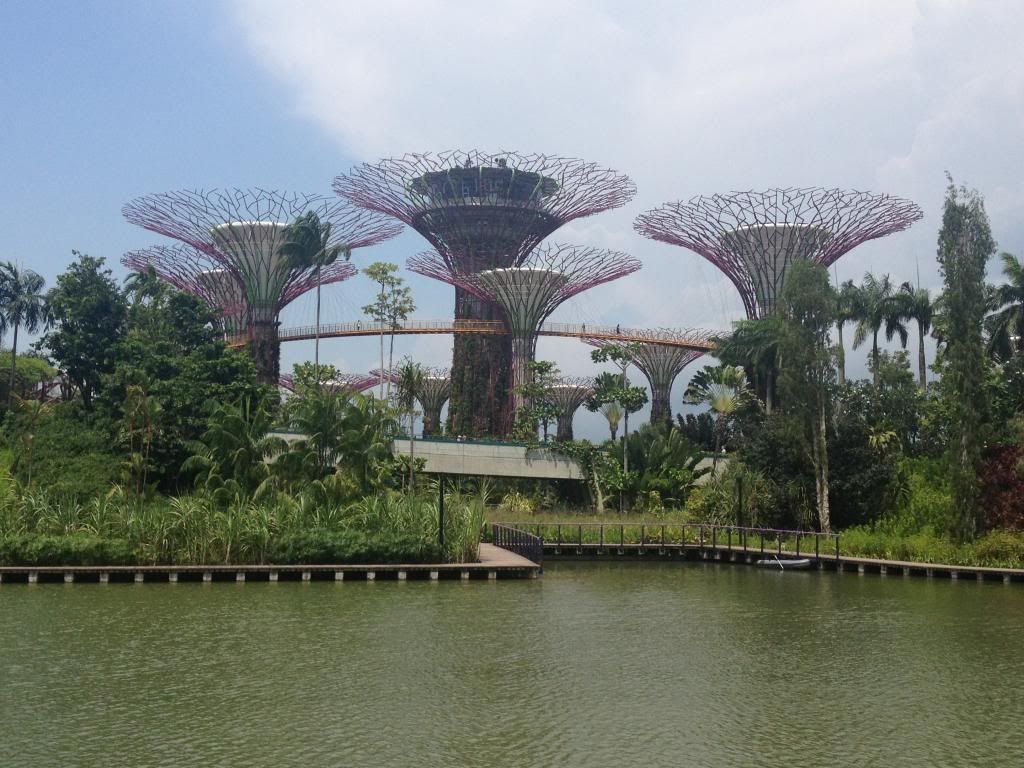 Supertree grove at the GBTB.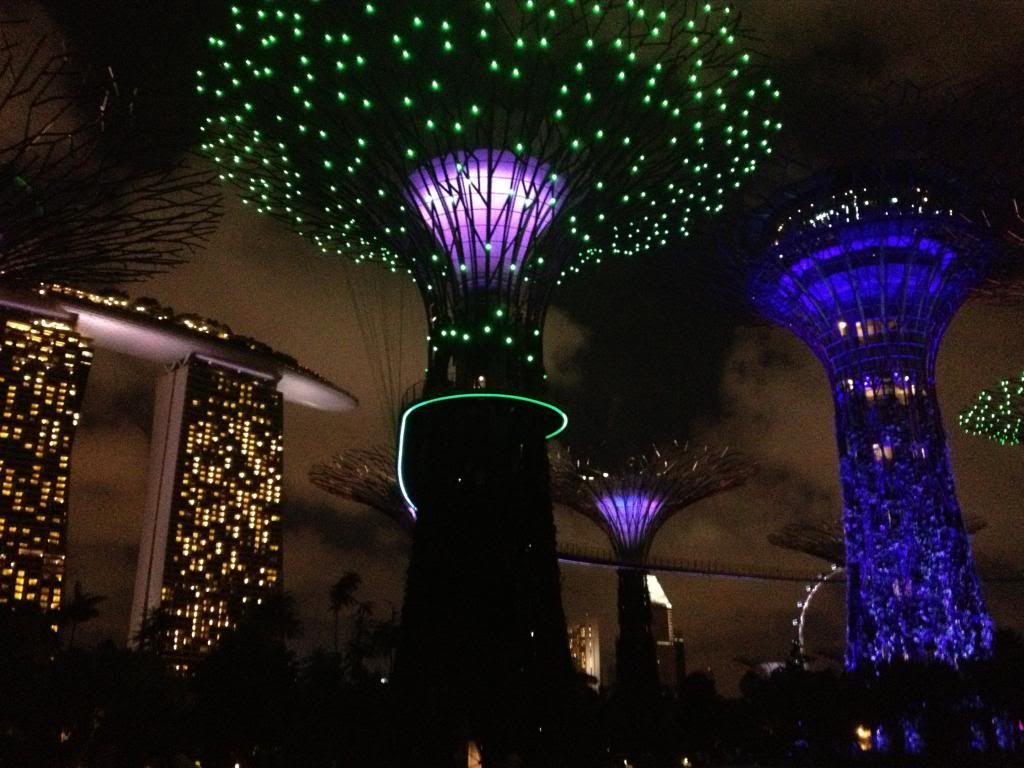 During the night.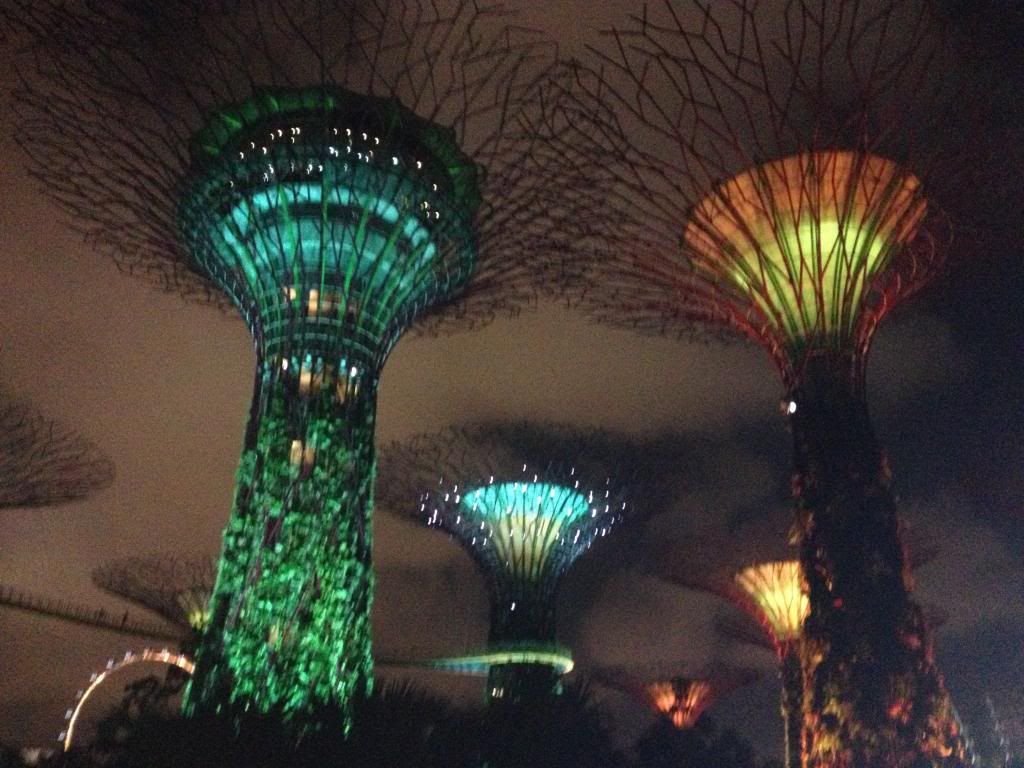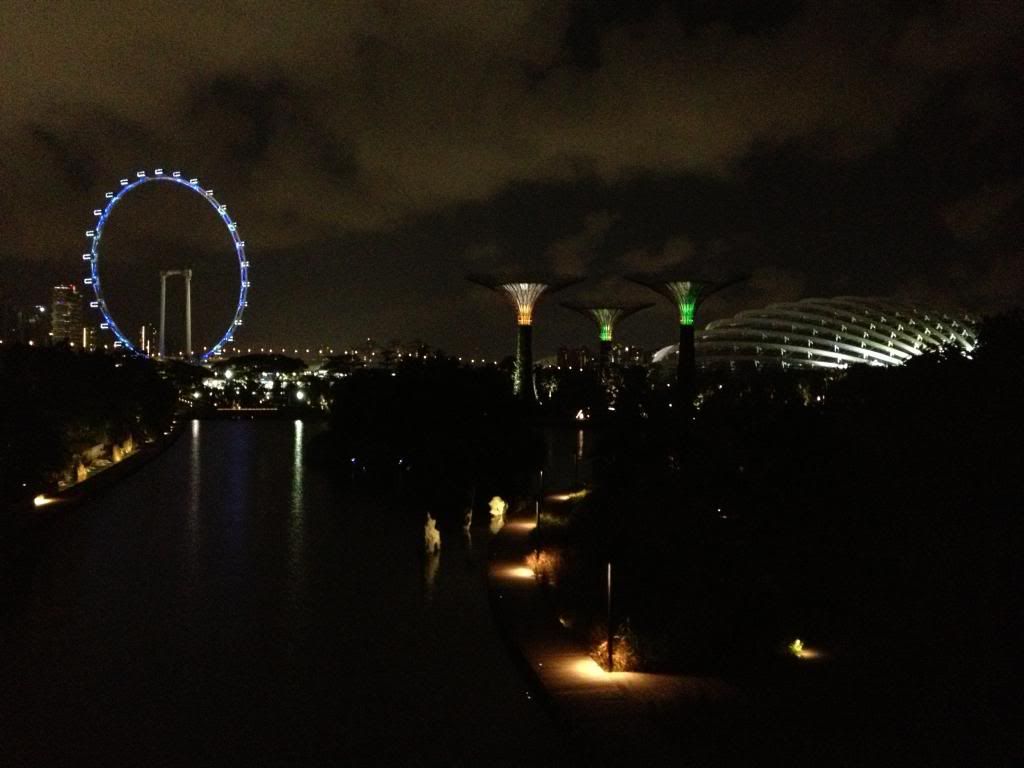 Nice isn´t it?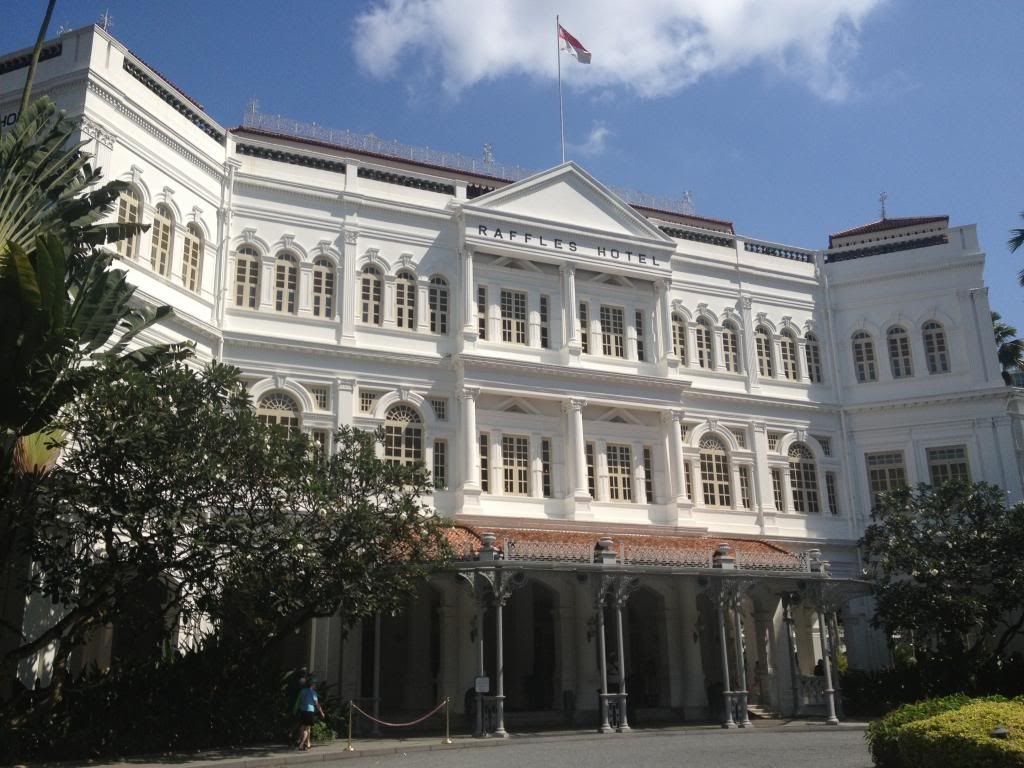 The Raffles Hotel, cheapest hotel in town.... if you are Bill Gates of course.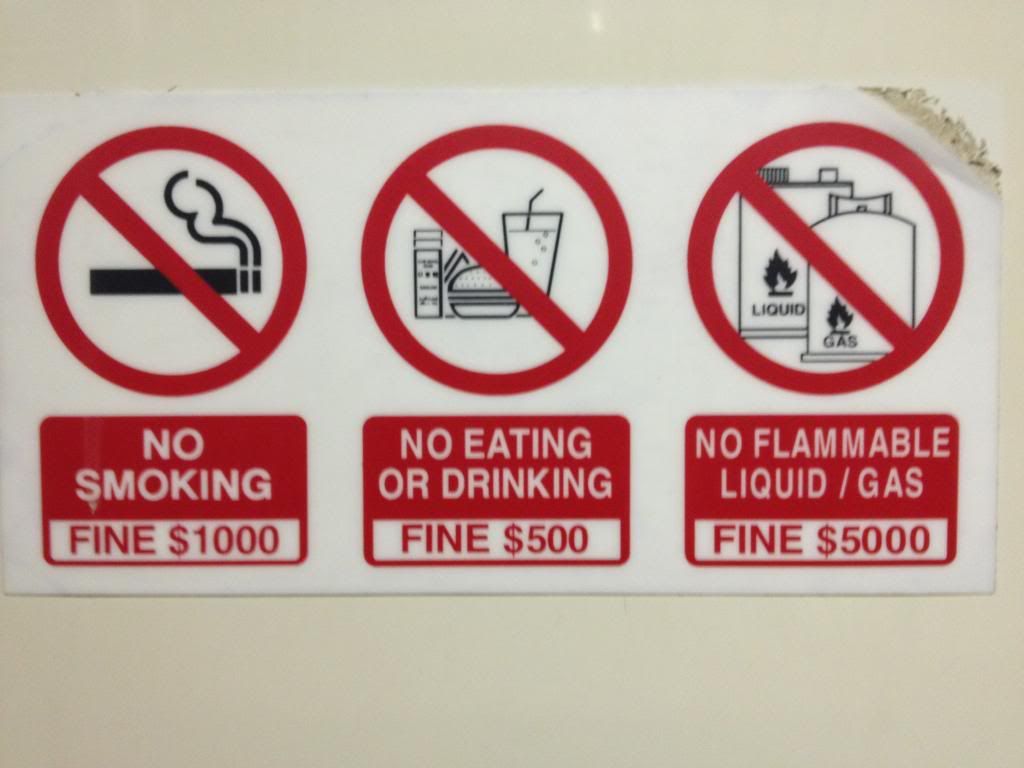 A Fine City...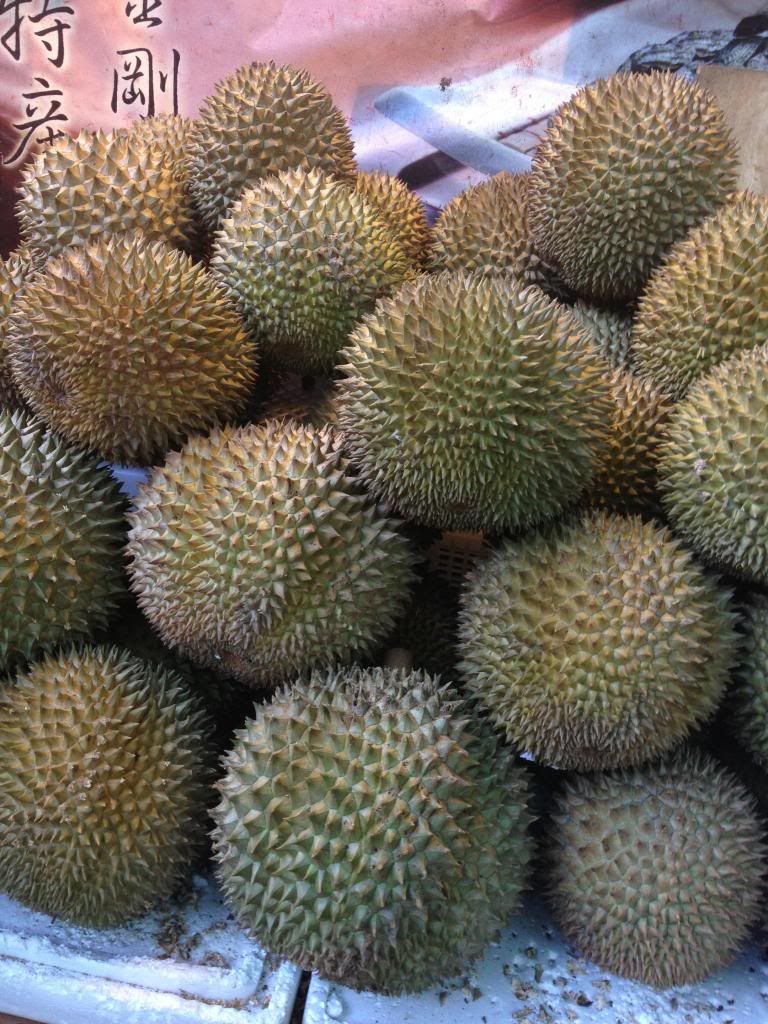 The much loved/hated Durian, I honestly don´t find the smell to be THAT bad...
Orchard Road, malls, malls, and some more malls. this is the ION Orchard, one of the latests.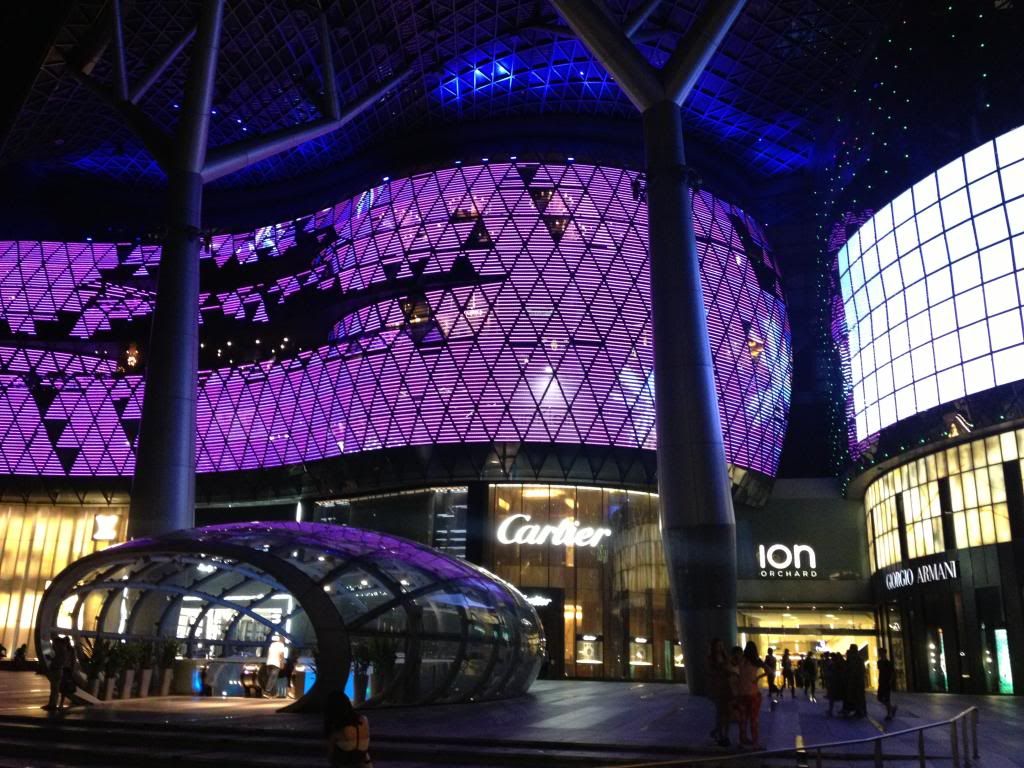 And at night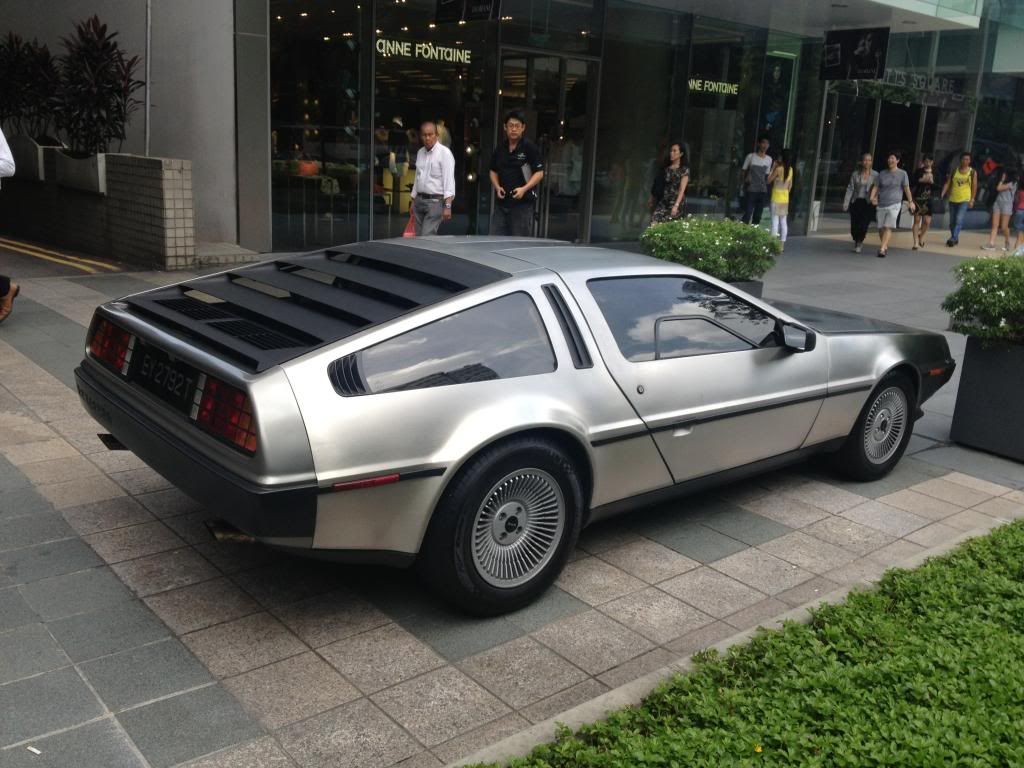 Found this time machine around Orchard Rd.
But all good things must come to an end…
SINGAPORE TO DOHA
My flight did not leave until 21:20 so I had almost a full day in Singapore to do some last minute sightseeing, I walked around Little India, Kampong Glam and a final visit to Orchard Rd to buy an extra FC Barcelona shirt for a friend of mine (much cheaper in SG than in BCN) had some final tasty food in 313 @ Orchard and by 3pm went back to the hotel to collect my bag and head to Changi via MRT.
Arrived at around 16:45 and of course the check-in counters were not even set up yet ( I have already checked-in online) to pass the time I went over to claim the GST back on the Barça shirt which was quickly done using the self-service machines, walked back to the check in area and the agents were setting everything up, asked what time was check-in opening and they said 17:30 some 15 minutes.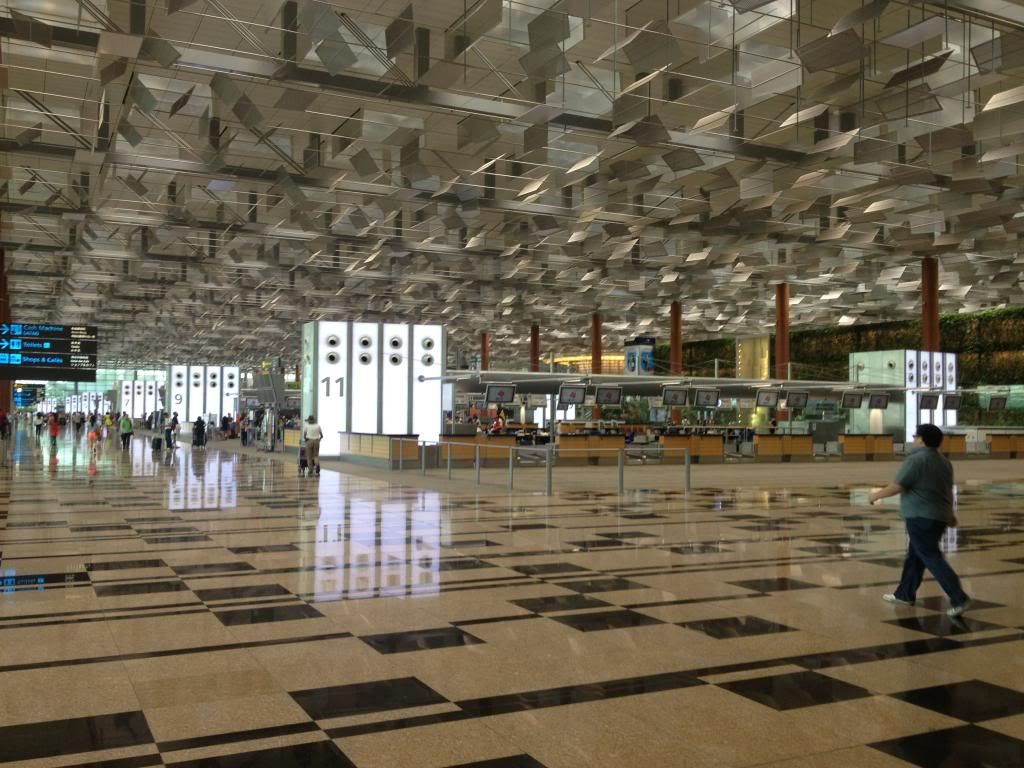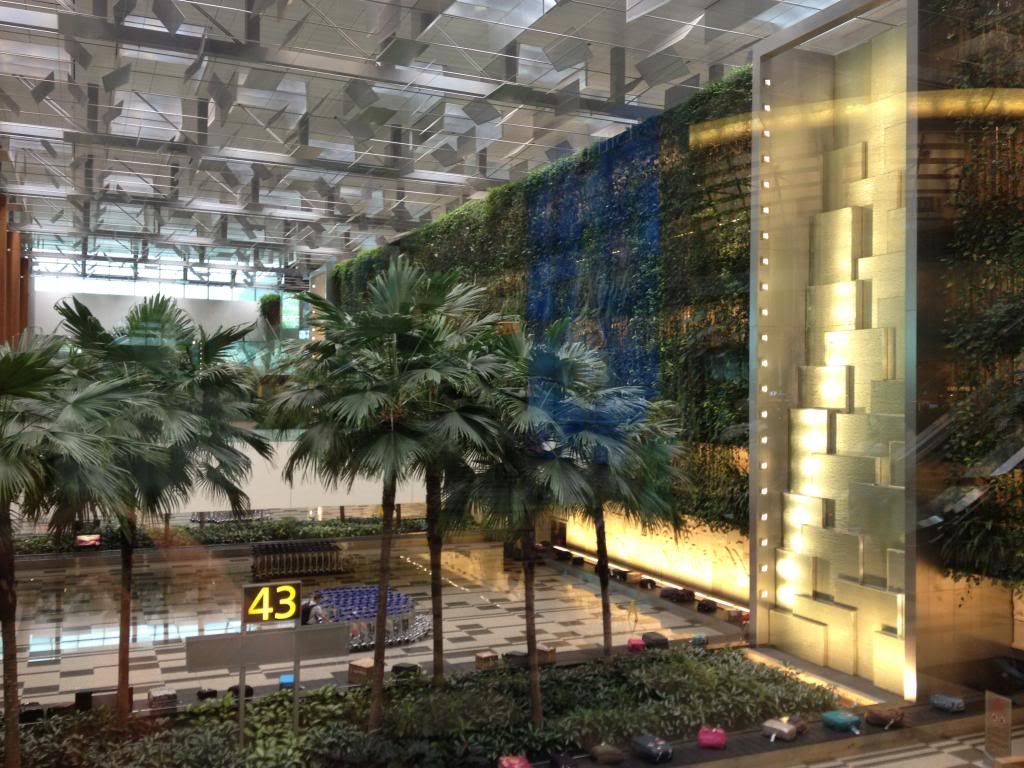 Changi T3, how all airports should be...
Eventually all was set up and I was waived to check-in using the business class line where I was processed efficiently by the nice agent, I was handed over boarding passes for both legs, and my bag tagged all the way to BCN, wished a pleasant flight and sent on my way; it all took less than 5 minutes.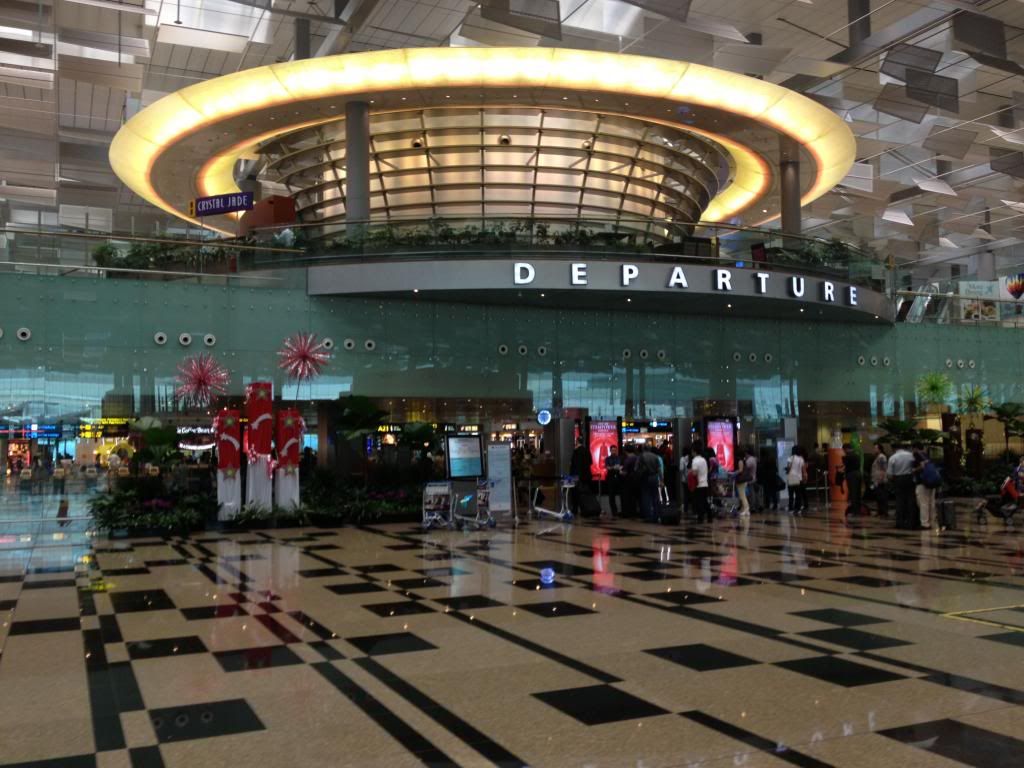 Departures.
Walked over to the departures area where I passed trhough passport control, (security is cleared at the gate area in Changi) I then searched for the Transit hotel where for SG$ 8,65 you can use the shower facilities, found it quickly, paid up and had a nice long shower, and changed into fresh clothes, now I was ready to face the long trek home.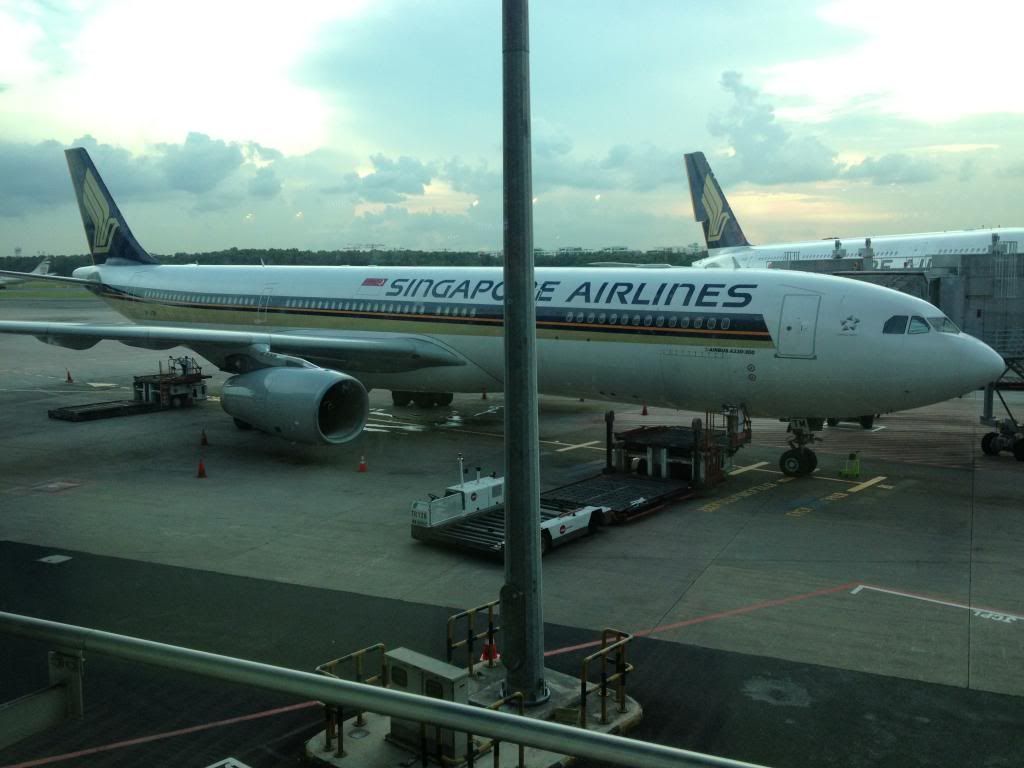 Little Airbus, Big Airbus.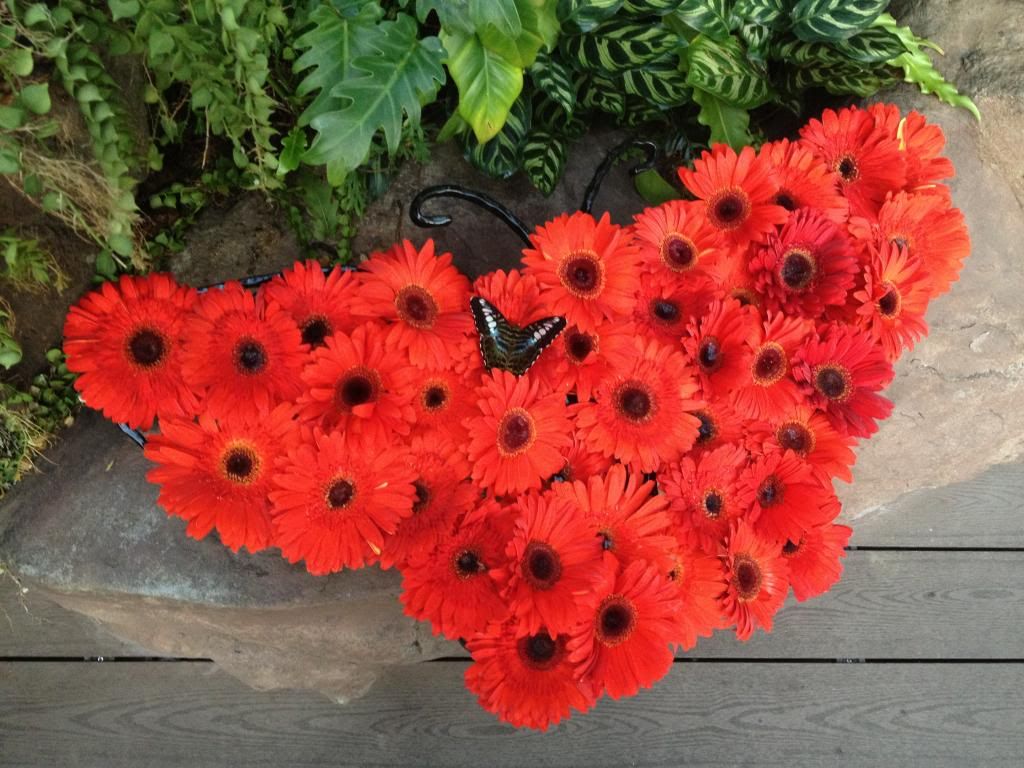 Butterfly Garden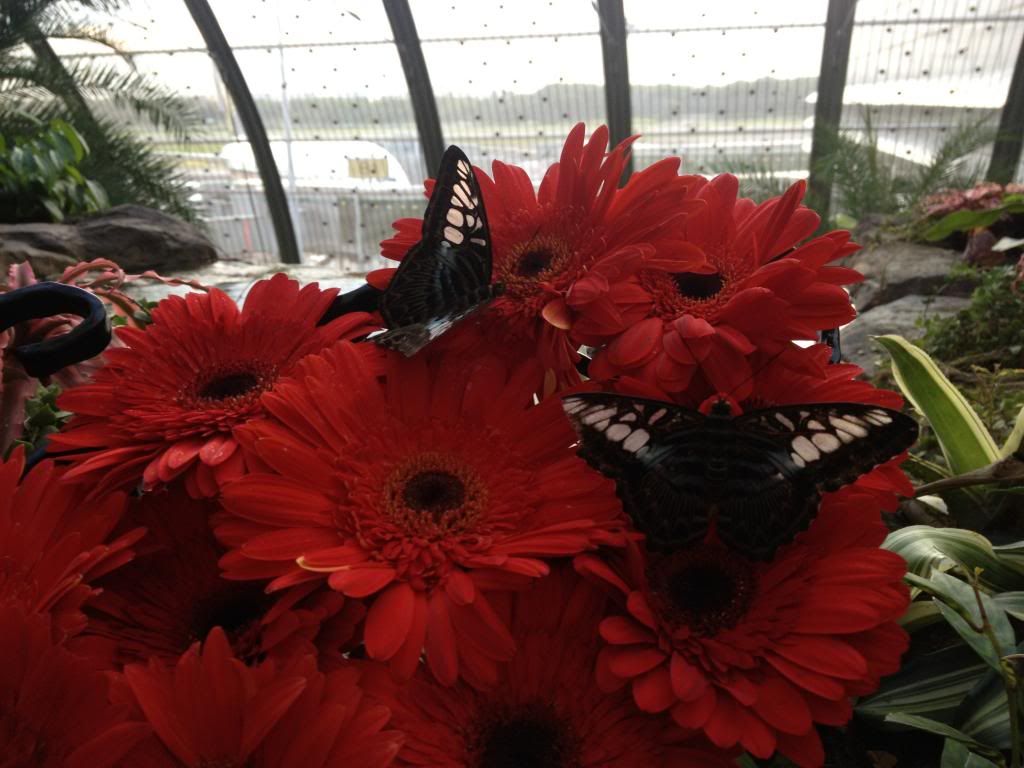 Nos vamos de Vueling?