Hi Everyone,
After spending really great time in Singapore, it was time for me to make another hop down to Melbourne. Needless to say there are lots of choice to fly between the two cities. From Singapore Airlines with their three daily flights, Qantas and Jetstar with their A330, or Emirates with their B77W. Other one stop options like BA via SYD or MH via KUL was also considerable alternatives.
I don't usually put Emirates on my list of options as the return flight from Melbourne will arrive in Singapore late at 2330hrs, I must say I was not really a big fan of arriving late night as it did not left me with much things for the day. However, the new Qantas and Emirates partnership did open another option for me, which finally gave me the opportunity to have an itinerary that includes a flight with Emirates.
On this opportunity I also made a video report on the flight, which includes the take-off, landing, and in-flight experience covered for those who are interested, available through the link below.
http://www.youtube.com/watch?v=aEN_0b0rjkQ
Background
Booking Process
As a Bronze Qantas Frequent Flyer member, I browse through the options of flight from Qantas website, which was always as easy to navigate through. Within 15 minutes I was able to book my flight, with the flight number of QF8404, along with a return flight to Singapore via BNE on QF8433.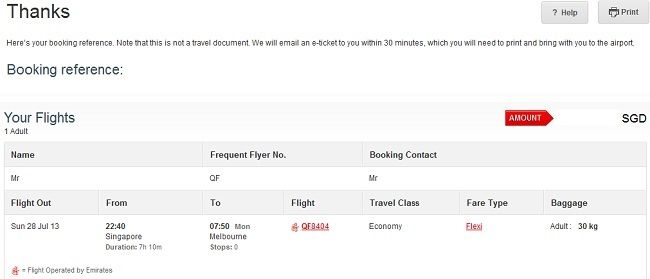 Thank you from Qantas and the booking reference. It said the e-ticket will be sent within 30 minutes. I was really concerned that after around two hours the e-ticket never made it to my email, despite my booking confirmation could be accessed through the website of both EK and QF.
I was told that there were several issues with the credit card used for the payment and therefore the e-ticket could not be processed, only after I contacted Qantas by phone. A visit to their local office did resolve the issues with my booking and my ticket was issued.
I have to say that despite the good intention of Qantas to keep the booking even after the failed booking, at least they should notify the passengers that the payment have been failed, instead of simply saying "thanks" and letting the passenger wait for their e-ticket without the slightest bit of clue that their payment failed.
Certainly it would not be a great surprise if the passenger(s) goes to a check-in counter on their departure day being told that their ticket never been issued and asked for a payment straight away at the airport, which happened to my parents once while flying a QF flight to ADL last year. Anyway, I outlined this issue to QF local representatives and they acknowledged my suggestions.
Emirates
Source : Perfect Solutions official website.
I would dare to say that there is no aviation enthusiast that have never heard of this airline. Being this year's Skytrax Airline of the Year, Emirates is one of the world's fastest growing air carrier, with more than 130 destinations served by its fleet of 203 airframes from its hub in Dubai Airport's Terminal 3.
Almost every of Emirates' movement is captured in the media spotlight, from their award-winning IFE, to introducing the world's first shower in an aircraft lavatory in the days where airlines' are announcing cut-backs to their services. As a result, many of today's frequent flyers does associate the brand Emirates with the luxury of air travel, and they have undoubtedly, like it or not, have become the trend of today's air travel. Some other aviation enthusiasts have even gave Emirates the title of Pan Am of the 21st century.
Although the Pan Am title is arguable, as an aviation enthusiasts I have definitely missed the Pan Am days (I was born after Pan Am collapsed) and the closest I could see of them was from my own TV screen. Therefore I made it a point that I would not missed Emirates, even though I may not be able to sit on their luxurious F class, but I am really curious what was the Emirates experience that everyone have been talking about.
Now, I was just a step away from discovering EK, as I was making my way through City Hall MRT Station for a 40-minutes trip to Singapore's Changi Airport via Tanah Merah Interchange Station.
I understand that many of a-netters here might be frequent passengers' of Emirates,
but please join me on exploring Emirates service from the eyes of a first-timer.
Check-in
After a 40-minute train ride from downtown Singapore, I made it to Changi Airport MRT Station around three hours prior to departure time.
On the MRT train to Changi Airport.
As Terminal One has no direct access to the MRT Trains, I took the Skytrain from Terminal Two.
Hello and Welcome to Terminal 1, the busiest terminal at SIN.
Despite my initial worries that the check-in area might be crowded and filled with long queues, it was empty at Emirates Check-in desk.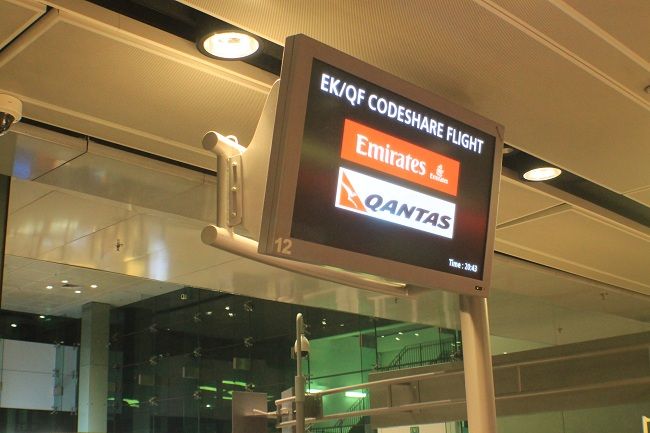 To those who forgotten, it is now an EK and QF Codeshare flight.
The lady in her twenties who was serving my check-in desk asked for my Electronic Travel Authority (ETA) for Australia while actually I have a temporary residence visa. Insisted that she could not process my boarding pass unless I showed one, I take the copy of my E-visa and showed her.
She excused herself and consulted with her colleague in the service desk then returned again to her desk and told me that everything's alright and processed my checked baggage and boarding pass.
She then thanked me for waiting through the process, and then I proceed with having a dinner at T1 landside with my family who were sending me off that time.
With around 20 minutes to boarding time, I bid farewell to my family until my return to Singapore. The passport control were always as efficient in Changi, and I was in the Transit Area in split seconds.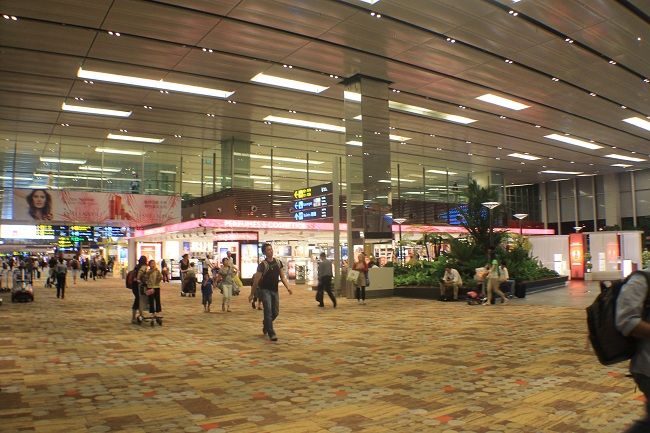 Terminal One Transit Area, not really busy during this hour.
I passed through the latest invention in Changi Airport, the Social Tree. Looks like those futuristic super computers in your sci-fi movies, I do wonder what was its function, as it was full with other passengers using its features that time.
May not look as cool as 'The Social Tree', but still works for me.
And of course checking what's the latest in our favorite website before my flight.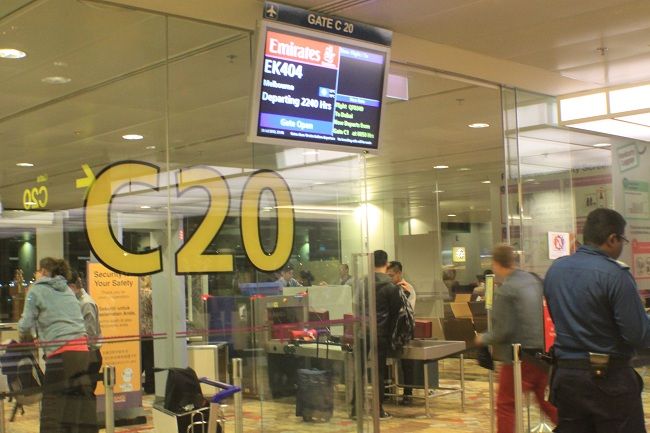 It was just five minutes to boarding time, and I continue the walk to the assigned gate C20. There was queue of passengers bound for MEL tonight.
I never thought I would see QF code-sharing with EK, but here it is flight QF8404 / EK404.
Boarding
FLIGHT DETAILS
Flight Number : EK 404 (Code-shared as QF 8404)
Type of Aircraft: Boeing B777-31H/ER
Registration : A6-ECU (delivered 29/09/2009 to Emirates, msn 35593)
ETD : 2240 (Actual around 2335)
ETA : 0750 (Actual around 0825)
Seat Number : 19A
After completing the secondary security screenings at the gate, it was time for the boarding pass to be scanned. I was quite shocked when the red-light popped up when my boarding pass was scanned.
The staff member told me to wait for a while and informed me that I was relocated from my original seat 50H (I was wondering, where? to Business Class?
).
Then she replaced my boarding pass with the new one, ensuring it was still a window seat, at Seat 19A, still in Economy Class but later I would find out that it was a better seat indeed.
Seems from the crowd at gate C20 it was going to be a full flight. The cabin crews for SIN-MEL sector were also still waiting at the gate to enter the B77W for pre-flight preparations.
I was also surprised to see that there are quite a number of passengers originated from Europe (I guess) holding double boarding passes all the way from DXB. Curious to know how did EK make this one-stop to Australia works when they already had a non-stop to MEL.
Our aircraft that day, A6-ECU, with another EK aircraft taxing behind.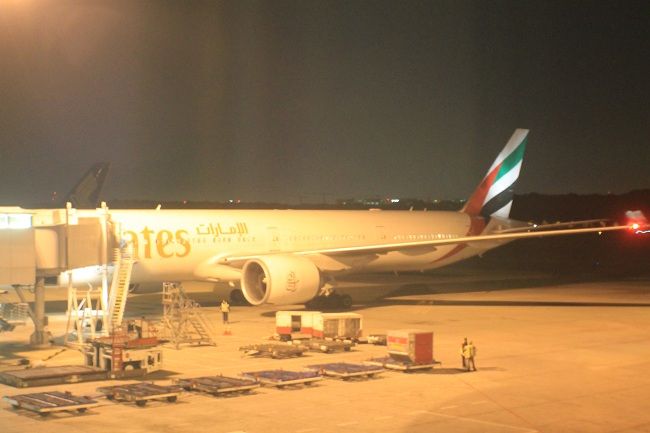 Another EK aircraft parked beside us, I was assuming this one goes to DXB.
From the signage, you could see that boarding was organised. Passengers flying on Economy formed a long queue for boarding, while many passengers who were traveling with infants that night had the luxury of an earlier boarding, along with the Skywards and QFF Gold/Platinum and F/J passengers.
I made my way to the aerobridge for the L2 door and was greeted by two of the Flight Attendants, which directed me to my seat. On this B77W, the row 19 was located on a mini-economy cabin consisted of around 40 seats.
Having this smaller economy cabin was definitely a more pleasant way to spent the journey, away from families flying with infants whom I recognised to be seated at the rear of the aircraft (I have nothing against families with infants by the way, I was flying when I was a kid too).
I was wondering if this smaller section were actually reserved (or prioritised) for Frequent Flyer members flying in Economy? At least that was my initial assumption on why I have my seat relocated to this section. If this was true, I have to say thumbs up to Emirates for taking care their own (and partner) frequent flyers.
Passing the Business Class seats upon boarding, I noticed that their window shutter was operated by button, really cool.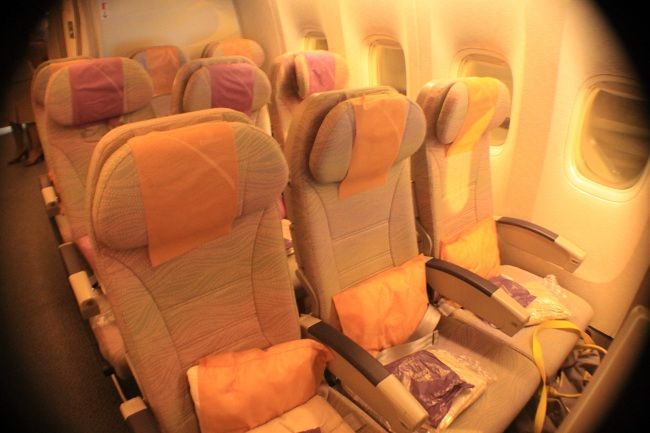 My seat, window seat 19A. The other two seats were later on occupied by a retired Australian couple heading home.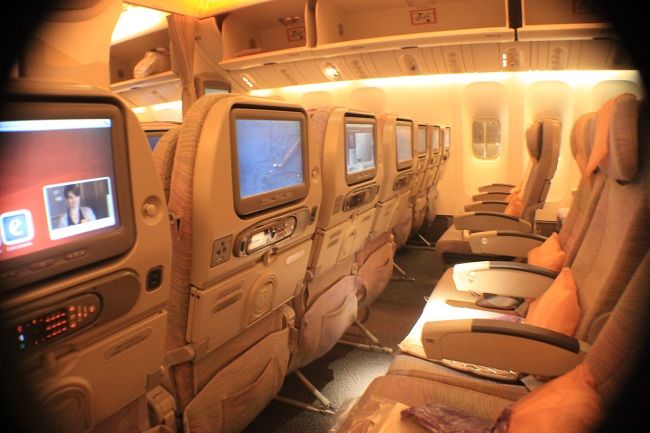 The Economy Class seats at the EK B77W.
As you can see, the smaller Economy section I was seated, right behind the Business Class.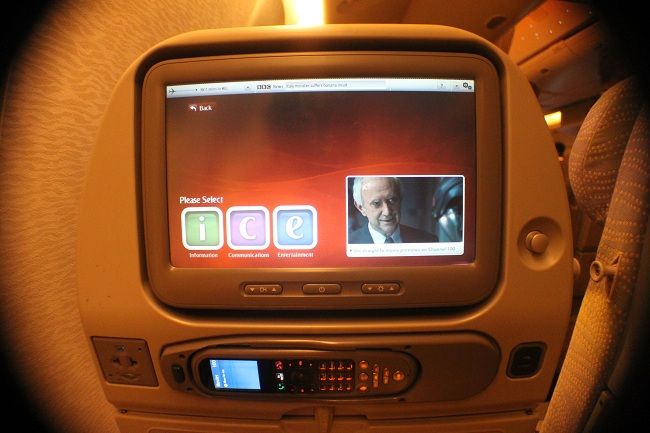 Seatback view with greetings from the World's Best IFE system, the ICE.
Legroom is okay for the flight. Maybe due to the fact that my height was less than 1.7m.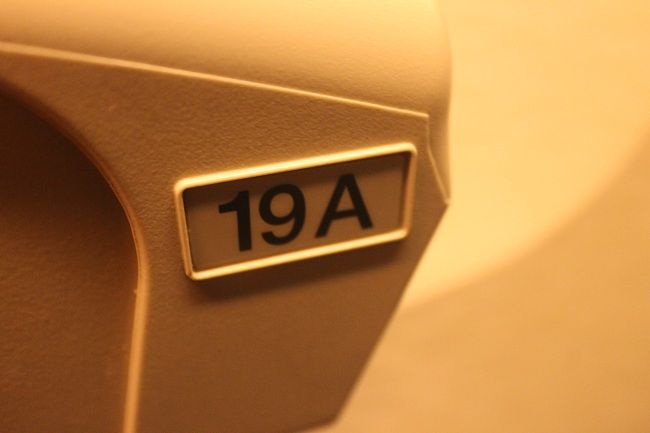 Aboard EK, one did not simply take the wrong seat, there was the seat number at the armrest too.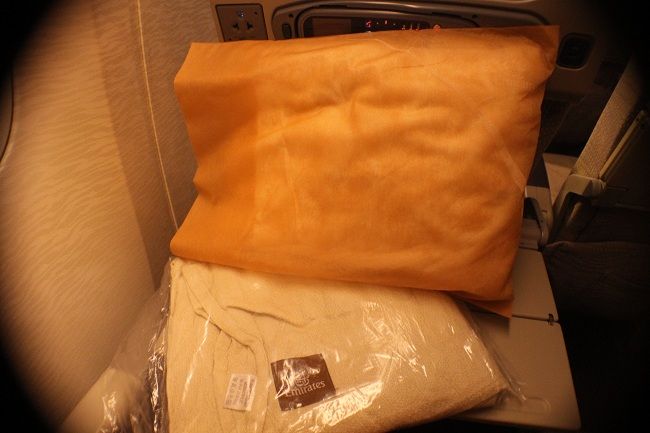 The pillow and blanket for the red-eye flight to MEL.
Seat pocket contents. There was a duty free catalogue behind, along with the B773 safety card, 'Open Skies' magazine, and the In-flight entertainment guide.
Good that they have do-not-disturb stickers here.
After everyone was on board, the doors were closed and we pushed back from our parking stand. The crew welcomed everyone aboard, including Skywards and Qantas members into the flight, followed by the safety video played.
Safety video were played in both Arabic and English, whereby unlike some airlines which complemented the use of both language in the same video, EK played one entire safety video in Arabic, then followed by the one in English.
Taxing past several aircraft including a CX B777. Apologies that it was blur, we were not taxing at full speed.
Finally reached our runway, which I believed it was 20C, and took-off around 30 minutes behind schedule. Again apologies it was slightly blur, the take-off as seen from the nose gear camera connected to the IFE system.
In-flight
After take-off, our flight made it way down through the Indonesian airspace, where several light turbulence was observed. As Emirates was also known for its multinational crew members, there was an announcement of the list of languages spoken by the on-duty cabin crew that day (I am sure those who flew with EK frequently familiar with this practice).
I did not remember the full list, but the languages include English, Arabic, Malay, Mandarin Chinese, Italian, and two others I could not recall.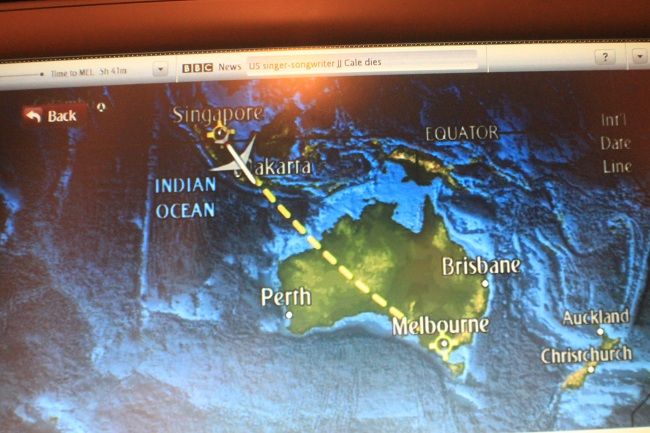 Our flight path for tonight.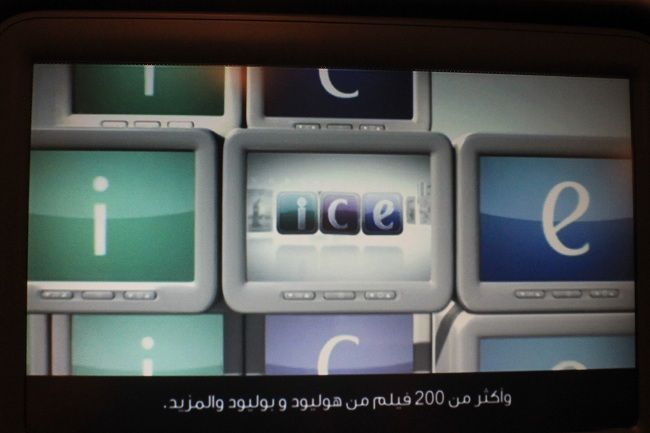 Before the IFE system was re-activated, a short video introducing their award-winning ICE was played.
Headphone and controls to the famous ICE system.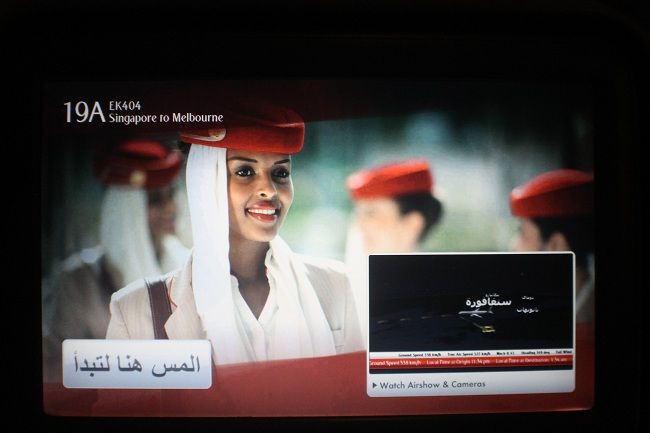 Welcome aboard ICE!
The main page of ICE system, in case someone forgotten, ICE stands for Information, Communication, and Entertainment system.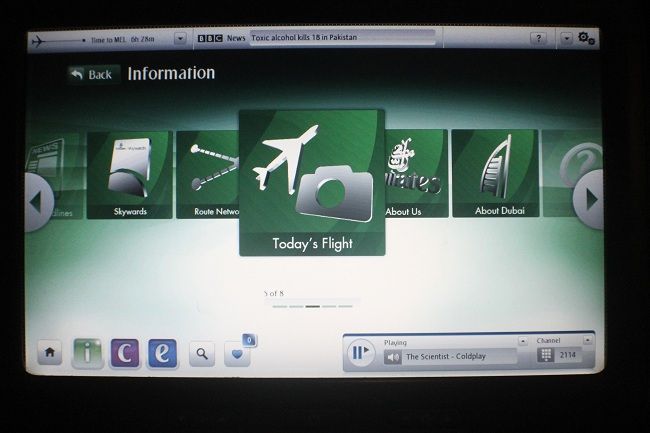 The information (I) section of ICE. Moving map and front-gear / tail cameras are found on this section.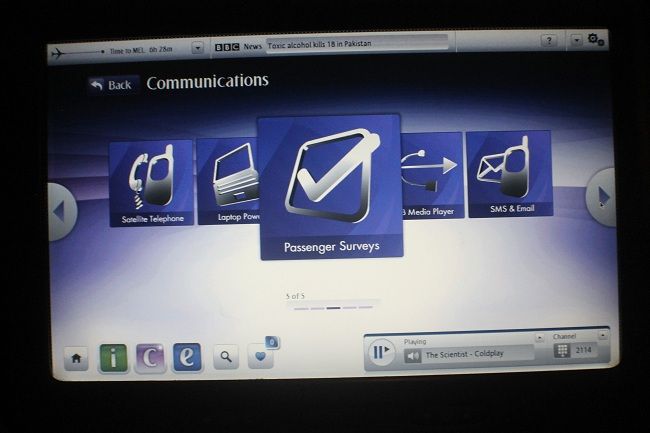 Communication (C) section of the ICE. Sending texts, making important phone calls, or even giving feedback to Emirates could be done through this section.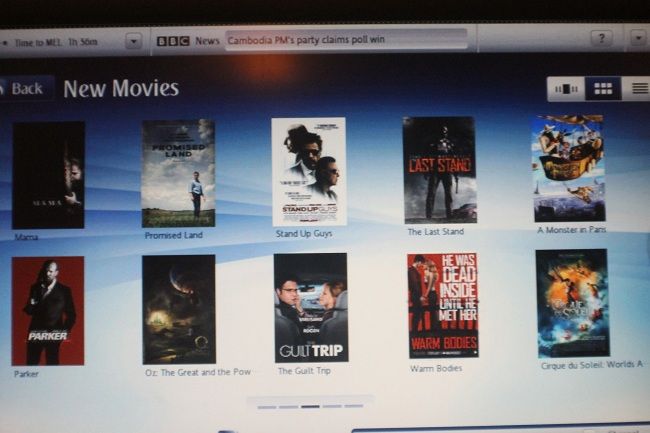 Entertainment (E) section was filled with an abundance of choice of movies, music, and games. I began to understand how this system could win awards consecutively.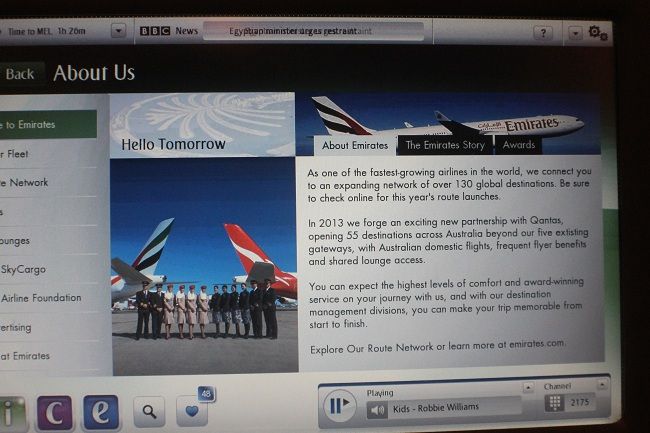 The history of Emirates, which everyone here might have known already. Hello Tomorrow!
I have to say with lots of variety in the system, it can be a confusing system to use, especially for those who used it for the first time like me. In the end I settled for 'The Call' , an action-suspense movie which was newly released that time.
Going to fly above Jakarta for awhile..
Shortly after, it was time for dinner service. What's for dinner tonight? We should refer to the menus provided by EK, even for Economy Class passengers.
Cover of the Economy Class menu.
The choice for dinner tonight. I was surprised to see there's three meal options in Economy for our flight, well done Emirates!
Before coming down with meal trolleys, cabin crew came around with hot towels. Nice touch.
My meal tray, which was one of the larger trays I have ever seen in Economy Class.
Choice of drink was orange juice as usual.
My Chicken Chasseur dinner served in the signature EK Economy plate.
Closer look at my Chicken Chasseur dinner.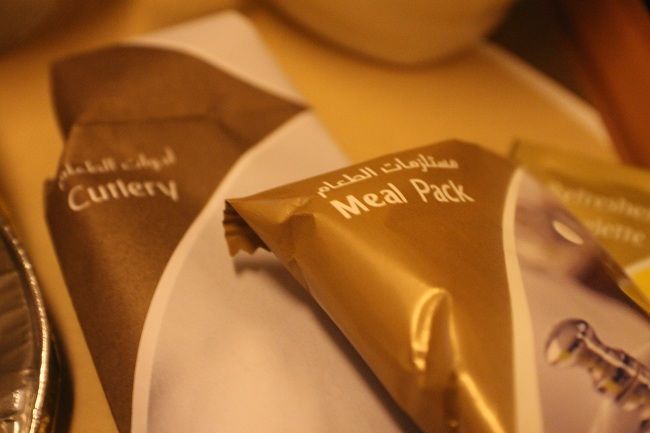 I would say EK is the most organised airline with all cutleries, meal packs clearly labeled in its packaging.
Good to see as Airline of the Year, EK used metal cutlery in Economy Class.
After the meal service, I took a short walk around the cabin, including a visit to the lavatory. The wooden theme is a nice touch for an Economy toilet.
The amenity drawer was empty. It was surprising that there was nothing for this overnight flight.
Second half Economy Class cabin, with a lot of passengers in this section.
It was time for me to return to my seat and get some sleep before arriving into Melbourne, as I have an appointment the next afternoon straight after my arrival. The cabin lights were dimmed and I could see that in EK, the mood lighting were used very much throughout the flight. Other airline I have flown before, used their mood lighting feature moderately, especially in Economy Class.
As a first time EK passenger I was amazed looking at the "light show" and the 'stars' in the ceiling. Nice set of decoration!
Bright orange light throughout the meal service.
In Emirates, seems 'reaching for the stars' is the theme..
Dimmed cabin light to allow everyone resting, including myself. The light were eventually switched off and it was dark in the cabin, with most of the passengers around me sleeping.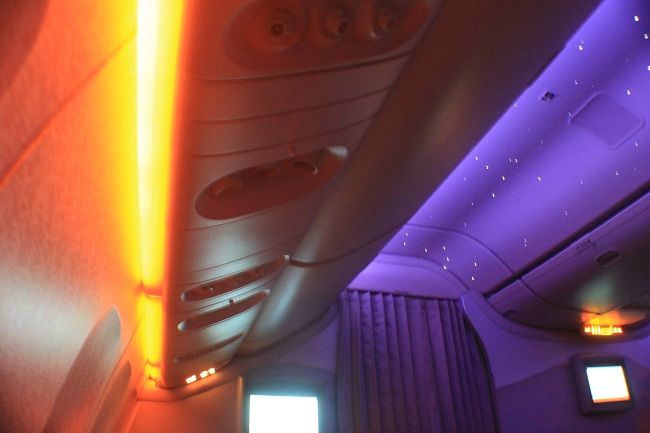 Four hours later when the sun was rising. The lighting changed into a brighter mode.
We were around two more hours from MEL.
As the sun is getting brighter, so does our cabin light.
My favorite part of a red-eye flight, sunrise from 33,000 feet.
When you got this outside the window, do you really need ICE??
A fellow passenger seated in the middle seat, who probably noticed me taking so many pictures aboard, asked me to capture the sunrise using his camera, as he did not have the access into the window.
Wingtip of our B77W.
The sunrise means it was time for breakfast. On this sector, Continental Breakfast was the only option. If on the dinner service there were two cheerful ladies serving my aisle, the breakfast service was served by two cabin crews, one was a cheerful lady with her Eastern European accent who took the time to ask how was everyone's morning, another one was a male from Middle East who seemed to be rushing the breakfast service.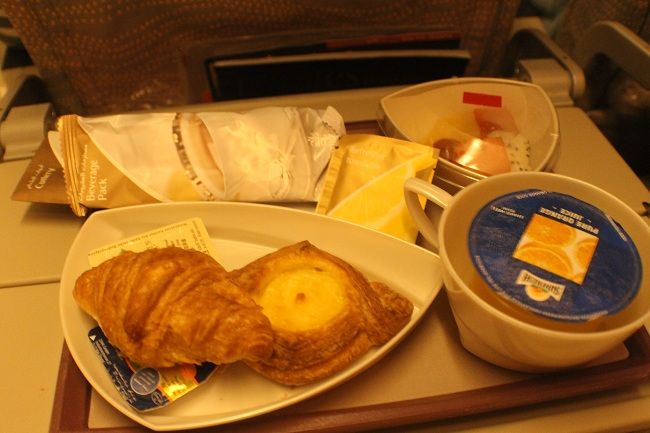 The Eastern European lady handed me the meal tray.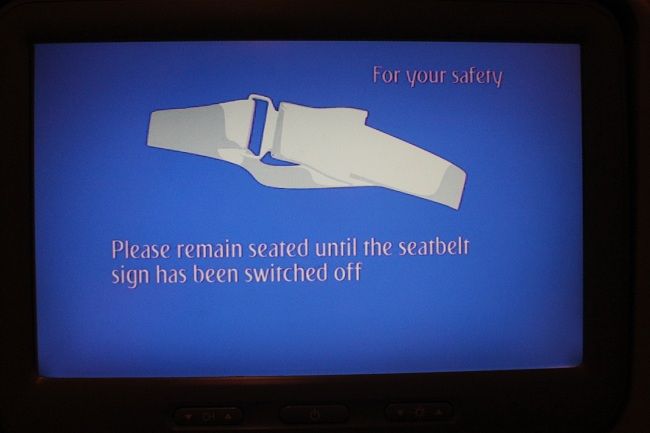 Coincidentally, the Captain put the seatbelt signs on for the breakfast service, therefore the crew apologised that hot beverages might not be served for now. So, when the male flight attendant come with the drink, I opted for an orange juice.
After the seatbelt signs were off, cabin crews came around with tea and coffee. I had my hot tea finally.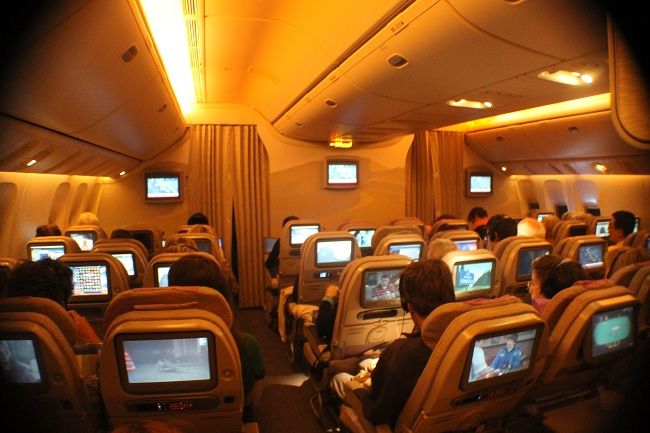 My smaller economy cabin after breakfast service.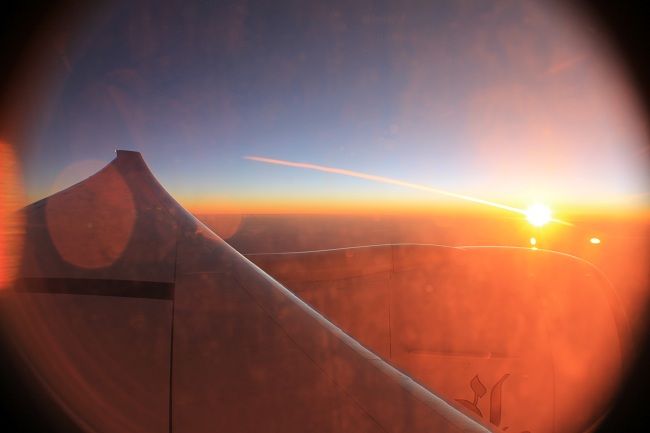 The sun is getting brighter.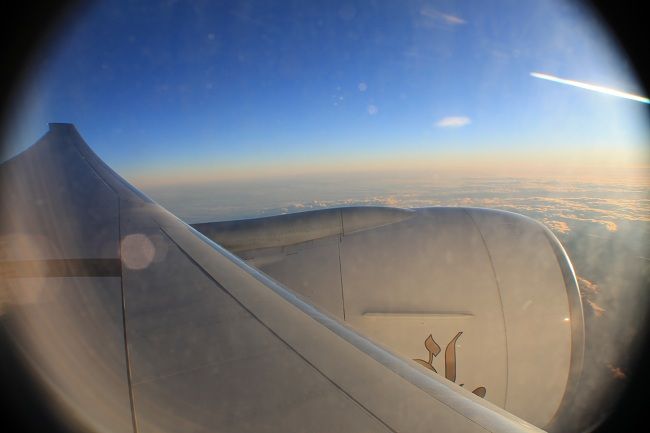 And now the sun is fully shining for a new day.
Landing into Melbourne
As the breakfast service was coming to an end, an announcement from the flight deck informed that the aircraft was on descent to MEL, along with the clear weather condition and an estimated temperature of 11 Degrees (Celcius). It was followed by cabin crews preparing everyone for landing.
During the final checks to ensure everyone had their seat belt fastened, headphones and blankets were collected by the cabin crews. Before we landed, a short video concerning Australian customs regulation was played in both Arabic and English, outlining the prohibition of several food items into Australian territory.
Reaching Melbourne soon!
Starting our descent into MEL.
Several pictures on our descent / final approach: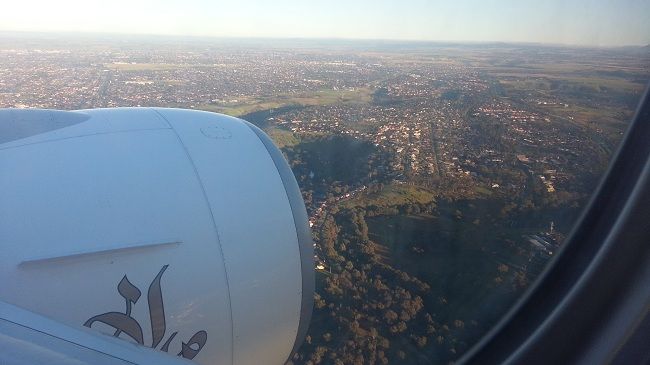 Touchdown at MEL, around 20 minutes behind schedule.
As we taxied through Qantas planes, the cabin crew welcomed everyone to Melbourne and thanking everyone for flying Emirates, along with instructions for passengers transferring domestically and internationally.
As we made our way to the remote stand, a QF B738 taxied through.
After a short wait for Business class passengers to disembark, I made my way to the L2 door along with other Economy passengers for disembarkation through stairs, which was the first time for me to disembark at MEL via the stairs.
Passing through used Business class section which looked comfortable.
Thank you Emirates!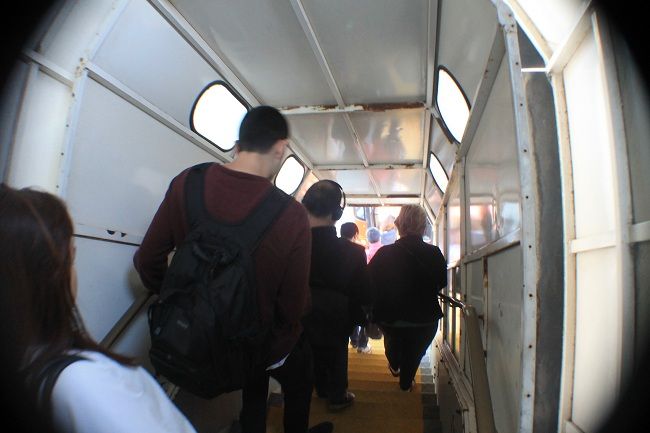 Going down through the stairs before taking the bus to the International Terminal Building.
Those engines are huge.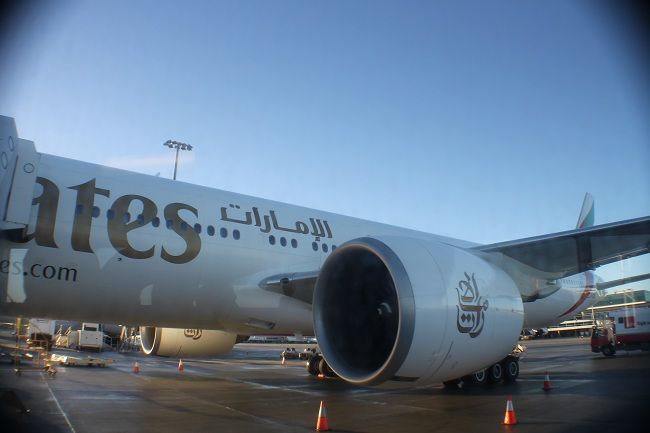 Our aircraft after the 7-hours flight to MEL.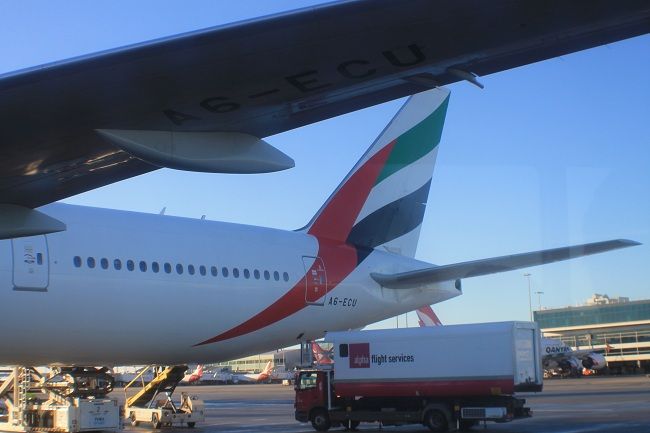 It's not everyday you can peeked under the wing to check if the registration was right.
After a short bus ride, we entered the arrivals area at the International Terminal. I was greeted with a super long immigration queues as per normal.
The difference is there's someone organising the queue this time. After a 45 minutes queue, I cleared passport control and proceeded to baggage claim.
Baggage claim at Carousel 6 for flights from CGK and our flight from SIN and DXB.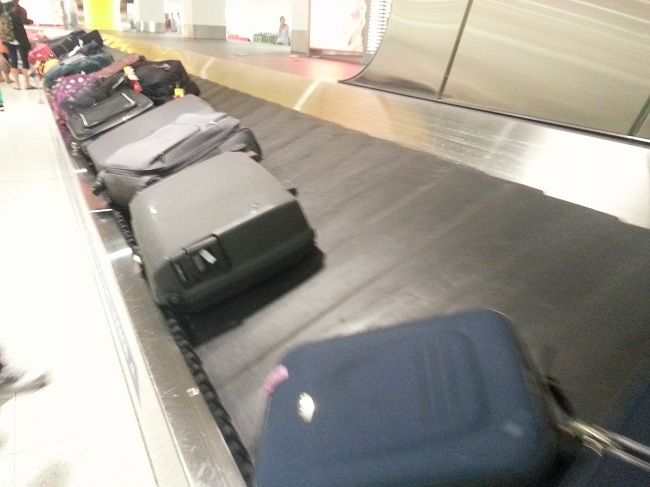 Where's my luggage??
After I collected my baggage, it was time for customs control, with me having nothing to declare. Despite the moderate queue, everything went smoothly and I was able to exit the airport shortly after. I then headed for the shuttle bus counter, which was my preferred mode of transport to the city. This marks the end of my first ever experience flying one of the world's most popular airline today, Emirates.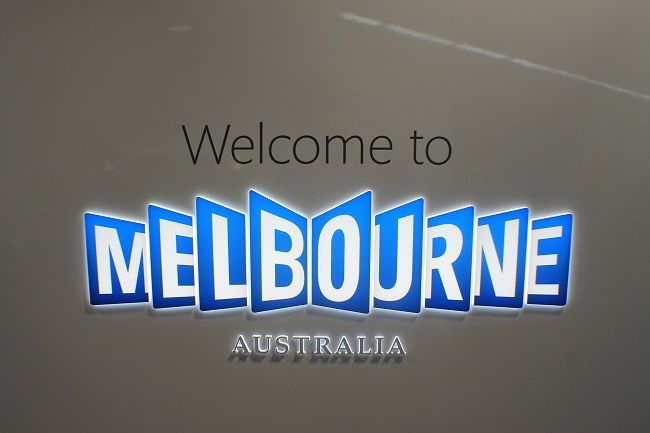 Welcome to Melbourne, Australia!
Final thoughts of the flight
On my first ever flight aboard Emirates, they did not disappoint me, despite my high expectation of them prior to the flight. With their Qantas partnership, I might found myself flying more EK flights in the future.
Their seat, despite the 10-abreast on they had, I still find it to be as comfortable for the seven hours flight. The in-flight entertainment system was definitely their strong point and definitely the rich content and responsive system would definitely keep you from getting bored throughout your journey.
Most of the crew were cheerful and professional, although there were few that seems to be simply doing their tasks and rushing it. That being said, the set of crew was still within what one expects out of a world class airline like Emirates. Having a set of multilingual crew does also make the flight more convenient to those not really fluent in English.
Of course, there are still rooms for improvements, which includes the absence of amenity kits that I noticed. The lack of amenities on the lavatory was also surprising, considering that a flight to MEL is not a short hop. Another issue was on the Qantas internet booking system which I have addressed earlier, which could be improved in terms of handling passengers with failed payments.
Overall, I would definitely say that EK does live up to people's expectations of them, and I hope to see it maintained on my next EK flight! Well done Emirates
If you have any questions or thoughts, I would really appreciate your comments.
Thank you for reading (and watching, if you watched the video as well).
Regards,
Dirktraveller.