Hi everyone! I've been a daily visitor to this site for the better part of the last decade, finally decided to bite the bullet and post a TR. This report covers 2 flights on Emirates in First Class between MEL-SIN (EK405) in Jun 2012 and SIN-MEL (EK404) in Feb 2013.
I've been flying Emirates for most medium to long haul flights since 2010, and have actually developed a strong liking for this airline, despite its numerous shortcomings when compared to heavyweights like SQ. The main reason for this is my frankly absurd operational upgrade record on this city pair. Both flights in this report started out as paid economy tickets, and as the title would suggest, I was nowhere near the economy cabin on both. As an added note, at the time of these flights, I was only a Silver member of Skywards.
I am currently in the final year of my undergraduate studies in Melbourne, and all my travel between my home in Singapore and Melbourne has been exclusively on EK, probably the wisest decision I've made in hindsight, not just for the higher baggage allowance, but for other reasons such as that mentioned above.
The end of June in Melbourne is normally cold and damp, being well into the first month on the southern winter. It is also around the time when the examination period for the first semester of university concludes, and thus there are a large number of university students travelling home for the winter vacation. Most people familiar with Australian universities would know of the large number of Singaporean and Malaysian students attending university here, and therefore flights from MEL to SIN, KUL and numerous other Asian destinations tend to depart with full loads during this period.
For my school, the winter vacation is only 3 weeks long, and I did not have plans to fly home for this break. But my family decided to hold an early 60th birthday celebration for my mother in Bali, and with both my sisters flying in from London, I didn't really have any excuse to not be present. My existing itinerary that brought me to Melbourne in February had a return booked in November, and changing it to secure a return at the end of June was next to impossible when I was informed of the birthday plans in May. My only option was to book an ex-MEL return itinerary, which at that point was going for AUD1085. Beggars can't be choosers, so I booked my flights and packed my bags. I don't mind paying a bit more to fly EK, since I was upgraded on my February flight from Y to J, and one could only hope that these things happen.
A few days before my flight home, a close friend of mine (a.net member 9VSWA), who was also flying on EK405, but on a different date, had informed me that he had received the 'exclusive' Emirates upgrade email, which offered an upgrade to J for AUD219. This grants increased baggage allowance, priority check-in and baggage handling and lounge access and of course the seat and service on the flight. Well worth it for a 7 hour flight. I received a similar email a few days before my flight, and promptly paid the fee without batting an eyelid. First step complete - Economy to Business.
Tullamarine Airport is probably the most inaccessible airport in this part of the world if one is not driving, but since this trip home was only for 2 weeks, I decided to drive to Tullamarine and park my car at an off-site long term carpark and then catch their courtesy shuttle to the terminal.
I had done my online checkin 24 hours prior to departure, and it clearly said Business Class on the self-printed boarding pass when I initially did so. In my rush to pack, I misplaced that BP and decided to print another in case the checkin staff gave any problems (The EK check-in staff at MEL then were quite possibly the rudest counter staff I've ever had the pleasure of encountering) . This was 10am on the day of the flight, and when I printed it out, it now said First Class, 1K. I thought it may have been a glitch, but didn't think much of it at the time. Second step complete – Business to First.
Rocking up to the check-in desks, I walked over to the First Class desk just to see what they would say. The lady welcomed me with a smile (It still astounds me how differently they treat you when you're standing on a red carpet), and when I enquired as to my seat, she said that economy and business were overbooked, and hence the bump to First. She handed me a proper boarding pass, an Express Path Card and informed me of the lounge facility, tagged my bags with Priority First tags, and sent them on their way. The ISS rent-a-cop guarding the entrance to airside took a look at my BP and Express card and directed me through the express path (I have been harrassed by them previously when flying Y) Security was quick and immigration was empty, and then I was straight to the lounge via the unavoidable duty free corridor.
The Emirates Lounge in Melbourne is located one floor above the waiting lounges for gates 9 and 11. It is quite a large lounge, which was empty when I arrived. Decent selection of food (which hasn't changed in the last 2 years) and good selection of drinks. I had a glass of Veuve Cliquot and some light food whilst enjoying the sight of SQ228 and QF9 departing for Singapore.
Some photos before the flight (I do apologise for the poor quality, these were taken on my Blackberry Torch)
First time holding a F boarding pass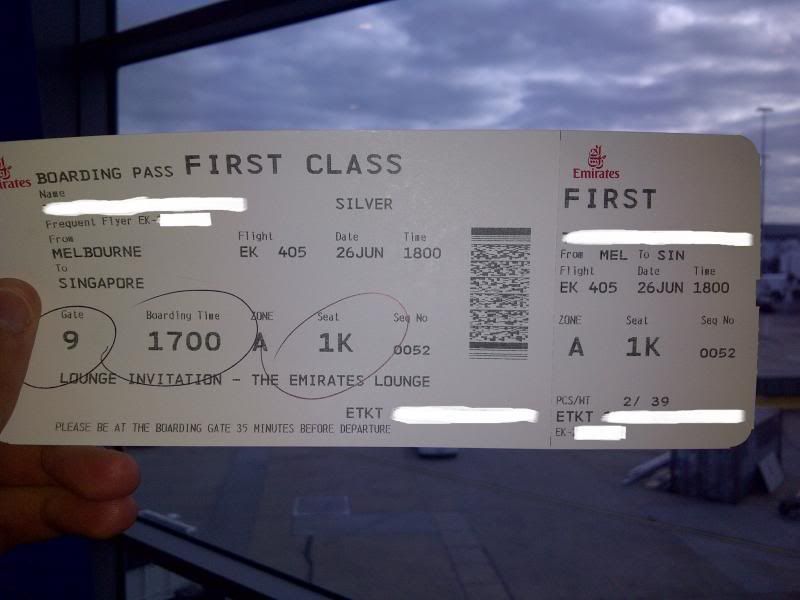 Excellent view overlooking the apron and the runways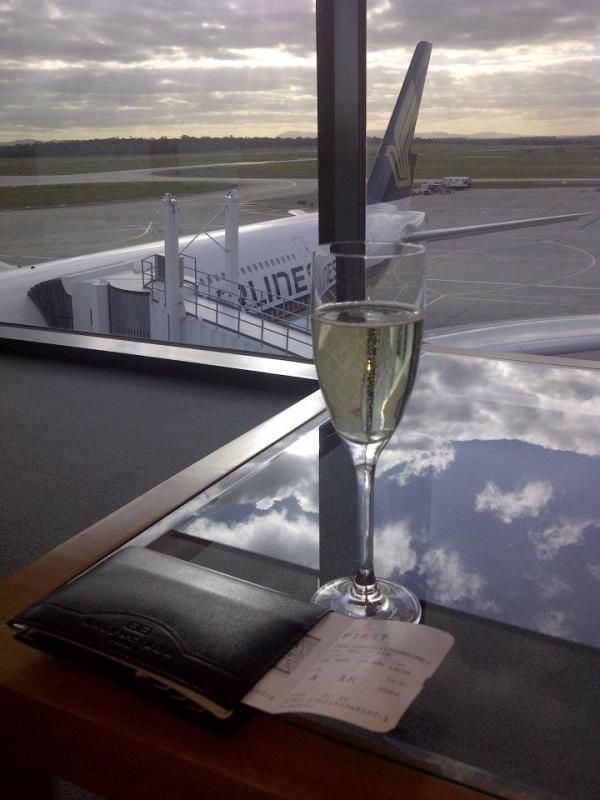 Interesting being higher up than an A380 (SQ228 to SIN)
It was quiet for a while after both A380s departed, and then the 77W that was to fly me home was towed into view and parked at Gate 9. I decided to leave the lounge early and board the aircraft.
Gate 9 at Melbourne sits below the main departure floor, and there is only a single escalator to head down. As soon as general boarding was called, the entire planeload surged for the escalator, with the ground staff (the same folk at check-in) screaming trying to maintain order. They wanted to check every person's boarding pass, and was cleared to go down when I flashed my First Class BP. The gate splits into 2 zones at the lower level, with J and Y pax using the right lane, and F pax using the left lane, which later go into separate aerobridges. The queue for the right lane was long, and I walked up to the agent manning the left lane confidently, all whilst getting death glares from the queue of Y pax alongside – I understand their sentiments seeing that I'm a youngish guy wearing a threadless t-shirt and jeans in F (don't judge me… I've flown QR J in t-shirt, shorts and sandals, granted that was from DPS) My BP was scanned, a short walk down the aerobridge, and I was the first person on board the plane.
Date: 26/06/12
Route: MEL-SIN
Flight: EK405
Reg: A6-ECF (Boeing 777-31H/ER)
Seat No: 1K
The 77Ws operating EK404/405 are configured 8F (Suites) 42J (Angled-Flat) 304Y and are fitted with crew rests. These aircraft are usually assigned to the longest 77W flights in the Emirates network.
I was warmly welcomed onboard by the male Indian purser, and he took my hand luggage and walked me to my seat, introducing me to the other 2 female flight attendants in F for the flight, one a Canadian and the other from Hong Kong. This is the sight that greeted me at Suite 1K.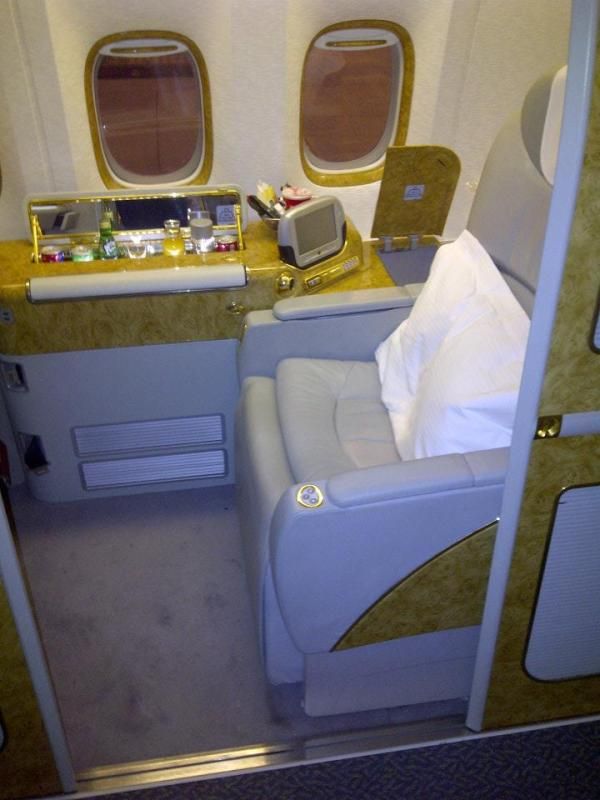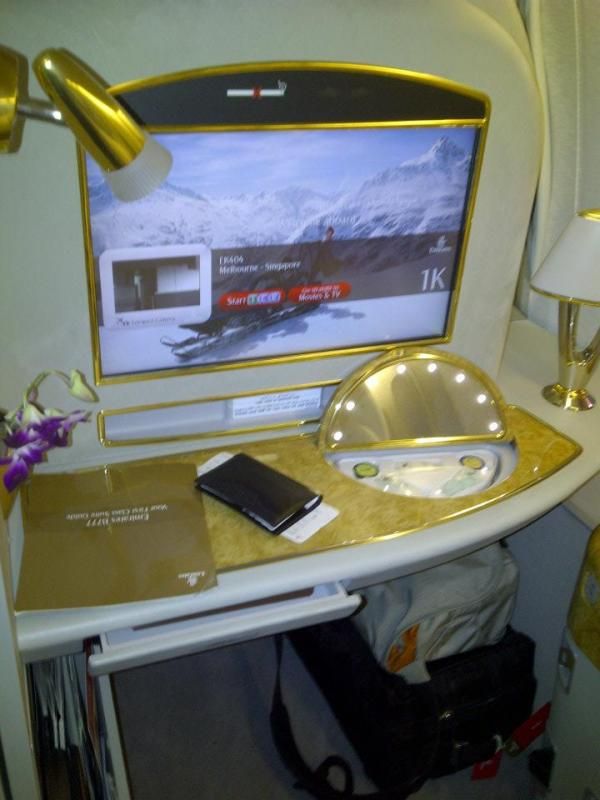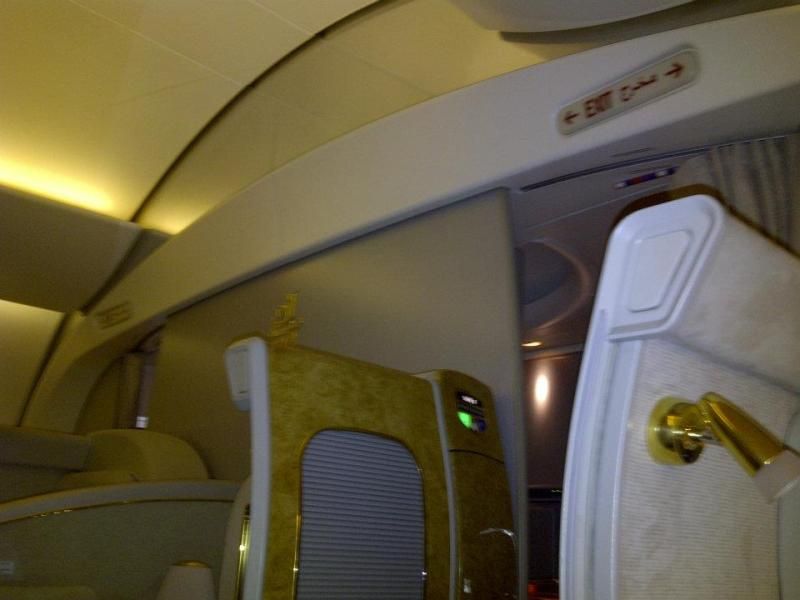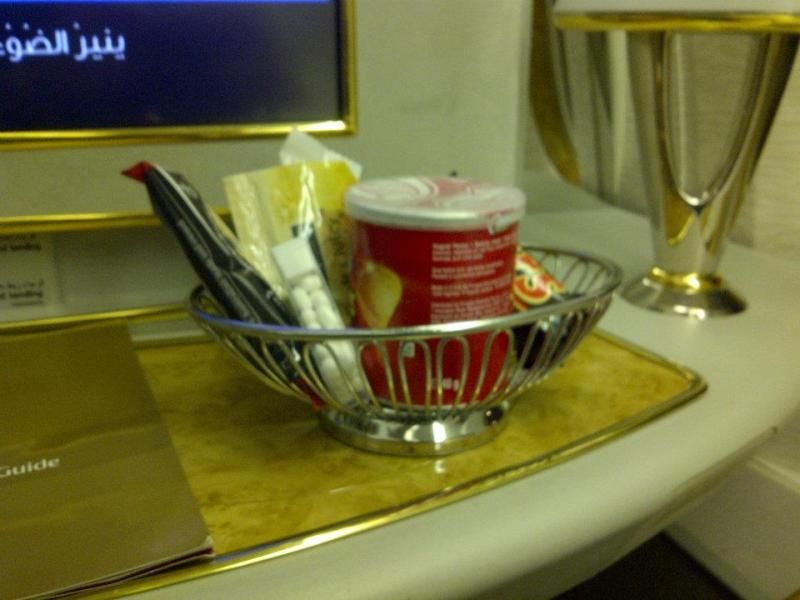 The purser hung my trenchcoat in the closet, and offered me a welcome drink, with the obvious selection being the 2003 Dom Perignon. The Canadian flight attendant, who delivered the drink, then offered me a selection of publications, from which I selected the current Top Gear issue. I sat back, drinking the champagne and just soaking in the ambience of the F cabin while waiting for boarding to be completed. The wine list and menu were offered, and I was asked for my drink order for post-takeoff. Amenity kits, pyjamas and slippers were offered as well.
A6-ECF was one of the first few aircraft fitted with this version of the F-cabin, it was only the 5th EK 777 fitted with the Panasonic eX2 powered ICE Digital Widescreen, and one of the first to have the Teague designed high ceiling and special Door 1 raised entry, which are exclusive to Emirates. It lacked the electronic window shades of the newer 777s, but the A and K suites still had the buttons for such a feature. The difference between the standard 777 cabin without overhead bins, as seen on SQ and CX and this version on EK is stark, especially over the middle suites. The effect is even more pronounced when the starry sky lighting is enabled and the cabin lights dimmed. The tacky faux wood panelling is quite overpowering when first encountered, you just get accustomed to it after a while.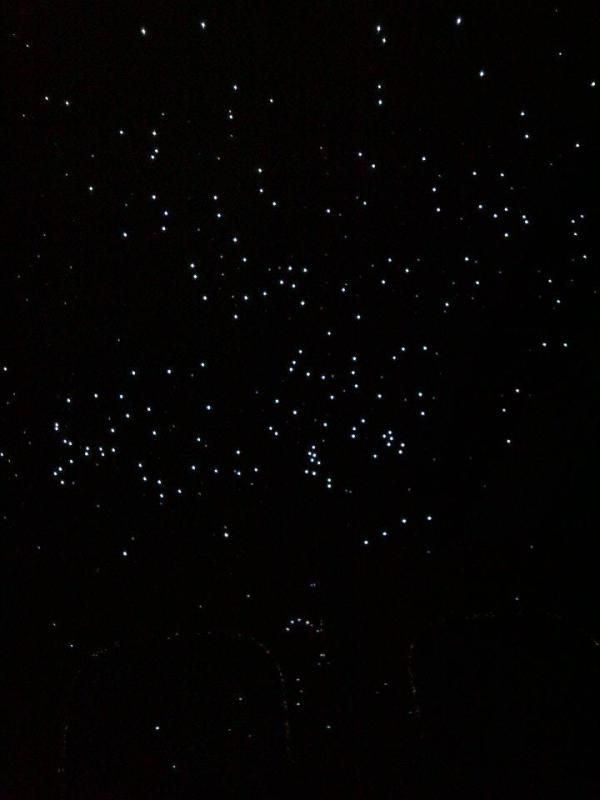 Boarding was soon completed with the aircraft 100% full in all 3 classes, and the aircraft pushed back for departure. It was a short taxi to runway 16 for a departure towards the south. The safety video was played and the cabin lights dimmed for a night departure, as per standard procedure.
This picture snapped during taxi-out just goes to show how long the 77W is from the inside.
It was weird having 3 windows to look out of during the takeoff. Some shots of the Western suburbs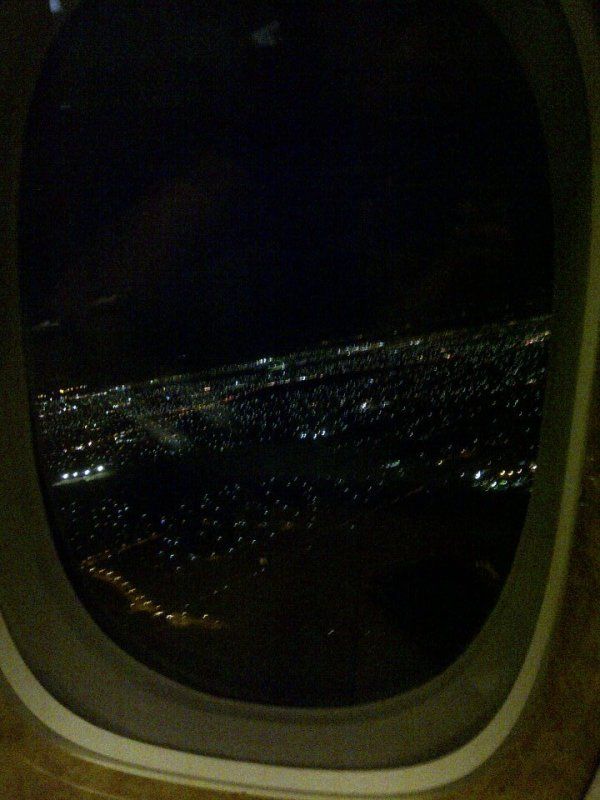 The aircraft made a right turn towards the northwest and the purser announced the languages spoken by the crew on the flight, and played the ICE welcome video on the IFE.
The cabin crew released the suites from ground mode, which allowed the doors to be closed by the touch screen controller. The suites in F have funky, almost Fast & the Furious-esque floor lighting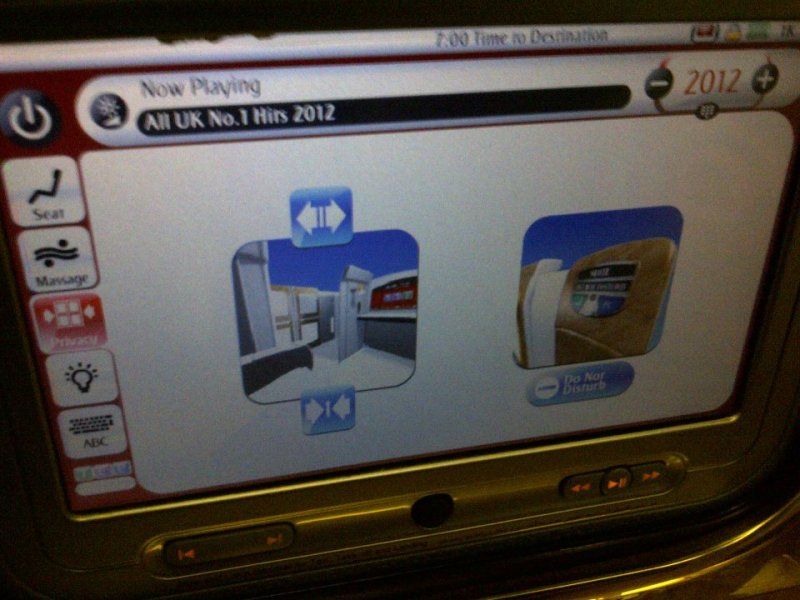 Dinner orders were taken, and I fired up the ICE Digital Widescreen system to make a playlist and watch some movies.
Food on this flight was completely on demand, with a wide selection of appetisers, mains, light bites and desserts on offer.
A la carte Dining
Canapes
A selection of hot and cold savouries, including warm beef satay, classic smoked salmon and crème fraiche blini, halloumi cheese with grilled pear, vegetable tart, teriyaki chicken skewer, marinated mozzarella with shredded basil, marinated mushrooms and marinated mixed olives
Appetisers
Caviar
Perfectly prepared chilled caviar presented with a traditional selection of finely chopped onion, chopped boiled egg, sour cream and lemon, served with crisp Melba toast and soft blini pancake
Salmon and sand crab terrine
Seafood delight of layered salmon and crab, served with refreshing tomato and mango salad and an aromatic coriander salsa verde
Roast duck breast
Tender ducking breast, roasted and served with a zesty orange and palm heart salad with a light shallot and truffle vinaigrette
Main Courses
Poached blue eye cod
Fresh fish fillet gently poached, served with bouillabaisse broth, carrots, courgettes and steamed chat potatoes
Lamb shank
Boneless braised slow cooked tender lamb shank, broccoli florets, sautéed squash and red pepper with chive marbled creamy mashed potato
Ginger and shallot chicken
Succulent chicken pieces cooked Asian style with ginger and shallot, served with seasonal stir-fried vegetables and fried egg noodles
Pappardelle pasta
Cracked pepper pappardelle pasta cooked al dente, presented with creamed leaf spinach, roasted red peppers and green olives, topped with a sweet tomato jam and fresh parmesan shavings
Corn-fed chicken breast
Succulent skinless chicken breast, served with apricot and pine nut couscous, broccolini and kabsa sauce
A la carte vegetables
Our chefs have paired each meal with their ideal accompaniments, but we offer a variety of alternative vegetables to your taste, including sautéed woodland mushrooms, buttered fine green beans, saffron flavoured rice, and steamed potatoes
Bread basket
Choose soft, crusty, granary, garlic or Arabic from our variety of freshly baked rolls and breads
Light Bites
Seasonal salad
Crisp fresh garden salad leaves and vegetables, tossed in your preferred dressing
Wild mushroom soup
Thick creamy home-style soup, served with sautéed sliced wild mushroom
Vegetable consommé
Lightly seasoned, traditional concentrated vegetable bouillon, served with garnish
Cheese board
A carefully chosen assortment of the finest boutique cheeses from around the world, served with a selection of crudités, crackers and dried fruits
Selection of open sandwiches
A smorgasbord of tempting sandwiches, including spiced tandoori chicken breast, hot-smoked salmon, cream cheese and grilled pesto vegetables
Sweet Delights
Traditional opera cake
Moist layered sponge and cream gateau, served with crème anglaise
Baked orange and almond pudding
Rich zesty pudding, served warm with a citrus anglaise
Selection of fruit
A seasonal assortment of the finest fresh cut fruits
Selection of pastries
A choice of delicious individual desserts including decadent chocolate cake, mini fresh fruit tartlet and mango cheesecake
Chocolates
A luxurious rich chocolate selection provides the perfect finale
I was first offered canapés.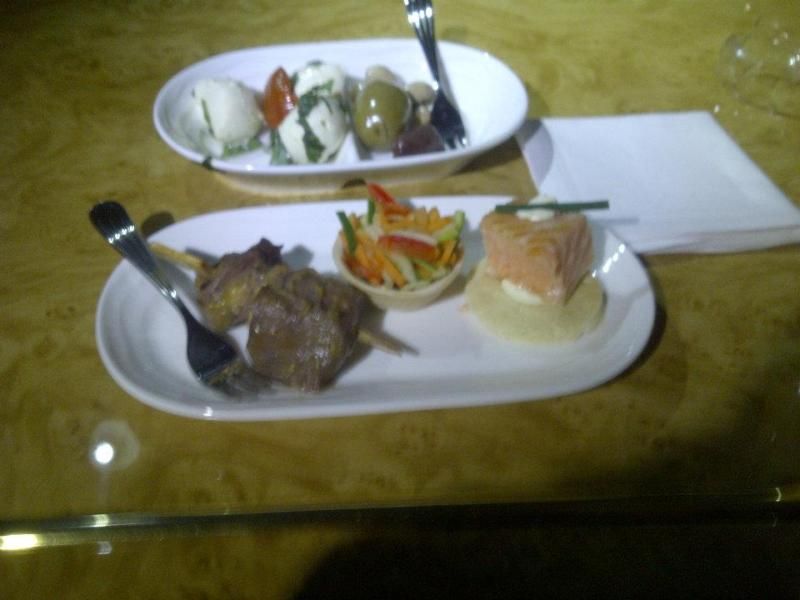 An Emirates branded tablecloth was then set, before the cutlery and other serviceware was arranged on the table.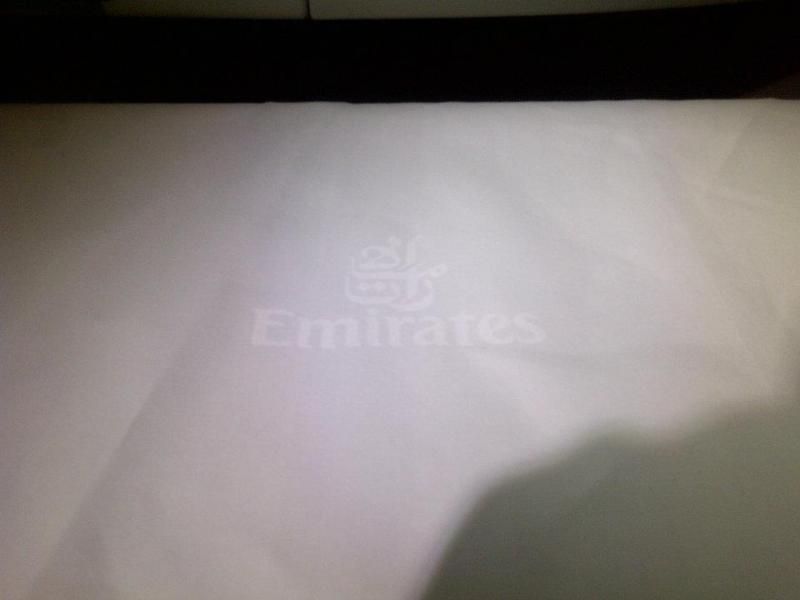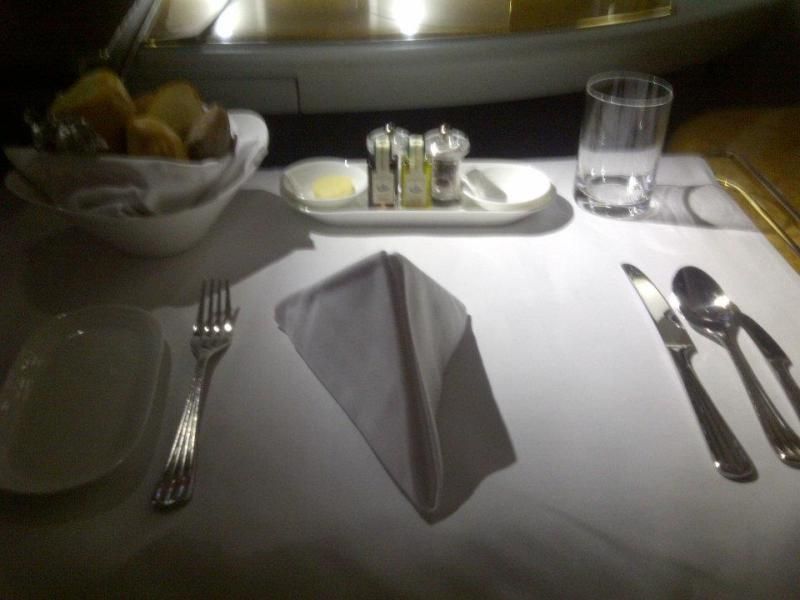 Individual bread baskets were distributed, with the garlic bread being the best of the bunch. I accepted the seconds that were offered and asked for a third serving. They were that good.
Salad Dressing, Salt and Pepper Shakers and Butter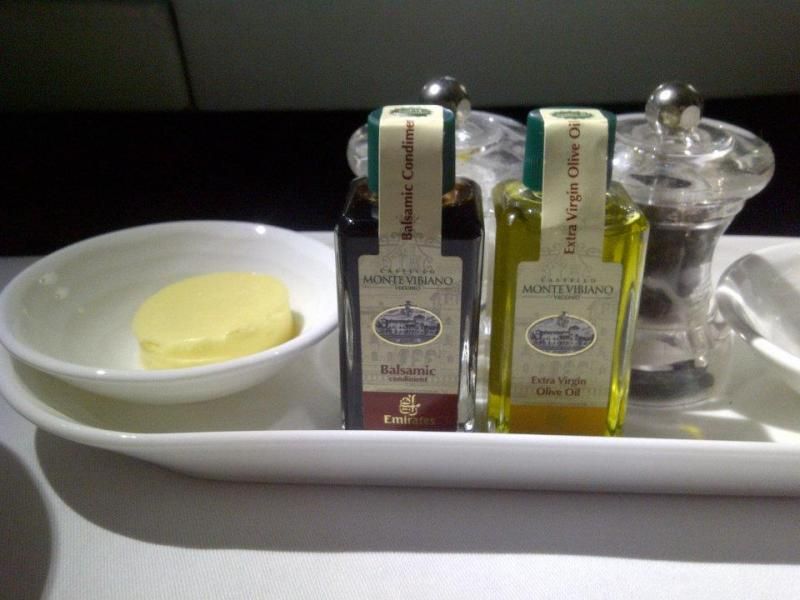 Next up was Caviar (first time for me)
Salad and mushroom soup followed (nothing particularly noteworthy)
The main was ginger and shallot chicken with noodles and vegetables (again nothing spectacular)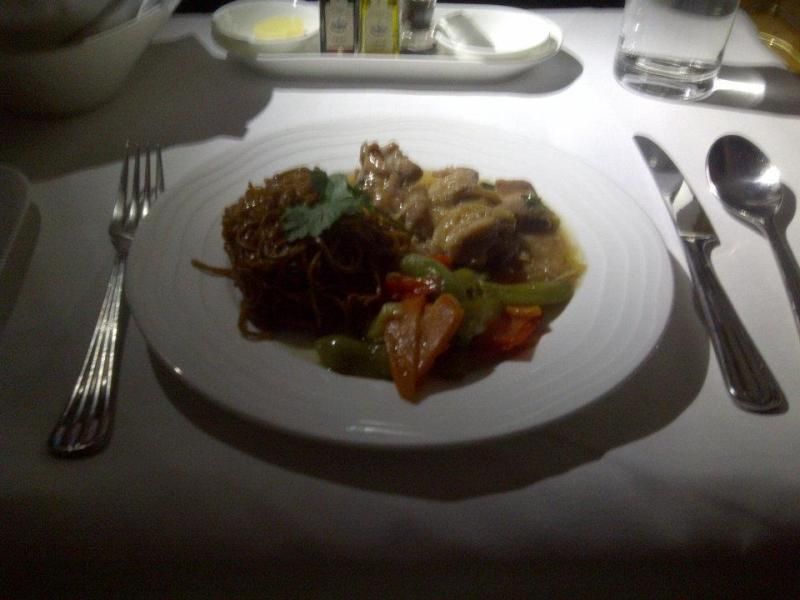 Finished off with an Orange and almond pudding and an Earl Grey, with godiva chocolates offered as well (probably the best course of the dinner)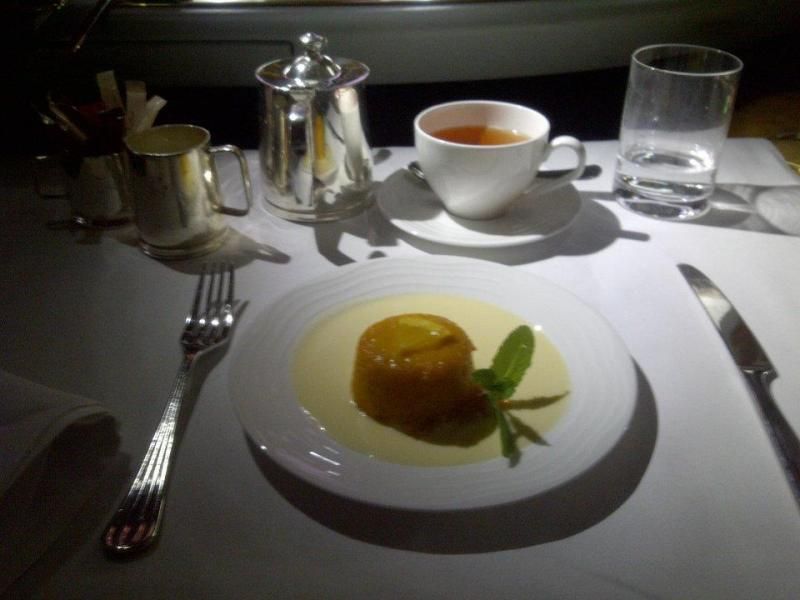 I asked the purser to turn down the bed whilst I went to the lavatory. Both F lavs are behind the cockpit, and are similar in size to regular lavs, just nicer wood panelling. By this time, we were over the middle of Australia, about 5 hours to SIN. I returned to the suite and settled in to try and catch some sleep. I had to touch screen controller set to the airshow and the main screen turned off. All the miscellaneous electronics within the suite do produce a bluish glow that can be quite irritating when trying to sleep.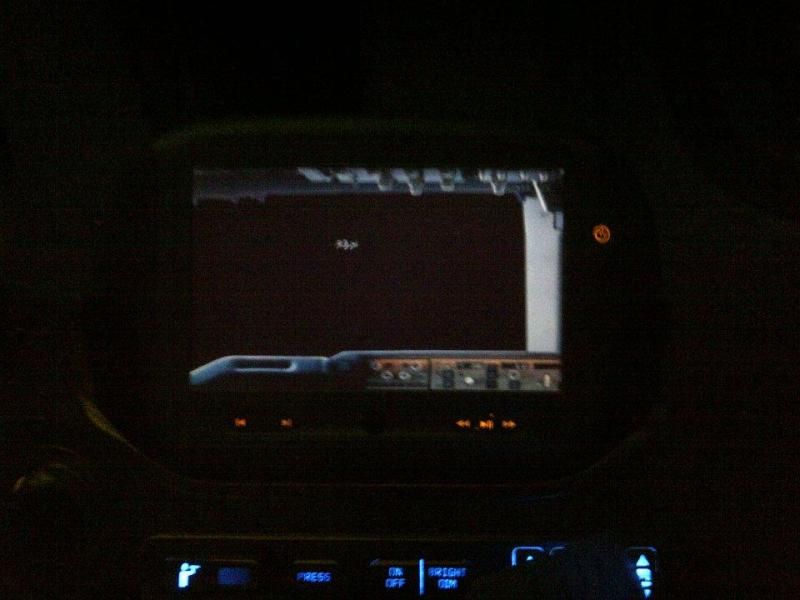 I woke up about 3 hours later, when the aircraft was tracking over DPS. I used the 'Room Service' button to call the galley and ordered some light bites. I asked what was available, and was told that everything on the menu was still available except for the mushroom soup. The table was set and the food was served.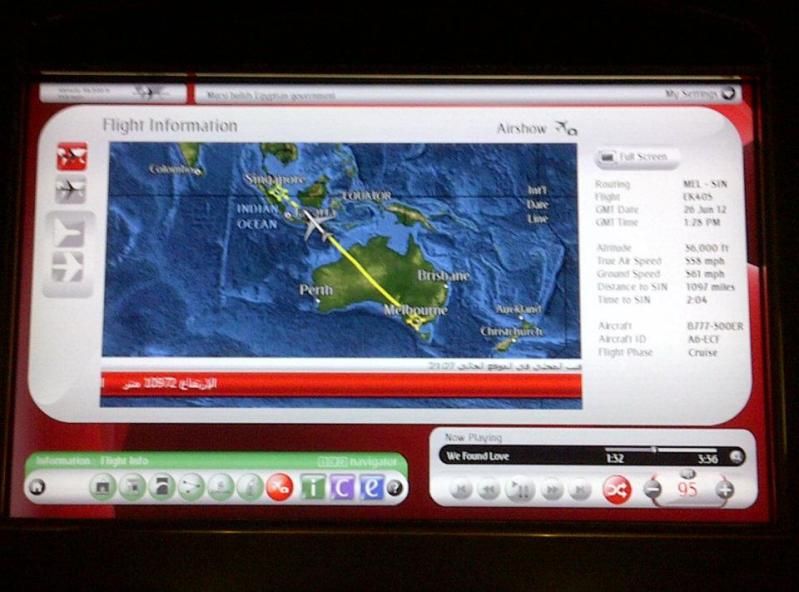 Salmon and Sand Crab Terrine
Tandoori Chicken Breast Sandwich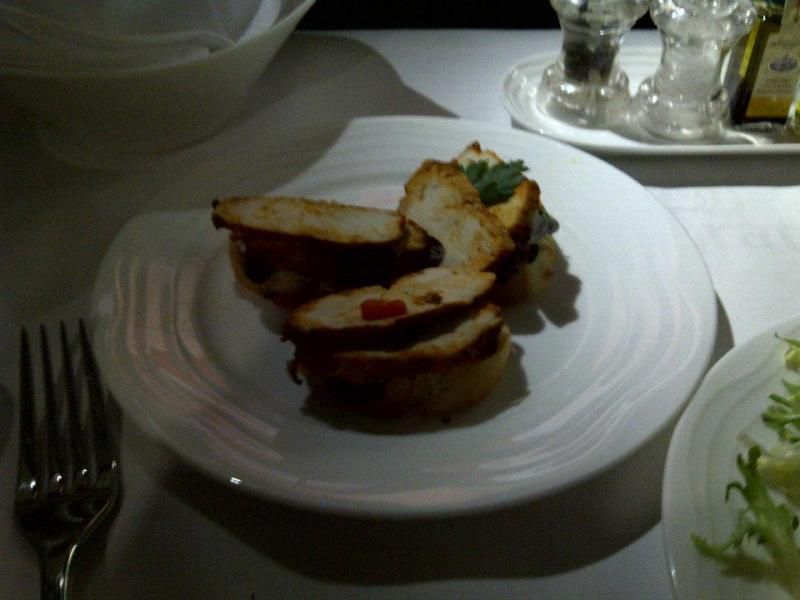 Small desserts
I watched older episodes of Top Gear and drank more Dom to while the time away. It was soon time to start the descent into Singapore. The mood lighting system has a dazzling array of colours, which simulated a sunrise within the cabin, oddly at 11pm local time.
The high ceiling in its entirety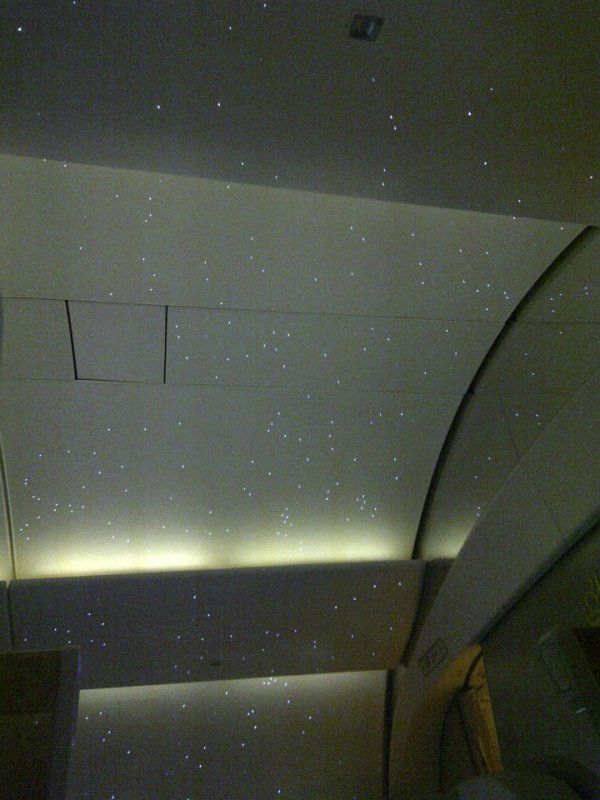 We tracked north over Johor before turning to intercept the ILS for runway 20R.
Final approach for 20R off the nose camera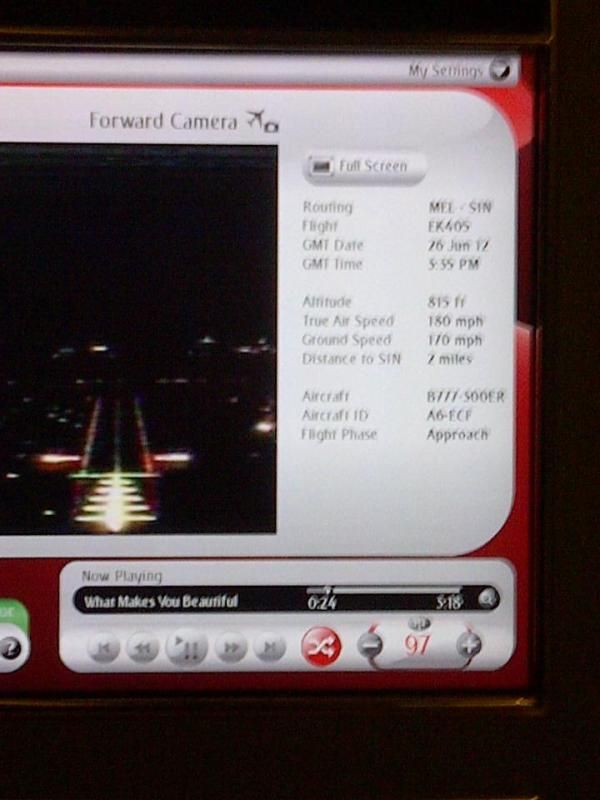 We touched down on schedule and taxied quickly to the gate.
Parting shot of the Suite, with the mattress pad and duvet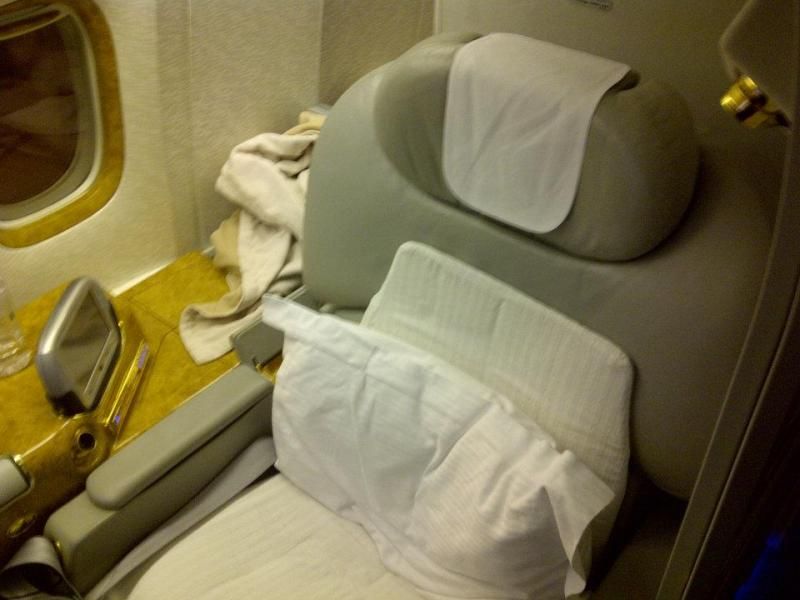 Going nowhere (at the gate)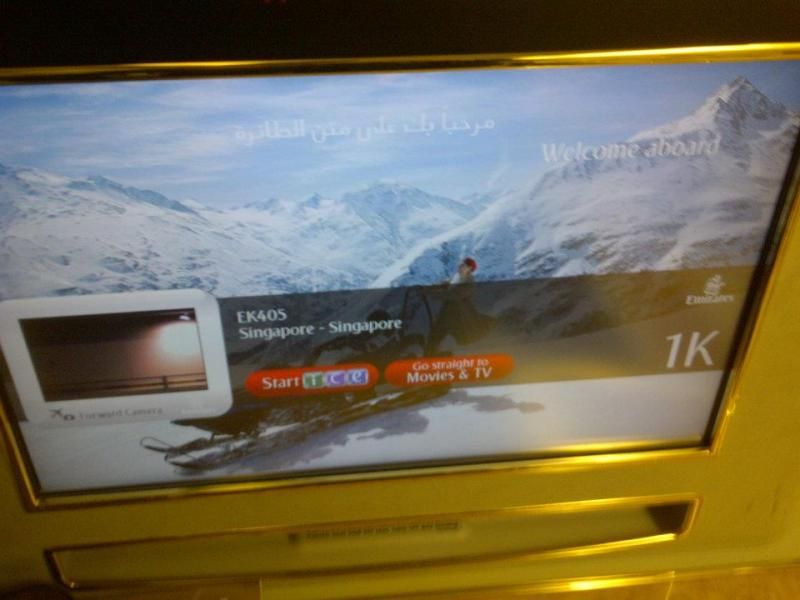 I was first off the aircraft, as opposed to being first on in MEL, and cleared immigration swiftly through the automatic gates. I waited about 5 mins before the priority baggage was delivered.
All in all, this flight was beyond my wildest dreams, especially since I'm a normal university student on a student budget when travelling. This itinerary was particularly lucrative, as I was also offered the email upgrade for the return two weeks later, which I gladly paid for. So for a grand total of about AUD1600, I flew F MEL-SIN and then J SIN-MEL, which is in every possible scenario excellent value for money.
I never thought I'd get the chance to fly F again, but funnily enough, the next section of this report will detail my next F experience on EK, going on EK404 back to MEL in Feb earlier this year. The circumstances of my flying F on this next leg would astound even the most frequent travellers. Till then, enjoy this part of the report. It's my first ever, so all comments are most welcome.
V
[Edited 2013-08-23 23:33:14]
[Edited 2013-08-23 23:50:24]