Continuation of the previous trip report...
Oryx To The Lion City (BCN-DOH-SIN-DOH-BCN)
(by
MIAspotter
Aug 23 2013 in Trip Reports)
Somehow it got chopped off, so here it goes.
Monday August 19th 2013
Flight QR643 Singapore Changi (WSSS) to Doha (OTBD)
Departure 21:20 (actual 21:20)
Arrival 23:55 (actual 23:50)
Flight duration 6:51 (according to IFE)
Boeing 777-2DZLR (A7-BBI) delivered new to QR on September 30th 2011 and Qatar¨s 100th Aircraft (Yup, BBI again)
Seat 15K
I walked around T3, visited the butterfly garden, saw the Koi pond and used the free wi-fi , I was a bit thirsty so I went up to the food court where I found a convenience store with normal city prices and not rip off airport prices, bought a sugar cane drink and slowly walked around stopping at the Duty Free to buy my favorite aftershave (Clinique Happy) the 100ml bottle was just 36€ which here in Europe will only get me the 75ml bottle, the 100ml is around 57€ so a bargain!
Butterflies having their noms in the Gardens.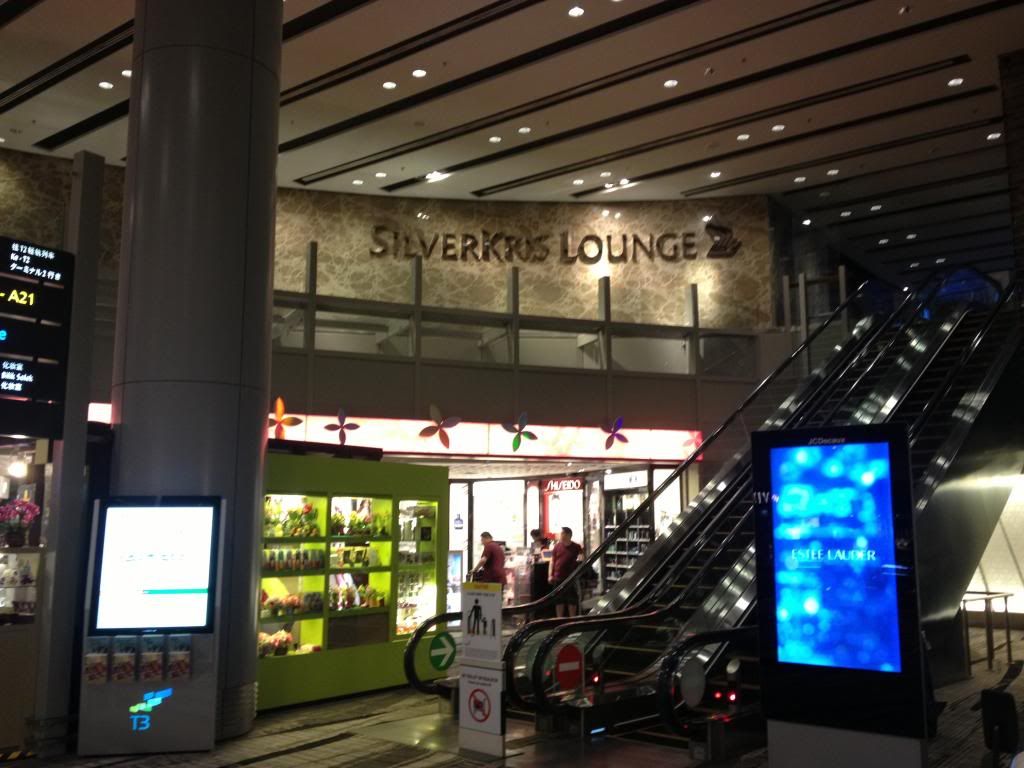 SilverKris Lounge, I am not worthy of thee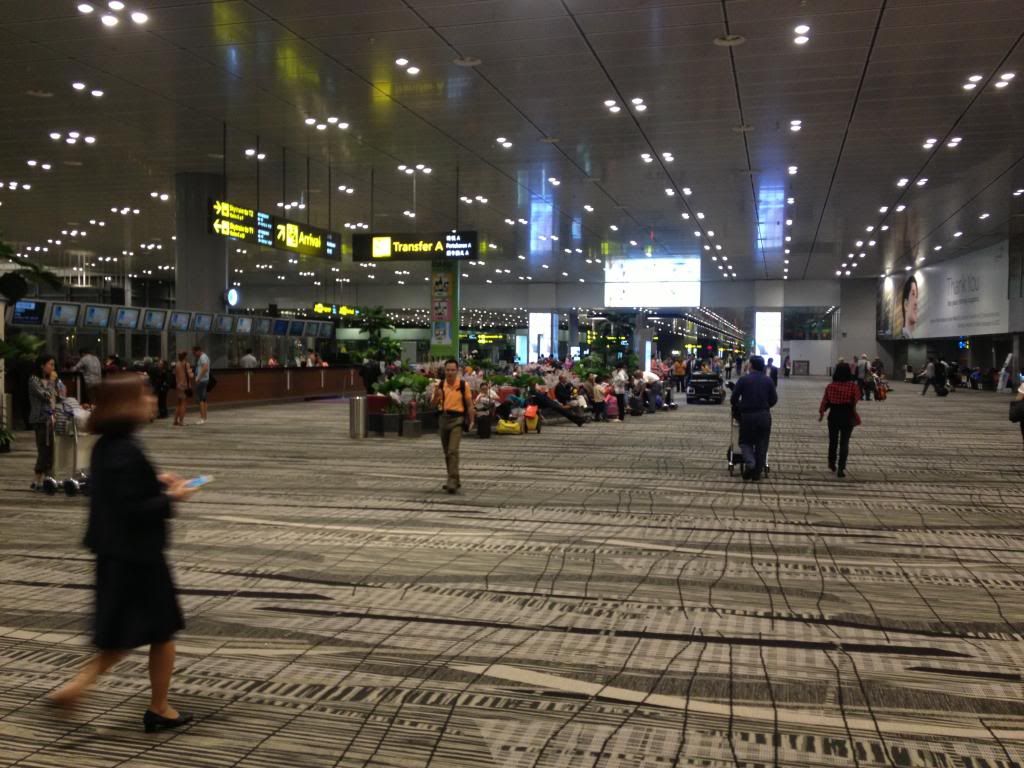 General overview of Departures.
Awww stop it you...
I spotted 9V-SKI resting on a gate so I went over for a couple of pics, sent some final whatsapps to friends back home and at 20:10 gate A10 was open, walked over and cleared security in a jiffy, entered the holding pen where a few more PAX were already waiting.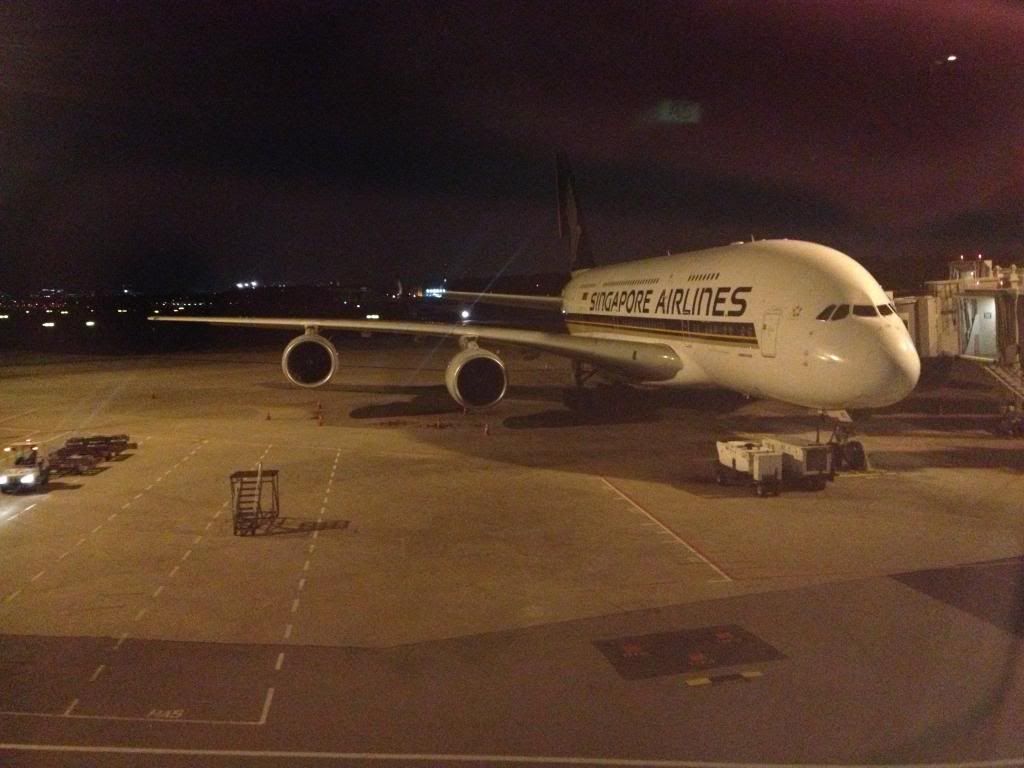 9V-SKI having a little rest, before going to LHR (according to Dataflight24)
Soon boarding was called, I love it how they tell you to ¨please remain seated during this announcement¨ boarding was done by zones, business class passengers and families with children first, then by row numbers, mine was the 2nd one called, I walked over to the gate and this time no beeping or red lights popped up so Economy it is tonight.
Walked down the jetway and that¨s where I noticed that A7-BBI was to be my chariot again today.
Some geekformation on BBI, after bringing me to SIN, she did the return leg, and then she visited NRT, GRU/EZE, AMM, IAH and back to SIN, that¨s a lot of flying in a week!
Anyways, entered the cabin and was greeted by a member of the crew, made my way to my seat, stored my backpack on the overhead and sat down, on the 77L space is much better than on the A330, the IFE box is small and does not take much space, the seat is a bit wider and overall feels more spacious in spite of the 3-3-3 configuration, the IFE is touchscreen and the handset is located in front of you under the screen, which is better than on the armrest, the audio jacks and USB port though are on your armrest (my USB port was not working properly)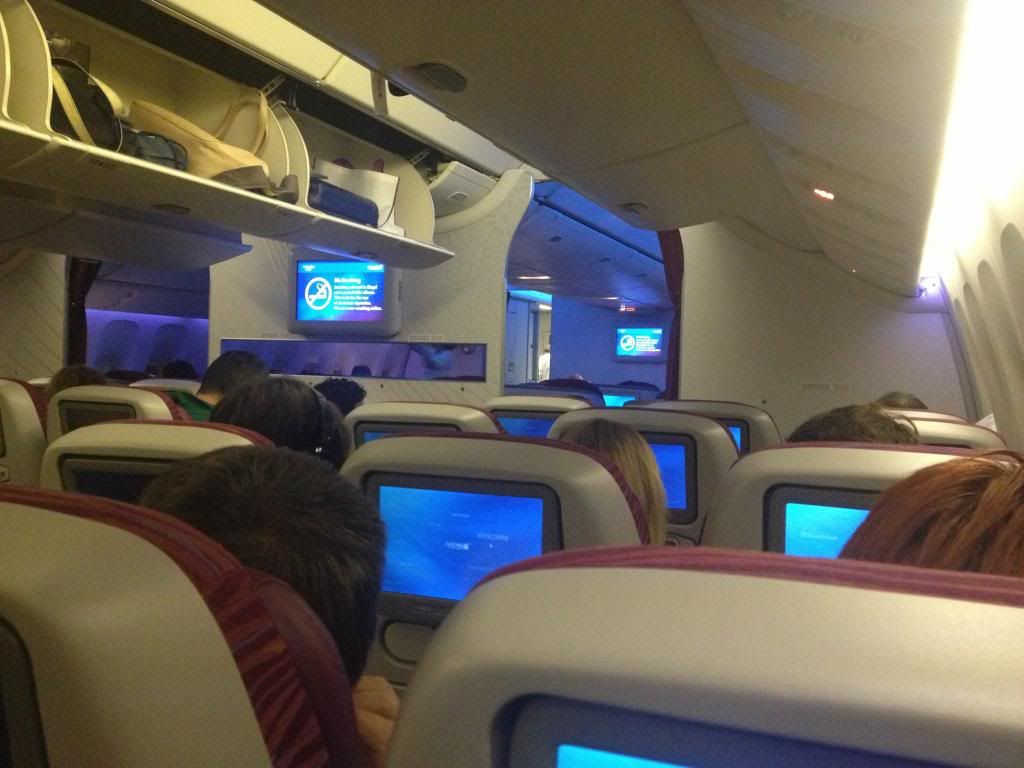 Cabin view, Business class up front... so near, yet so far.
The usual pillow, headsets, a small amenity kit and a blanket were placed on the seat.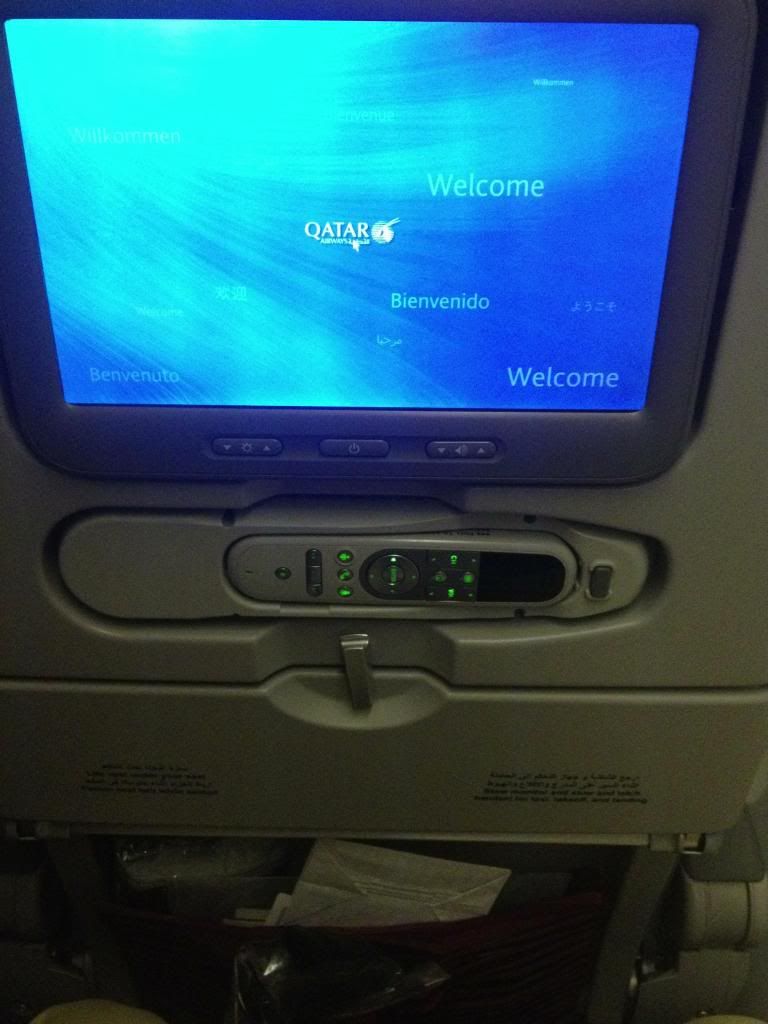 IFE and controls, I prefer this over the ones on the Airbus which are located on the armrest.
My seatmates arrived afterwards, a young English couple (hot girl btw) and took their seats, the girl immediately entered into British mode mentioning the weather outside (raining) I told her that I have been in Singapore for a week and only rained twice. She then told me they just spent a month backpacking around Bali but that they loved Lombok the most since it was less touristy and nicer.
Boarding was soon completed, again the crew passed around offering boiled sweets and refreshing towels whilst the prayer/safety video was shown again, then the captain was on the mic to welcome us onboard and give us some info on the flight.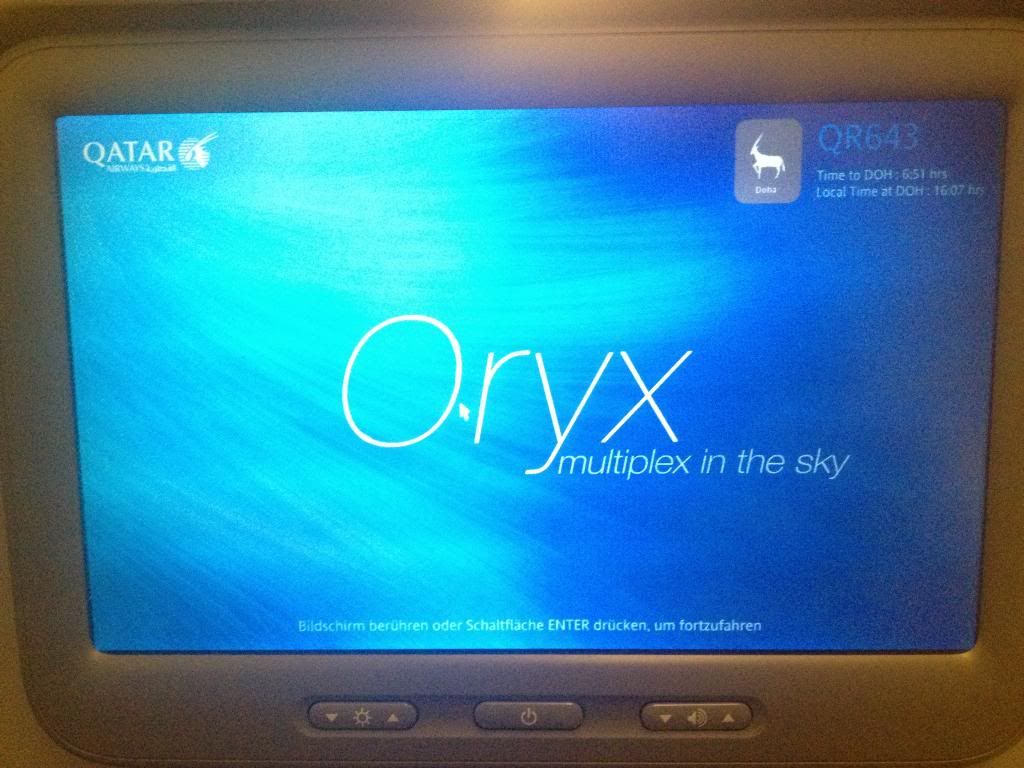 6:51 until DOH, this flight passed by pretty quick actually, didn¨t feel too long at all.
One by one the mighty GE90´s were started rattling the whole cabin with sweet sweet noise.
We then started our taxi towards RWY20L, the cabin lights were dimmed for takeoff, I kindly assisted my seatmate to switch her reading light on as she was a bit confused, on the way we passed by T1 where EK had a 77W and A380, there were also some JetStar A320s and an AY A330.
We got to the runway and lined up ahead of an SQ A330 off to some regional destination, without any wait the engines spooled up and made another obscene quick takeoff roll, we lifted off, made a left hander and I watched as the lights of Singapore faded in the distance, bye bye Singapore, hope to be back soon! (I know I will)
The flight route would be more or less the same as on the way in, SIN-Kuala Lumpur- Andaman Sea Across the southern tip of India-into the Arabian Sea-Abu Dhabi-Doha, flying time 6:51 and cruising altitude 37000ft.
The crew was released and started to prepare the dinner service, but first did a drinks run, I settled for some apple juice, later on they handed out menus.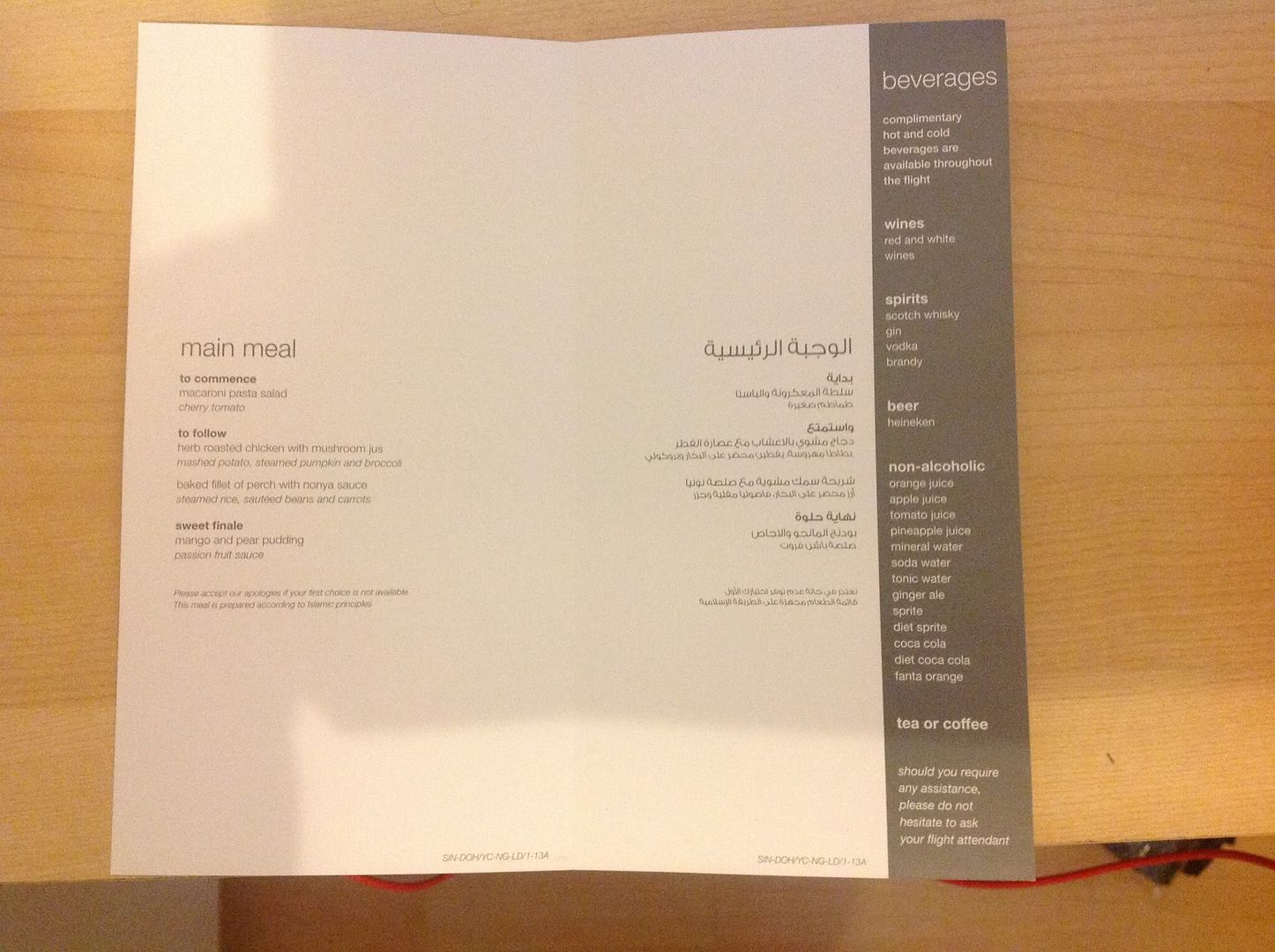 I chose the chicken and it was nice, the pasta salad was ok and the dessert good albeit on the small side, whilst eating I enjoyed all 5 episodes of Friends on offer (you just can¨t never get bored of them)
After clearing the dinner service, a tea and coffee service was offered, I passed since it was too late for me to have coffee, I unpacked the blanket, took off my shoes and just settled down watching more Friends followed by ¨Dark Skies¨ which was an OK film, then watched a food program with Anthony Bourdain, the cabin lights were dimmed and the mood lightning was being slowly cycled between pink and blue hues.
The seat was comfy enough and managed a bit of sleep, the flight seemed to pass by quickly and in no time we were already 2 hours out of DOH, the cabin lights were brightened again in preparation for a snack service which consisted of a vegetarian or beef pastry, I chose the beef with more apple juice, they also handed us a good bunch of Scottish shortbreads.
Soon descent was started, the captain again came on the mic to inform us of the weather conditions in DOH, then the Doha Arrival and Transit video was shown followed by some adverts.
Tonight was not too busy in DOH and we just approached straight in to make a soft landing on RWY 33 at 23:50, the jet slowed down and again turned left parking shortly after next to a 787 Dreamliner.
Parking next to a new 787 Blurry)Liner. (excuse the photo quality)
I collected my stuff, grabbed the inflight magazine (which coincidentally contained the safety card
) said goodbye to my seatmates who had a 7 hour layover (hmm where did I hear that before?) before continuing to MAN, told them about the lounge but don¥t think they were interested, oh well.
I deplaned, said goodbye to the crew and stepped into the oven that was Doha that night, it was HOT and so humid you could cut it with a knife, and I was just arriving from SIN which is not exactly Scandinavia.
Mighty GE90.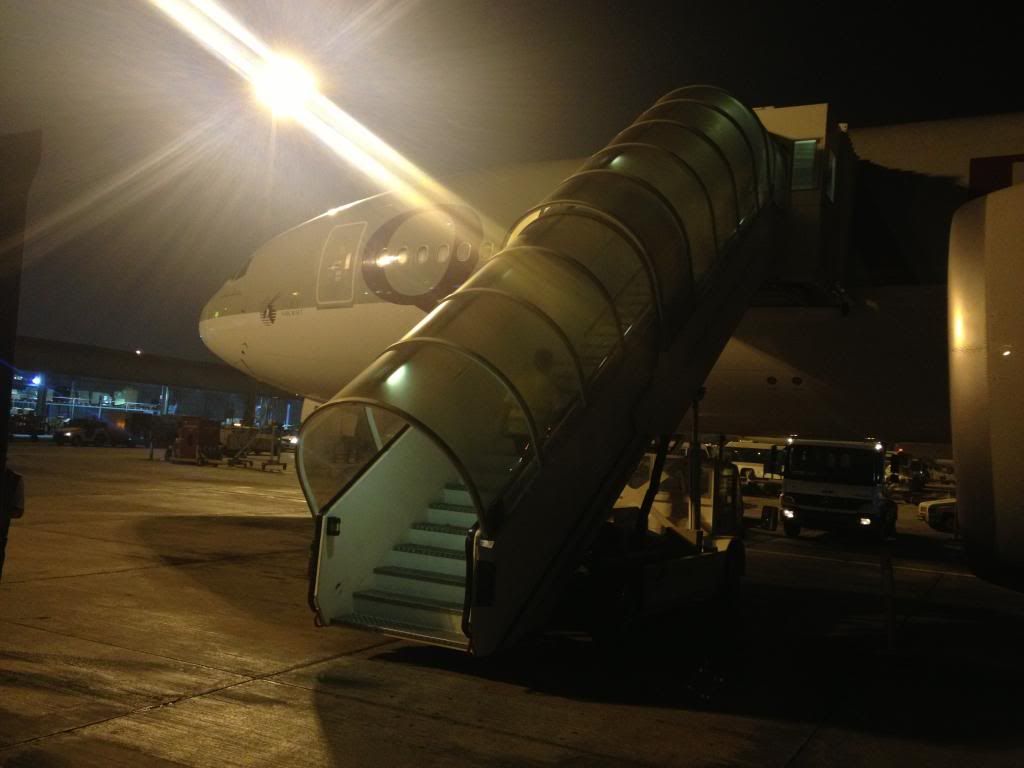 Bye Bye At-BBI, I´d kiss you, but that would get me in trouble.
We were driven again to the madhouse that is the transit terminal, luckily today I only had less than 2 hours of transit, so after clearing security I bought some Sheesha tobacco for my cousin and did a lazy lap of the terminal before sitting down next to gate 17 where my flight to BCN would board after the KTM flight.
Wi-fi was a bit spotty so I just continued reading airline world and watching the japanese forming an orderly queue to board a flight to KIX.
At 1:20 boarding for BCN was announced and I joined the queue, it seemed like a full flight, when doing the online check-in back in SIN I switched from my original 36K seat to 41K since it showed the seat next to me empty, but then...
Me: Evening! -Hands over boarding pass and passport to agent-
Agent: Evening sir -scans BP-
BEEP, red light...
Me: Huh?
Agent: It´s because you changed seatsÖ
Me: Ah yes, I switched from 36K to 41K
Agent: -Prints out new BP-, well sir, your new seat is 2E in Business Class.
Me: Ohh, OMG, again! This is the second upgrade you guys give me, so generous! Thank you ever so much!
Agent: You are welcomed sir enjoy the flight
Me: Oh I am sure I will: D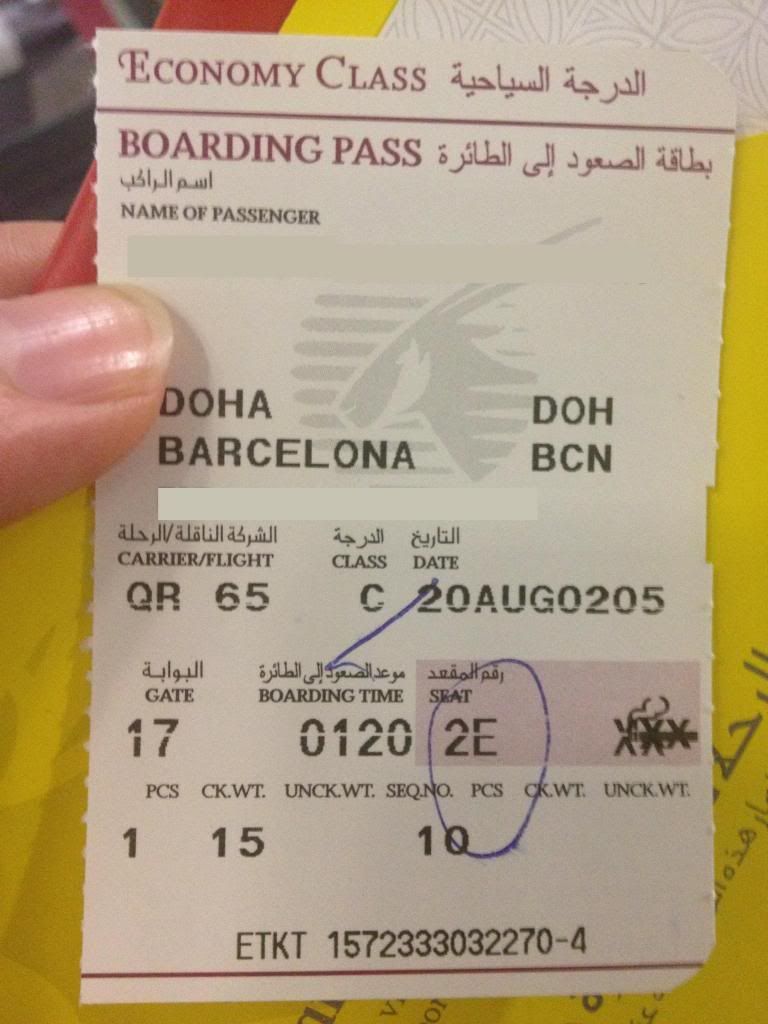 New BP, Upgrade Win part deux.
DOHA TO BARCELONA
Tuesday August 20th 2013
Flight QR065 Doha (OTBD) to Barcelona El Prat (LEBL)
Departure 02:05 (actual 02:20 due to waiting for connecting baggage i.e. mine!)
Arrival 08:00+1 (actual 07:55)
Flight duration 6:55
Airbus A330-300 (A7-AEO) delivered new to QR on April 14th 2008 (Yup, A7-AEO again)
Seat 41K / 02E Business Class.
I walked down to the waiting area until our buses came to pick us up, I noted a guy that had a CREW tag on his case, he looked Spanish and asked him if he worked for QR, he said yes, turns out he was an A330 pilot, we talked a little about the Airbuses, Dreamliners, and how¥s life in Doha, he previously worked for JK.
A while later a bus pulled up to drive us to our plane which I think it was parked somewhere in Bahrain given the time it took the bus to reach the aircraft.
Anyways after all the passengers left the bus I pointed out again my BP to the driver who afterwards drove me the short distance to the front of the plane, I again stepped into the oven that was Doha that night but quickly climbed the stairs towards the plane, I was greeted by a male crew who handed me over to his colleague, she then accompanied me to my seat.
Geekformation on A7-AEO, after bringing me to DOH from BCN on 12/08 she then went to PEK, KUL, MNL, CMN, MUC, MNL, and ALG before meeting her again on the 20th for the BCN leg.
Back to the cabin.
The Business seat on this A330 was sort of similar to the one on the 77L but with a little less space, but again the same amenities were at my disposal, chunky pillow, blanket, noise cancelling headphones, amenity kit and given the time of day of the flight I was given a set of pajamas (but didn¥t use them)
Passengers slowly trickled in filling the entire Business cabin, in front of me there was an Arab family consisting of a man, the wife (face covered) and their 2 small children who were attended by their Filipino nanny (she was travelling back in Y though)
Hot and cold towels were again distributed and a member of the crew asked me if I would like a pre-takeoff drink, I went for the tried and tested lime-mint juice which was promptly delivered to my seat.
¨Cabin crew, all customers onboard, QR065 is about to depart for Barcelona, all ground staff kindly leave the aircraft¨
Before that a ground staff member quickly replaced the flower bouquet on the front bulkhead lol.
With doors shut, the captain was on the PA to welcome us onboard the flight to Barcelona, saying it would be a smooth flight with little to no turbulence, cruising at FL370 (370 seems to be QR favorite FL) and a flight time of 6:50.
For the 4th time I was treated to the prayer/safety combo and shortly after we pushed back and began our taxi towards RWY 33, on the way there, the crewmember attending my side asked me for my choice of after takeoff beverage, how about some more lime-mint juice please! (it is very good)
After giving way to a Dreamliner and some company traffic to land, we lined up and started the takeoff roll, less impressive than on the 77L but nice nonetheless, always cool to feel a heavy jetliner thundering down the runway.
We lifted off and set course towards Spain, our route being more or less, out of Doha, across Saudi Arabia, Jordan, Egypt and then across the Mediterranean towards Italy, Sardinia and straight to Barcelona.
The crew was soon released to prepare the service, I made myself comfortable, took off my shoes, grabbed the duvet and set the seat in full flat position to try and catch some Z´s.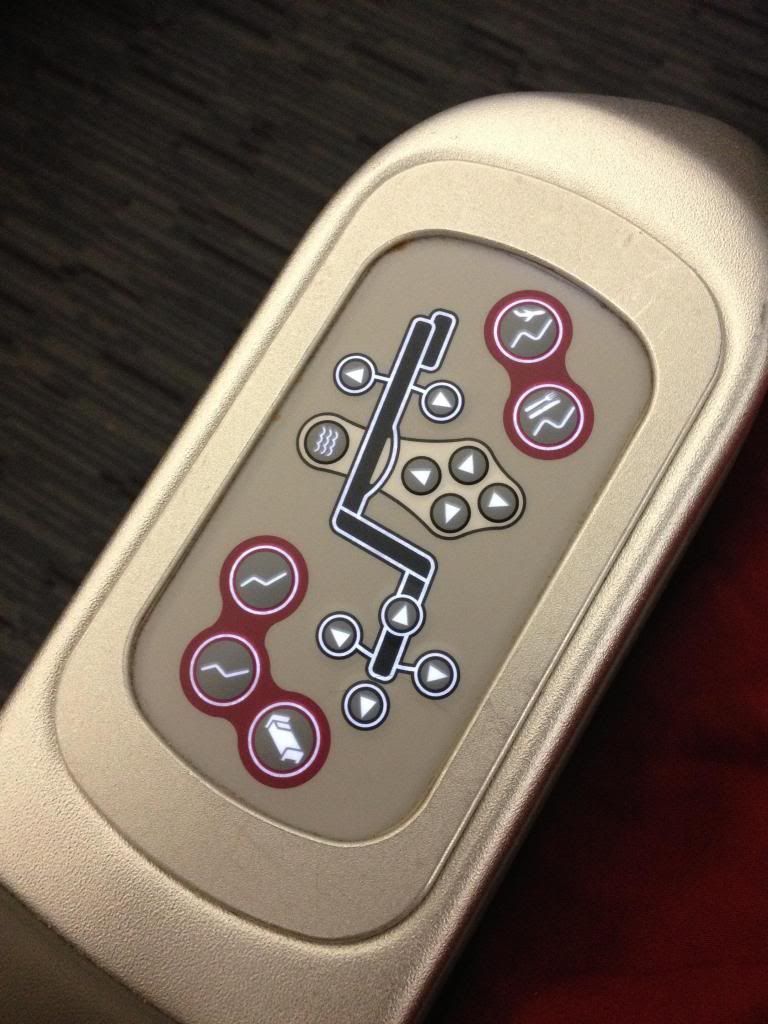 Seat Controls.
A FA asked me I wanted to eat now or just sleep and be awakened for breakfast; I was feeling a bit hungry so opted to just take the starter on the menu which was the Classic Arabic Mezze, and some more lime-mint juice.
I put back the seat in the relaxed position, the FA set up the table and shortly brought the goods, the mezze where nice, Tabbouleh, Hoummus and another rice dish I can¥t remember the name, all served with Arabic bread, delicious.
With that finished and cleared out, I put the seat back in bed mode, selected ®Jurassic Park®on the IFE and I was off to slumberland.
Cabin lights were dimmed and almost everyone in Business Class was sleeping.
I fell asleep shortly afterwards, only waking up with 5 minutes remaining of the movie, I ignored it and went back to sleep until the cabin lights were brightened up again for breakfast.
A cabin member came to my seat to take my order for breakfast and I chose the following.
-To energize
Raspberry Smoothie
-Starter
Fresh fruits with a dollop of creme fraiche
-Main
French toast with orange preserve
-Breadbasket
Croissant, Multigrain bread roll, apple/cinnamon muffin.
Butter and fruit preserves
-Freshly brewed Latte.
Again, all served in china and all the plates were brought out from the galley and not in trolleys.
The food was exquisite and I nomed it all down, afterwards all was cleared and since I gave up on sleep, I reclined again and watched all 6 episodes of ¨2 Broke Girls¨ first time I see this sitcom and I found it pretty nice and hilarious.
After passing Sardinia, we commenced descent, the crew passed around offering a hot or cold towel service and taking some final orders and making sure everyone was catered for, they also handed out water bottles and mints, I put my seat in the upright position for landing and continued watching the series.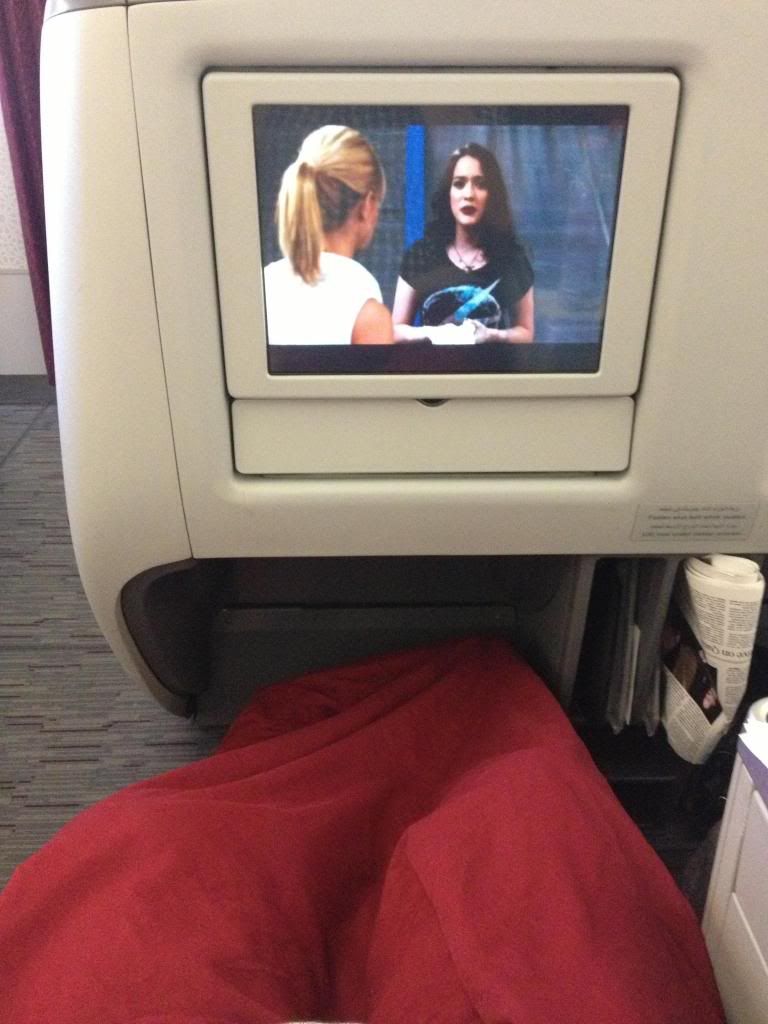 Comfortably watching ¨2 Broke Girls¨
After a few turns, Barcelona was visible on the right hand side of the aircraft meaning we were to land on 25R, we got lower and lower until gracefully touching down at 7:55am local time, some reverse was used in order to slow the big jet down, we exited the runway and proceeded to our parking gate in Terminal 1 coincidentally it was the same gate I departed from 1 week before.
I collected my belongings, thanked the crew and made my way out of the aircraft, passport control was a breeze and after collecting my luggage, I jumped on the Aerobus back to my house.
And that´s it, 11078km covered in what seemed to me a blink of an eye, on the aerobus I felt like it was just a couple of hours ago I was walking around Changi Airport and here I was on the other side of the planet, just like that.
Travelling never ceases to amaze me.
Final thoughts.
Qatar Airways.
They surprised me this time, the 2 upgrades were very welcomed and helped a lot to get some rest on the long journeys, I have sent them an email to show my appreciation.
A330, nice airplane but the comfort in economy is compromised by the big IFE box under the seats; I think it´s time for QR to upgrade their IFE to be more in line with the likes of EK, SQ, etc.
The Business cabin however is more pleasant although it feels more cramped compared to the 77L
Doha Airport: I would not call it an airport, I have been to more appealing bus stations than DOH honestly NDIA cannot come soon enough and will greatly improve the overall experience, but for now it is very depressing.
77L: Awesome machine, much more comfortable than the A330 in spite of the 3-3-3 seating (which in turn is better than 3-4-3) and with a more modern IFE, I enoyed the power from the GE90s.
Their Business cabin is wonderful, lots of space and the seat is very good, the service was impeccable and nice without being over the top.
SIN: well it is Changi enough said.
I will continue using Qatar Airways for my Far East flights, they offer a decent product compared to some European Airlines but I will try and avoid the long layovers in DOH.
I would love to try EK so I can compare these 2 carriers, especially since EK will start flying the A380 to BCN come feb 2014 (Which in turn makes me hopeful of QR bringing the A350 when it comes online)
That´s it my friends, hope you enjoyed reading, comments/complaints/donations are very welcomed
Sorry there are no many pictures of the return flights, but I was really exhausted.
Here are some bonus pics of the amenity kits.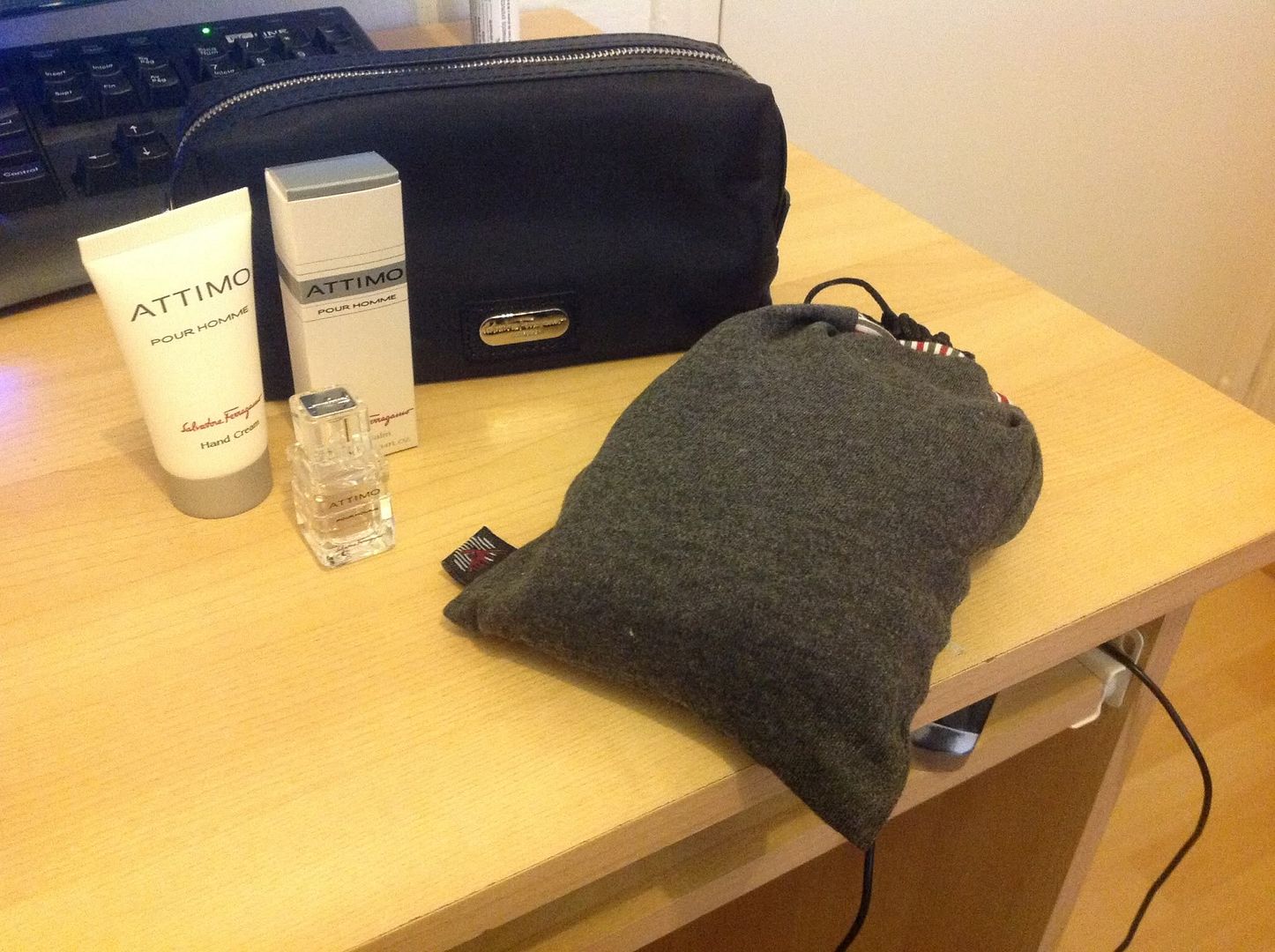 Salvatore Ferragamo Business Class AK, not very exciting is it?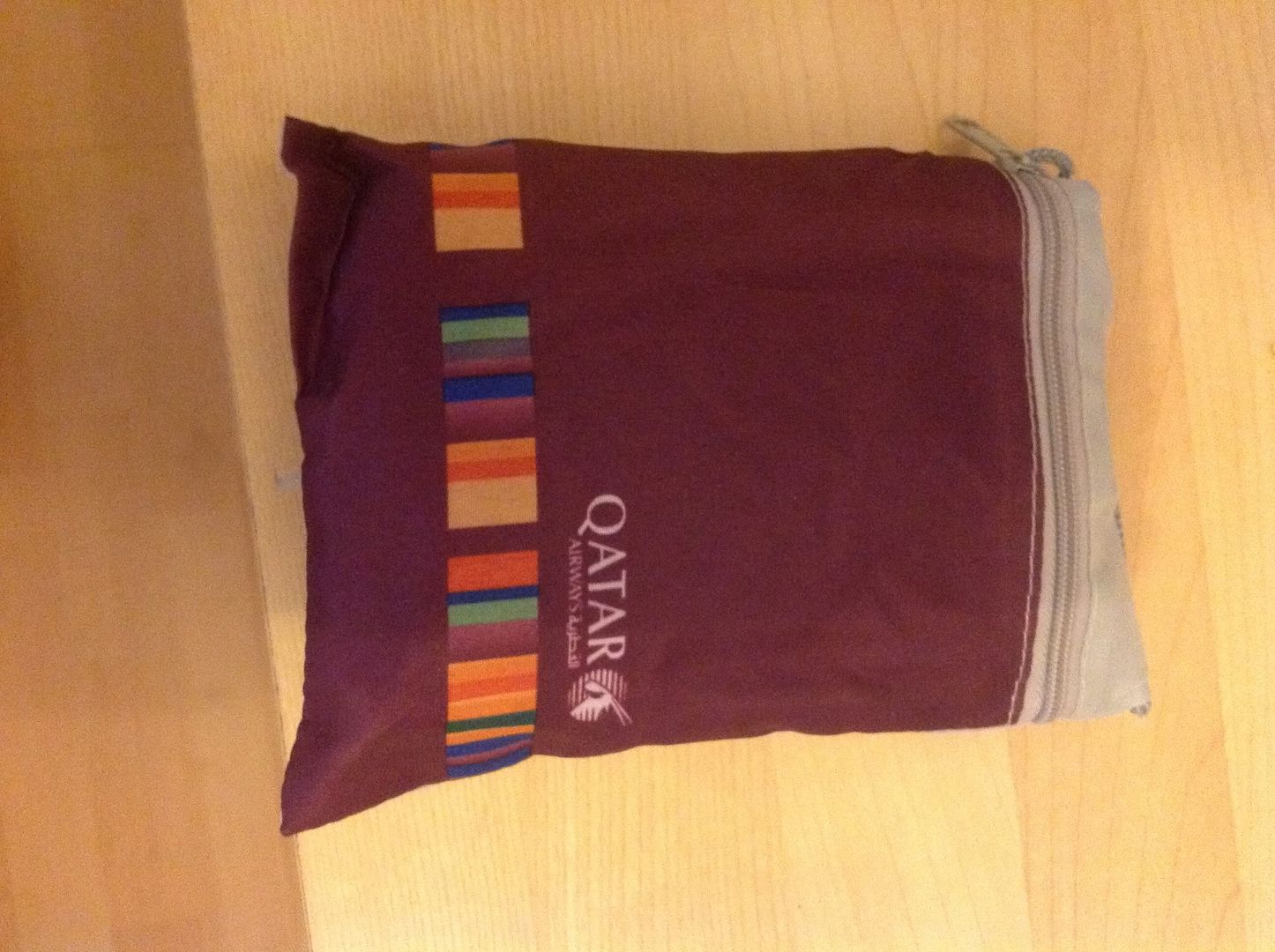 Economy Class AK, still not very exciting.
MIAspotter