Eva Air Short-Haul Hello Kitty Jet Experience in Premium Laurel Class 2013
Here is going to be a three-part summer trip report on some interesting airlines and airplanes that are a bit less heard about in North America and Europe. I choose these airlines not because of miles, but based on my aviation enthusiasm. I hope you will enjoy them.
The first trip report will be focused on a better-known airline but its unique operation on these five A330s, which are painted in five different Hello Kitty themes. This trip report also comes at the right time, as EVA air will introduce its first Hello Kitty Boeing 777-300ER service to Los Angeles. I have flown numerous specially painted jets on numerous airlines in the past, but other than Alaska's "Spirit of Disneyland," no airlines do much to their interior. Eva Air really goes out of its way to decorate the whole plane from head to tail in a Hello Kitty theme, and all the amenities and catering are specially designed for these Hello Kitty flights. It even features unique "Hello Kitty" check-in area at Taipei Taoyuan airport, as well as Hello Kitty printed boarding passes and a designated gate at TPE. Hello Kitty is popular in Aaia, and Eva Air really wins hearts over China Airlines on investing in Hello Kitty and brings out some uniqueness in the highly competitive flights to North Asia, especially South Korea and Japan, and new to Mainland China. Hong Kong is a one of the lucky destinations to be assigned the Hello Kitty theme, and since some of the shorter flights to Japan only take half a day, why not adds an additional roundtrip to Hong Kong, where Hello Kitty is commonly known. The evening operation is not too ideal, but at least EVA Air does not price it up like other flights. A RT discounted business class fare is less than $HKD3000 including tax, and you can fly the Hello Kitty jet. However there are occasions for last minute aircraft substitution, if the plane runs late in its morning turn to Japan. However, there will be more families booked on these Hello Kitty flights in both business and economy class, so you might want to avoid them if you are not a fan of dealing with children especially during holidays. If you don't like Hello Kitty, I will not recommend you flying it. But if you are a fan, this is definitely worthy of every penny. I will pick a flight that departs from Taipei, as there are unique amenities provided at TPE. You get a more complete experience. Duty free is very popular on these flights, so I will pre-order and you can additional discount too. On the short flight to and from Hong Kong/Shanghai, you definitely should pre-order duty free.
Here is my itinerary:
August 16, 2013
BR 858 HKG-TPE Lv2100 Arr2240 Airbus A330-200 B-16311 "Happy Music Jet"
August 25, 2013
BR 857 TPE-HKG Lv1810 Arr1950 Airbus A330-200 B-16309 "Speed Puff Jet"
I used a travel agency to book this flight, so could not comment too much on evaair booking system. However I am able to select seat and pre-select my meals on all the flights using evaair.com. It is a very good website, and there are special entrées available only online. It is sort of like Singapore Airlines' Book the Cook. So I highly recommend business class passengers to use EVA's website to pre-select your entrée or even select a special meal. There are great entrées available from Taipei, its home base
Check-in:
EVA Air uses Aisle E in HKG. Since it operates a shuttle style schedule, its counters pretty much open throughout the day. There are separate lanes for EVA Air's elites, Star Alliance gold, and business class passengers, as well as online check-in baggage drop line, and regular economy class check in line. EVA Air has three evening flights, which are always full. However there are no significant waits. The agents were very polite and my Star Alliance gold status is recognized. They recognize my Turkish Airlines Miles & Smiles card. I overhead some rough conversations between agents and impatient BR elite members and really need to give them credits for dealing with these rude passengers.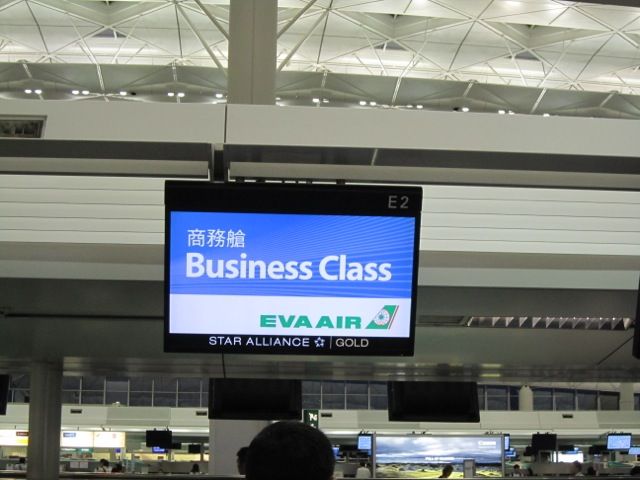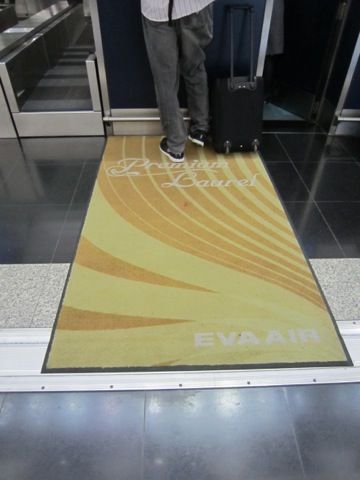 There was no special Hello Kitty check-in here and not surprised at all, but my boarding pass and lounge invitation were issued in Hello Kitty stock!
For my return flight, there is actually a Hello Kitty check-in area in Taoyuan airport. Since I arrived from another flight, I used the transit desk, and there were no Hello Kitty boarding passes. For those who frequent Taipei airport, you cannot miss the brightly decorated Hello Kitty check-in areas at Terminal Two.
Lounge:
EVA Air uses Virgin Atlantic Clubhouse at Hong Kong airport, which is quite nice. The lounge was not busy tonight, as Virgin Atlantic's flight to Sydney had left, and a bit too early for London bound passengers. An EVA Air agent immediately welcomed me to the lounge, and the lounge was pretty much the same as before. There was a menu for passengers to order from, and I just asked for a bowl of noodles, as I was not too hungry.
Lounge menu: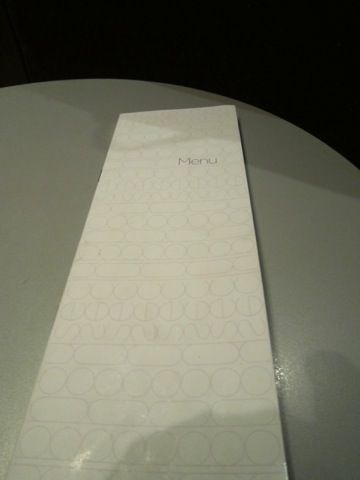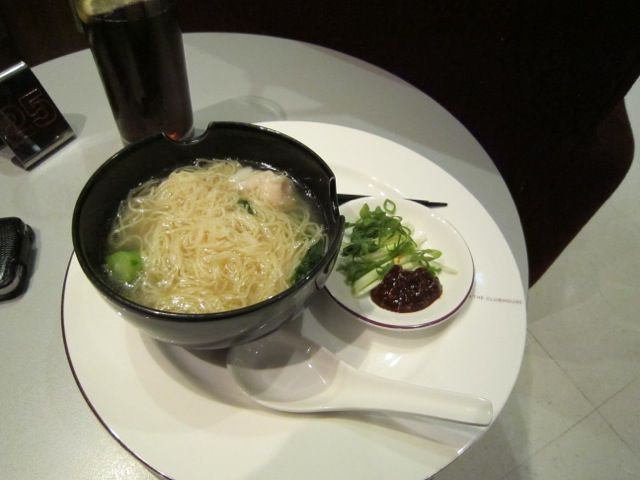 Bar
Seating area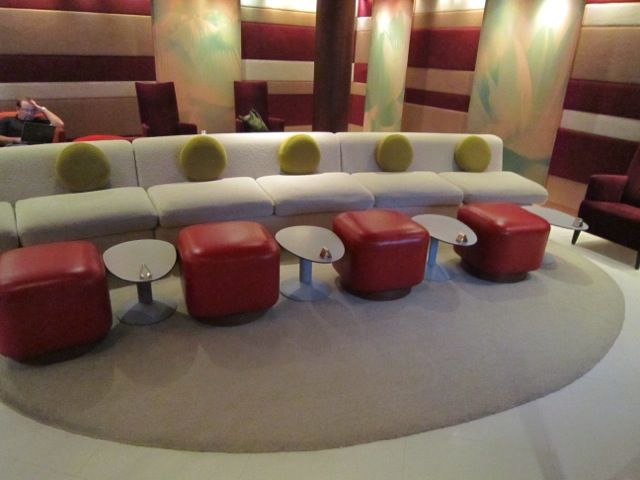 Evergreen Club – I am really confused now, as EVA Air has opened various lounges for different elite members and business class passengers. There is a new EVA Air Club, as well as EVA Air Garden, as well as the Infinity and Star lounges. Four lounges – confused right… but I stopped asking questions. I was sent to the infinity lounge, which I assumed were the business class lounges. My feeling about the newly renovated Infinity lounge was too bright and I honestly don't want a club environment prior to a long haul flight. The previous lounges are dated and awful, but the new lounge is too over the top, and I want a modern yet calming lounge. The neon lights atrium is just too much. I appreciate the more comfortable seats, but the whole atmosphere was overwhelming. It is just my honest opinion.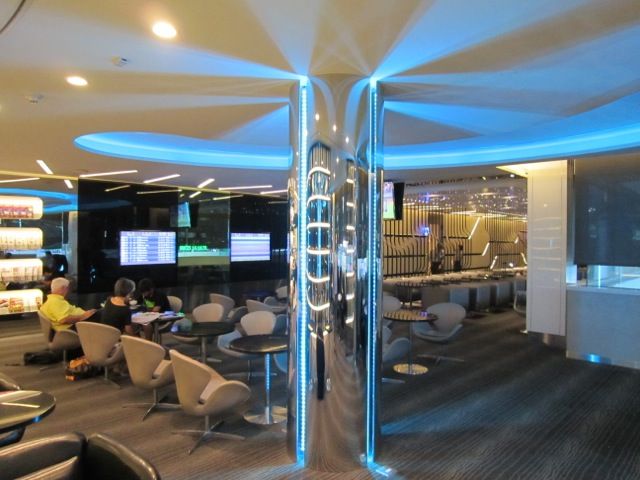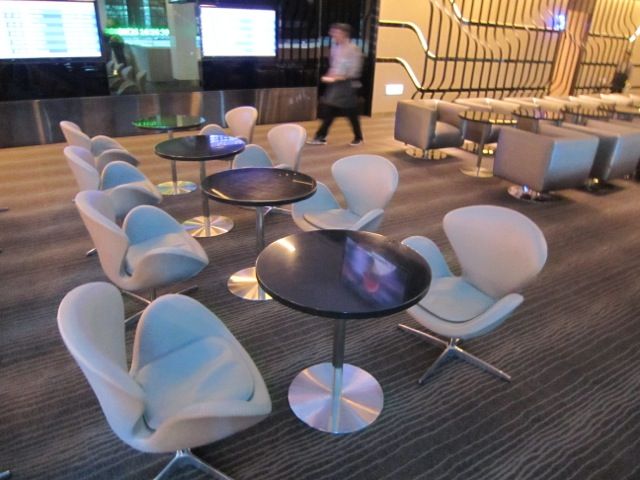 Buffet