Hello everyone,
I recently flew on Asiana Airlines from Fukuoka (FUK), Japan, to Seoul's Incheon (ICN) airport (OZ131).
First, I'd like to provide some background information about Fukuoka's Itazuke Airport.
Besides the high-profile airports of Kanto – Haneda (HND) and Narita (NRT) as well as Nagoya (NGO) and Osaka's Kansai (KIX) airports, Fukuoka provides easy, user-friendly access as a southern gateway to mainland Japan in the northern part of the island of Kyushu.
Fukuoka is the nearest major international airport to the famous, historic city of Nagasaki and also the US military base located near there at Sasebo.
Fukuoka airport has only one runway and is essentially a World War II airfield around which terminals have grown. There is a large number of domestic flights to/from Fukuoka, making it one of the busiest airports in Japan. Including subsidiaries, 16 carriers operate domestic flights.
The current international terminal, on the opposite side of the runway to the domestic terminals, opened in the mid 1990s. It is a small terminal, fast and easy to pass through.
Depending on the day of the week, FUK handles approximately 30 arriving/departing international flights between 8 a.m. and 9 p.m..
From Fukuoka, there are direct services (alphabetical order) to: China (PUD), Hong Kong (HKG [KA / CX via TPE]), Netherlands (AMS) [Mon, Thu, Sat)], Philippines (MNL), Singapore (SIN), South Korea (ICN, GMP, PUS, CJU), Taiwan (TPE), Thailand (BKK), United States (GUM, HNL [HA / DL]), Vietnam (SGN).
A few of the discontinued services were to Dalian (DLC / NH), Cairns (CNS / QF and later AO), Denpasar (DPS / GA), Atlanta (PDX / DL). JL used to fly FUK/HNL until 2005.
Jetstar does not fly international routes from FUK, but Jetstar Japan operates some domestic routes.
There is a limited charter FUK/AKL on NZ using 763 with 230 seats.
Carriers: 7C, KE, OZ, BX, TW
CX, CA, CI, MU, KA, BR
SQ, TG, VN, PR
DL, HA, UA
KL
About half of daily flights are to/from South Korea, as shown in the following schedule.
Capacity FUK/ICN alone is about 2000 seats a day.
Note that Busan (PUS) is not only the closest city in South Korea to Fukuoka, it is also one of Fukuoka's sister cities. Busan can be reached by a high-speed hydrofoil ferry that takes about three hours or a 40-minute flight.
10:00 OZ139 CJU A321
10:20 KE788 ICN A333
11:05 KE789 PUS B739
11:40 BX141 PUS B734
11:50 OZ131 ICN B772ER (or B77L)
12:25 TW292 ICN B738
16:20 OZ133 ICN A321
16:45 KE790 ICN B744
17:10 TW294 ICN B738 (Fri, Sun).
17:35 7C1401 CJU B738 (186/189Y)
19:30 OZ135 ICN A321
19:40 BX143 PUS A320
19:45 KE798 PUS B739
21:05 KE782 ICN A333
My flight was OZ131. For quite some time, this lunchtime flight has been an A333. To my great delight, it has been upguaged to a 777-200ER (or 77L). The aircraft I travelled on was HL7739.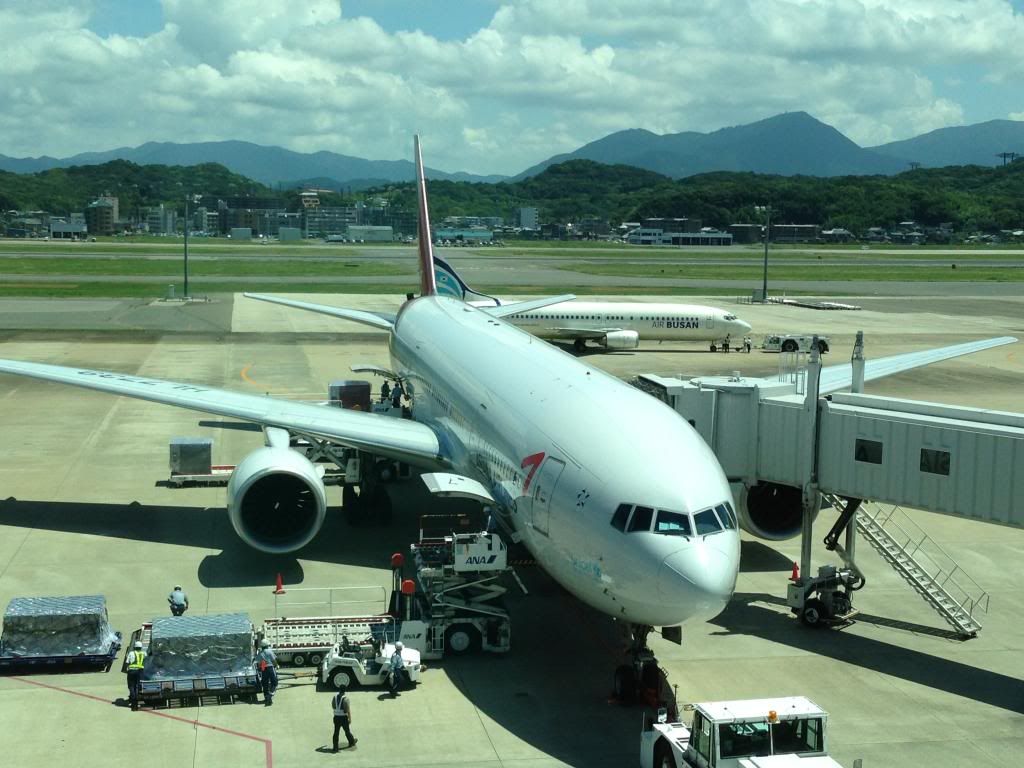 The crew told me it was full from ICN, but to Seoul, the loading in Y was only about 60%. I had a row of three seats to myself and the three centre seats across from me were also vacant.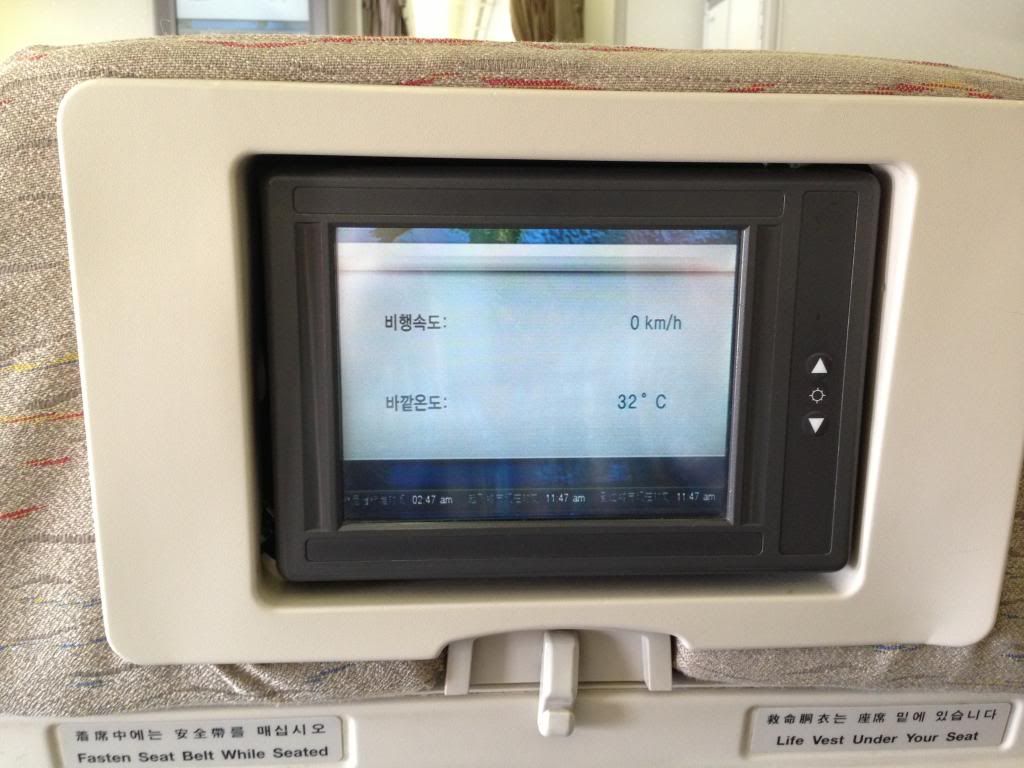 OZ131
Take off: scheduled 11:50; actual 12:11.
Flight time: scheduled 1:20; actual 1:00.
TG 649 (A333) ready for pushback to BKK. Scheduled dep. 11:35
BR 2105 (A333) ready for pushback to TPE. Scheduled dep. 12:20
UA166 (B788) ready to depart for GUM. Scheduled dep. 11:50 (actual 12:10~).
August 2013 Asiana Airlines inflight magazine.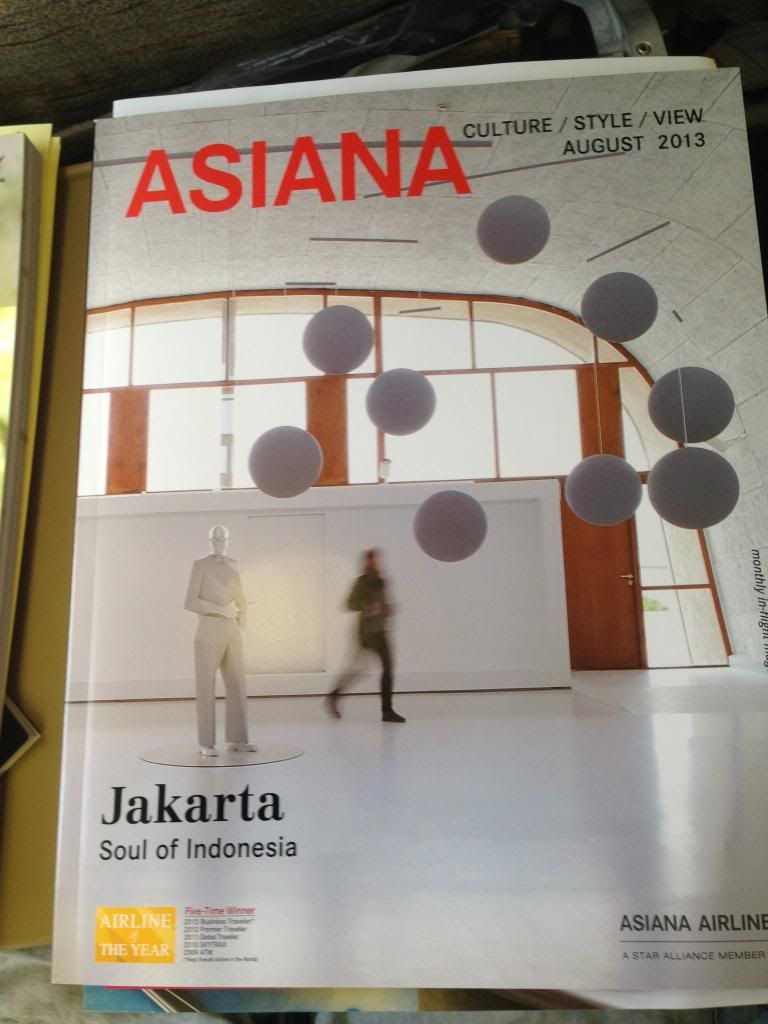 Various magazines in each seat pocket. Quite a lot of reading material...
In fact, the duty free magazine alone comprised 286 pages. Can you imagine the combined weight of all these glossy magazines?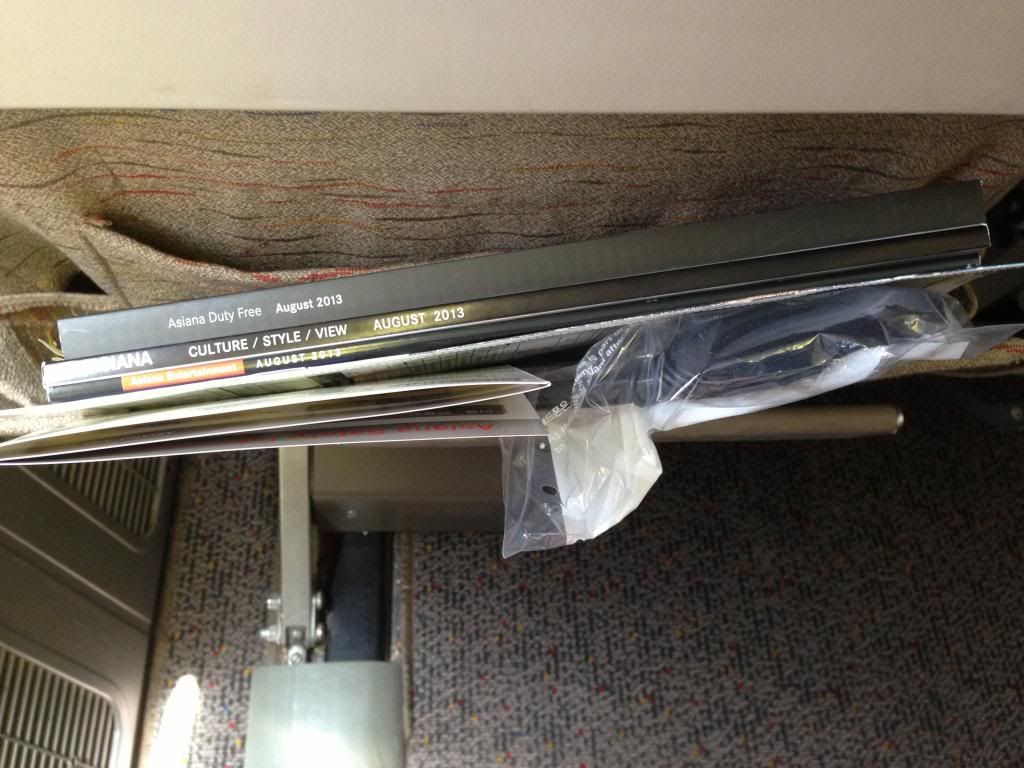 On this one-hour lunchtime flight, a snack was served.
The sandwich fillings were very fresh and tasty, but there was too much bread.
Sandwiches washed down with some Korean beer.
The gorgeous view en route to ICN.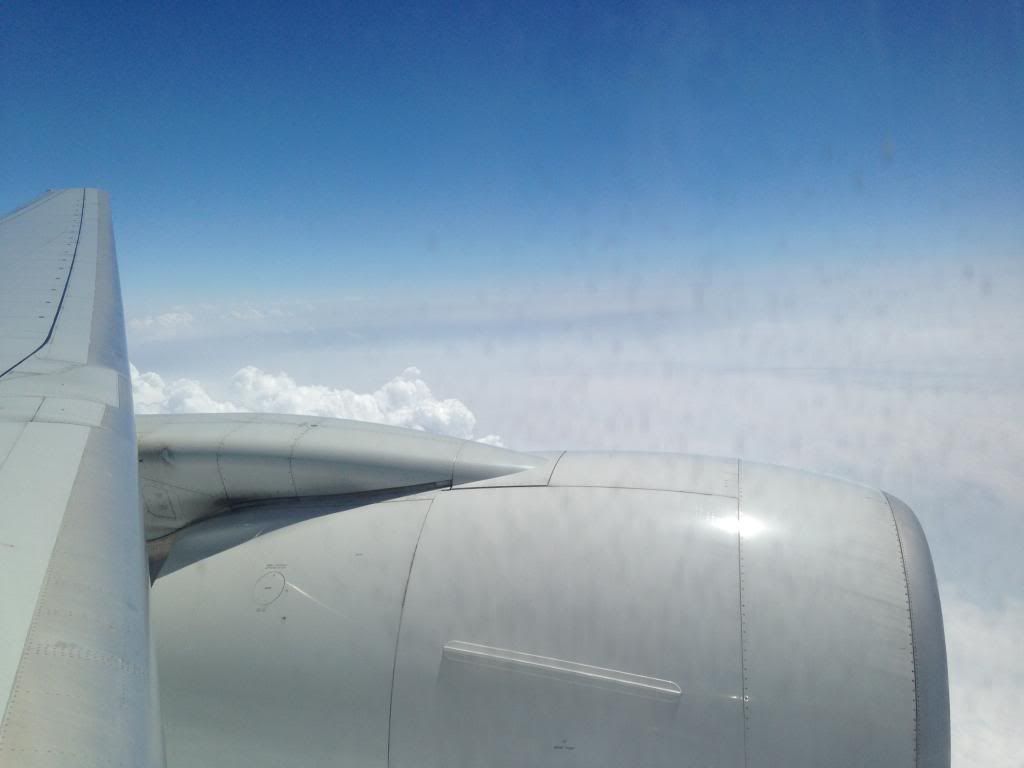 Finally, one of KE's A380s at ICN. It looks great, I think, to see such a large aircraft in blue.
A ticket on OZ from FUK to ICN costs double that of the LCCs, but you do get a snack which is better than I was offered ICN/NRT on UA...
The best time to visit Fukuoka is in the spring (cherry blossoms) and Autumn, although winters are quite mild compared to most other places in Japan. Summers are hot and very humid. The Asiana crew were all wonderful on my flight. They were friendly, polite and smiled in a kind and genuine way. This was repeated, albeit in business class, on OZ a few days later; my next trip report.
Thanks!