Transasia Airways Trip Report 2013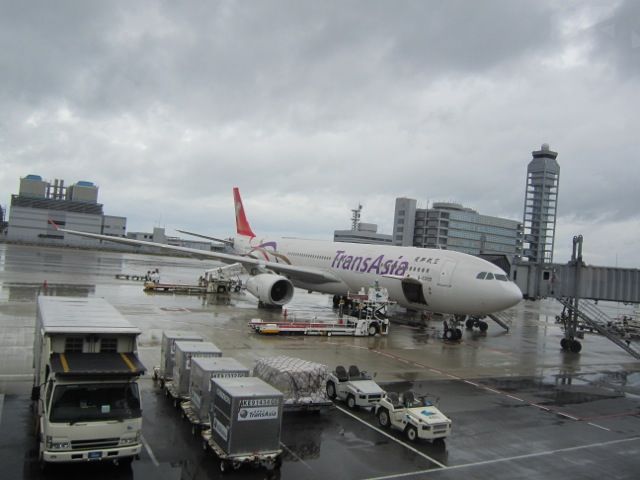 Here is Part two of my summer trip report and I am sure most of you have never heard or heard little about TransAsia Airways (復興), which is a regional airline based in Taiwan. China Airlines and EVA Airways are better known around the world, but some local Taiwanese airline tried and tries to build a regional operation that can capture the popular tourist destinations to Korea and Japan, and to Mainland China. There are a number of local Taiwanese airlines that have always flown the domestic flights, especially the once busy Taipei Songshan (the original Taipei city airport) and Kaohsiung corridor, and to other cities like Tainan and Taichung. However with the completion of the Taiwan High Rail Service, these domestic flights always become obsolete overnight, and Taiwanese domestic operations are downscaled to flights to the Makung and Kimen, as well as a few isolated cities. These Taiwanese domestic airlines need a new way to survive, and TransAsia Airways is one of these Taiwanese airlines, who attempt to build a network of leisure destinations to Southeast Asia and most importantly, North Asia, and later, the direct cross-strait service between Taiwan and Mainland China, and also its service between Taiwan and Macau, which is one of its first international routes. TransAsia Airways has a long history in Taiwan but not as an airline, but as an agency for foreign airline, ground handling company and catering in Taiwan. Thai Airways is one of its long time clients. Domestic flights were resumed in 1988 and international airlines started at 1995. It started with a fleet of narrowbody A320s/A321s and later ATR72s, but last year, TransAsia took a bold step by purchasing two Airbus A330-300Xs to serve the busy routes to Japan, especially Hokkaido, and Southeast Asian flights like Bangkok and Singapore. I am always curious about its new A330, and despite of no mileage on major Western and even Asian airlines, its business class pricing is very reasonable, and I have decided to do a weekend trip from Taipei to Osaka Kansai flight.
Booking:
I used TransAsia Airways' own booking site for these tickets. I will admit that it is not difficult to use, while for non-Chinese speakers, it may be a slight challenge. It is not bad using Asian airlines standard, but compared to China Airlines and EVA Air, TransAsia website is just not as useful. However when I send them an email regarding seat assignment, it was answered within hours. It even sent me a link to modify my reservation. The system was set up the same way as China Airlines. However, they offer very good fares especially in business class, if you book on line. My roundtrip ticket to Osaka is around $500USD, which is not bad. But you must book it online. There are good business class fares on its A330 flights to Japan and Thailand (Singapore is being cancelled next month).
Flight information:
August 24, 2013
GE 602 TPE-KIX Lv0810 Arr1140 Airbus A330-300X B-22102
August 25, 2013
GE 601 KIX-TPE Lv1240 Arr1415 Airbus A330-300X B-22102
Check-in
Taipei Taoyuan Airport:
TransAsia Airways uses Terminal One in Taipei, which has finally completed its renovation. It is very impressive and much nicer than the dated Terminal One. China Airlines is its ground-handling agent now, and it is interesting in seeing how times have changed. There are basically two major banks of flights and the morning was brutal here at Taipei. With the summer holidays, the desks are busy with two full loads of A330 flights, as well as other morning flights to other secondary Japanese destinations, Chinese and Korean cities. The first bunch of pictures was taken a few days earlier when the desks were empty, and the second bunch was taken the day of. There are major differences.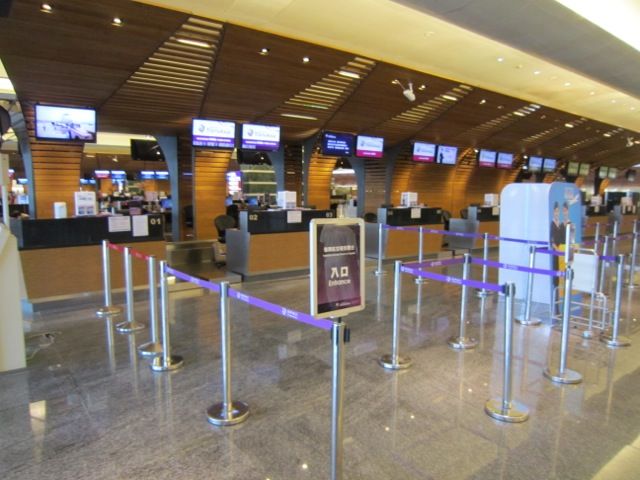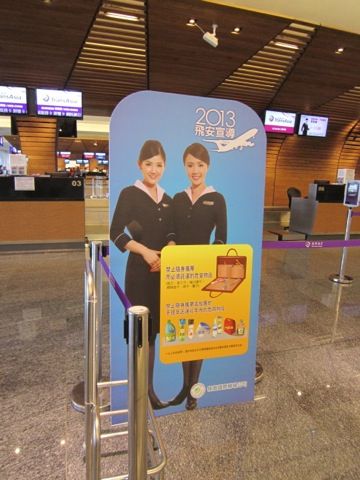 I arrived at the airport about two hours prior to departure. The check-in desks were very busy in the economy class section, but the business class section was relatively empty. However there was no agent staying there, as they went to help out the economy class section. It took me a while before I was checked in. The agent wearing a TransAsia Airways uniform looked very hassled, and unlike most Taiwanese agents, he was rather indifferent. He was still polite but looked very tired. Boarding bass and lounge invitations were given, and I was invited to go through immigration soon, as it was a very busy day here in Taoyuan airport.
Check-in at Osaka Kansai Airport
JAL was the groundling agency for TransAsia Airways in Kansai airport, and check-in took place at Aisle F. Both business and economy class lines were very busy this morning. There were many families going home and most business class passengers were checking in many bags to check-in, as well as seating and visa problems. The agents were very busy and language was a major issue here. Of course I came with more problems, as I needed the agent to check thru my bag to EVA Airways. The agent looked through files and it took her a while to finish the whole process. She apologized for taking too long and I apologized for making her doing something unusual. It was a very Asian interaction. She also told me that the flight was not full in business class and the seat next to be was blocked. It took almost thirty minutes but since there was no TransAsia staffs helping, it was about right. (But the supervisor was behind me chatting with friends!)