Vs
Vs
After two trip reports flying business class, I decide to go the relatively new unchartered Low Cost Airlines LCC field in Japan. Given the relatively limited schedules of these three new Japanese LCC entrants, it is quite a challenge to squeeze in three flights within a twenty-four hours window. Nonetheless I managed and thanked god for mostly on time performances. Skymark Airlines is one of the earliest LCCs established in Japan and I flew it previously and honestly would not want to repeat that experience anytime soon. I chose to fly Peach, Air Asia Japan (soon defunct), and Jetstar Japan, and my routing was to fly Peach from Kansai to Sapporo, and then fly Air Asia Japan from Sapporo to Narita, and then fly Jetstar from Narita to Kansai the next morning. It was not a perfect sample, as some of these flights depart the respective airlines' home bases, and some relied on the infrastructure of the airports. When I reflected on these three airlines, the LCC experiences in Japan are definitely better than other regions in the world. Yes the boarding and security lines are more crowded and yes you have to walk up and down the stairs a lot, and most flights depart from a remote gate. For most mainline operations, remote gates are pretty rare for the two major Japanese carriers. In terms of seats, both ANA and JAL really cramped their domestic planes anyway, so Airbus A320s are pretty comfortable. Seat pitch wise – not major different from the mainline, but of course you don't need to pay for a seat on the major carriers. In terms of catering, the two major airlines offer limited selection of beverages – juices, water, tea or consommé soup – coffee on some airlines and morning flights. However the main difference is the check-in experience, more personable services, as well as more efficient boarding systems. The cutoff times are shorter, and everything runs smoother. The boarding experiences are less hassled. Anyway, given how disciplined the Japanese are, no one was trying to break the rules especially the carry on situations. At least for those three flights, I felt that passengers were very disciplined, but these three airlines really give me very different impressions.
Here is my complete itinerary:
Day 1
MM 107 KIX-CTS Lv1530 Arr1725 Airbus A320-200 JA804P
JW 8528 CTS-NRT Lv1905 Arr2040 Airbus A320-200 Sharklet JA05AJ
Day 2
GK 103 NRT-KIX Lv0725 Arr0850 Airbus A320-200 JA05JJ
Booking:
Honestly all three websites are pretty standard LCC stuff, and they are actually a step above major airlines, as they rely on customers to use the websites to change, cancel and do all the reservation related matters. The fares are clearly listed and all three offered different levels of flights. I am able to select the seats I want and the surcharge for exit seat is reasonable. Air Asia offers a bit more in terms of preordering food, which I appreciate. However Air Asia Japan and Jetstar have the advantages of using the system from their mother company, so I give more credits to Peach, as its website is just as good as the other two websites. I only tried online check-in for Jetstar Japan, but failed because I had an exit row seat. But strangely I was able to use the kiosk.
Check-in:
All three airlines pretty much encourage you to use online check-in and Air Asia opens its web check-in fourteen days prior to departure, and both Jetstar and Peach open its online check in on a more traditional 48 hours prior to departure timeline. There are reminder emails from each airline. However all airlines allow complimentary kiosk check-in and airport check-in. However for Peach, airport check-in including kiosks only opens 90 minutes prior to departure for domestic flights (international flights will open two hours prior to departure). While both Air Asia Japan and Jetstar Japan open their check-in at the two hours prior to departure for both international and domestic flights, Peach has a different guideline.
Peach's main hub is Osaka Kansai Airport's Terminal Two, which is as bare as one expects. It is basically a warehouse structure with a convenient store, a few eateries, a bookstore, and Peach's check-ins for international and domestic flights. All arrival and departure flights use the same floor. From the main terminal and the train station, you need to take a complimentary bus to the main terminal, so please make sure you allocate plenty of time. It is a five minutes bus ride from the Aeroplaza to Terminal Two. The shuttles seem to run frequently, but there is a ride involved.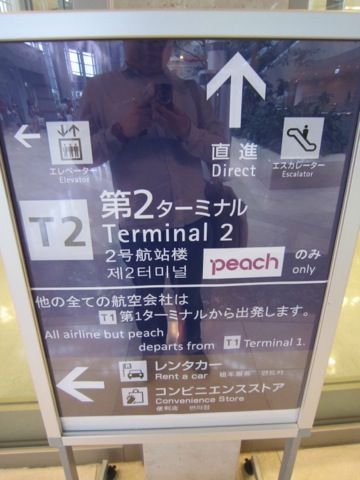 Shuttle Bus
Flight information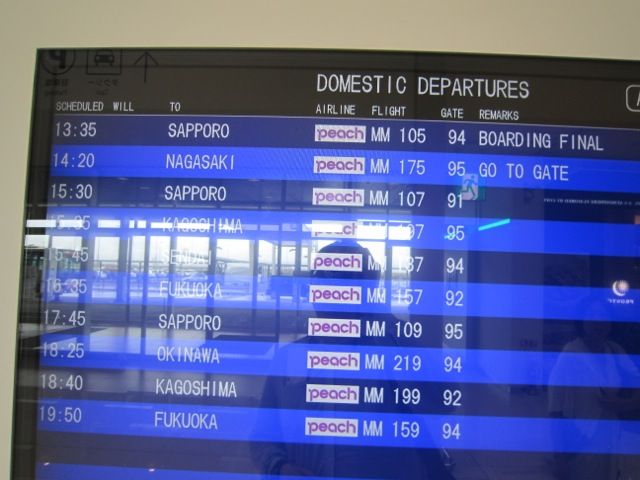 Osaka Kansai's Terminal Two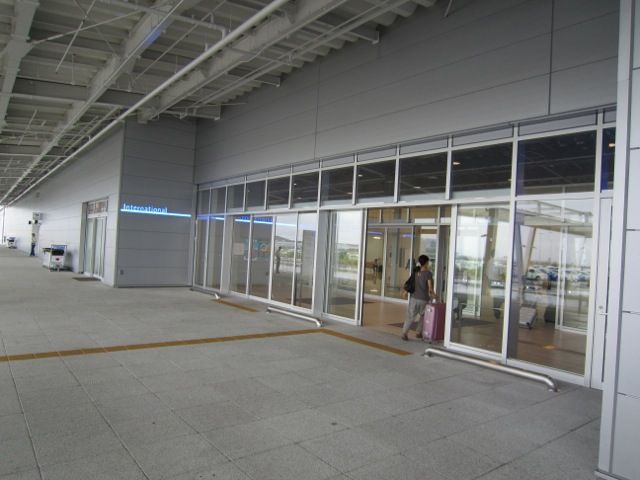 Peach's check-in kiosk
Carry-on allowance – one personal item and one carry on bag that fits into this box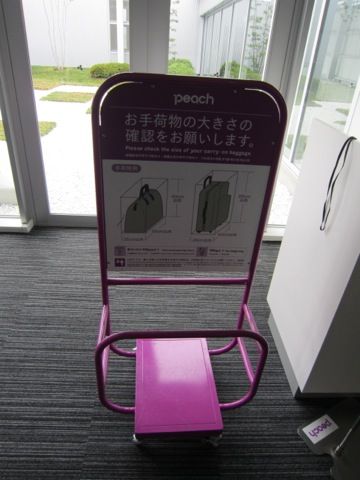 I give Peach high marks because there are many staffs wearing the Peach t-shirts assisting with the check in. Since it owns its own terminal, they can easily control the flow of passengers. There are no lines and everything seems to be running in order. Despite there were three domestic flights departing around the same time, crowding is not an issue. Security checks are not crowded and indeed the lines are the shortest out of all three LCCs.
Peach Check-in at Sapporo Chitose – near Air Asia check-in – please no kiosk at this station!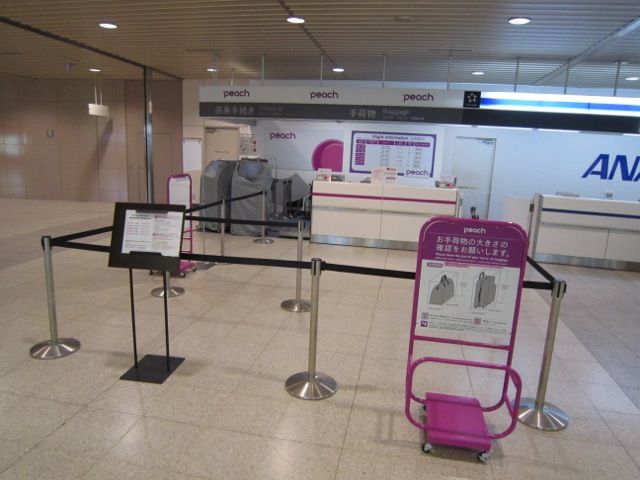 Air Asia Japan has its own check-in counter at Sapporo but it is located in the arrival level, along with Peach. You will have to go up one floor for check-in. Please remember that you must use the assigned security checkpoint, as there is a different boarding pass verification process here at Chitose Airport. ANA and JAL have their automatic scanners, but obviously the LCCs don't have those automatic boarding pass scanners. They have to stamp your boarding passes, so please remember. I will also apologize for the lack of pictures for Air Asia Japan, as it was a night flight with limited photo taking opportunities. Similar to Air Asia in KLIA, you have to use the kiosk to check-in and if you have check-in bags, you then drop off your bags. Air Asia Japan operates similarly with other Air Asia ventures, but the difference is that the check-in cutoff time for domestic flights are thirty minutes, instead of forty-five minutes with most Air Asia flights.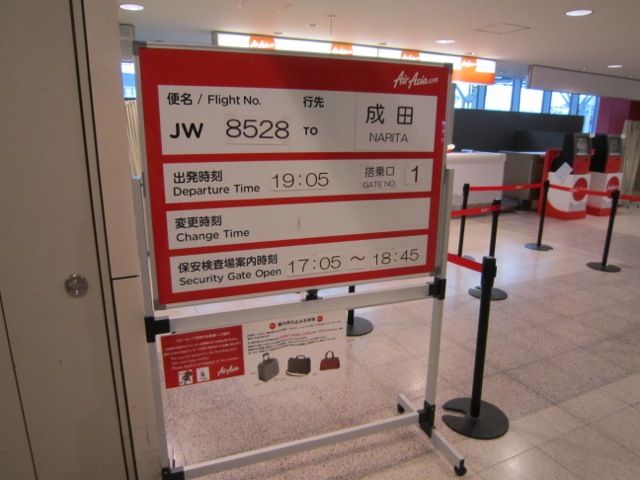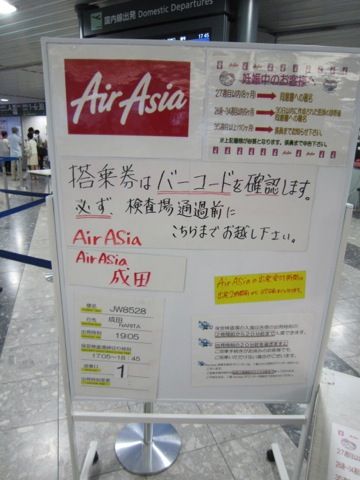 Jetstar Japan's major hub is Tokyo Narita Airport, and its check-in counters are located in the mezzanine level of Terminal Two. As expected there are the usual check-in lines, reservation lines and baggage drop off lines. There are plenty of kiosks, and there are many staffs readily available to assist with any issue. Check-in at airport begins two hours prior to departure, and closes thirty minutes prior to departure. There are staffs consistently making sure that people standing in line will not miss the flights. The baggage drop-off lines are very busy, as Jetstar has many flights in the morning. Indeed, out of all three LCCs, Jetstar has the longest line for every aspect from baggage drop-off to security lines. I think the small security checkpoint is insufficient to handle its domestic operation. Please be aware the Jetstar Japan international flights check-in at a different part of the airport.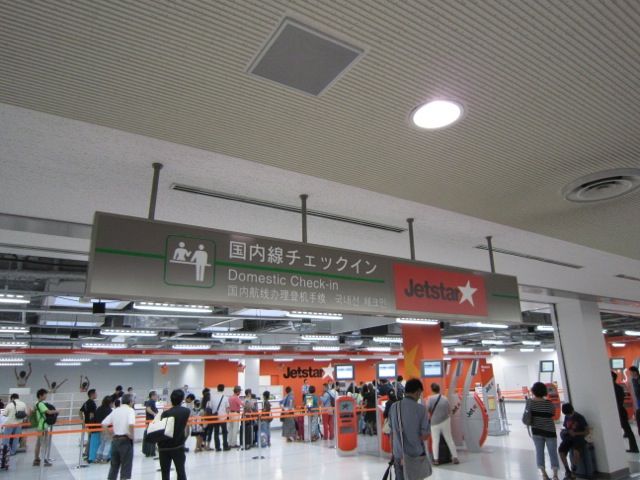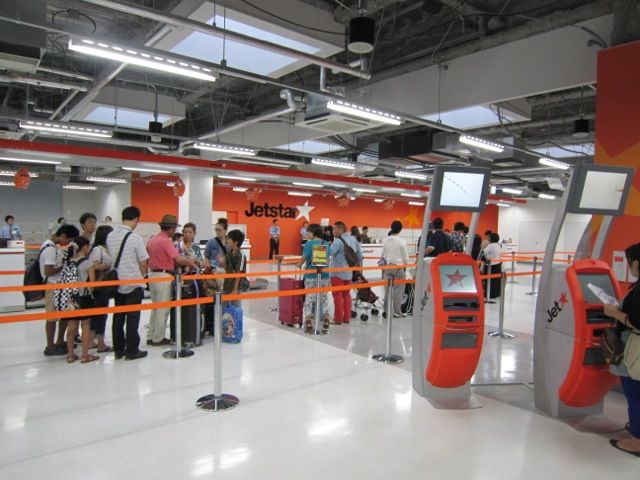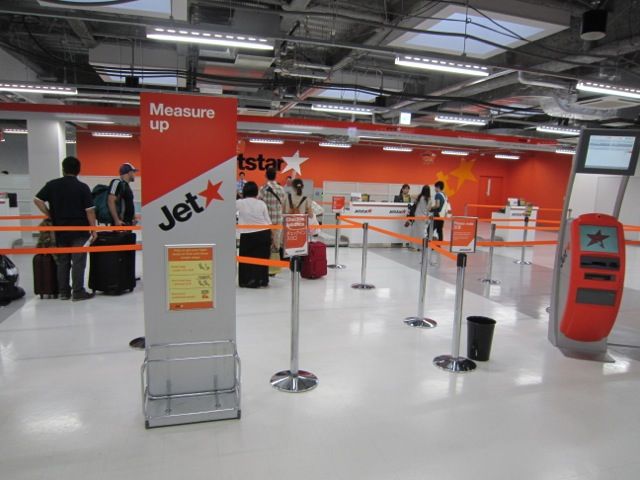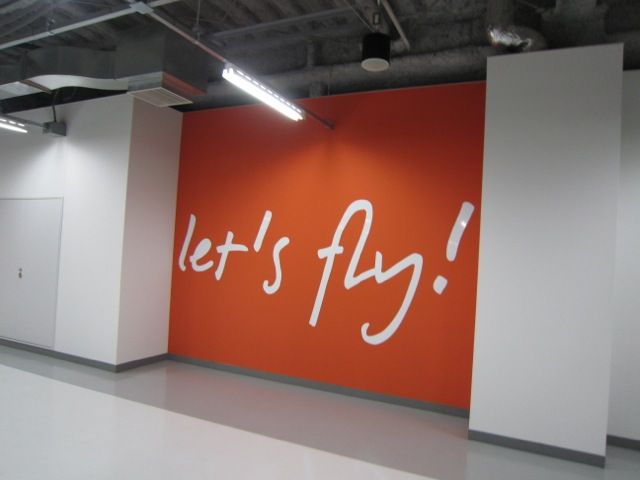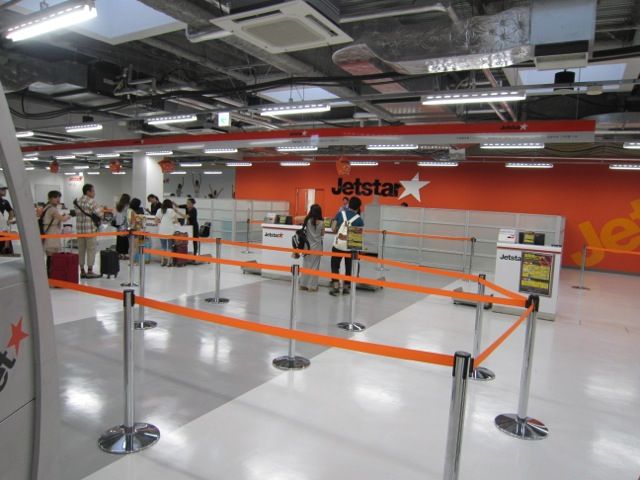 FDIS – most flights are operated by Jetstar Japan
Bus Depot for Jetstar Japan flights
I also snapped a picture of the Jetstar Japan check-in area at Osaka Kansai Airport, which is located next to JAL. The area was all deserted as the last morning flight to Okinawa had already departed when I took the picture. They have the kiosks here.