This forum is an addiction just like… well an addiction. After almost a decade of lurking I am finally able to contribute something. This will be my first trip report ever and probably my first post on this forum. Not that I haven't tried before; sometime back in I believe '08 or '09 I attempted to write a trip report but for some reason I was never able to post it. It would have been like we say here in Trinidad " A bess trip report" because it turned out to be a rather eventful trip, regardless of the fact that I learnt the hard way :
the perils of taking photos in Caribbean Airports
but that our little Conviasa ATR -42 suffered an engine shutdown in flight and had to make an emergency landing in PMV- but that's a story for another time If I can dig up all the photos.
Anyway- here goes:
In February of this year I took a trip to Florida to visit some friends in West Palm Beach. Out of Port of Spain the main airline choices American Airlines which has two daily frequencies to MIA using 757 and 767 equipment and the 'home grown' favourite Caribbean Airlines which has one morning service to nonstop MIA and an afternoon service to FLL using 737-800 equipment. In the past I have generally favoured the 'Greyhound of the Skies' as my Number 1 choice in air travel as I am an AAdvantage member albeit a non-status member, but for me it's always been a combination of their fares, general, ease of spending miles, their ' generous' 32" pitch in economy on their afternoon 767 service to MIA. On my 2012 trip to NYC I decided to patronize my local airline (why not), I flew the redeye service to JFK and back through KIN a year earlier and I was generally satisfied- not impressed but nevertheless satisfied. This trip would be no different in terms of satisfaction but this time I decided to ride in the front cabin. Being 6' 4" and any economy class seat for extended periods of time is generally an ordeal. Usually I would attempt to mitigate the pain of Y class travel by doing the using the usual routine of checking in extra early and snagging exit/bulkhead rows asking for seat changes on board/ at the gate etc. But this time I would not to go through the trouble or pay American extra for their Y class inches.
I could have very well taken Caribbean's nonstop morning service to MIA or their afternoon service direct to FLL, but the prospect four takeoffs and four landings for the (a bit less than the) price of one takeoff and one landing with the added bonus of more miles: 6340miles vs 4884 R/T based on a C class fare, a landing and takeoff at the Princess Juliana Int'l, and spending half a day the fantastic Club Kingston lounge in Kingston, Jamaica I believe that I might have made the true A.netter choice. My Itinerary would be as follows: POS-KIN-FLL with intermediate stops in BGI and SXM. The only other slight drawback Is that one sector (KIN-FLL) will be flown in economy class a small - price to pay considering that it's only a 1h 20 min sector. The trip will be considerably longer - literally a whole day's worth of traveling, when I could have quite simply have gotten there in just four hours… but why would I do such a ludicrous thing?
Route:
The flight to Kingston will be BW's 'milk run' service which operates four times weekly to KIN, twice weekly it does POS-BGI-SXM-KIN and on other days SXM is substituted by ANU- the other days of the week the Kin flight either operates nonstop or via BGI only.
Caribbean Airlines:
Caribbean Airlines Limited operating as Caribbean Airlines is the national airline of Trinidad and Tobago. Caribbean Airlines Limited operates both Caribbean Airlines and Air Jamaica brands and as such is also the flag carrier to Jamaica through its brand (Wikipedia).
Caribbean Airlines is locally known as CAL – (not to be confused with China Airlines) its IATA code (BW) however belies its BWIA ("Bewee") heritage, however much of the old airline's reputation as a luggage leaving, late arriving/departing - passenger stranding reputation is a thing of the past (except for its profit making ability). They have a pretty good reputation for on-time performance- all my flights were on generally on time. Comparing Caribbean Airlines with the competition, CAL offers meals, two checked bags, 100% air miles accrual included in their lowest economy class fares – There is some sort of IFE on longer flights and no "pay for extra legroom" options. In business class (also known loosely as First Class) they offer most of the amenities that other airlines offer in such as priority check in, lounge access, bigger seats, 3 course meals extra luggage allowance and 150% miles accrual to their FF program "Caribbean Miles".
Before the Trip:
I used
www.caribbean-airlines.com
rather simple and straightforward SITA powered online facility to book my flights , I was able to use the very useful "pay later" option which held my reservation for 48 hours and generated a PNR code. I was able to pay for my reservation 24 hours later at the downtown Port of Spain ticket office.
They also run an identical site (www.airjamaica.com) with a different skin for Air Jamaica customers:
Seat pre-selection for both sectors was also possible online, I was able to play "virtual musical chairs" even before I got on the plane.
POS-KIN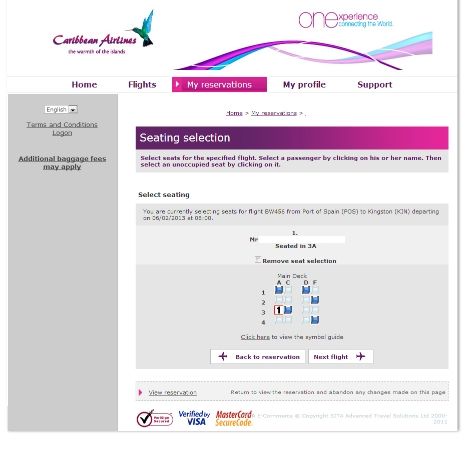 KIN-FLL
The website also contained information on meal selection and a detailed listing of meal and refreshment options available on all flights in both classes:
[IMG]http://i955.photobucket.com/albums/ae34/richard_shaw/mealselection_zps405d92d8.jpg[/IMG
At the Airport:
I must begin by apologizing for the lack of pictures at Caribbean airports, for any aviation enthusiast accustomed to travelling through the region knows that photography is prohibited in all areas of Caribbean airports, this unfortunately is enforced by various levels of security officials and staff, most of the time in varying forms of rudeness and/or intimidation. On that fateful day a few years ago, I was caught snapping pictures of aircraft from the departure lounge I learn't "The Perils of taking photos in Caribbean Airports", I was approached by a security officer who then proceeded to have me delete all the relevant photos on my camera and left me with the threat that "the next time you will lose the camera". Permanently scarred from that experience I have since been wary taking photographs at most airports, and when I do so, I do so very nervously, which generally results in blurred/ bad pictures. My weapon of choice for airport pictures is usually my phone, which I'm relegated to using use much like a spy.
Change is hopefully on the horizon as a group of local aviation enthusiasts and spotters have come together to form a group called Planespotters Society of Trinidad and Tobago, who have started lobbying to make Planespotting a legal activity in Trinidad and Tobago, or at the very least, recognize and make provisions for planespotters to pursue their hobby within its jurisdiction.
If you like you can help us out by taking a quick moment to sign our petition, so hopefully you may see more photos and probably trip reports from our neck of the woods. In the meantime, I'll be having just as much fun evading security and taking photos.
Or check out our friendly little page on facebook:
https://www.facebook.com/groups/388747901145388/.
Petition:
http://www.change.org/en-GB/petition...environment-in-trinidad-and-tobago
I arrived at Piarco Airport at 05:45 for an 08:30 flight having gotten a lift with a colleague who was traveling on the 07:00 flight to CCS, Both of us having done the web check facility, my colleague decided to cut it close so we arrived at the airport with minutes to spare before check in for his flight was to close:
Online check in: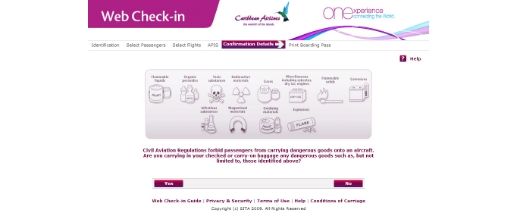 BW Check in zone (all flights)@ POS: The ticketing desks are the first two at the far left (positions I and 2):
Lounge:
Unfortunately no pictures here. The BW lounge is situated within the eastern concourse of POS after security within the confines of the general BW gate area (Gates 8-14). The "Club Caribbean" lounge is available to passengers holding a business class BP, "Caribbean Miles" status holders (Silver, Gold, and Executive Gold) and BW's Club Caribbean cardholders. Club Caribbean is a standalone membership that gives you access to BW lounges, priority boarding etc. at their various destinations for the yearly fee of $350USD. It may be useful for the Caribbean businessman but not really worth it In my opinion when compared to the Priority Pass unlimited membership which can cost less if you take advantage of their frequent offers, and have access to lounges worldwide, not just those in the BW network, and the only BW branded lounge is in POS, most of the other lounges throughout the network are 'contract' ones most which accept Priority Pass anyway. I was granted access only to find that The Club Caribbean lounge was crowded at that time for the morning as a result of departure bank to KIN, BGI, GEO, MIA, JFK etc. The décor is maybe a little cheesy with in keeping with the airline branding it was decked out in bright tropical lime greens and purple. The available seating was relatively comfortable, but it appears to have been outfitted more for volume than for comfort, which makes sense given its smallish size. The refreshment area is small but available were mini sandwiches, pastries smoked salmon roulades etc. fresh fruit bowls, yogurts, a nice touch were mugs for tea and coffee (of which I had a tall mug). The food area was crowded as a couple groups of suits decided to congregate in that space while stuffing their faces (I guess I would too If I was paying $350 a year). I was still reeling from lack of sleep (I was out the night before - I had like 1 hour of sleep before my alarm clock went off at 4AM) and I was a little bit out of it and I neither did I feel that hungry (big mistake), so I settled for a fruit bowl a and yogurt with my tall mug of caffeine and found a not –so-quiet spot to sit. The general vibe of this lounge wasn't particularly to my liking anyway, it reminded me of sixth form at school- entering it seemed like walking into a noisy crowded classroom during lunch break with all the popular cliques congregating and chatting loudly and amongst themselves while they aloofly sizing up any newcomers- sorry that's just the vibe I got - but anyways, I found my quiet window – which had a non - view of gate 8 through frosted glass and sipped my coffee. Fortunately, It wasn't too long before lounge dragon came in and announced that flight 456 to Kingston was now ready for boarding.
Flight:
Flight: BW 456
Seat: 1A
Departure time: 0800
Route: POS-BGI-SXM-KIN
Equipment: B737-800
Registration : 9Y-JME
View Large
View Medium


Photo © Jose Mendez
Miles earned: 1529+ 764 C class bonus =2293
http://www.airliners.net/photo/Air-J...d=4f2db593fc8ce613b9a3bce80c7bbb3a
Flying on Caribbean Airlines can be a bit of a lottery when it comes to which aircraft you get for your flight. At the time of travel BW operated a total of 16 737-800 – seven (07) aircraft in traditional full Caribbean Airlines Billboard style livery with the colourful hummingbird on the tail, three (03) aircraft in hybrid /variations of unfinished liveries, and six (06) aircraft painted in Air Jamaica colours, although they all planes have a more or less standard configuration of C16/Y138 they all very in styles of décor and TLC (or lack thereof). As I walked from the lounge to the gate I caught a glimpse of today´s machine and fortunately the operations gods have smiled on me today as I will be spending the better part of six hours today on 9Y-JME an ex- Air Berlin example.
Boarding began 3 minutes or so after reaching the gate, and It was called in true Caribbean Airlines fashion, they seem pretty consistent with the 737 boarding procedure, where they call on passengers needing extra time and special assistance to board as well as passengers seated in rows 5 12 and 13 (Bulkhead and over wing exits) followed by Business class and Club Caribbean passengers.
As usual, a polite greeting at the door by a Jamaican purser who pointed me to my seat (it wasn't very far away). A closer inspection of the crew uniforms it was apparent that we had a Kingston based crew- (they have a different colored tie/frilly things that ladies wear) – as far as I know this is not the norm for POS originating northbound flights- which are usually crewed by POS based BW crews, the KIN crews generally man the flights from KIN/MBJ to points north, however on the four sectors that I flew on this trip the crew was 100% Jamaican.
Boarding was completed a good 15-20 mins before scheduled departure time and we sat on the tarmac till about four minutes past departure time as we waited for some "paperwork". No refreshments were offered while on the ground, however local nespapers were offered I believe it was the "Trinidad Express" and the Jamaican "Gleaner Newspaper" The purser did however make her appearance about two minutes before doors closed to take drinks orders for after we were airborne courteously addressing every passenger personally, also asking if we wanted "nuts and channa" with our drinks. On the subject of addressing passengers by name, I noted (sitting in 1A you tend to hear these things)that the purser made an effort to greet every passenger by name- yes, even the Y class passengers as they filed through the door and she read their boarding pass- stopping occasionally to make sure that she got the pronunciation correct… interesting.
PIC---
Waiting for departure gate 13 @ POS
Before long we were underway and were in the air on our way to Barbados, flight time announced as quick 35 minutes at 25,000 feet .
About to cross the active at A1 intersection. Greyhound Airlines can be seen pushing back to MIA in the distance.
Lined up and ready to go:
The usual eastbound departure had as turning left and speeding up what was presumably the R515 airway to BGI, the crew did their round of service just as we passed the island of Tobago. I got my pre ordered glass of water with a small bowl of warmed nuts and channa (roasted salted chick peas).
Descent came pretty quickly on this short hop ad soon we were turning right to intercept the ILS at runway 09 Grantley Adams International.
Great views of the South coast of Barbados and Bridgetown as we approached.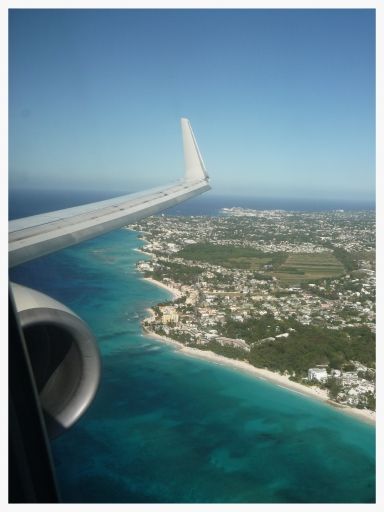 Crossing the coast inbound at Oistins and its definitely a Lovely day for the beach.
The Barbados stop was very brief- it was more like 'bus stop' passengers off passengers on, and within 25 minutes we were on our way once more. Flight time to St. Maarten was announced as 1 hour six minutes at 36,000 feet.
Barbados in its entirety as we turn northward to grab the UA632 airway.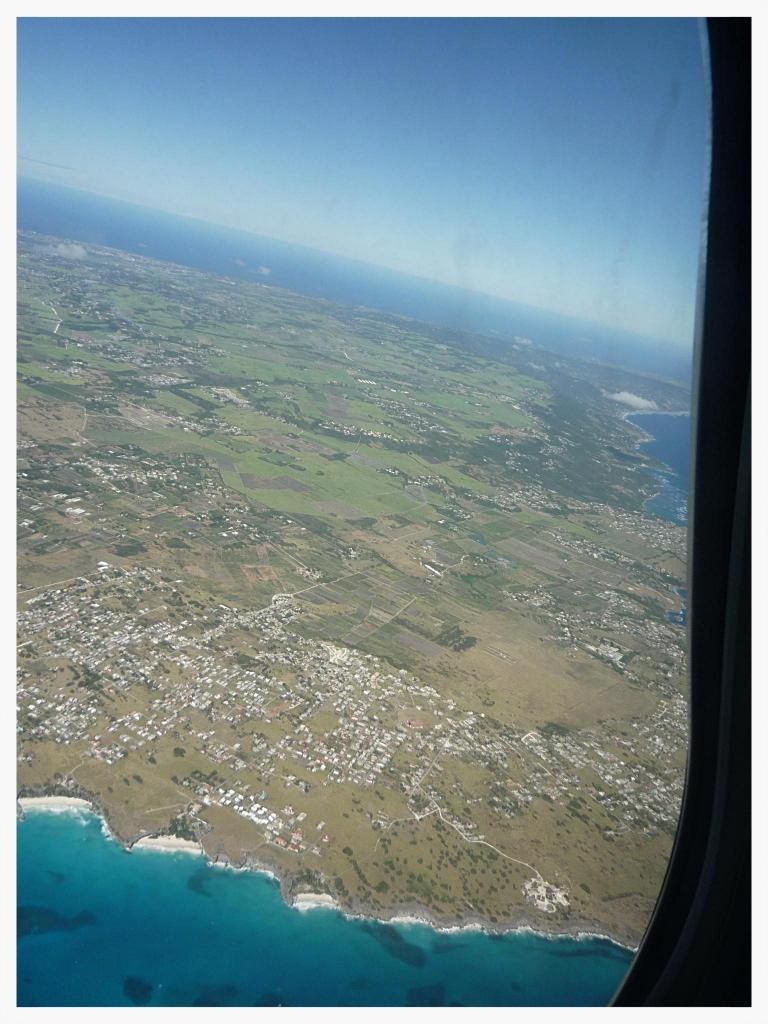 The IFE screens did not come down on this sector not that I cared for them much as the best IFE was to be had by simply looking out the window. The 'A' row windows are the best seats to have on the northbound flights as islands of the Caribbean pass you by to the left, the weather turned out to be lovely all the way to Jamaica and the flight was truly scenic. Service on this leg was Identical to the previous one, the purser took drinks orders once again, and I sipped my orange juice and ate my nuts and channa as the islands passed us by, by this time I began to feel the pangs of hunger and I regretted not stuffing my face like everybody else in the lounge, the salty nuts and chickpeas did not help, fortunately I had grabbed a couple bags of corn chips just as I left the lounge, so I snacked on those as I knew meal time was quite a ways away not until we left St. Maarten. The crew disappeared in the galley until it was time to do their safety checks for landing.
Passing Martinique
Melville Hall International Airport Dominica (TDPD/DOM).
For those poor souls that weren't lucky enough to have a window seat or were sitting on the right hand side of the aircraft t there was Caribbean Beat Magazine, one of the better Inflight magazines out there - it has remained virtually unchanged since the BWIA days, it usually does a good job at showcasing various aspects of Caribbean life and Culture.
Overhead the Island of Marie-Galante (Guadeloupe)
"Anteeger"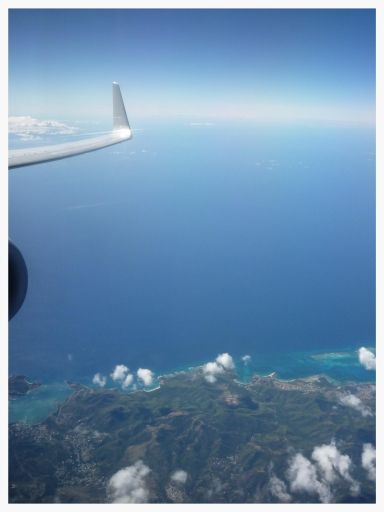 Descent began Overhead Antigua as we turned slightly onto the B520 airway which would take us to Juliana.
Overhead ANU
St.Kitts
Island of Saba (the rock)
[
The only picture I got of my current seat 1A, admittedly, although this current address is a very desirable one on the plane, being at the 'front of the class' has its drawbacks, especially if you have long legs. While knee room is more than adequate, There is no cutout at the bottom of the bulkhead panel and that severely restricts how far you can stretch your legs, I was already beginning to feel the strain on my knees and I was looking forward to landing in SXM so that I could at least stretch my legs- or better -change seats.
View from 1A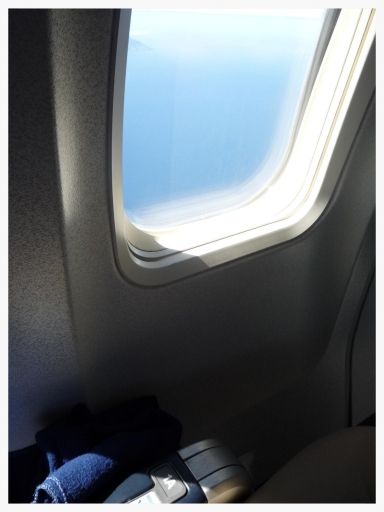 Well, I couldn't have it all: while the left hand side was great for a view of the Islands, the approach into St. Maarten is more scenic on the right hand side, I'm sure that the airway would have taken us right over St. Barth's at low level and as far as I could see through the windows on the opposite side we flew a rather scenic downwind leg on what appeared to be a visual approach into SXM.
Approach sequence into Princess Juliana Int'l.:
Turning base/final:
Hello Saba:
Gliding in over Maho Beach
Floating it:
We appeared to have floated a little then the main gear and the nose gear hit hard in rapid succession, I think I heard some light screams coming from the back cabin lol good stuff! Lots of braking took us to the end of the runway.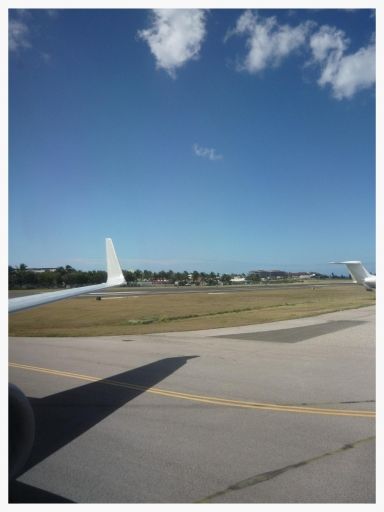 Quiet morning here in SXM – as it would usually be in the rest of the Caribban at this time of day.
Our assigned gate this morning:
The POS-BGI leg seemed to have a lot of business people deplaning, which is only natural as the POS-BGI is one of the busiest air routes in the Caribbean and a very important commercial corridor, not to mention the run to Jamaica. Quite a lot of people deplaned here in SXM, most looked like tourists and holidaymakers with their diving gear and flippers straw hats and flip flops in tow. The good news is that I was also rid of my seatmate- who deplaned at SXM (with whom I did not exchange a single word for the whole flight till now.
I was able to stretch my legs for a bit and went poking about inquisitively like any self-respecting trip reporter would – but discreetly.
My venture into Y class revealed that this aircraft cabin was in good pretty good shape and that the interior was straight out of Air Berlin. My main gripe with BW is that they don't standardize their hard product, they seem to go the way of budget carriers and their 737s have a sort of 'low rent' feel. I am not well schooled in the intricacies of the aviation trade when it comes to leasing and buying aircraft, but from what I understand is that these aircraft are bought/leased with a limited amount of spares- spare seats and cabin fittings, and have to work best with what they've got and knowing BW's "El Cheapo" approach to their operation I suppose that these interiors are here to stay.
Having seen row 5 on this aircraft I had an Idea of what seat will chose when I check in for my connection in KIN as row 5 on this plane looked pretty comfy (oh how wrong I was).
Row 5 D,E,F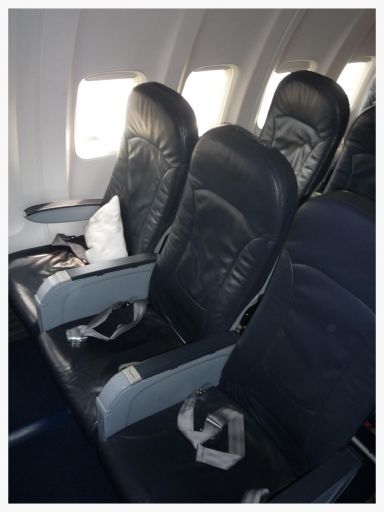 I ventured into the forward galley, used the tiny bathroom, had a peek up the jetway and I barely got a whiff of the warm St. Maarten air before returning to my seat to make way for the steady stream of passengers that joined us here in SXM, two of which stayed in the J class cabin. After the passenger traffic had subsided a bit, I asked the purser if we were to have anybody else join us in J, to which she acknowledged that no more passengers were due. On hearing this I promptly changed seats and moved to seat 4F.
Seat:
I am not by any stretch of the imagination a regular first/business class traveller, so the seat though it was, a generic narrow-body premium recliner style seat (the upholstery which looked suspiciously like AA); it was definitely an upgrade to what I am used to in economy. This flight was just under six hours, and if it weren't for the SXM stop which allowed me to get up a little and stretch a little, the discomfort would have been more amplified. Over longer periods of time, the lack of active lower lumbar support in this seat becomes more apparent, and for a tall person like myself, to get more comfortable while reclined would mean having to stretch my legs further under the seat ahead and during the later stages of the flight became a little long in the tooth.
SXM-KIN
From about twelve or fourteen or so passengers that we started off with in POS we ended up with the lovely complement of five or no more than six passengers or so: I could have a whole row to myself more importantly have the best views on the westbound flight, and on takeoff from SXM.
Finally rid of those pesky passengers: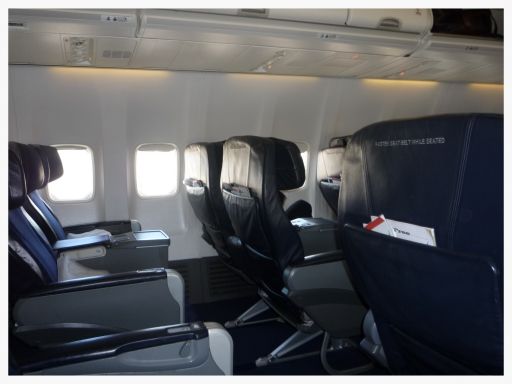 New view: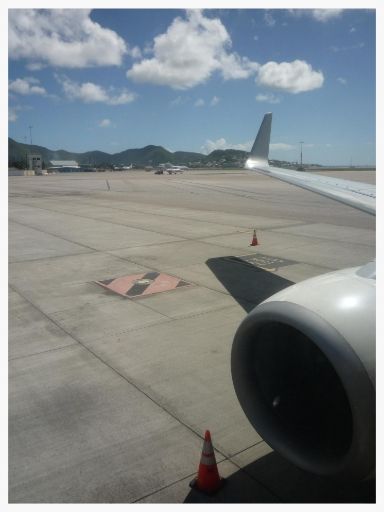 That legroom shot:
The SXM turn was close to an hour long, and as soon as the passengers settled the purser came round to see what we wanted to drink. The Jamaican crew on this flight, and on the return one were not particularly engaging- and though were friendly they seemed pretty reserved. The crew did a relatively good job of remembering everyone's name and seemed to warm up a little more to the passengers on this leg.
I wasn't quite keeping track of time, and I imagined that we were somewhere on schedule as we pushed back, besides, I wasn't in a hurry anyway.
A short taxi to the runway for the famous scenic takeoff from SXM for the longest sector on this flight which was announced as being two hours and 6 minutes.
SXM departure sequence: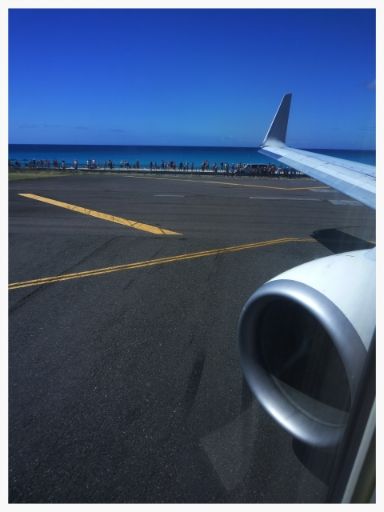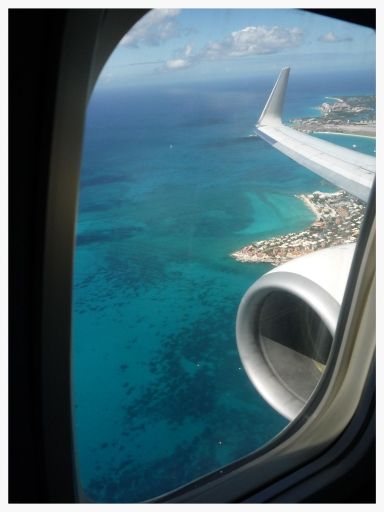 The change of seat was definitely worth it even if it were only for the stunningly scenic takeoff from SXM. It may be because I was closer to the engines but the electric buzz emitted by the CFM-56s during this seemingly more powerful takeoff, mixed in with the amazing views was absolutely intoxicating, and I was already feeling a little 'woozy' after that scotch and soda that I had empty stomach before takeoff.
Speaking of empty stomachs, I was ravenous and finally the first hint that we'll be fed appeared:
The menus are cheaply printed- but it's nice touch- IMO it doesn't have to be anything elaborate- besides, I already knew what was on the menu thanks to the website. However, generic a list of available drinks and spirits would have been nice to see to keep the likes of people like myself from wondering what to order.
In the meantime another round of drinks and I had a another scotch and soda, I was served by a giggly FA whispering and giggling that she served me a double- There was so much scotch in my glass that the FA offered to leave me the bottle of club soda I wasn't complaining though.
In the meantime, we climbed past the British Virgin Islands
Terrence B. Lettsome Int'l Airport on Beef Island Tortola.
BVI :
The meal service begins with a hot towel service ( sorry m no pic), the No 3 FA comes round distributing the individual trays with the little garden salad placed on it. The purple tray is adorned with the lime green linen like napkin as can be seen in the pictures. The lime green and purple is the same theme that is carried from the Lounge, and fits well with the company branding, it is however a shame that they couldn't be more consistent with their branding themes on the rest of their hard product.
The salad is a bit on the small side, though fresh is bit somewhat uninspiring, and it is instantly vaporized when it hits the pit of my stomach, The saving grace is the bread basket with an assortment of warm bread rolls which is passed around- I take two.
No sooner had I finished, than the was my empty bowl was taken away and the beef entrée that I ordered was placed on my tray, and again, It looked nice but it could have been bigger- or maybe I was just hungry. The food was nothing to write home about- It's most likely pre-plated re heated airplane food after all , but they definitely could have filled up those empty white spaces on the plate with some more veggies or carbs or something. I definitely regretted not ordering the prawn curry which looked bigger and better – greedy me… or I should have just asked for seconds.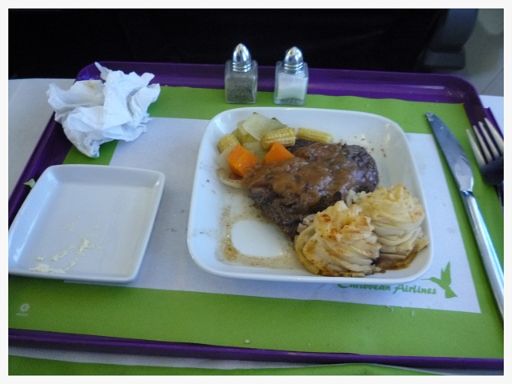 Here is a comparison pic of the meal service that I had one year earlier on this same sector (eastbound) in economy class and they were probably having something similar- note the portions are almost the same. Admittedly BW offers 'complimentary' meals/snacks on flights over a certain sector lengths, where the competition does not- AA only offers refreshments on POS-MIA, but the 'complementary' meal that BW offers seems more like they are 'checking the box'- but hey who am I to look at a gift horse in the mouth.
The desert which was later wheeled out on a trolley was disappointing and for a man like myself that has a sweet tooth, to choose fruit over cake is quite a statement. Anybody who lives in Trinidad would be familiar with a local brand of industrial quality cakes called ¨Kiss¨ the tiny slice of gateau looked suspiciously like a "kiss" brand cake. The fruit was fresh though, I'm glad I chose the fruit- I actually felt good about myself for making the healthy choice.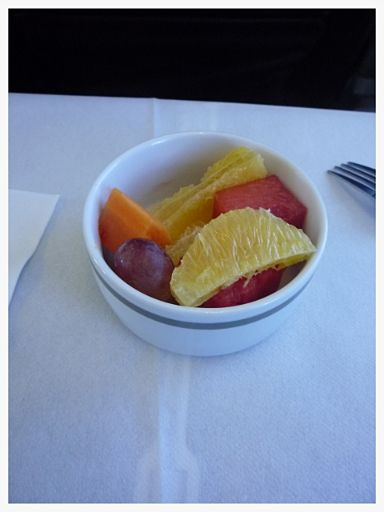 Trays collected- no more whisky for me, as I still had a long day ahead of me. "Caribbean Essence" was playing on the IFE, I preferred doze and gaze at the scenery as it passed by.
This is probably the exact I episode that was aired, (Yes! I was leaving the country for Carnival)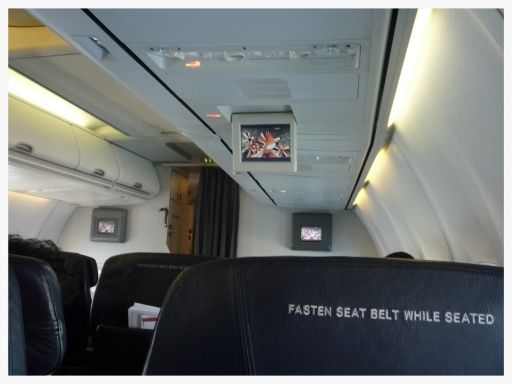 http://www.youtube.com/watch?v=XZCGB-lKf74.
No 'áirshow' was available on this or any of the flight- which is a surprise as I've seen it on other BW flights.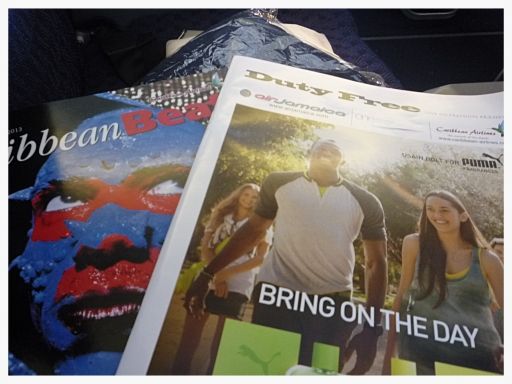 Santo Domingo D.R.
South west of Port- Au Prince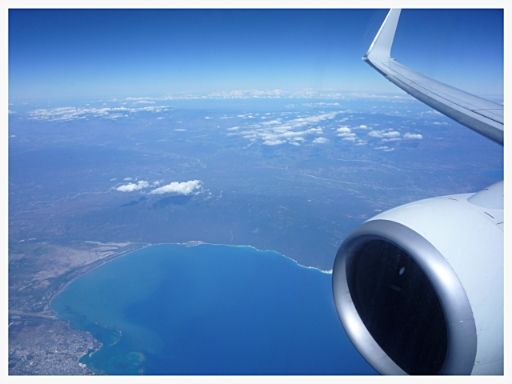 Haiti: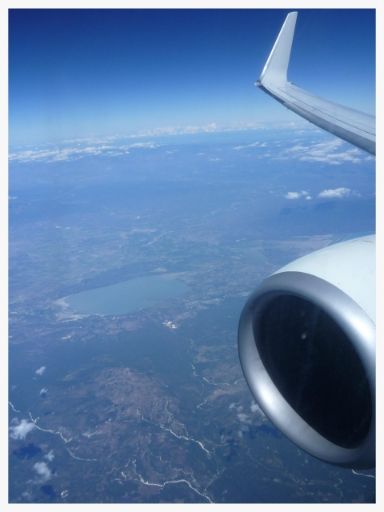 Easternmost tip of Jamaica
Lyssons, Jamaica: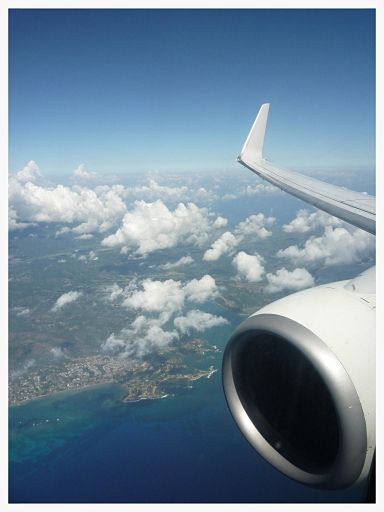 Great pond of Yallahs, Jamaica:
Downwind leg- south of the field
Turning base: Port Royal in View
Visual approach?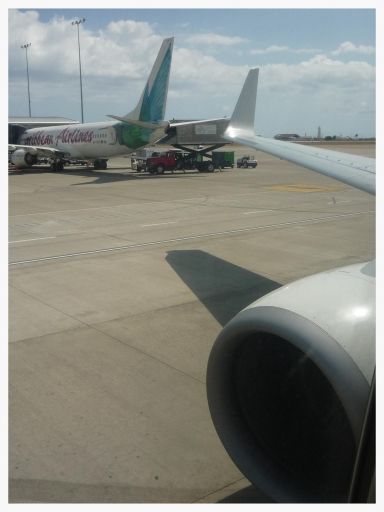 Welcome to Kingston.
Thanked the crew for a nice flight, and I was off sprinting to immigration, not before grabbing a couple shots of my colourful chariot.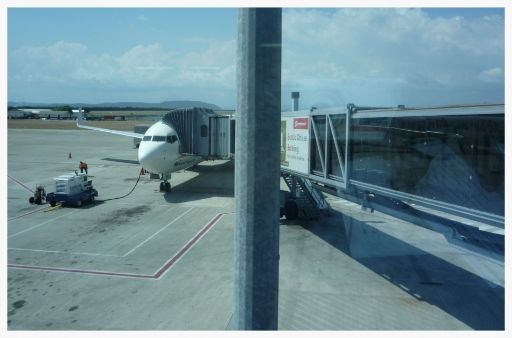 9Y-JME with the "50 years of independence" sticker (dedicated to Airport Security)
One of the more substantial perks of flying in the front cabin: Being ahead of the crowds, I eventually 'sprinted' past these guys and was first through immigration, where the friendly Immigration offcer welcomed me to Jamaica with a smile.
Also dedicated to Airport security:
A short walk to baggage claim and my bags were the first to emerge on the carousel:
As I was taking this picture, I heard someone say "excuse me no photos please", At least she said it with a smile which is unusual.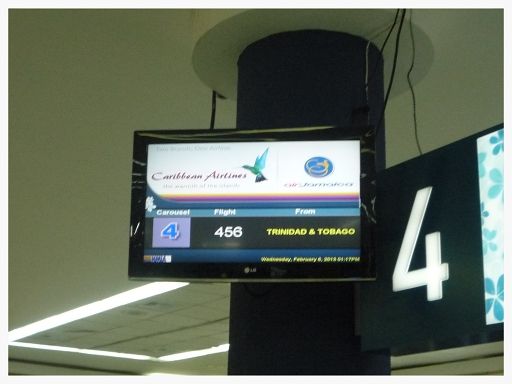 KINGSTON AND THE FABULOUS CLUB KINGSTON LOUNGE
Our flight was the only arriving fight, and my walk through customs was a non –event. I walked out through the quaint arrivals area of KIN, and compared to the modern feel of the rest of the air terminal It's a step back in time.
Aside from the anachronistic arrivals terminal the rest of the airport has a modern airy feel to it. In terms of quality it definitely surpasses POS- which if you ask me the three letter code P.O.S. does not only stand for Port of Spain.
Unfortunately I didn't get any photos landside at NMIA in hall, however, fellow anet. member TR1 does very good job at documenting this part of the airport in his trip report which incidentally, he reviews the same flight that I will be taking to FLL only this was during the rel Air Jamaica days. He review JM37 and I review BW37 to FLL:
Short And Sweet: Air Jamaica KIN-FLL
(by
TR1
Mar 2 2010 in Trip Reports)
Check In:
No lines at the time of the day (midday) and I have managed to beat the crowds for the evening
departure rush. I waited in line as the agent leisurely checked in and flirted with two fellow travelers ahead of me- before I handed chubby agent BW my documents. She typed away, and I requested a seat in row 5 if available- to which I got no response… she continued to print out my BP and I noted that they were not the seats that I had asked for. I asked If they were not available to which she answered in her 'rude gyal' Jamaican accent something to the effect that I she heard me the first time around and that I was being too demanding and that she was processing my request in her own time and to proverbially "Chill T.F.Out" now how'd you like that for service? Let me add, in my couple of times that I have been through KIN I always got a good impression from everyone that I had contact with- from immigration officials to security staff- everyone has always been polite and welcoming. After lounging for half a day in first class and this little encounter made me feel – I hate to say it- positively "ghetto" – as someone I know would say.
Anyway, with my BP in hand I was off through security and up one level to the departures hall.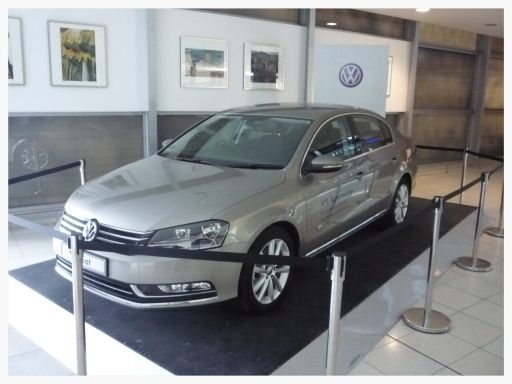 I must note: there is no shortage of wifi coverage at KIN airport as there two competing telecommunications companies (Bmobile & Digicel) in the region were competing for coverage with their open fast networks.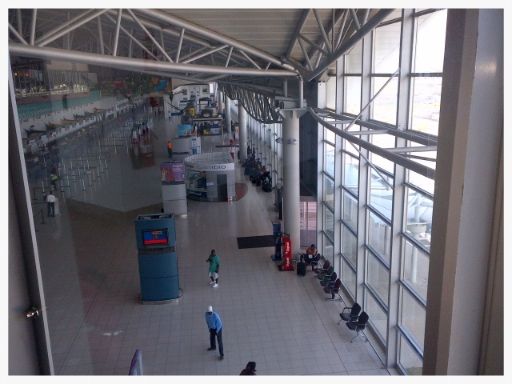 CLUB KINGSTON:
This was one of the considerations that I made when choosing this Itinerary, was the availability of a lounge during my long Kingston layover. My inbound flight arrived just before midday, and my connection to FLL was due to depart at 1935. As my connecting flight was in Y I wondered If I would be eligible for the use of the executive facilities at KIN. As I learnt from the BW uniformed Servisair check in agent at POS who answered in her seemingly uninterested monotone that if I am not in possession of a First class BP that I would not be able to use it. I did a bit of research and found that it I advertised as a Servisair lounge and you could book it through the website with a stay time limit of 3 hours.
http://www.executivelounges.com/lounges/kingston-airport-lounge
My advice for anyone wishing to use these facilities is to steer clear away from the Servisair site. Club Kingston and its sister lounge in MBJ- 'Club Mobay' run their own very informative site:
http://www.vipattractions.com/club-kingston.php.
Also, there are numerous reviews online Trip advisor where it gets no less than "Very Good" ratings.
I apologize in advance for the poor quality of most of the pictures.
At the end of the departures hall there are signs to the VIP lounge which direct you to an elevator or a discrete stairwell which takes you down to a sort of Mezzanine level where the lounge is located:
I was greeted at reception by the welcoming lounge attendant, (Unfortunately I forgot her name) who confirmed that I was most welcome certainly purchase a DAY PASS of only $25USD, she also rubbished any prospect of a time limited stay. The lounge informed me that she let me know when boarding time is approaching.
I was informed about the shower facilities and spa services which IIRC were at an extra cost (I may be wrong though would make sense). Considering that I was going to be there for at least six hours I did take advantage of the shower available in their very well appointed single shower facility. (Unfortunately no pic here)
View from Reception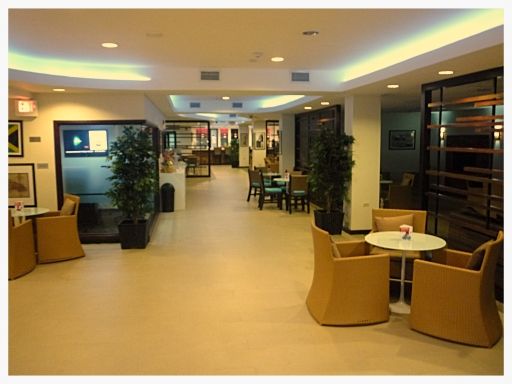 Bar at the end of the lounge:
Computer/Media centre brought to you by DIGICEL: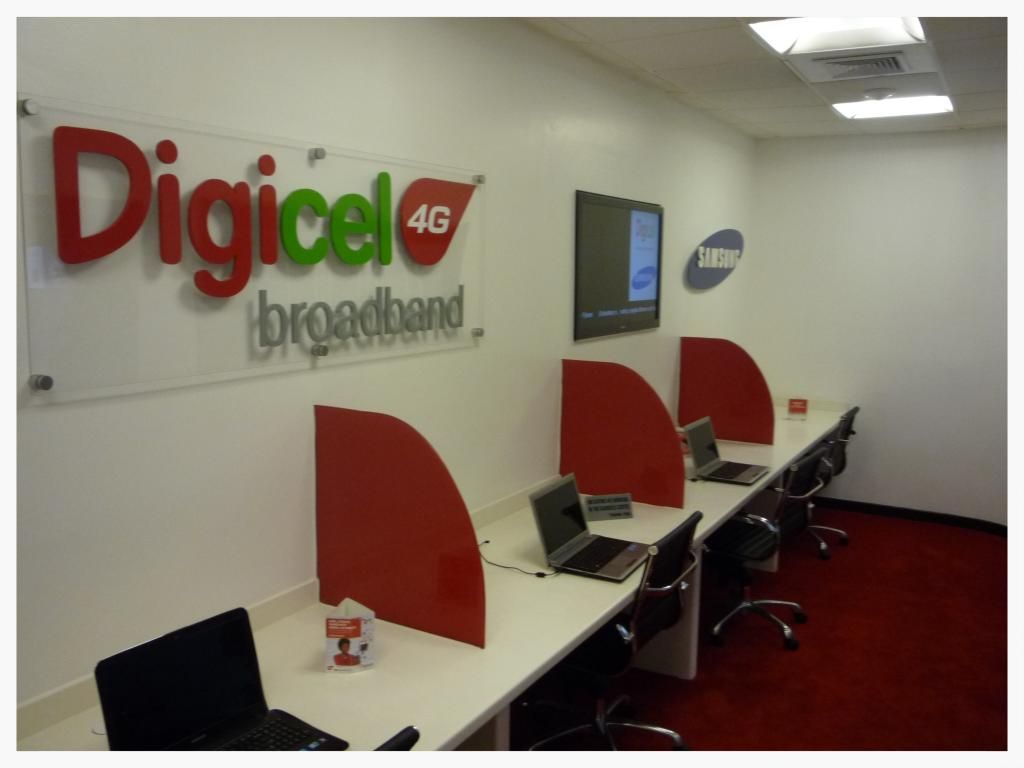 "Hall of fame":
Refreshments:
Considering that I had "lunch" on the inbound flight, the food /snack offerings here though relatively simple, were adequate there were mini sandwiches of tuna cheese and deli, cupcakes and pastries- fresh fruit and the usual hot drink selection of tea, coffee, chocolate and pack soup. My personal recommendation is the Jamaican beef and chicken patties that were on offer- the only hot option available. Also available there was what appeared to be a fully stocked bar, one just needed to ask the one of very friendly lounge attendants to fix you your favourite drink- I stuck to scotch and baileys both which were poured generously.
Club Kingston sadly is a windowless lounge, however the traffic at KIN is not particularly exciting, for the full six or seven hours of my stay the FIDS indicated nothing too interesting, the lounge remained empty -ish most of the time with no more than a couple passengers for each of the flights listed on the FIDS.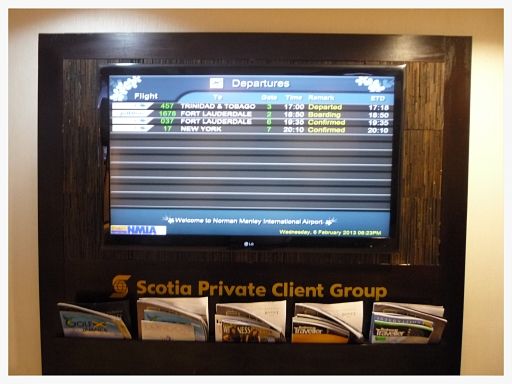 The personal touch from the staff at this lounge is what I hold in highest regard, the attendants and receptionist periodically checked up on me to see if I was comfortable. As boarding time arrived I was escorted to the gate by one of the very chatty attendants, who left me at the front of the line to board with the premium passengers- not bad for Y class travel eh?
KIN-FLL
BW 37
Dep 19:35
Rehistration: 9Y-ANU

Seat : 5F
Miles earned: 602









This best way to describe this flight "forgettable" lackluster plane, seat, crew, etc, I was tired. The plane in question was 9Y-ANU- one of the fully branded BW birds featuring the garish looking interior. On time departure and arrival as usual.

Note the maroon/burgundy first class seats- those are the actual "Caribbean Airlines theme" colours.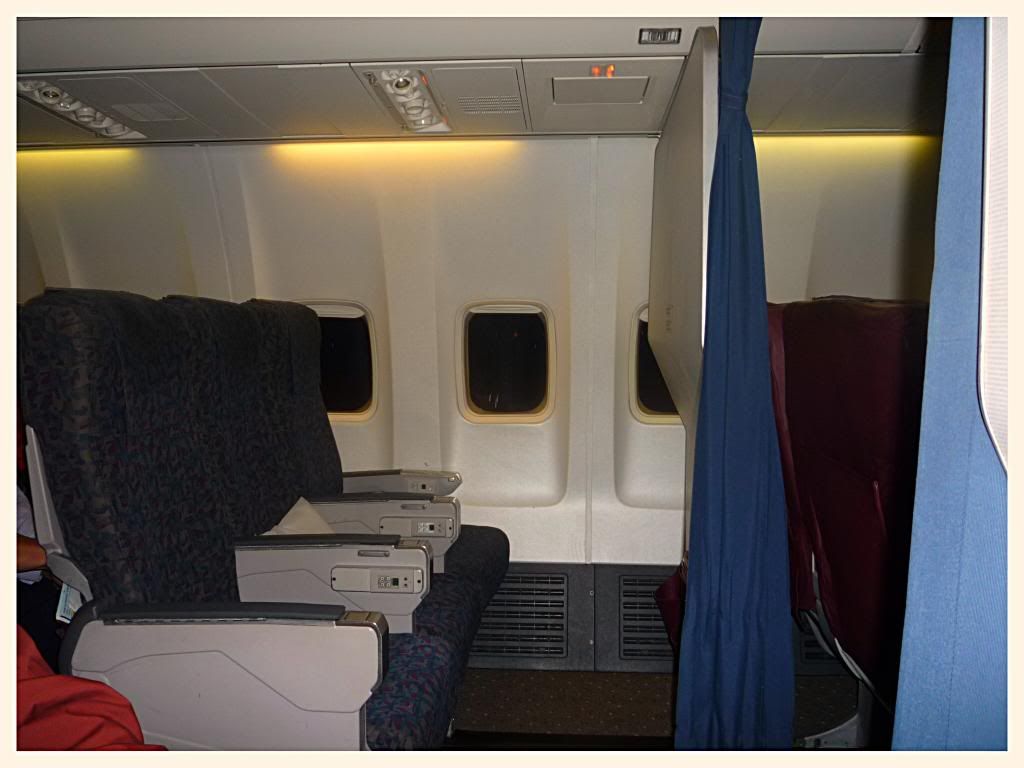 Dingy, yellowed lighting panels is the theme on most of CAL 737s with this interior, seat 5F was disappointing as there is no cutout in the bulkhead wall to stretch your legs. Load on this flight was very light with 40- 50 passengers and just one in first class. Notable this evening though, was a runway 30 departure we were off the ground in no time.


KFLL ARRIVAL:
Definitely the best way to arrive in the Miami area. Terminal 4 seems to be the only terminal with immigration and customs facilities. We docked at H2- the corner most gate right next to immigration. I was through to curbside within 25 minutes.
[Edited 2013-08-30 10:44:57]
[Edited 2013-08-30 10:45:46]