Greetings fellow a.netters. It's been a long time since I last wrote a report. As I have mentioned in my previous reports, I was enlisted into compulsory military service here in Singapore and recently, I finally finished my term and regained my freedom. 2 years flew by. Sure that sometimes it crawls slowly but when you think back, the memories are everlasting. Lots has changed ever since I wrote my last report. I got my driver's license, got a car and finally going to university. Now, enough of that. Let's proceed on with the report!
But before that...!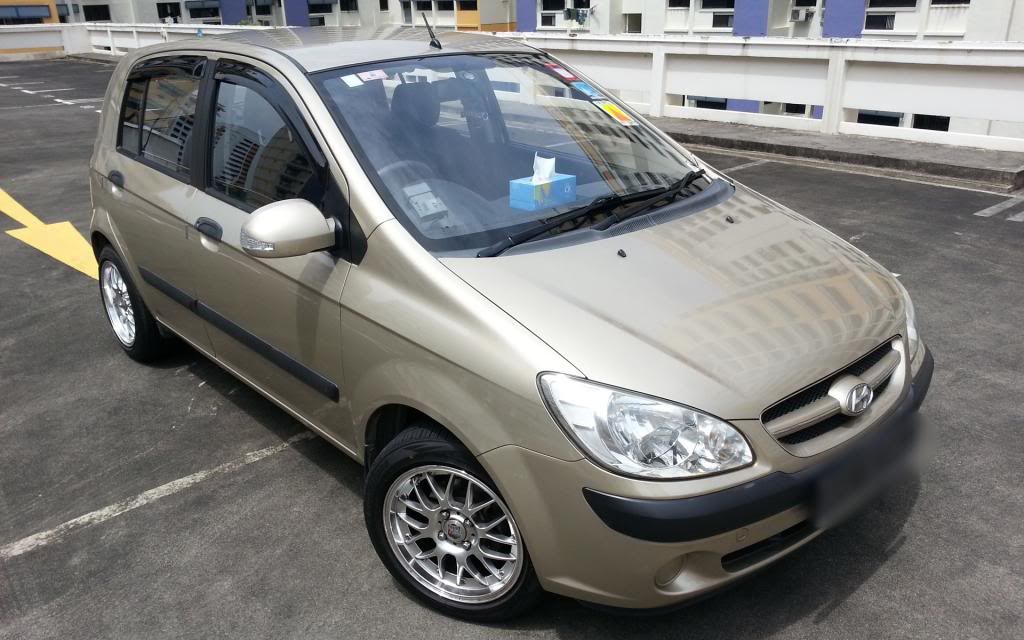 Presenting my new car! Not a performance car by all means, by it does what it's supposed to do
Introduction
Apologies for not having tons of photos for the flight as I was initially not planning to do a trip report. Rest assured I will take more of those in the future. Meanwhile, please enjoy the destination shots.
Back in the first half of the year, my best buddy Adrian and myself were discussing if we were to go on a trip together after we finish our military service, or in another term, ORD (Operationally Ready, not Chicago O'Hare!).
A - Adrian
Me: Shall we go on a trip when we ORD?
A: I don't see why not.
Me: Where shall we go? Somewhere near like KL?
A: I was thinking somewhere else we've never been to, like Vietnam?
Me: Sure, I'll do a check.
A: Hey, Scoot has wonderful fares to Sydney, let's go there instead!
Me: For sure!
It was definitely great news for me. Australia is my favourite country in the world and I did not have the chance to walk around Sydney on my last visit there so this was a good chance to do so. We paid around S$550 per person inclusive of super seat selection, premium meals and booking fees. Pretty cheap to speak of. However, just around 2 weeks after we booked our tickets Scoot had this promotion whereby you could get the return ticket free when you book a one way ticket with them. Argh, it only costs S$300+ that way! Bleh, what's done is done.
Pre-Flight
On that day, we garnered the help of my friend, Edward (who will be featured in my next report, if there's any) to send us to the airport using a passenger van. Arriving at the airport at around 10.30pm for a 2am flight, there was more than enough time for us to check in. Surprisingly, there wasn't much of a queue and seeing that we were only on the
Fly
fare, the check-in process was made even faster.
After checking in, I went on to look for a fellow a.netter,
9V-SVC
a.k.a Charles. With him were 3 other av geeks like myself. Always nice to meet more av geeks, isn't it? The airline he was queuing for (didn't want to reveal it, just in case) had a pretty chaotic check in process with people cutting queues and such. Thankfully, he managed to check in at last and even grabbed some baggage tags for me. He will be staying landside for some time so Adrian and myself headed airside for some food at
Cedele
.

Spinach and Mushroom Quiche



Blueberry Tart
Shortly after finishing our food, Charles came over to join us. We had a pretty interesting chat and agreed to meet up on my next trip on Scoot (on 6th Sept) at the destination since he'll be there too. Yes, that is one hell of a long trip for him! After a nice chat it was time for him to board and so we also decided to head off to our boarding gate which has not opened yet.
The Flight
Scoot Flight TZ 2
Origin
: Singapore Changi Airport (SIN/WSSS)
Destination
: Sydney (Kingsford Smith) Airport (SYD/YSSY)
Registration
: 9V-OTE (Scootalicious)
Aircraft
: Boeing 777-200ER
Scheduled Time of Departure
: 02:10am
Actual Time of Departure
: 02:12am
Scheduled Time of Arrival
: 11:40am
Actual Time of Arrival
: 11:21am
Airborne Time
: 7h 09m
Class of Travel
: Economy
Seat
: 23B
The gate was not open when we reached so we decided to sit down and have a rest. When the gate was finally opened, a long queue formed to do the security checks. Boarding began at around 1.15am, pretty early for a 2.10am departure. What I could not get was that the passengers in my cabin were scheduled to be boarded last, unlike my previous flights with Scoot last June when they just started that we were told to board with passengers seated at the back of the aircraft. Since the cabin is located between doors L1 and L2, there should be no obstruction from us to the other passengers if we were to board first.
When we arrived at the seat, we were pleased to see that the aisle seat was still empty. Sadly, our happiness was short. Right after we placed our baggage in the overhead compartment and sat down, a slightly stout man sat in the aisle seat. His shoulder was broad too and the 3-4-3 configuration on this Boeing 777 did not help.
We taxied to runway 20C for takeoff and was airborne at 2.12am, just 2 minutes after the scheduled departure thanks to a very empty airport. It seems like Scoot has changed their policy on serving meals on their Sydney flights. Instead of serving the meals right after departure, they now serve it around 3 to 4 hours out of SYD to allow passengers to sleep for the first half of the flight. Drifting in and out of sleep for the entire flight, I was woken up by a Scootee (that's how they call their FAs) when her cold hands gently touched my arm and jolted me awake. Alright, not her fault that her hands were cold but the way she woke me up was pretty gentle.
Having booked the premium meal, I was curious of how it looked like. Here's the answer: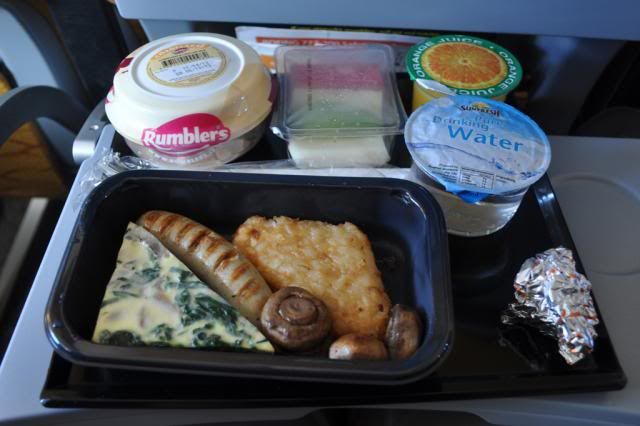 Premium meal - Spinach Frittata with Sausage, Hashbrown and Sautéed Mushrooms

The meal was great and I thoroughly enjoyed the fruits that came with it. However, the cereal was a little on the hard side. On a side note, they had an interesting name for the milk that came with it - long life milk. Let's see if I'll live to 100 years old!
We touched down on Australian soil at 11.21am local time, almost 20 minutes earlier than scheduled with a flight time of 7h 09m. According to flightmemory, this is the fastest flight of my life with an average speed of 881km/h. Interestingly, my last fastest flight was also set by Scoot, also on SIN-SYD.
Getting a local SIM card was our priority and we headed over to the Optus counter straight. After settling our payment and such with the great customer service representative at the counter, we made a call to our transfer,
Airbus Sydney
to let them know that we have reached. We were met by their representative and brought to the coach bay to await our 14 seater Toyota Hiace Hi-Roof Van, surprisingly available in a manual transmission model here as compared to only automatic in Singapore. The van has a small trailer at the back for our baggage. The driver of the van, a cheerful man which sounded like he is from Hong Kong greeted us and helped us to load our baggage. While loading our baggage, he asked for our destination.
D - Driver
D: Where are we going today?
Me: Y Hotel Hyde Park
D: Ah, we call that
Y on the Park
. Alright, give me your baggage and enjoy your stay in Sydney!
In around an hour's time, we were brought to our hotel's doorstep and assisted with our baggage by the kind driver once again. No reason to ask why I love Australia, eh? I would highly recommend Airbus Sydney for your transfers upon reaching Sydney if you have not booked any. It is cheaper than taking the taxi and more convenient than taking the train. Their website can be found at
http://www.airbussydney.com.au/
and they charge a flat rate of $13 AUD for a one-way or $26 AUD for a return trip to the airport. However, it seemed like they have increased their price to $15 and $28 respectively.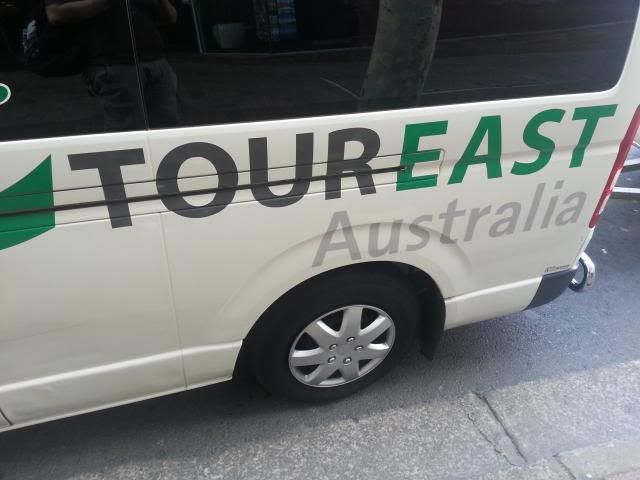 The van that brought us to the hotel
As we approached the reception counter, we were greeted by the receptionist.
R - receptionist
R: Good afternoon Sir!
Me: Good afternoon, we have a hotel booking.
R: May I have the surname of the person who booked the hotel please?
Me: Yes, it's (my buddy's surname).
R: Adrian XXX?
Me: Yes.
R: Alright, your room is now ready for check in. It is with a double bed right?
Me: No, we requested for twins.
R: It's ok, we'll do something about it for you but you will have to wait for some time. Meanwhile, you can take a rest at the sofas and I will let you know when it is ready.
Me: Sure thing, thank you!
Being sorta hungry, we decided to have a simple lunch at the hotel lobby. It turned out to be pretty nice.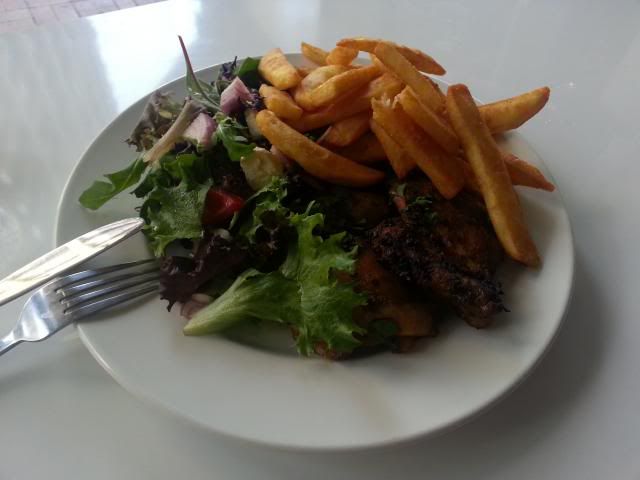 Portugese Chicken with Chips and Salad - A$8.50
After lunch, our room was ready and we proceeded to room 511 which will be our home for the next 3 nights. First impression of the room was that it is pretty small, but cozy enough. However, I do not get why they gave us 3 single beds. I took the single bed which turned out to be a pretty good decision.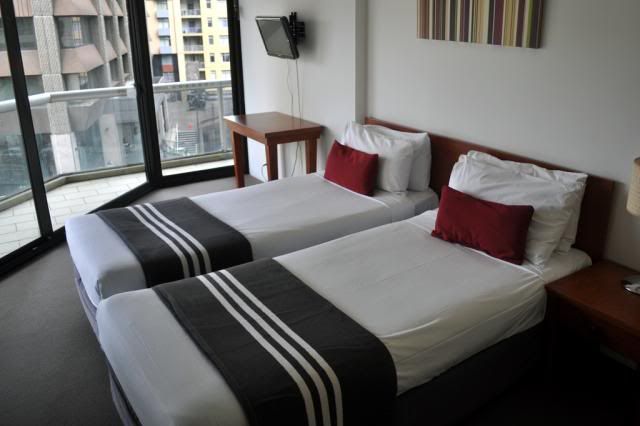 2 single beds on one side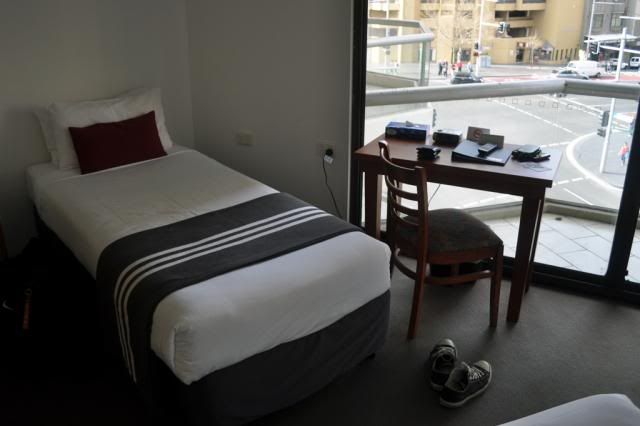 My solo bed on another



With a decent toilet too!
Being tired from the flight, Adrian and I decided to rest for around 45 minutes inside the room and I decided to take a short nap to catch up with sleep that I lost on the flight. After some attempts to wake me up by Adrian, we finally got ready to embark on our adventure of the largest city in Australia.
Our first stop was the
Sydney Opera House
and
Sydney Harbour Bridge
. Who can say that you have visited Sydney but not seen any of those? We enquired with the receptionist at the lobby and he suggested that we take a nice walk to Circular Quay (where the Opera House and Harbour Bridge is at) instead of taking the train or bus since it is cooling and we can see more sights and sounds along the way. We were handed a detailed map of the city and shown the way to walk. He also suggested that we have a look at Queen Victoria Building, a shopping centre with a pretty nice English decor.

Just the start of our walk, the building opposite our hotel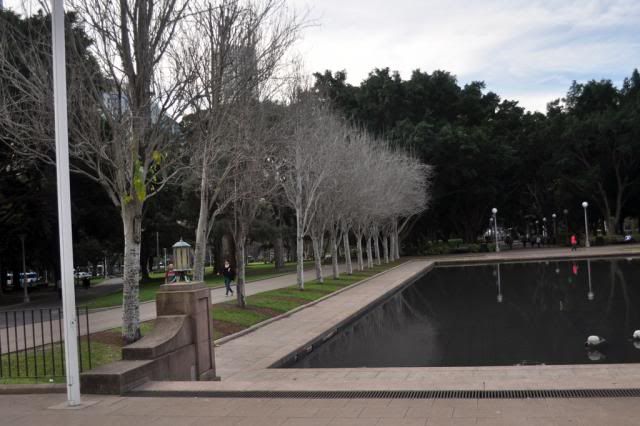 Hyde Park, where we were told to cut across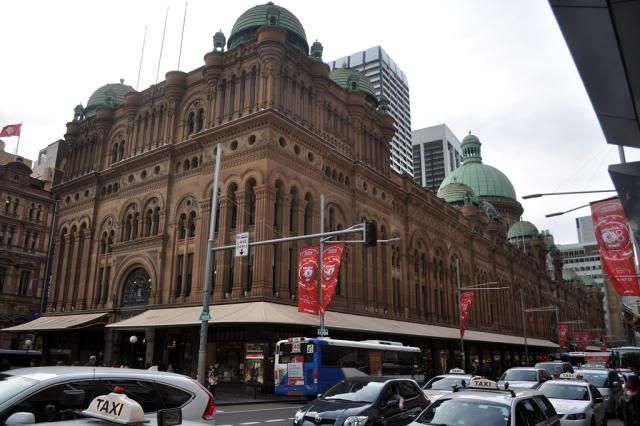 Queen Victoria Building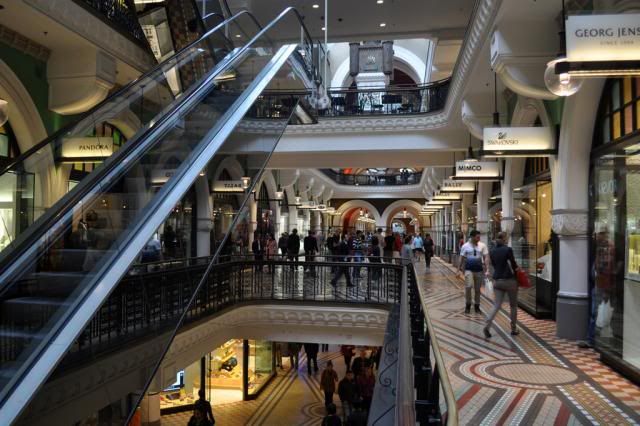 Interior



Some random square on our way there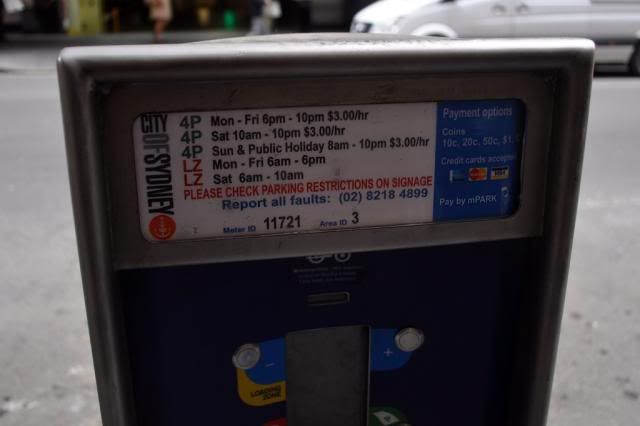 Oh man, expensive parking there! But the cars here are almost 100k cheaper than that of Singapore's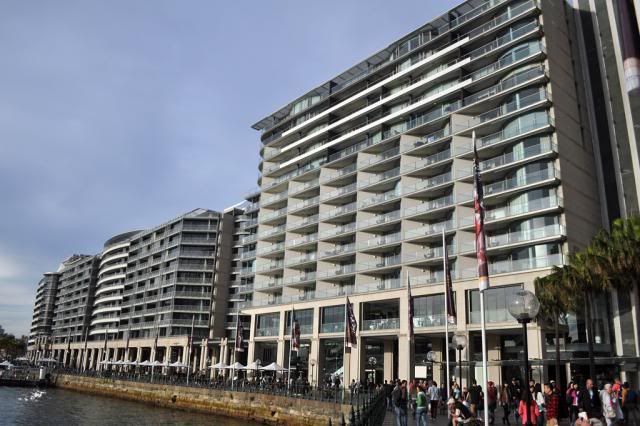 We have reached Circular Quay!



Needs no introduction



Looking back from the Opera House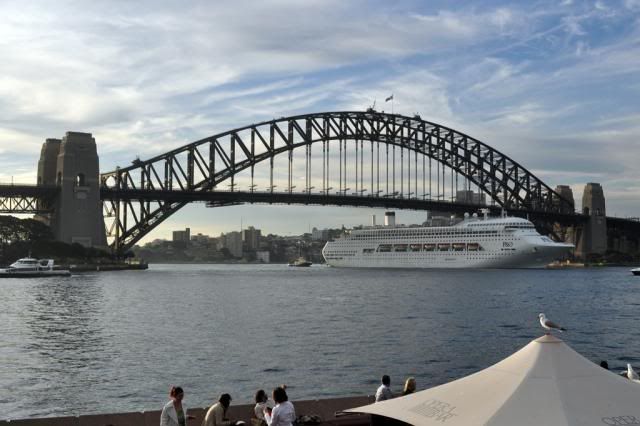 A cruise ship passing the Harbour Bridge



All the goodness in one picture!
We were slated to meet our friend at Darling Harbour for dinner so after some time walking around, we decided to head on to Wharf 5 for the ferry to Darling Harbour. While waiting for the ferry, I noticed that Australians do not mind waiting for you if you express that you are going to board the ferry even when the gates are closed. I saw this several times that the lady manning the gate opened the gate for those that came when the ferry was just about to leave. If only we do see those in Singapore! As our ferry came, we took the chance to get an outdoor seat at the back of the upper deck.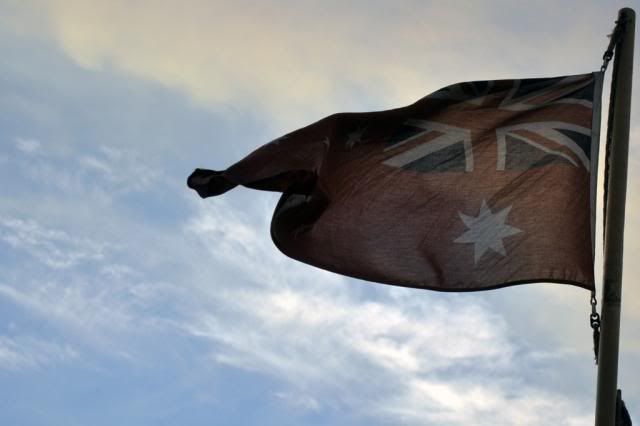 Let the flag fly high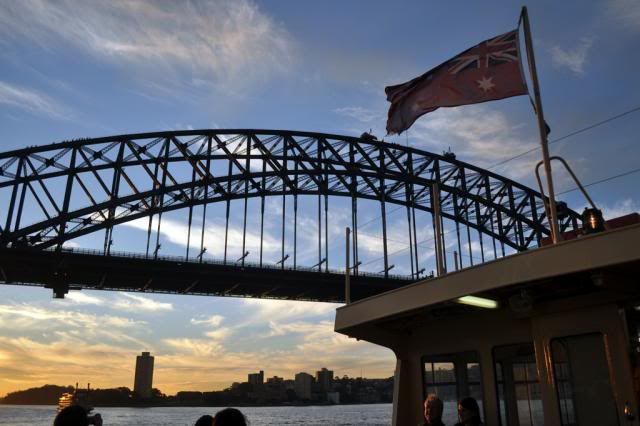 About to approach the bridge



Pretty lucky to have captured the silhouette of this lovely couple with the beautiful sunset



The other side of the bridge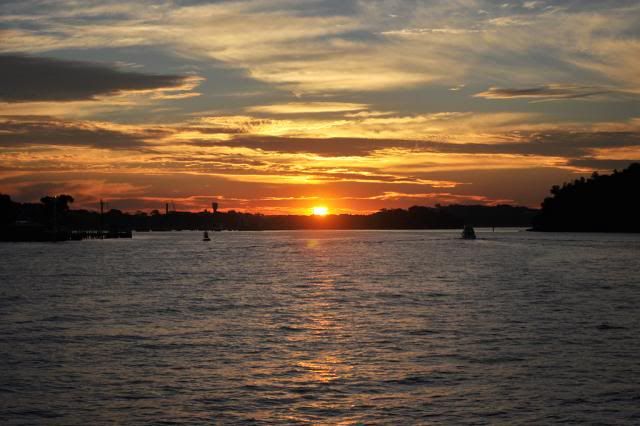 Too beautiful!
We were slated to go to
Hurricane's
at Harbourside, or Cockle Bay Wharf. It was quite a walk there and I managed to capture some nice pictures along the way.

Sunset over Cockle Bay Wharf
The dinner was great and I would certainly recommend any rib lovers to go to Hurricane's to have your well deserved dose of pork, lamb or beef ribs. Sorry, did not take any pictures as it was pretty dark inside and I could not wait to tuck in to the ribs. :P
We had an early night on our first day as we had something else to look forward to the next day... The
Blue Mountains
! We walked to Central Station after having our breakfast at the hotel lobby. Tickets with the explorer bus was A$44.90 per person. The train ride to Katoomba Station was roughly 2 hours and we used the time to get some shut eye.

Train bringing us to Katoomba Station



Cabin shot



Yes, we've reached!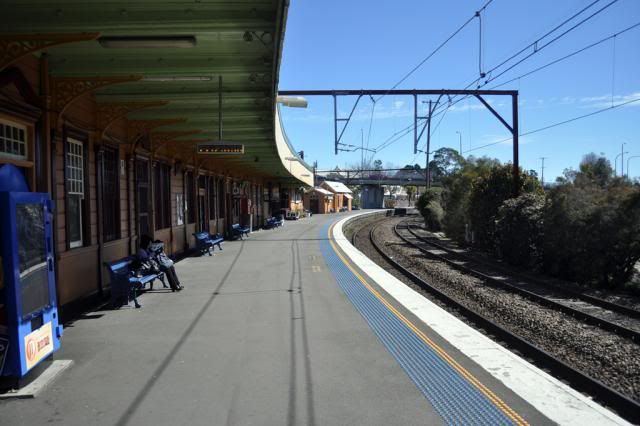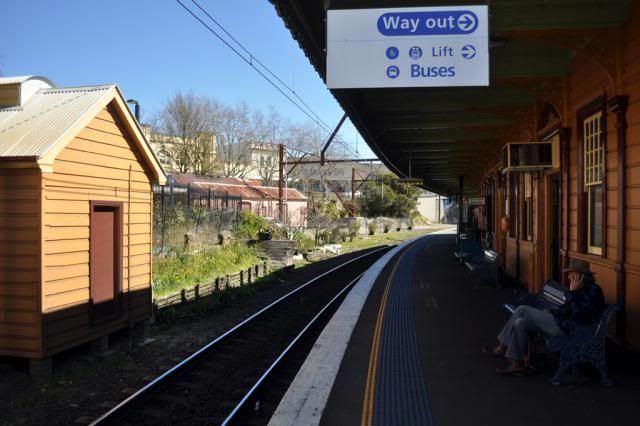 Quiet platform at this time
There were signs telling us to exchange our paper tickets for a Blue Mountains Guide Book which also acts as our ticket to the Explorer Link bus. We did so and was persuaded by the lady to purchase tickets for the rides at A$35. The rides were namely the Blue Mountains Railway, Cableway and Skyway. Our first stop was to take the Blue Mountains Cableway.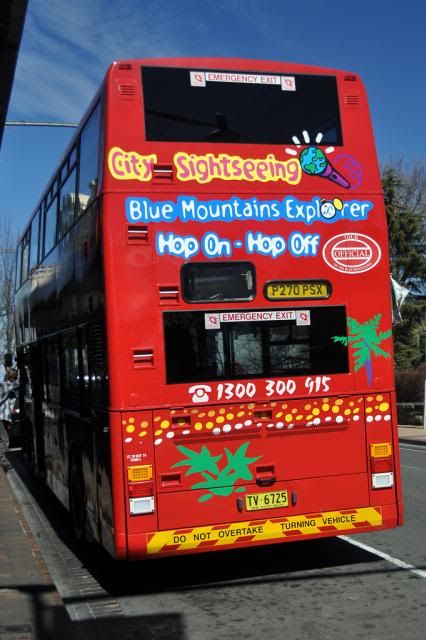 The Explorer Link Bus, a Volvo Olympian 2 Axle which is going extinct on Singapore roads soon



Arrival at Stop 9, where we can take the Blue Mountains Cableway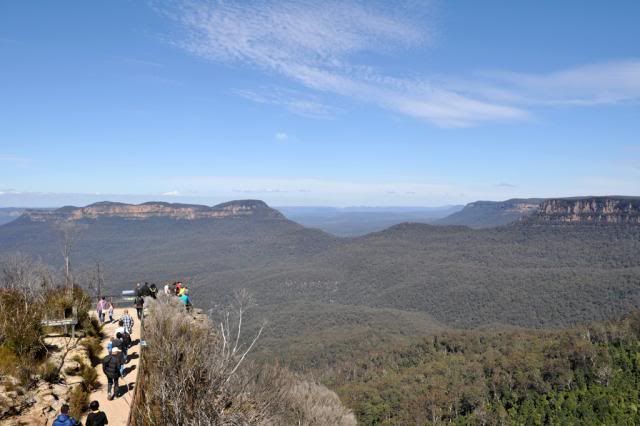 Launch off!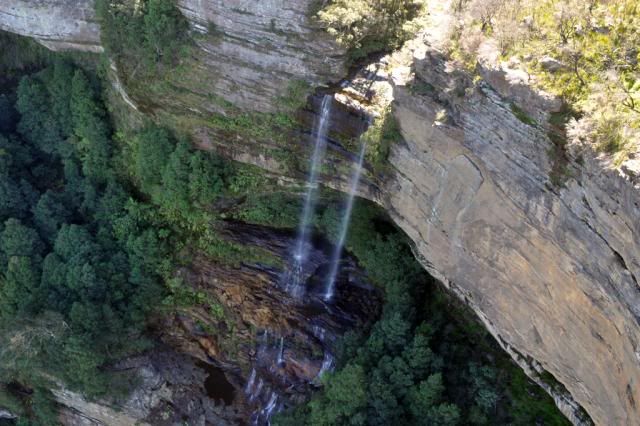 Beautiful waterfalls!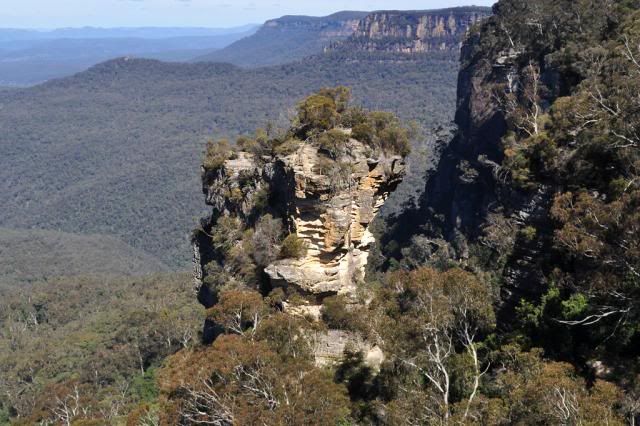 The "Orphan Stone", as mentioned by our guide on board named Happy (yes, he's a very happy person too!)



Our next stop was the railway, the steepest funicular railway in the world with an incline of 52 degrees (adjustable to be steeper or not so steep with controls by the side of the seats)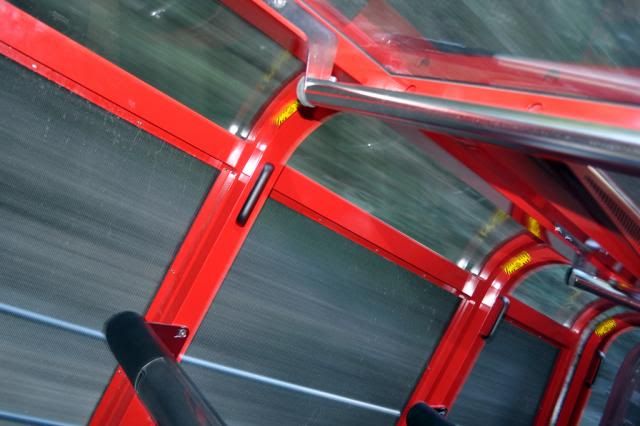 This is how steep it is!



On the way back up with another load of happy passengers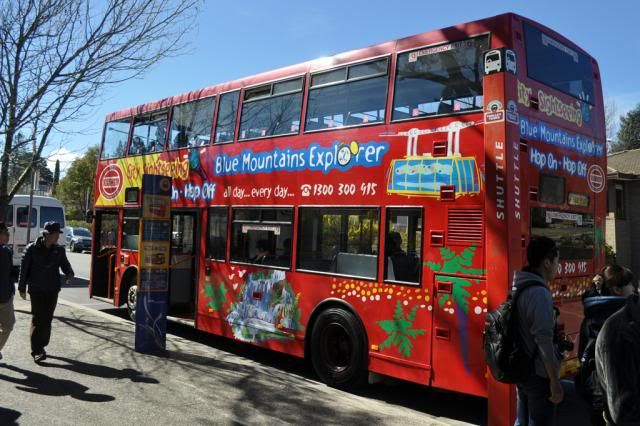 Bus brought us to Stop 14, Echo Point to view the famous Three Sisters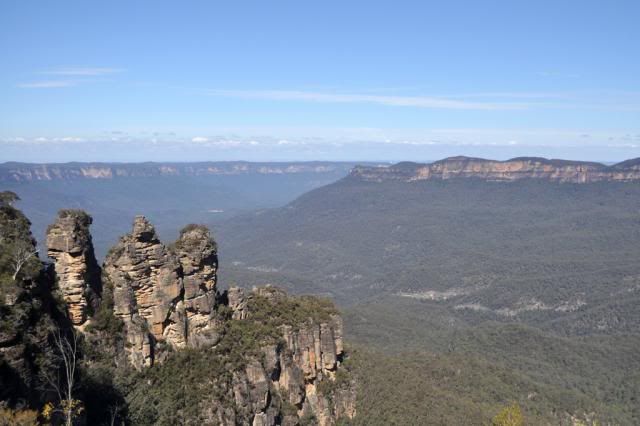 View outside, nothing much other than the Three Sisters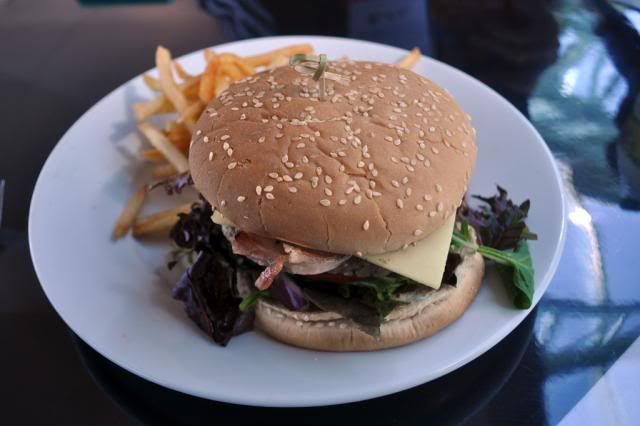 Lunch at the Three Sisters Cafe, the Three Sisters Gourmet Beef Burger for A$18.50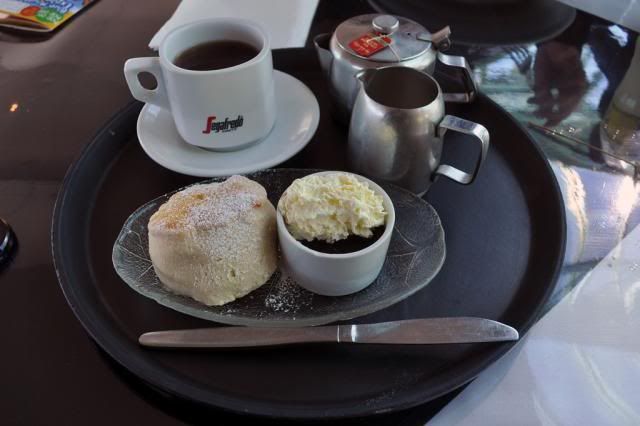 Devonshire Tea, with English Breakfast Tea and Home Made Scones for A$8.50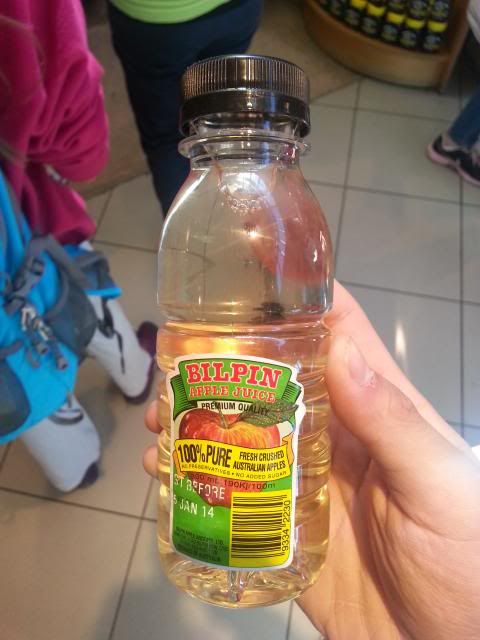 Some apple juice to quench your thirst?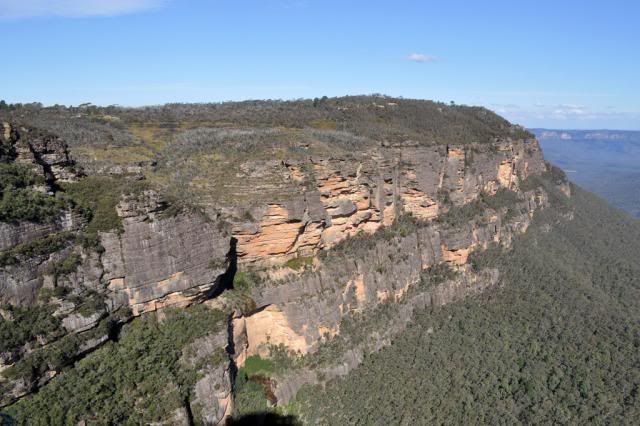 We took the bus to our next destination, the Gordon Falls Lookout at Stop 18. A pretty quiet place with nice scenery but tons of steps to go down (and climb up after that)



Just before we began our trek back up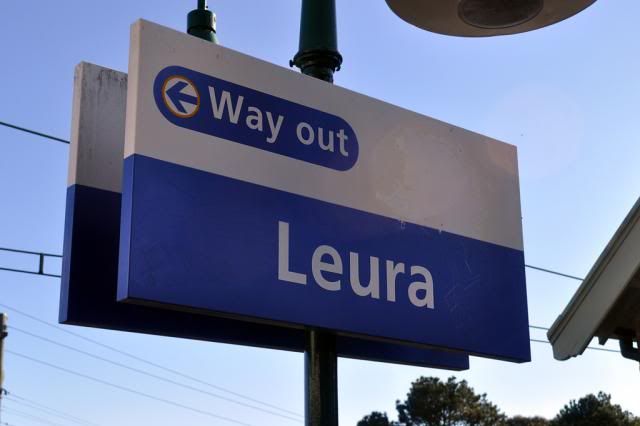 Time to head back! We got to Leura Station to get onto the train back to Central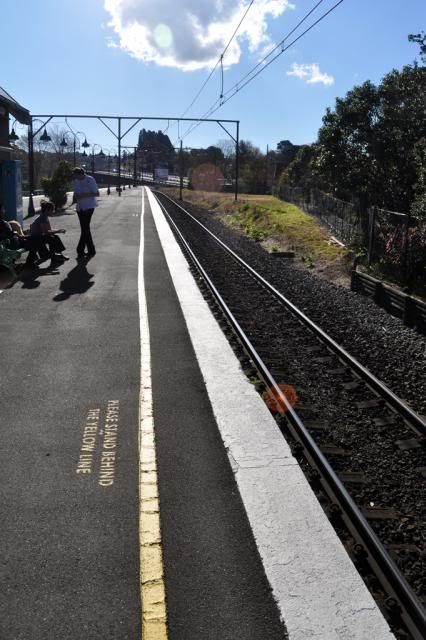 Slightly busier, but still quiet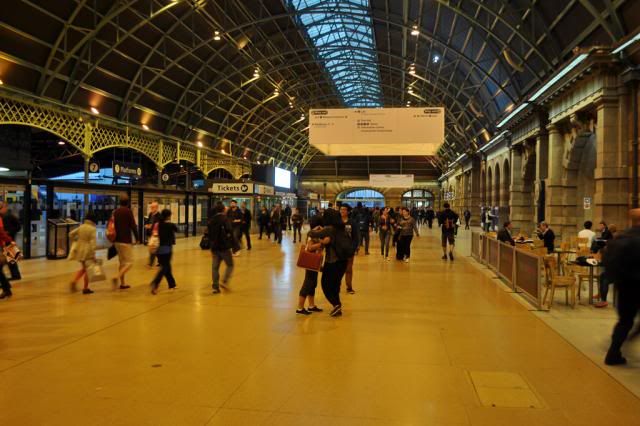 Back to Central Station!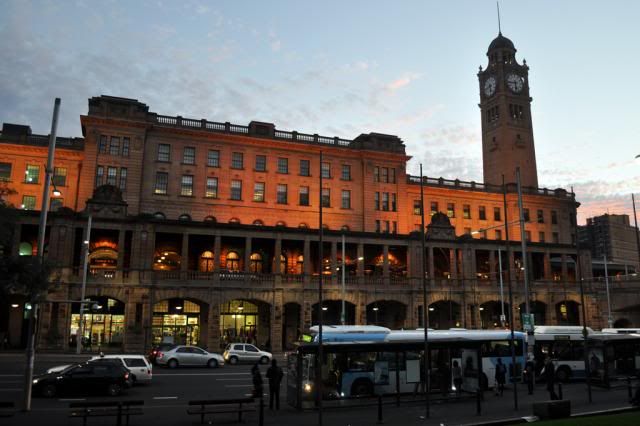 Quite beautiful in the evening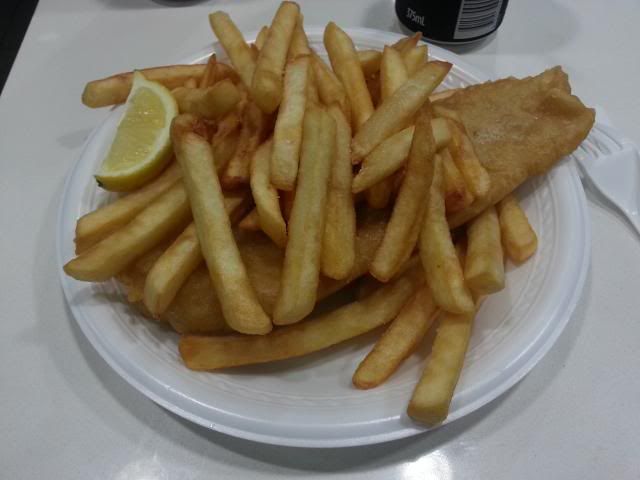 Fish n Chips for our dinner at World Square. At this point in time I was a little afraid of chips already, having them for lunch and dinner for 2 days in a row and in enormous amounts
Our itinerary for the next day was what I was looking forward to, the
Sydney Fish Market
! We decided to take the light rail to the Fish Market Station and that would mean a walk to Central Station once again. Onboard, we were met by a kind conductor who is Asian himself and took great care of us. I would not mention how, in case I get him into trouble. It was an orgasm for our tastebuds as we went on to savour the various seafood available! Look below to see what we headed straight for and what else we had!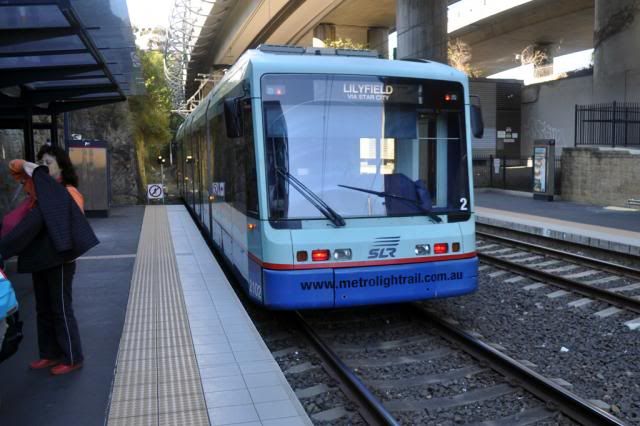 Looks attractive from any angle!



I can't believe I'm looking at this in person!



Just upon entering the market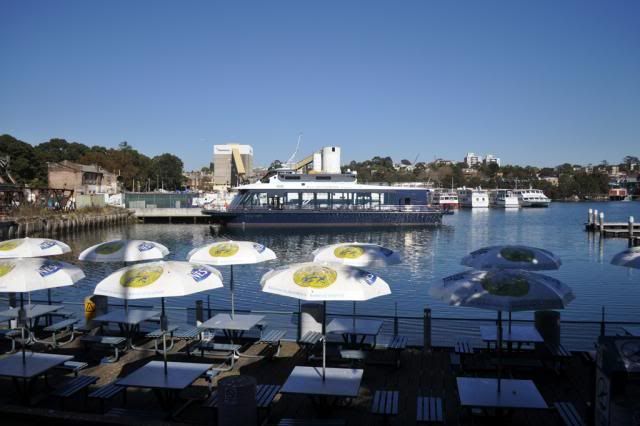 The outside seating with lots of seagulls fighting with you for your food, specifically sashimi. It was fully occupied at around 11am, within 2 hours of our arrival though



Some nice and succulent South Australian oysters for A$18.99



Nice and juicy!



Some beer to wash the oysters down. It's in the morning at 10am, but who cares?!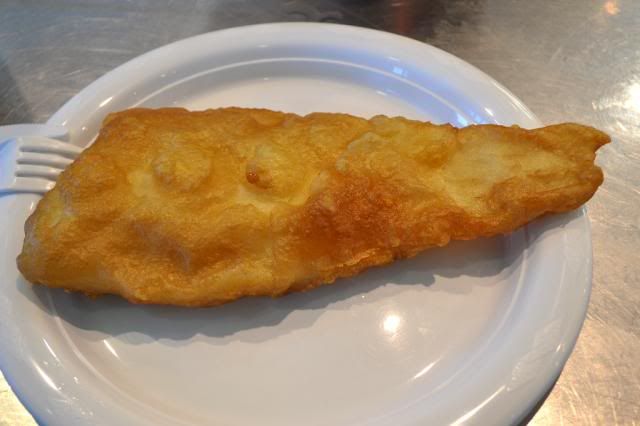 Some fish fillet, without the chips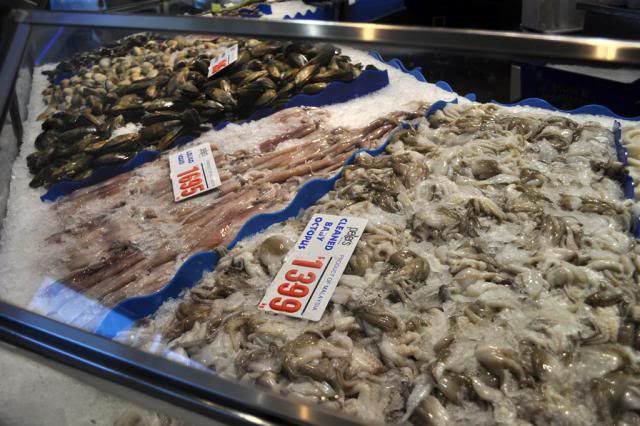 Lots of seafood for sale too



Mini seafood platter with 3 oysters, half a lobster and 3 juicy prawns for A$28.50
After the visit to the fish market, we took the light rail to Paddy's Market but found out that the things there did not really interest us so it took us less than 5 minutes to get out. We took the free bus, 555 back to our hotel and took a nap before meeting our friend for dinner at
Pancakes on the Rock
. The food here was great too! Not forgetting to mention their service was just as good. There was one event whereby my fork dropped accidentally and immediately a waitress approached me, took the fork away and replaced it with a new one. Something I have never seen in Singapore yet! Plus 1 for Australia!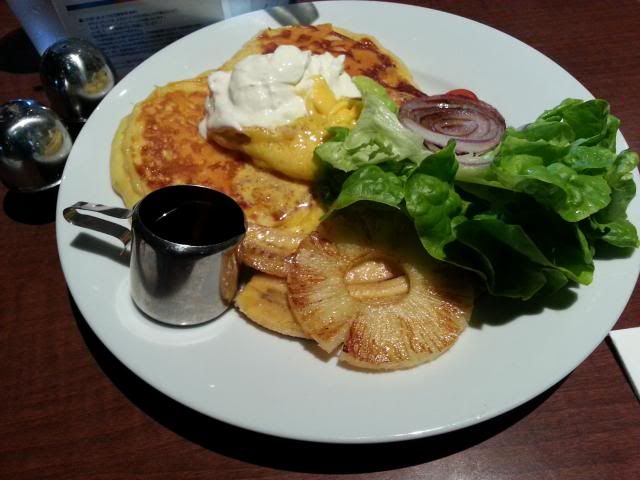 Pancakes!



Ribeye Steak, medium. No chips but with wedges, thankfully



Some after dinner chat at Guylian, with their nice and smooth Peppermint Hot Chocolate



With their wonderful soup!
Soon it was time to head back to our hotel and prepare for our flight back home. It was a wonderful trip and we did not want it to end so fast but we have to move on, ya? We had Airbus Sydney pick us up at 9.30am to the airport the next morning, having a flight at 12.50pm.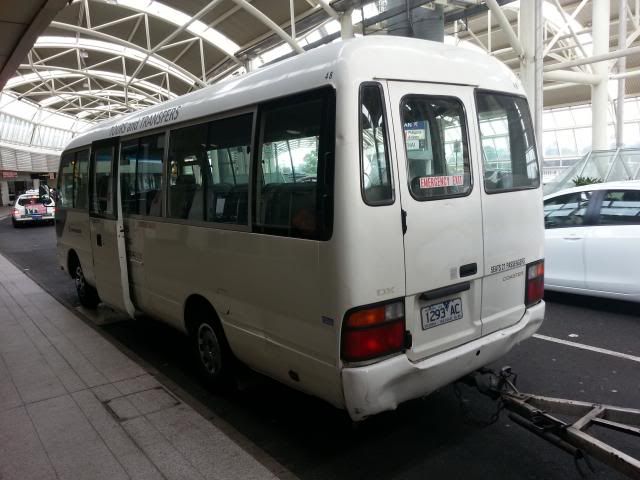 Bus to the airport (taken at SYD upon arrival), a Toyota Coaster bus driven by a kind Australian old man
The Flight Back Home
Scoot Flight TZ 1
Origin
: Sydney (Kingsford Smith) Airport (SYD/YSSY)
Destination
: Singapore Changi Airport (SIN/WSSS)
Registration
: 9V-OTA (Barry)
Aircraft
: Boeing 777-200ER
Scheduled Time of Departure
: 12:50pm
Actual Time of Departure
: 1:15pm
Scheduled Time of Arrival
: 07:00pm
Actual Time of Arrival
: 07:03pm
Airborne Time
: 7h 48m
Class of Travel
: Economy
Seat
: 22A
Check in for our flight was once again pretty fast and we got airside to do some last minute shopping, including buying my favourite Manuka Honey and Macadamia Nuts. Boarding was called and off we go! Home sweet home.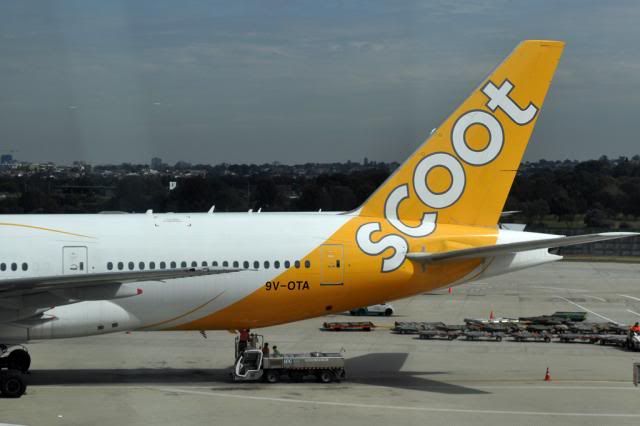 Barry bringing us home, 2nd time on this plane
We lifted off Australian soil from runway 34L, similar to my trip last year. Meals were served shortly after the seatbelt signs were switched off. I noticed that Scoot serves the premium meals way before the normal ones despite both being pre booked. I wonder what is the protocol behind this, but always good to get my meal early!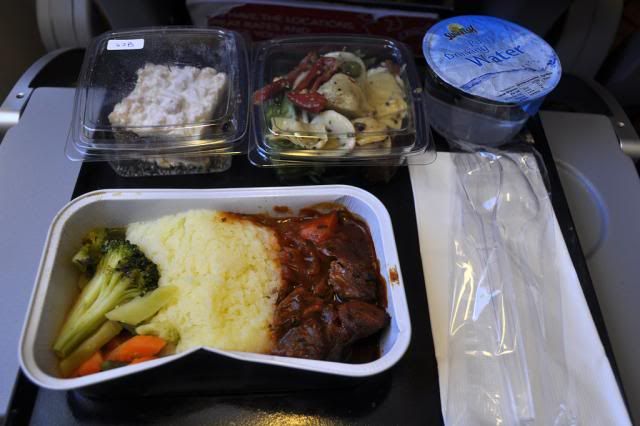 Cabernet Lamb Stew, excellent in taste!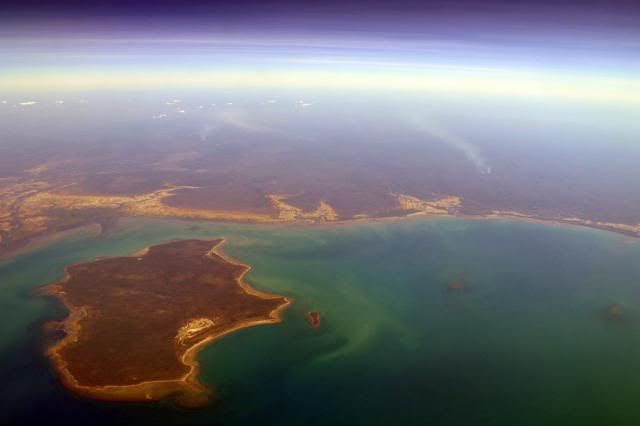 Excellent view along the way, this is West Island in the Northern Territory according to Adrian
I fell asleep once again after my meal at around 12pm Singapore time. Waking up at around 12.45pm, I was shocked that Adrian's normal meal has not been served yet. What are they up to? Well, it eventually came at 1pm though. After the main meal service was over, I once again fell into a deep slumber (yes, I was THAT tired throughout the trip!). After falling in and out of sleep a few times, I decided to order another meal since I was getting hungry. At around 4.30pm, I went for the
Thai Red Curry
set meal to curb my hunger pangs. I was told that I have to wait 15 minutes for my food to be ready. Hmm, 15 minutes to heat up a meal? It eventually came and the taste did not disappoint.

Not a bad meal, just that this is vegetarian. Highly recommended!



Some interesting cloud formation along the way
We touched down on Singaporean soil at 7.03pm, signalling the end of my Sydney trip. Unfortunately, I failed to clock the longest flight of my life as this flight was only 7h 48m long and my longest currently is 7h 49m, also on Scoot SYD-SIN. Just a minute more! Was hoping for a go-around although it did not happen.
After clearing immigration and getting some duty free liquor, we headed home on a cab.
Conclusion
Choosing Sydney as a destination was definitely the correct choice. I got to see how wonderful the country of Australia is and how kind the Australians are to outsiders. I felt like home. Even though the cost of living may be higher than that of Singapore's, I do support having a minimum wage (around A$20 per hour in Sydney's case, I heard) to help maintain a normal life. Honestly, I was even seriously considering moving to Australia after just 4 days there! Being back in Singapore after being in Australia is just heaven and hell.
Scoot has definitely jumped onto the learning curve fast since the last time I flew with them. Their Scootees seem to know much better of what is happening and handle passengers to ensure that they are well taken care of. This airline has got great potential ahead.
Previous Trip Reports
Flying 5 Star - SQ SIN-CAN-SIN (2009)
(by
Initious
Mar 26 2010 in Trip Reports)
Sardines In A Can - Jetstar Asia SIN-HKG-SIN
(by
Initious
Mar 29 2010 in Trip Reports)
Away We Go - China Southern SIN-CAN-WUH Vv (1/2)
(by
initious
Apr 2 2010 in Trip Reports)
Away We Go - China Southern WUH-CAN-SIN (2/2)
(by
initious
Apr 14 2010 in Trip Reports)
Oldest Vs Newest: Royal Silk Class On Thai
(by
Initious
Jun 13 2010 in Trip Reports)
First On Airliners.net - CZ Shanghai To Shantou
(by
Initious
Jun 27 2010 in Trip Reports)
18 Hours Of Royal Orchid Service: Thai PVG-BKK-SIN
(by
initious
Jul 27 2010 in Trip Reports)
Good Morning Borneo! - Where Silkair Unwinds...
(by
initious
Oct 17 2010 in Trip Reports)
Irama AirAsia! - Kota Kinabalu To Singapore
(by
initious
Oct 24 2010 in Trip Reports)
Great Asia Trip Part 1 - Propping To Luxury
(by
Initious
Mar 23 2011 in Trip Reports)
Great Asia Trip Part 2 - In Love With Emirates
(by
initious
Mar 27 2011 in Trip Reports)
Great Asia Trip Part 3 - The Arabian Adventure
(by
initious
Apr 15 2011 in Trip Reports)
Great Asia Trip Finale - Brothers In Bangkok
(by
initious
May 9 2011 in Trip Reports)
Flying The Orange Star Monopoly - SIN-SWA On 3K
(by
initious
May 18 2011 in Trip Reports)
China Southern SWA-CAN - Do They Deserve 4 Star?
(by
initious
May 21 2011 in Trip Reports)
A Dream Come True - SQ Business Class CAN-SIN
(by
initious
Jun 13 2011 in Trip Reports)
Malaysia Boleh! - To Malaysia With 3K And AK
(by
initious
Jun 30 2011 in Trip Reports)
Flying On My Birthday - The Triangle In SEA
(by
initious
Jul 18 2011 in Trip Reports)
Happy Beyond Words - SIN-PEN-SIN On MH & TR
(by
initious
Nov 6 2011 in Trip Reports)
People: They Make An Airline. Cathay SIN-HKG
(by
Initious
Jan 28 2012 in Trip Reports)
Cathay, Make Up Your Mind! HKG-SIN On The A333
(by
initious
Mar 26 2012 in Trip Reports)
1 New Airport, 10 Steps Forward. Jetstar SIN-SWA
(by
initious
Apr 22 2012 in Trip Reports)
China "Sudden" Airlines SWA-HKG - 4 Star? Really?
(by
initious
Apr 27 2012 in Trip Reports)
Celebrities In Asia's World City - Jetstar HKG-SIN
(by
Initious
May 13 2012 in Trip Reports)
Get Outta Here! With SCOOTitude - Down Under!
(by
Initious
Jun 28 2012 in Trip Reports)
Flying In OZ On A Virgin Kangaroo - SYD-MEL-ADL
(by
initious
Jul 2 2012 in Trip Reports)
Exploring Unknown Lands - Wonders Of South Aussie
(by
Initious
Jul 11 2012 in Trip Reports)
Scoot - Where's The SCOOTitude?
(by
Initious
Aug 2 2012 in Trip Reports)
The Definition Of Awesomeness - With D&Y To M'sia
(by
Initious
Oct 16 2012 in Trip Reports)