The Norwegian 787 Dreamtour – LGW-OSL-LGW
Intro
Welcome to my latest report covering my recent flights on the brand new Norwegian 787 to Oslo!
I know, it's been a while
So, since my
last report
at Easter, what have I been up to? Well, no reports from me normally means no interesting flying. Thankfully this wasn't the case, and I've managed to rack up a fairly respectable 127,827 (205,717km) or so miles in the air since then. Where have I been? All over (I mean, 127K miles gets you around the world more than a few times). Who have I flown? Everyone from Ryanair up to the 5* Airlines. Why was I flying and not reporting like a good a.netter? Well, the majority of it was for a consulting company I've been moonlighting for, doing work not too dissimilar from writing this reports like this. As much as I'd like to tell you all about my experiences, I'm afraid I just have to leave you hanging.
Anyway, back to the present. I heard a few months back that DY were operating their new 787s on a few routes within Europe before putting them to work shuttling between Scandinavia and Bangkok/USA. I had a look, decided that I wasn't interested, and forgot about it. A month or so later, I was informed that DY were extending their run between LGW and OSL for an extra few days. I logged on again out of curiosity than anything. As so often happens, few minutes later I was booked on a day trip to Oslo on the final day of the European proving runs (in fact, my OSL-LGW flight was the last proper non-longhual DY 787 out of Oslo). I was booked on the….
The fare was a very reasonable £125 return. I'm surprised that when I checked the fare a day in advance that the highest fare they charge on the route is just £169 o/w…seems very cheap for their most expensive ticket given what SK/BA would charge.
You choose, free wifi on a B737 or the "Dreamliner Experience" (sans wifi, but with PTV and dimmable windows)
My flights for this report
LGW-OSL DY 1303
OSL-LGW DY 1310
My route, courtesy of GC Mapper, of this reports
IMG]http://i129.photobucket.com/albums/p207/shefgab/oslo/map.gif[/IMG]
This isn't the first DY 787 report – Photoshooter posted one recently:
Dreamliner Detour: Flying With The RedNose To BCN!
(by
photoshooter
Jul 27 2013 in Trip Reports)
And CaptainRed posted his "nearly" 787 report:
Norwegian Inaugural Operated By HiFly: BKK-OSL
(by
CaptainRed
Aug 14 2013 in Trip Reports)
There might have been more, sorry if I missed you!
When I booked (just 2 weeks before departure) the flight wasn't looking too busy (according to the seat map). The premium cabin (with a more spacious 7 abreast rather than 9 abreast layout) was showing as all greyed out. I knew that on these Dreamtour legs that premium seats were available at no extra cost, so I assumed that earlier booking passengers had beaten me to it.
However, 2 days before departure, I checked to see if the flight was still busy or not. I was quite shocked to see that nearly all the window and aisle seats were gone. Argh! I don't want to be stuck in the middle. Amazingly, the premium cabin was no longer all greyed out, and was, in contrast, showing plenty of seats. Thankfully it seemed no one else had noticed, and so I went ahead and reserved my seats up front. The seat reservation fee is only £6 per leg….great value to upgrade! If you don't pay to reserve a seat, you're left with the airport seating lottery.
So, onto the Report
As nearly always nowadays, I spent the night with my friend in Redhill. He's recently moved and now has a great view with the approach into LGW in the background.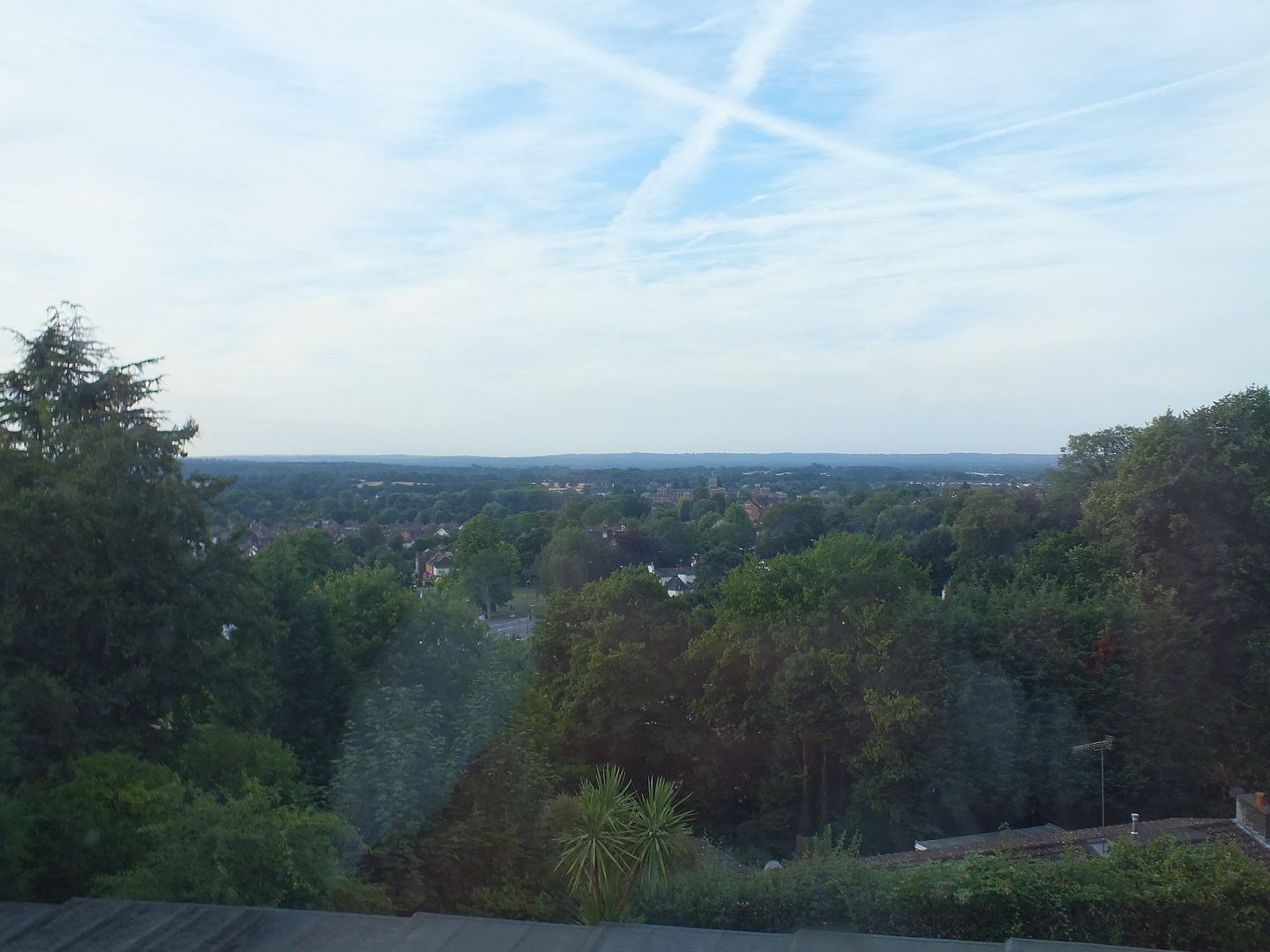 A short train ride later, I'm in the South Terminal. DY have got themselves prime real-estate in front of the station exit – this used to be
US Airways territory
. There's a long queue for the bag drop, but there are plenty of SSCI machines with only a short queue.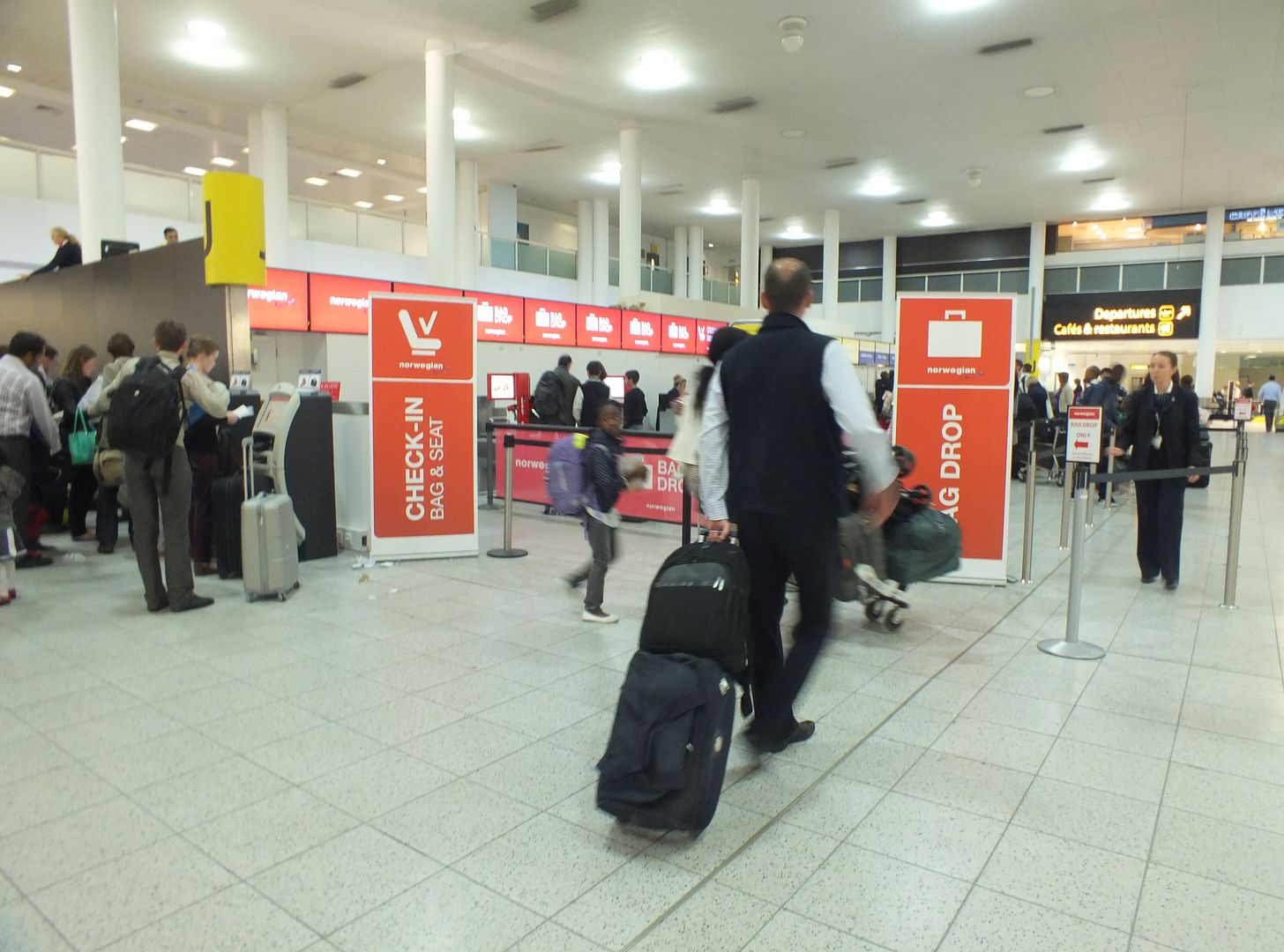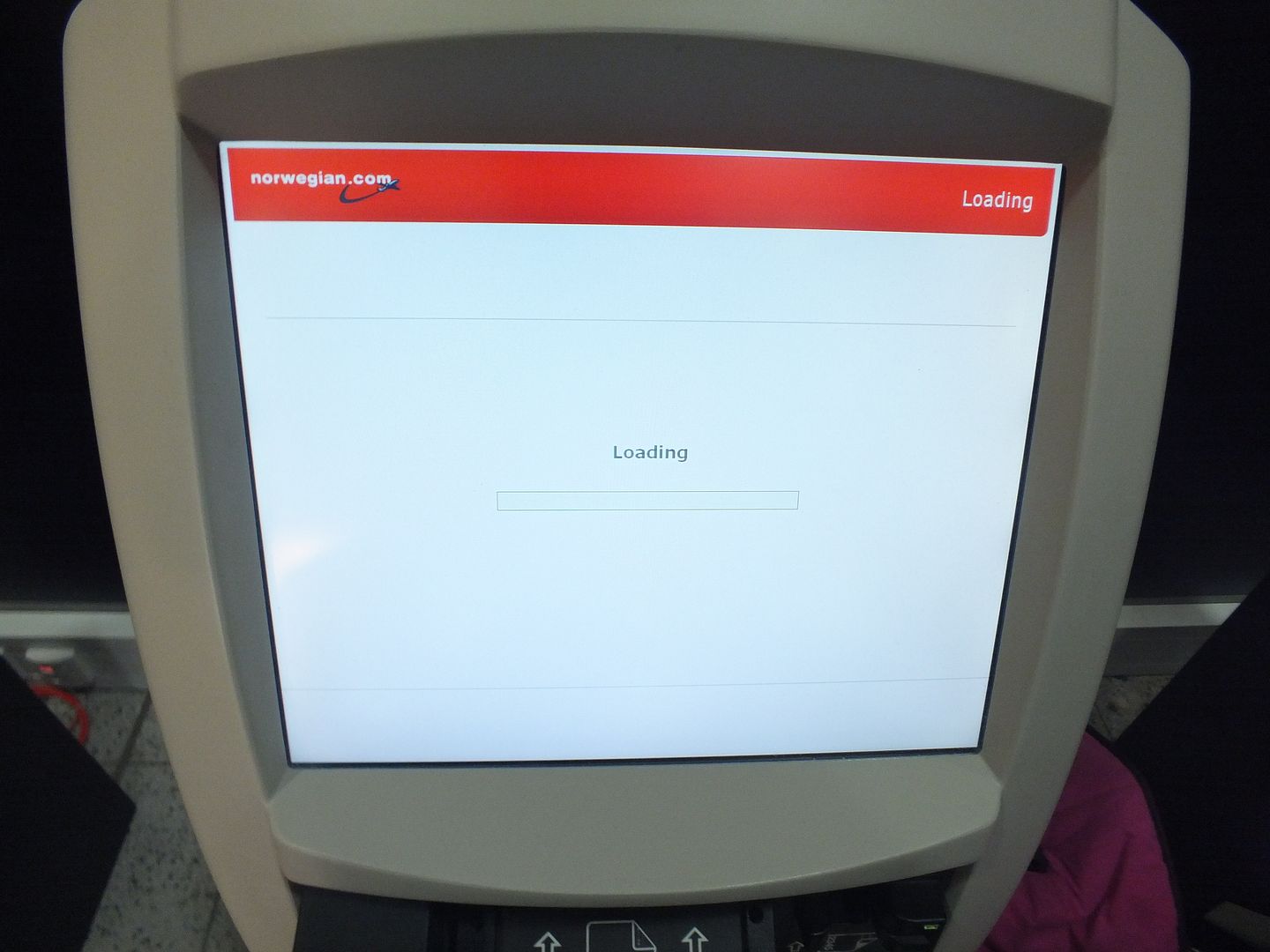 DY don't offer OLCI (which seems very odd seeing as they're real innovators in many other respects), so getting a horrible thermo paper boarding pass is a necessity.
The queue at security wasn't nearly as bad as it first looked (especially as this was peak summer holiday season, so the airport was packed with once-a-year flyers)…station to post-security in 9 minutes – pretty good! Whilst I'm not a fan of everything at the new LGW (they're no longer a BAA airport), they do seem to have put in a lot of effort into their aim to eliminate queues.
So what don't I like about the new LGW? Well, other than the stupid tagline ("Your London Airport"), and the fact that you often have to walk miles on arrival to get to baggage reclaim (especially in the North Terminal), there is a super-giant post-security shopping area. It's massive, and like in many airports nowadays, constructed like Ikea, funnelling you in the slowest possible manner past things frequent flyers just don't want to look at.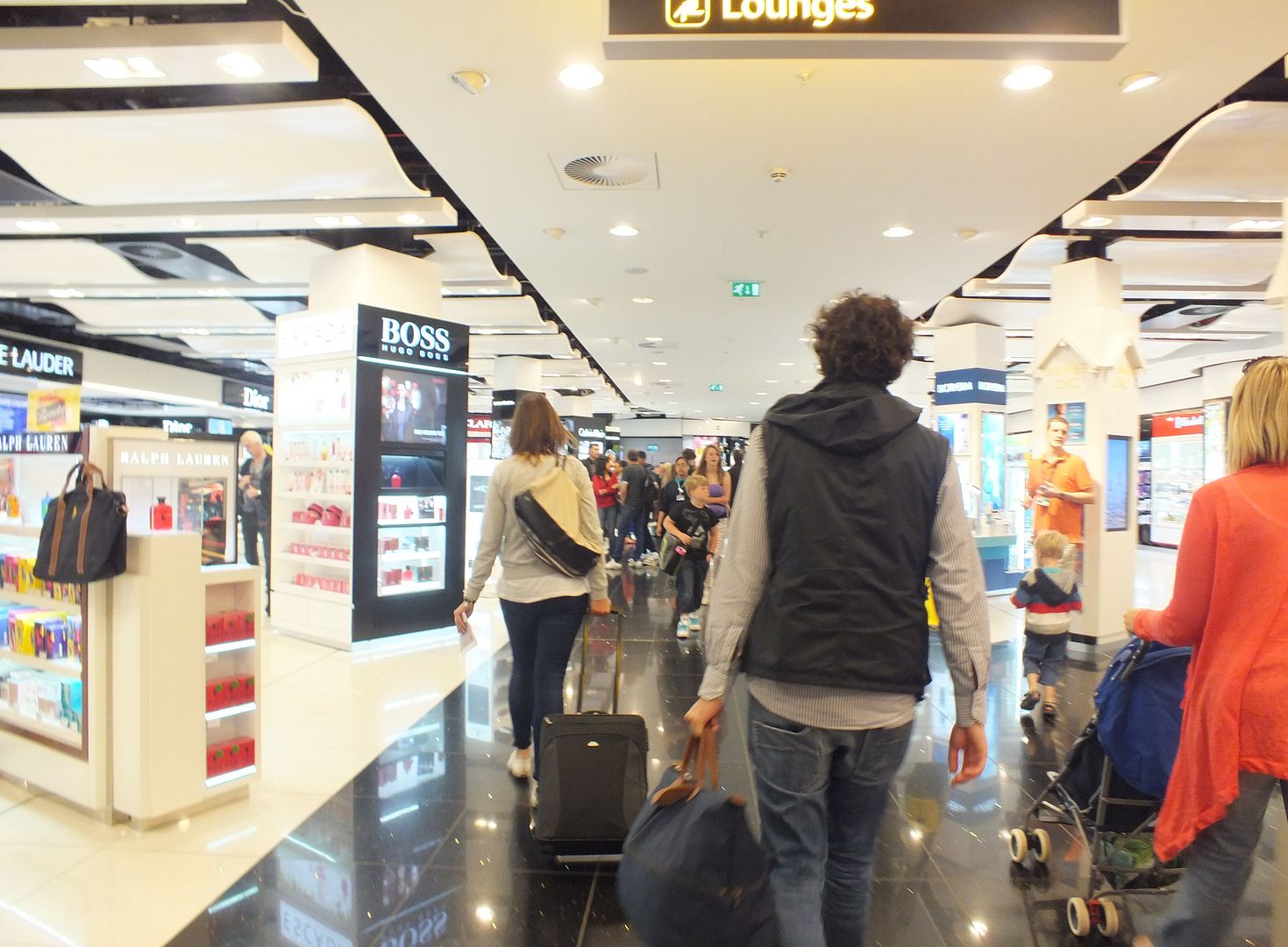 It's also very narrow given the footfall, so I can't even zigzag through the crowd.
Once into the main departures hall (which is heaving), I head for the lounge. Like in the North Terminal, there is a choice of Aspire by Servisair, and No.1. I arrive at Aspire first – wow, it's busy. I do two laps of the (cramped) lounge before I find a single chair next to the toilet (hmm, sounds like
Livingstone
!). I queue up at the buffet, and get a few breakfast items before they're picked bare again (as soon as the caterers put food out, it's gone). At least it all tastes good.
My breakfast options…no G&T this morning
I get bored quite quickly, so head over to No.1 to see what they have on offer.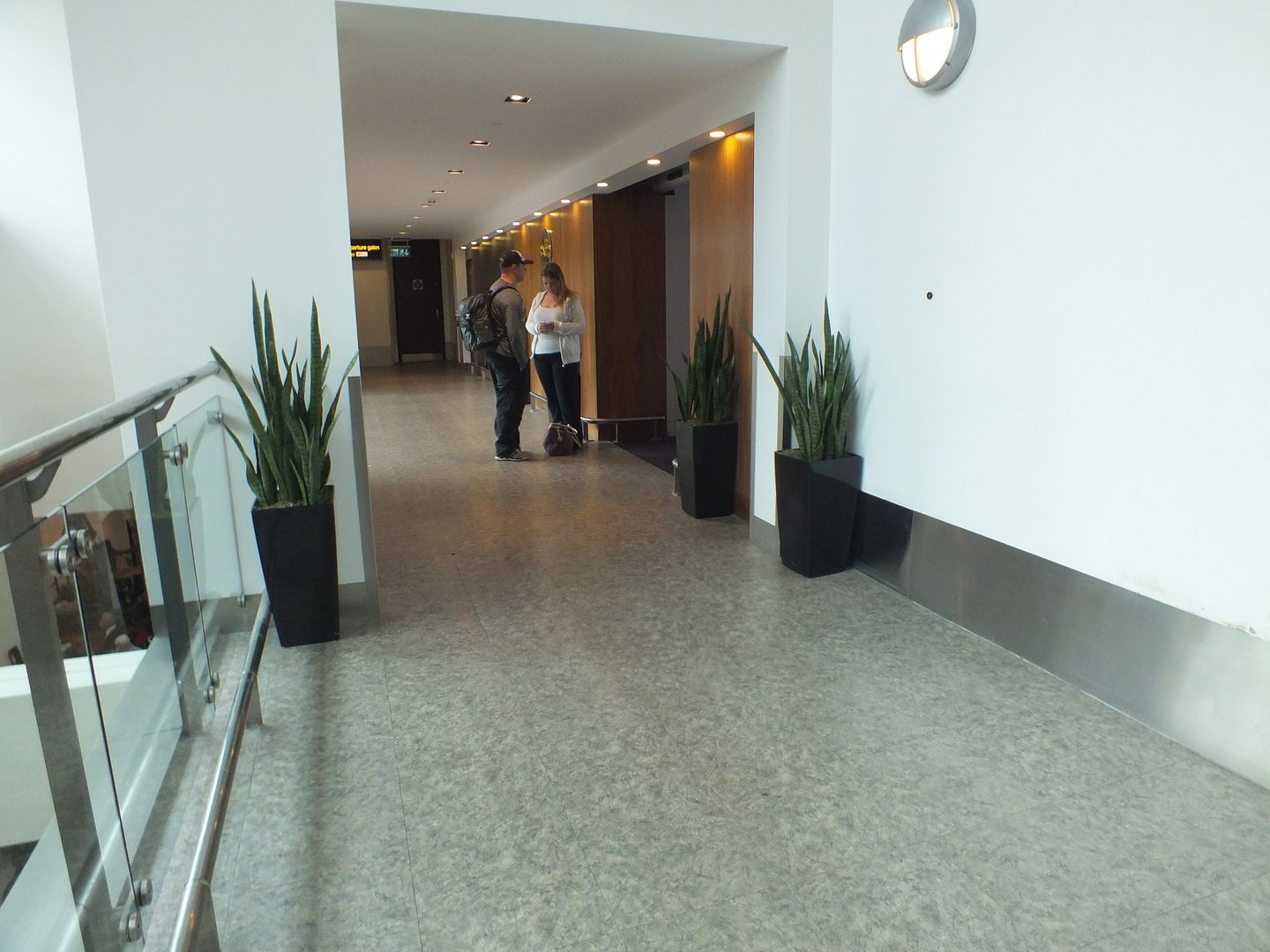 Again, it's packed with holidaying families. I do a big lap before finding an empty seat upstairs. I trot downstairs to order my free hot snack (a choice of sausage or bacon sandwiches, or some egg dish), then spot an empty seat downstairs.
Great views
My sausage sandwich
With 30 minutes to go before our STD, I head down through the shopping mall, and aim for the gate.
FIDS on my way to the gate…a nice range of destinations
Down to the end of the pier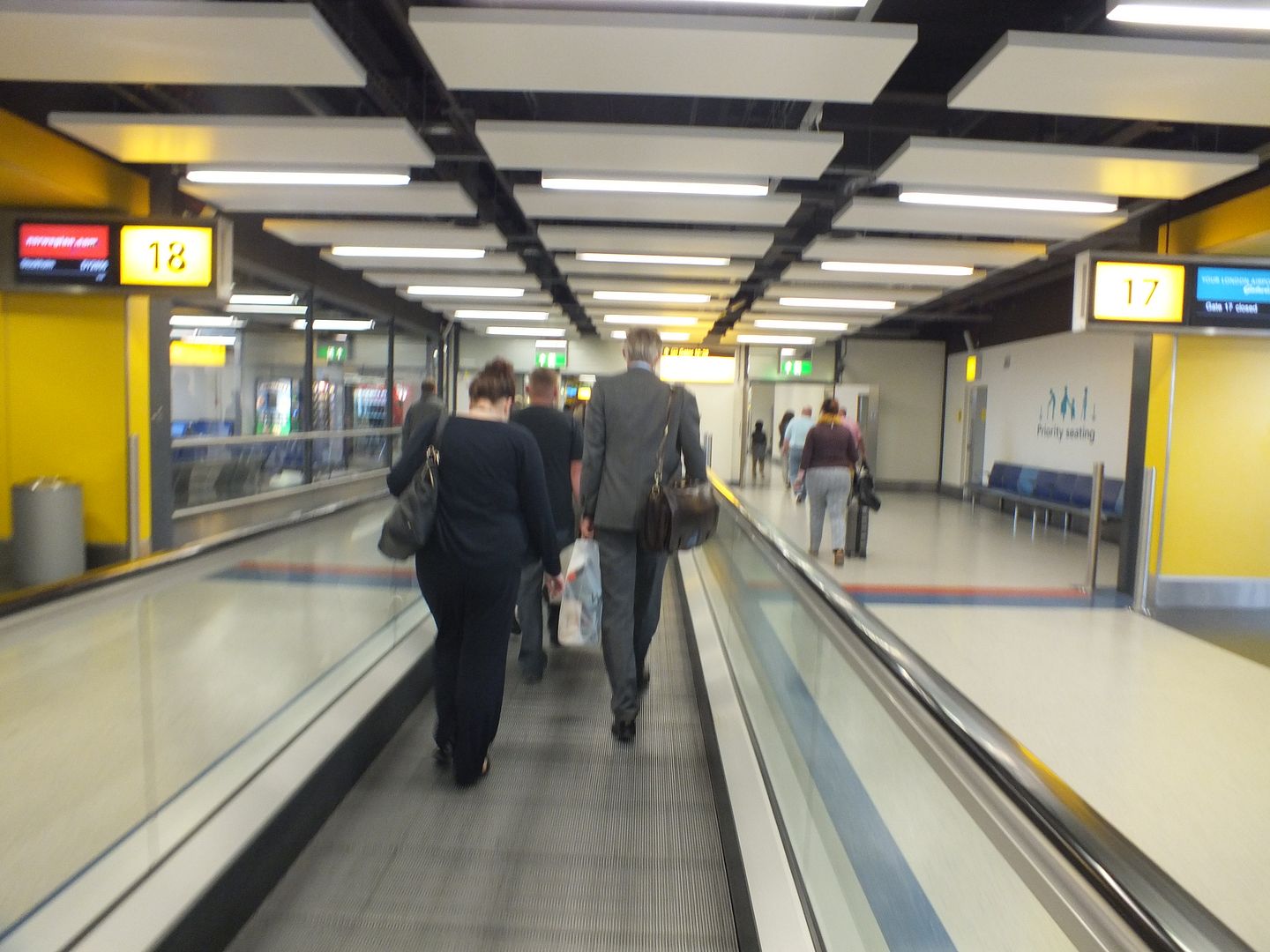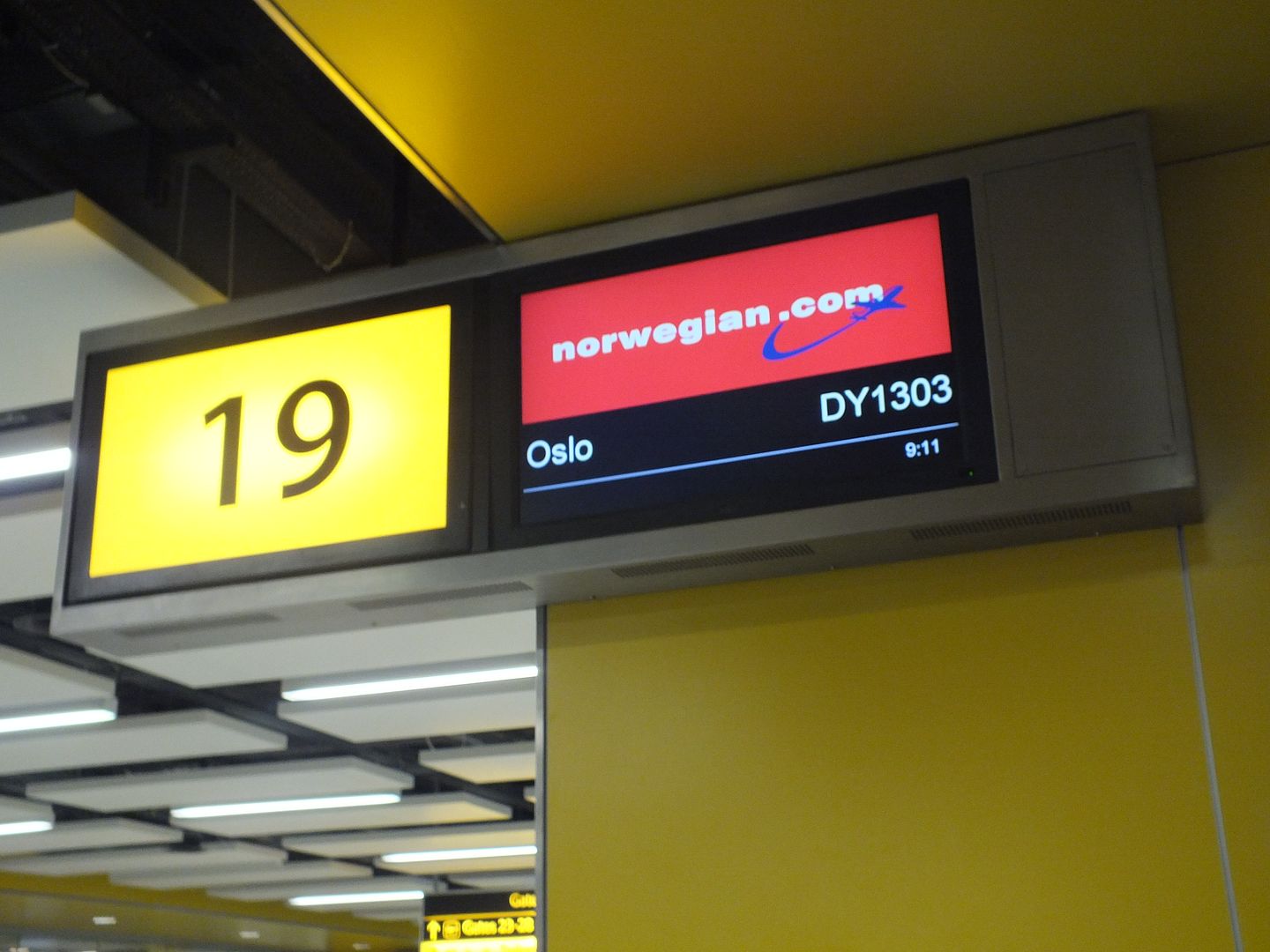 There's a bit of a queue checking boarding passes – the system is, well, not running well. I don't know what their issues are, but it takes them so long processing everyone that there's no wait in the lounge, it's straight onto the plane.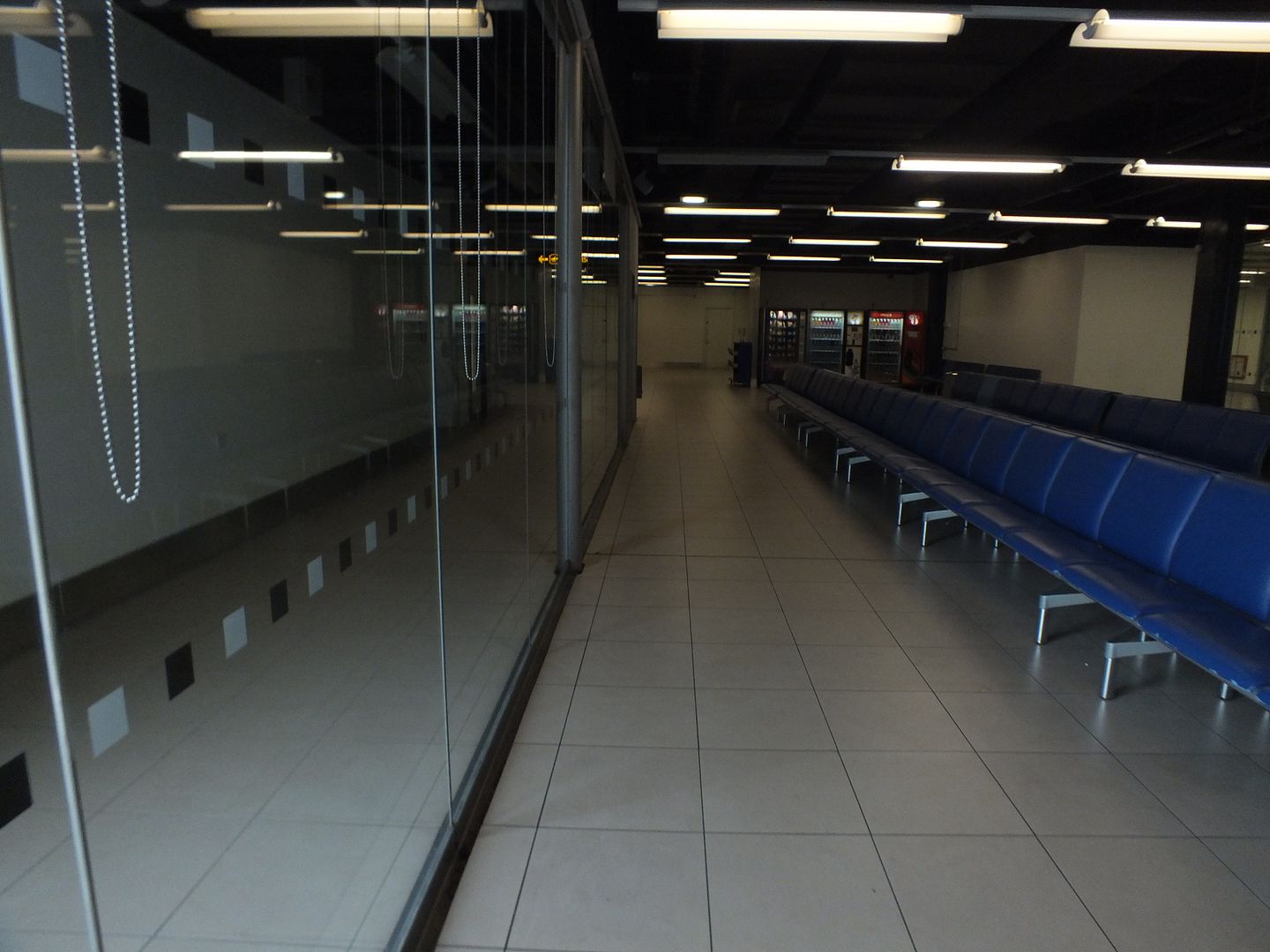 Yes, it's the right plane at the right gate! EI-LNA. My 3rd 787.
August 2013
London Gatwick (LGW) – Oslo (OSL)
Norwegian DY 1303
Scheduled: 0940-1245 (2h05m)
Actual: 1002-1240 (1h38m)
Boeing 787 EI-LNA
Economy Service, Premium Seat
I'm greeted with a big smile at the door. The guy seems surprised that I'm sat in the front section (despite the flight being run as 1 class)….obviously I'm not turned out like whatever Norwegian FAs expect their premium pax to look like.
For a business class, the cabin looks a bit cramped, but for premium economy, it looks great. Of course, being brand new (and nearly empty) helps enormously. The mood lights are great too.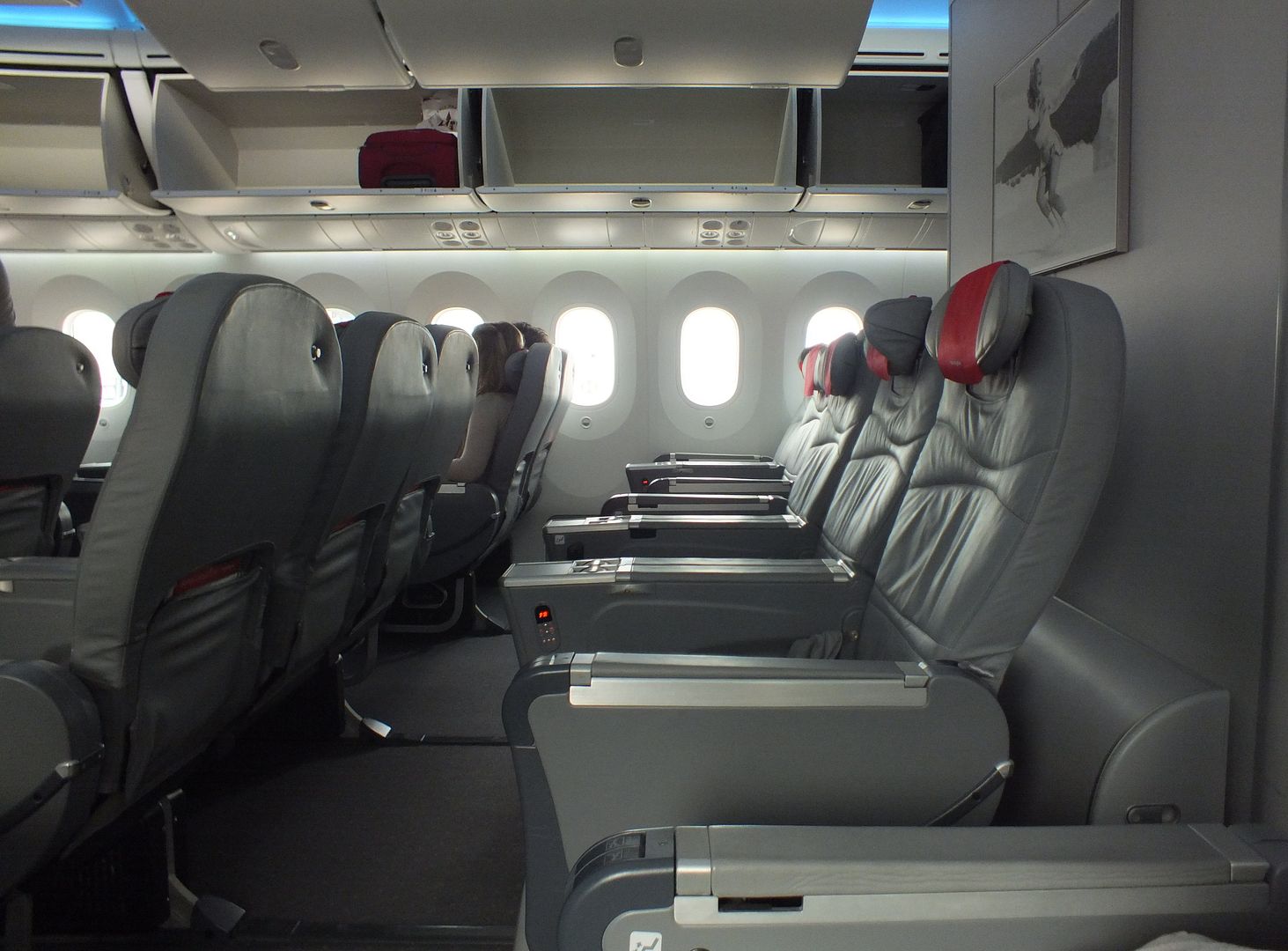 The dimmer, something most of us are now familiar with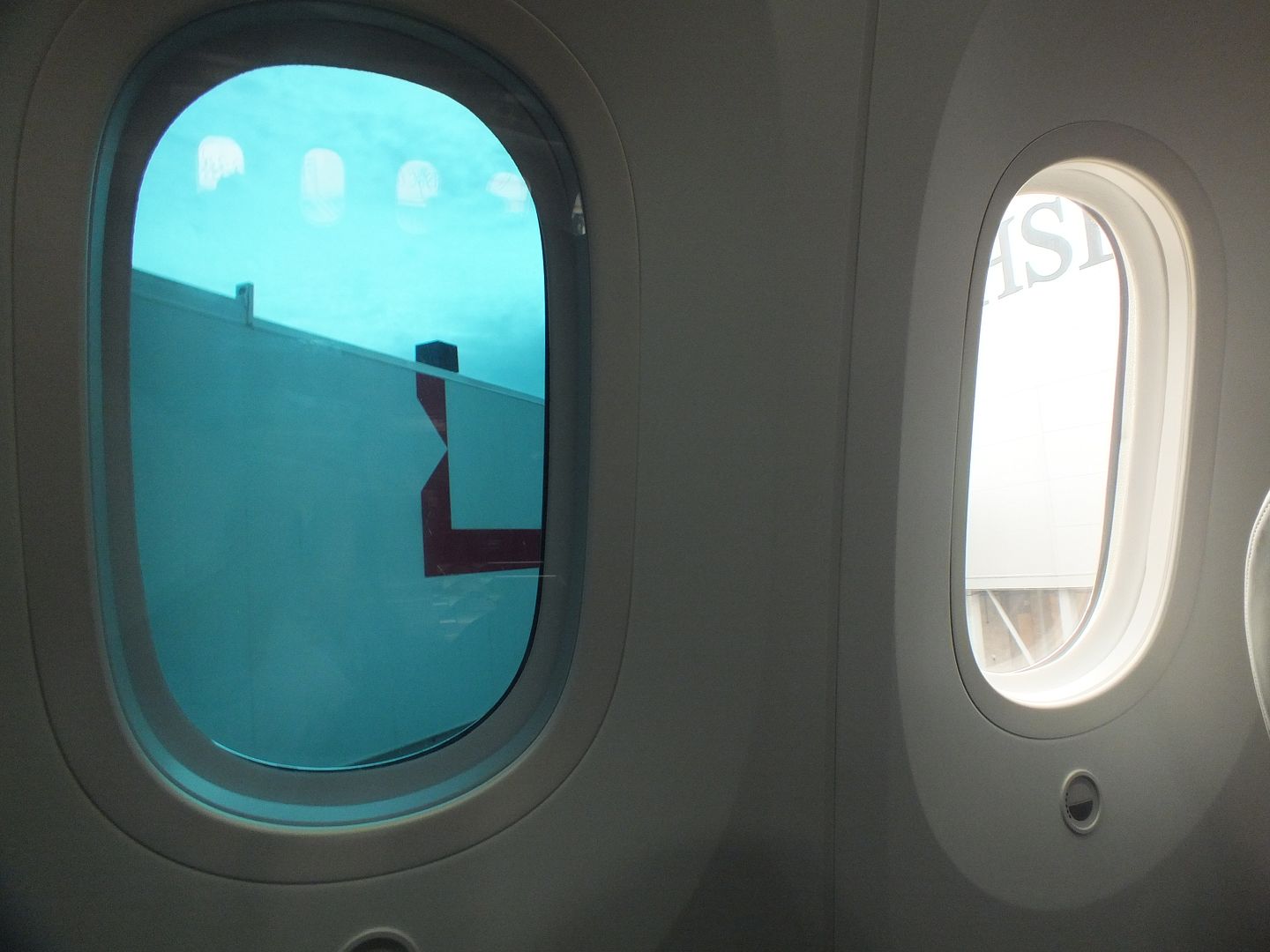 Outside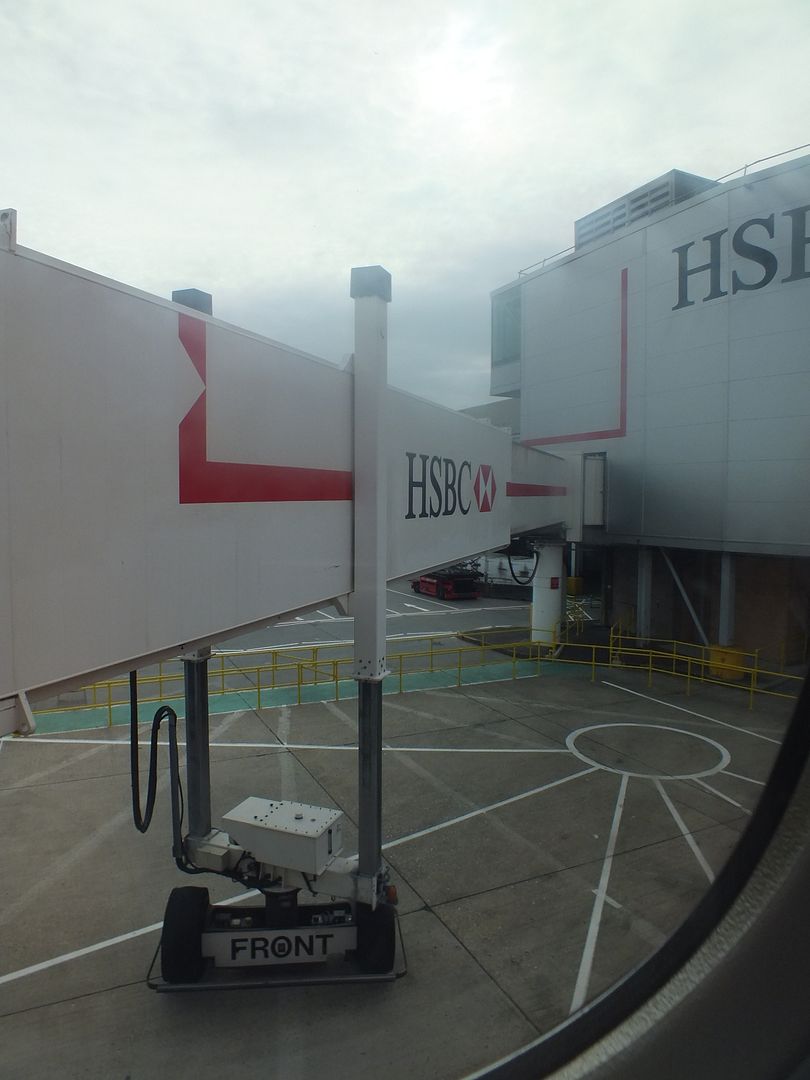 The cockpit door is still open
Welcome on board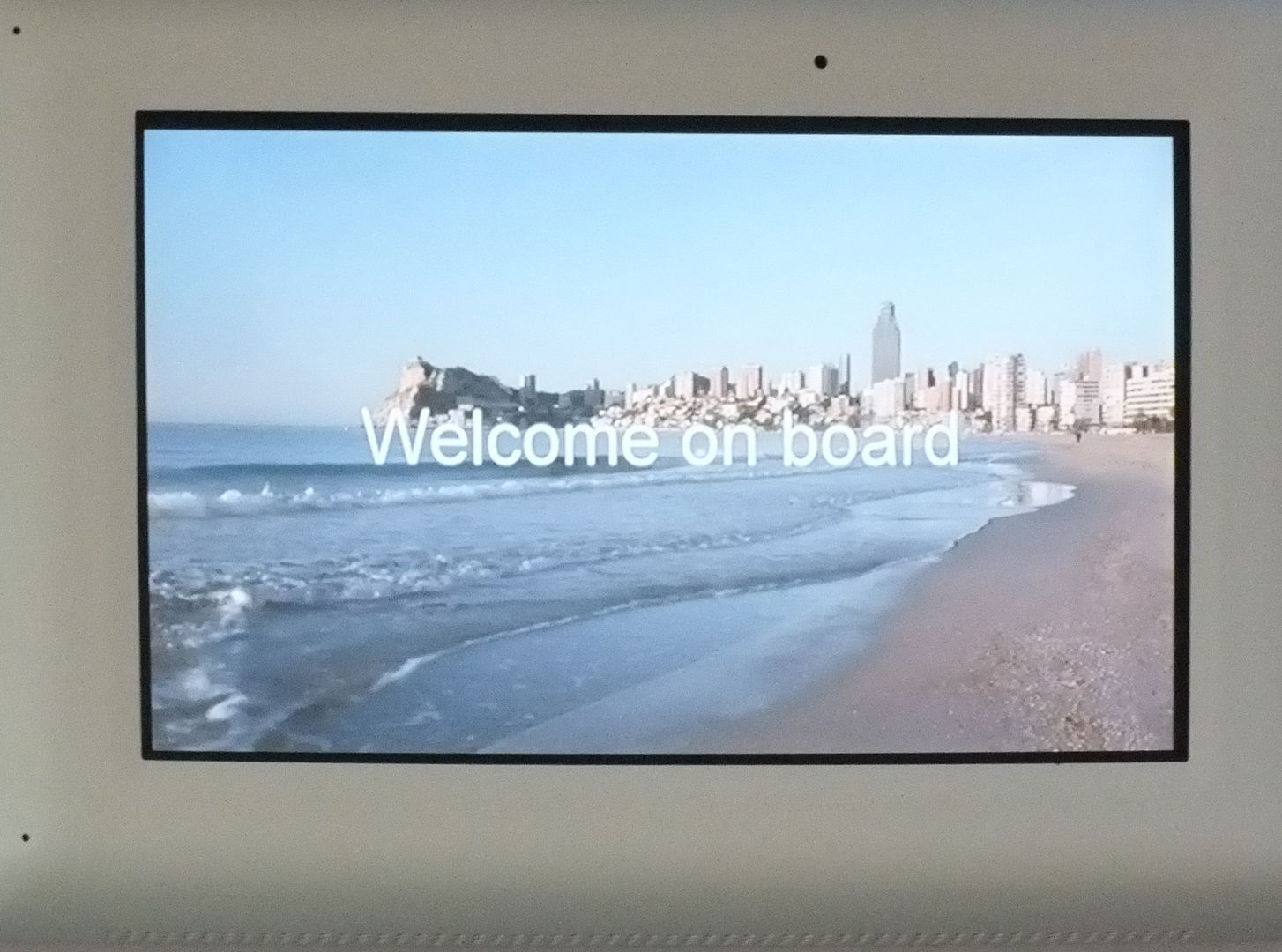 BoB menu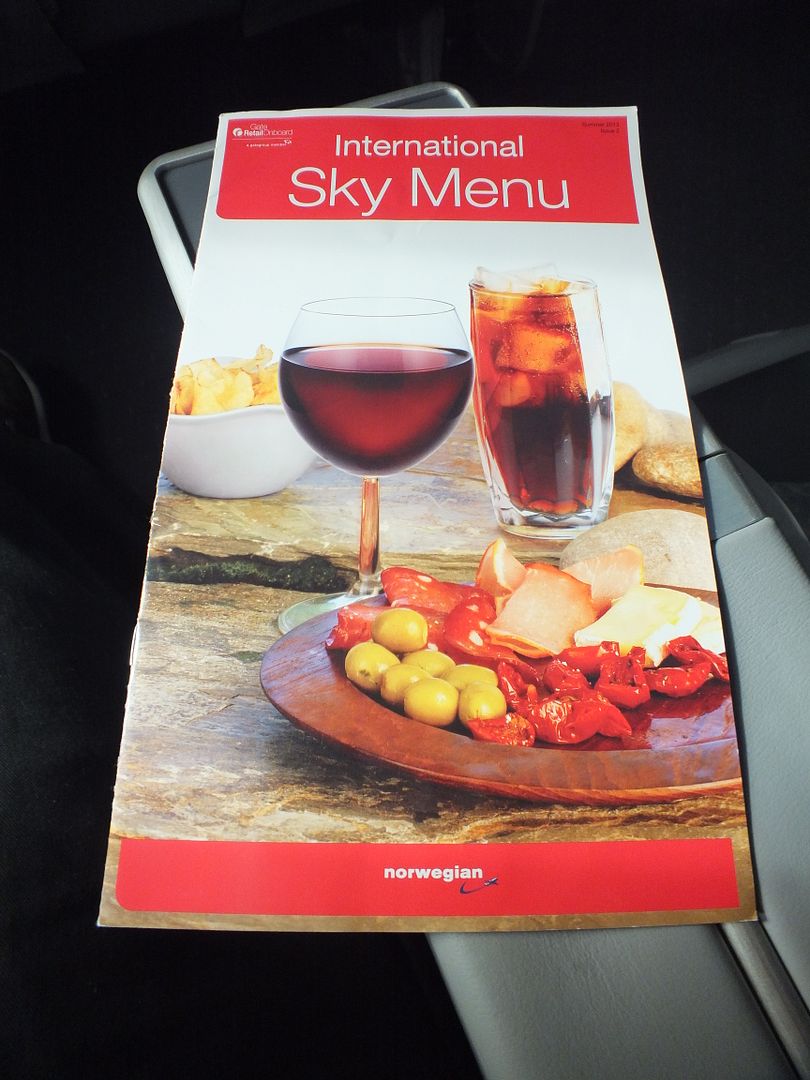 The IFE controller is a bit awkwardly located on the inside of the arm rest…not terrible easy to access and manipulate, especially when the table is out.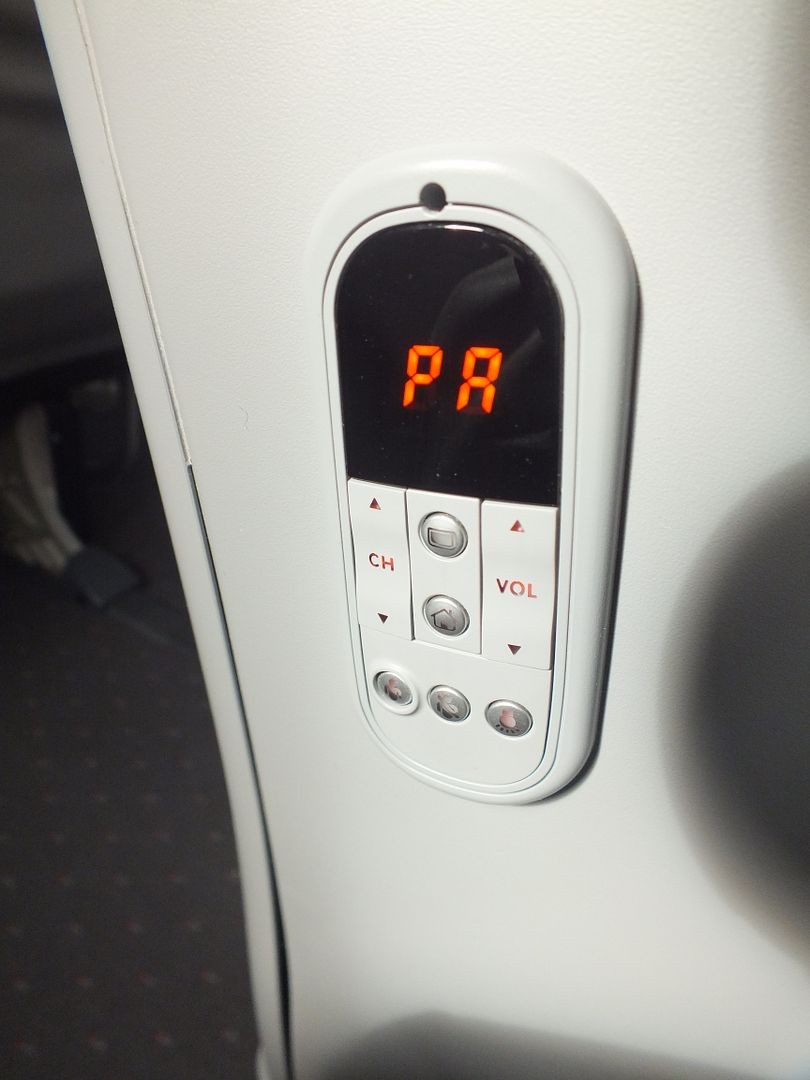 Recline controls
"In a while you will feel fine"-bag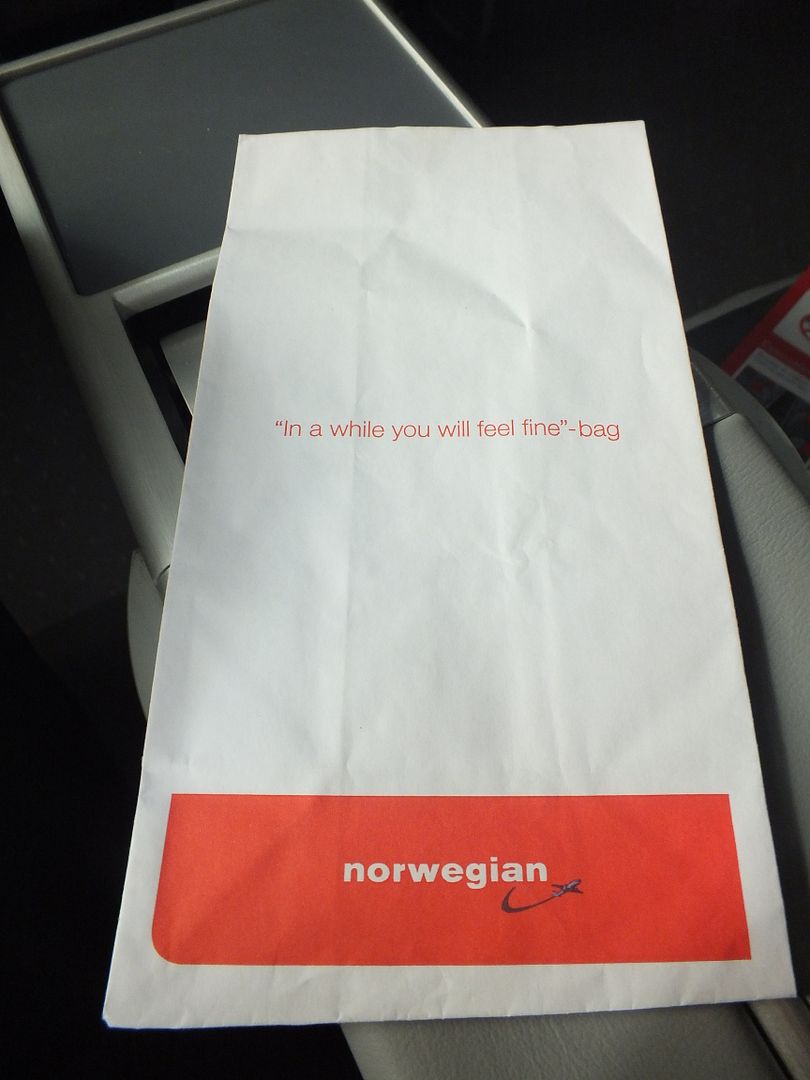 Safety card
Magazine – some reasonable content
A nice neighbour headed over the Pond

There was quite an extensive video introducing the 787 and it's feature – was quite interesting.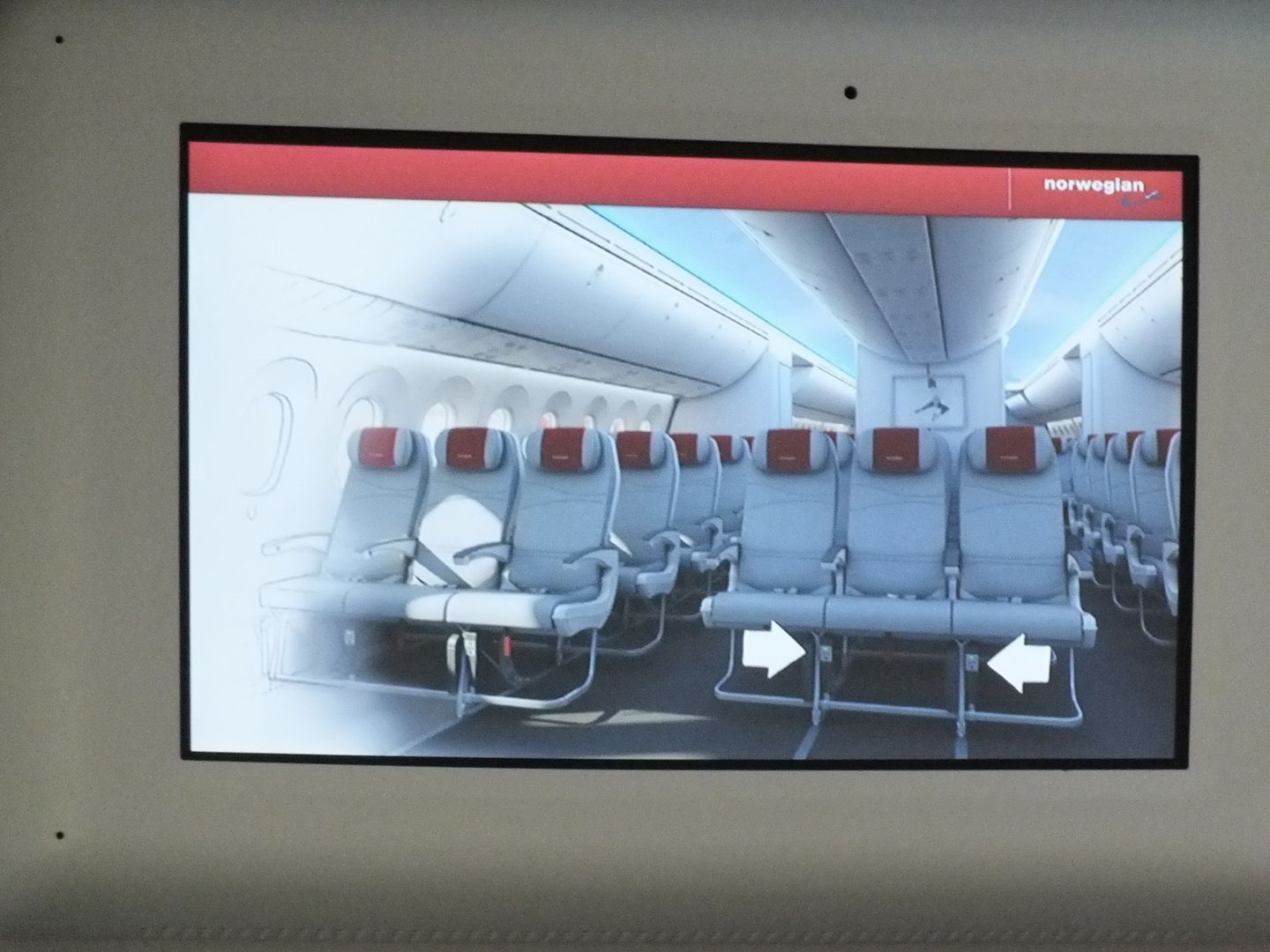 Followed by the safety demo
Push back 17 mins after our STD
Reasonable legroom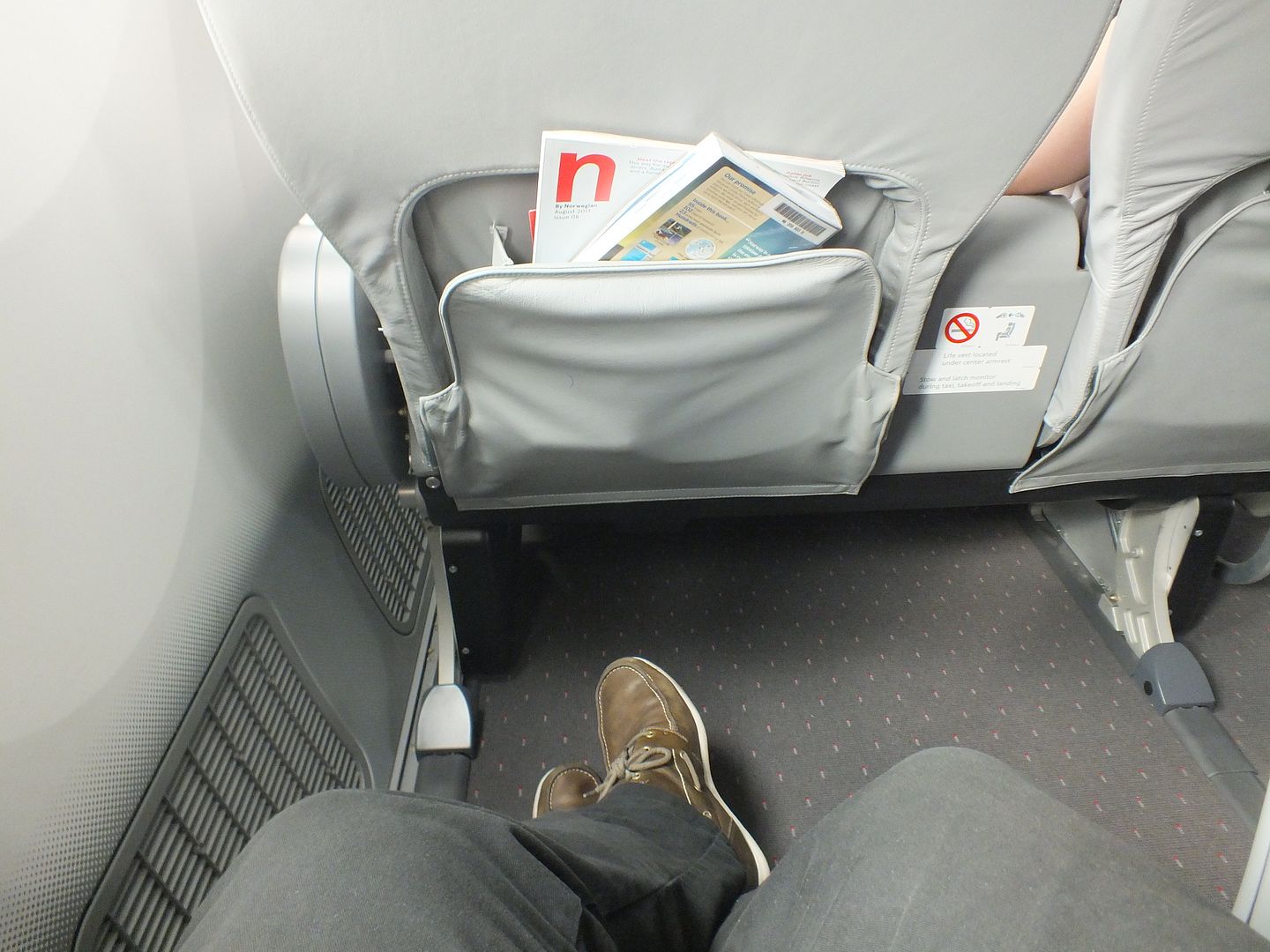 A Nordic registered Thomas Cook
Two airlines to try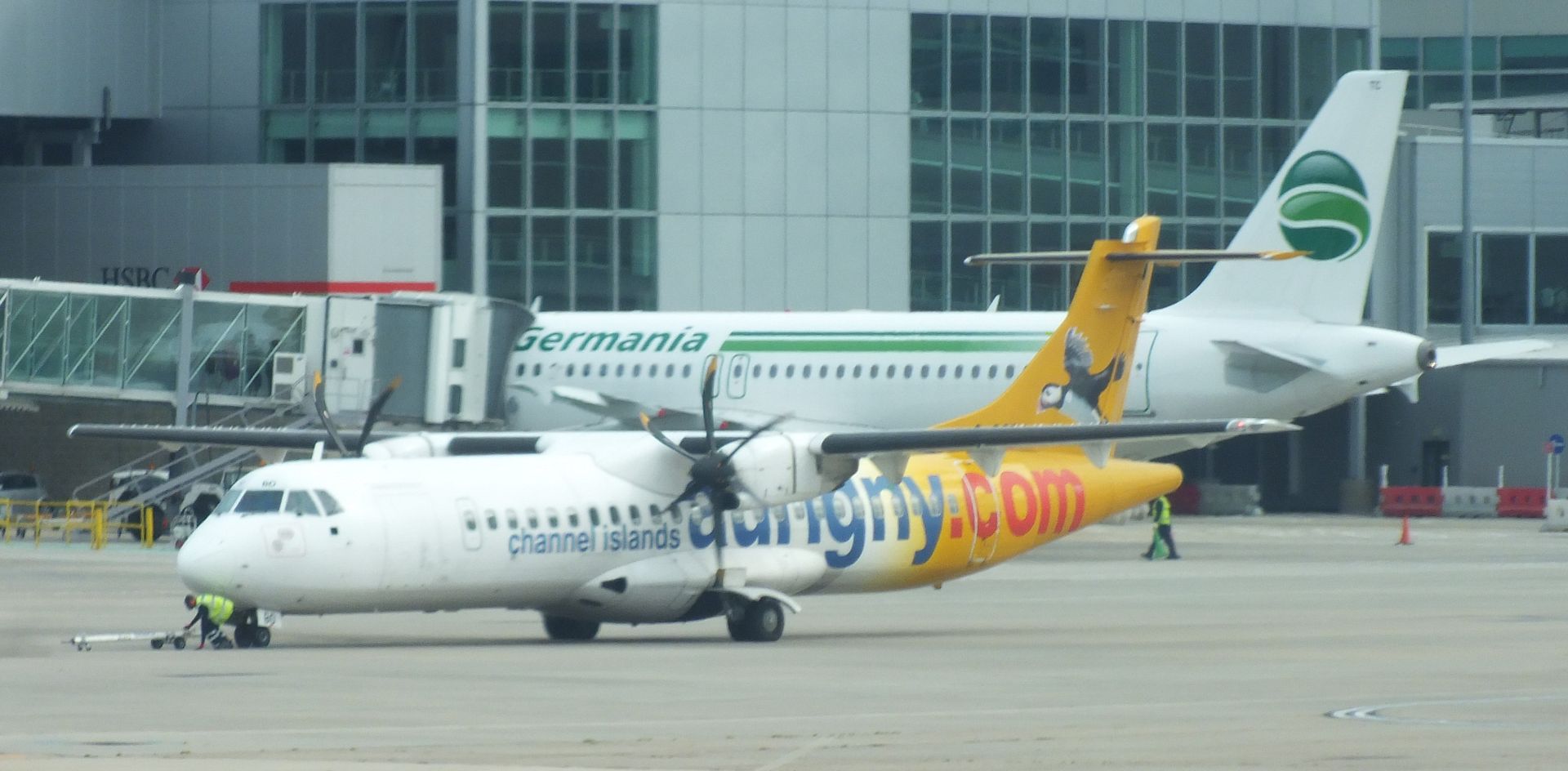 Despite only having flown a few legs, EI-LNA is already quite filthy in places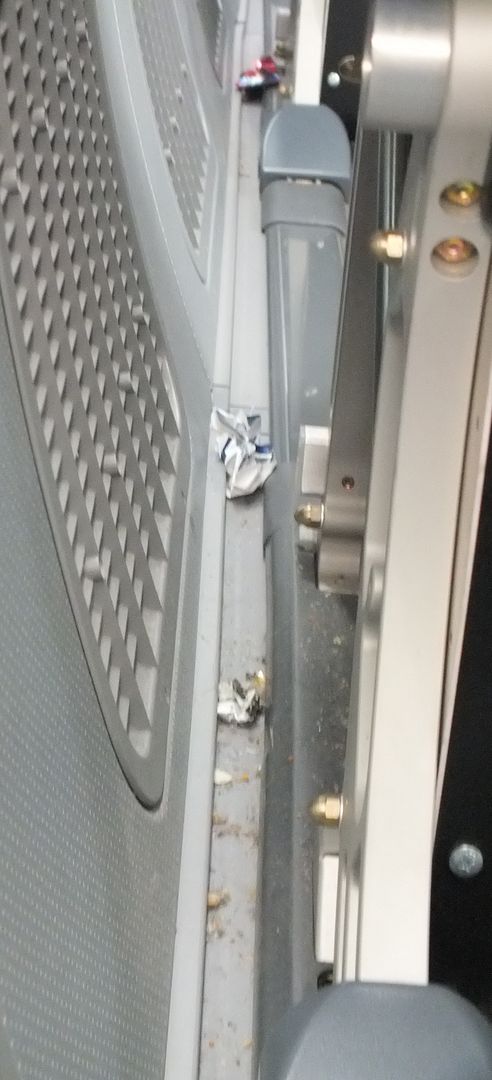 Off we go!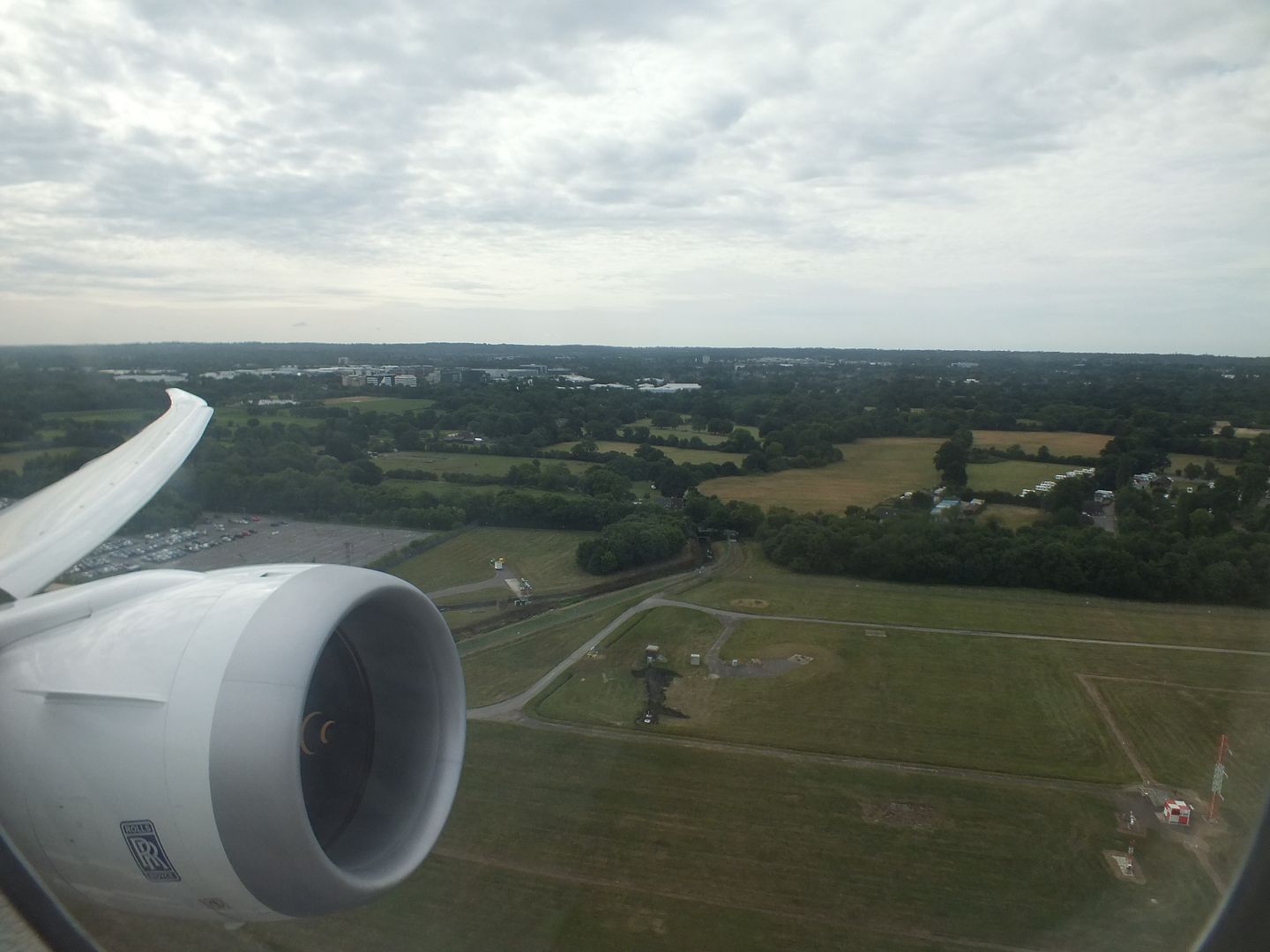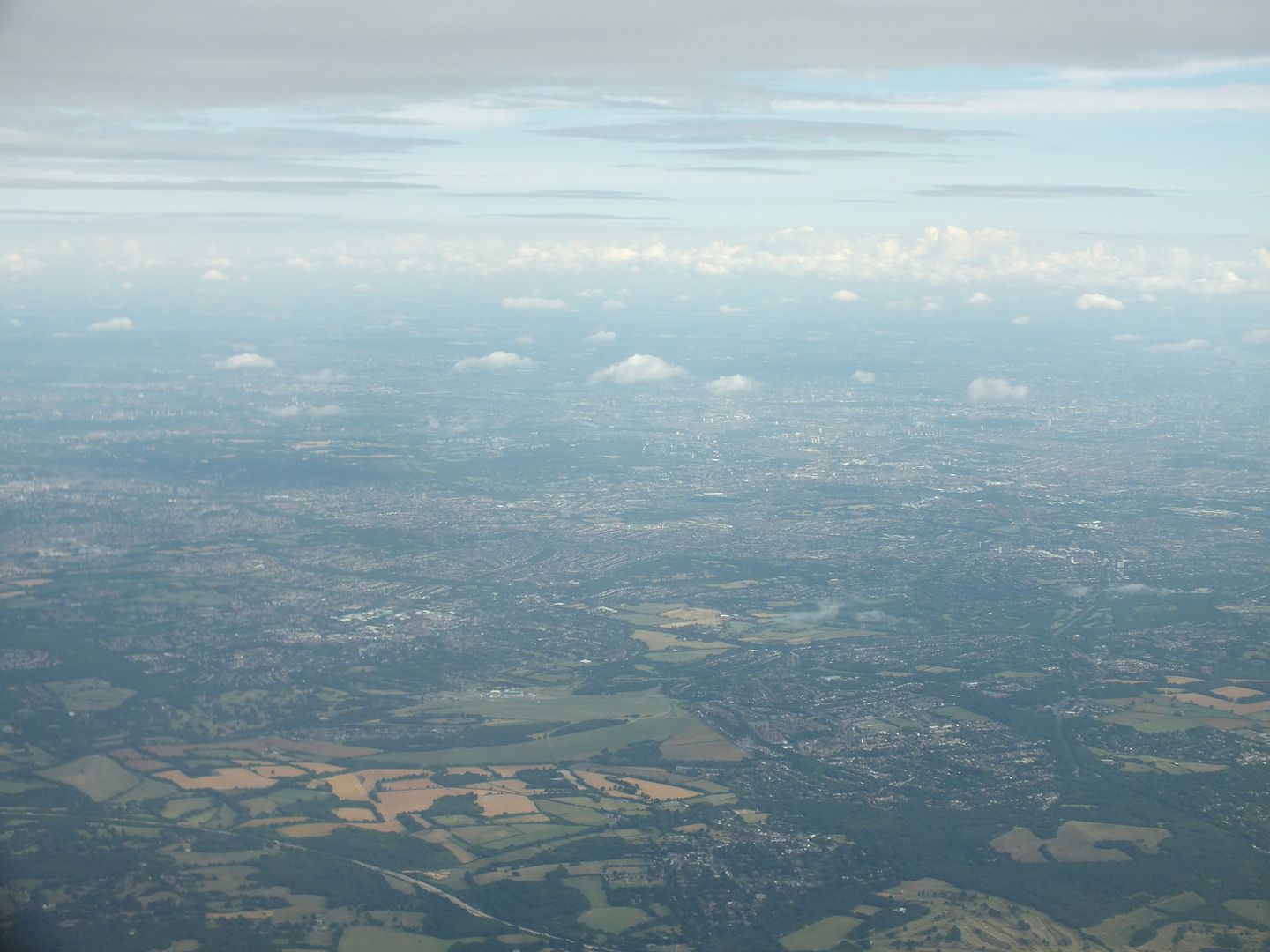 London in the distance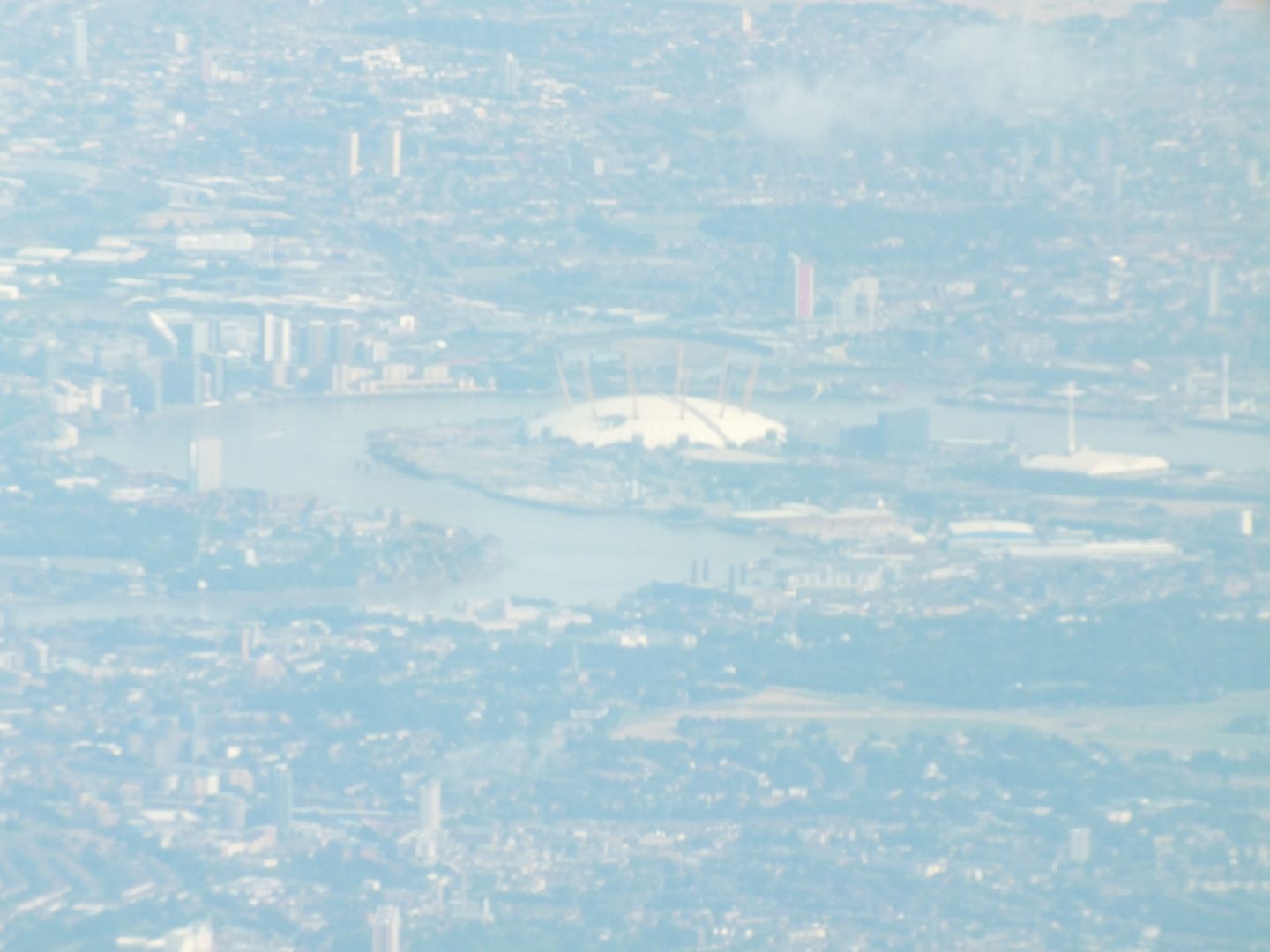 Up through the cloud
Time to sit back and relax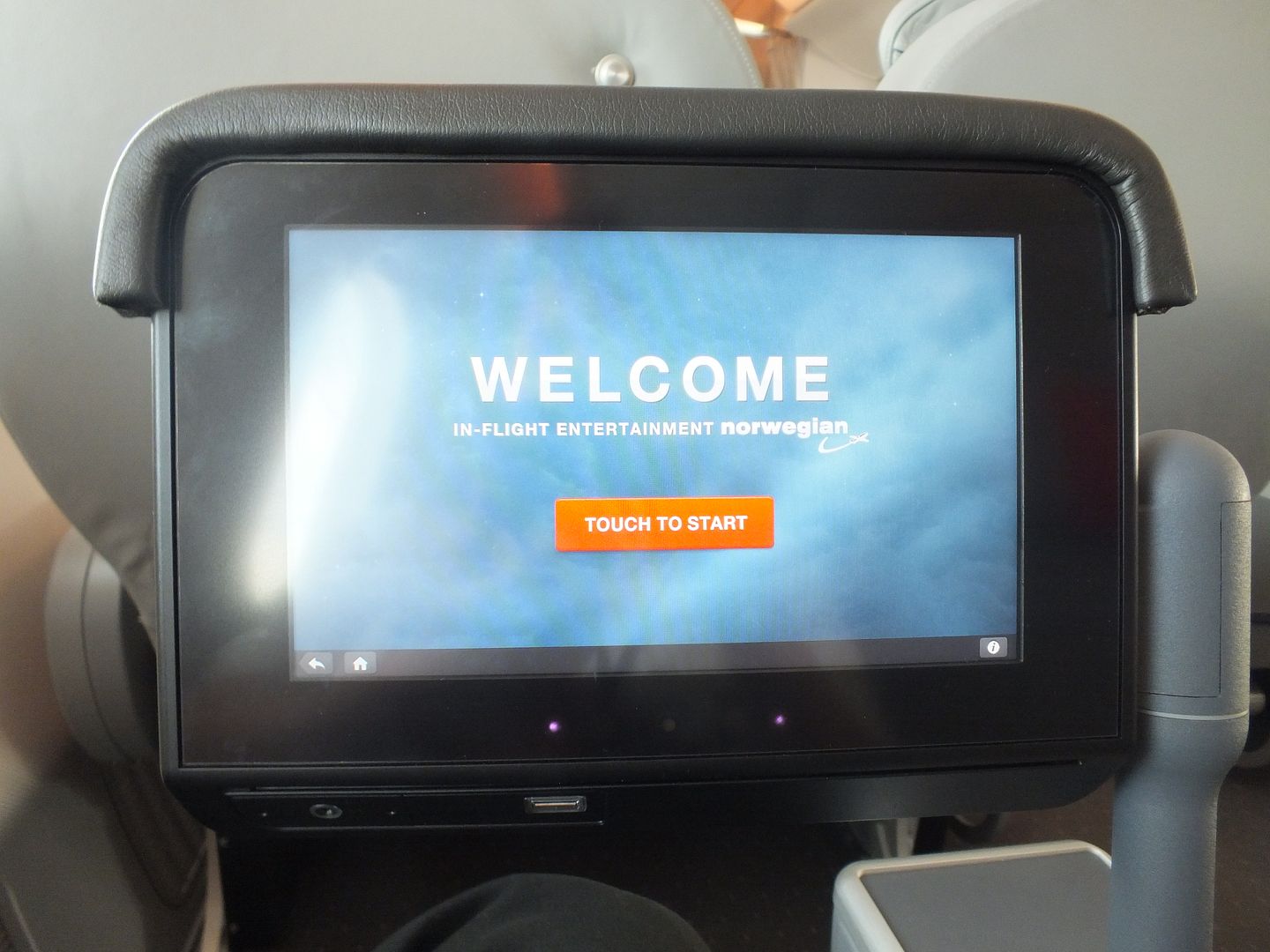 Time to check the map…
Well, it's quite a cool system, and you can manipulate the image like you do on a phone using 2 fingers. My main annoyance with it was that I couldn't get the plane to get any smaller.
Any good music? Some. Enough to get me to Oslo.
There was an issue with my headphone socket, so had to use the neighbouring PTV. Only one album seemed affected though. Odd.
There's a good choice of TV programming, including movies and sitcoms.
Cruising above the North Sea
Time for some Family Guy?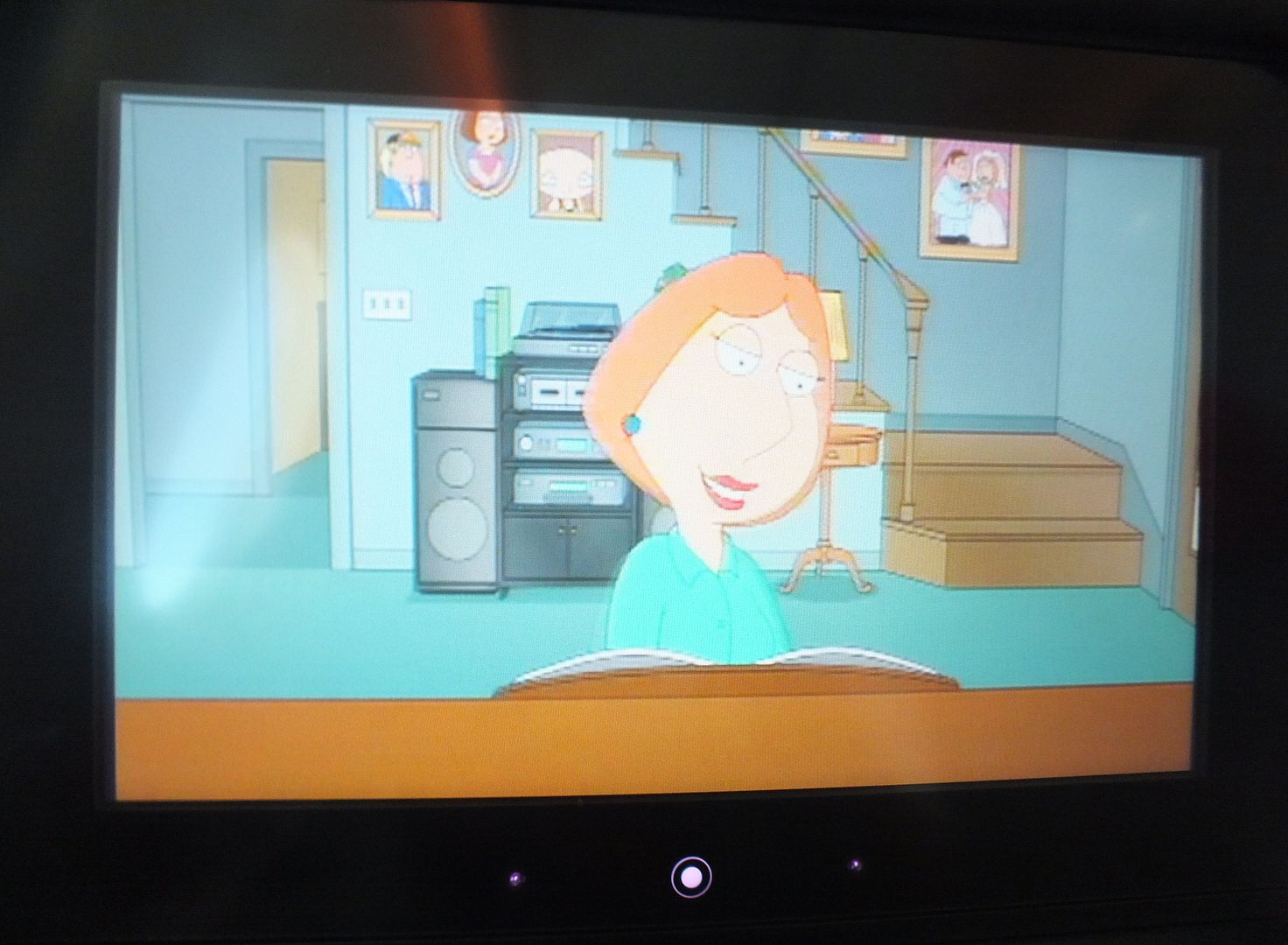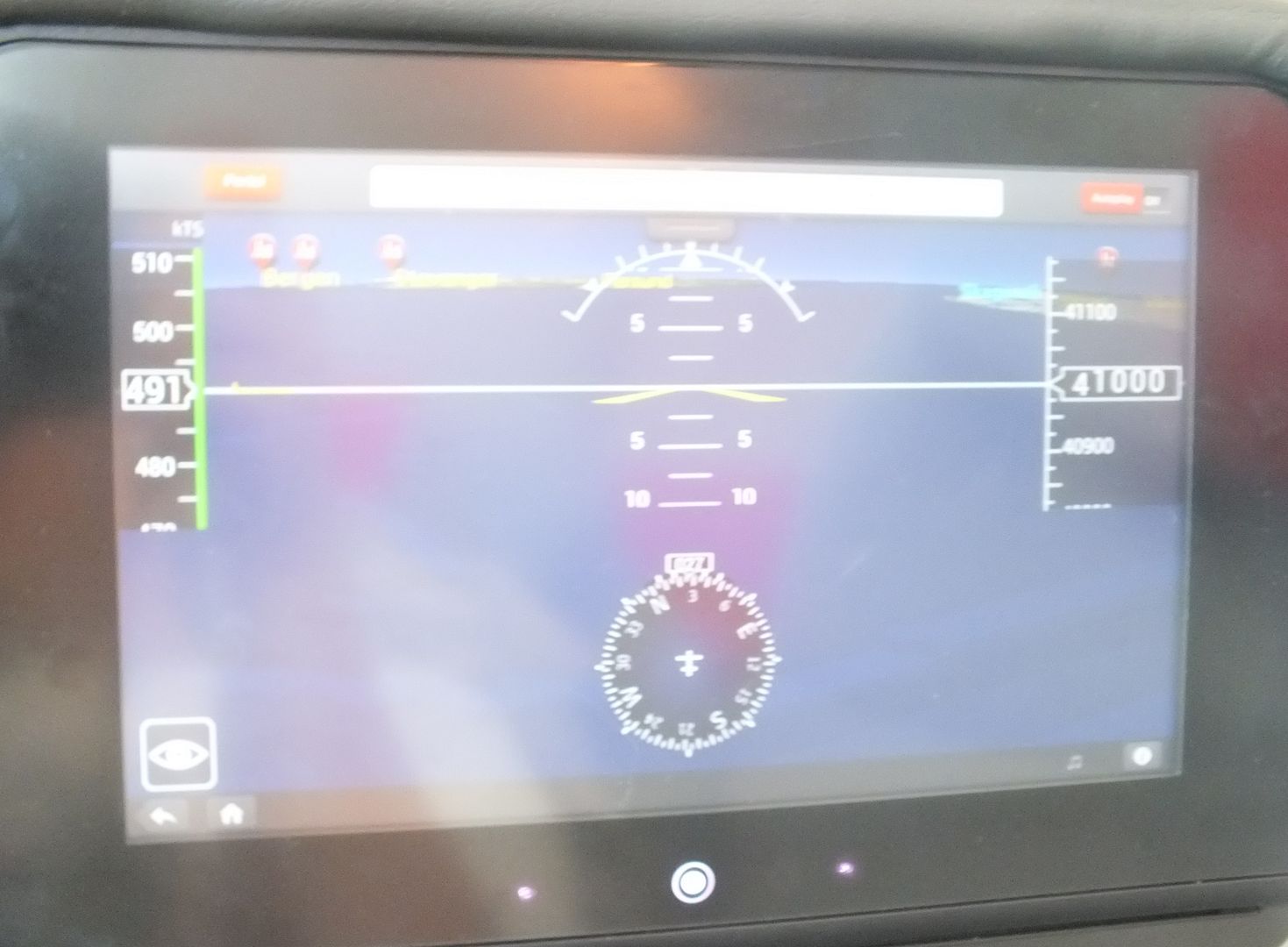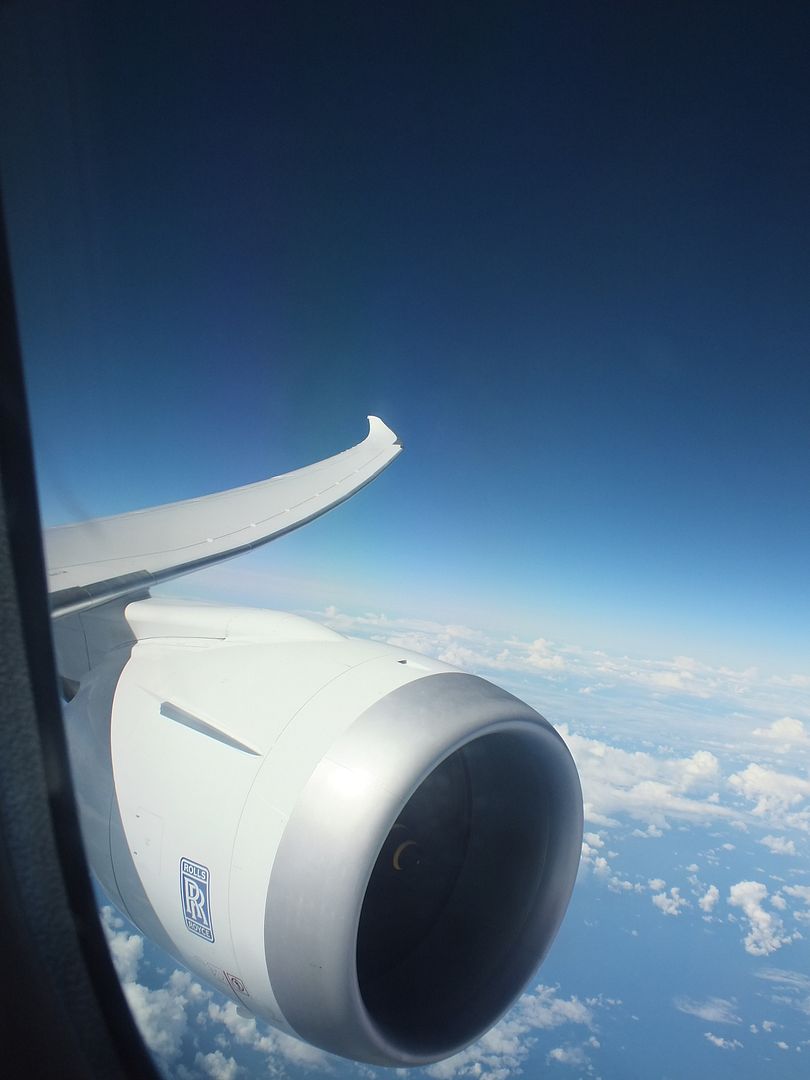 And then some Modern Family
Progressing towards Norway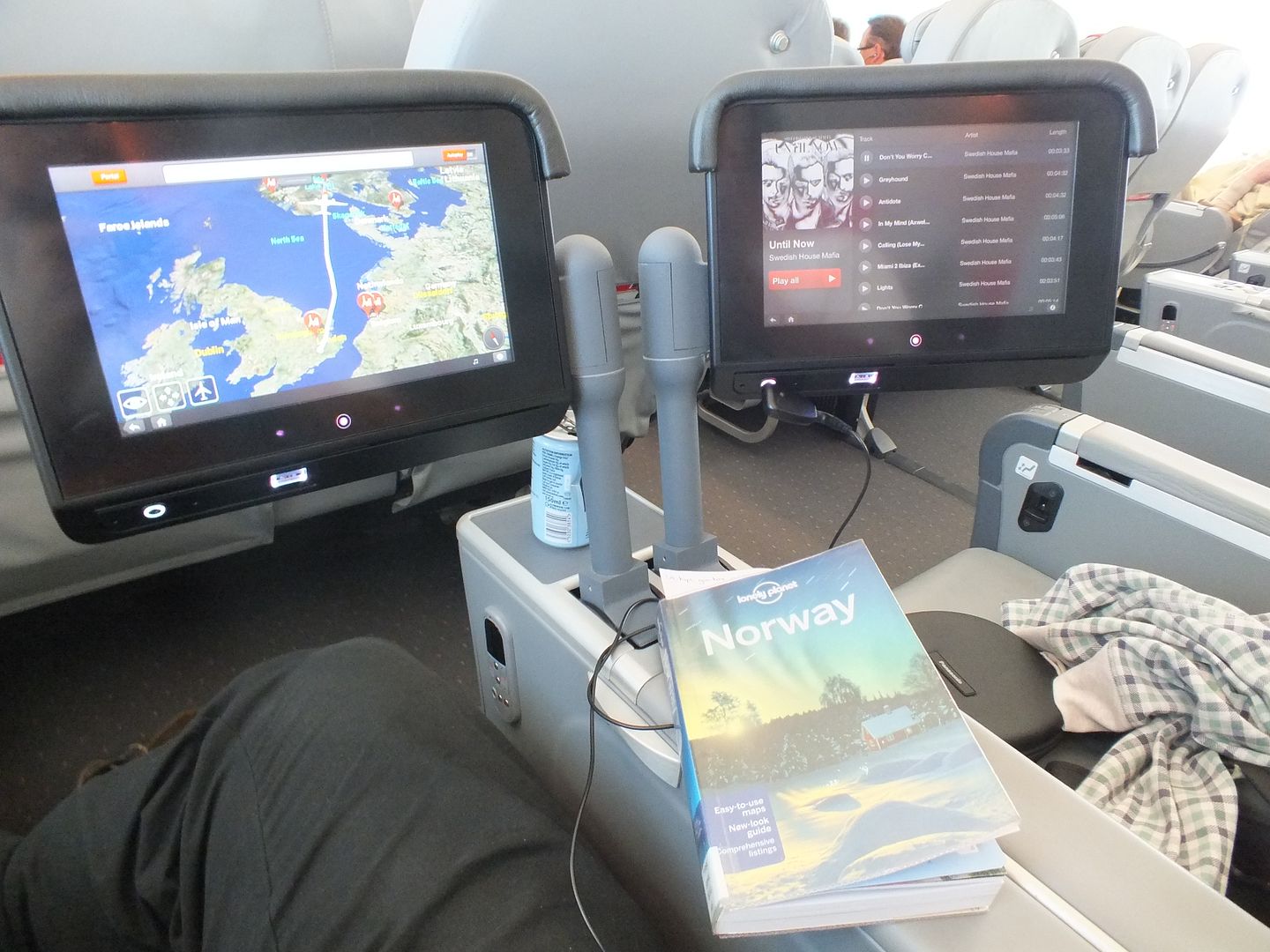 I was impressed that even as a 1 class flight, they drew the curtains. In a way I'm surprised they didn't proactively fill up the premium cabin – I mean it's great PR and no extra cost.
So, I've not mentioned the crew or service. Well, there was a pass of the trolley. I didn't buy anything, and then the crew vanished. The end.
Clouds as we begin our approch
The crew obviously decide to impress us with the mood lights – they are indeed nice.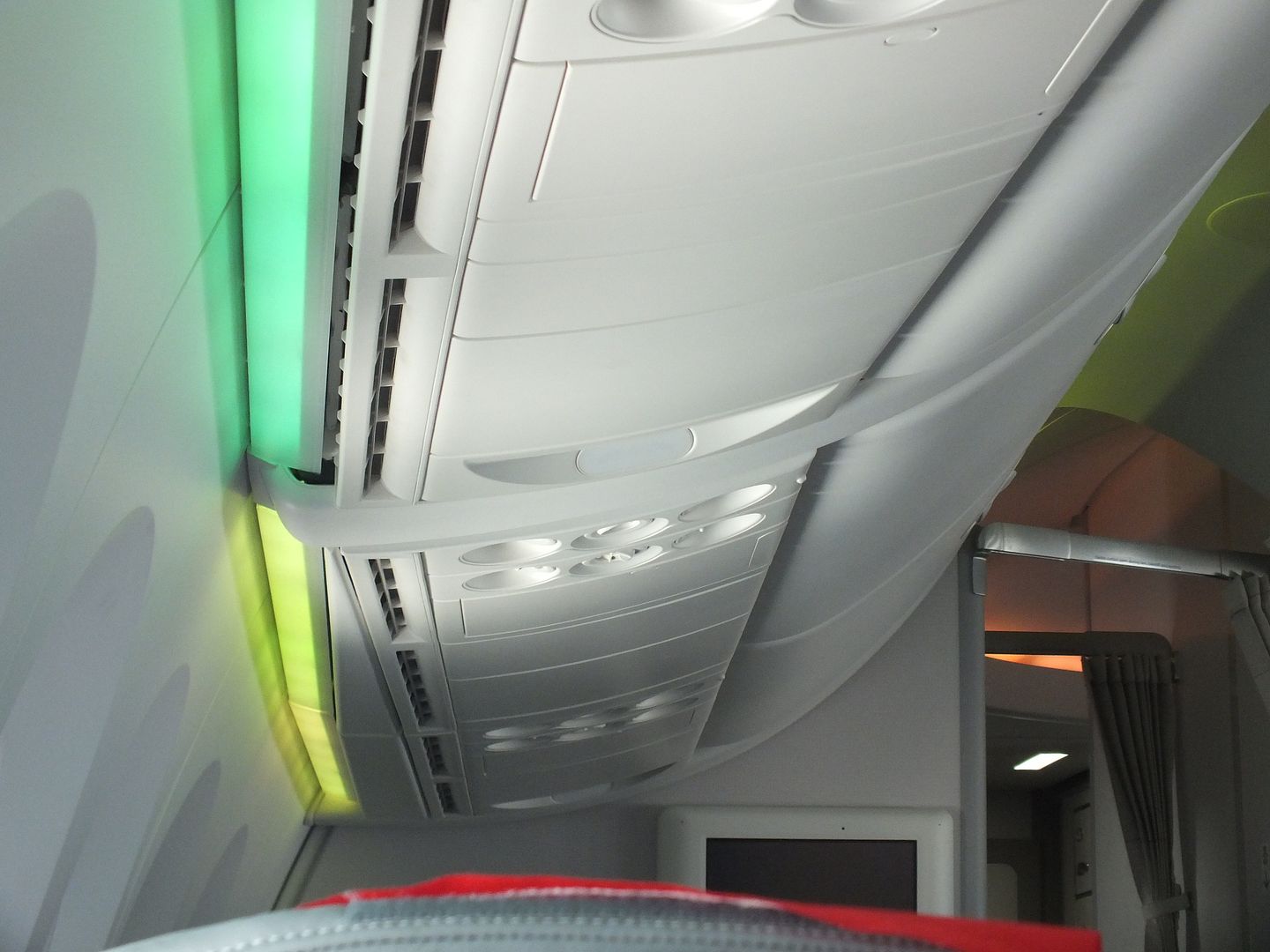 "Agh, it's the attack of the massive planes!!"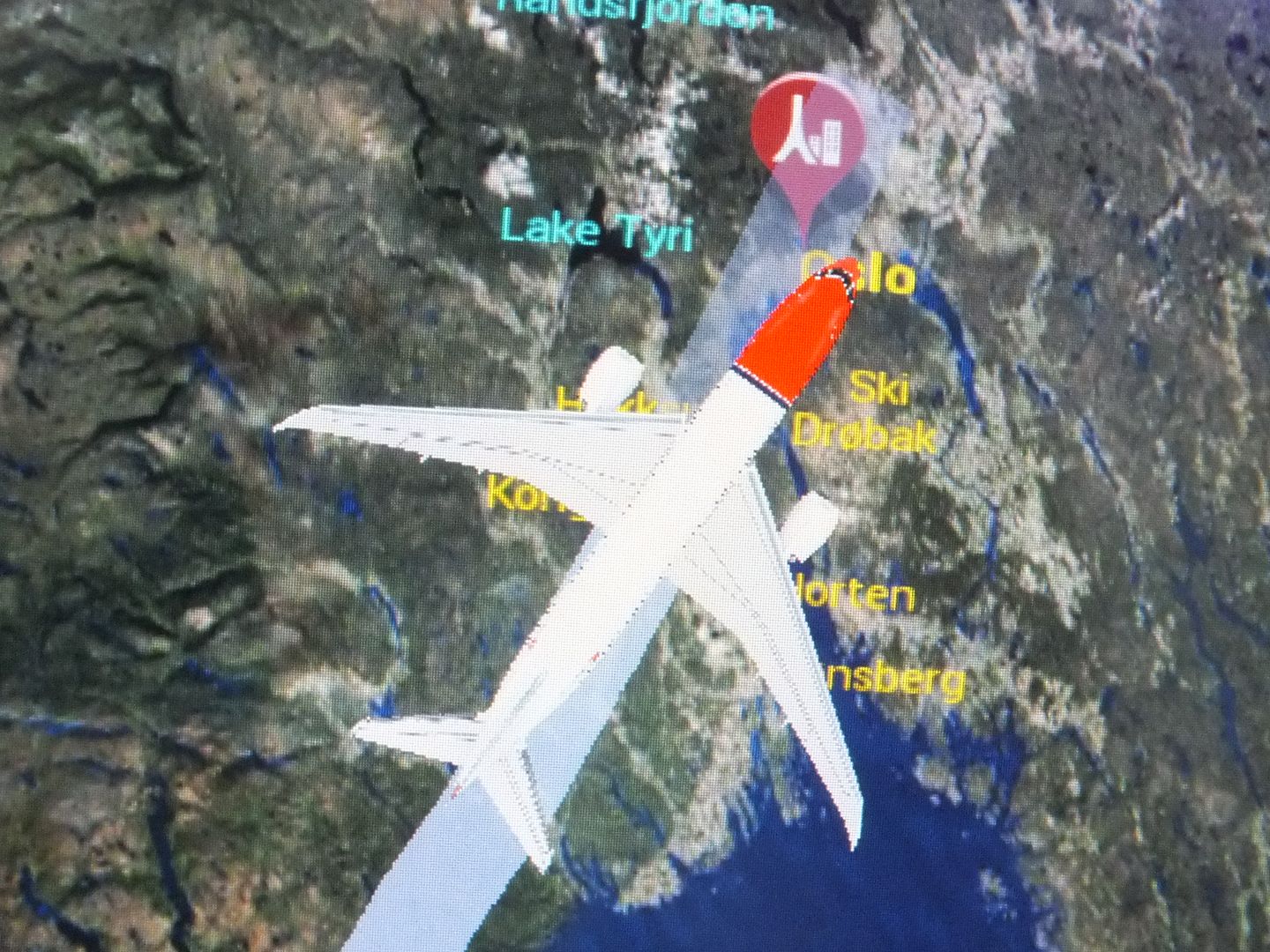 I couldn't believe my luck as we passed right over Oslo city centre – super views.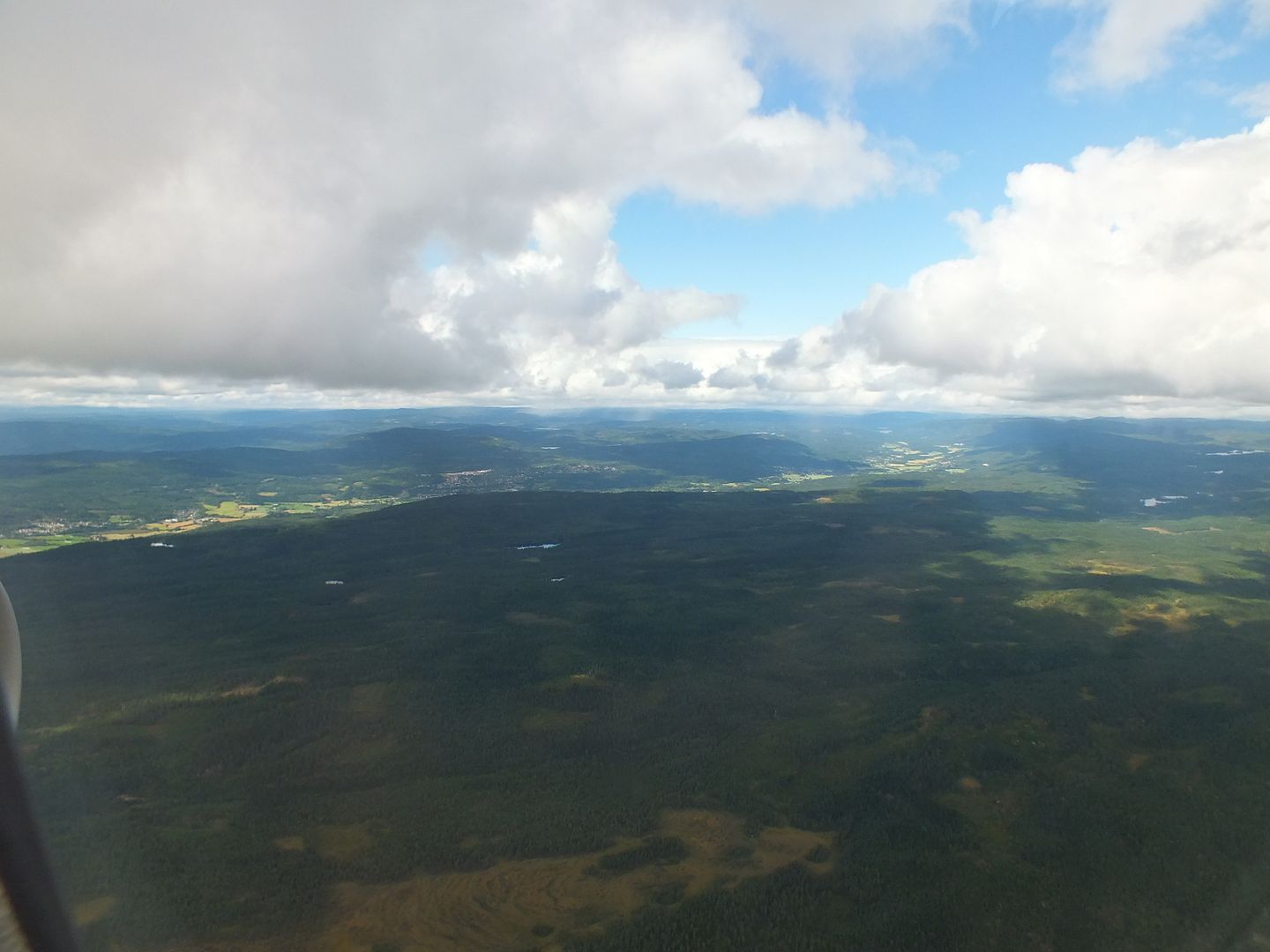 Welcome to Oslo, 5 minutes early
Some non-EU folk
Sonia had the pleasure of escorting us today
En route to arrivals