Hello Again Dear Readers,
This report covers our recent trip from YHZ to HEL. This is a trip that we make a few times a year and figuring out the best routing is always a challenge. This time was no exception but in the end the decision was made easier because when I started checking the flights in April, I discovered that Air Canada was having a J class seat sale. So the choices were narrowed down to going YHZ LHR and picking up a BA or AY flight ex LHR (ruled out because the fare was higher by breaking it in LHR), going AC YYZ-FRA, YYZ -MUC or YYZ-CPH. Since CPH took us closest to our final destination was the cheapest that was the logical choice. After that it was easy to find a cheap fare on KF for the CPH HEL sector.
Fast forward to the day of travel....we had more luggage than usual. We will be in FInland until mid November and we had to bring academic robes, plus a tuxedo and evening wear for a university event! Still, we managed to contain everything to two bags each (one large and one carry on---not too bad, considering
).
I did online check-in and was also able to get all the boarding passes, including the CPH-HEL ones, so all that remained was to convince the agent at the airport to check the luggage straight through to HEL, despite the separate tickets. We were in luck and got an experienced person, who handled everything efficiently and pleasantly and after clearing security we even had some time to go to the AC lounge. Despite being late afternoon, it wasn't too busy and we were able to check email and make some calls before going to the gate.
AIrcraft at the next gate
And finally our flight at Gate 22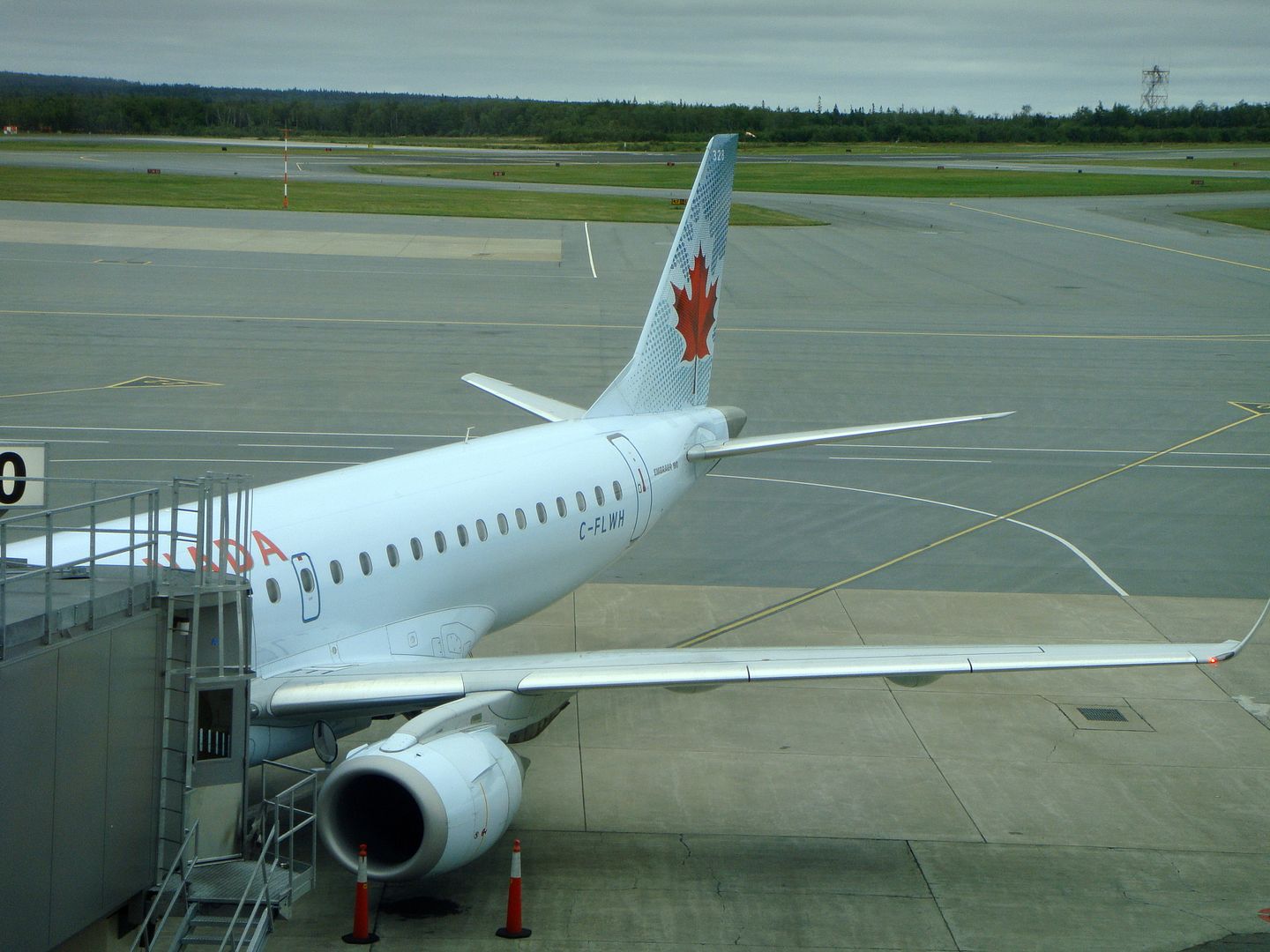 AC621--A321
YHZ 1825
YYZ 1947
Seats 2A & C
Boarding started about 5 minutes after we got to the gate. From what I could tell, I don't think the flight was full in the back but there were a couple of last minute operational upgrades done. In the end, the J cabin had five open seats, including the two across the aisle from us. On this aircraft, seats 2 A & C are bulkhead because the closet is immediately in front of them. I would say the space is double the other J class rows.
Prior to take off, water was offered and menus were handed out
The Captain did a brief welcome and gave us an update on the weather in YYZ----cloudy, with rain expected---and the Service Director took our dinner choices prior to take off.
A little more activity on the ramp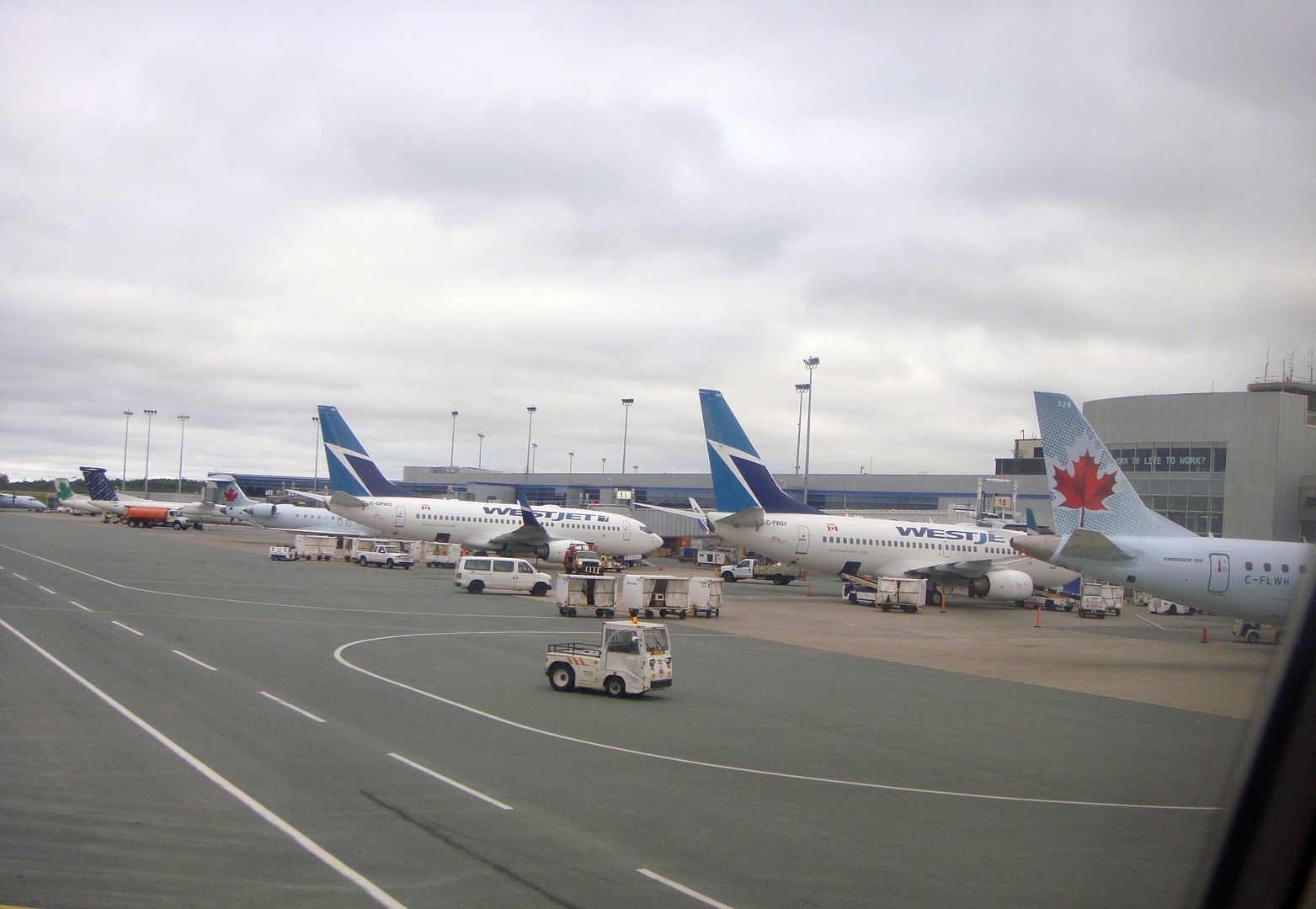 Is this dark cloud because we are leaving?!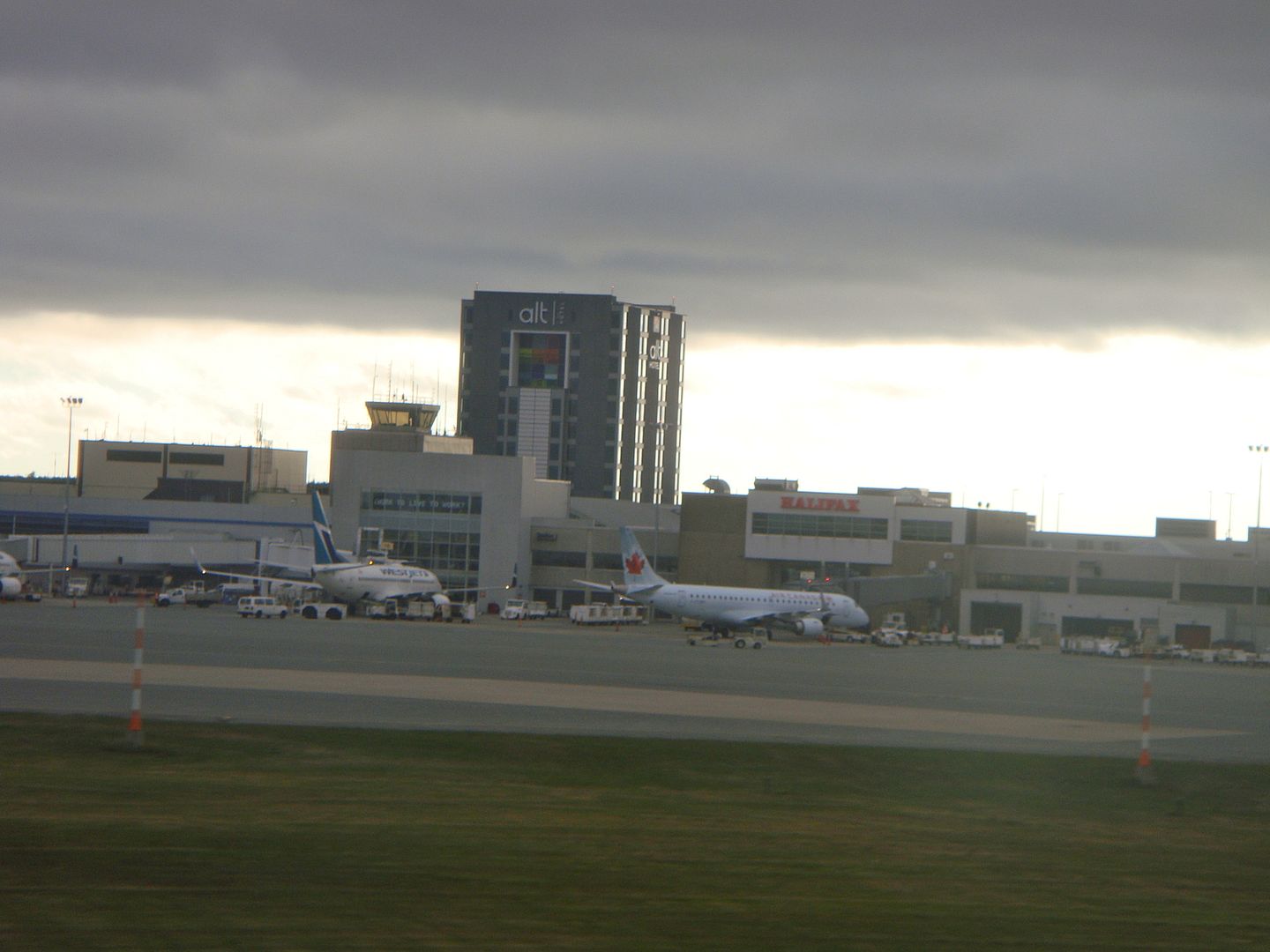 Good bye Halifax! See you in November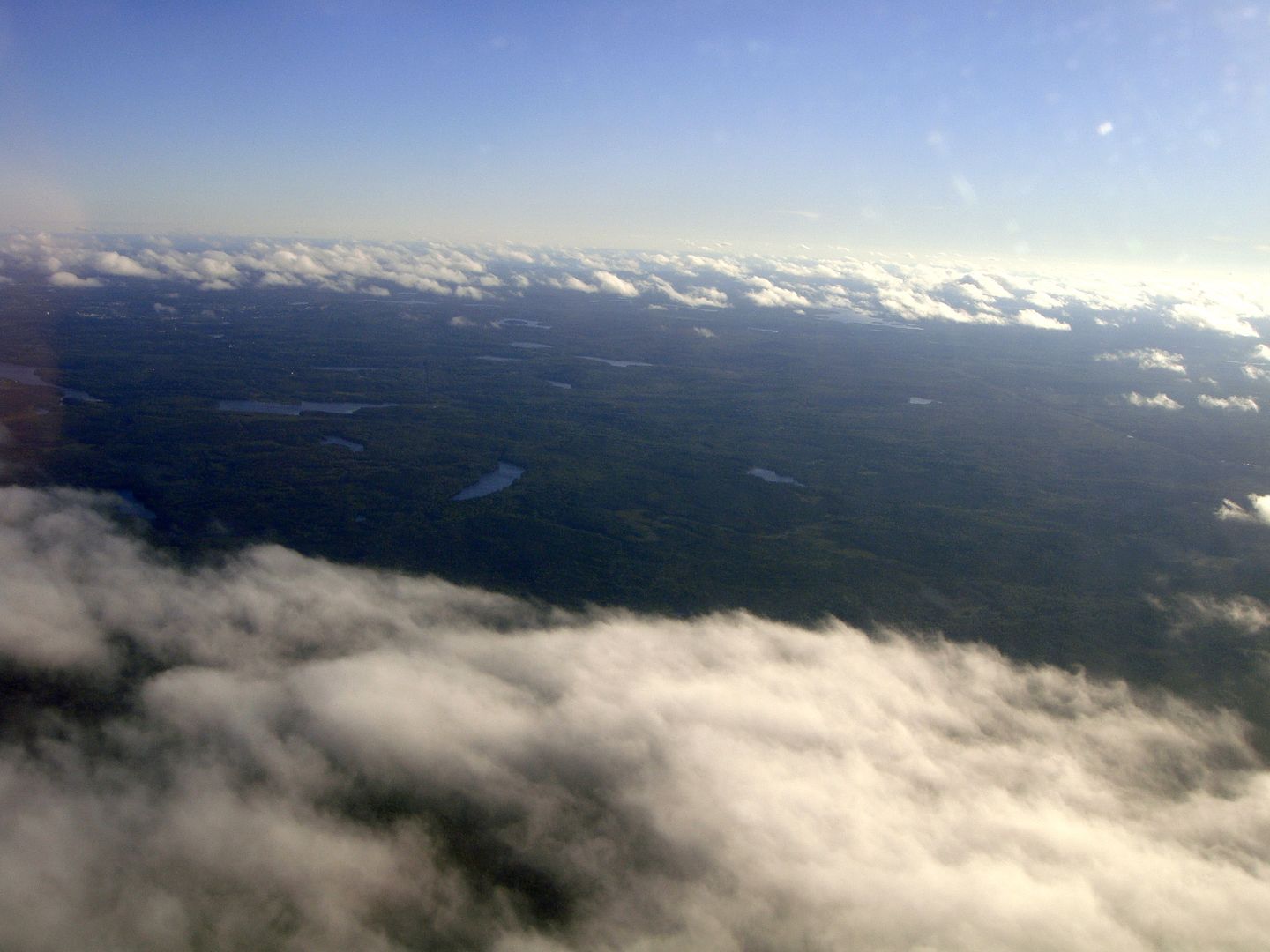 The service started with drinks and we decided to try a particularly fine Malbec, which was served with cashews and smoked almonds. I resisted having seconds on the nuts, even though I could have eaten more! You can see the legroom in this shot and you can also see that I have picked out all the cashews!
And soon enough it was dinner time. I had the lasagne, which was really delicious, despite not looking so appetizing!
Tay51 opted for the chicken
I think my meal was better
The time passed quickly, as I watched Anthony Bourdain in New York and then an episode of The Grocery Bags and soon enough we were descending through the murk into YYZ.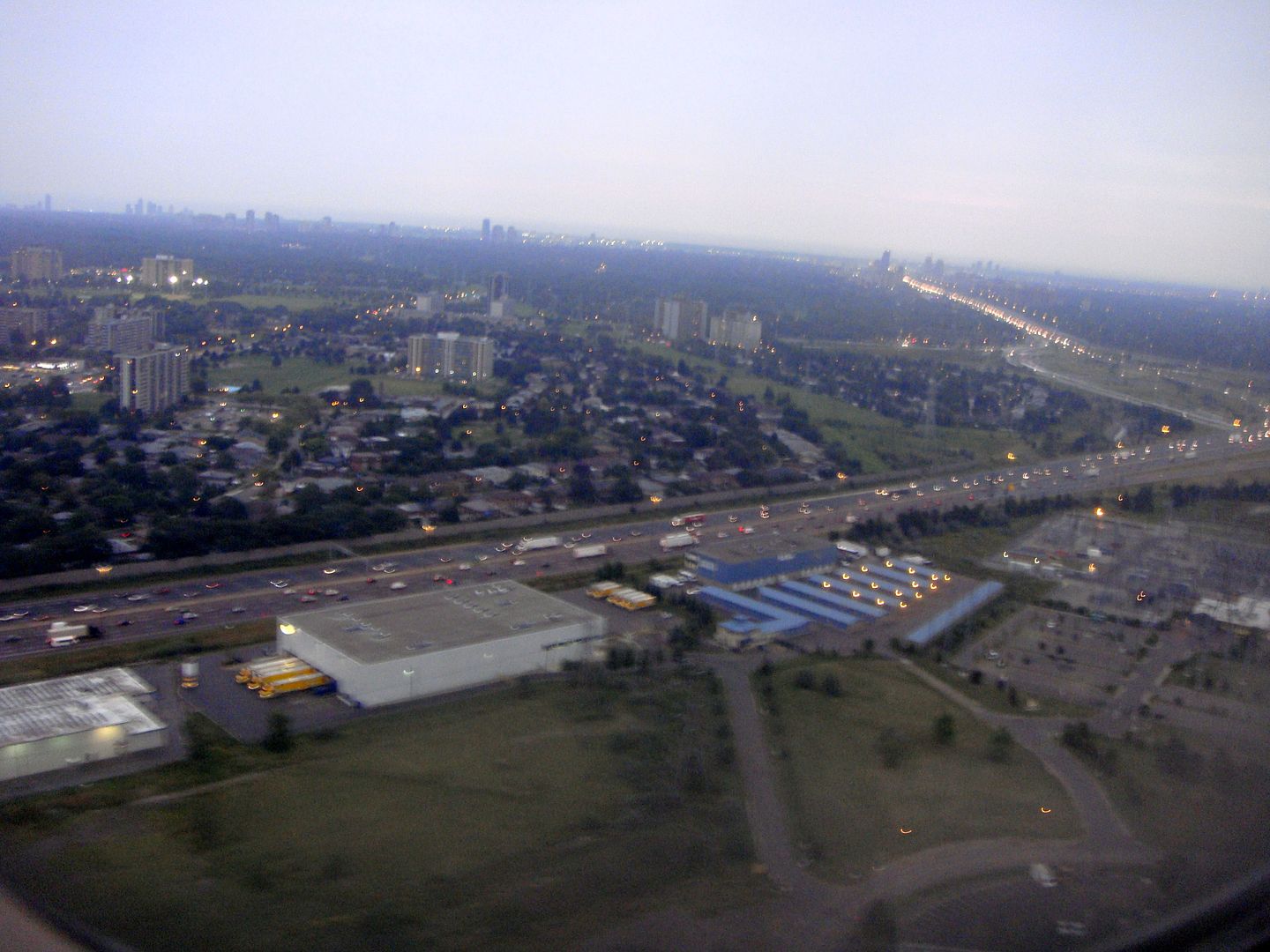 Although our flight wasn't leaving until 21.05, it was supposedly boarding at 19.50 and we knew from past experience that getting to the international departure area would take a while.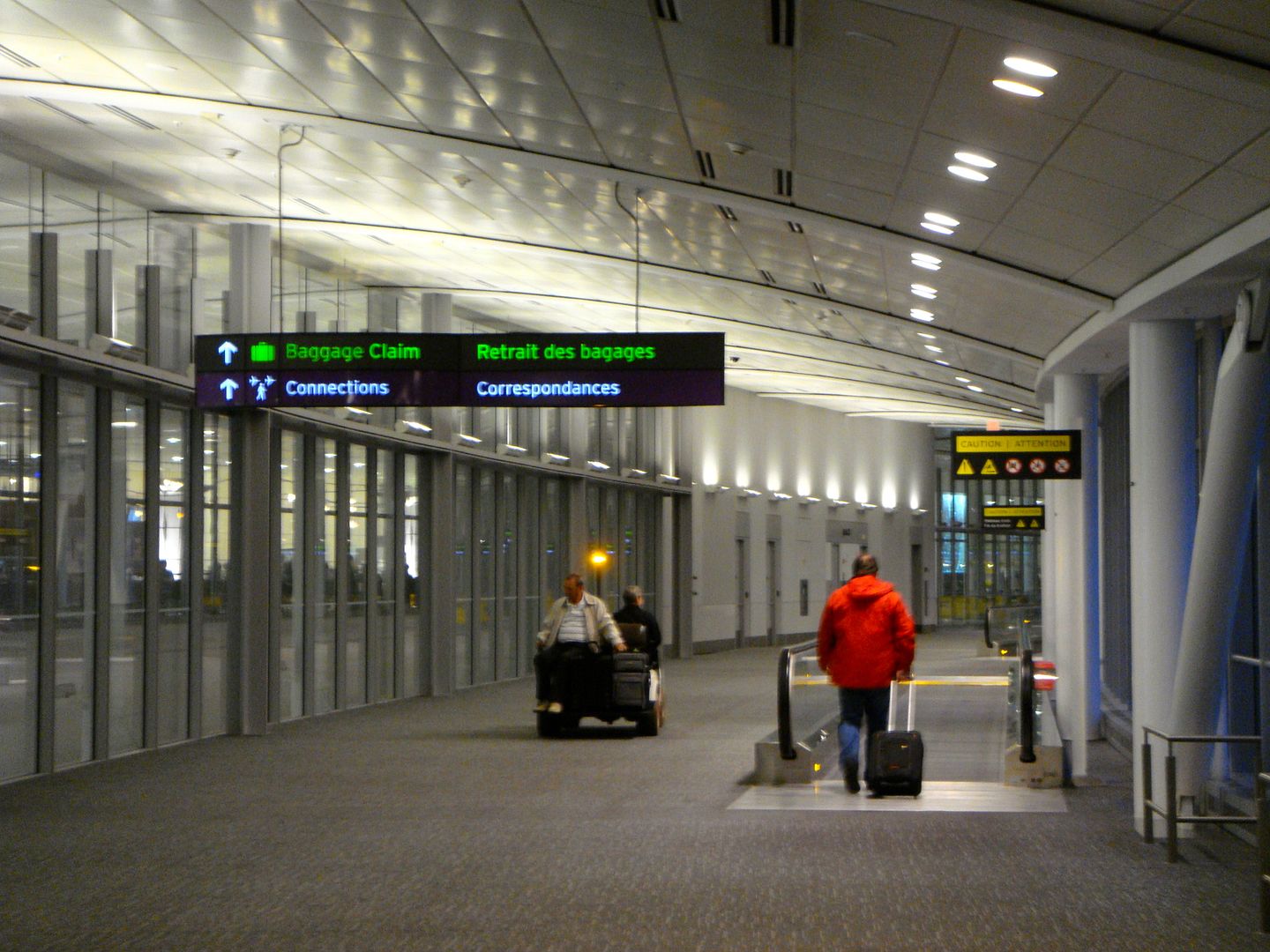 Normally the trek is speeded up by the high speed moving sidewalks but unfortunately they were out of order on this day and we had to make due with the slower version
Lots of activity out there in the rain
Still some time for Duty Free. I didn't buy it but was intrigued that Wayne Gretzky is now in the wine business!
AC882 A330-300
YYZ 21.05
CPH 10.45
Seats 12K & 13K
By the time we made our purchase in Duty Free and exited by our gate, it was too late to go to the lounge. Again, we didn't wait to long before priority boarding was called and away we went! There seemed to be a lot of activity when we boarded and the in-charge was somewhat distracted from his greetings, as the intercom phone was ringing. We were directed to our seats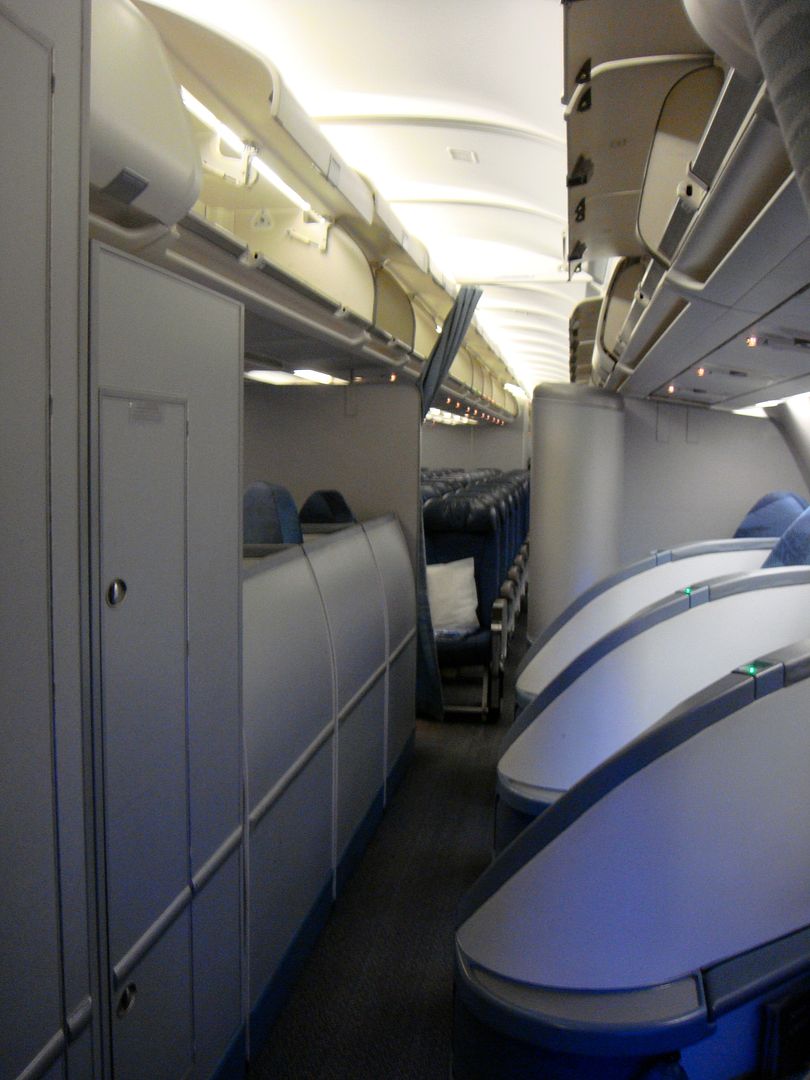 My home for the next 7 hours or so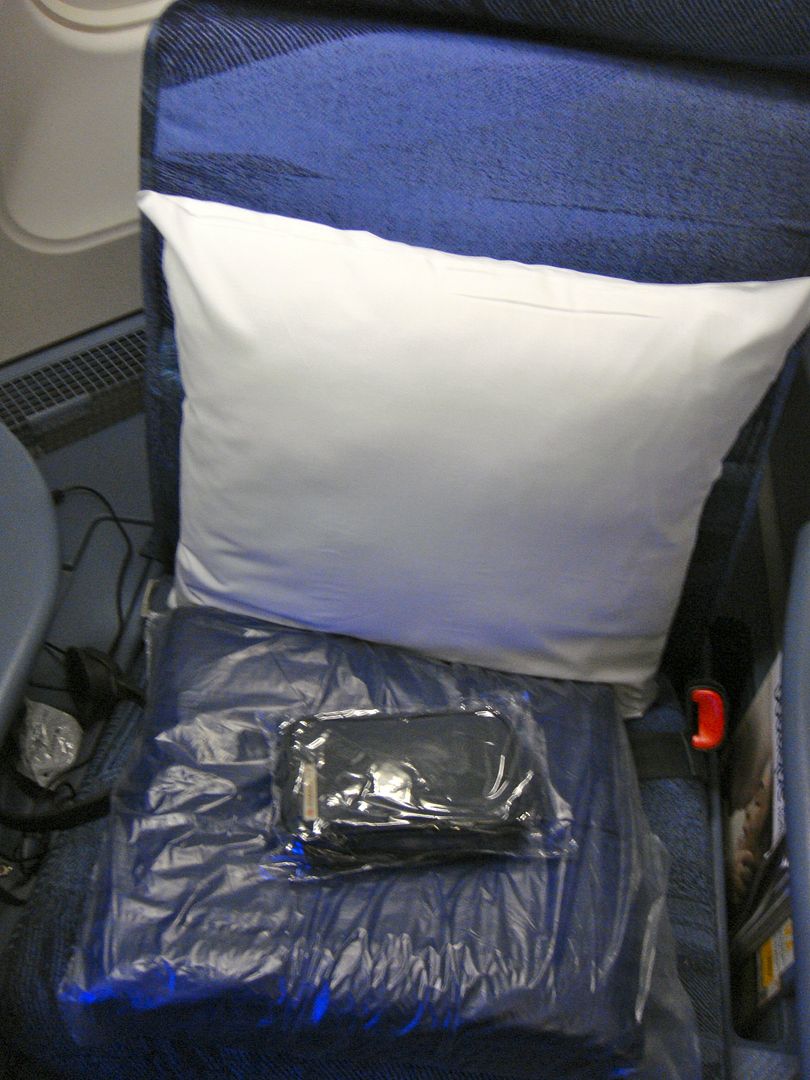 And I got a chance to grab this shot of the Y cabin before it started to fill up and before the maintenance people started going up and down the aisles.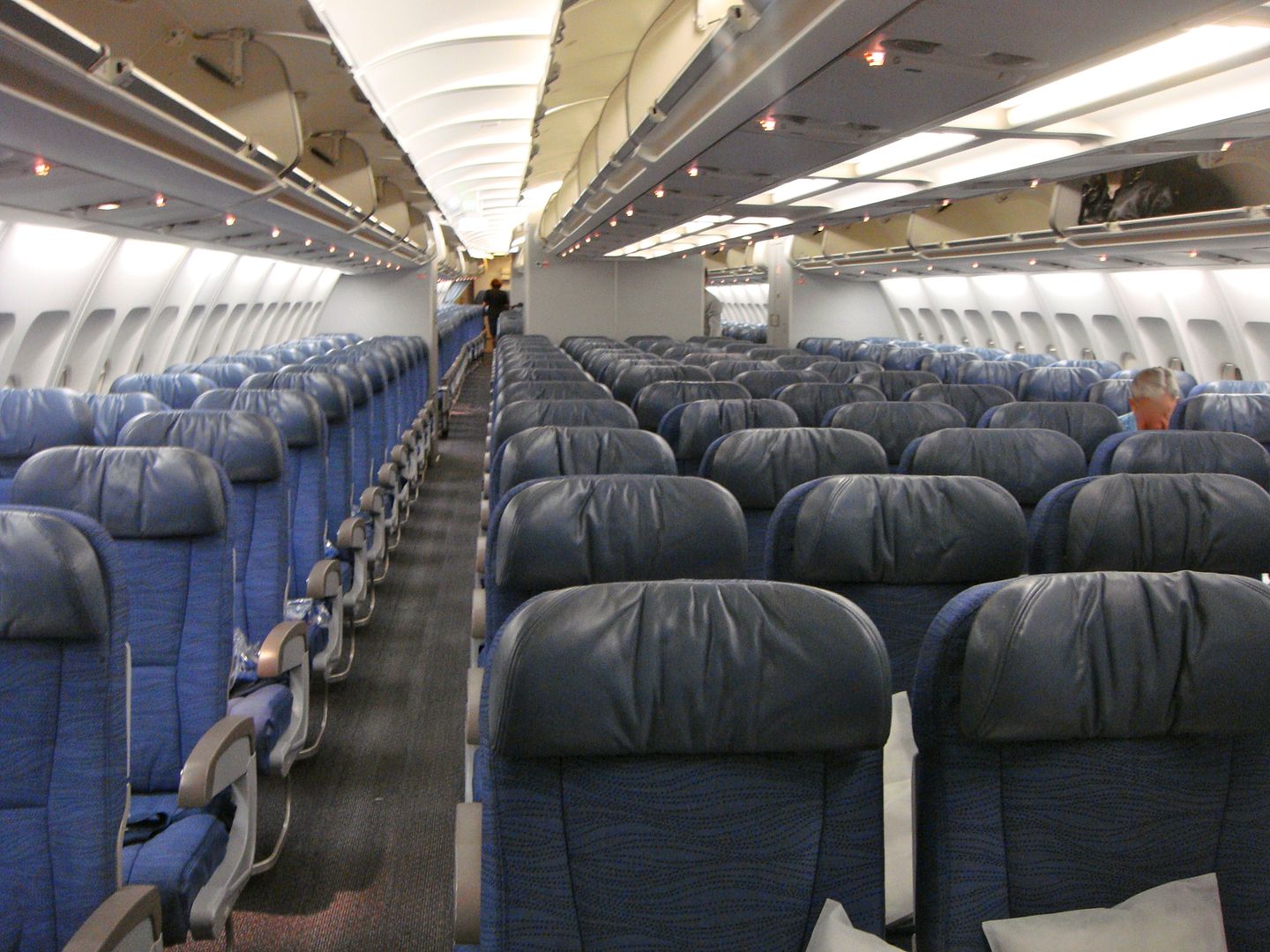 Once general boarding began, it became quite busy and the in-charge made an announcement to the effect that 'it was a full flight and it was everyone'e responsibility to board in an orderly and efficient manner so we could have an on time departure". So imagine our surprise when about 20 min later the captain came on to welcome us, noting that we had passed our departure time, due to the fact that the front end crew had only just arrived but we would make up time because of strong tail winds. So it looked like we would actually arrive a few minutes early into CPH!
This was followed by an another announcement by the in-charge that because of a 'technical problem' there would be no water available to wash our hands on this nearly 7 hour flight. Instead, the toilets would be supplied with wet wipes! Not only that, but it was suggested that we keep the water from our meal trays since there was limited bottled water. As we were later to find out (breakfast) the coffee was put on in YYZ in Thermoses---still surprisingly hot---and there was no facility for making tea.
I have to admit that while I understand this wasn't a 'no go' item, the fact that all of us, crew included, relied on wet wipes to keep clean was a bit disconcerting. Also the sinks were closed off (with wet wipes) so even saving the bottled water to brush your teeth was not an option.
But back to the flight. Menus were again handed out prior to takeoff---maybe while we were waiting for the pilots to settle in!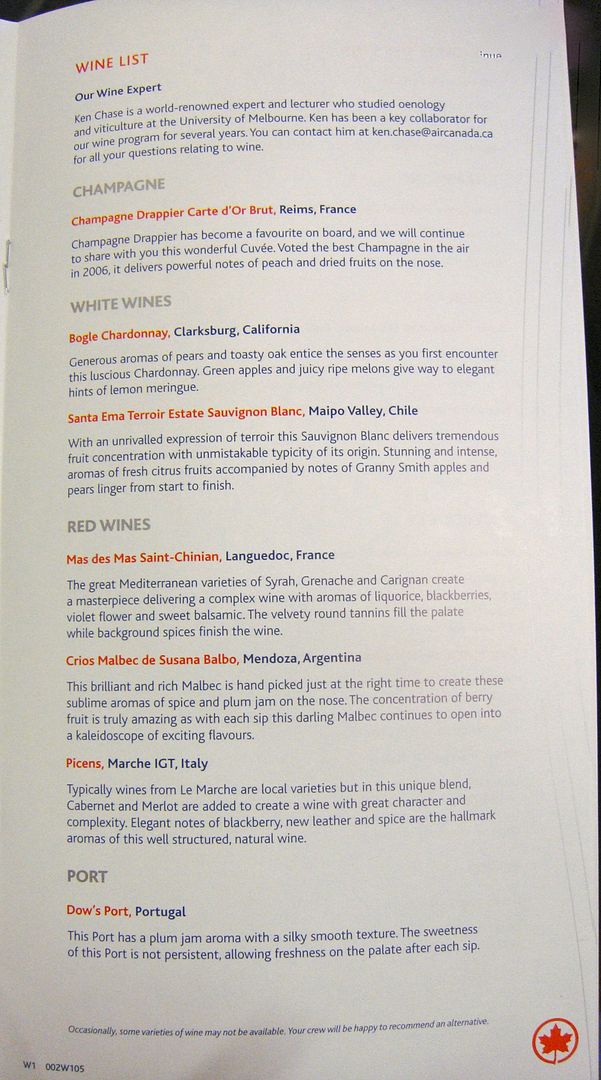 And a few minutes later, after the 'sparkling wine', orange juice and water was passed around, meal orders were taken. It was interesting to see that the featured appetizer was created by a "Top Chef Canada" contestant on an episode that was filmed on board Air Canada, which I had seen a few weeks prior to the flight. However, I had already decided that I wasn't particularly hungry after the lasagne I had eaten only a couple of hours before, so I asked for the 'flex meal' option, to be served once we levelled off.
There was quite a bit of activity going on....last minute upgrades, including a mother and toddler directly across from us, who refused to stay in his mother's lap for takeoff and instead was standing up the entire time! And despite the mechanics continued efforts to try to fix the water situation, they had no luck and I could see even more bags of wet wipes being handed over before the door closed!
Take off was sluggish, must have been the full load, but surprisingly smooth, despite the weather outside. The seatbelt sign went off and within 10 min. I was served my meal by one attendant and then offered a drink by another---all before the regular bar service even began. As we were seated in the smaller J cabin, I couldn't tell who else ordered the flex meal, but I was the only one in our cabin who did. Excuse the very poor quality of the photo, I had my camera on the wrong setting but at least you get the idea of the tray presentation. I went for the beef, which was okay---overcooked--but that's not unusual for airplane steak. The salad was lovely and fresh and I enjoyed the fruit and cheese. Overall, I only wanted a taste of the meal, so it was fine.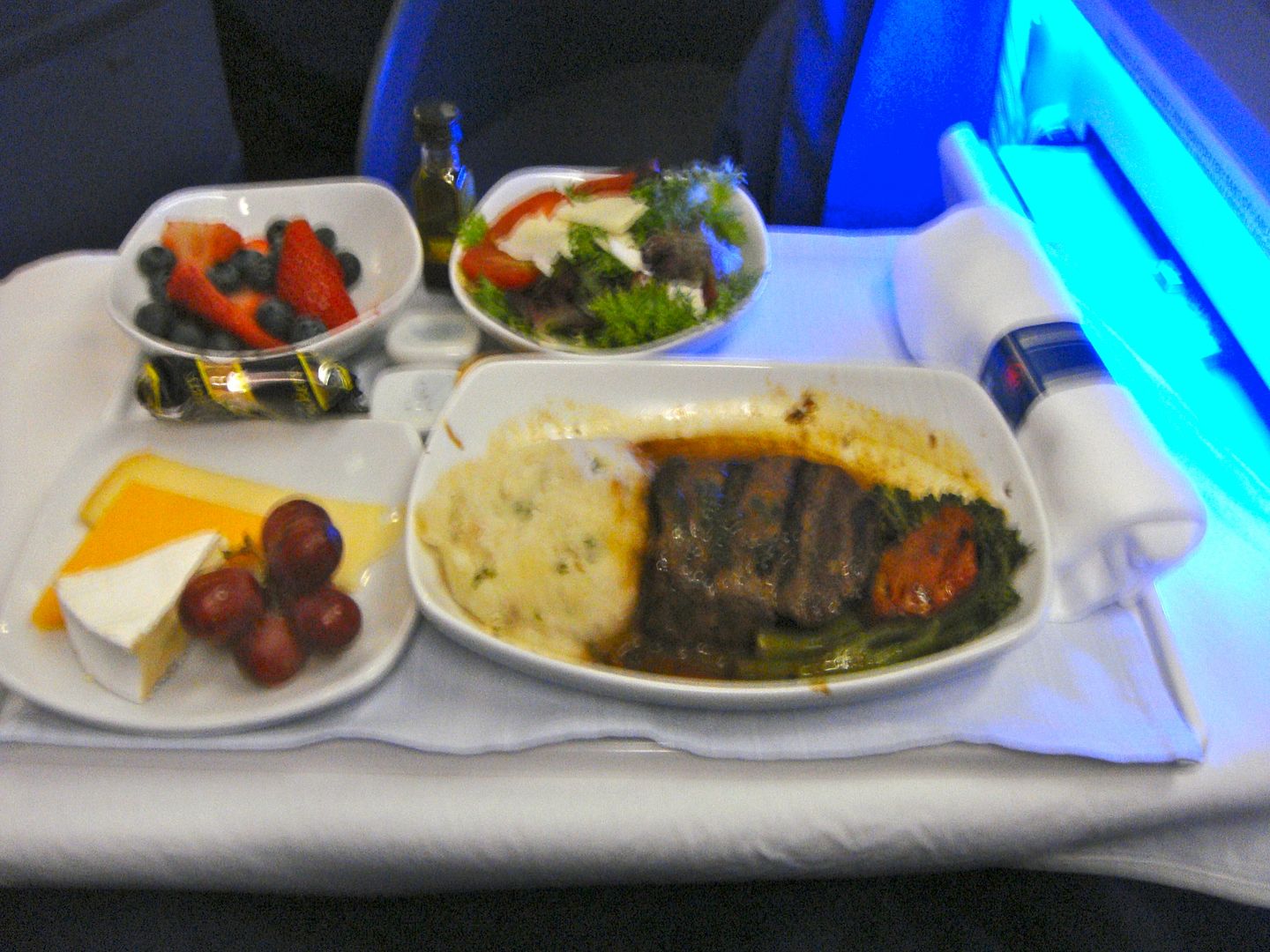 I stuck with the Malbec that I had earlier but before even half the glass was finished, so was I! Putting the bed into the flat position, well as flat as it would go (every time it went flat, the foot portion dropped down about 6 inches, making it quite uncomfortable as I was left with dangling feet!). I managed to doze off and on for about 4.5 hours but kept waking up because the flight was quite turbulent and the seat belt sign and subsequent announcements were on the go most of the night. I had a couple of trips to the lavatory and both times was amazed to see that people had left the empty wet wipes wrappers on the counter, rather than throw them in the bin! Come on people! How difficult is it? (I was more concerned that many had not even bothered to use them, as the supply didn't seem to be going down!!).
About 90 min. out of CPH, I was aware of activity as the continental breakfast was been served but I wasn't too interested. I looked over at Tay51's tray and saw a plate of fresh fruit, yoghurt, and a muffin. Warm croissants and rolls were also being offered but the drinks were limited to coffee, from the thermos (!) or juices. Obviously no tea runs on this flight
.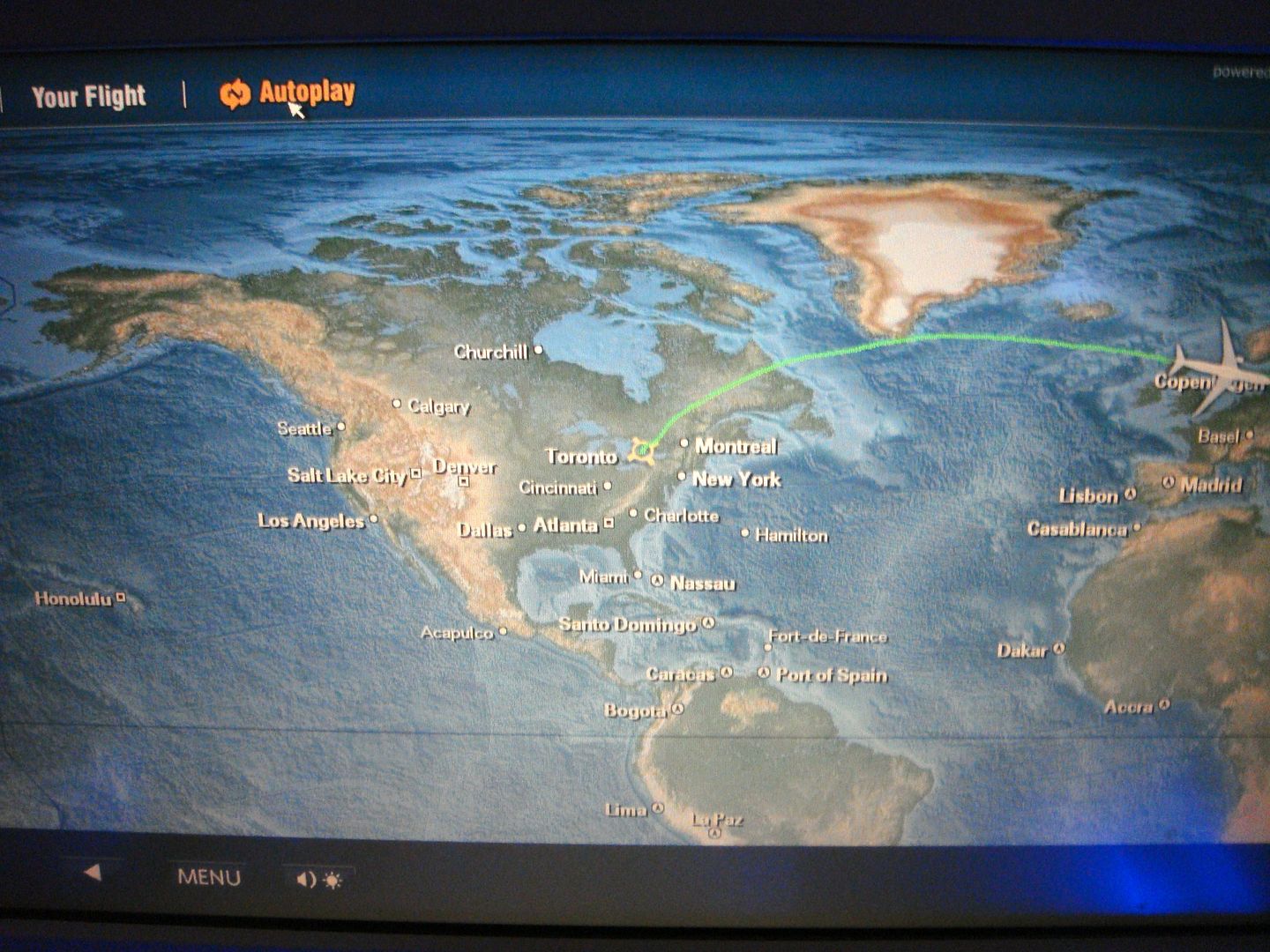 The seatbelt sign remained on for most of the flight and the turbulence lasted right to the end.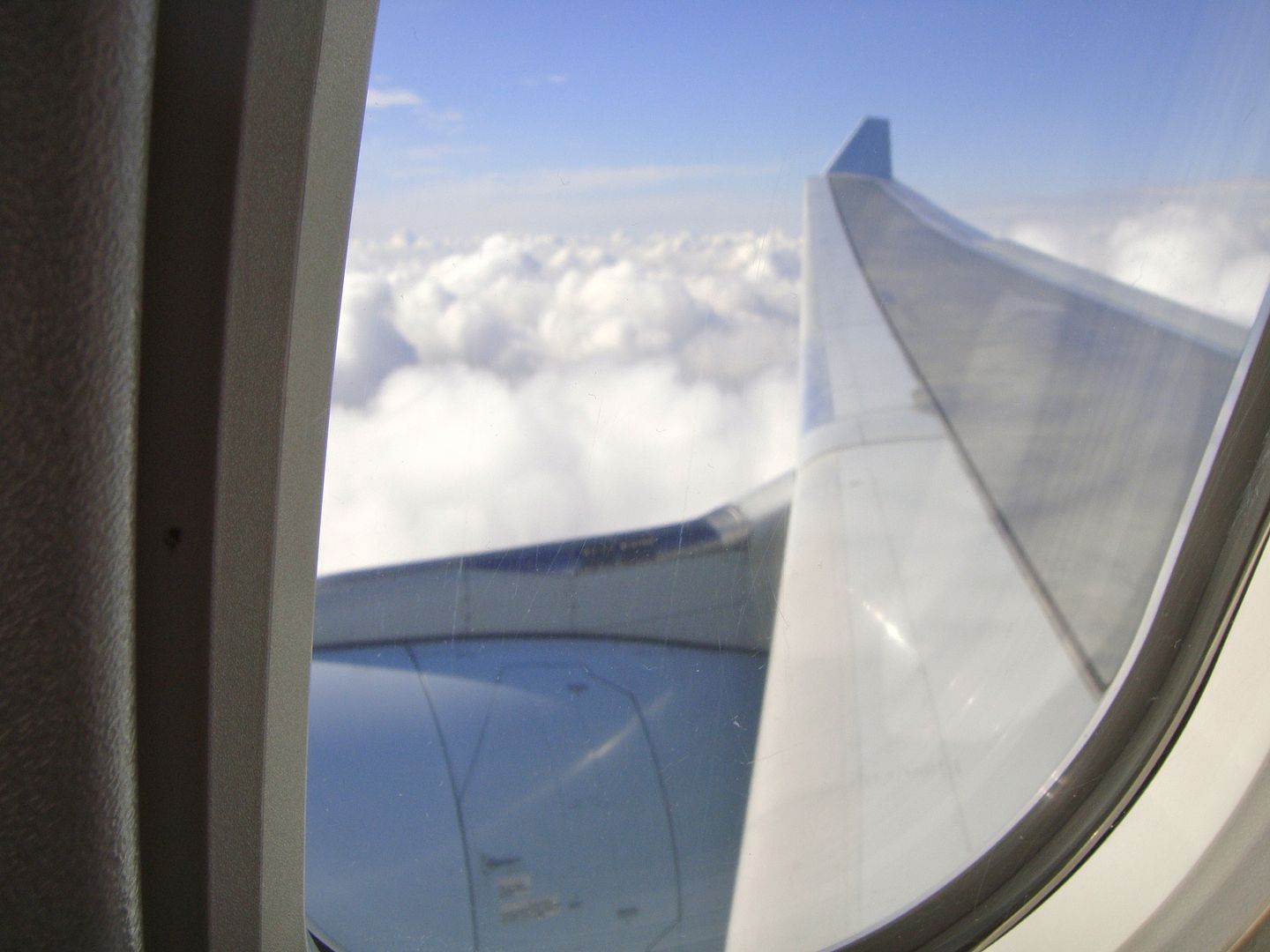 But we did manage to land in CPH about 5 min early and were quickly through security on our way to Immigration, which was also quick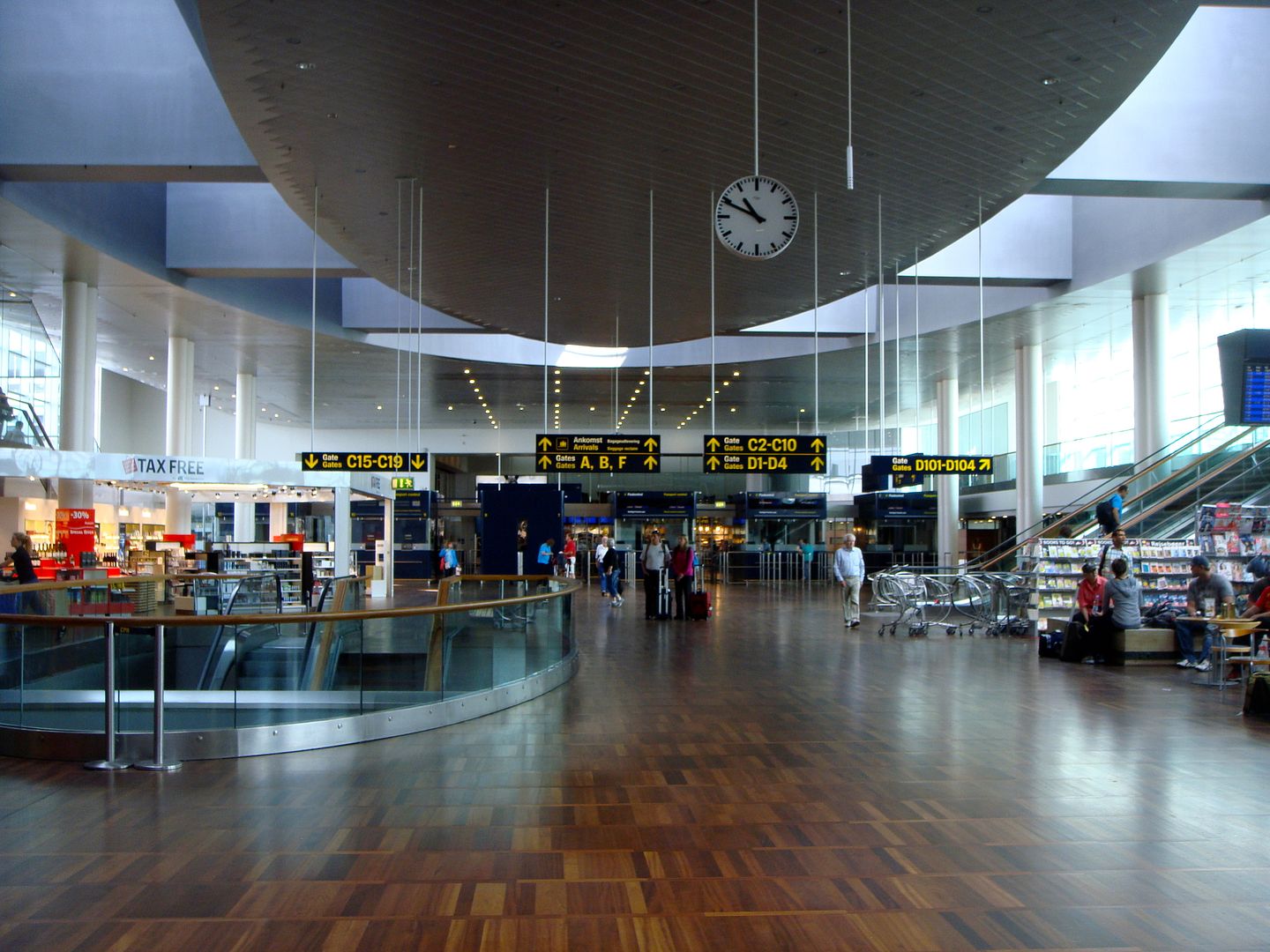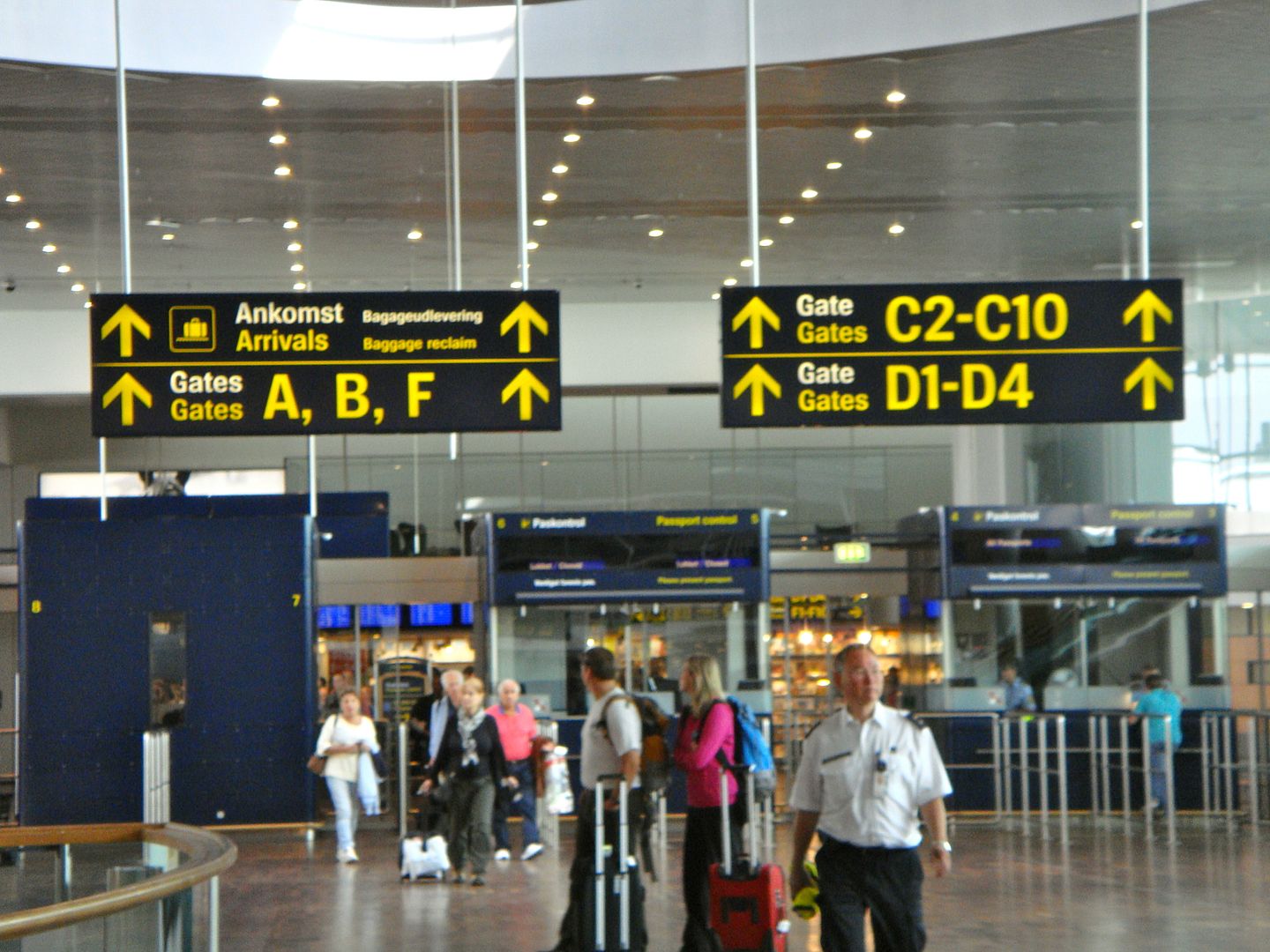 But not as quick from the other side
We had a three hour layover in CPH and one goal in mind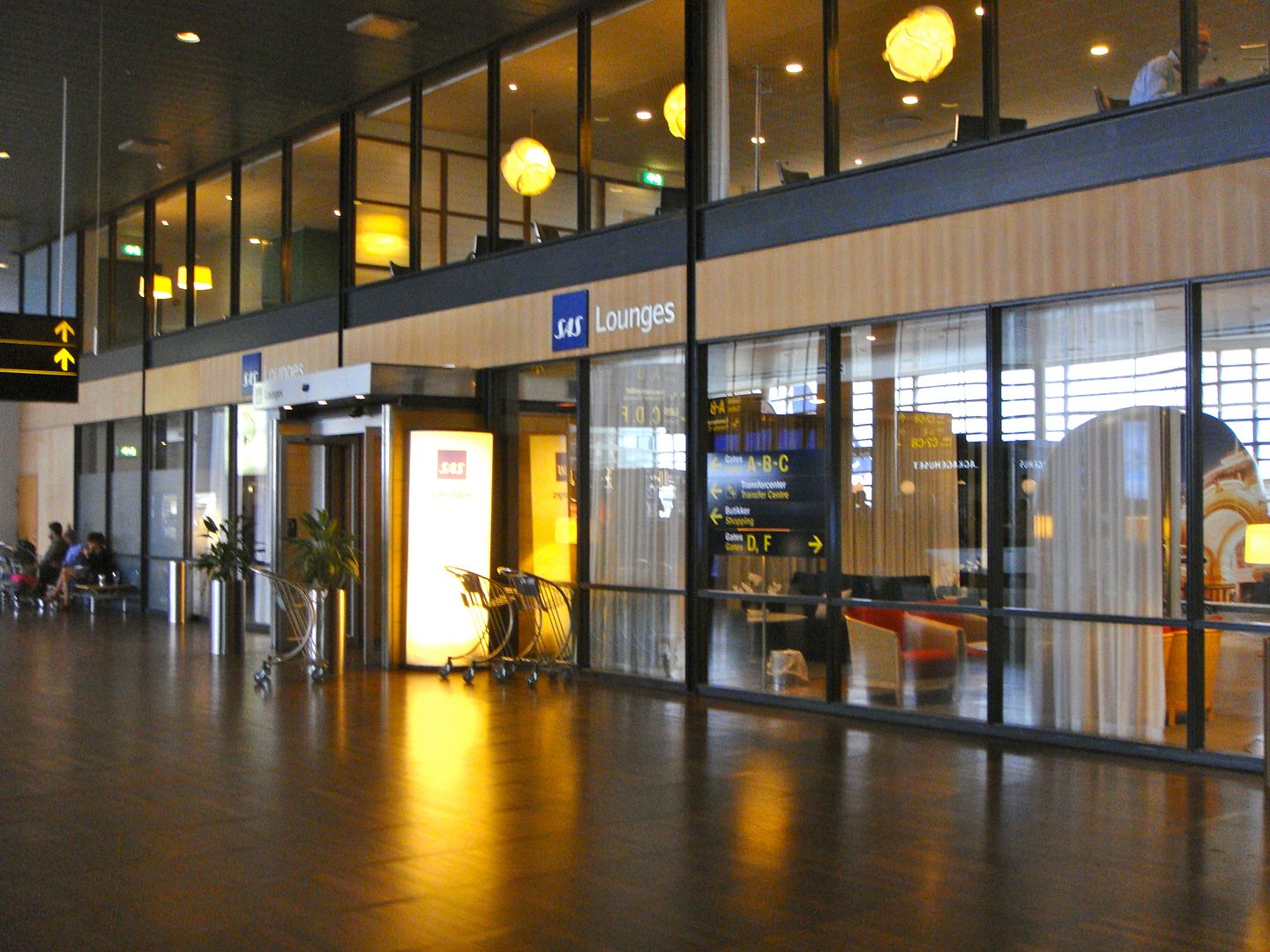 I love the SAS Lounge here! We were welcomed to the lounge and 'especially to the upstairs"
Where there are great views of the concourse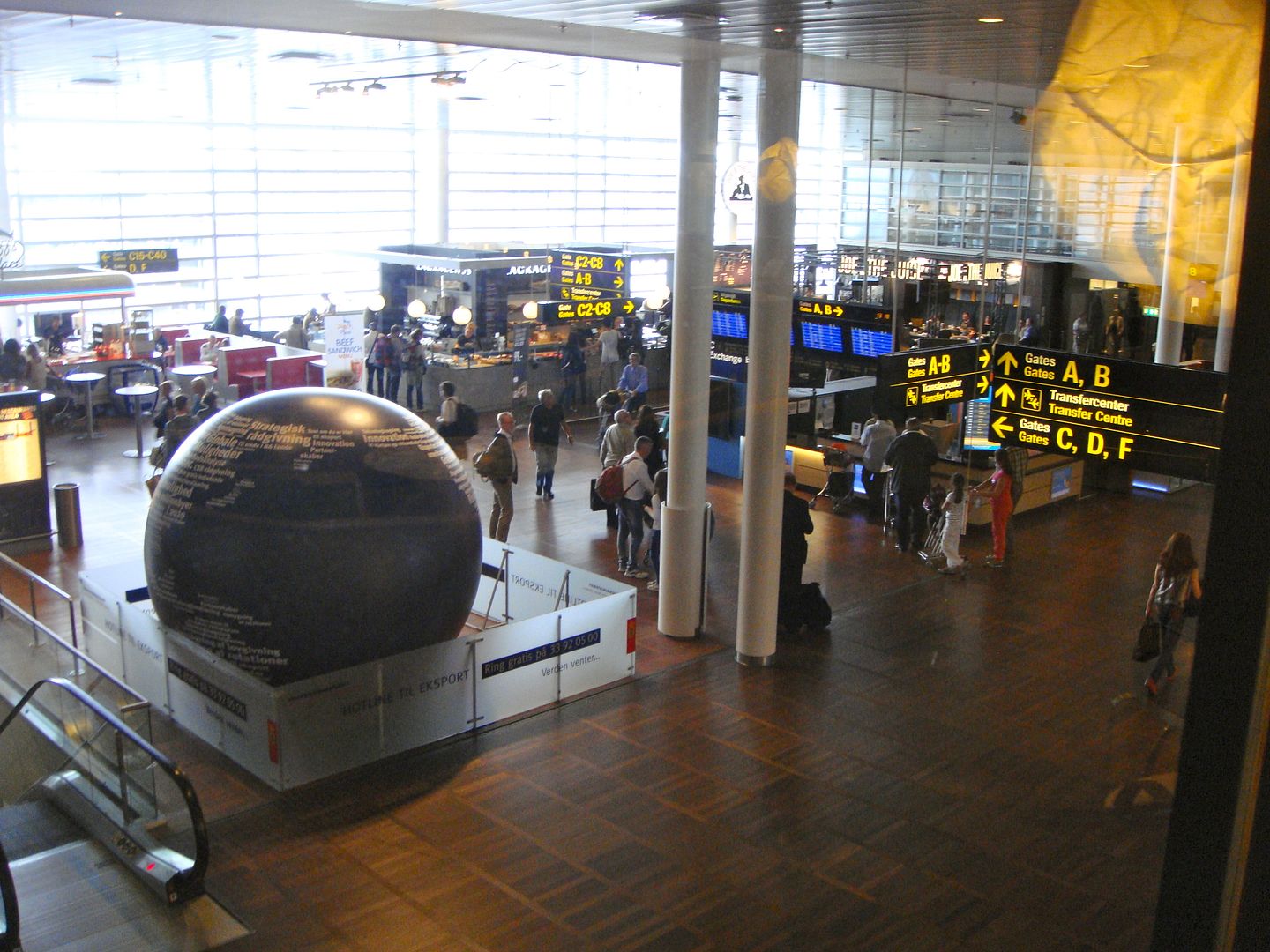 I like this little satellite drinks area in the quiet back room
After a little rest in the comfortable reclining chairs, it was time to make the trek to Gate A11, furthest away from the lounge, or so it seemed (!), for our final flight of the day
SK (operated by KF) 1718: B717
CPH 14.10
HEL 16.45
Seats 15A & 15C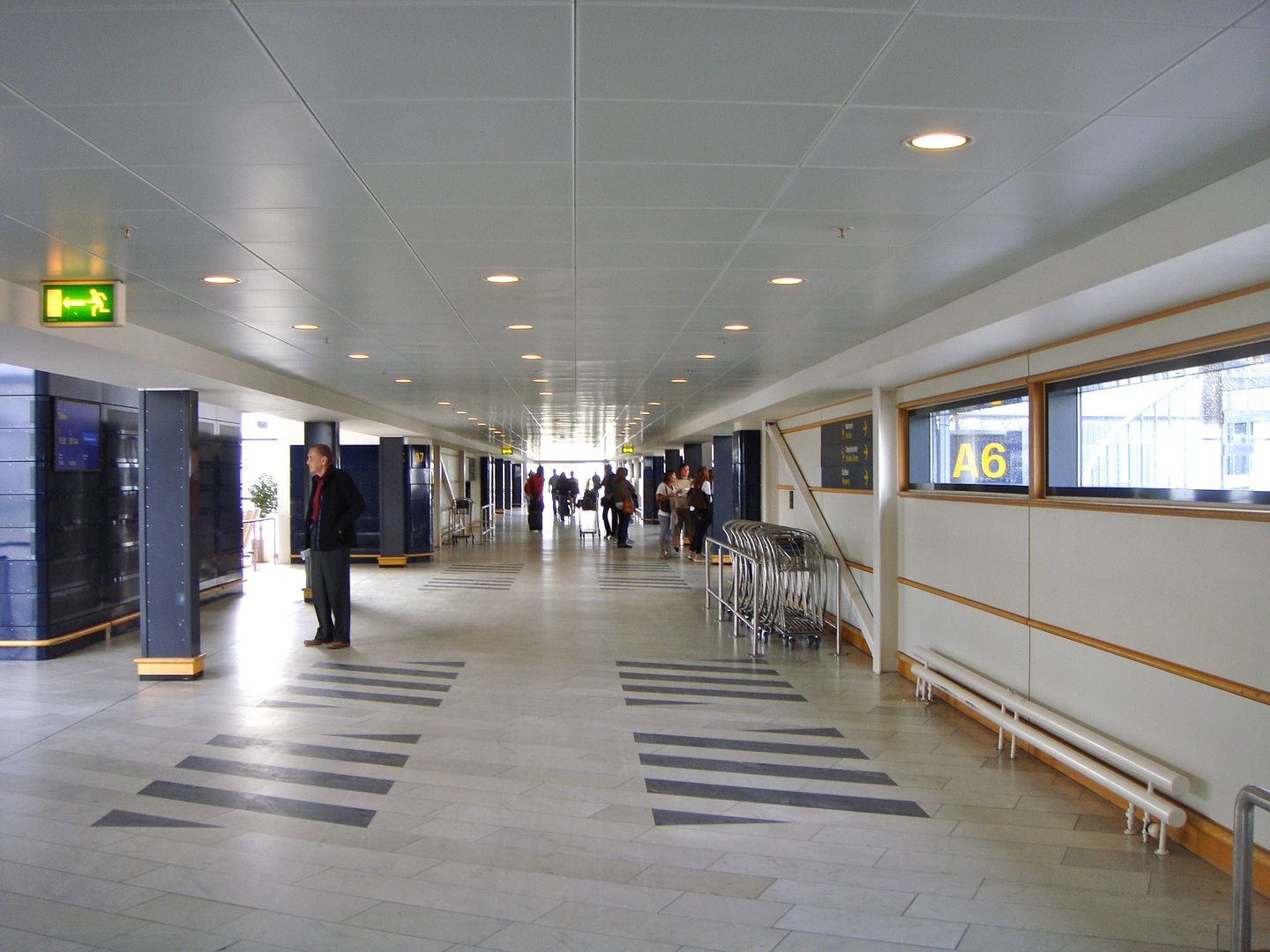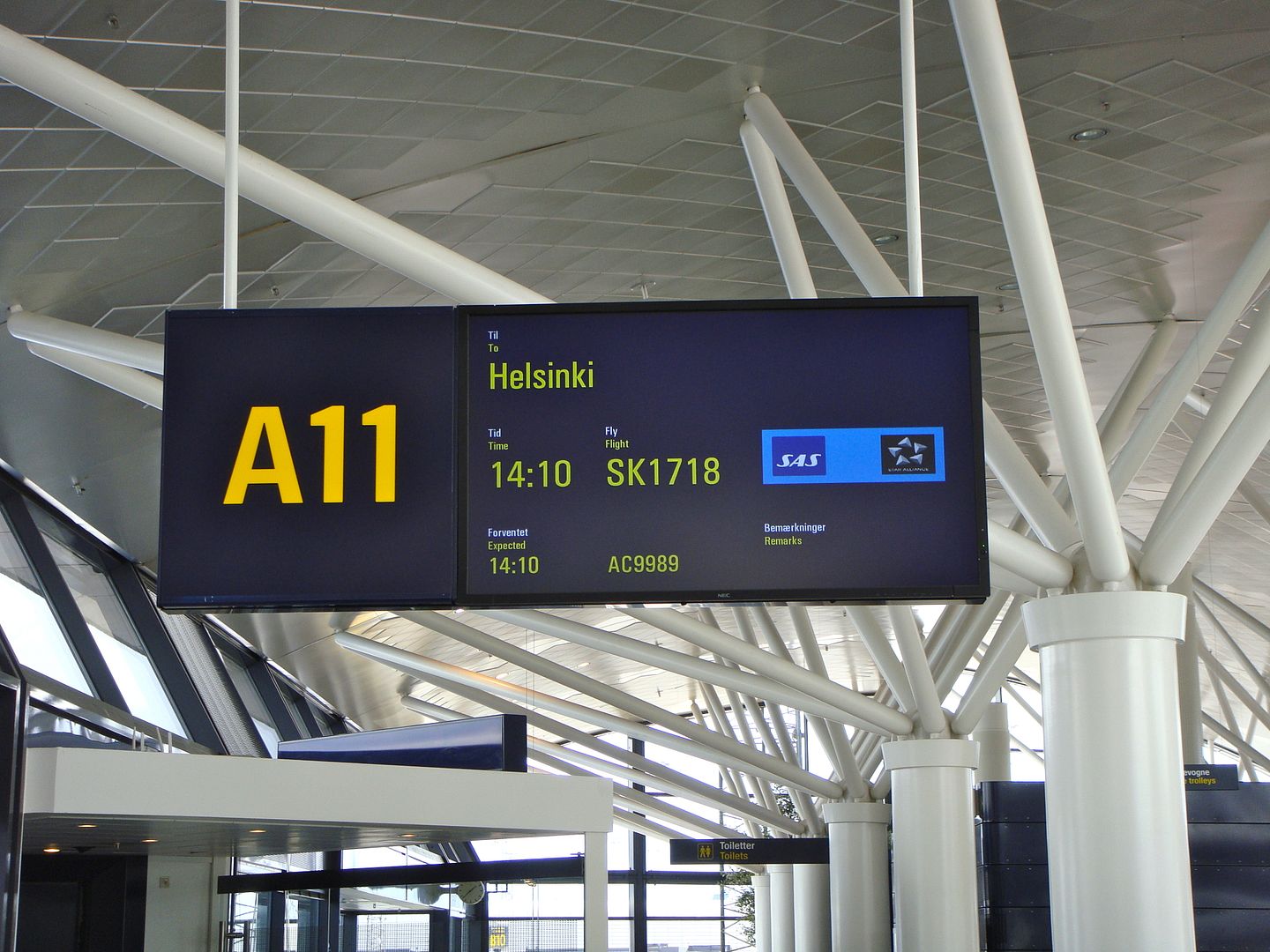 The gate area wasn't too busy and offered some good views
Wonder how long this flight takes?
The only thing better than one marshaller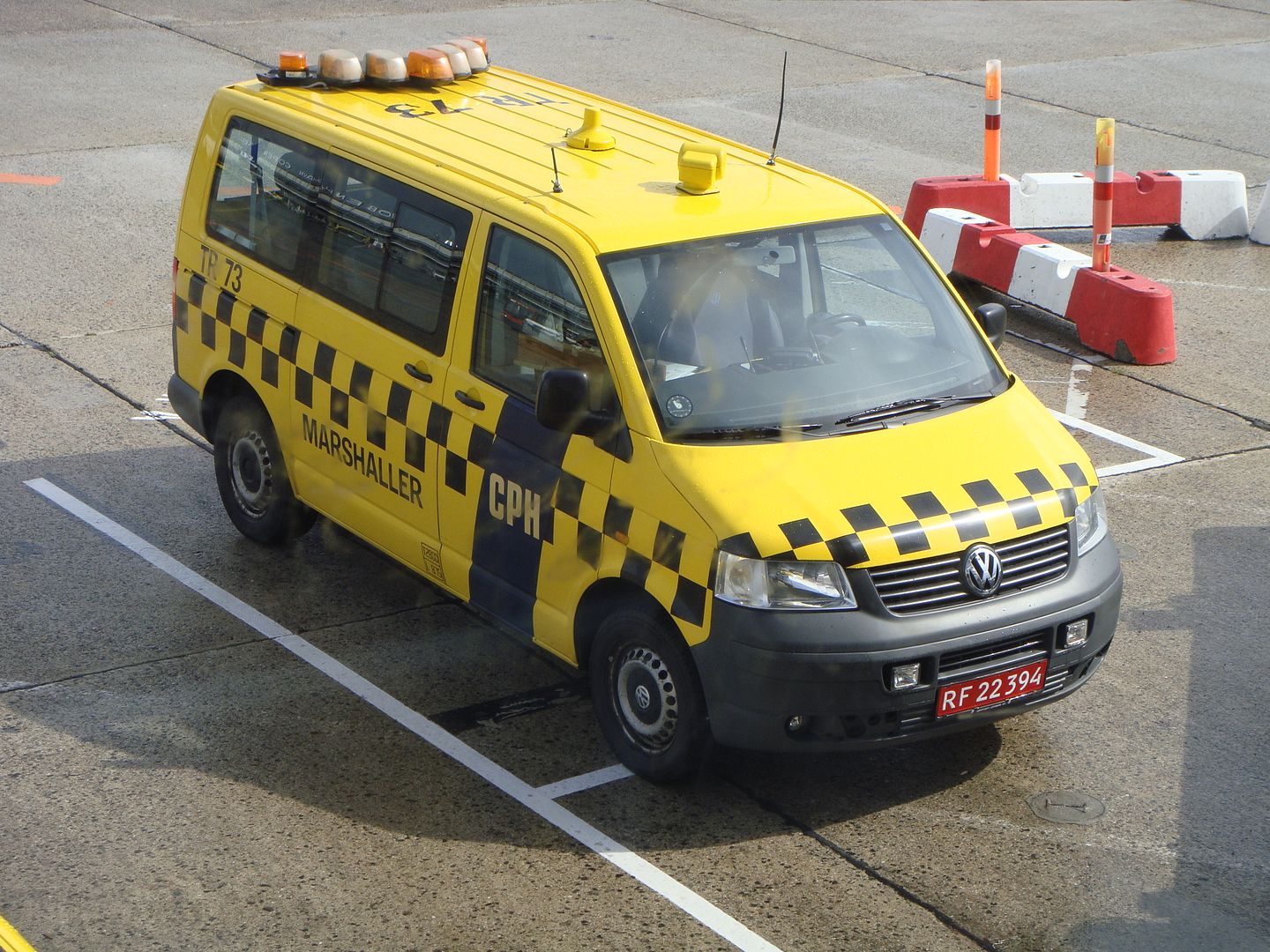 is....three marshallers!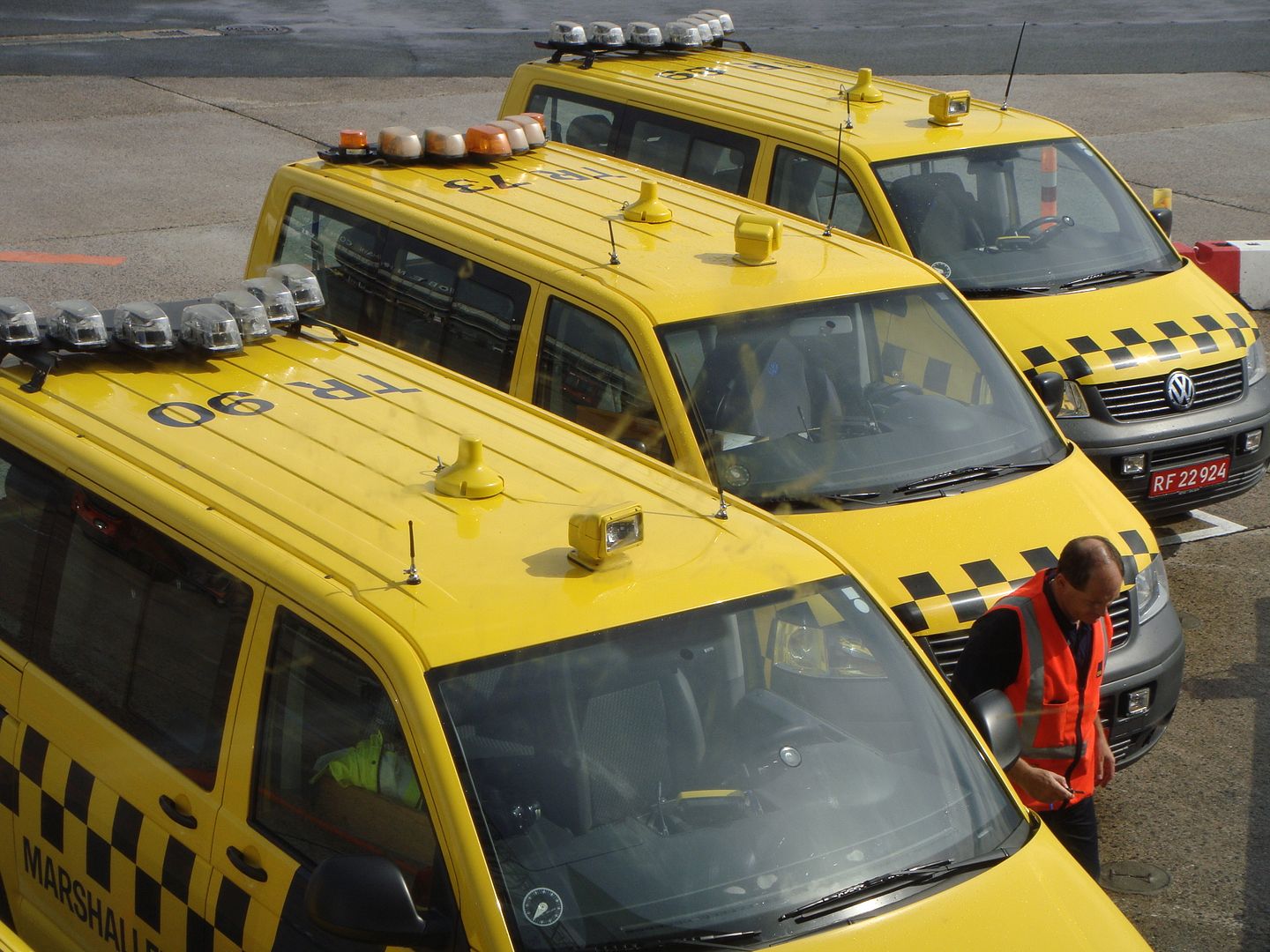 Without much fanfare, boarding is announced for rows 15-24 (we were row 15) and surprisingly, there isn't the usual crush of people going forward. We made our way to row and were pleasantly surprised to discover it was an emergency exit row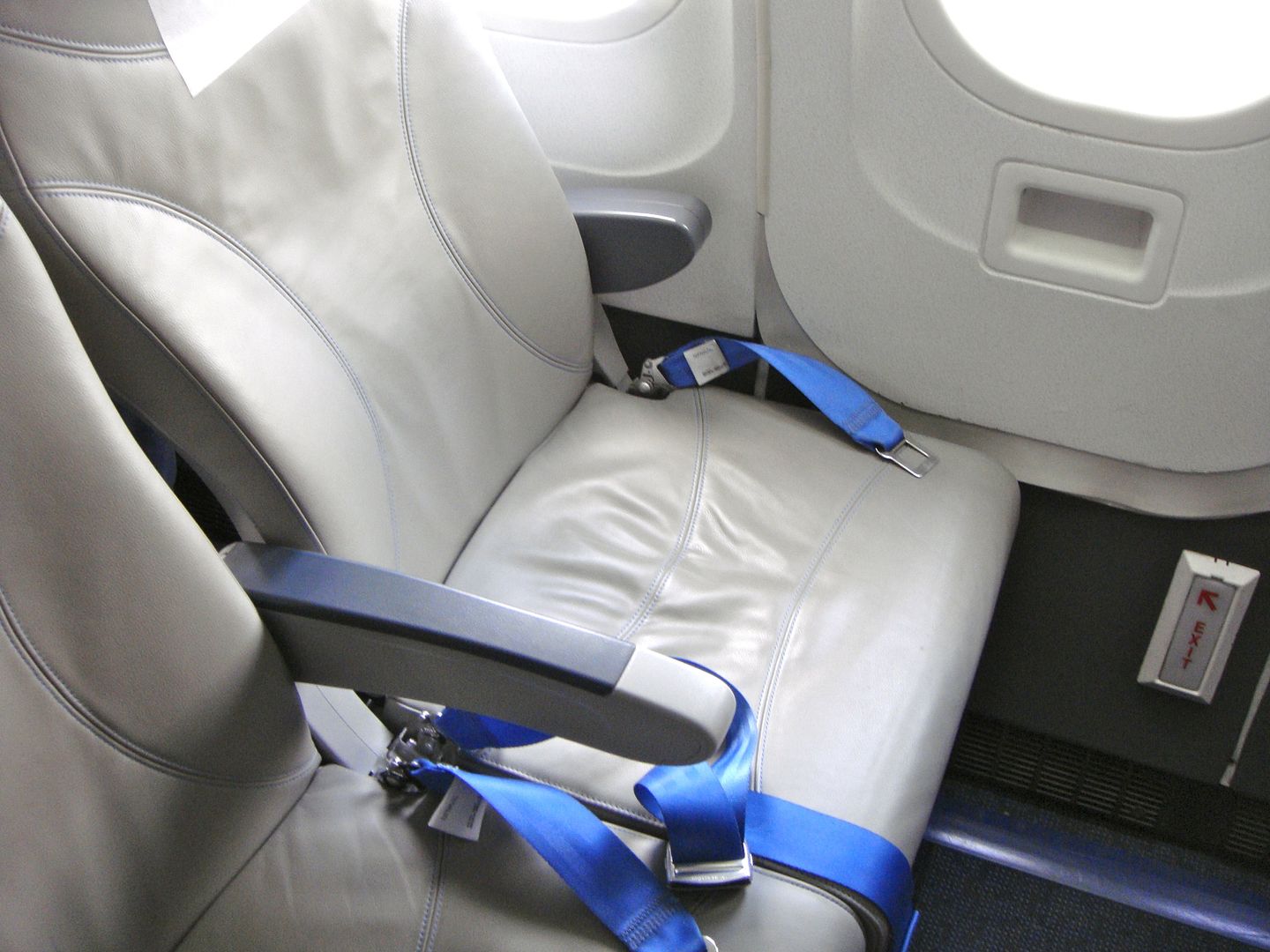 Looks like the card got a lot of reading
Eventually everyone else starts to board and it looks like quite a few missed the call for rows 15-24!
A brief welcome from the captain, who announced a flying time of 1 hour 20 minutes and the promise of a sunny day in Helsinki, and we are off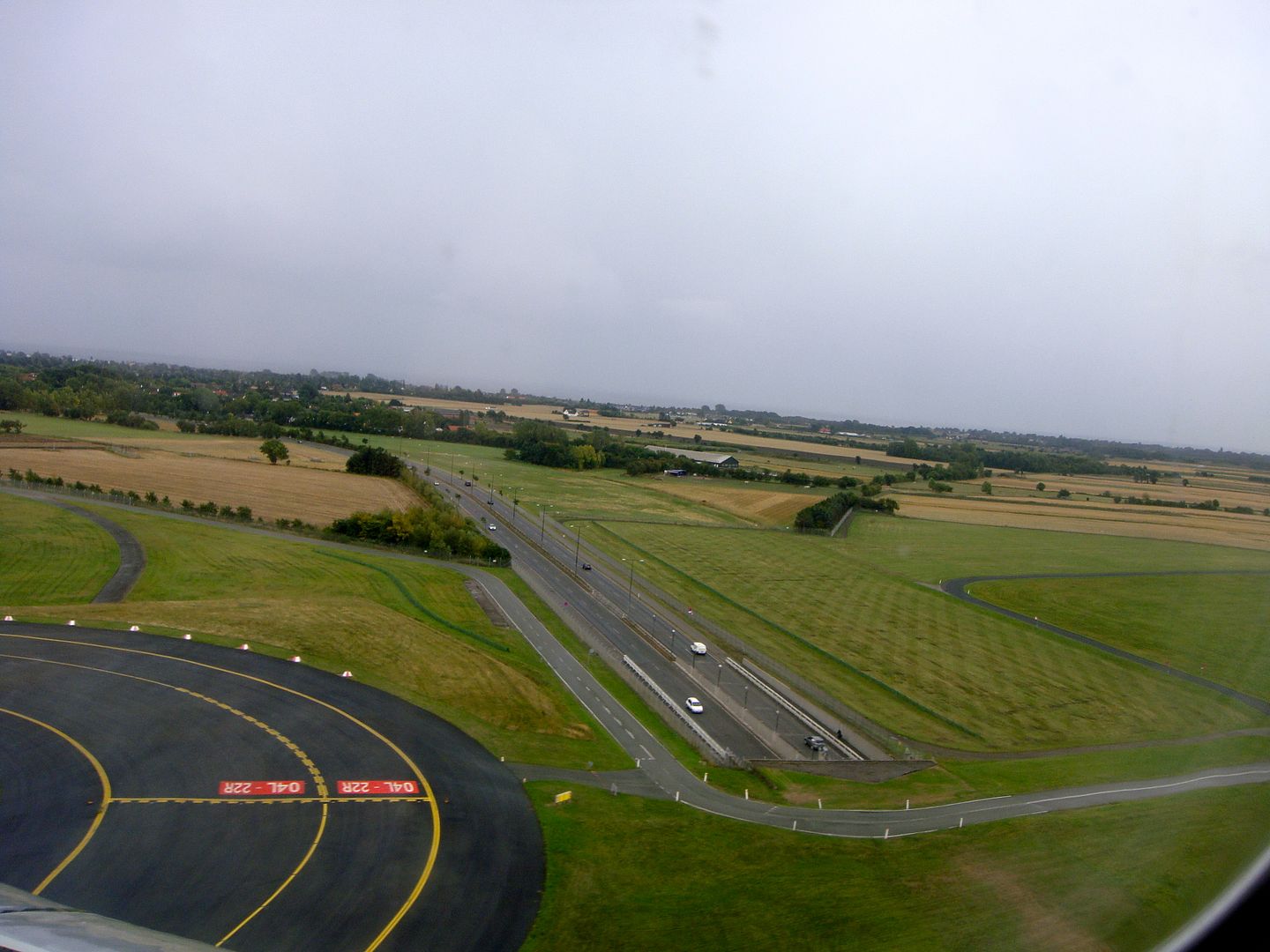 Blue 1 does the usual BOB service, followed by tea and coffee. At this point, we were both really feeling tired and could barely keep our eyes open. But I brightened up at the first signs of Finnish landfall!
And Finnish clouds!
I listened to a little "Danny" singing "Kaun" on my iPod, to put me in a Finnish frame of mind and finally, 10 minutes to landing was announced!
Touchdown! We are back in Finland
We are lucky and park at Gate 16
Down the stairs to Baggage Claim Area 1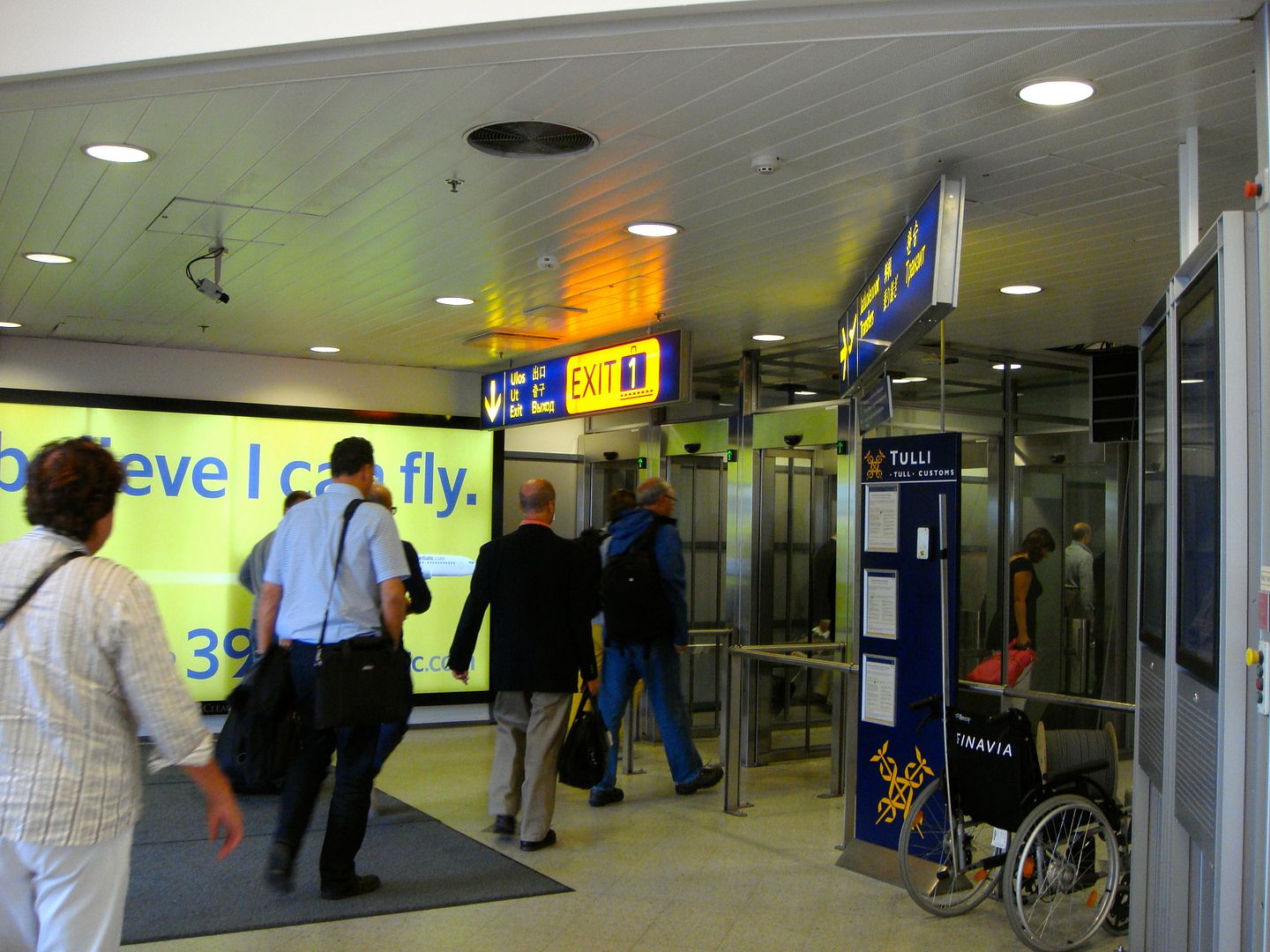 But another flight is arriving at the same time, so it seems our luggage is otherwise occupied!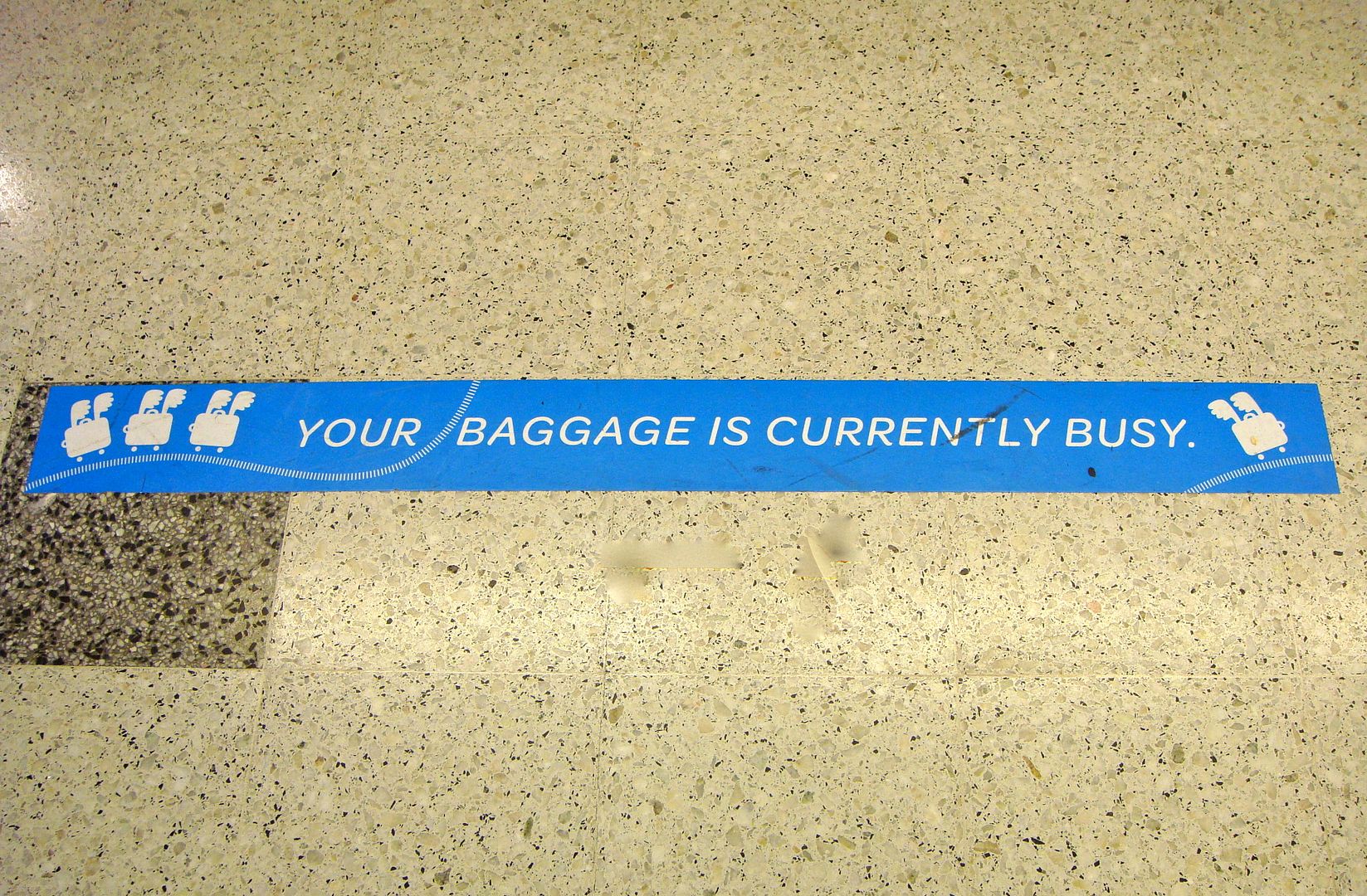 After 15-20 min. we are ready to leave
All our luggage has made it and we are on our way to what will be home for the next couple of months
However, stay tuned, as we have upcoming trips to Lulea and Dubrovnik in the next few weeks.
Thanks for reading and sorry about the quality of the photos. Comments and questions always welcome!
Jean