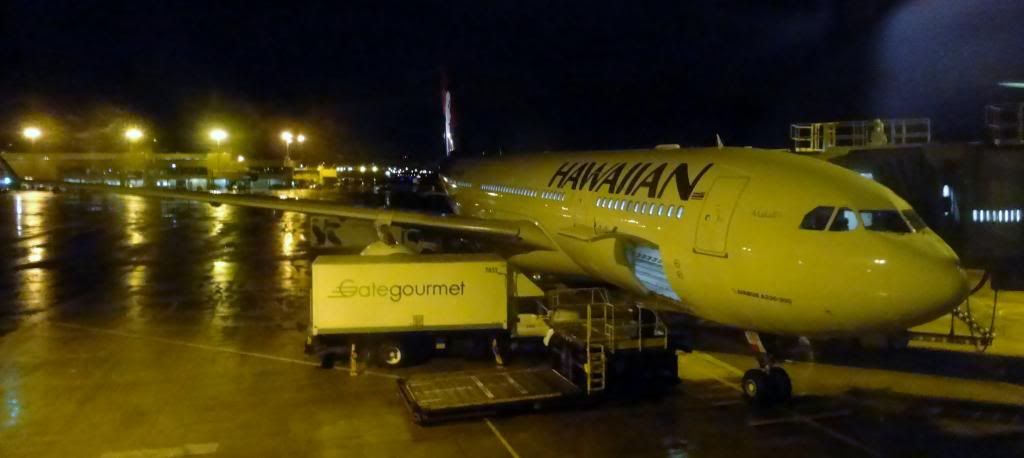 Introduction
Hello everyone and welcome to part 8 of this USA trip series!
For part 1 featuring my first 2 flights on SAS' "new" A320 please see here:
USA Trip Pt. 1: Getting Started!: AMS-CPH-GVA
(by
adamspotter
Apr 14 2013 in Trip Reports)
For part 2 featuring a scenic early morning flight across the Alps on a Darwin Saab2000, an uncomfortable hop across the pond with Alitalia and my first US Domestic flight (of this trip) on DL please see here:
USA Trip Pt. 2: Crossing The Pond: GVA-FCO-JFK-ATL
(by
adamspotter
May 2 2013 in Trip Reports)
For part 3 featuring a nice flight on Delta's mighty 777-200LR between ATL-LAX please see here:
USA Trip Pt. 3: Riding The 777-200LR!: ATL-LAX
(by
adamspotter
May 8 2013 in Trip Reports)
For part 4 featuring my first experience with Virgin America from LAX-BOS please see here:
USA Trip Pt. 4: Tryin' Out The Virgin!: LAX-BOS
(by
adamspotter
May 14 2013 in Trip Reports)
For part 5 featuring my first experience with Jetblue between BOS-EWR-MCO please see here:
USA Trip Pt. 5: Jetting With Blue: BOS-EWR-MCO
(by
adamspotter
Jun 2 2013 in Trip Reports)
For part 6 featuring yet another first experience, this time on Alaska Airlines between MCO-SAN please see here:
USA Trip Pt. 6: A Morning With Alaska: MCO-SAN
(by
adamspotter
Jun 13 2013 in Trip Reports)
For Part 7 featuring my flights to Hawaii on Delta please see here:
USA Trip Pt. 7: Heading To Hawaii: SAN-LAX-HNL
(by
adamspotter
Jul 13 2013 in Trip Reports)
This part will concentrate on my HNL-LAX-PDX flights.
Due to missing out on my Hawaii Island hopping flights (see part 7), this series will now be split into 12 different parts:
Part 1: AMS-CPH-GVA
Part 2: GVA-FCO-JFK-ATL
Part 3: ATL-LAX
Part 4: LAX-BOS
Part 5: BOS-EWR-MCO
Part 6: MCO-SAN
Part 7: SAN-LAX-HNL
Part 8: HNL-LAX-PDX
Part 9: PDX-SEA-BOI-SMF
Part 10: SMF-SFO-ATL
Part 11: ATL-JFK-VCE
Part 12: VCE-ZRH-AMS
For those of you who are following this series know that I am in Hawaii at the moment, a day later as planned. My DL SAN-LAX flight went tech which caused me to miss my connection at LAX and spend the night there, heading to Hawaii the next day. All of this is covered in Part 7.
To get back to the mainland I wanted to try something different than the US legacy carriers. Hawaiian Airlines immediately caught my eye.
Just a quick word about Hawaiian Airlines:
HAL was founded in 1929 (January 30) and was first named Inter-Island airlines. The name was changed to Hawaiian Airlines in 1941. It's hub is (obviously) Honolulu International Airport.
HAL currently has a fleet of 42 aircraft. Their short haul fleet consists of 1 ATR42 and 18 Boeing 717s for their inter-island flights. Their long haul fleet consist of 14 Boeing 767-300s and 13 Airbus A330-200s. Both types are used for their flights to the mainland and Asia-Pacific region.
Here is an overview of Hawaiian Airlines route map, taken from their website:
Back to the time of booking. As you can see in the route map above I had many different options to choose from on the mainland. I wanted to avoid HALs 767s, as I've heard and read that they have an older interior and try one of their newer A330s. I am no fan of red-eye flights either so wanted to avoid that as well.
Putting both of these factors in consideration left me with just a few suitable options. In the end I booked a one way HNL-LAX segment for $151. Leaving HNL at 08:00 in the morning and arriving at LAX around 15:25.
As I needed to be in PDX the same day (for yet another mission the following day) I booked a cheap Southwest LAX-PDX flight with a quick stop in Oakland. During booking I also immediately paid for the early bird check in, which is a great option and assures me of a window seat!
Enough introduction for now, I hope you enjoy this report as there aren't all to many reports out there about HALs A330s!
Map
Here is the map for this part, as always thanks to the Great Circle Mapper: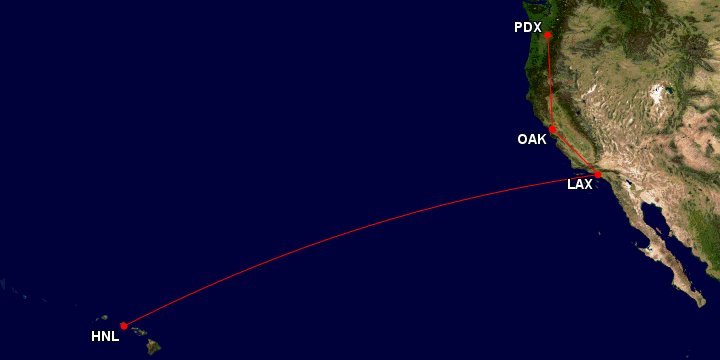 And once again the map of this whole trip also thanks to the Great Circle Mapper: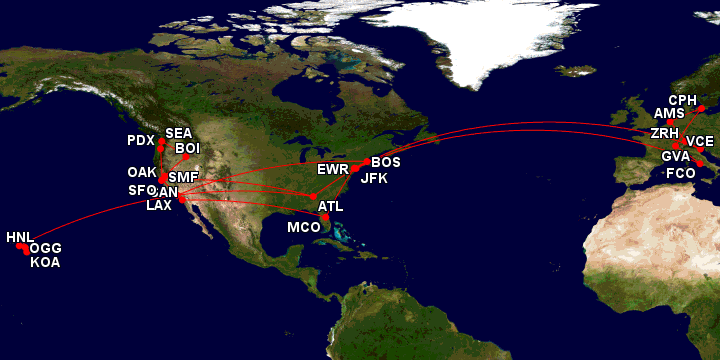 Monday January 28
I am at the Airport Honolulu Hotel. I just got in from LAX last night, but it is time to head back to the mainland again (I know it's crazy!). After a short but good night's sleep my alarm clock goes off at 05:00. I quickly get my morning rituals done and pack my bag. With that all done I head over to the reception desk to check out.
Transportation to the airport will be with the complimentary hotel shuttle service. After just a 5 minute wait the shuttle arrives and takes me (and some other passengers/crew) to the airport. The drive takes about 10 minutes and I am dropped off in front of the check-in areas.
Check In
After tipping the driver, I head inside and straight towards the HAL check-in area. Hawaiian airlines offers a "self-tag" service here in HNL, so I decide to try it out. I approach one of the SSKs and after entering in a few details the machine successfully spits out my BP followed by my baggage tag.
I apply the tag to my bag and drop it off. I have to watch it go through the screening machine before I am allowed to proceed, that was easy!
Next stop is security, which is a breeze and I am through in 5 minutes without any problems. There is not much to do airside at this time in the morning as most of the shops are still closed, so I decide to slowly head towards my gate taking pictures along the way: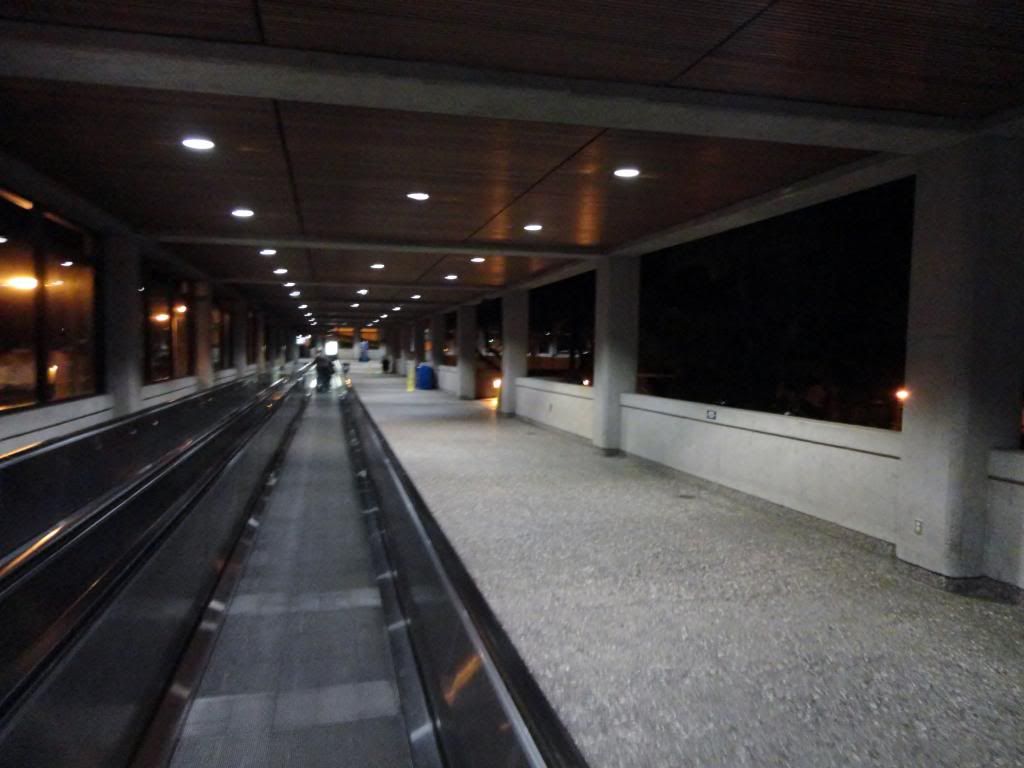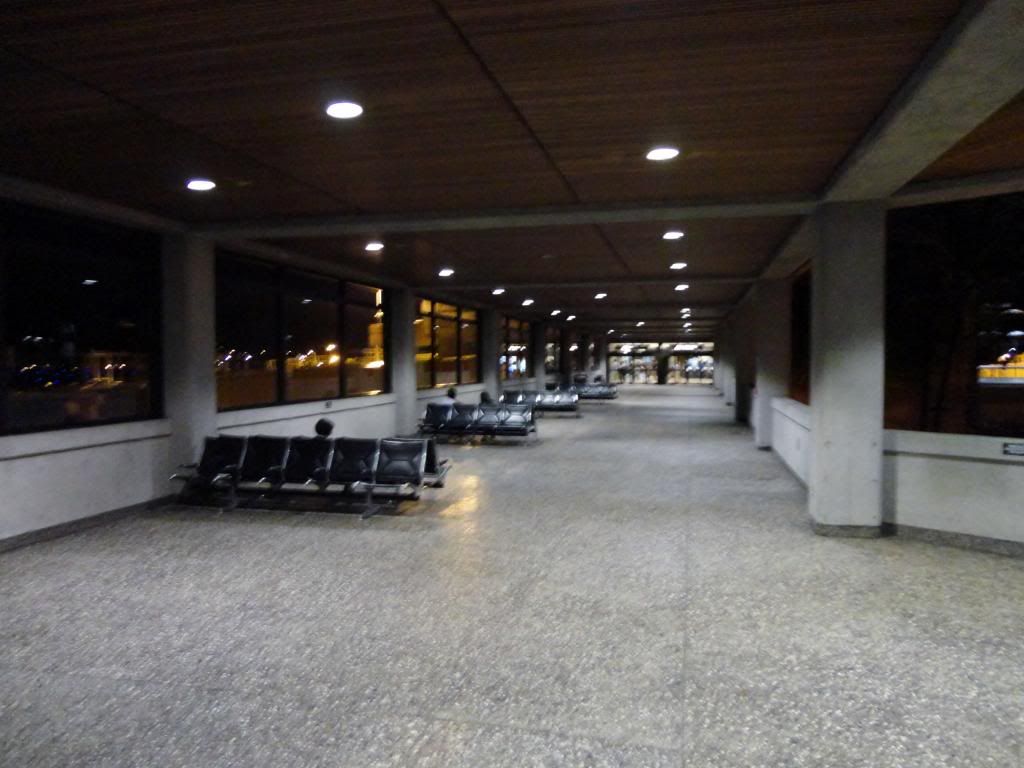 Sure, rub it in!: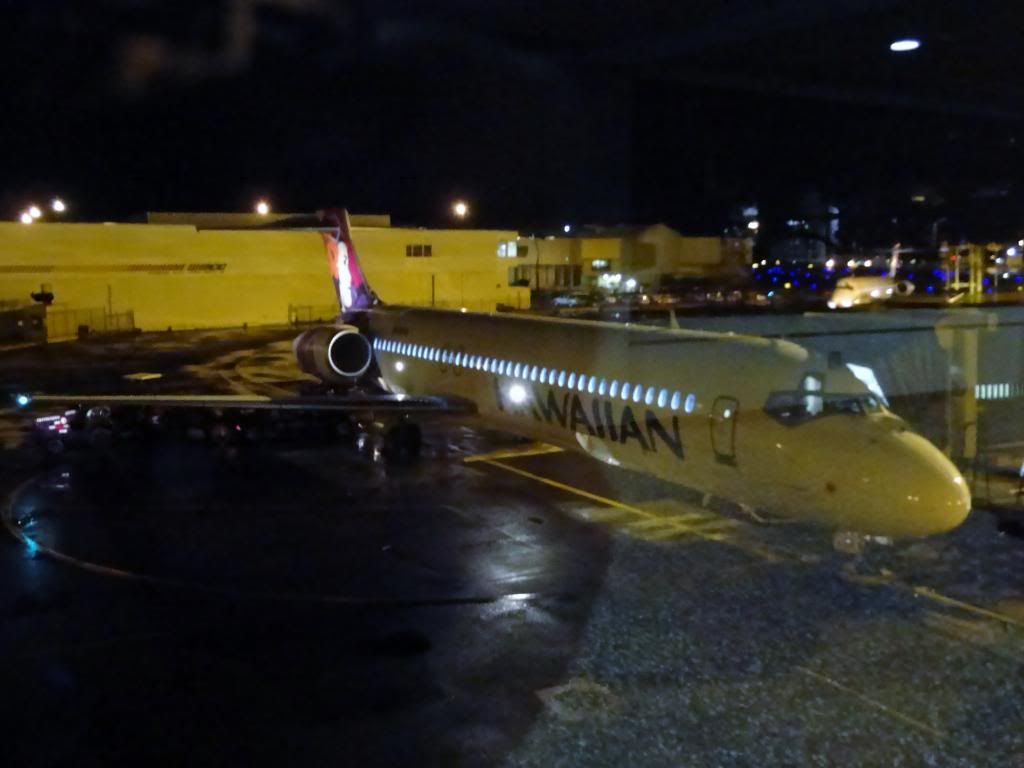 On my way to my gate I also have to pass through an extra agricultural screening (no need to explain what it is as the name says it all). My carry-ons are x-rayed and I am let through without any problems.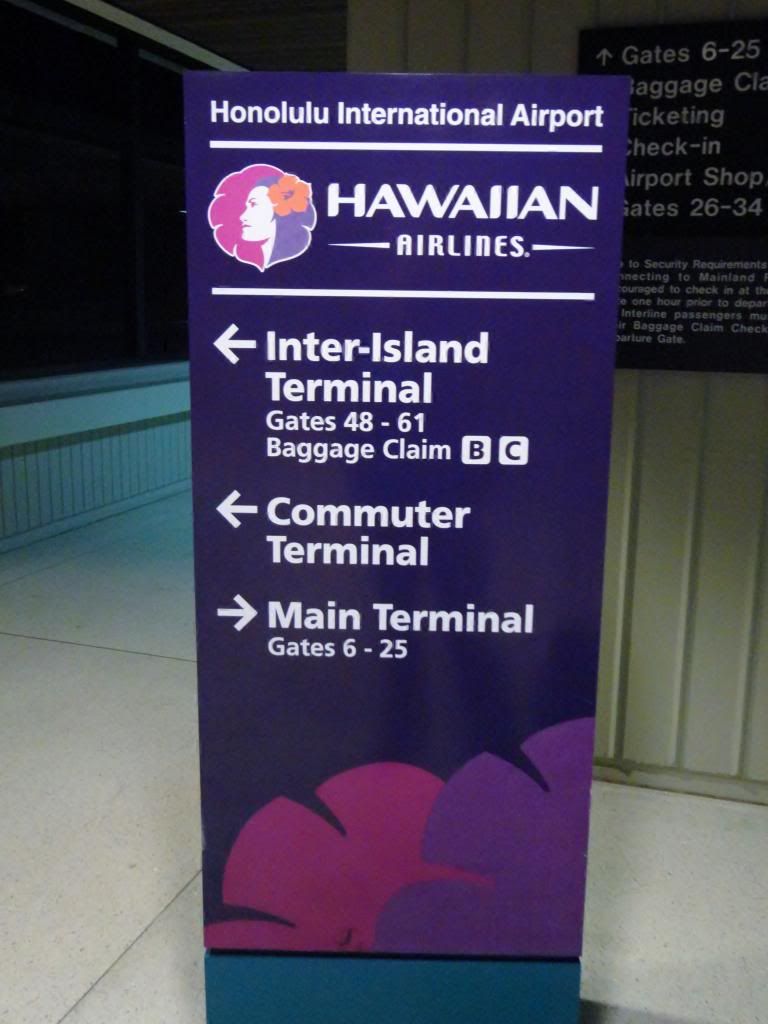 The A330 that will be taking me to LAX is in the background: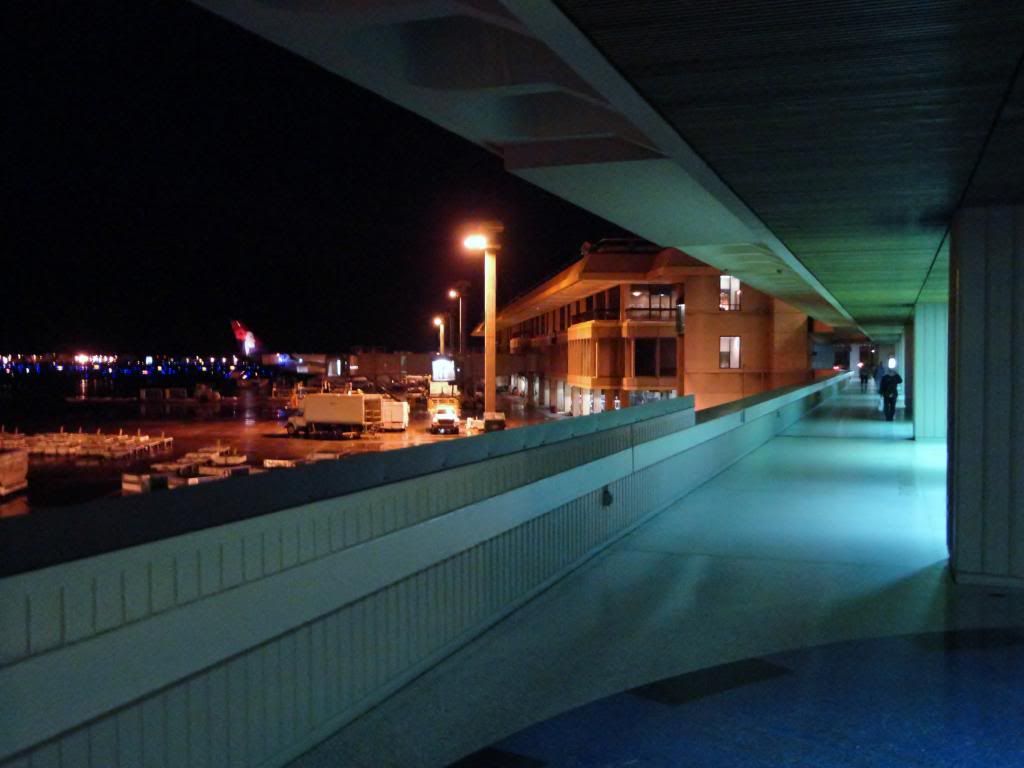 Assigned gate for this morning's flight is 28: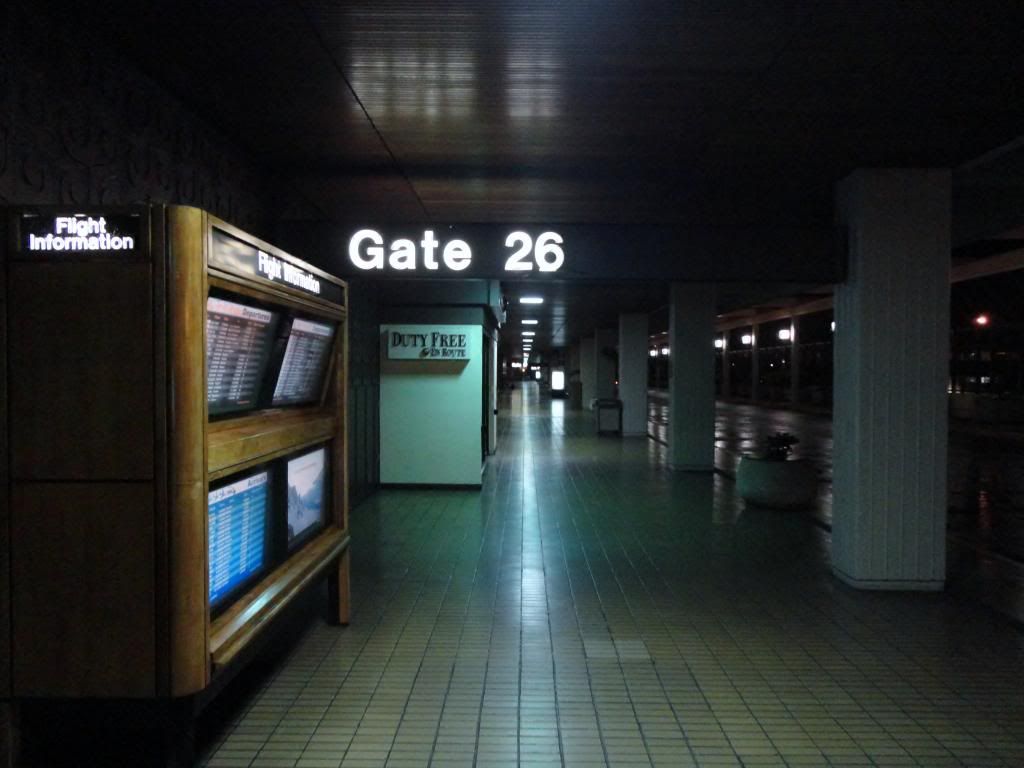 FIDS: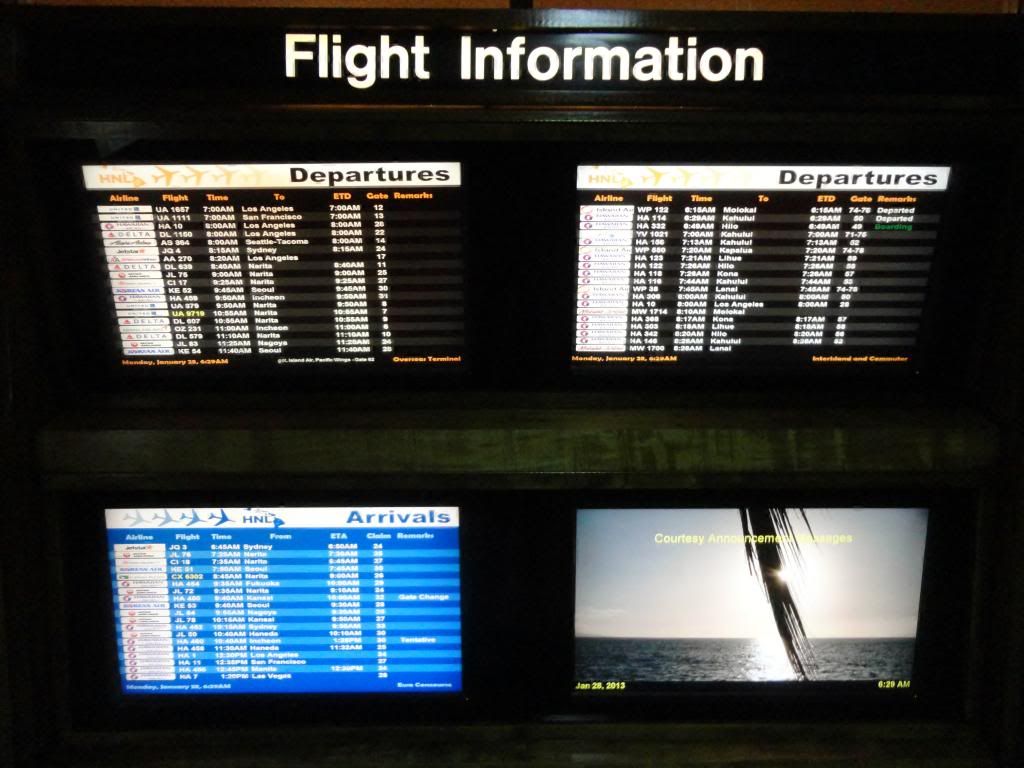 Once I arrive at the gate, I still have half an hour to go before boarding starts. So I find a seat and relax while watching the boarding area slowly fill up. I also catch a glimpse of our aircraft. It is N380HA, also known as "Makali I". A 3 year old A330 delivered factory fresh to HAL on 29/04/2010: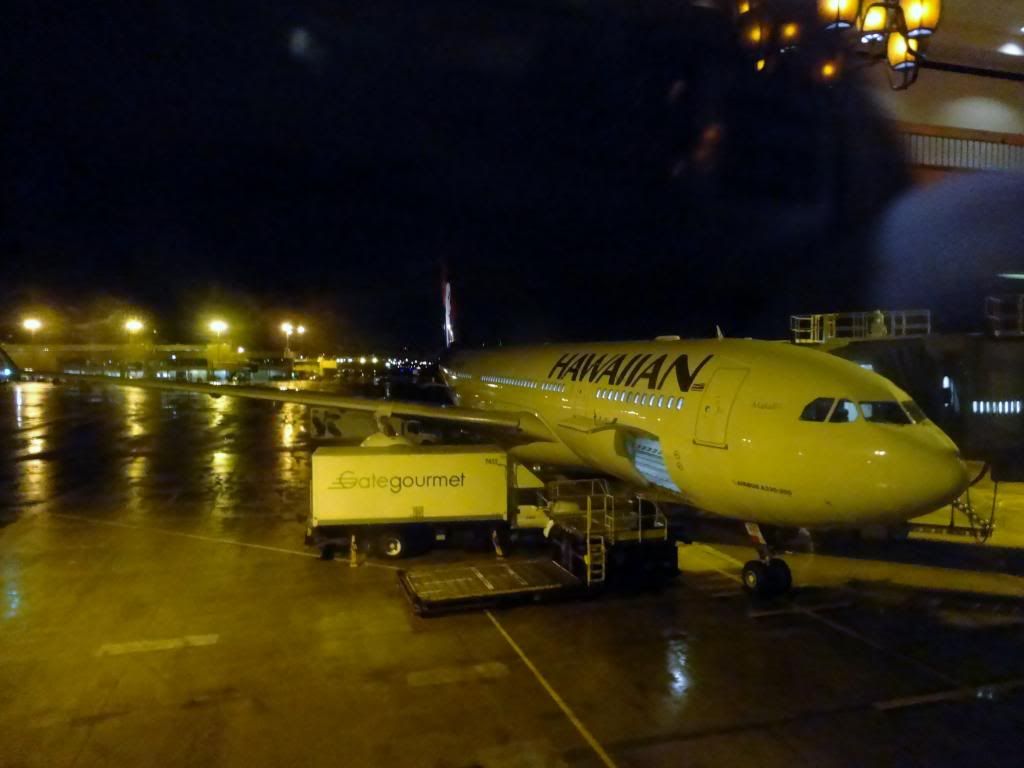 The boarding area gets busier and busier which shows it is going to be a healthy load on this morning's flight.
HAL is the only US airline to offer complimentary meals in Y class, and they are proud of it! Before boarding an announcement is made about this, and the last call is made for passengers who want to book a "premium meal" available for purchase, they can still do so at the desk. I decide to just stick with the free continental breakfast and see what that is all about.
Boarding
BP for this flight: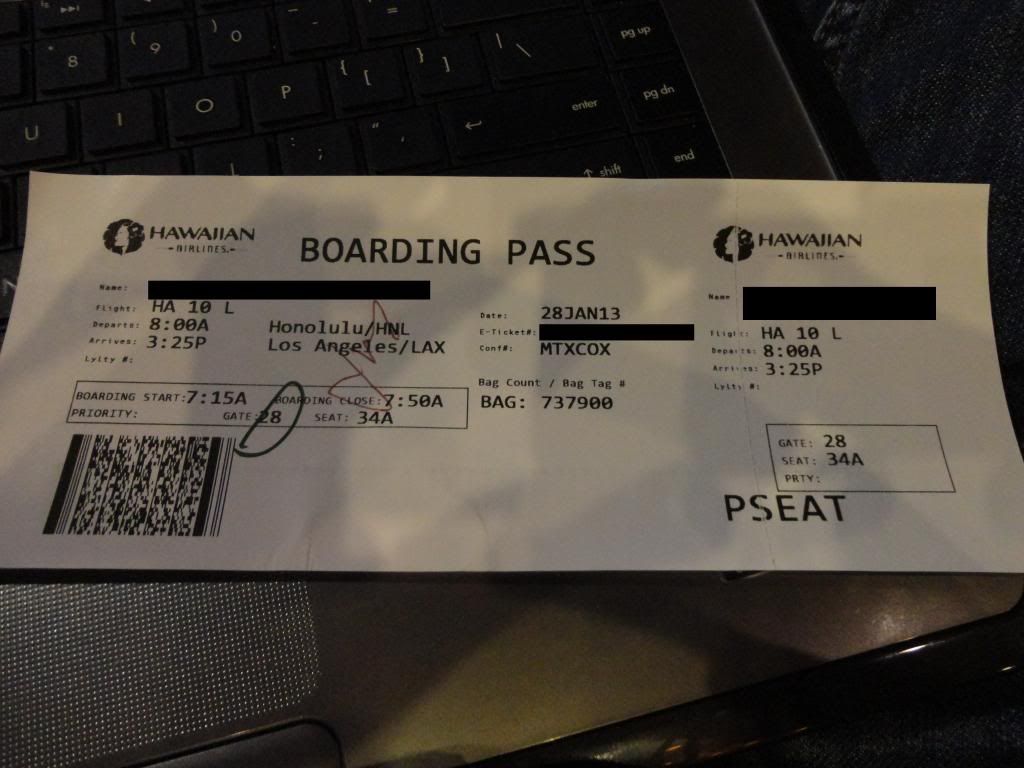 During online check-in (the night before), I had paid extra for an emergency exit seat which gives priority boarding as well.
Boarding is eventually called at 07:15, bang on time. After the First Class passengers and HAL frequent fliers it is my turn to board. The friendly gate agent scans my BP and wishes me a pleasant flight. I thank him and head into the jetway.
On Board
28/01/2013
HNL-LAX
HA10 // 34A (emergency exit seat)
A330-243 Hawaiian Airlines // N380HA
07:58-15:23
While entering the aircraft I am greeted with an "Aloha" by 2 friendly female FAs and directed to the first aisle. First impression of the cabin is a very good one, clean, tidy and in great condition!
Once reaching the second emergency exit row I exchange greetings with the male FA who is standing there. He is a very friendly man and we have many nice conversations along the way.
After putting my belongings in the overhead bin, I get settled in: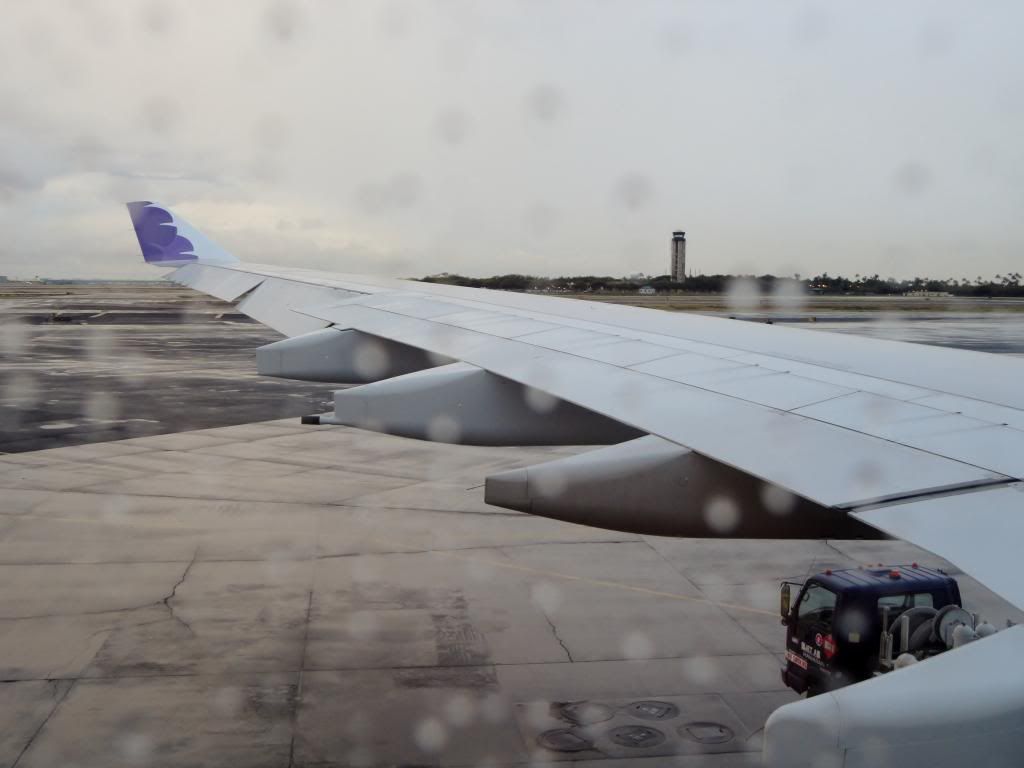 Legroom is obviously fantastic: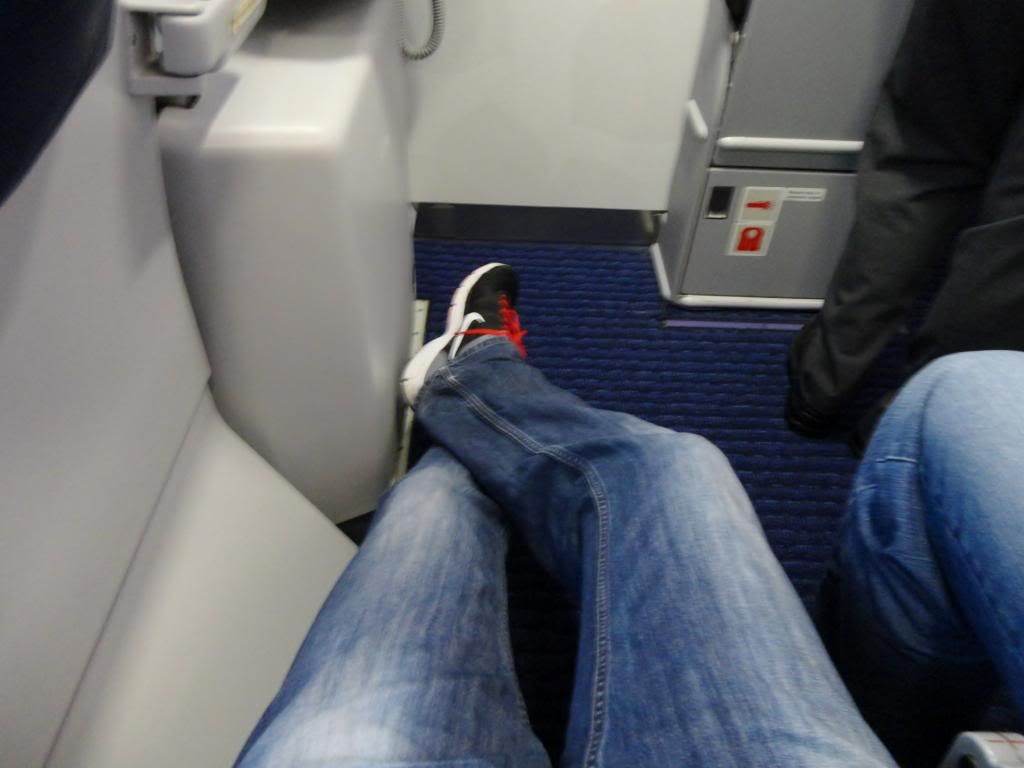 The plane slowly fills up and I strike a conversation with my neighbor, who is a business man heading back to the mainland. Flight load will eventually be pretty good at around 90%.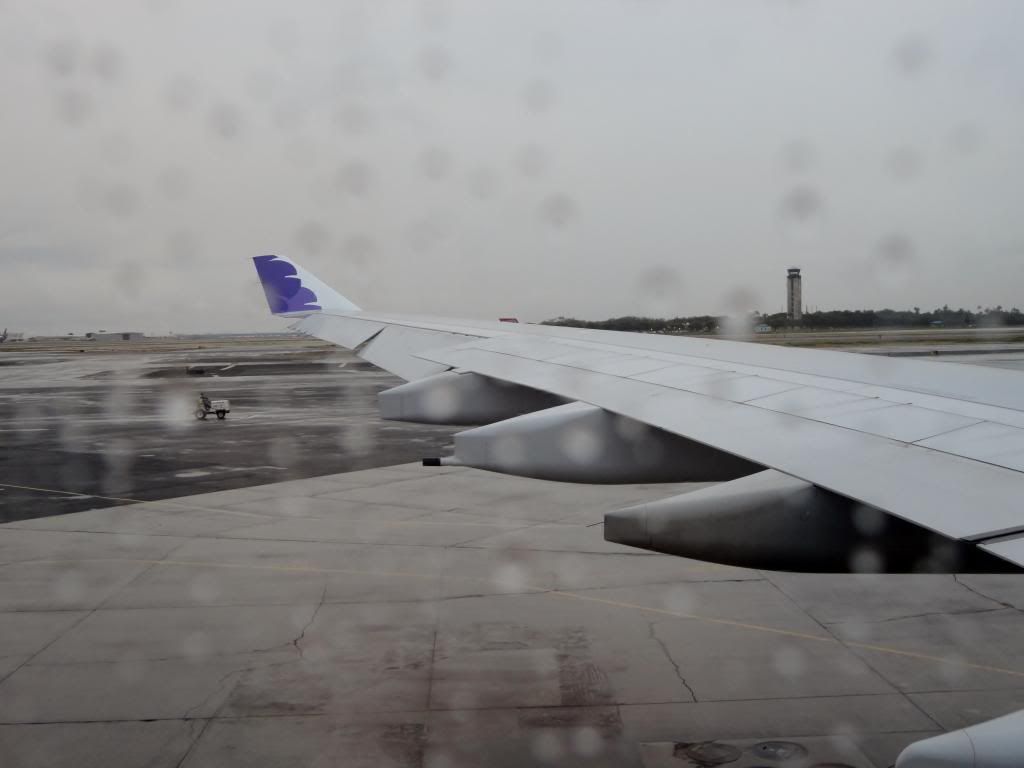 Korean Air HL7587 arriving from ICN: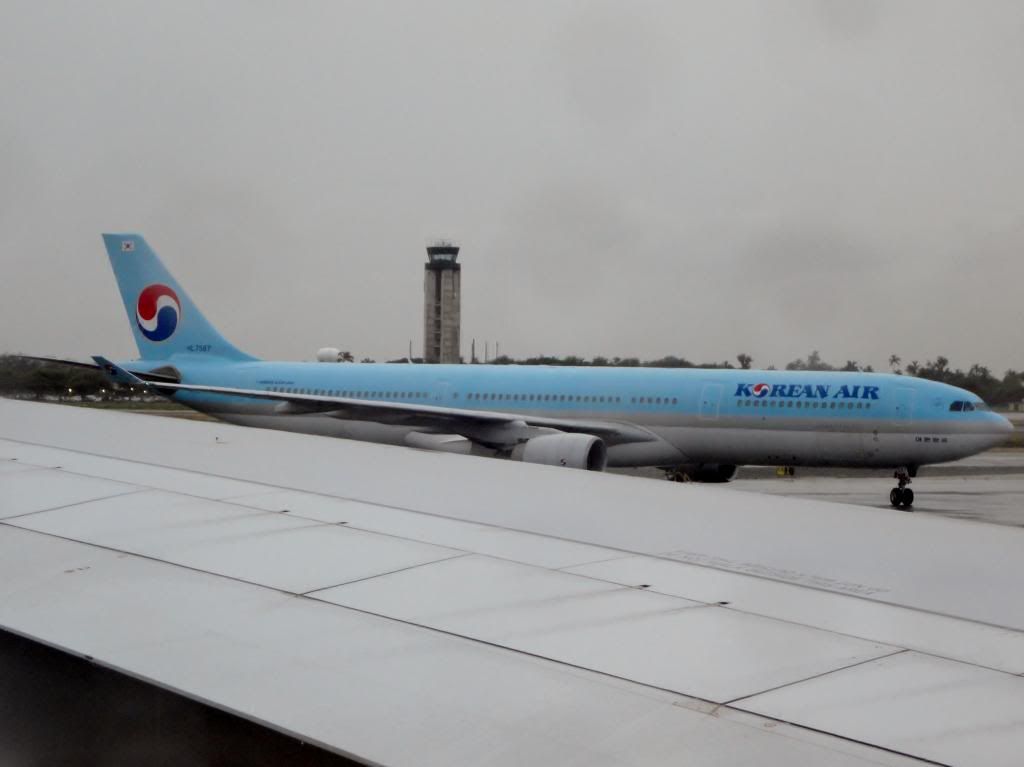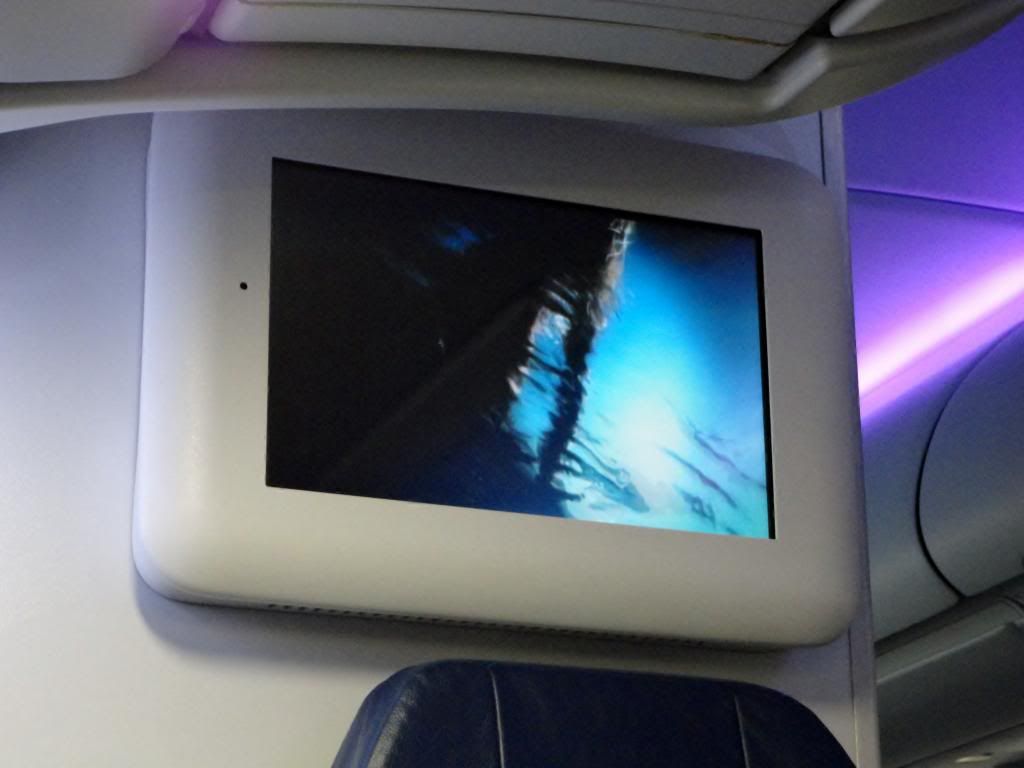 Cabin crew on this flight consists of a mix of ages and genders. They can all be described as very friendly and full with smiles, if only all crew were like them!
The doors are eventually closed at 07:10 and the female purser comes on the PA with the usual announcements. After the purser, the pilot also comes on the PA welcoming us on board followed by some flight info. Announced flying time is 5 hours and 7 minutes.
While the safety demonstration is being played we commence pushback at 07:58, 2 minutes ahead of schedule: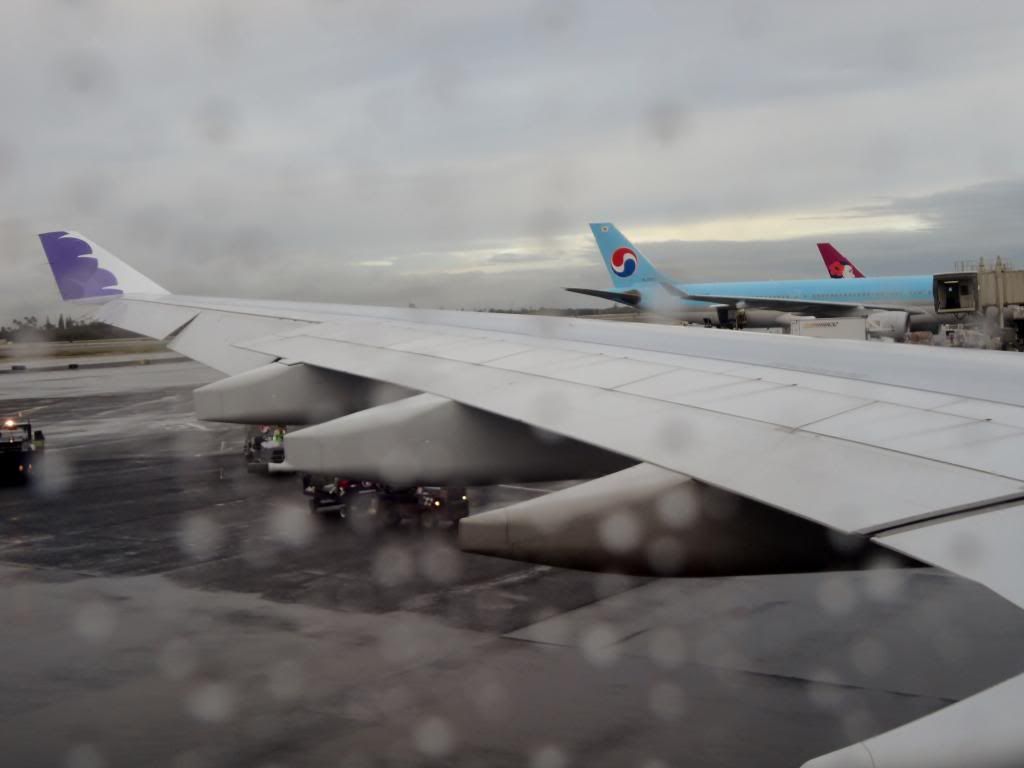 Once released, we taxi towards runway 8R. Also known as the Reef runway: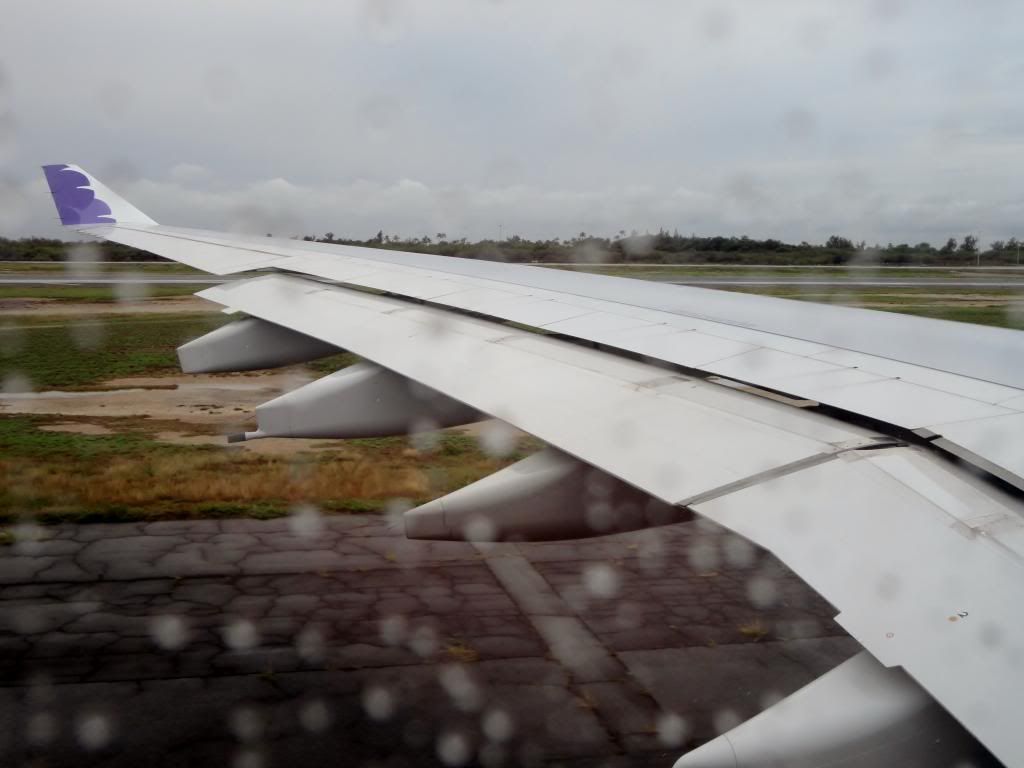 From this point on I am not able to take any more pictures as the male FA takes a seat in front of me. Even though he is a friendly man, I don't want to risk it.
Take Off
After a 15 minute taxi we turn onto 8R and take off. While climbing, we are provided with a great view of downtown Honolulu. Argh!
Once through the clouds, the seatbelt sign gets switched off and the crew prepare the service.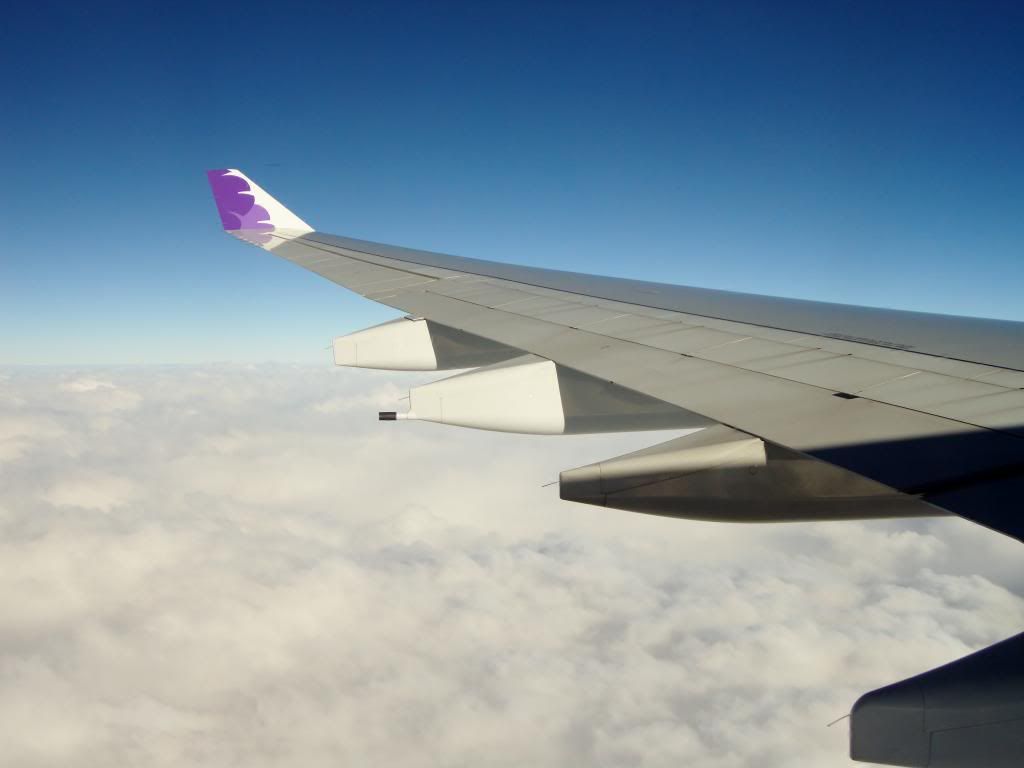 Seatpocket Contents
First, it's time to explore the seatpocket contents. This time it only consists of 2 items. The "Hana Hou" inflight magazine: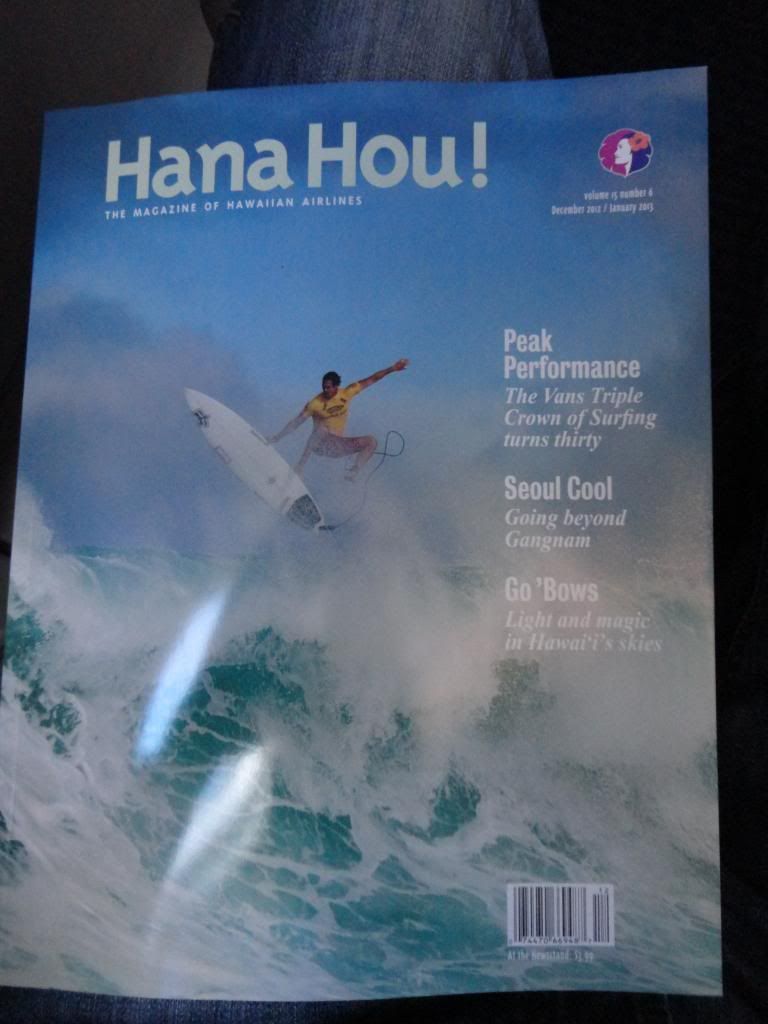 And the safety card: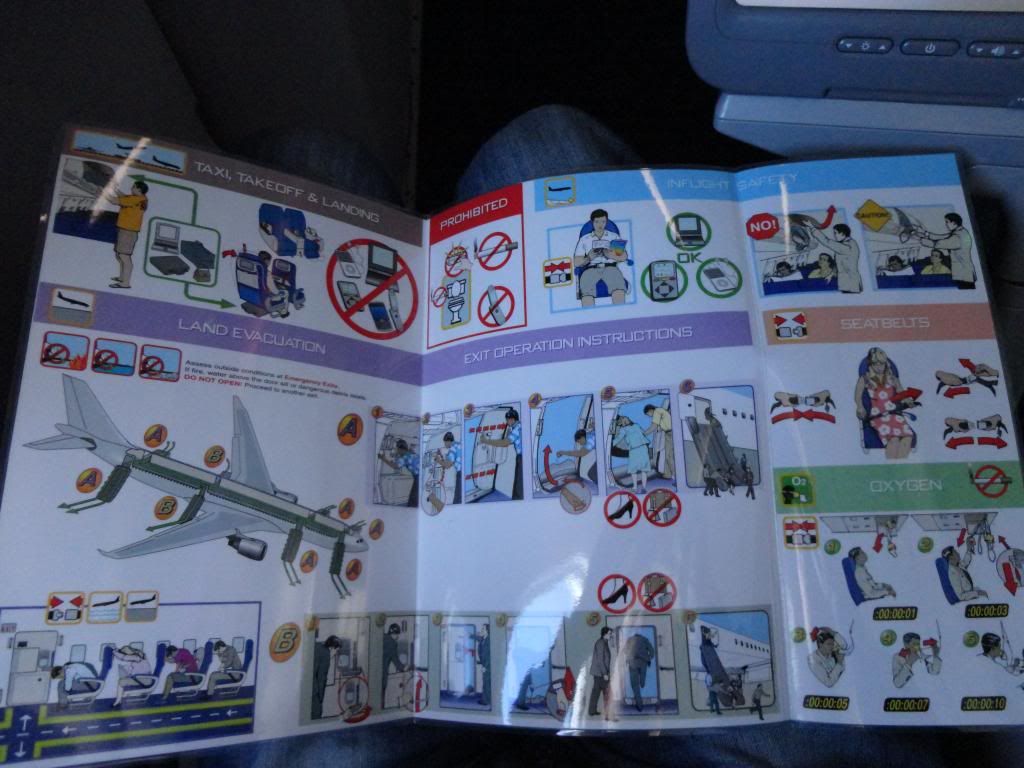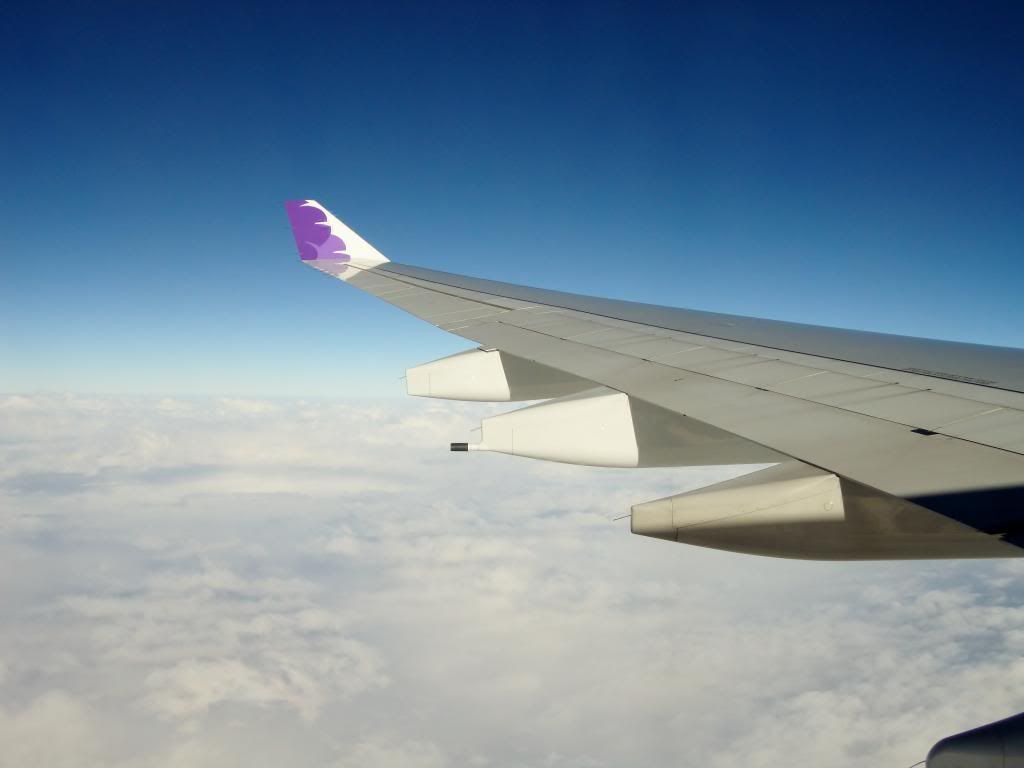 Next, it's time to explore the IFE also known as the Pau Hana Network: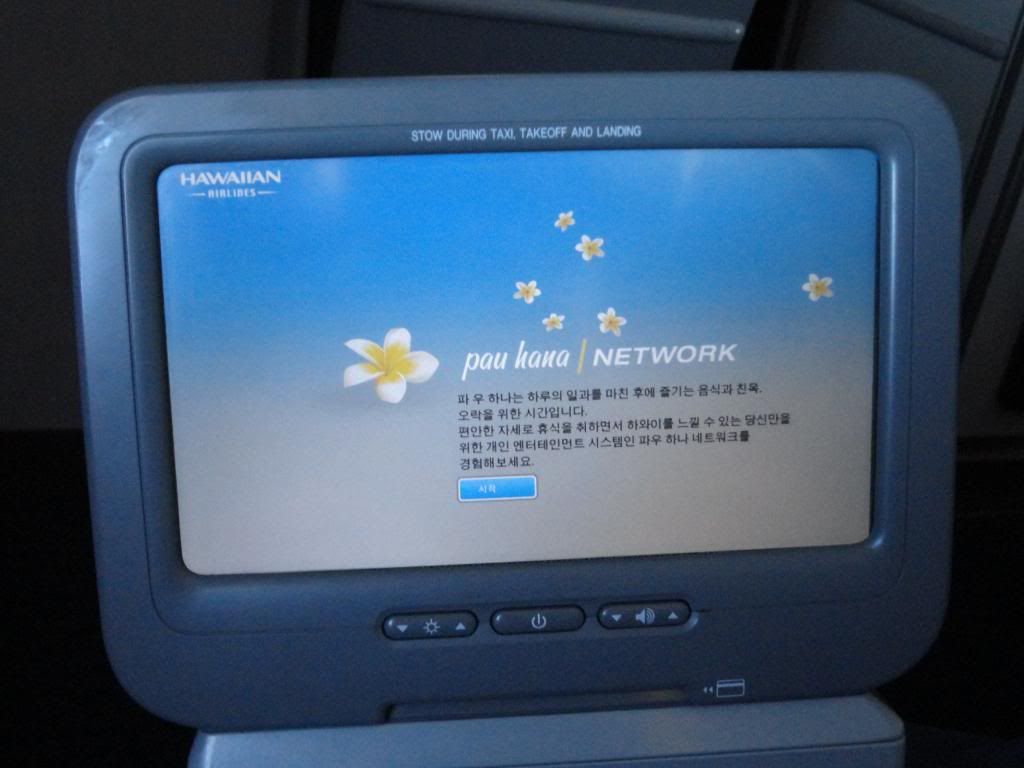 Continued Below