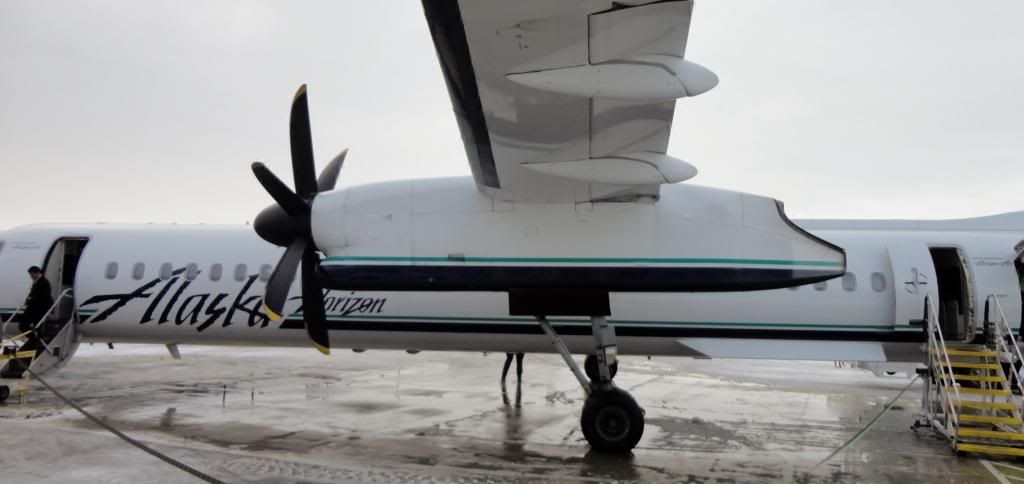 Introduction
Hello everyone and welcome to part 9 of this USA trip series!
For part 1 featuring my first 2 flights on SAS' "new" A320 please see here:
USA Trip Pt. 1: Getting Started!: AMS-CPH-GVA
(by
adamspotter
Apr 14 2013 in Trip Reports)
For part 2 featuring a scenic early morning flight across the Alps on a Darwin Saab2000, an uncomfortable hop across the pond with Alitalia and my first US Domestic flight (of this trip) on DL please see here:
USA Trip Pt. 2: Crossing The Pond: GVA-FCO-JFK-ATL
(by
adamspotter
May 2 2013 in Trip Reports)
For part 3 featuring a nice flight on Delta's mighty 777-200LR between ATL-LAX please see here:
USA Trip Pt. 3: Riding The 777-200LR!: ATL-LAX
(by
adamspotter
May 8 2013 in Trip Reports)
For part 4 featuring my first experience with Virgin America from LAX-BOS please see here:
USA Trip Pt. 4: Tryin' Out The Virgin!: LAX-BOS
(by
adamspotter
May 14 2013 in Trip Reports)
For part 5 featuring my first experience with Jetblue between BOS-EWR-MCO please see here:
USA Trip Pt. 5: Jetting With Blue: BOS-EWR-MCO
(by
adamspotter
Jun 2 2013 in Trip Reports)
For part 6 featuring yet another first experience, this time on Alaska Airlines between MCO-SAN please see here:
USA Trip Pt. 6: A Morning With Alaska: MCO-SAN
(by
adamspotter
Jun 13 2013 in Trip Reports)
For Part 7 featuring my flights to Hawaii on Delta please see here:
USA Trip Pt. 7: Heading To Hawaii: SAN-LAX-HNL
(by
adamspotter
Jul 13 2013 in Trip Reports)
For Part 8 featuring a great flight on a Hawaiian A330 and 2 flights on Southwest please see here:
USA Trip Pt. 8: Hawaiian A330 & WN: HNL-LAX-PDX
(by
adamspotter
Sep 14 2013 in Trip Reports)
This part will concentrate on my PDX-SEA-BOI-SMF flights.
Due to missing out on my Hawaii Island hopping flights (see part 7), this series will now be split into 12 different parts:
Part 1: AMS-CPH-GVA
Part 2: GVA-FCO-JFK-ATL
Part 3: ATL-LAX
Part 4: LAX-BOS
Part 5: BOS-EWR-MCO
Part 6: MCO-SAN
Part 7: SAN-LAX-HNL
Part 8: HNL-LAX-PDX
Part 9: PDX-SEA-BOI-SMF
Part 10: SMF-SFO-ATL
Part 11: ATL-JFK-VCE
Part 12: VCE-ZRH-AMS
After having tried Alaska Airlines for the first time (see
here
) I thought it was about time to try their sister carrier, Horizon Air out.
Background
Horizon Air is a subsidiary of the Alaska Air Group. It is the 8th largest regional airline in the USA and its main hub is SEA. Two other hubs it has are PDX & LAX. Horizon Air serves a total of 47 different destinations in the USA, Canada and Mexico.
It was formed in May 1981 and started its first operation on September 1st 1981 with a Fairchild F-27. It has also operated the Dash 8-100, Dash 8-200, CRJ-700, DC-9-10, Fairchild Metroliner I, Fairchild Metroliner II and the Fokker F28 Fellowship. It was also the launch customer of the Dornier 328 turboprop.
Nowadays its fleet consists of a total of 48 Dash 8-400s (It also has a bunch of CRJ 700s with SkyWest). 9 of those wear a special livery. All 9 of those special liveries are for different Universities:
View Large
View Medium


Photo © Art Brett - Photovation Images
Of course I am hoping to catch one of these special liveries!
Most of you probably remember Horizons striking 25th year anniversary special scheme. Unfortunately this one was scrapped in October 2012:
View Large
View Medium


Photo © Nicholas Young
Horizon also used to have these 2 striking green liveries. This was to "highlight the fuel saving attributes of the Q400 over regional jets". Nowadays these are painted in Horizons standard livery:
Booking
For those of you following my series know that I am in PDX at the moment. With PDX being one of Horizons hubs I saw this as a great opportunity to book something special. I also wanted to take as many flights as possible with them, not just only one.
Taking that into consideration, it took a while to find something nice and suitable. In the end I booked a PDX-SEA-BOI-SMF route via Alaska Airlines' website. All operated by Horizon Air's Dash 8-400.
It was a bit pricy but BOI & SMF would be new airports for me and both these airports are barely featured here in the trip reports section.
The only downside of this itinerary is that the first flight will be leaving at 5:25. But hey, we can't have it all!
Enough introduction for now, I hope you enjoy this report!
Map
The map for this part, thanks to the Great Circle Mapper:
And once again the map of this whole trip also thanks to the Great Circle Mapper: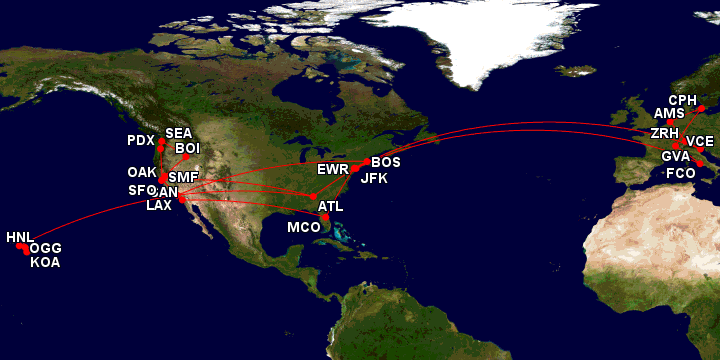 Tuesday January 29
I am at the Holiday Inn near Portland Airport. With my first flight leaving at 05:25 my alarm clock goes off at 3:30. I quickly get my usual morning rituals done, pack my bag and head downstairs to check out. Check out is done quickly and the shuttle driver is waiting for me with a cup of coffee, which is much appreciated!
A short drive follows and the driver drops me off in front of the terminal.
Check In
After tipping the driver I head inside and straight towards the AS check in area, which is pretty much deserted: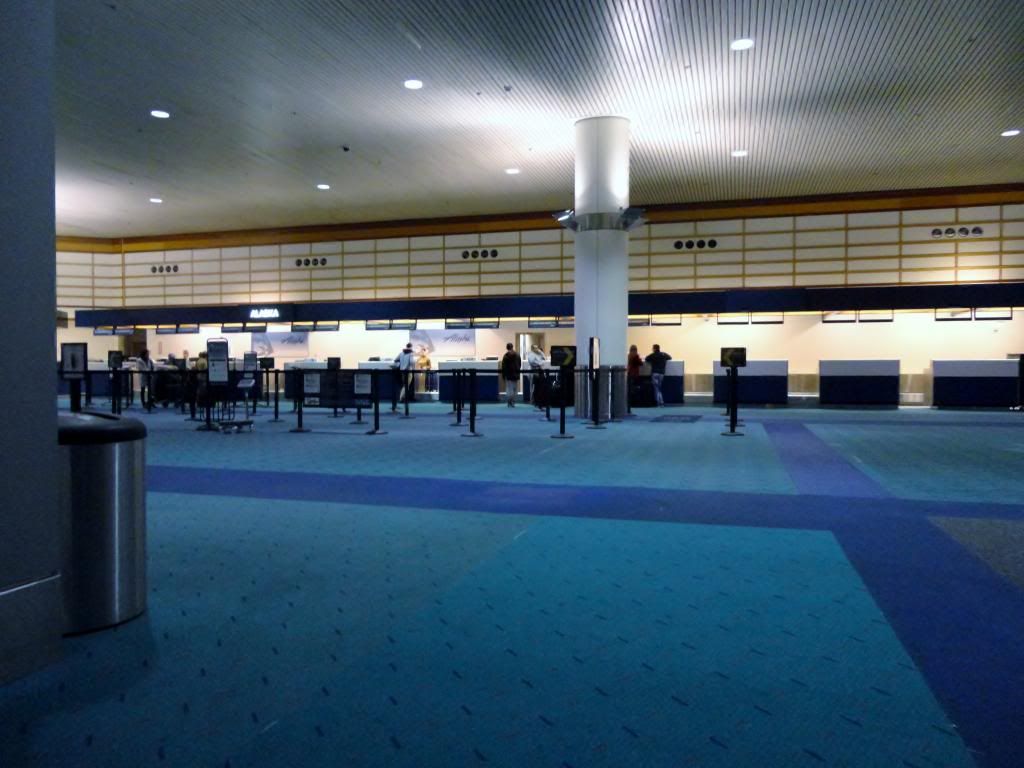 I print my BP out of one of the SSKs and head over to the check in desks to drop my bag off. I am quickly helped by a friendly agent who tags my bag all the way through too SMF. I am afraid she might raise an eyebrow about my "strange" routing, but luckily enough she says nothing.
Next up I head towards security: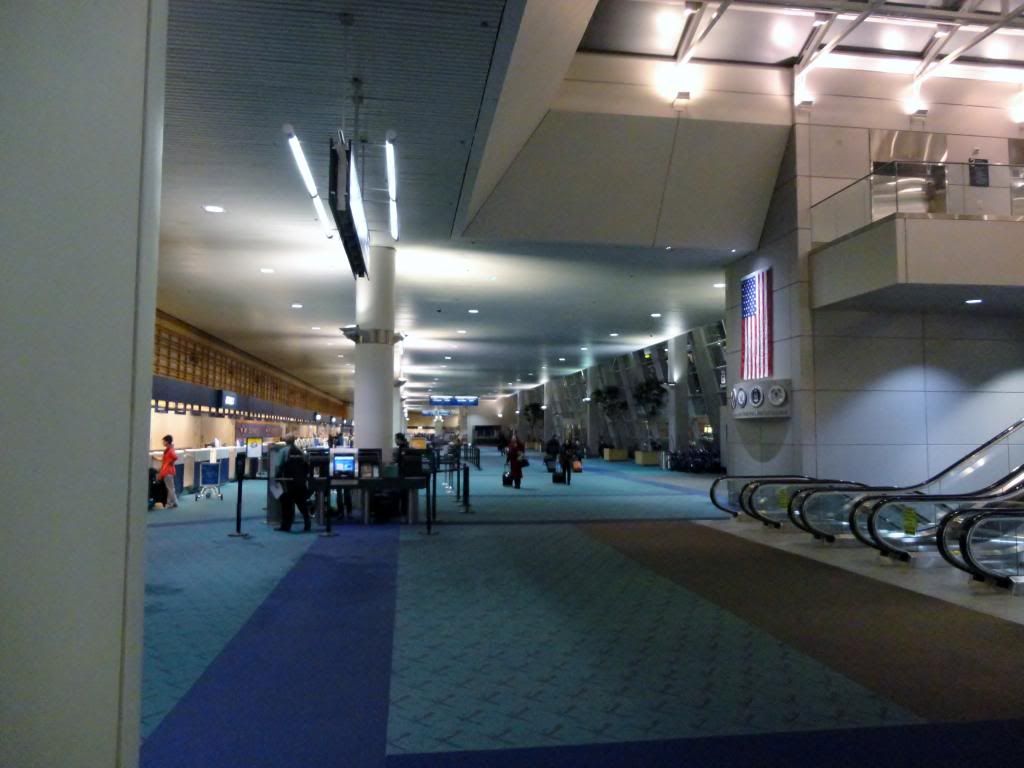 Security is a breeze this morning and I am through in 10 minutes without any problems.
PDX airside actually looks quite nice. Like many US airports it is carpeted but has many restaurants/shops. The terminal design isn't too bad either, I have seen worse!: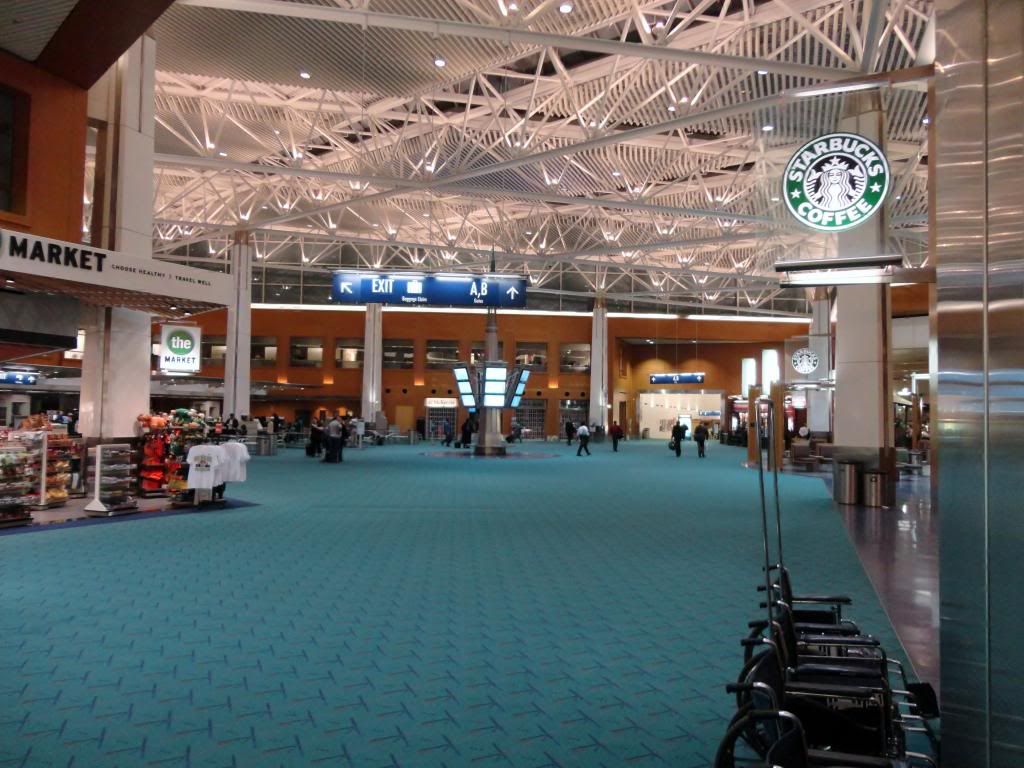 Looking towards the C gates: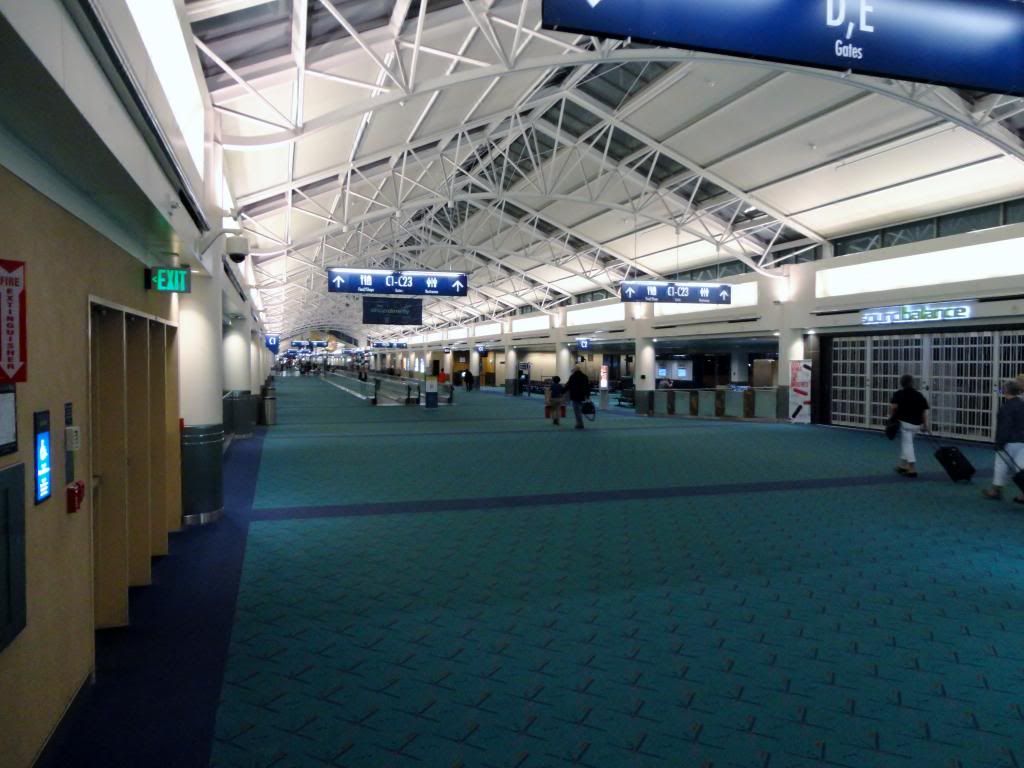 Alaska Airlines/Horizon Air operate from the A,B & C gates: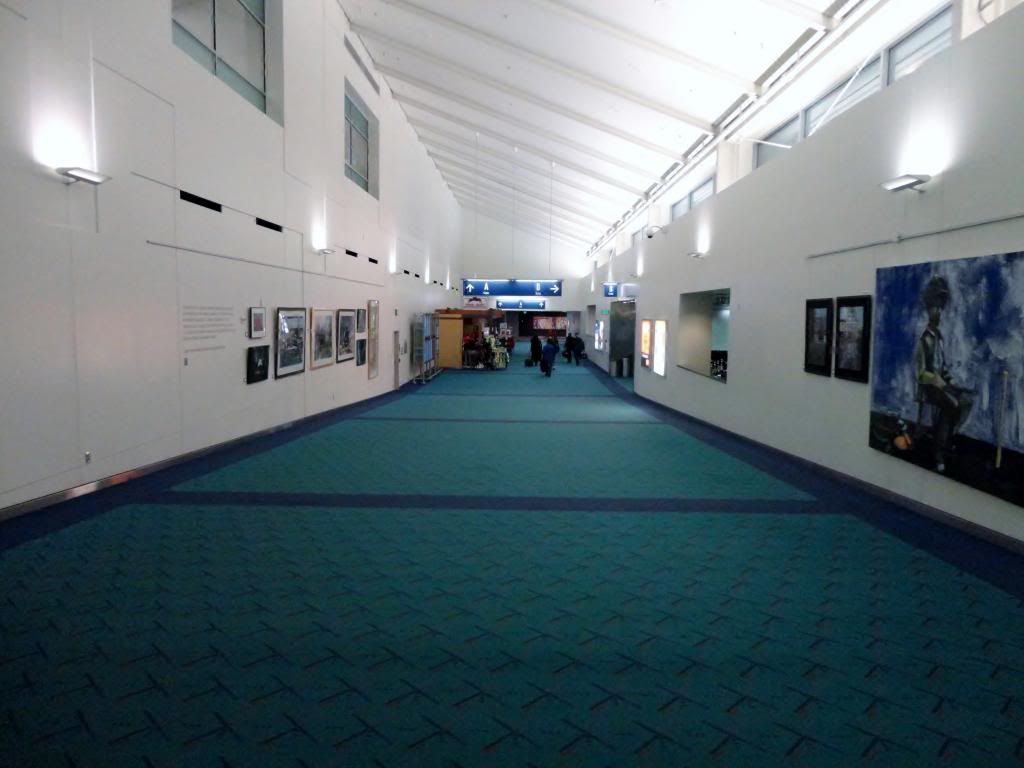 FIDS: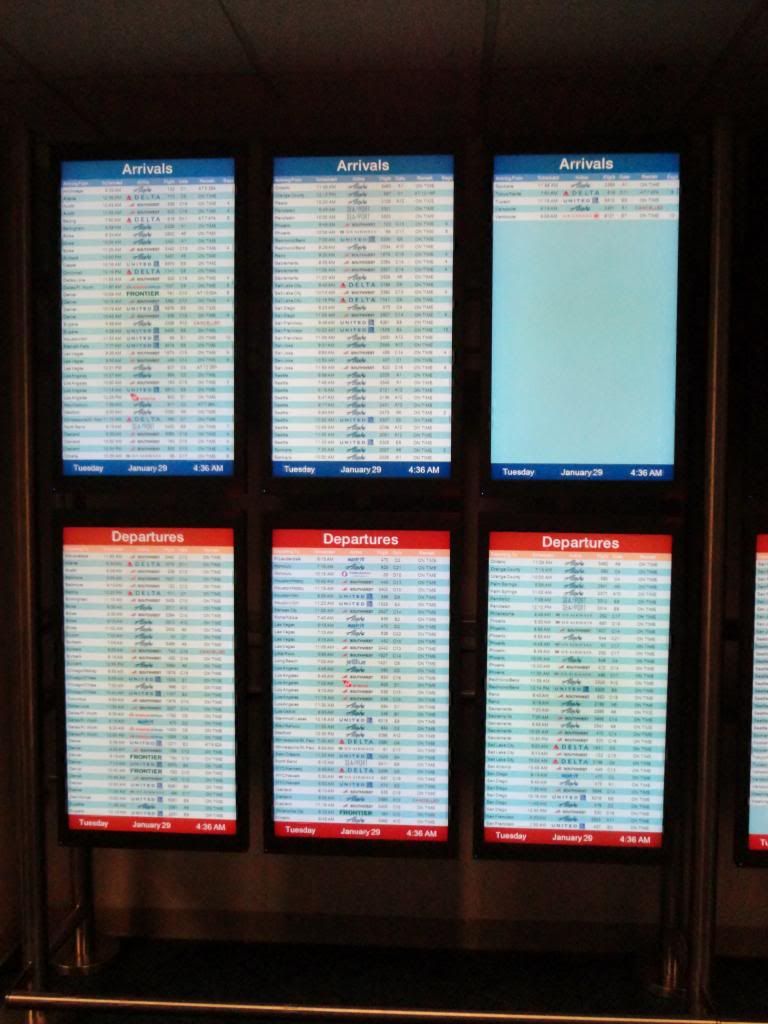 Gate for this morning's flight is A4: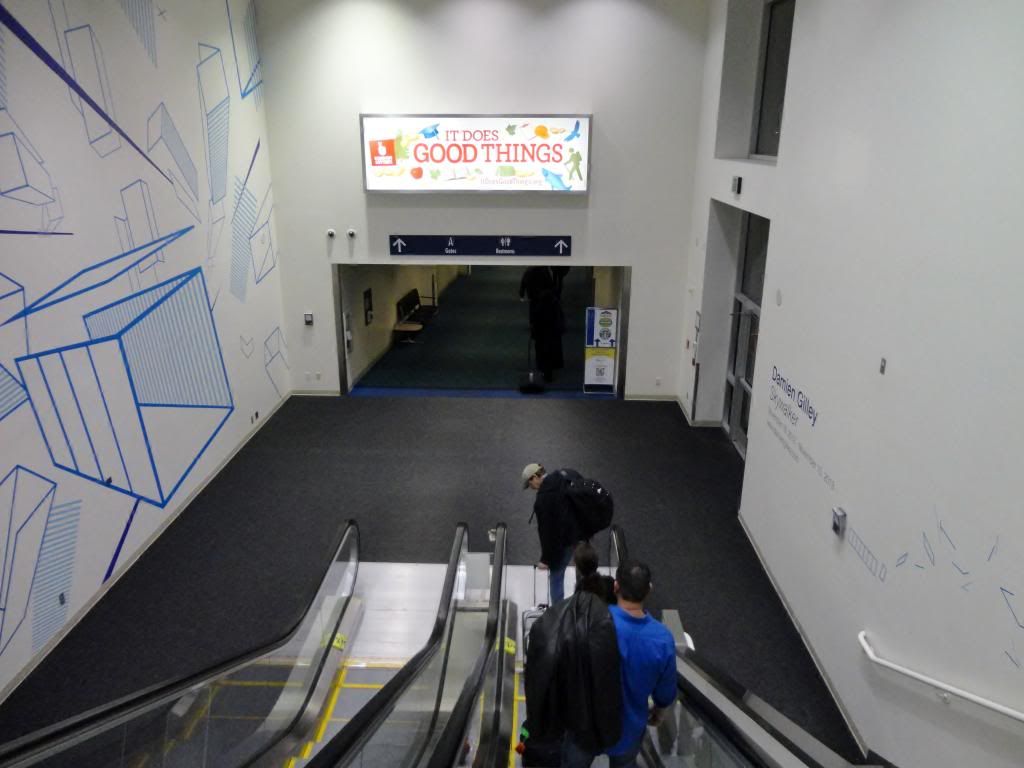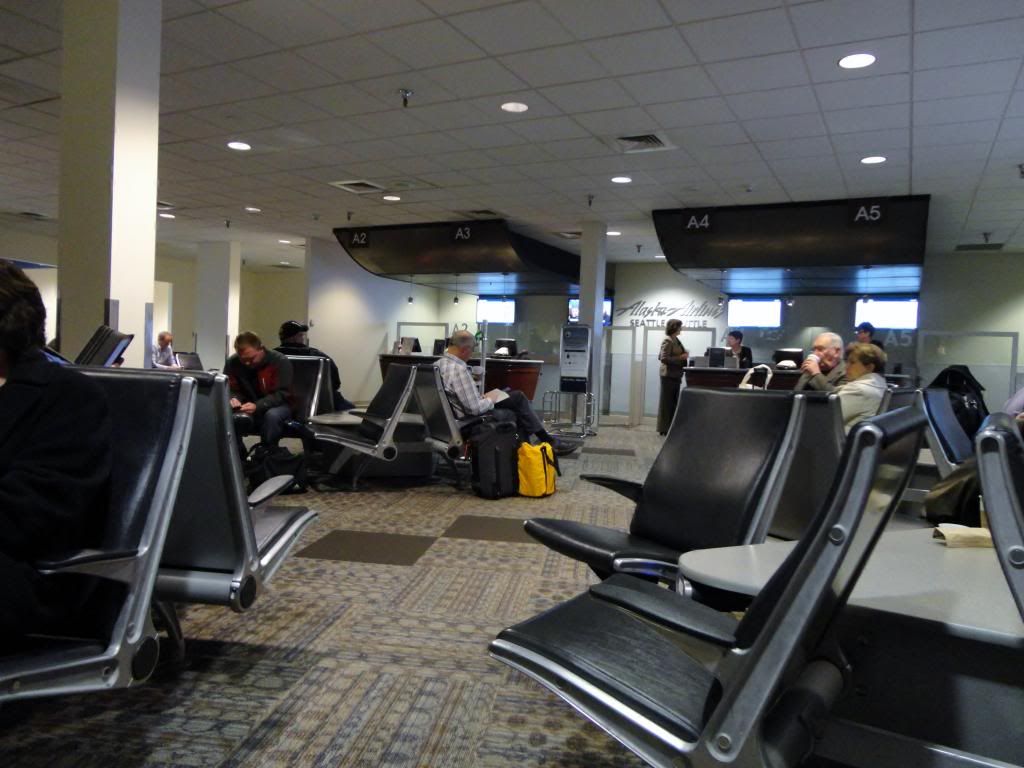 Boarding
BP for this flight: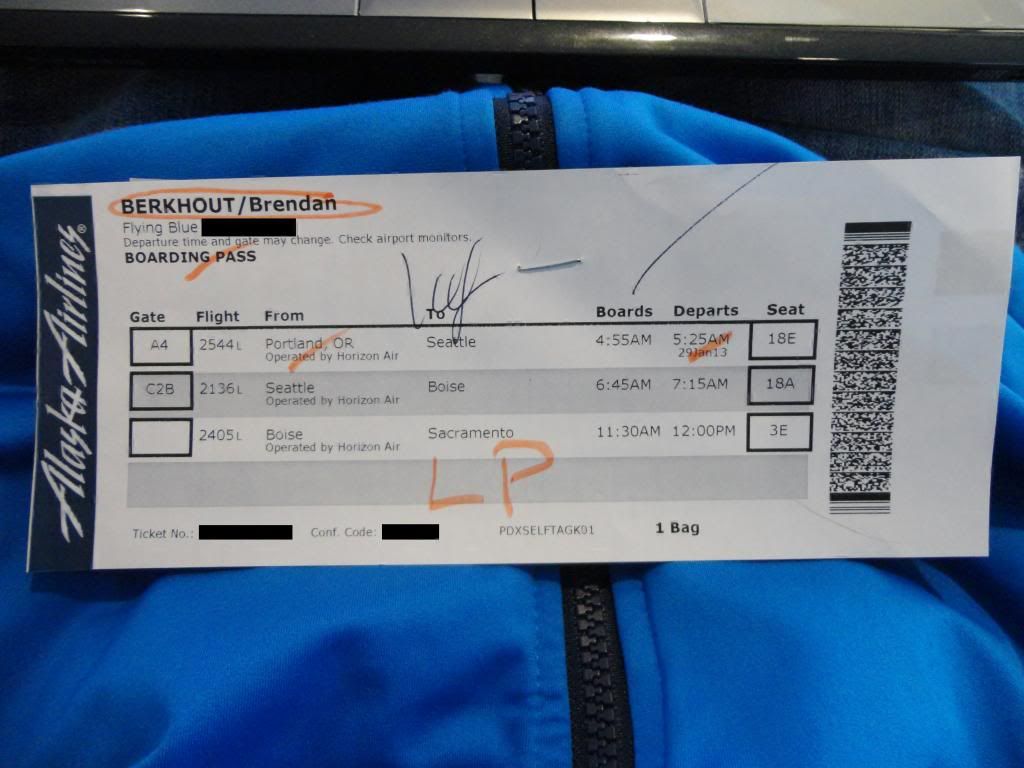 Boarding is called just behind schedule at 04:57, starting with priority boarding and those needing special assistance. Shortly after all rows are called for boarding, so I join the line that has formed. I am quickly helped by the gate agent who scans my BP and wishes me a pleasant flight. I thank her and head outside.
Once outside it is raining very hard. This excludes the opportunity to take a quick picture of my plane. Instead I quickly put my carry-on on the cart and head towards the aircraft.
On Board
29/01/2013
PDX-SEA
AS2544 // 18E
Dash 8-402 Horizon Air // N447QX
05:20-06:07
At the entrance of the aircraft a female FA awaits who welcomes me on board. I thank her and head into the aisle to my seat: 18E.
Quite OK legroom for this short flight: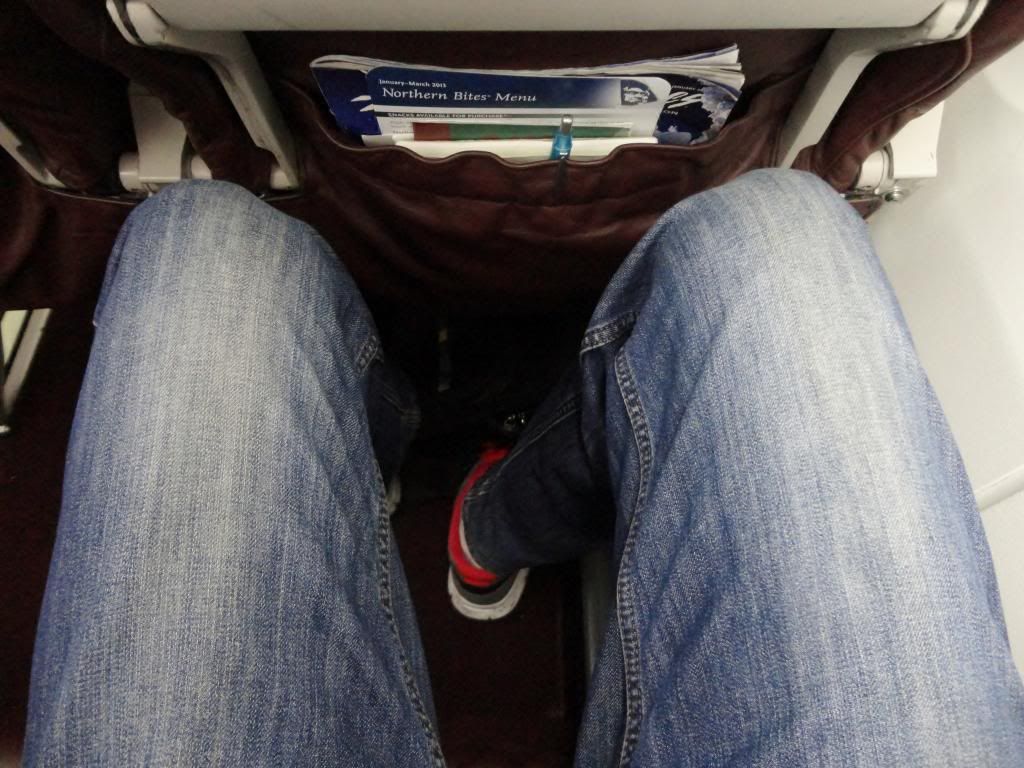 The plane quickly fills up, it will be a full load this morning at 100%. Cabin crew on this flight consists of 2 females, they are friendly enough although nothing special.
The front left door is eventually closed at 05:19 and one of the female FAs comes on the PA welcoming us onboard this short flight to Seattle. She continues on with the usual announcements and an announced flying time of just 30 minutes.
No welcome from the flight deck, they say nothing throughout the whole flight.
While both FAs perform the safety demonstration we commence pushback at 05:20, 5 minutes ahead of schedule.
Once released we taxi towards runway 28L.
Take Off
We reach 28L after a 7 minute taxi and take off right away. While climbing I am provided with some nice views of the lights below. No pictures are possible due the rain unfortunately.
The seatbelt sign dings off quickly and the crew jump into action. Despite a flying time of only 30 minutes the crew quickly perform a snack service. The offers are Starbucks Coffee, Apple Juice or Water together with one of those delicious Biscoff cookies. Both the coffee and cookie hit the spot nicely!:
The crew clear all the rubbish while we are already descending.
I keep my head glued to the window as we quickly descend towards SEA..
Landing
And are on final approach to runway 16L. The approach is very beautiful as we fly straight past downtown Seattle and it's beautiful skyscrapers.
A smooth touchdown on 16L follows at 06:04. We are welcomed to Seattle as we exit 16L and head towards the "Dash farm". This takes only 3 minutes and we are in our final parking position at 06:07, 6 minutes ahead of schedule!
The front and back left door are opened quickly, so I decide to head out through the back door so that I can catch the registration.
It is N447QX, a fairly new Dash 8 delivered to Horizon Air on 05/05/2011:
I head into the terminal and decide to wait near gate C2, where my next flight will be departing from. C2 is a so called finger gate and goes from A-M all designed for Horizon Air. I find an empty seat and connect to the WIFI for the next 25 minutes until boarding starts.
Boarding
BP for this flight: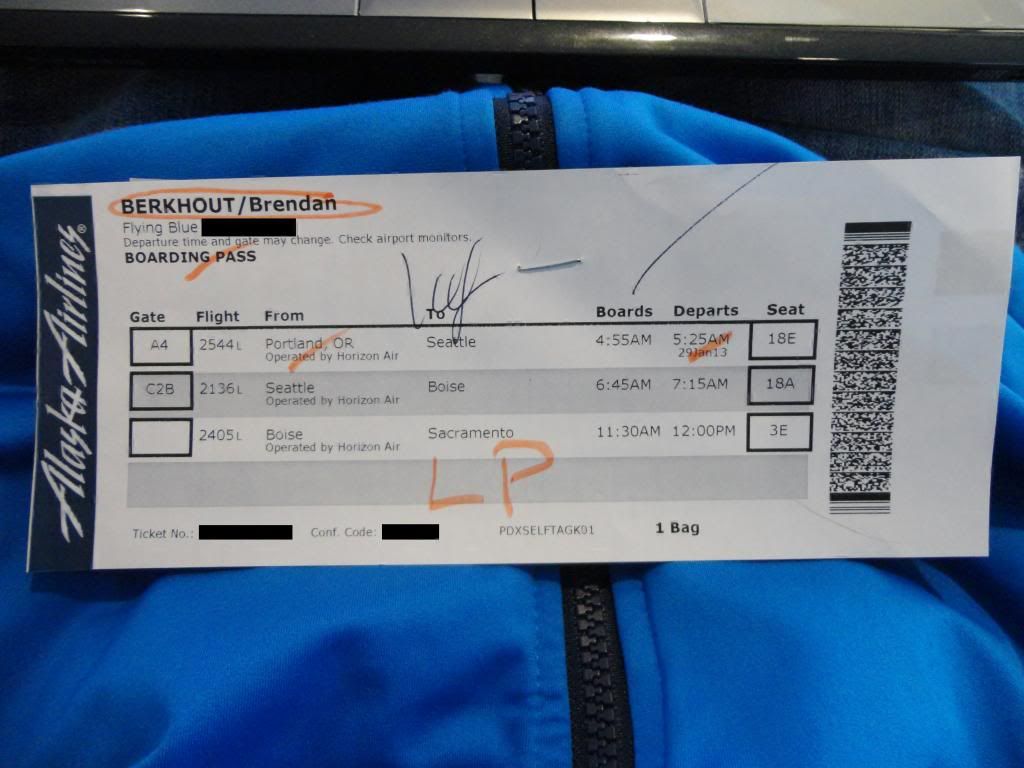 Boarding is called shortly behind schedule at 06:47. First priority boarding and those needing special assistance followed by all rows. The agent scans my BP and I head towards the aircraft, which is at exit B. After putting my carry-on the cart I decide to use the back entrance which gives me an opportunity for this shot, dedicated to Markus (Flieger67) of course!:
On Board
29/01/2013
SEA-BOI
AS2136 // 18A
Dash 8-401 Horizon Air // N417QX
07:12-09:40
Continued Below
[Edited 2013-09-30 12:01:33]