Part 1 of this Trip Report can be found
here
.
Part 2 of this Trip Report can be found
here
.
Part 3 of this Trip Report can be found
here
.
Part 4 of this Trip Report can be found
here
.
Part 5 of this Trip Report can be found
here
.
----------
Japan does not disappoint as far as traveling and exploration are concerned. There's always something to be had at every turn. We bought the all-mighty (well, nearly) Japan Railpass for ourselves and went on countless local train or Shinkansen rides. We went to the Westernmost train station of the entire JR network, we went to an onsen in Kyushu that had a super scenic view of a towering mountain, we went to train museums and many more. But for now, it's time to head back up to Tokyo to 'settle a score'.
5th January 2013, Saturday
Route: Tokyo International Airport (HND) – New Chitose Airport (CTS)
Terminal: 2
Gate: 58
Airline: All Nippon Airways
Flight: NH 55
Aircraft: Boeing 747-481D
Registration: JA8957
"Pikachu Jumbo"
Class: Economy
Seat: 86K
Flight Duration: 1 hour 21 minutes
Scheduled Timings: 0900h – 1035h
Actual Timings: 0900h – 1021h
We discovered that we could request for a change to a later flight that is operated by the 744D, the only requirement is that we'd be on standby. With this in mind, we left our accommodation located near Kamata Station relatively early, walked to Keikyukamata Station to board a train service to Haneda Airport.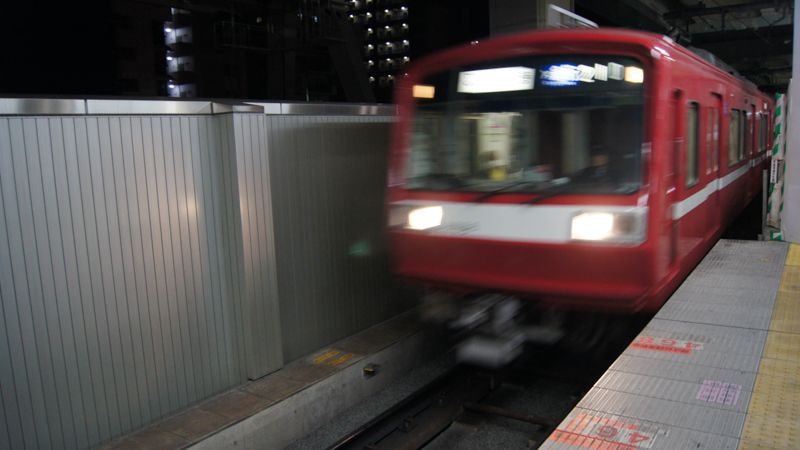 Our train has arrived
The Keikyu Airport Line ran mostly in tunnels
It didn't take long for us to reach Haneda Airport as our accommodation was about four stations away.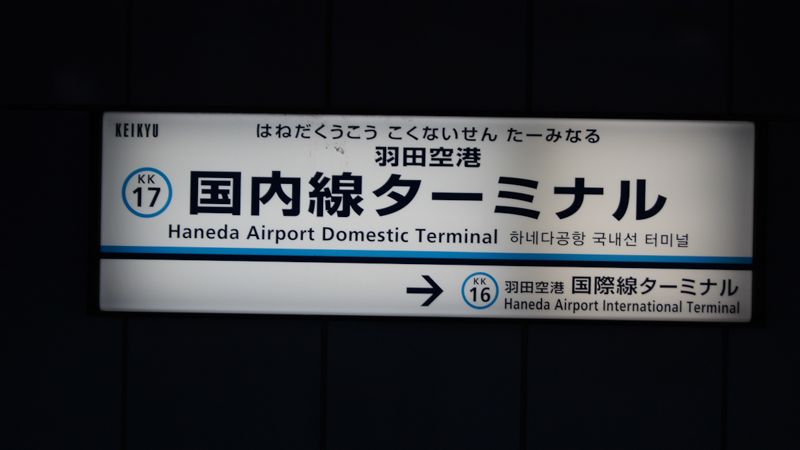 Familiar signs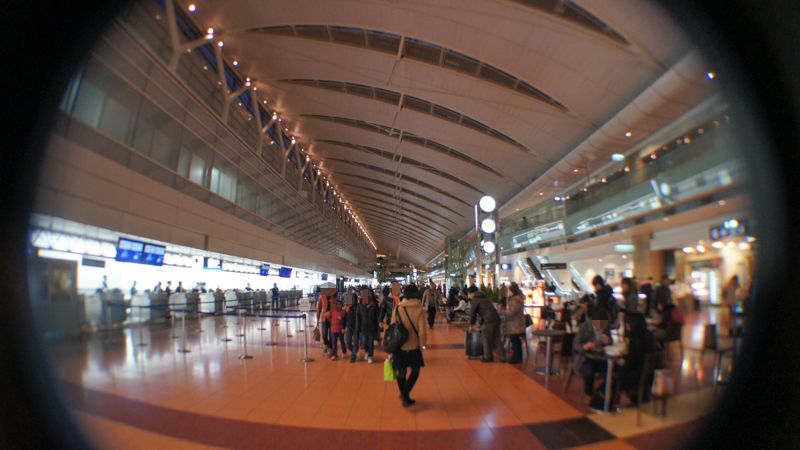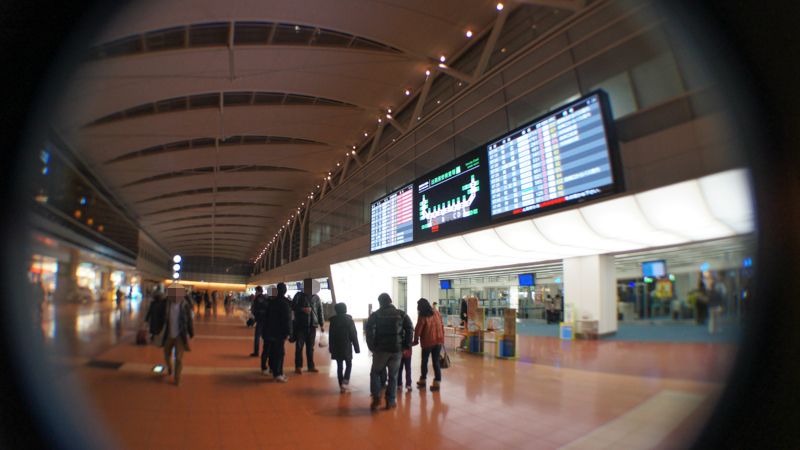 Domestic Terminal of HND
The first order of the day was to locate the ANA counters so that we can find out whether our flight, NH55, was still operated by a 744D. The last time we attempted to fly in a 744D, in February 2012, our equipment was swapped to a 773 instead. We arrived at the counter, manned by the ever-smiling ANA girls. We nudged Aaron to the front, as he was the most fluent Japanese-speaking one out of the three of us. Not that I really knew how to speak Japanese, that is.
Aaron initiated a conversation with the ANA girl, asking whether our flight was still operated by a 744D. She gave polite bow, followed by a "はい" as she typed away at her computer. After a few moments, she turned back to look at us and said that NH55 was still operated by a 744. That's a relief! With that information, we thanked her and proceeded with checking in. Time to explore HND and for some spotting.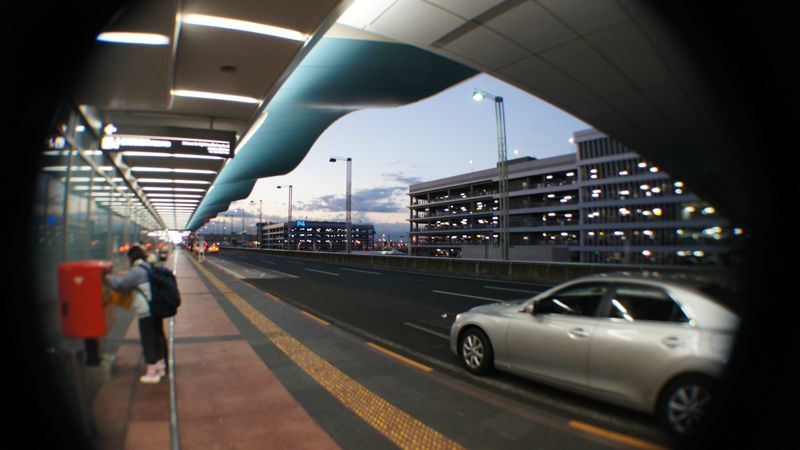 The driveway of the Domestic Terminal
Spotting opportunities and locations are some of the things that the Japanese airports wins hands down over my home airport. Many of us would be familiar with the
absolutely awful
double glass and externally shaded panels of the T2 & T3 Viewing Malls of SIN. This is a far cry from the Observation Decks the likes of AND OLD: Hong Kong - Kai Tak International (HKG / VHHH) (closed), China - Hong Kong">HKG, HND or CTS, who prepares paid binoculars and open-air settings for the enjoyment of both travellers or casual airport visitors alike.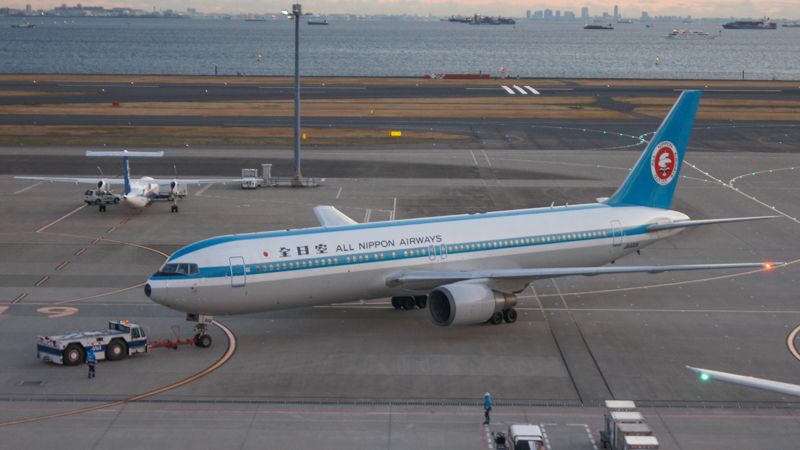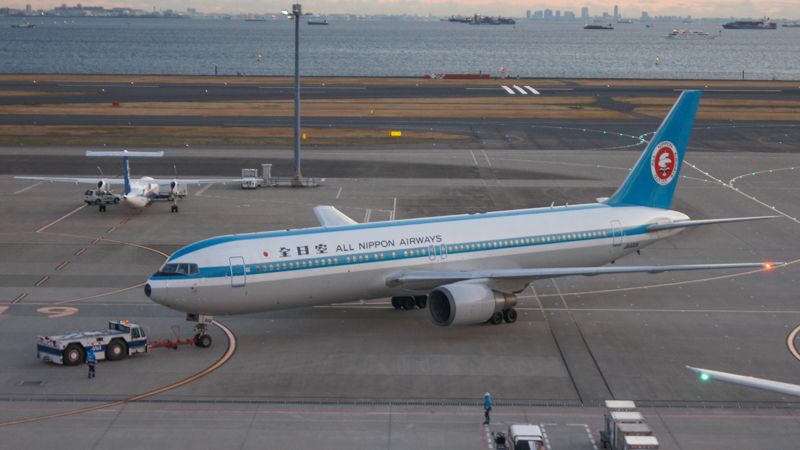 A 767 decked out in retro ANA livery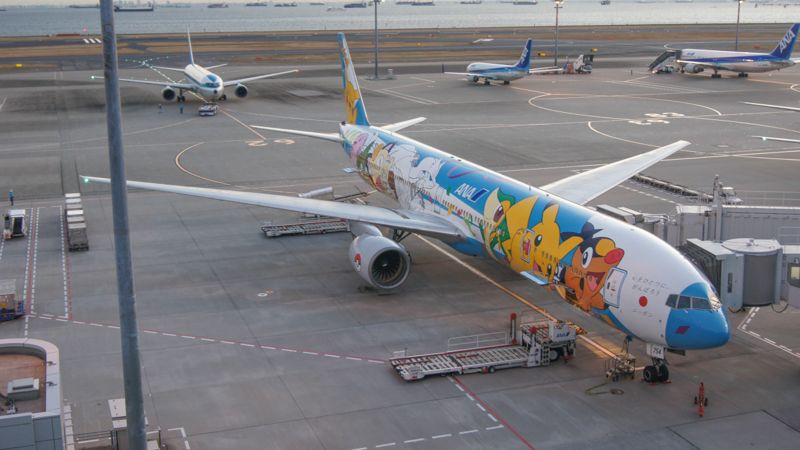 ANA Boeing 777-381 JA754A "Pokemon Peace Jet"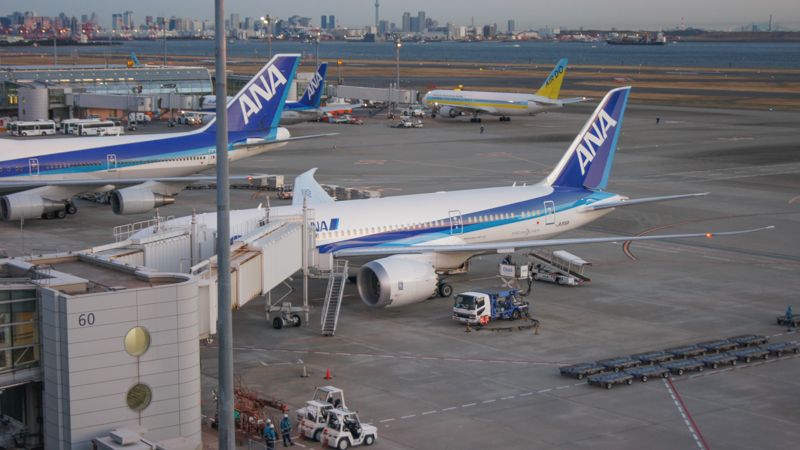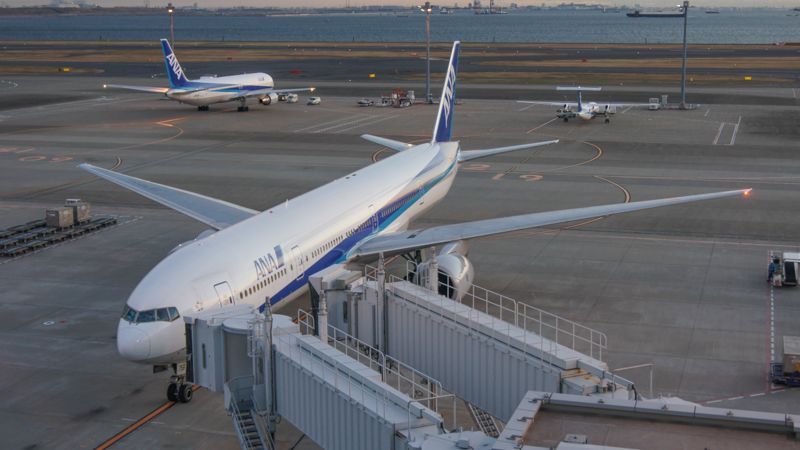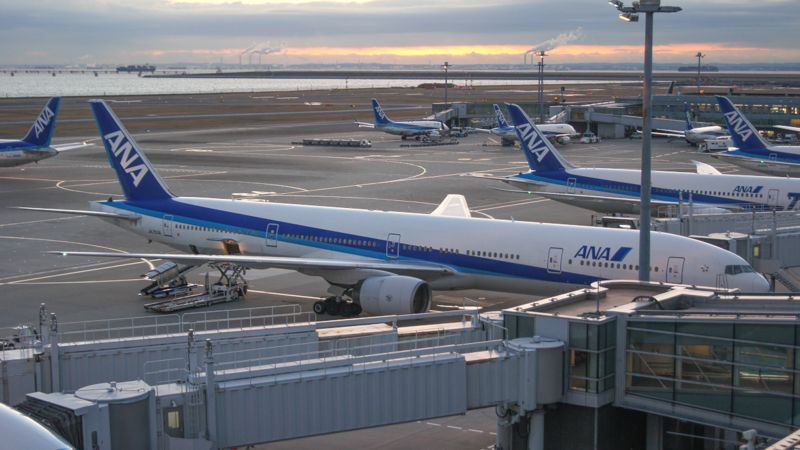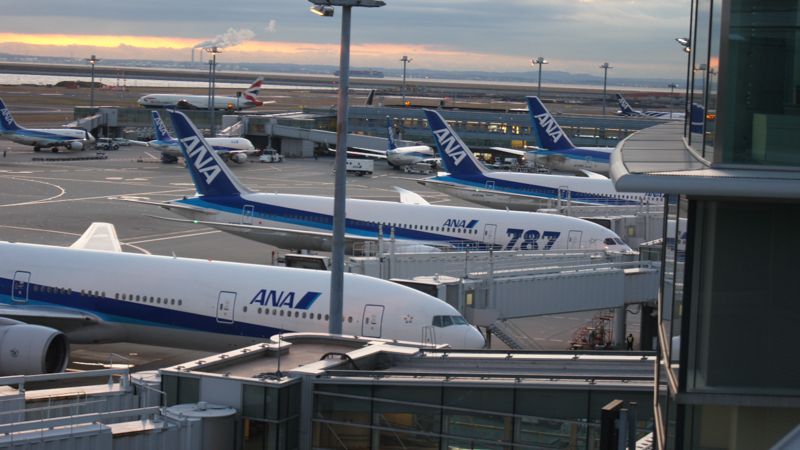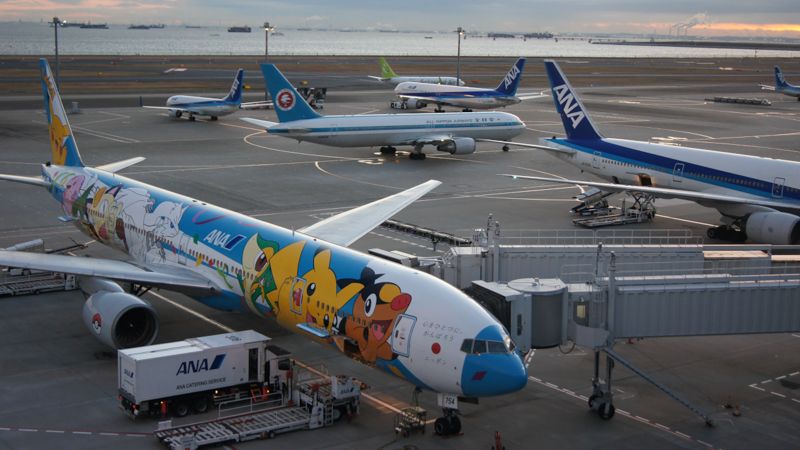 ANA Land
And then this BA bird rotated right in front of us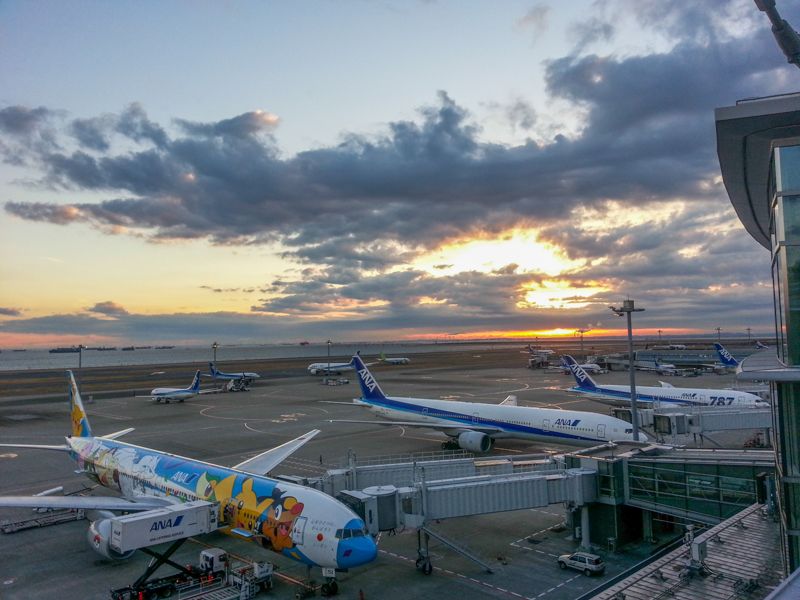 The sun rising over Tokyo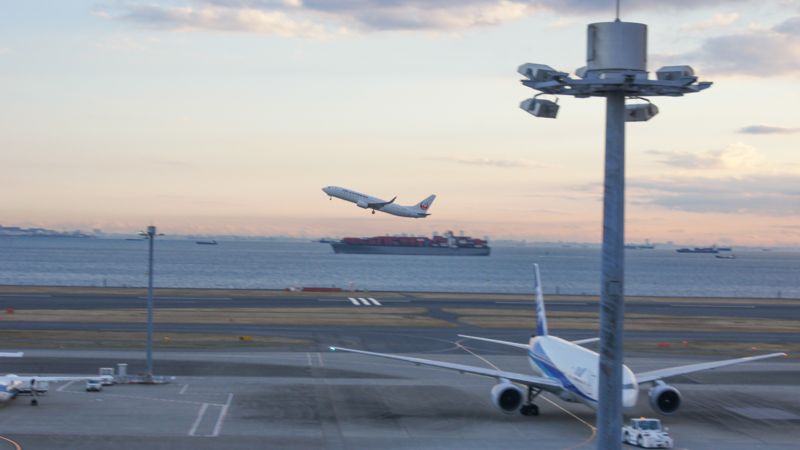 This tiny one launched itself into the air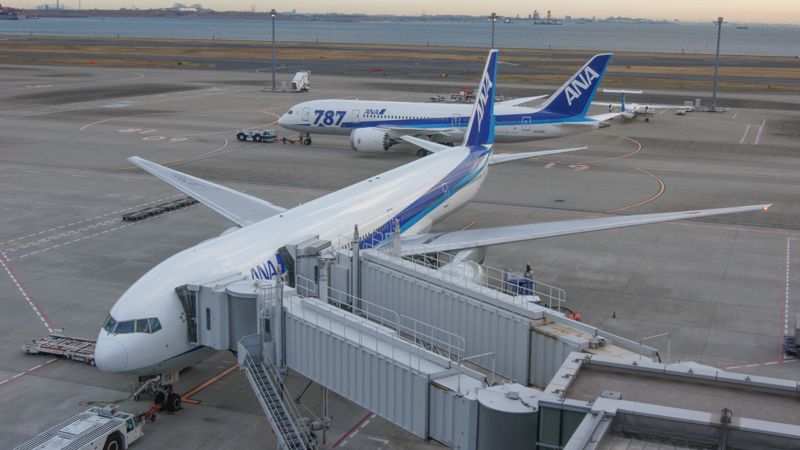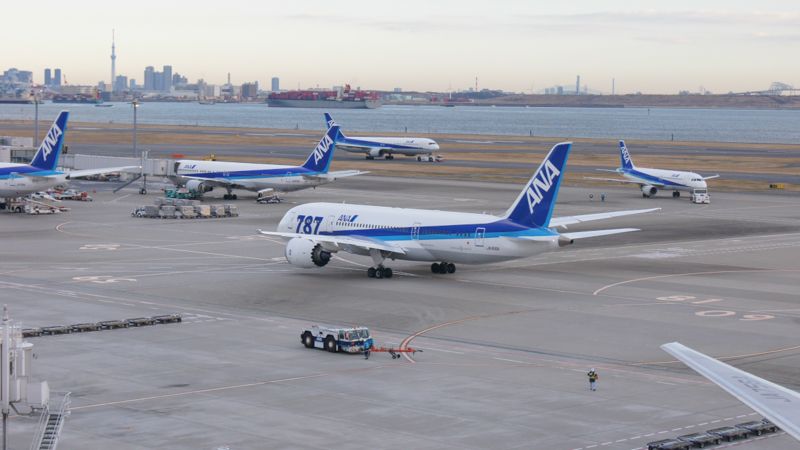 More ANA Dreamliners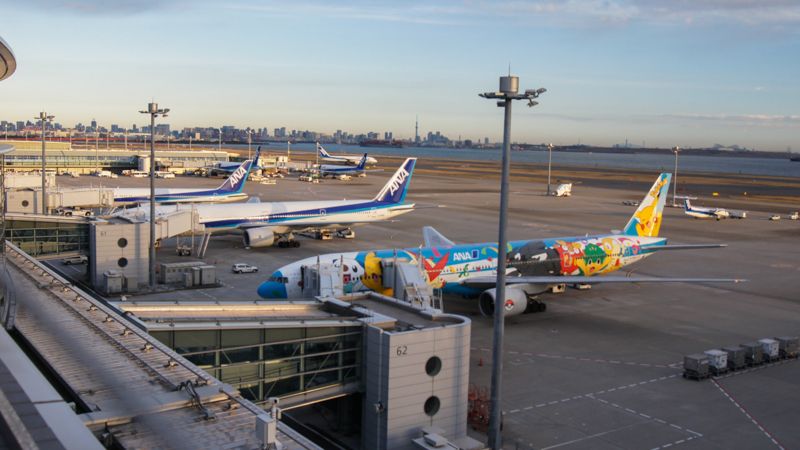 Parting shot before we left the Observation Deck
Although it was a real pleasure to be spotting at HND's Observation Deck, the time had come for us to go airside. Security was a fast process, no surprises there, given the Japanese and their reputation with precision and efficiency. We emerged the other side unscathed and headed for our gate, hoping to catch sight of our 744D which must have been towed to the gate while we were busy with screening and everything.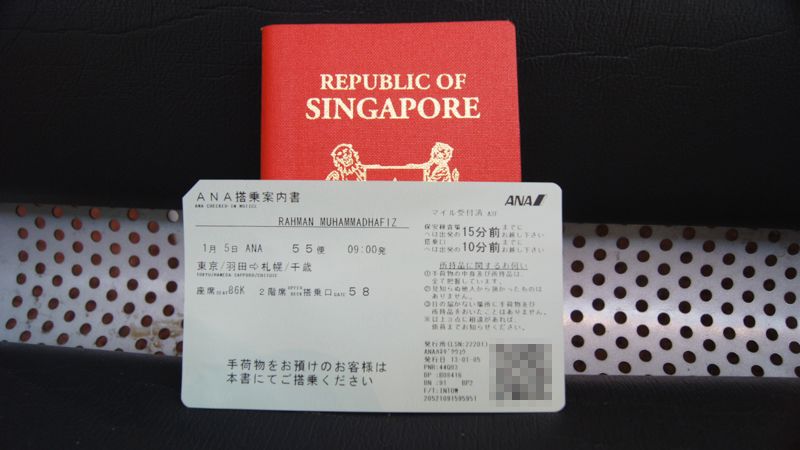 Passport and boarding pass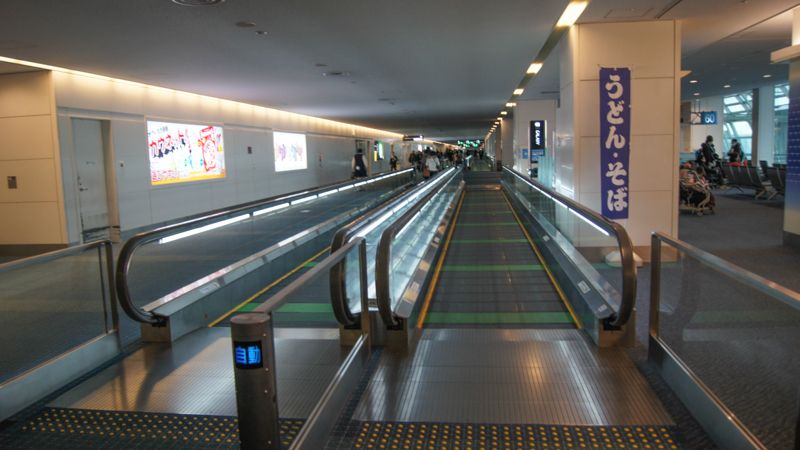 Going on these to our gate
One of the many gates
And then, we were surprised when we reached our gate. We saw something big AND yellow parked at our gate.
With a blue tail that has a yellow rodent on it.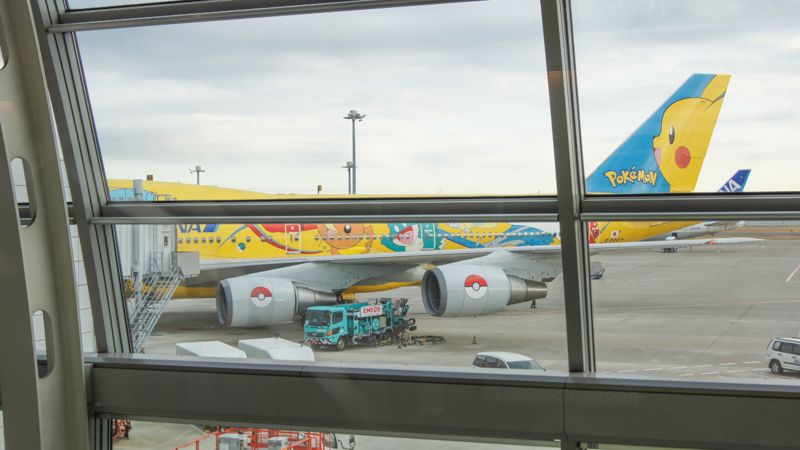 And giant Pokeballs on its engines!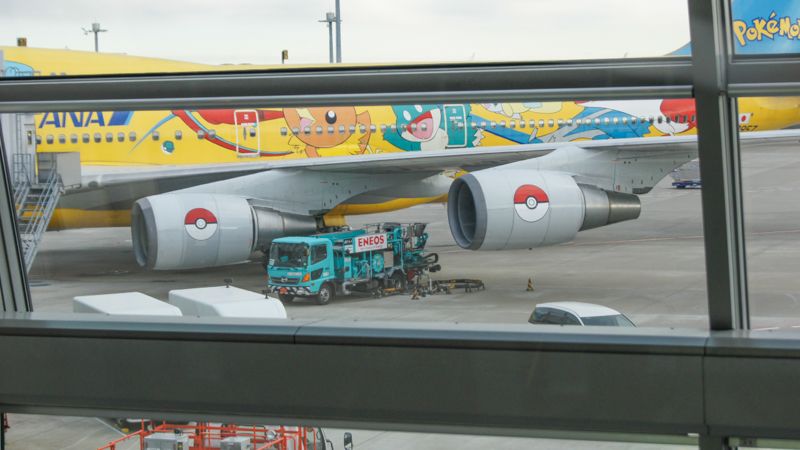 What luck! Not only did we finally secured a flight on a 744D, but we also had the privilege of flying in the famed Pikachu Jumbo up to Sapporo. This is definitely going down well in our record books! Things are definitely getting interesting.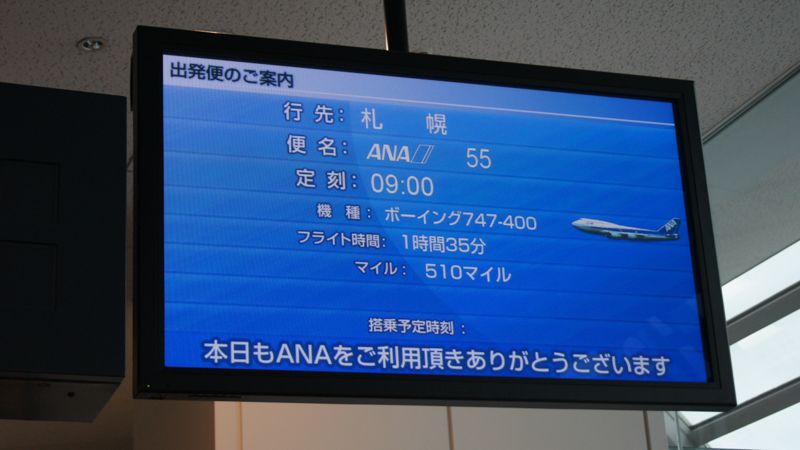 Our flight's status TV screen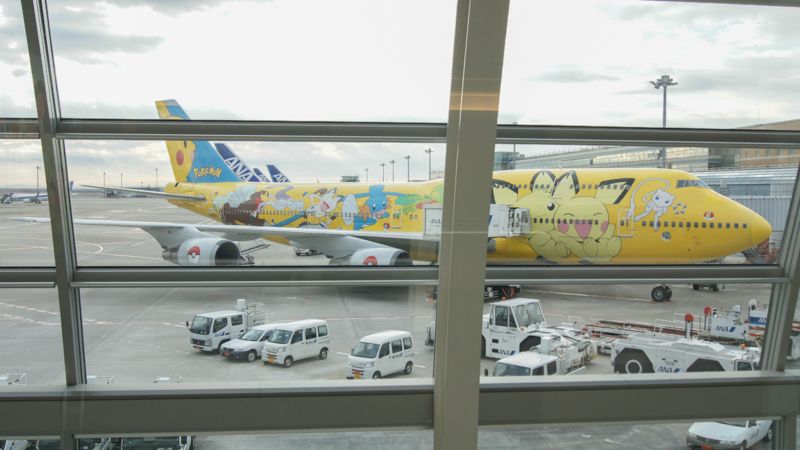 More Pikachu Jumbo
More ANA 767s as well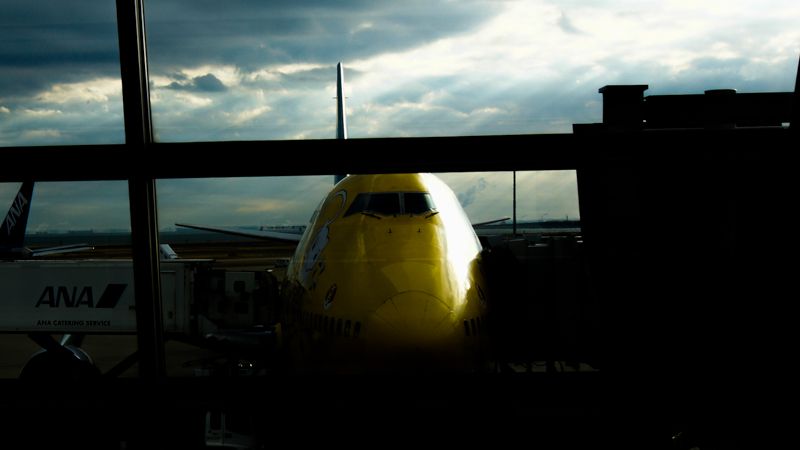 Even more Pikachu Jumbo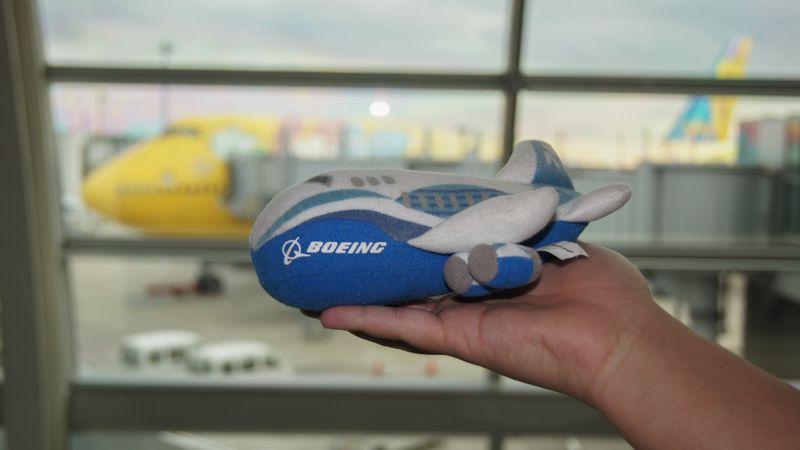 Aaron's 747 doll posing with a real life-sized 747 behind it
We explored the terminal enough and went back to our gate. Though it was a 744D, I don't think that it'll be filled to the brim for this flight, looking around at our area. Soon, announcements were made (in Japanese, no less) that boarding has commenced. Here we go!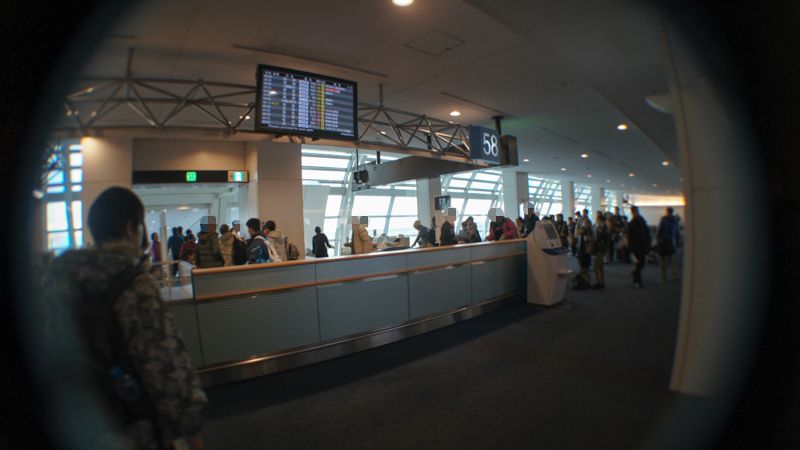 Queueing up in neat fashion is the way to go
Walking through the aerobridge
Thank goodness for the glass walls of this aerobridge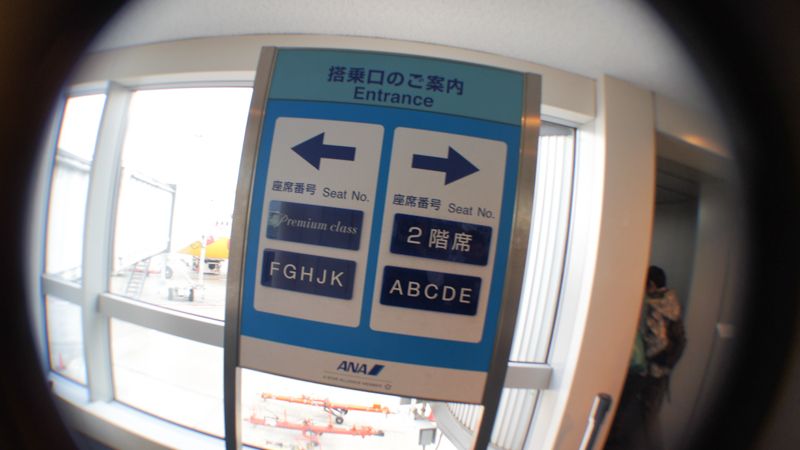 Left or right
We reached the end of the aerobridge and was greeted warmly and enthusiastically by an ANA girl stationed at the door. The flight of stairs leading to the Upper Deck was located conveniently located in front of us the second be stepped on the plane. Up the stairs, we go!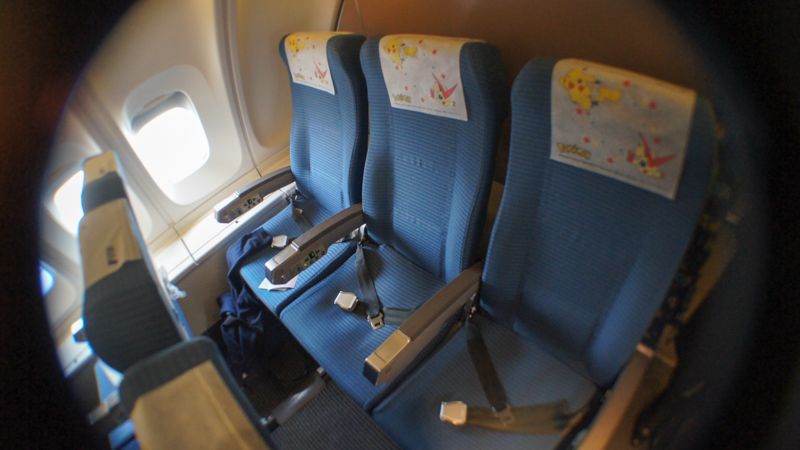 Our seats! Check out those cute headrest covers!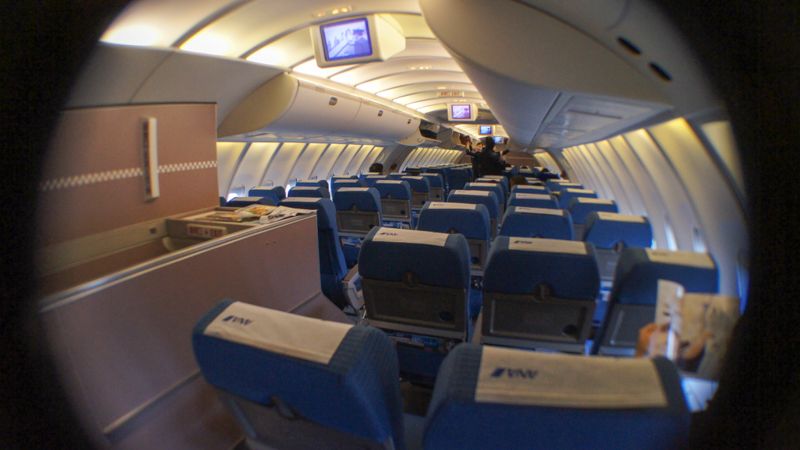 The Upper Deck cabin in its entirety
The other side, our row
The staircase leading down to the Main Deck
The last two rows of seats in the Upper Deck
Having taken enough photographs for now, we settled into our seats. This would be my second Upper Deck flight, which means side storage bins for our use! I really love those storage bins, which saves the trouble of hauling our stuff up to the overhead bins.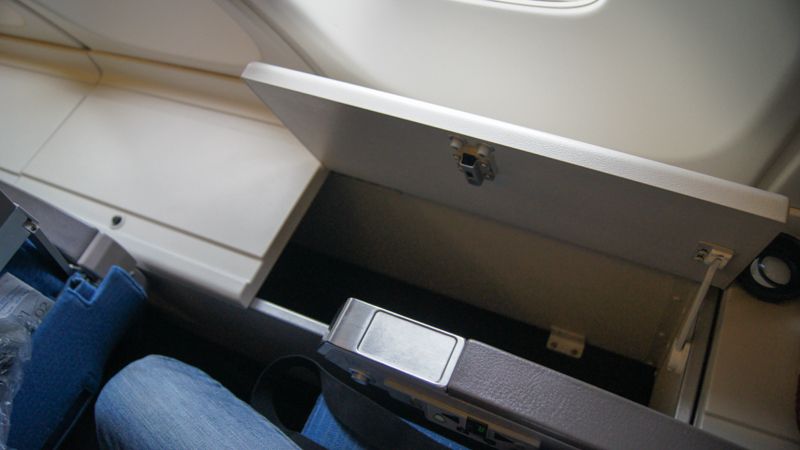 Said side storage bins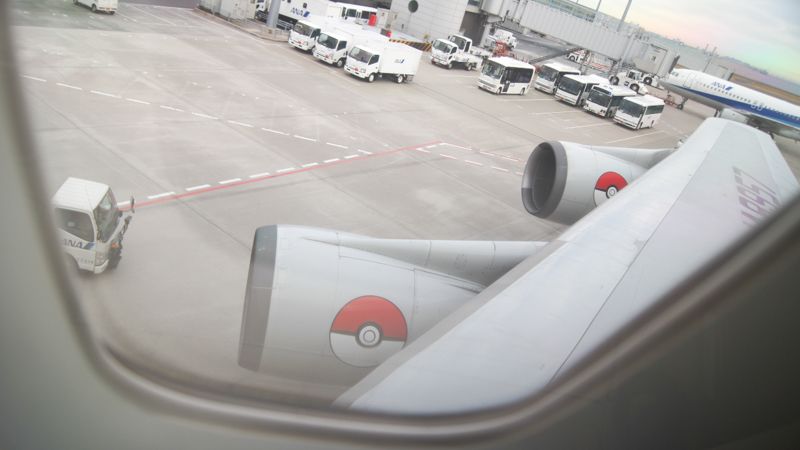 The view from my seat
Still boarding
I was having a conversation with Aaron and our other friend. I forgot exactly what was said between us, but it resulted in my saying "YES!" quite audibly. At the exact same moment, a group of burly Japanese men emerged from the stairs. One of them enthusiastically mimicked me with a loud "YES!". I turned to look at him, and this absolute stranger just gave me and toothy grin and chuckled as he walked to his seat in the front with his friends.
Oh, I just love these zany Japanese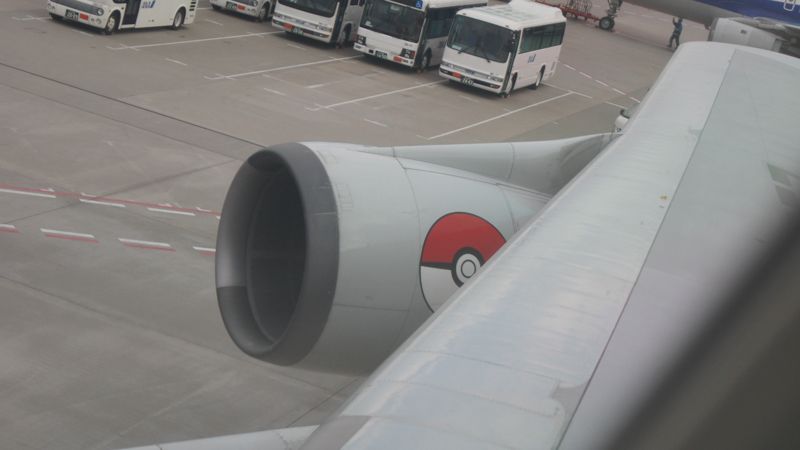 Boarding had completed, and the ANA girls prepared the cabin and every passenger for departure. Right on the dot, we began pushing back and taxiied to the active runway almost immediately.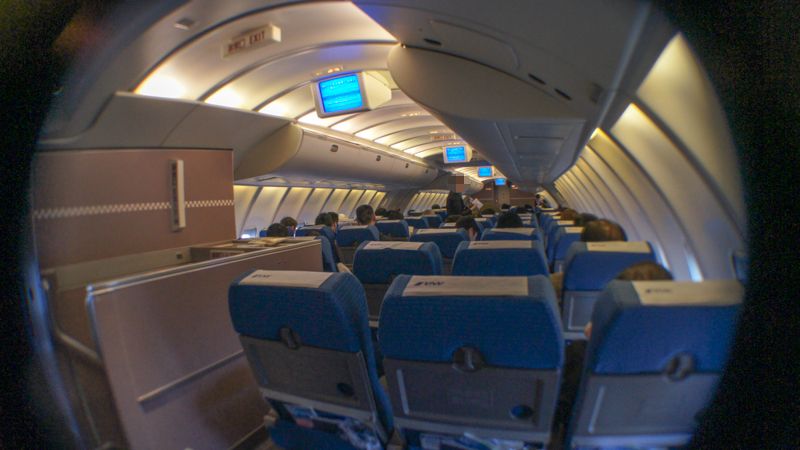 The safety video was playing from those ceiling TV screens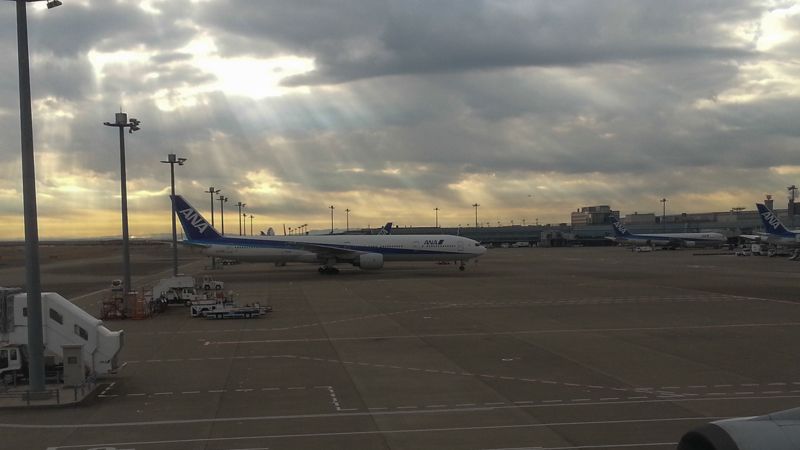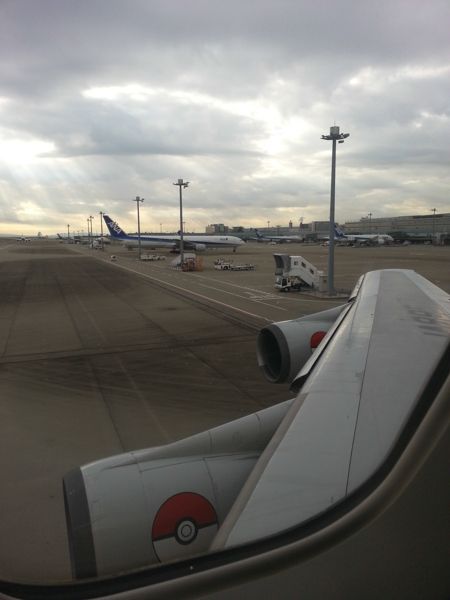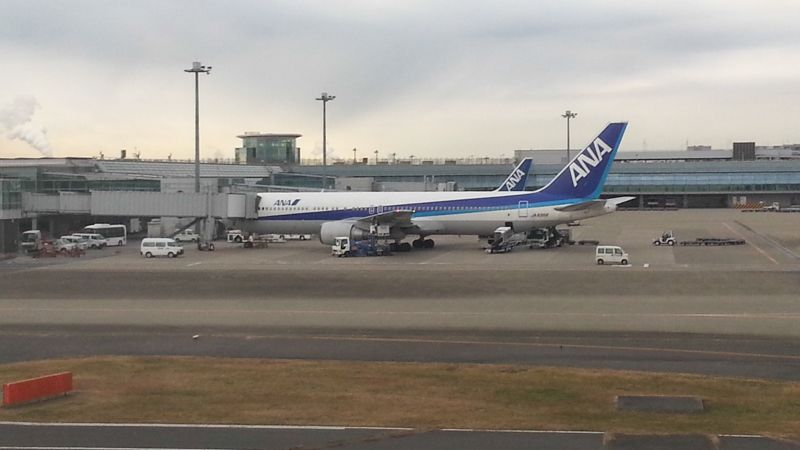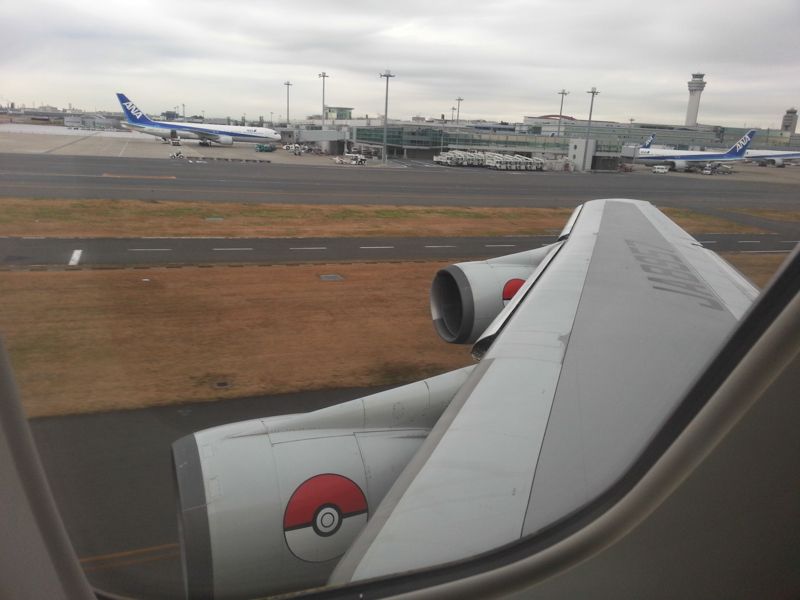 Scenes during our taxi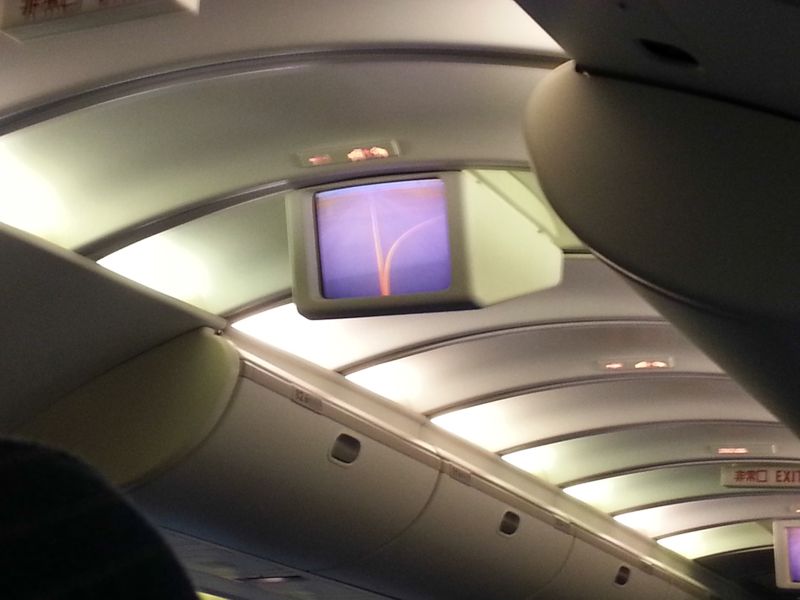 Even this old 744D has a nose gear camera. Sit down and take notes, Singapore Airlines!
We finally reached the end of the runway after a leisurely taxi. A final turn was made and here we go!
http://www.youtube.com/watch?v=xQJSz0k2W24
Leaving HND behind us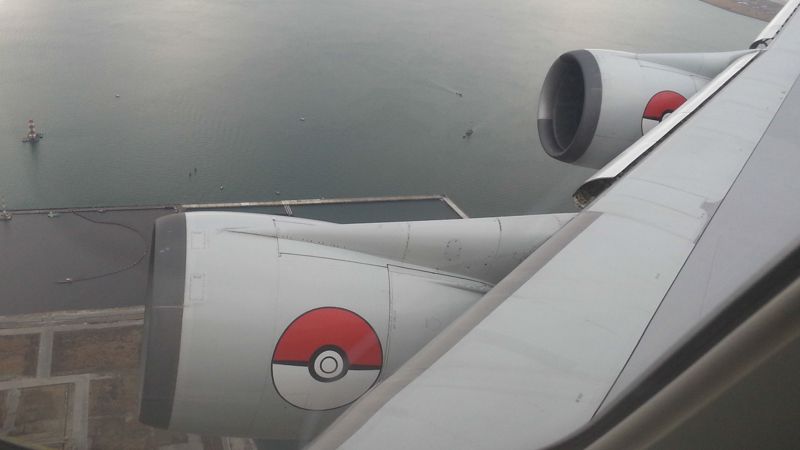 Work it, Pokeball engines!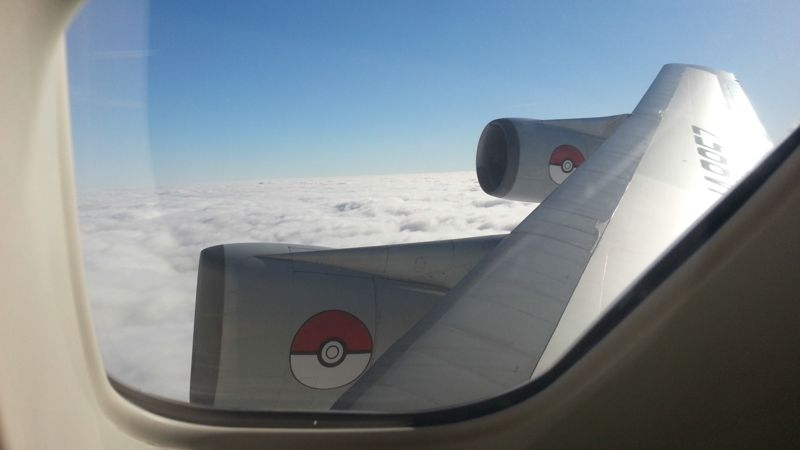 We emerged from the grey cloud layer
Soon enough, the seatbelt signs were switched off. We immediately launched into action with our cameras! To our left, Mount Fuji came into view.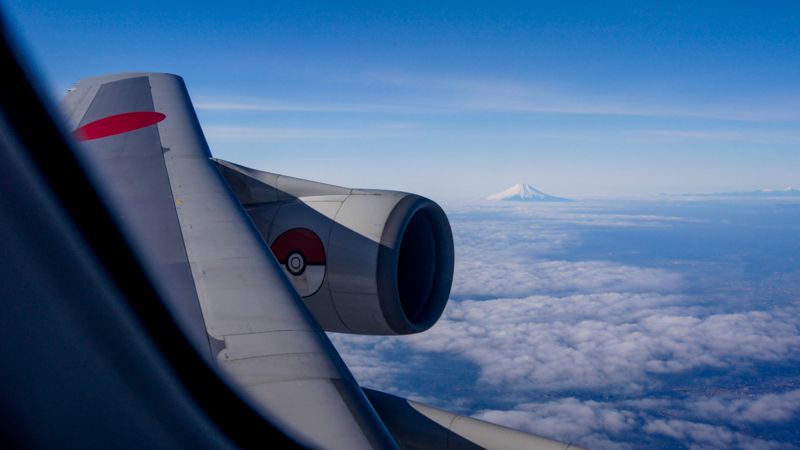 Another aerial Mount Fuji shot to add to my collection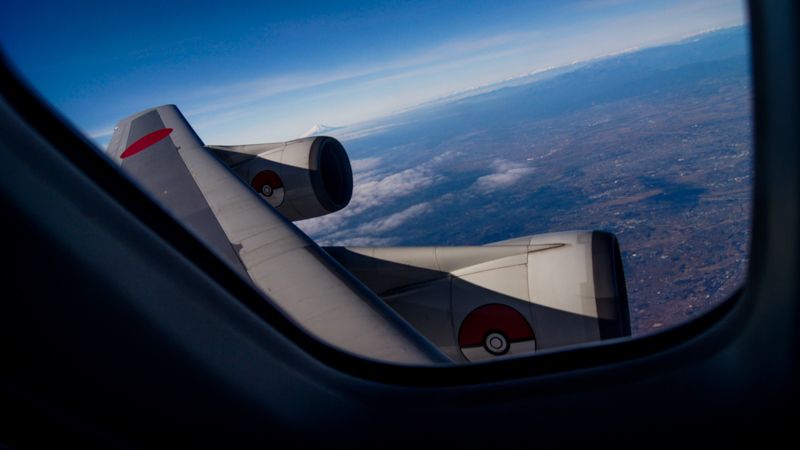 Japanese landscapes down below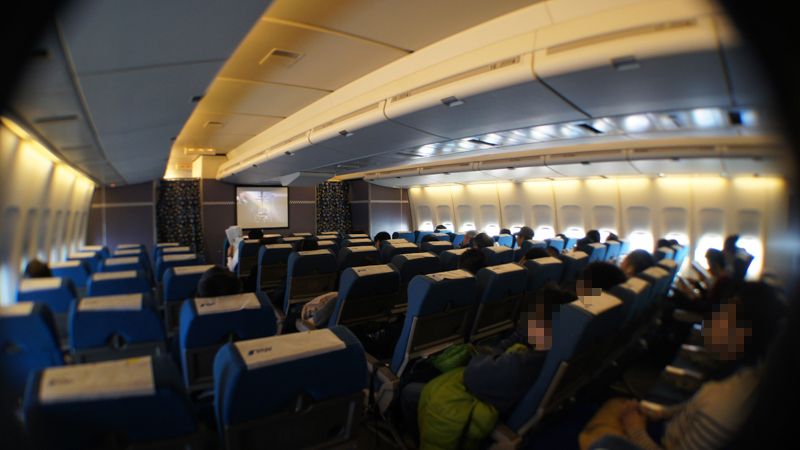 We wandered downstairs to the Main Deck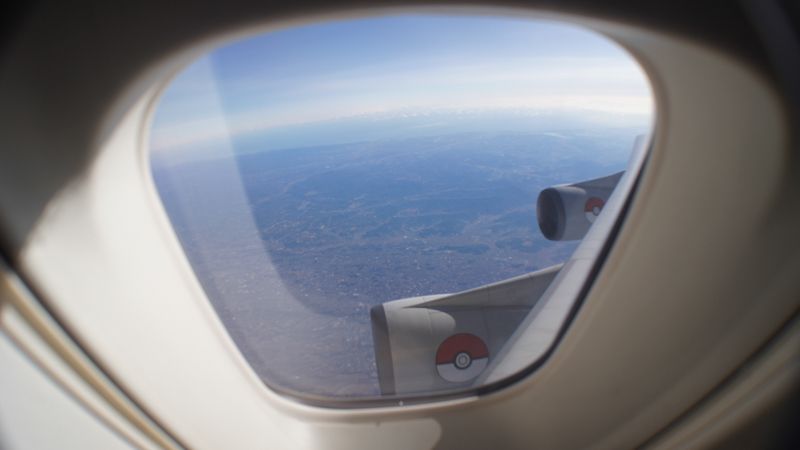 More PokeEngines
Okay, enough roaming around. Back to our seats!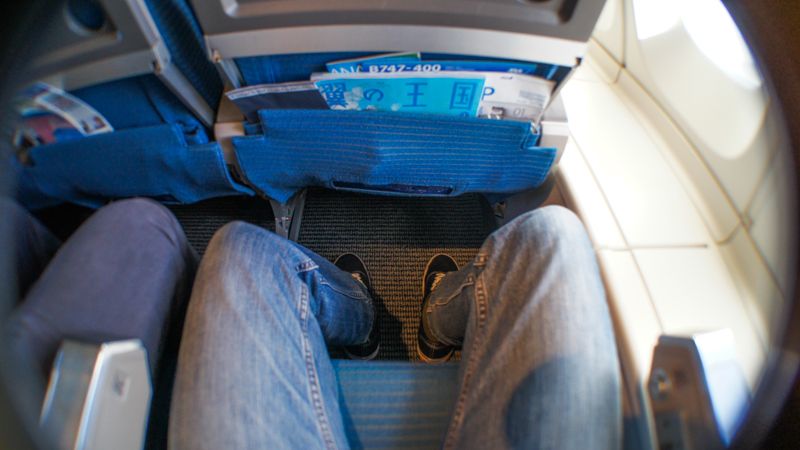 Knee shot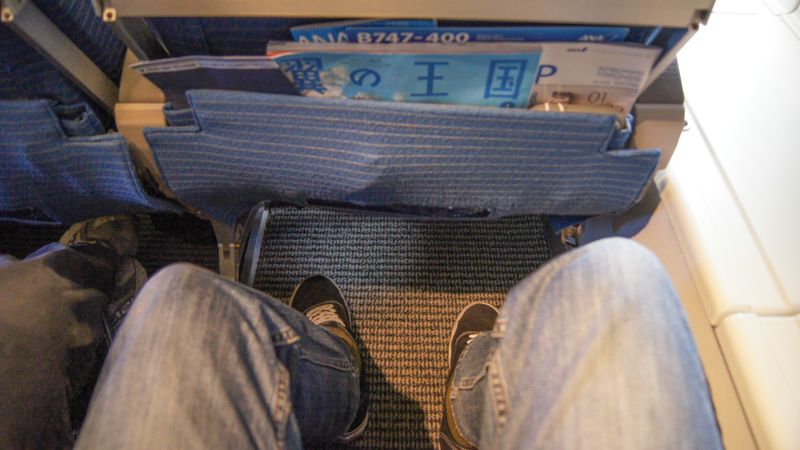 Feet shot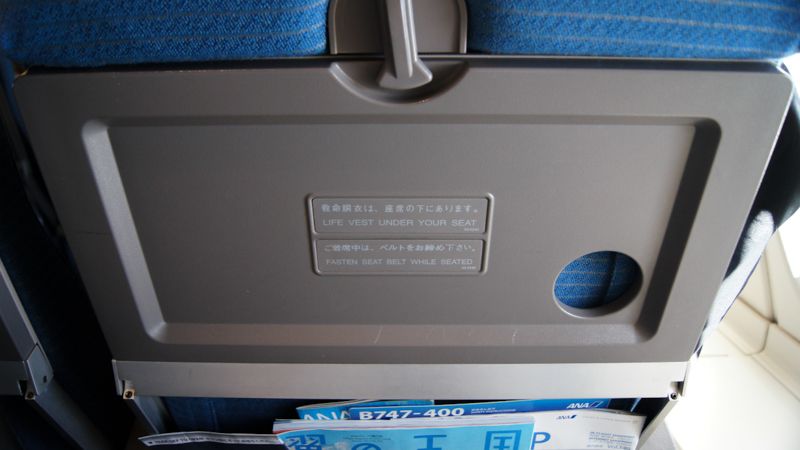 Tray table still stowed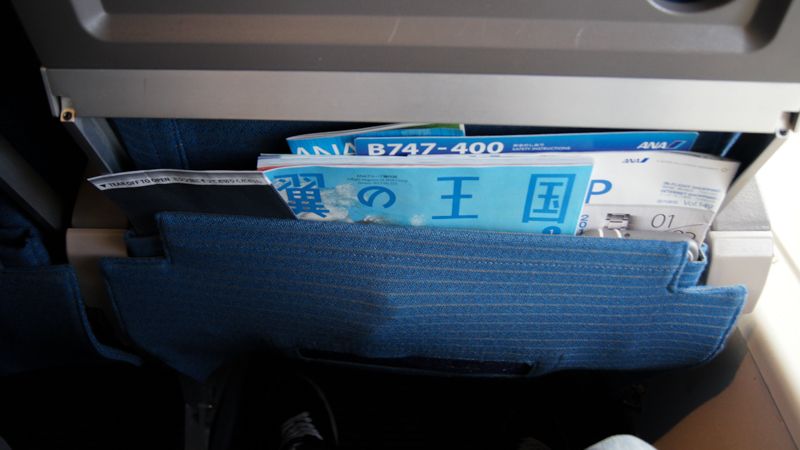 Seat pocket
The mad cute headrest cover!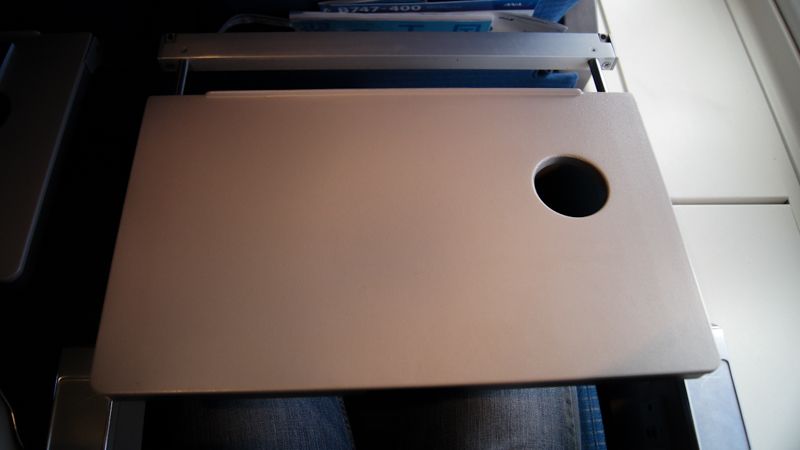 Tray table unfolded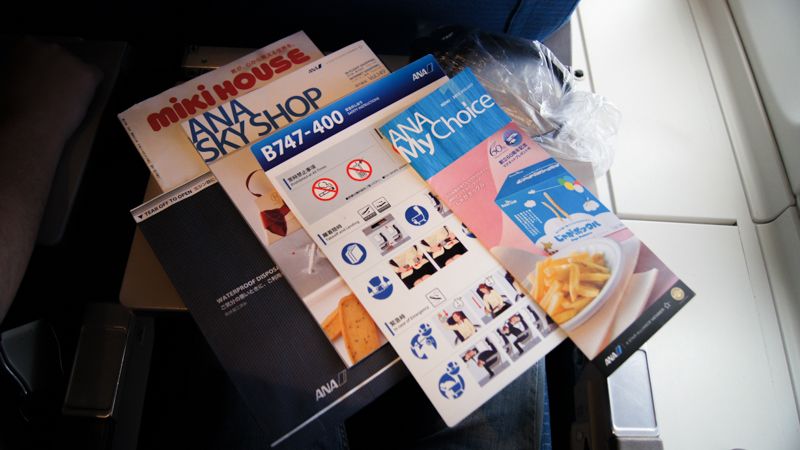 Seat pocket contents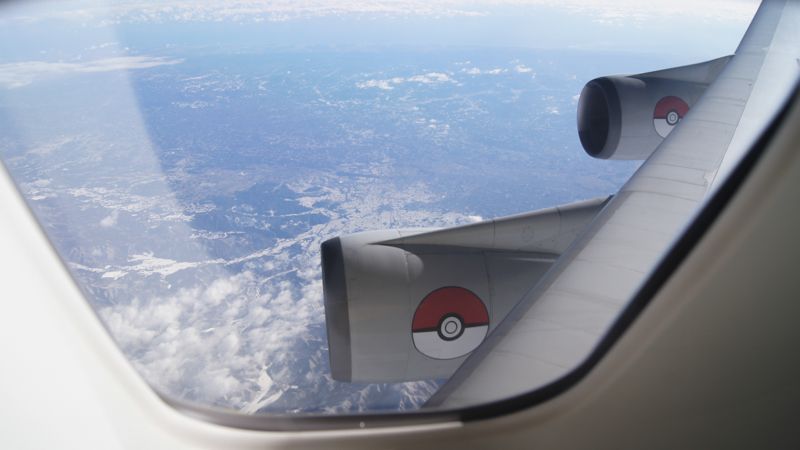 The further we flew north, snow appeared
By now, the ANA girls in the galley behind us emerged with their trolley of goods. I was in a spending mood, so I browsed through the menu card and decided on this box of stuff. Aaron had taught me enough basic Japanese for me to order what I want entirely in Japanese, although the ANA girl was smiling away at my accent. Apologies, ANA girl! She was more than willing to oblige to our requests and did so with a bright and wide smile. She ended off the order with her telling us to please enjoy the snacks and drinks. Awesome hospitality right off the bat, ANA!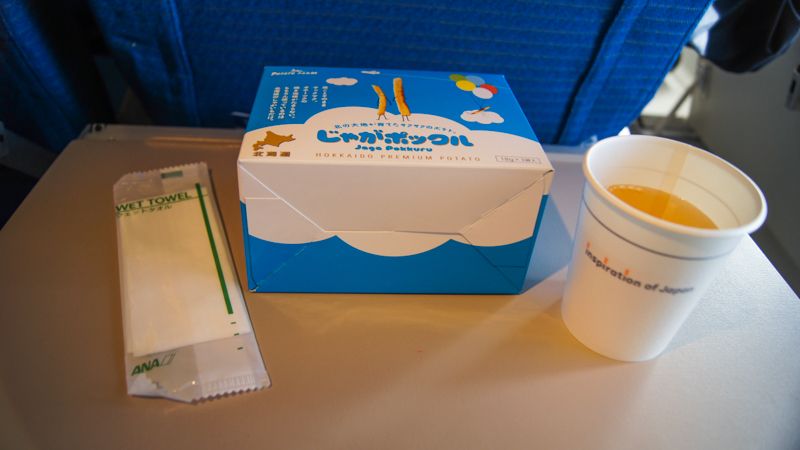 The box of stuff that I bought from the trolley
I also had purchased some raw fish items when were still at HND. Time to unpack those! I just have a soft spot for raw salmon.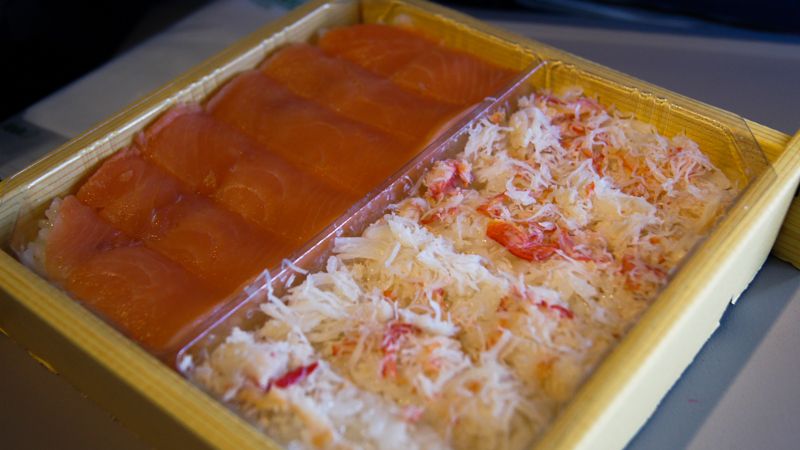 Salmon!
It appears that the entire group of ANA girls serving the Upper Deck has been studying the three of us from the start. Two of them suddenly appeared beside us and offered us Pokemon postcards and ANA candies to go along with it. We were really surprised at this, as they didn't seem to offer these to the rest of the passengers in the Upper Deck.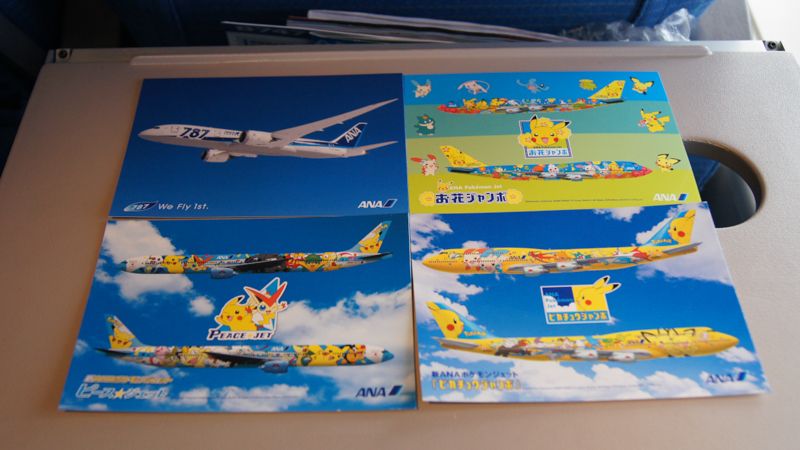 The Pokemon postcards. We got four each! Thank you, ANA!
Aaron and the ANA girls were engaged in a lively conversation. Apparently, they said that they were proud to be working for ANA and also proud that ANA was part of Star Alliance. They were doubly excited when we told them that this trip so far has entirely been on Star Alliance Airlines. Triply so when I told Aaron to tell them that so far, ANA is the best performer so far out of all the Star Alliance flights we have taken so far during the trip.
They continued to ask us questions about where we came from, what do we do back home in Singapore, how often do we travel and such with enthusiasm. Aaron mentioned that the 747 is his favorite plane, and they replied that it is theirs too. I think that the ANA girls were really interested in what we had to say. I swear, this is the friendliest set of crew I have ever encountered. Even though they can't really speak English, and I don't speak Japanese at all, the service provided by them transcends that obvious language barrier between us and still felt very sincere and personal. Absolute top marks to you, ANA!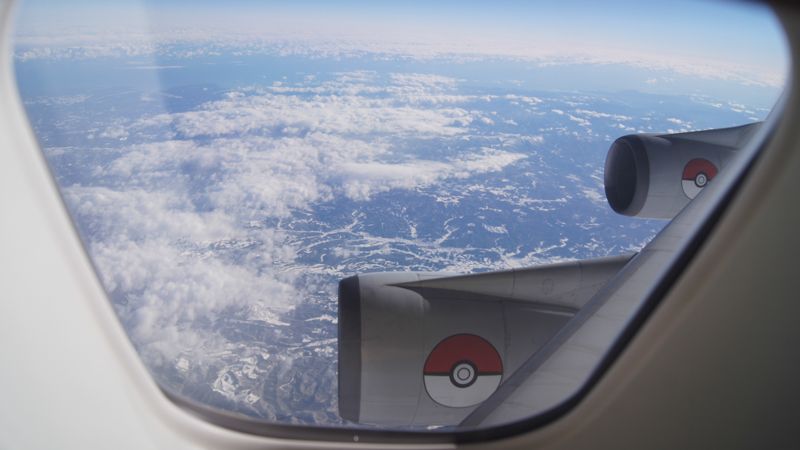 More snowy landscapes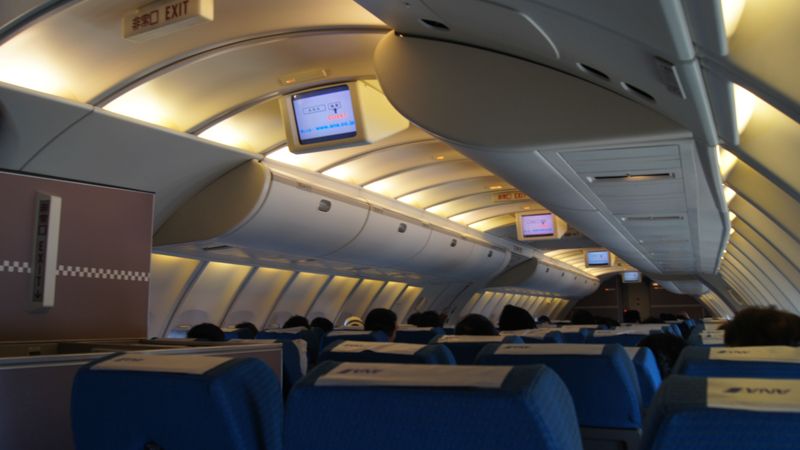 The rest of the passengers had dozed off
The ANA girls bowed before taking their leave, to continue with their cabin duties.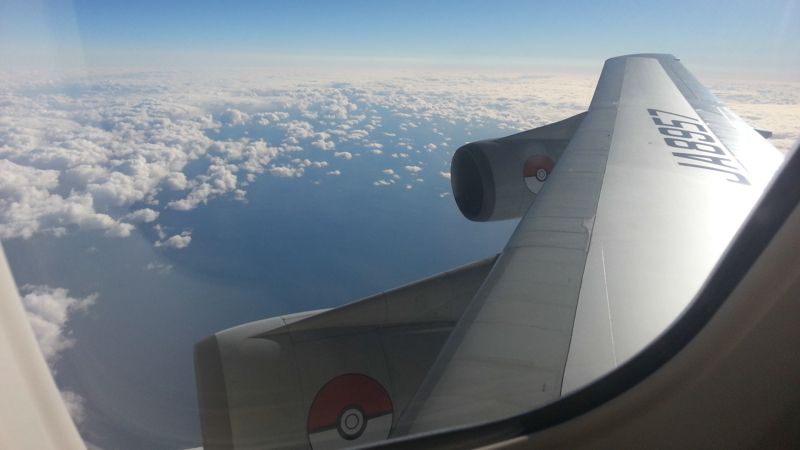 Crossing the Tsugaru Strait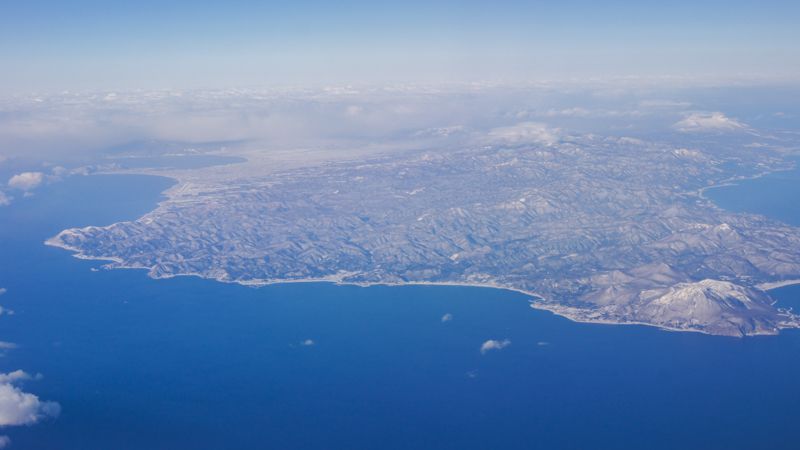 Hakodate, Hokkaido has been sighted
Cabin announcements was soon made that we would be descending very soon. Time to do the last thing on the agenda - lavatory visit!
Upper Deck lavatory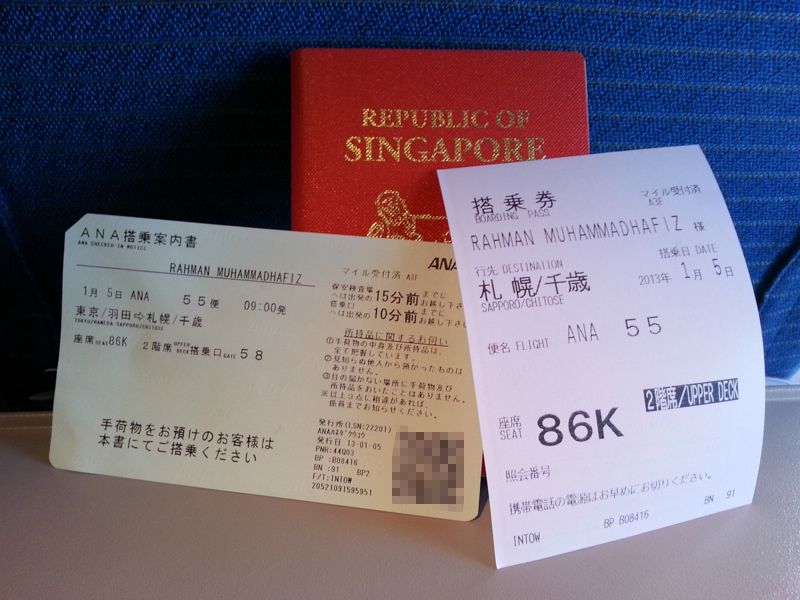 Passport, boarding pass and boarding receipt
We drifted lower and lower, until we flew over the coast.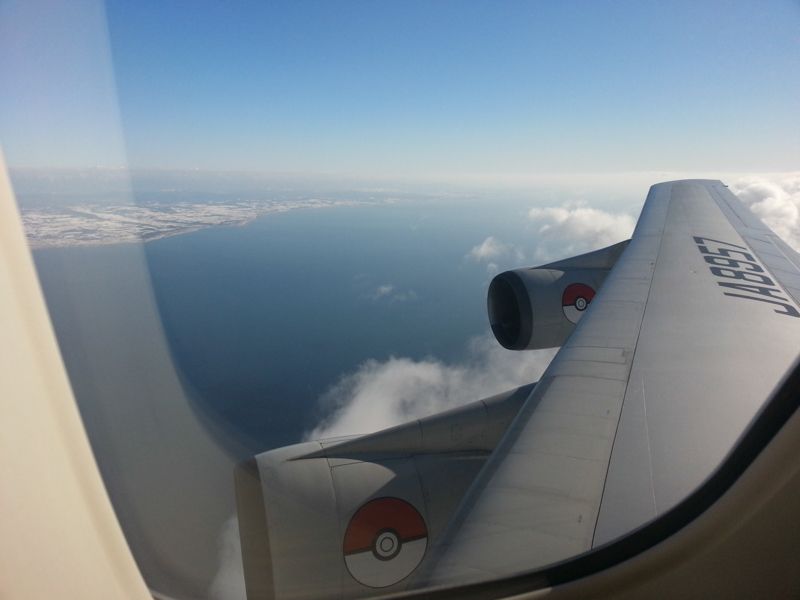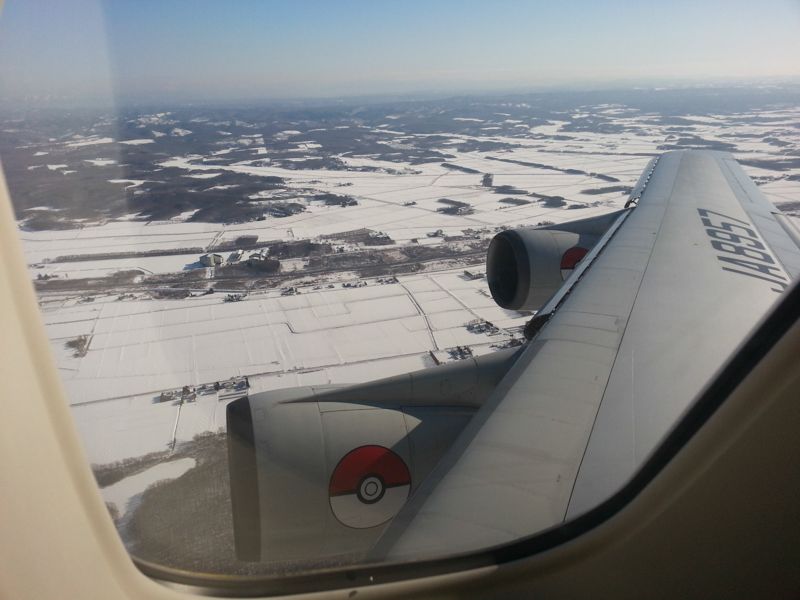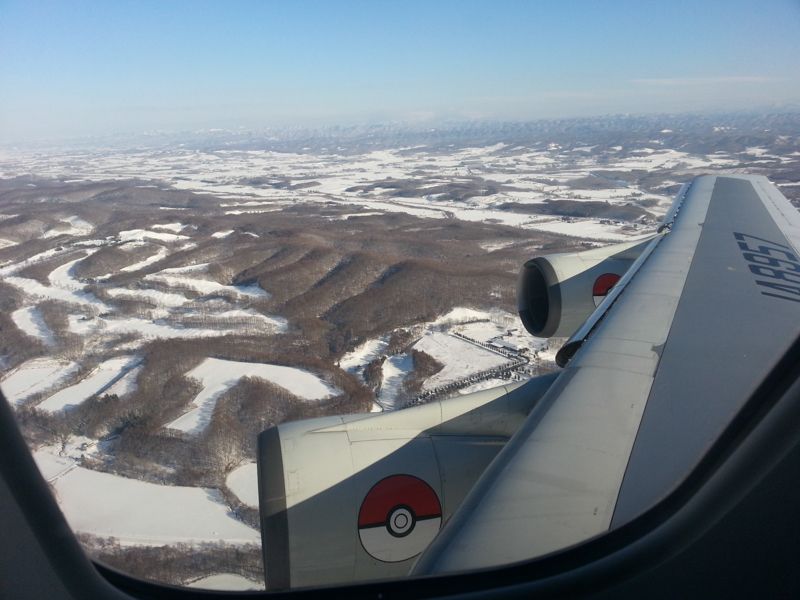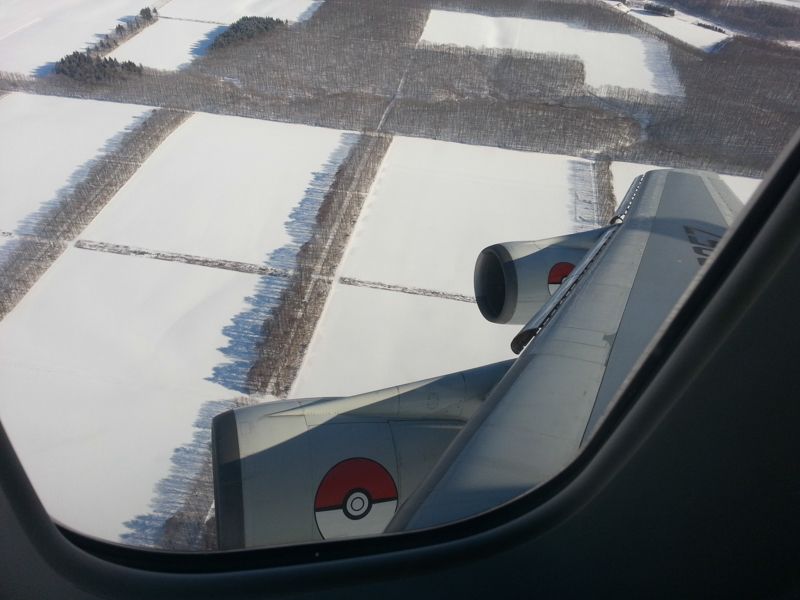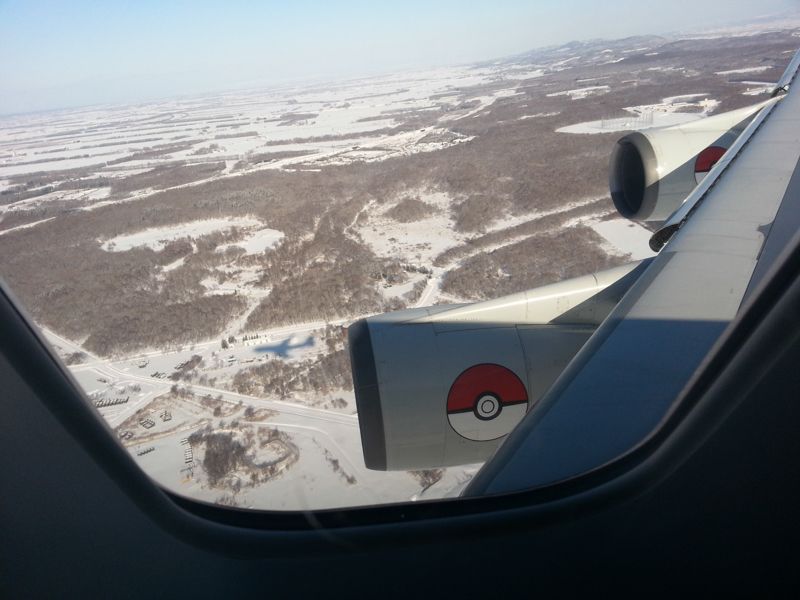 And lower and lower and lower
http://www.youtube.com/watch?v=7DzeM24QTb4
And so, our one and only flight on the Pikachu Jumbo ends with a taxi to the gate.
Winter wonderland CTS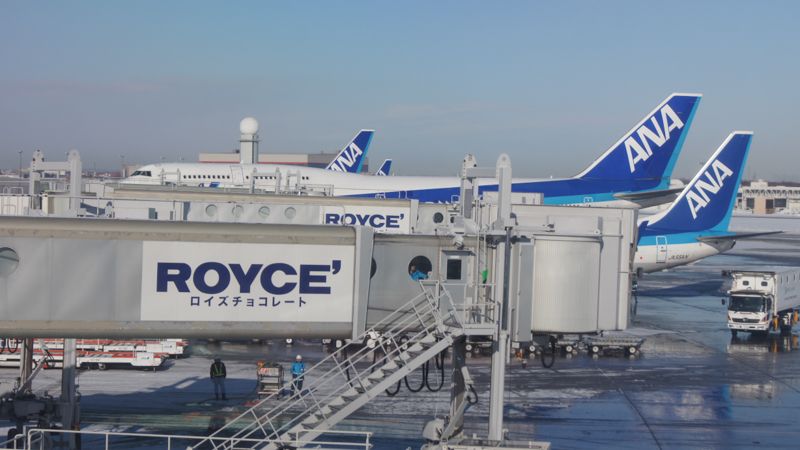 More ANA planes parked at the gates
Maximum thumbs up to this flight!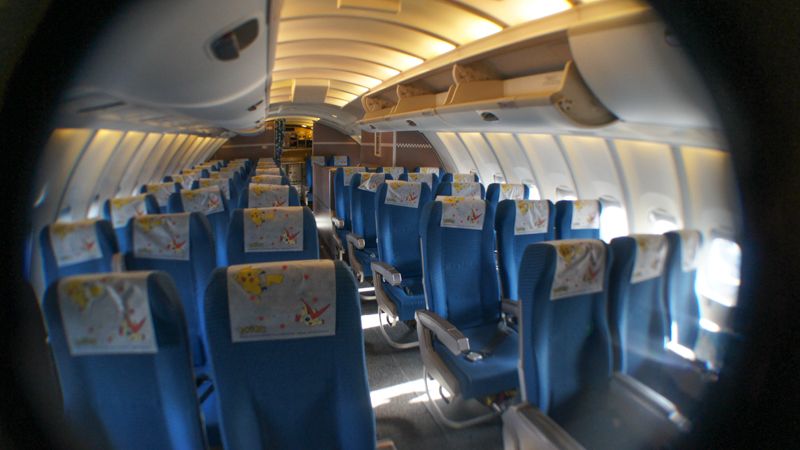 Upper Deck shot from the front
Staircase again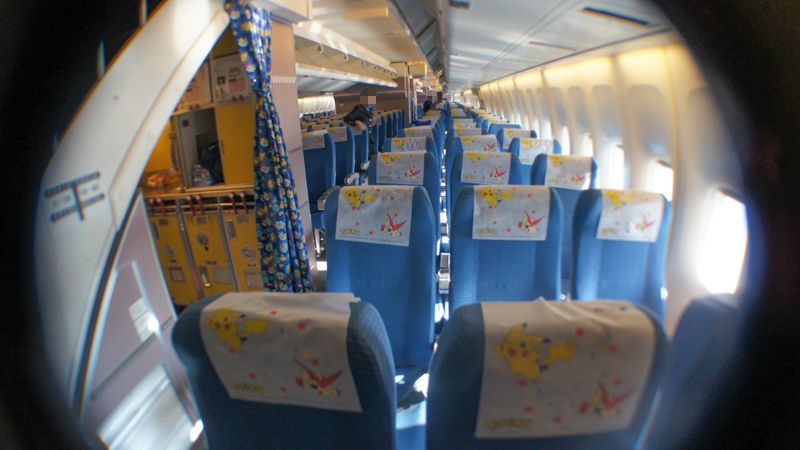 The rear section of the Main Deck
The front section of the Main Deck
Two ANA girls were stationed at the door. By now, the plane was largely empty and we were the last passengers left on board. The ANA girls bowed to us and thanked us for flying with ANA. In response, we bowed back to them, thanking them for the top notch service even though it was a relatively short flight.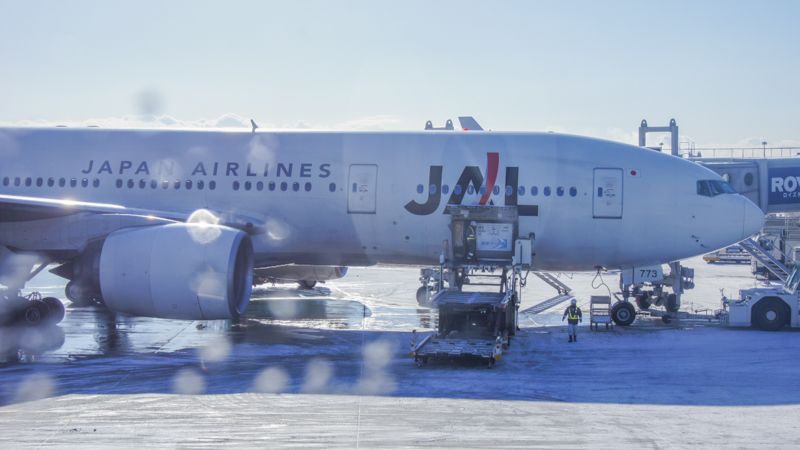 This JAL bird was parked next to us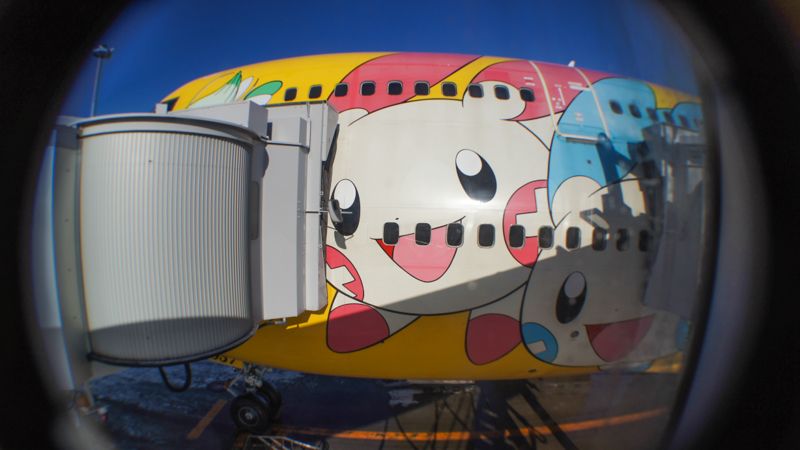 Larger than life Plusle and Minun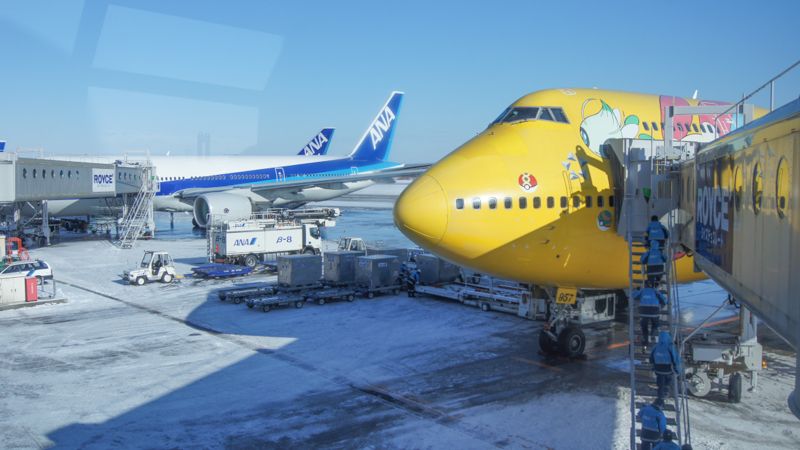 Parked among its sister Boeings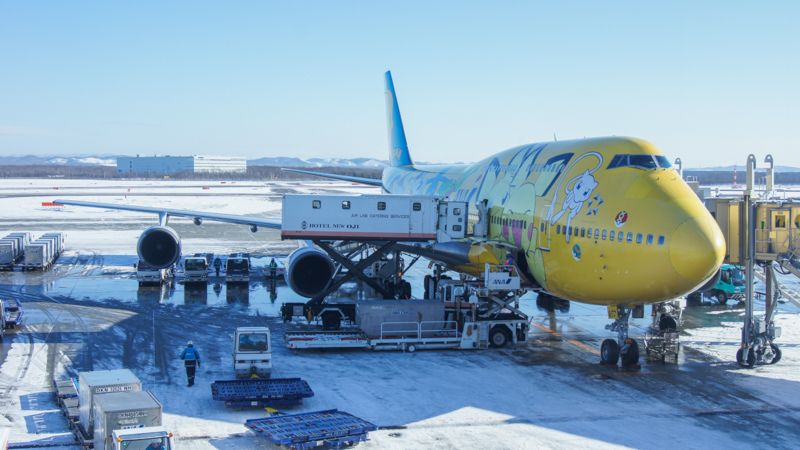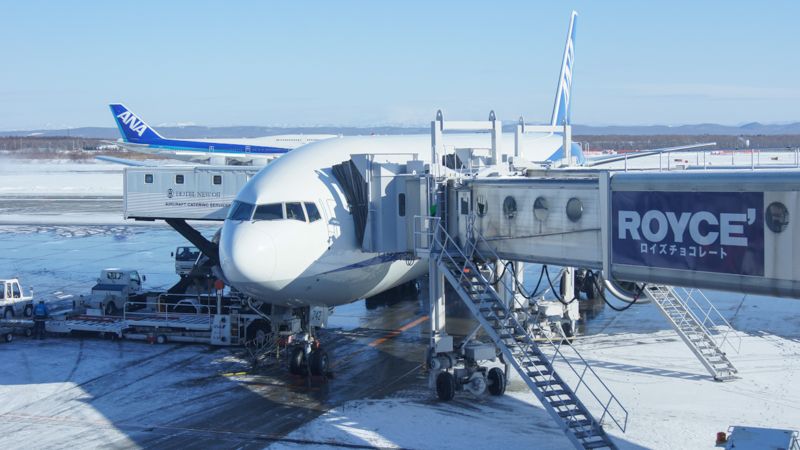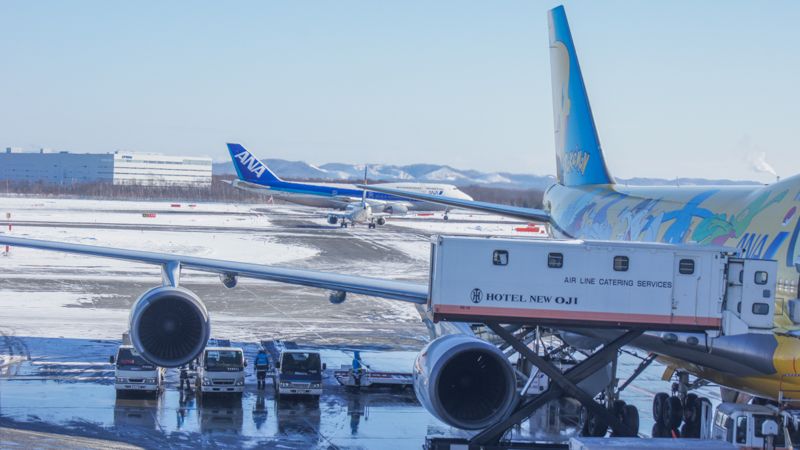 More spotting
And then I forgot that I had left my NEW YORK hoodie in the side storage bin back at my seat. Fortunately, a pair of ANA ground staff were walking past us. Aaron told them that I had left my jacket in the plane and asked if it was possible for us to retrieve it. They smiled and obliged, saying not to worry and that they'll see to it. They talked on their radio communication device while walking away. About five minutes later, they were seen walking towards us, with my jacket in hand. I bowed and thanked them profusely for their kind assistance. Seriously, from air to ground, ANA is top class!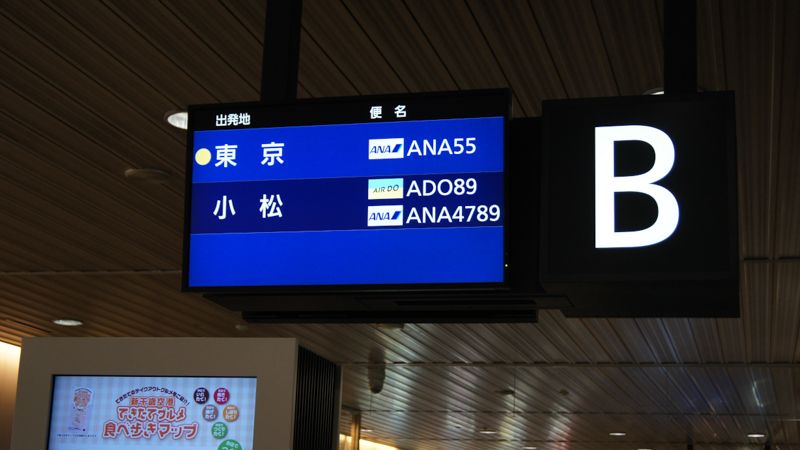 My dream of sitting on the luggage carousel and going around in circles still has not been achieved
The busy crowd at the Arrival Hall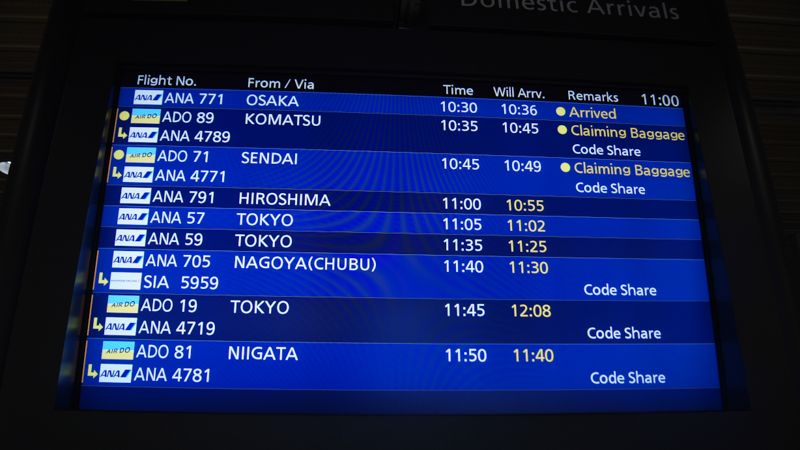 Status screen of flights for the morning
We decided to head up to the Observation Deck. Might as well, right? A new airport to log in some spotting.
The equally busy Departure Hall
What seemed like a flagship Calbee store
ANA Star Alliance jet!
Preparing for its flight back to Tokyo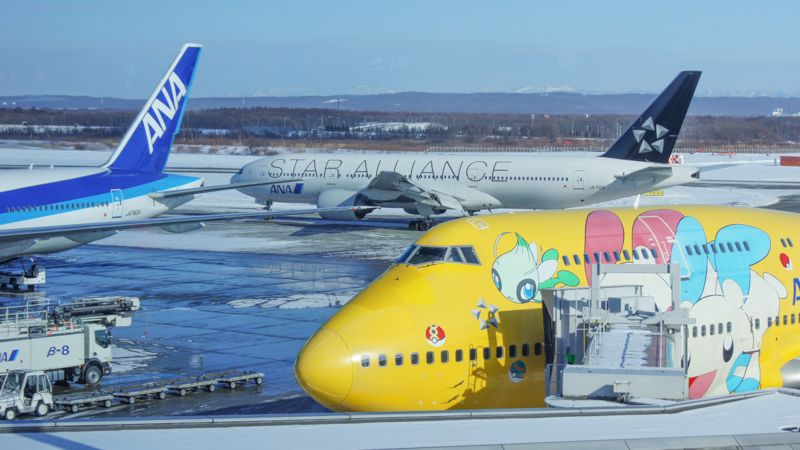 Three ANA planes, three liveries
Pikachu Jumbo finally pushed back, ready for departure
Hi there, little one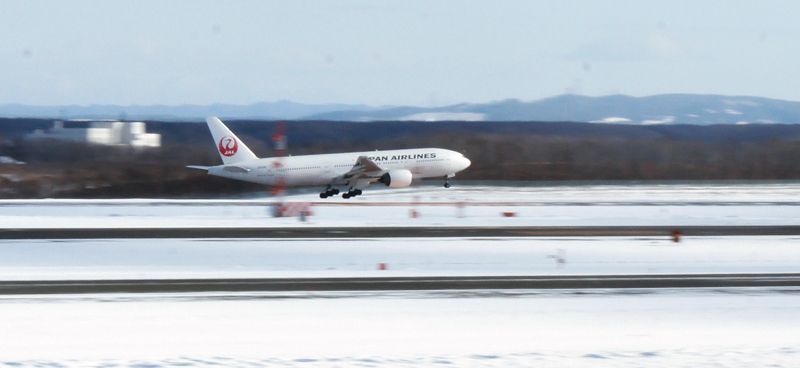 A red crane appeared
Followed by a purple flying Peach
More ANA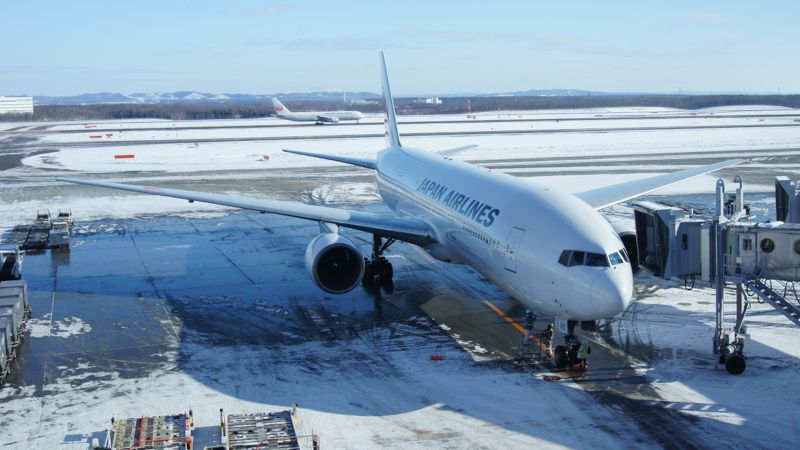 More JAL
TO BE CONTINUED!
----------
My other trip reports:
Retroactive! New Zealand 2007 On QF & NZ Part 1
Retroactive! New Zealand 2007 On QF & NZ Part 2
New Year '09: Northwest Airlines A330 SIN-NRT-SIN
Yokoso! Japan 2012: 3K/D7/NH/SQ & Shinkansens
A Weekend Trip: SIN-KUL-SIN On Jetstar Asia (3K)
SQ A380/77W SIN-HKG With Singapore Girls & Boys
Of LCCs & Lufthansas: SIN-CGK-SIN In VF Y & LH J
A Star Alliance RTW: I. SIN-BKK-CAI With TG/MS
A Star Alliance RTW: II. CAI-JFK With MS
A Star Alliance RTW: III. Road Trip With US & Ford
A Star Alliance RTW: IV. Go West, UA LGA-IAH-SFO
A Star Alliance RTW: V. A Great Way To Fly LAX-NRT
[Edited 2013-10-08 20:09:40]