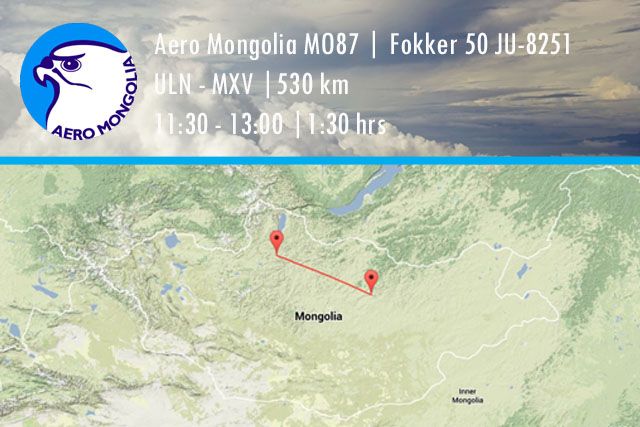 I.INTRODUCTION
Having read countless trip reports, I am excited to finally bring you one of my own. This past summer, I returned to Mongolia to visit relatives and to get some much-needed R&R in the countryside. Hoping to escape from the endless traffic jams and dust of the capital Ulaanbaatar, I decided to go see the marvel that is Lake Khuvsgul in the northern part of the nation. Not only is it the largest fresh-water lake in Mongolia, it is also the largest lake by volume and the second largest by area. Although I would have preferred to drive up from Ulaanbaatar and enjoy the sights along the way, time was short and flying to Murun Airport (MXV) was the only option available.
II.CHOOSING AIRLINES/PURCHASING TICKET
Mongolia's commercial aviation industry consists of 4 scheduled airlines (MIAT, Hunnu Air, Eznis Airways, and Aero Mongolia). The largest and oldest is the state-owned MIAT Mongolian Airlines (Монголын Иргэний Агаарын Тээвэр), the national flag carrier which solely operates international flights to PEK, ICN, NRT, HKG, ERL, SVO, and TXL with a fleet of 2 B737-800 and 2 B767-300ER. The remaining carriers all fly both domestically and internationally. Hunnu Air (Хүннү Эйр) operates 3 Fokker 50s and 2 A319-100s and notably flies to DMK and HKG. Eznis Airways (Изинис Эйрвэйз) operates 3 Saab 340bs and 2 Dash 8-400Qs, flying internationally to HLD; its name means "Fly easy" since "nis" means "fly" in Mongolian. Aero Mongolia (Аэромонголиа), lastly, is the second oldest of the 4 carriers and operates 4 Fokker 50s to destinations such as HET and IKT.
Mongolia's domestic aviation market consists of flights to provincial capitals, such as Murun, Khovd City (HVD), Ulaangom (ULO), Olgii (ULG), Dalanzadgad (DLZ), Choibalsan (COQ), and Bayankhongor (BYN), in addition to mining settlements such as Oyu Tolgoi and Tavan Tolgoi. Hunnu Air, Eznis Airways, and Aero Mongolia all fly to Murun. Since it was the high season of the Mongolian tourism industry, all flights were packed and it was extremely difficult finding seats. After much searching, I finally decided on Aero Mongolia and went to the local ticket office in Ulaanbaatar. I should note that it is possible to purchase tickets online since Aero Mongolia and all the other carriers have online booking systems.
III.AT THE AIRPORT
ULN is a small airport that is struggling to meet growing capacity requirement. Fortunately, it is to be replaced by a new airport in the first quarter of 2017.
The departures section of ULN is divided between international and domestic. The international side consists of 3 jetway-equipped gates, all of which share one large departure lounge. The domestic side also has one common departure lounge, from where passengers are bussed out to their respective planes.
I arrived at the airport about 2 hours prior to departure and quickly checked in. Aero Mongolia does not offer a premium class of service.
Domestic check-in area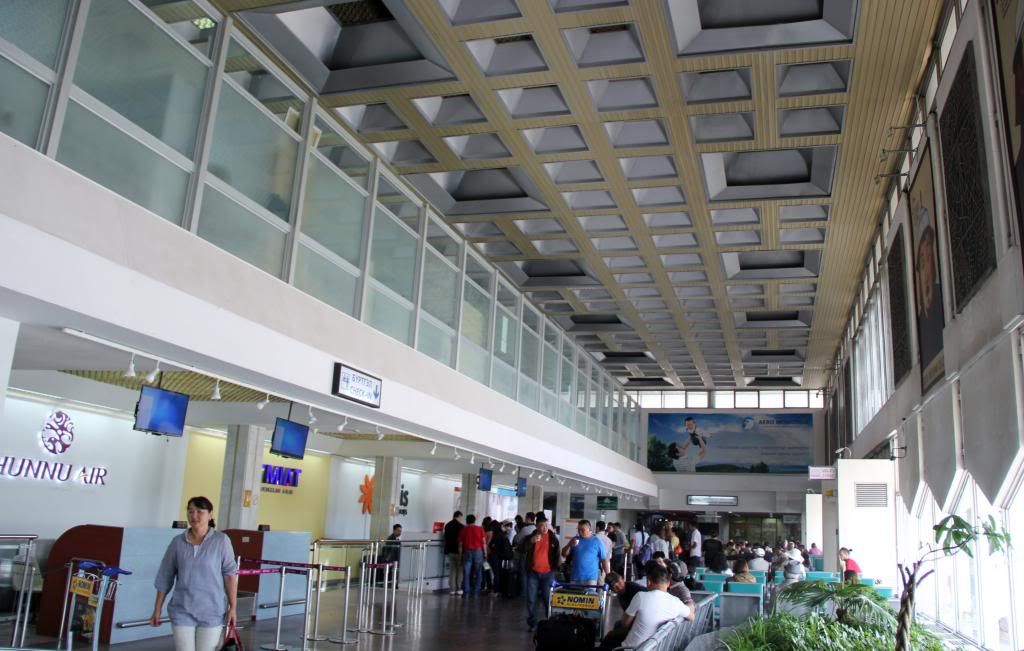 Aero Mongolia check-in counter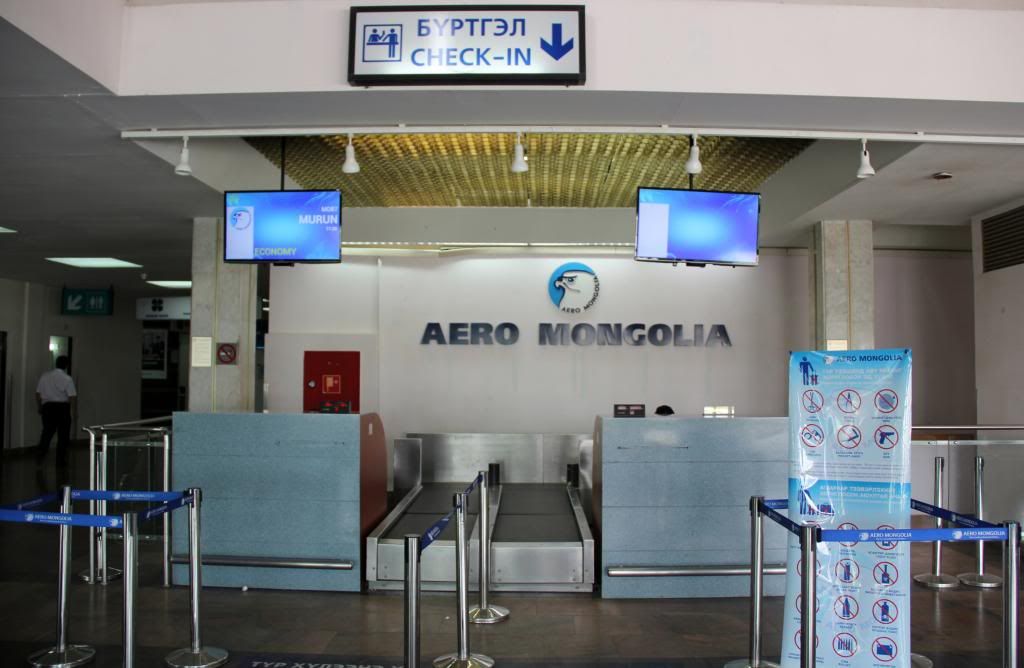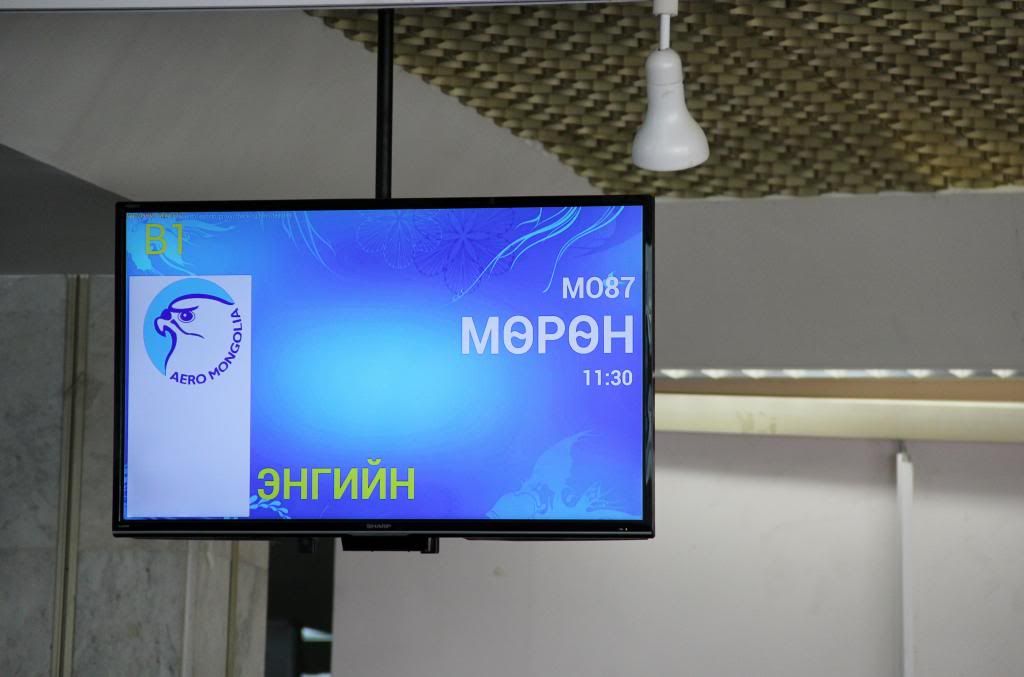 Departures for the day. Aside from Air China, ULN is regularly served by Korean Air from ICN, Aeroflot from SVO, Turkish Airlines from /IST via FRU, and Tianjin Airlines from TSN via HET.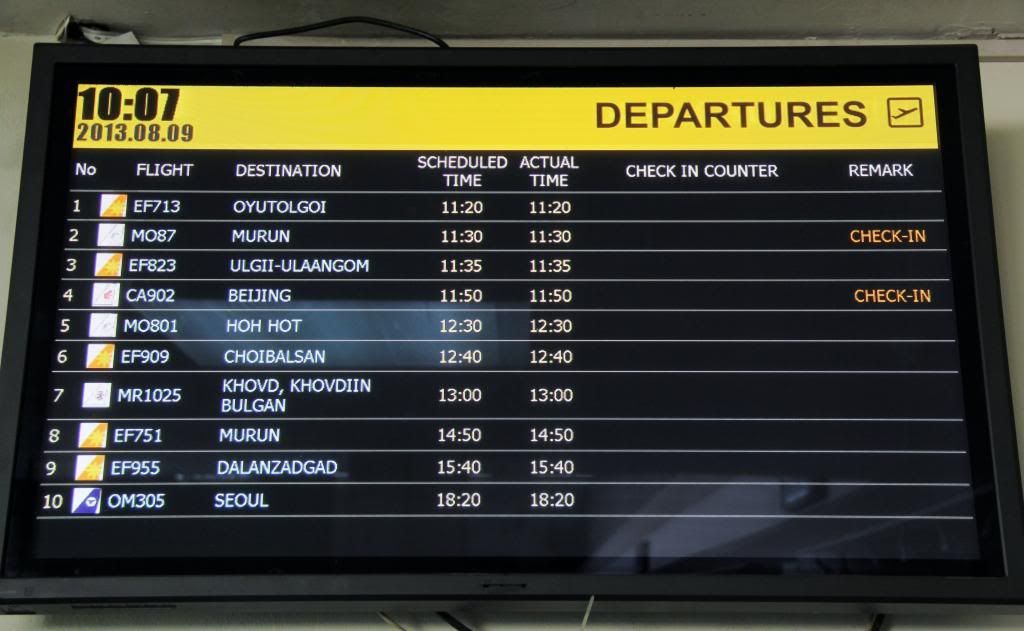 After checking my bags, I made my way through security, which was fast and seamless, and then waited for my flight to board. In addition to our flight, there were 2 Eznis Airways flights departing then, one to Oyu Tolgoi and the other to Ulgii/Ulaangom.
Domestic Departures Lounge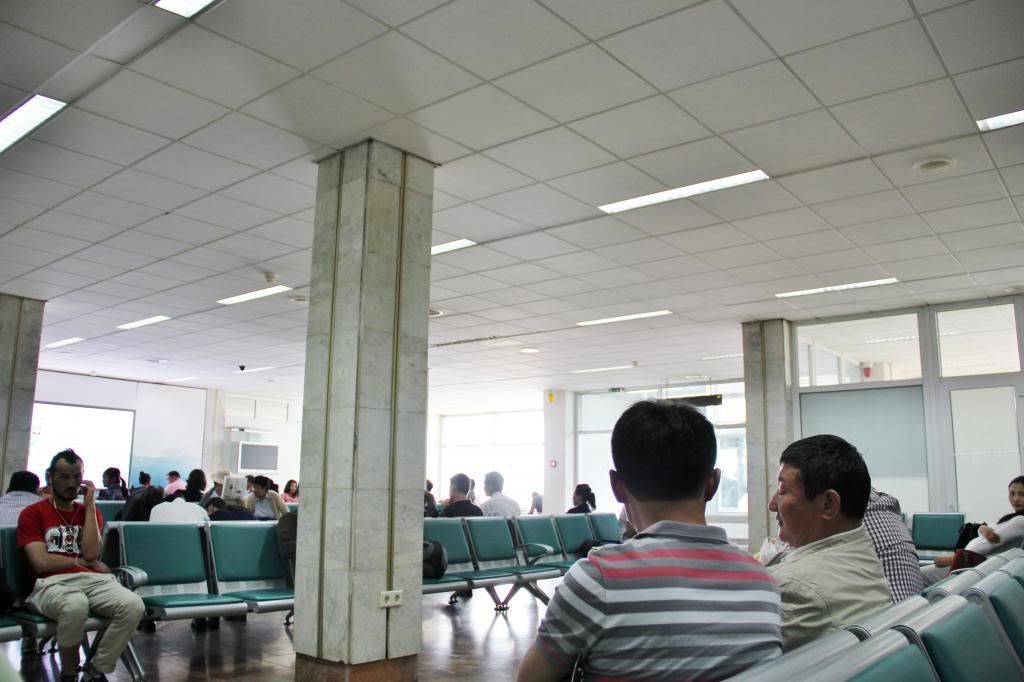 About 20 minutes prior our scheduled departure, the boarding process began and we were bussed off to the tarmac, where our Fokker 50 was parked alongside an Eznis Saab 340b and 2 Hunnu Air Fokker 50s.
On the bus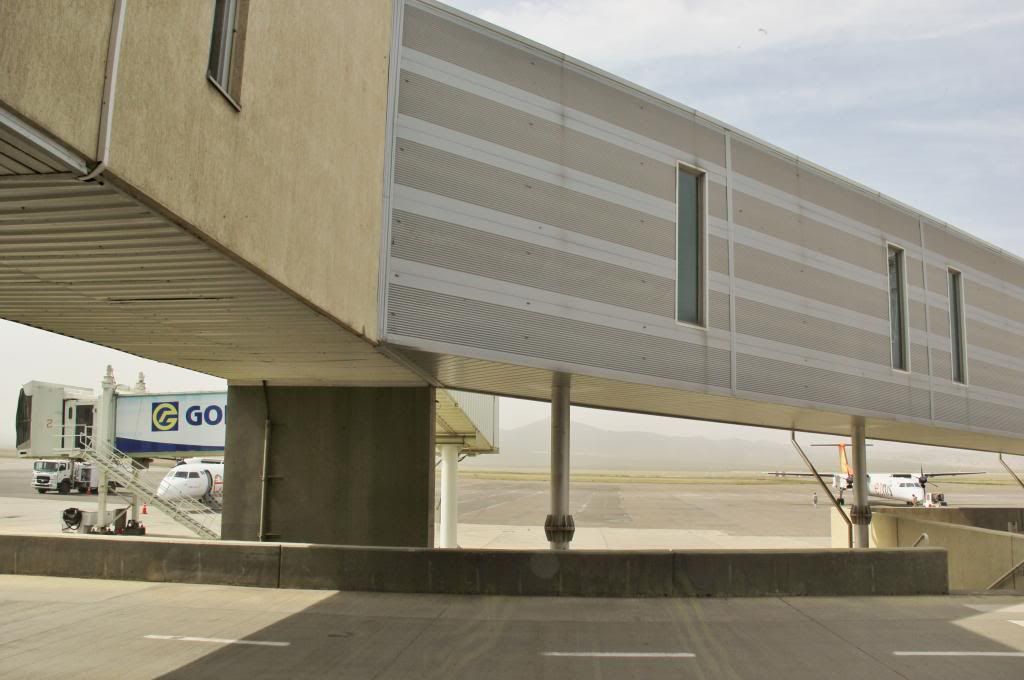 Air China, Eznis, and Hunnu Air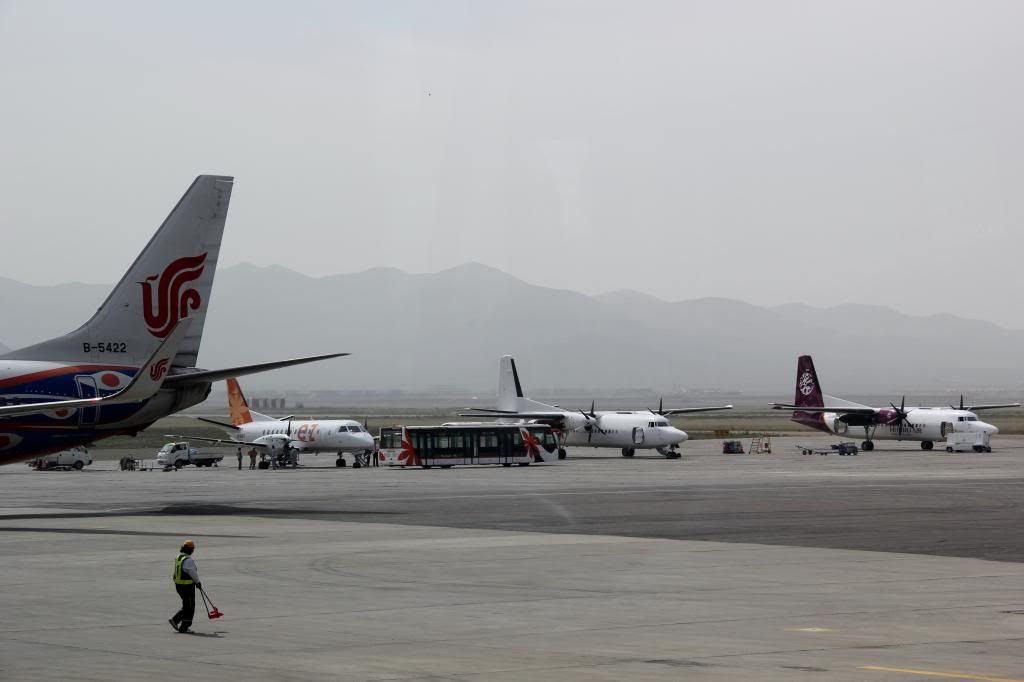 Eznis Dash 8 departing for Ulaangom/Olgii
Eznis Dash 8 off to Oyu Tolgoi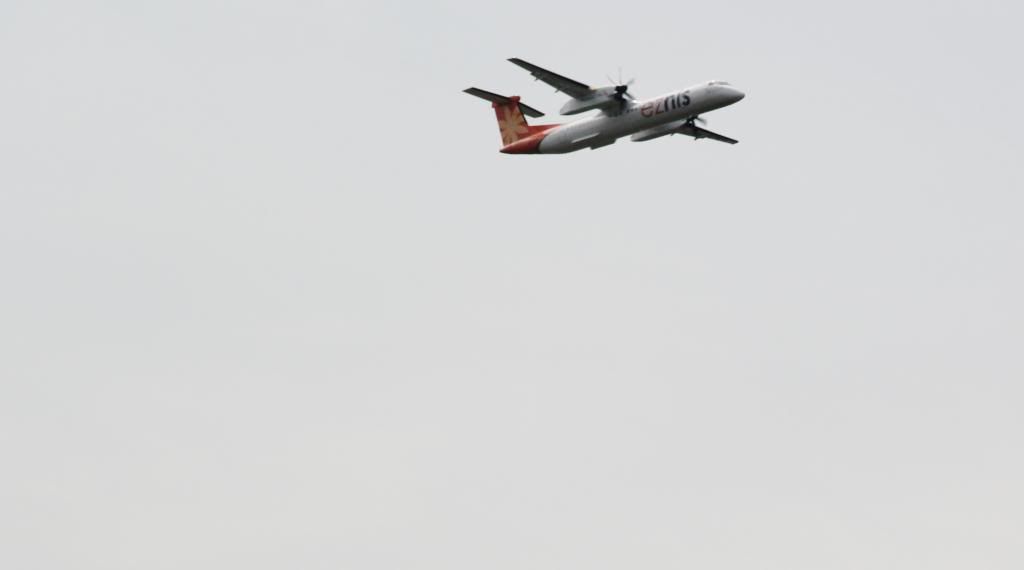 Turboprop line-up
Air China B738 to PEK
This Kuwait A346 is a common sight here in ULN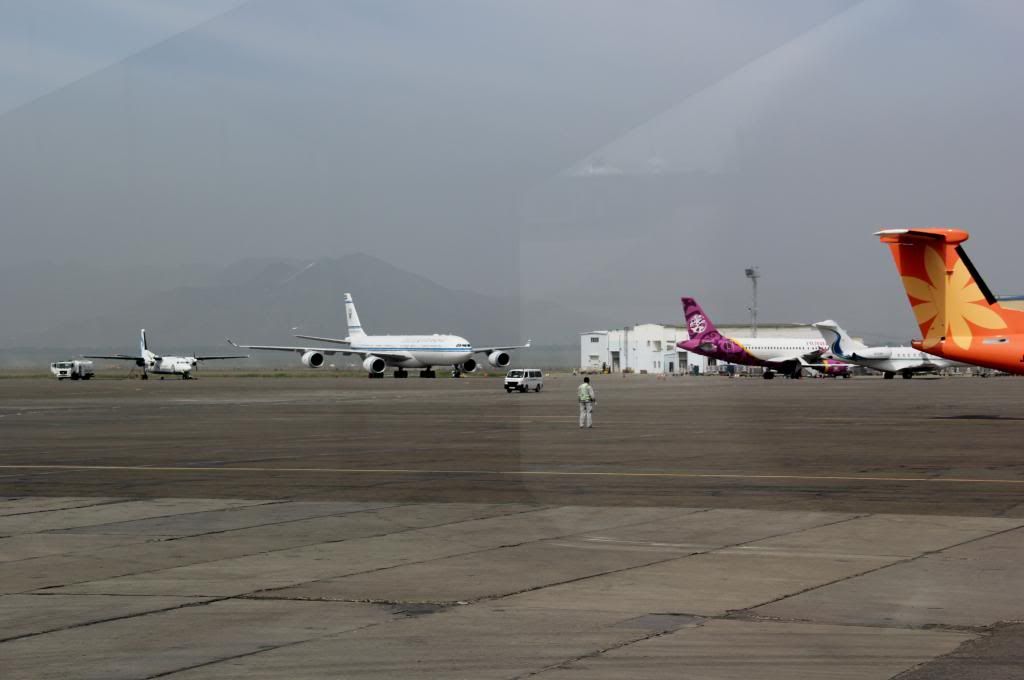 Boarding begins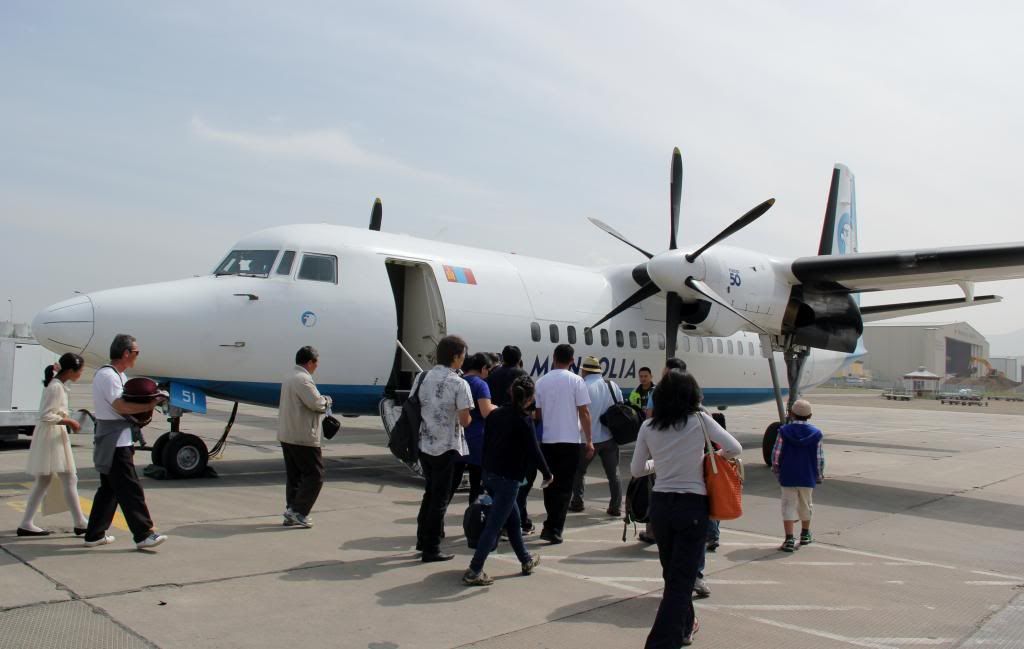 Nice message from Aero Mongolia
IV.INFLIGHT
We were warmly welcomed onboard by a young female attendant, who greeted every passenger with "Сайн байна уу" ("Hello" in Mongolian). The interior of our Fokker 50 was worn, but it was not surprising for an aircraft that has been in continual service for nearly 22 years.
Bulkhead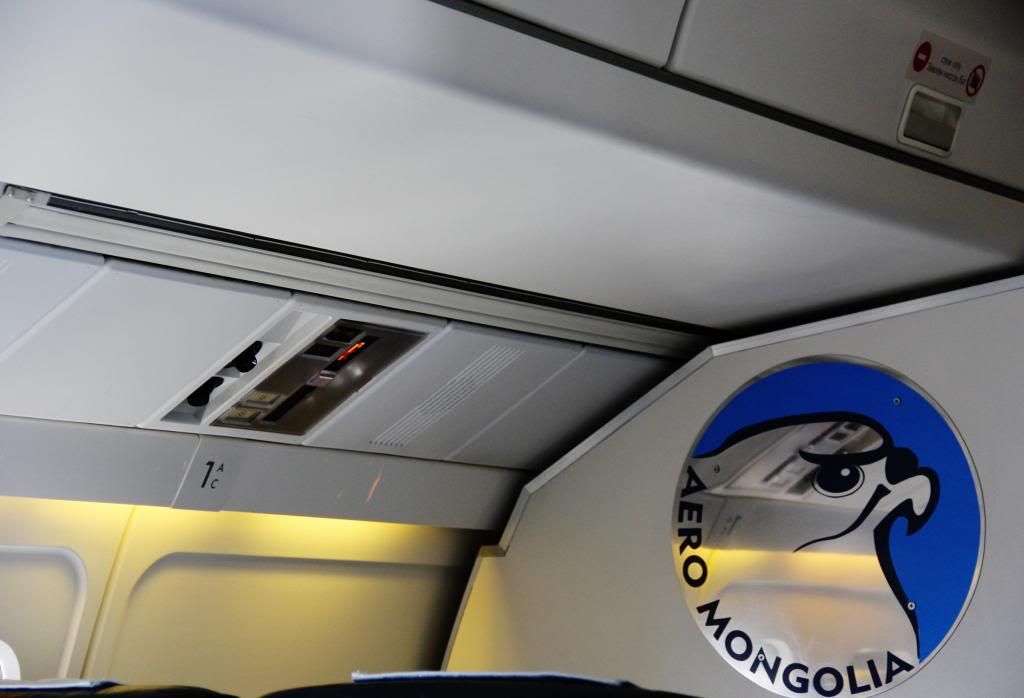 Seats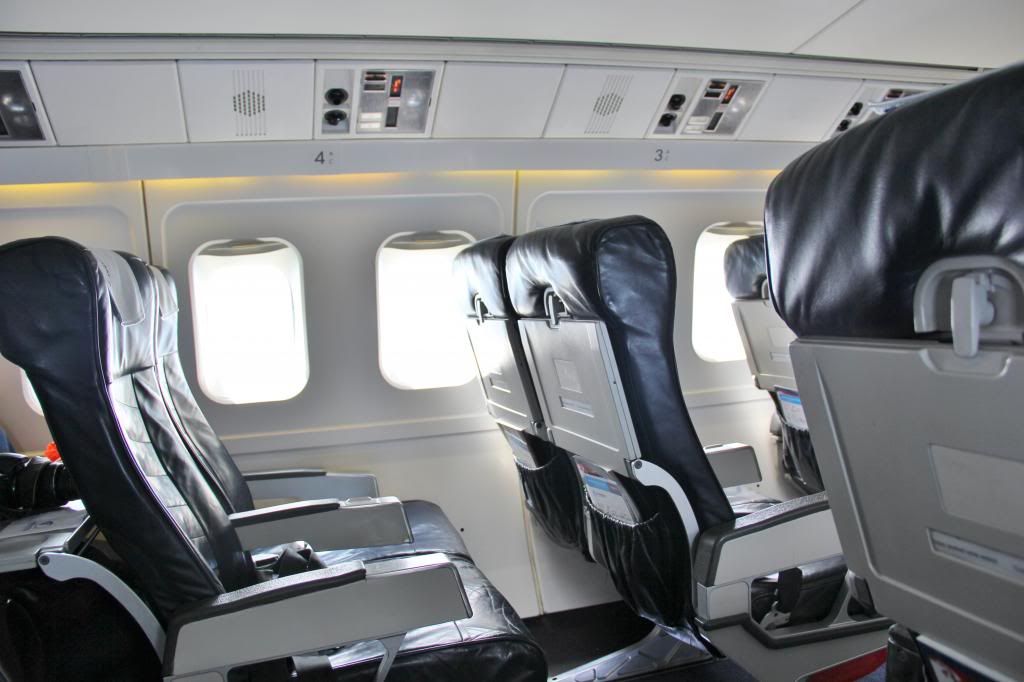 Obligatory legroom shot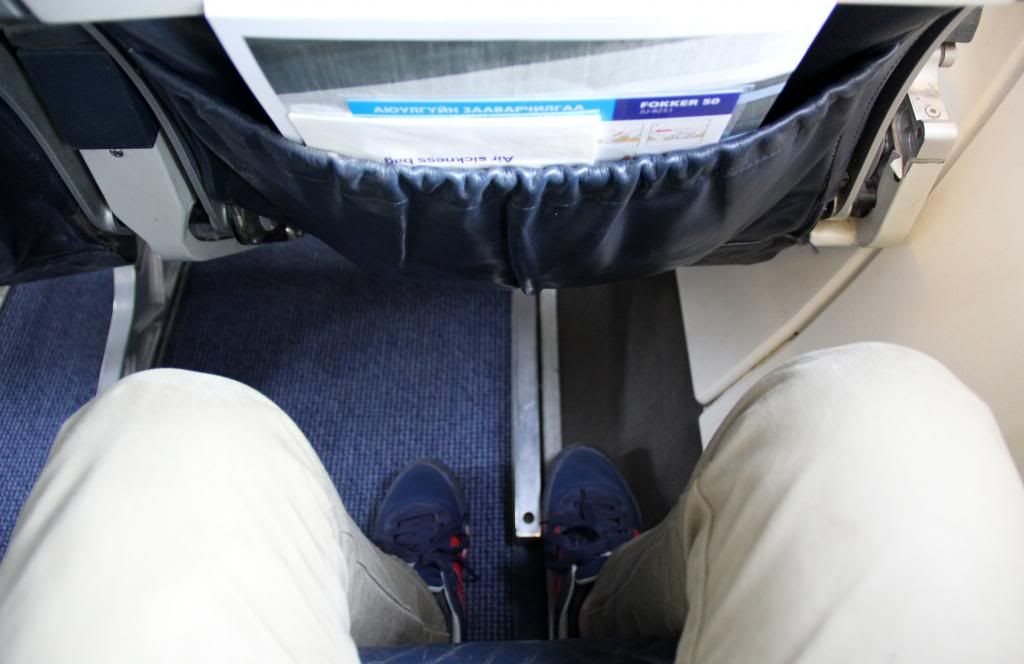 The seats were quite comfortable and legroom was sufficient. Once boarding was complete, a male flight attendant handed out newspapers. The load factor was about 40%, so there quite a number of open seats. The flight attendants subsequently did their safety demonstrations. The flight deck gave a short briefing soon after. All announcements were made in Mongolian and English.
The local newspaper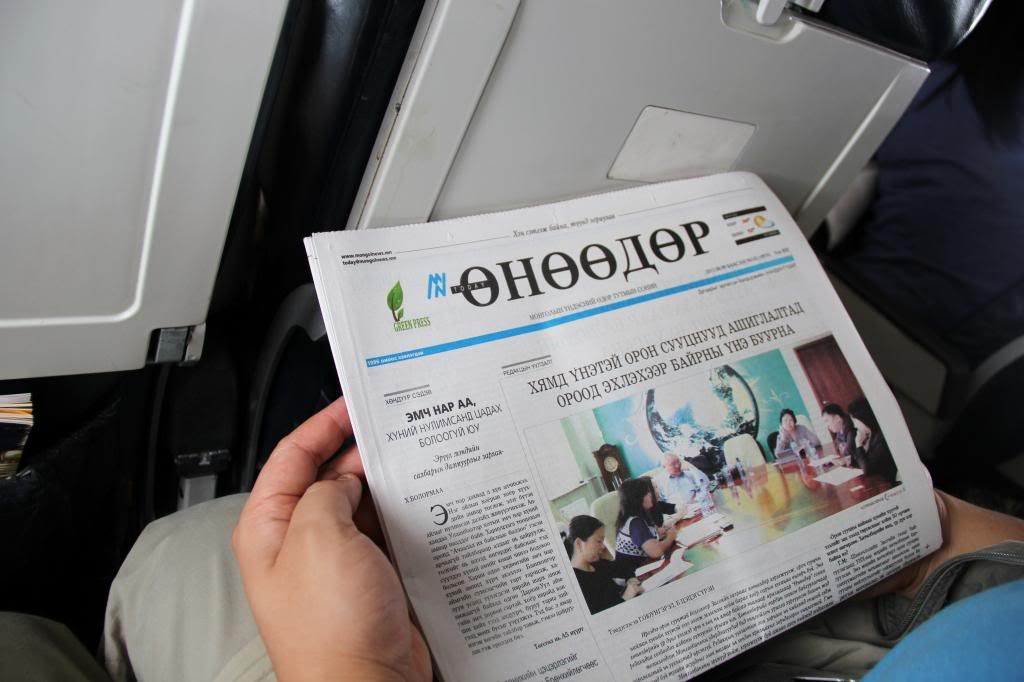 Safety card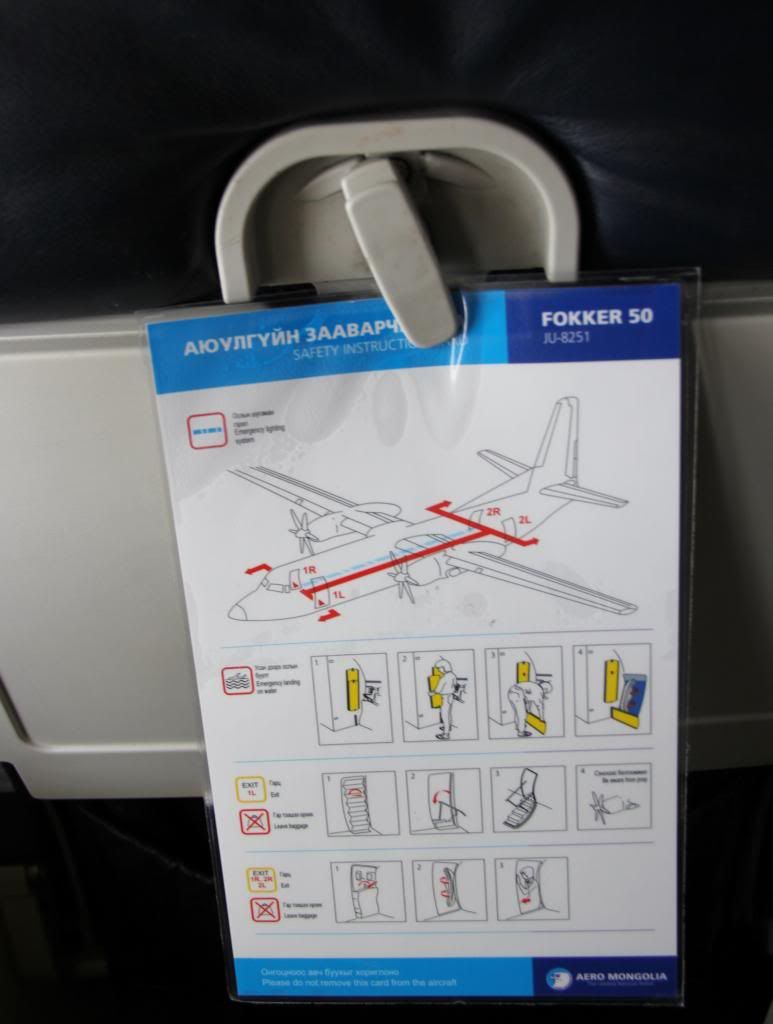 After takeoff, we quickly leveled off into our cruising altitude and the flight attendants began the quick snack service for our flight. There was a wide selection of sodas and juices in addition to tea and coffee. Along with the beverage, we were served a flaky pastry roll and a chocolate bar that seemed to be a Turkish imitation of Kit-Kat.
A filling snack for the short flight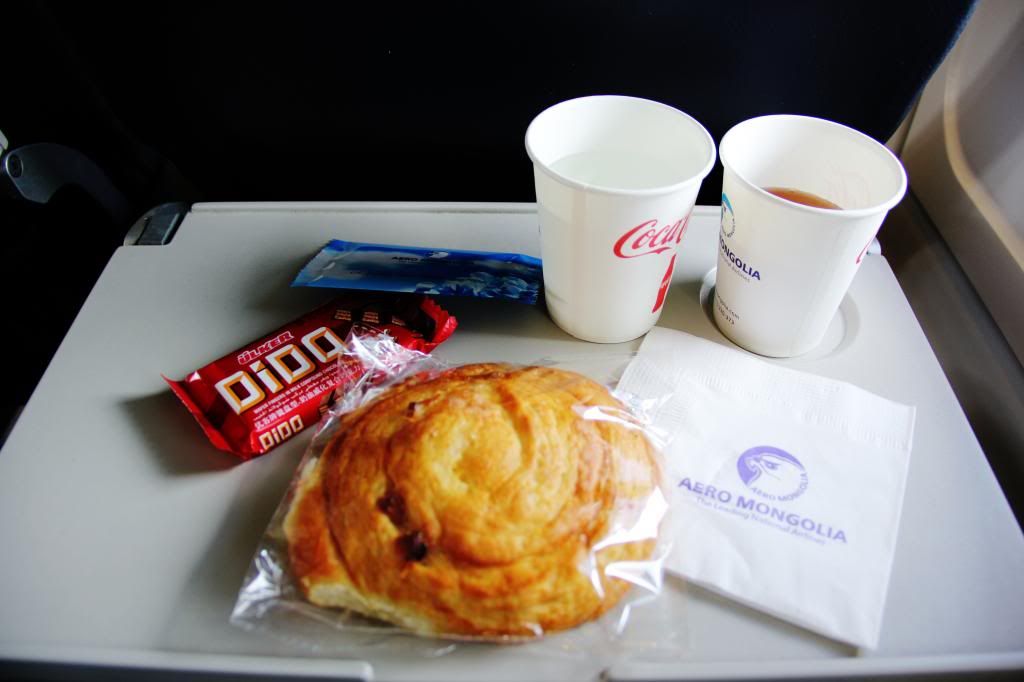 Trash was cleared about 10 minutes later, at which point visited the lavatory. It was was tidy but lacking in running water. I spent the remainder of the flight taking shots of landscapes below. The crew remained attentive throughout the flight, asking passengers repeatedly if they wanted anything else to drink/eat.
Mighty turboprop
Chiseled mountains
Pockets of agriculture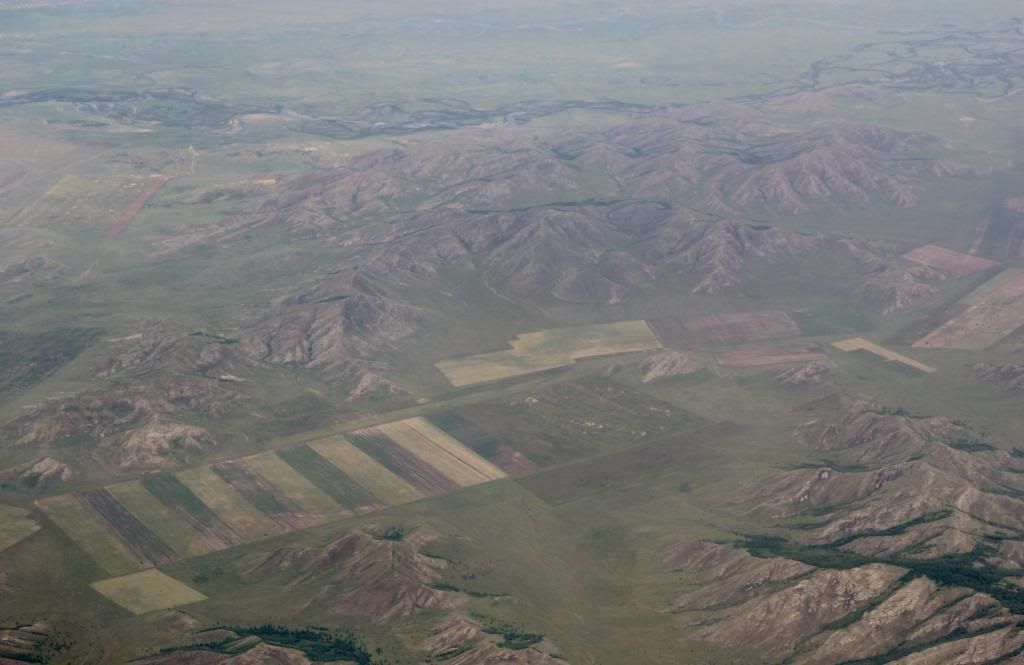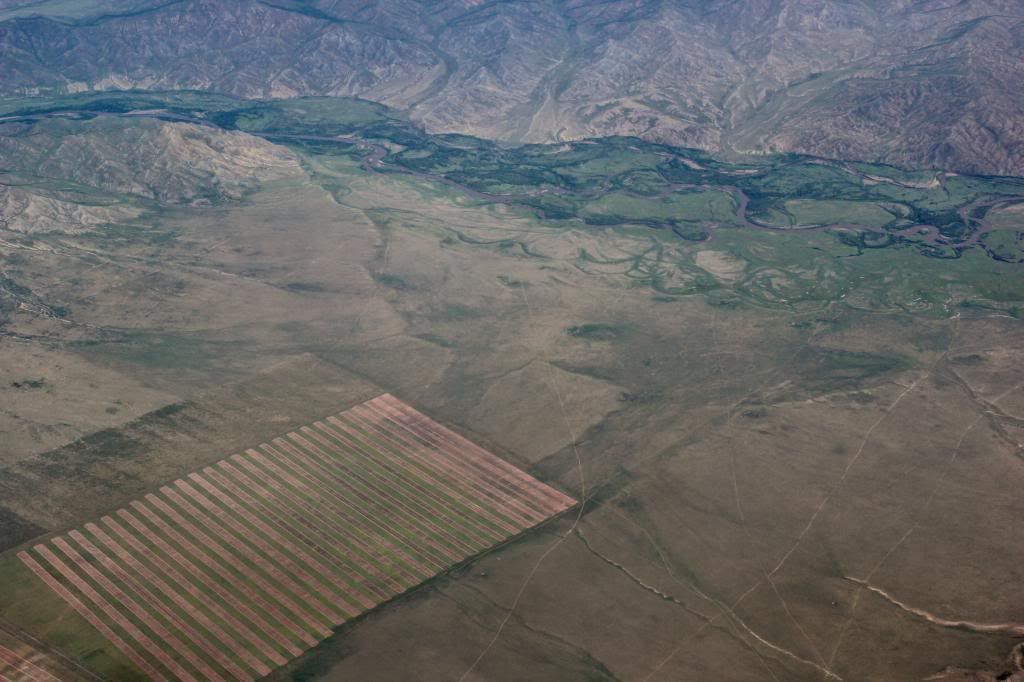 Snaking river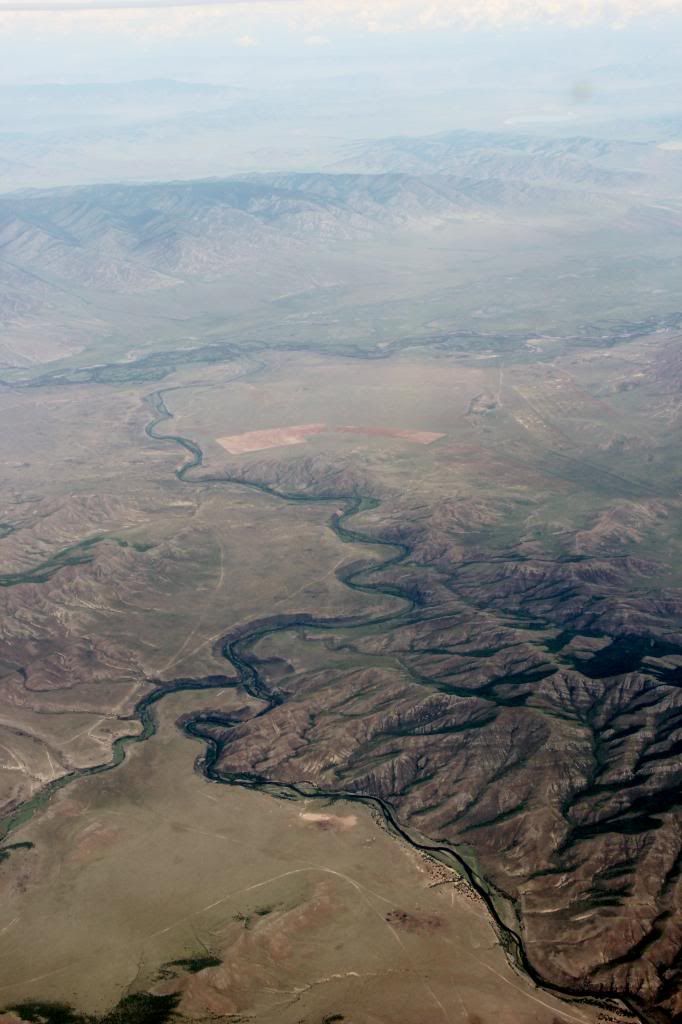 Patches of greenery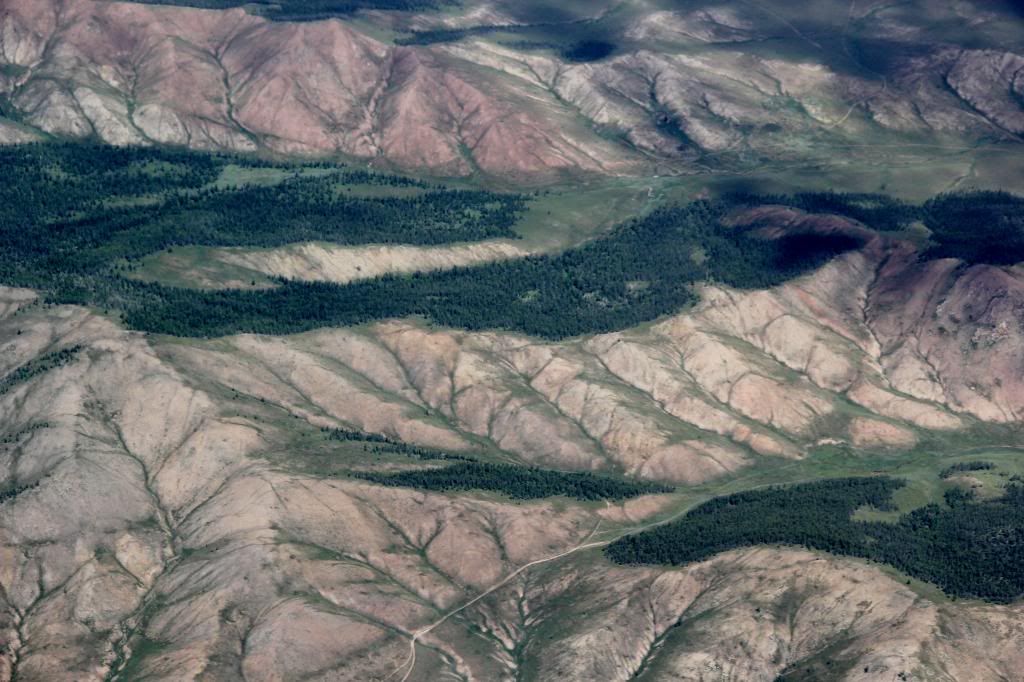 Before I knew it, we began our descent into MXV, which is the quintessential Mongolian provincial airport. The flight attendants went around one last time, offering a selection of hard sweets.
Approaching MXV
Winding roads
Top