#2: ANA & Peach. B747-400D HND-CTS-KIX + Hokkaido trains
Intro
Welcome to Part 2 of my 2013 Autumn Asia reports, covering the ANA 747-400D and Peach's A320.
In case you missed, it, here's part 1:
#1: The Reindeer Route to Tokyo. AY 320 & JL 787
747-400D? What's one of those?
Well, Boeing conspired with Japanese airlines (Japan Airlines and ANA) to adapt the spacious and long legged 747-400 into a shorthual pack horse. This –D aircraft (standing for Domestic) would be ideal for the short but very busy flights between Japanese cities. I don't know the technical endeavours they went thought, lest to say the range is only around 2,000 miles, rather than over 7,000 miles for other 744 family members. And of course, with a high density seating arrangement, the capacity is nudging 600, quite a lot more seats than normal. You can tell these aircraft apart by the lack of wingtips. There are also extra windows upstairs, where normally there would be a galley.
There were just 19 of these aircraft built for JL and NH, and all delivered between 1991 and 1995. Sadly, this is a dying breed. JL retired the last of their -400Ds in 2011, and ANA's final four aircraft will be gone before next summer. I had long wanted a ride on one of these, and this would be my chance. NH operate a few roundtrips every day from Haneda to Sapporo, as well as to a few southern destinations like Okinawa. Of course, this wasn't the cheapest option to get up to Hokkaido (Japan's North Island), but it was the most interesting.
I booked on the NH Japanese website. It was rather clunky to say the least. I managed to get all the way to what I thought was the end of the reservations process, only to find myself back on the welcome page….er, what? I went through everything again, more slowly this time. Luckily, I managed to negotiate the less than obvious process this time. I was a little alarmed that I was given a confirmation code of just 4 digits…it that it? And I had no confirmation email. I called the London office, who confirmed that I'd done everything right – they sent me an email to show that I did have a real reservation.
Up in Hokkaido, I planned to do a bit of walking and soaking (in onsen), before coming back down to the south, before heading over to China. A friend from school has recently moved to Osaka. I'd not been to Osaka. JL had plenty of mileage seats from Osaka to Shanghai…..as such, Osaka was my destination!
I was quite lucky in so much as I stumbled across the Peach Aviation site when looking for flights. Peach is a joint venture with ANA and some venture capitalists, operating A320s around Japan and East Asia from their KIX hub. It just so happened that the only very cheap flight on the CTS-KIX route happened to be on the right day, and the right time. I booked for just JPY 7,500 (GBP 45), including checking a bag, and reserving an exit seat, quite a bit cheaper than my NH flight up from Tokyo (nearly JPY 18,000). So, I was all set!
Funnily enough, this wouldn't be my first time on an airline named Peach. Back in 1997, I experienced my first charter flights with Peach Air, flying a Lockheed L1011 LGW-DLM-LGW.
View Large
View Medium


Photo © Alistair Bridges
Also, as the title suggests, I also did a bit of training around Hokkaido. I know this is an aviation forum (and I'm definitely not a train spotter), but I thought it may be of interest to some of you.
My flights for this report
HND-CTS NH 71
CTS-KIX MM 104
My route, courtesy of GC Mapper, of this report
My complete list of Asian flights
LHR-HEL AY A320
HEL-NRT JL B787
HND-CTS NH B744D
CTS-KIX MM A320
KIX-PVG JL B738
SHA-CGO FM B738
LYA-PEK MU A320
PEK-FNJ JS Tu204 (Tupolev 204)
FNJ-YJS JS IL18 (Ilyushin 18)
YJS-FNJ JS IL18
FNJ-FNJ JS An148 (Antonov 148)
FNJ-DSO JS Tu134 (Tupolev 134)
DSO-FNJ JS An24 (Antonov 24)
FNJ-FNJ JS IL62 (Ilyushin 62)
FNJ-FNJ JS IL76 (Ilyushin 76)
FNJ-DSO JS Tu154 (Tupolev 154)
DSO-FNJ JS Tu154
FNJ-PEK JS Tu204
PEK-HEL AY A330
HEL-LHR AY A321
And my map including all flights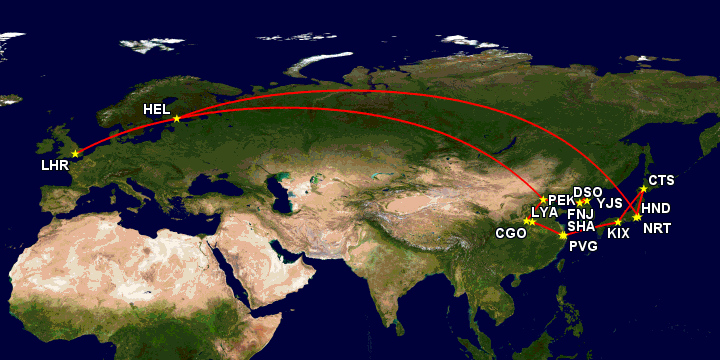 And my map including all flights, and without airport codes…might be a bit easier to see where I'm flying
And finally just zoomed in on the Asian sectors
Onto the Report
First off, some photos from Tokyo…wonderful city. Sadly, I was only there for 1 night, but had enough time to catch up with my cousin who had just moved there.
Quintessentially quirky Japan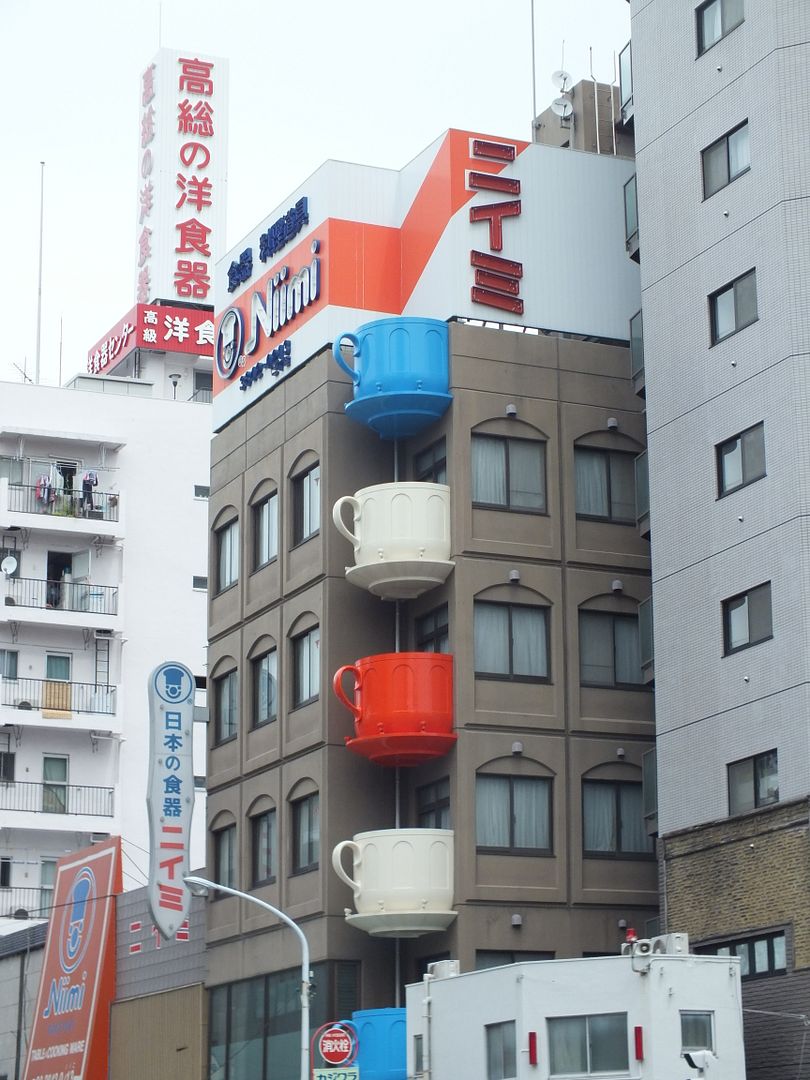 Tasty food
This one is horse sashimi…was quite nice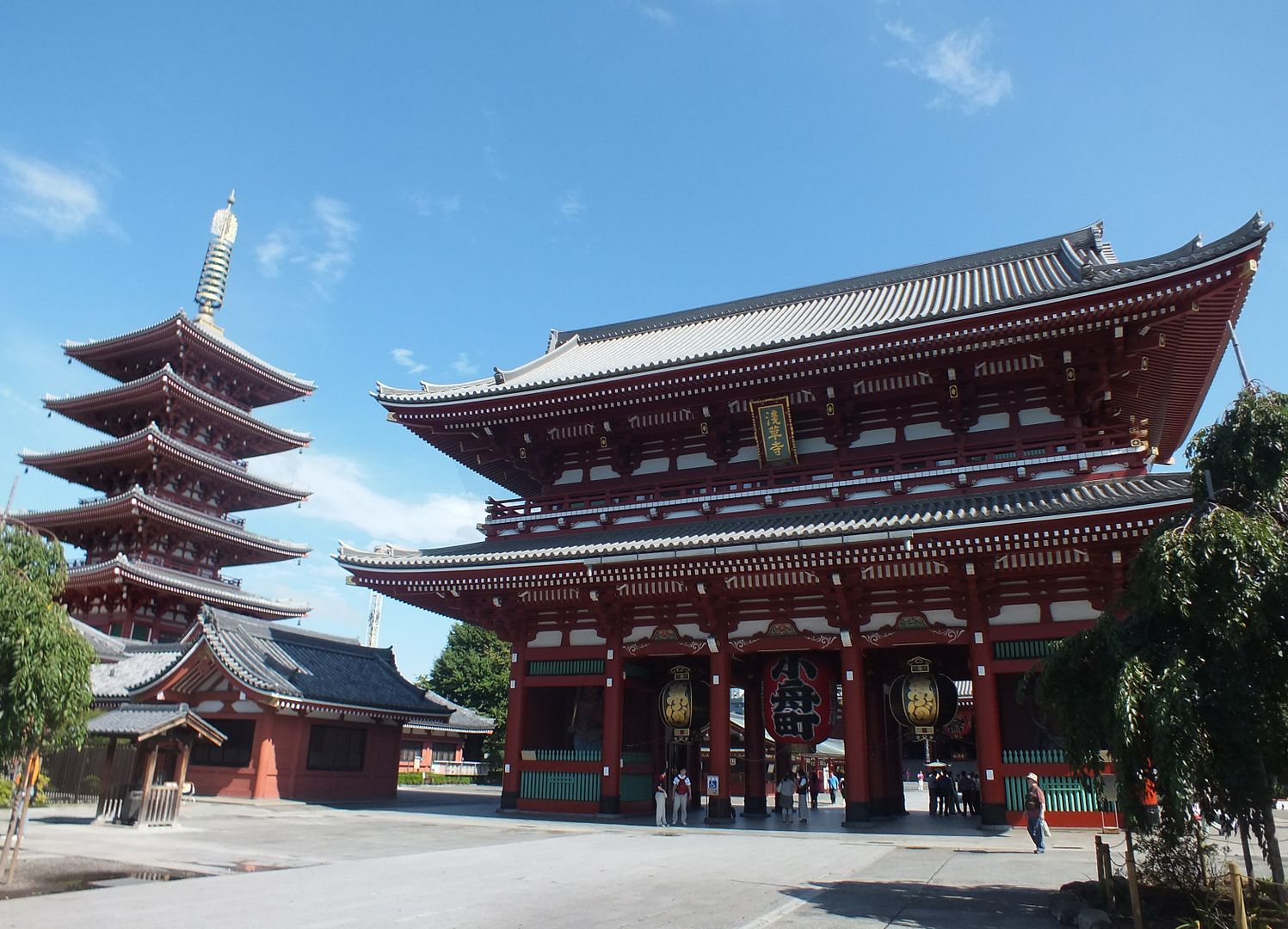 After a leisurely morning, I took the train down to Haneda from my hotel in Asakusa. With a nice 4pm departure time, I thought I'd get to the airport, check in, have a look around the aviation shop, check out the viewing terrace, have lunch, then hit the lounge. A perfect afternoon?
I recently acquired a TK Gold card, enabling me to use the premium check in desks….only I couldn't find them. After a few fruitless minutes of walking around, I just joined the nearest NH queue. I was seen to pretty quickly, and have my bag tagged, and boarding pass issued. The seat I had selected during reservation was still there, a window on the upper deck. Interestingly, whilst the rest of the world seems to be moving away from using paper, the Japanese seem to be using more of it. I was instructed to print off my confirmation email as it had a QR code with both NH and MM. This (apparently) could then be used as my boarding pass if I had no bags to check. More on this later.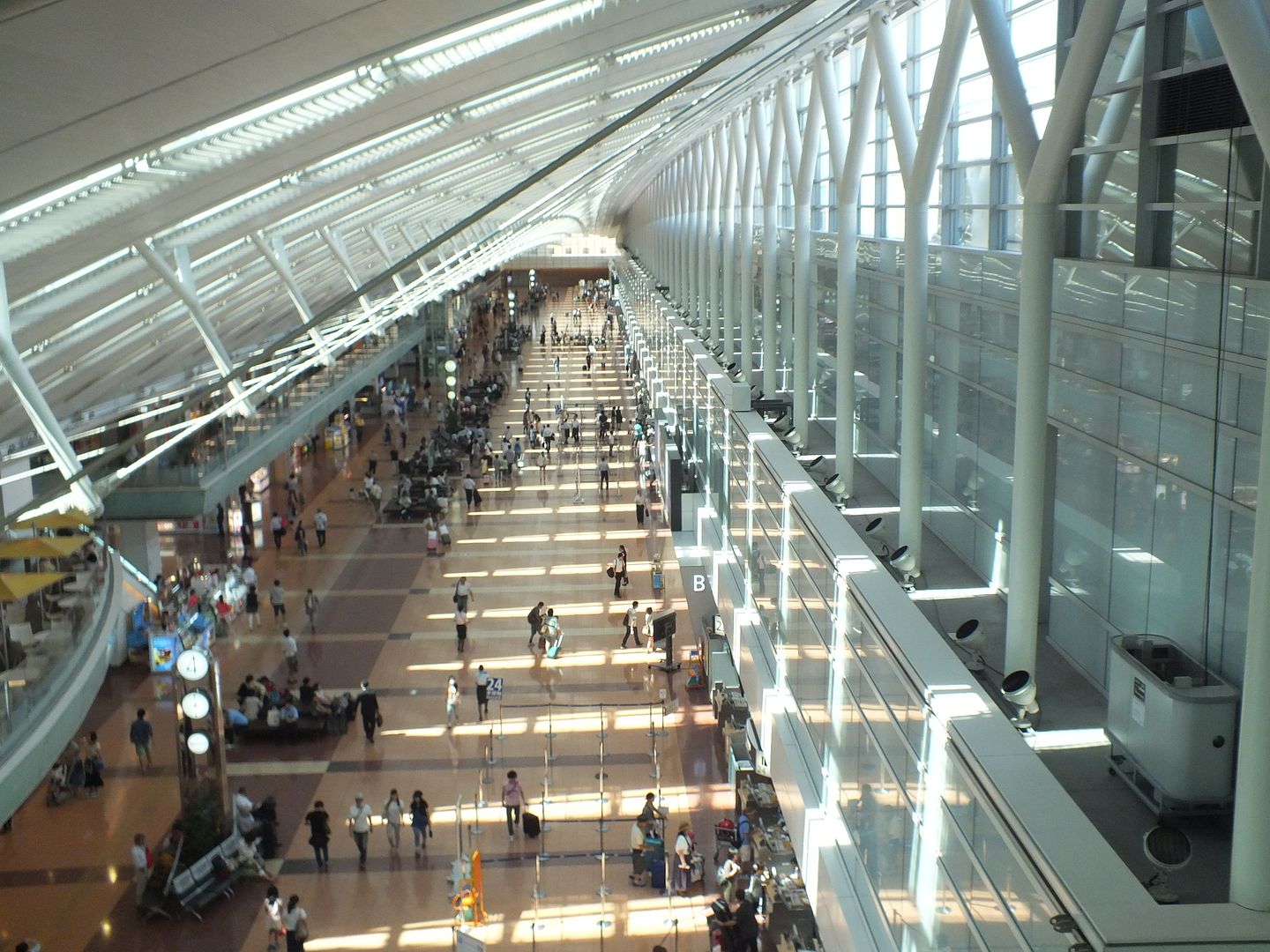 With my bags out of my hand, I headed down to the basement to check out the ANA shop. I ust say, compared to my last trip here (which was admittedly in 2006), the stock seems to have become a lot less interesting. There was very little that I wanted to buy, so walking away empty handed.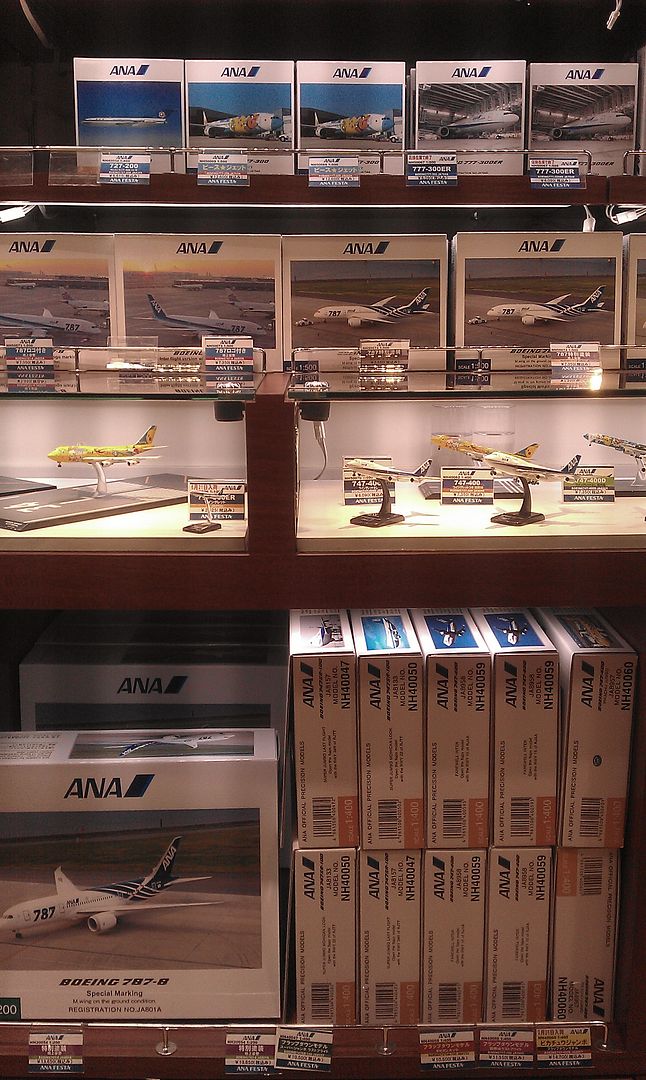 I then hopped in an elevator to the top floor….plane spotters paradise! There is both an indoor and outdoor viewing section, all free of course. This being the NH terminal, was dominated by NH, plus a fair few Air Do (Hokkaid
do
) machines.
Nice, I'll be on one of these in a few hours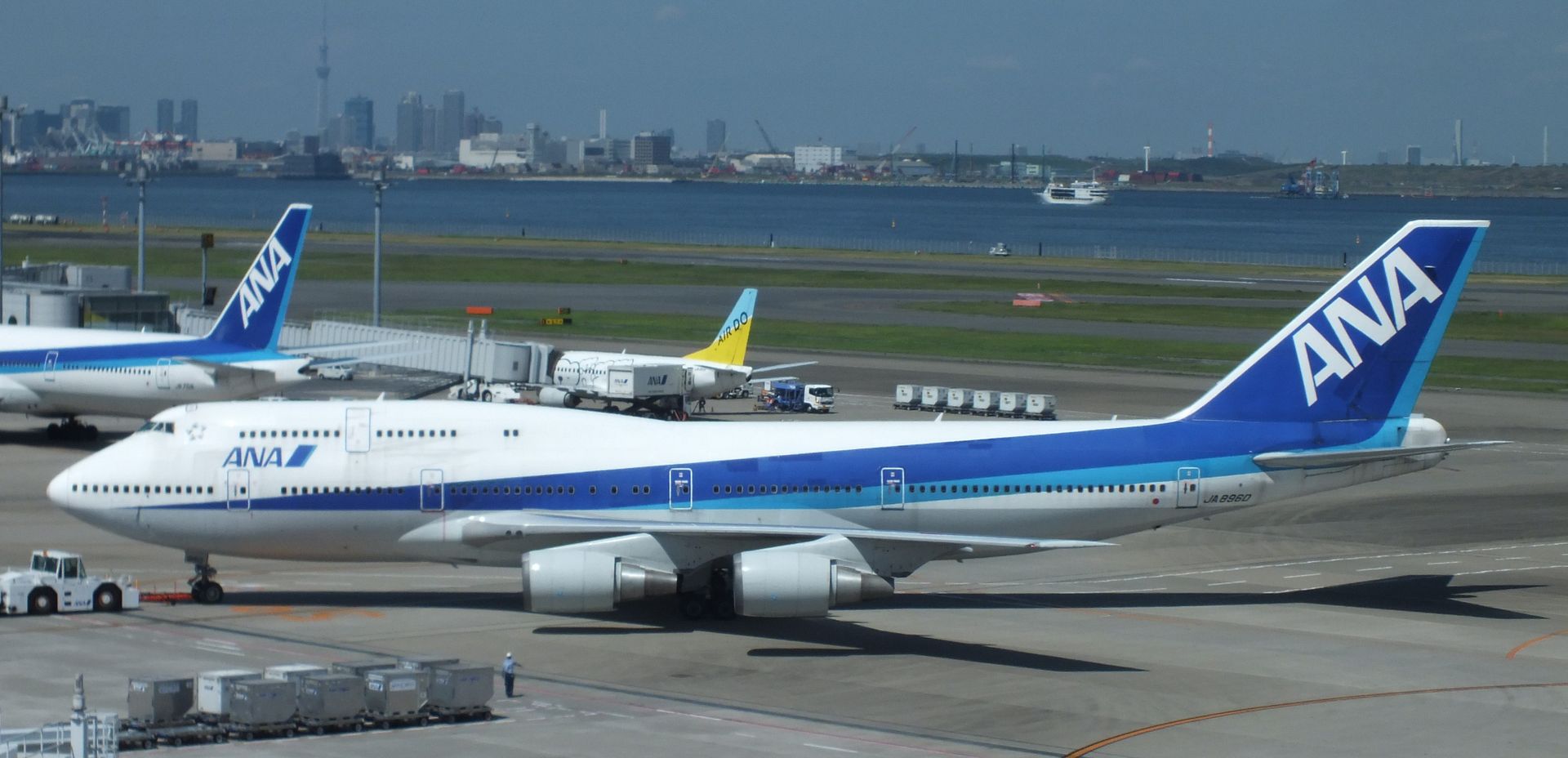 Such sleek lines on the 747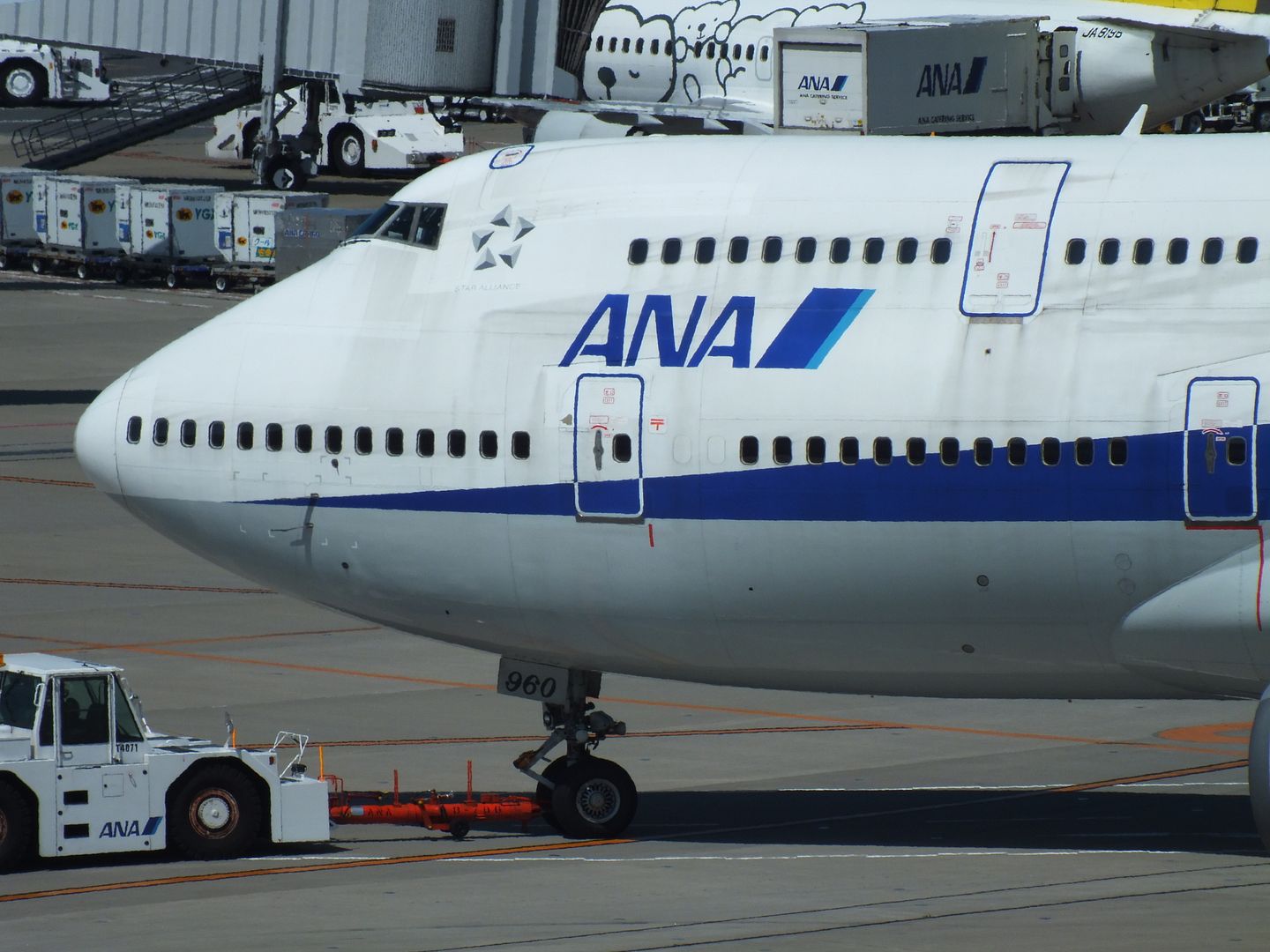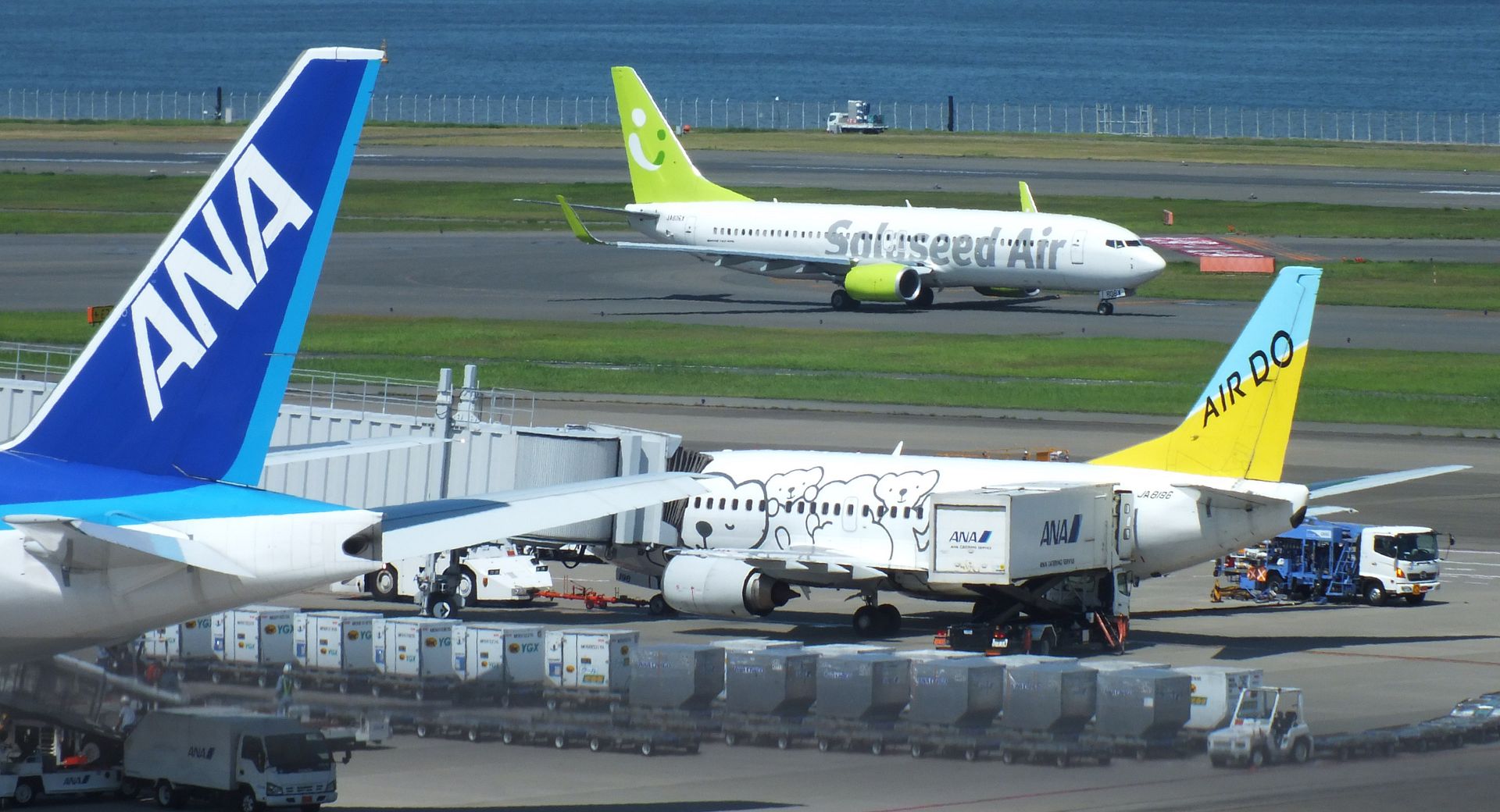 The earlier NH 744D to CTS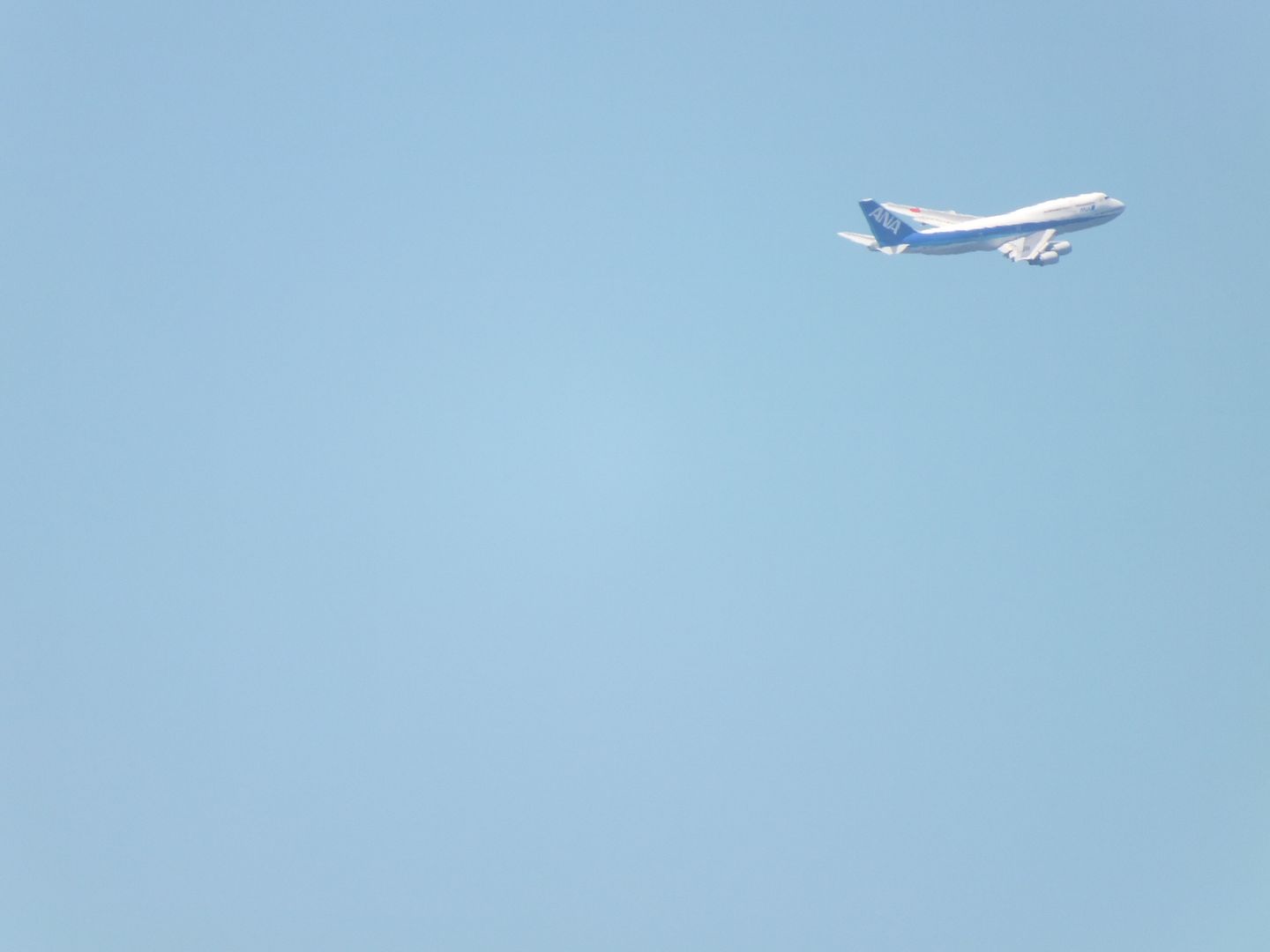 And a few from competitor JL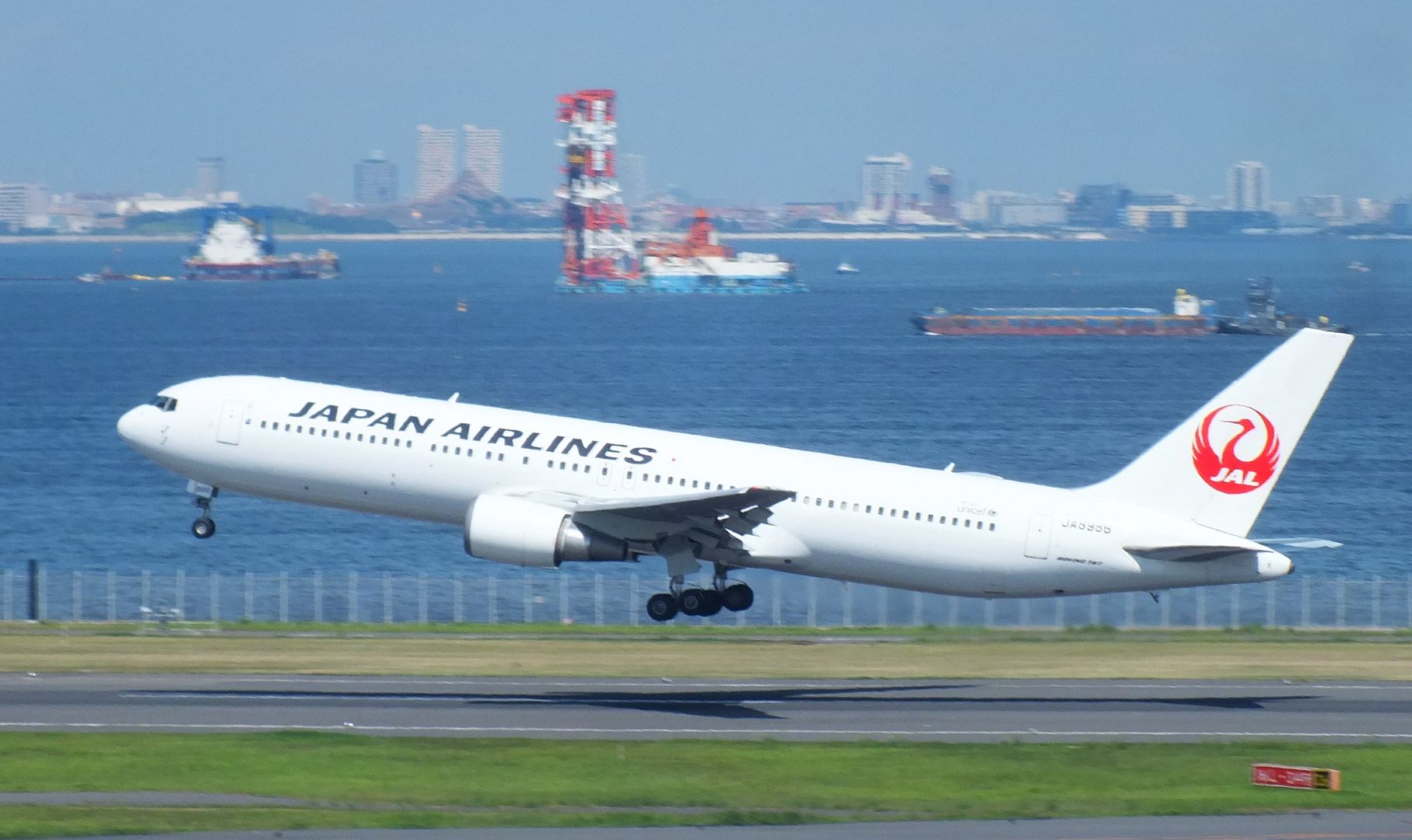 The indoor section
Time for lunch? HND has a massive array of dining options available landside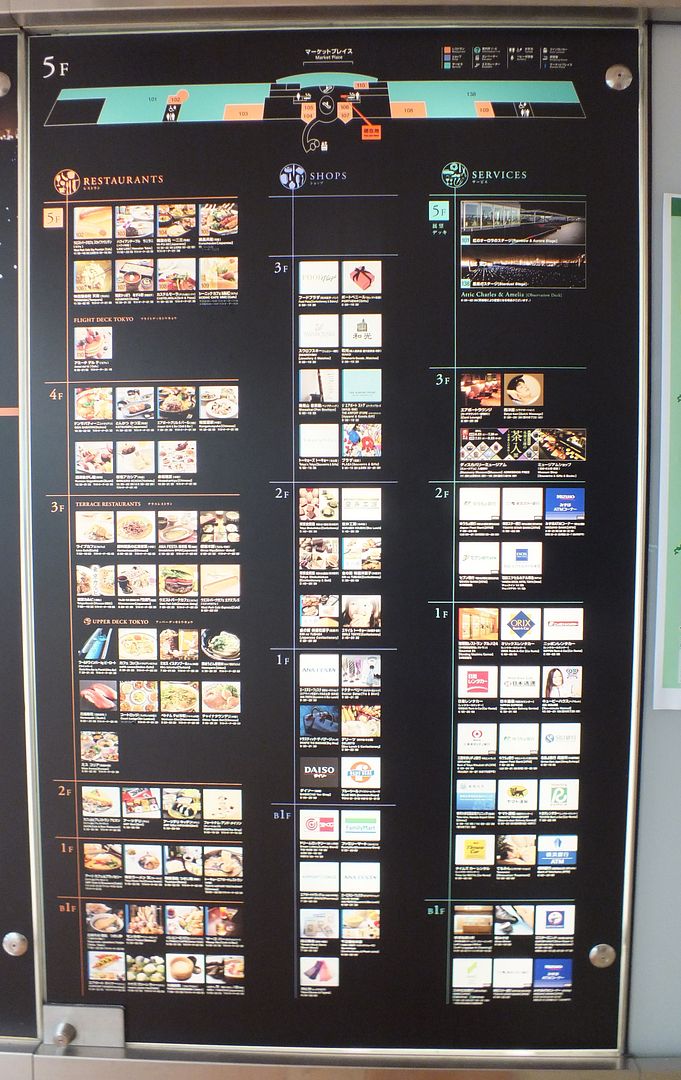 When I was young, I always used to love having the "Bullet Train Meal" at the American Club in Tokyo….nice to see the Japanese still have transport plates on offer for the kids!
I decided to go for sushi for lunch today though. Initially I was going to head airside to eat in the lounge, but thought I'd get some proper food first. Lucky decision.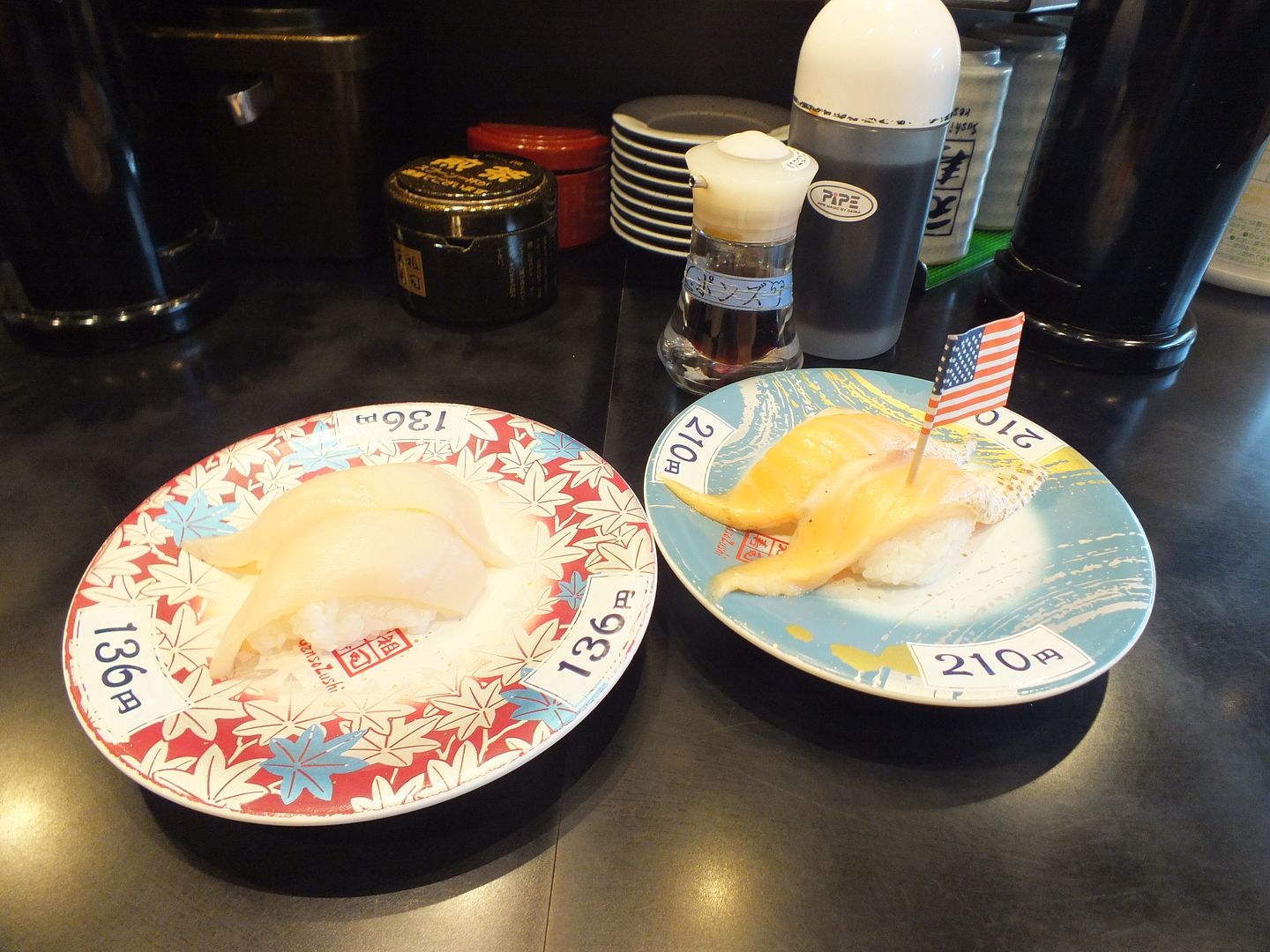 Time to go airside. It was then that I noticed a small black doorway with a little *tiny* Star Gold sign. Ah, so that's where the premium check in line is hidden. There was also a premium security line in there, but as there was no one waiting in the normal line, I didn't bother.
As my boarding pass was swiped at the entrance of the security lane, the machine auto printed me a new quasi boarding pass, with my name, seat number, gate and boarding time… nice extra piece of paper to keep!
Security was very quick and friendly. I had a bottle of water I'd forgotten in the bottom of my bag. Doh! Thankfully, sense prevails here, as Japanese airports have machines that can scan the liquid contents though the plastic in seconds….*beep*, my bottle gets the all clear. Wonderful.
What isn't so good is the airside of Japanese airports in the domestic section. It'd been a while since I last flew domestically, and I'd forgotten quite how big a barren wasteland it is airside. Quite the contrast to landside, which is filed with shops, restaurants and entertainment venues.
Landside….chairs, chairs, more chairs, and the odd shop
I quickly headed up to the NH lounge. The International (and domestic/arrivals) lounge at NRT is very nice, and well equipped. The domestic lounge at HND, not so much. There was a choice of soft drinks, hot drinks, the world famous beer machines, and a single type of pre-packaged snack mix….not very prepossessing. Thankfully I'd eaten my fill of sushi, or else it would have been a lunch of snack mix.
They still have printed timetables here
With seat maps!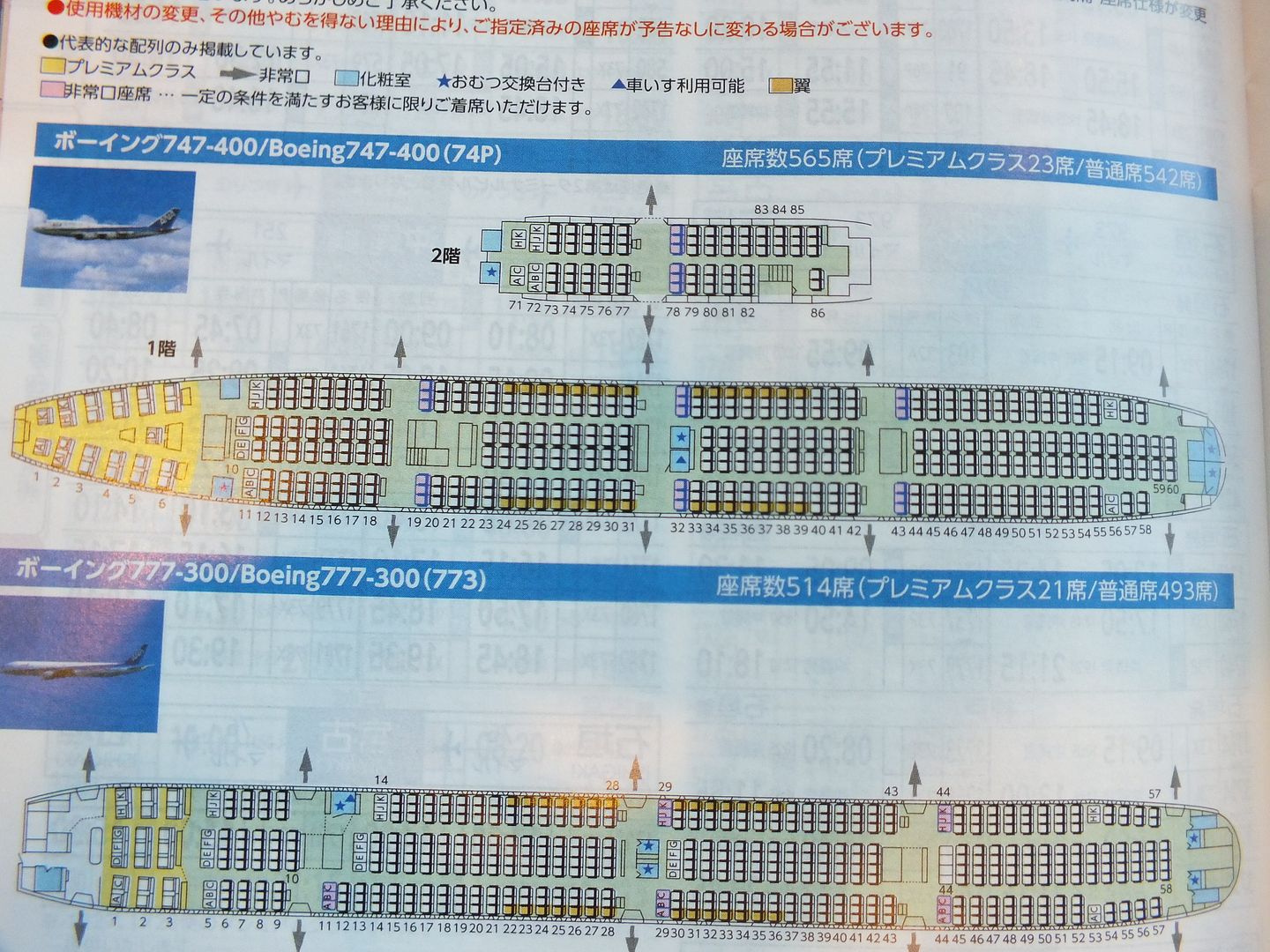 Views weren't good at all. I moved over to the work area and got a coffee. At least the wifi was fast.
Needless to say, the lounge was very underwhelming. Clean, and with
some
catering, but a lot less than an international traveller expects. Even US lounges are more generous.
FIDS
Sadly a delay was showing for my flight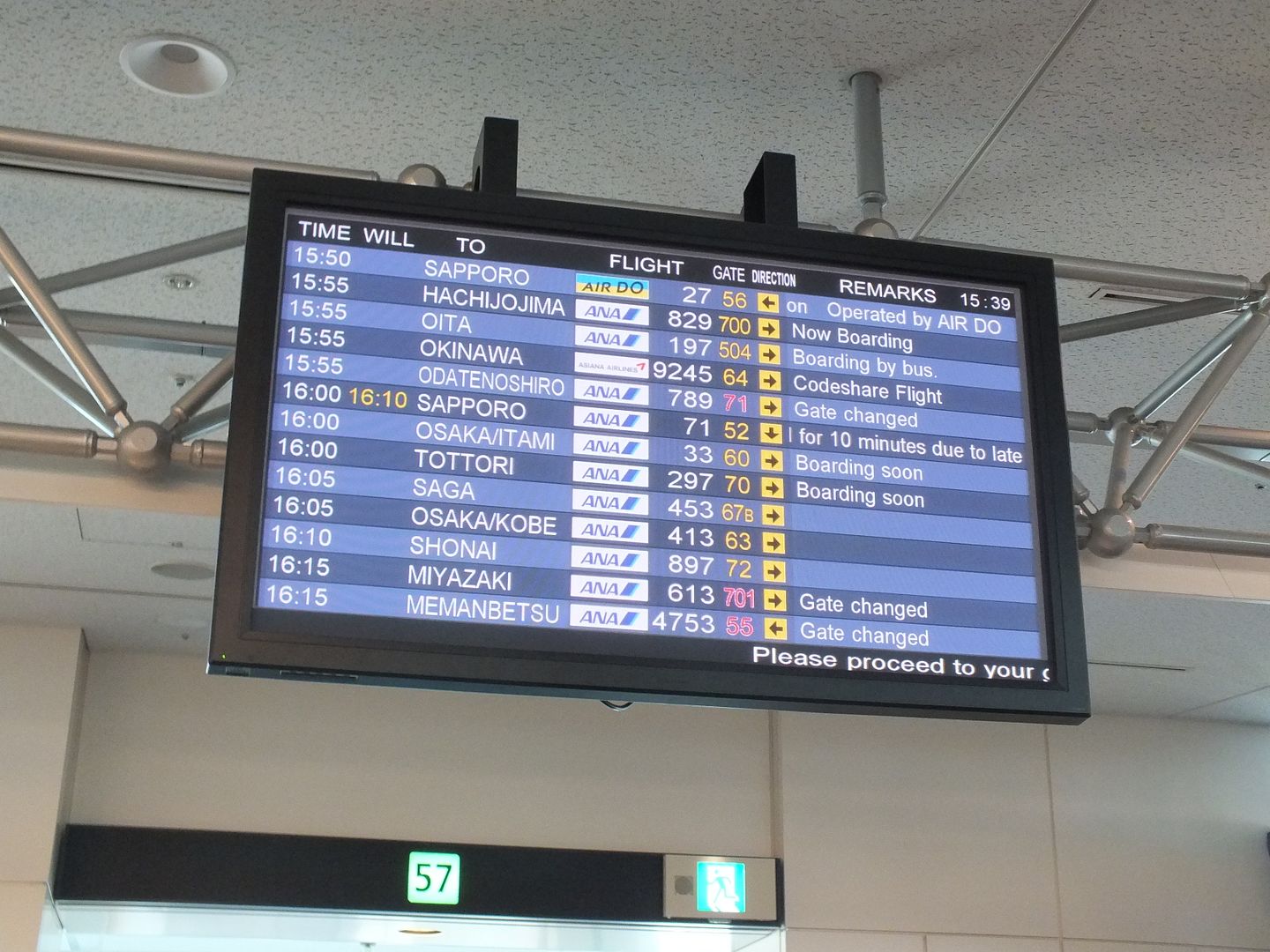 I was hoping to get the Pokémon Jet, the only one of the four remaining 744s with a special livery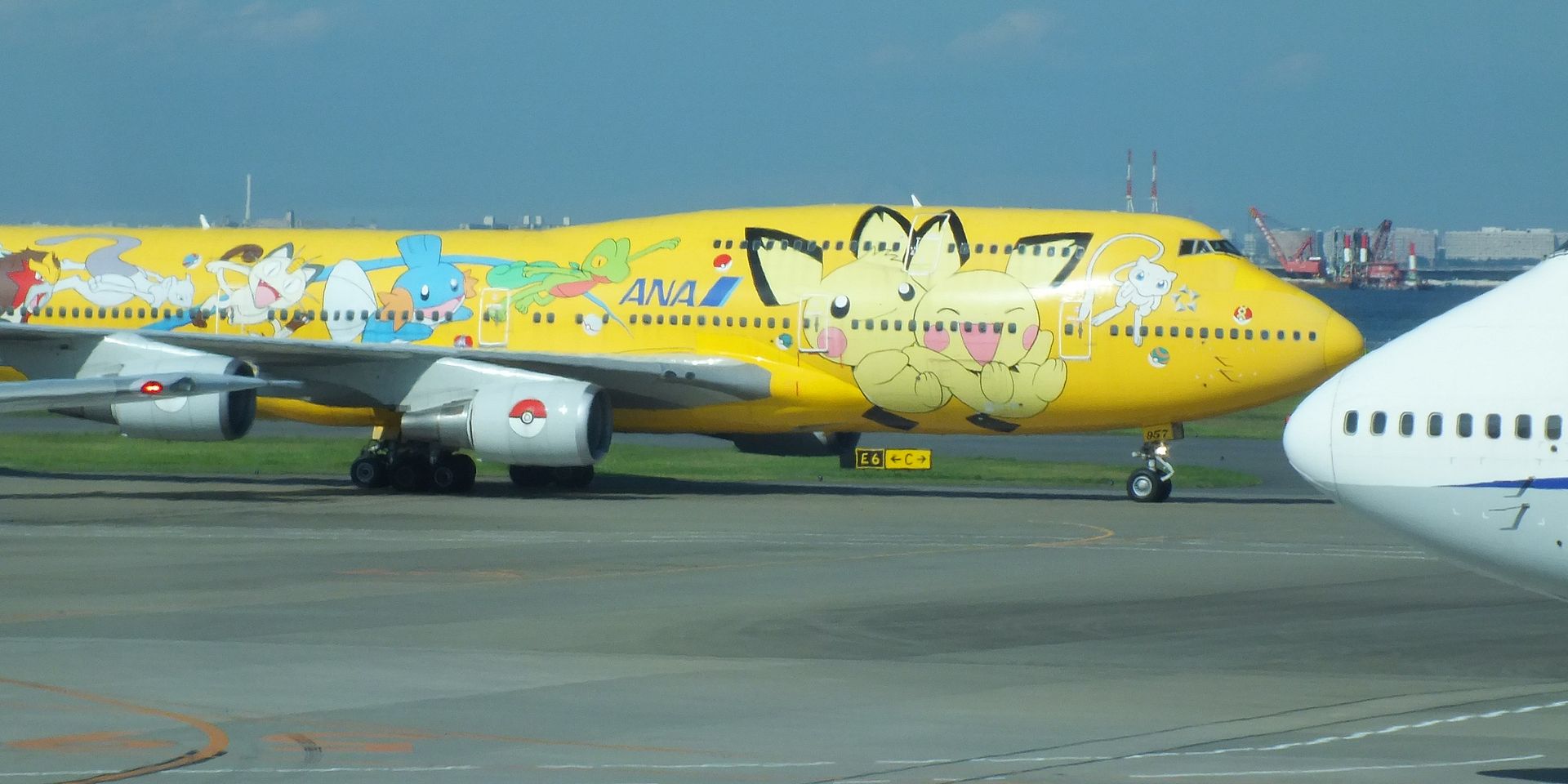 Upstairs Downstairs
Such an ugly scheme. The management seems to play around with it a lot, and there are quite a few versions.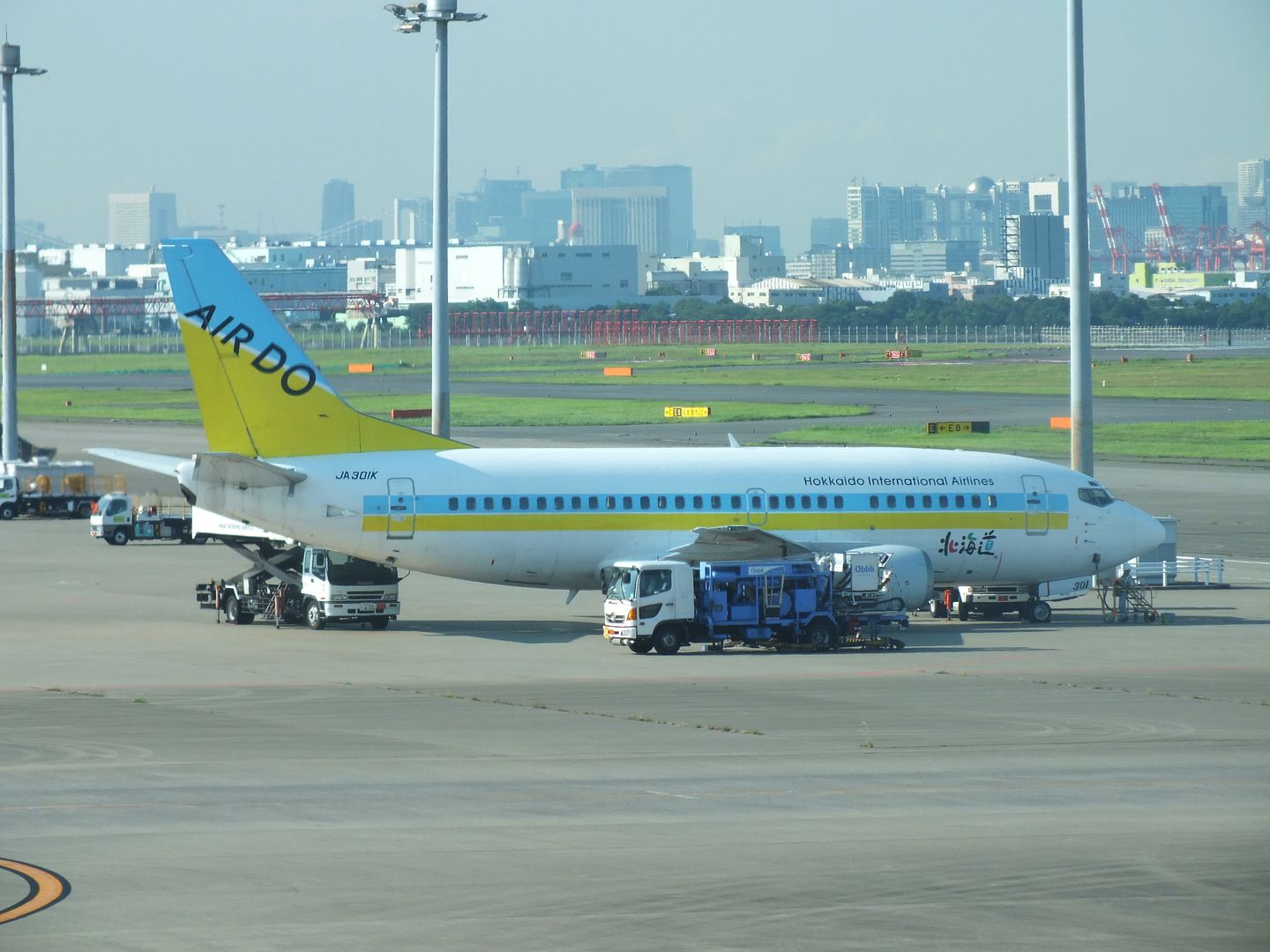 Unfortunately when I got to the gate, I saw a plain old colour scheme. Still, it's the -400D!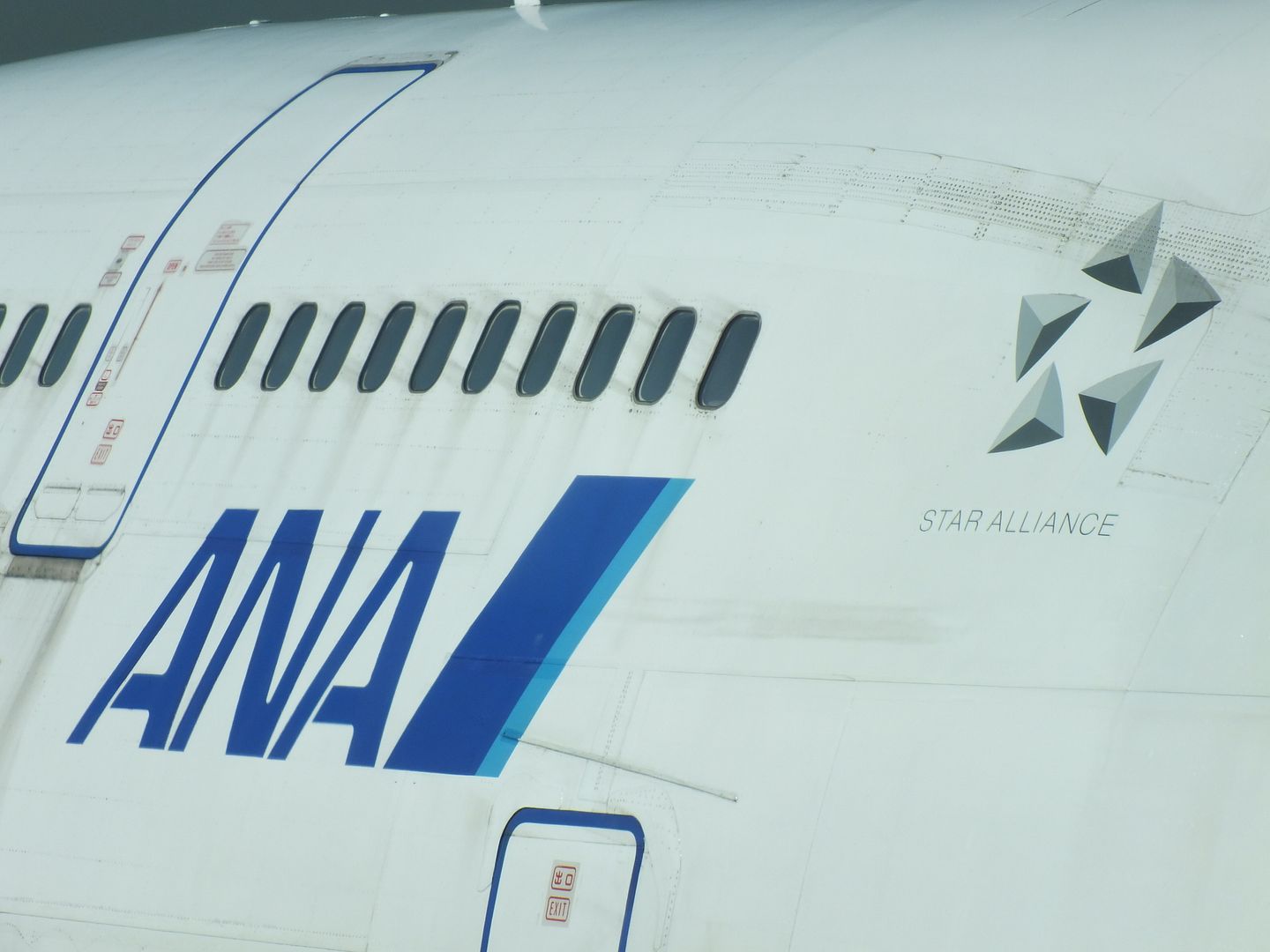 There were these handy flight info monitors by the gate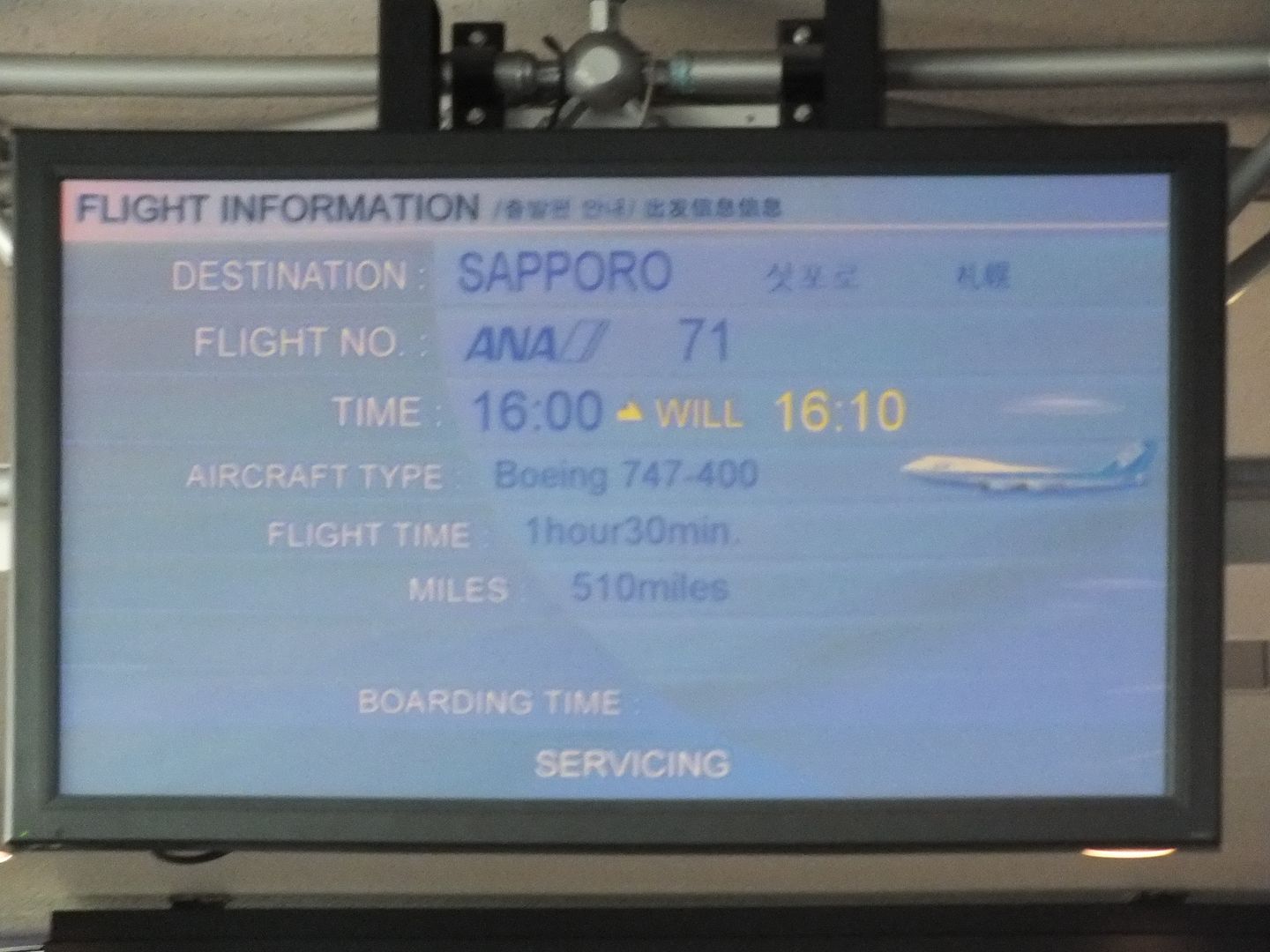 Despite the delay, there seemed like little effort to get everyone boarded quickly. There were a few people preboarded (in a wheel chair), but then a good five minute or so gap before everyone else was allowed on. There was a priority boarding call, but it was nearly incomprehensible.
Time to go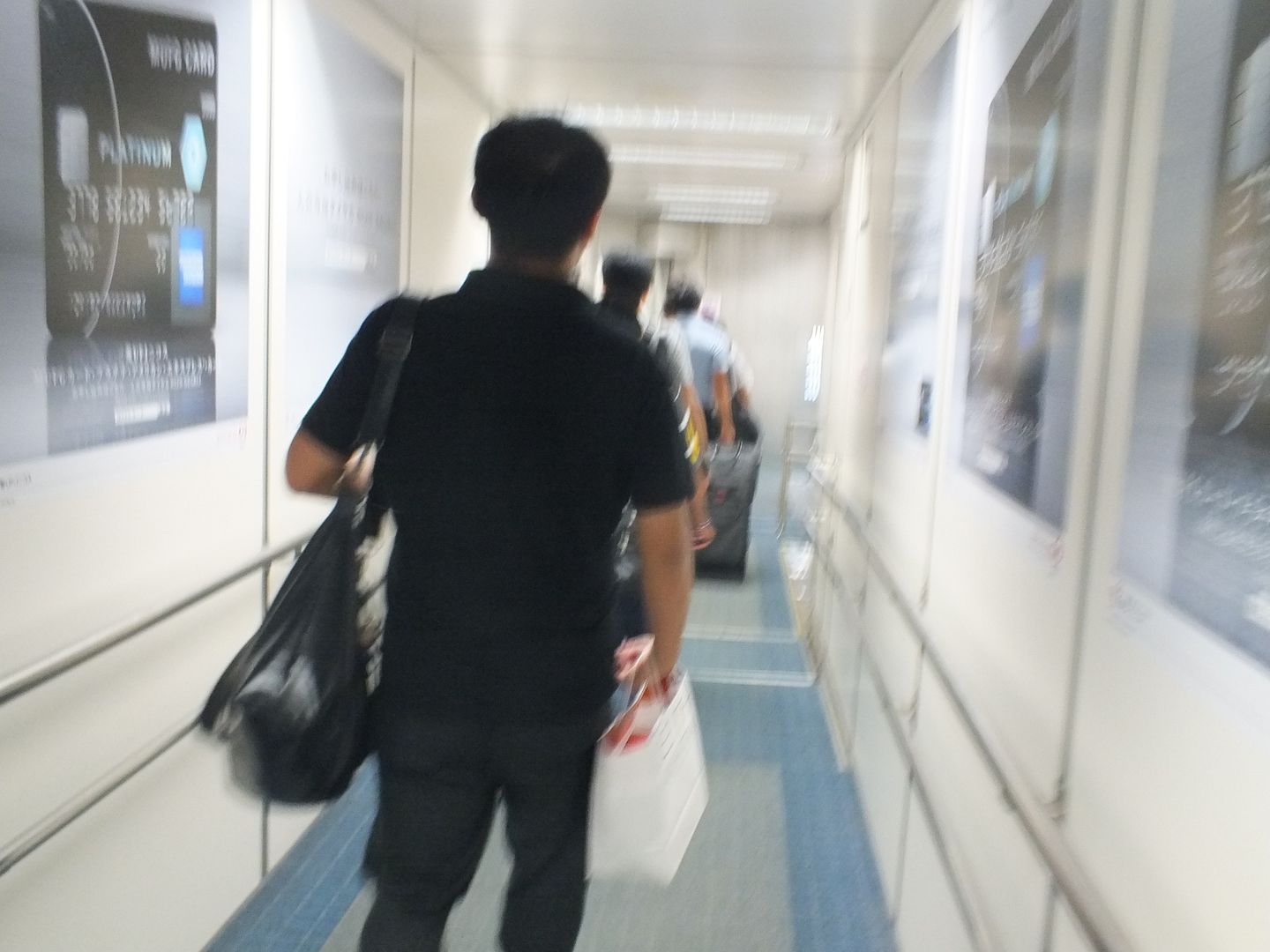 August 2013
Tokyo Haneda (HND) – Sapporo Chitose (CTS)
All Nippon Airways NH 71
Scheduled: 1600-1730 (1h30m)
Actual: 1619-1736 (1h27m)
Boeing 747-400D JA8961
Economy

.
Apart from the nose section, the entire plane is economy. Here's the main deck
And the stairs – sorry for the blurry photo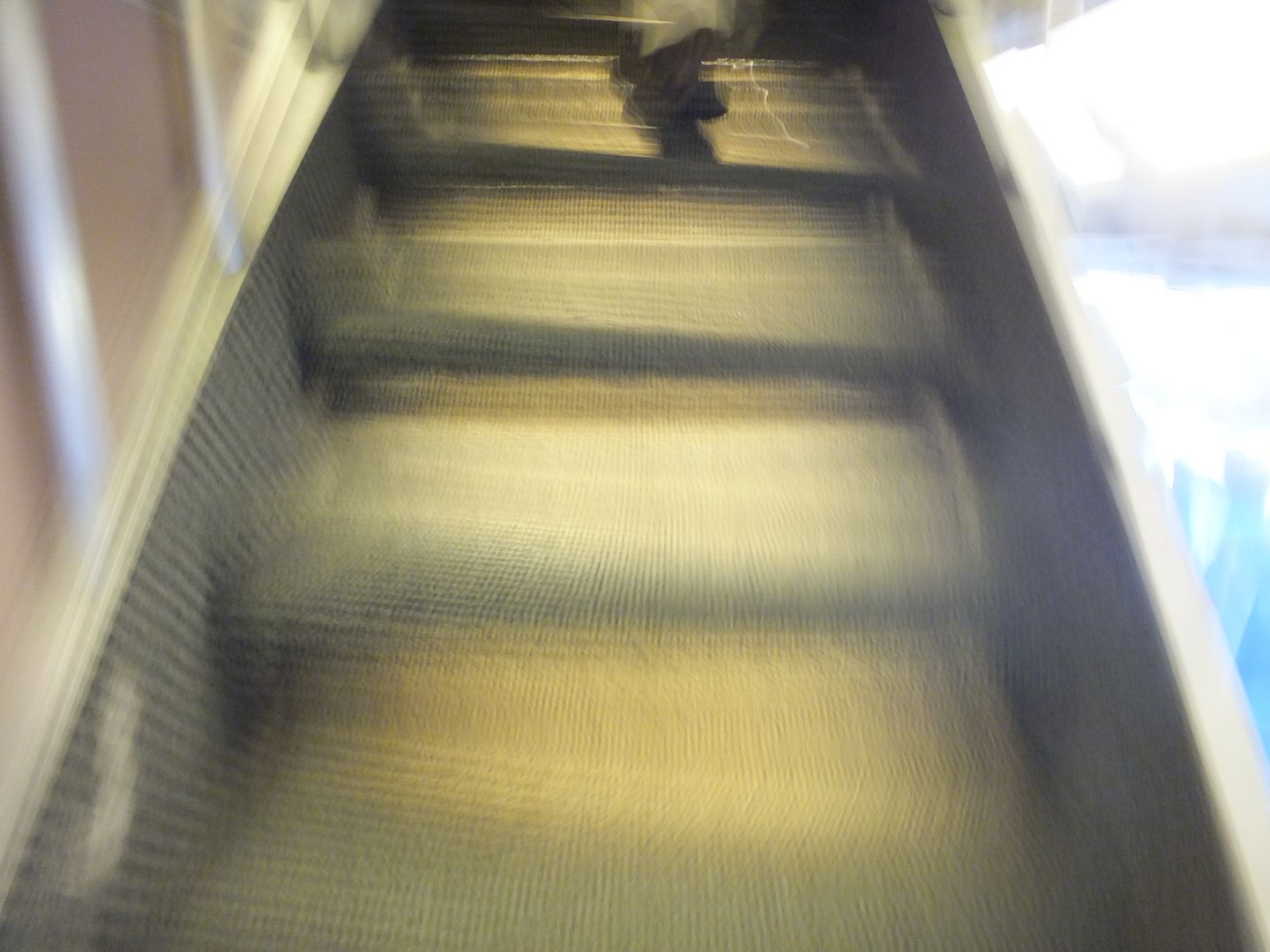 And the upstairs cabin. I was near the front, but in retrospect probably should have seat further back to get a better view of the wing.
My row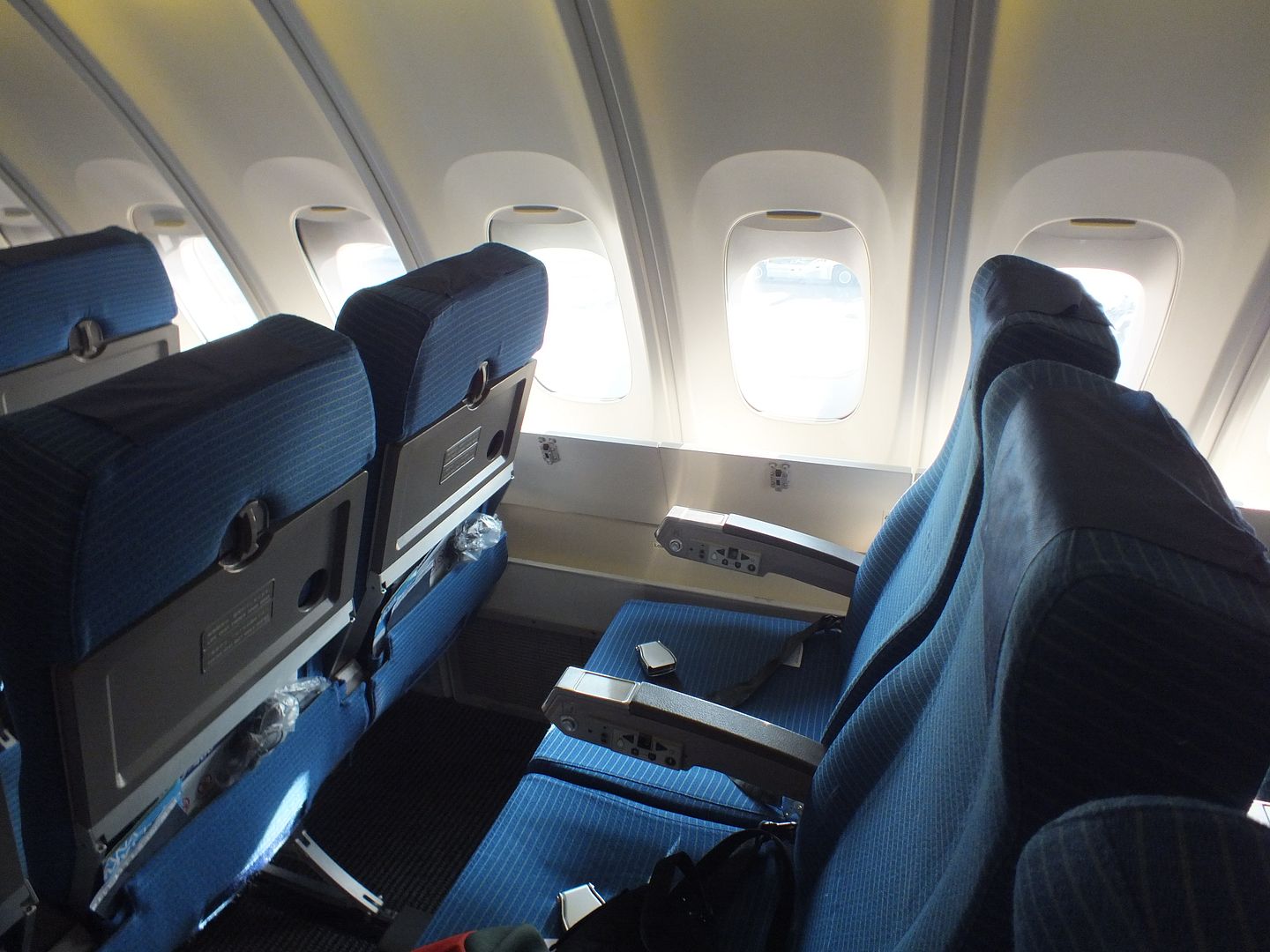 And storage space
Could use a good clean I think
Just a bit of a view of #4 engine
Ok legroom for a short hop
This afternoon's flight was not fully booked, far from it. I didn't look around inflight, but judging from the upper deck (less than 20 seats taken), and the seat map online (everything past door 3 seemed empty), I'd say there were not much more than 150-200 people onboard. No need for a 747…a 738 would do. Maybe this explains why NH and JL haven't got any high density A380s on order to replace the 744D.
I could be in Hokkaido already
Off we go, 19 minutes late. Tsk tsk, very tardy ANA!
The Japanese love their special liveries – shame they're nearly always only on domestic aircraft
Seat with a view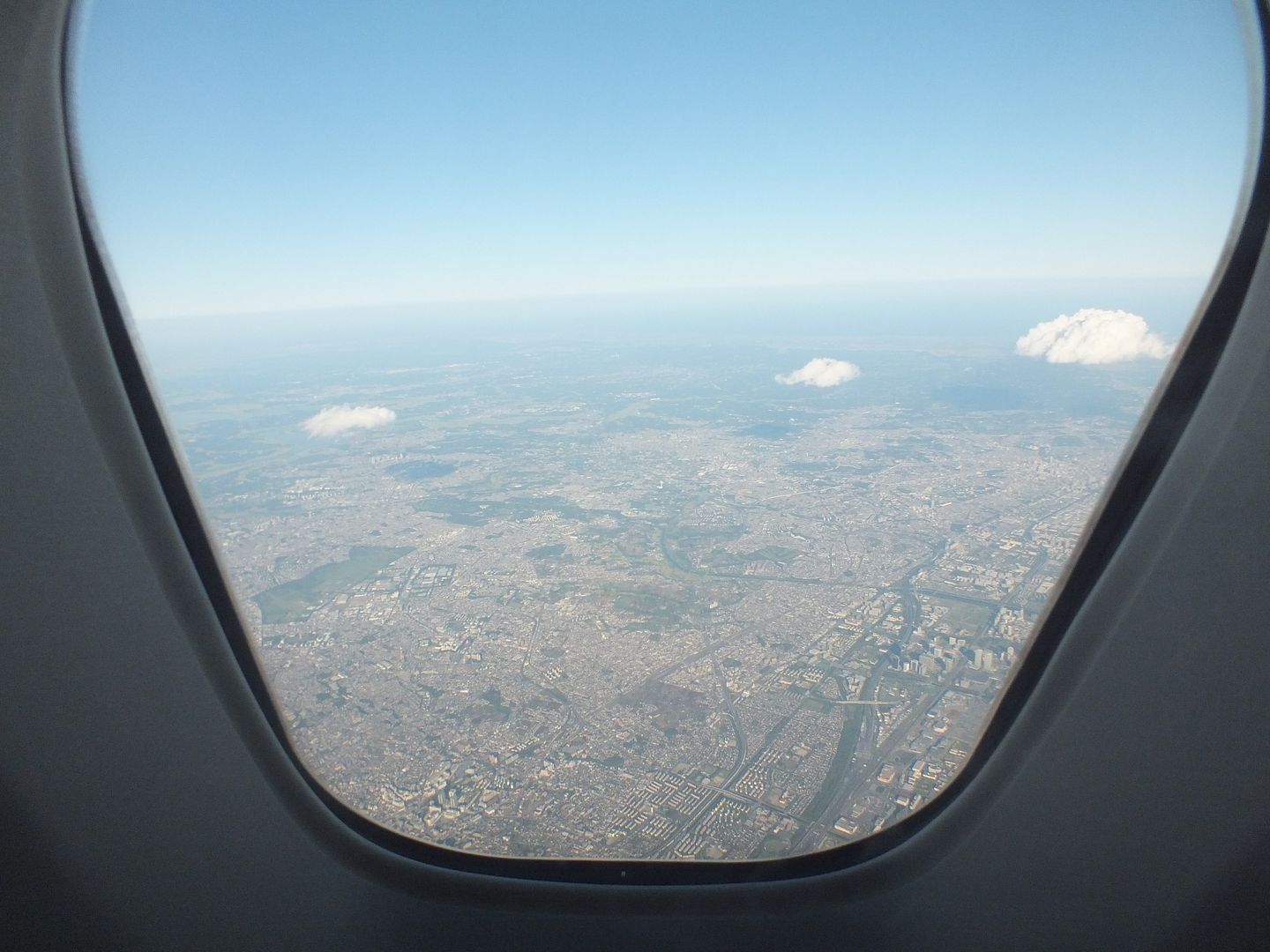 I asked for a pillow, but they didn't have any, so I got a blanket instead
Time for a snack? I bought this very tasty tonkatsu sandwich at the airport….mmmm, so tasty!
Just 10 minutes after departure, the crew rolled their trolley to the front of the cabin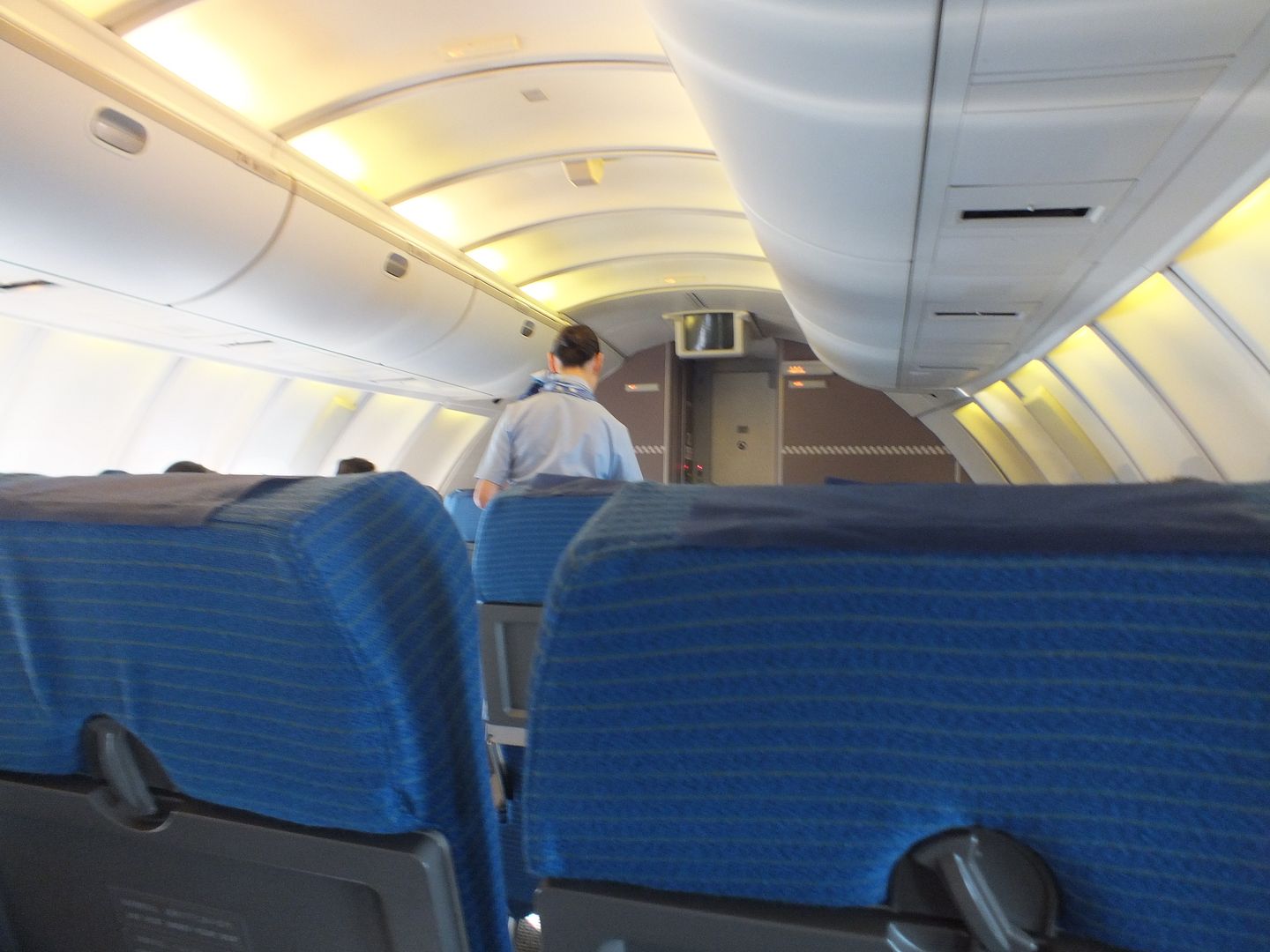 What's on the menu?
Some free drinks
And then some BOB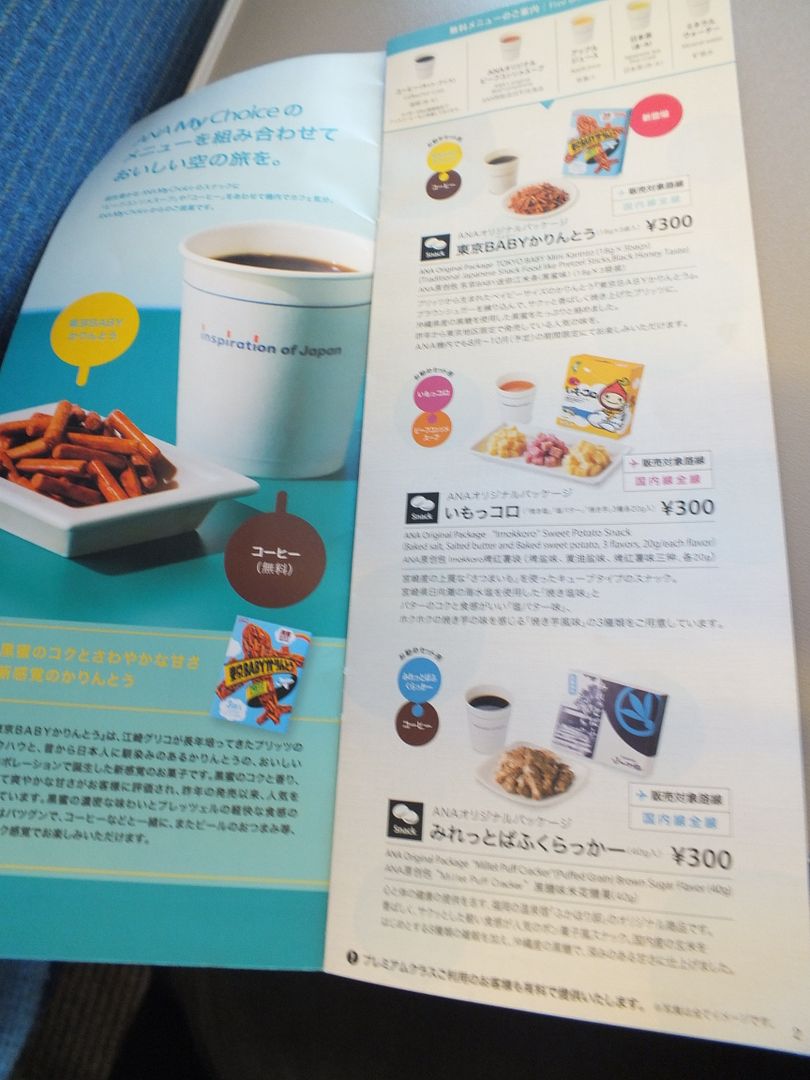 I went for a water and Japanese tea, along with a wet wipe. Not even a free snack was offered. Given the average high prices, I think the Japanese carriers are very deficient on their domestic sectors. Come on, at least throw in a small snack!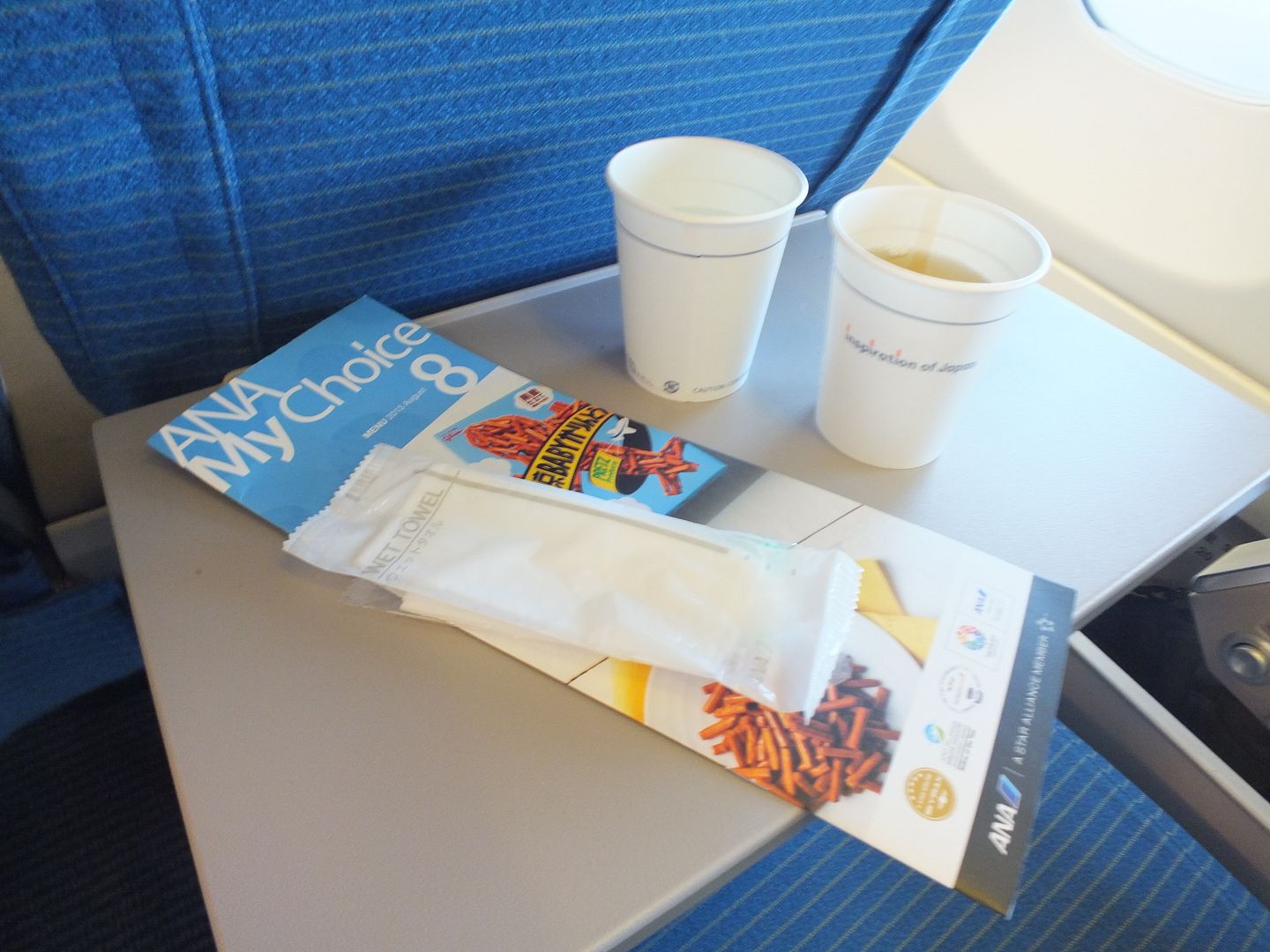 Safety card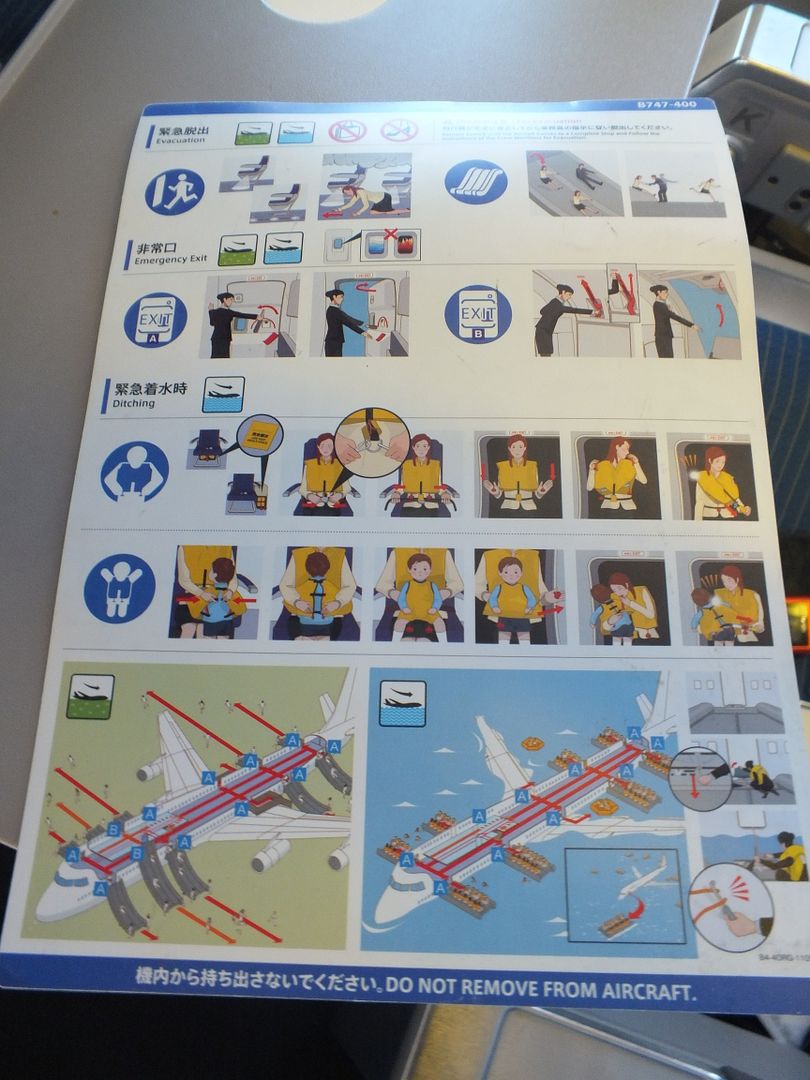 Nice and empty up here today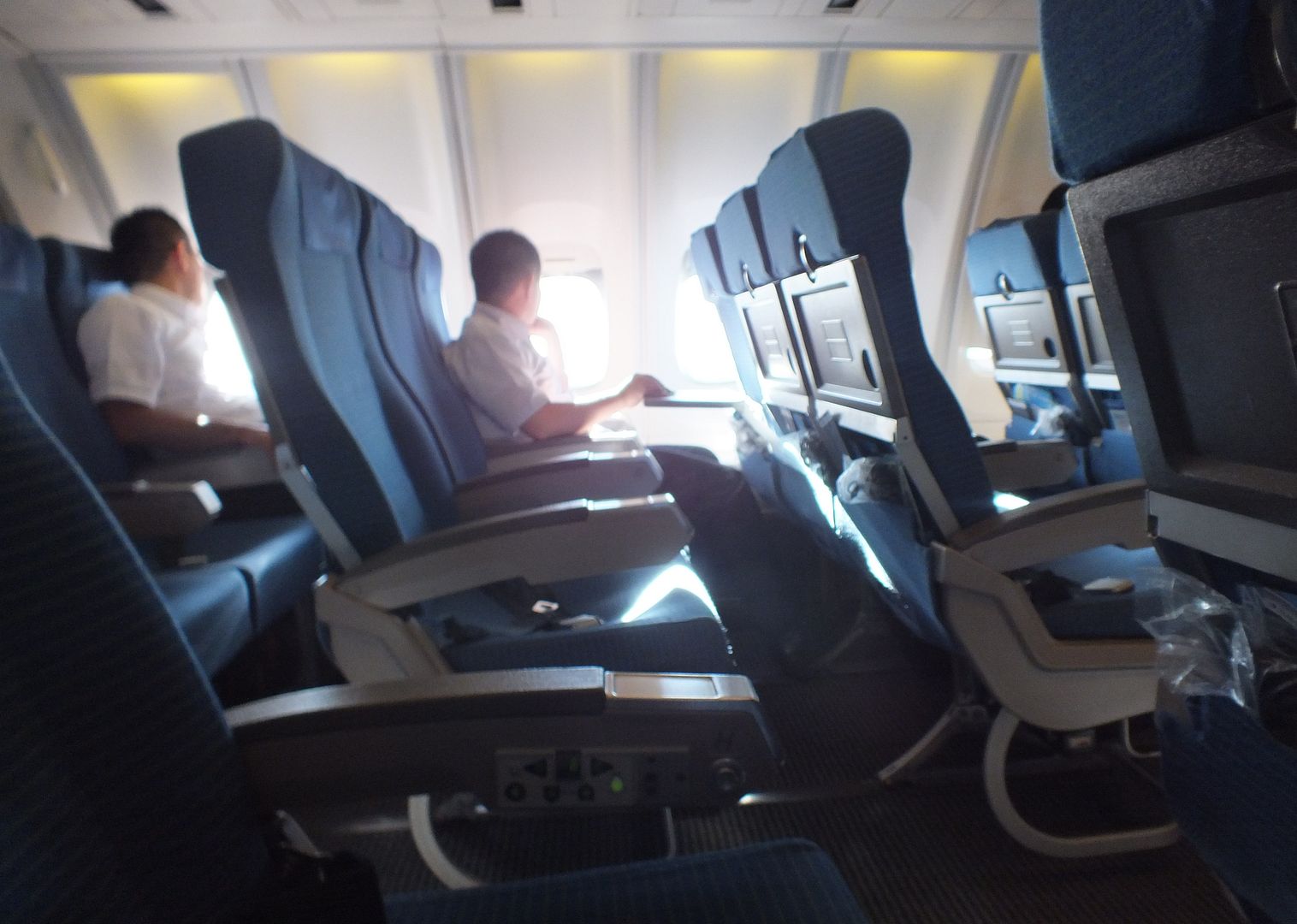 Before long, it was time to return to earth. It's a bit cloudy up on the North Island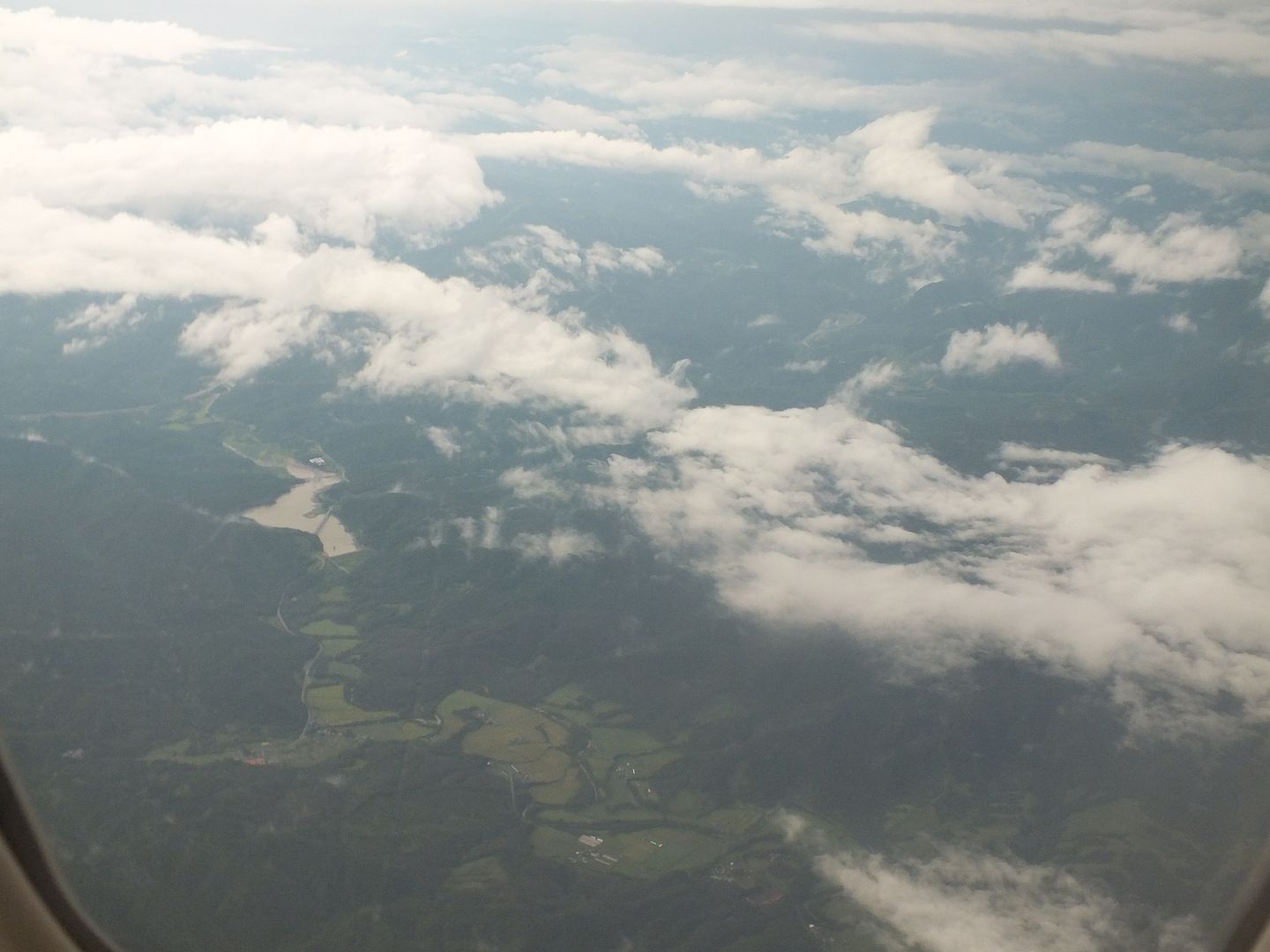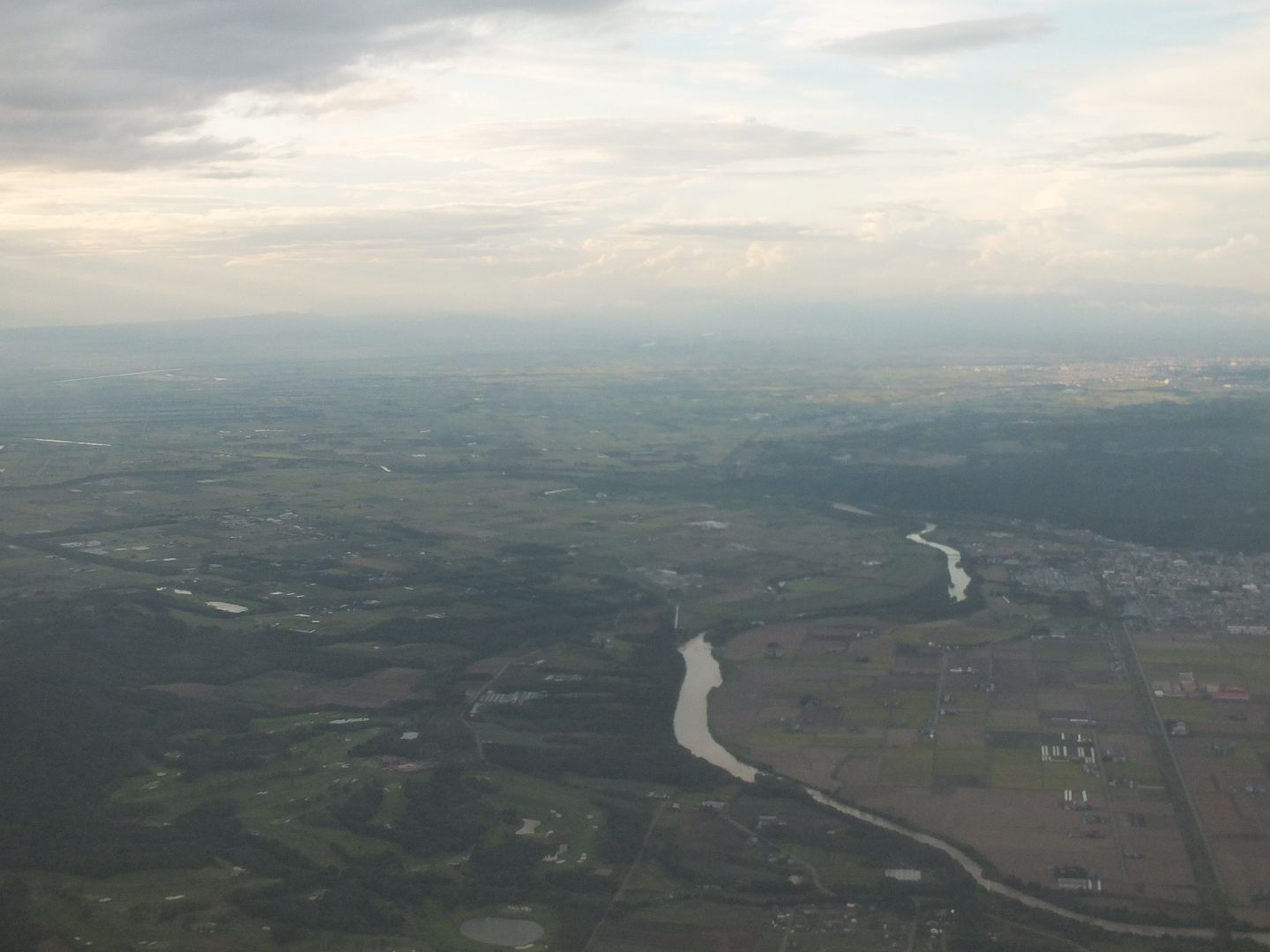 And it looks like it's a bit wet too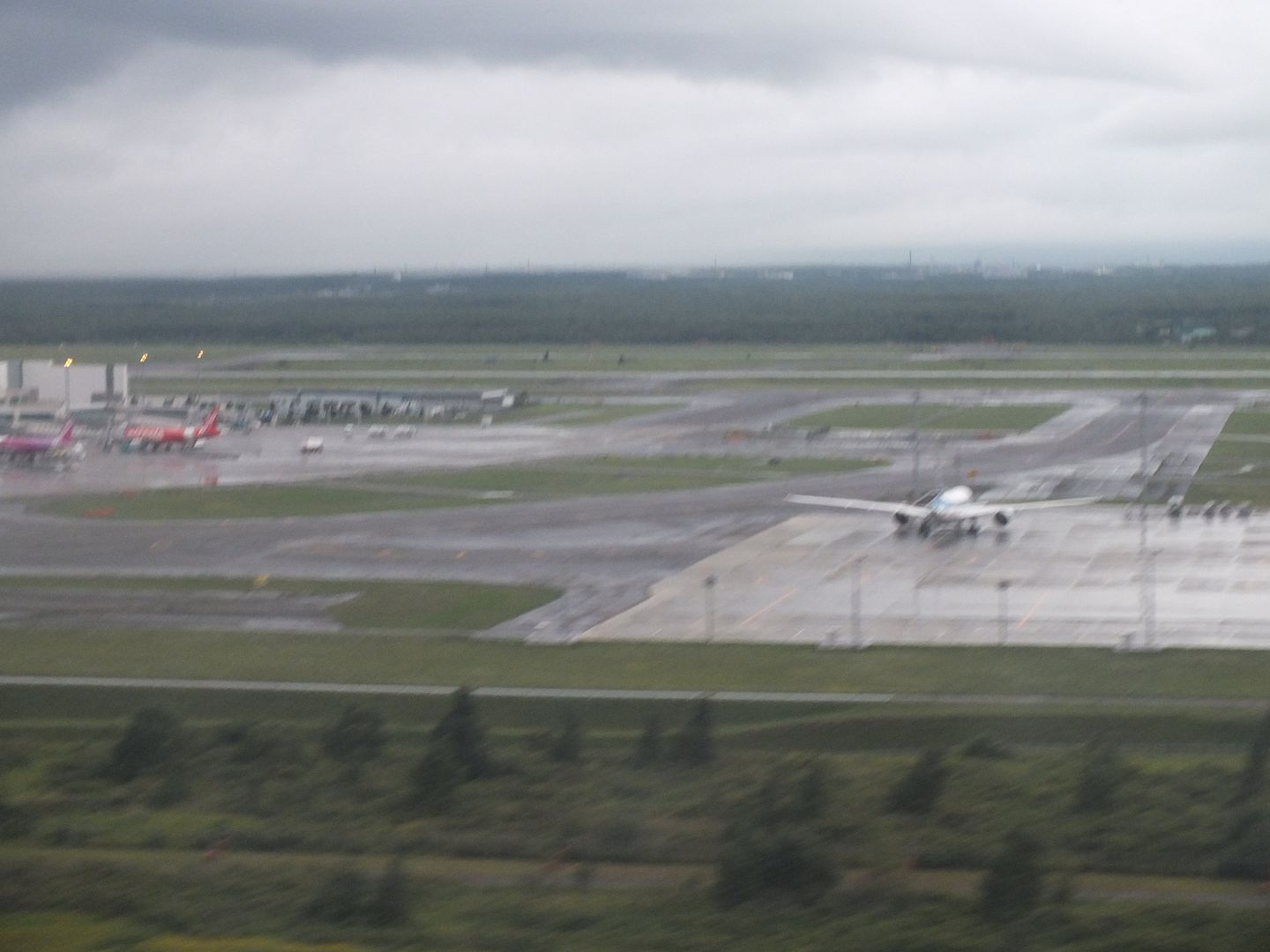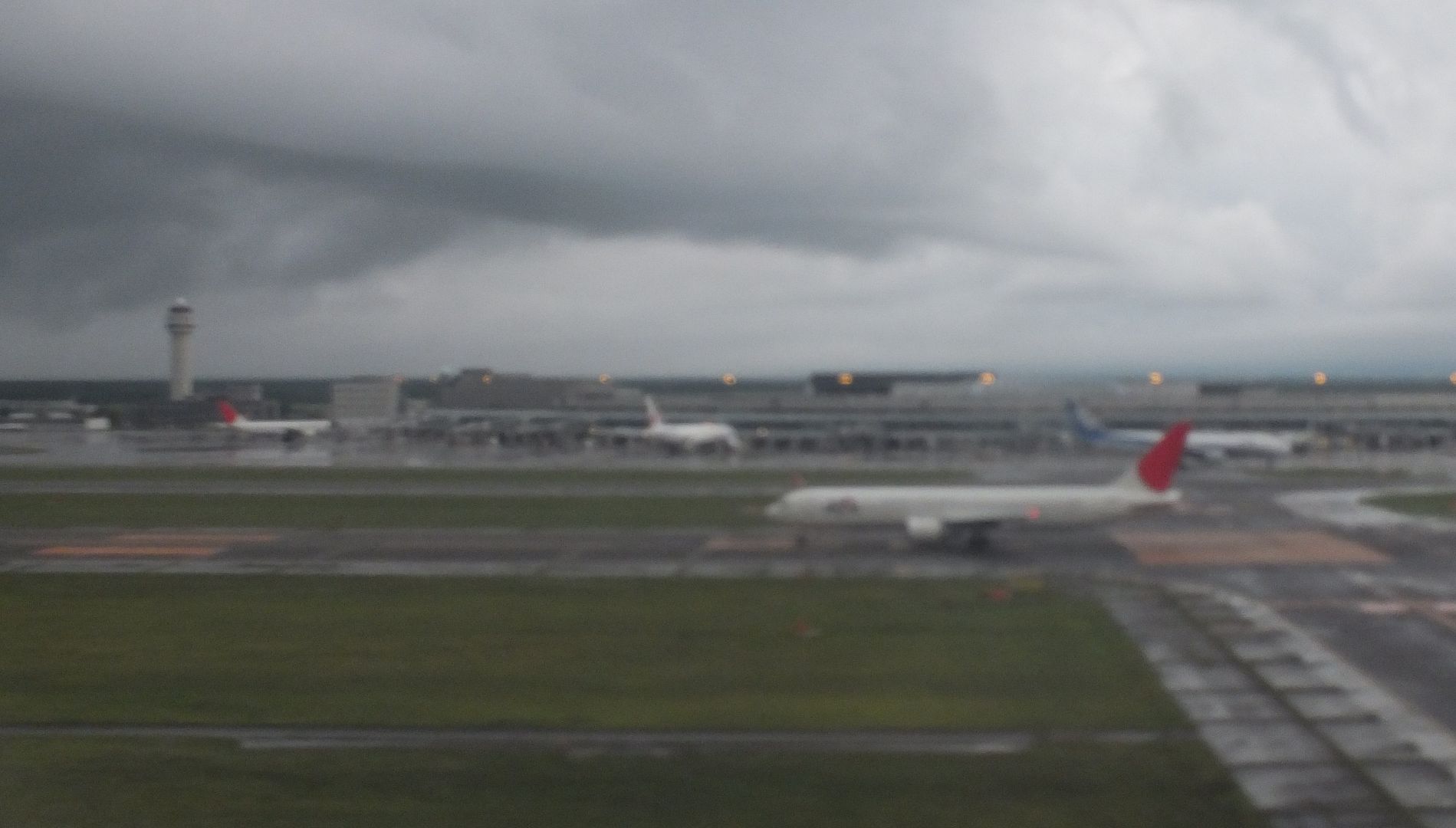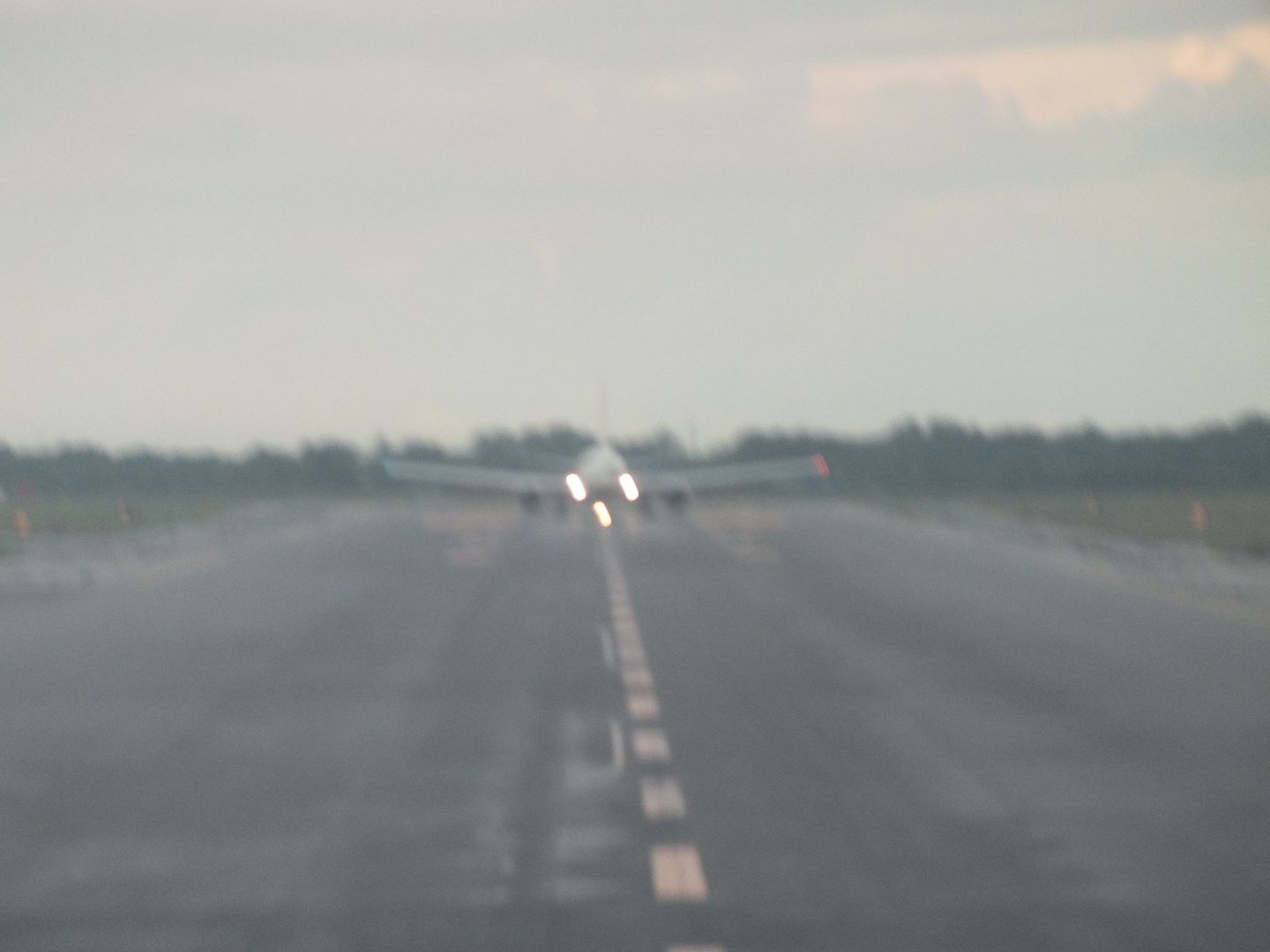 As we pulled onto stand, the heavens really opened, and there were some very loud thunder.
The rain was so heavy as I walked down the airbridge, I was sure it was hailing. I knew that Hokkaido had harsh winters…now I was wishing that their summers weren't as cold and wet.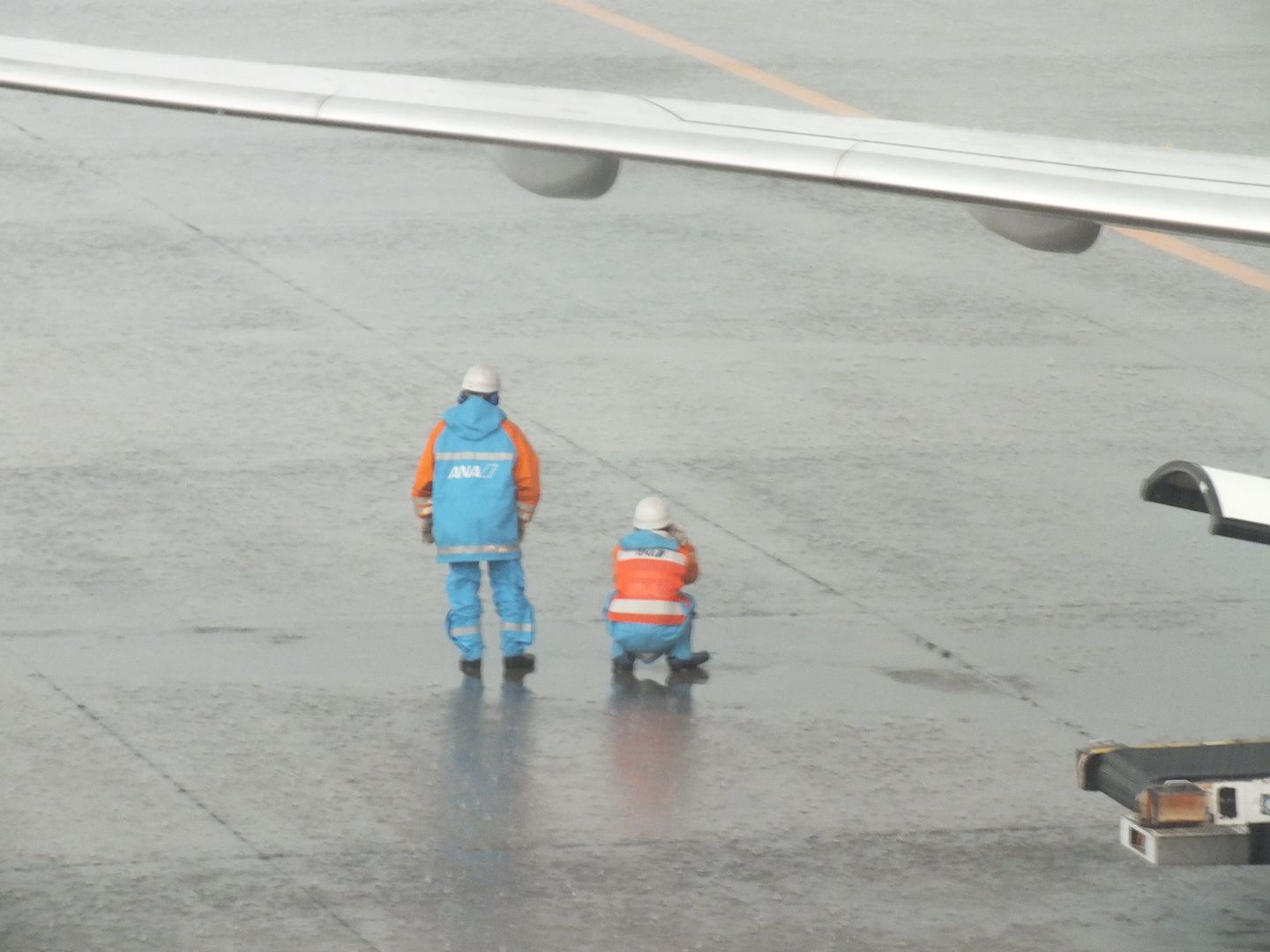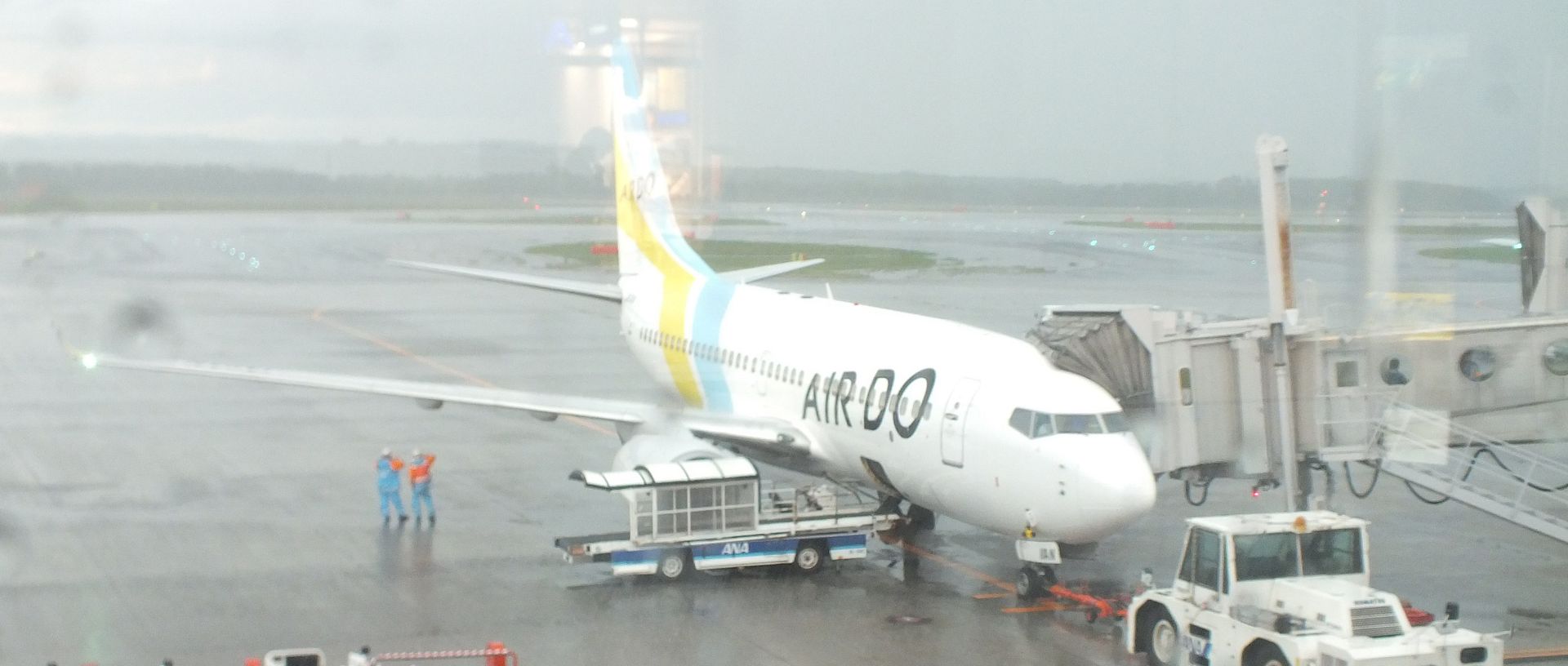 Sapporo Airport has one of those poorly conceived layouts where arriving passengers block departing passengers from boarding due to it all being on one level. Must be frustrating for the ground crew boarding a plane.
I didn't have to wait long for my bag to appear, and I was soon on my way to the train station.
As I mentioned before, I bought a
Hokkaido Rail Pass
. Anyone who has investigated a trip to Japan has no doubt heard about the famous (and rather pricey) Japan Rail Pass. For a train spotter, it's a dream. For normal tourists, it makes like a fair bit easier if you plan to cover a lot of ground. As I just needed a pass for Hokkaido, there was no need to buy the much more expensive Japan Pass. The Hokkaido version is quite a bit cheaper, as well as not having any advance purchase restrictions on it; just turn up at the station and buy it.