B A C K G R O U N D
This is my second flight with a Japan Airlines but the first one was back in August 1997 which was before Airliners.net so I did not make a trip report then. Now that I was in Asia to fly Garuda Indonesia, I was trying to find an itinary to fit in a flight on Japan Airlines. Japan Airlines has been thru some rough years after the merger with JAS and then bankruptcy.
T H E F L I G H T
Date : 12 October 2013
Route : Tokyo HND – Osaka ITM
Distance : 251 miles
Flight : JL 139
Flight Time : 0:50h
Dep. Time : 19:30
Aircraft : Boeing 777-289
Registration : JA010D
Dep. Gate : 15
Seat : 59D
Inflight Entertainment : Moving map, outside camera (overhead screens)
229th flight on a Boeing 777; 87th on a -200.
2nd flight on Japan Airlines
Flown on 129 Boeing 777 aircraft (frames)
After a great day of spotting mostly at Terminal 2, I went downstairs to check in. It was fairly quick and security also just took a few minutes.
There were three flights to ITM leaving within an hour and all 777s so a lot of people in the gate area. I got thru 10mins before the 1830 flight and I asked if I could get on but the flights was closed although there were a lot of people standing around…..
So I went to the gate for the next flight, just around the corner. There was hardly any passengers at the gate and no gate agent 35 minutes before the flight! Five minutes later, the JAL gate agent shows up and I tell him I'm flying standby. Boarding eventually starts at 1847 for a 1900 departure! Some standbys are called at 1855 and some passengers are casually walking up to board at departure time! There are now three agents working the standby list and at 1902 they say that the flight is closed. I ask them that perhaps they are missing passengers so perhaps there's a seat left ? They barely answer me back and say the the list is transferred to he next flight right next door at 1925. Boarding starts at 1905 and I get called at 1910 and I'm happy to get the seat on the last flight to Osaka. The door to the aircraft closes at 1925 but we wait for pushback five more minutes probably due to traffic
There are only two rows of First class on this aircraft and there are perhaps 10 rows of Economy Comfort, where the seat is wider and it's 2-4-2 across. I get an aisle seat in the second to last row where the configuration is 2-4-2 rather than 3-4-3. Legroom is good and the seat is comfortable. Flight is almost full with a load factor of 95 %.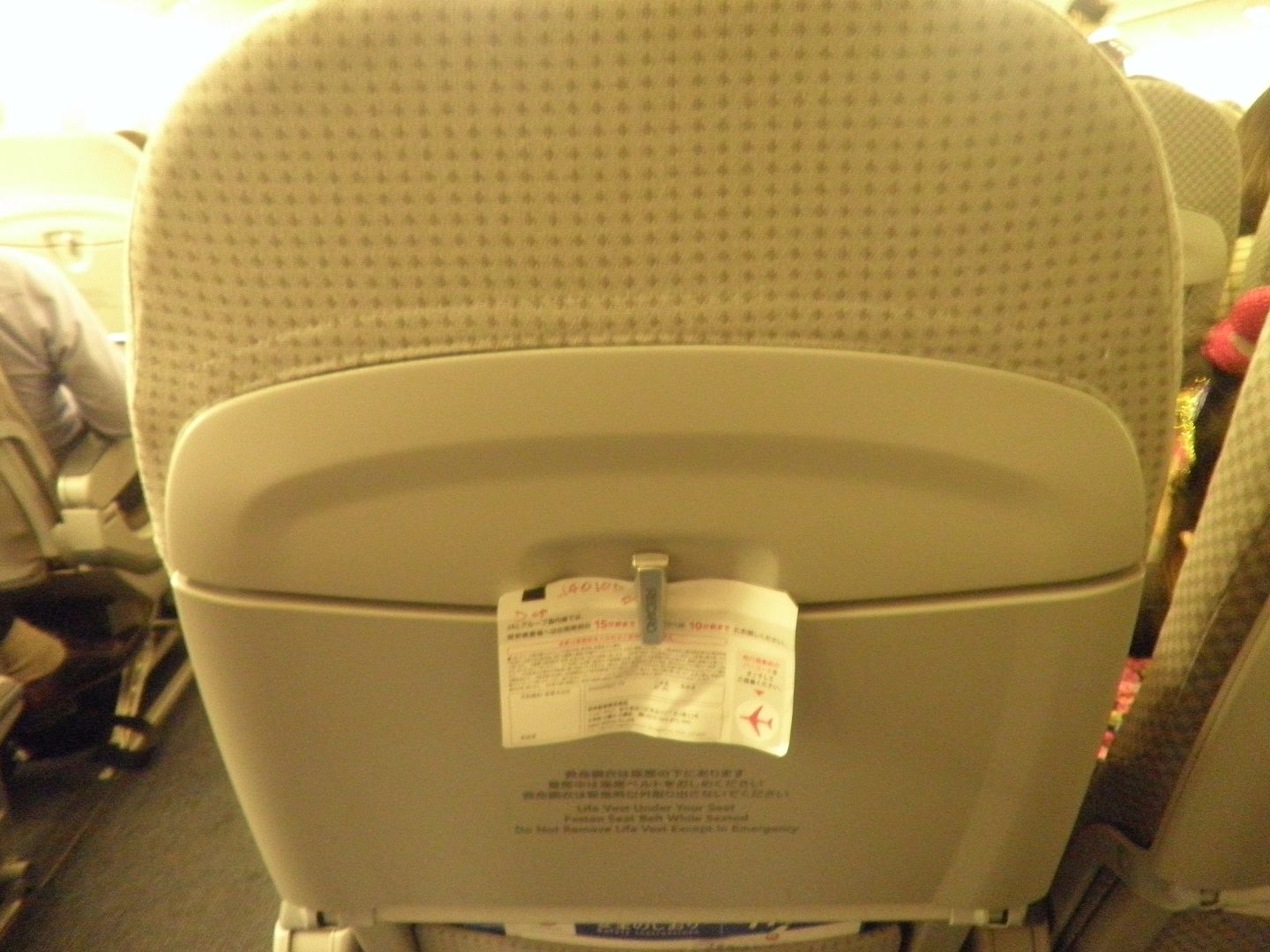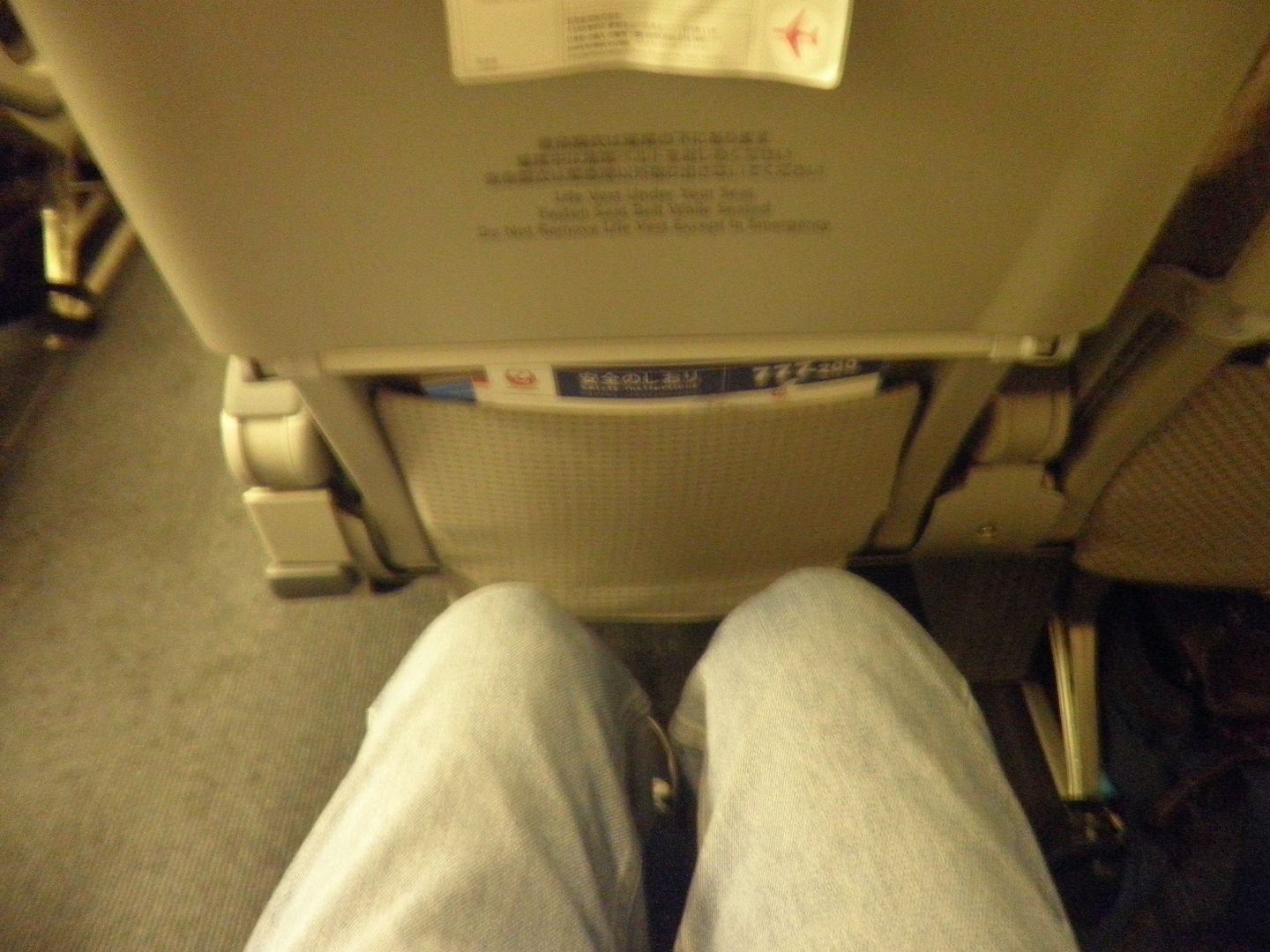 The colors of the seat seems to be the same that I had 15 years ago but it's light and keep the cabin bright. This is a ex-Japan Air System aircraft and I recall that they had TVs at every seat so Japan Airlines must have taken them out after the merger. There's also a large IFE box under the seat which was not removed when they took out the PTVs. Strange…..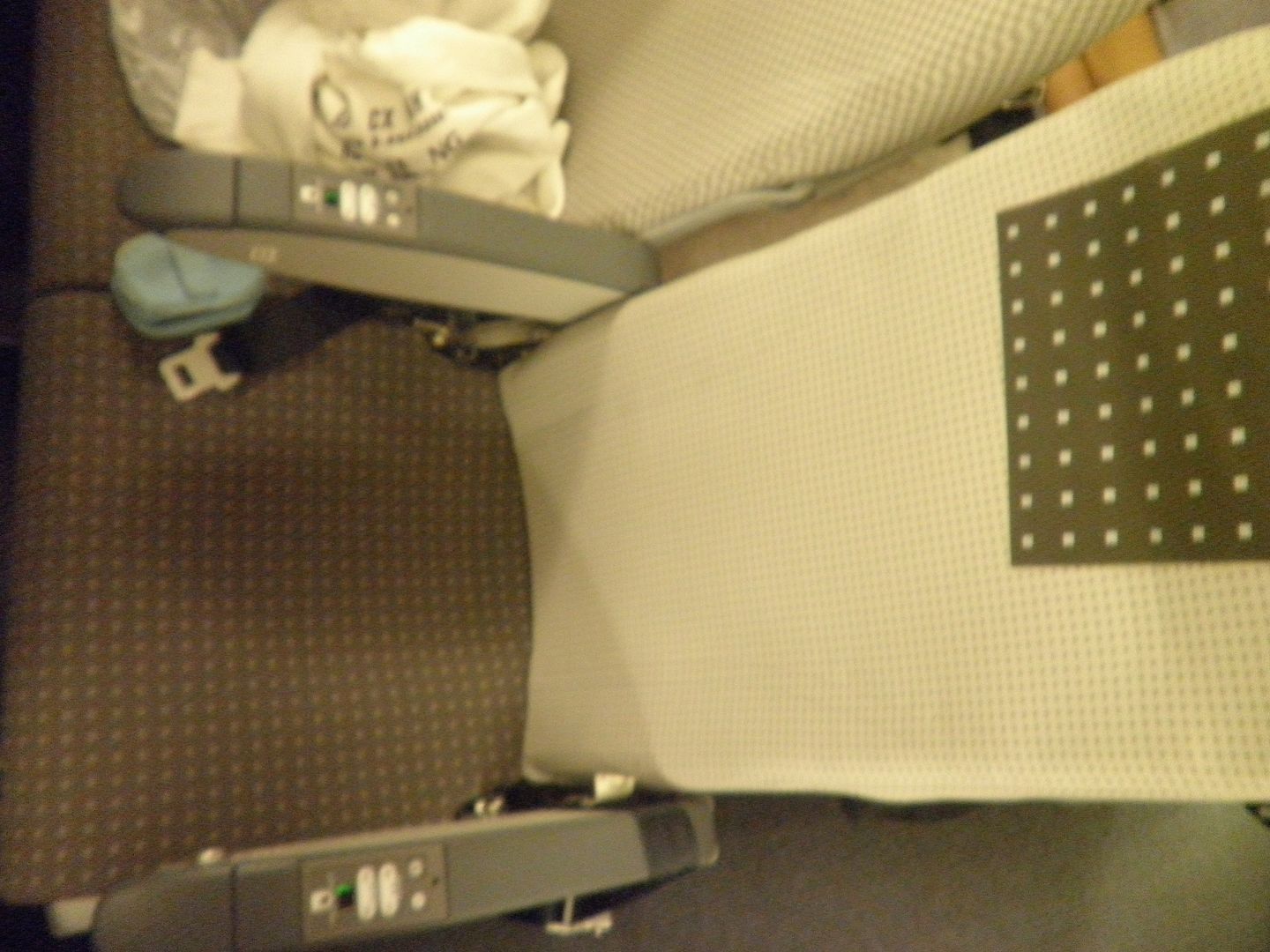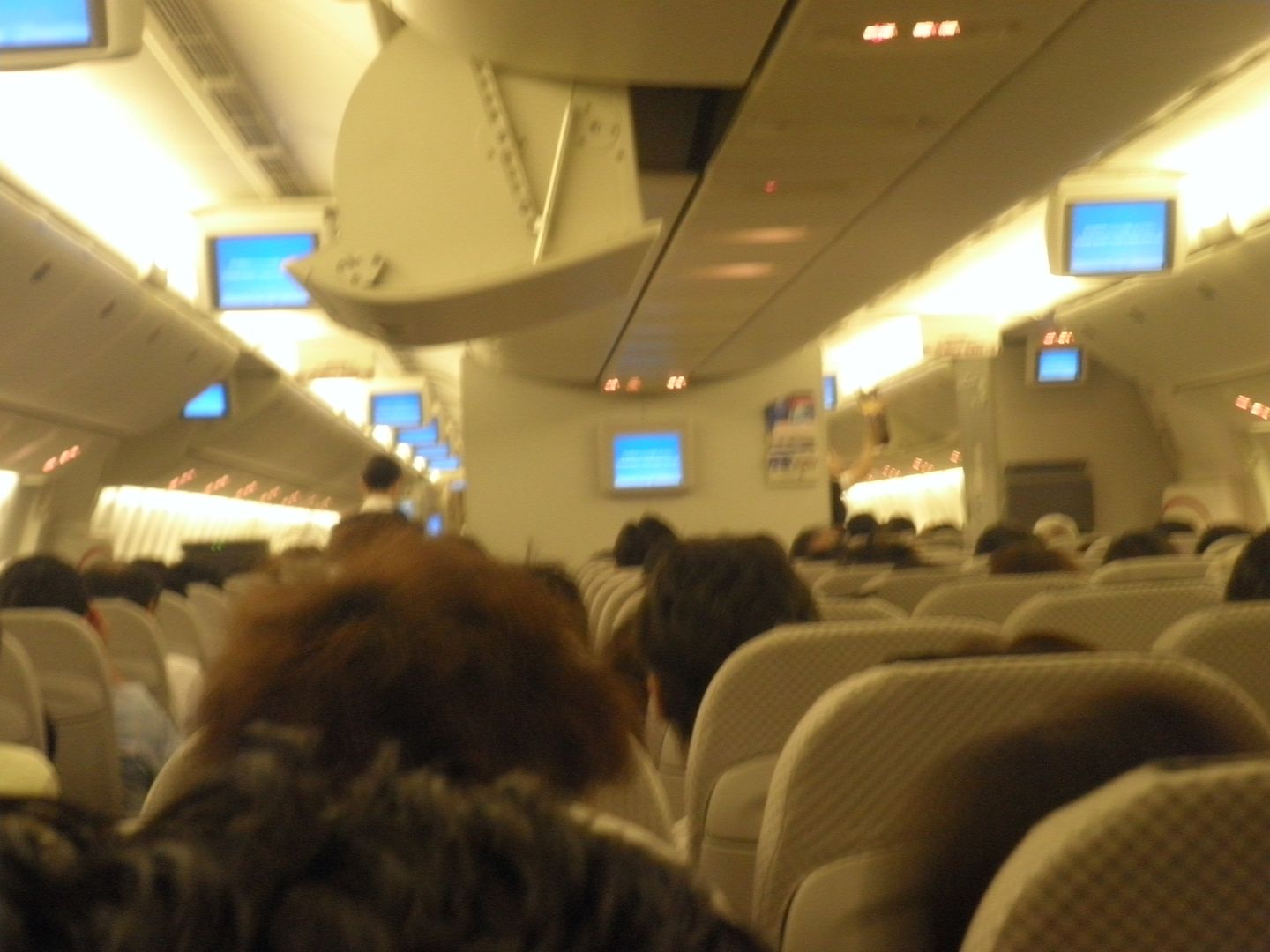 There are headsets in the seat pocket and I'm amazed when I find the very old 1970s style headsets there! Who would put sockets like that on a plane built in the late 1990s ?
The flight attendants do their safety checks and they are all young and very friendly unlike on my previous JAL flight. Their uniform reminds me of what Air France's flight attendants wear.
As we taxi out, the camera from the nose gear is one which is a nice treat. It's dark outside so not much of a view unfortunately .
The flight is very short but there is a drink service where lemonade is served. It's a bit similar to kabosu (lime juice) that I've had on ANA.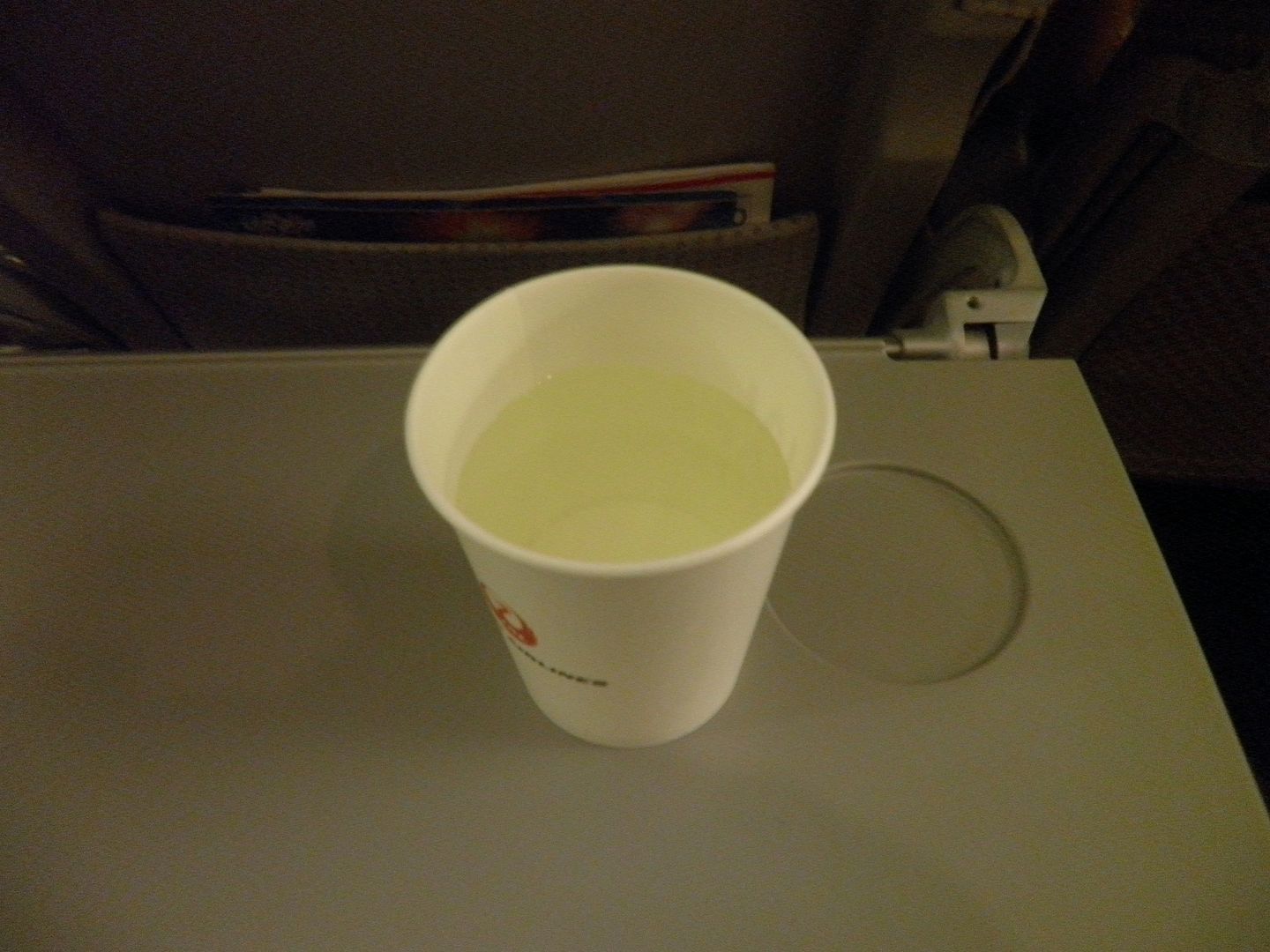 The moving map makes a brief appearance on the overhead screens before the camera comes on and we land at Itami airport.
C O N C L U S I O N
Japan Airlines domestic is about the same as my experience about 15 years earlier but the flight attendants are friendlier. I still prefer ANA but may try Japan Airlines internationally which I'm sure is a very different experience.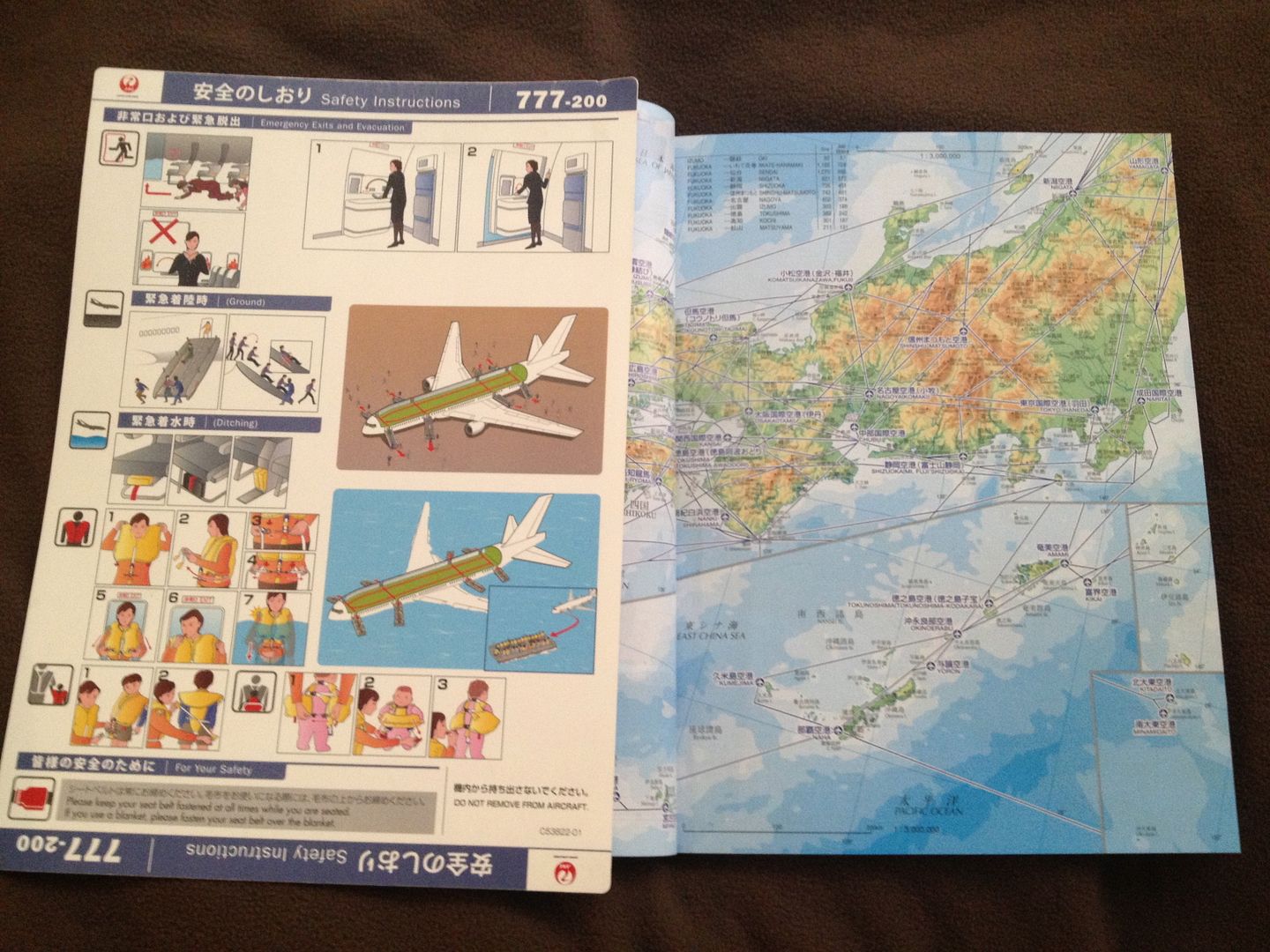 Comments welcome
The777Man
Previous reports from the same trip
Garuda Indonesia 77W CGK-NRT In Y
(by
The777Man
Sep 17 2013 in Trip Reports)
Malaysia Airlines 777 NRT-KUL In Y
(by
The777Man
Sep 24 2013 in Trip Reports)
KLM 77W Kuala Lumpur KUL - Jakarta CGK In Y
(by
The777Man
Oct 7 2013 in Trip Reports)