Hey a-netters!
Welcome to my new trip report! This time, I am reviewing Qatar Airways in a trip from Madrid to Dubai via Doha. Some photos are not top quality because I took them with my phone in order not to attract attention from others.
Introduction
Last year, in September, I went for a weekend trip with my parents to Dubai, as my sister was studying abroad she didn't come with us. We enjoyed so much our trip that we wanted to repeat with my sister this Summer and spend a week in the UAE so that we could see more things. I flew Emirates to Dubai then and I found them pretty good. This time we decided to try Qatar Airways as the tickets were 250€ cheaper each, being four travellers we saved a lot of money. I was excited about flying QR, everyone says they're better than EK and given I liked EK so much I had very high expectations of Qatar Airways.
Buying the tickets
I bought the tickets through Qatar Airways' website, I had no problems and I could select seats, something that it's becoming rare among European carriers nowadays. A month after booking I checked that the Boeing 787 was programmed for the DOH-DXB instead of A330, so I became even more excited about the trip.
Outbound flight
We arrived at the airport at 8:00AM approximately and headed to QR's counters, there was no line and the process, attended by Iberia's ground staff, went quickly.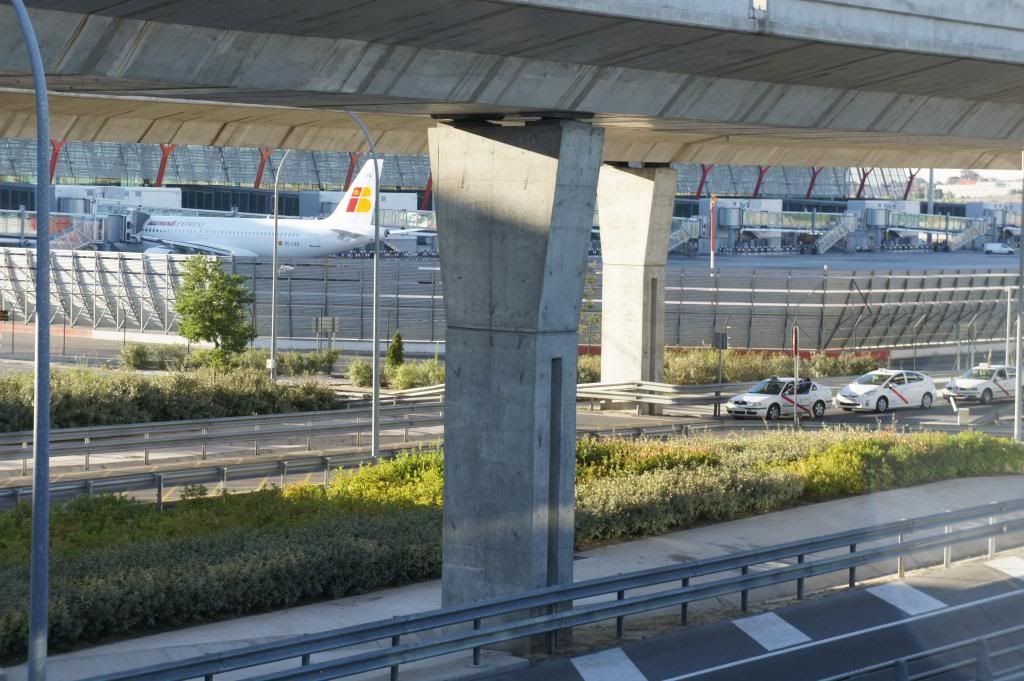 One of the brand new IBS's A320s seen from the carpark
On our way to the Terminal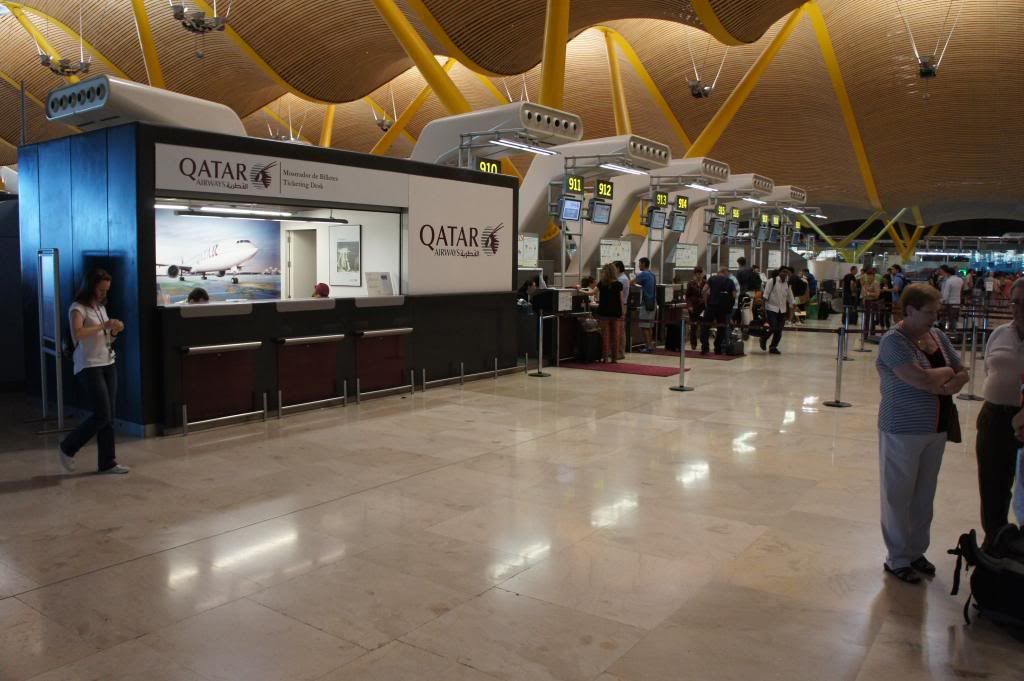 QR's check-in desks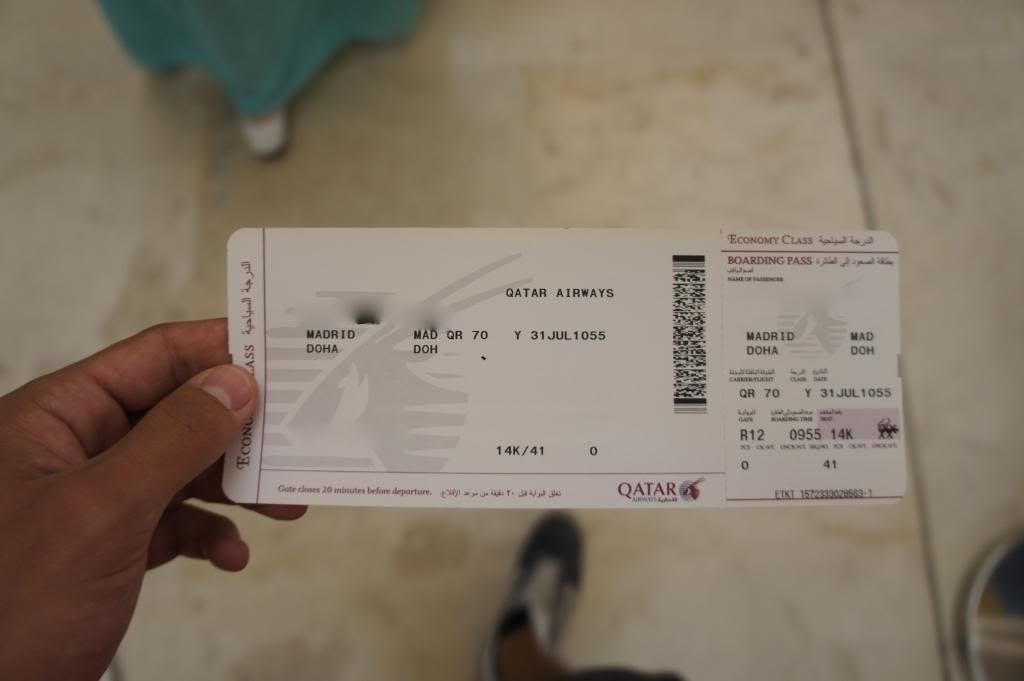 BP
All intercontinental flights operating at T4 arrive and depart from the satellite building, so we had to take an APM (Automated People Mover) to T4S. There are trains every five minutes and the ride lasts 3 minutes.
On the APM
Getting off the train
American tails, the 767 with the new livery was heading to Miami but had to divert to Oporto as seen from this photo:
http://www.airliners.net/photo/Ameri...lines/Boeing-767-323/ER/2316991/L/
Renovation works in T4's shops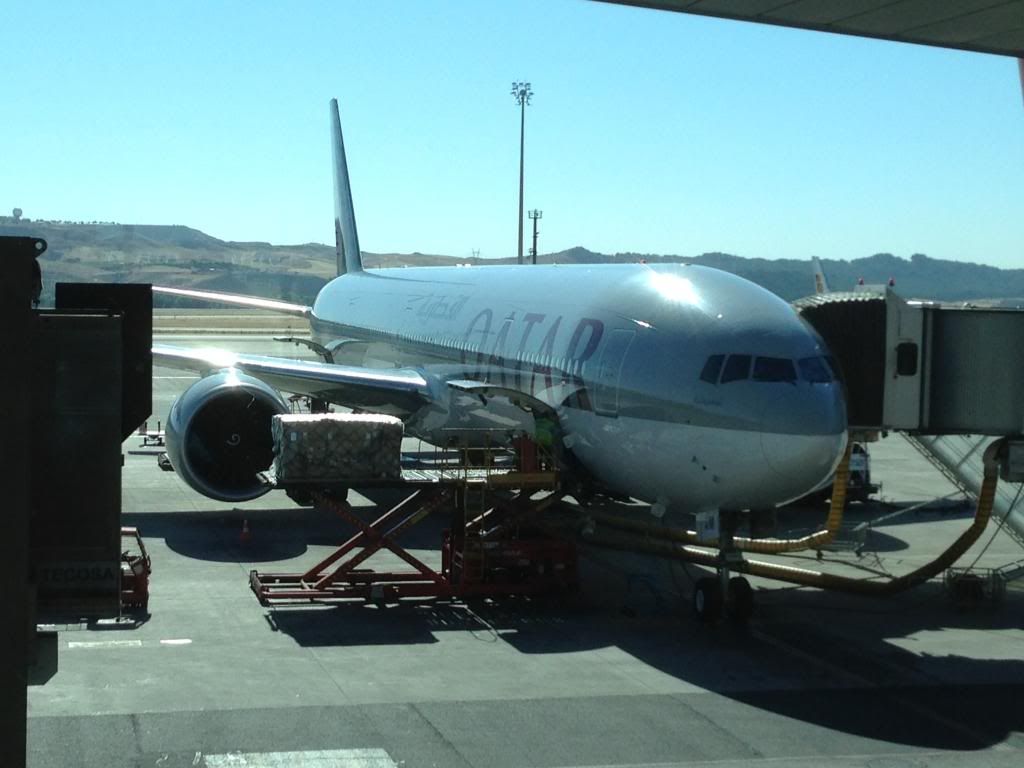 Our plane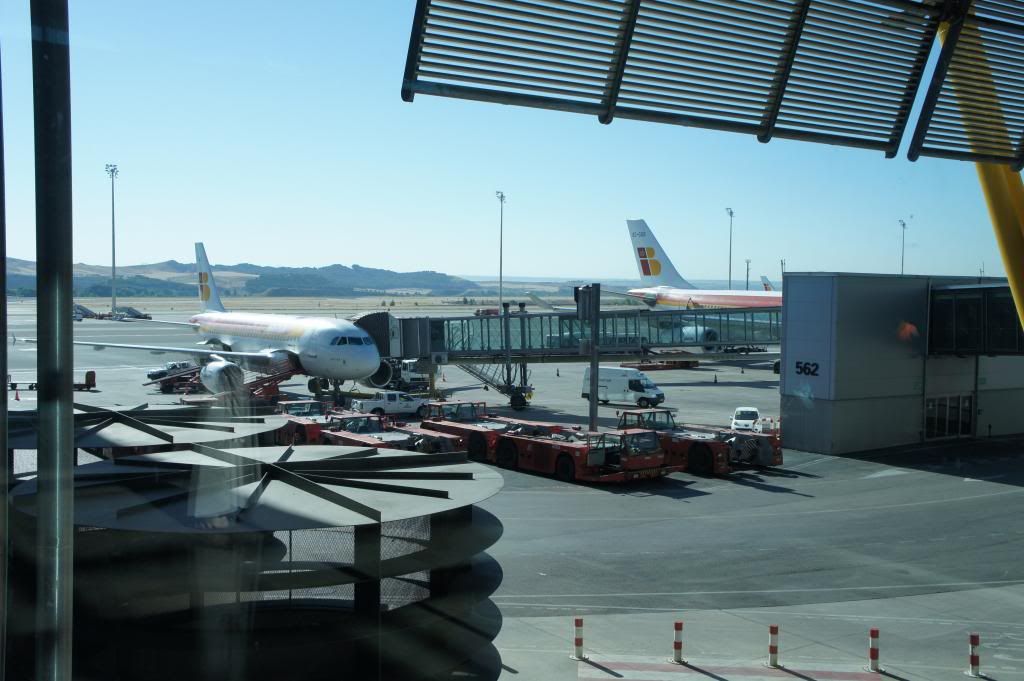 Iberia's A319 to Moscow
Avianca leaving for Bogota and Air Moldova with an Iberia A330 behind
T4S overview
When we went to the gate at boarding time there was a huge line, it's amazing how that amount of people can fit in a plane.
Flight details

Flight number: QR070

Origin: MAD
Destination: DOH
Airplane: Boeing 777-3DZ/ER
Registration: A7-BAM
Age: 2.7 years

Seat: 14J

ETD/ATD: 10:55/10:57

ETA/ATA: 18:45/18:40
We got window and center seats in the front Economy Class cabin, I was hoping the aisle seat next to us to remain unoccupied but we weren't lucky. I found the seats comfortable and there was decent legroom, 3-3-3 configuration is in my opinion one of the few things QR is better than EK, in any case I would have preferred 3-4-3 configuration as we would have been able to have 4 seats together, and not divided with strangers next to us.
View from the jet bridge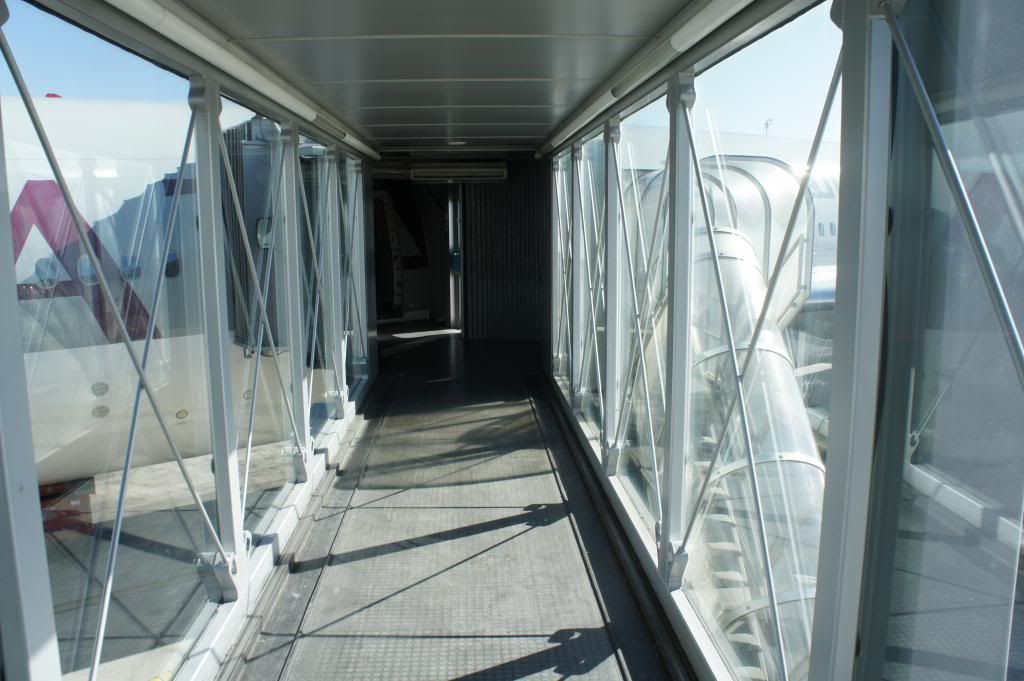 Getting closer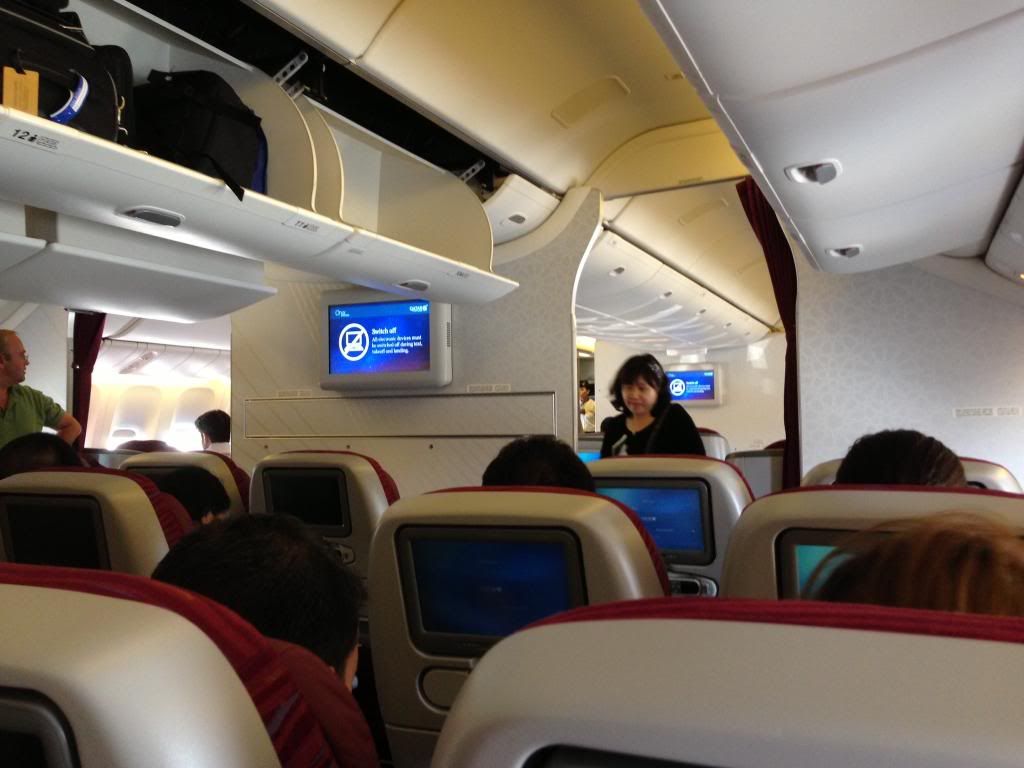 Cabin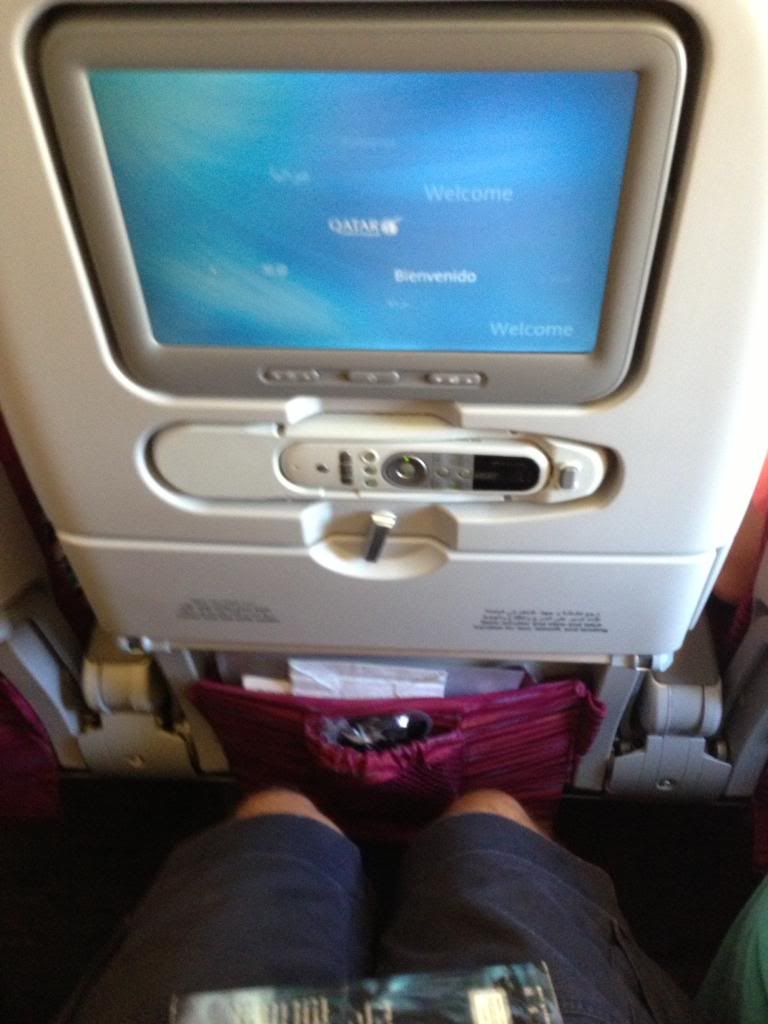 Legroom shot
The captain made an announcement giving details about the flight and we left the stand at 10:55AM on time. We eventually took off and reached cruise altitude with any major concern.
The choices for the meal could be seen on the IFE screen and they were fish, chicken or noodles. I chose fish and it was nice, so were the other options as my family members said. As you may know Emirates hands out printed menus in Economy, something that I found totally useless.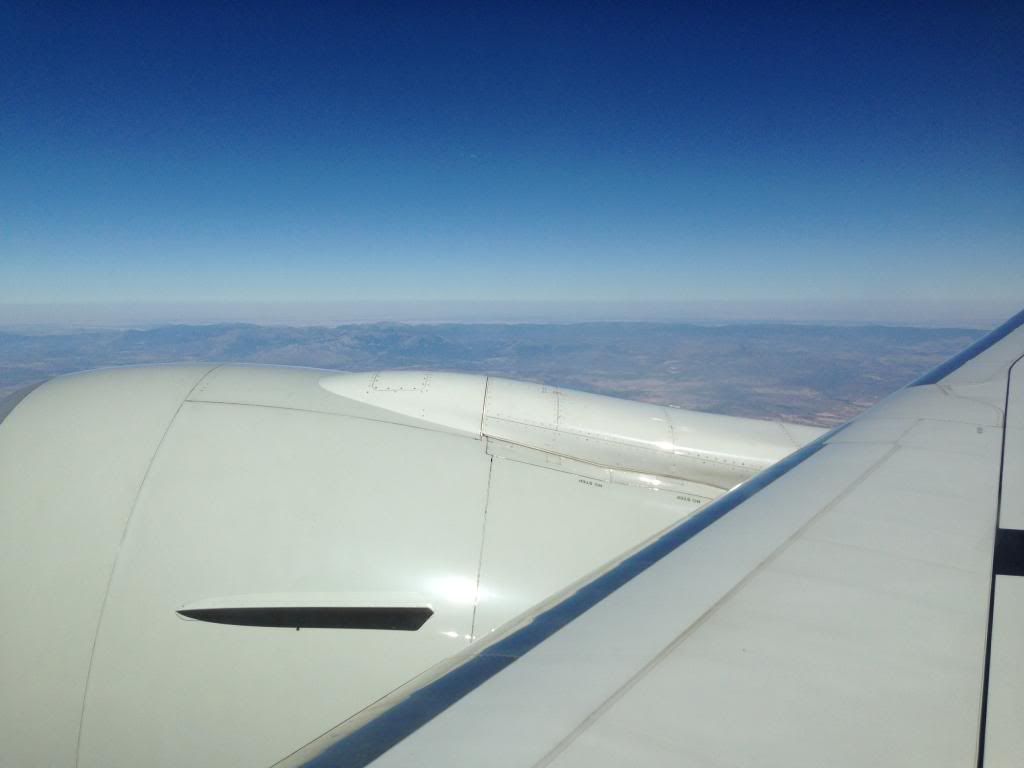 Massive engine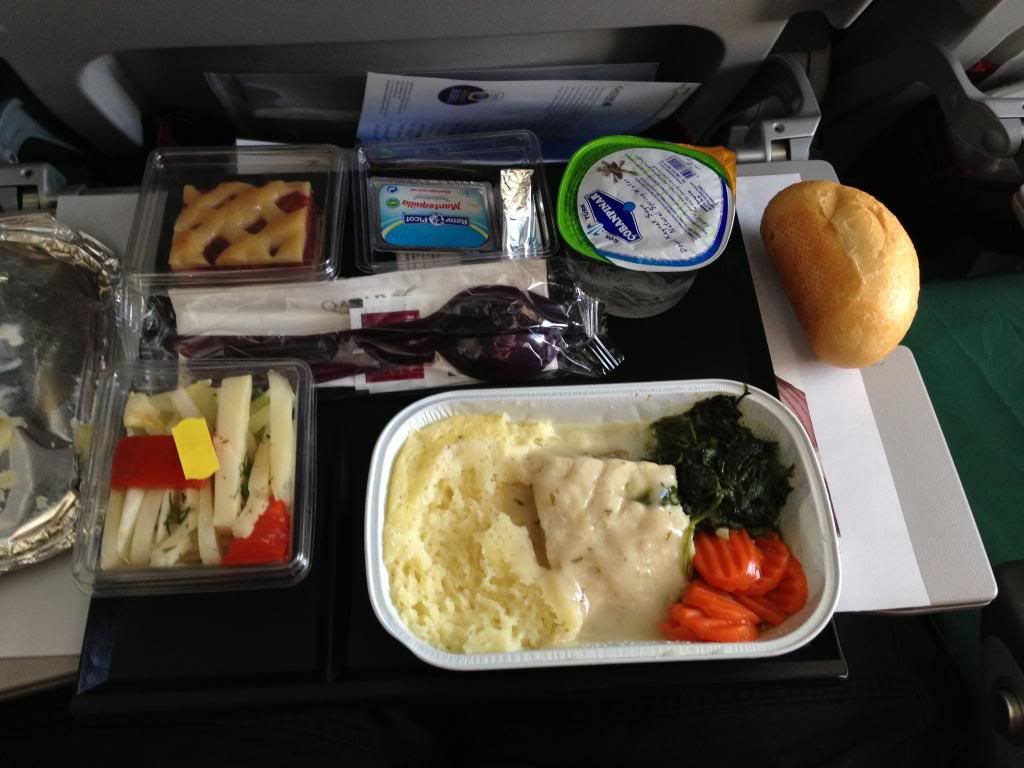 My meal, it was good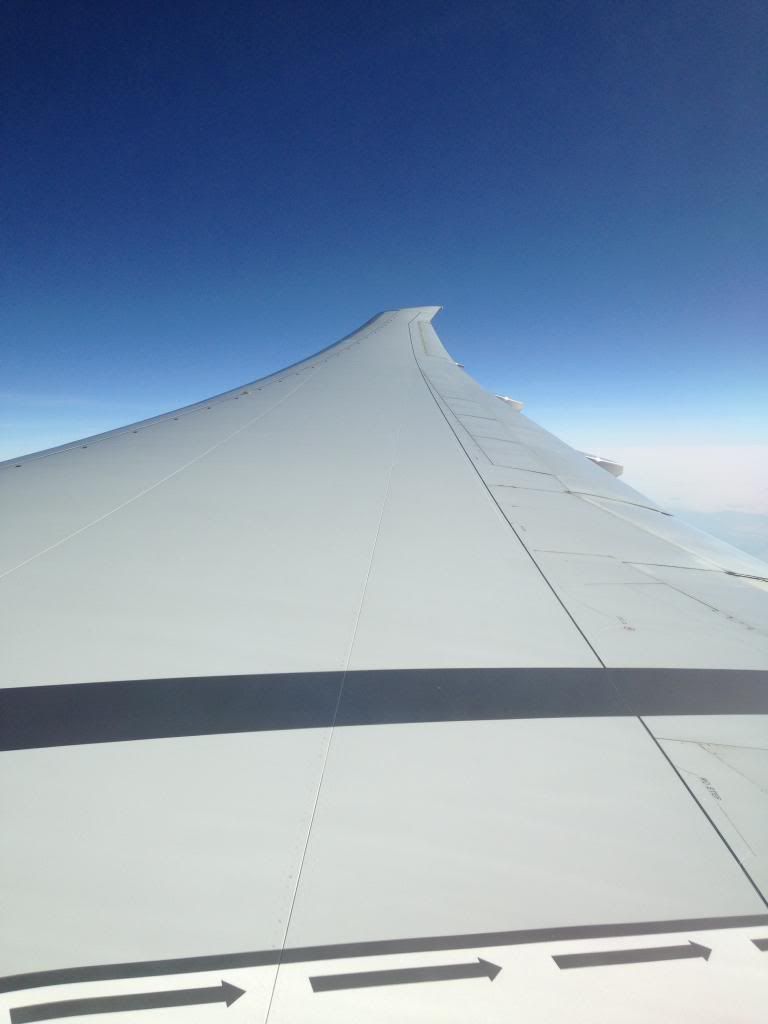 Cruising over the Mediterranean
The crew on this flight did their job but nothing more; the FA who attended our aisle didn't smile at all. I got a totally different impression from the Emirates crews, on both flights I flew with them they were very friendly and smiling, every member of the crew was in good mood and many of them spoke Spanish and other languages.
Once I finished my meal I watched Trance and part of Iron Man 3. The second service consisted of a chicken wrap and drinks, which was nice. Later we begun descend and touched down at Doha Airport at sunset.
Map
Posh wrap
Molton Brown in the WC? Am I in the J class toilet?
Arabian sunset
Approaching Doha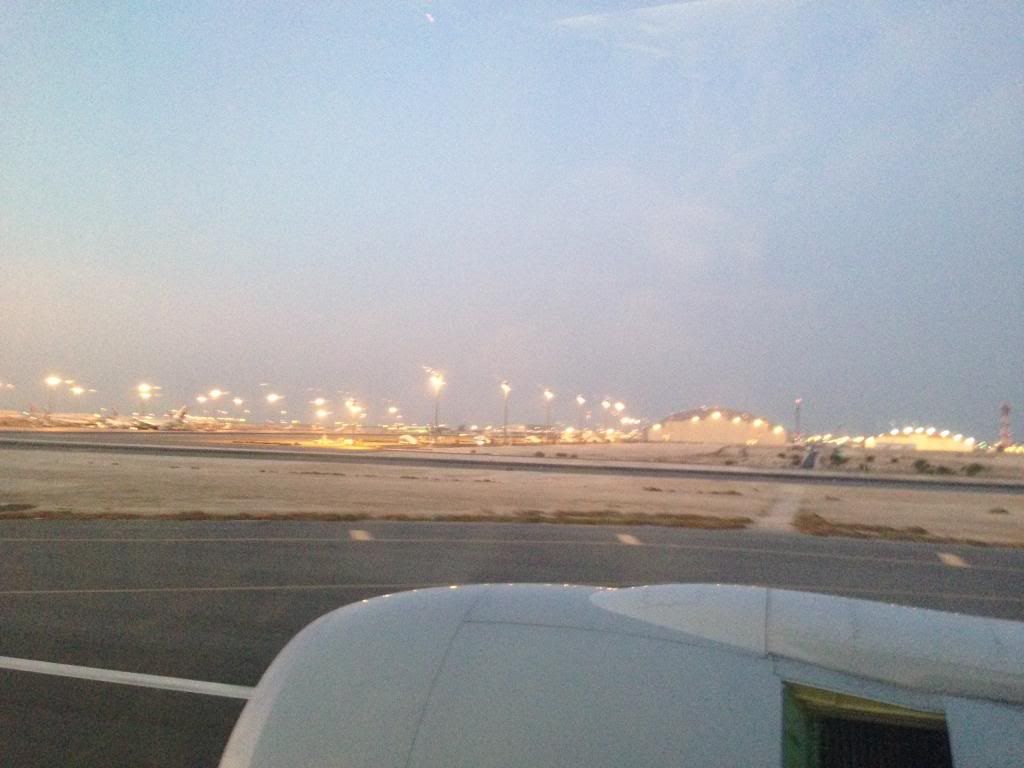 On the runway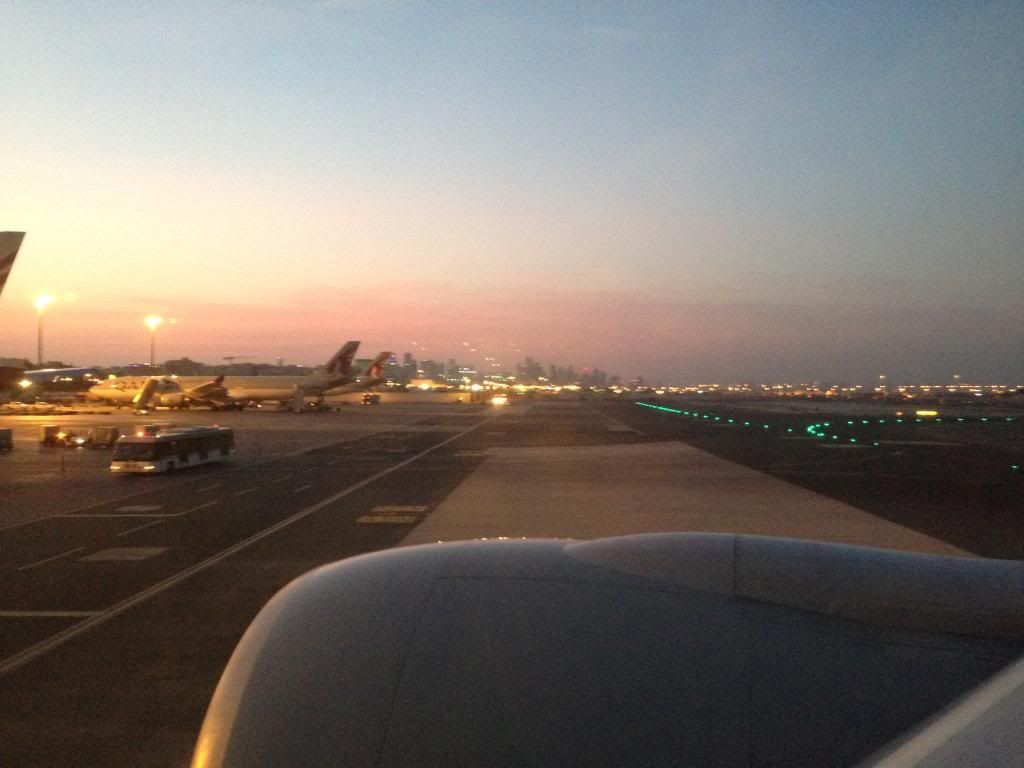 QR planes
Another 77W
Transit
Doha Airport is far from good. It's small, ugly and there is a very limited selection of places to eat or drink. At least there were several empty seats and free Wi-Fi.
Finally we proceeded to the gate and we were bussed to the plane, the bus ride was the longest I've ever experienced, like 20 minutes or so, it seemed that we were going to Dubai by bus! Finally we arrived to the stand, the 787 looked fantastic. The flight went smooth and the crew was far better compared to the other flight, when I was leaving the airplane I asked the crew if I could see the Business Class cabin and they invited me to take a seat and offered me to take photos.
Flight details

Flight number: QR114

Origin: DOH
Destination: DXB
Airplane: Boeing 787-8
Registration: A7-BCD
Age: 0.4 year
Seat: 12K

ETD/ATD: 20:45/20:45

ETA/ATA: 22:55/22:55
I love using air stairs
Cabin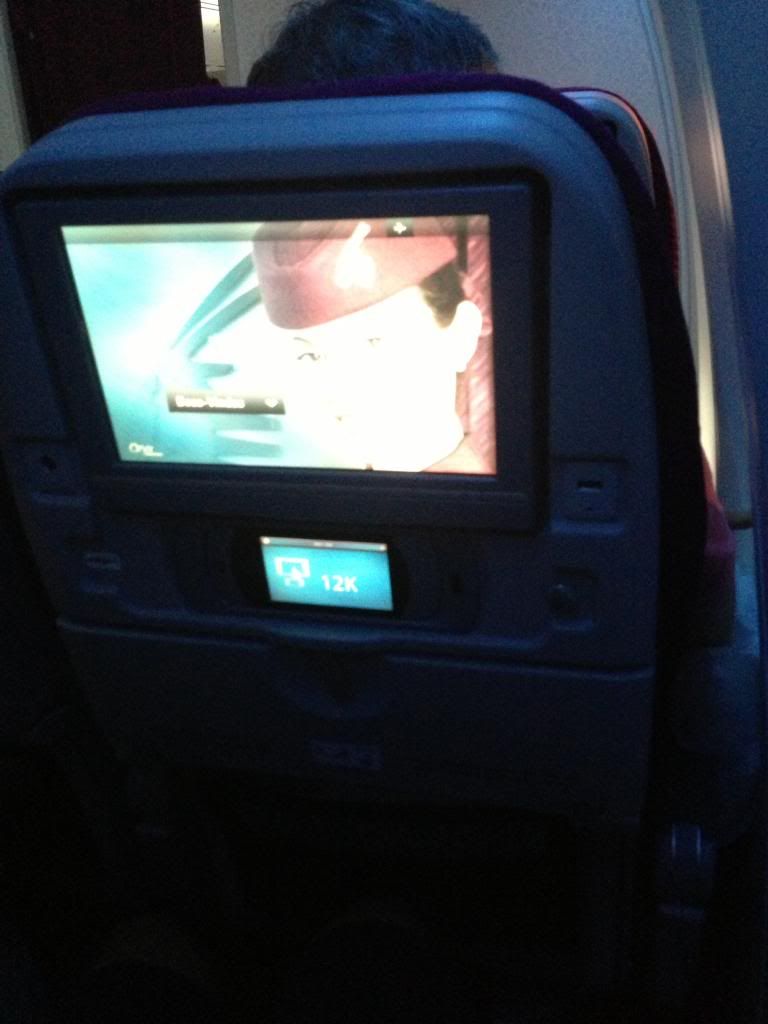 Seat
Newest equipment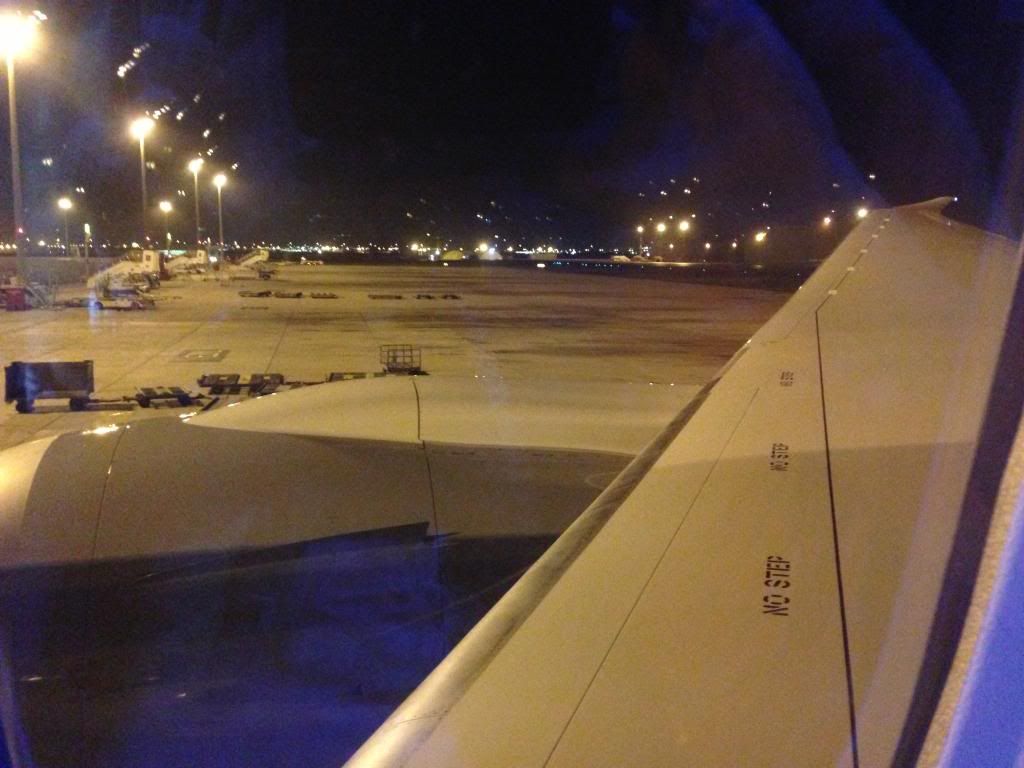 View of the tarmac
Relaxing lightning
Playing Tetris as with my smartphone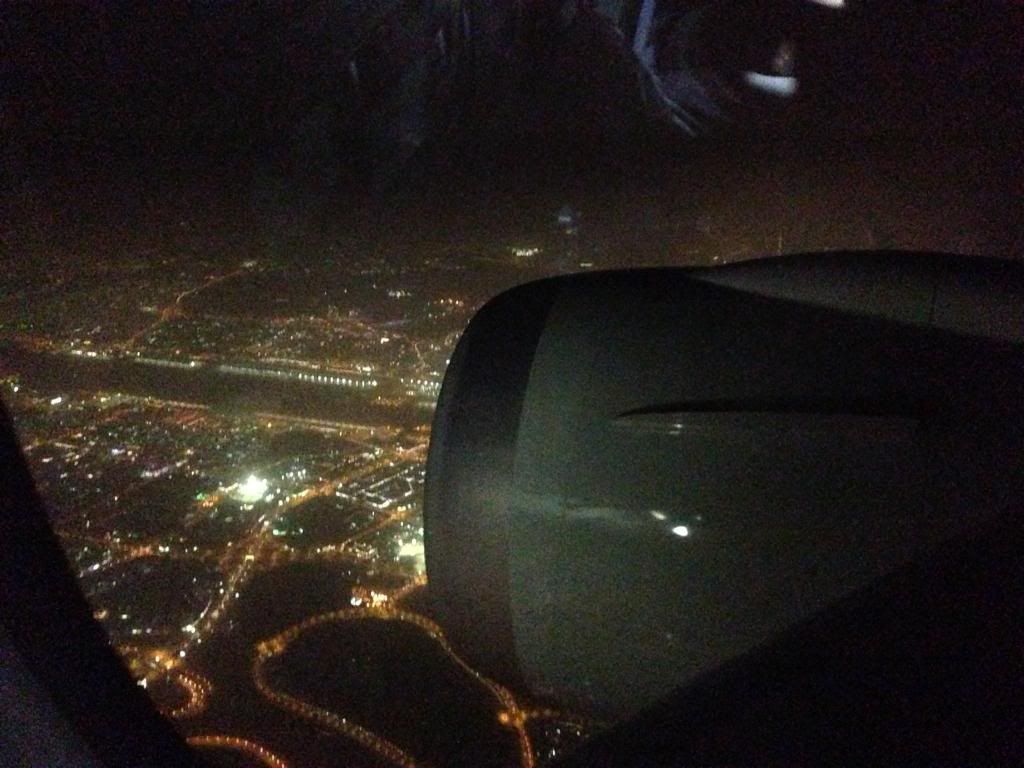 Dubai view during downwind approach
My sister and I in Business
Awful picture of one of the last DC-10s out there
There were huge lines at immigration but when we were joining a line an employee invited us to proceed to a recently opened desk so we skipped the line! The bags came in no time on the belt and went outside to the terribly humid Dubai night.
Return flight
After an amazing week in the Emirates, it was time to go back home. There were lots of people flying to the Indian subcontinent when we entered the Terminal, but Qatar Airways desks were deserted. We checked-in with any issues and went to airside to have something to eat, then we headed to the gate as boarding time was close.
In the hotel SUV going to the airport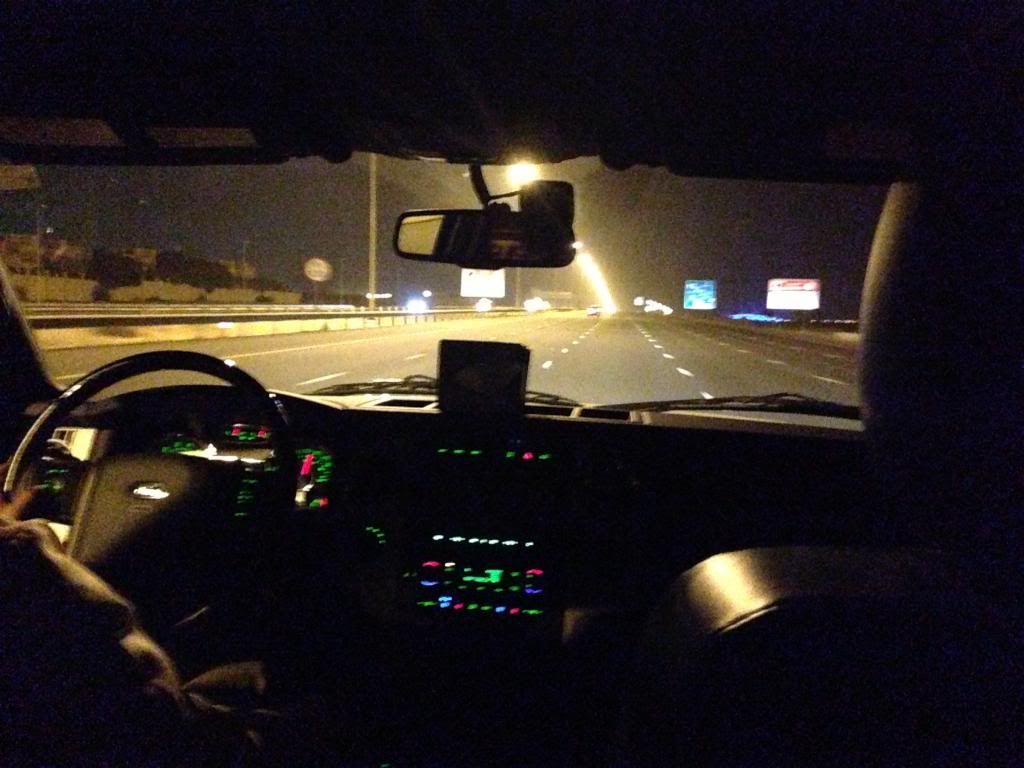 Massive highway
Amazing Dubai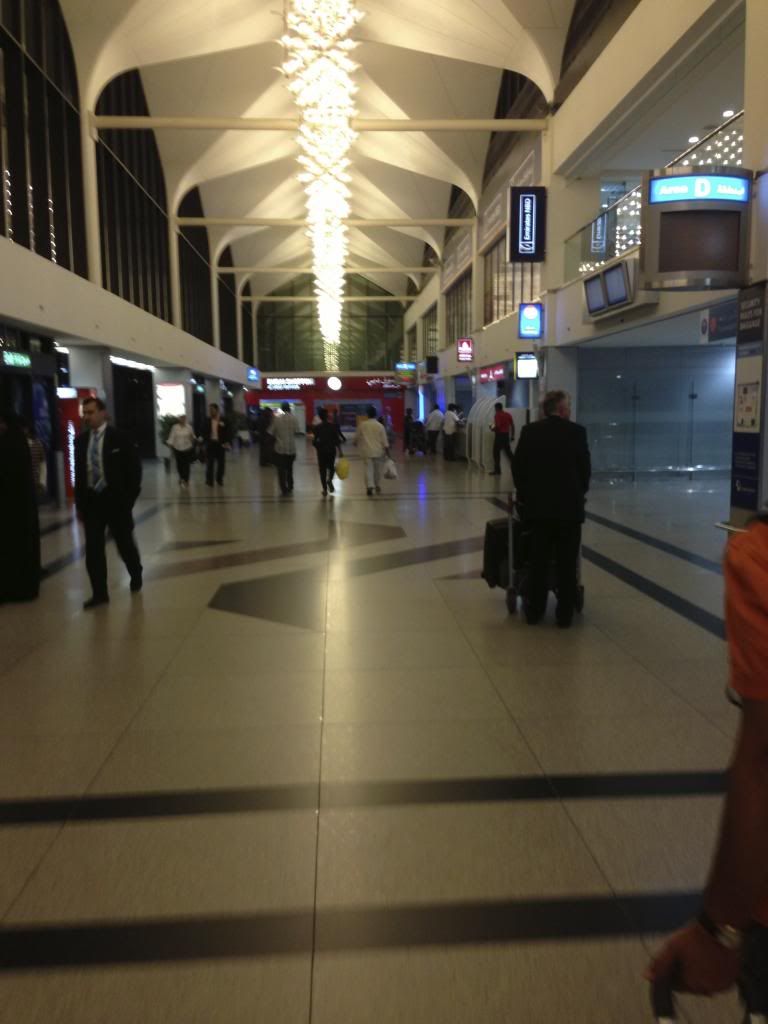 Going to QR's desks
Check-in desks
Going through the underground tunnel to the gates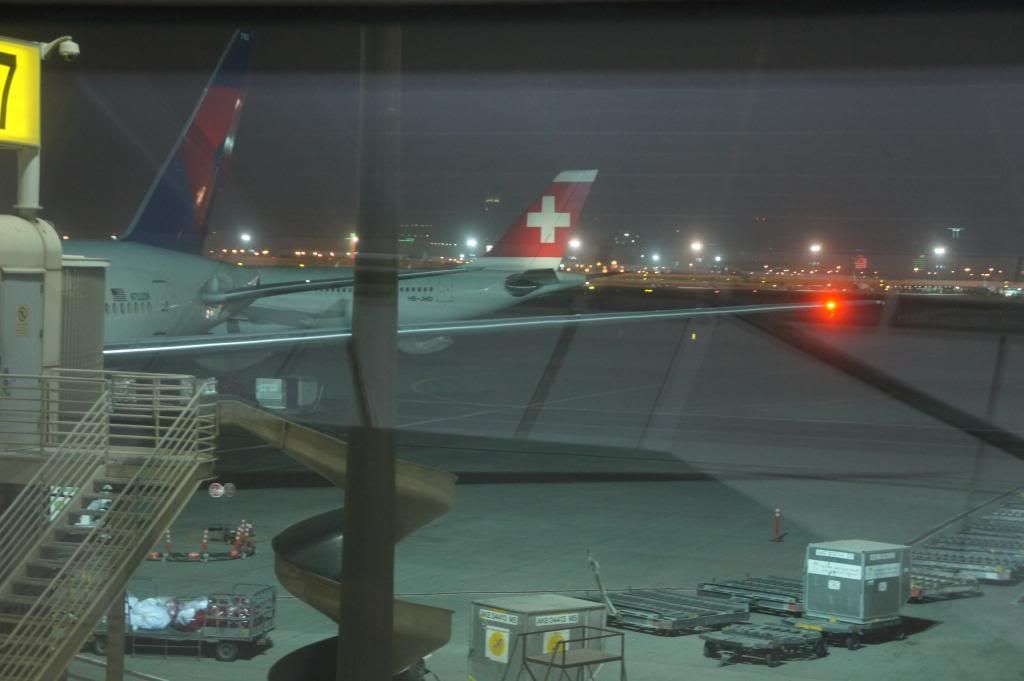 Bye bye Swiss!
Saudia 777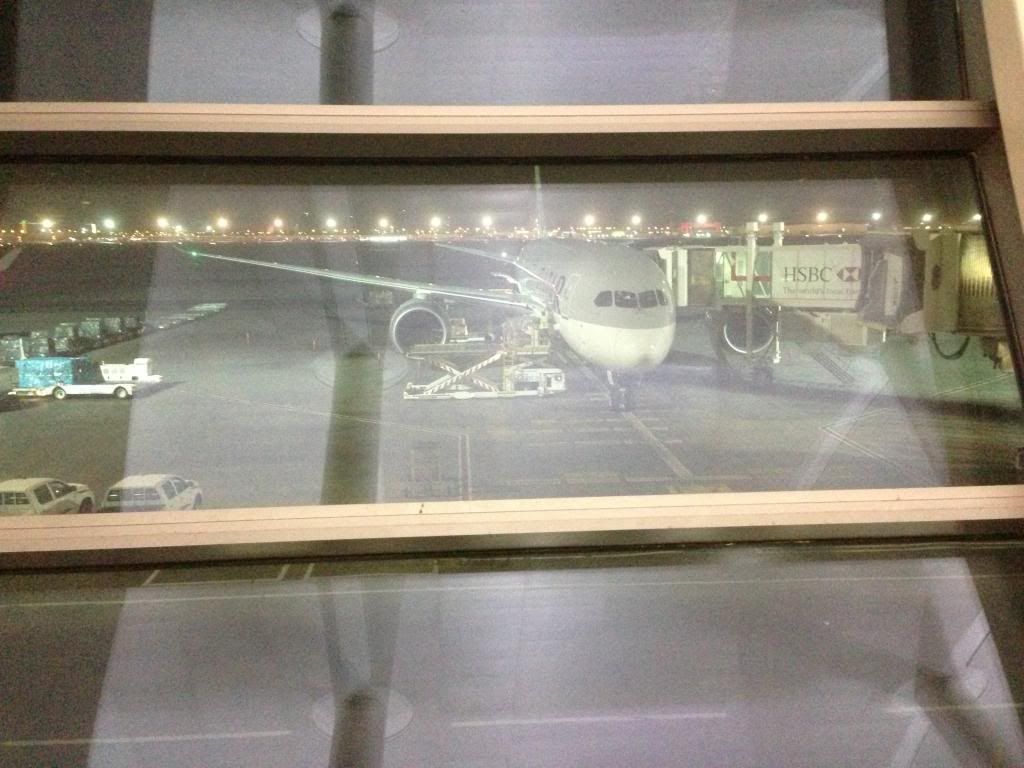 Our tiny 787
Flight details

Flight number: QR115
Origin: DXB
Destination: DOH
Airplane: Boeing 787-8
Registration: A7-BCC
Age: 0.9 years

Seat: 32A

ETD/ATD: 00:15/00:16

ETA/ATA: 00:15/00:14
The short flight was uneventful until descent, which was unusually steep, my sister got scared about that and I had to calm her down saying that it was normal, even though I wasn't sure if it was. We were served wraps with drinks, the service was rather rushed, but it has to be like that given the duration of the flight.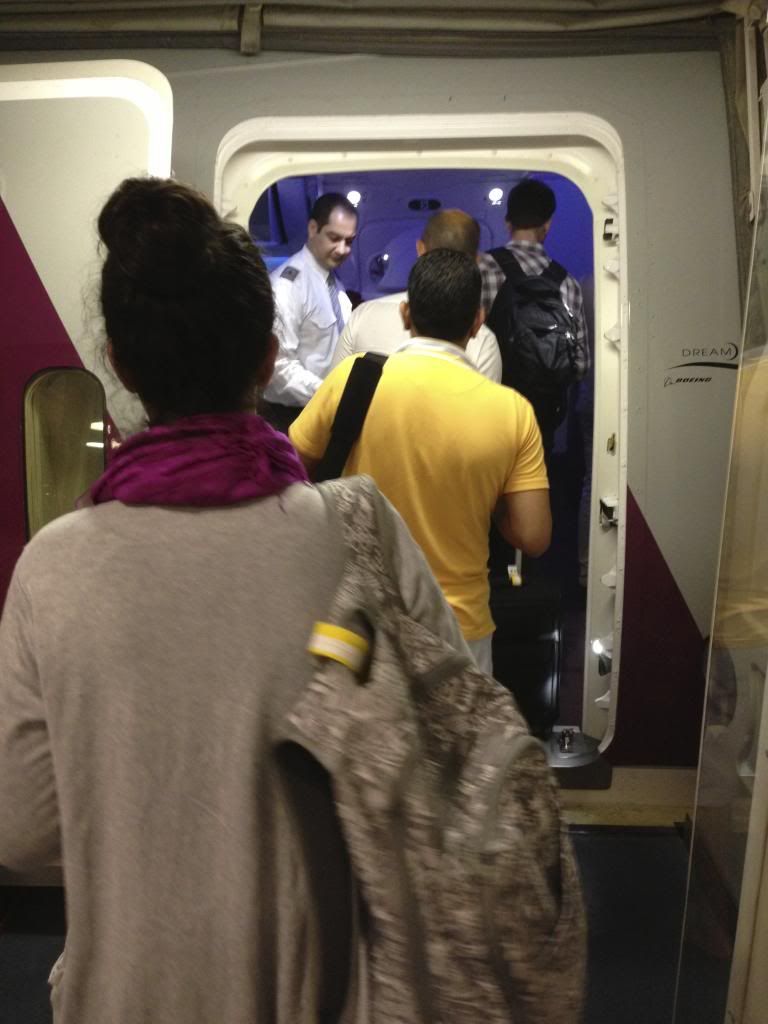 Getting on the plane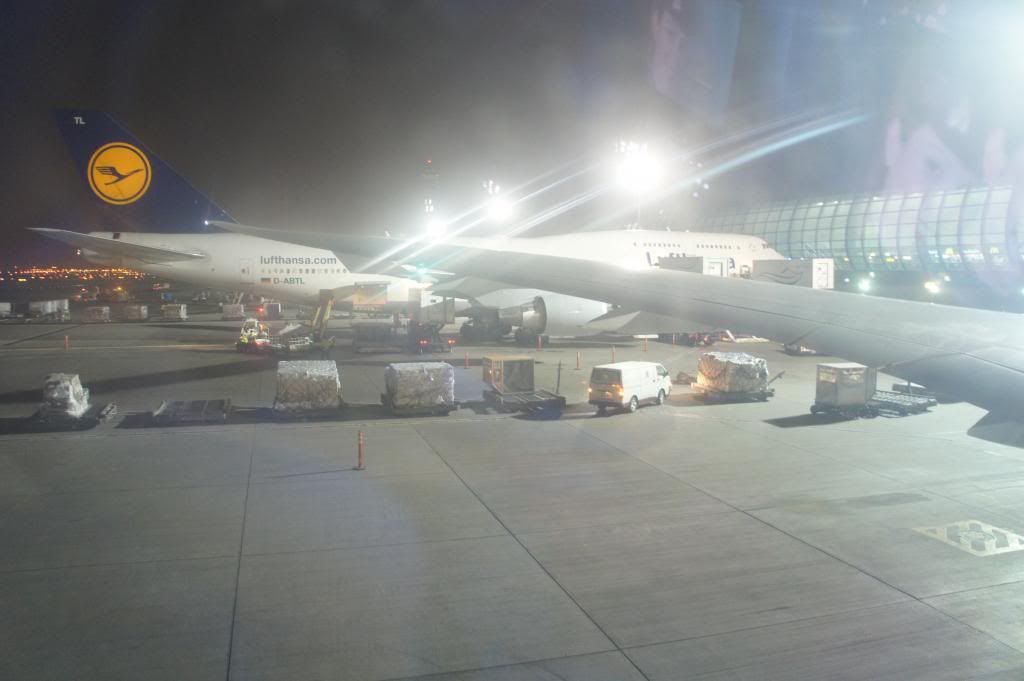 Lufty 747
The first time I see a cargo door on this side of a plane
Very nice IFE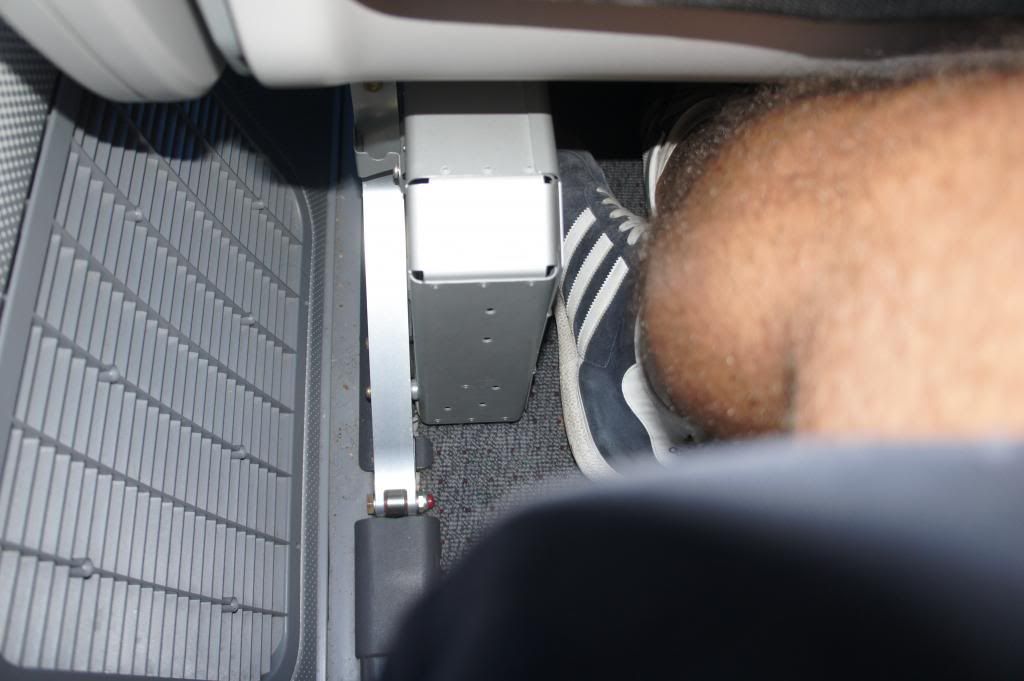 The price you have to pay for the IFE
Pushing back
Taxiing to the active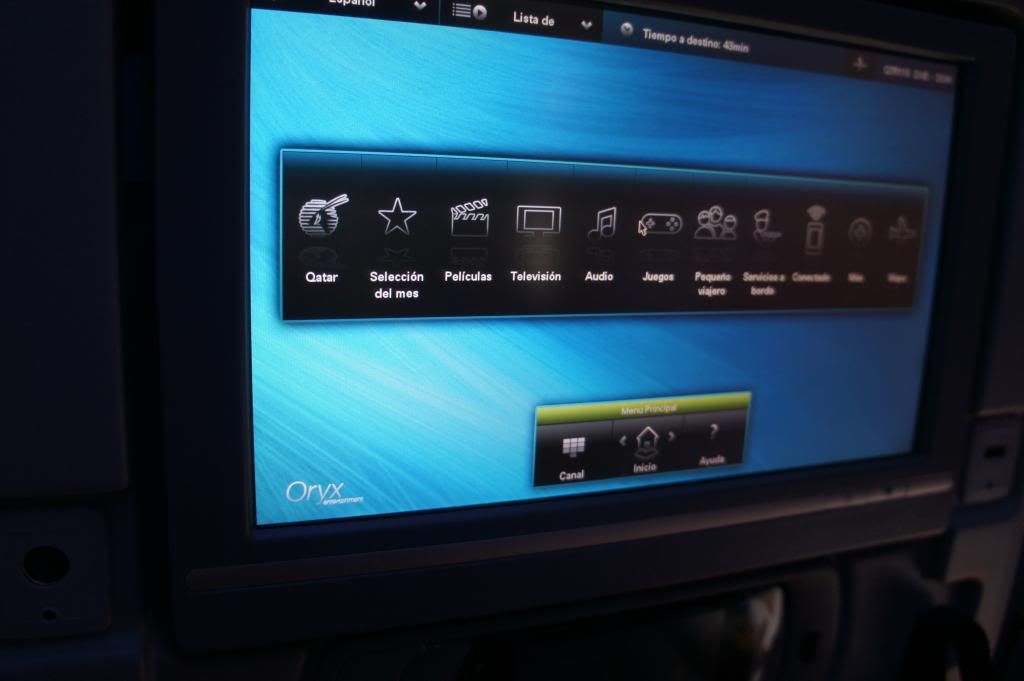 IFE menu
Off we go!
So, we beat on, boats against the current, borne back ceaselessly into the past