#4: Kungfu China. FM SHA-CGO & MU LYA-PEK
第四…中国功夫:上海航空公司上海红桥到郑州,中国东方航空公司洛阳到北京首都国际机场
Intro
Welcome to Part 4 of my 2013 Autumn Asia reports, covering my journey northward from Shanghai to Beijing. As I mentioned in
part 3
, I had 5 days between weekends to reposition myself between Shanghai (arrival point from Japan) and Beijing (jumping off point for North Korea). Where should I go?
I've already been to every province in China, so it's fair to say I've already done quite a lot of the country. There are still a few black holes though. Very high on my list is north western part of Xinjiang province, on the Kazakh and Mongolian boarders. It's meant to be beautiful over there. 5 days wasn't really enough though.
Where's in-between Shanghai and Beijing? Qingdao (TAO) on the coast was a good option. It was the first city I ever visited in China after Beijing back in 2003, and hadn't been back since. Anywhere else? Ooh, how about Kaifeng? Yes, that's the one. I've had Kaifeng on numerous itineraries over the years, but never got there for some reason. Lying roughly half way between Beijing and Shanghai, Kaifeng is a little walled town full of Chinese pagodas and temples, a bit of traditional China some may yearn for. Perfect.
How to get to Kaifeng? The nearest airport is Zhengzhou (CGO). My last time in Zhengzhou was just after I was last in Qingdao in 2003. In fact my first ever Chinese domestic flight (I've now logged nearly 90 sectors) was TAO-CGO on a CZ 737. I was there with my sister, and stayed just one night before heading on to Luoyang. We don't remember much other than the city wasn't very nice. Still, CGO had a reasonably priced flight from SHA on Shanghai Airlines, so that was that.
Not too far away from Kaifeng and Zhengzhou is the Shaolin Temple, ground zero of kung fu. Now, I'm not really into martial arts, but I thought that a visit would be interesting, as well as ticking off a well-known local landmark. Thankfully the nearest airport to Shaolin is Luoyang (LYA). There was a perfectly timed and priced China Eastern flight from LYA up to PEK. Sorted!
In case you missed them, here are my previous reports from Asia:
#1: The Reindeer Route to Tokyo. AY 320 & JL 787
#2: ANA & Peach. B747-400D HND-CTS-KIX + Hokkaido trains
#3: JAL Osaka-Shanghai, & The Chinese Bullet Train
My flight for this report
FM 9323 SHA-CGO B738
MU 5696 LYA-PEK A320
My route, courtesy of GC Mapper, of this report
My complete list of Asian flights
LHR-HEL AY A320
HEL-NRT JL B787
HND-CTS NH B744D
CTS-KIX MM A320
KIX-PVG JL B738
SHA-CGO FM B738
LYA-PEK MU A320
PEK-FNJ JS Tu204 (Tupolev 204)
FNJ-YJS JS IL18 (Ilyushin 18)
YJS-FNJ JS IL18
FNJ-FNJ JS An148 (Antonov 148)
FNJ-DSO JS Tu134 (Tupolev 134)
DSO-FNJ JS An24 (Antonov 24)
FNJ-FNJ JS IL62 (Ilyushin 62)
FNJ-FNJ JS IL76 (Ilyushin 76)
FNJ-DSO JS Tu154 (Tupolev 154)
DSO-FNJ JS Tu154
FNJ-PEK JS Tu204
PEK-HEL AY A330
HEL-LHR AY A321
And my map including all flights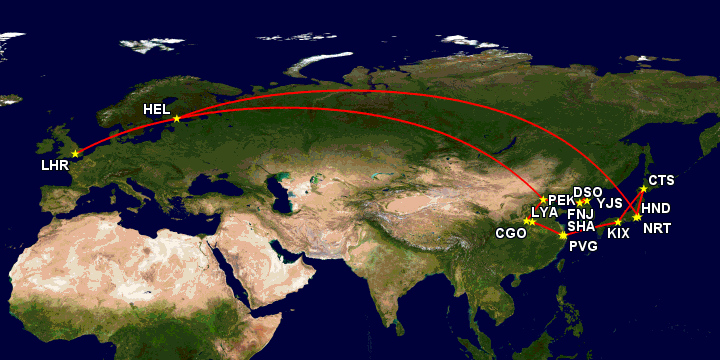 And my map including all flights, and without airport codes…might be a bit easier to see where I'm flying
And finally just zoomed in on the Asian sectors
Onto the Report
First off, some photos of Shanghai:
Nanjing Road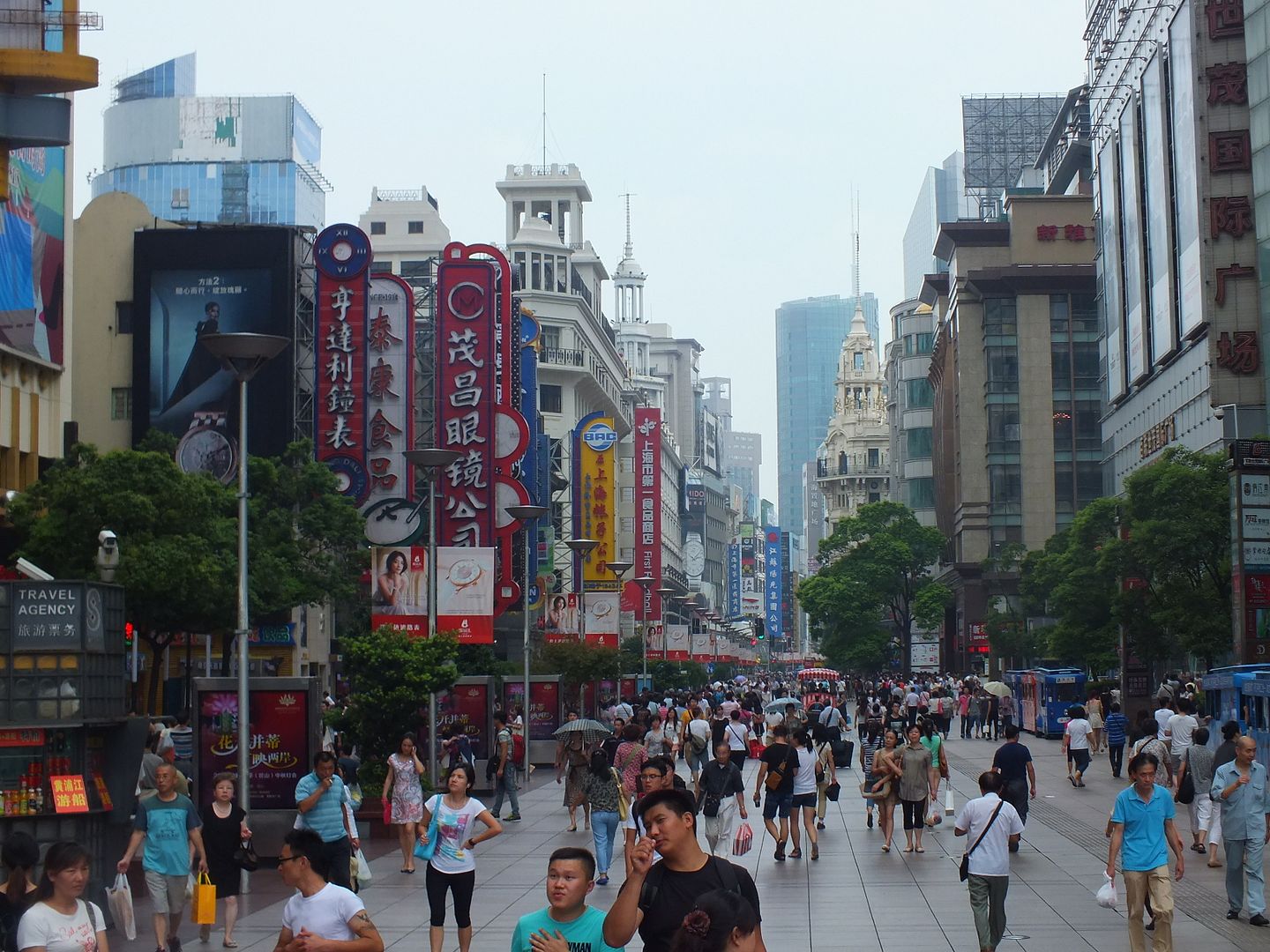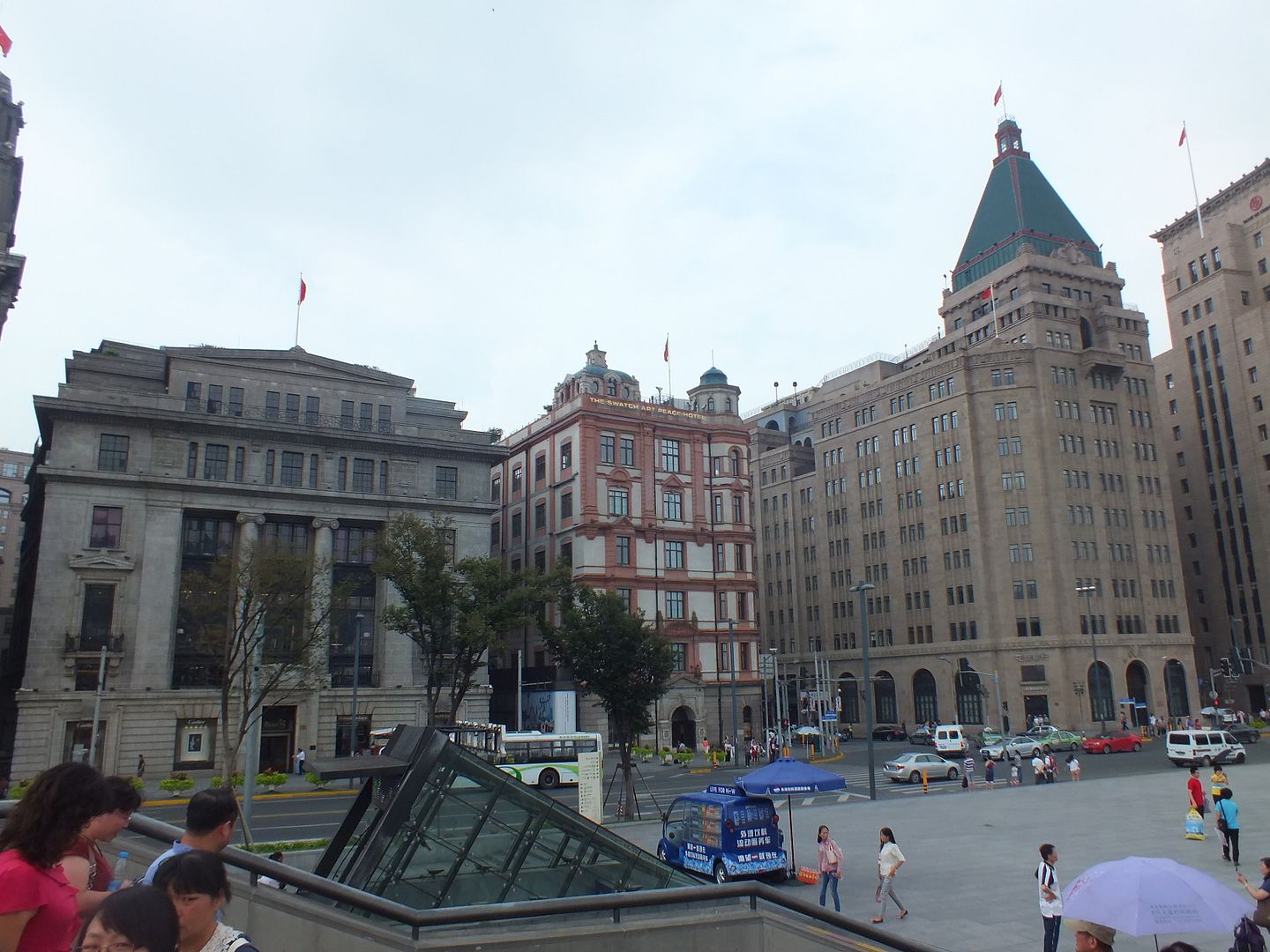 Pudong from Puxi
And the view from the Captain Hostel bar on Fuzhou Lu – this is probably the cheapest bar with a view (although it's definitely not cheap cheap)
And some of my favourite dumplings. Steamed, then fried. Tasty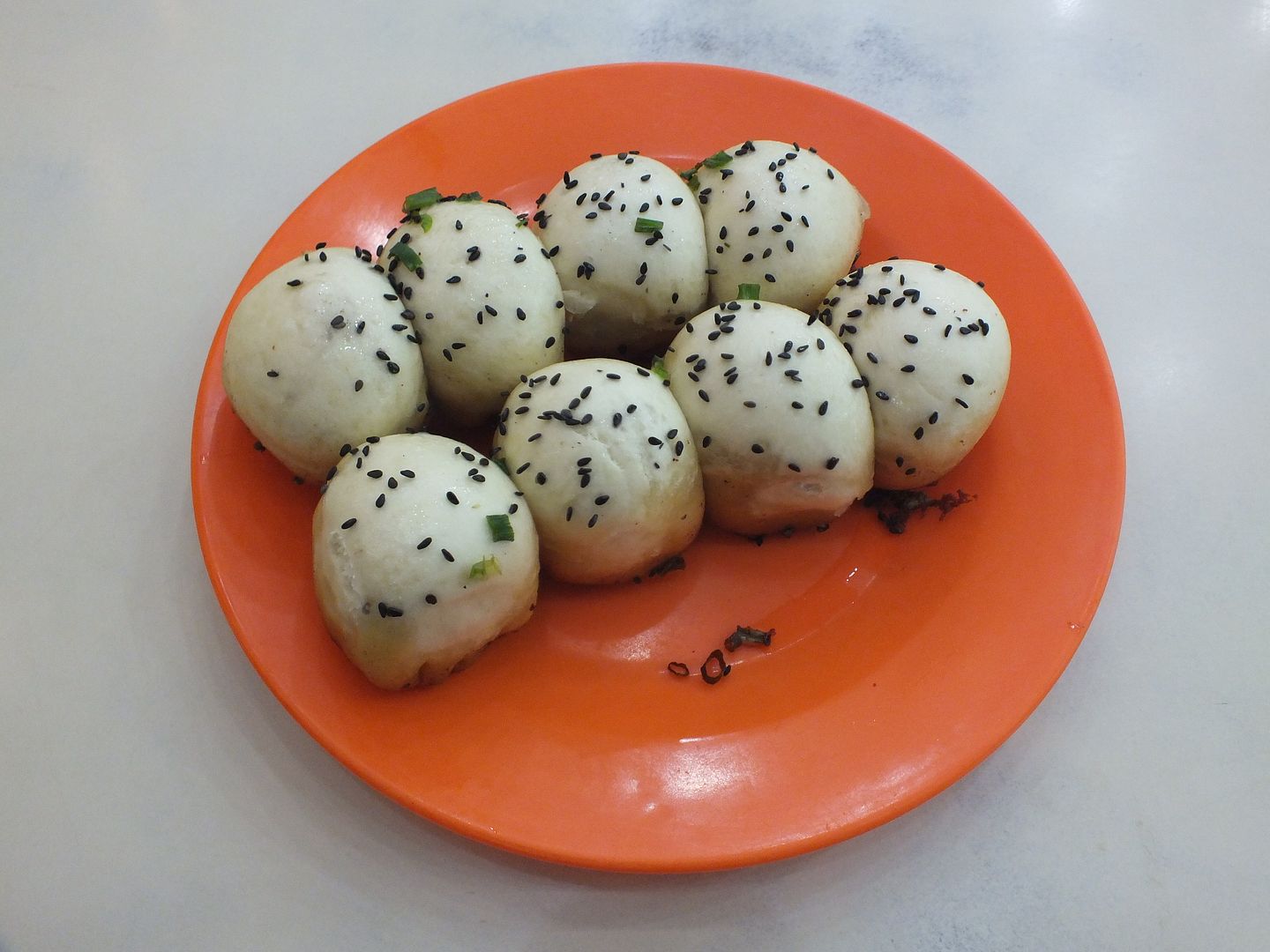 One of the other prerequisites of picking a Chinese destination is that I
had
to be able to fly there from the new Shanghai Hongqiao Terminal 2. I've used Hongqiao more times than I care to remember, but the new terminal hadn't been completed by the time I moved back to the UK, so was very keen to check it out.
First impressions are good – nice and airy.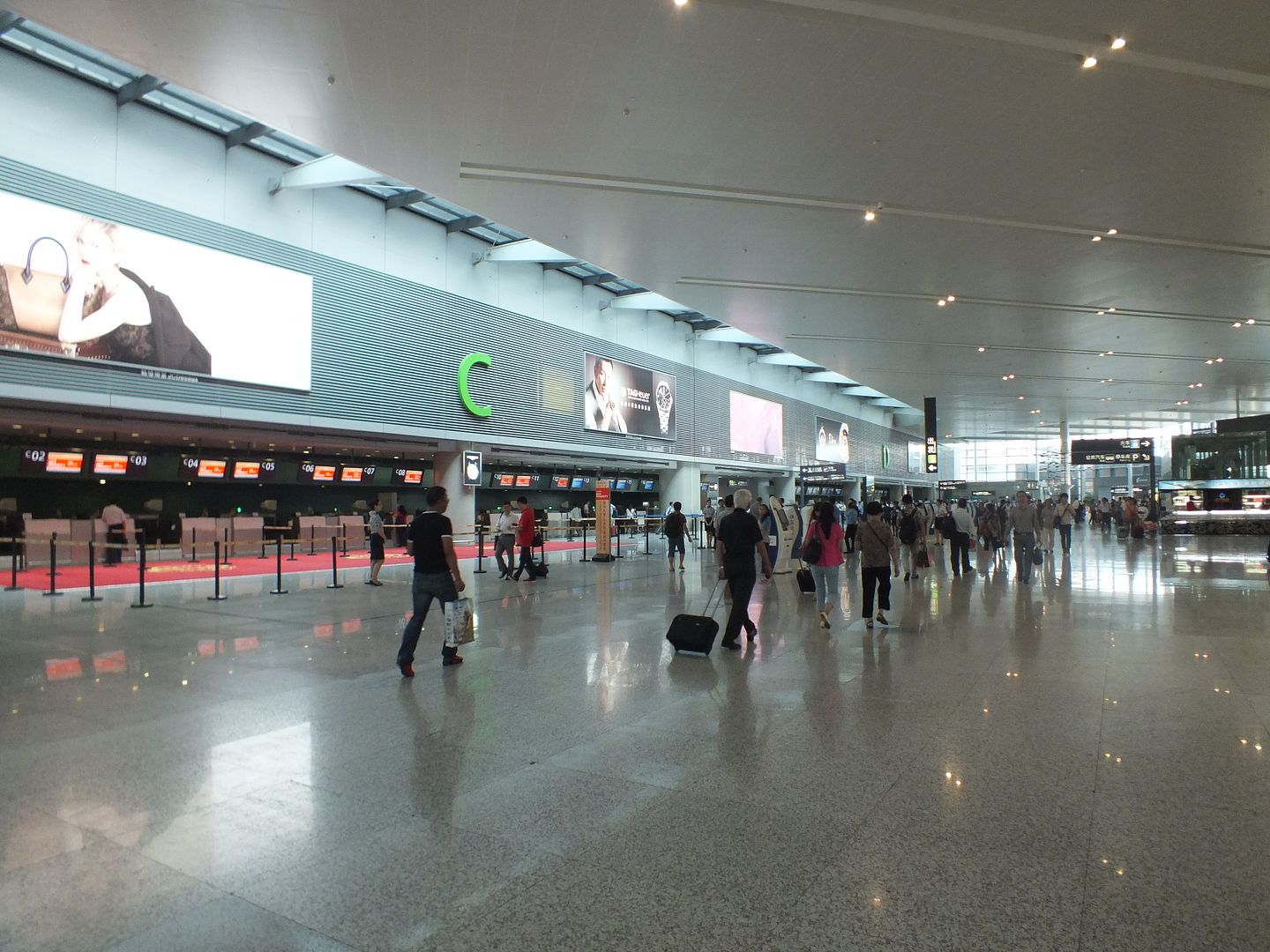 The MU Sky Priority desks were not too busy, but annoyingly they each had a separate line with one or two passengers in each. Of course Sod's Law came into effect when my line didn't move, when all the others did. I changed line, then the same happened again. Grrr. I asked if I could use one of the many empty First desks the other side of the tensa wire, but was told I couldn't. Why would you happily leave a passenger waiting when there are numerous empty desks right next to you that they could use? Queues in premium area don't look good.
Sadly, when I did finally get to a desk, the lady was neither friendly nor very efficient. I asked about lounge access, but was told that as I was on a domestic itinerary, I couldn't. Why does Sky Team have this ridiculous policy? Do domestic itineraries not create enough profit? Give the size of some countries (China being one), I think the average fares are considerably higher than eligible international sectors are in, say, Europe. Star Alliance and OneWorld don't have this horrid feature. I believe it was initially due to the local market in the US (where lounge access is often paid for, rather than given to status or premium customers), but the other alliances seem to have realised that this is a local rather than global phenomenon.
Next up was security. This was very odd. After the customary boarding pass check, you are let into a small cordoned off pen. Once there are around 30 people in the pen, they open the cordon, and let you wander over to whichever x-ray queue you want. It seemed utterly pointless.
Still, the requisite 30 people soon filled our pen, and I was through security and into the airside area fairly quickly. Again, like landside, nice and airy, and a lot more going on than at KIX. Plenty of seating too.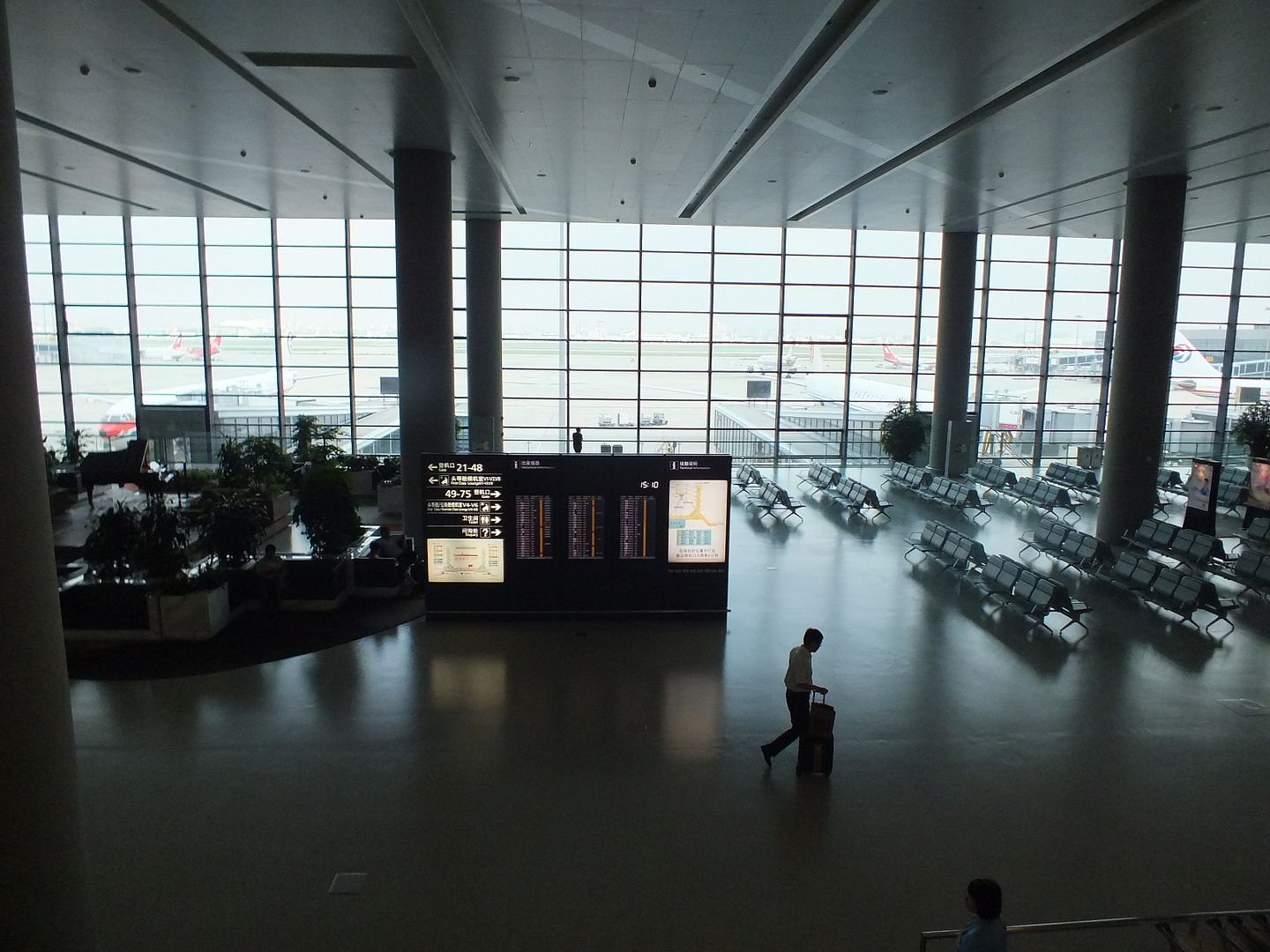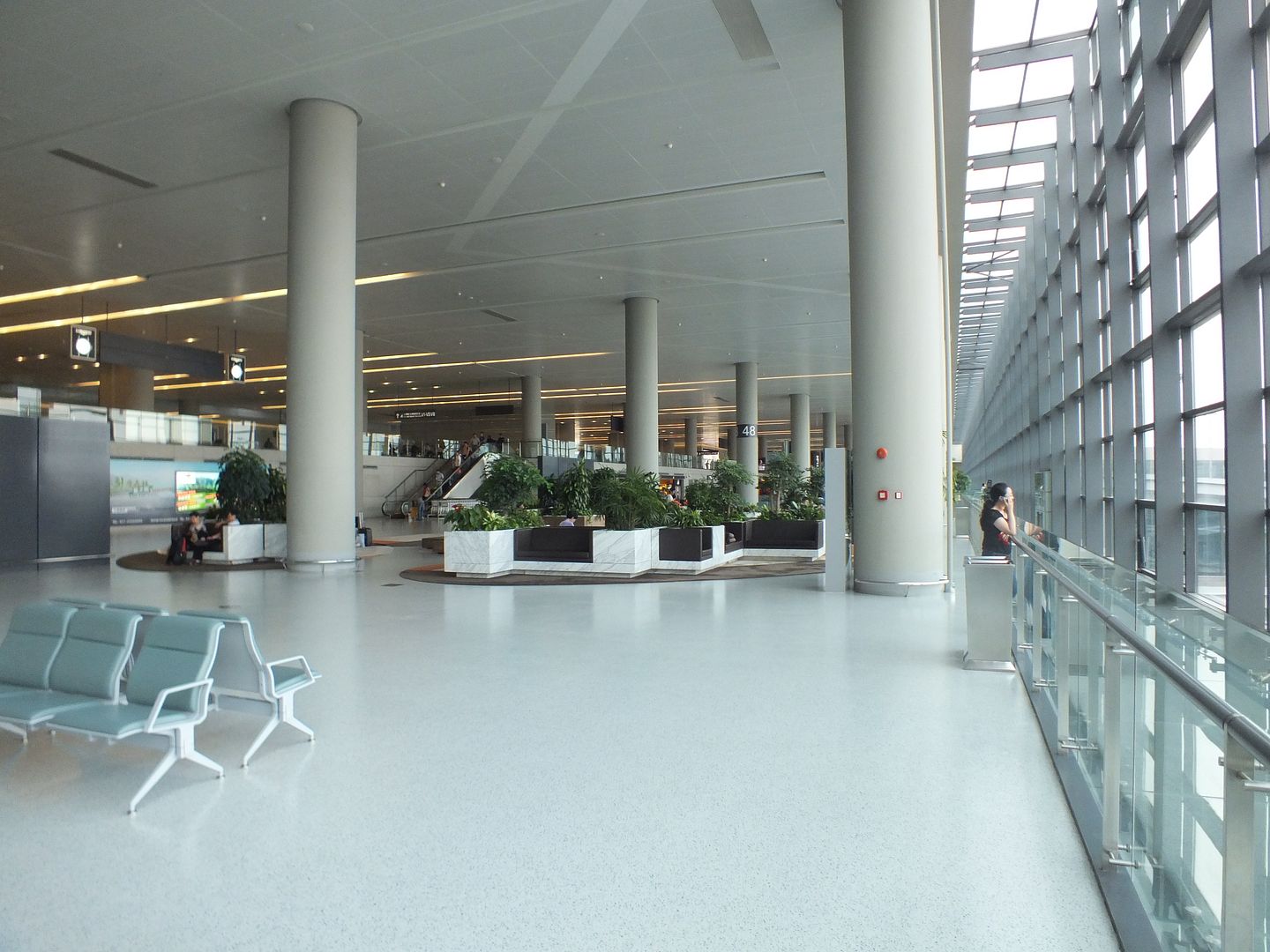 FIDS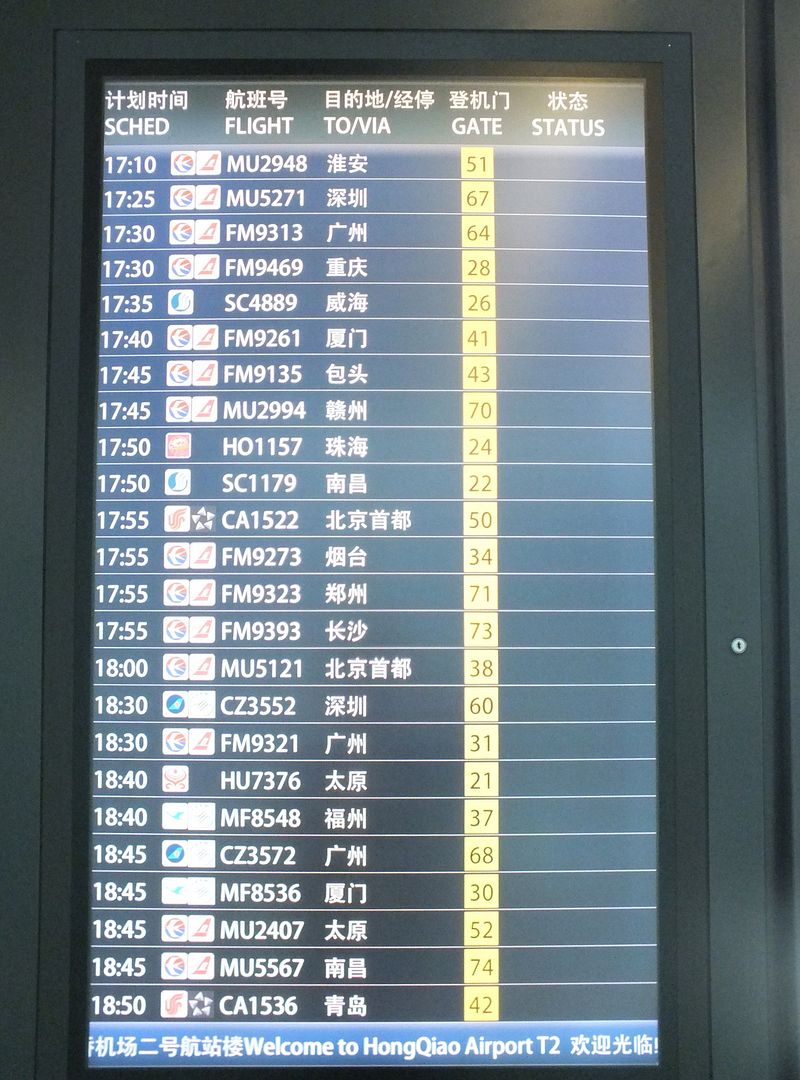 My 1755 to CGO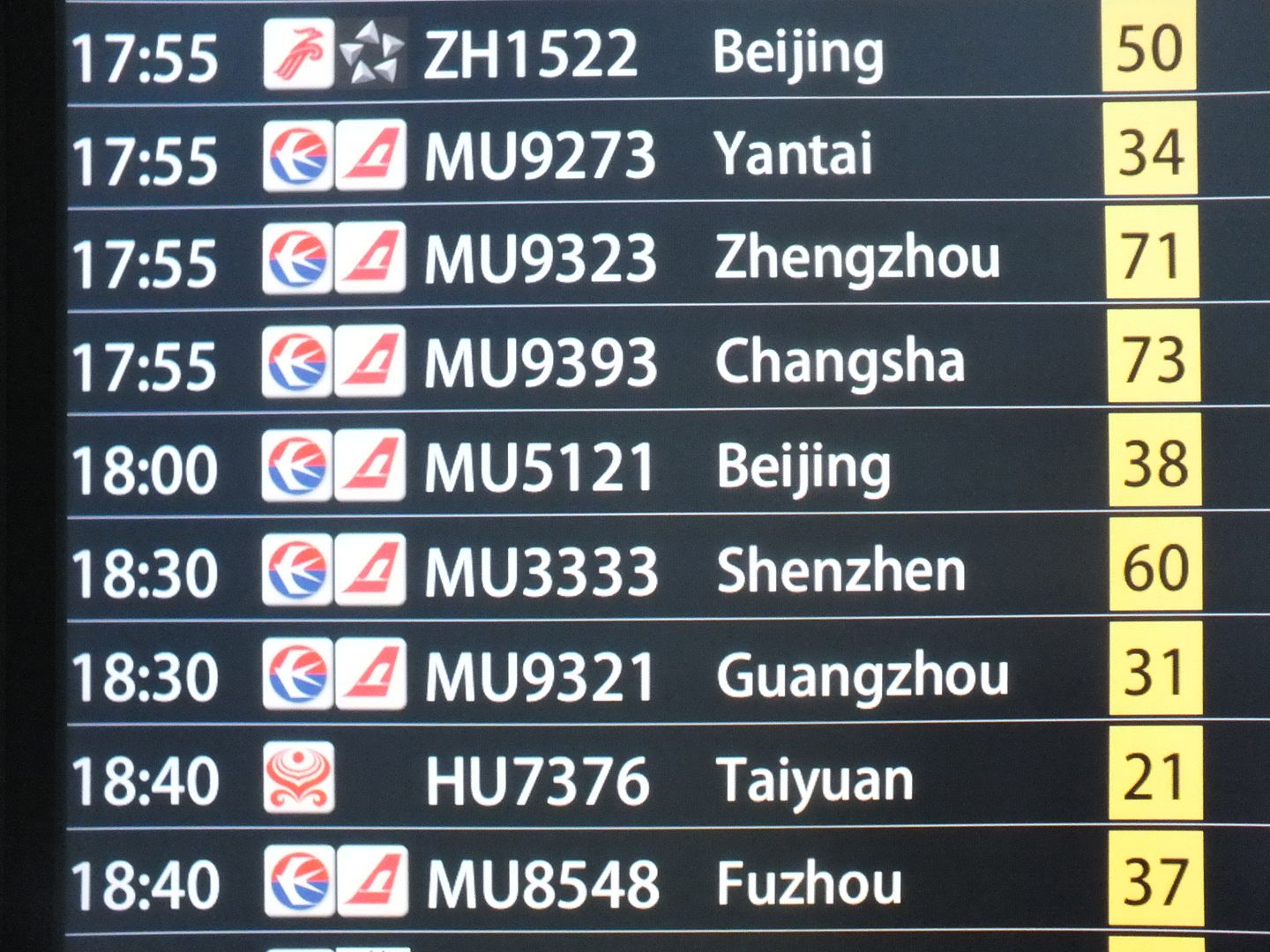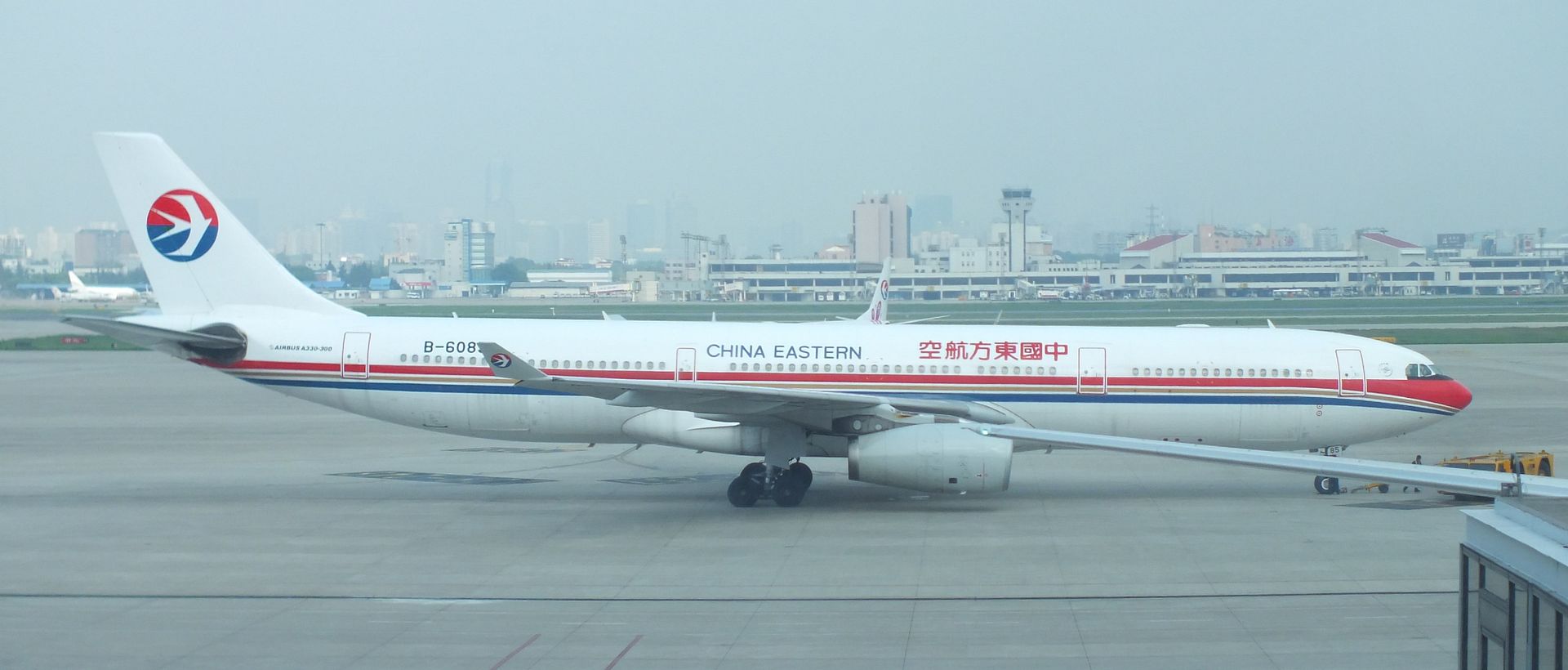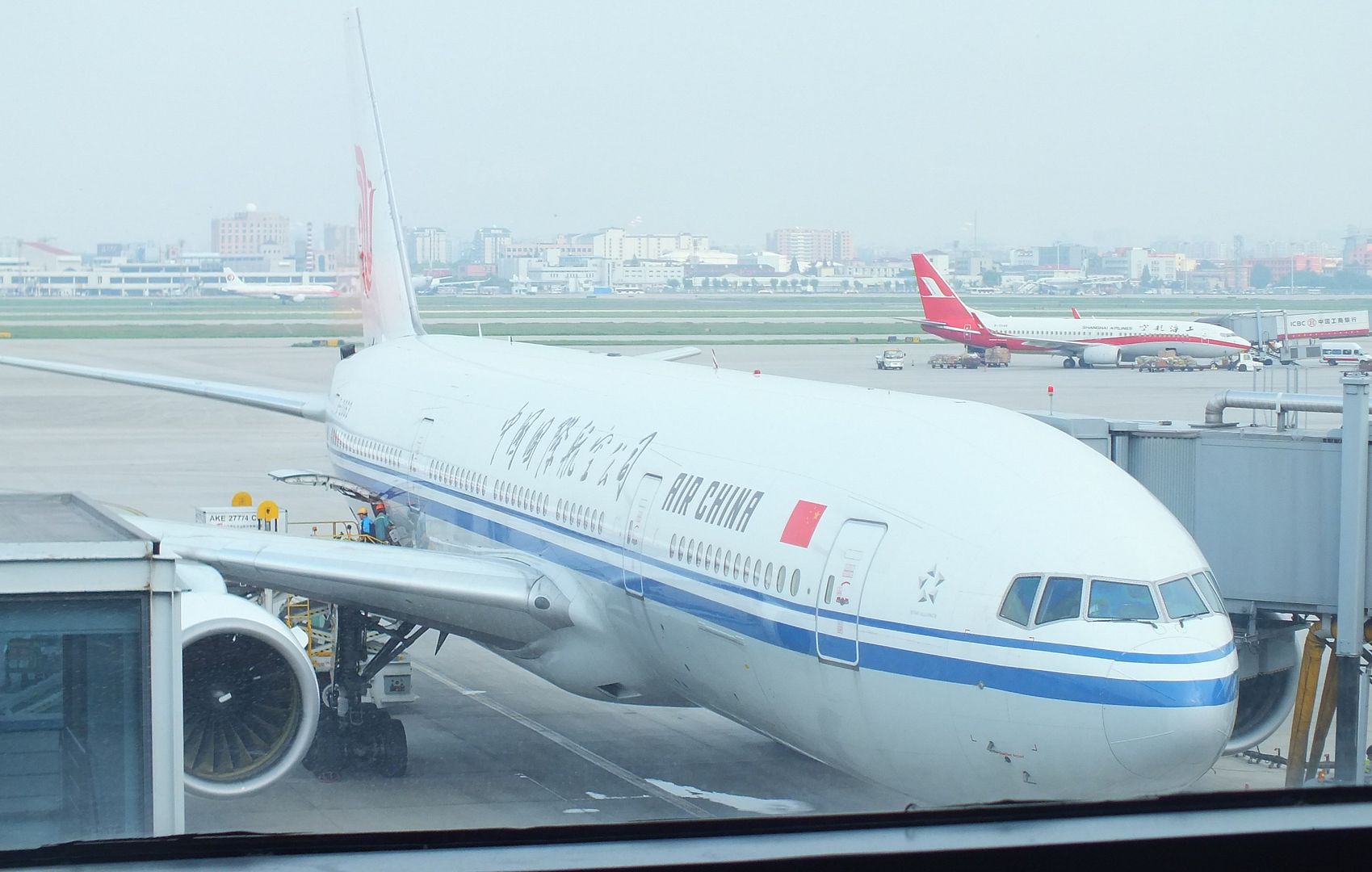 Thankfully, I had lounge access via Priority Pass at one of the generic airport lounges. It wasn't the best, but far from the worst place either. I was able to get online, charge my gadgets, and have a drink.
My gadget bag courtesy of Vietnam Airlines.
I managed to fall into a infrequent traveller trap, and forgot that my laptop time hadn't been updated. I throught I was late, so packed up and hurried off towards my gate (at the far end of the concourse). I stopped to check the FIDS and realised I still had an hour. Doh! I was right next to the China Eastern lounge. I walked up, showed my boarding pass, and was waved in. Wonderful.
The MU lounge was pretty packed, but I managed to find a seat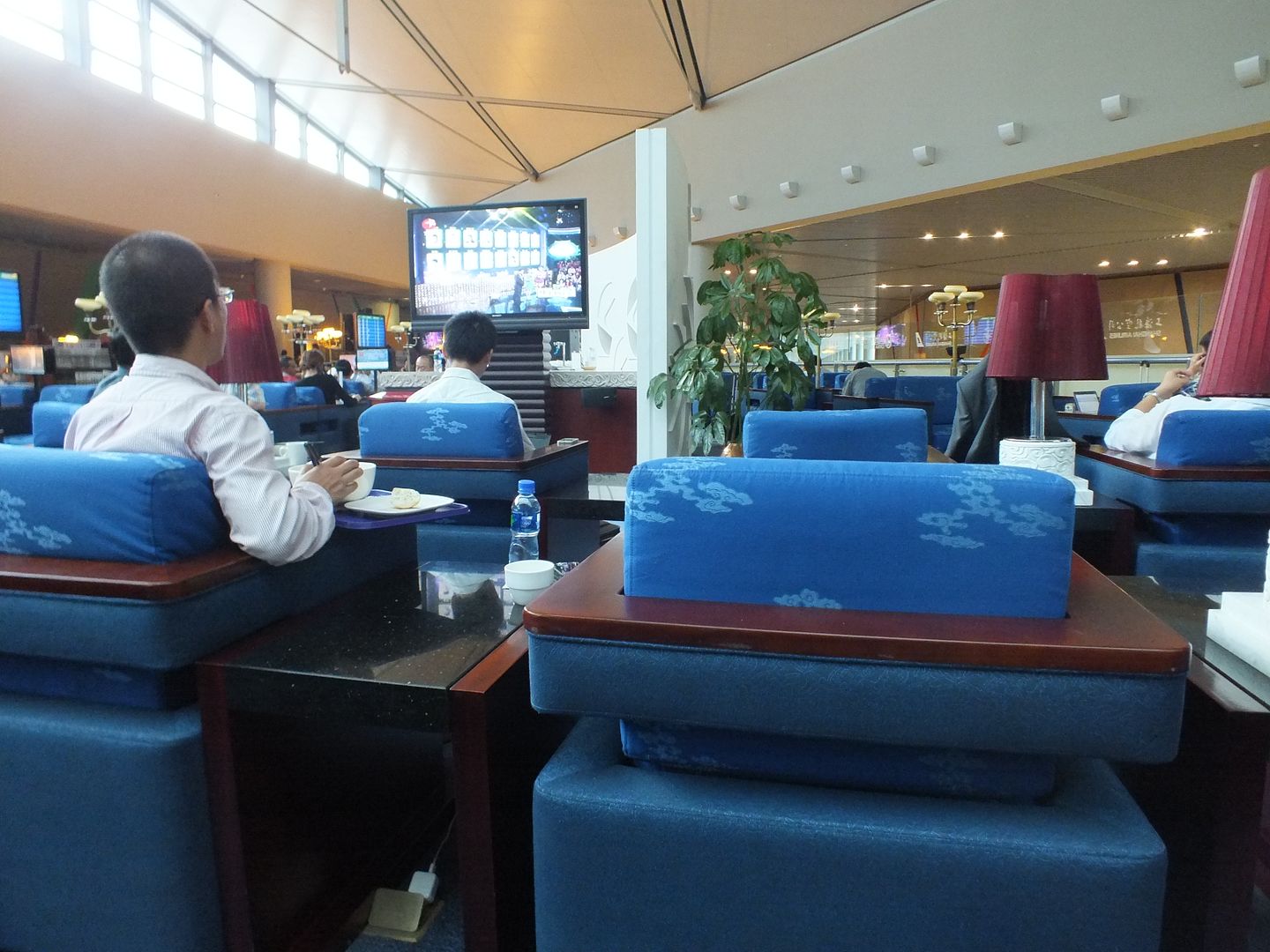 The catering was a bit better than the common lounge, with a noodle station in operation, and Western beers.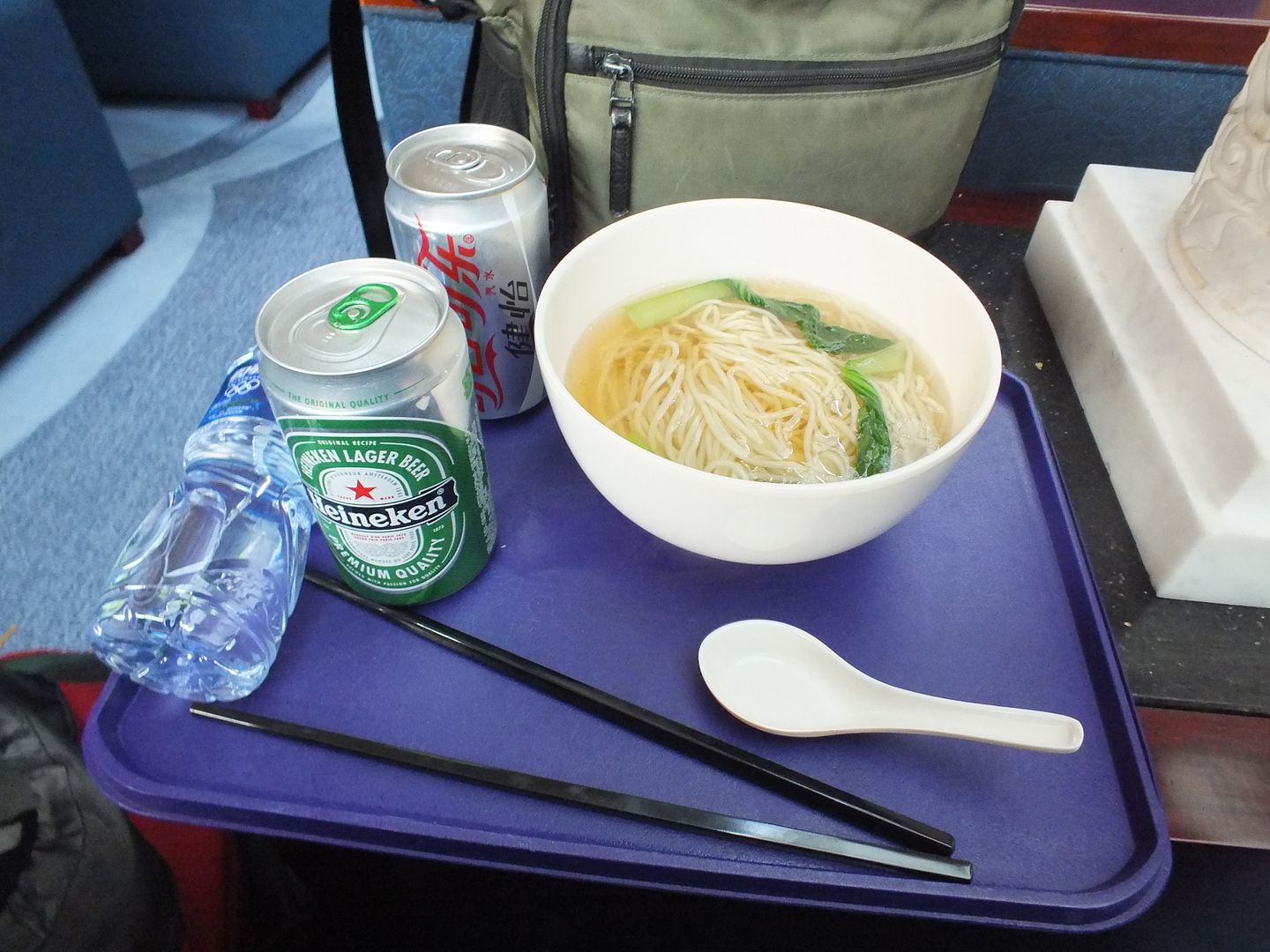 Forty minutes before departure I left the lounge and wondered down to the gate. CZ, like all Chinese operators, know how to do a nice special livery. They just all seem very reluctant to spruce up the standard livery.
My 737
Boarding was a bit of a mess. There was a priority lane, but it merged with the main queue, and the staff weren't checking who was eligible to use it. Queue lots of moaning, and a long time to board.
September 2013
Shanghai Hongqiao (SHA) – Zhengzhou (CGO)
Shanghai Airlines FM 9323
Scheduled: 1755-1945 (1h50m)
Actual: 1808-1937 (1h29m)
Boeing 737-800 B-5077
Economy
.
This evening's flight was completely full, and the staff seemed rather stressed and harried
Pushback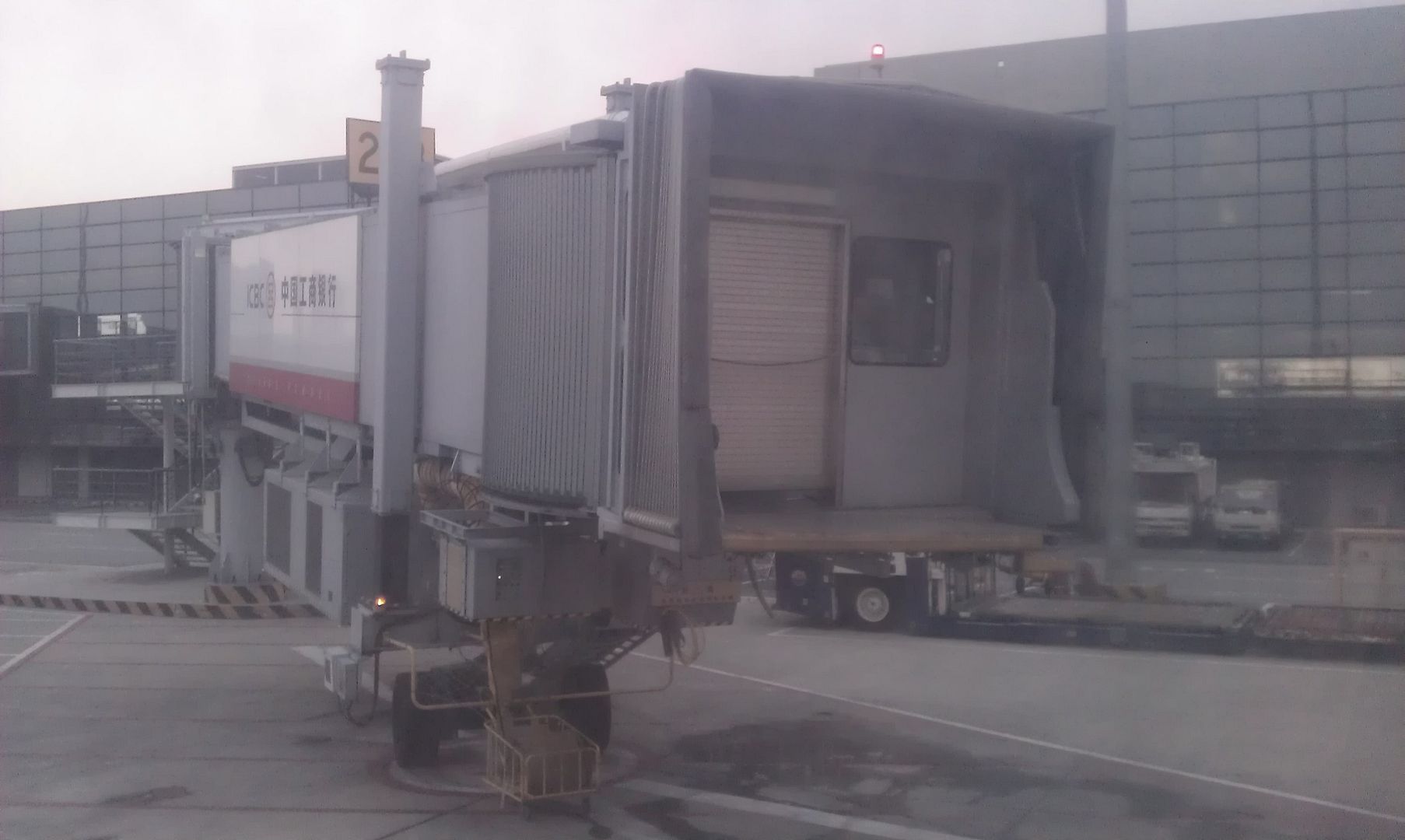 Bye!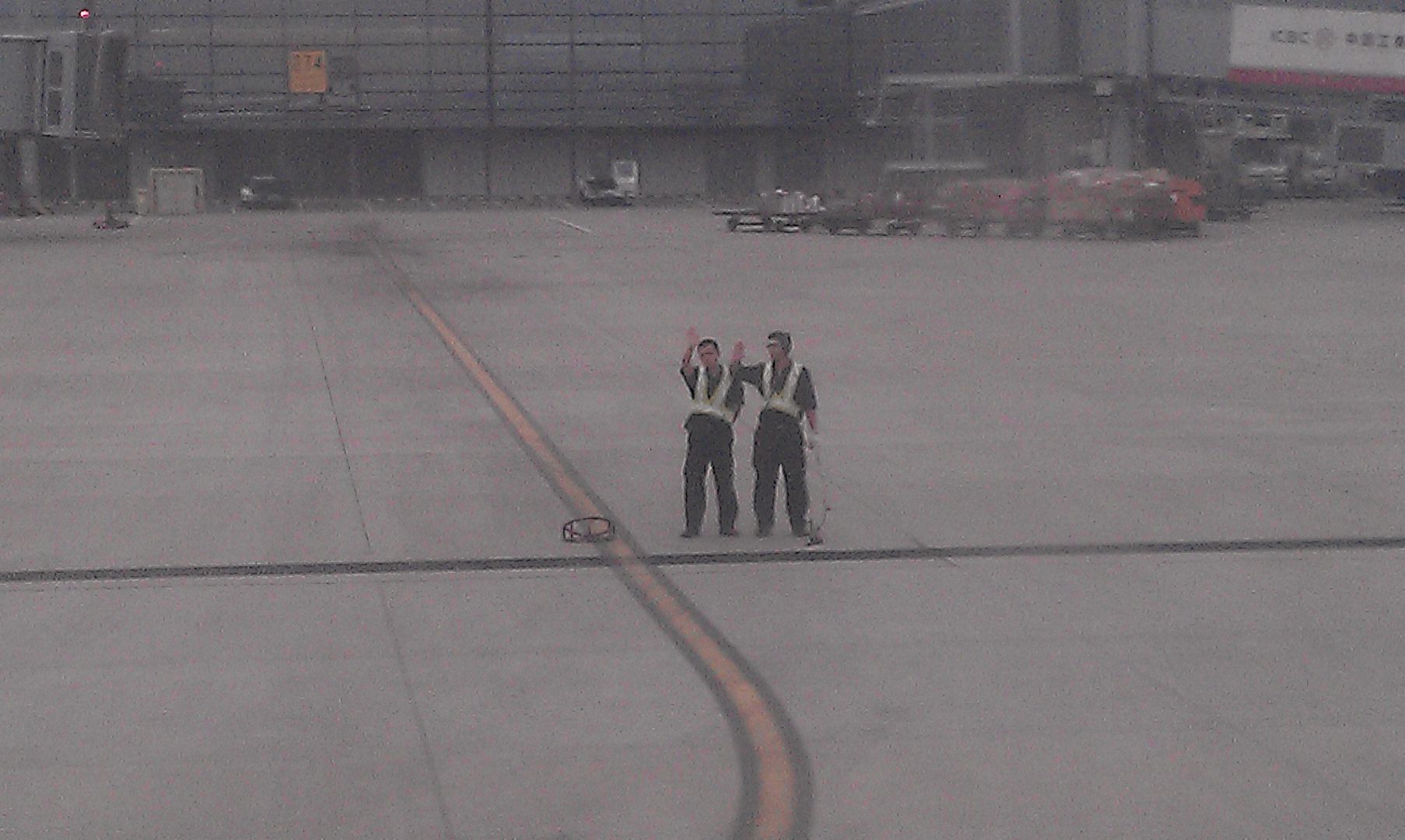 A nearly on time departure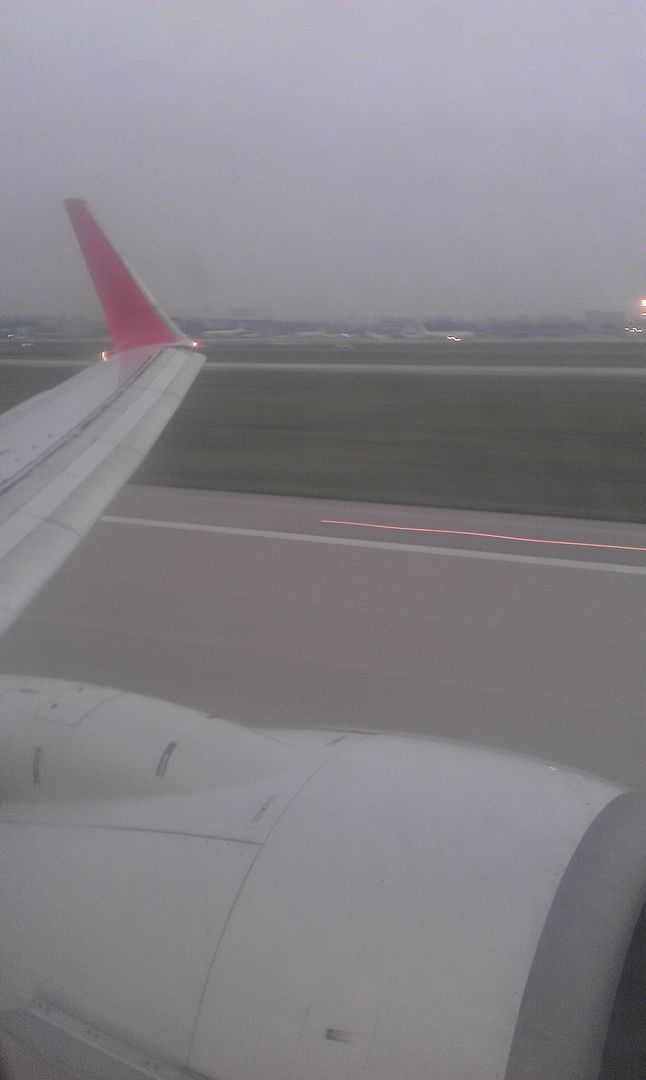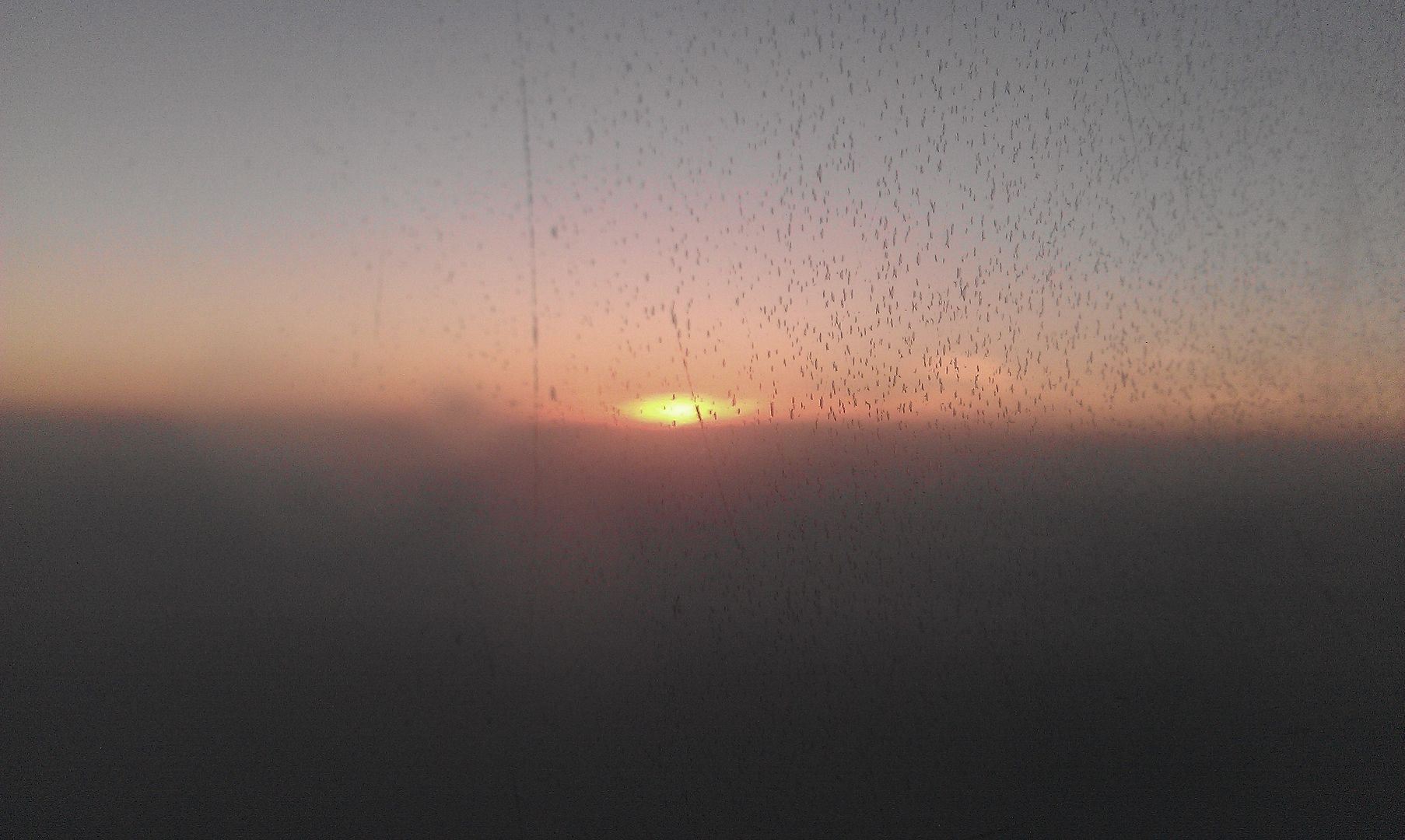 Another flight, another lunchbox
Bread, peanuts, water, cucumber and preserved vegetables
And a choice of rice or noodles with mystery meat
And tea and coffee…no beer on offer this evening
The meal was ok. Chinese airlines do seem to vary quite a bit in their catering, and even within an airline they change a lot. Whilst the quality isn't the best, quantity for a relatively short flight is good.
There's not much to say about the rest of the flight, other than I was told that mobile phones can't be used
at all
on Chinese airlines, even with flight mode on. Is this a real policy? On another major Chinese airline, not only have I been seen using my phone by crew, but I even had a group photo with the crew taken on my phone! (and theirs!).
Nice and early we began our approach to Zhengzhou, landing a few minutes early.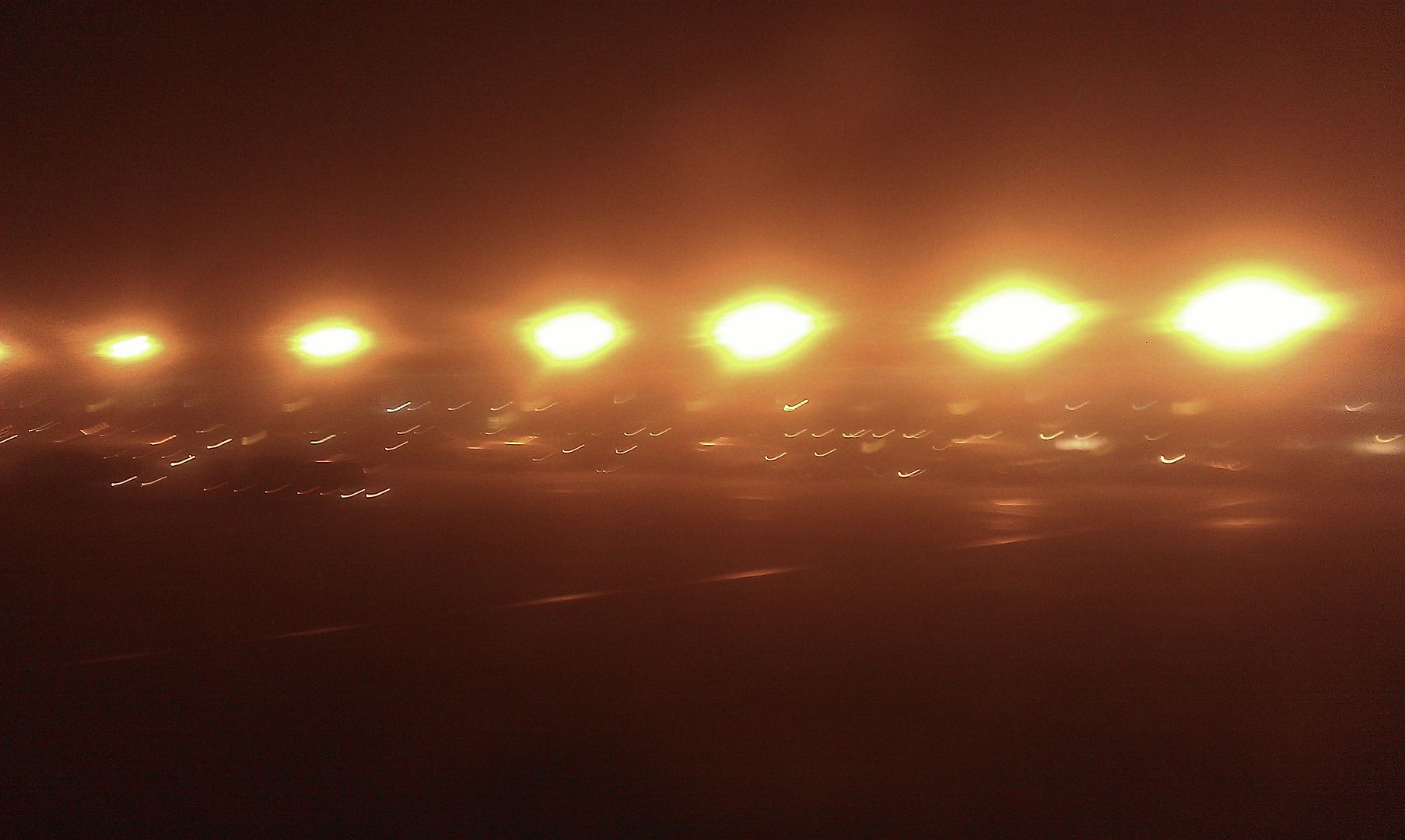 The terminal was clean and shiny….like I mentioned before, this was the first domestic airport I ever arrived at in China over 10 years ago. I was hoping to remember something from before, but I couldn't.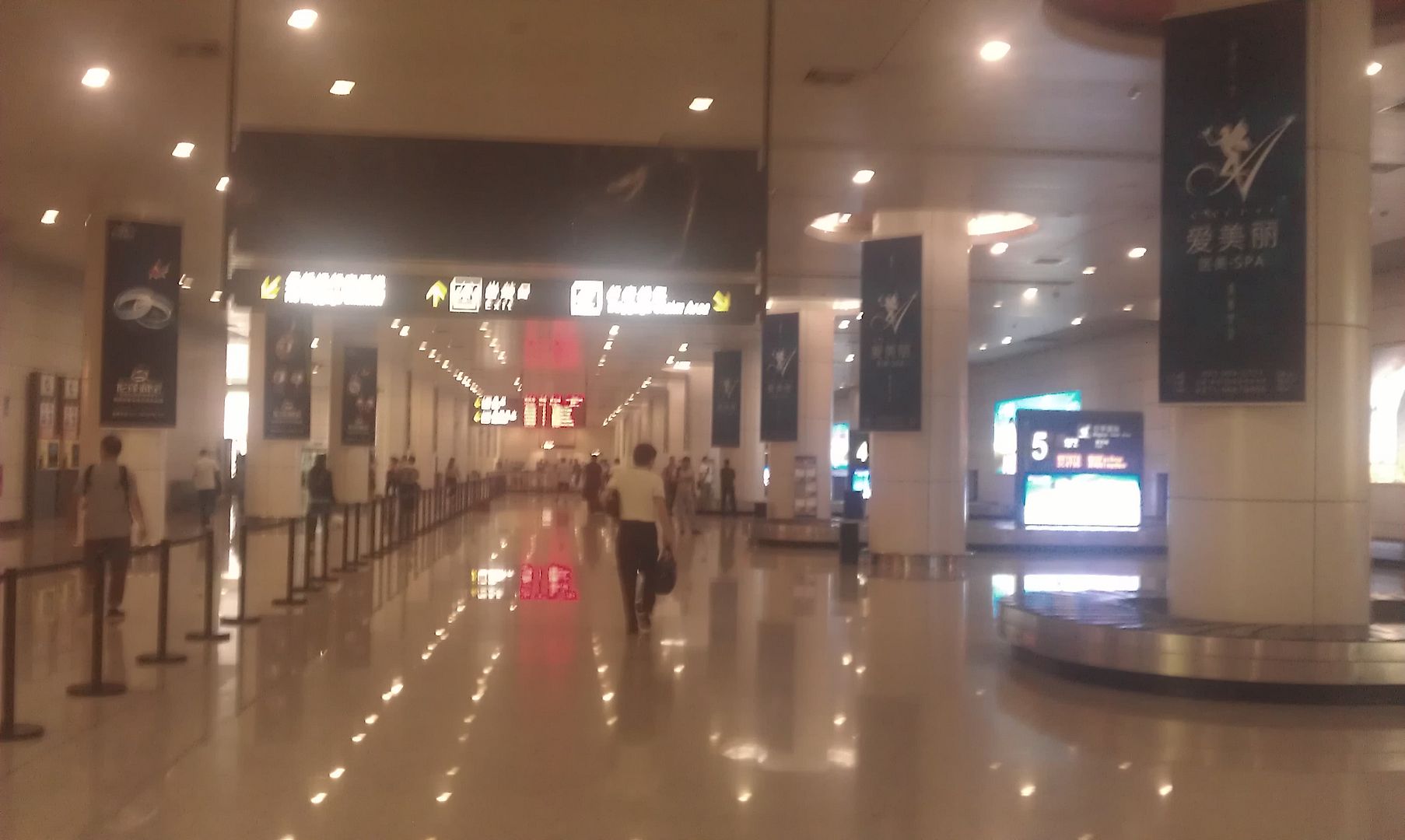 Sadly, Zhengzhou can join Nanchang on the list of airports with a taxi mafia….no one would use the meter, so I had to get the bus into town. I managed to get completely disorientated, and then couldn't find a taxi from where the bus dropped me to get me to my booked hotel. I admitted defeat, and checked into the first hotel I saw.
The view from my hotel over the main square in Zhengzhou…grimy (and not just the window)
The Provincial Museum – actually, this was pretty good, and just about the only reason to spend any time in town
A typical Chinese street
And then welcome to Kaifeng…this is the China one dreams about. It does exist, but sadly this China is thin on the ground.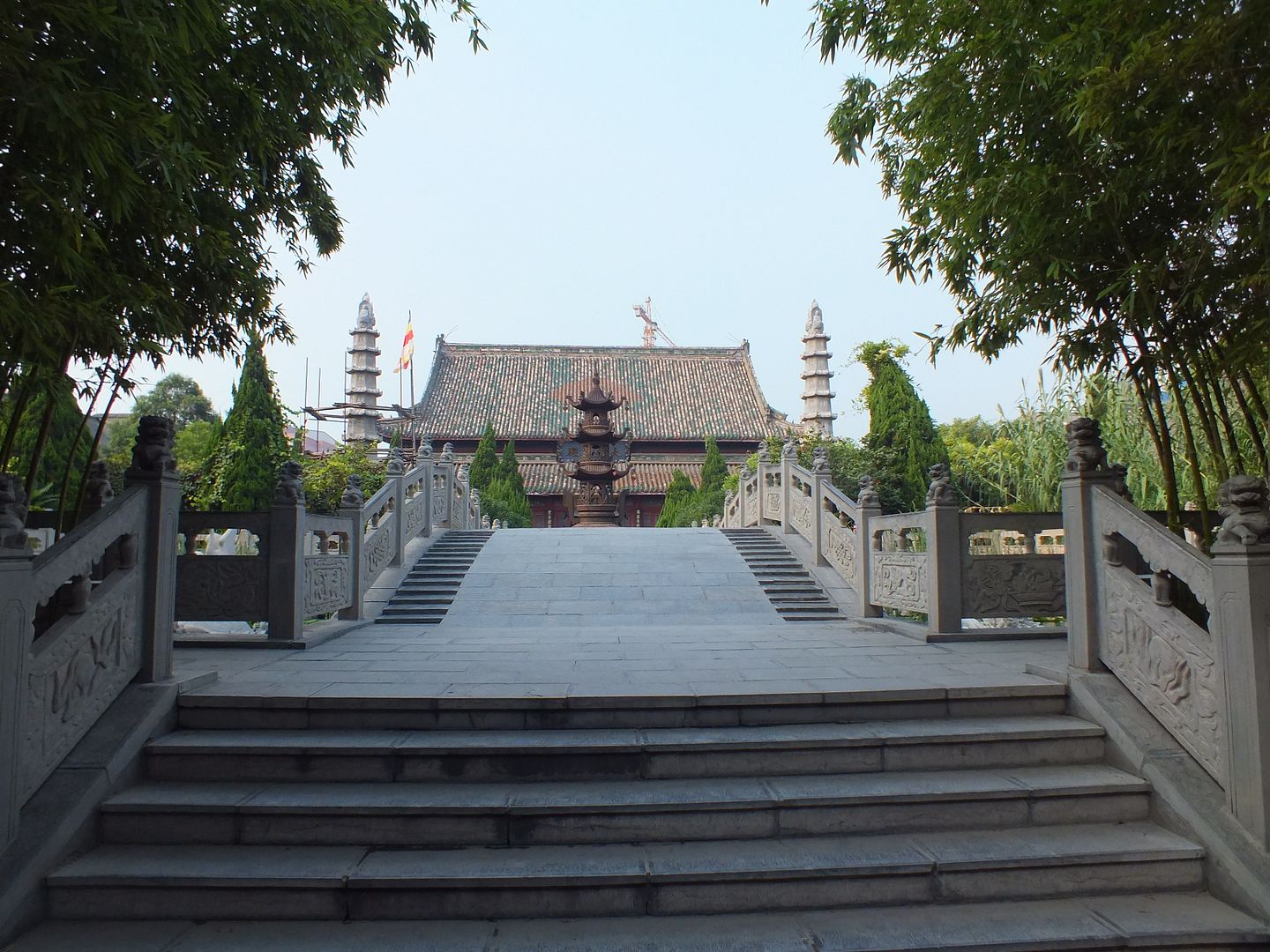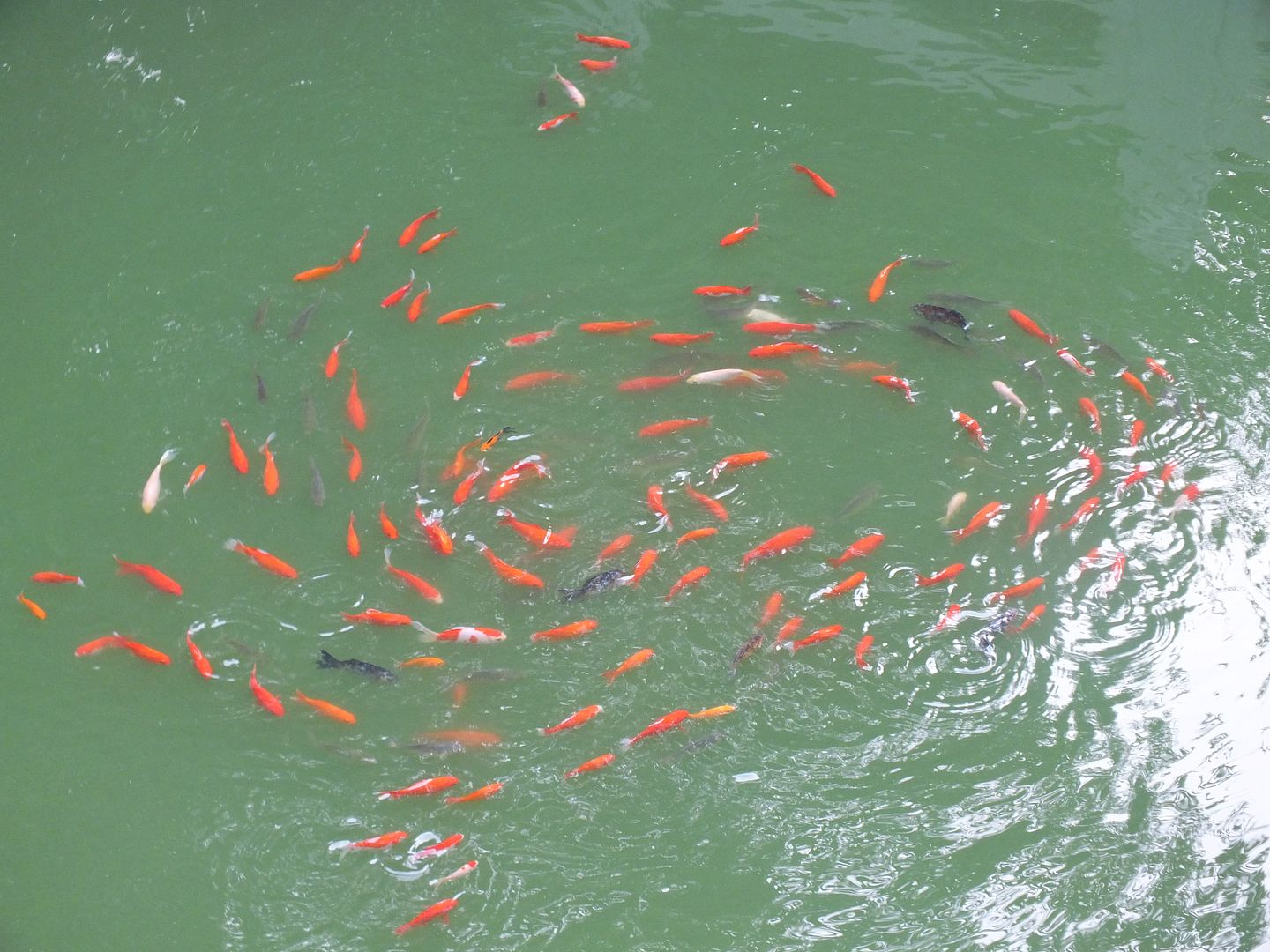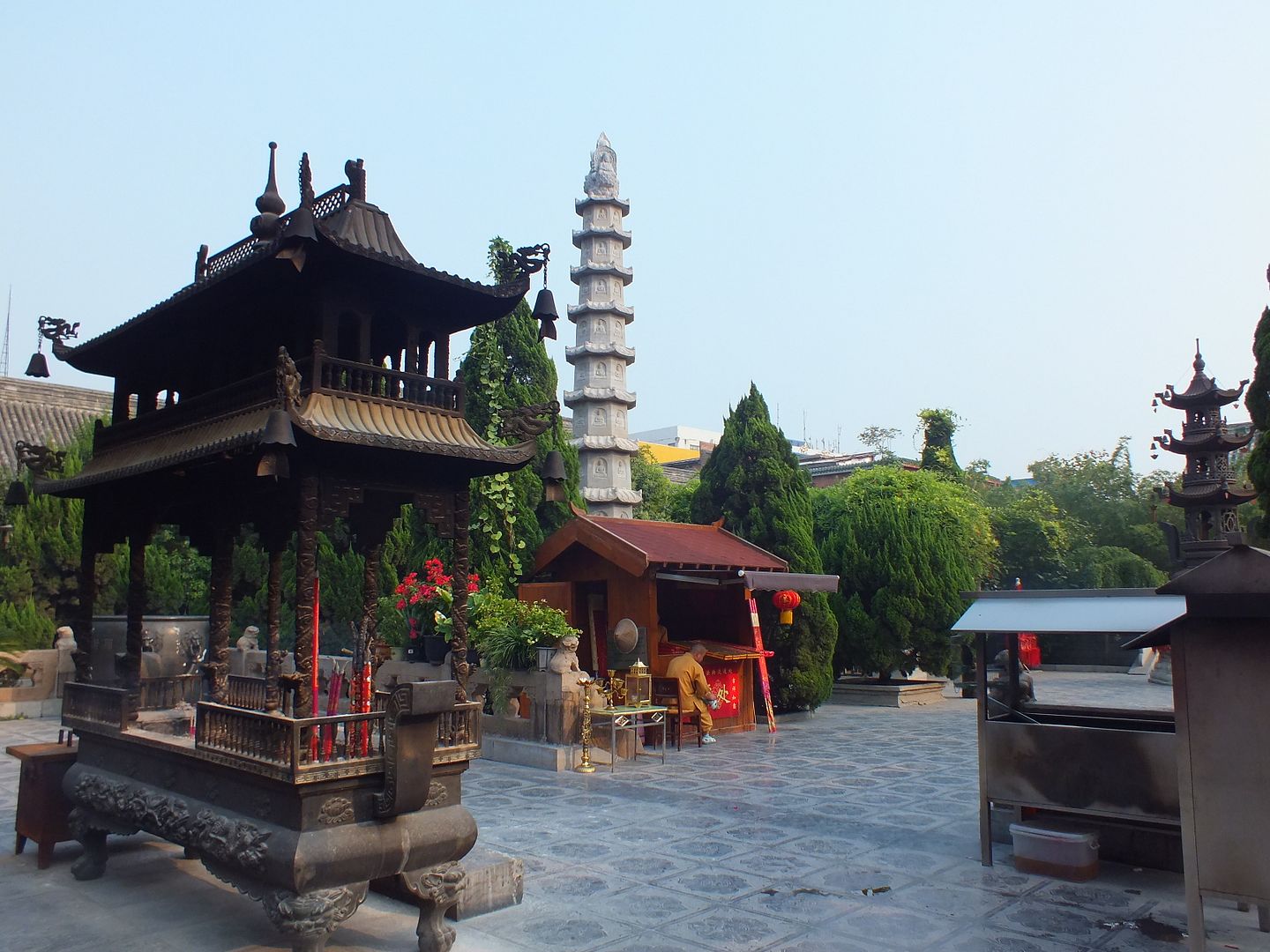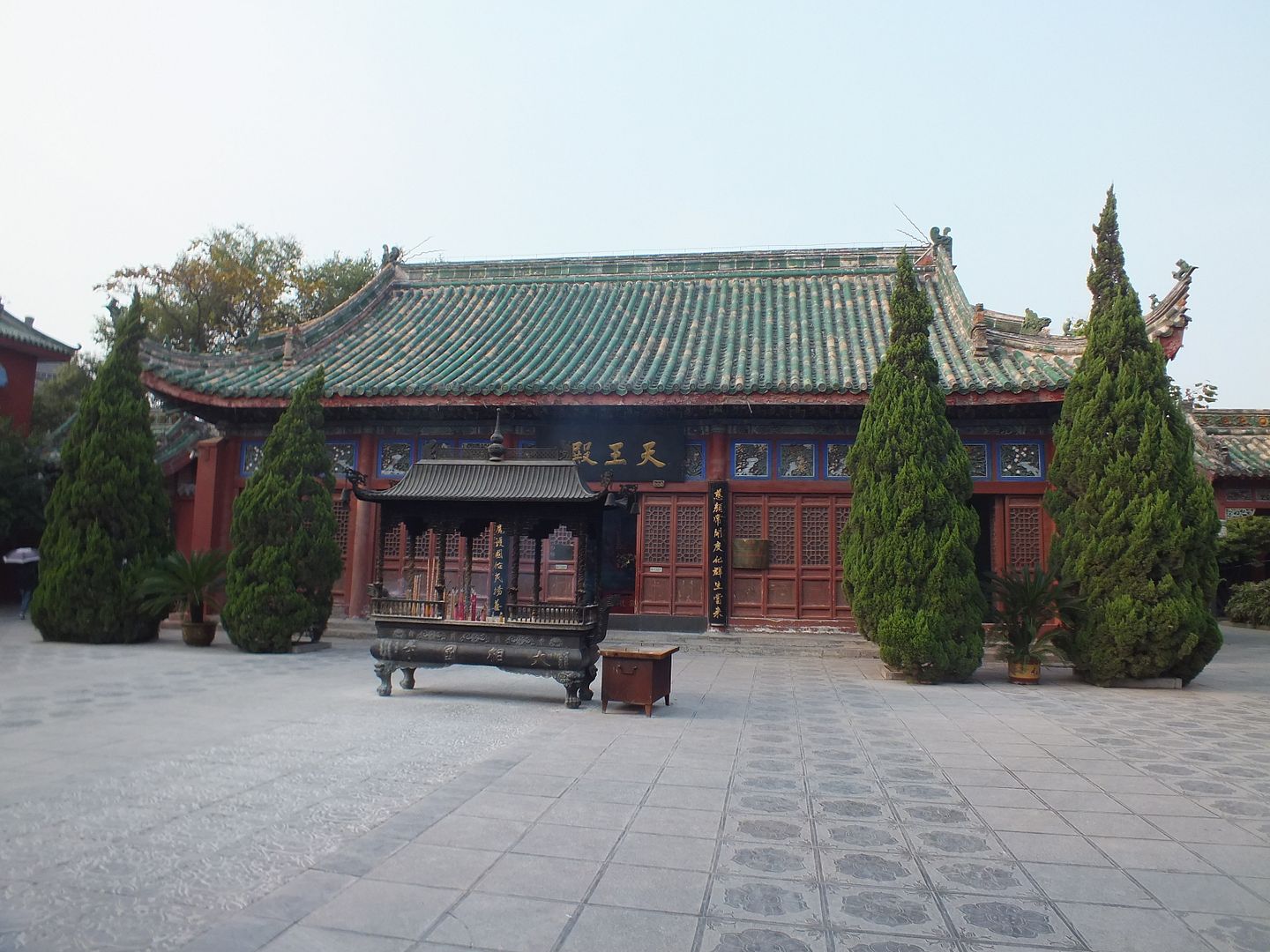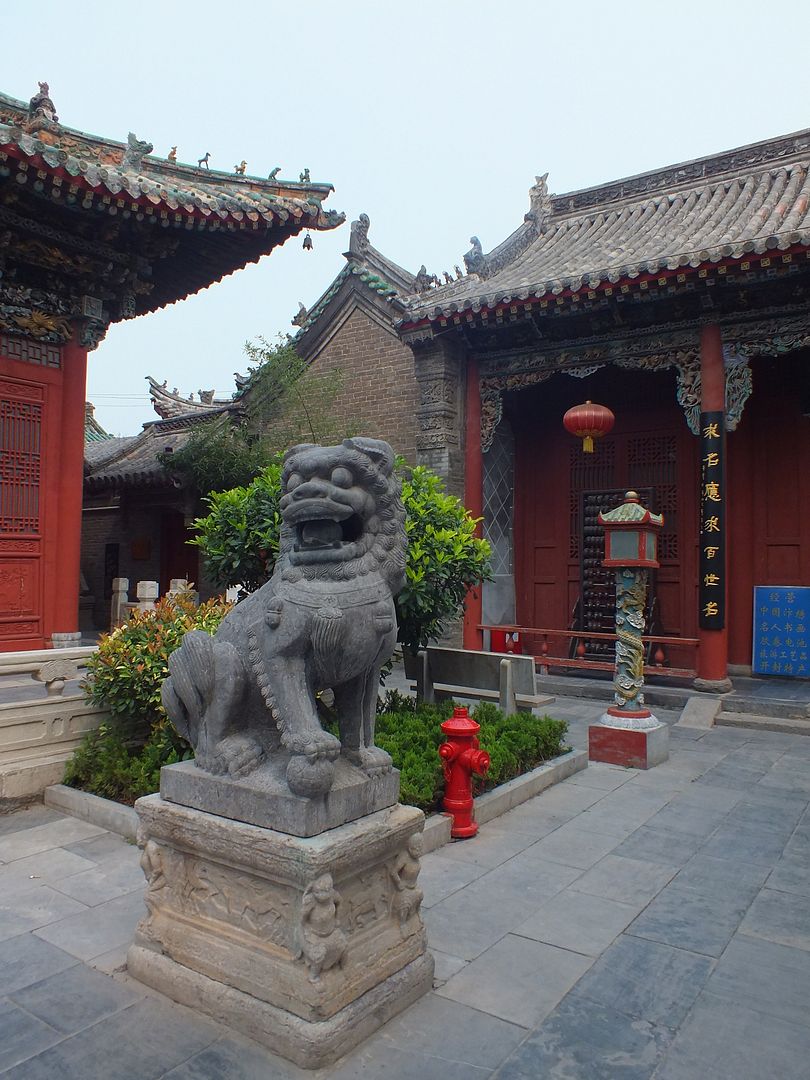 After a few days in Kaifeng, I got the bus over to Luoyang, then down to Shaolin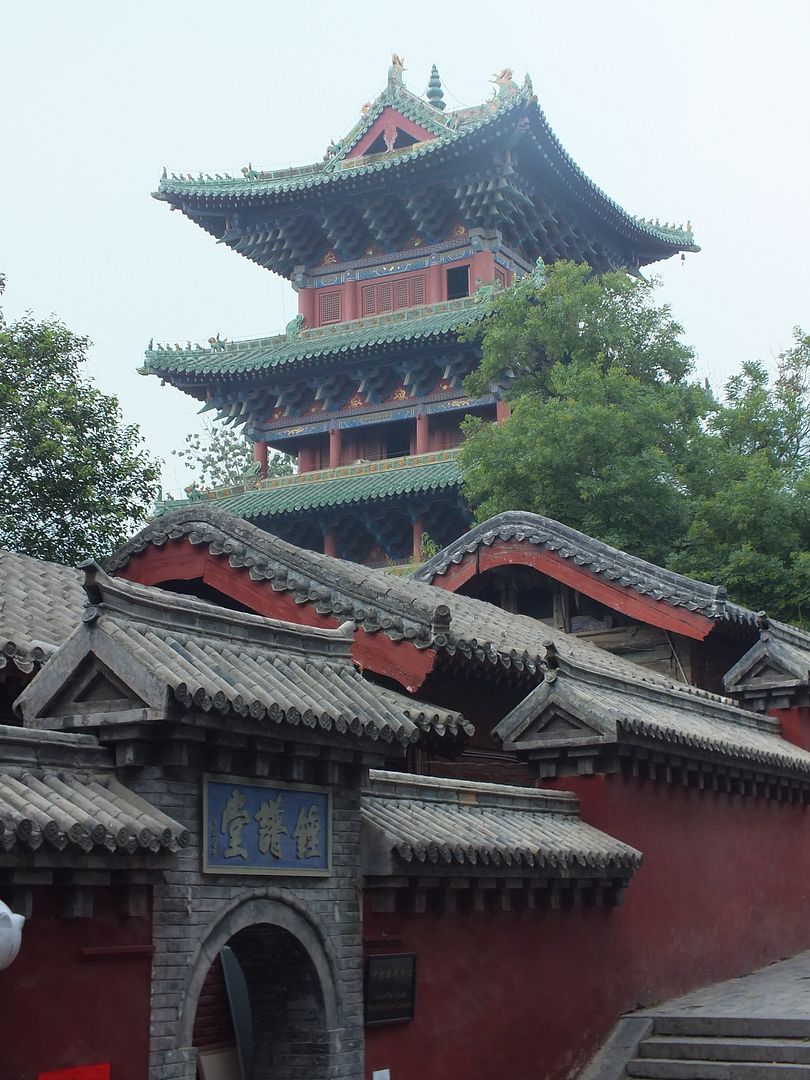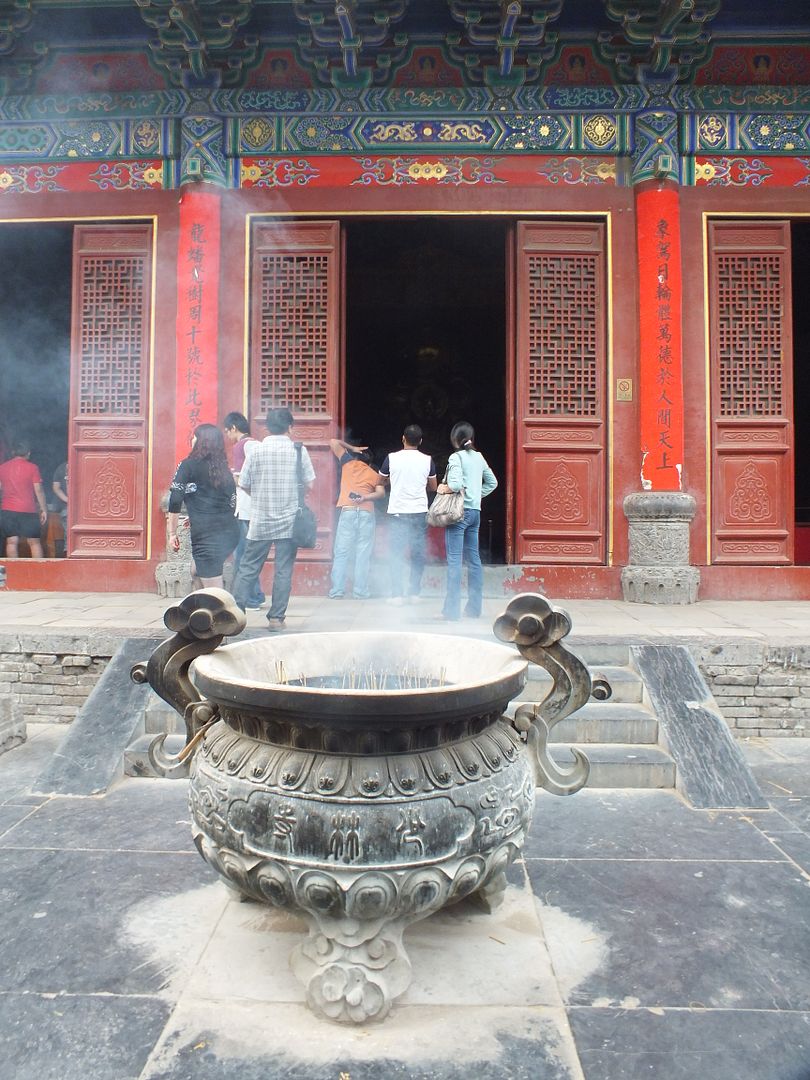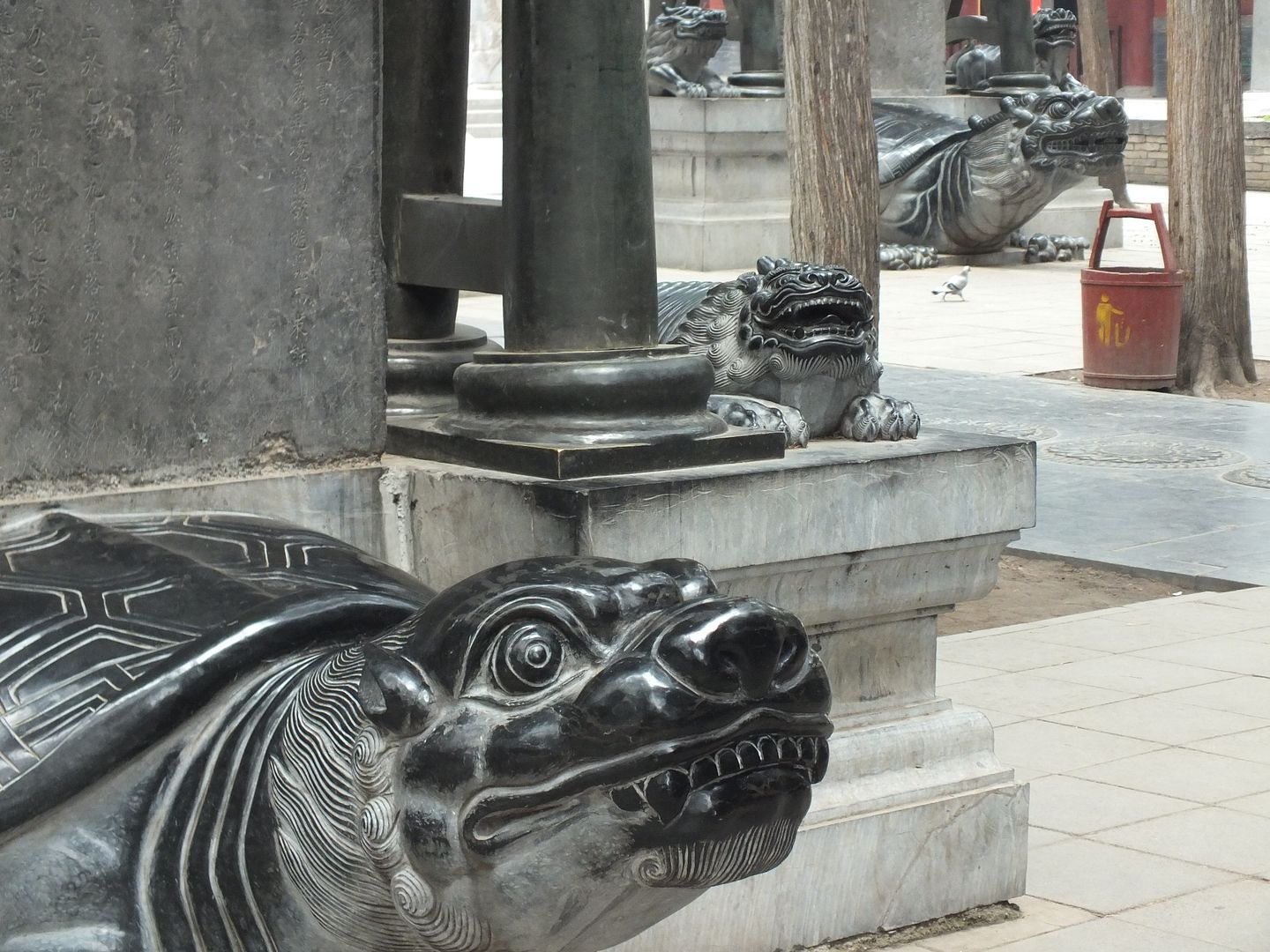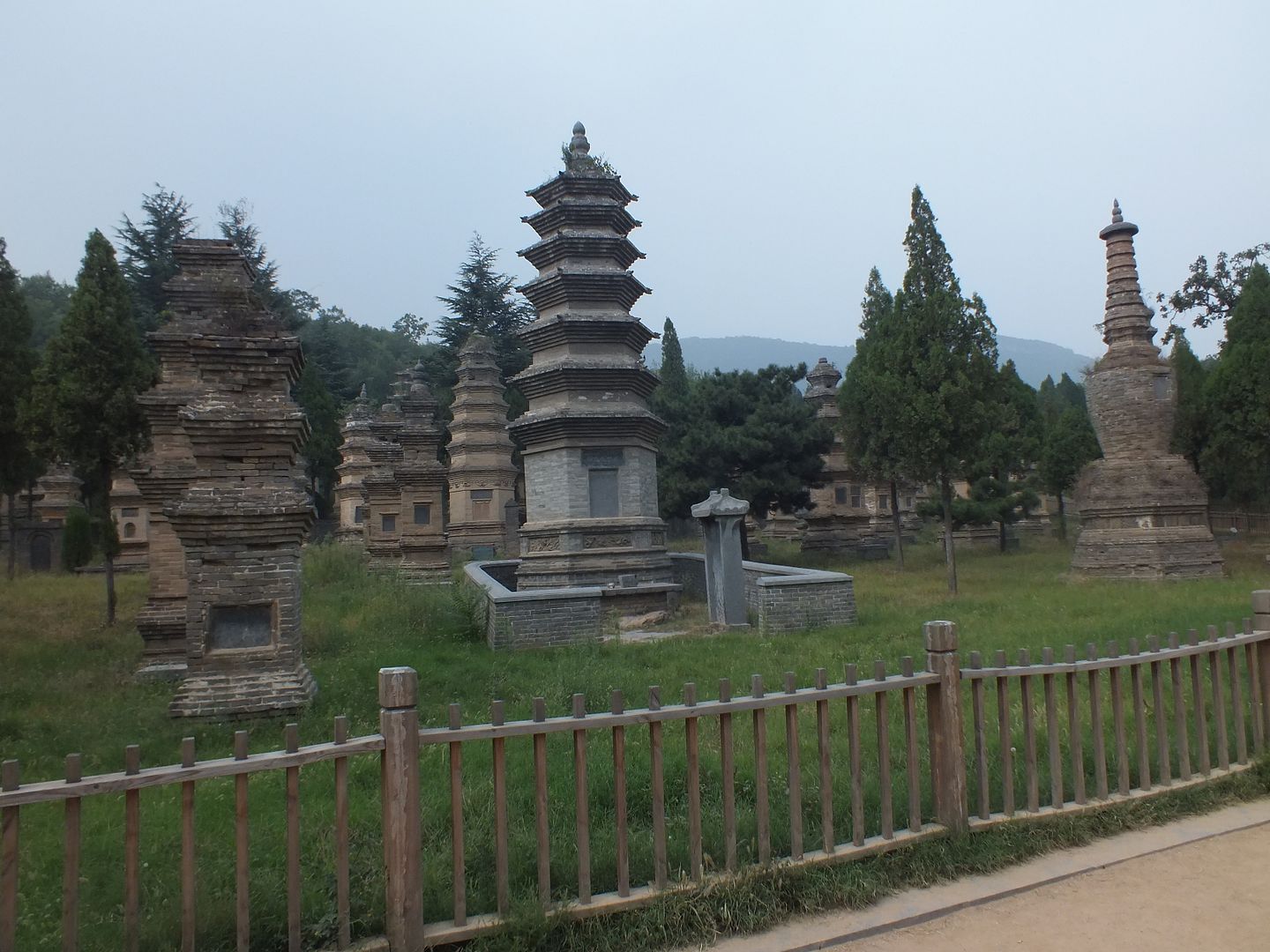 And the "monks" doing a performance…pretty impressive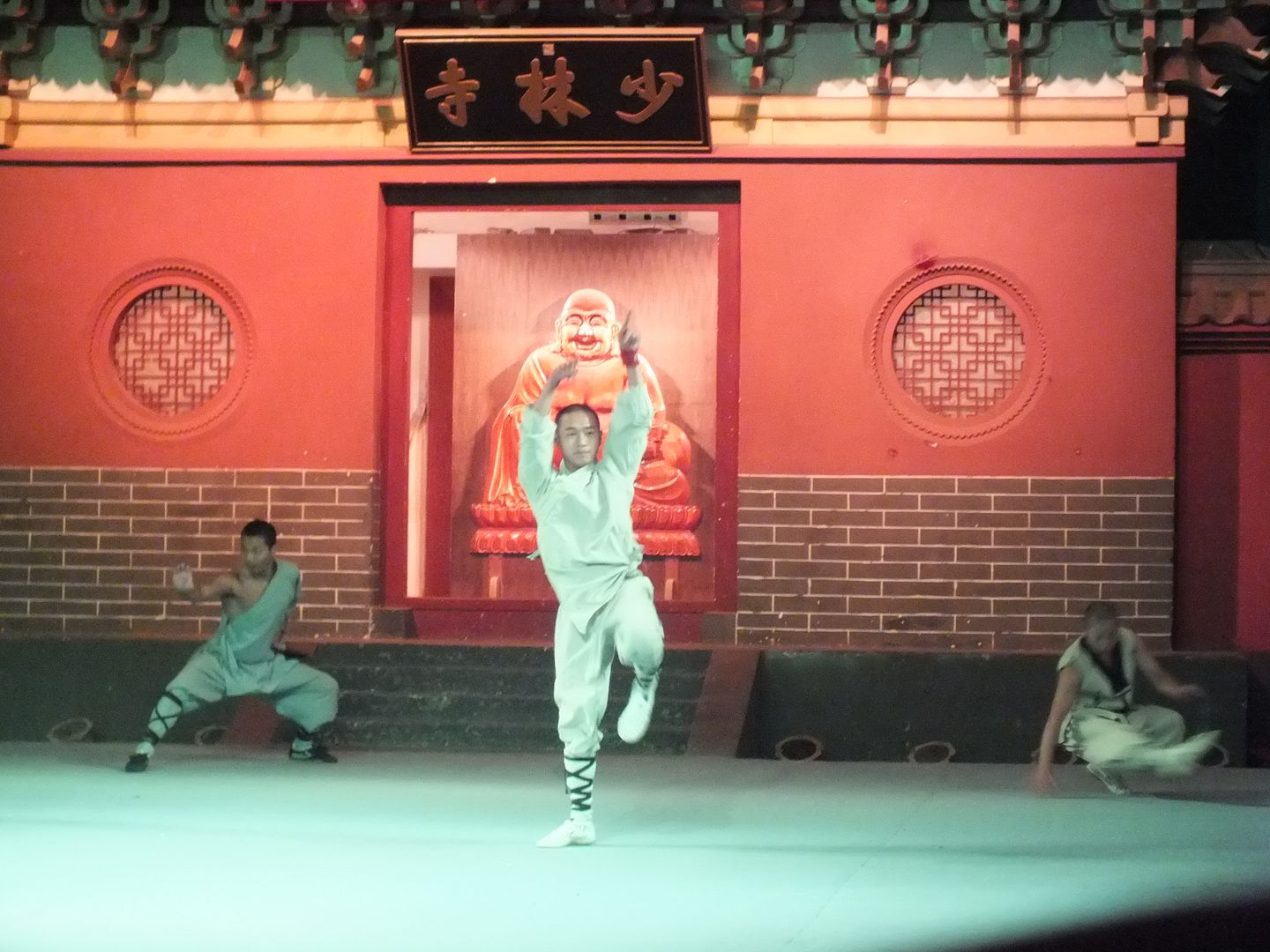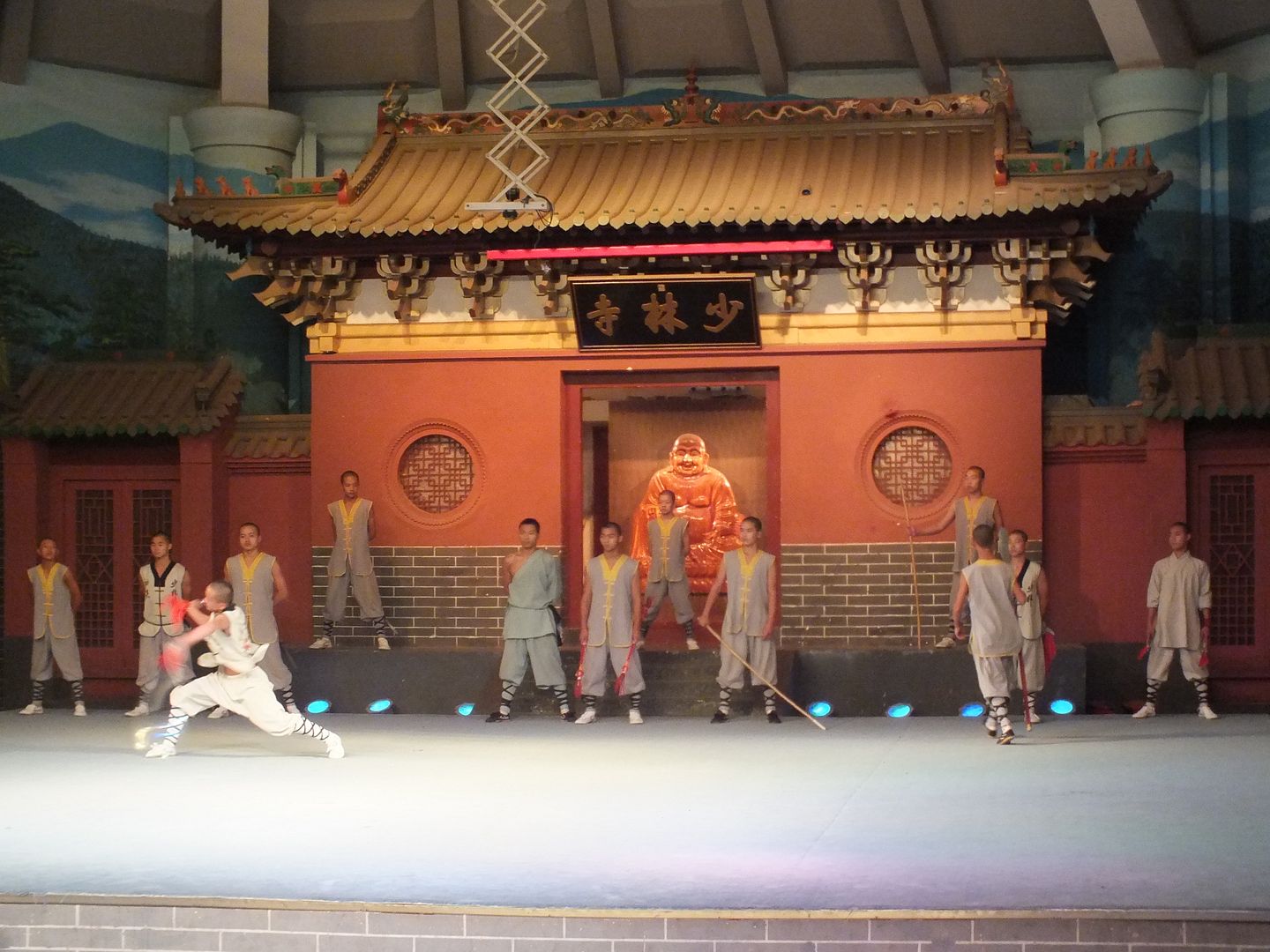 And no performance in China is complete with some audience participation
With all the excitement of Shaolin and Kaifeng over, it was time to head onward to Beijing, by way of Luoyang Airport, a new airport for me, and 45th airport in China.