LHR to SYD, July 2013. Finnair / Cathay Pacific, Business Class.
Firstly, apologies for the fact that photos taken at LHR, on the flight to Helsinki and at Helsinki airport are missing from this report. All the photos were taken at the same time and uploaded to Photobucket in the same way, but for some reason, when I copied the links into my trip report, some photos loaded without any problem, and others were replaced by that annoying "Sorry, this person moved or deleted this photo". I have no idea why some worked and others didn't, but if anyone can enlighten me before I post a report on the return trip in a few weeks' time, I'd be grateful. In any case, I hope you enjoy the report. There are already quite a few reports on CX's new Business Class, but not so many on Finnair's offerings, either in their short haul or long haul J cabins.
As Australia beckoned again this year, I set about finding an affordable flight for July/August 2013. Expedia, as ever, came up trumps, offering a Business Class fare from LHR to SYD for about £2500 with Finnair & Cathay Pacific. The routing through Helsinki and Hong Kong gave me the chance to experience a new airport, and, with Finnair, a new airline. I read quite a lot of reviews on Skytrax of Finnair's J class offering, and most were, to be honest, rather negative, criticising everything from the seat to the cabin crew to the food and entertainment. Some of these criticisms may, to some extent, be justified, of which more later, but the overall experience for me was a very positive one. I suppose that it is also worth bearing in mind that people who have had a bad experience, whether it be on a flight or in a restaurant or hotel, are the ones who feel most motivated to vent their spleen on a review website. The good thing about that, though, is that the experience itself is, at worse, going to be no surprise, but, more often than not, a pleasant relief. My experience with AY was very much the latter. One criticism that I do have, however, is of Finnair's website, which I found problematic, particularly when it came to making changes, e.g. to meal choices or seat allocations. Links didn't work, or when I came back to check, changes I thought I had made no longer appeared. With the LHR-HEL-HKG routing, I was also able to sample both AY's short haul and long haul premium offerings. Now, I do feel that it is a bit of a cheek to simply block off a middle seat from an economy row and serve a hot meal and claim it is "Business Class", but I realise that is what most European carriers do within Europe, and Finnair's product far exceeded my experience on BA's Club Europe a couple of years ago. The plane was clean and comfortable, the service very friendly, and the food and drink offerings good.
So, departure date was 30th July 2013, and flight AY840 was scheduled to depart from LHR at 16.10. I arrived at the airport at about 13.00, and found one Finnair check-in desk manned, and no other passengers yet checking in. Once checked in I went through FastTrack security, which was not nearly as fast as FastTrack at either Hong Kong or Sydney, but then Heathrow seems to operate at a different pace to any other airport. Finnair uses the Cathay Pacific lounge at Heathrow's Terminal 3, and I was looking forward to seeing what was on offer. The answer, I'm afraid, was not very much. I was, frankly, surprised by just how soulless CX's Business Class lounge was. The food offerings were more like something one would expect in a ServiceAir lounge, although there was a good range of drinks. The lounge was virtually empty right up to departure time, but then there were no Cathay flights departing, and I wonder if this is why the food was not really up to scratch. There was some vegetable soup available, and eventually some rice and rather watery curries were put out, but the cold buffet was a very sad offering of a sort of salade niçoise, a bowl of tomatoes, and another bowl of cucumber. There was, however, a noodle bar, where one could order one of three made-to-order soup or noodle dishes, which were good. The lounge does also offer an excellent view of Heathrow's south runway, and the bigger jets were rotating right in line of sight on this day, which was fun to watch, despite the miserable weather conditions. Given CX's general excellence and superior service, I was surprised that their lounge at Heathrow exuded so little feeling of a quality product. A far cry from what I was to experience later, both at Hong Kong and aboard my flight to Sydney. On board AY840, a flight of about 2 hours I was in seat 1A, a bulkhead seat, which may have been a mistake, as the armrests didn't move. On the other hand, I did have more legroom than rows behind. Pushback was bang on time, and we had a fast taxi to 27L. From pushback to wheels up was about 25 minutes, which is pretty good for Heathrow.
I have to say, I rather like Helsinki airport. The airport is small, especially given it's the country's main hub, but this does make transfers very easy, a fact that the airport tries to exploit in its promotional materials. The Finnair lounge in the non-Schengen area is quite impressive, but there was almost nothing else to do in this area. The lounge was virtually empty at this time of night (between 9pm and 11pm), and the food offerings were pretty minimal. About an hour before our flight, some rice and sweet and sour chicken were put out, and there was some hot carrot soup available, but that was pretty much it food-wise. There were some nice features to the lounge, such as the moulded walls, and it was comfortable and spacious.
And so to the 9.5 hour flight from Helsinki to Hong Kong (and, finally, some photographs!). The plane was one of Finnair's older A340, with the angled lie-flat seats in Business Class. The cabin was showing its age, and these seats are, of course, now out of date in this fast-developing area of the travel industry. I guess Finnair deploys its latest J class product on its American routes, but I'm not sure. However, the seat was comfortable enough, and there was, of course, plenty of legroom. The service was efficient, and very warm and friendly. The FA's in J were older than one meets on some airlines, and the service had a maternal touch to it that was rather nice. I had pre-ordered the "Food Lover's" menu for dinner, which was listed as Bratwurst and Herbed potatoes, but was not, to be honest, anything very special. The quality of the food, however, was absolutely fine, and refills of drinks were offered frequently. The headphones had an effective noise-cancellation switch, and were of decent quality (better than the ones I would experience later on Cathay, actually). The Marrimekko design items were quite distinctive and interesting, although the FA's uniforms had a slightly naval air to them that was not always flattering. Apologies to readers who like to have each photo captioned – I have spent such a long time trying to figure out why some photos wouldn't load that I was starting to lose the will to live, so couldn't be bothered to label every pic. I think they pretty much speak for themselves, though.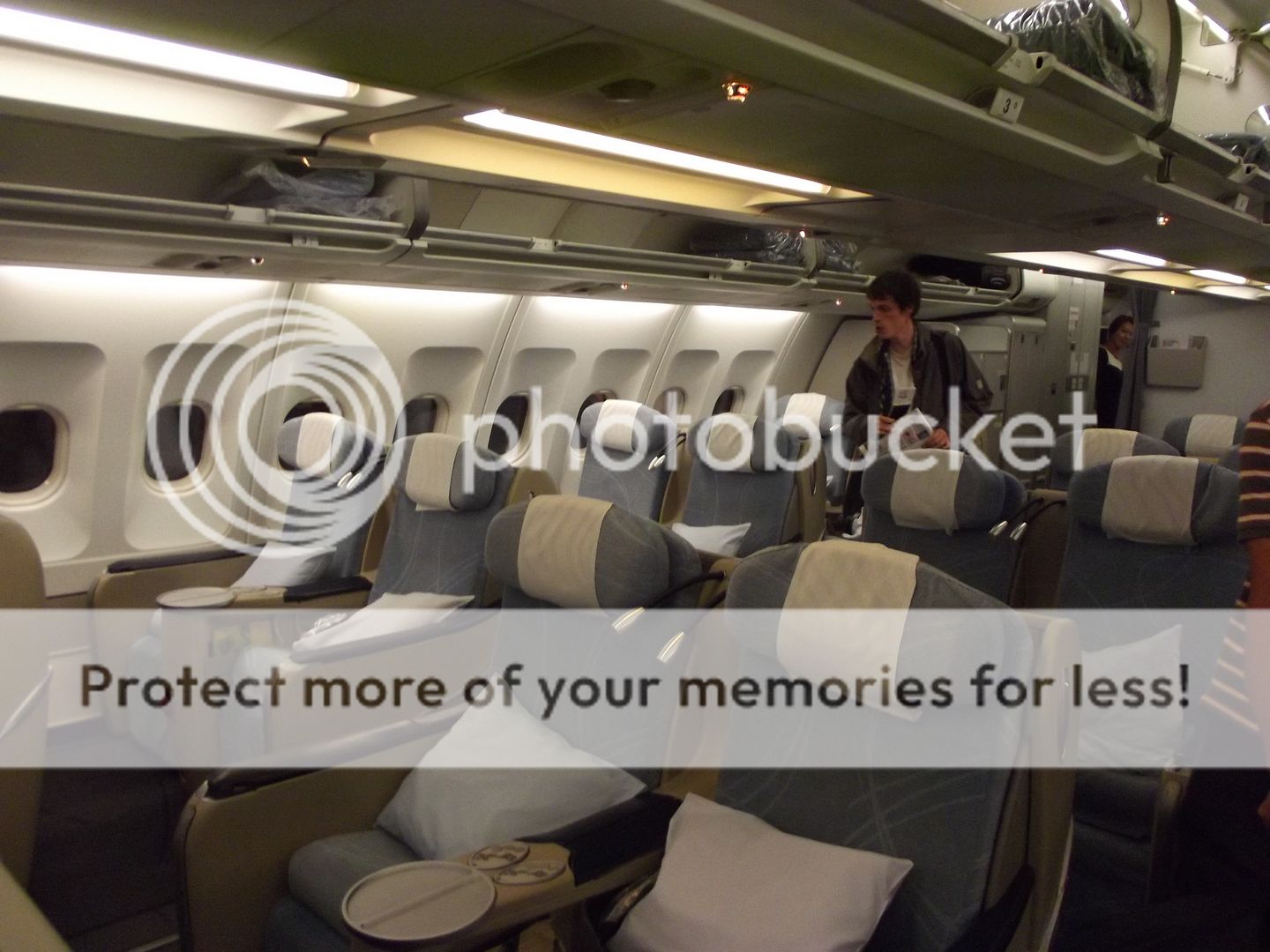 Hong Kong International is one of the many airports that put Heathrow to shame. There was plenty to watch on the tarmac, but most of the shops were beyond the means of the average traveller; well, beyond my means anyway. CX's lounge ( The Wing) is split over two levels, which I had forgot (it's been over 10 years since I last flew Cathay), and at first I thought it was rather small and inadequate, but then discovered the staircase to the impressive upstairs area, where I spent the next 4 hours perfectly contented.
And so to CX111 to Sydney. This service uses an A330 in a 3-class configuration, Business, Premium Economy and Economy, but no First. The Business Class seating is divided between a larger forward cabin, and a smaller rear cabin with just 3 rows of seats, with the 2 cabins divided by a galley. This is Cathay's new Business Class seat, which has rightly had praise heaped on it. It really is difficult to fault the hard product, although I would say that the headphones were next to useless for watching a film, as any dialogue was almost incomprehensible; I wondered if this was a problem with the IFE system or the headphones, but when I switched to my own Bose set, everything was clearly audible, so I guess the problem was either with my particular headset, or the headsets in general. Cathay's cabin crew have been voted World's Best Cabin Crew in the 2013 Skytrax awards, and it was clear why (although my experience on the return flight was rather different). Passengers were all addressed by name, service was attentive and friendly and the whole experience smacked of quality and attention to detail.
The final leg of this journey took me from Sydney to Adelaide on Virgin Australia. Now, you could walk across the tarmac from Sydney's International terminal to the Domestic terminal in about 10 minutes, but there is, nonetheless, no free transfer (unless you're switching from, say, a Qantas international to a Qantas domestic flight), and the train journey, which takes all of 2 minutes, costs 5AU$. Now, this isn't a huge amount, and the trains are frequent and clean etc., but surely an airport of this calibre and size should offer free transfers between its terminals.
That's it until the return trip, by which time I hope to have sorted out the problem with the links to Photobucket. Hope you enjoyed the report.