Flight Stats:

Spring Airlines – China's only LCC – 9C : SJW - CTU
9C 8985
Flight Reg: B-9965 ; delivered Sep 2013
First A320 fitted with sharklets of Spring Airliners
Airbus A-320-214/W
Seat 7A
Load 95%
Departure time 18:50 (18:43)
Arrival 21:15 (21:10)
27 Oct 2013
Price: GBP 75.00
Route map courtsey
www.gcmap.com
View Large
View Medium


Photo © chiral
After much searching around for a suitable flight from my in-laws home town of Shijiazhuang to Chengdu, for our return flight to London, I landed upon Spring Airlines.
After researching a bit online it looked like a good option with a decent on-time performance and fairly new A320 aircrafts. And, me, being a sucker for trying new airlinesaircrafts couldn't miss this opportunity pass. The timing was also perfect as it was an evening flight so would get the entire day at my wife's home town.
Its website - one of the better Chinese domestic airlines websites, by a huge country mile. For starters there was a proper working English version!
Whilst selecting our dates I noticed that flights were available for just the day before our travel (27th October). A quick email to customer support, to which I got an email reply within an hour, stating that the new winter schedule will be out by the second week of September. So far so good.
Spring airlines have three classes of booking tickets - the super saver, with the basic 15 KG (checked and hand luggage, combined) allowance, the flexi ticket, as it suggests is available for change and the Spring plus, which gives you excess leg room seats, 25 KG baggage allowance, snacks and priority boarding. Off course all three classes may not be available on all sectors though.
Whilst randomly checking for the desired dates, again during the second week, I could see that the flight was available. However it looked like they have downgraded the SJW-CTU sector, as the Spring class ticket is now unavailable to book, where as prior to 27th October it was available.
I selected the spring saver and decide on adding on as needed. The booking process was simple and straight forward. You can choose your excess baggage (a very nominal $19 for 10 KG extra, taking total to 25 KG), seat choices (starting at $1.6! up to $6 for the excess leg room seats) and also book priority boarding for an extra $1.6! A-la EasyJet. On the whole the prices were very nominal for the add-ons and not something the boss of FlyN'Scare would not approve of.
A total of 8 minutes later, tickets booked, add-ons chosen, and confirmation email received (note there is an extra 3% charge for International Credit Cards). The pervious night we tried booking via my Wife's Chinese debit card (CCB). But it looked like it was not as simple as that, as we had to link the card to be able to be used online, which has to be done in a branch.
On the whole the process was seamless, transparent and above all available in English, accepting foreign credit cards. One of the very few commercial websites offering such a service. China, albeit now a world super power, much is left to be said of its online payment facilities, but spring airlines website is definitely in the right direction. Now the only thing remaining is to experience the airline first hand. On the whole I would rate the entire web experience so far a refreshing 8.5/10 for the entire booking process and experience (few negatives being not able to use a Chinese local debit card, but that has more to do with the banking facilities and rules in China)
Check in counter at SJW
FIDS at SJW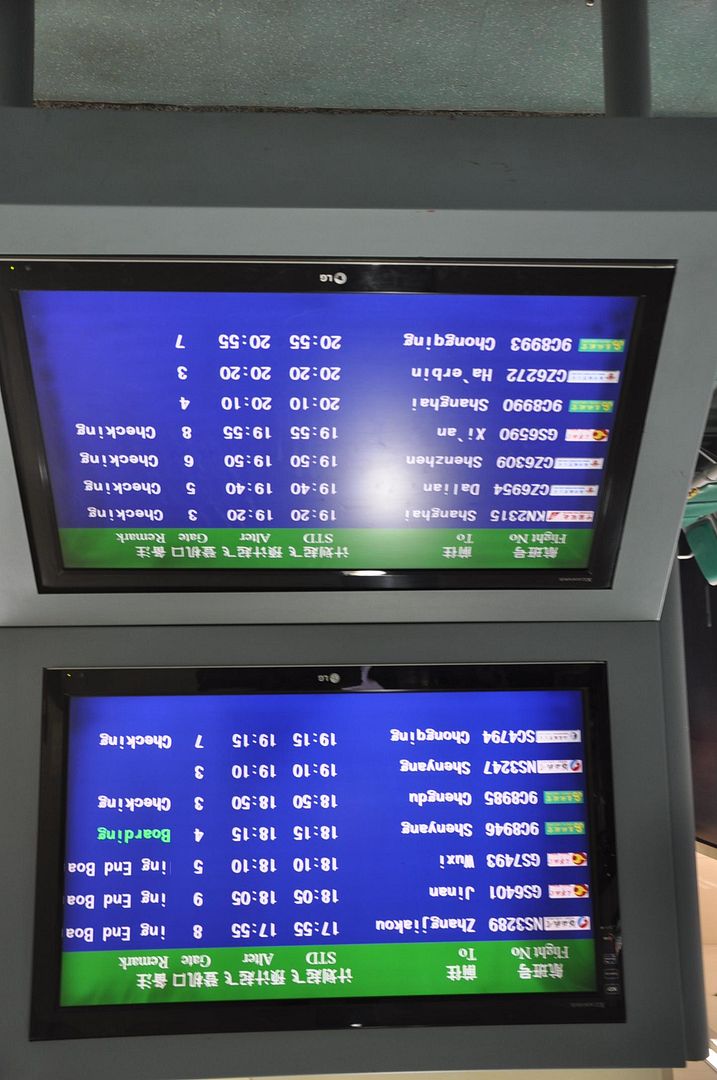 Online check in wasn't possible before departure. It was only possible for domestic flights from both the shanghai airports. So once again it would have to be done manually at the airport.
At the check in counter we were asked to pay a further 40 rmb per person for a front seat, or else it seemed for the free rear seats, there were no 2 adjacent seats and we would be sitting separately. 80rmb seemed to be a reasonable amount for front row seats, so we coughed it up.
Security check was quick and was airside in 2 minutes.
Boarding began 20 minutes before departure, and was like any queue in china, chaotic. Luckily since we paid for front row seats, it also included priority boarding, which was a blessing in disguise, and they were indeed being strictly enforced.
Boarding Gate at SJW Airport
Another Heibei Airlines E190, before take off from SJW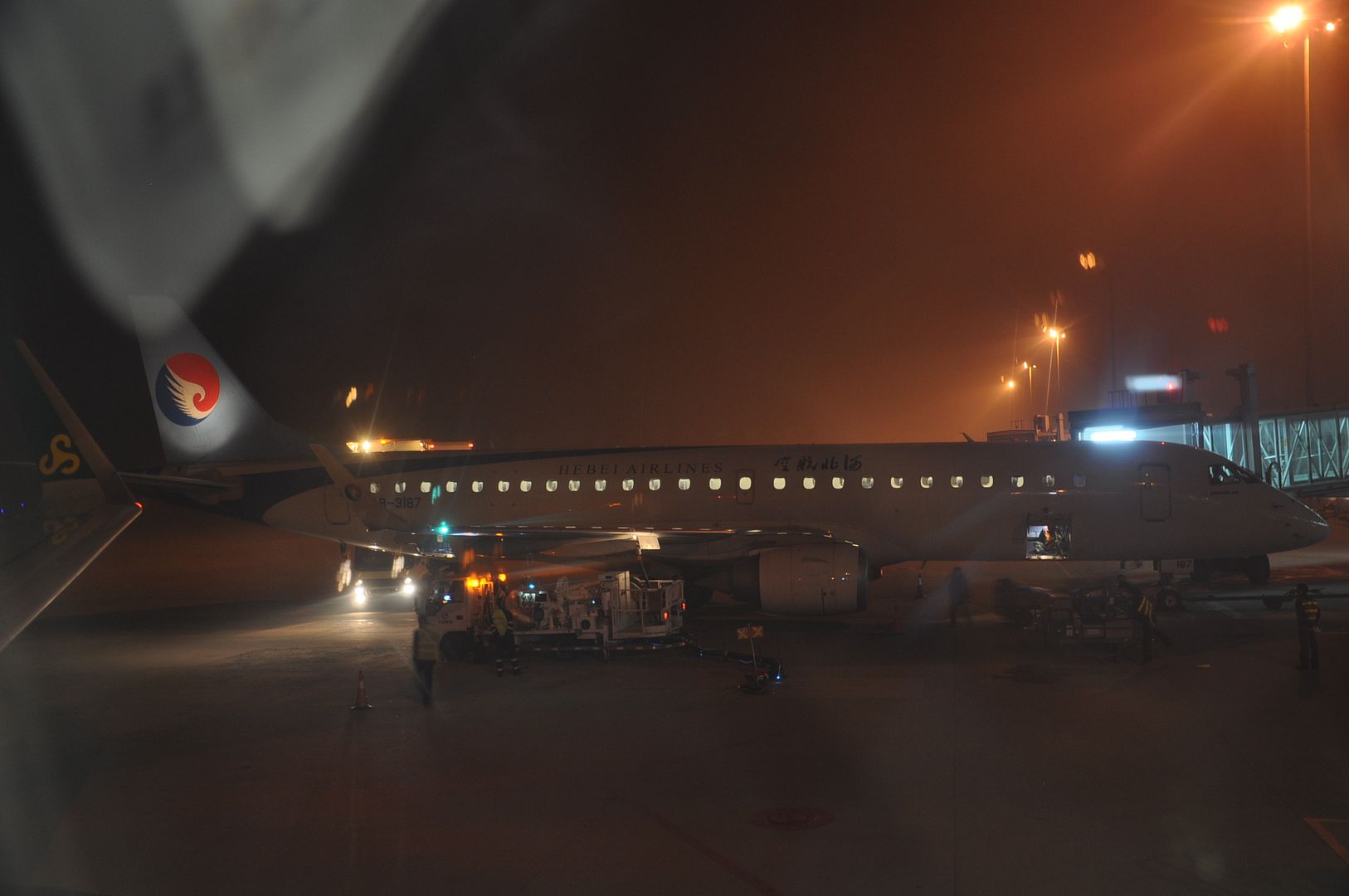 Spring Airlines 9C 8985 – Reg B-9965 – Delivered to Spring Airlines on Sep 2013 (First A320 fitted with sharklets of Spring Airliners)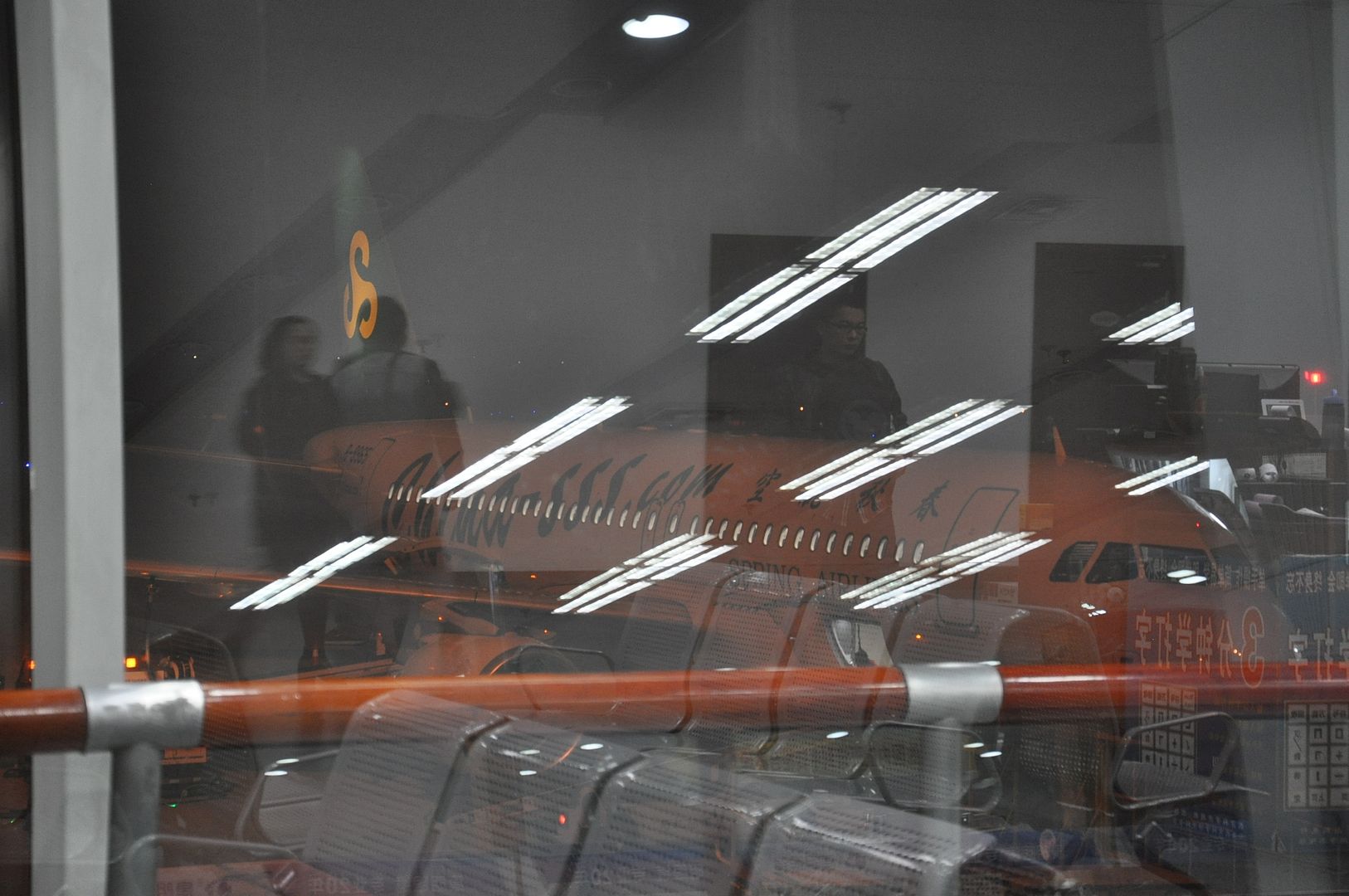 Meal on board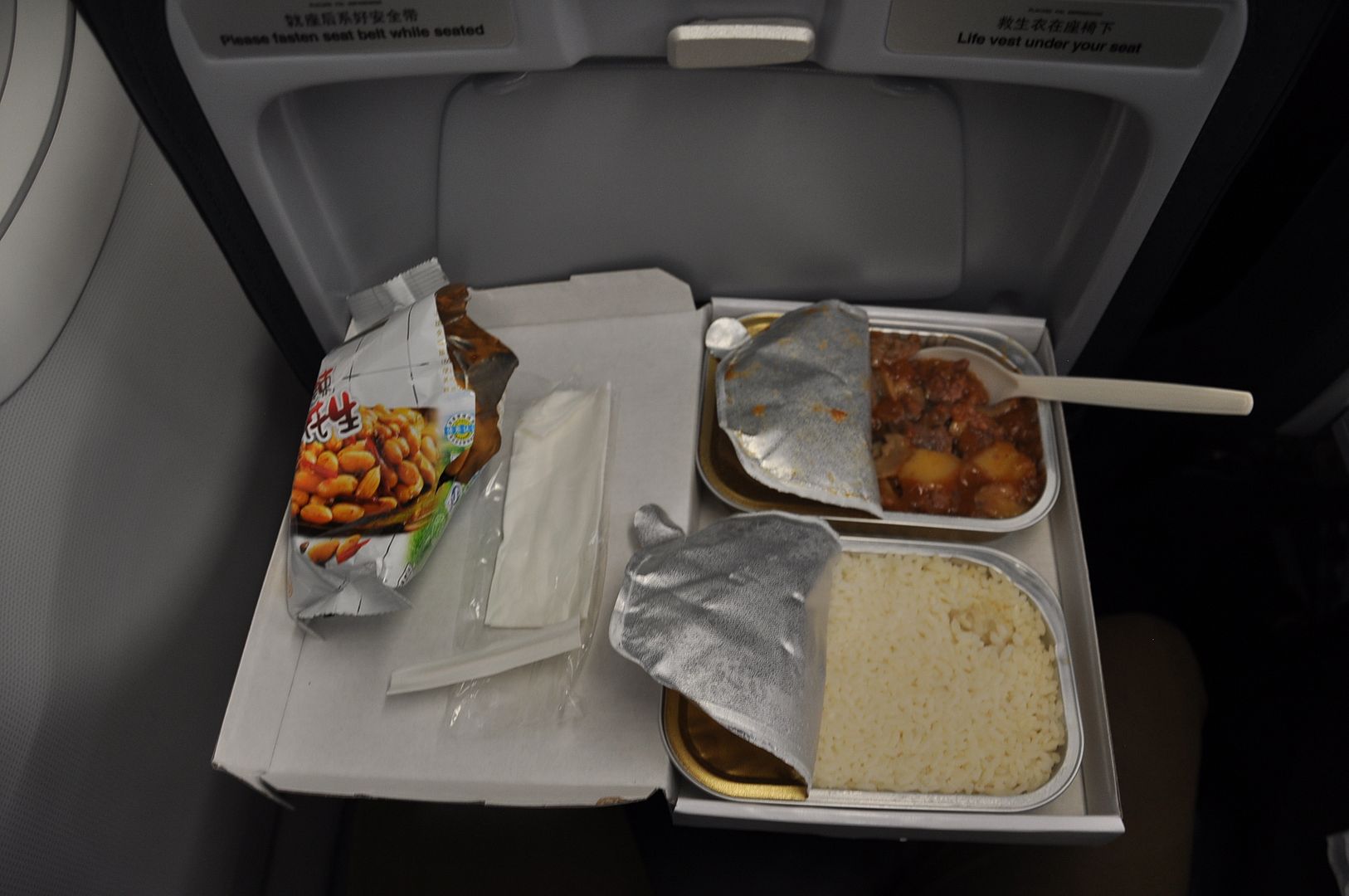 Flight nearly full load but very clean
Seat belt sign OFF on board a fllight in china! Stop Press!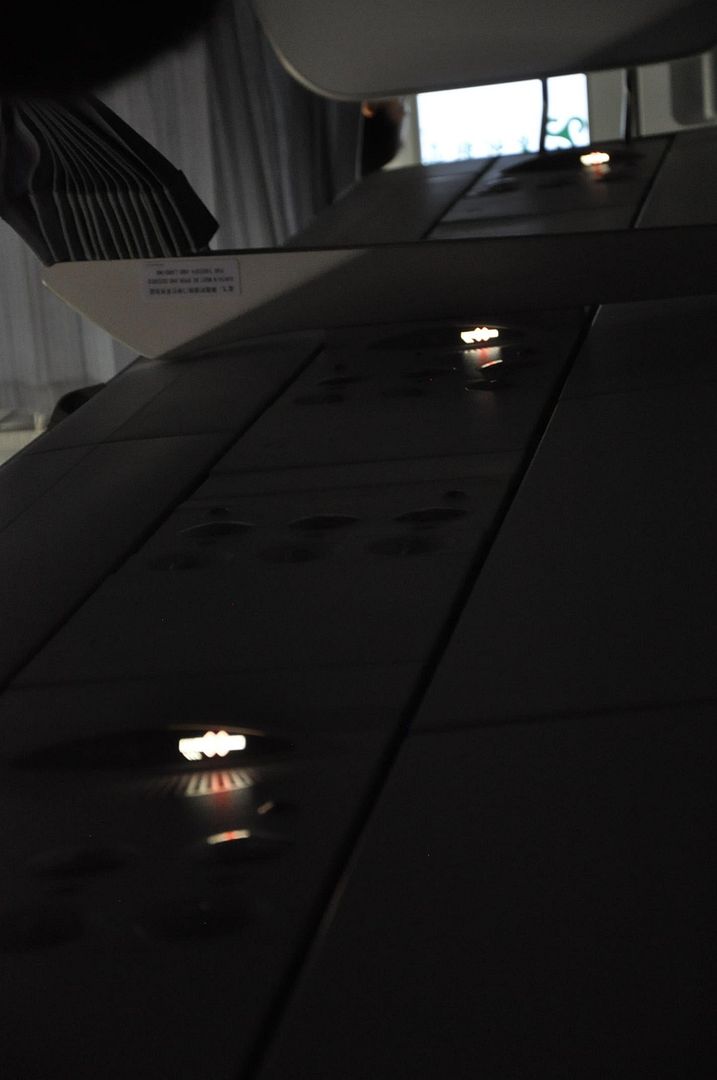 As soon as we entered the aircraft, it felt brand new. The green leather seats looked fresh and crisp.
We disembarked from our gates 7 minute ahead of schedule and were airborne within 10 minutes. Apparently SJW airport is the only airport in china that is licensed to operate an Antonov 225.
The load looked around 90%, with only a few vacant seats scattered across the A320.
Once airborne food service commenced soon. Being a low cost airline, it looked like everyone was prepared for it and had some sort of food arrangements already made, mostly pot noodles. We opted for the onboard set menu of beef with rice. It isn't cheap and 2 set menus, a bottle of juice and a pack of mouth numbing chili peanuts, set us back by 100rnb.
Another first for me in china - the proper use of seatbelt signs! It was promptly switched on when there was a slight turbulence and switched off as soon as the skies were clear. Good on spring airlines to adhere to conventional standard, rather than let passengers decide their own safety.
There was also a fair bit announcements selling various products, a-la RyanScare. Although the products were hard products rather than scratch cards - hair trimmers, electronic scissors, etc. We were also informed that this aircraft was the latest A320 in spring airlines fleet, delivered the previous month. Also giving the benefits of the new winglets or sharklets
The rest of the flight was uneventful in a good way. Service was prompt. The crew seemed to be shanghai based and had a good command of English. An interesting note was that the cabin crew seemed to be announcing a lot of tips on flight travel (In Chinese, nevertheless a good initiative). There was also a 10 minute demonstrating on in-flight exercises, which again I thought was an interesting initiative, albeit a bit excessive for a 2hr 10 minute flight.
Plane spotting at CTU
The lovely CZ A330
CTU Baggage collection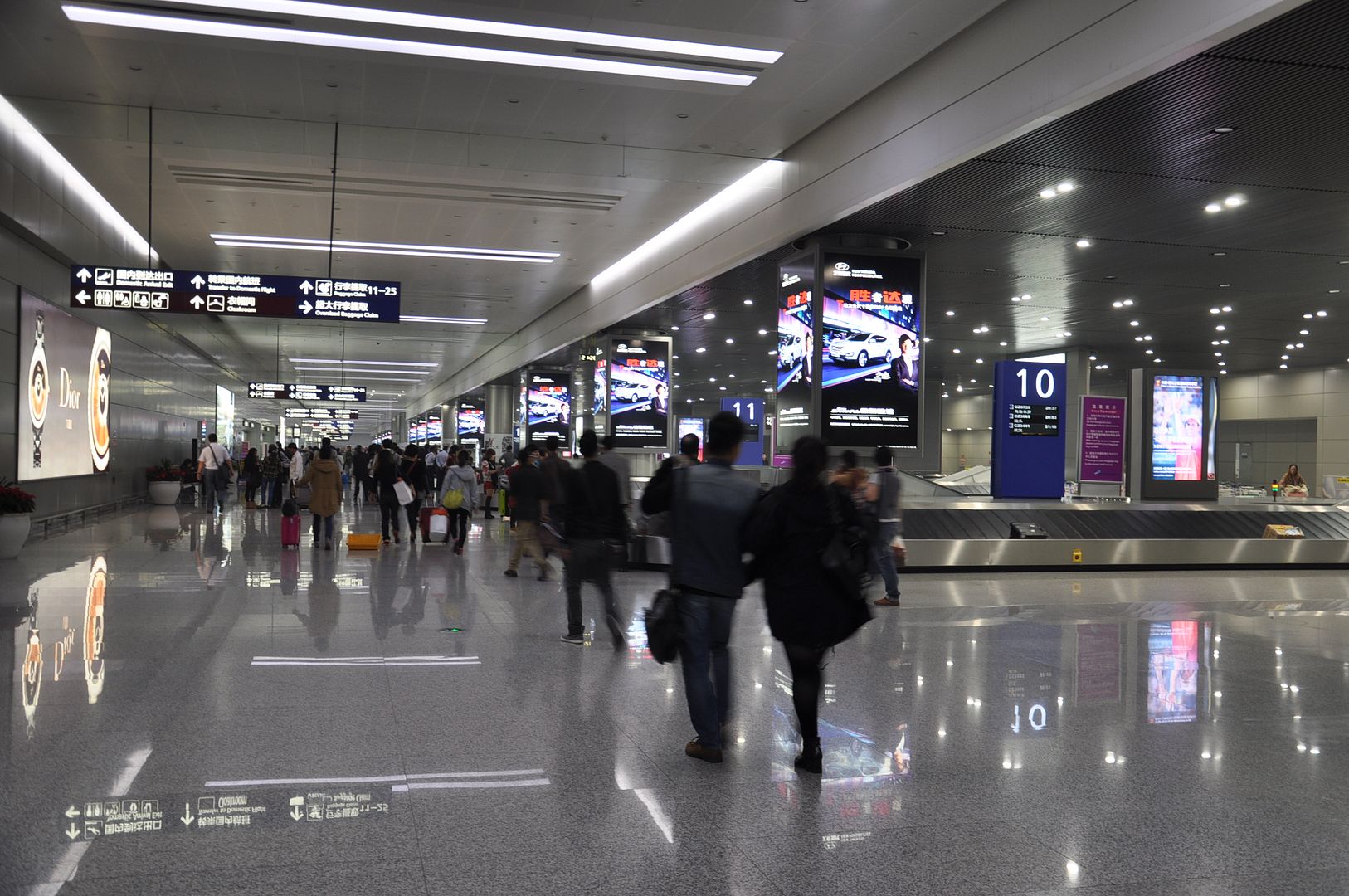 On asking if I could take a photograph of the registration plate, the stewardess had to ask the captain and I was given the permission to shoot.
There are no over head monitors or an in-flight magazine, so be prepared and have your tablets/media devices full with juice and content.
The toilets were one of the cleanest I had seen in china. And it was kept that way through out the flight.
On the whole a decent airline and I would consider a serious threat to the full-fledged airlines in china. There are certain avenues where they can improve, but overall a very promising airline with new aircrafts and courteous staff. Also need to mention that after the flight each of us (my wife and myself) got a text message on our international phone, thanking us for flying with Spring Airlines; a courtesy message, in Mandarin. Kudos!
We landed on time at 21:15 and out of the airport by 21:40. Overall had a good flight and nothing of note to complaint about. On par with the EasyJet of Europe, but not quite there yet as Norwegian, who I consider the best lcc I have flown in to date, in terms of value for money (a very close second would be indigo airlines of India). A tip would be to book seats for in advanced, in case you are travelling with a group, it is not too expensive and in my opinion worth it.
Courtesy test message after flight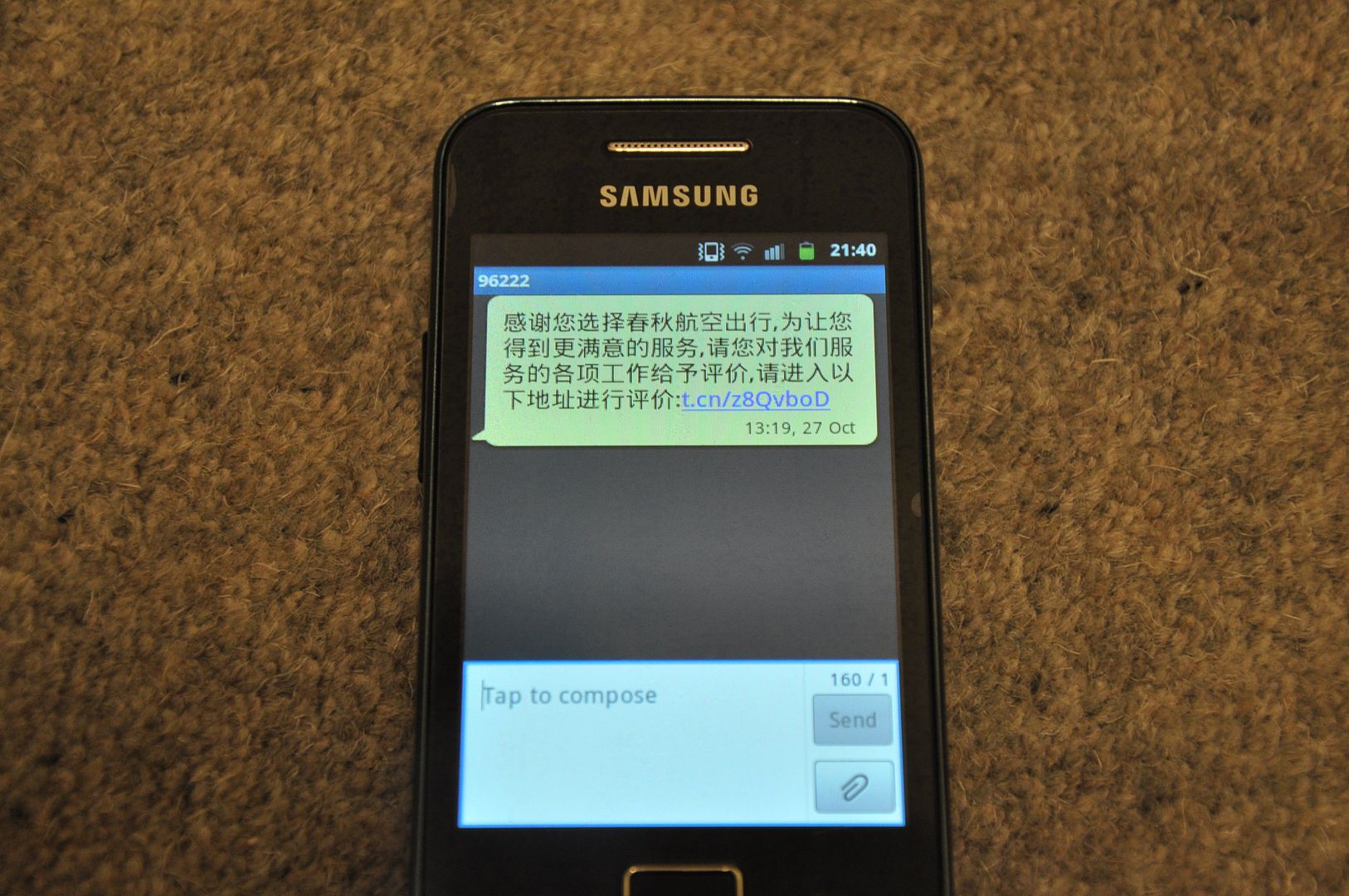 Thanks for reading and please feel free to comment. Until next time, safe flying and happy trip report'ing.
Previous trip reports:
China United Airlines (KN) - CTU - SJW - B737-700
Norwegian B737 - LGW-TOS-BGO-LGW
Jet Airways : LHR – COK
Barra Trip – that was not to be
LHR - KWI - BA 747 - Part 1 - Middle East - China
Part 5: PVG-LHR - BA - Economy - B777
Part 2: KWI-DXB - FlyDubai - Economy - B737
Part 4A&B - SHA-SJW-SHA - FM: Eco: B737
Part 3A&B : DXB-HKG-PVG: CX & KA :Eco: A333
Morocco Trip - LGW-RAK-TNG-LHR - EasyJet & Iberia
Dusseldorf Calling - BA & EZY - Club/Eco - A321