AY 62, Hong Kong to Helsinki, and then BA 799 from Helsinki to Heathrow.
This is the last report in a series covering a trip down to Australia in July/August this year. Details of the previous legs can be found here:
Part I:
Finnair J Class London To Helsinki
(by
eccc
Nov 17 2013 in Trip Reports)
Part II:
Finnair And Cathay LHR To SYD Business Class
(by
eccc
Oct 31 2013 in Trip Reports)
Part III:
Australia And Return 2013: CX J Et Al
(by
eccc
Nov 18 2013 in Trip Reports)
And so that takes us to the final 2 legs of the trip...Enjoy.
It was a pretty grim day in Hong Kong, with torrential downpours every few minutes, but there was still plenty of aircraft movement to be seen from the lounge.
I wandered down to the gate some half hour before the scheduled departure time, partly to get my boarding pass for the last leg of my return journey, as I would only have 45 minutes transfer time once I was in Helsinki. At the gate here was some Frenchman laying into the Finnair ground agents, as well as some ground staff evidently employed by Cathay, (i.e. Monsieur was also laying into the Cathay staff - I don't mean to imply there was some almighty inter-airline bust-up going on), apparently about bags that had gone missing on a flight he had taken earlier in the year. The man was unbelievably rude, and it was one of those moments when it occurred to me that a job in public service is probably not for me. I'll stick with teaching. That way I get to do the shouting.
As you can see, with just minutes before departure, although the aircraft is at the gate, the flight and cabin crew are still waiting in departures, and it becomes increasingly clear that we are going to be delayed.
The staff did, at least, manage to produce my boarding pass for the final leg without any problem, and I went off to watch planes landing while we waited for boarding to start.
Gate neighbour.
We were some 55 minutes late departing in the end, but I figured (naively as it turned out) that we would make up that time over the next 10 hours or so. According to seatguru, and according to my Expedia itinerary, we were supposed to be on one of Finnair's A330's for the return flight, but it was the old A340 at the gate. I was, therefore, held up on boarding, as my boarding pass had been issued in Sydney with a seat that didn't exist on this aircraft's configuration (1A); I was put in 1L instead, so the bulkhead window seat on the right hand side of the aircraft. It was explained that the delayed departure was because of the aircraft's late arrival into Hong Kong, which may explain why the cleaning wasn't exactly impeccable. As on the outbound flight, there was a full load in J, which is not surprising given how cheap (relatively, of course) the flights were.
The old-fashioned seat and cabin were still comfortable, and, of course, it's really all about legroom anyway.
Duvet in Finnair's designer style was warm and comfortable.
We had a bit of a wait at the end of the runway, but it is always fun to watch the other aircraft pootling along to their slot.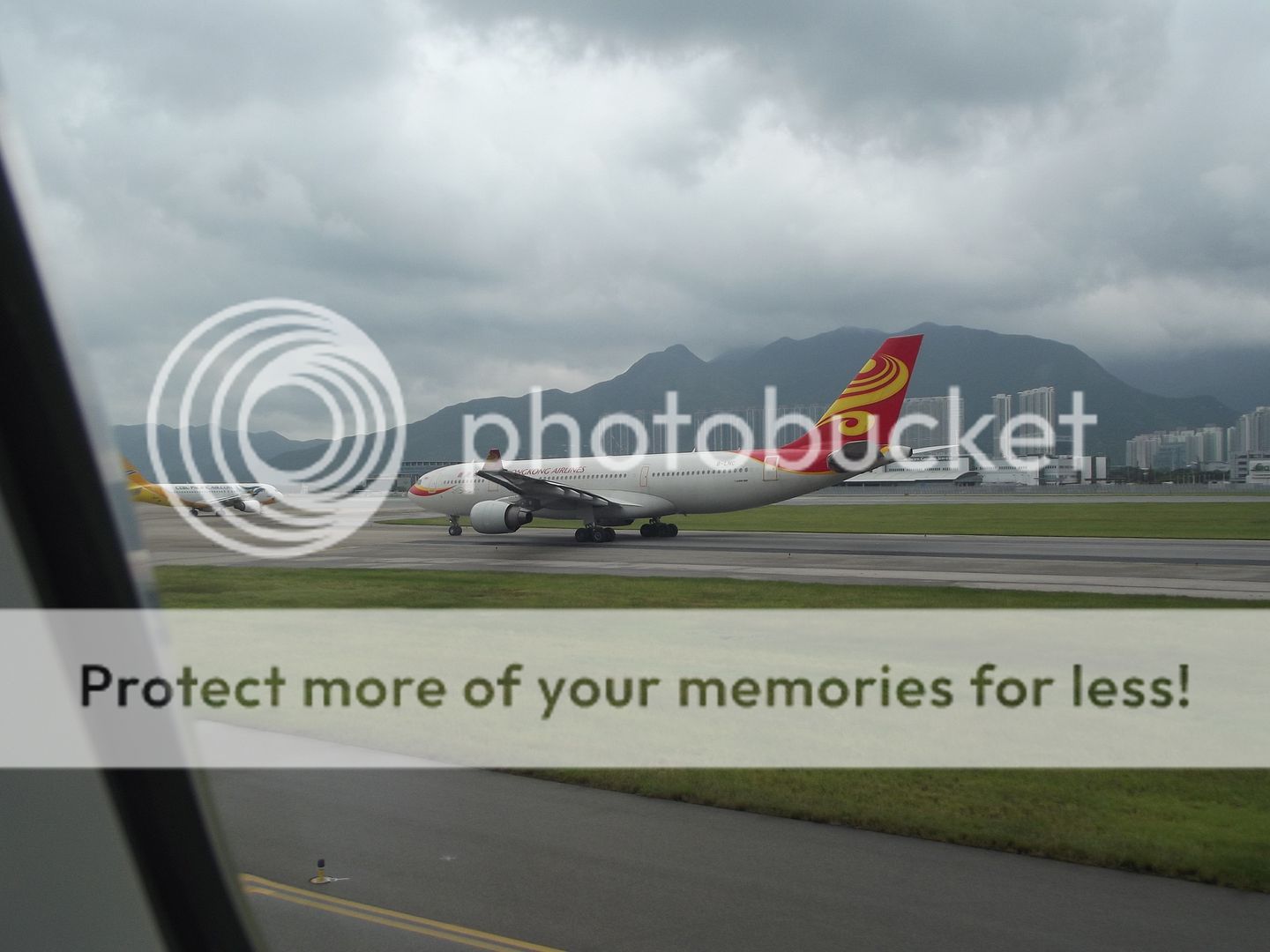 I have to say, the catering on this flight surpassed Cathay's offering from the previous evening, as did the inflight service. The cabin crew were delightful, nothing was too much trouble, and the meal service was well paced and attentive. 2 starters were offered, and I had both - the zucchini and thyme soup and the smoked salmon, which was very generously proportioned. The beef tenderloin and gratin potatoes were tasty (the beef not quite as tender as Cathay's from the previous dinner), and refills of drinks were offered regularly, and extra silverware provided when needed without having to be requested. I was offered (and accepted) both desserts - apple crumble with vanilla sauce and Häagen Dazs ice cream - and cheese. Thank god for statins. Cathay, of course, wins for the hard product (although Finnair is gradually upgrading its business class cabin) and provides a much better amenity kit (seriously, a brown paper bag? Come on Finnair), but for service and food, then Finnair won hands down on this return leg.
Second hot meal towards the end of the flight was a tasty pasta dish.
Nice wing tip.
As we approached Helsinki it was clear that we had not made up the lost time during the flight. An FA approached me to let me know that I was going to miss my onward connection to Heathrow, but that I had been transferred to the BA flight leaving at 17.50. The overhead screen in the cabin showed the same news.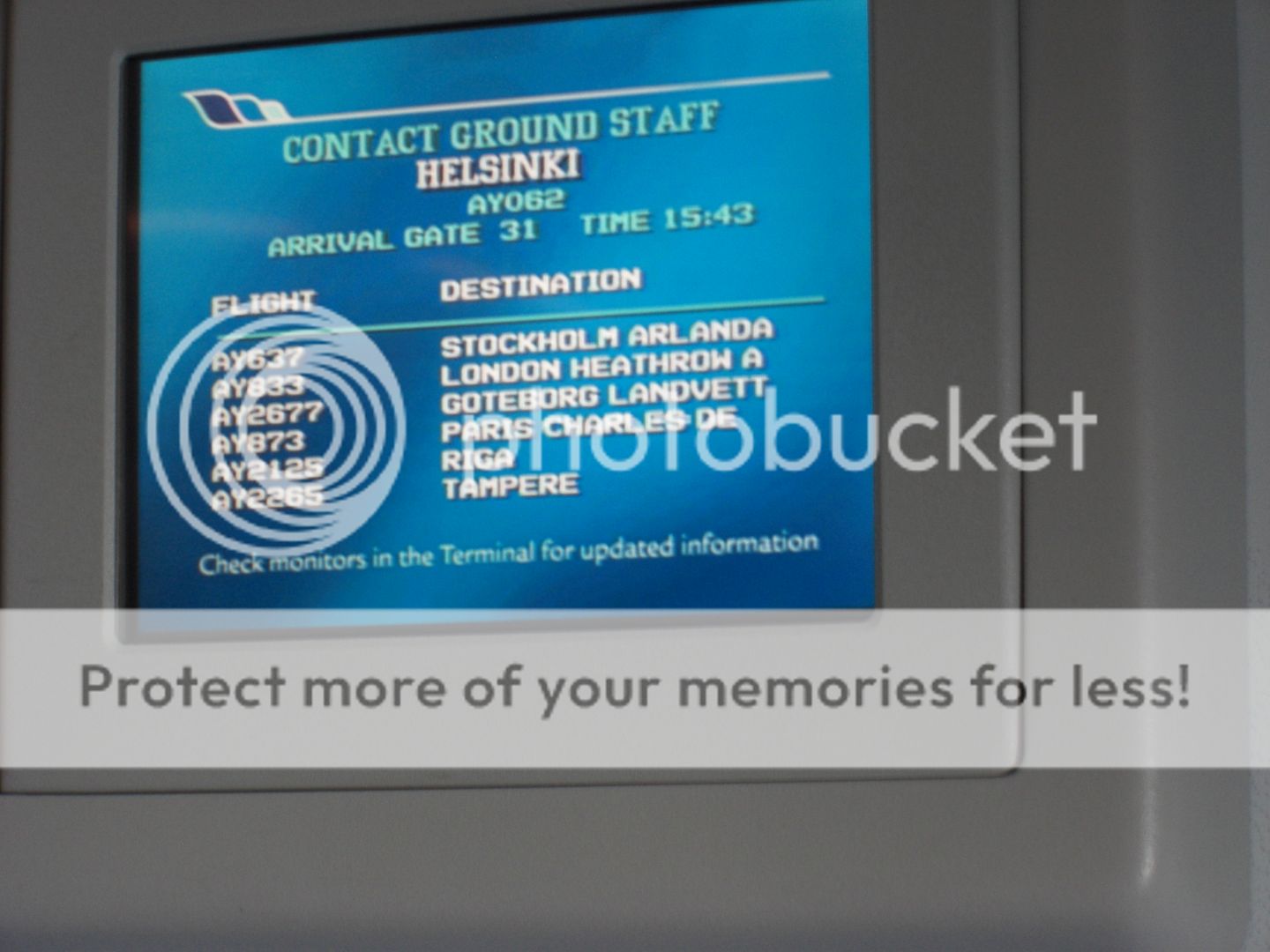 FA returning coats and jackets to passengers.
From the air it is hard to see where the centre of Helsinki is - we certainly flew over the whole city - but it is clear there is a lot of water. I think it would be a good place to visit in the summer - not so sure about the winter.
Flying past the airport to approach from the west (at least, I think it was west – could have been south, or north or east for that matter – sense of direction/geography not great).
Shadow of our A340 in the lake below.
On the ground at Helsinki.
Things got a bit weird once we arrived in Helsinki. As we came off the plane a ground agent shouted "London?" at us, and when we said yes, we were told to run to gate 37B as the plane was still waiting for us. Now, I know that Helsinki is not big, and it prides itself on the ease of quick transfers, but we still had to pass through security (who, it would seem, hadn't been included in any discussion about urgency) and then run along past the lounge and downstairs to the gate. Once there, however, we were met by a deserted gate lounge, and a slightly perplexed desk agent who told us that we should not have been told to run, or even walk, to the gate, as the plane had left some time ago. He then directed us to the transfer desk, which then seemed to be miles away (somehow the airport must have grown in those few minutes). As you would expect when an A340 has just landed late with a bunch of transfer passengers needing to be allocated new flights, there was just one beleaguered agent at the transfer desk trying to sort it all out. Long story short, she told me I was on the BA flight and that they would issue the boarding pass at the gate; she added, however, that I had to be at the gate a full hour (!) before departure. When I queried this, she assured me that, yes, BA were very strict with passengers having to be there that early. This did, however, still allow me time to have a shower in the lounge, so every cloud and all that...Needless to say, when I did get to the gate an hour early, there was not a single member of staff in sight, so I had a wander around. Didn't take long.
My new ride to Heathrow.
Some 15 minutes later there was one agent at the gate, but he said he couldn't help and that I would have to wait for the BA agents to arrive, but they wouldn't be there until about 30 minutes before departure. If I were an impatient man, I would have been vexed. Boarding staff did eventually arrive and issued a bunch of us with new boarding passes, and I was soon back on one of my least favourite airlines, casting a critical eye over the wear and tear of the premium cabin of Britain's flagship airline. A great impression it creates too.
Just leaving Helsinki.
The last time I had flown in BA's Club Europe cabin had been a few years earlier, on the day that a judge had declared that the planned strike by BA staff was illegal; it was quite clear that day that the cabin crew on the flight I was unlucky enough to find myself on were not pleased with the ruling, and the passengers suffered as a result. A couple of weeks later, flying in BA's Club World from Sydney to Heathrow, things had not improved much. I was, therefore, not thrilled about being back on BA, an airline I would not have chosen, given the option. Credit where credit's due, though. The service on this flight was fine, and the quality of the catering good. The "menu" from which to choose, however, was a computer print-out flashed in front of your eyes with the meal options circled in blue ballpoint pen. Not exactly classy, but then British Airways isn't.
Tasty meal though – I chose the cod.
Cheese and bread roll served with main dish.
Crossing the M25 on approach to London's Heathrow airport.
Touching down with Terminal 5 in the background.
Upon arrival at Heathrow we were parked on a remote stand and taken by bus to the terminal. A plus point was that the bus left the aircraft as soon as all the Business Class passengers were off the plane, and it didn't wait for Economy passengers just to ensure a full load. Now, here I have a question for Heathrow managers. If you know that there will always be some passengers who have to be bussed from their plane to the terminal building, why not have the bus arrive as close as possible to the immigration hall, rather than make those passengers walk half a mile from the bus? Is that not just common sense?
Back on land at Heathrow – those Qantas A380's were there when I left three weeks earlier.
I don't know if anyone else has ever had that prescient feeling upon reaching the baggage reclaim area and somehow just knowing, without any particular reason, that you are going to be leaving without your belongings. I had it that day, and I was right. My initial reaction, although basically resigned, was to blame the rather chaotic arrival at Helsinki, and I did wonder if my bags had made the transfer in Finland that I had failed to make. As it turns out, however, my bags never made it on to the plane at Hong Kong. I was reunited with them the next day, you'll be happy to know.
All in all the return from Australia to London was a rather mixed experience. As I said in my TR dealing with the outbound flights, I would definitely choose Finnair again for this trip; I don't have a problem with 2 stops, and am quite happy passing several hours waiting between flights. I would, however, like to try Finnair's new J class, although I wonder if the reason their fares via Hong Kong are so cheap is because their product on that route is rather outdated now. I have read elsewhere plenty of criticism of Finnair's catering and service, but that was definitely not my experience. I am sure people will say the same of my negative experiences on BA; sometimes it is simply the luck of the draw.
Thank you for reading, and I hope you have enjoyed this short series of reports. Nothing more for a while. I have run out of money. However, if any BA executives happen to read this and want to offer me a freebie ticket, preferably in First or Club, to change my opinion of their airline, then I would be happy to accept.