From Spaceflight Now:
http://spaceflightnow.com/news/n0911/24otv/
From the source:
"In a response to written questions, an Air Force spokesperson said the unmanned spaceship is scheduled for launch April 19 on an Atlas 5 rocket from Cape Canaveral, Fla."
"The Air Force Rapid Capabilities Office expedites development and fielding of select Department of Defense combat support and weapon systems by leveraging defense-wide technology development efforts and existing operational capabilities," the unit's mission statement says."
"The spacecraft completed a series of captive carry and free flight tests in 2006 underneath the privately-owned White Knight aircraft from Scaled Composites. Taxi tests were conducted at Vandenberg in 2007. "
This is very interesting. The US military has already expressed interest the civilian suborbital space market with hopes to adapt a favorable design for on-demand transportation to any point on Earth within a few hours. Having government money would greatly benefit any private venture.
I think this project might benefit SpaceDev, which is currently developing a similar spacecraft for the civil sector, based on a canceled NASA project.
http://www.spacedev.com/spacedev_advanced_systems.php
SpaceDev's Dream Chaser is planned to be launched into orbit atop an Atlas V rocket. With cooperation between the USAF and SpaceDev, civil space travel with a reusable space vehicle might become a reality.
I find the relationship between the military program and SpaceDev's program to be intriguing. The USAF's vehicle appears to be a scaled-down version of tested re-entry vehicles, such as the Space Shuttle. Perhaps one of its primary objectives will be to test the aerodynamics of having a lifting body atop a rocket during launch, and to test re-entry characteristics for the desired mission parameters.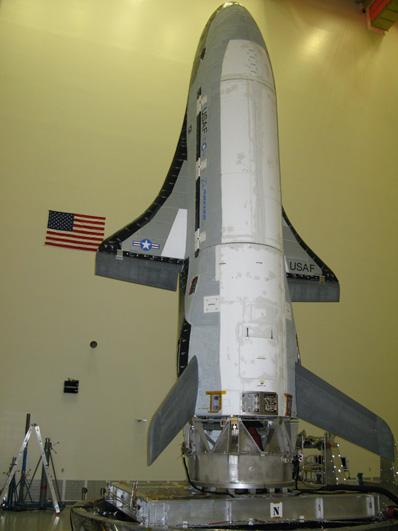 This is intriguing. Thoughts?