The Mitchell Institute has released another study, this one covering their proposal that weapons systems be judged and financially reviewed based on the cost they have to effect an outcome against a more vanilla unit cost or cost per flight hour,.
US think-tank proposes cost-per-effect metric for better weapon system cost analysis
The US Air Force (USAF) should adopt a cost-per-effect metric for weapon systems to maximise mission value instead of relying on simplistic metrics such as unit cost or cost per flying hour, according to a Washington, DC, think-tank.

...

Cost-per-effect includes mission aircraft to execute the actual task and direct supporting assets, including aerial refuelling tankers, electronic jamming platforms, and surface-to-air missile suppression efforts. It also includes aircrews and requisite infrastructure such as basing and related maintenance support.

For example, Lockheed Martin F-35 Lightning II Joint Strike Fighters (JSFs) and Northrop Grumman B-21 Raider long-range strike bombers and other advanced weapon systems may appear more costly on a per-unit basis than less capable legacy aircraft designs. The think-tank argues enterprise assessments illustrate the potential of these modern aircraft to complete mission objectives more efficiently and capably, thereby lowering their overall operational expense. This would make them a more cost-effective option.

..

https://www.janes.com/defence-news/news ... t-analysis
For example the study cites the use of the F-117 during Desert Storm where the aircraft, the result of a very expensive development and security program and having a higher cost per flight hour than many other airframes at the time, was able to make a massive impact on fixed targets across Iraq. The first night is an illustrative example,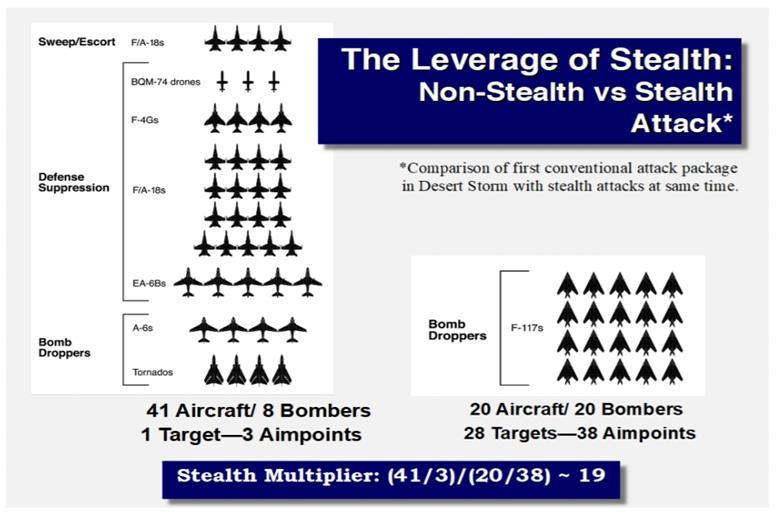 FlightGlobal has a similar article here,
https://www.flightglobal.com/fixed-wing ... 09.article
While the actual study is available here,
https://a2dd917a-65ab-41f1-ab11-5f1897e ... 49d024.pdf
And there are some slides associated with the report here,
https://www.mitchellaerospacepower.org/ ... t-Analysis
The report covers not just the F-35 but the advantages that stealth and more importantly information fuzed platforms provide. As with their other recent study on the bomber fleet there is some cost references to precision weapons and their impact on targets.
I'd be interested to hear people's thoughts on it? I still think there is a place for a unit cost and cost per hour metric because you could develop and build the greatest weapon system ever but afford so few of them that their effect is negated and an adversaries ability to wholly negate that platform improves the fewer that exist. Still, comparing a 4th gen fighter aircraft that has a heavy reliance on support assets to a 5th gen platform that can largely go it alone is sound.