Texas Church Cards People Who Patronize Adult Stores
By Lianne Hart Times Staff Writer

KENNEDALE, Texas — It's 2:30 on a Thursday afternoon, and inside a windowless adult video store a dozen people are perusing XXX-rated movie titles. Pastor Jim Norwood surmises this because he has photographed the customers' cars in the parking lot, carefully adjusting his digital camera so that each license plate is in focus.
Each car owner will soon get a postcard in the mail from Norwood's Oakcrest Family Church. On the front will be a color photo of their vehicle in the video store parking lot. On the back will be a note: "Observed you in the neighborhood. Didn't know if you were aware there is a church in the area … please stop by next time. We'd love to have you visit."
Norwood, 56, who says he is a reformed drug abuser on a mission to rid the town of sexually oriented businesses, calls the postcards an "invitation to church."
Steven Swander, a lawyer for an adult business in the area, calls it intimidation. "To me the question is, are they doing it really to communicate their message, or are they trying to blackmail people, in a way, by embarrassing them?" Swander asked.
The distinction matters little to Norwood. "I want these people to know someone is noticing them," he said, chomping on a piece of gum. "If they're going to come to my neighborhood, I have a right to go into theirs."
Norwood's campaign against adult businesses picks up on a theme that began four years ago when Kennedale — a Fort Worth suburb — annexed 58 acres of unincorporated land. With the expansion came five sexually oriented businesses that the city then tried to force out.
The businesses sued in federal court, claiming violations of free expression. Three of the businesses have since settled their claims, agreeing to close, relocate or — in one compromise — add a pizza parlor to dilute the impact of its primary line of business. Tired of the bickering, Norwood and a group of church volunteers last month armed themselves with digital cameras and began patrolling the parking lots of the two businesses still involved in the lawsuit.
At least once a week, a volunteer traces the license plate numbers to the owners of the cars using an online service that searches an automotive database for a fee. In Texas, license information is a matter of public record. So far, 300 postcards have been mailed, Norwood said.
The cost of the program, which could reach $15,000 a year, is covered by donations from local businesses and private individuals, Norwood said. Oakcrest Family Church, located in a ragged neighborhood behind the sexually oriented businesses, could not otherwise afford the expense, he said.
This neglected stretch of auto salvage yards, trailers and rickety wood-frame houses seems at first glance to be sliding into despair. But at one house, someone has resolutely planted a 5-foot wooden cross in the middle of a scraggly lawn; at another house, plastic ducks decorate a freshly swept front porch.
The sound of children's laughter filters from a playground nearby. There is life here, but outsiders don't seem to notice, said Gloria Price, who has lived in the area since 1970. "When we were unincorporated, everything just got dumped out here," she said, adding that something should have been done about the adult-oriented places "a long time ago."
Price cooks meals for the underprivileged at the church, where the congregation includes ex-cons, former drug addicts and recovering alcoholics. Norwood describes a personal history that includes charges of public intoxication, assaulting a police officer and weekends serving time in county jails. That was more than 25 years ago when, he says, he owned several auto body shops in the San Francisco area and had unlimited access to pornography through a friend who managed a chain of pornographic bookstores.
Now, when he's not counseling prisoners at the Tarrant County Jail in Fort Worth, the no-nonsense Norwood runs a flower shop steeped in the fragrance of scented candles. "I'm hard-core about being against pornography, because I know firsthand what it can lead to," Norwood said. His postcards list a schedule of church services and the church's "counseling and classes on sexual addictions."
The targets of Norwood's concern are not thrilled. "What other people do is not his business," said Roger Vallez, 47, as he left the video store. Vallez, who said he was a contract engineer, said he wouldn't welcome nude clubs in his neighborhood, though. "There ought to be a place in the middle of nowhere for these places."
A young man in a blue pickup pulled into the lot, an aluminum ladder rattling in the bed. When told of Norwood's surveillance program, his eyes darkened. "I'm just going to rent a video and go home. I'll be [angry] if I get a postcard in the mail. I think it's stupid. People aren't going to stop doing what they want to do," he said.
Norwood readily agreed. But those who dismiss his invitation to church will perhaps take their business elsewhere, "somewhere they won't be hassled," he said. "There are a lot of other places … where they can go if they want to persist in this kind of behavior."
Norwood is also counting on unhappy reactions from wives or girlfriends who get to the mail first. "When she asks, 'What were you doing over there?' they're going to have some explaining to do. If they're embarrassed by it, maybe they shouldn't be doing it in the first place."
Norwood is aiming his camera at a white sedan parked at a strip club, the driver still in the car, absently changing the knobs on the radio. Another man leaving the club notices Norwood, slips behind the wheel of his pickup and hurries out of the lot. Too late. Norwood had photographed his license plate.
John Gamboa, a lawyer for one of the businesses that has settled with the city, said Norwood's photo campaign is harmless. "If this man wants to spend money on postcards, fine. As long as he stays within the bounds of the law, he has every right to do it. What he seems to forget is as long as we stay within the bounds of the law, we have every right to be there," he said.
Norwood, a former city councilman in nearby Arlington, has no intention of stopping. As long as the sexually oriented businesses remain in Kennedale, his camera will be at the ready, he said. "Even if they move somewhere else in town, we'll keep at it. Whether it's 2 o'clock in the afternoon or 2 o'clock in the morning, there's a good possibility we'll take a picture and send a postcard."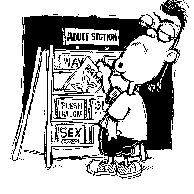 http://story.news.yahoo.com/news?tmpl=story&cid=2026&ncid=2026&e=1&u=/latimes_ts/20040125/ts_latimes/texaschurchcardspeoplewhopatronizeadultstores
=====================================================================
What in the hell?
[Edited 2004-01-25 23:35:48]