Hey people
Disclaimer: I know some of you would rather trash me, or bands I like in here, So if thats your intention then dont bother, im sick and tired of it.
also: Sorry for picture quality, I didnt take my camera, I didnt want to risk it..
So It all started sunday morning at 7am, I left hemel for LHR as i needed to pick up a friend who was attending the festival with me, I filled my car to the rim with petrol and made my way (for the first time) onto the M25 motorway, Was a little scared here, I have not had much experience on motorways, I got to LHR and tried not to be distracted by aircraft (this was so hard)
I got into T1 and picked up my friend, now our route was M25 north and onto the M1 (cutting through hemel, Harpendon), Non-stop to leeds. Junction 12, Junction 13,14,15,,16, went by, We stopped twice for a loo break and a general driving break for me.
2.5 hours past And we arrived in leeds, amazing timing! woo. and I dont Hemel- Heathrow- Leeds on just over half a tank!
After a further hour looking for hour hotel it appeared on the other side of some river but we found it, I parked the car on the top floor of a multi story car park, We had arrived at Leeds at last! our first objective, food!
We plunked all hour gear into the boot of the car as it was to early to check-in and headed for the city, we took all the festival stuff with us, keeping it to a minimal we took some cash, phones, ticked and my High viz jacket.
We headed into Leeds city, This was new to me, never ever been here before but soon got excited about seeing a subway (food place), Automatically this was my choice of food, After we headed into to leeds for a bit of window shopping, I though I should get wellys in case it was muddy at the festival, but considering weather had been pretty good and predicted to stay dry i passed.
We wondered about some more, and more and more until 1430, at 1430 another friend was arriving by train. soon enough 1430 came so we dotted over to meet him, he walked out looking incredibly happy (10 mins late though) and at hat we started to make out way to the festival, We walked to the bust station were a shuttle bus was provided (at a small fee), we hopped on but to out amazement only a few people on board.., we was going a bit late in the day and most of the people there had been there for 3 days already i guess.
after 15 mins on this raggy old bus we turned off the motorway and started going down narrow lanes. okaaaay is this fest at a farm? but then, in the distance you could start seeing a small built up population, hundreds of cars came into view, rides, tents and then the stages. at last, Im here!
Off the bus and through a tunnel thing, tickets inspected twice and we are in! so we though, first we had to go to wrist band exchange...
Over the dry field we went and found the tent we needed, soon my ticket was taken and a green wrist band stuck to me (which is going to stay ON)
We made out way to security, had everything inspected and then let in to the festival area itself and wow!
Look ahead, burger vans galore, look left and big tents with stages in, some random bands playing, then there it was, the main stage, bombarded by people moshing, jumping waving and flying beer cups. I dont know who was playing but they was not to bad i guess. After closer in spection I saw the muse staging tucked behind the curtain, the tangling spirals were set and ready for there performance in 6 hours time..
We met up with a few more people and went for a look around, we played with hats, watched some random bands and just went a bit nuts...
Me with my custom made musey shirt.. (note the hair!)
We heard seom screams coming from the main stage, quickly flipped out a program to see who was on, and guess who? feeder!, we ran over and to be honest im not a fan but I really enjoyed their performance, they loved talking the the crowed, They even dedicated a song to muse which made me ever more excited. after an hour or so they left the stage,
Now the set was changed for the streets, I know My brother is a big fan, i knew a few songs or so, what could be so bad? WOW, they really surprised a very talented group of people there, they was so temped for us to 'go down' basically instead of jumping up and down, we had to go low on the floor, it looked amazing, after jumping up into a mosh, it hurts but its fun!
After that performance i was bashed, I went away from everyone for a bit, grabbed some food and drink... another hour or so passed and I met up with the gang again, the Artic monkeys now on stage... I have never listened to a song from them.. never.. and to be honest, nothing from these guys wow'ed me.... oh well, cant have it all.
The sun had almost set, the weather started to turn from sunshine to overcast and the stage went quiet... Everyone started shouting and started moving as far forward as possible.., Darker and darker it became until pitch black and heavier and heavier the rain got.. (nice one weather people)
While sets are changed, normal music is played, any random tracks just to fill the silence. lights being tested now, the stage set being changed to that of muse, Everyone waited in suspense a few light were kept on after the testing. Then the rain stopped, everyone soaked. the lights shut of and a silence fell everywhere.. this was it... then it started, a faint sound of fuzz came from the stage, a typical musey sound started to escalate, then Bellamy walked on, accompanies by Dom and Chris, with the guitar sound int he back groun, the crowed went nuts, cheers everywhere, screaming everywhere.... The band greeted us and then fell into a riff.... and then AHHH AHHHH AHHHHHHH, Right into Knights of Cydonia, the croud screamed even louder......Arms punched intp the air to match the beat... every sang along, and then MADNESS, as soon as they hit the drums EVERYONE just went completely mad, jumping around screaming, flags flying, Muse are on stage....
For me I could hardly breath, this moment I had been waiting for, for so long was finally here, the band I ador and obsess for were in front of me now...
Setlist
Knights of Cydonia + Space Dementia outro
Hysteria
SBH
Showbiz
Map of the Problematique
Forced In (instrumental)
Bliss
Citizen Erased
Feeling Good
Invincible
Riff
Plug in Baby
Starlight
New Born (+ long outro)
IN the gig, Some random guy asked if i wanted to go on his shoulder, didn't know him but took the offer.
Up I went, escalated above everyone else, in torrential rain, lightning above me, and muse performing in front of me, singing away waving my arms, almost in tears of joy!
The set overall was fantastic, They played songs which were ditched a years back, thats was amazing to see those songs return! and newish songs... IO couldn't ask for anything more.. some videos.. Unfortunately these vids are from reading the day before, but it will give you an idea!
Showbiz from the first album returns!
Supermassive!
Map Of The Problematique
The Gig ended, The bad said there goodnight and left the stage, Everyone started chanting muse,muse,muse,muse but no encore
Ok, I can feel this weather now, Everyone scatters to either the bus, cars or tents, in pouring rain and a sea of mud, along the way singing Muse! hugging random people on the way,
about 30 mins later we reach the busses, a further 15 mins in a quq and we are out of the rain at last but in a bad way to be honest, we look like we had been swimming in full clothes, we was all very tired and eager for a hot shower and a good night sleep,
Back into leeds city we come... and the weather had not improved, i stepped off the bus and felt the cold like a stab... I dont know what started to happen here but now i started to feel funny... every step was a small one and breathing had become very hard, my lungs hurt so much and It was at gasping point.. and started to violently shake, I wouldn't manage the small walk to the hotel so insisted on a cab...
at last we reached the hotel after a quick cab ride, but we still had to go to the car to grab our stuff, this took a while, but eventually we got there.
Into the nice warm hotel and for the first time since day light we saw ourselves in the light, I dont know how we got into the hotel! mud up to the knees, splattered everywhere in on shirts had run.. dripping everywhere, we got checked into and we made out way to floor number 2.
As soon as we go in our room I didn't think twice, before even inspecting the room i was in the bathroom, straight into the showe on HOT!, my clothes were so heavy from the amount of rain! realllllly wet.
abouy 20 mins later i felt the after effects of the gig, my voice had gone, my eye lids barley open, my feet swollen... right into bed and tucked up, i was out before i could thing about going to sleep.
The morning aroze! and my first though? where the hell am i? whats that pain in my neck and back, oh yeh i remember.... I laid chatting to my mate who was in the bedt next to me, watched Buggys (the kiddy version) on TV.. CLASSIC!, jumped back in the show, but some nice dry clothes on and prepped myself for the drive home, It took us about 4 hours to get home this time due to traffic, un eventfull but a long days driving! but now im home, my neck feels stuff as does my back, im tired and have to dye my hair back to normal for work tomorrow...
But what can I say?
Long drive
Lots of money
Getting soaked
risking health
paying for a hotel room
getting a ticked
booking time off
waiting all day
was it worth it just for one band?
the quick answer.....
yes.
As soon as more vids, pics pop up ill post them, i have a few on my phone thats ill upload tomorrow maybe, thats all folks!
Addiong a few pics: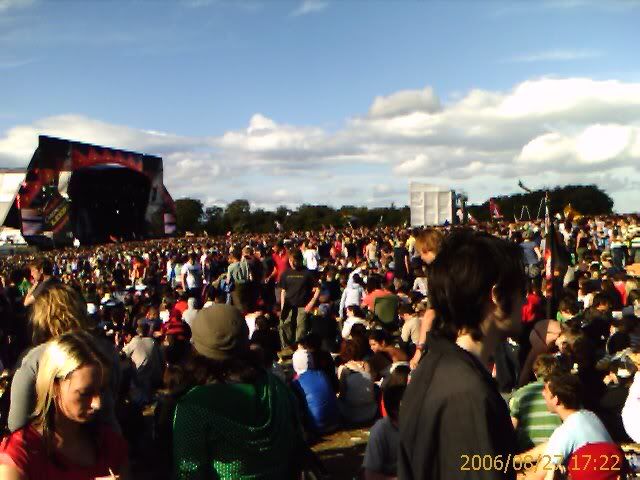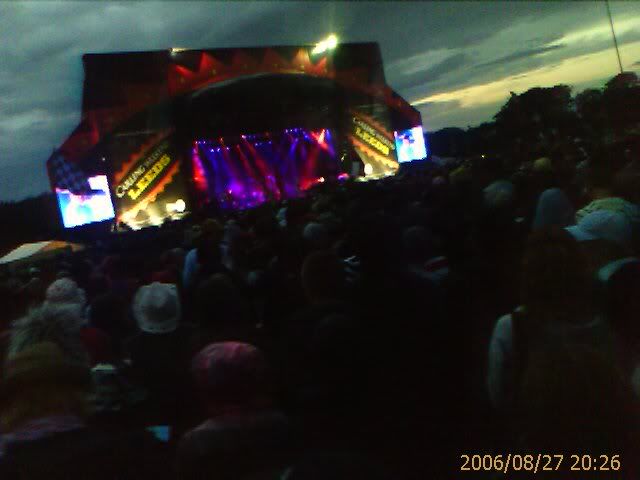 [Edited 2006-08-28 23:19:40]