Hey all!
Another user, Femme, made a comment in a recent thread of mine, saying it'd be funny to know exactly how many cat owners a.net has- I've seen quite a few around, but I don't think anyone's been able to tell exactly how many we are.
So, do come forth!
If you feel like it, write a bit about your feline companion(s), or even post a picture!
I myself have had quite a few cats through the years. As I sometime do volunteer work for shelters around here, the shelters have gotten accostumed to give me a call if they have a cat (or any other animal at that) that they don't have space or a foster family for. Normally, I help them rehome the cats, but sometimes, I end up keeping them.
At the moment, I have 3 cats (I just lost one to lymphoma) :
Tabby is 3 years old. I got him as a kitten, when the shelter called me to help them "raid" an older woman's back yard- turned out she had around 10 kittens and 6 older cats stuck in a small, fenced back yard. They were all infested with fleas amd other "fun" parasites. I took 3 kittens home with me, made sure they were parasite-free, and rehomed 2 of them- Tabby became a little momma's boy, and I couldn't bring myself to get rid of him- so now, 3 years later, he's still sticking around.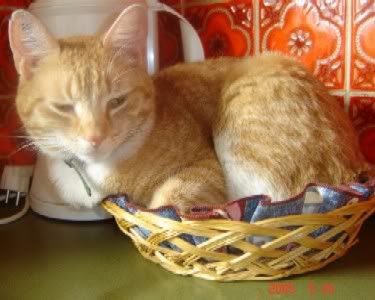 Then, there's Mini-Me. She's 3 years old and was turned in to me because her owner suddenly decided to move to another place where she couldn't keep cats... Mini-Me was pregnant when I got her, but the previous owner convinently enough forgot to mention this when she talked to me, and basically threw her at my doorstep and left before I could comment on the cat's waistsize...
2 weeks after I got her, she gave birth to 3 deformed kittens- the previous owner had fed her contraception pills during the pregnancy, hoping she'd lose the kittens. Unfortunately, it turned out the pills had messed her up badly too- she wasn't able to give birth to the remaining kittens (the vet found 4 more inside her- only one was not deformed). The three she did give birth to didn't make it through the night and the ones the vet removed were stillborn. Also, the hormones had caused growths on her uterus, so she was immediately spayed and tested for cancer. She was healthy, thankfully.
She was meant to be rehomed, but after this stressful and sad experience, I decided to keep her.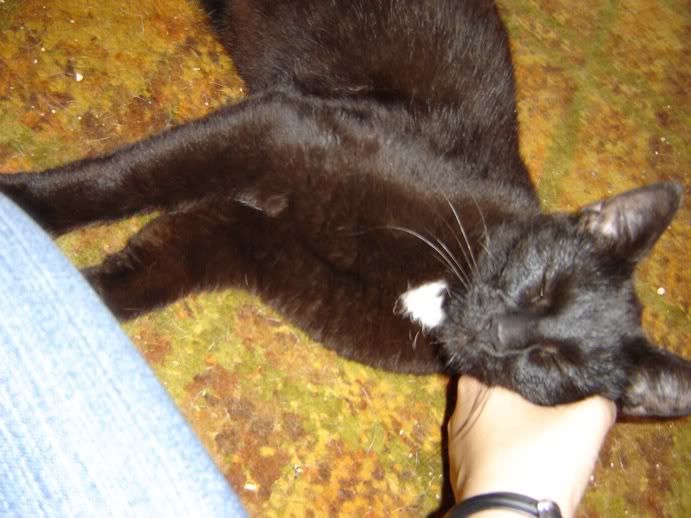 And at last, we have Nala- she's a 7 year old deaf kitty-girl, whom I picked up the day before yesterday. Her original owner couldn't keep her because her neighbors complained about the very loud meow, and the foster family developed allergies, so she was scheduled to be put down. A friend of mine called me about her however, and seeing that I just lost one of my own (deaf) cats to Lymphoma, I decided to take her.
It turned out she's in fact the dead cat's older sister.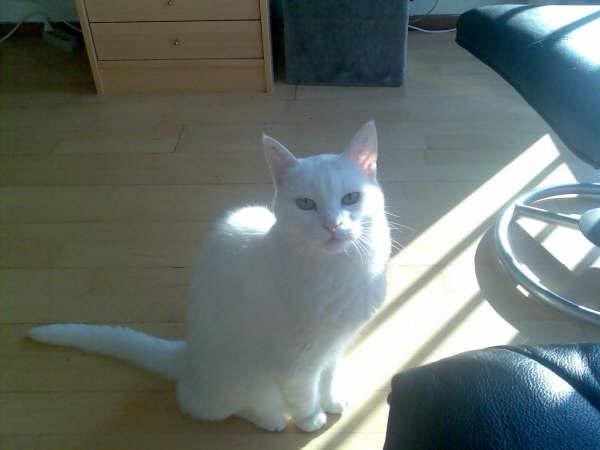 I do want to mention Emil as he's still in my home- just in an urn.
He was put down at 2 years of age, and was one of the most beautiful and lovely cats I've ever had to deal with. He'd come running to me in the morning, yelling (his meow was LOUD), he loved water, and he had the clearest blue eyes that always displayed his emotions so clearly.
He was replaced due to allergies, and I got him when he was 7 months old. I went on a 10 hr train ride to get him, and boy was he worth it!
He didn't care about the dogs, and did very well with the other cats- and he was so friendly!
Everyone misses him.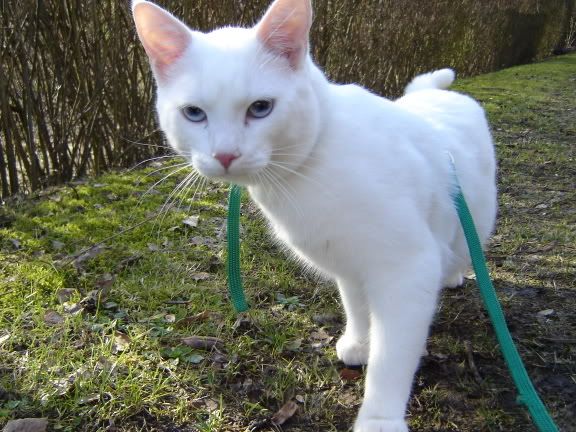 But that's enough from me... you can wake up now...
Do speak up, cat owners!