Fellow A.netters,
Here is your chance to win the ultimate prize - a free pint, bought by me. Yes, thats right, for the one lucky winner, I will open my wallet and purchase a beer with my own money.
Ok, contain yourselves, I know its hard.
Heres the thing, I hate loose change. Every time I go to the pub I end up coming home with a pocket full of change. Some of it gets thrown into the vending machine at work, but the majority of it ends up in the pringles pot shown below. After two years, the pringle pot is now full to bursting point, and its time to cash it all in.
So I thought I would post it here as a competition, I will buy a pint of Beer/Cider for whoever has the closest guess to the value of coins in the pot. An additional bonus pint will be awarded to the winner if they guess the amount exactly, ie to the exact penny. In the event of a tie, whoever posts the answer first wins. All prizes must be collected at either the Spring LHR meet or the Summer MAN meet. The winner will be responsible for transportation to the event of their choosing to collect their prize.
Ok, heres a few photos to help you guess from: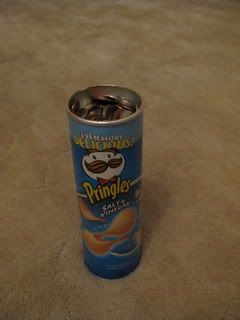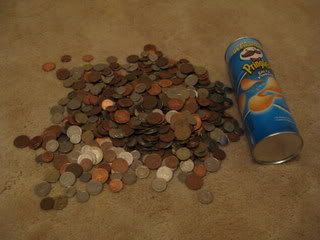 A few tips: there are a number of £1 and £2 coins in there. There are also a couple of foreign coins - these will not be counted. All guesses must be in Pounds Sterling. All guesses in foreign money will be ignored. Only one guess per person. A.netter members only. Other conditions apply.
Good luck. The winner will be announced when I finally get round to counting the money (probably tomorrow)
[Edited 2009-01-09 14:45:13]