Remember this little turd?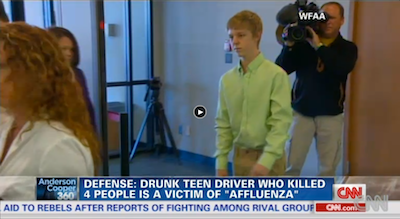 The metal factory heir who drove drunk before he was even of age, KILLED FOUR PEOPLE, and got away with nothing but probation, because his lawyers successfully argued "
affluenza
"-- the condition of being so wealthy that you don't understand that actions can have negative consequences.
This was the sole survivor among the victims:
Well, now the kid and his mother have skipped town, and are thought to have fled the country.
Turns out that his friends aren't all that bright. They'd posted a video on Twitter of them drinking while playing beer pong, all underage, and smashing a table. He can clearly be seen among them: a violation of his probation.
After failure to report to his probation officer to explain the incident, arrest warrants were put out for him.
...............KARMA, ya little mofo.
She's a bitch, and she's coming for you!