The final round of the season brings us to the Yas Marina Circuit in Abu Dhabi, UAE.
Circuit type Race
Circuit Length 5.554kms
Circuit Turns 21
Circuit Direction anti-clockwise
Capacity 50,000
Established 2009
Designer Hermann Tilke
Drivers Championship:
1 Nico Rosberg GER MERCEDES 367
2 Lewis Hamilton GBR MERCEDES 355
3 Daniel Ricciardo AUS RED BULL RACING TAG HEUER 246
4 Sebastian Vettel GER FERRARI 197
5 Max Verstappen NED RED BULL RACING TAG HEUER 192
6 Kimi Räikkönen FIN FERRARI 178
7 Sergio Perez MEX FORCE INDIA MERCEDES 97
8 Valtteri Bottas FIN WILLIAMS MERCEDES 85
9 Nico Hulkenberg GER FORCE INDIA MERCEDES 66
10 Fernando Alonso ESP MCLAREN HONDA 53
11 Felipe Massa BRA WILLIAMS MERCEDES 51
12 Carlos Sainz ESP TORO ROSSO FERRARI 46
13 Romain Grosjean FRA HAAS FERRARI 29
14 Daniil Kvyat RUS TORO ROSSO FERRARI 25
15 Jenson Button GBR MCLAREN HONDA 21
16 Kevin Magnussen DEN RENAULT 7
17 Felipe Nasr BRA SAUBER FERRARI 2
18 Jolyon Palmer GBR RENAULT 1
19 Pascal Wehrlein GER MRT MERCEDES 1
20 Stoffel Vandoorne BEL MCLAREN HONDA 1
21 Esteban Gutierrez MEX HAAS FERRARI 0
22 Marcus Ericsson SWE SAUBER FERRARI 0
23 Esteban Ocon FRA MRT MERCEDES 0
24 Rio Haryanto INA MRT MERCEDES 0
Constructor's Championship:
1 MERCEDES 722
2 RED BULL RACING TAG HEUER 446
3 FERRARI 375
4 FORCE INDIA MERCEDES 163
5 WILLIAMS MERCEDES 136
6 MCLAREN HONDA 75
7 TORO ROSSO FERRARI 63
8 HAAS FERRARI 29
9 RENAULT 8
10 SAUBER FERRARI 2
11 MRT MERCEDES 1
Since the previous thread:
- Ron Dennis has been ousted from McLaren.
- Nasr scored two points for Sauber, meaning that they won't be last in the constructors championship and will get a much larger cheque from FOM. This has meant that Manor (previously second to last) are now fighting for their survival, needing to find external investors or to somehow score two points at Abu Dhabi to ensure financing for next year.
- Force India have achieved a strong enough lead over Williams in the constructor's championship that fourth place is a near certainty. This is the team's best ever result (and likely their best position for the foreseeable future).
- Pascal Wehrlein is strongly rumored to be heading to Sauber next year. I wonder if he will bring Mercedes Engines with him.
- The German GP is likely to be dropped from next year's calendar. Rumors last week suggested that Singapore doesn't plan to continue hosting the Grand Prix beyond 2017.

This the drivers championship will finally be decided. It will certainly be the last race for Felipe Massa, probably the last race for Jenson Button and also quite possibly the last race for Felipe Nasr and/or Esteban Guttierez. More importantly, this is the final race of the current era; next year will bring in a new set of regulations that will be a massive shake up. New aerodynamics and much larger tires will give much more grip and supposedly make the cars roughly three seconds a lap quicker.
Next year's tires vs this year's tires:
All the different compounds: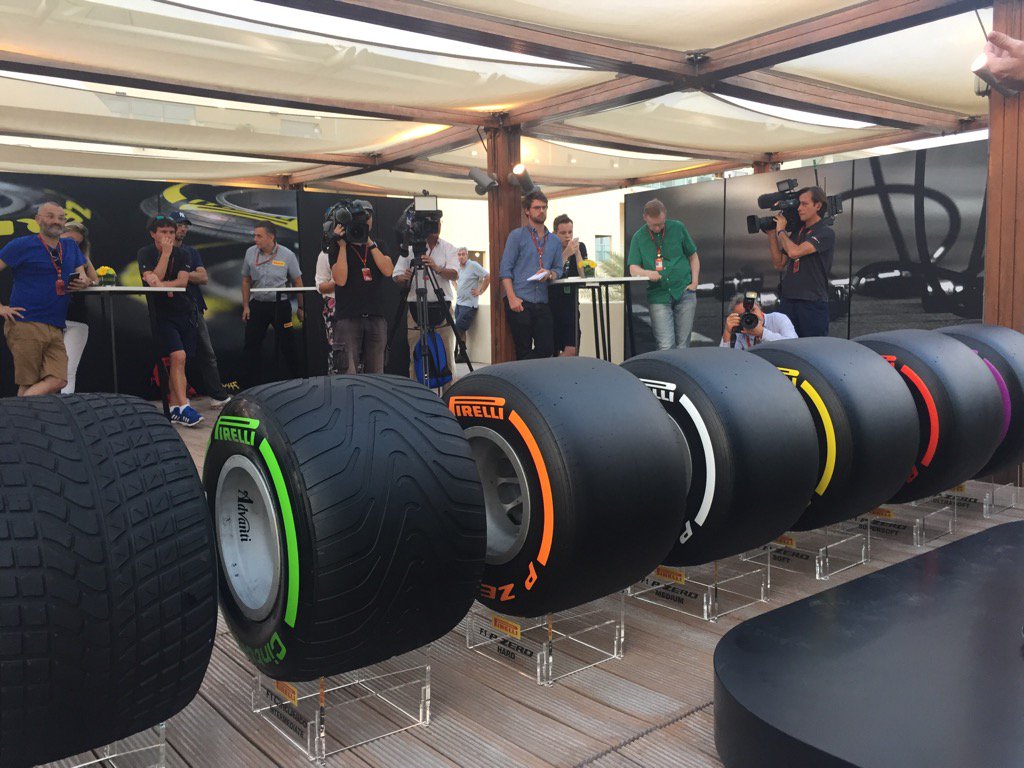 Also, has anyone here been to the Spanish Grand Prix in Catalunya? Worthwhile?